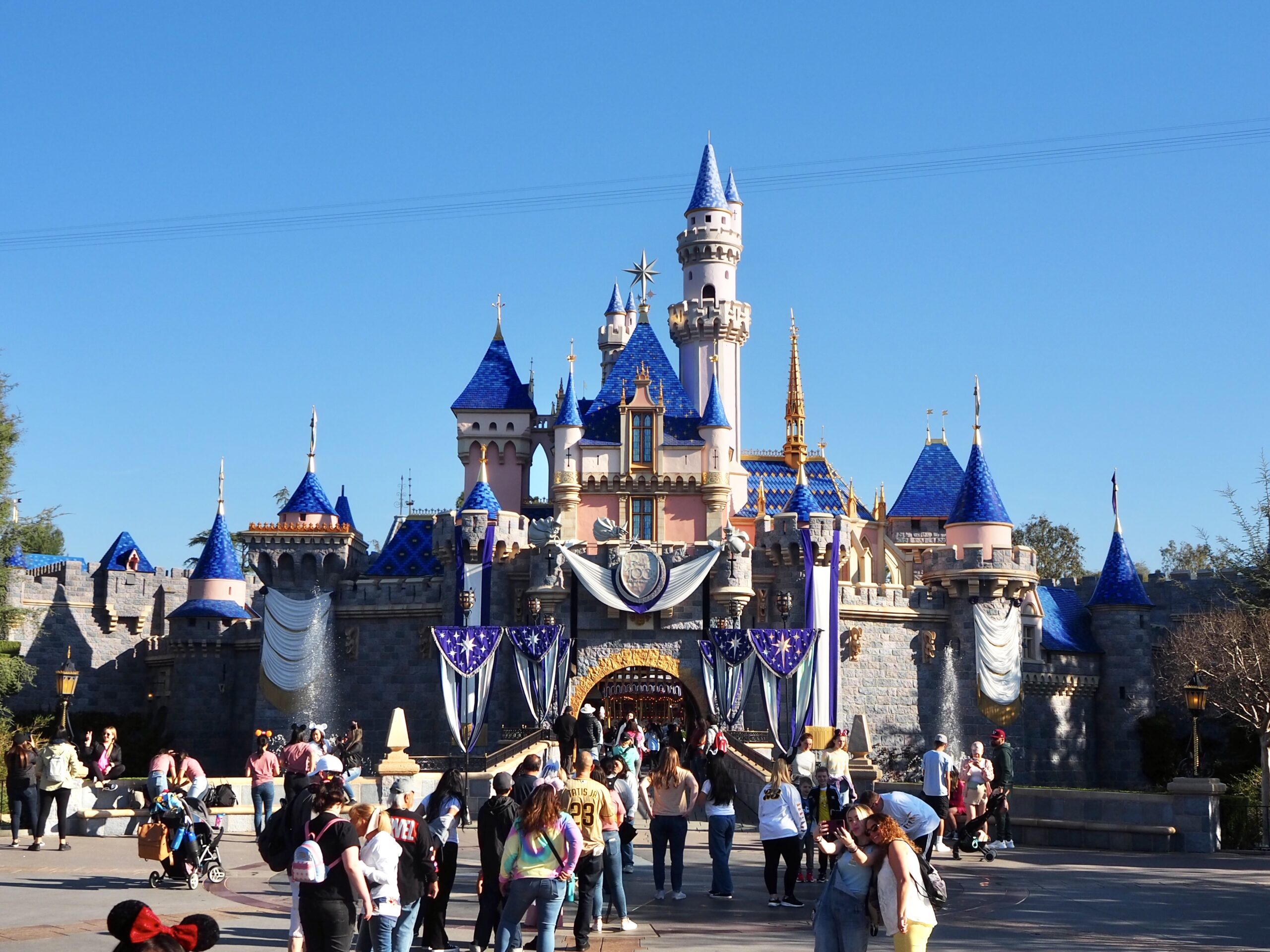 Disneyland California
10 April 2023
The original Disneyland in California turns 100 years old in 2023, so what perfect timing for my trip there! I'm spending 3 weeks in California, so there will be many more posts from the trip to come. On one of my full free days in LA, I headed straight to Anaheim to visit Disneyland for a day – bringing my Disney park count up to 5 out of the 6 locations. I've previously been to Florida, Hong Kong, Shanghai and Tokyo, so only Paris to go (ironic, when I lived in France for 9 months and didn't go). There might be something a little extra special about California though, being the original!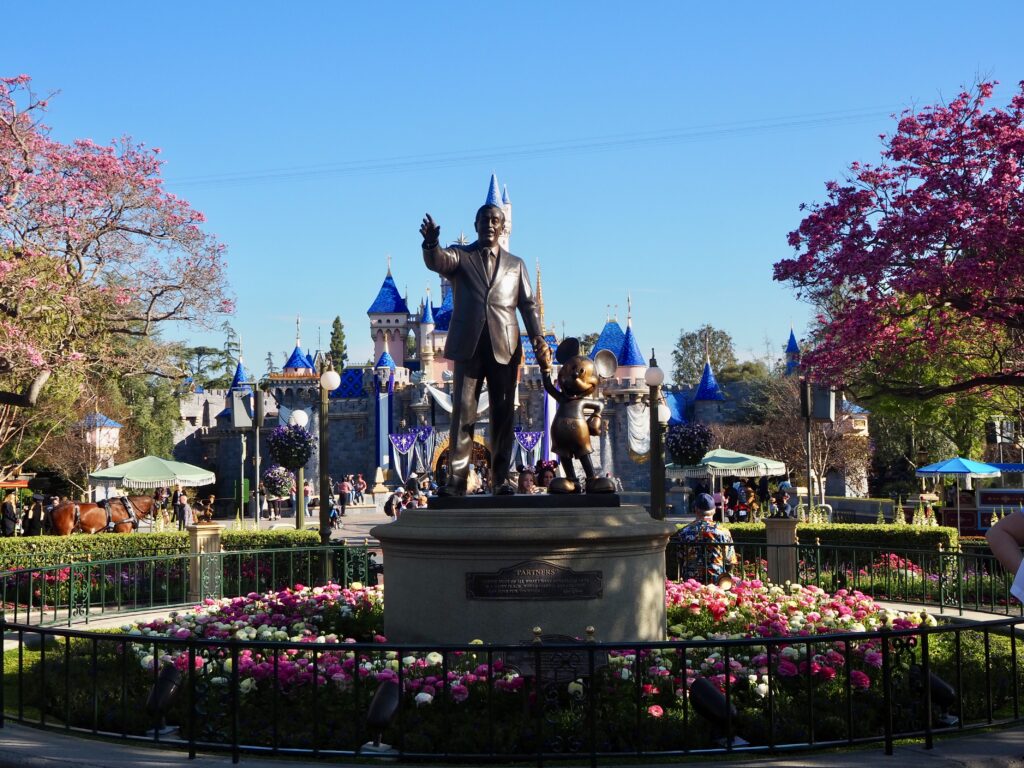 Practical Stuff
A couple of practical points to start with – oh my god, it's so far away. I was staying in West Hollywood and to reach Anaheim by public transport took over 2.5 hours, which meant a very early start to get there around 8.30 am. Honestly, I did pay through the nose for an Uber back at the end of the day (about 50 minutes), because I was too tired to face that journey again. There are also technically two parks; Disneyland and California Adventure. But much like when I went to Tokyo, I only had time to do one so I opted for Disneyland, being the original and featuring more classic characters and rides.
I had purchased my ticket and 'Genie' online, which basically gives you access to 'Lightning Lanes' (the new name for Fast Pass). You pay extra, but I thought it was worth it for the time I saved waiting for rides when adding it all up. And since it's 2023, Disneyland of course now has an app! This is where I could choose my Lightning Lane rides and times, as well as check the parade and show times and view live wait times on the map.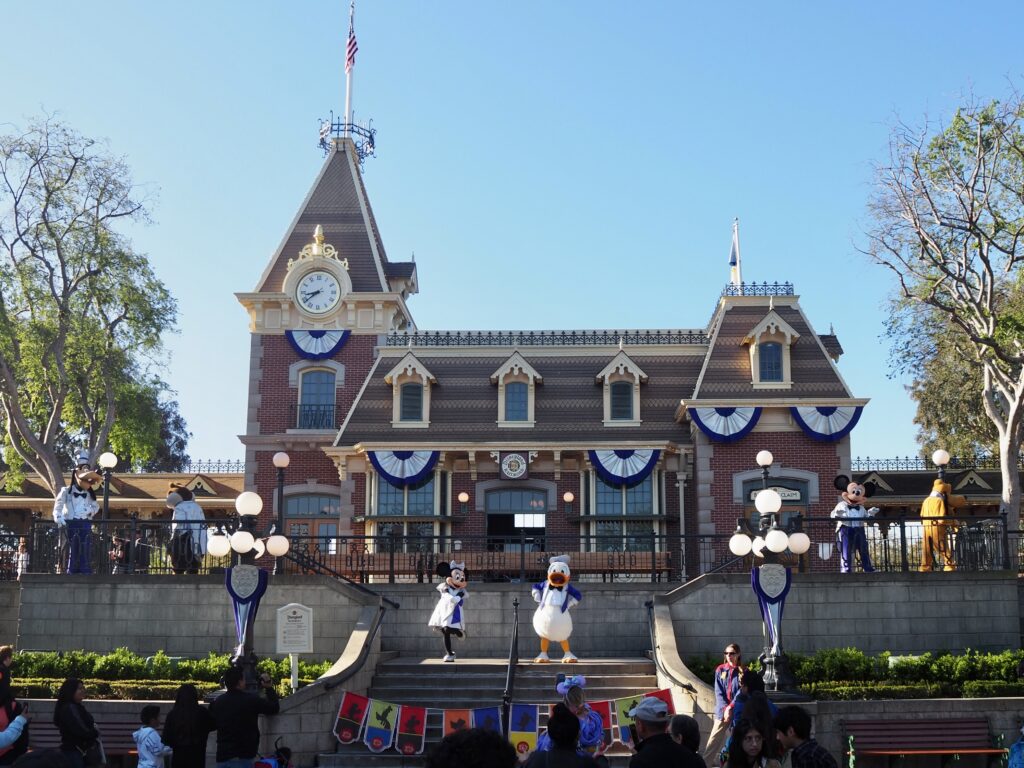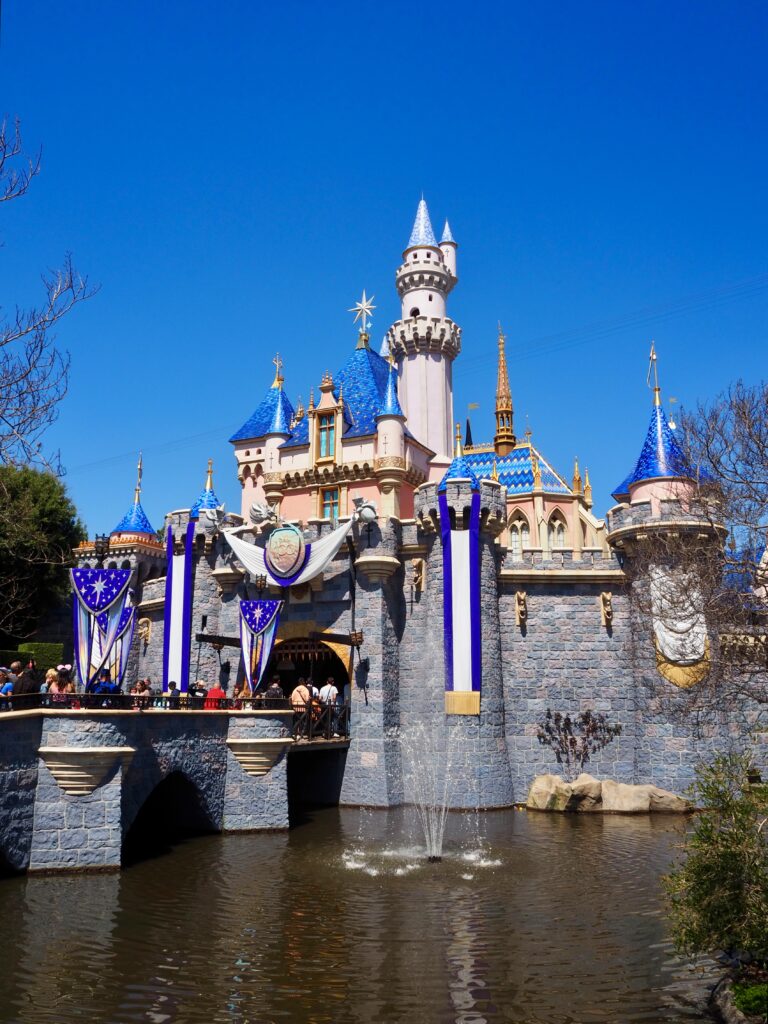 Frontierland
Arriving at the park, I was immediately greeted by Mickey, Minnie, Donald, Goofy, Pluto and either Chip or Dale. Queuing up and meeting characters isn't something I prioritise when I'm at Disney, but there was something lovely about seeing them instantly when I walked in. When you enter, you have to walk up Main Street before you can reach anything else. It's kind of nice to have this familiarity in every park now, since the layout is always the same. But I rarely spend too much time on Main Street, it being mainly shops and restaurants.
Since I arrived so early, I headed to one of the rides I knew would build up a queue later, to save one Lightning Lane pass. First up was Frontierland and Big Thunder Mountain, with about a 20-minute queue. Highly recommend a speedy rollercoaster to wake you up first thing in the morning! I'm scared of heights and going upside-down, so huge rollercoasters aren't my thing. But Big Thunder Mountain is one I've done in a few parks now, and a good size for me. It's fast enough and with plenty twists and bumps for some adrenaline, but not TOO scary. Frontierland seems to be a staple in most Disney parks, full of Wild Western themed decor, and near the Mark Twain riverboat (which I didn't have time for this trip). They've also added Encanto to this area too, with Colombian decor and I caught a glimpse of Mirabel.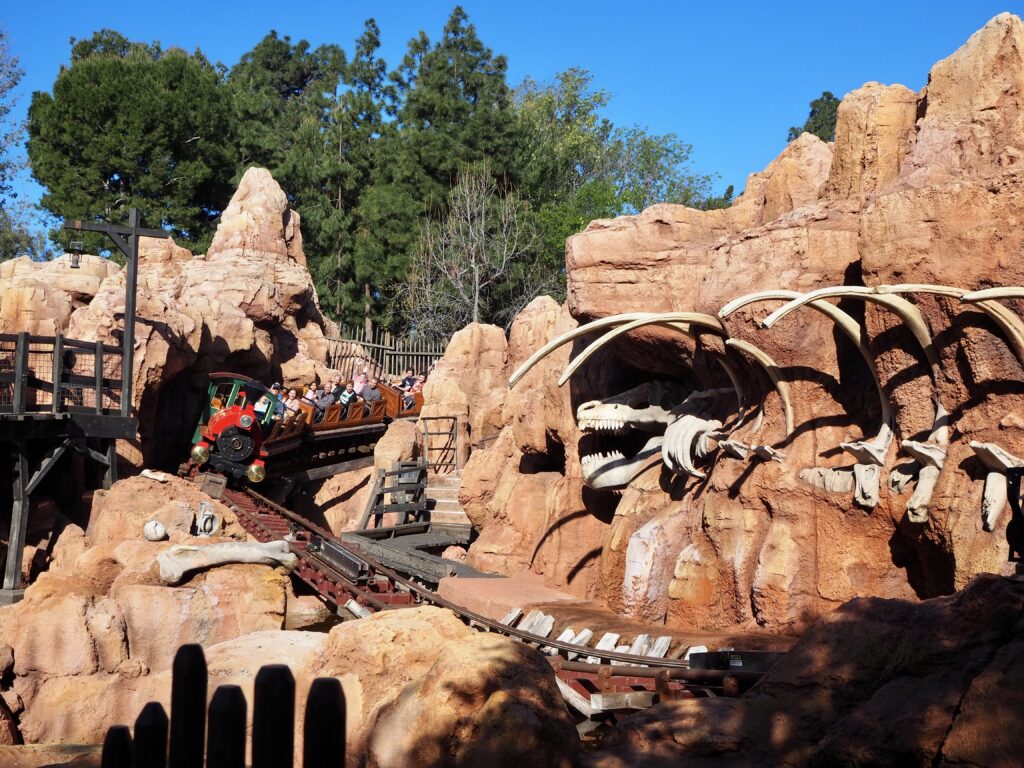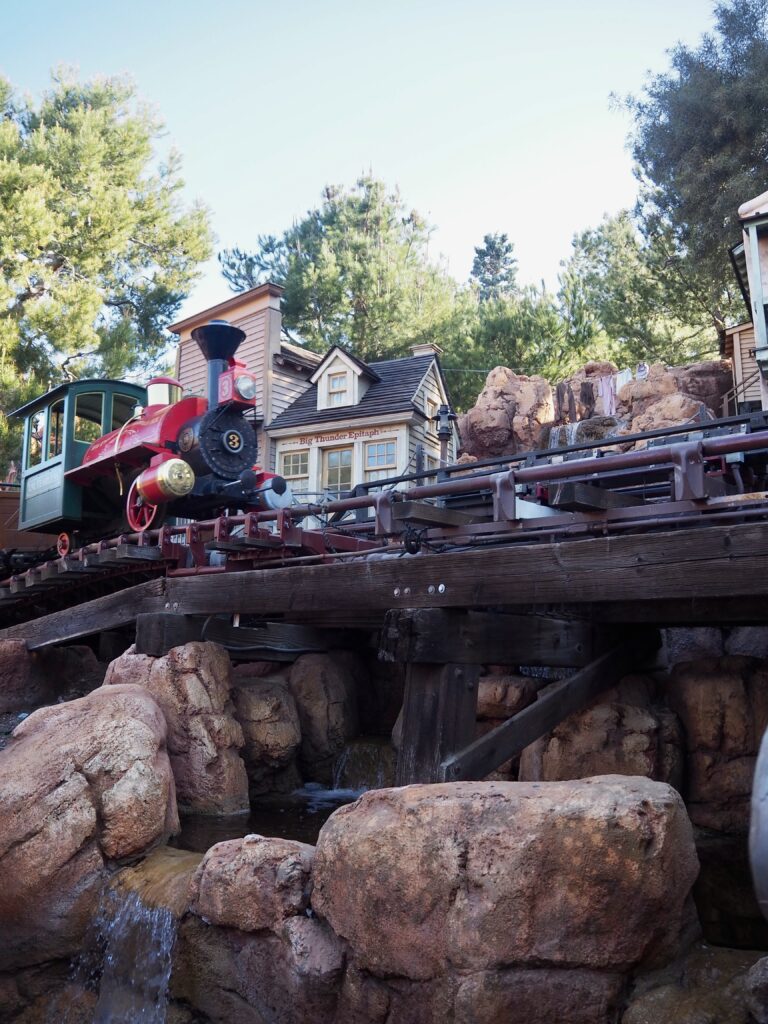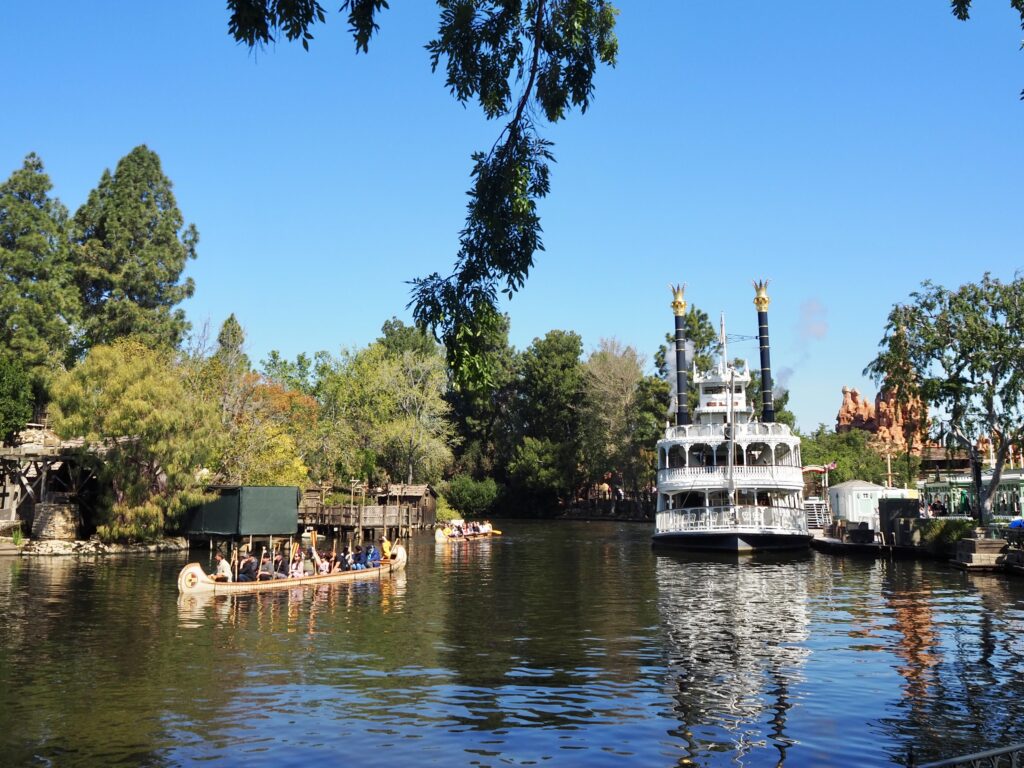 Star Wars: Galaxy's Edge
Next up, it was Star Wars time and Galaxy's Edge is one of the newer additions to Disneyland California. I'll be honest, I'm not clued up enough to know which planet inspired it, but I certainly felt like I was walking through a Resistance base. And it's quite incredible when you wander the market, then turn a corner to see a gigantic Millennium Falcon parked in the middle! This was also my first ride here; Smuggler's Run, where you get to ride in the Falcon, assisting Chewbacca on a smuggling expedition. It's a simulation ride, where the on-screen images do most of the moving rather than the actual vessel. It was quick, but very fun! There was another ride here I wanted to try, but it was temporarily closed – more on that later. I grabbed a late breakfast from the cantina, and spotted some Stormtroopers on patrol.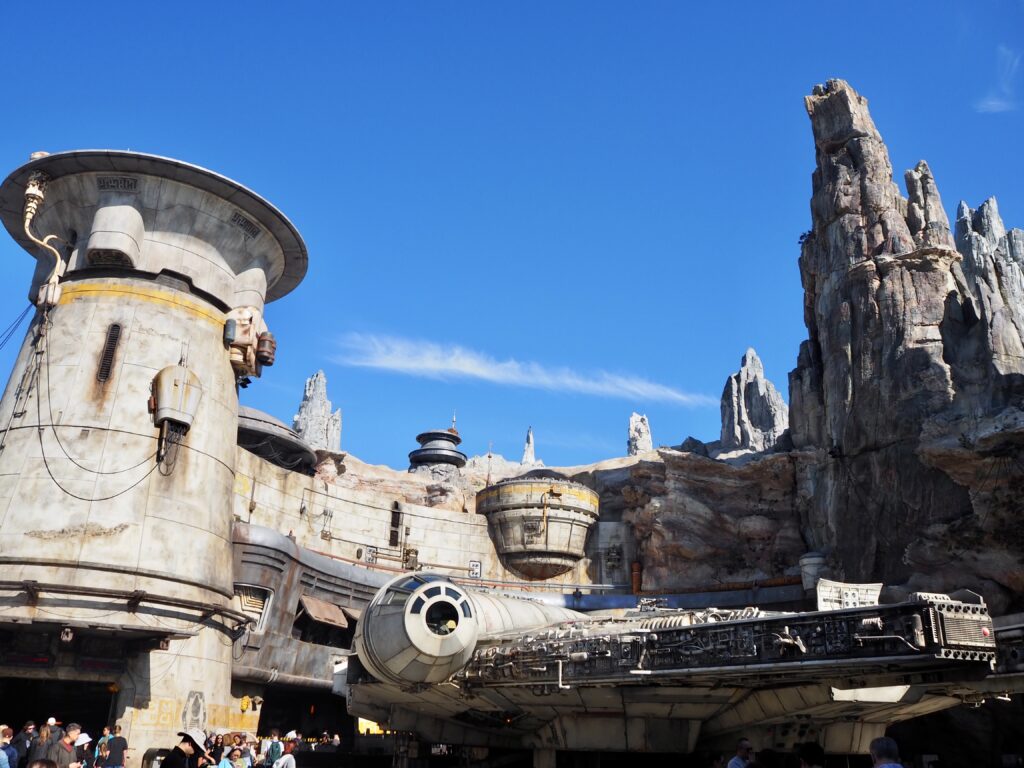 Critter Corner & Winnie the Pooh
I then returned to Earth, following the lakeside until I reached Critter Corner. The main attraction here is Splash Mountain, which I did once in Florida and never again because I hate that big drop. But Pooh's Corner is also located here! I hopped on the ride, which was an adorable romp through the Winnie the Pooh storybook pages. Including, of course, the trippy Heffalump dream sequence! When I exited, Pooh was nearby meeting people and I spotted some baby ducklings in the stream. It was all just very lovely and wholesome and reminded me why Winnie the Pooh is always one of my favourites.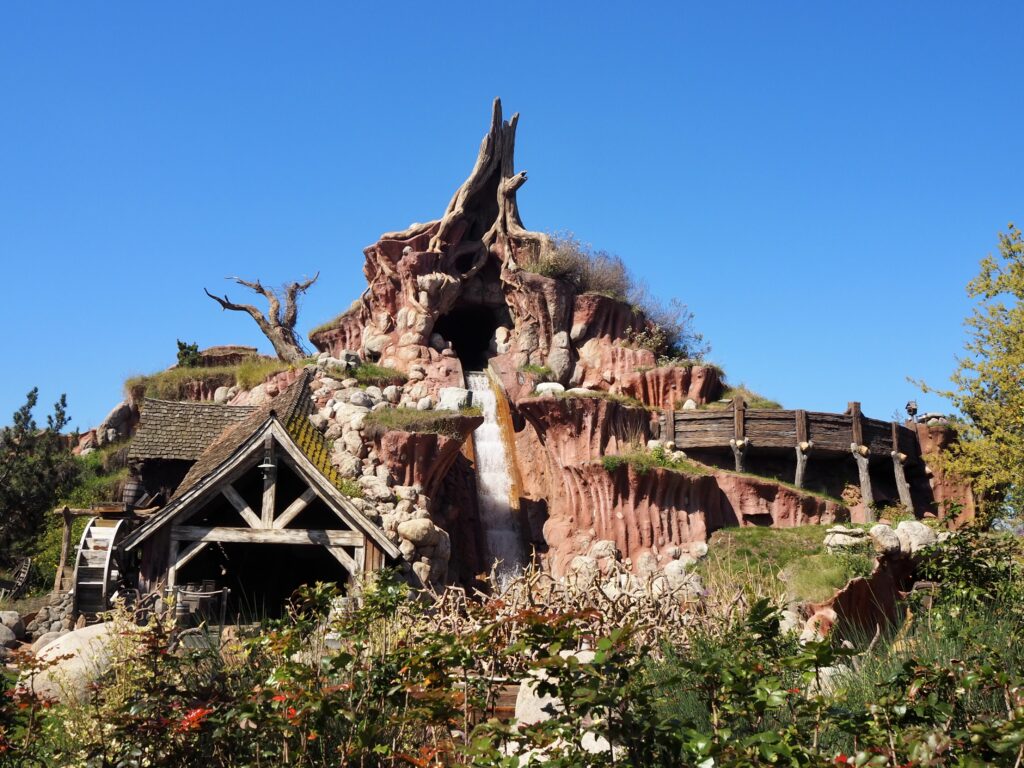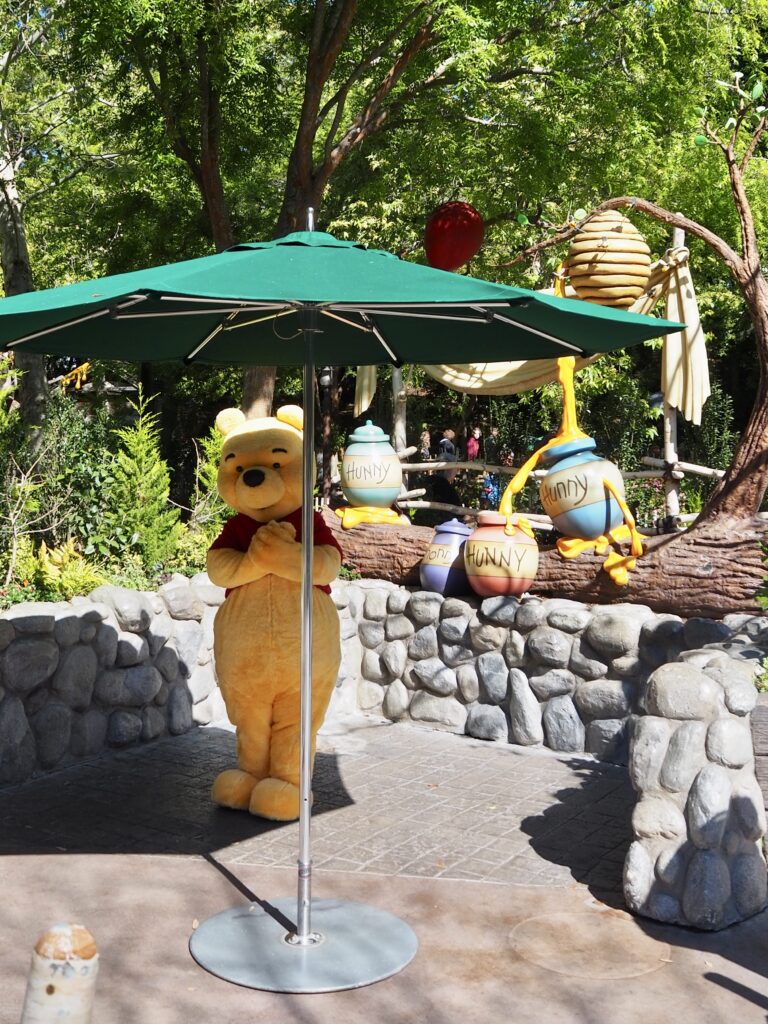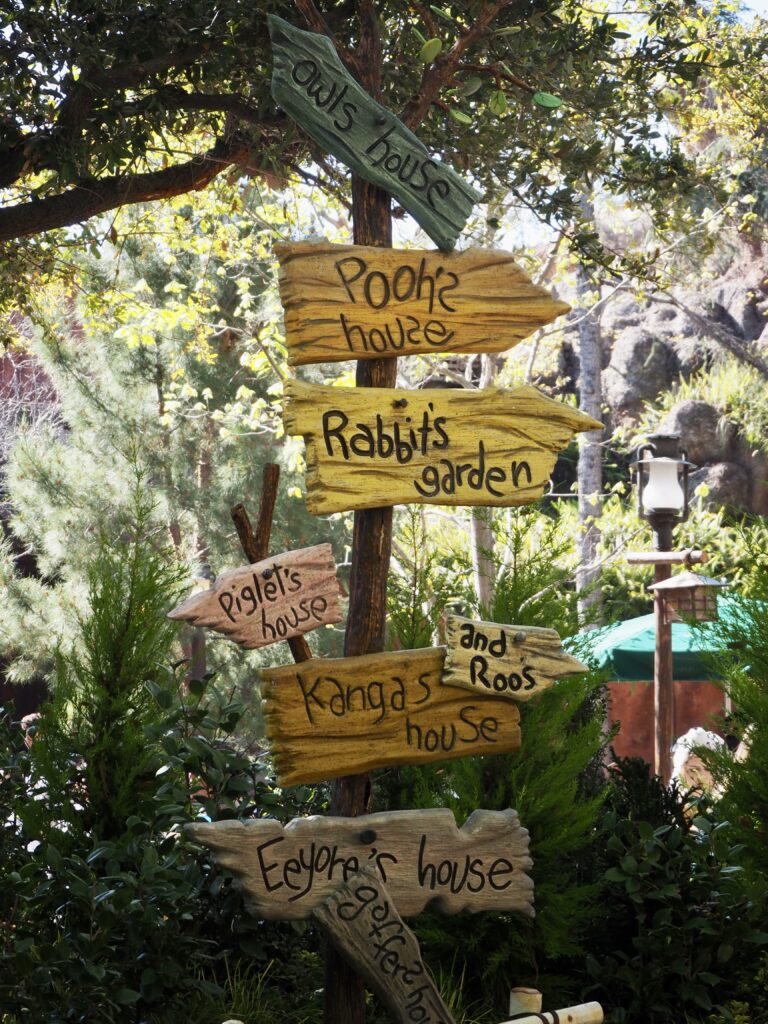 New Orleans Square
Then, I wandered down to New Orleans Square, one of my favourite areas. I noticed they're building Tiana's Palace, which is very cool, but also, why has that not happened sooner?! I had a Lightning Lane for the Haunted Mansion, which I've done in every park that has it, but I still love it. The level of detail in the design of Disney rides always amazes me, so even on slower rides like this, there is so much to see and take in. Haunted Mansion is more fun and silly than scary, and I always enjoy it.
I took a stroll through the New Orleans streets, passing Jack Sparrow en-route. Fitting, since Pirates of the Caribbean was my next stop. Again, I go on this in every park and it's still one of my favourites. It was also very cool knowing that although they've updated it over the years, this is one of the oldest Disneyland rides, that's been here for decades.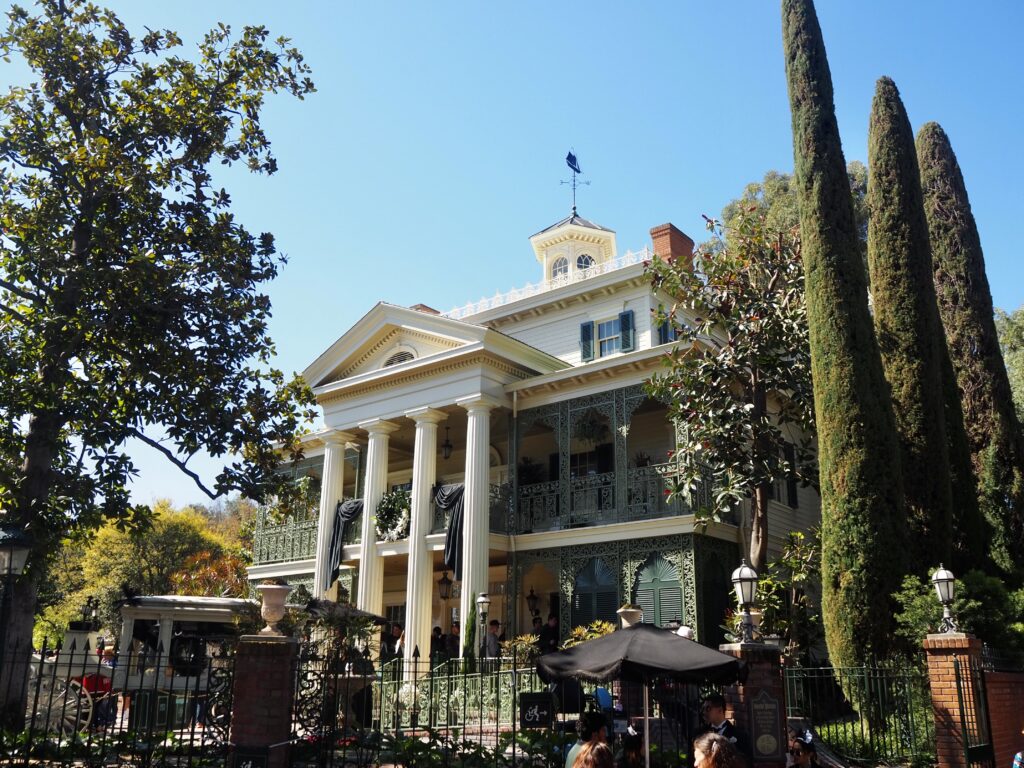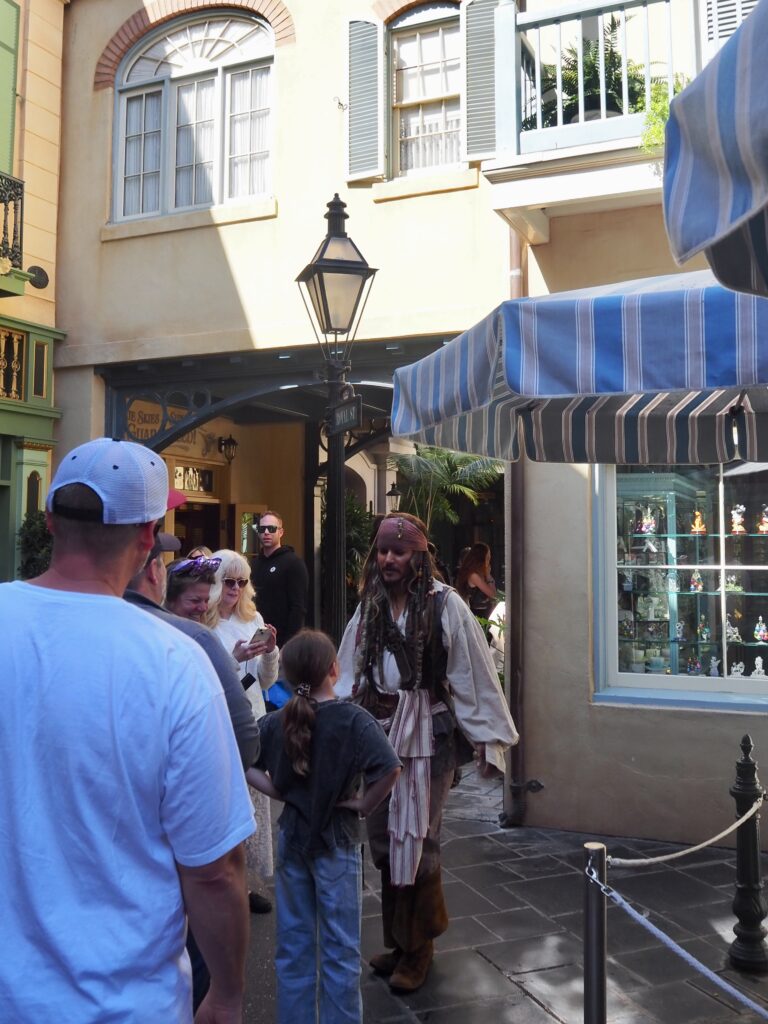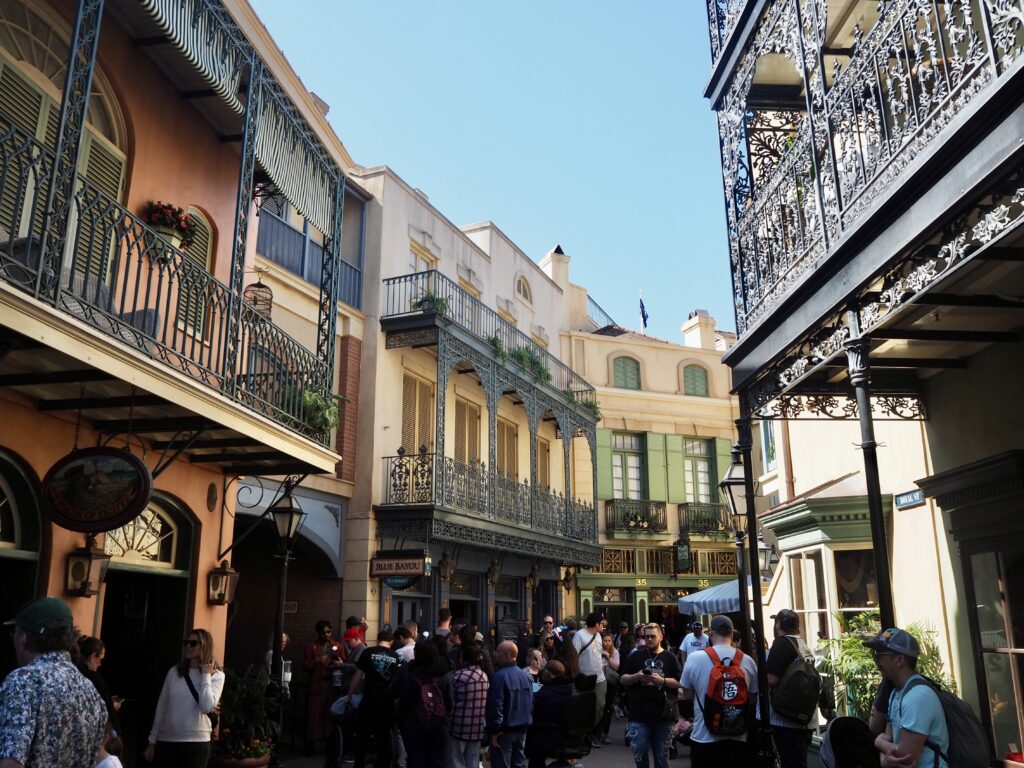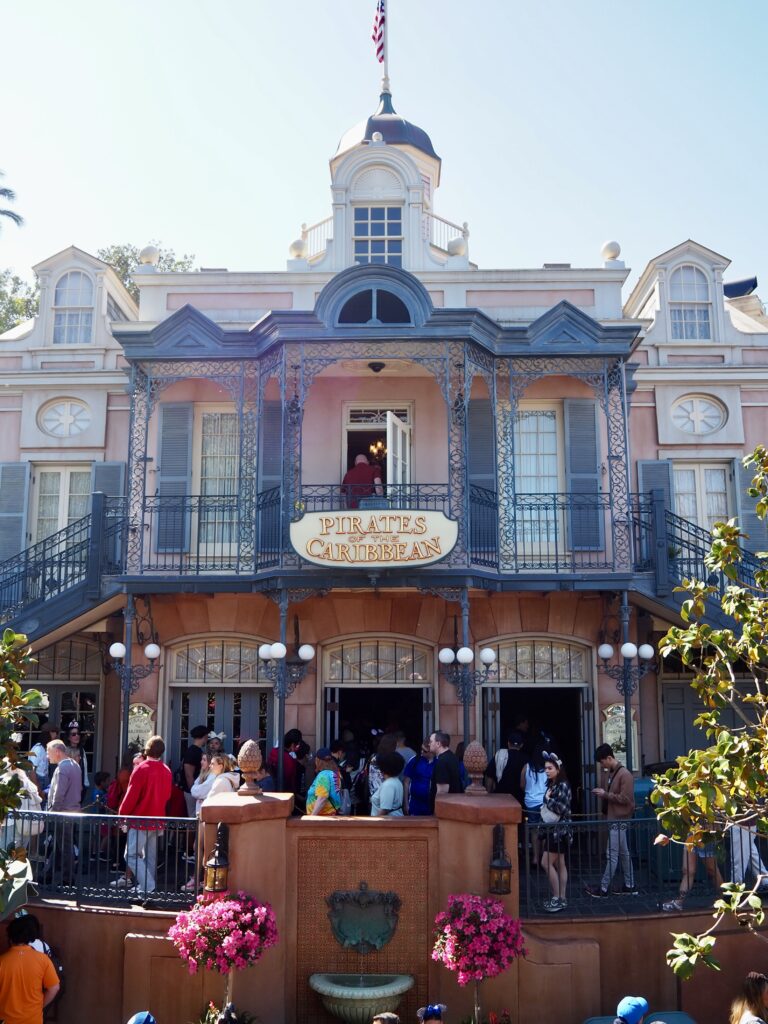 More Star Wars
The other Star Wars ride was finally open by this point, in time for my Lightning Lane. It's called Rise of the Resistance, and one of the longest Disneyland rides, taking around 20 minutes! There are multiple parts to it, as you first get a message from Rey preparing you to be evacuated from your planet. They clearly got the cast of the sequels to film specific clips for this ride, which is pretty cool. You then board an escape craft which simulates a space flight with Poe and Captain Beckett.
However your vessel gets captured by the First Order – disembarking into a gigantic set filled with Stormtroopers was amazing in its scale and realism! But of course, Finn and the Resistance rescue you, which is when the main part of the ride kicks in. You whiz through the First Order ship in a droid-piloted vehicle, trying to evade Kylo Ren. It's fast and unpredictable (but all on flat ground, which was good for me!) and totally immersive. I can see why it's such a popular ride; Lightning Lane was worth it for that one!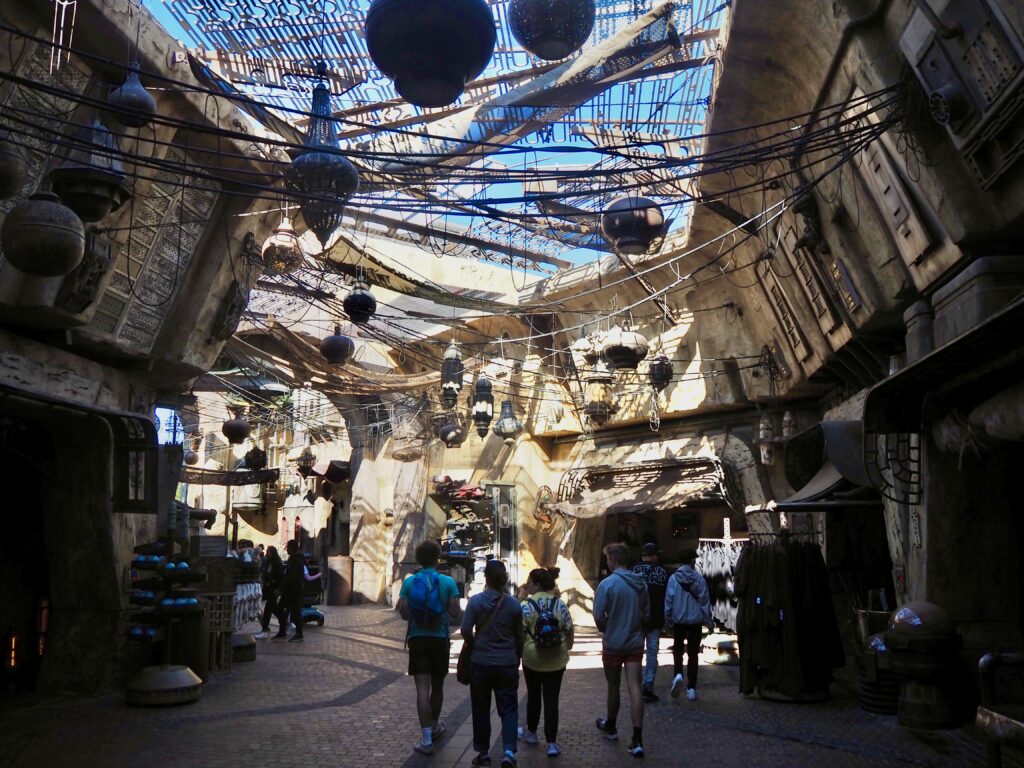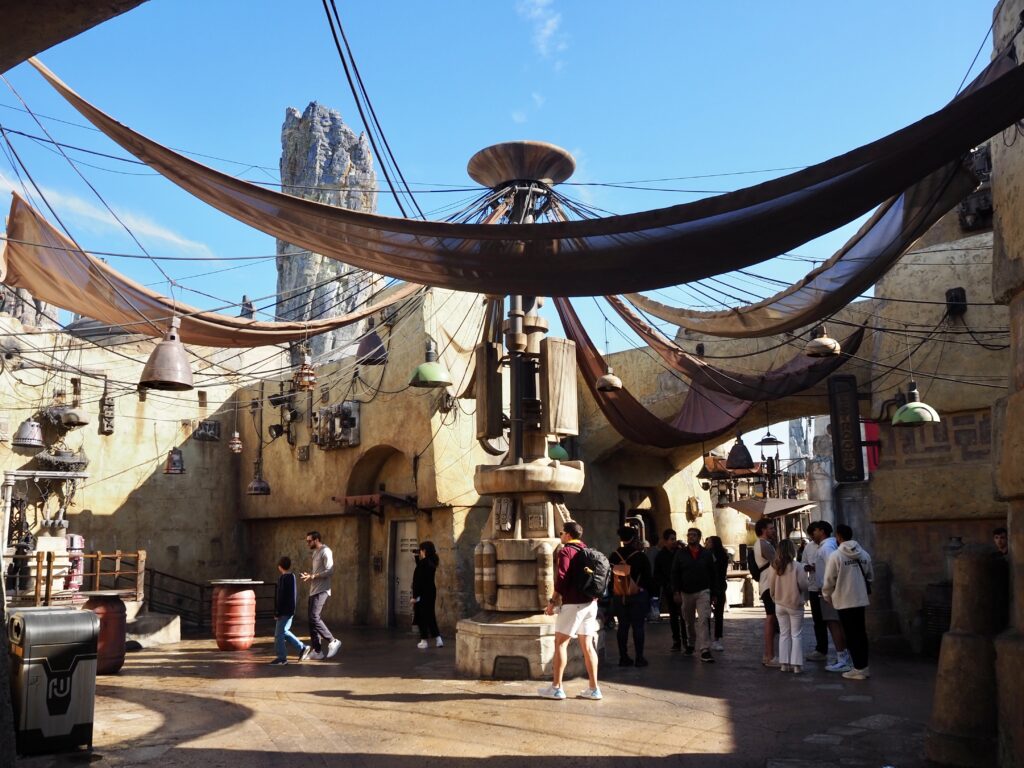 Fantasyland
Next, I wandered towards Fantasyland, passing the Sleeping Beauty Castle en-route. Of course, I took plenty of photos from the front, including of the Walt Disney & Mickey Mouse statue. The castle has a retelling of Sleeping Beauty inside, through moving diagrams, which is a nice walkthrough experience rather than a ride. I popped round to the Snow White Wishing Well too, tucked in the castle's side and happened to spot Flynn Rider as he was leaving. Most of the Fantasyland rides had pretty long wait times, except for Mr Toad's Wild Ride. I don't think I've been on this in any park before, but it's quick romp through London in his motor car and was a fun addition!
I passed through Fantasyland, snapping pictures of King Arthur's Carousel and the Flying Dumbo ride. There was food stall, the Troubadour Tavern, nearby where I picked up lunch. Potato samosas and a cardamon iced coffee weren't the cuisine I was expecting from the name, but were pretty tasty! Then, I hopped on It's a small world, another classic ride that originated in this park. I didn't actually realise it was a boat ride, nor that it was so big! Like, it is absolutely massive inside, as you sail around the world, watching the animatronic puppets perform the theme song in their own culture's costume and style.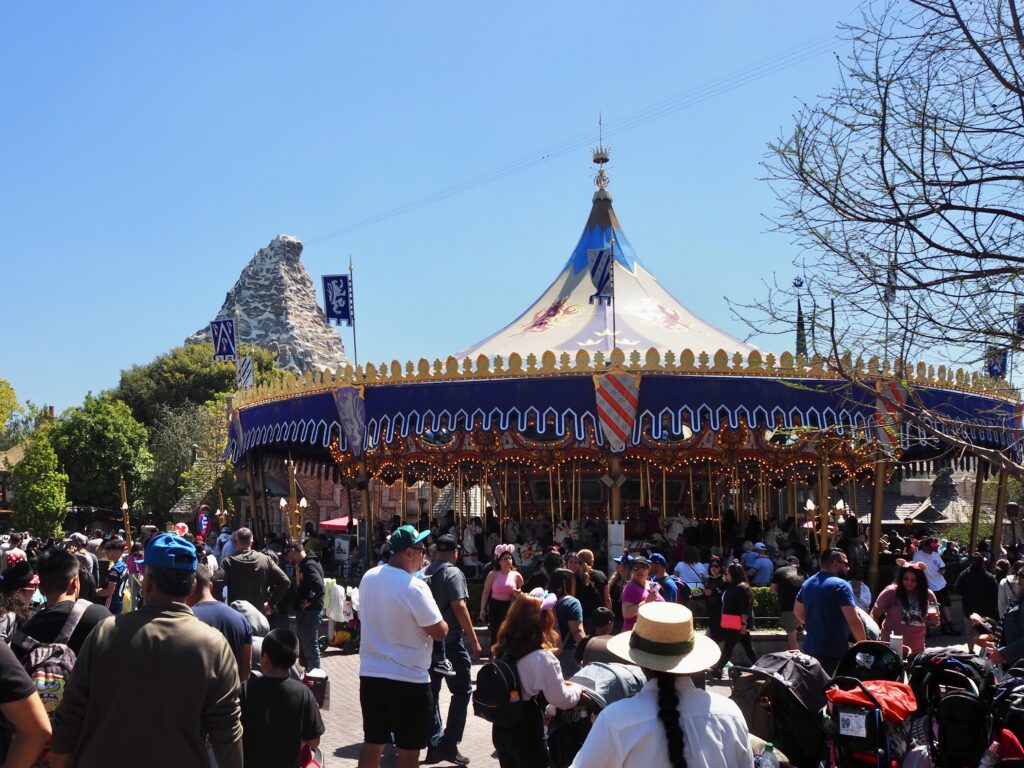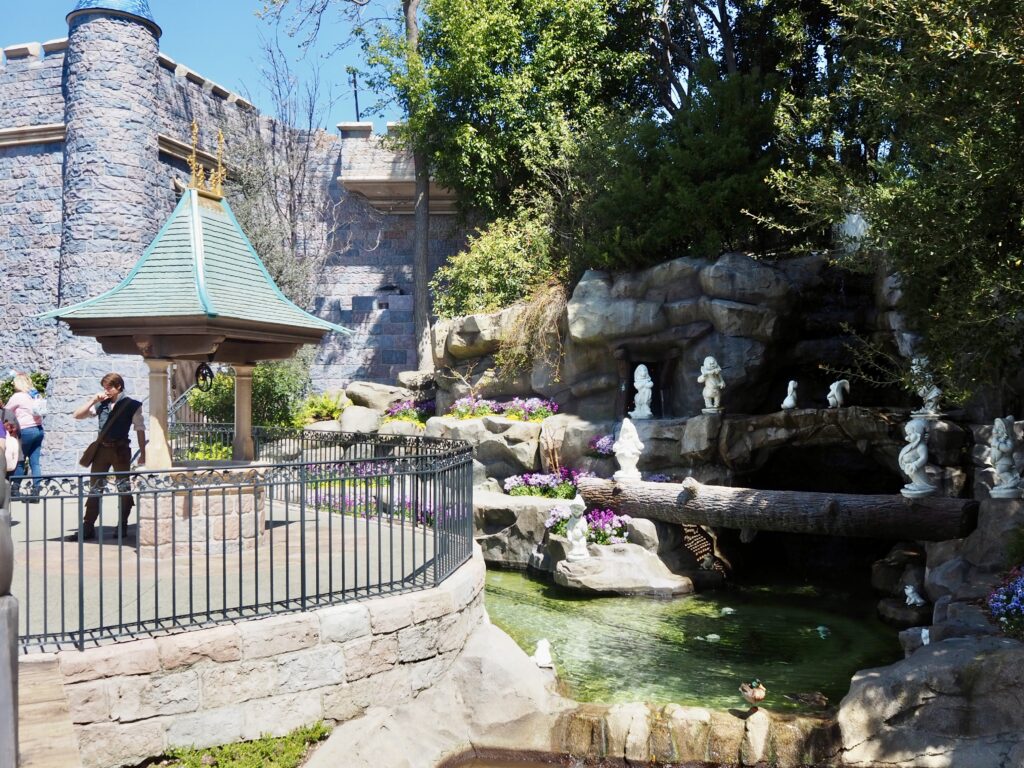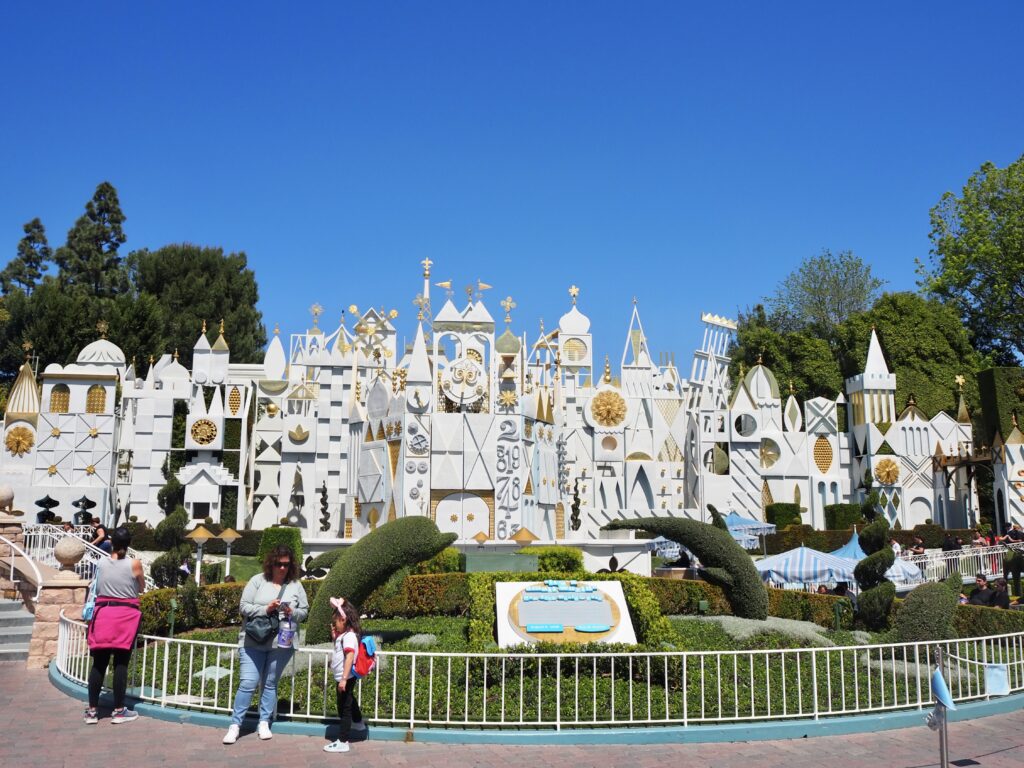 Toon Town
Then I headed to the newest addition to Disneyland California; Toon Town. It literally only opened a few weeks ago, so my timing was perfect! I had seen a similar area in Tokyo; all of the houses from the classic cartoons are here, featuring the homes of Mickey, Minnie, Donald, Goofy and Chip & Dale. I didn't line up for photos with any of them, but spotted several characters from a distance. It's such a bright, colourful area that really is like the cartoons have been brought to life!
I went on a couple of rides here too. First was Roger Rabbit's Car Toon Spin, which I had also done in Tokyo. I'll be honest, I didn't love this one; it just went SO fast that I had no time to really appreciate the sets or follow the story. The other ride in Toon Town is Mickey & Minnie's Electric Runaway Railway, another of the park's most popular rides. Possibly because it's brand new and totally unique to Disneyland California I think!
It was a long queue through a movie theatre setting, until you eventually get to watch an old, classic-style cartoon. But of course, Goofy's train goes rogue and we had to "enter" the cartoon to help. The train carts whiz around inside huge, elaborate cartoon sets as Mickey & Minnie try to stop the train. Like the Star Wars ride, they move fast in all different directions so the unpredictability is part of the fun! It all works out in the end of course. I loved that even though it's a very new ride, it brings back a vintage, classic Disney style of animation.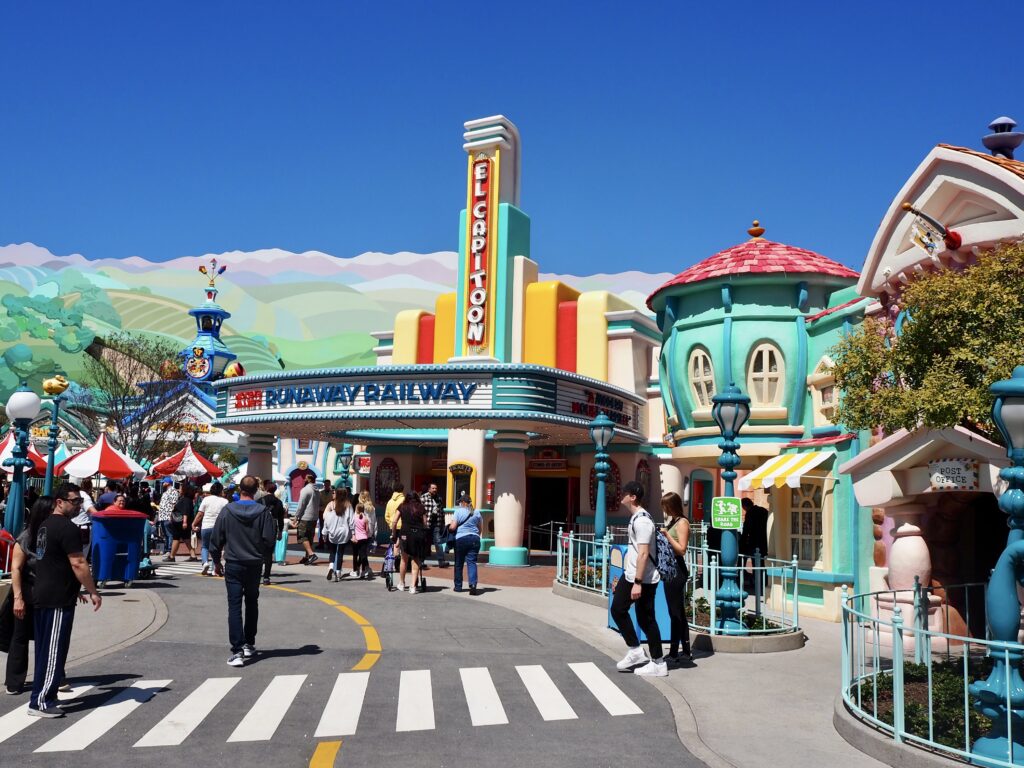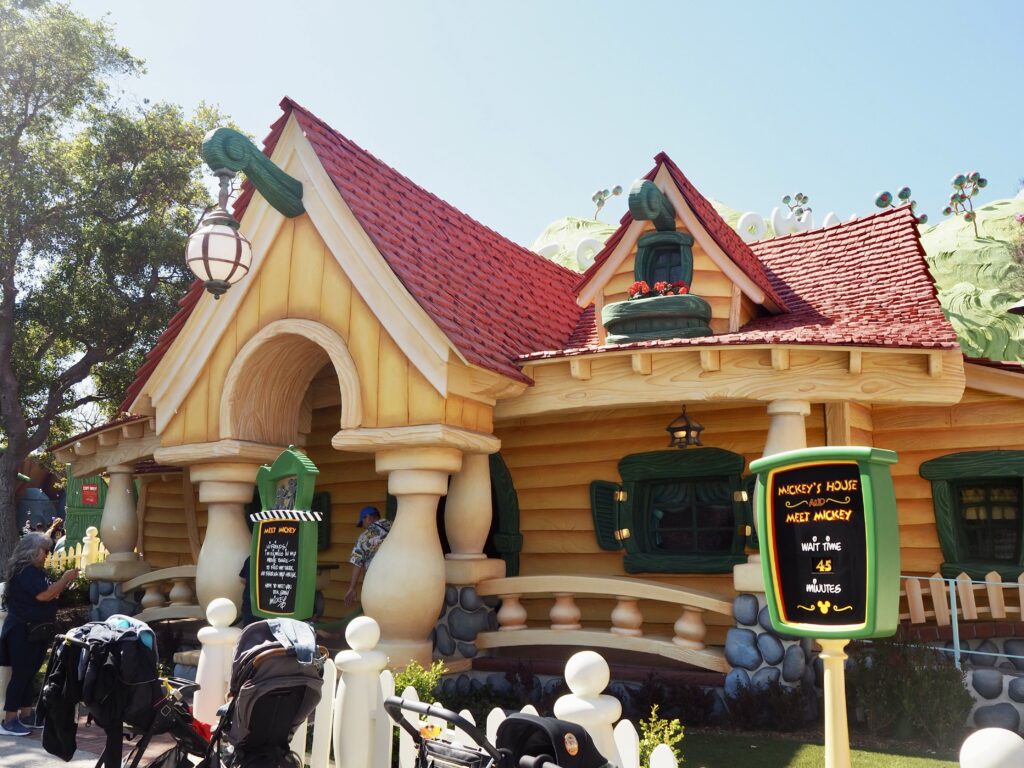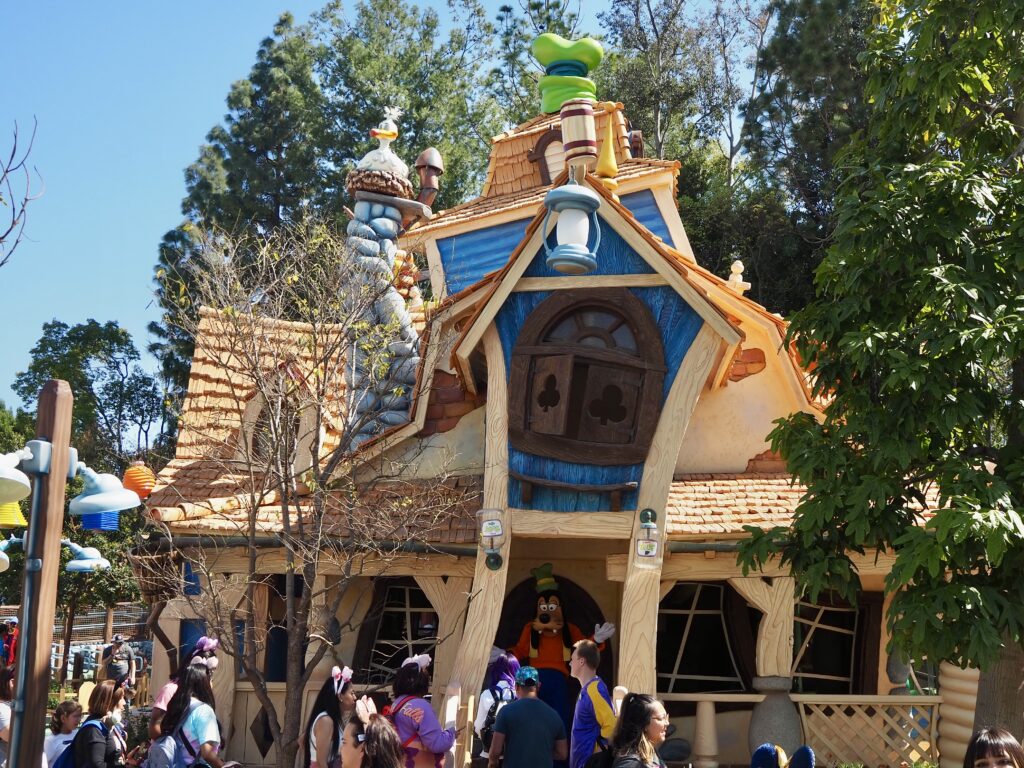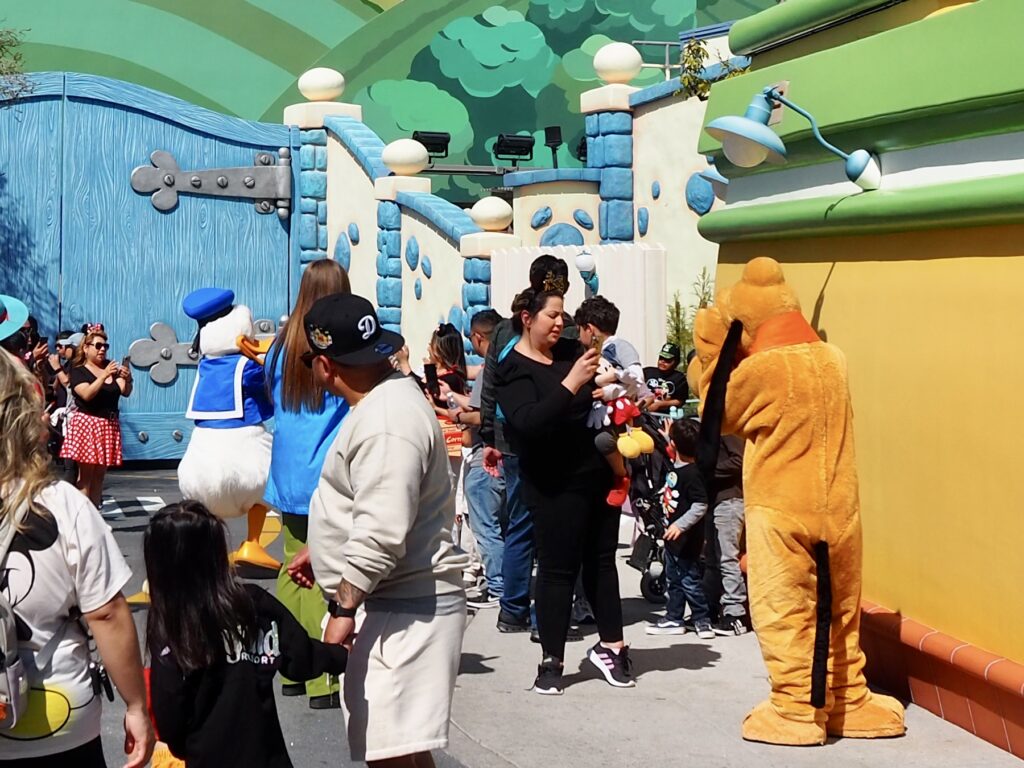 Magic Happens Parade
Then it was time for the Magic Happens parade! The parades and live shows are one of my favourite things at Disneyland. Maybe it's the childhood nostalgia or how well-designed and rehearsed they are, but there really is something magical about them. First of all, the dancers were incredible, with the most stunning costumes. The music was also fantastic, weaving an original song with the movie soundtracks, and has been stuck in my head all week!
The parade floats featured a lot of newer movies, including Coco and Frozen 2, as well as TWO Moana floats (one for her and one for Maui). I love Moana, so I was very much onboard with that choice! I was also thrilled that Tiana had her own float, because the Princess and the Frog is very underrated I think. I've never seen her get her own feature before, and her and Naveen had the best dance moves too. There were lots of classic characters too, including Cinderella and Sleeping Beauty. There was also a Sword in the Stone float, with Arthur and Merlin. It's a film I sometimes forget about, so that was a nice surprise! Mickey Mouse led the whole thing and lots of other characters were featured walking along with the dancers. I loved every moment of it!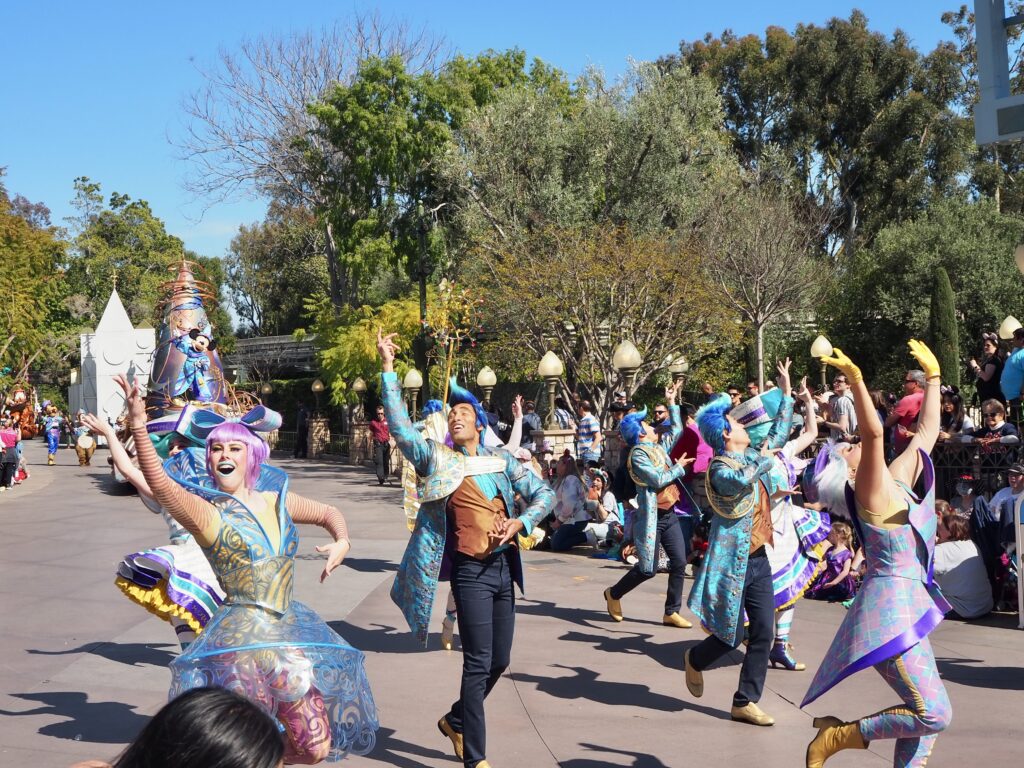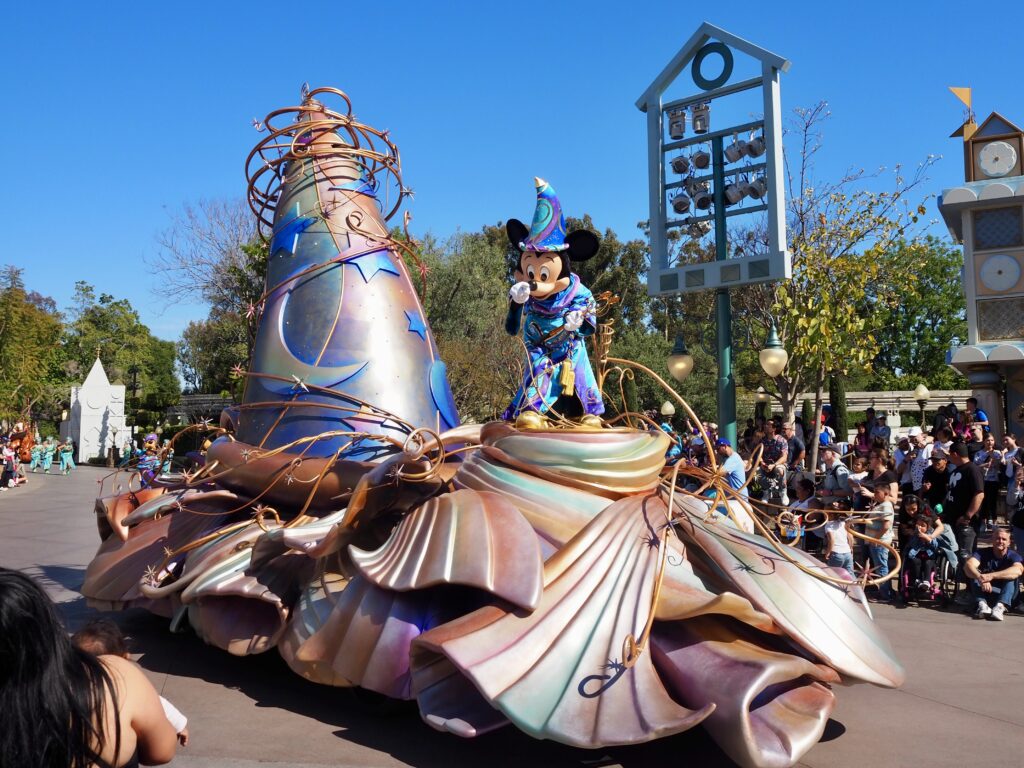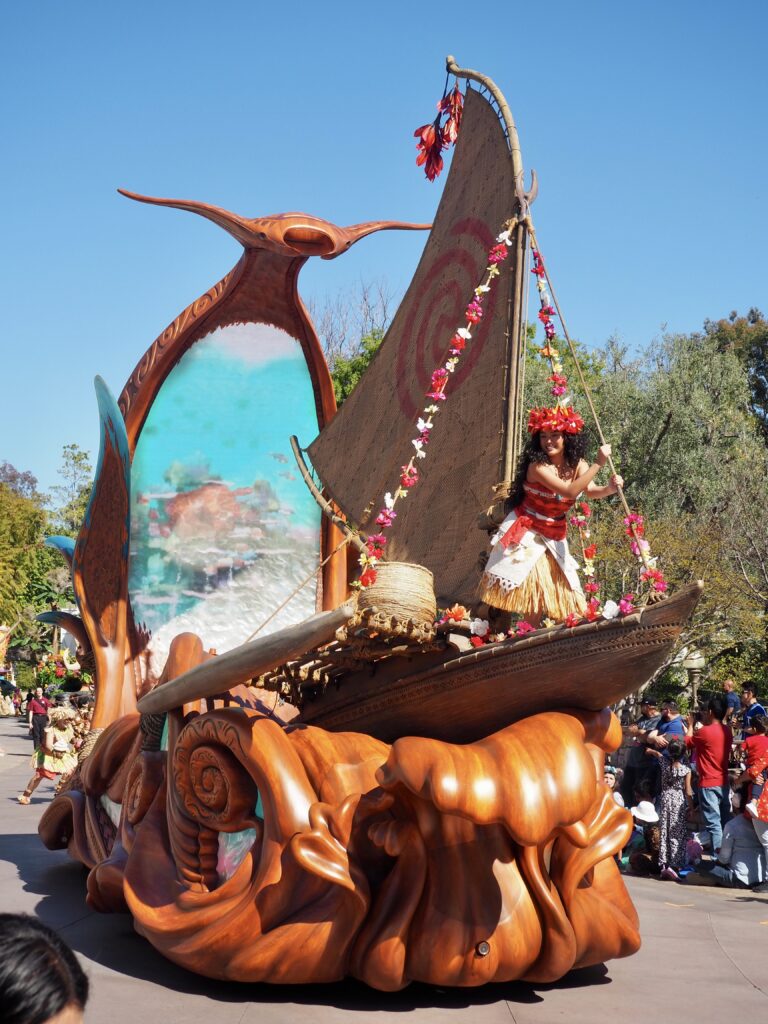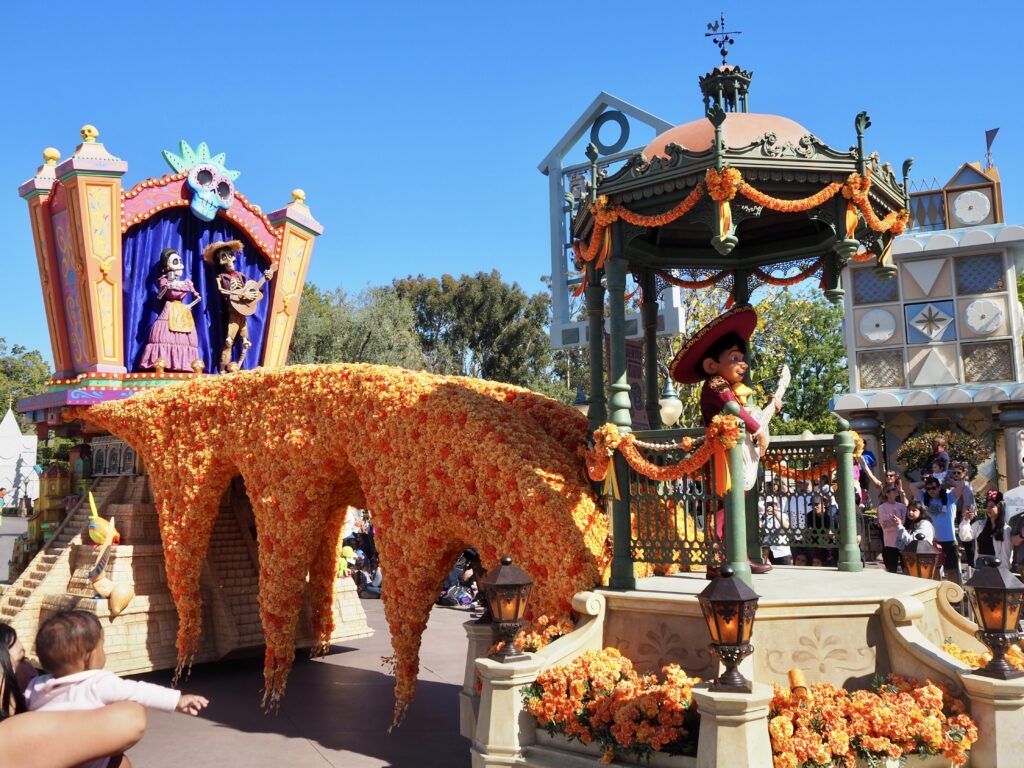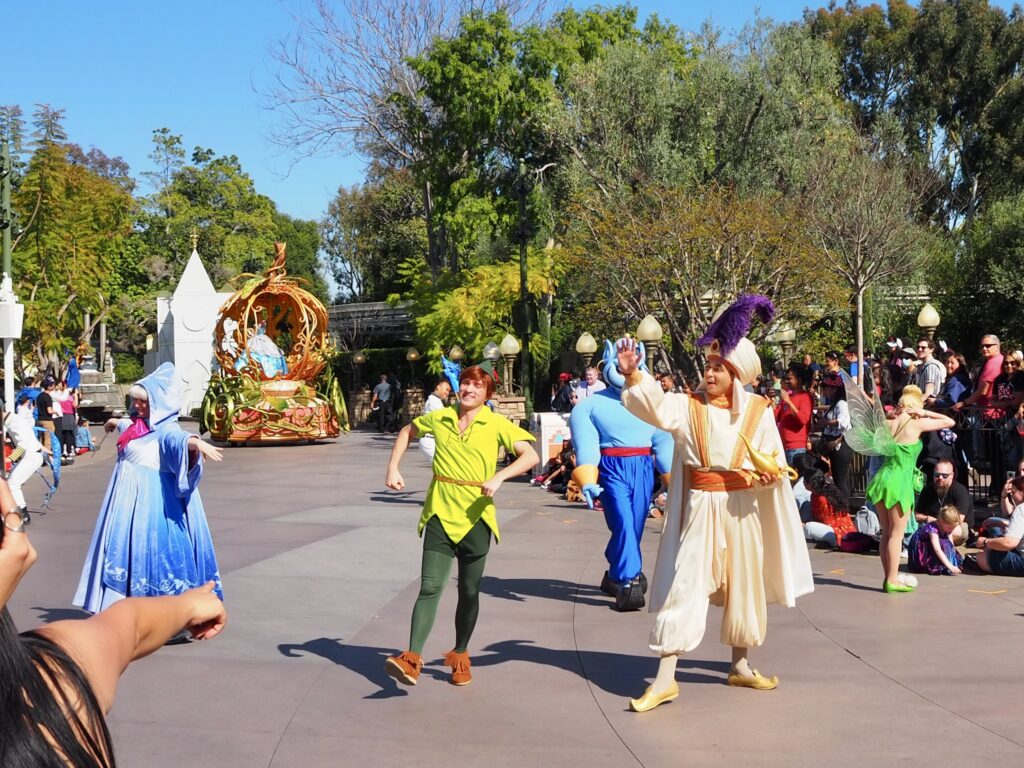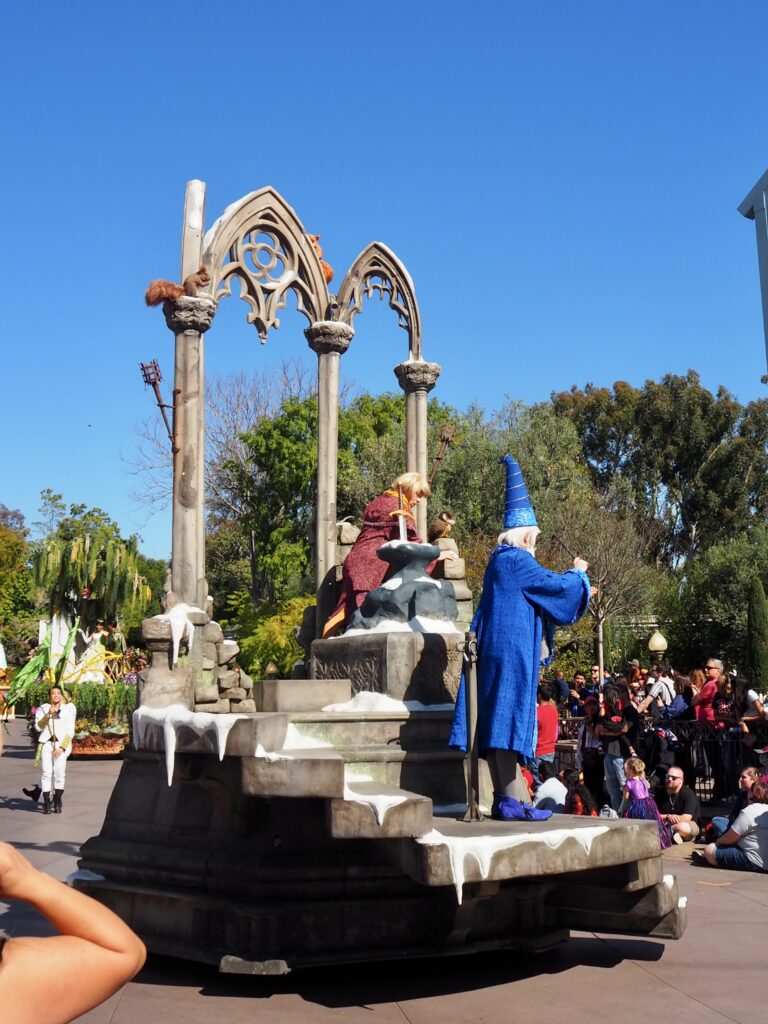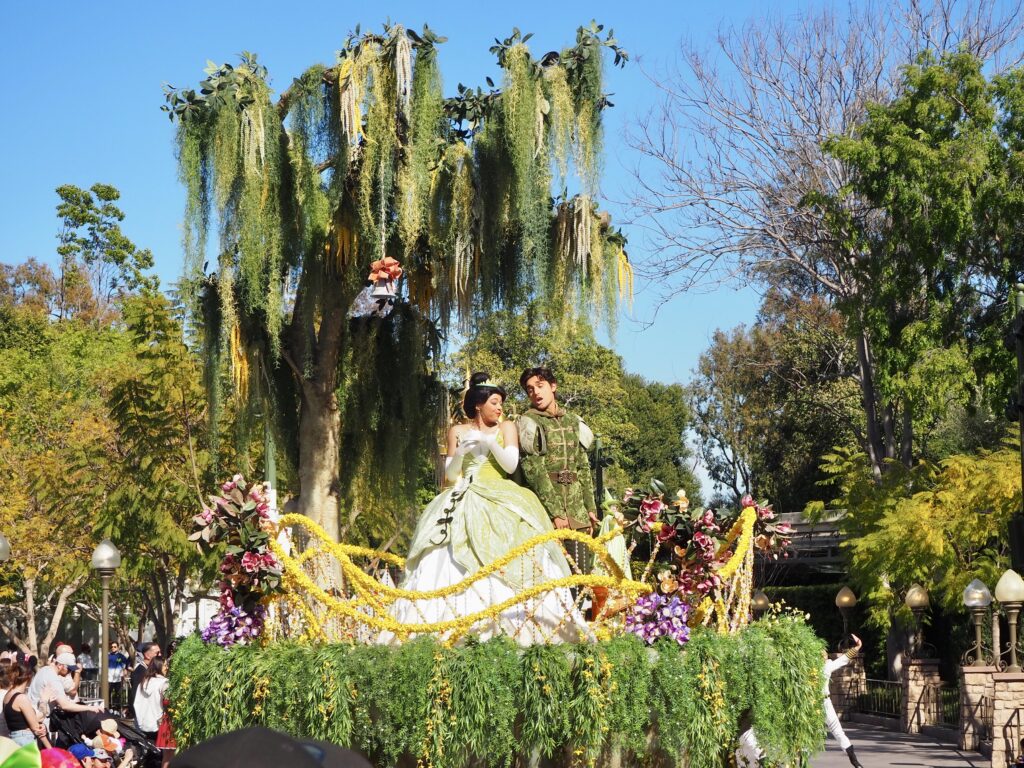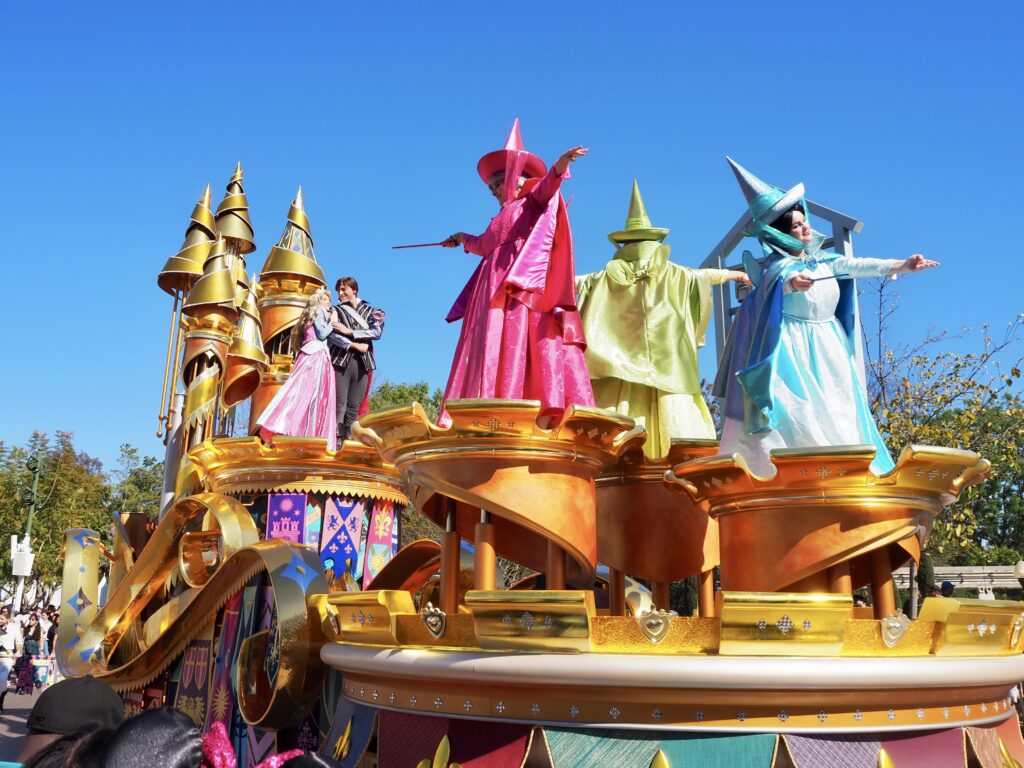 Fantasyland Part Two
After that, I headed back to Fantasyland for a few more rides, hoping to grab some shorter queues while people finished watching the parade. I hopped on the Storybook Land Canal Boats, which caught my eye because they sail inside the whale from Pinocchio! It ended up being a really cute boat trip through miniature sets from fairytales. Continuing the fairytale theme, I went on the Snow White ride next, which is well-known for actually being pretty scary. I do forget how scary that movie is sometimes! It was nice to see another classic, original ride as well. I also went on the Alice in Wonderland ride, exploring the weird and wacky wonderland from inside a caterpillar, essentially retracing the movie's story.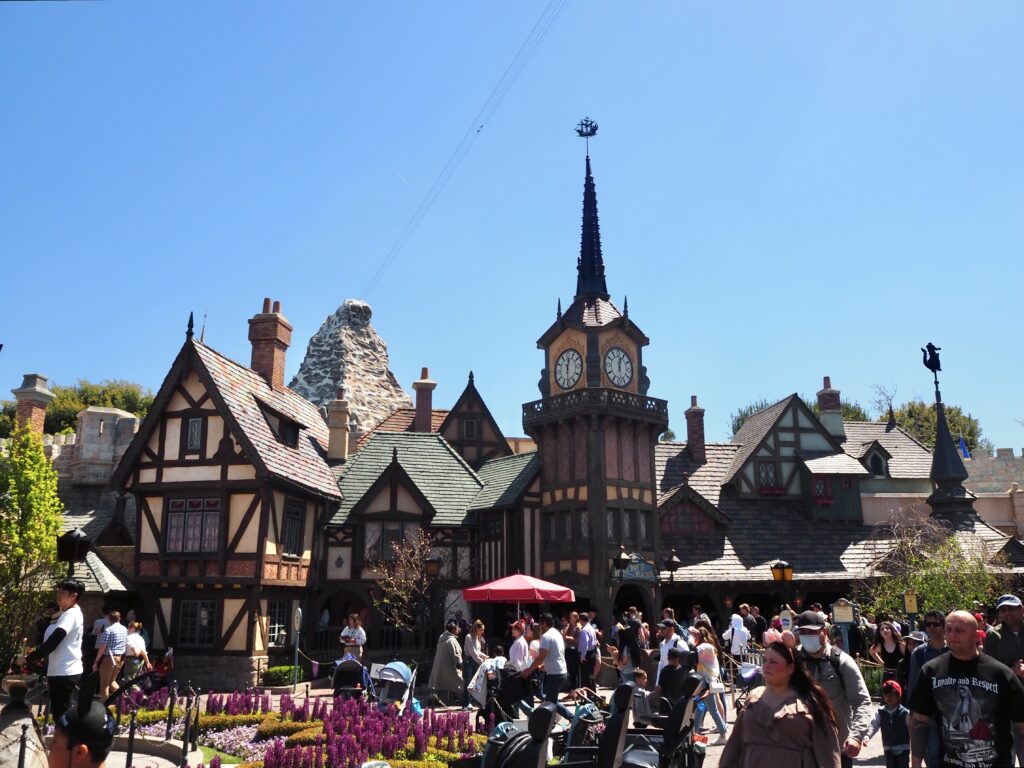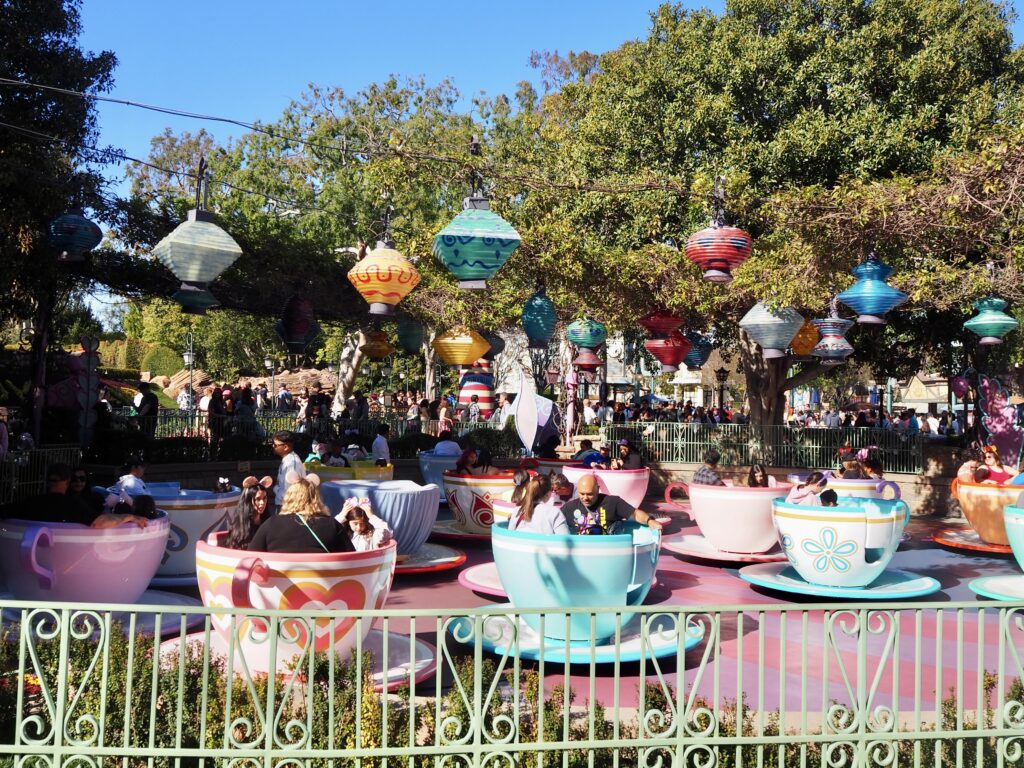 Tomorrowland
From there, I continued my loop through the park again, heading towards Tomorrowland. The big ticket ride here is Space Mountain, but I gave it a miss as usual. As mentioned, I'm not good with rollercoasters anyway, much less ones in the dark where you can't see what's coming! Autopia didn't have too much of a wait, so I jumped into one of the cars for a leisurely spin around its track. It did get a little boring at times, because there isn't much of a set as you wind through the trees and can only go so fast. It did fill some time before my next ride though, the Finding Nemo Submarine Voyage.
This is another ride I don't think I've seen in any other park. Plus, most of the Pixar stuff is in the Disney California Adventure park next door (I didn't have time to visit both). I was very intrigued at the sight of a big, blue pond with bright yellow submarines moving through it. You enter the submarine and everyone sits along the sides, looking through the portholes. It then 'descends' (not really, just bubbles making the effect) to the ocean depths. You get to watch a combination of real ocean floor sets built in the pond, over-layed with computer generated scenes with Finding Nemo characters. The underwater effect was totally different to any other ride, and I was surprised and delighted by the whole thing!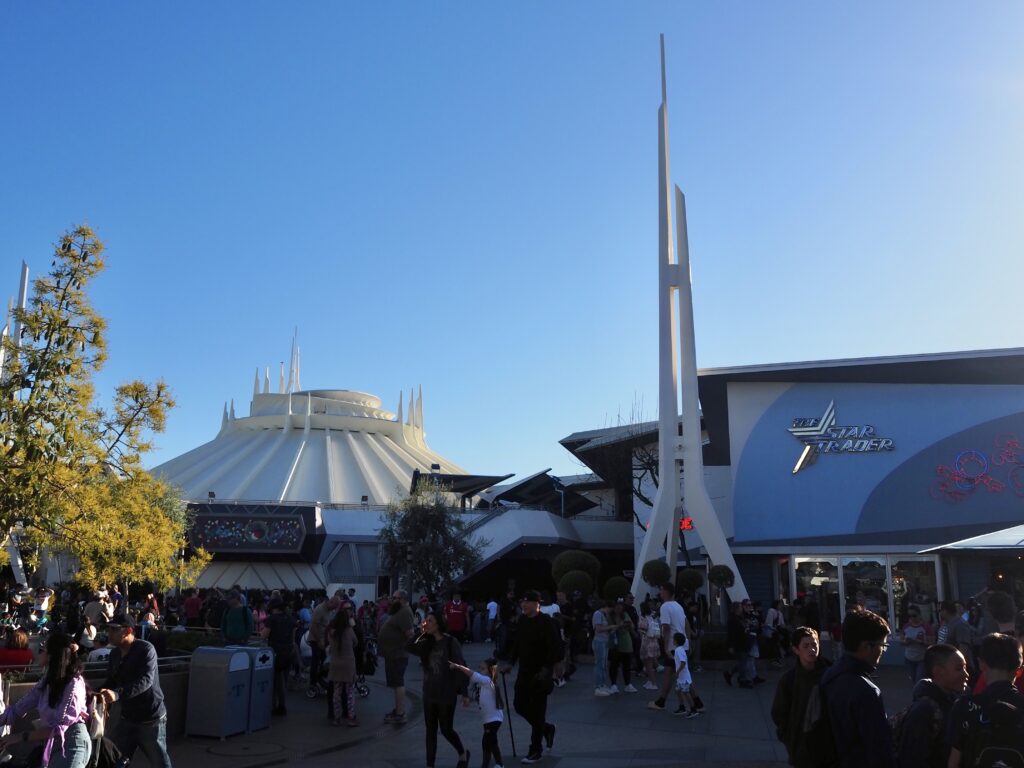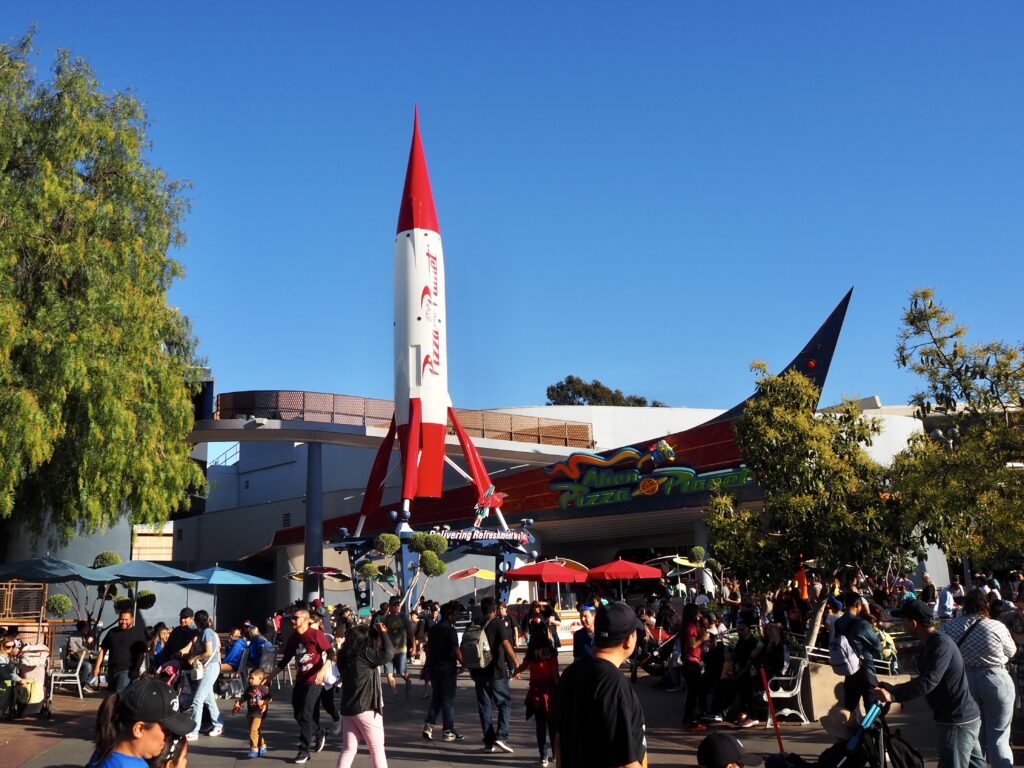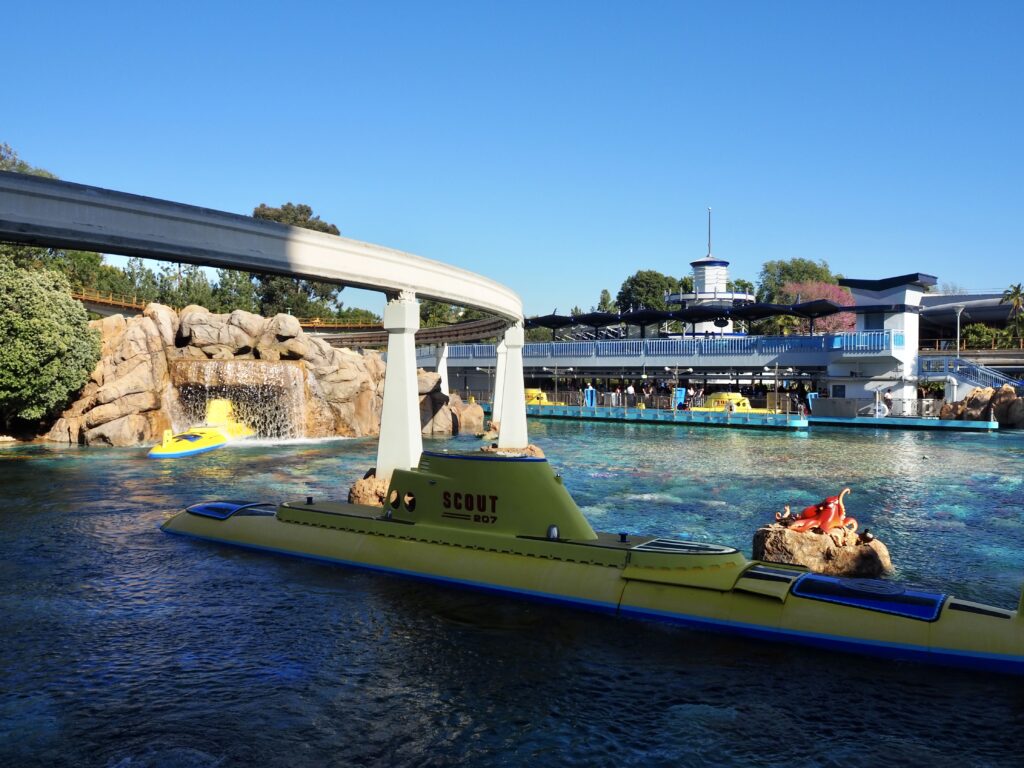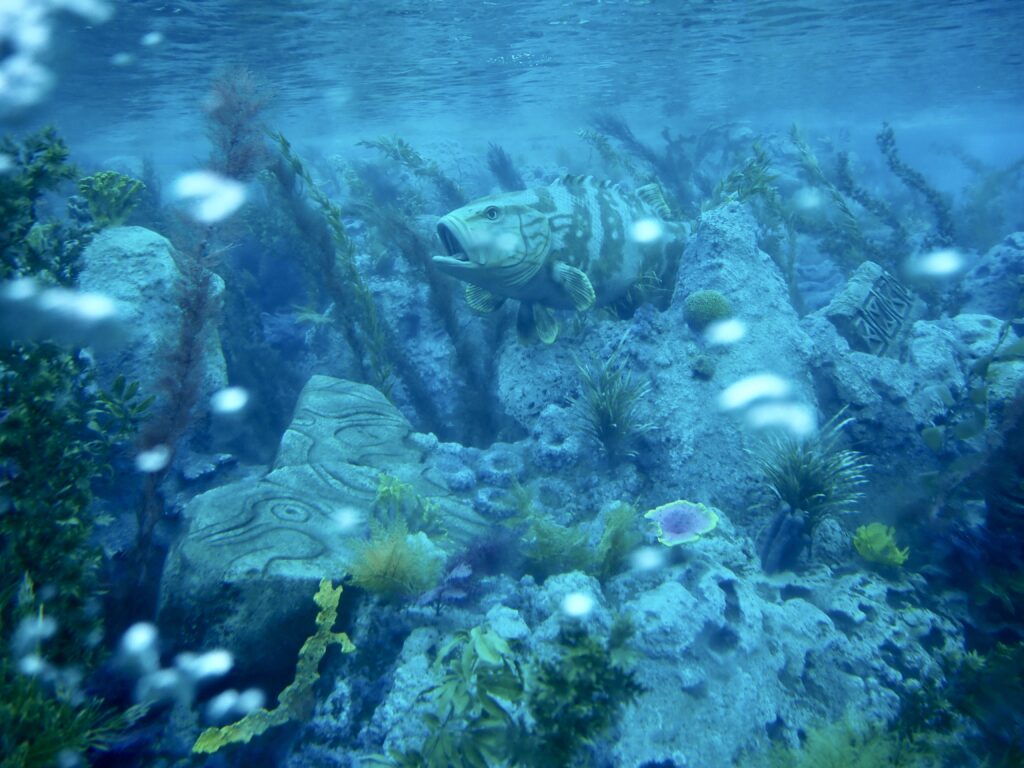 Matterhorn Bobsleds
After resurfacing, I decided to put on my big-girl boots and be brave. I had been eyeing the Matterhorn Bobsleds, but it looked a little big for my rollercoaster style. However, after a few slower rides I was keen for something a bit faster. I'd looked this up online too and observed it from all angles and while the mountain is big, there isn't a huge drop at any point. So I joined the single rider line (the only one in the park) and jumped in the last seat of our bobsled.
There are actually two tracks that run simultaneously in different directions. After an initial incline in the dark that I didn't love, the rest of the ride went downhill but wound around and through the mountain as it did, so there was no sudden drop. We encountered some yetis along the way, as well as views over the rest of Disneyland. It was fast and fun, and I was really glad I did it in the end!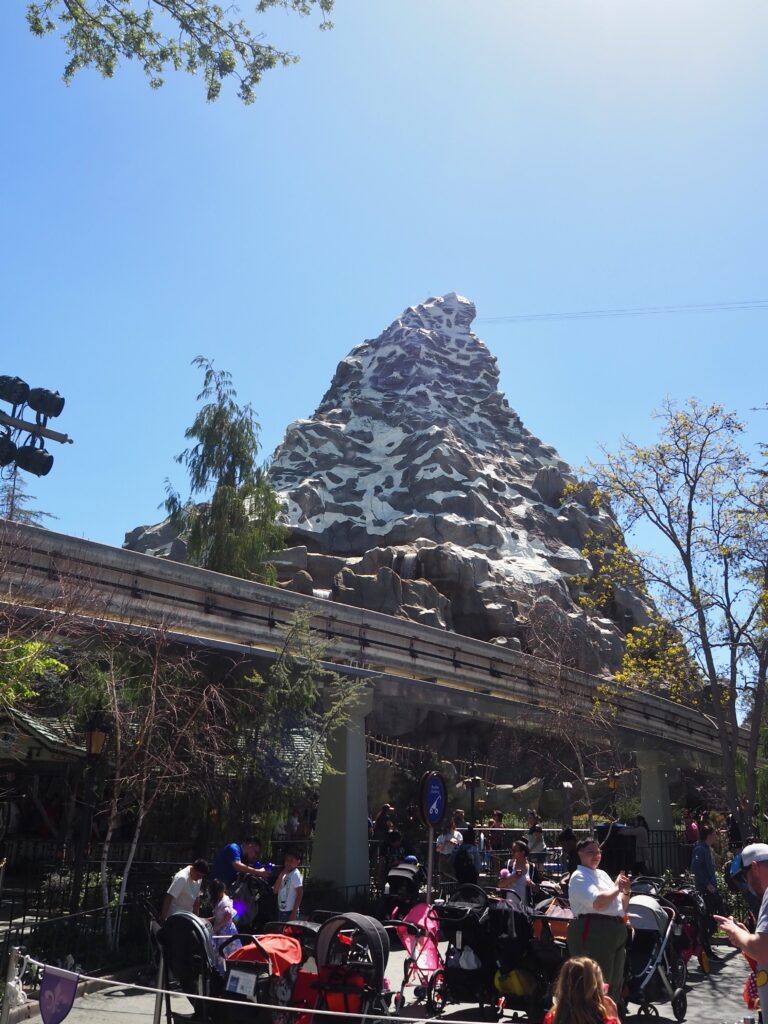 Adventureland
Then, I was headed to Adventureland for my last Lightning Lane; the Indiana Jones Adventure. This one had a huge queue all day, and even with Lightning Lane I think it took about 20 minutes to actually get on the ride. I wasn't quite sure what to expect really, but I was so glad I did this too in the end! You board a jeep and venture into a hidden temple and wow, the set was gigantic! The jeep rocks and rolls through at top speed, flinging you past giant statues and pits of lava, hurling round corners so you never know where you are heading next. There was a sudden drop in the dark that had me screaming, but it was worth it for how incredible that set was!
It was dark by the time I exited, but Jungle Cruise was next door, another classic ride I go on in every park. Adventureland is one of my favourite areas, besides New Orleans Square, so I enjoyed walking through the jungle lit by tiki torches to get to the ride too. I've never done Jungle Cruise in the dark either, so that was a new experience! The river boat was driven by a guide full of cheesy jokes, as usual, and we drifted past all the huge animatronic animals. It was familiar to me, but still very enjoyable, and a nice, calming ride for late in the day when I was getting tired.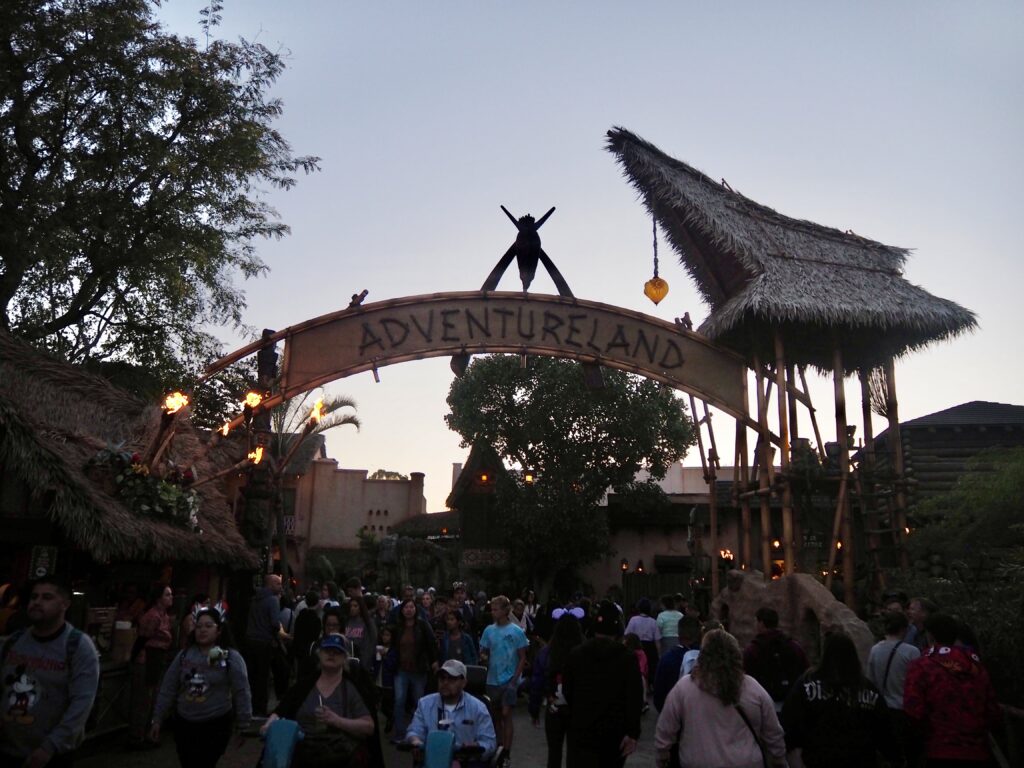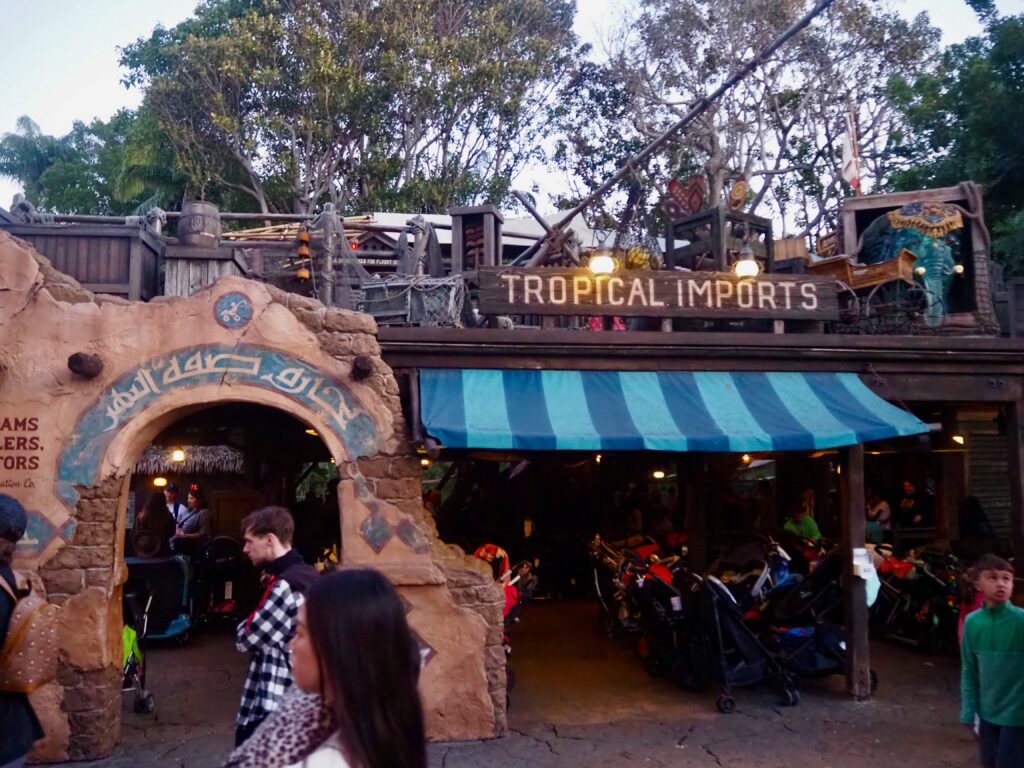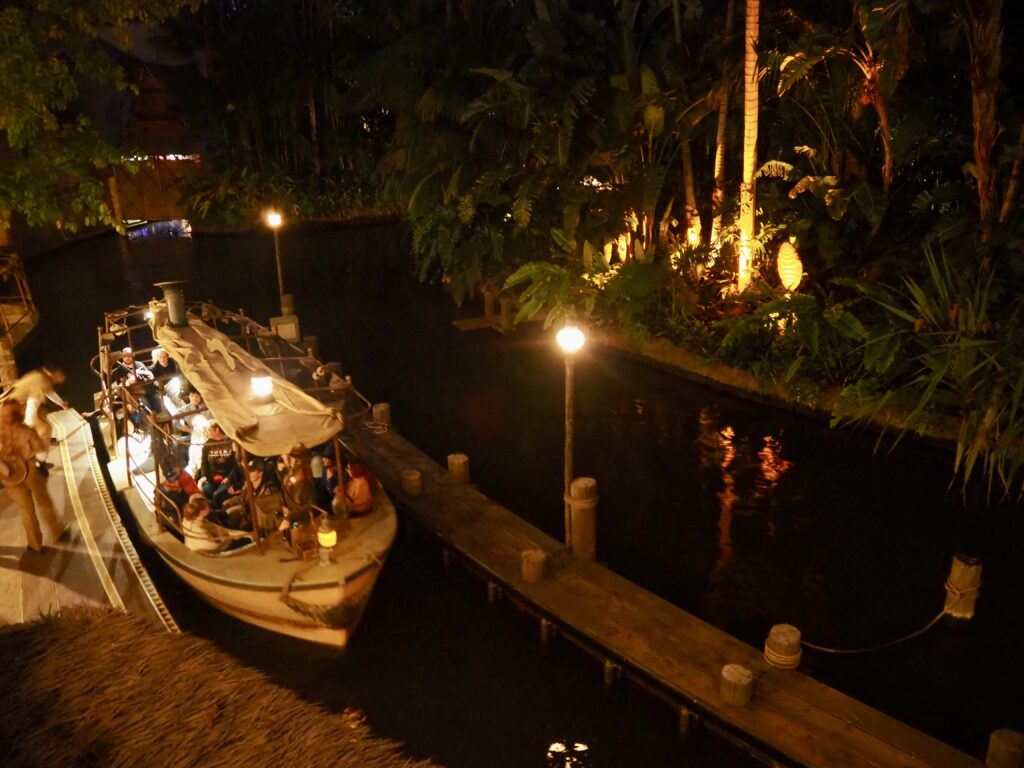 Fantasmic!
There were just a few more things left to see, starting with grabbing dinner from a New Orleans cafe and heading down to the lakeside again. Disneyland California has a performance of Fantasmic, which I haven't seen since Epcot in Florida. It starts with Mickey Mouse as the Sorcerour's Apprentice, playing with fountains on the lake. These bring to life the storybook characters, with scenes from films projected on the spraying water.
They're soon joined by real characters too, as floats sail past featuring dancing monkeys from The Lion King and some of the Princesses and their partners. I was most amazed though when the galleon that had been drifting around the lake earlier reappeared as the Black Pearl from Pirates of the Caribbean! The skeletal, cursed crew had taken over, with Jack Sparrow and Elizabeth Swan also on board.
Things then take a turn when the villains emerge, though, including Ursula and the Evil Queen. It culminates when Maleficent shows up, first flying overhead in her human form before transforming into a gigantic black dragon. She even sets the lake on fire! It's very dramatic and very impressive. Mickey saves the day in the end, of course. I missed the end of the show though, because it finishes right before the fireworks start and I wanted to get back over to Main Street for the best view!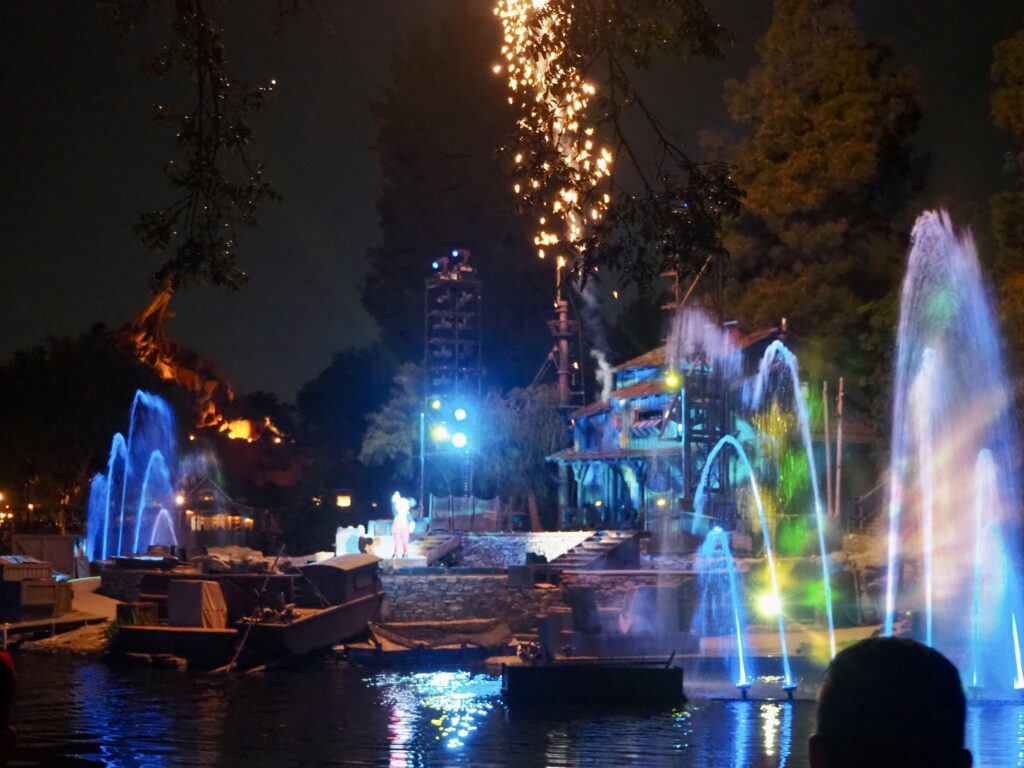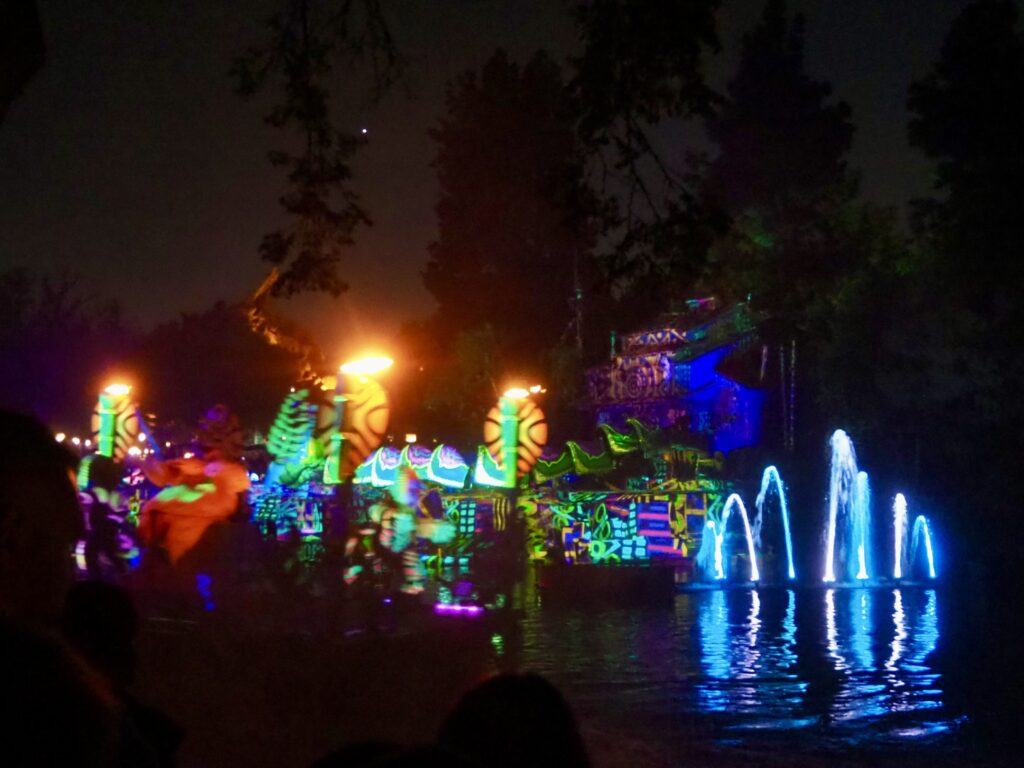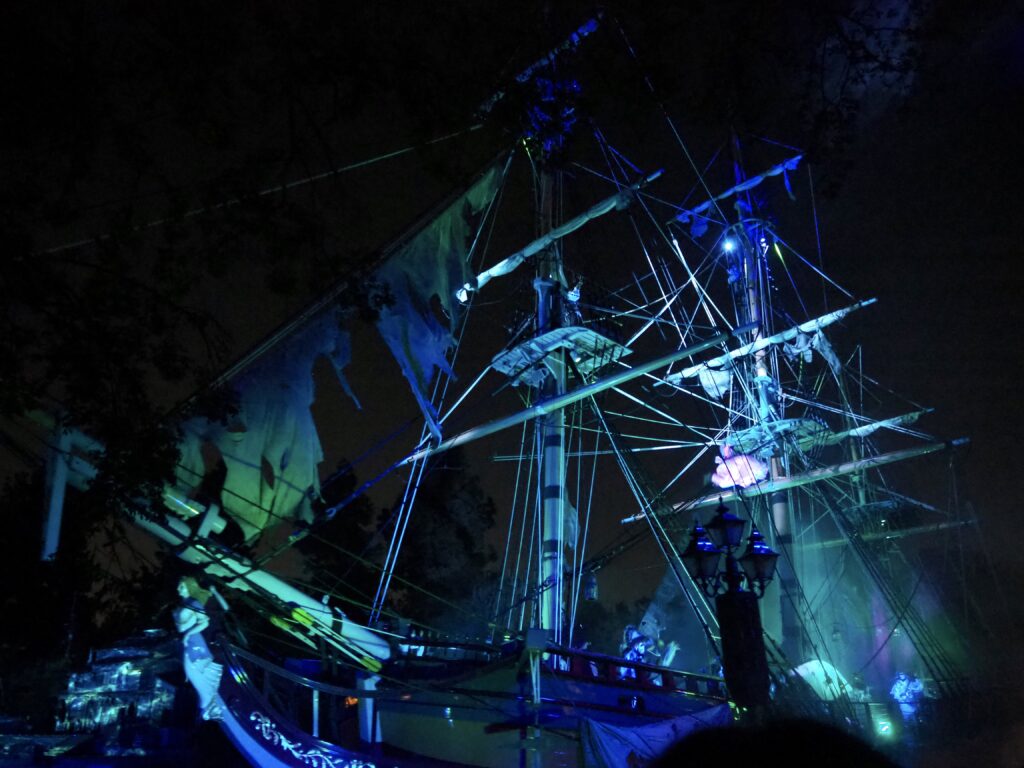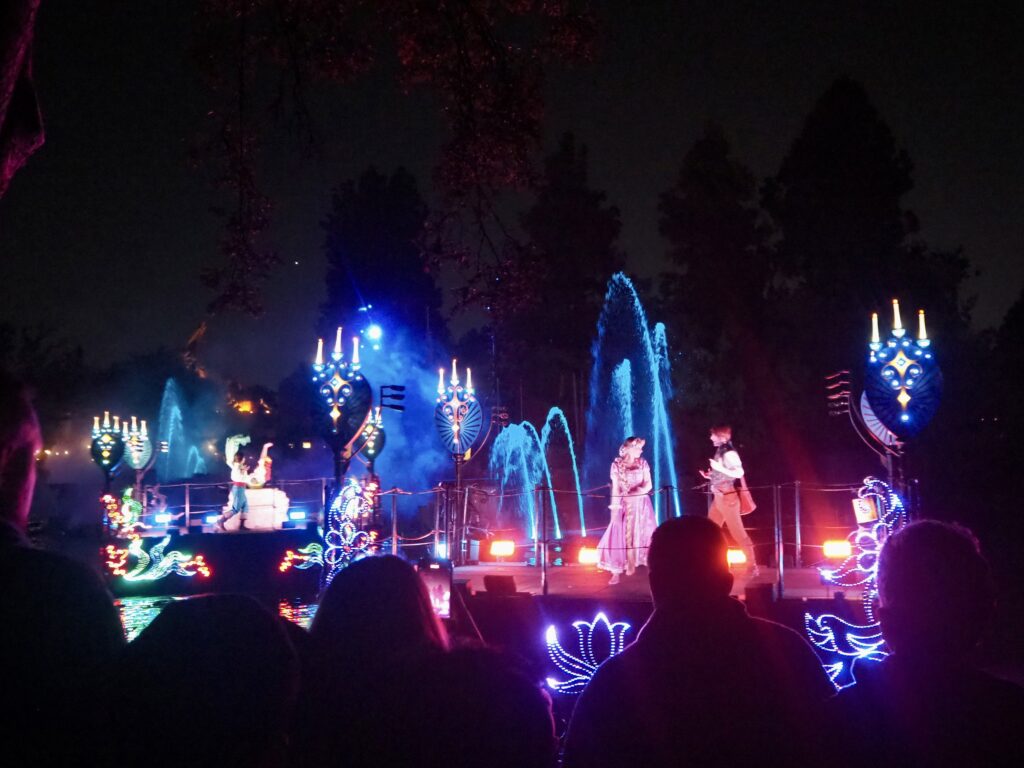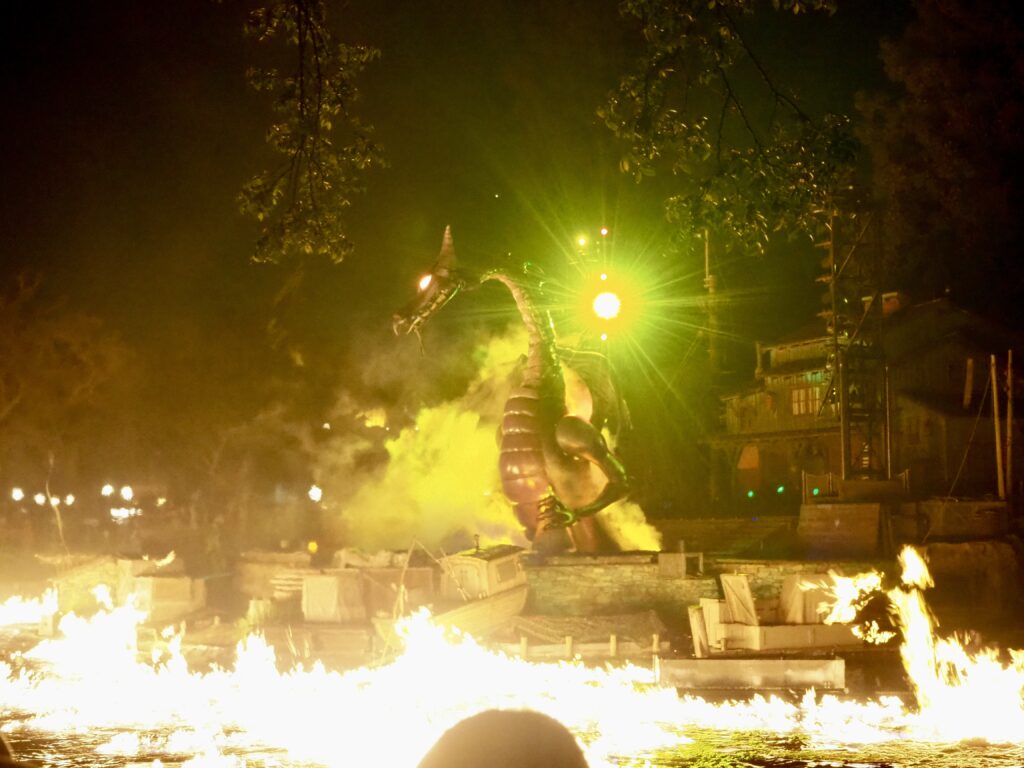 Wondrous Fireworks
It's not a trip to Disneyland if I don't see the fireworks over the castle at the end! Even though the fireworks are visible in most of the park, I wanted to be in front of the castle for them. Since I stayed for most of Fantasmic, I ended up quite far back, at the start of Main Street, but I could still see well enough. The castle is used to project film scenes, which brings back all the classic nostalgia as the soundtracks play.
I was also expecting Tinkerbell to fly over, as I've seen at previous parks, but we got the Blue Fairy instead. Followed later by Baymax, from Big Hero 6! I know Fall Out Boy wrote the movie's theme song, but I was definitely not expecting to hear them while watching Disney fireworks! It was another memorable moment though, that made this Disneyland day different to my previous ones. And of course, the fireworks were nothing less than spectacular.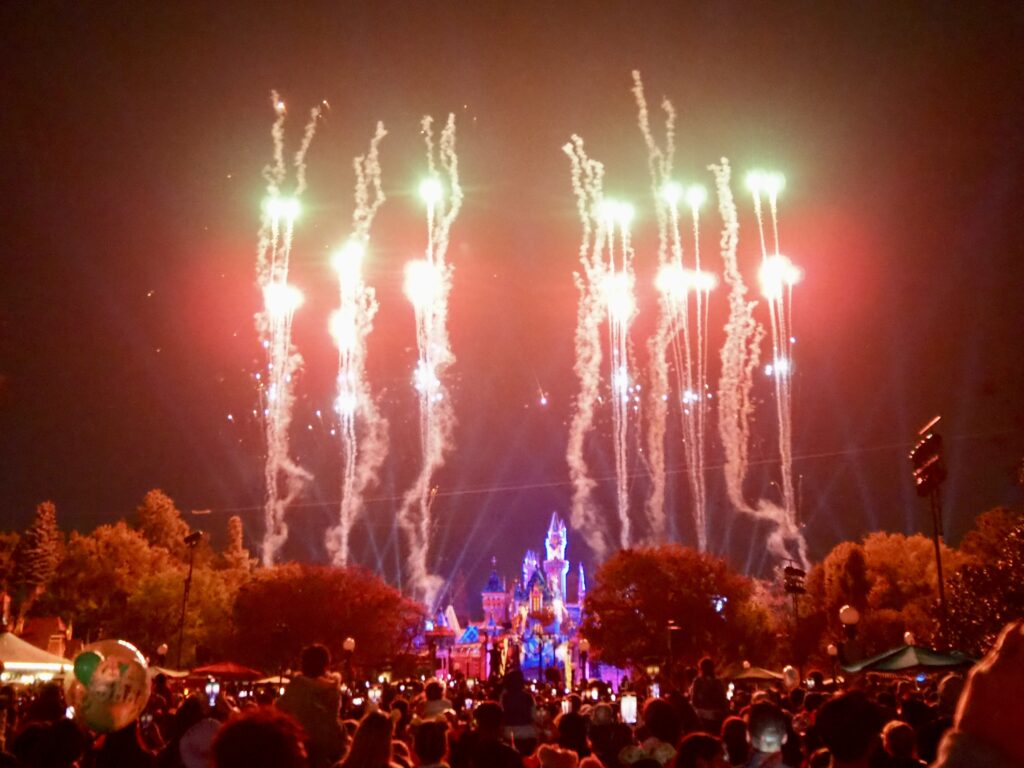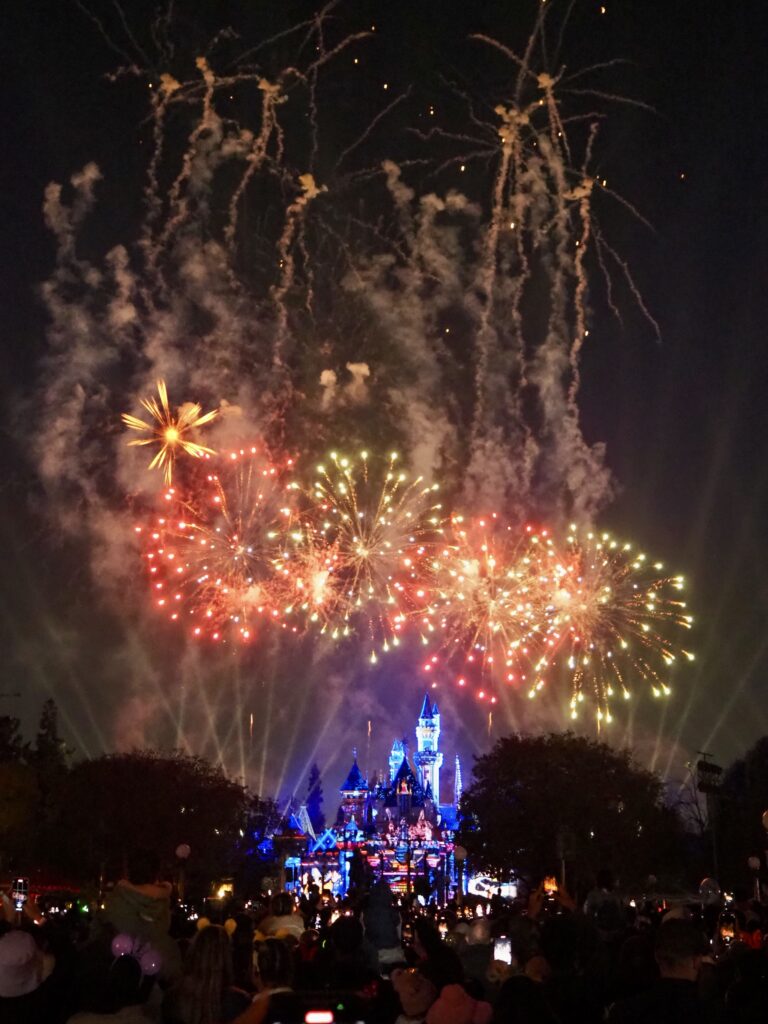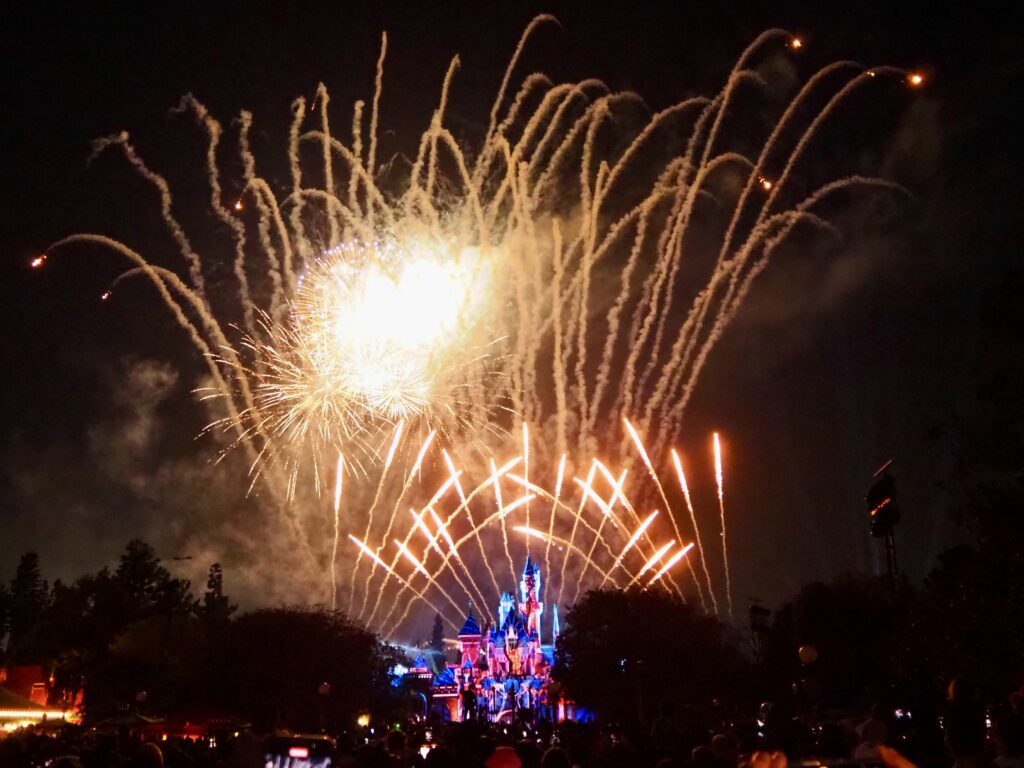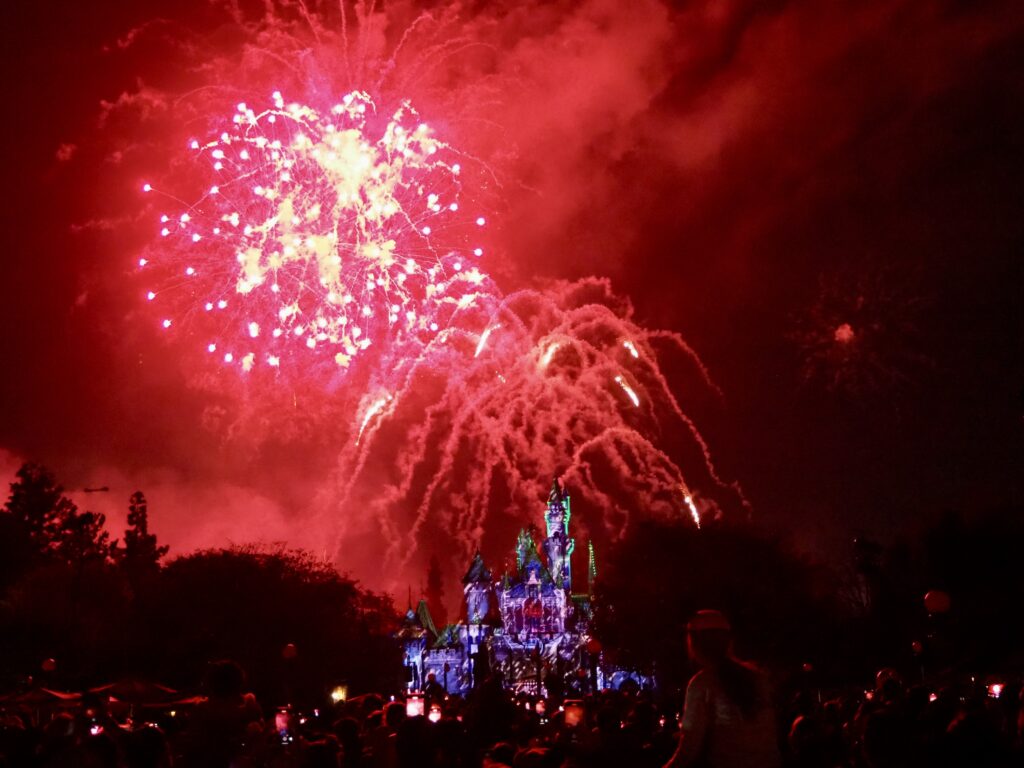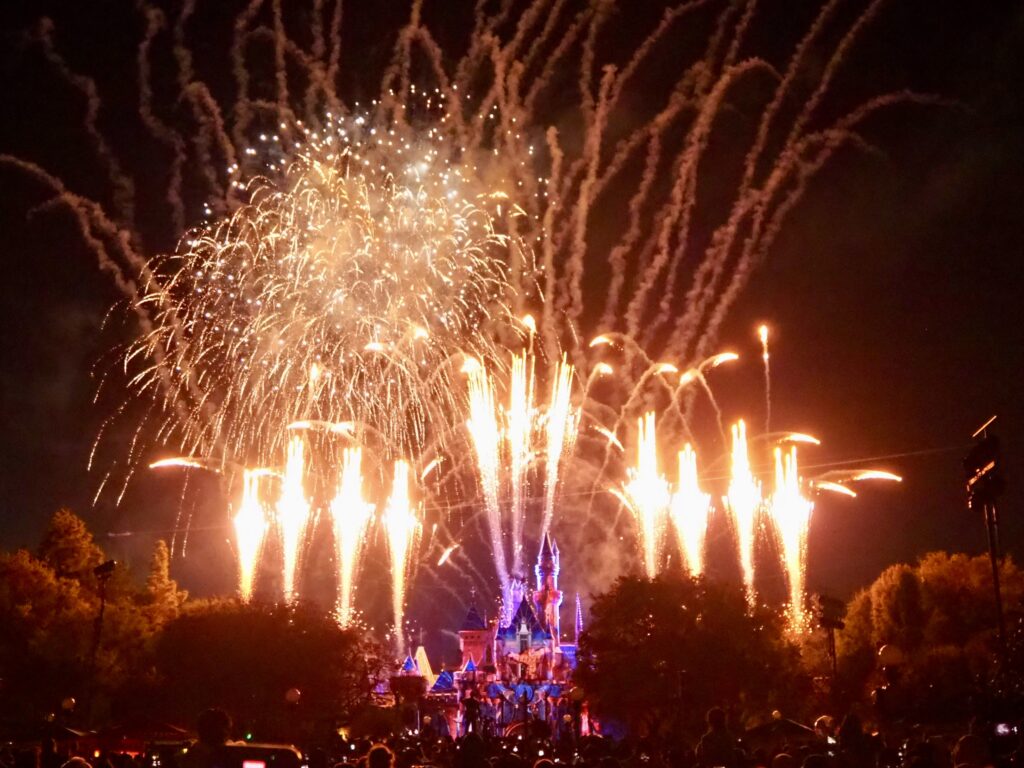 The park stays open until midnight, but I took the fireworks as my cue to depart. Thirteen and a half hours is a long day! On the way out, I popped into one of the souvenir shops on Main Street. I don't buy a lot of Disney merch, but I've acquired a few things to remember each park. I wanted something for the 100-year -anniversary celebration, which ended up being a keyring featuring Mickey and the gang. All in all, it was a super fun, nostalgia-filled, magical day and I'm so glad to have finally been to the original Disneyland!
You May Also Like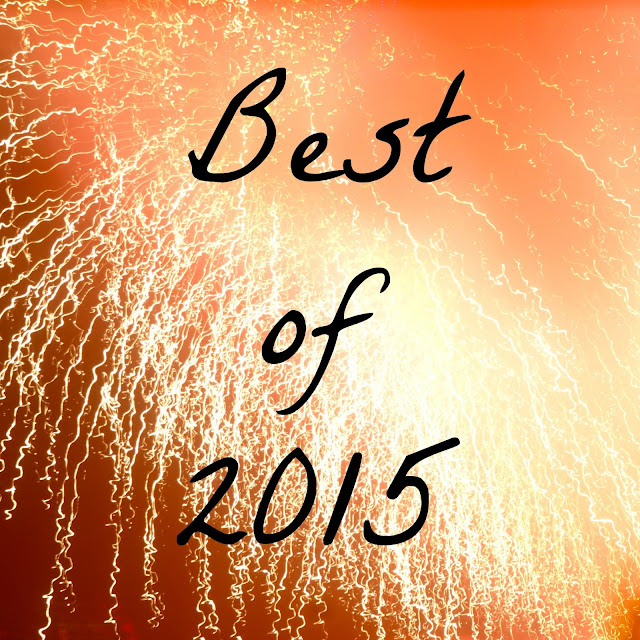 29 December 2015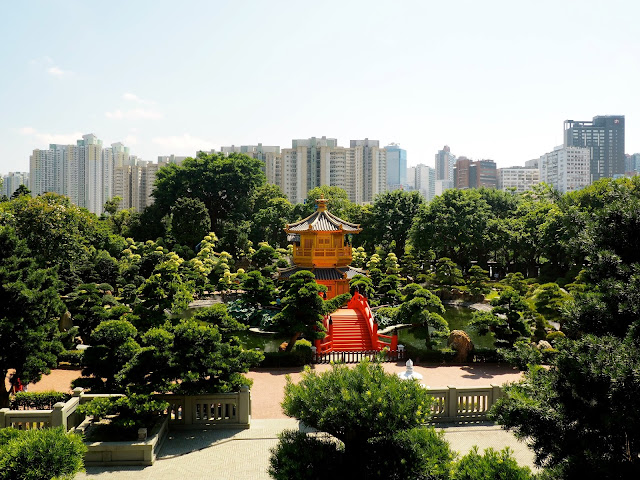 12 September 2015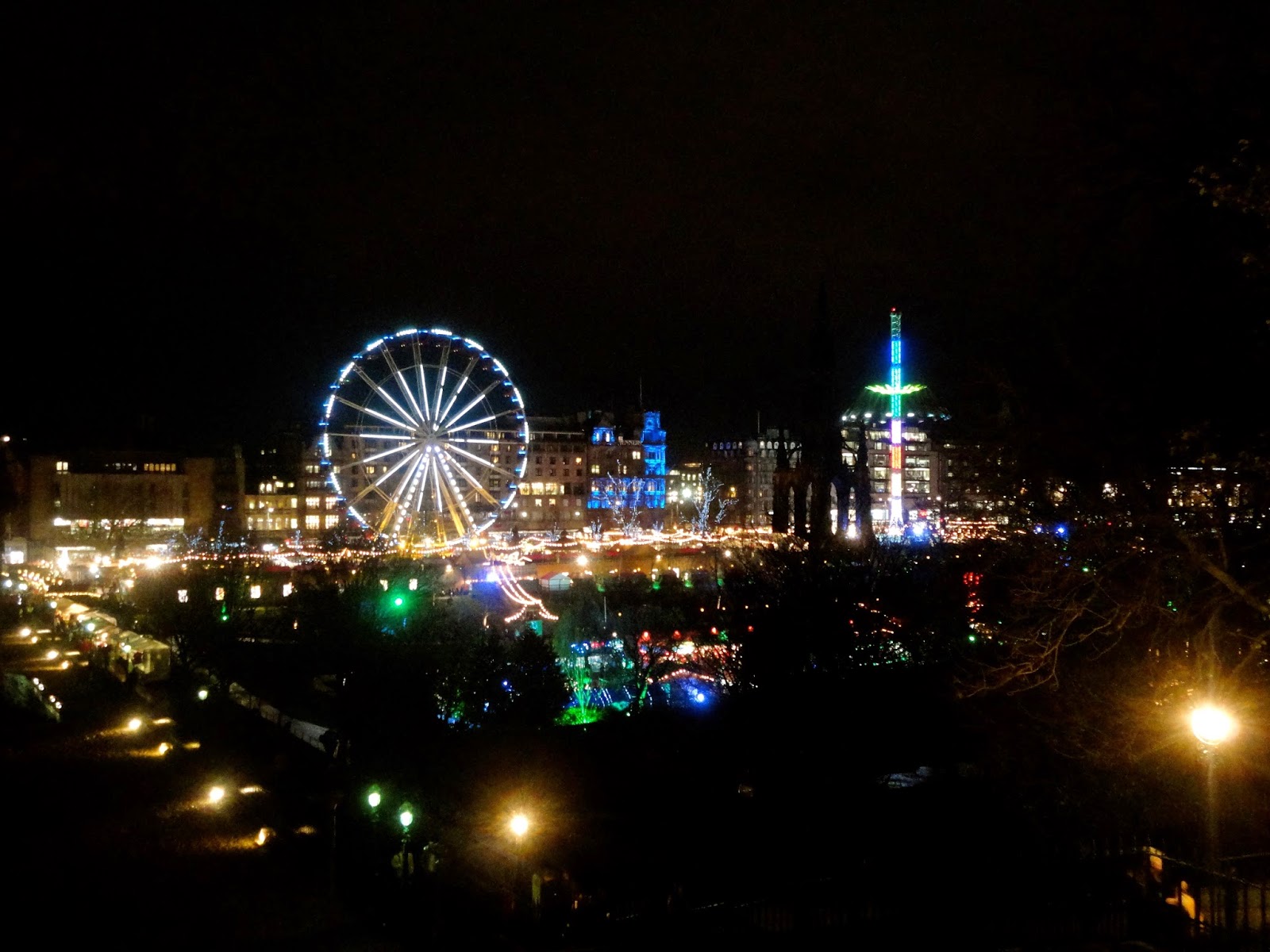 13 December 2014