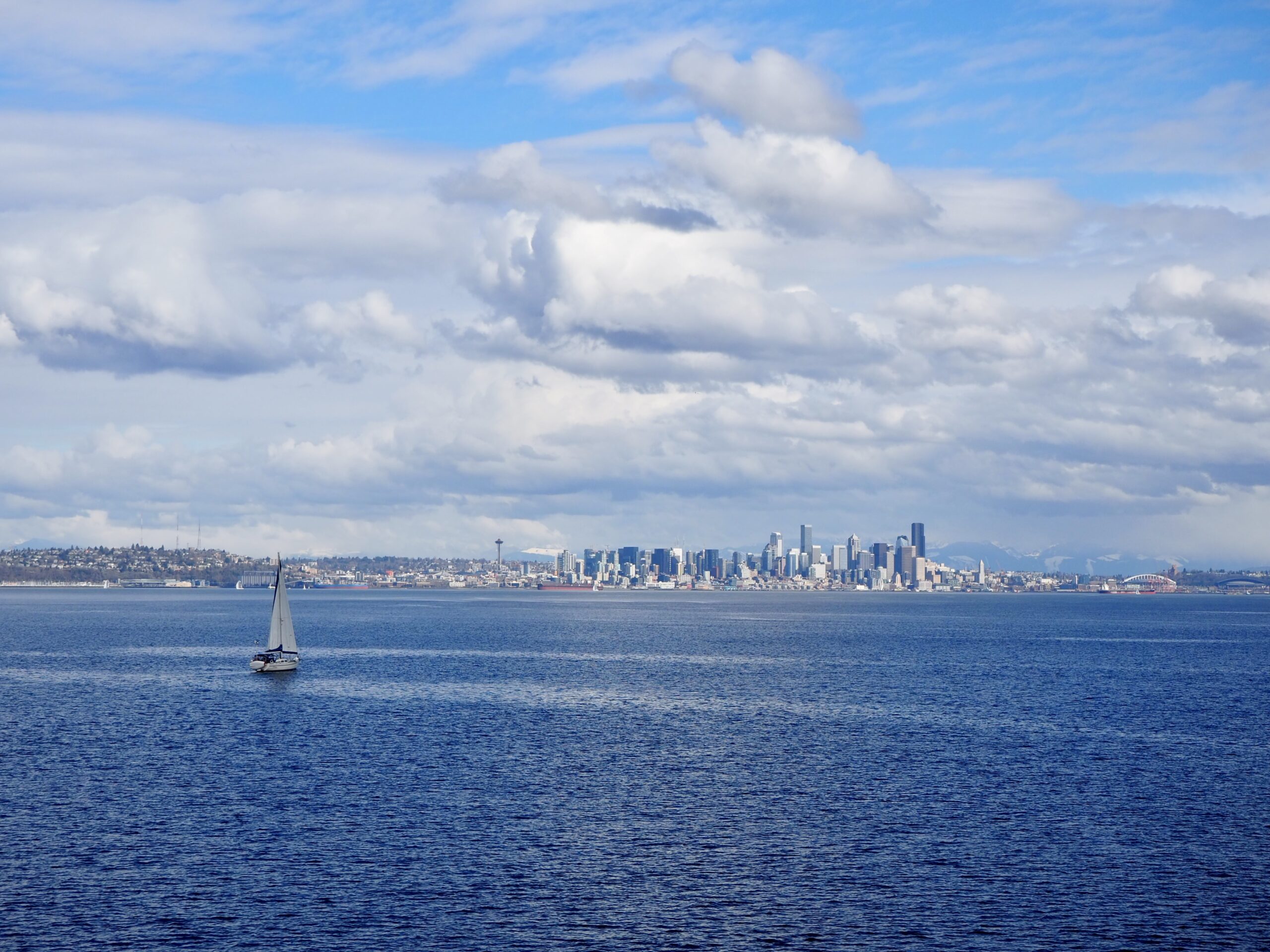 3 Day Trip to Seattle, Washington
22 March 2023
It's only been a few weeks since I went to Portland, but here I am crossing the Canada-US border again! A while back, I realised my birthday landed on a Saturday this year. So, what better way to celebrate than taking Friday off work and going away for a weekend trip? Seattle is only a few hours from Vancouver, just across the US border, and there are regular train and bus connections. This made it an easy Thursday evening trip down to allow me a 3-day trip to Seattle for my birthday weekend.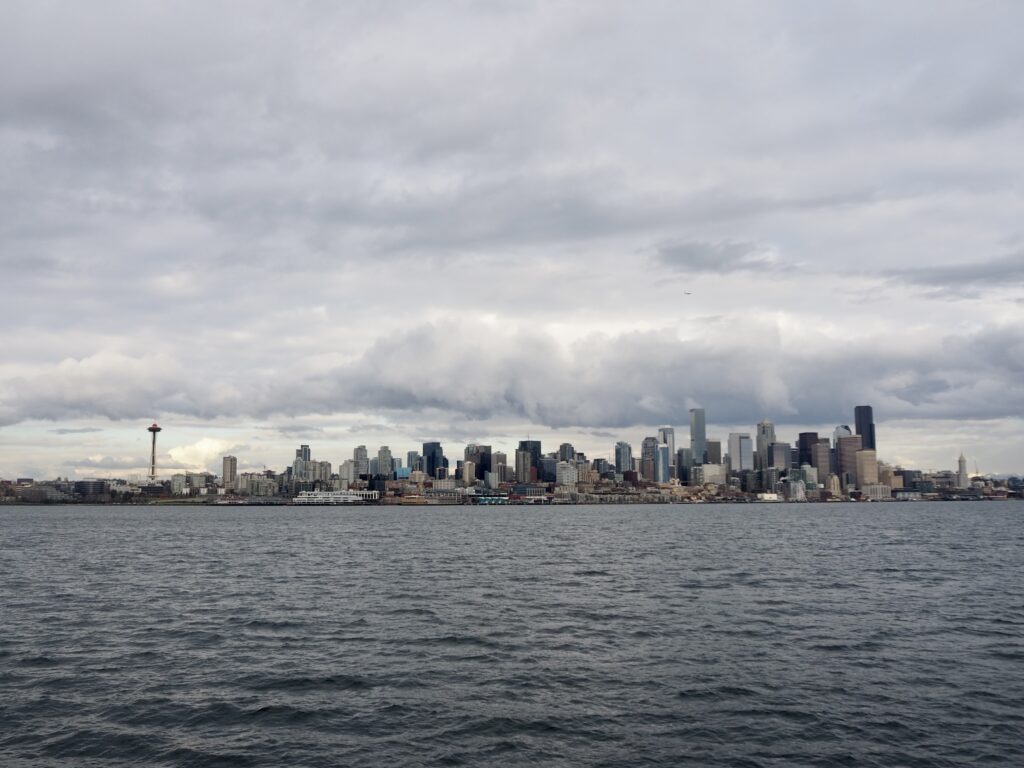 Day One
Downtown Seattle Walking Tour
My 3-day trip to Seattle kicked off on Friday morning with a walking tour. And not just any walking tour – a free one! I used to be a free tour guide myself and they're common in Europe, but less so in North America – most are pay-upfront tours instead. The Seattle Free Walking Tours are therefore a bit unique over here! I always think it's a good thing to do at the start of a trip, to get your bearings in a new city and get recommendations for the rest of the trip. It was a 2-hour tour, starting near Pike Place Market and finishing down by the Aquarium, doing a big loop through Downtown. Downtown Seattle is very business-oriented, with not many people living in the area. But there's still plenty to see and learn about.
Our guide was super animated and energetic throughout, with some great stories along the way. These ranged from the more serious, like the fire that burned Seattle to the ground in the 1800s and the mistreatment of the area's Indigenous peoples. But there were also funnier, lighter stories, including the escape artist octopus from the aquarium, the outrage over the Hammering Man outside the art museum and the quirky fish & chip shop owner Ivar, who lived a fascinating life. There were a definitely a lot of stories in the tour that I would have never found out about otherwise! So it was a great way to start my weekend.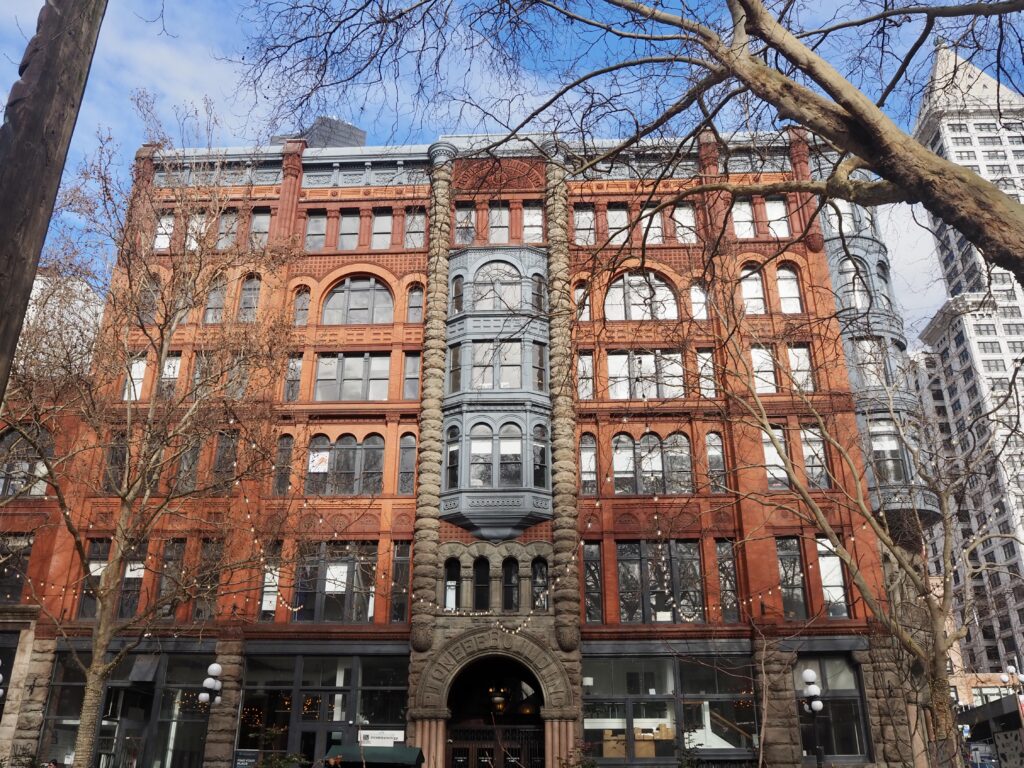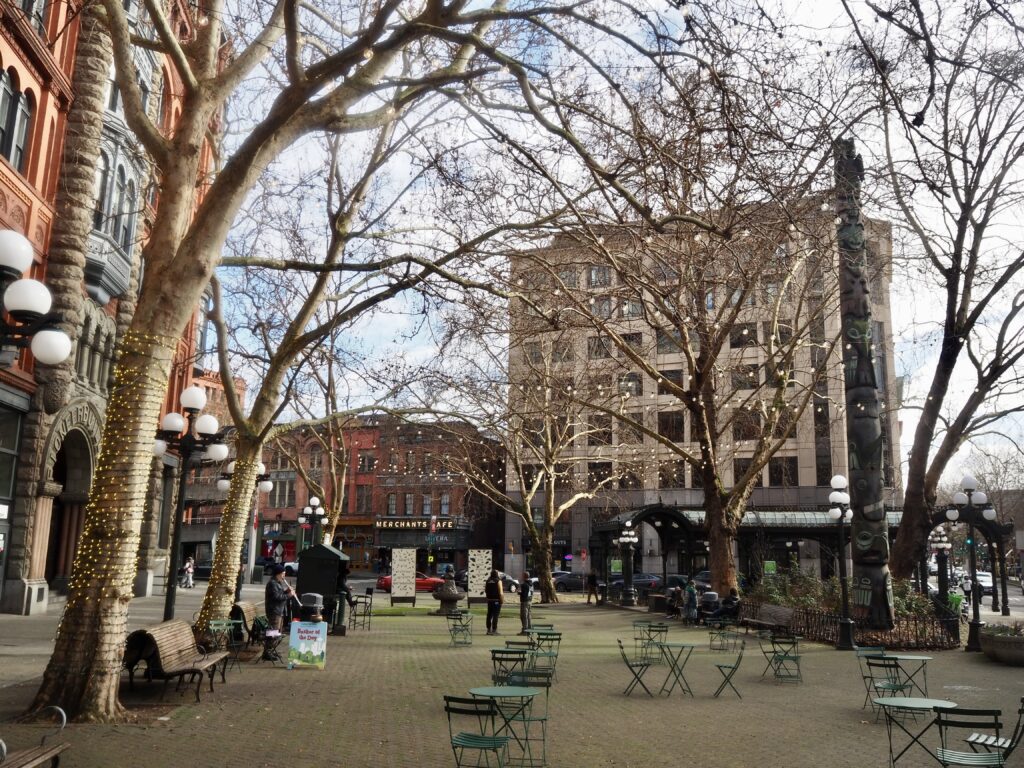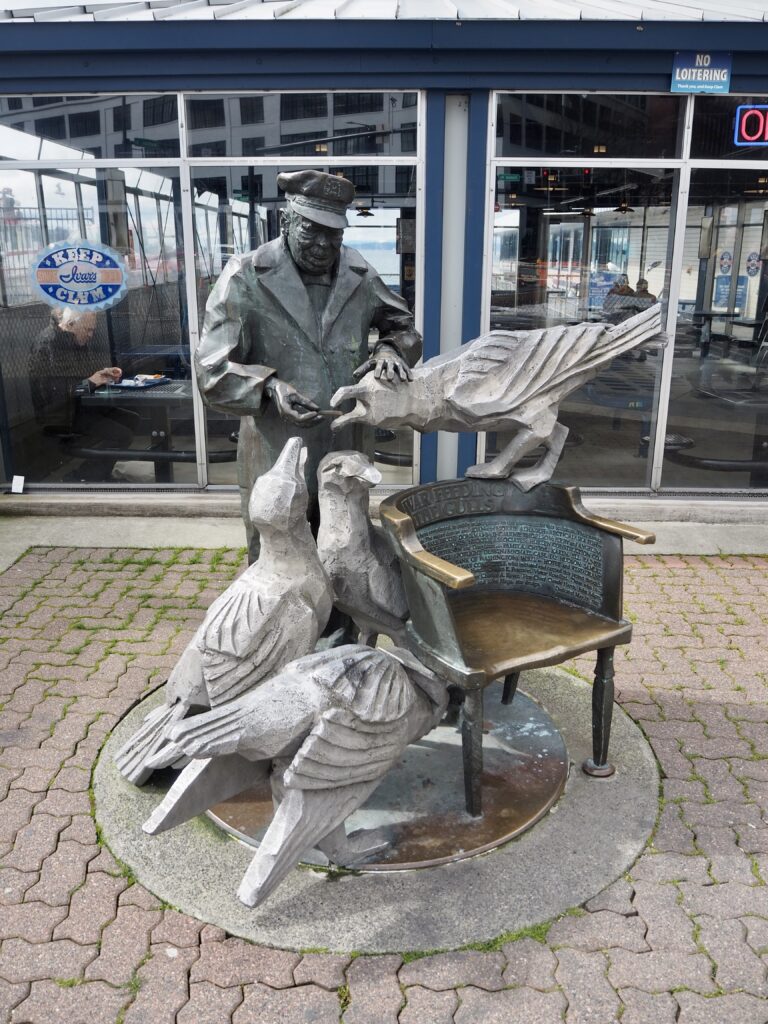 Kerry Park to the Space Needle
Once the tour finished near the aquarium, I followed our guide's advice on where to get a great viewpoint of the city. I continued north along the waterfront, passing by many piers and the Olympic Sculpture Park, with many outdoor art installations. Then I scaled an alarmingly steep hill – seriously, why did I think Seattle was flat? Turns out it's built on seven hills, though two were levelled back in the day – who knew?! Anyways, the hill took me up to Kerry Park, which is a small outlook with a kid's playpark. Not much in itself, but it does have an excellent view. You can see all across the Seattle skyline, with the Space Needle near the forefront, then out across the Puget Sound and to West Seattle.
The Space Needle is probably the most iconic building in Seattle. It was built in 1962 for the World's Fair that took place here, as a vision of skyscrapers of the future and how the world might look in 50 years' time. Not many other Space Needles kicking about in 2012 so they weren't very accurate in their guess, but this one is still pretty important here. From Kerry Park, I walked downhill and over to Seattle Center, where the Fair was held and saw the Space Needle up close. I opted not to go up it though, because its pretty expensive and you obviously can't see the Needle itself in the view when you're standing on it! It's the same reason I've never gone up the Eiffel Tower.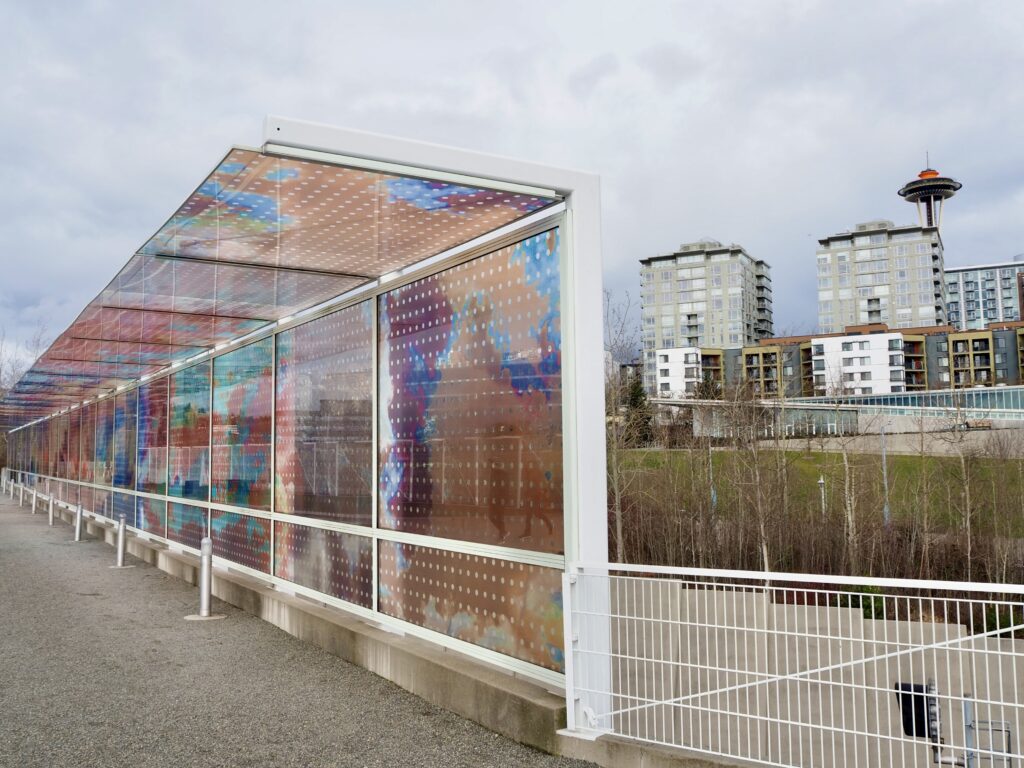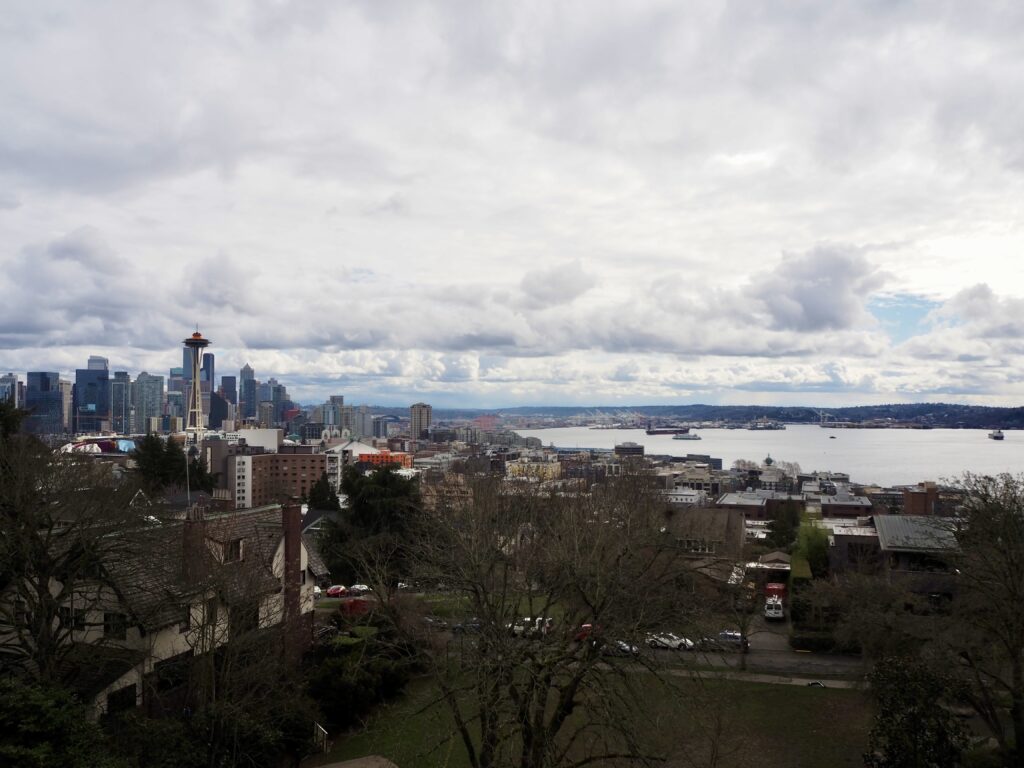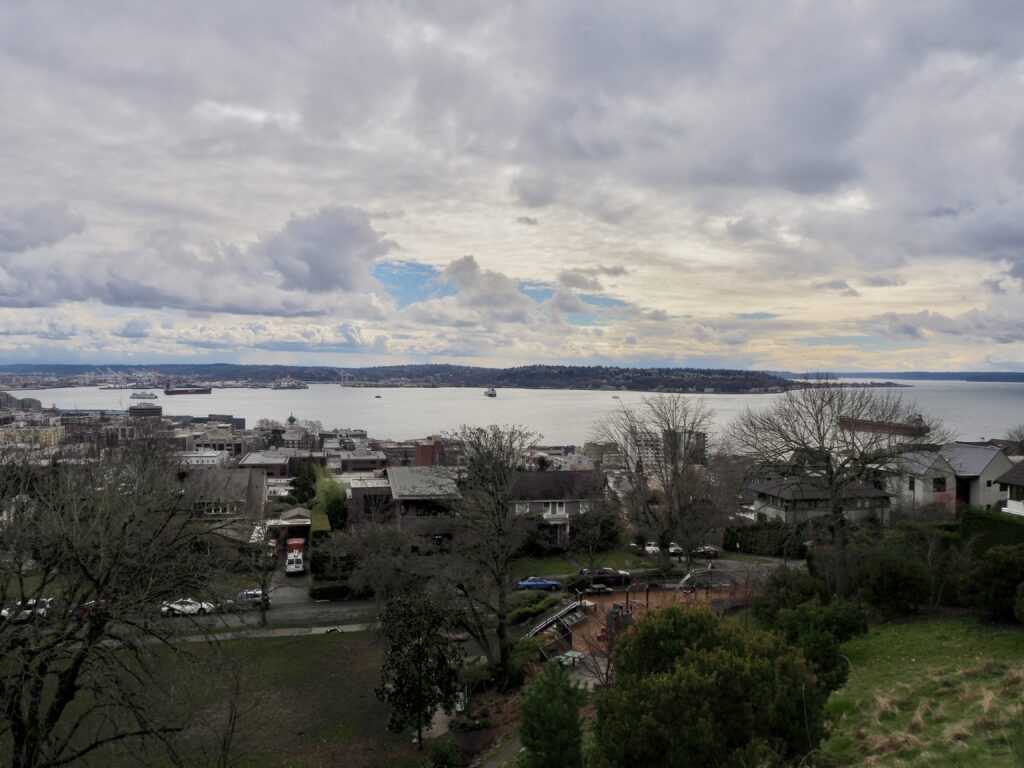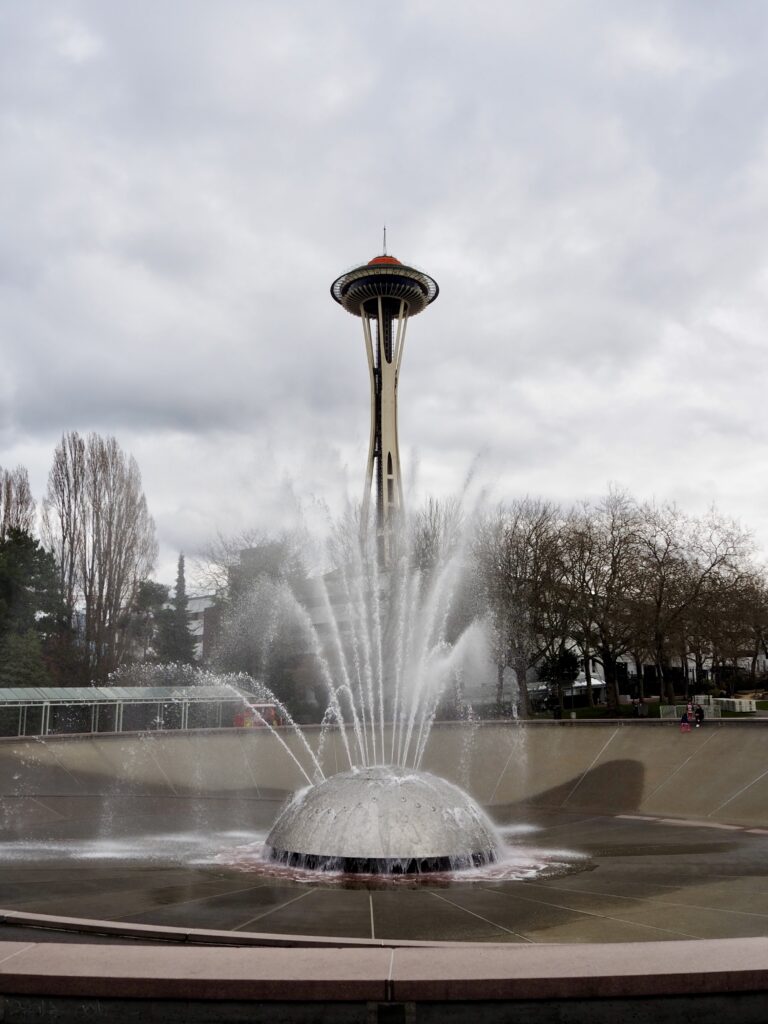 Museum of Pop Culture
Aside from the Space Needle, the Seattle Center has a few other attractions. First I saw the International Fountain and stopped for a late lunch in the Armory, a food court building. Then, it was on to the Museum of Pop Culture. Seattle has given the world several significant music acts, especially during the 90s grunge scene, including Nirvana, Pearl Jam and Soundgarden. So naturally the museum features several music-related exhibits, with tons of instruments and memorabilia from these artists, amongst others. I also never knew Jimi Hendrix was born in Seattle until that day, but there's a room about him too!
It's not just music either; pop culture also comes in the form of film, TV and video games. There are exhibits largely dedicated to fantasy, sci-fi and horror, containing a myriad of props from different franchises. Where else can you see Luke Skywalker's severed hand, Aragorn's sword, Morticia Addams's dress, Harry Potter's glasses and a Dalek? There was so much to see here and I lost track of how much time I spent inside!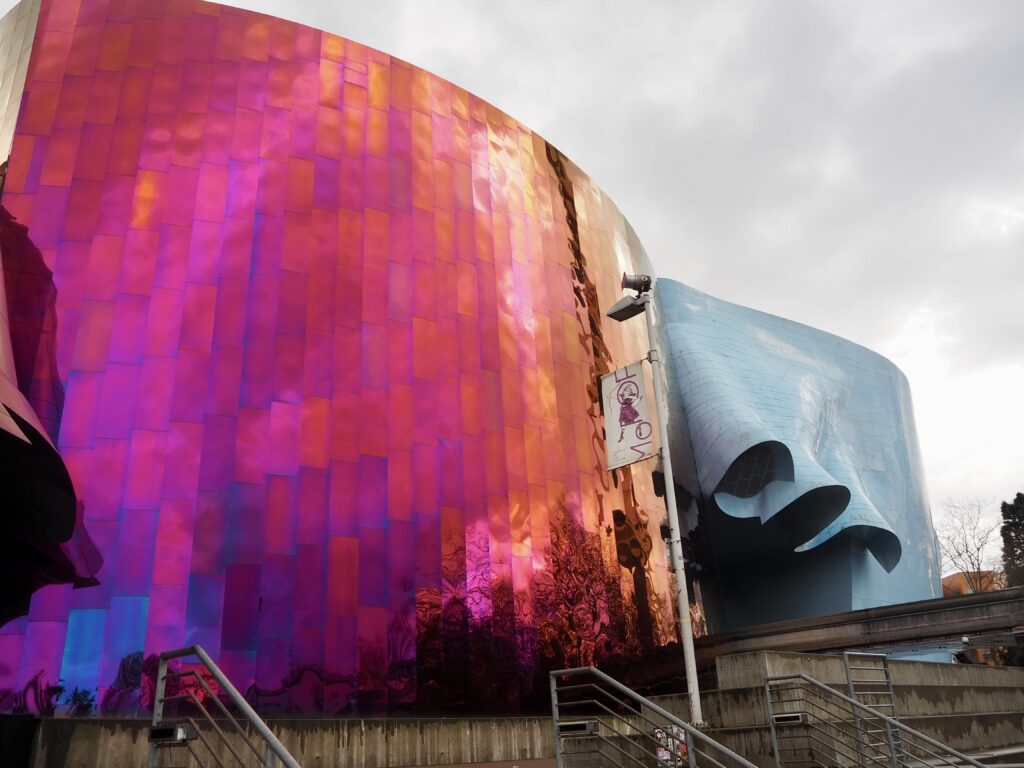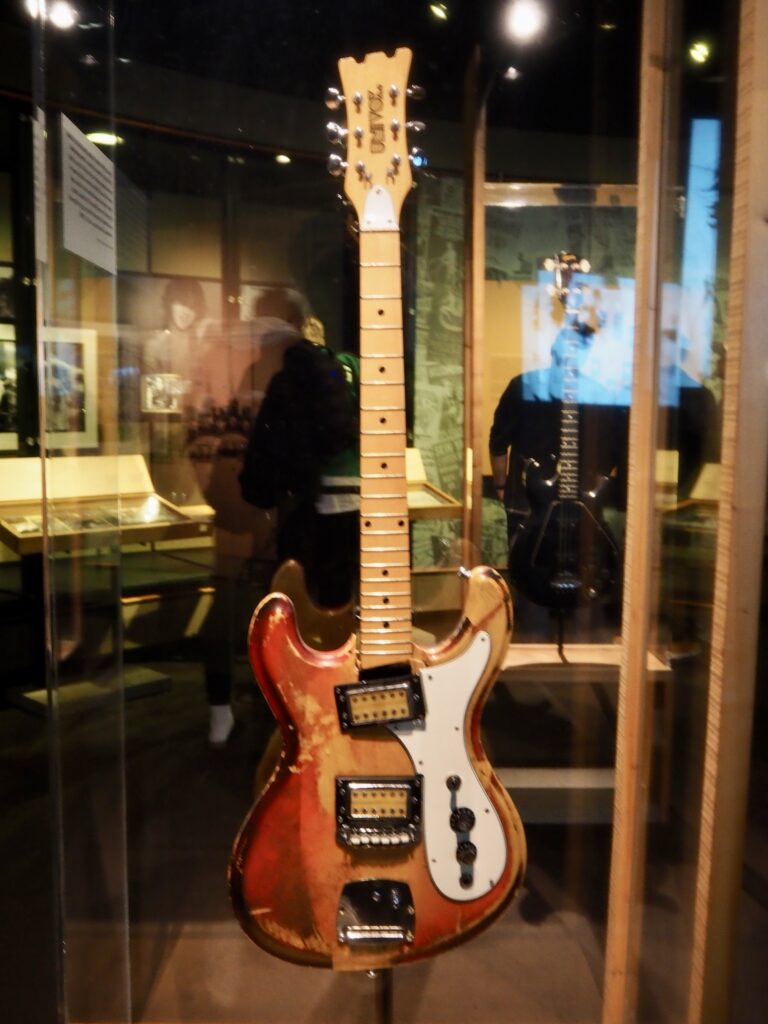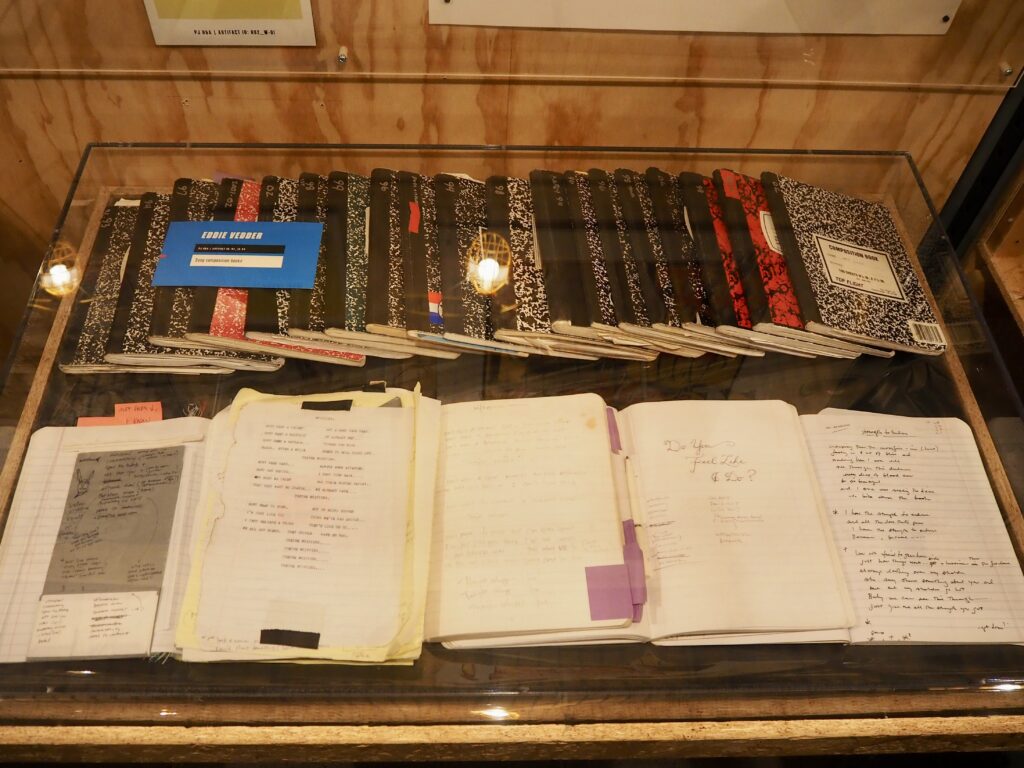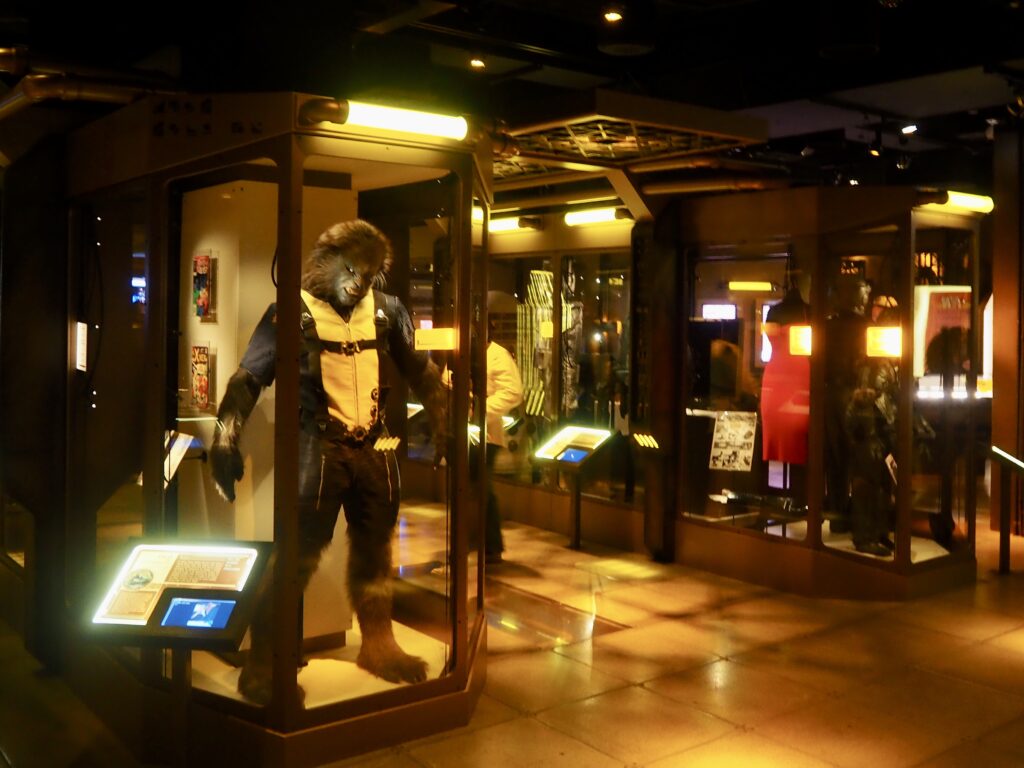 Chihuly Gardens & Glass
Next to the Museum of Pop Culture and the Space Needle is yet another interesting attraction! I'll admit I didn't know who Chihuly was before going, I had only seen some cool-looking pictures online of the art. He is a glass artist who uses blown glass to create these huge, fantastical sorts of sculptures. The exhibition here has various pieces indoors, followed by a garden with further installations, setting the swirling, twisting shapes into the natural world. With hundreds of colours and intricately formed shapes, it does feel like walking through the imagination come to life.
I loved the ocean-themed piece, with small sea creatures set in amongst the flowing blue waves. The glasshouse is also a highlight, as you walk out into the sun (or a version of it filtered through Seattle's cloud cover) with a huge floral display hung overhead, catching all that light. The theatre is also worth stopping at for a few minutes, as they show films of the glass artists at work in Chihuly Studios, so you can understand how some of these pieces were created. Glass blowing forever fascinates and terrifies me, with all that heat required!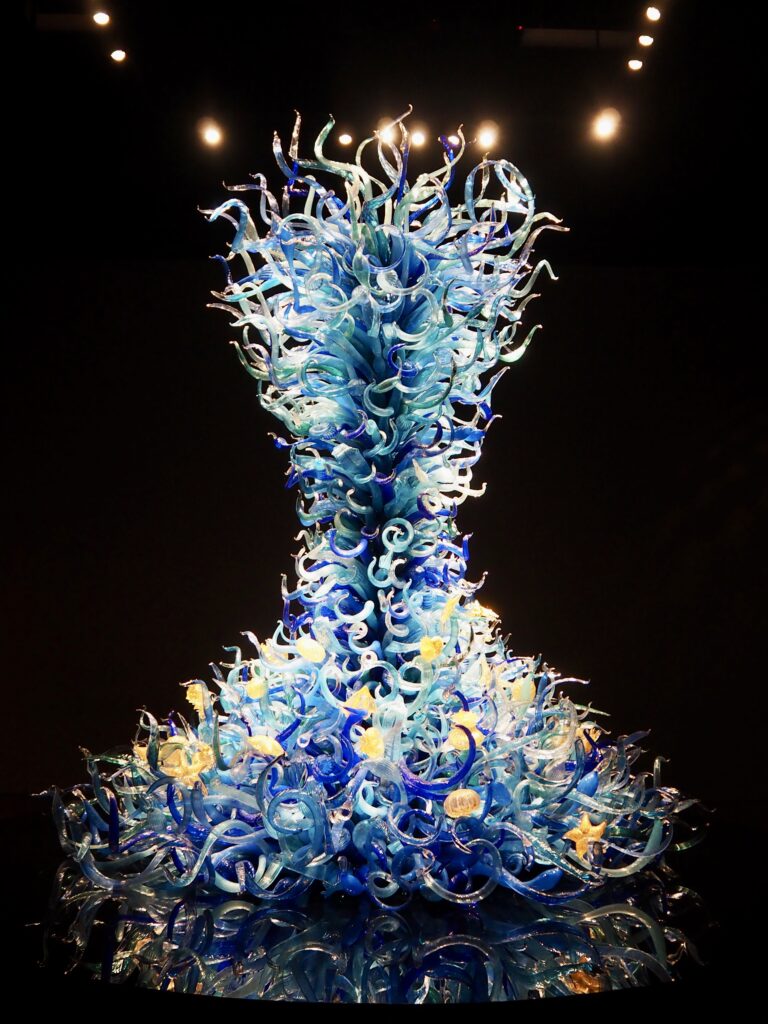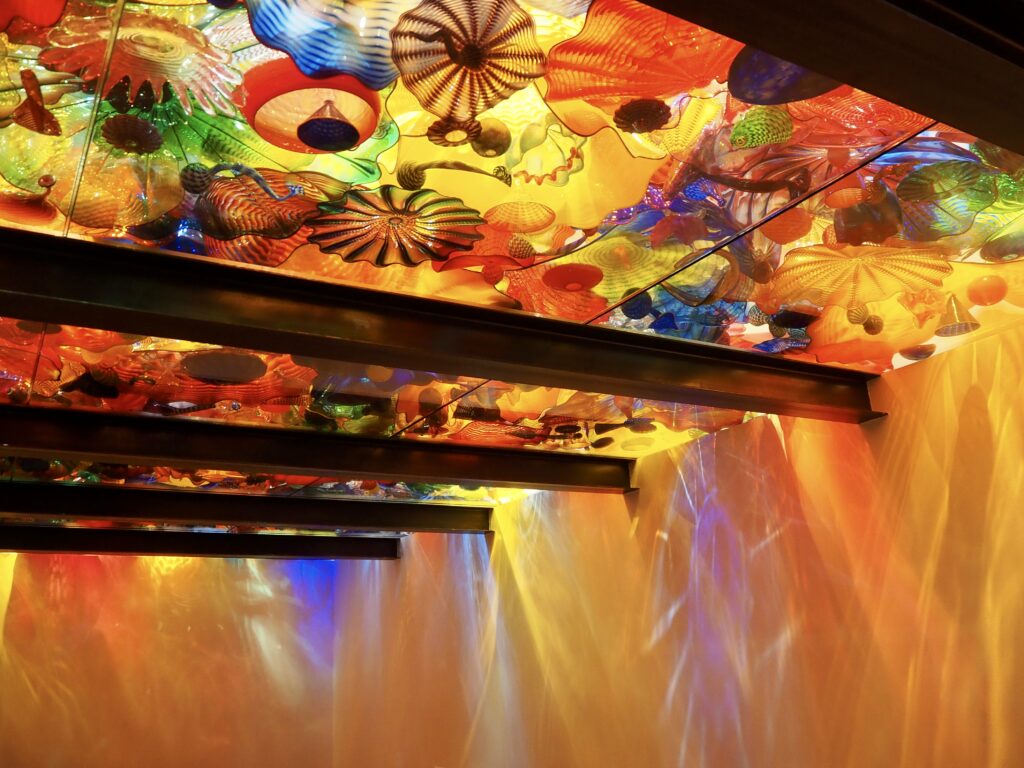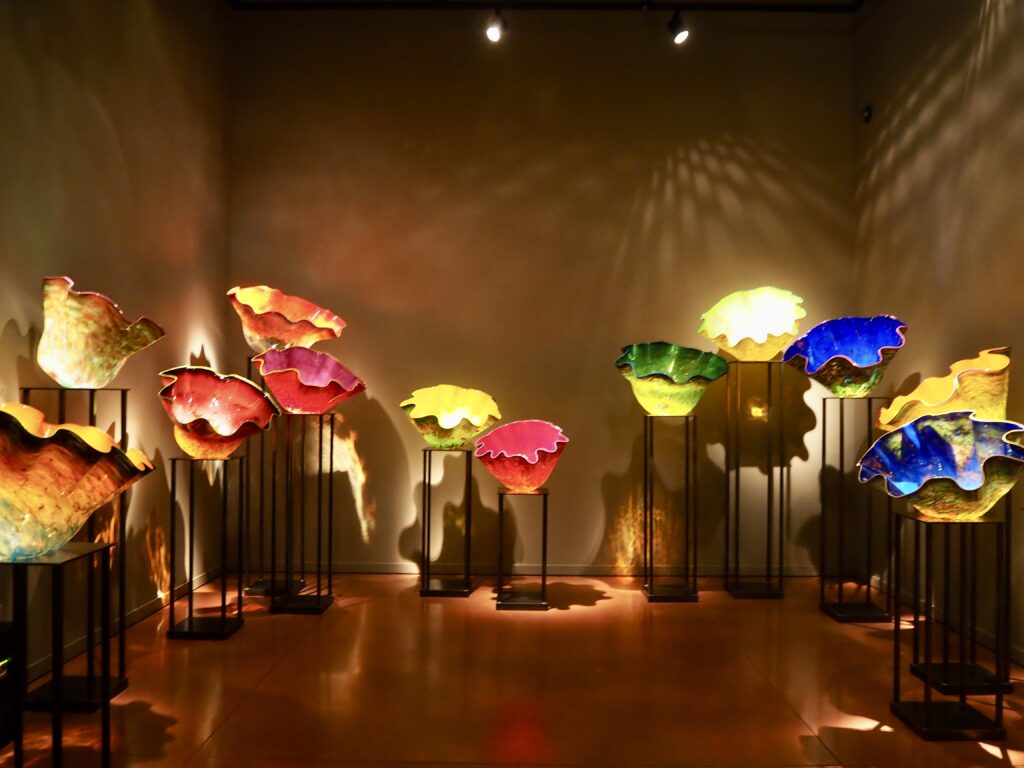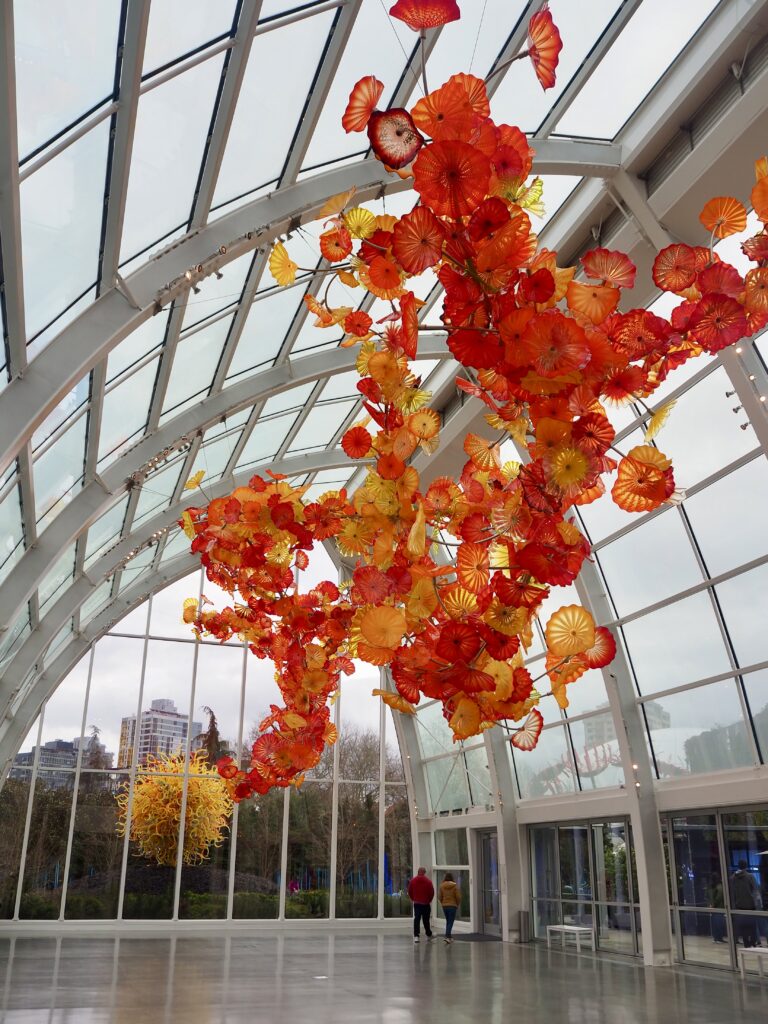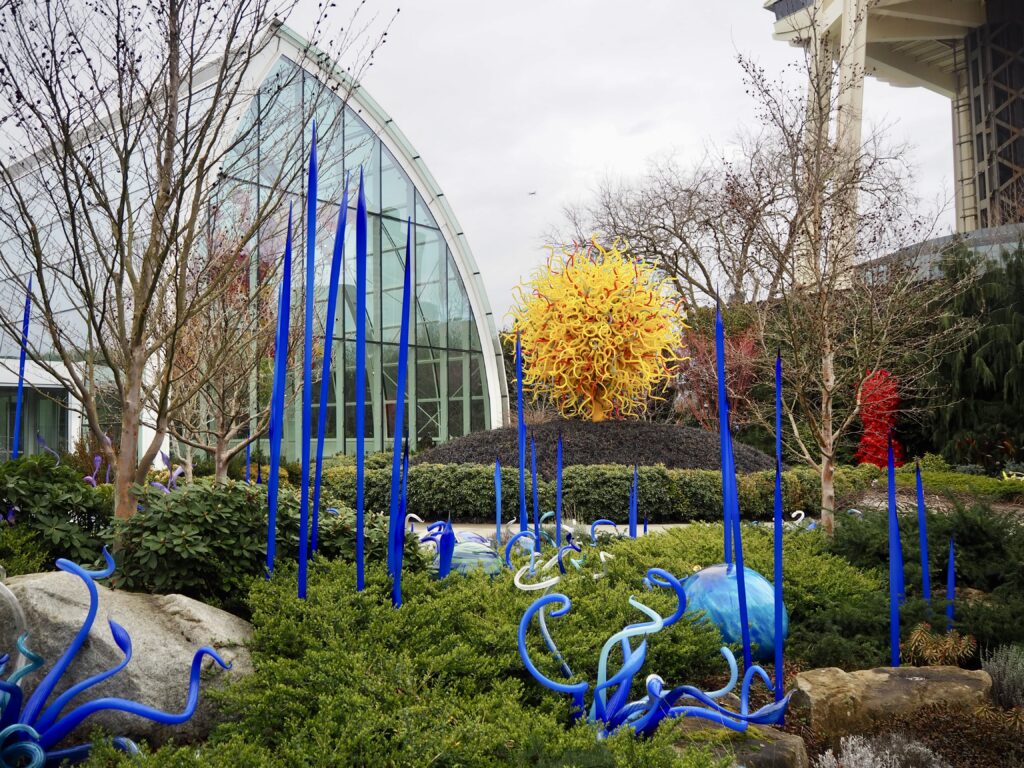 By the time I exited, the skies had opened and the infamous Pacific Northwest rain had arrived. It was late in the afternoon though, and I had clocked up quite the step count. There is a monorail that links Seattle Center to Downtown. However, since my hotel (Hotel Five by Staypineapple – quirky decor and super comfy, plus a free drink on arrival!) was about halfway between the two, I just walked. I took a quick detour to pick up some dinner, finding myself in Amazonia by mistake. Seattle is the headquarters of Amazon and this corner of town is just full of their buildings, including the weird no-check-out supermarket! Then it was back to the hotel for a quiet night in.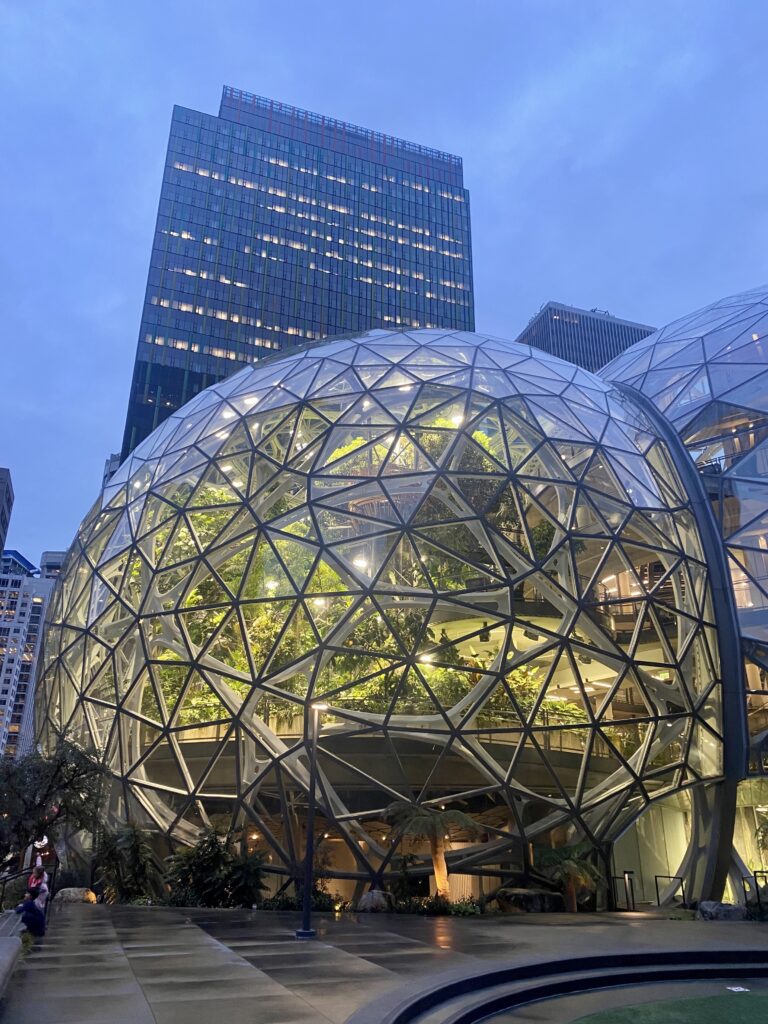 Day Two
Bainbridge Island
The second morning of my 3-day trip to Seattle was a slow, lazy start – it was my birthday after all. But, I soon rallied and headed down to the waterfront to catch a ferry. I knew I wanted to see something out of the city during my trip, but it's still very snowy on both the Cascade and Olympic mountains to be hiking. So instead, I discovered Bainbridge Island, just a half hour ferry ride from the waterfront across the Puget Sound. The island is actually fairly large, so you can see more by car, including its wineries.
As a pedestrian, though, there's still plenty to see in the town next to the ferry terminal. The main street is lined with quirky, vintage and craft-type shops and several restaurants and bakeries. I picked up a small print as a souvenir, but I'm trying to travel light, so I just browsed a few others. I stopped into a bakery for a coffee and late lunch then wandered down to the water again. The inlet is full of small fishing boats, which made for a nice stroll. I enjoyed seeing the art installations too, figures made of stacked stones, including some doing yoga poses.
I also stopped in at the art museum, which is entry by donation, and had a pretty sizeable collection for a small town! The ferry journey back was also a highlight, as the sun finally poked through the clouds, and I got the most stunning view of the Seattle skyline as we approached. A few of the Cascades, the volcanic mountain range behind the city, were even visible through the haze. Although it was chilly on the water, it was a really lovely crossing back, soaking in the view in the sun!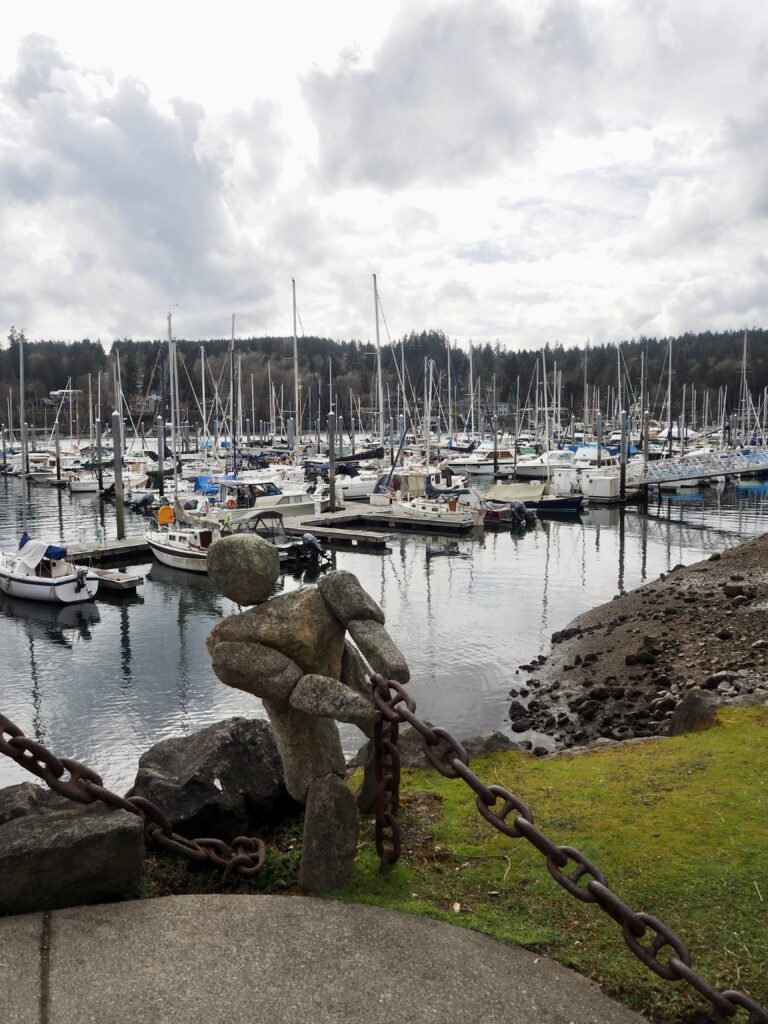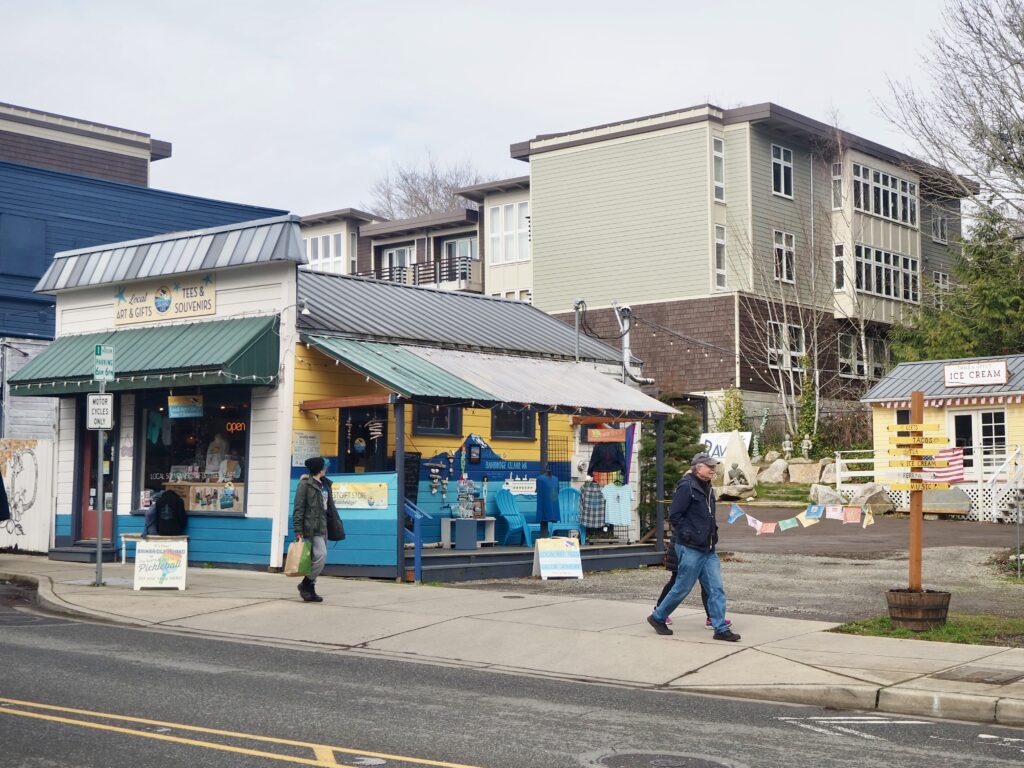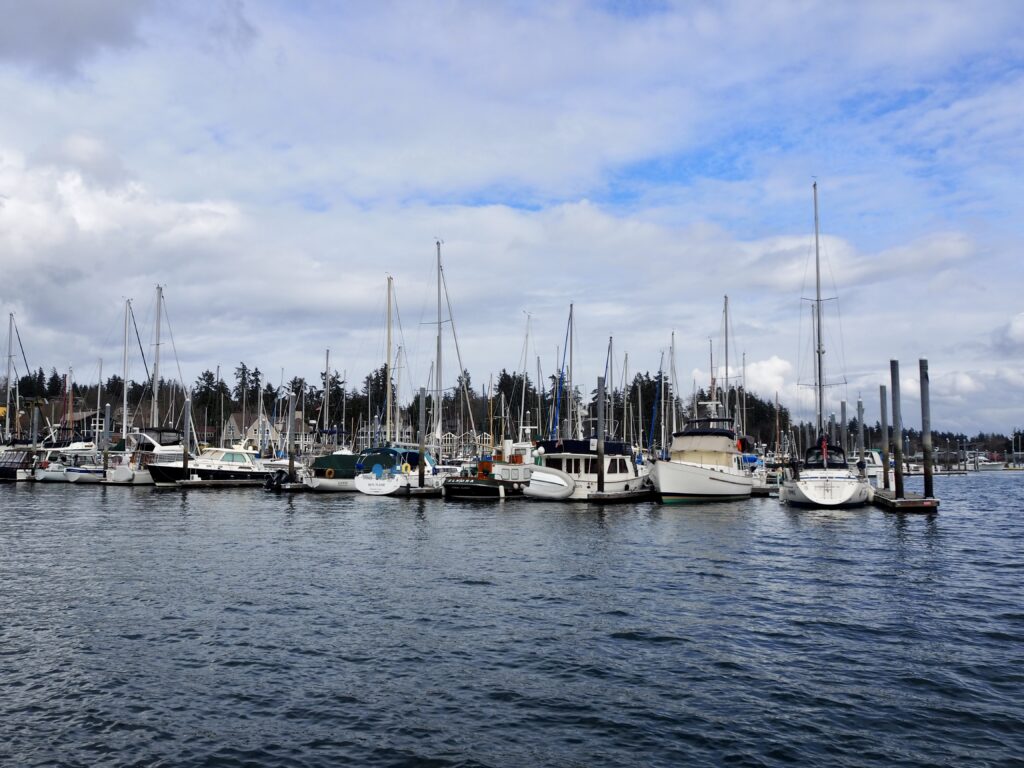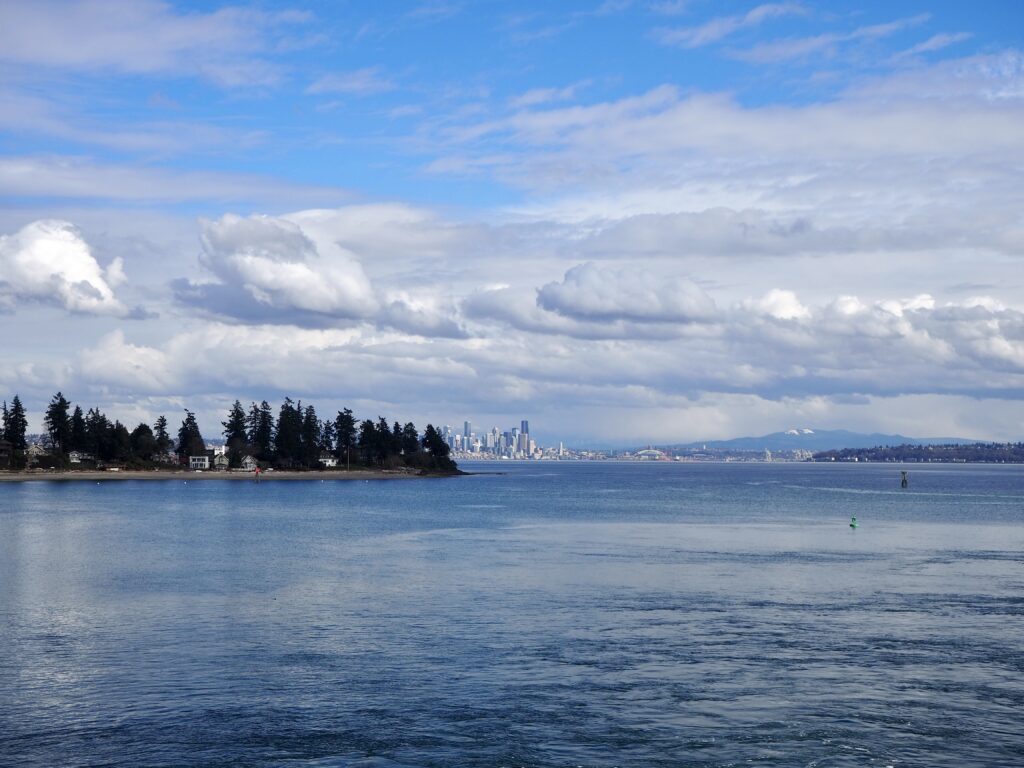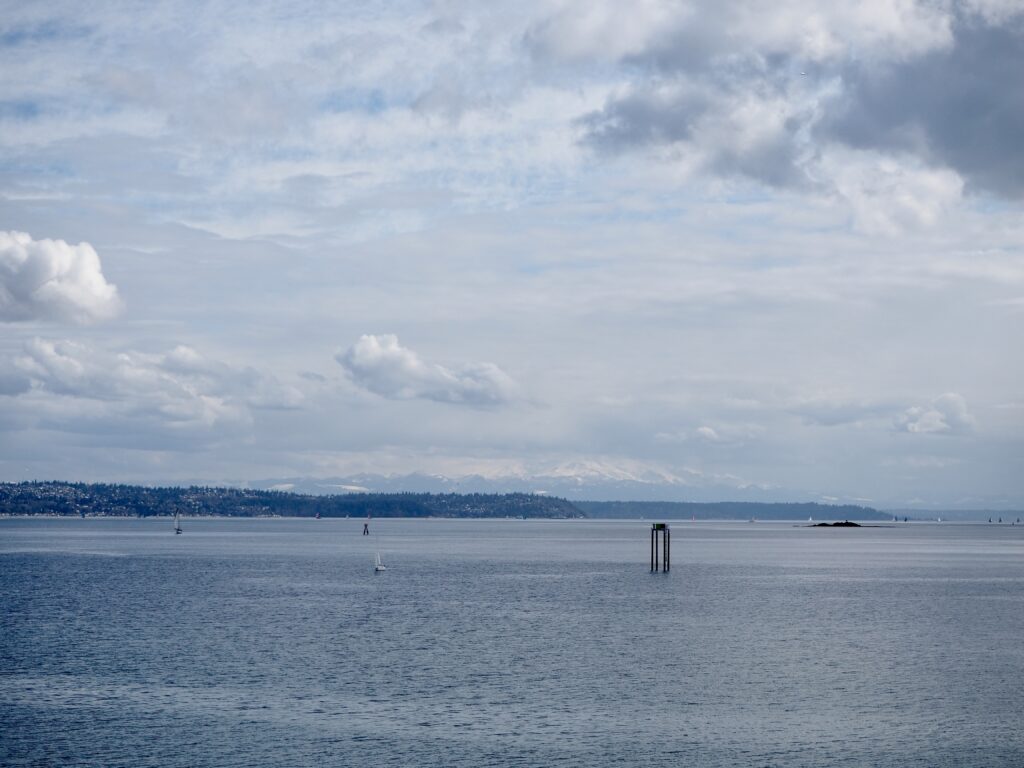 Seattle Waterfront & Gum Wall
Once I hit land again, I only had an hour or so before my next activity. I took a wander along the waterfront, retracing some of the steps from yesterday's tour. The aquarium and the ferris wheel are both down here, though I didn't visit either. There is also a large shopping mall, which I ducked into to use the toilets, which is all Western-frontier themed. Like, heavily themed, from the music to the mounted animal heads! Seattle was a frontier town back in the 1800s, but this still felt oddly out of place on the coast, where you'd expect something more nautical. I also popped into the large souvenir shop on the waterfront to pick up the newest magent for my collection.
I still had time to spare, so I headed towards Pike Place Market. More on the market tomorrow, but tucked into an alley at its southern end, is the Gum Wall. Which is exactly what it sounds like. Both sides of the alley, as well as the window frames, pipes and all other surfaces, are coated in a thick layer of chewing gum wads. It is truly, truly disgusting. Apparently it started in the city's 90s grunge era, as a symbol of rebellion. Every time the city cleaned it and told people not to do that, they just did it more. They now clean it off every couple of years to stop it getting too much, but allow it to return each time. It's now become one of the city's tourist attractions, with the alley chockfull of people posing for photos!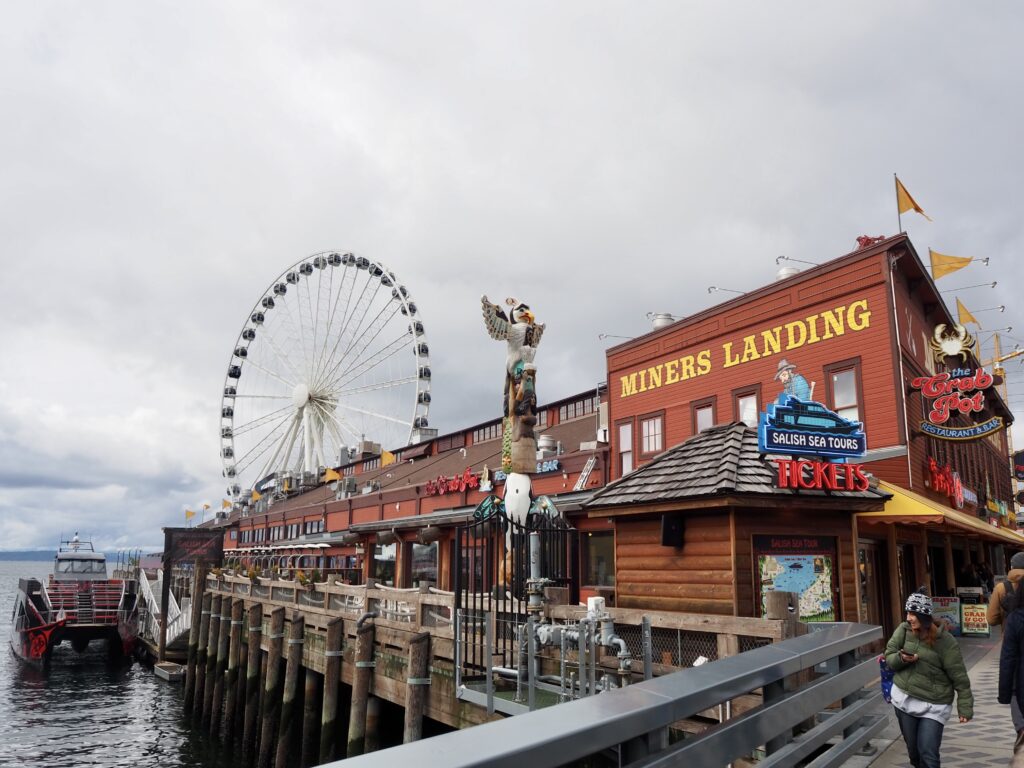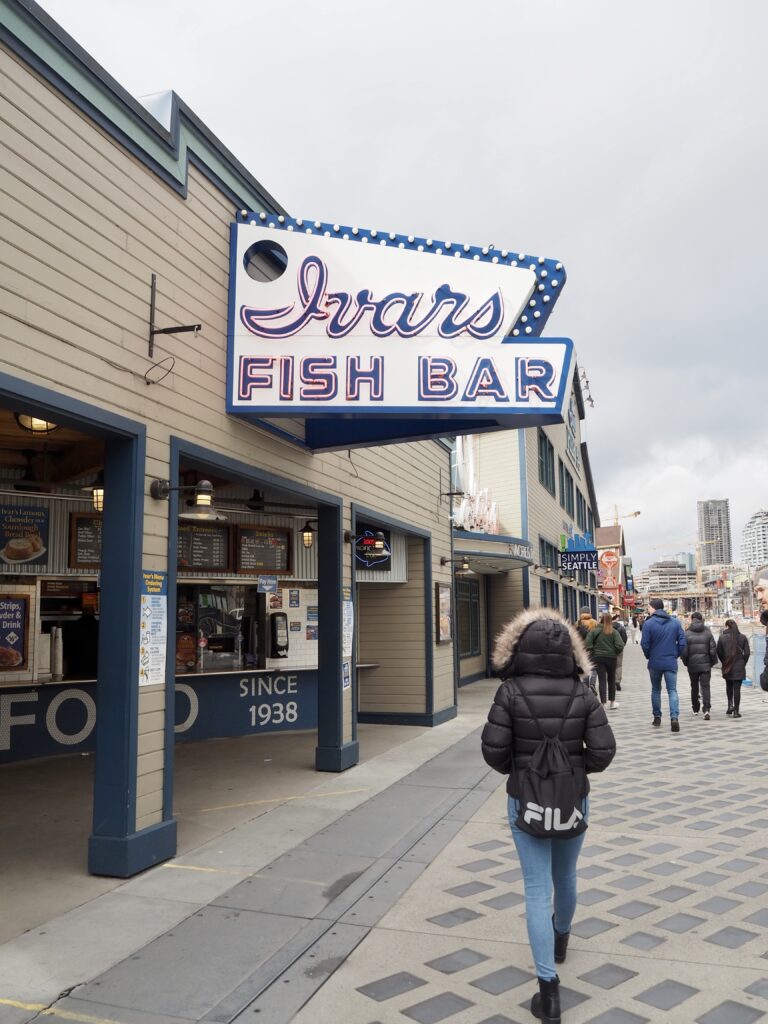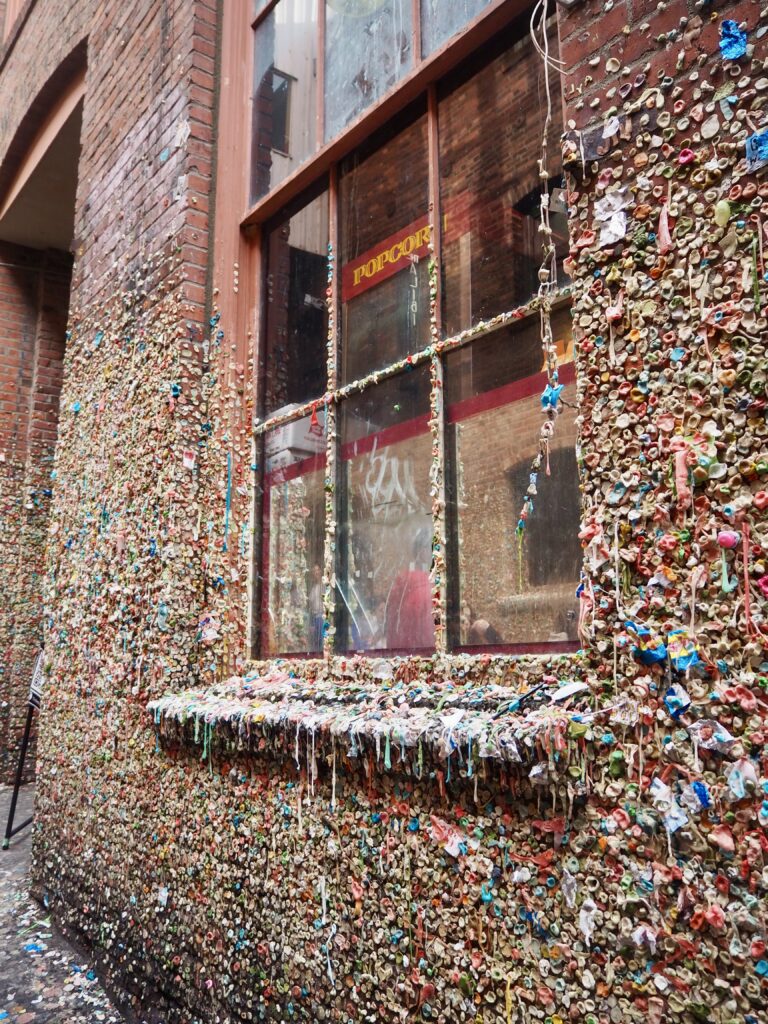 Harbour Cruise
Eventually, I veered back to the waterfront to join a harbour cruise. Of course, I had seen the harbour from the ferry that morning, but this was a guided 1-hour cruise with live commentary. And, most importantly, a bar with happy hour cocktails! How else to spend your birthday than drinking on a boat? After (im)patiently waiting for my spiked peach tea, I wandered up on deck to admire the view. We started very close to the coast though and it was damn cold, so I headed inside again to listen to the commentary and watch through the windows.
I returned to the top deck later once we reached the northern end of the skyline and circled back at a distance. I could also make out glimpses of the Olympic mountains over on the peninsula in the other direction. The skies were greyer than the ferry crossing earlier in the day, but I still enjoyed the views of the city skyline again. The cruise travelled down towards West Seattle, before returning to the pier, and all in all, it was just a really pleasant, relaxing way to spend an hour!
Back on land, I stopped at Ivar's Fish Bar for dinner. I'm not a big fish person, but they had calamari and it felt right to get seafood by the water. The tour guide told us about Ivar the day before, who was a very colourful, quirky character in Seattle's history, as depicted in the statue of him feeding the seagulls outside.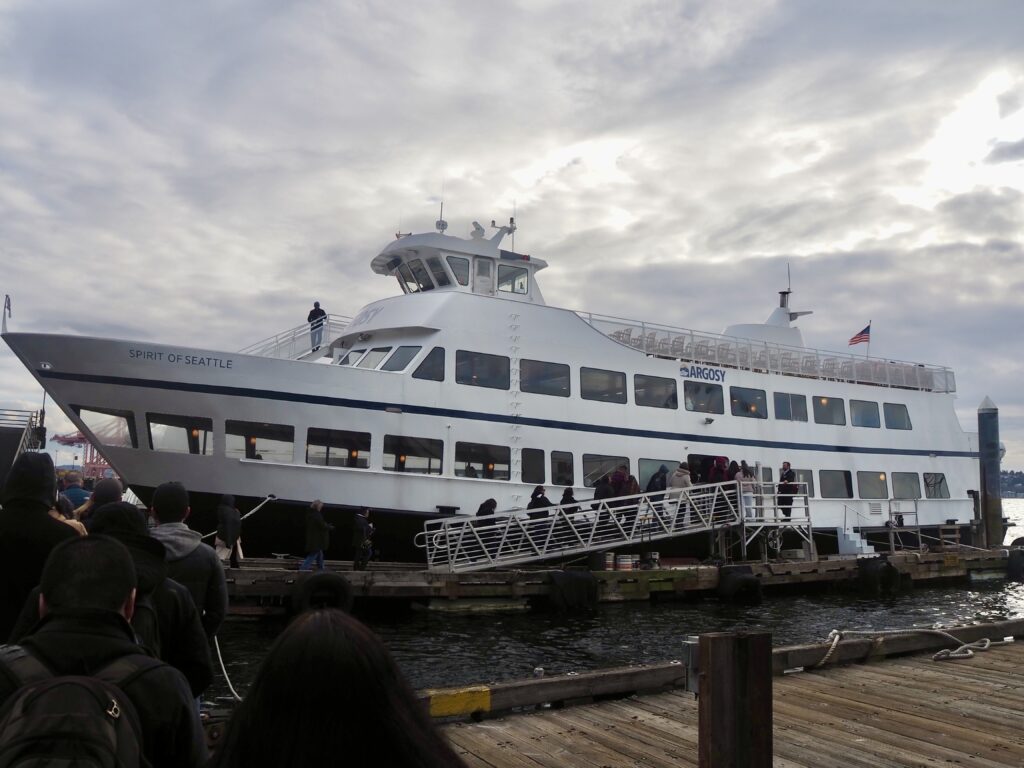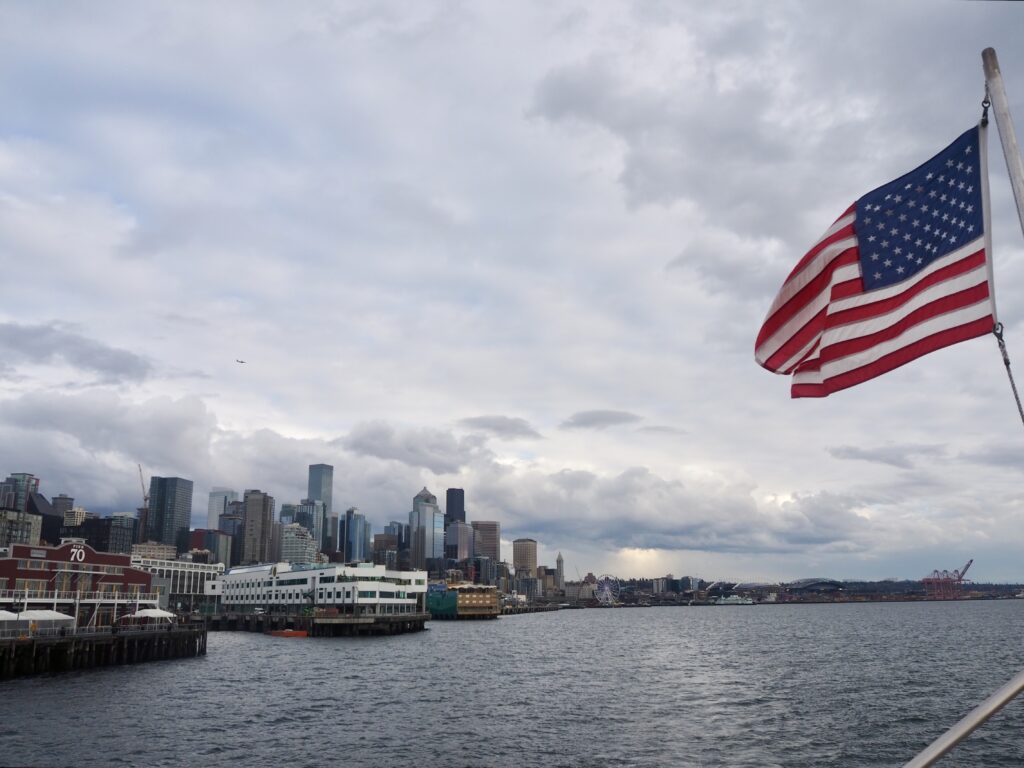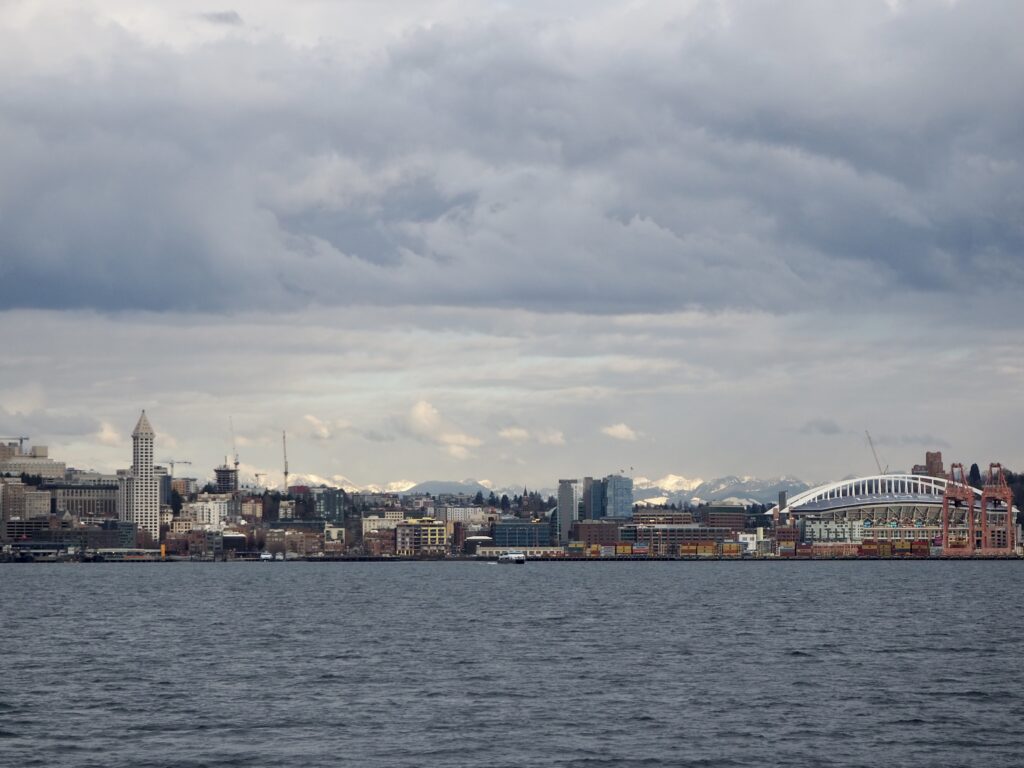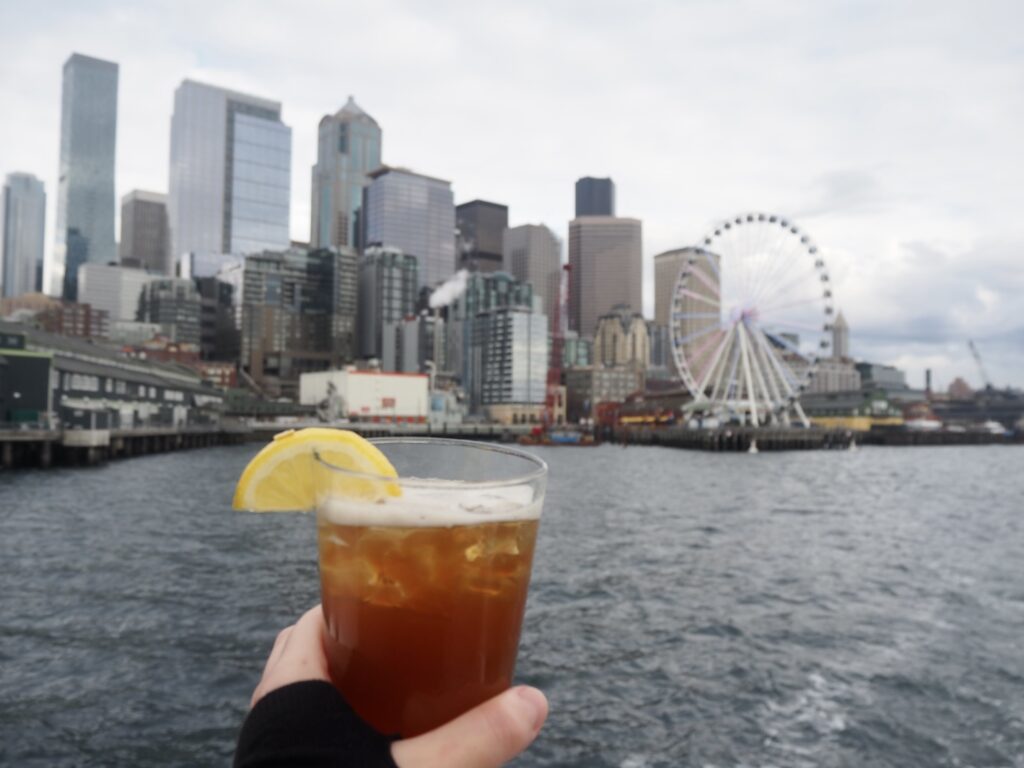 Live Music
I returned to my hotel to relax for a couple of hours, before venturing out once more for the evening. Knowing how many bands have come from Seattle, it only felt right to check out some live music while in the city. I had done an online search of what shows were all on that weekend. None were artists I knew of, nor were any actually from Seattle as far as I could tell. But one video had caught my attention so I took a gamble on it and got a ticket to see Ron Artis II (hailing from Hawaii) at the Neptune Theatre.
The venue is up past the University of Washington, so I took the metro line. It was a pretty cool building too, with mosaics of Neptune and his Roman god entourage, as well as an upper balcony. The show was general admission, with unreserved standing and seating, so I started standing but moved to the balcony later because honestly, my feet were sore from all the walking. Ron Artis II was a different style of music than my usual rock tastes. I'd best describe it as a soul / funk / R&B vibe. But he's a really amazing guitarist and vocalist, and I enjoyed the music a lot! It was a very laidback vibe too, which was nice for just relaxing and listening from the balcony. He also got his young daughters out on stage several times, which was adorable!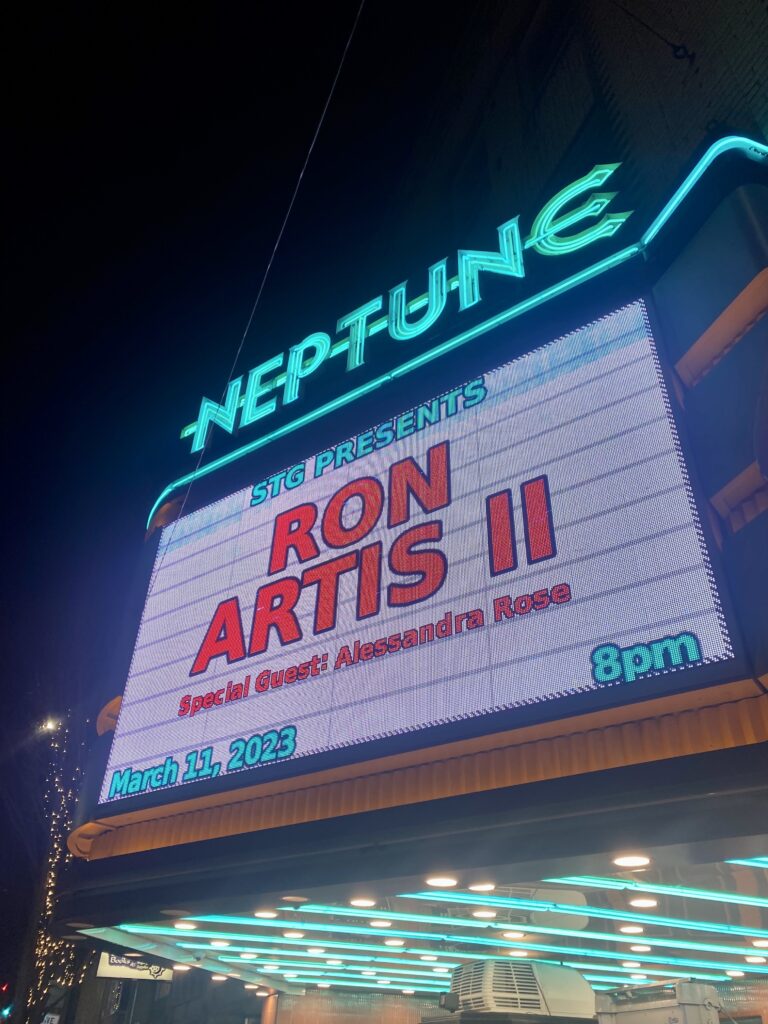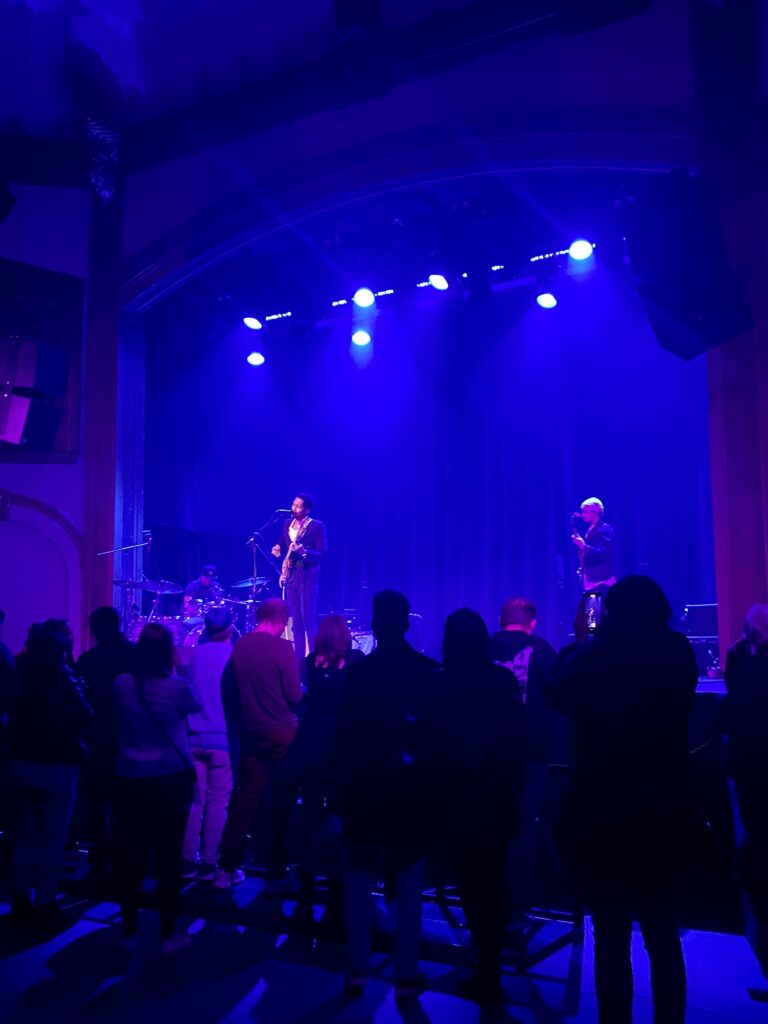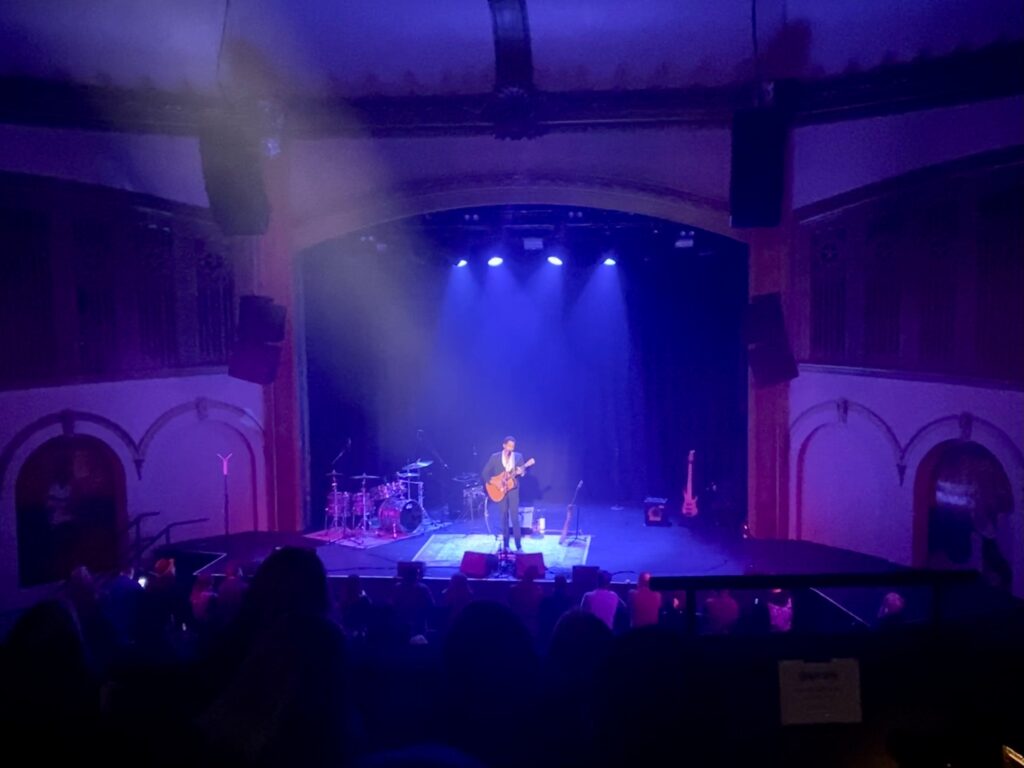 Day Three
Pike Place Market Food Tour
The final morning of my 3-day trip to Seattle started early and sleepy! The clocks changed that night, so I was down an hour of sleep, plus I was up early to watch rugby being played back in the UK. Luckily, it was on early enough that I still had time to pack up before check out. I stashed my weekend bag at reception to go out and explore for one more day.
I had passed through Pike Place Market a few times already over the weekend. However, with five floors, a fairly random layout and hundreds of retailers, I had barely scratched the surface. It's the longest continuously-running market in the US and is primarily food products, but has some crafts as well. To get a more in-depth experience, I took a food tour with Eat Seattle, which is led by a professional chef. Each chef designs their own tour, choosing which vendors they want to go to, so you won't get the same experience if you go more than once. It was a 2-hour tour and included about 9 vendors I think, with a sample or two at each.
You could tell how carefully chosen each location was, as our guide's passion was evident. He also gave us a lot of history, stories and general facts about the market along the way. I liked how diverse the dishes we got were. There was seafood from the Puget Sound, Italian truffle salt and spreads, hand-crafted chocolates, Seattle's version of barbecue and the most popular local herbal tea. I definitely wouldn't have found most of these myself, so it was a great insight into the market with a local.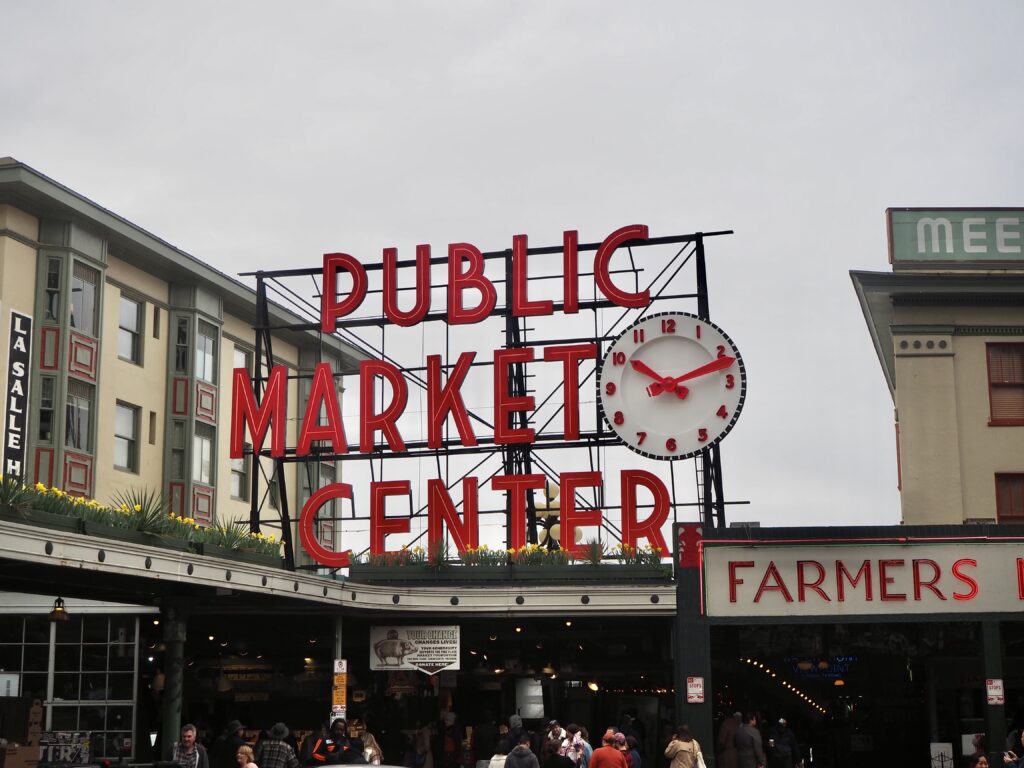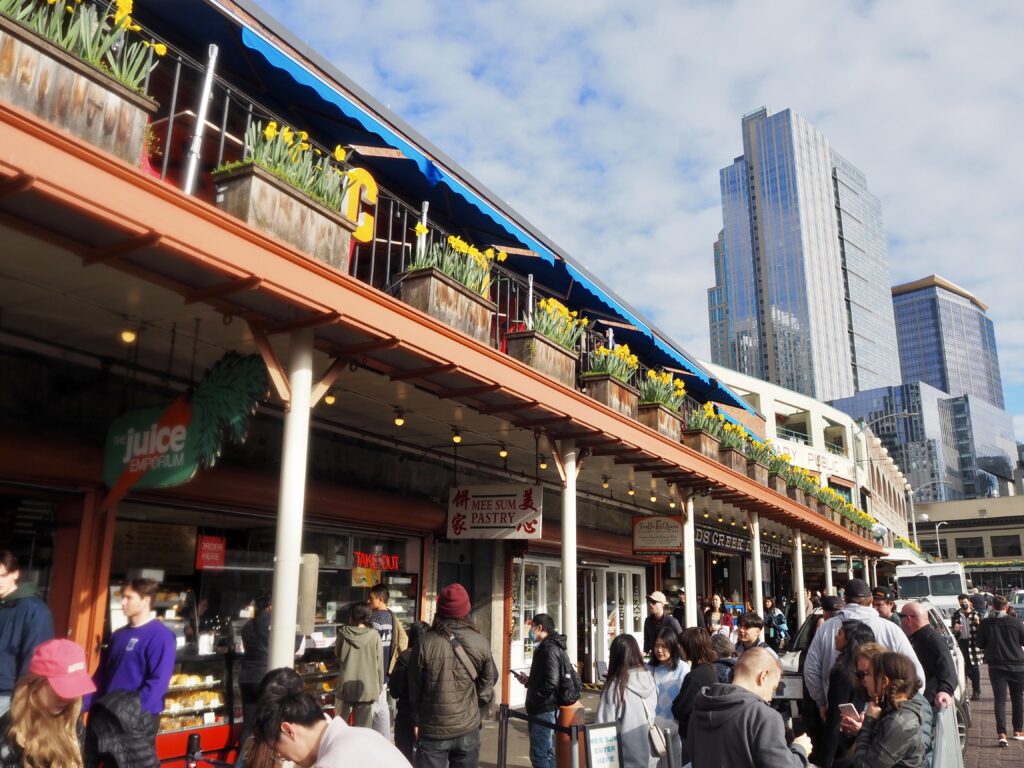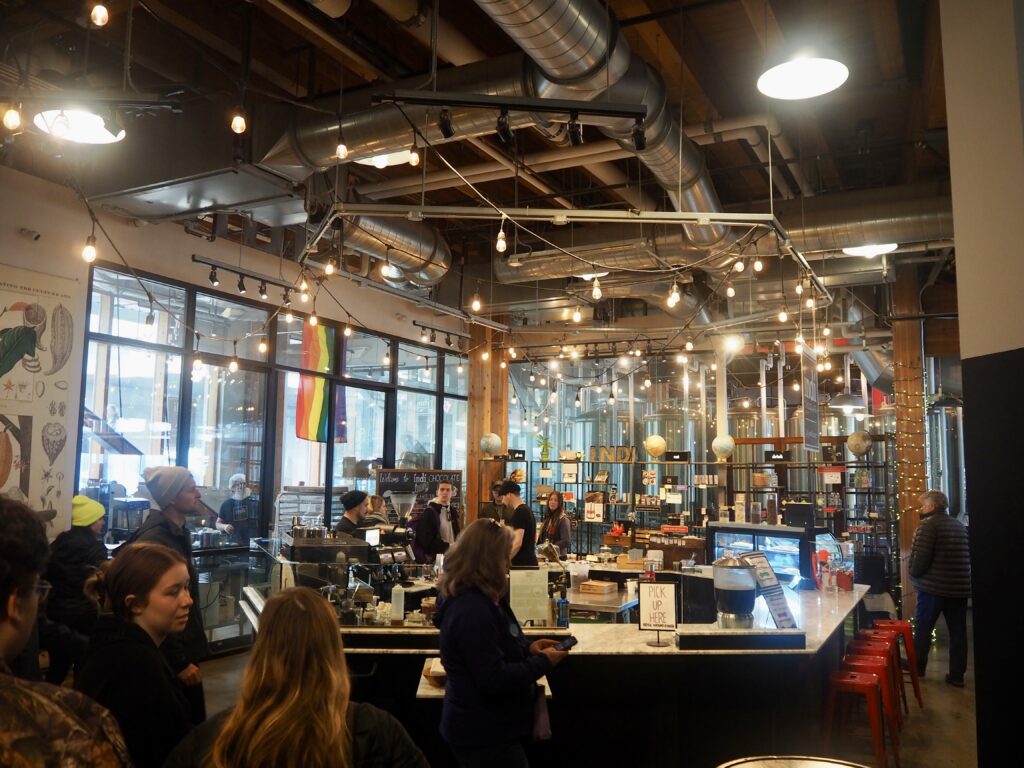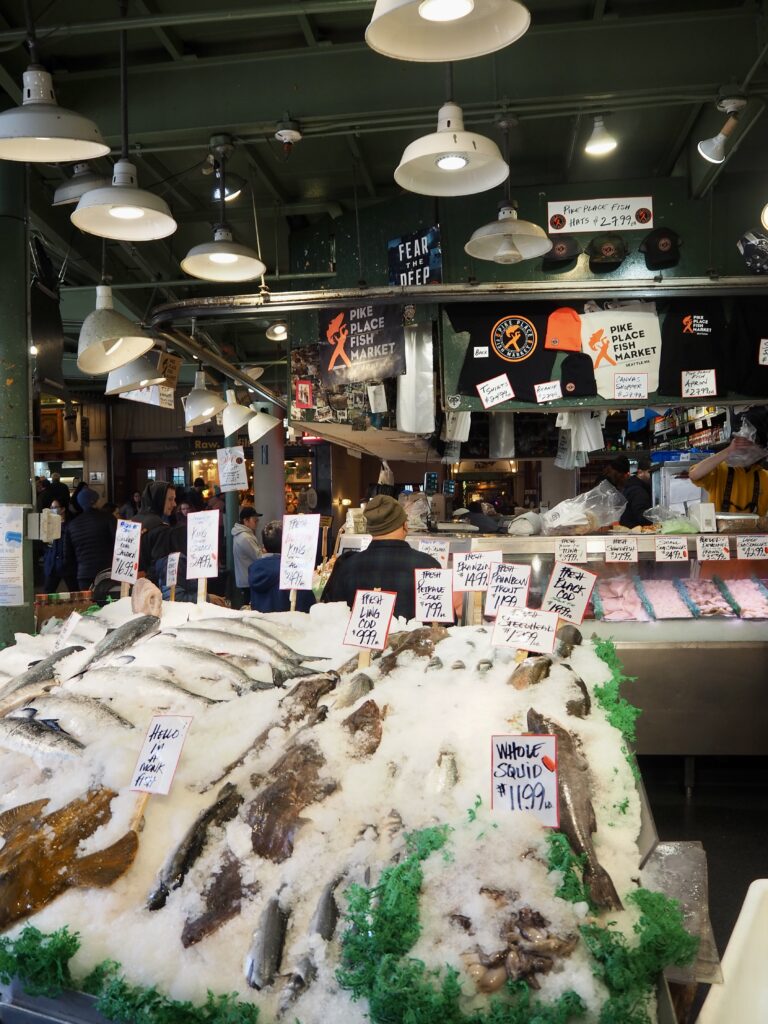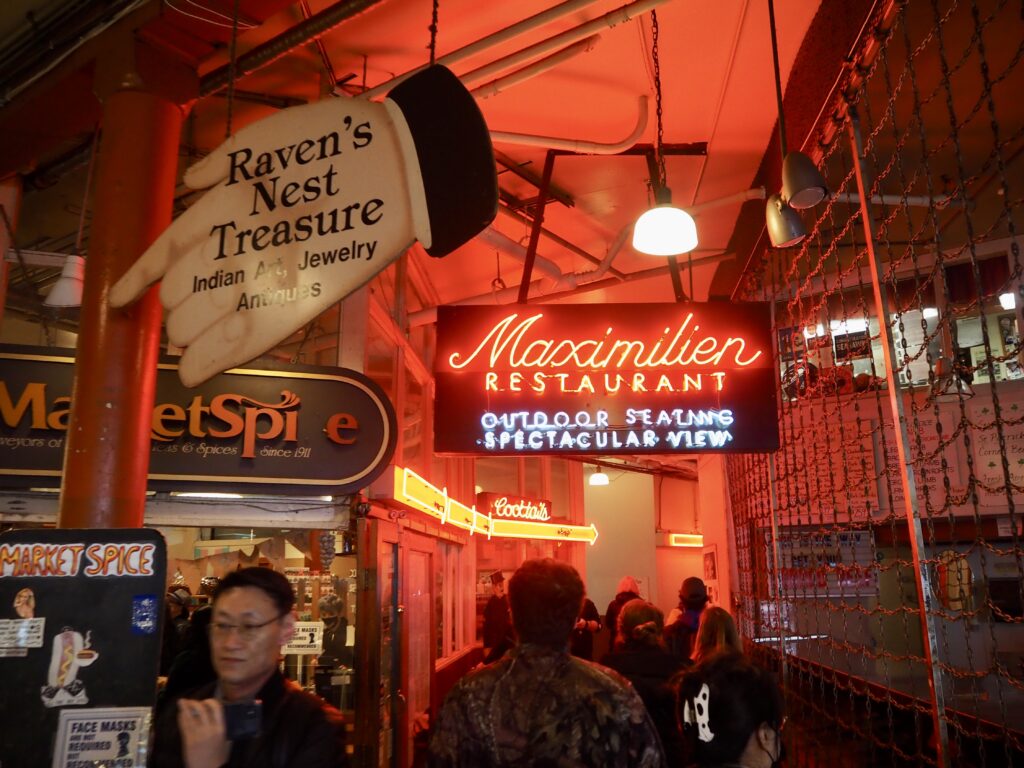 Starbucks Reserve Roastery
After the tour, I was suitably full of food but overdue a coffee. Seattle has a big coffee culture and I'd been to a couple different cafes over the weekend. But the city is most famously where Starbucks originated, and home to their oldest store (which was actually the fourth to open -the first three are now gone). I did stop by to see it, conveniently located next to Pike Place Market. Every time I passed though, there was a huge queue outside and I didn't fancy losing half my day to it. Plus, the menu is the same as most Starbucks stores. Instead, I decided to visit their more unique offering, the Starbucks Reserve Roastery.
There are a handful of these around the world, but they're far less common than a regular Starbucks. The Seattle one is on Pike Street, further away from the waterfront. As the name suggests, they roast their beans inside, with the huge machines on full display and you're welcome to ask the staff questions about it. In amongst the machines, you'll find various counters to purchase food & drink from, depending on what you're looking for. One is food only; the next is the alcoholic drinks; another sells the beans; and the largest is the espresso bar.
I went to the latter to get one of the coffee flights. I chose the Origin Flight, sampling three different varieties. Each Roastery has its own unique blend, only available there, which was one of the samples. The other two were Ethiopian and Guatemalan and all came served in silver coffee pots and tiny cups. The flight is designed for two people (not that the menu made that clear) so I was wired by the time I finished mine. I'm not a coffee snob but it was interesting to taste the differences in direct comparison. I think the Ethiopian was my favourite!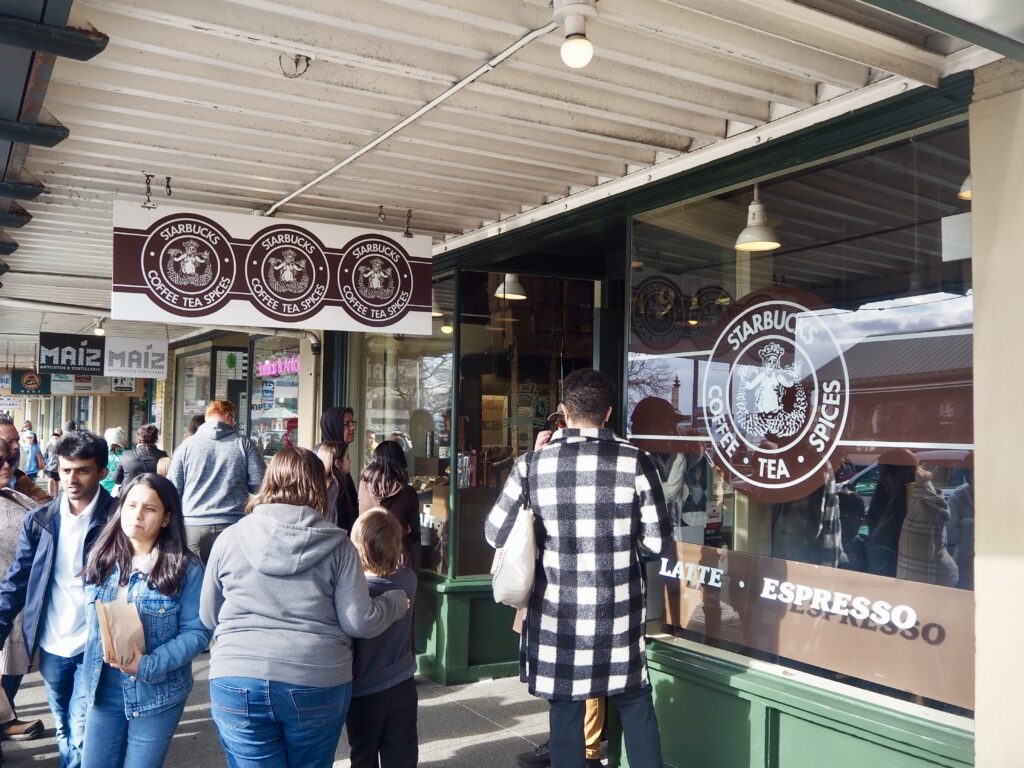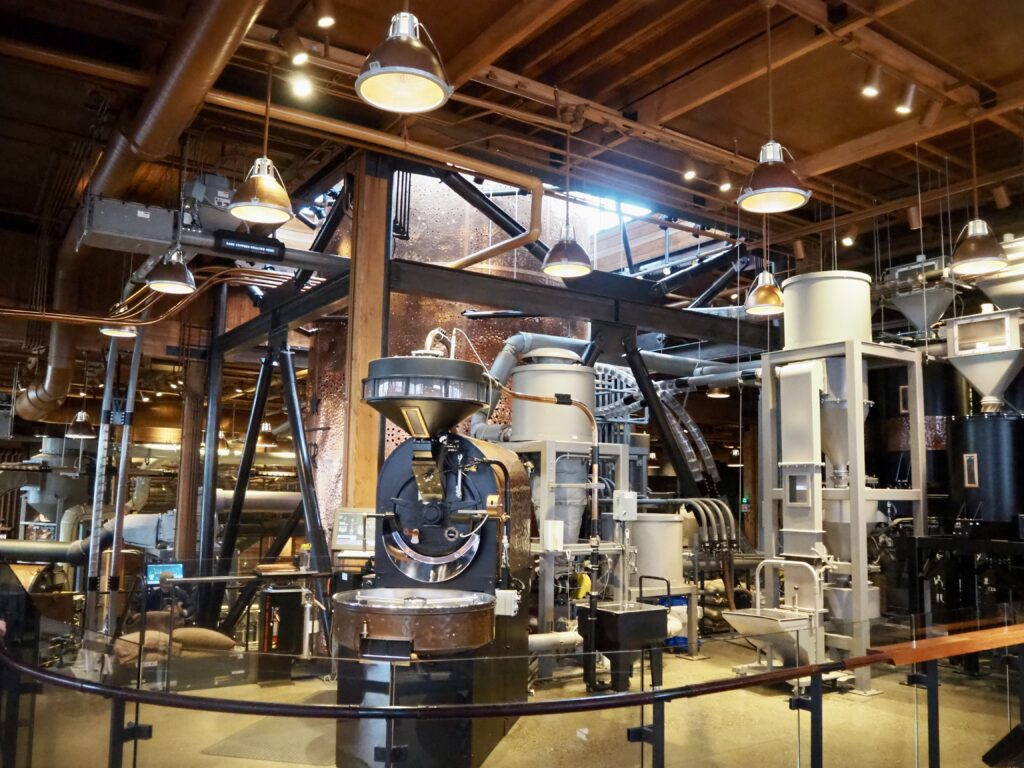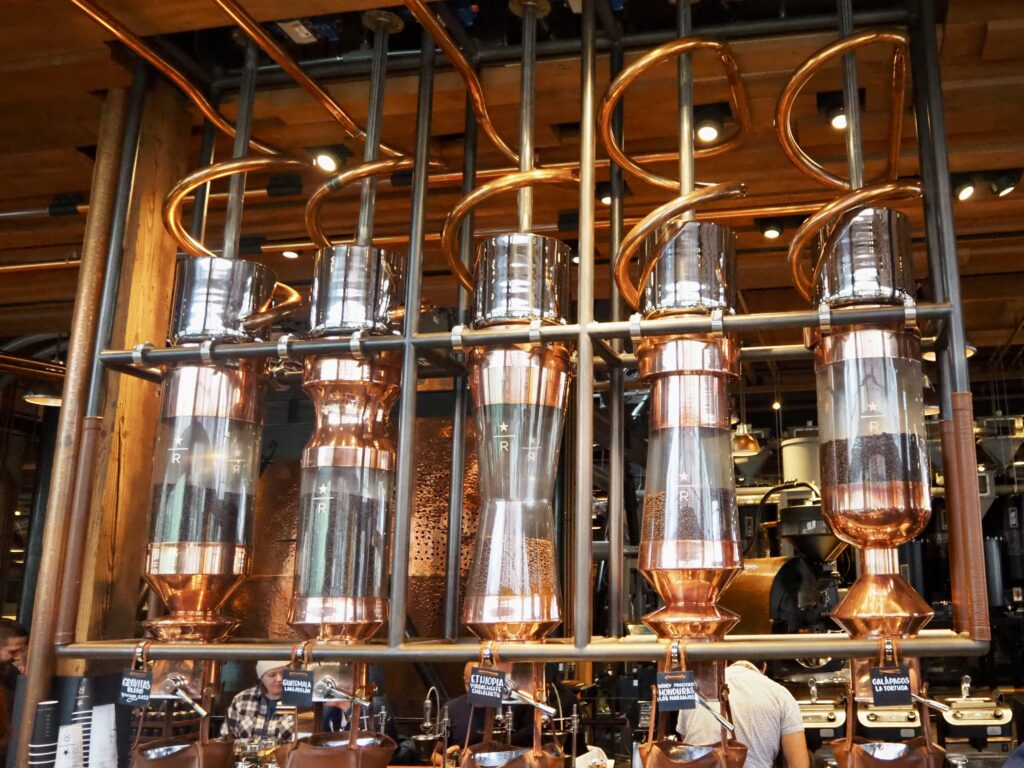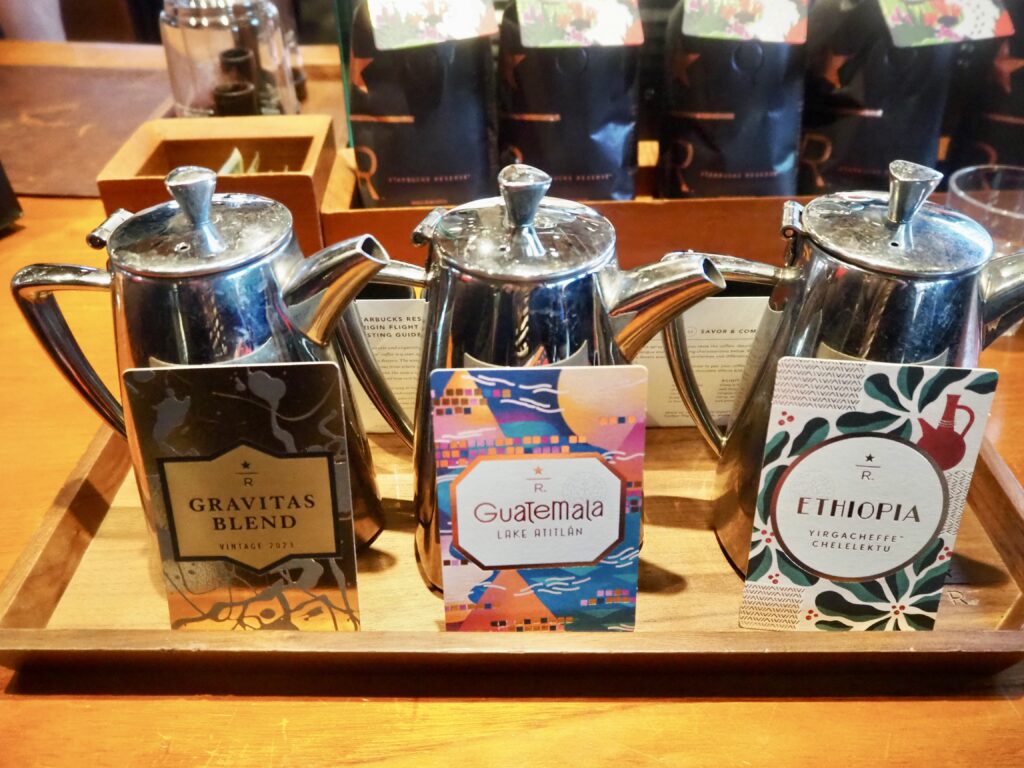 Capitol Hill
I still had a little more time before my bus back to Vancouver, and the Starbucks was about halfway between Downtown and Capitol Hill. Given how business-oriented it is, I'd received a few recommendations to explore beyond Downtown. Capital Hill was suggested a few times as a cool area to explore, so I wandered in that direction.
I think it might be livelier in the evenings (when Downtown goes quiet), as it didn't seem particularly busy for a Sunday afternoon. The Seattle rain had finally hit too, making for a damp, grey day. I got a general feel for the area, passing by cafes, tattoo studios, vintage shops and restaurants of various cuisines. I picked up a late lunch, to tide me over on the long journey north again. Then it was time to retrieve my bag and head to the bus station.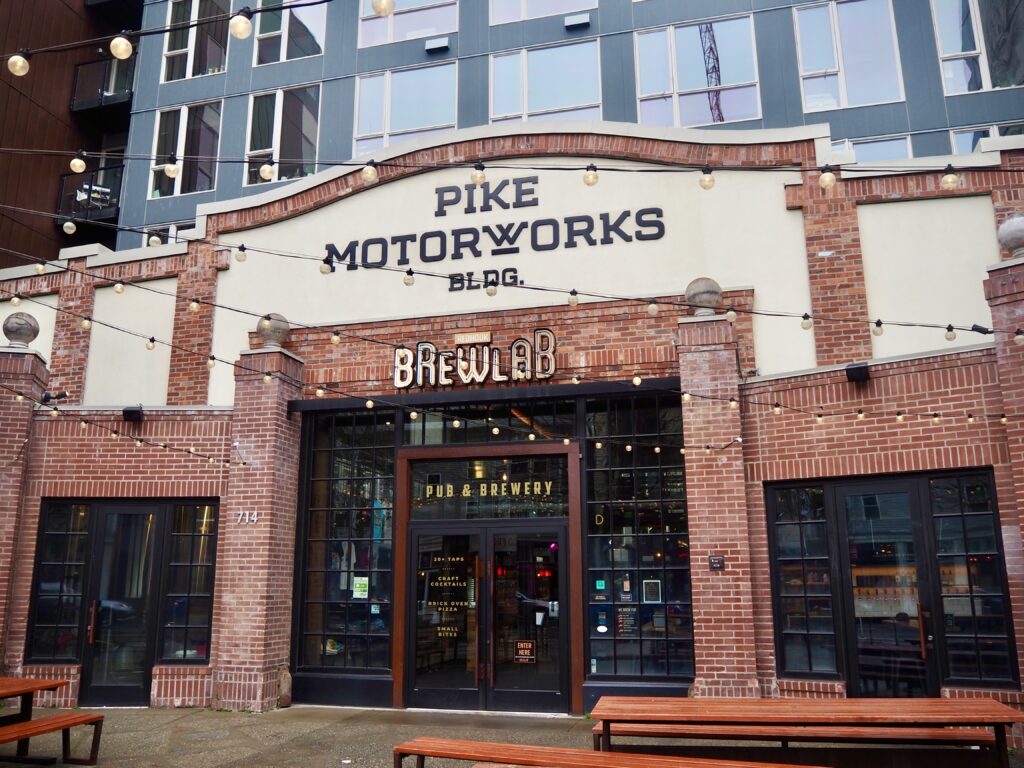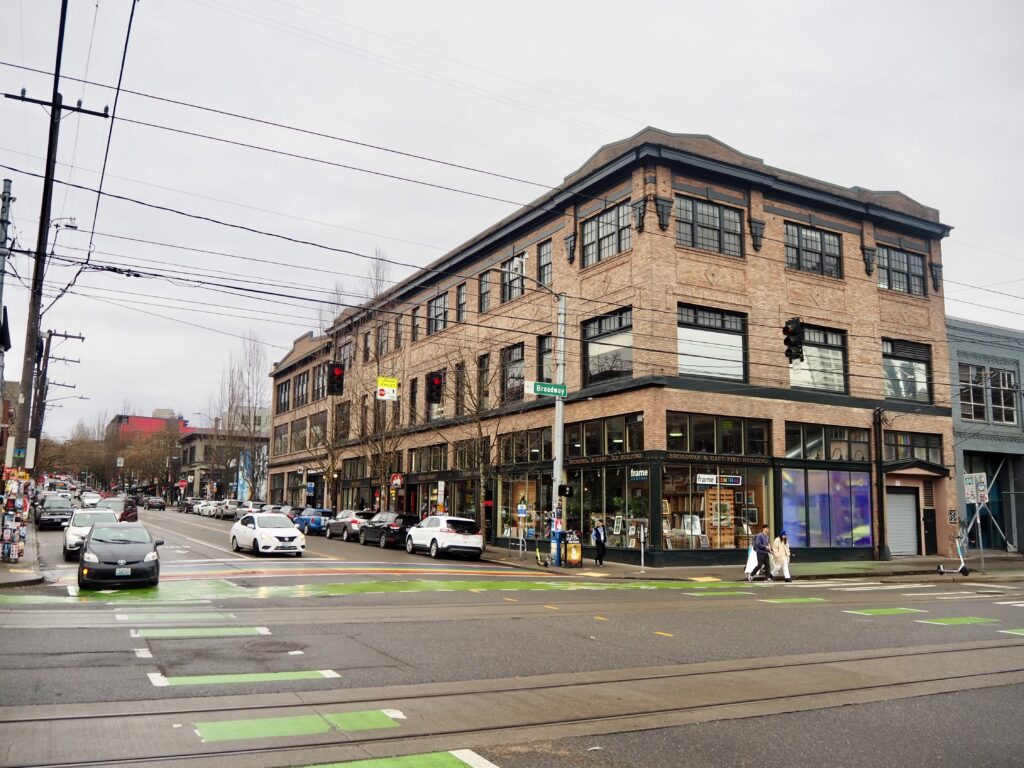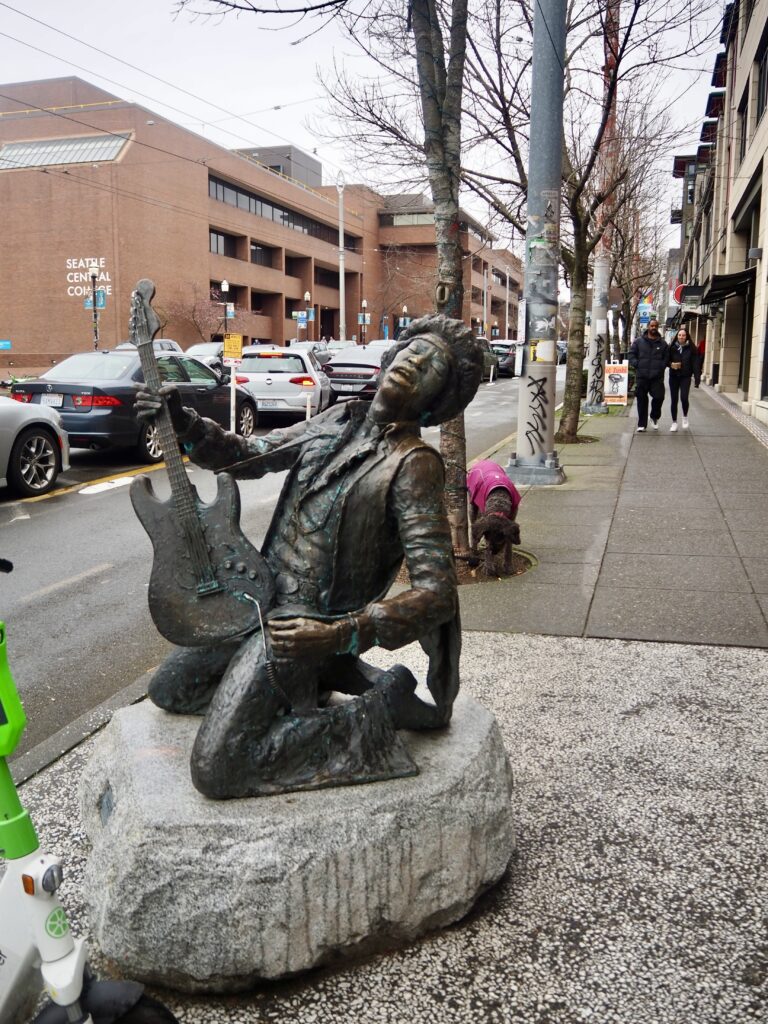 I really enjoyed my 3-day trip to Seattle overall! I probably could have stayed another day or two and still found more things to do. Or, come at another time of year and spent a day or two outside the city in the mountains. I appreciated the tours I did too, as I learned so much more than I would have just roaming around on my own. It's an easy little weekend from Vancouver, and made for a great birthday trip!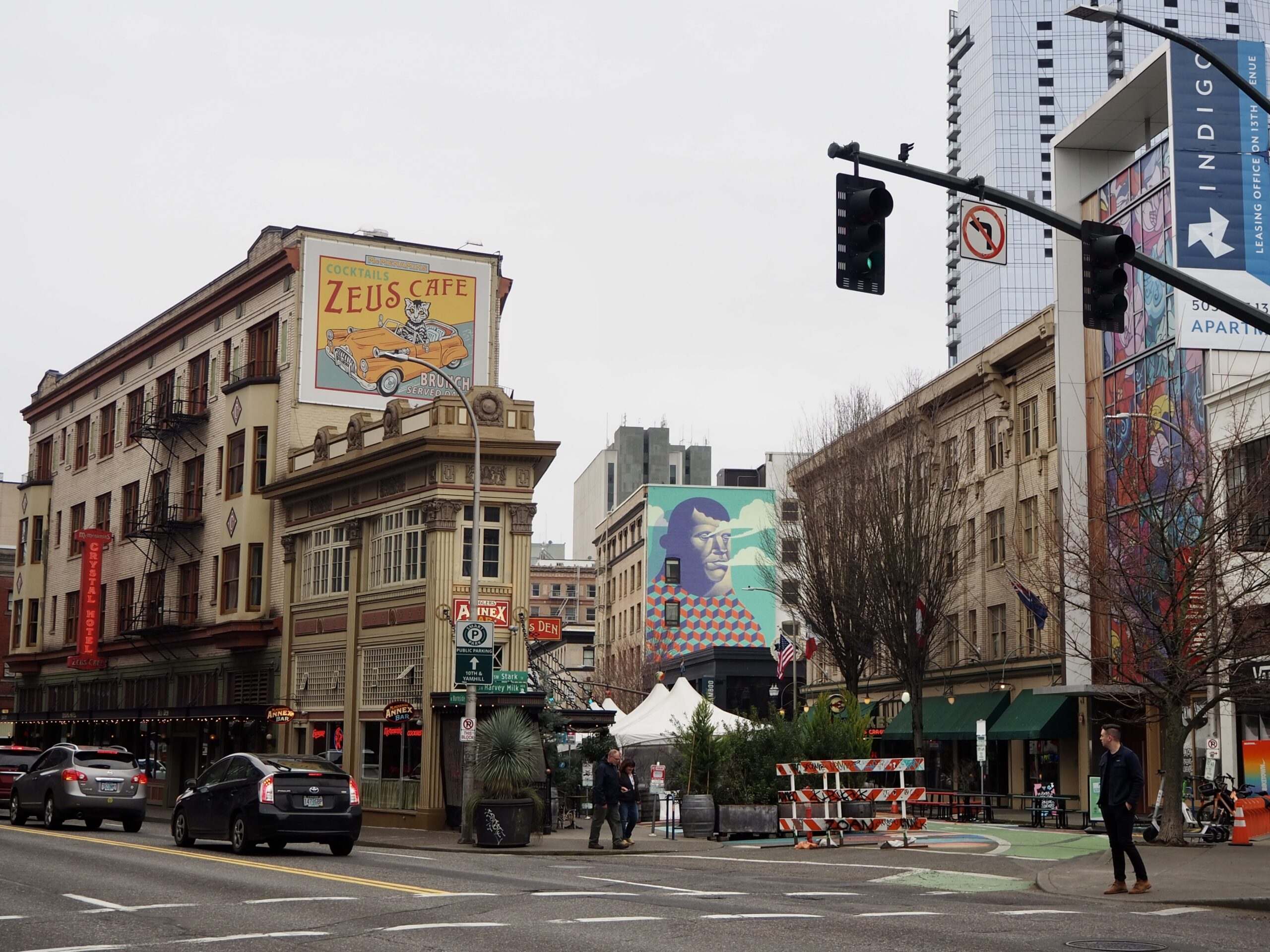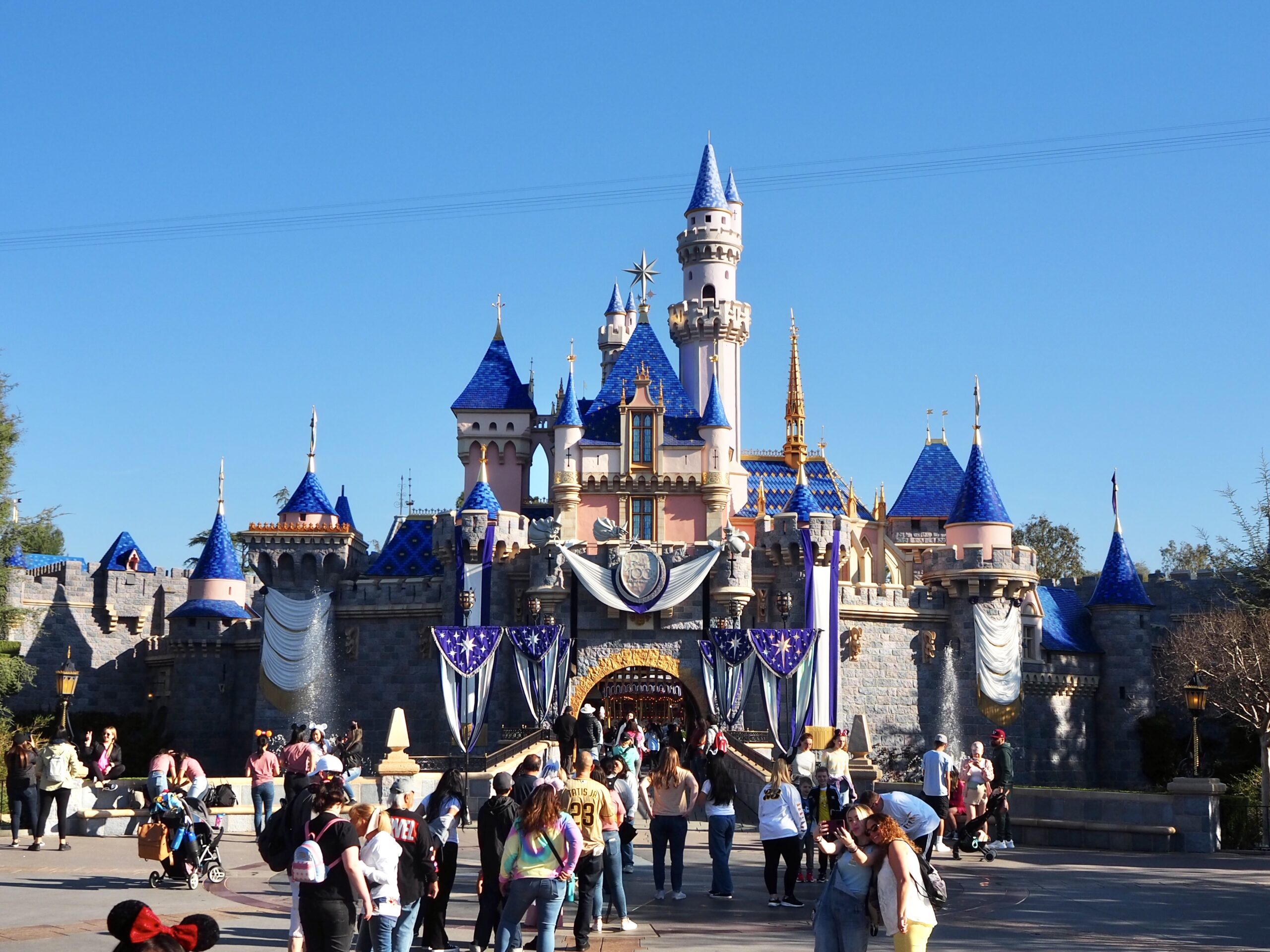 You May Also Like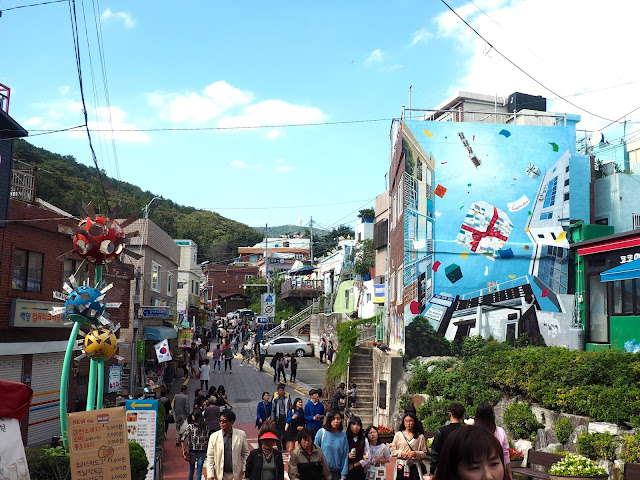 12 October 2016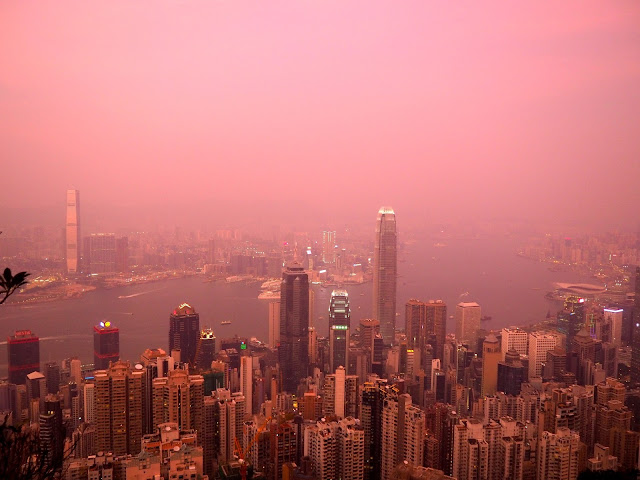 21 October 2015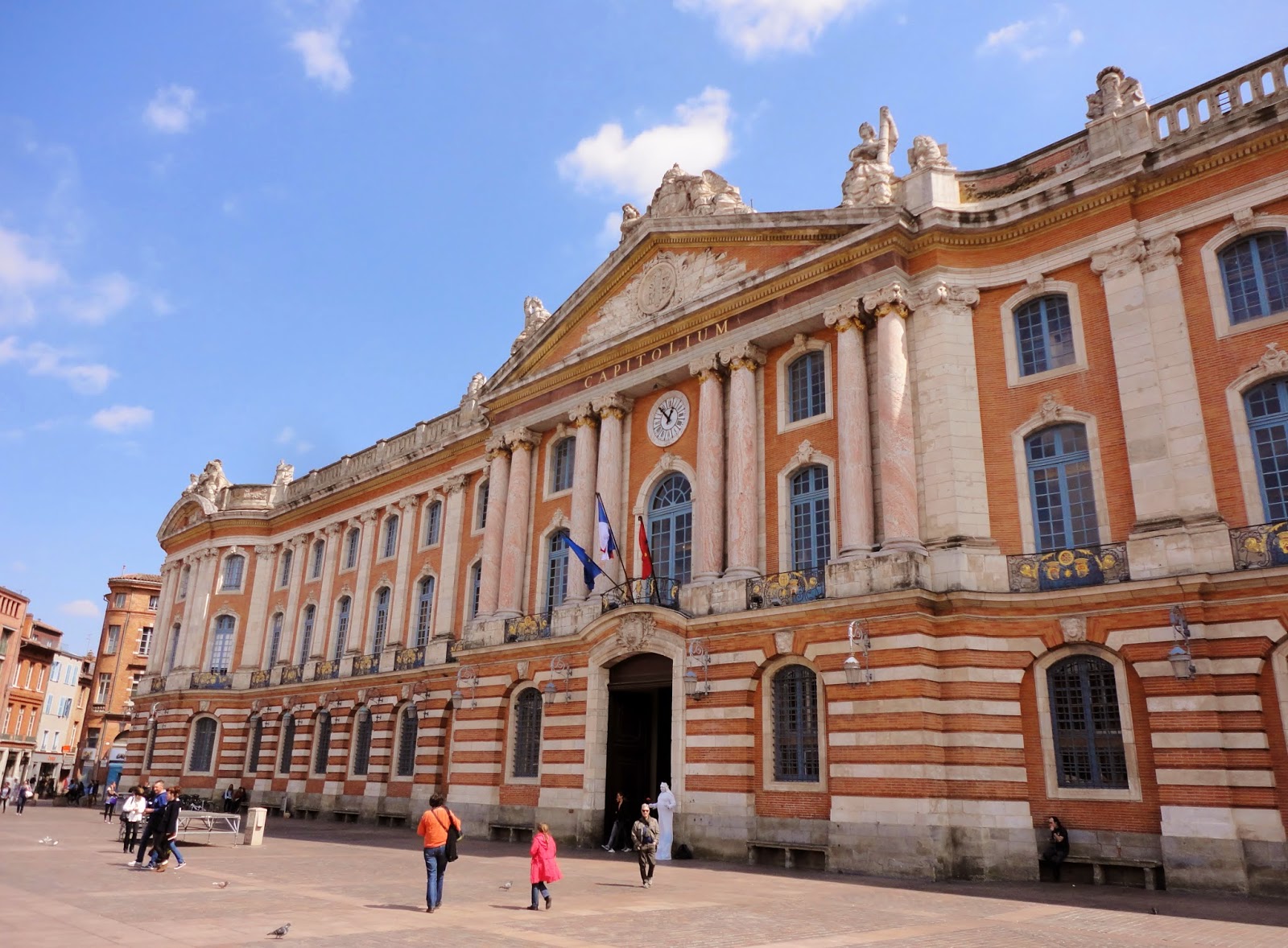 23 April 2014