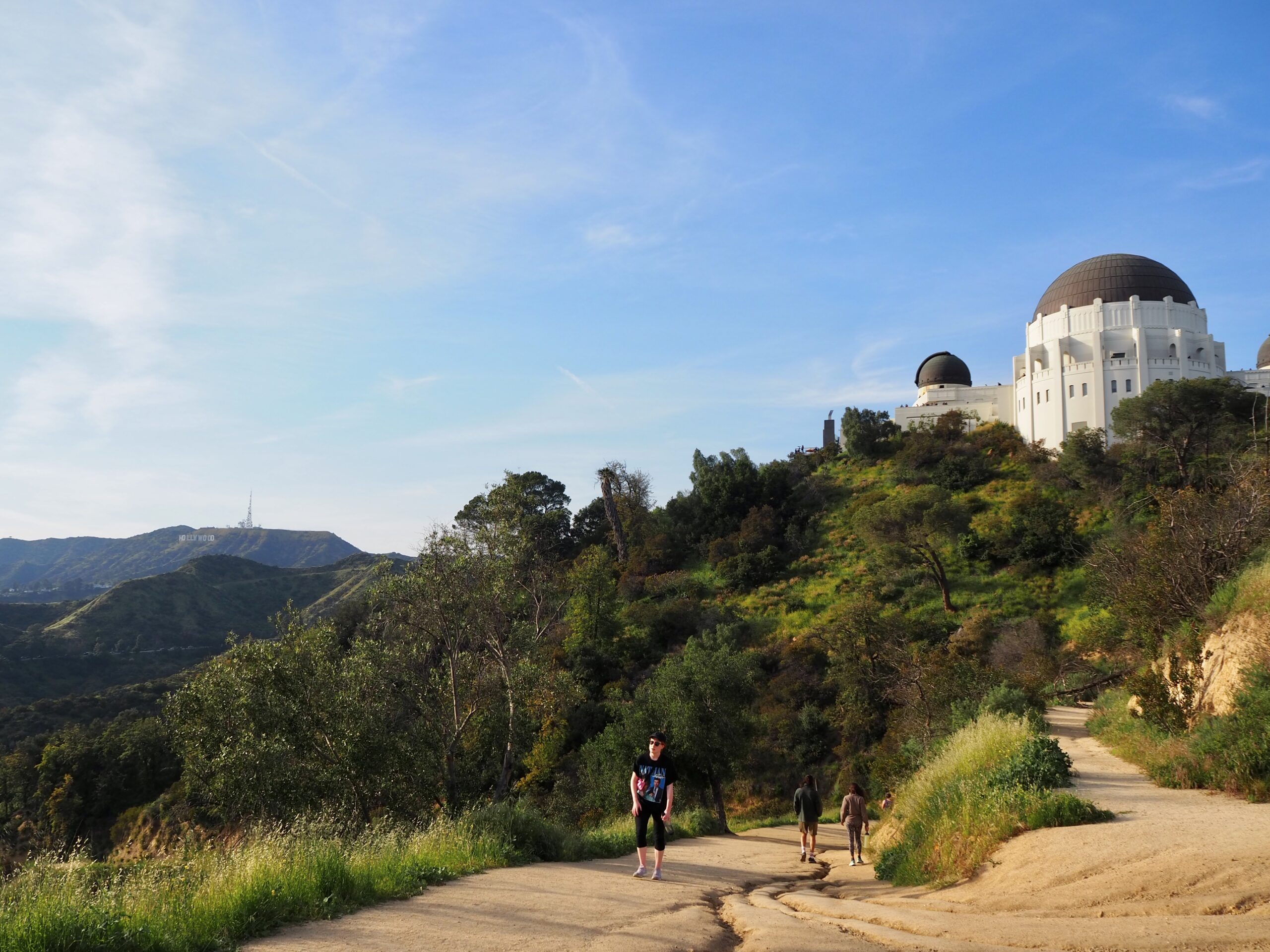 A Week in Los Angeles, California
17 April 2023
One of the joys of working remotely is you can just pick up the laptop and go wherever to work. Which is exactly what I'm doing for 3 weeks in California, in search of sunshine after surviving winter in Vancouver. My first stop was a week in Los Angeles, Hollywood, Tinsel Town, City of Angels. I spent 6 nights staying at the Banana Bungalow Hostel in West Hollywood (because this is not a cheap city). There were some challenges of working remote in a hostel. I was up hours before most of my roommates and it's not exactly the quietest environment. But it worked overall in the end!
I had to work my usual hours through the day, then had the late afternoon onwards to explore the city. I always want to maximise my sightseeing time and do as much as possible in a new place while travelling. However, when you have to do a full workday before that, it was a challenge to see as much as I could without getting totally exhausted and burned out. LA is also huge – like seriously, it takes hours to cross the city, it's such an urban sprawl. So, sometimes it just wasn't feasible to get to some locations in the time I had.
I arrived late on the first night and then the following morning was the only full free day of my week in Los Angeles. I used this to go to Disneyland, which was already a separate post!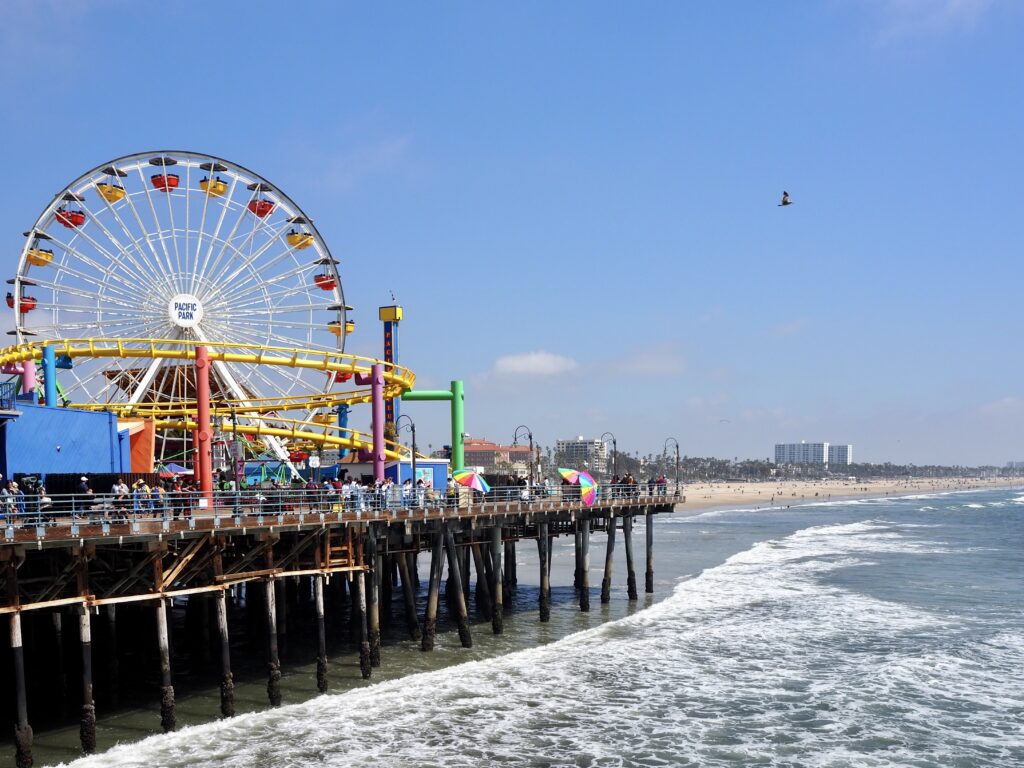 Day Two
Santa Monica
So, after my Disneyland adventure, day two started with a few hours of work in the morning. This was a just a half day of work, on a weekend, so I had the whole afternoon to myself. I had chosen to stay near Hollywood because it was reasonably central to a lot of the places I wanted to visit, At least compared to Downtown LA which would have required a lot more travel time. By bus, it was around 45-50 minutes straight along Santa Monica Boulevard to reach the coast.
I got off the bus a couple of stops before the end of the line though, to have a wander around the town centre. Since LA is so big, each neighbourhood is almost like its own little town. There was a big pedestrianised shopping street, with outdoor performers and topiaries shaped like dinosaurs. Well done to whoever chose dinosaurs! I picked up an iced coffee, which came with oat milk as the default, and felt very LA walking around in the sun with it. I stumbled upon an Easter event too which was cute, but very noisy with all the kids screaming.
The famous Santa Monica Pier was just a couple of streets away, and there's a big pedestrian bridge that takes you to the pier. The pier was one of those locations I recognised from TV and movies, so it was pretty cool to see it in person. It's also the end of Route 66, so I've now made it to the end of that road, despite having never done any of the rest of it! I didn't go on any of the rides or get (expensive) food on the pier. Instead, I just wandered up and down it, admiring the Pacific Ocean views. The sun was out, but there was a chilly wind blowing in as well!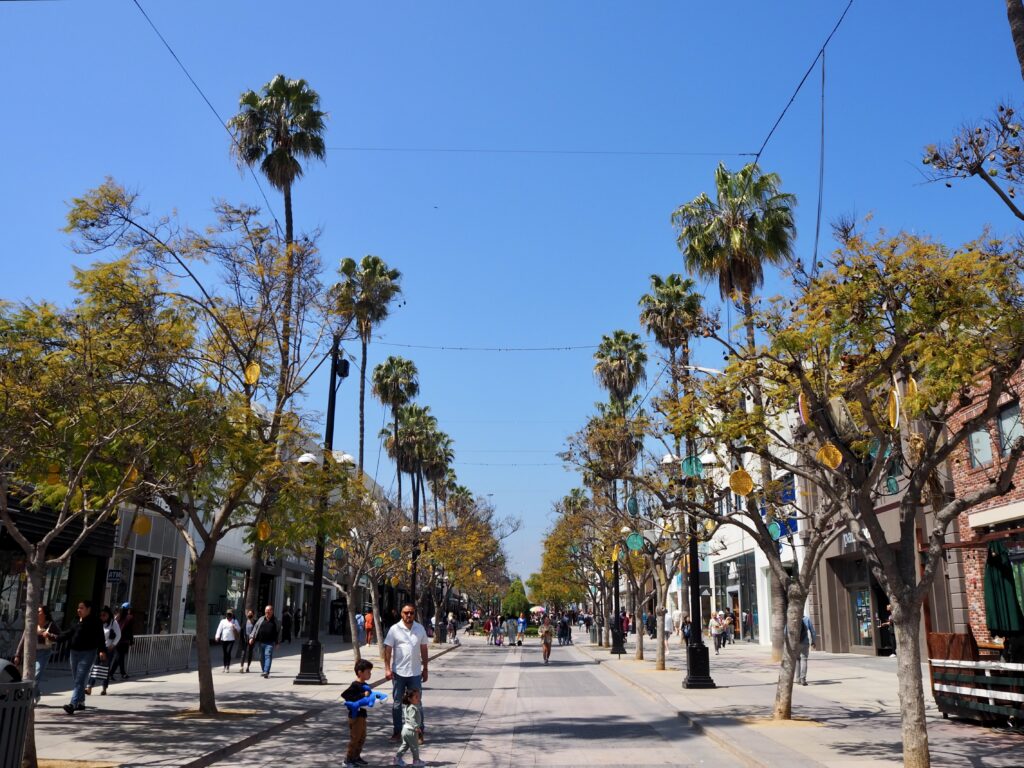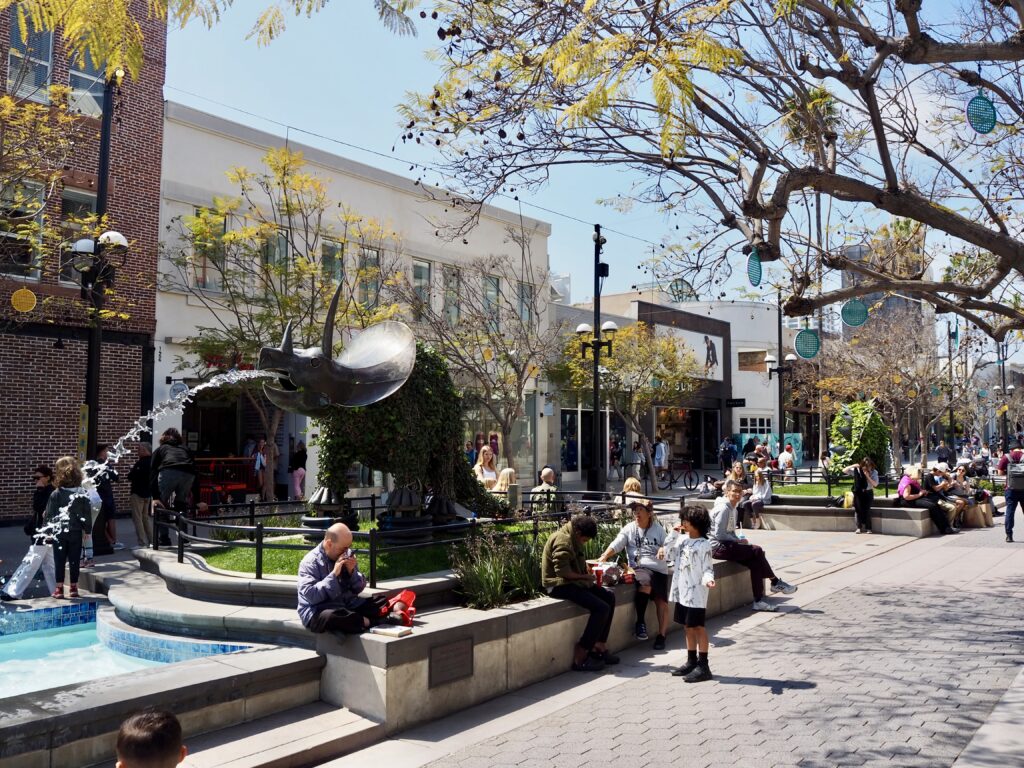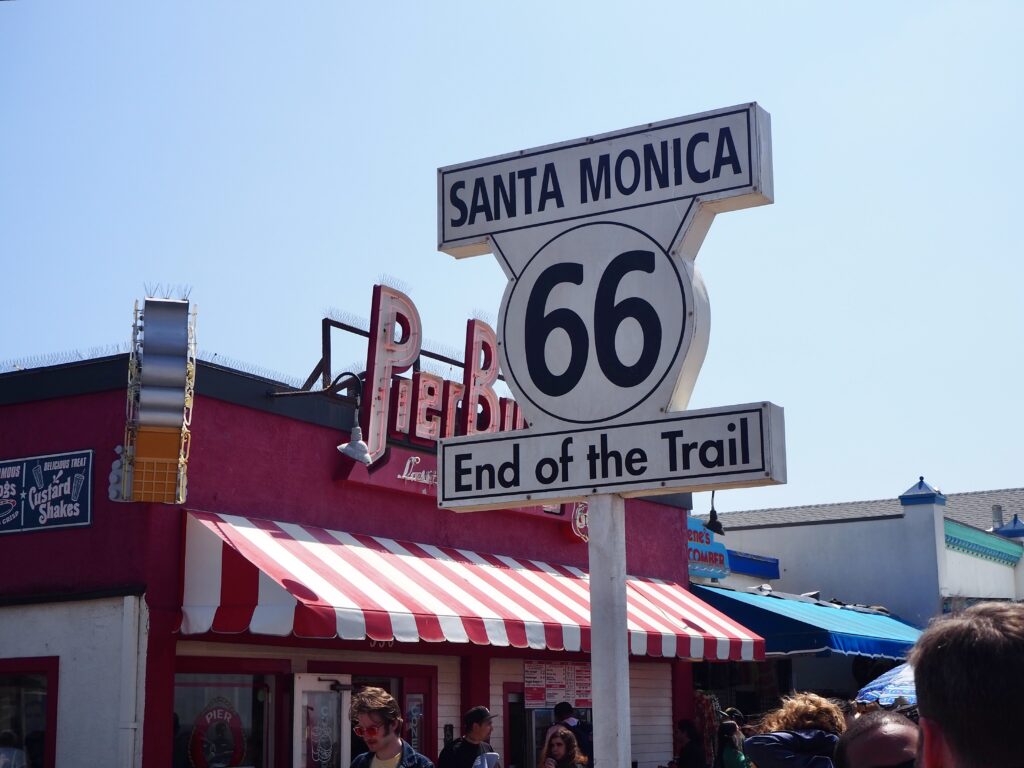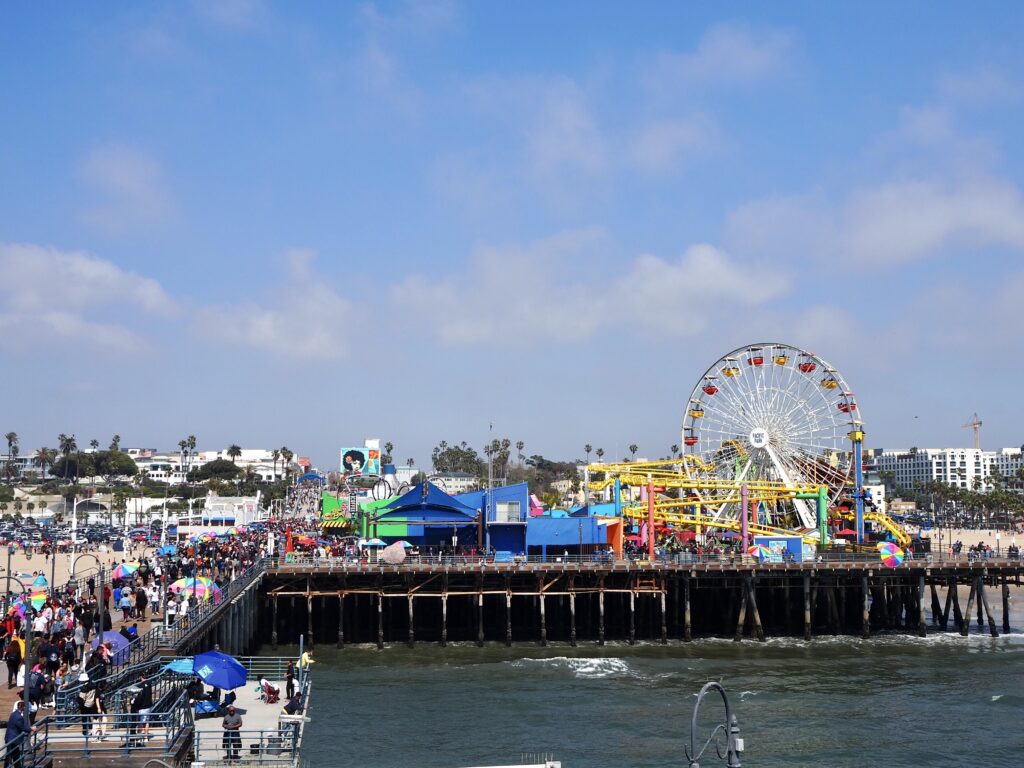 Santa Monica to Venice Beach
LA is a city built for cars, being so spread out. But I'm stubborn and will walk when I can, so I trekked about an hour or so from Santa Monica to Venice. They're not that far apart really, and there's pedestrian and cycle paths along the beachfront. Though I think there were more skateboarders than cyclists. I walked part of it along the sand, past the iconic turquoise blue lifeguard stations. The sea looked lovely but when I dipped my feet in, it was super cold, so that didn't last long! I also stopped to just sit and relax for a while, before the cool wind forced me to keep moving.
Not including the stops, it probably took me around an hour to walk from one to the other. I'm a big fan of beaches and the coast in general. Even though it wasn't warm enough for swimming or sunbathing, it was still a very pleasant walk to while away an afternoon.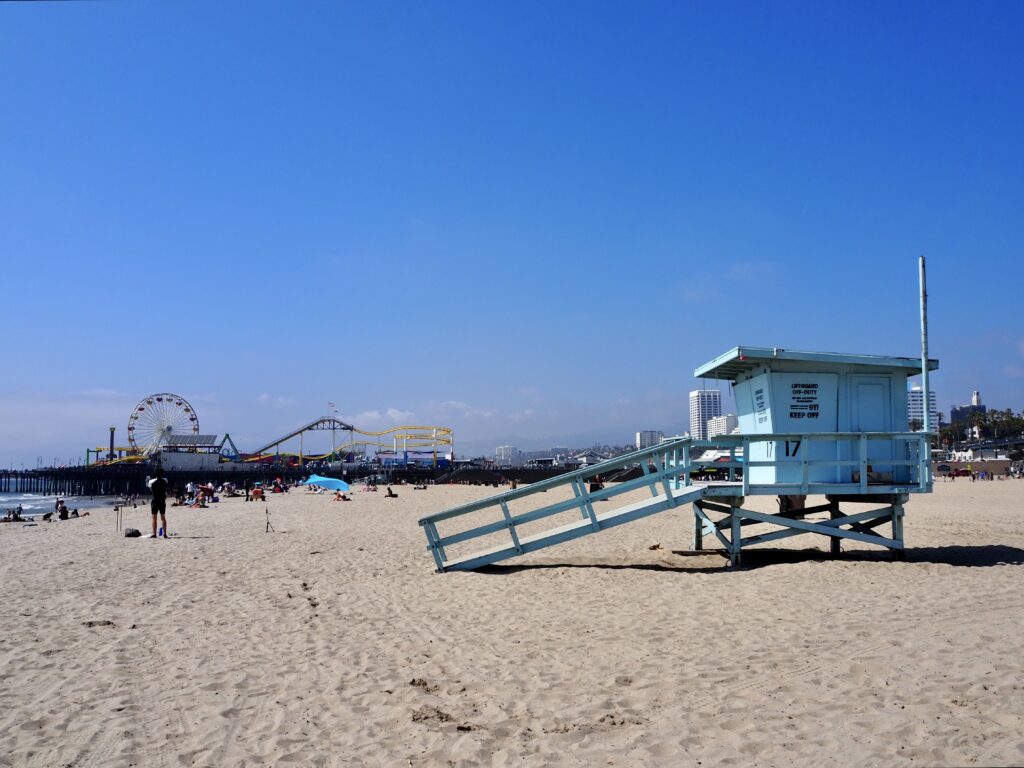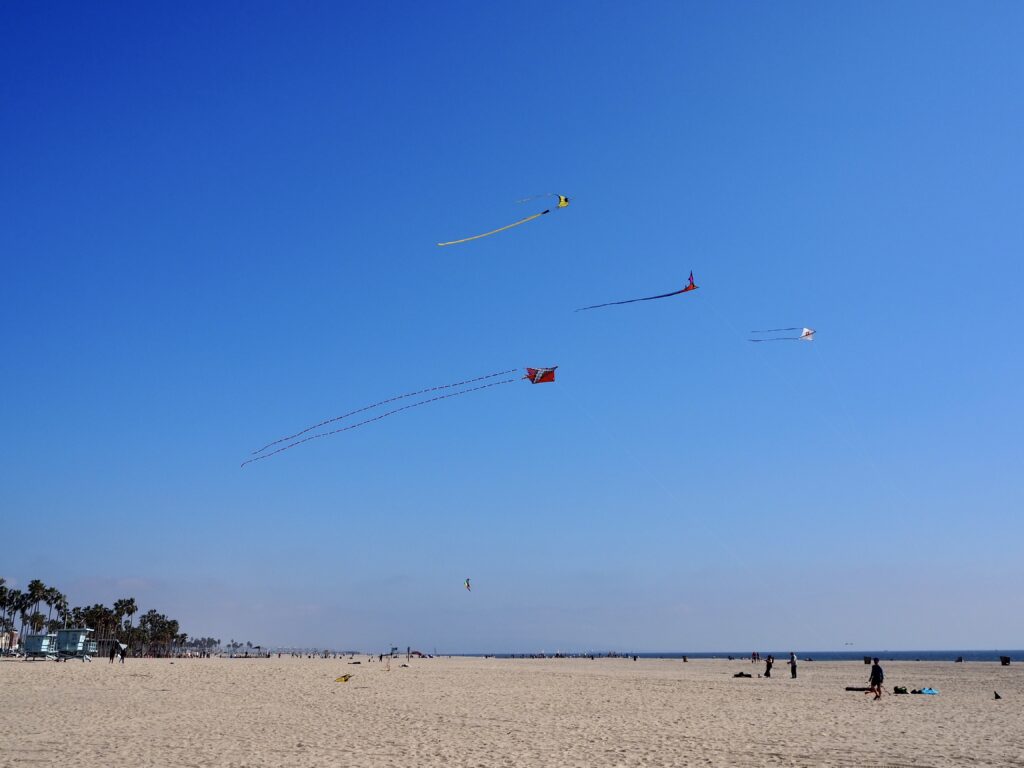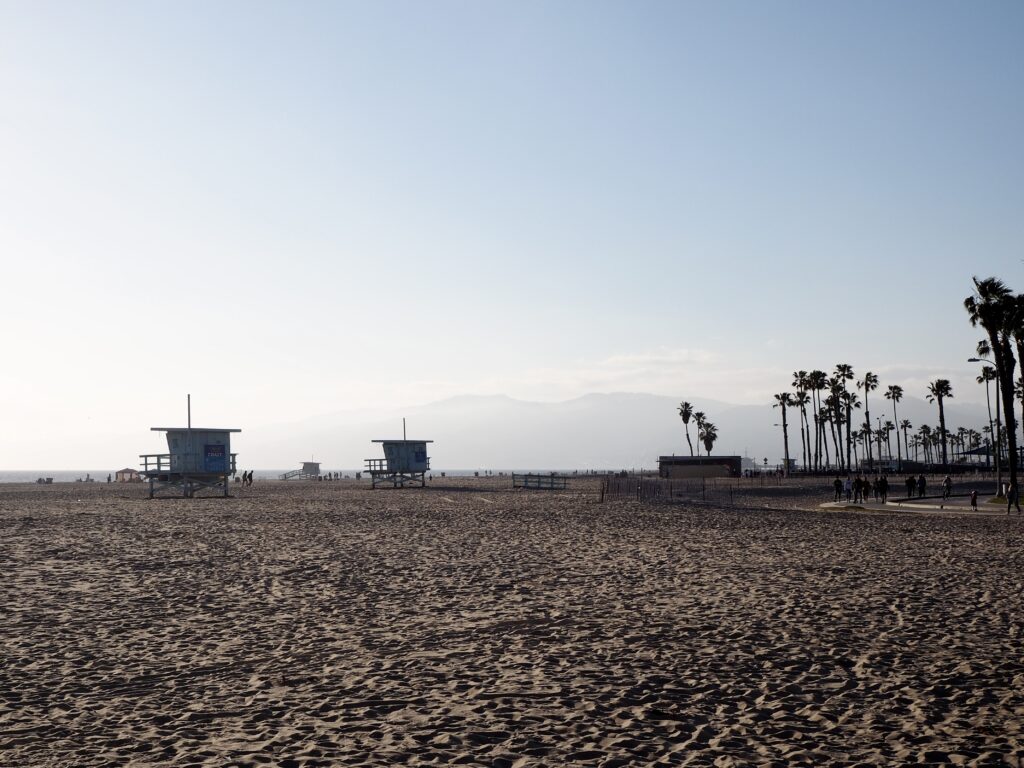 Venice Beach
Now where Santa Monica was busy but overall pretty laidback, Venice was a whole different beast. If you're a fan of people-watching, this is the best place to do it. Venice is just weird sometimes, but in a good way. The boardwalk is lined with colourful shops, bars and restaurants, and people selling goods – mainly artwork or bundles of weed as I saw a couple of times – from makeshift market stalls. There's also a lot of people playing live music – or indeed, rapping along to songs through a microphone, as one older man was doing outside a cafe. You also have to trust that the numerous skateboarders and roller skaters won't collide with you as they whiz by.
Other unusual things I saw in Venice: a blue-haired girl using two skateboards like a set of skis. An outdoor roller disco with every kind of person and skill level. Someone practising juggling clubs. Someone practising the trumpet alone on a quieter stretch of beach. A guy flexing for a photo in the gym in front of the Muscle Beach mural. A man just standing in the street with a massive snake. Venice was an experience for sure! A bit too hectic for me after a while, but definitely fun to check out.
I picked up a late lunch from a deli cafe here and ate it in the park while watching the aforementioned roller disco. The skate park was also nearby so I went over to watch them for a bit too. Once I had walked just beyond the busiest part of the boardwalk, I turned inland again to look for the Venice canals. I had no idea these existed until I noticed them on the map. But just a few blocks from the craziness of the boardwalk, hides a set of serene, peaceful canals within a residential zone. It was so pretty and so quiet! There were a few other tourists there, but it felt like a somewhat hidden gem compared to the beach.
From there, I retraced my steps back along the beach to Santa Monica again, in time to watch the sunset behind the pier. It was very cold once the sun went down, so I didn't linger too long. After admiring some colourful skies, I jumped back on a bus to return to the hostel for the night.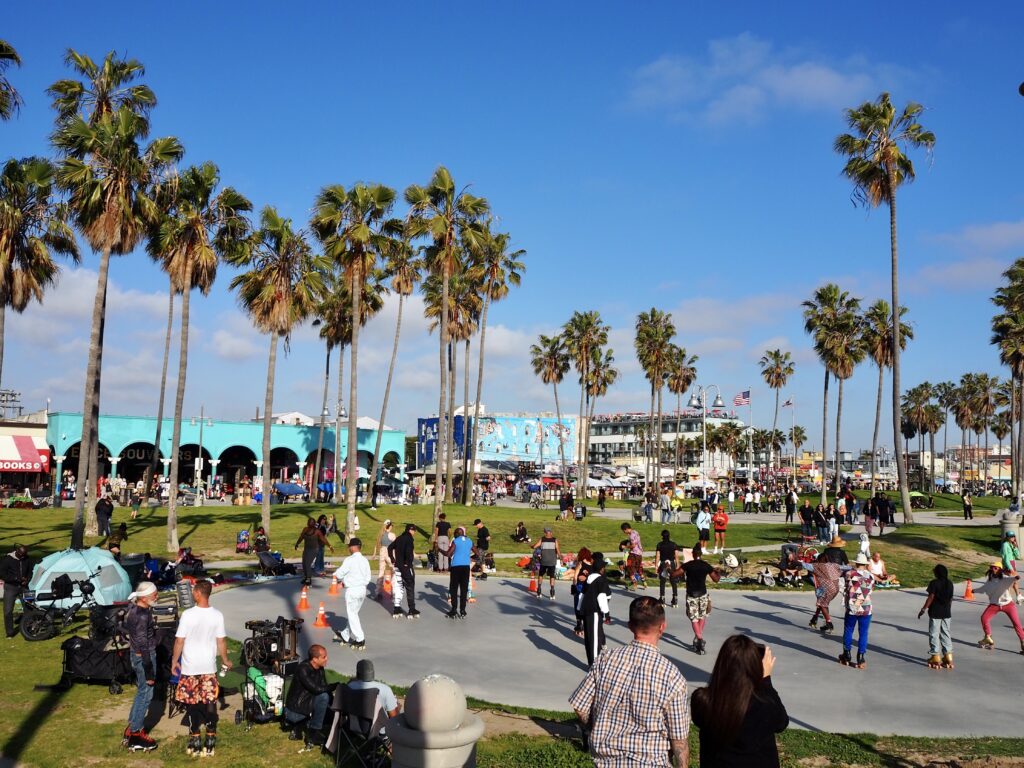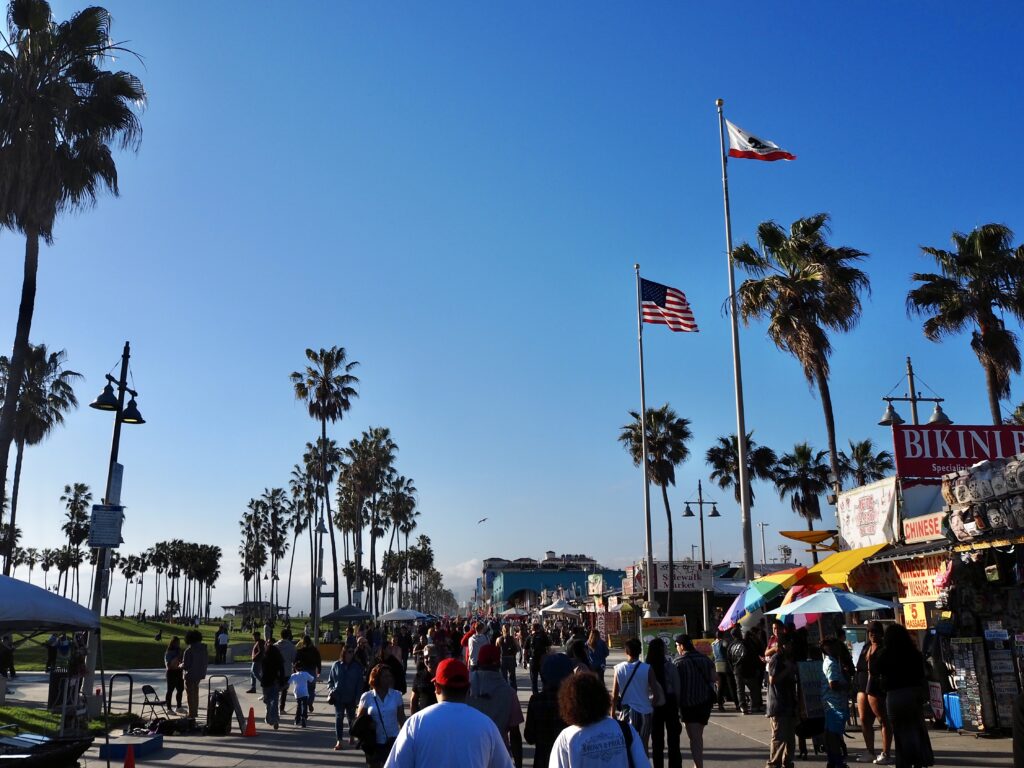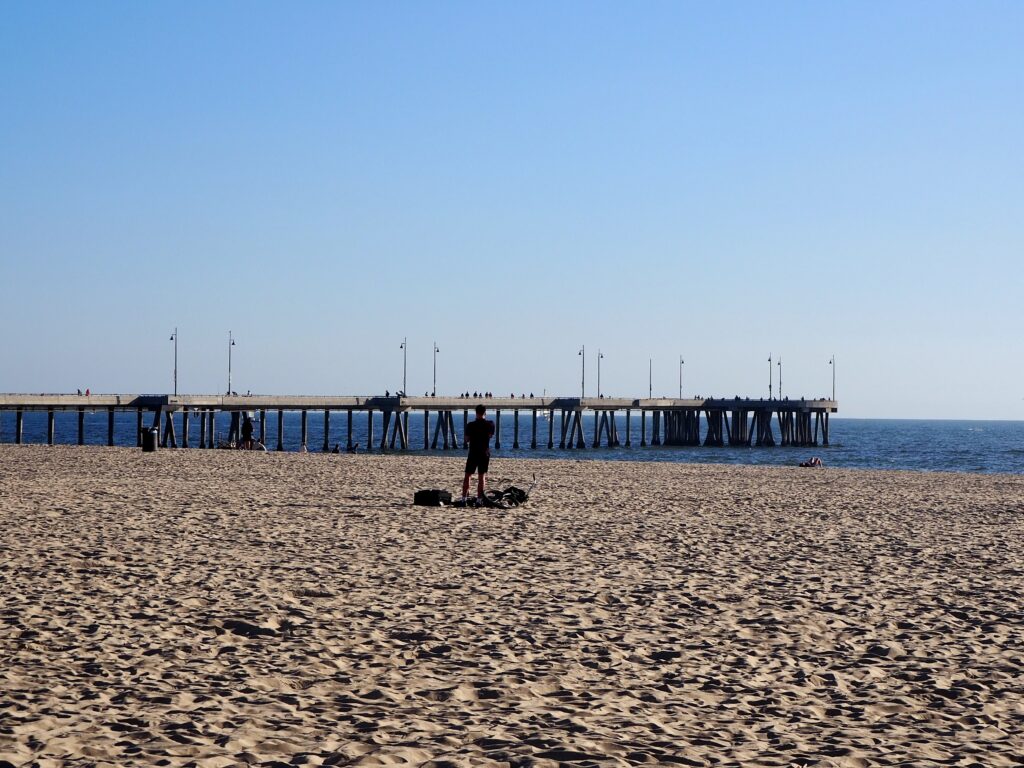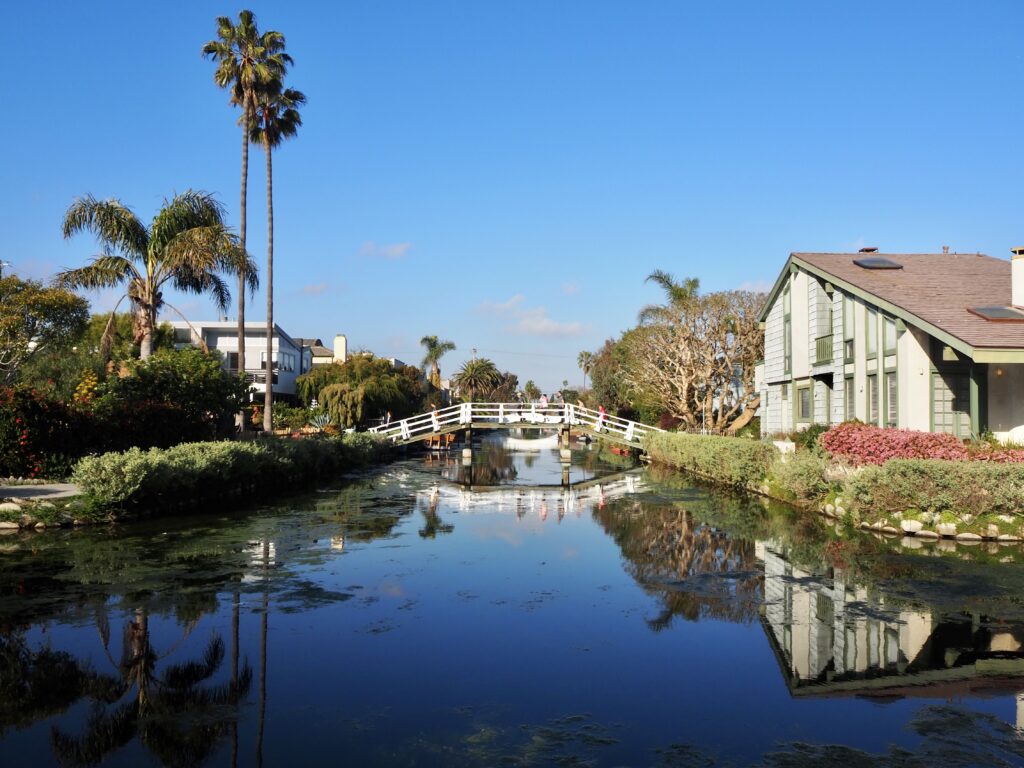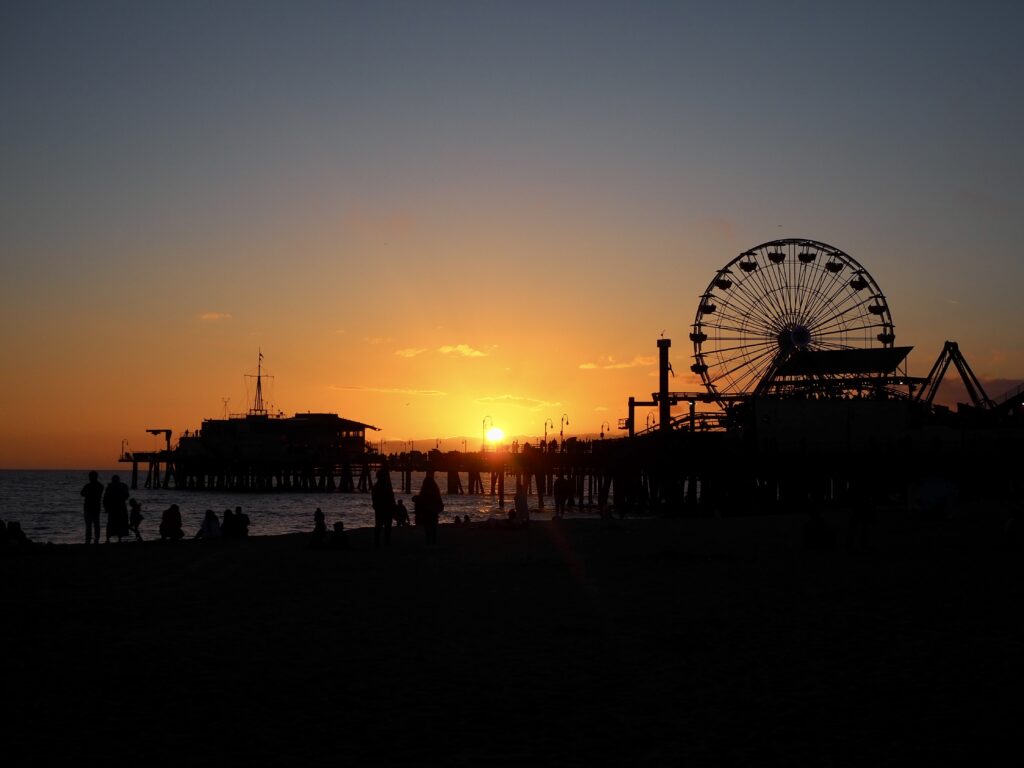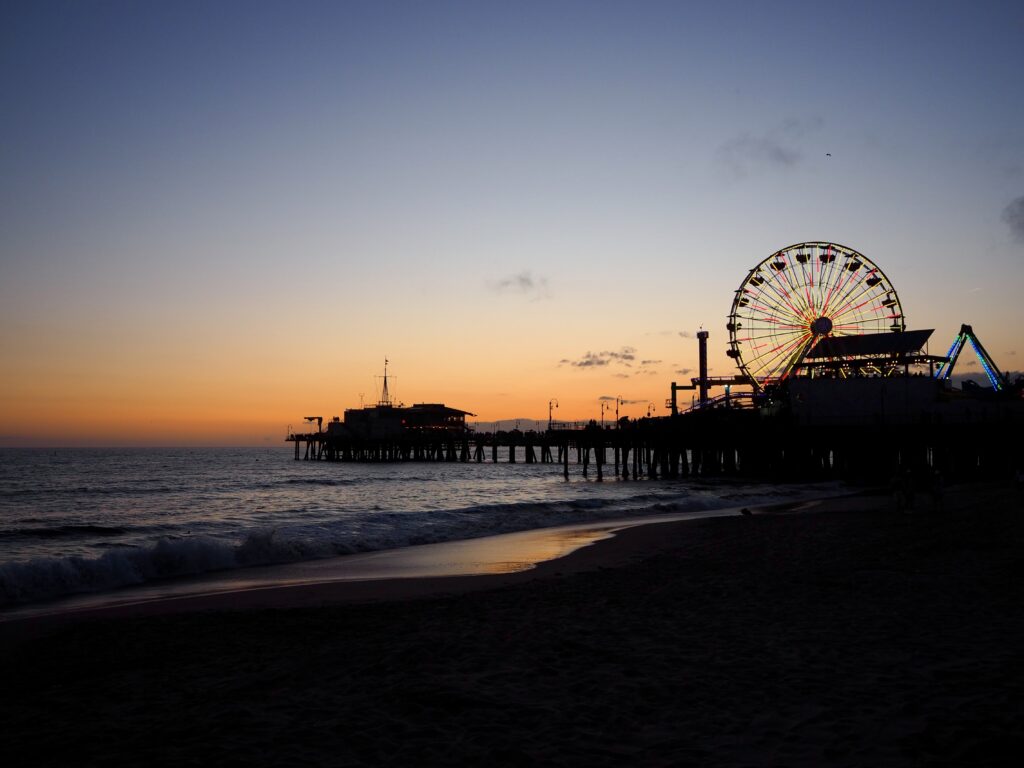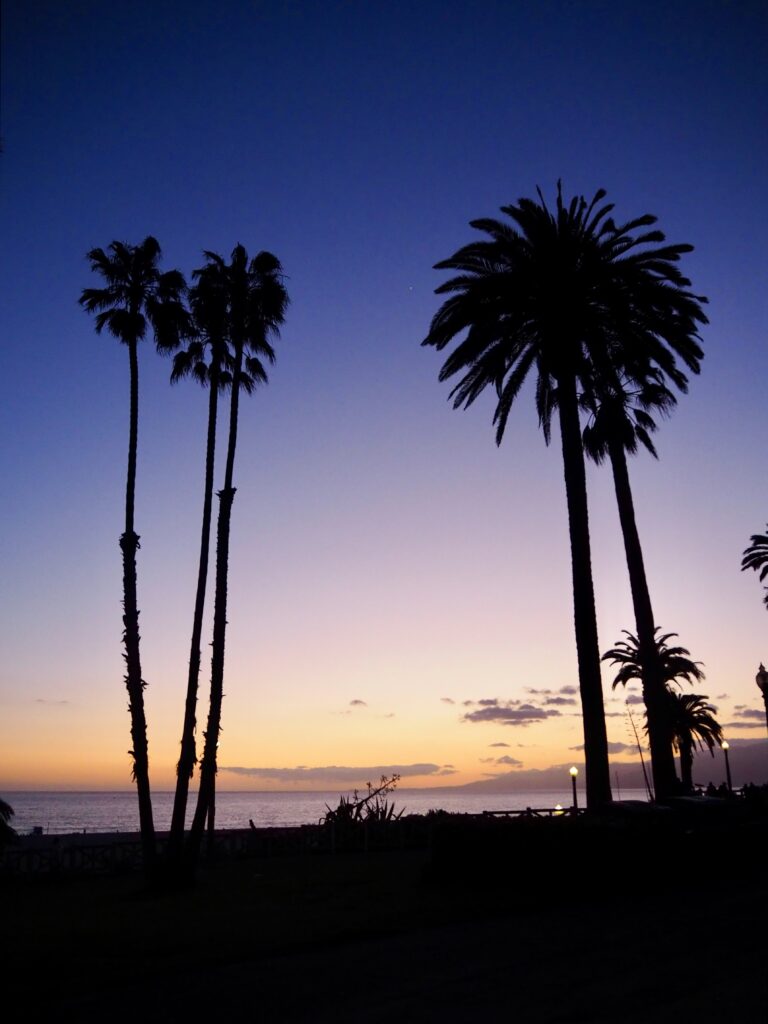 Day Three
City Sightseeing Bus Tour
This was the first full work day of my week in Los Angeles, so much of it was spent at the hostel. I finish at 4pm so there were still a few hours of daylight to explore. Obviously LA also has a lot of nightlife for after dark, but when I'm travelling solo, I'm never very comfortable going out alone at night. Anyways, Hollywood Boulevard was only about 20 minutes from my hostel by bus. There I joined the last departure of the sightseeing bus for the day. It is a hop-on-hop-off service, but I stayed on for the whole thing to listen to the commentary and see all the sights included.
The tour starts on Hollywood Boulevard and the Walk of Fame, then heads west. It drives along the Sunset Strip, a famous nightlife location, including Chateau Marmont and the Laugh Factory. You can see the Hollywood Hills to the north behind it too, with all the big, expensive homes up there. A far cry from my hostel bunk bed! It continues on via Route 66 to pass through Beverly Hills. I had considered coming back to look around here more again another day, but it looked mainly residential. I have no interest in doing a celebrity homes bus tour and there didn't seem to be much else to see there.
Similarly, the bus isn't allowed on Rodeo Drive, but we did get a glimpse of it as we passed the end. This is said to be the most expensive shopping street in the world, with dozens of designer flagship stores. But as someone with no interest in designer labels, I wasn't about to make the journey back here another time.
The bus then travelled south and east to make a loop, passing by the huge Beverly Centre shopping mall and a few museums. There are also various guilds connected to the movie-making industry such as directors and screenwriters. It actually passed by my hostel too, which I didn't realise was just up the street from the CBS studio lot. It's also across the road from Fairfax High School, which many celebrities including Slash and the Red Hot Chili Peppers attended.
We then drove along Melrose Avenue, which seemed a bit more my vibe. It's a colourful street with plenty of murals and street art, and home to more independent shops and restaurants. We also passed near Paramount Pictures studio, which the commentary explained was one of the first studios to contract movie 'stars'. Most of the other studios are further north, on the other side of the Hollywood Hills. I had thought about doing a studio tour, but I don't think I'm enough of a movie buff to really appreciate them.
The bus travelled north again, offering glimpses of the Hollywood Sign up on the hills. It then returns to the Walk of Fame and the last part drives along Hollywood Boulevard again. The bus driver helpfully dropped us off outside a shopping centre, telling us to walk through to the other side of it for a view of the Sign!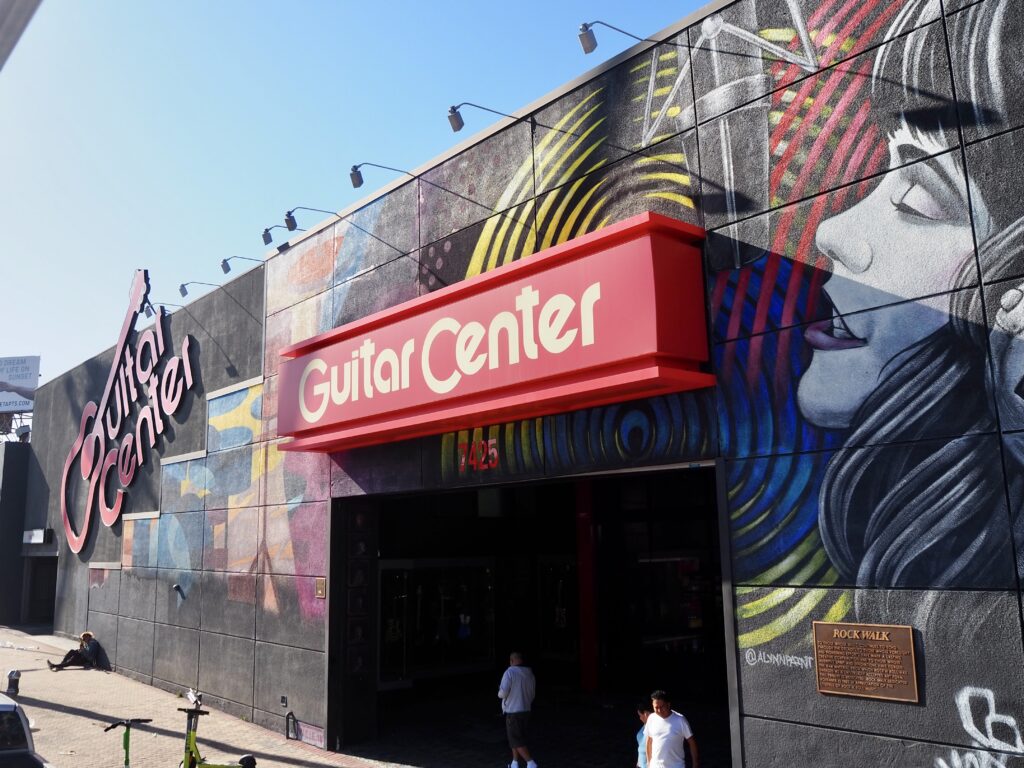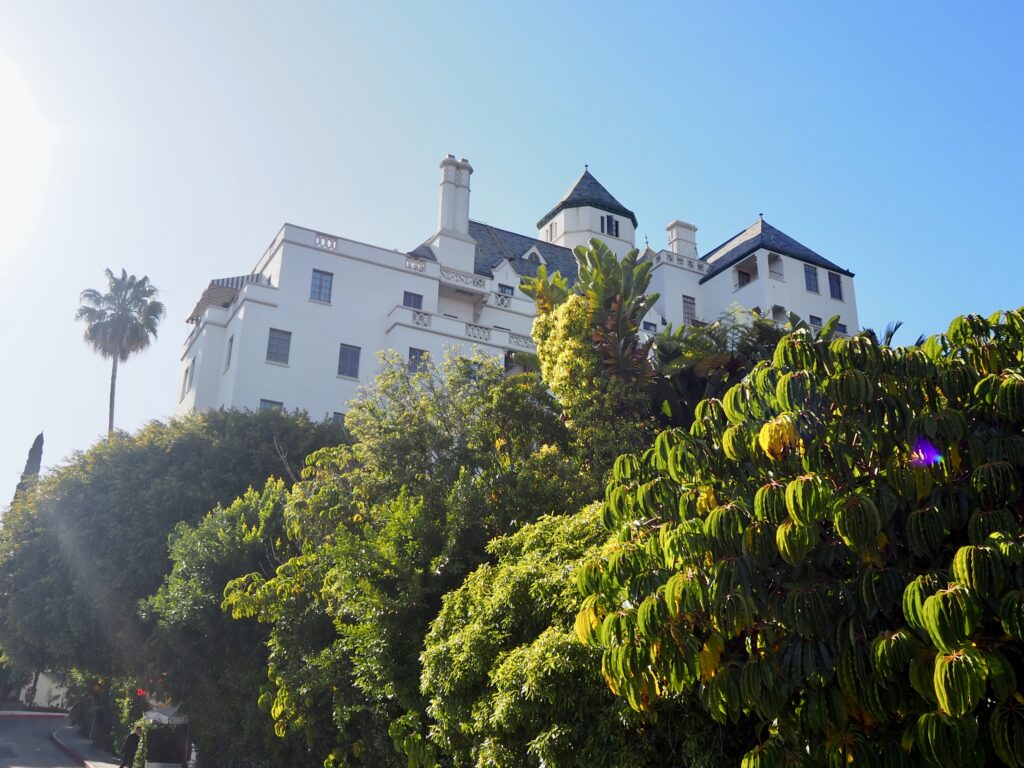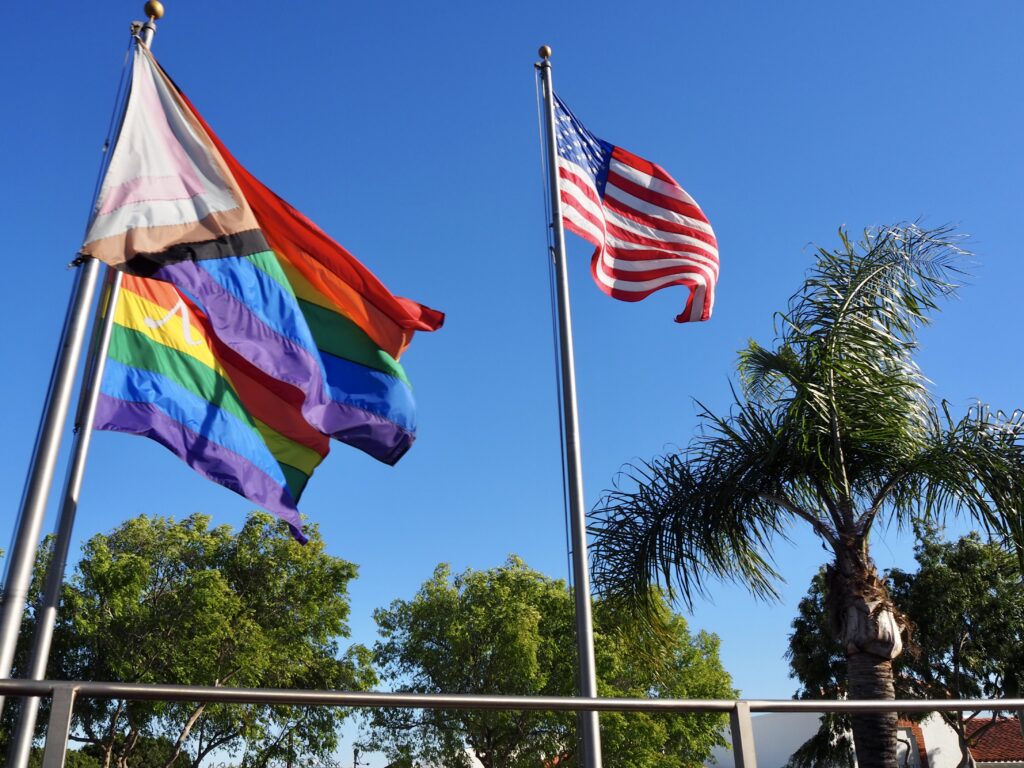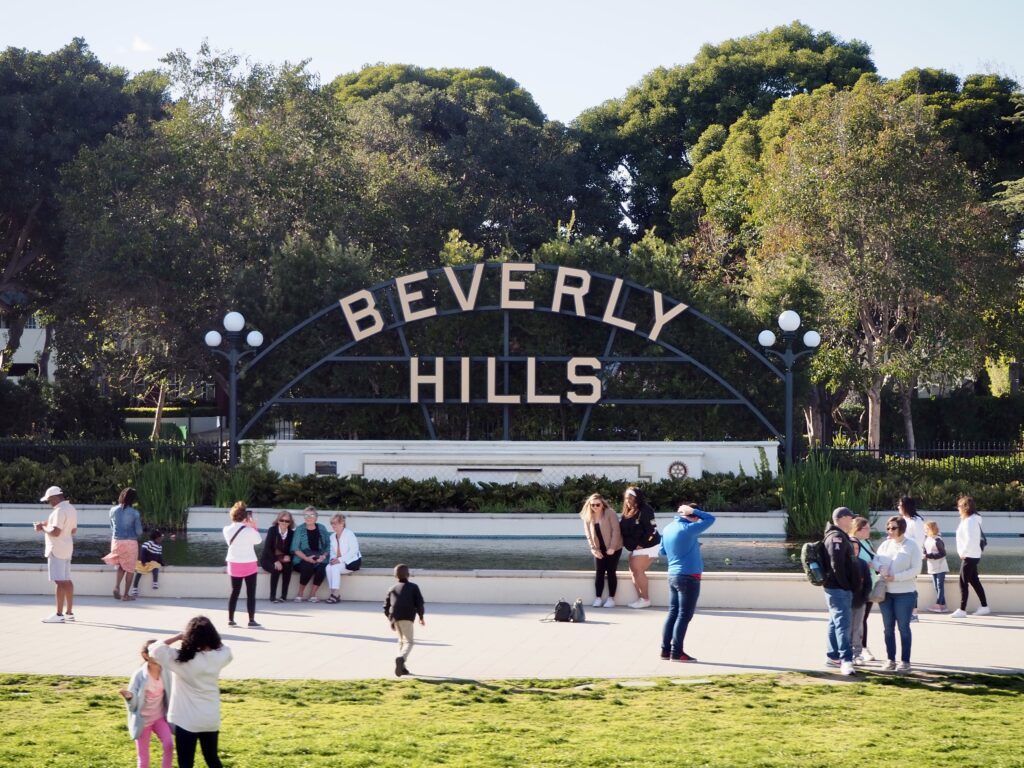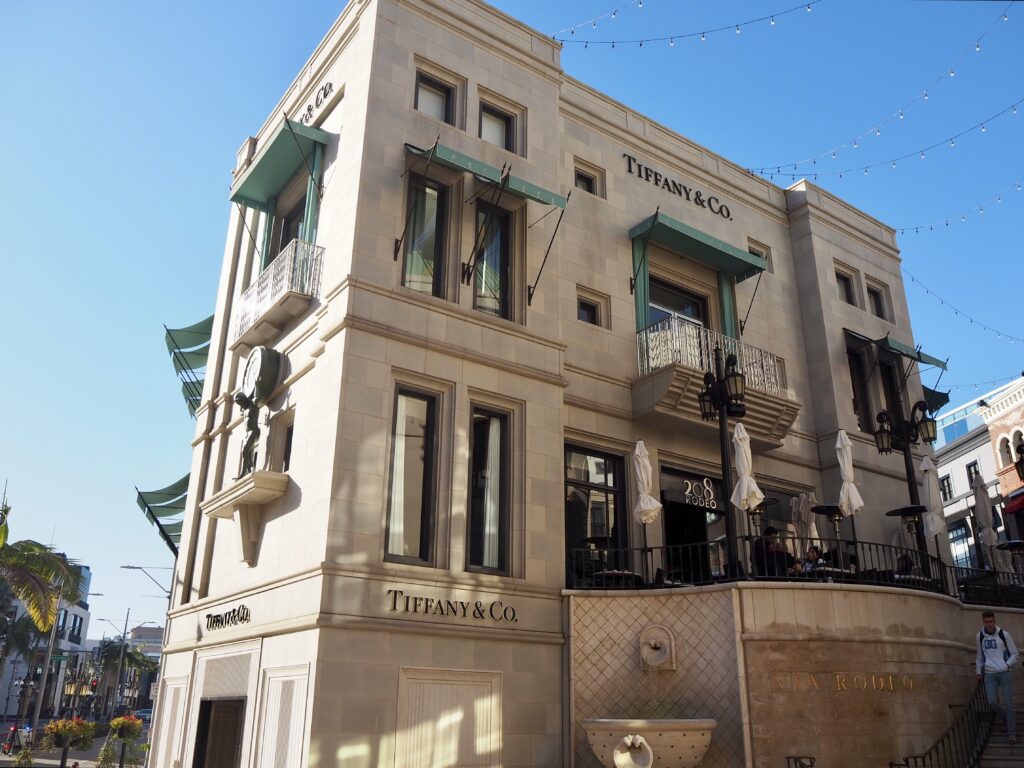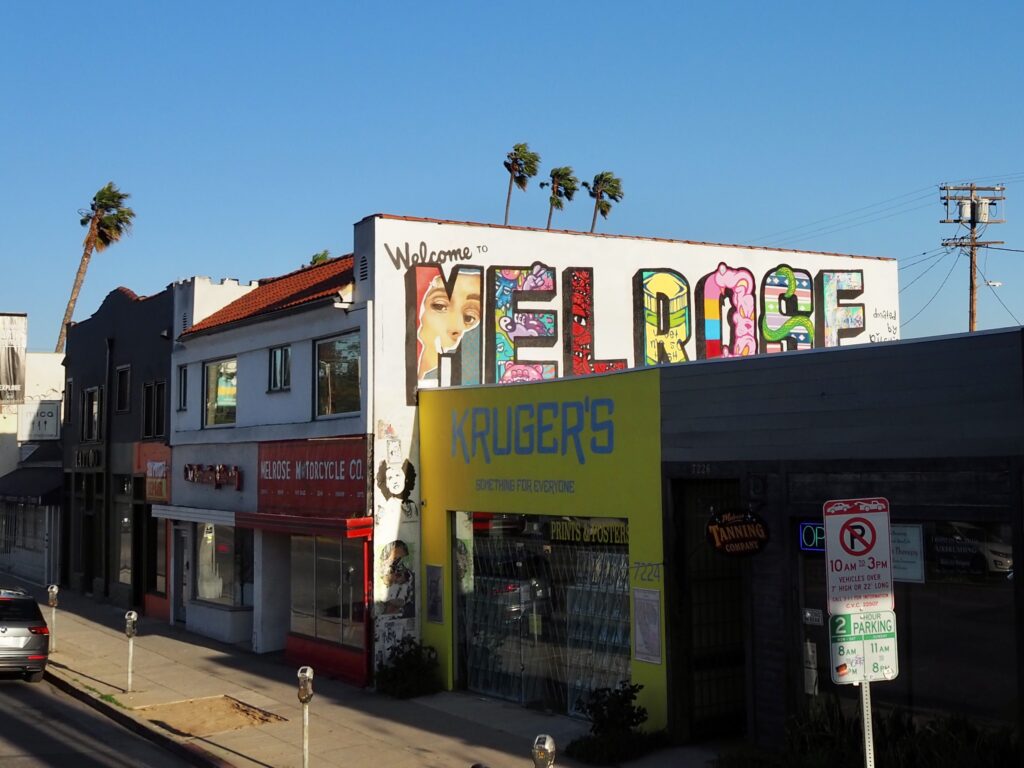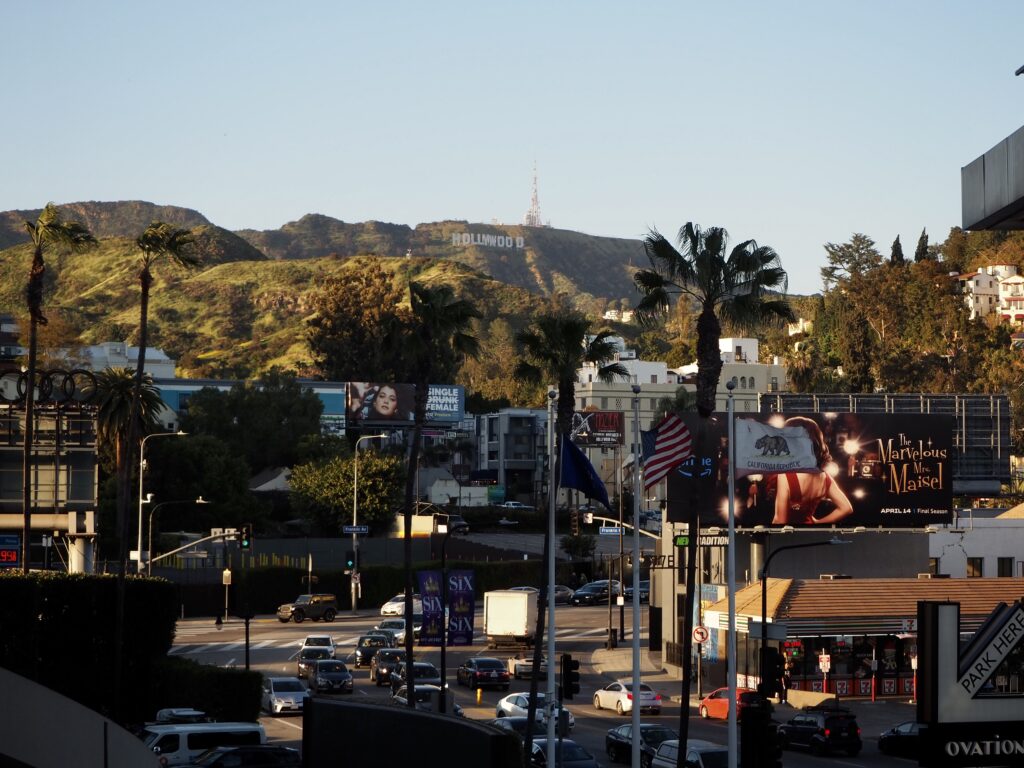 Walk of Fame
The tour had taken about two hours and it was starting to get close to evening now. Since I was already on Hollywood Boulevard though, I stuck around a little longer to see the Walk of Fame. This is definitely one of the most tourist-centric parts of LA. It seemed odd that it's associated with celebrities, when there were definitely none around. I wandered up and down the street though, looking at all the stars in the pavement, while trying not to walk into anybody with my head down! There are literally thousands of stars so I definitely didn't see them all, nor did I recognise a lot of the names I saw. There were several I did know though!
Hollywood Boulevard is also notably home to the Dolby Theatre and the Chinese Theatre. The former is where the Oscars are held and you can enter the foyer for free. I'm not that interested in celebrity culture, but it was definitely a bit odd and surreal to be standing in a room that hundreds of them have been in. The Chinese Theatre next door is where you find all the handprints and signatures in the cement. This one was quite fun, because where all the Walk of Fame stars look the same, each signature here was totally unique. They're also all dated too, so it was crazy to see signatures and handprints that have been here for 70 or 80 years now!
Fictional characters also frequent the Walk of Fame, with who you can get photos. I spotted Mickey Mouse and Catwoman while I was there. Most notable, though, was the moment Chewbacca stopped to shake my hand and call me beautiful (borderline catcalling?). But I was disappointed he didn't do it in Wookie!
I could have taken the bus back to the hostel again, but instead decided to walk back via Melrose Avenue. Mainly because I was on the hunt for good tacos – LA has lots, being so close to the Mexican border. I came across a place on Melrose called Sugar Taco, which do all vegan tacos, with loads of different fillings. The venue was super cute too, with sugar skull wallpaper and Frida Kahlo decor. Although I took my order to-go instead of sitting in and ate it back at the hostel.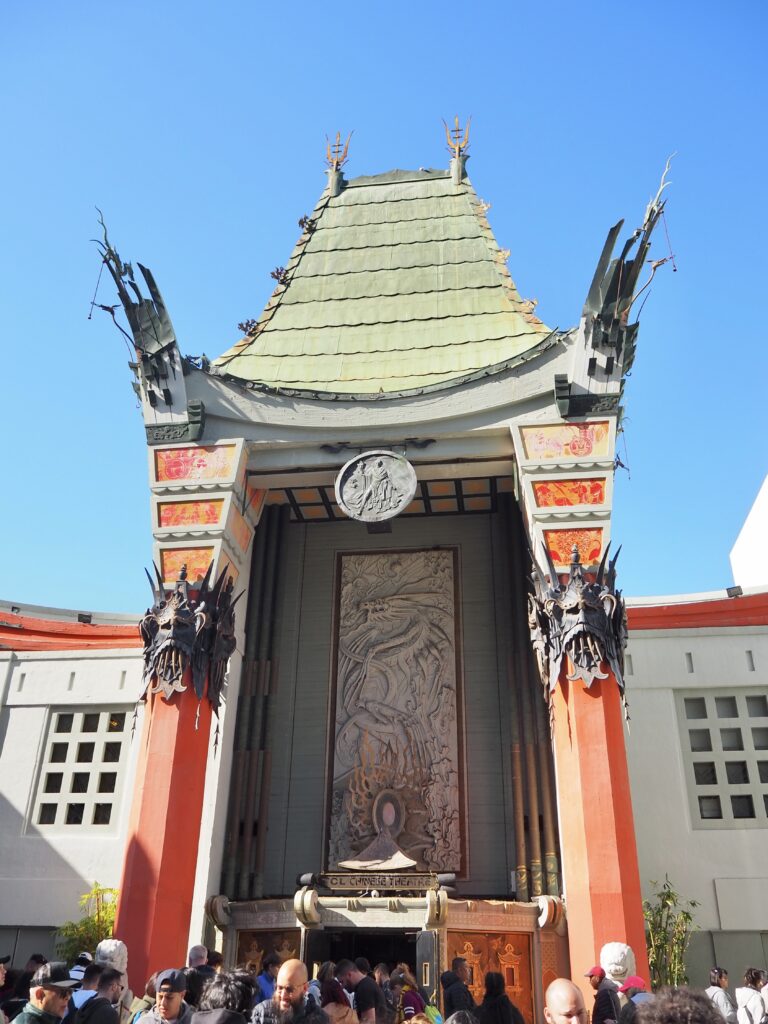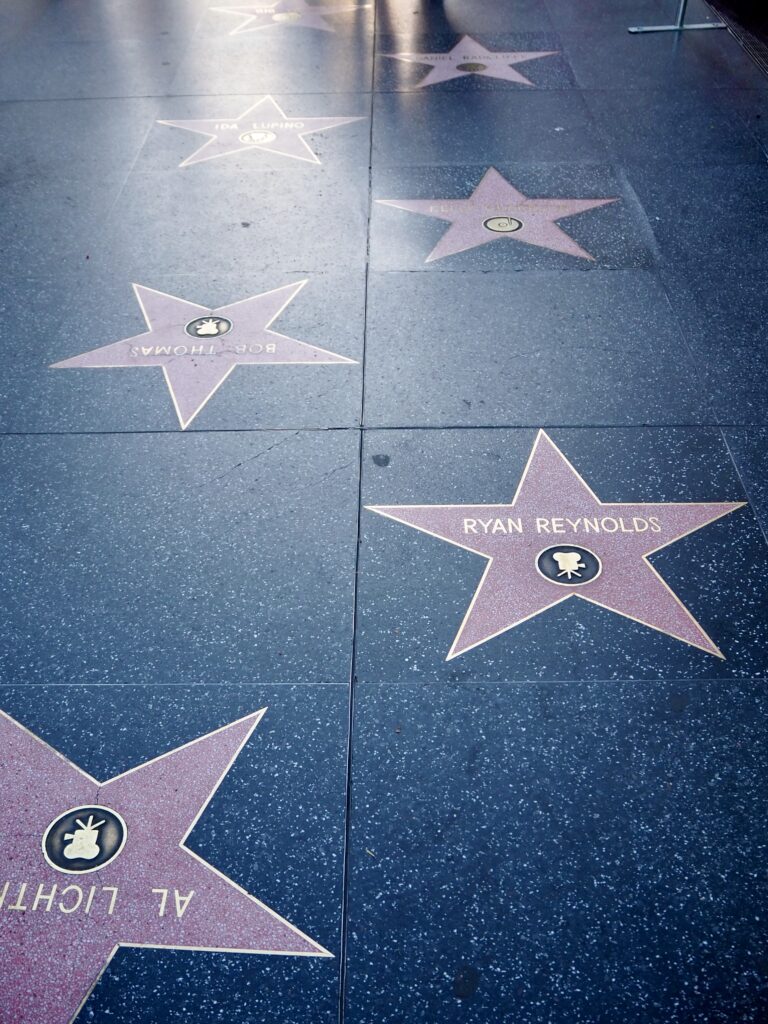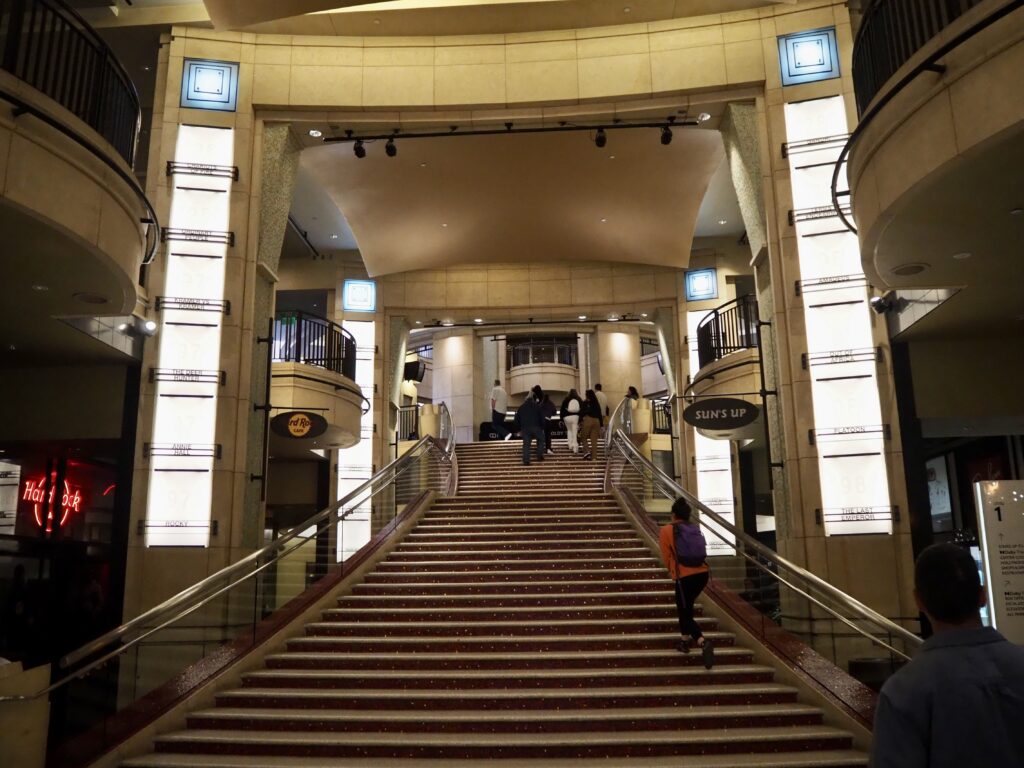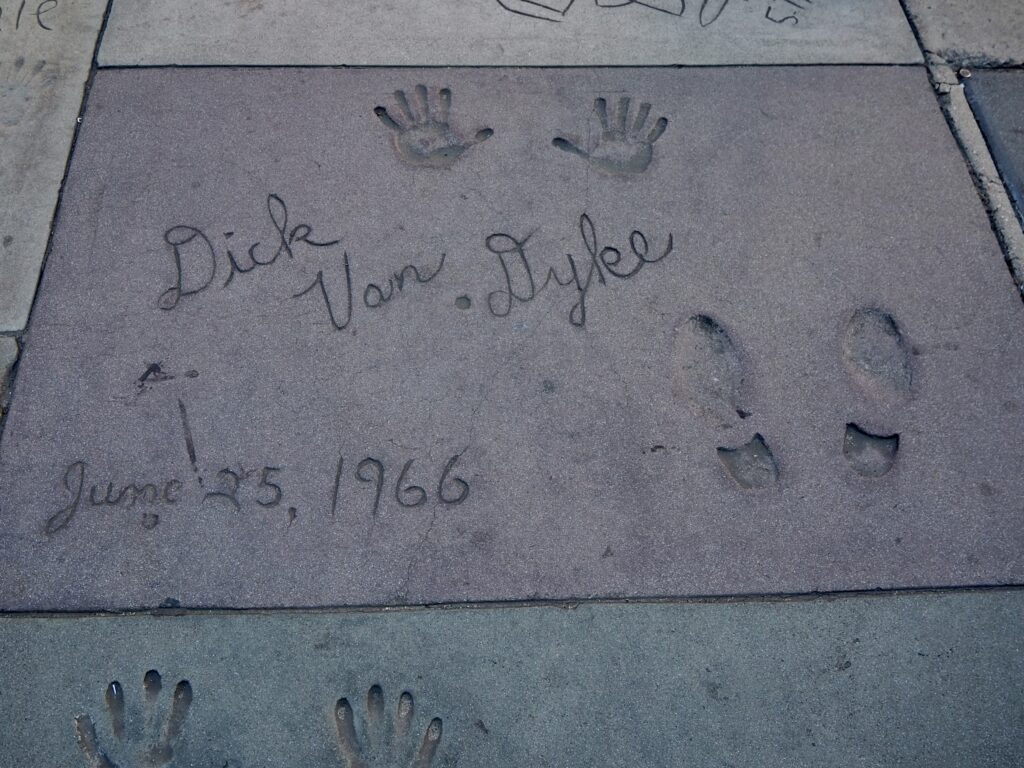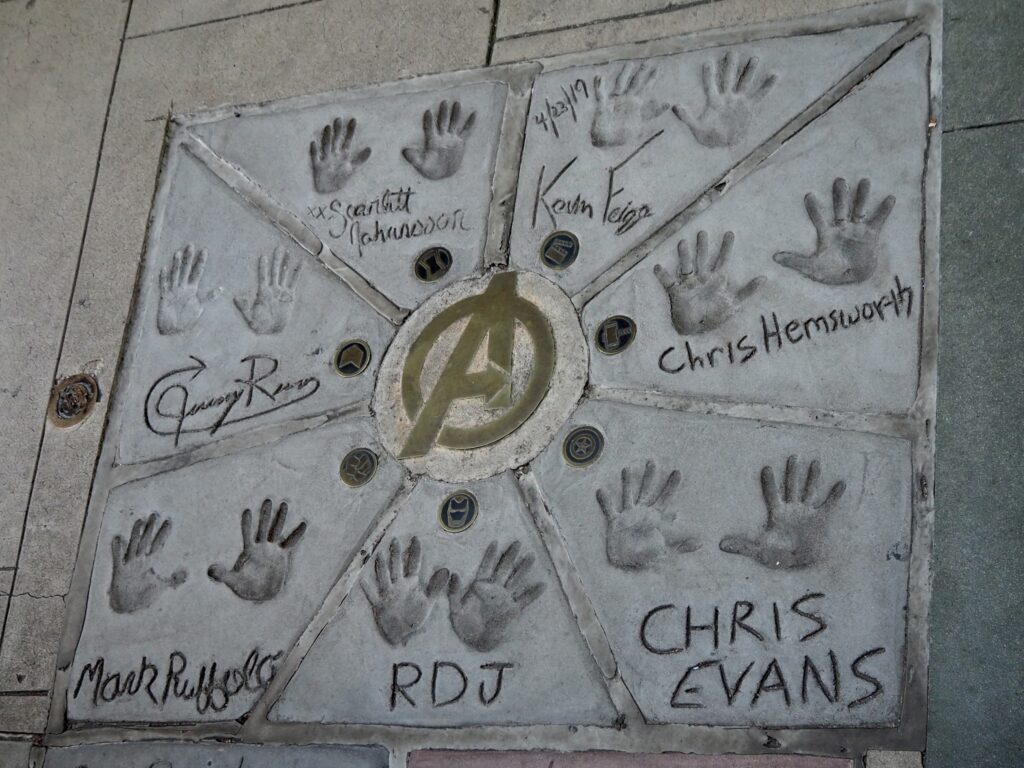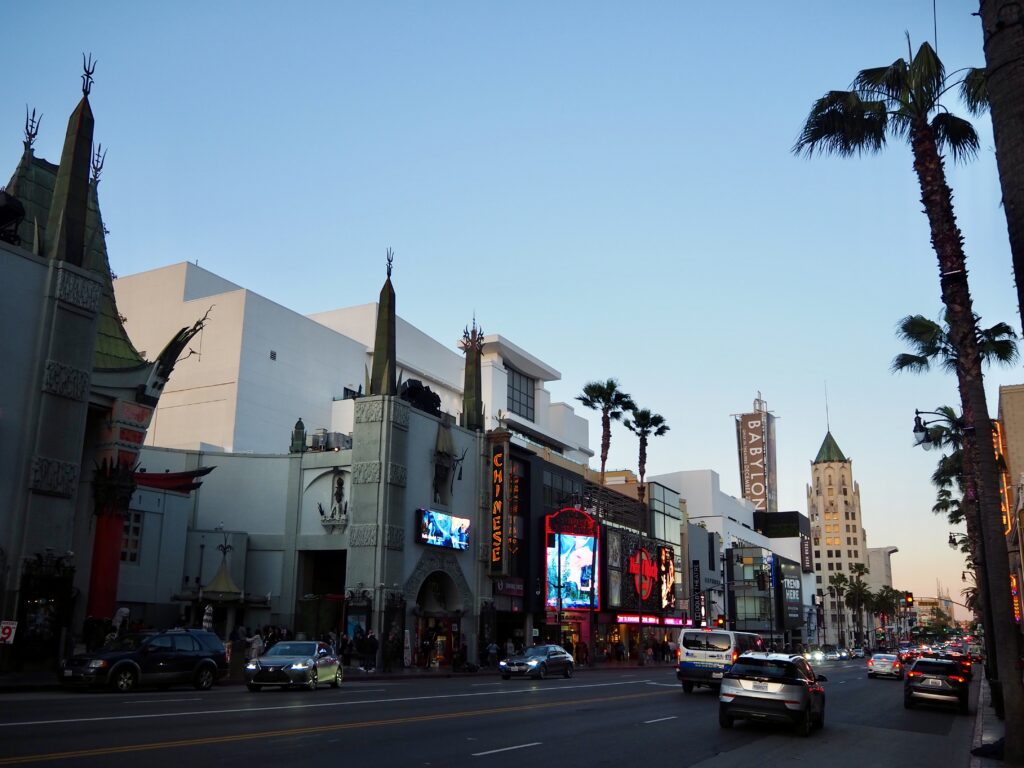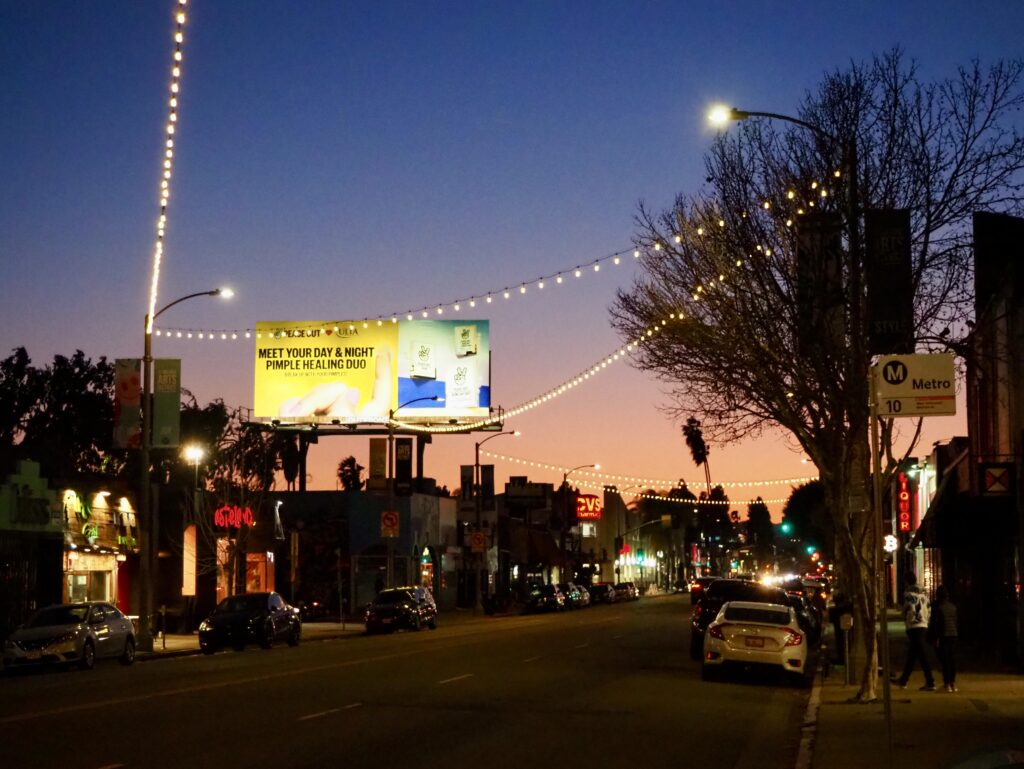 Day Four
The Original Farmers Market & The Grove
After another day of work, and having done a lot of walking the past few days, I stayed closer to the hostel today. I walked just a 20 minutes south on Fairfax to reach LA's Original Farmers Market. They first set it up decades ago! I had been expecting more traditional market stalls, but it's now more of a market complex, with permanent covered stands instead. Some of them sell produce, including plenty of meat and fish, and a whole shop of hot sauce.
Others sell more cooked foods and meals to enjoy at the tables and chairs scattered all throughout the market. There are all sorts of options, from macarons and pastries to tacos and empanadas and a fairly large outdoor French restaurant. It wasn't quite dinnertime for me yet, but I did stop for some ice cream from Lucky Ice. They had some seasonal flavours and I chose blackberry lavender.
Next door to the market is The Grove, another location I recognised from TV (and the internet). It's basically a shopping centre, but an outdoor one with pedestrianised streets and a central fountain feature. The buildings here are really pretty too, almost European in style, compared to a lot of the more generic streets I'd seen so far in LA. There are a lot of brands here that we don't have in the UK, but I recognise the names, such as Nordstrom, Barnes & Noble and the Cheesecake Factory. I'm trying to travel light this year, so I'm not really here for shopping. I had a little browse though, but mostly watched the fountain show. The Grove also has a cute, old-fashioned tram you can ride on as well!
After some wandering, I was ready for dinner and still eager for more tacos. Seriously, I forgot what a difference it makes when they use proper corn tortillas, instead of the flour ones. I went to El Granjero Cantina, which is technically in the Farmers Market but has a terrace looking out to the Grove. Perfect for people watching while I ate! I also arrived just before their happy hour ended, so got some crispy avocado tacos and a mezcal raspberry cocktail for a pretty good price!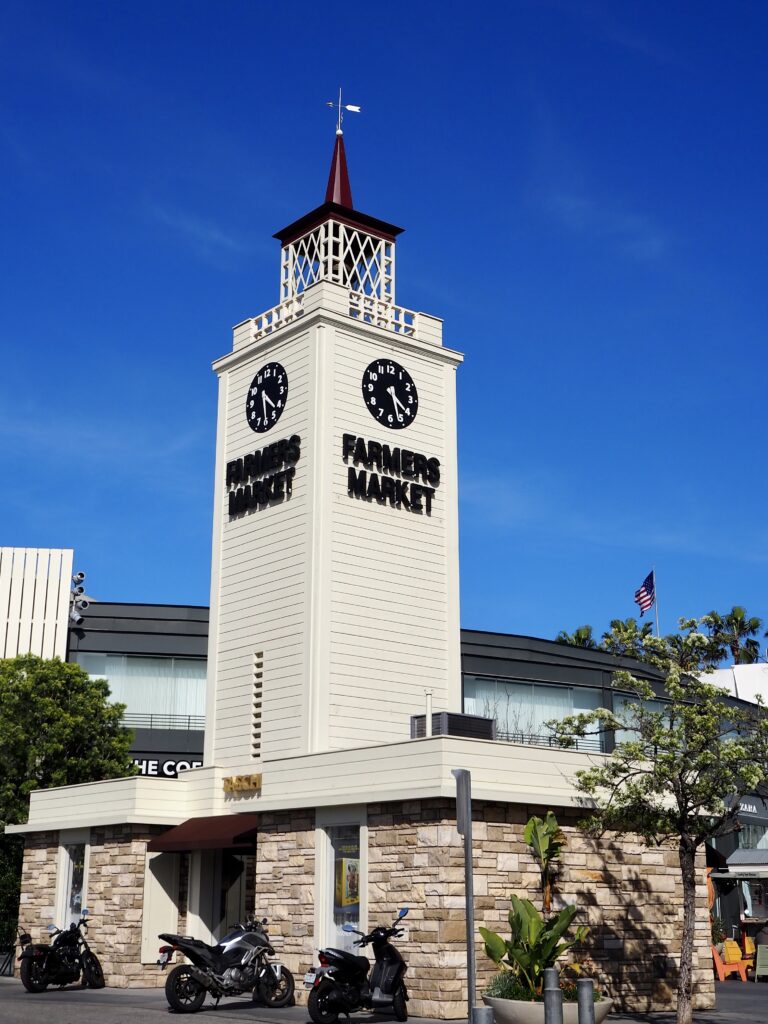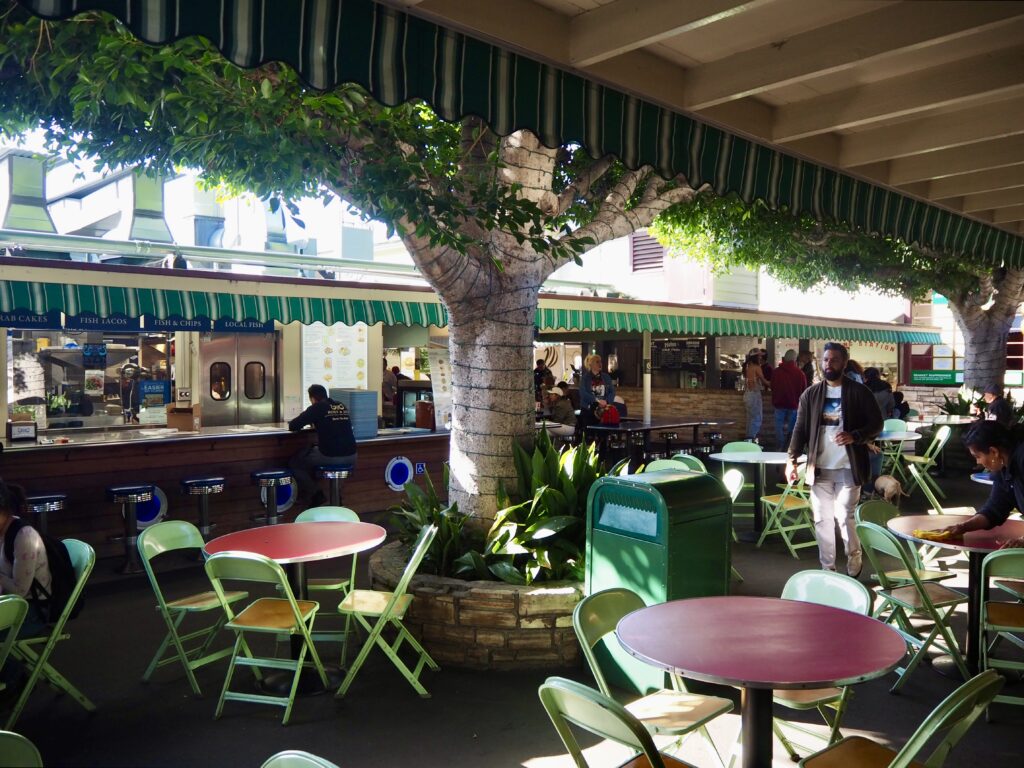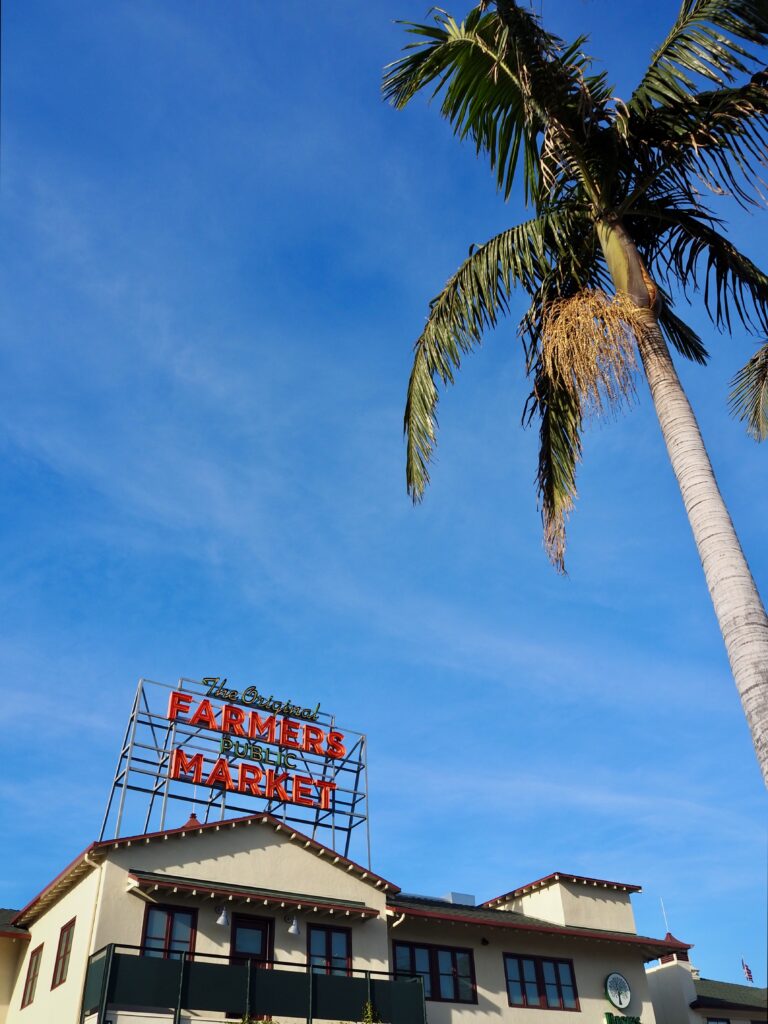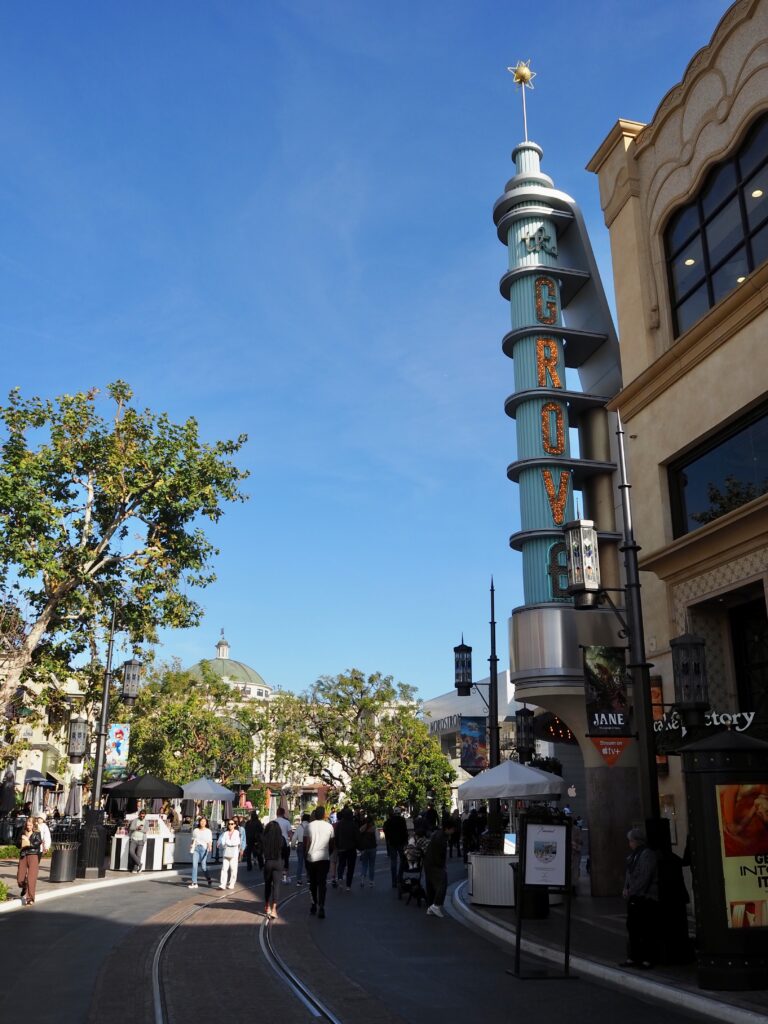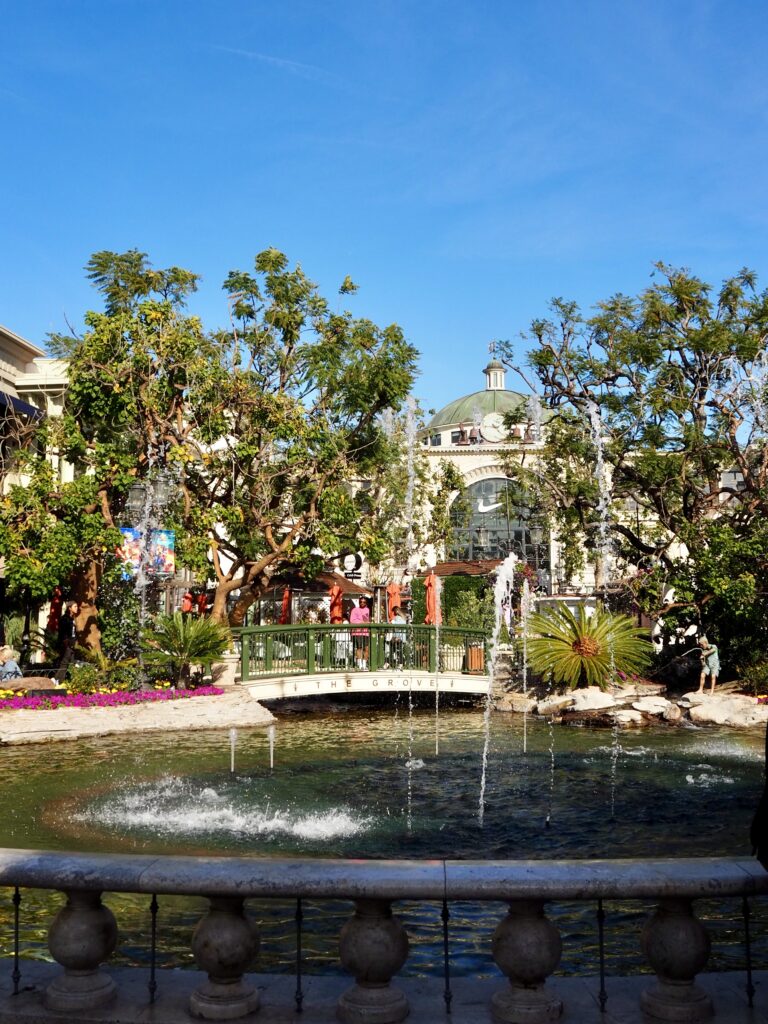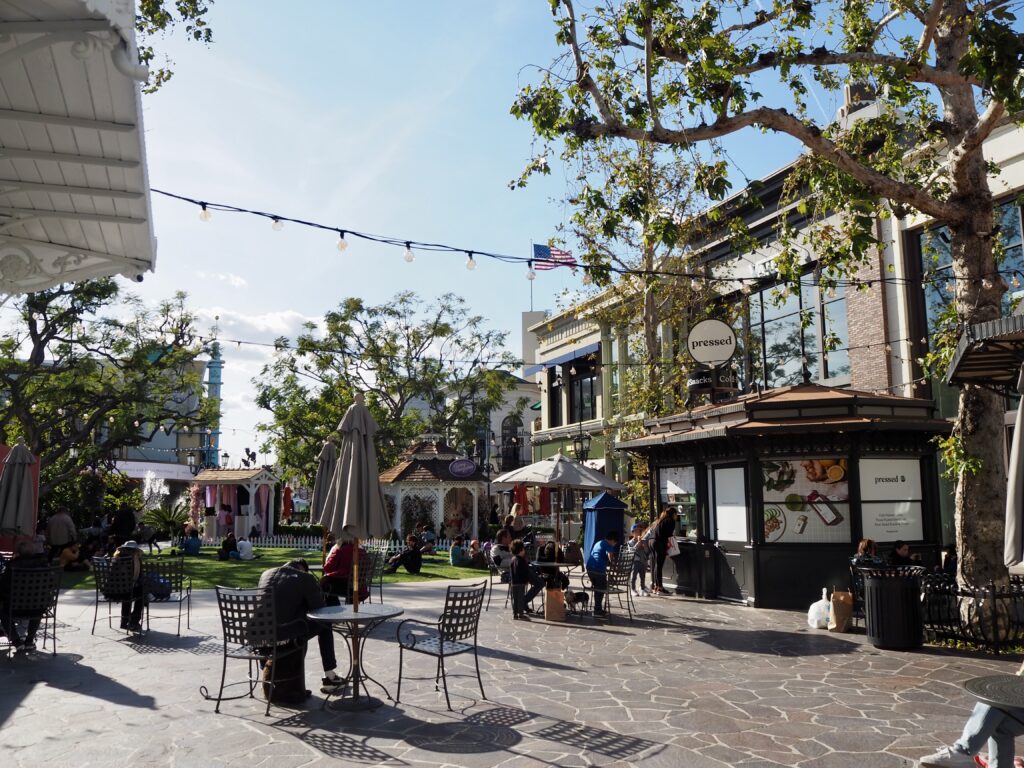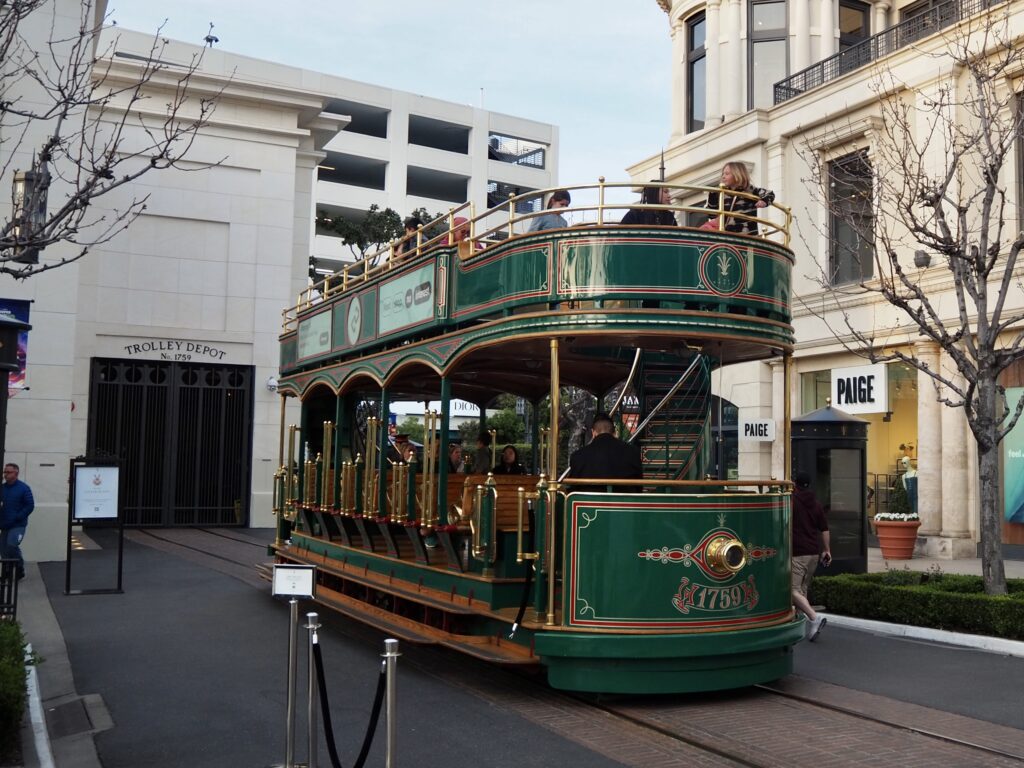 LA County Art Museum
Before returning to the hostel, I wanted to make one more stop and it needed to be after dark. As the sun was setting, I walked further south, passing by the La Brea Tar Pits on my way. The actual museum closed earlier in the dy, but you can still walk through the park where the tar pits are. I didn't quite know what this was about until I actually passed by. Turns out, the tar pits have preserved prehistoric remains in them. The giant wooly mammoth statues gave it away!
Beyond the tar pits, though, is the LA County Art Museum. It also closes earlier in the day, but I mainly wanted to go for what's outside anyway. You can see this public artwork at any time; Urban Light, the street lamp installation. This square of dozens of lampposts in many different styles has been featured in a few movies and TV shows. I imagine most people will recognise it from somewhere!
Since it's all about lights, I wanted to wait to explore it after dark when they're all turned on. Naturally, plenty of other people were doing the same, and there are security guards keeping an eye on it all. It did mean I was able to ask someone to take a photo of me. One of the downsides of solo travel is having to rely on strangers or a tripod and timer if I want photos of myself. I don't bother getting them everywhere, but it's nice to have at least a few!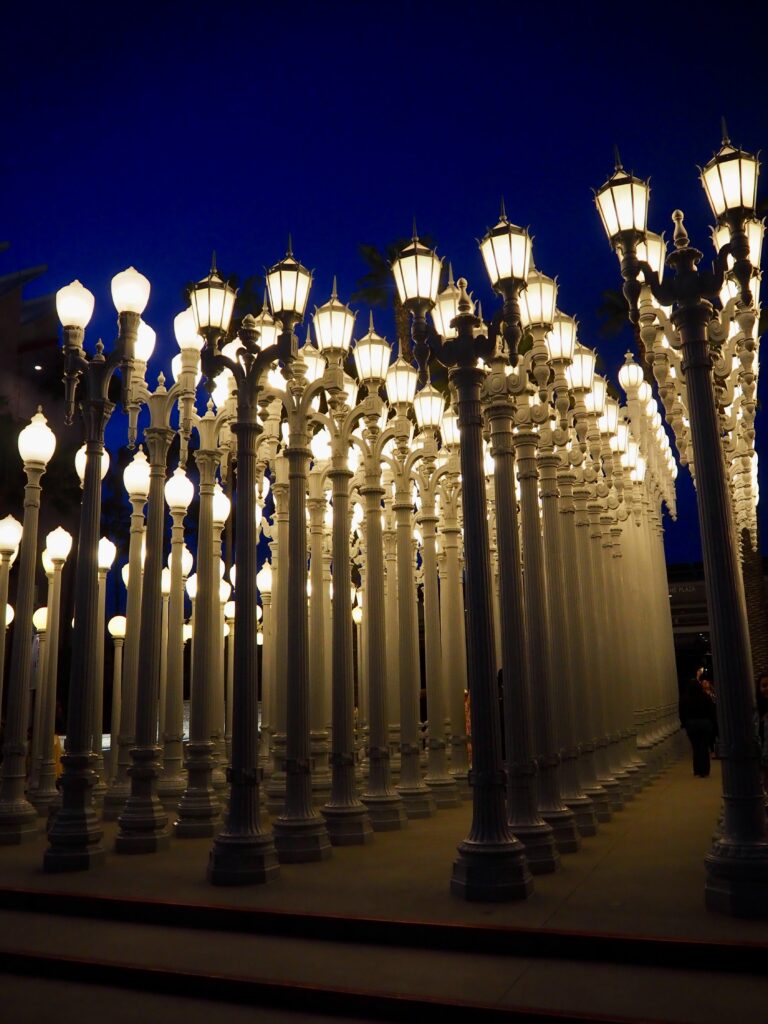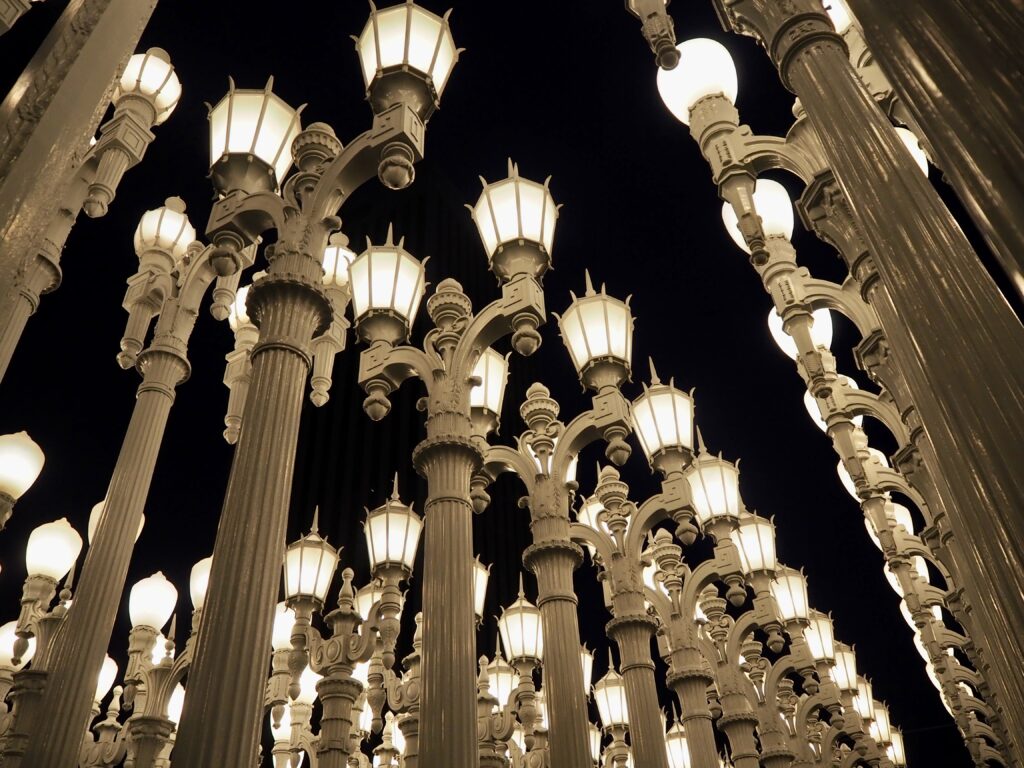 Day Five
Griffith Park Hike
Prior to coming to LA, I was expecting to find it too big and urban for me in general, which proved to be true. But the parts I was expecting to like more were the opportunities to get out in nature. This included both the coast (Santa Monica) and its numerous hiking trails in the Hollywood Hills. Griffith Park is one of the largest urban parks in the USA, spanning several hills and full of hiking trails. Since I was starting after work again, and had to travel half an hour there by bus, I wasn't picking one of the longer ones.
Instead, my destination was Griffith Observatory, via views of the Hollywood Sign. I had considered a hike to the sign itself the next day, but the start point was awkward to reach. You'd have to take an Uber or taxi, and it would've been tight on time. This was also an instance where squeezing in another hike might have pushed me towards burnout!
Anyways, there are a couple of way to get to Griffith Observatory and I started from Ferndell Drive. I started on the East Observatory Loop, but also doubled back along part of the West Loop. Mainly because it has the better view of the Hollywood Sign! It's not a long hike up to the observatory, but it is reasonably steep. April was a good time of year though, since it's warm but not too hot. Though I was glad to have a jacket with me later when it got dark and much cooler! The trails are also very popular and busy; even more so when I reached the Observatory, which you can access by car.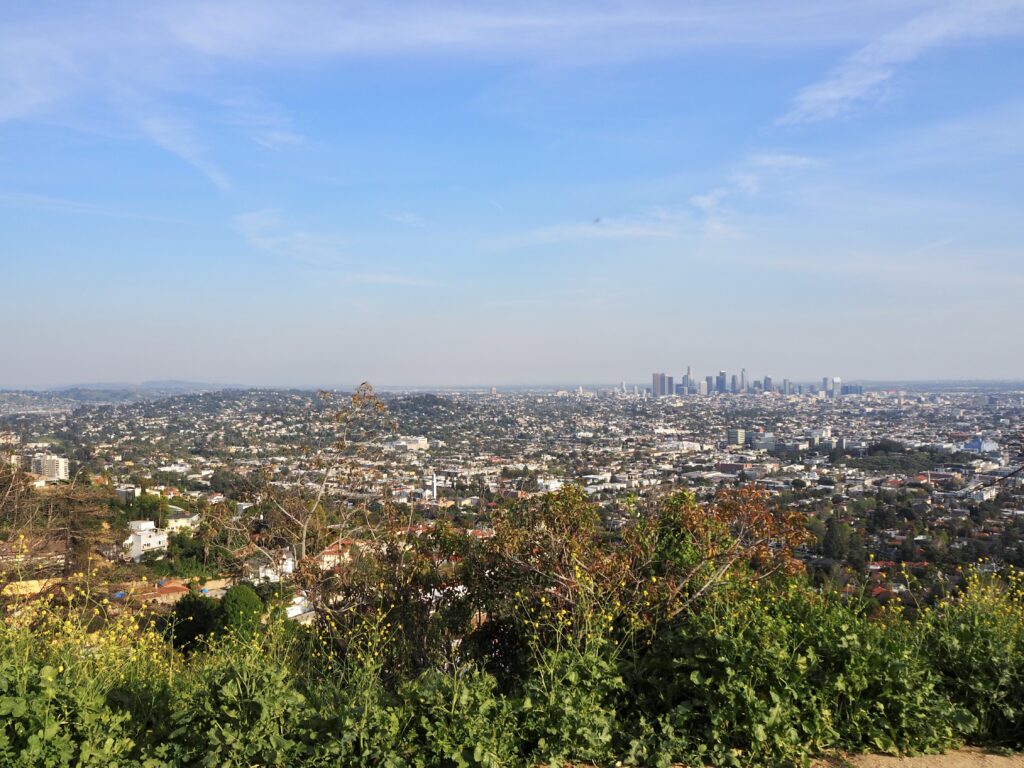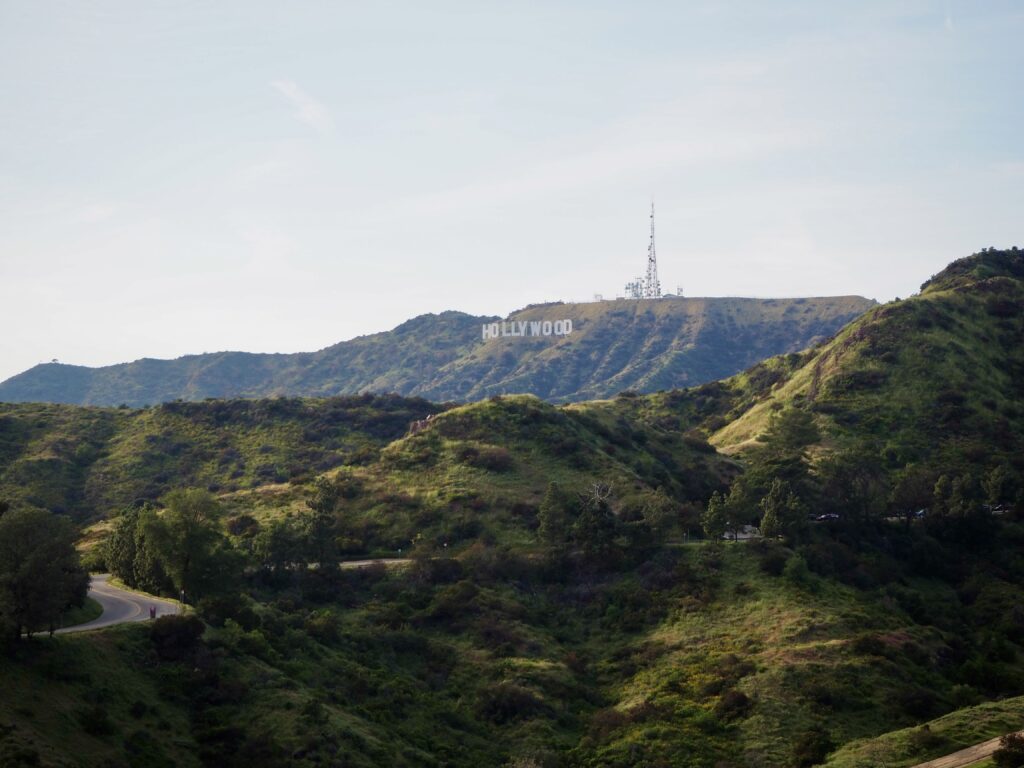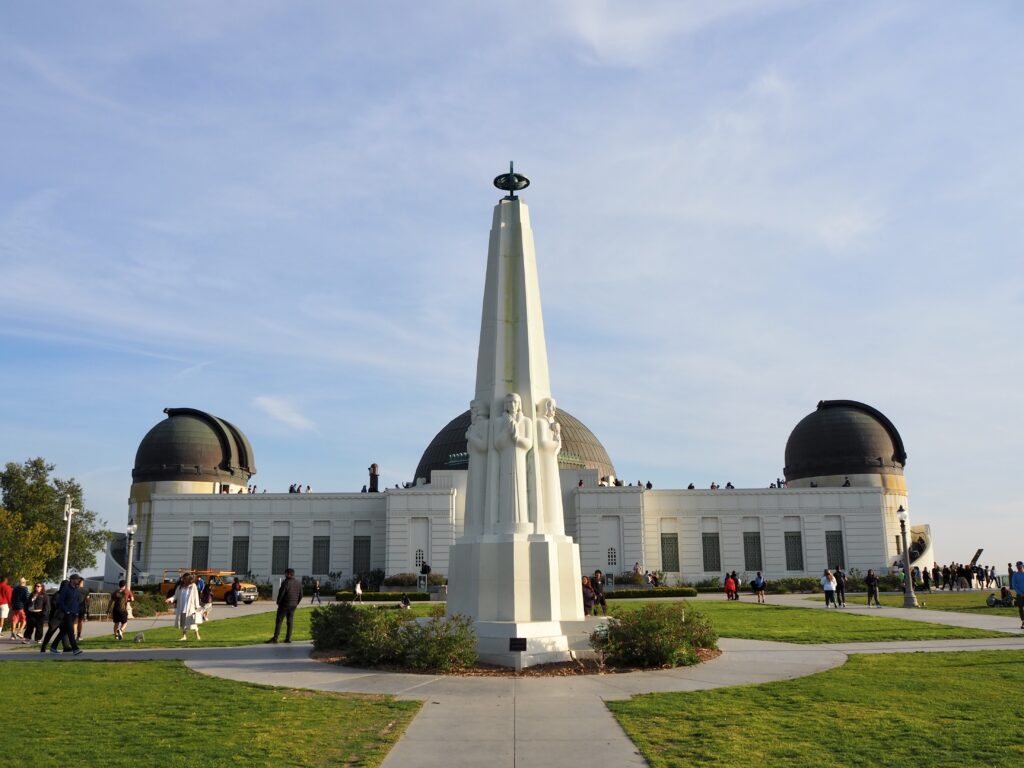 Griffith Observatory
This is another location I recognise from various movies, and you get a great view of the Hollywood Sign. You can also enter the observatory and its rooftop for free; only the planetarium shows are paid. The roof offers views across Los Angeles, reminding me again of just how vast it is. At other famous places, I've often had a surreal feeling of "oh wow, I'm actually here and it's real". But I had been missing that in LA so far, despite having been to several recognisable locations. For some reason, seeing the city, the Hollywood Sign and Griffith Observatory altogether was the first time it happened for me!
As well as taking plenty of photos of the views from the rooftop and gardens, I explored inside the Observatory too. It's exactly what it says it is, with lots of free exhibits about space and the planets. They also have the 'Big Picture', the largest photo of space on display in the world. Which, of course, is only one tiny sliver of space! From 7pm, they do free viewings through the telescope too. Even though it was a long line, I wanted the opportunity to say I've looked in the Griffith Observatory Telescope! Since the sun only sets around 7pm, a lot of planets hadn't risen yet, but I could see Venus and a nearby star.
As I left the telescope, I re-emerged onto the roof to be greeted by the most spectacular sunset. Like, Santa Monica was nice the other night, but this was like someone had painted the sky with fire. It was ablaze with reds and oranges, swirled in with the clouds. You could still make out the Hollywood Sign in the shadows on the hillside though. In the other direction, hung a pink-orange full moon, perfectly visible in the night sky.
As the sun sunk deeper, everything turned the violet-blue of twilight as the billions of city lights turned on below. I hadn't intended to hike back down in the dark, but there was no way I could resist that sunset! I returned via the Boy Scout Trail on the other side of the observatory. This emerged near Hollywood Boulevard again to pick up dinner and catch the bus back.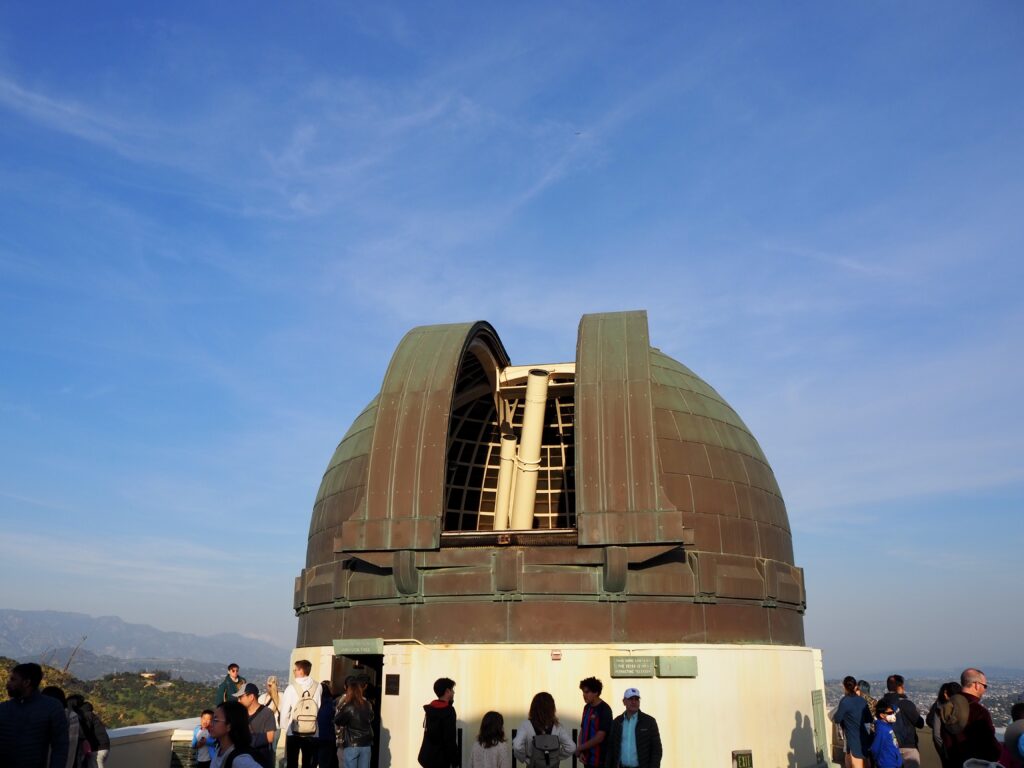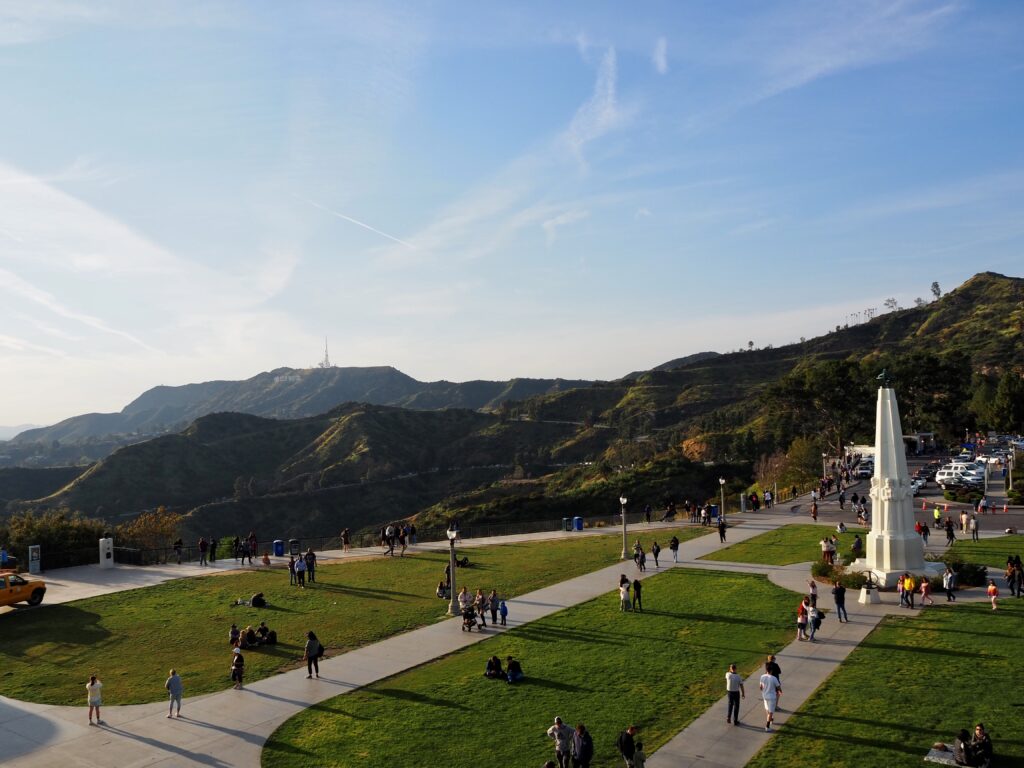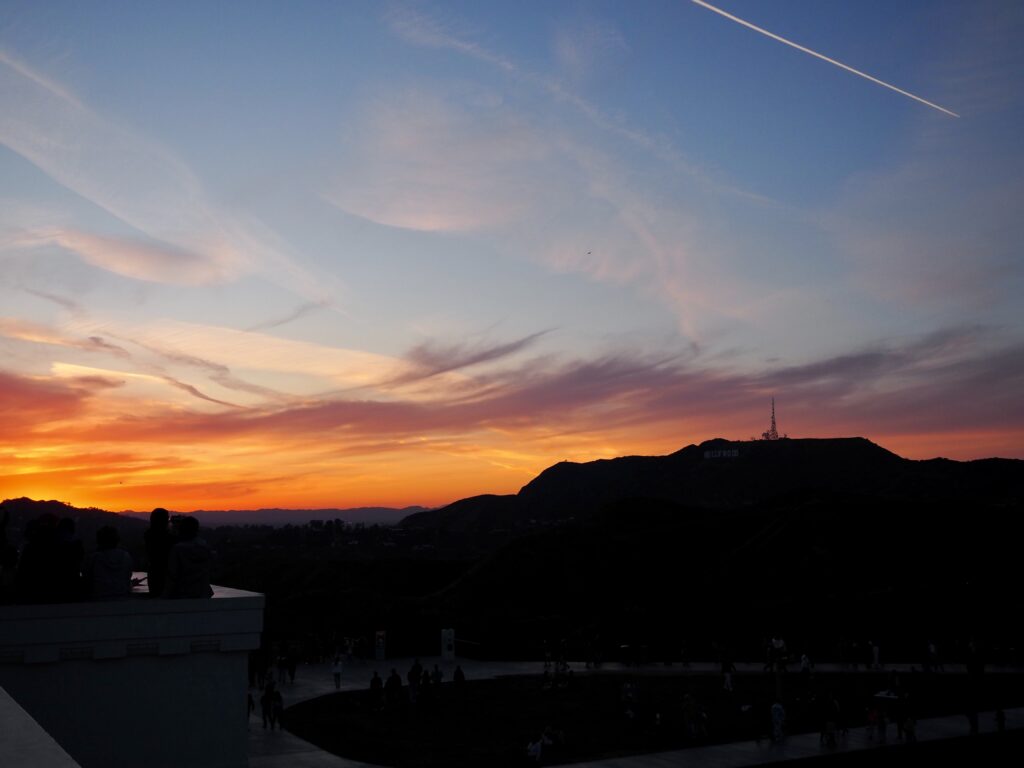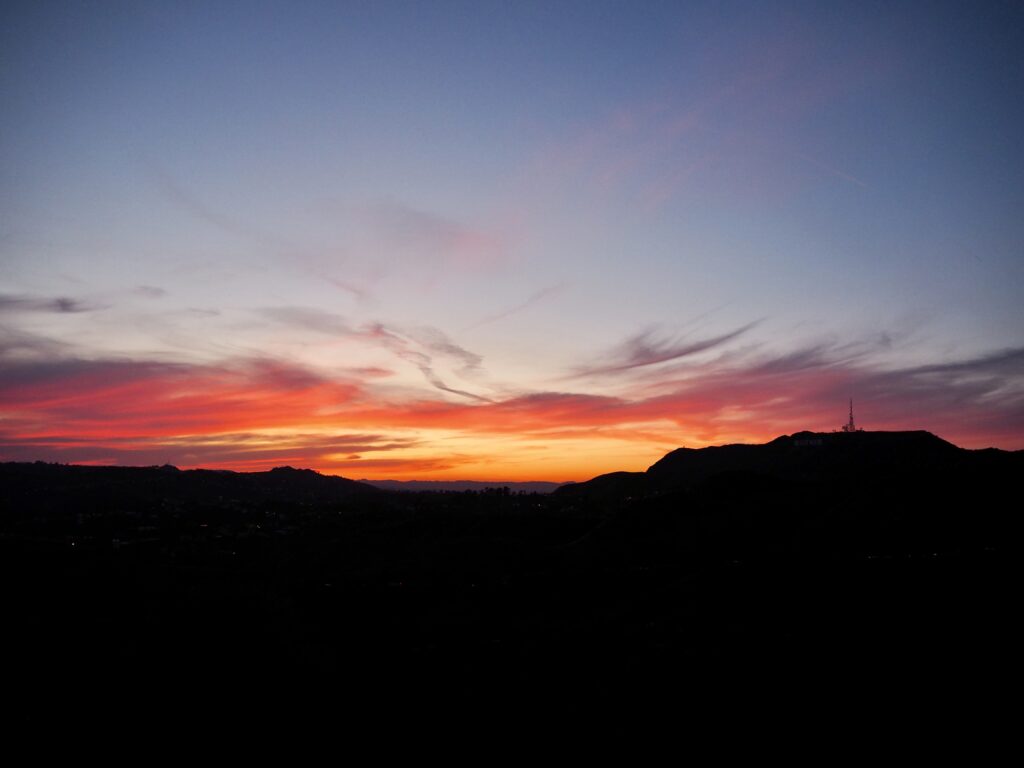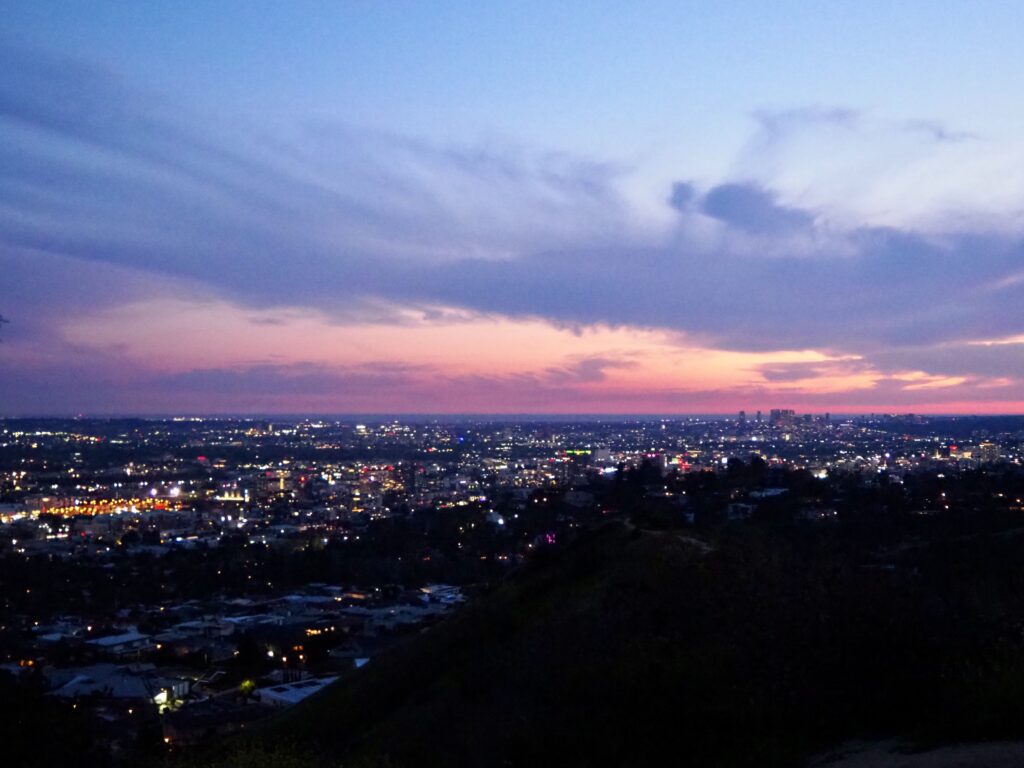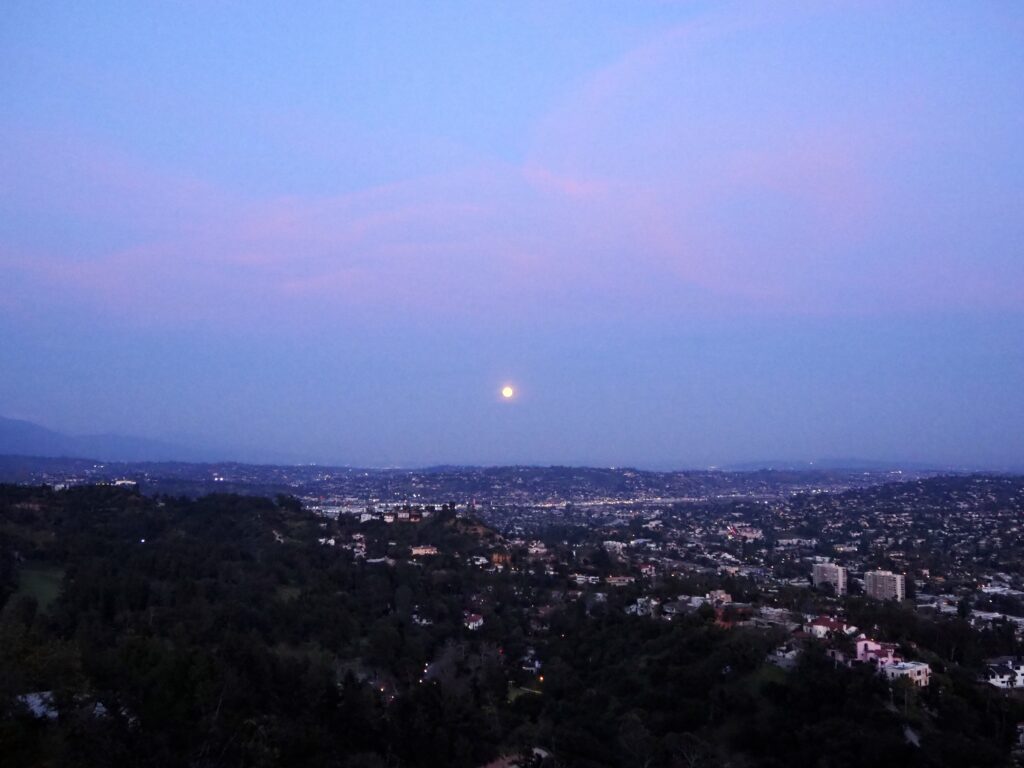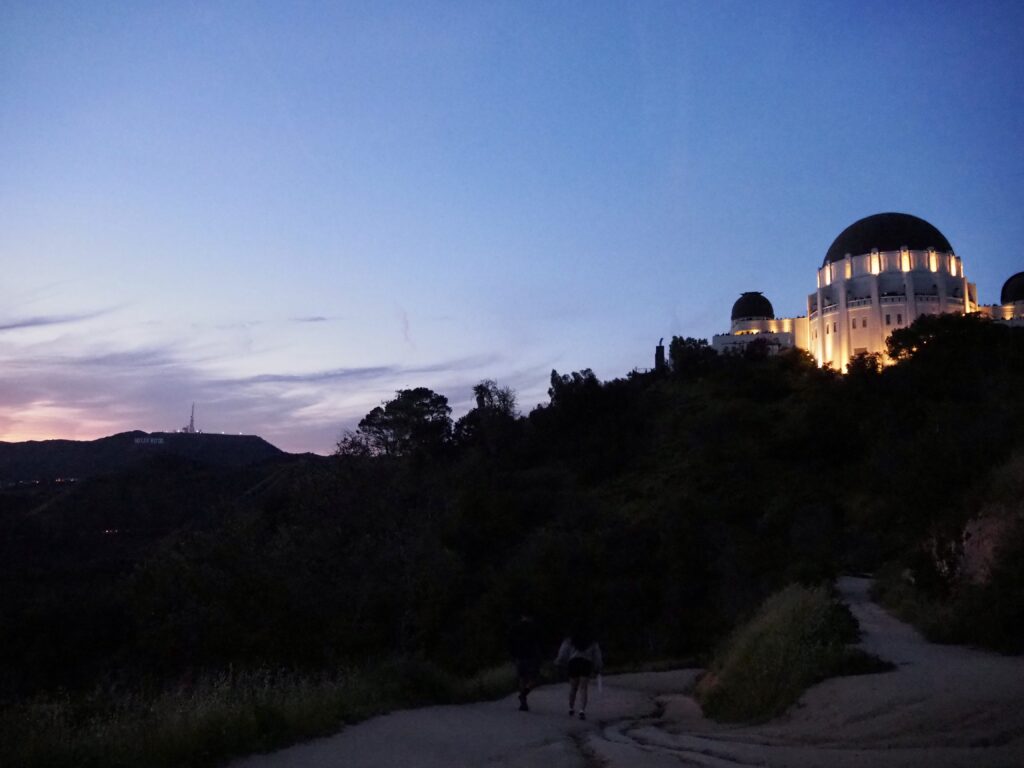 Day Six
The Academy Museum
The final day of my week in Los Angeles was free from work, since I'd taken an extra day off for an Easter long weekend. I had to check out of the hostel and store my bags until my bus that afternoon, but had a few hours free in the morning. I had wanted to visit the Grammy Museum, after seeing a temporary exhibit on loan from it back in Portland. However, it doesn't open until 11am and is in Downtown LA. I just wouldn't have had enough time to go back and forth before my bus. Instead, I decided to explore the cinematic roots of Los Angeles at the nearby Academy Museum.
The museum traces the history of cinema in Los Angeles, with a focus on Oscar-winning films. There are lots of video interviews with people in the industry, and clips from award-winners' speeches. And of course, plenty of costumes, props and memorabilia from famous films, including Casablanca, The Godfather (I-III) and Star Wars. They also have the shark from Jaws suspended over the escalators! The main exhibit was divided into different facets of movie-making, such as directing, screenwriting, casting and cinematography.
There was also a whole section on animation and a separate exhibit about the technology that led up to the invention of film. One of the upper floors also featured an exhibit on Black cinema, as I learned there was a whole Black film industry that has existed for decades. However, the mainstream largely overlooked and forgot it until more recently!
The final floor of the museum takes you across the Barbara Streisand Bridge and to a rooftop terrace, covered by a giant glass dome. One side of it is open and offers a view looking north across LA, towards the Hollywood Hills. This offered a nice counter view to Griffith Park the day before, when I was looking in the other direction! After that, I left the museum and returned to the hotel via the Farmers Market, stopping to get empanadas for lunch. Then it was time to collect my bags and head to the bus station to travel on to my next destination – Joshua Tree.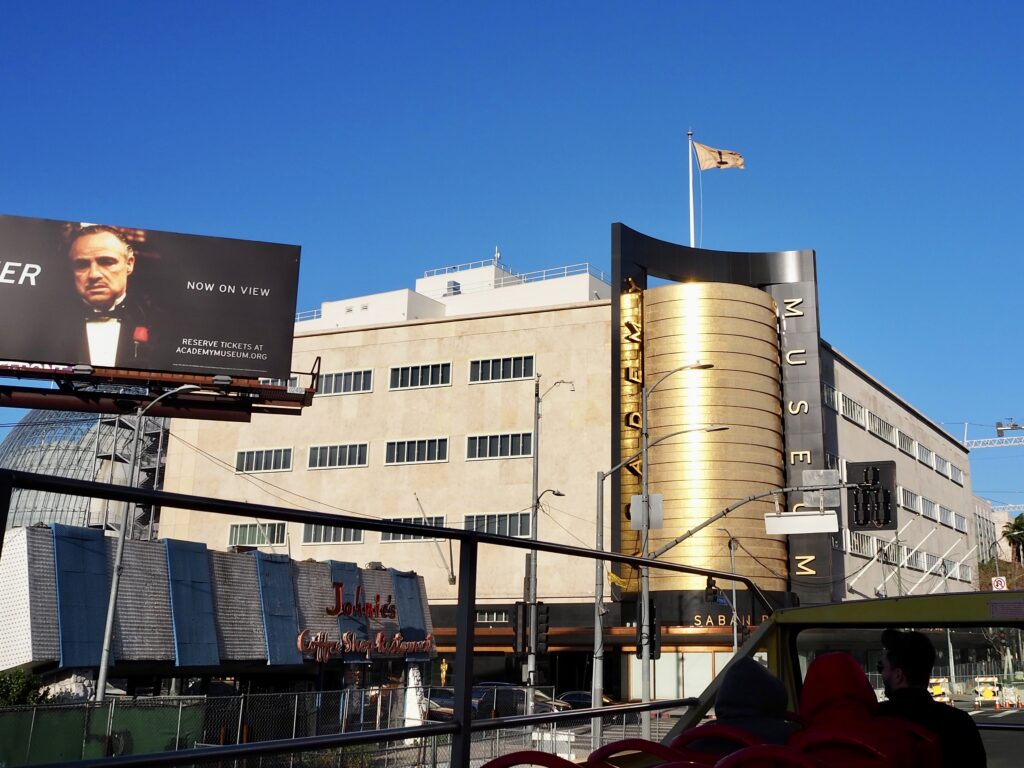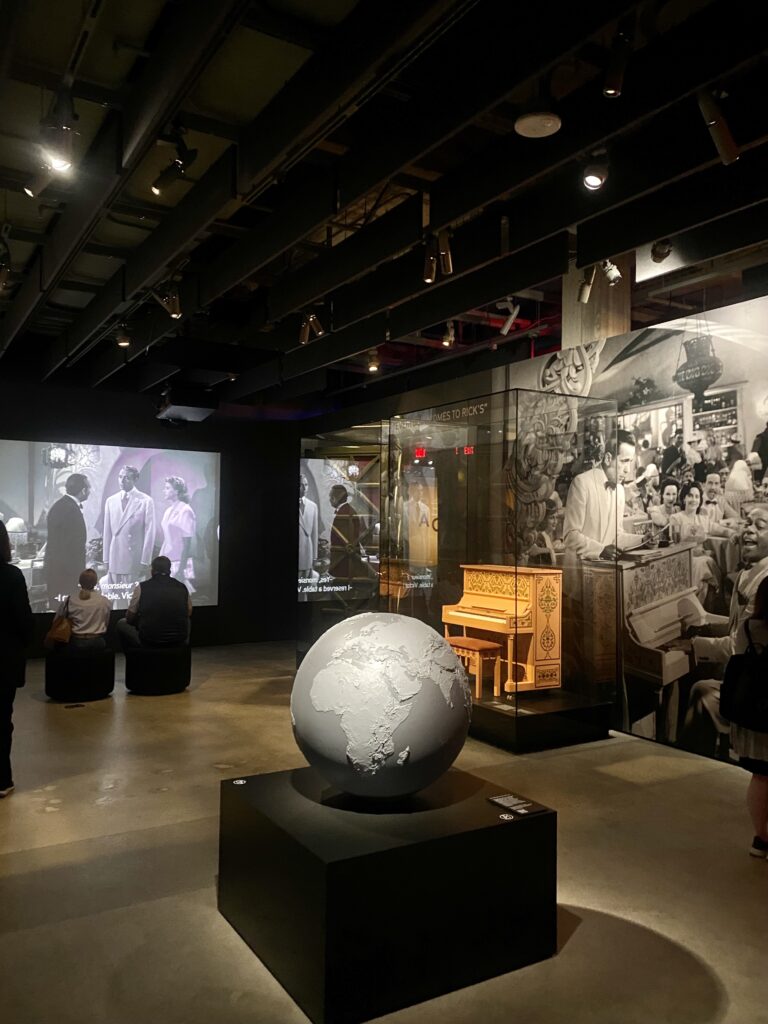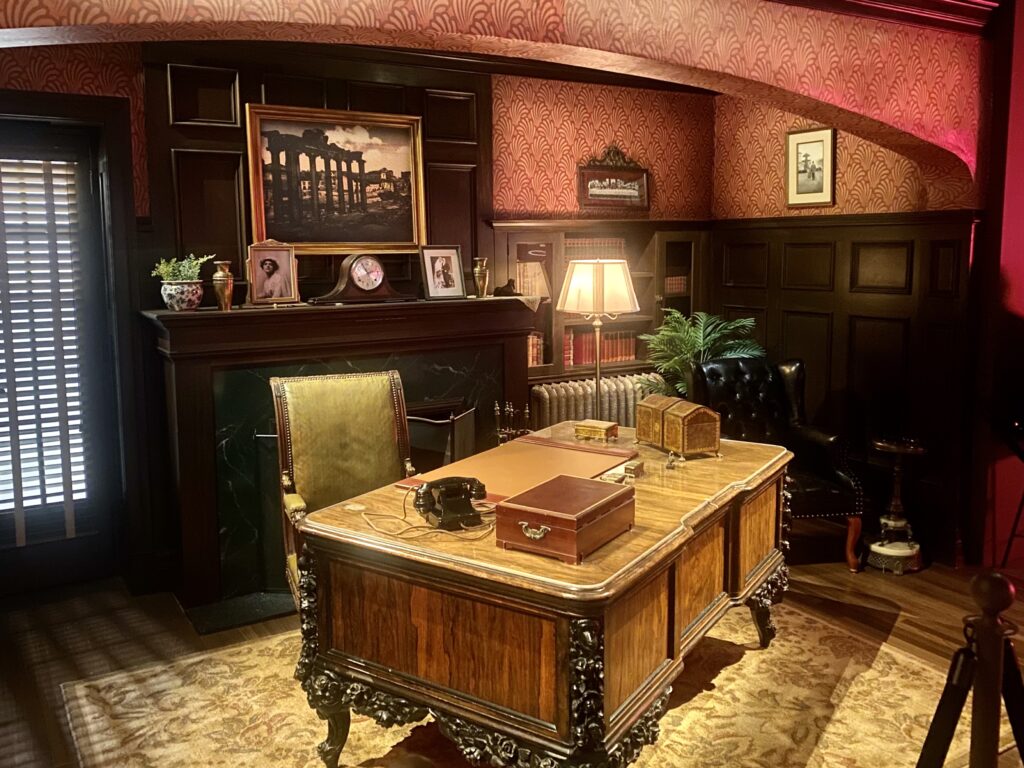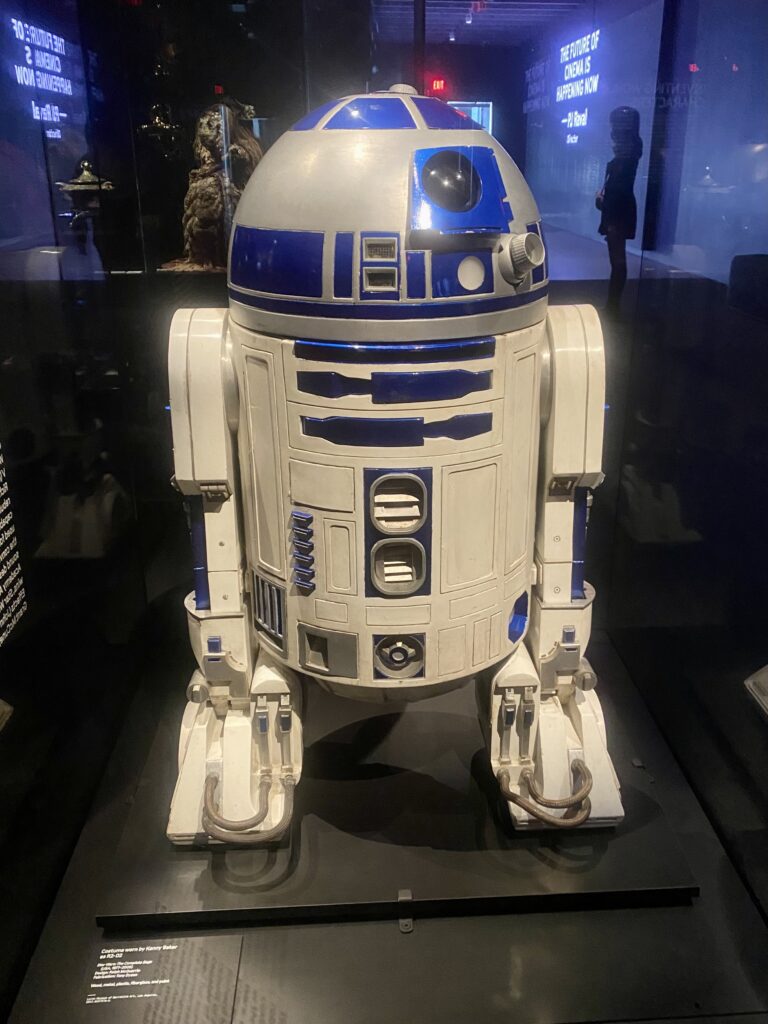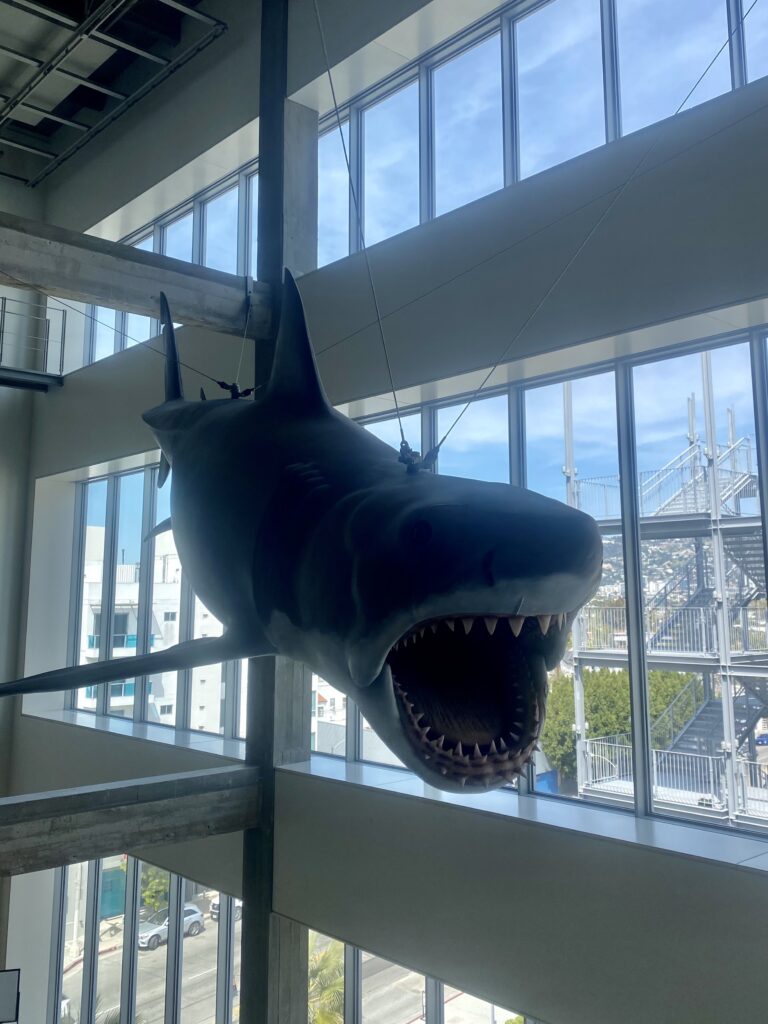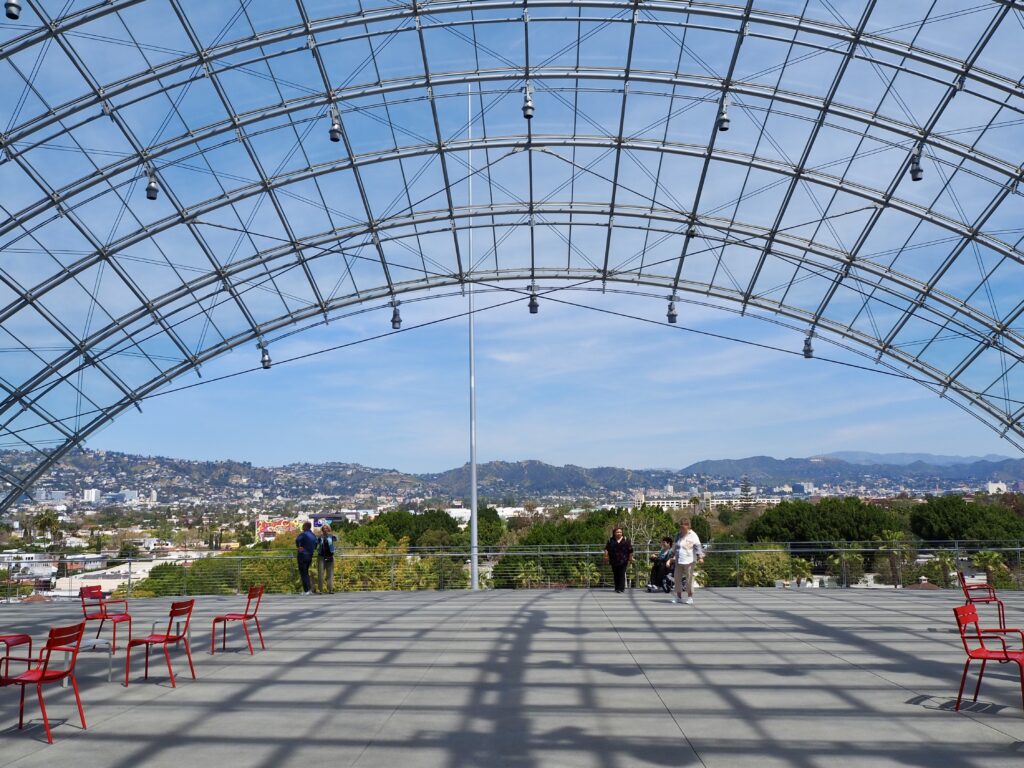 A Week in Los Angeles
LA is such a big city that a week isn't really enough time to see all of it, at least not when you're also working. However, it was enough time for me to see a lot of the main sights I wanted to tick off. All in all, I'm happy with how I spent my time. There were definitely a couple of moments when I had to reign myself in to avoid getting exhausted!
Los Angeles is an interesting city and I'm still not quite sure what I think or how to articulate my feelings. It's a city that I see so often in the media, that it was slightly surreal to be there in person. But yet also not as surreal as I've felt in other famous locations? I definitely wasn't expecting it to be super glitzy and glamorous, which it wasn't. But there was something odd about knowing you were in such close proximity to the celebrities and entertainment industry. And yet also feeling like I'd seen very little of it and was still so far removed from it.
Los Angeles is also such a melting pot of different cultures. I was constantly hearing different languages and seeing restaurants of all cuisines. Yet I felt there was a lack of community spirit or anywhere to really feel like you were immersed in the city's vibe, at least as far as I could tell. I do wonder if the car culture contributes to that in such a sprawling city.
Perhaps it would make more sense if I were there longer and started to see the city from a local's perspective. I didn't dislike LA, but I also didn't love it either. Mainly, I didn't quite understand it. But I'm still glad I went and enjoyed my time there overall!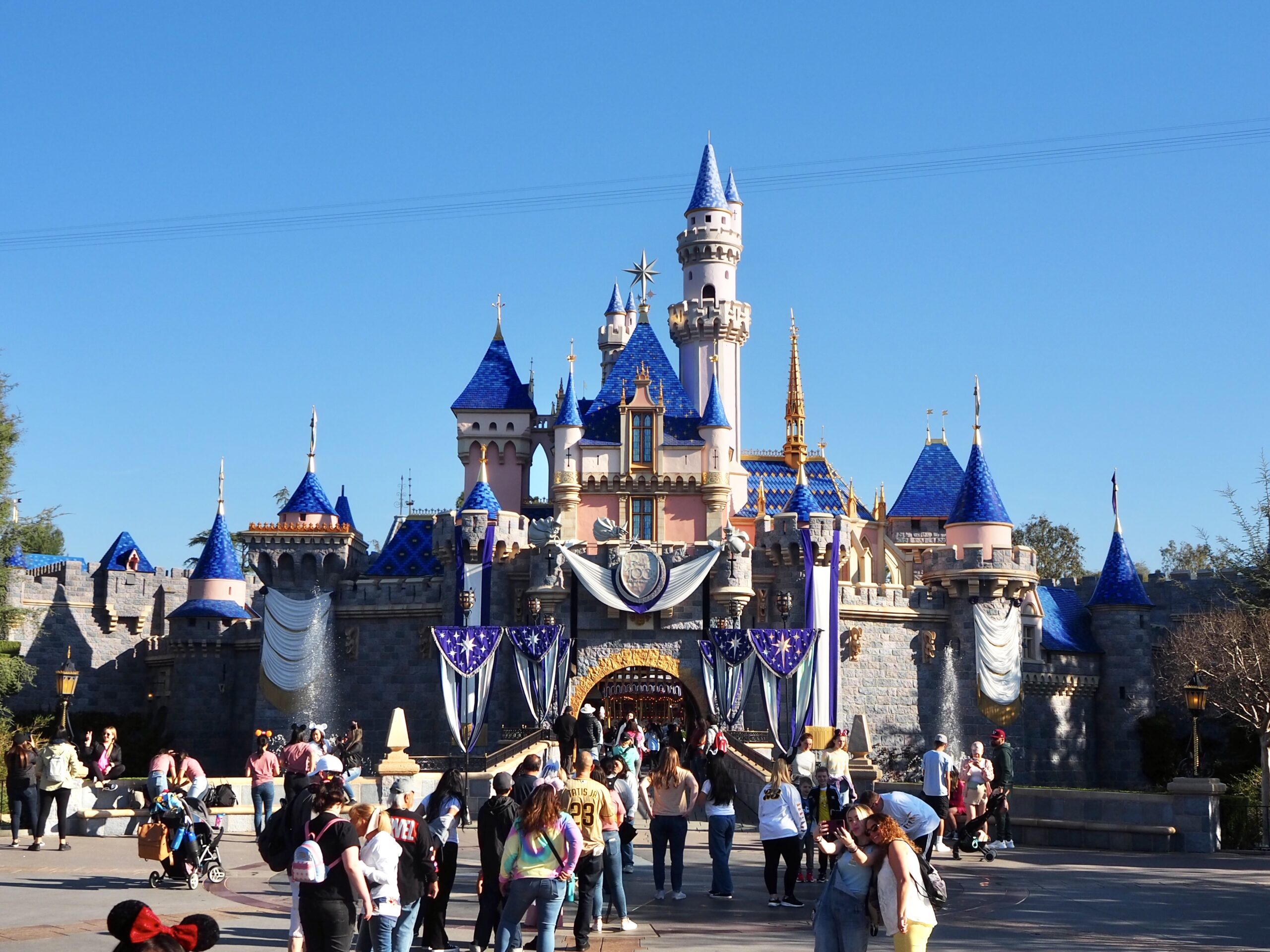 You May Also Like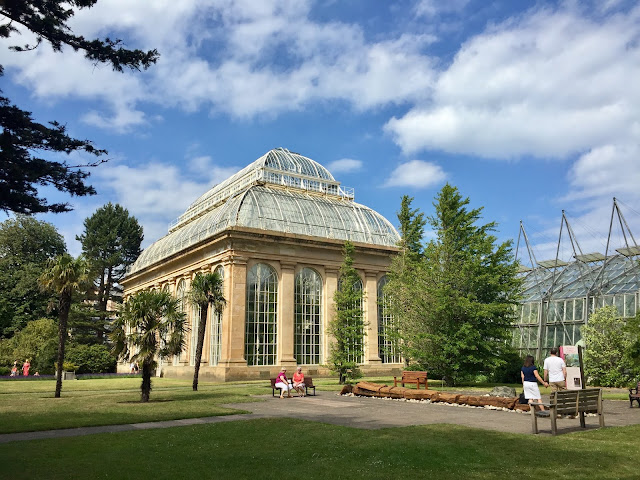 22 September 2018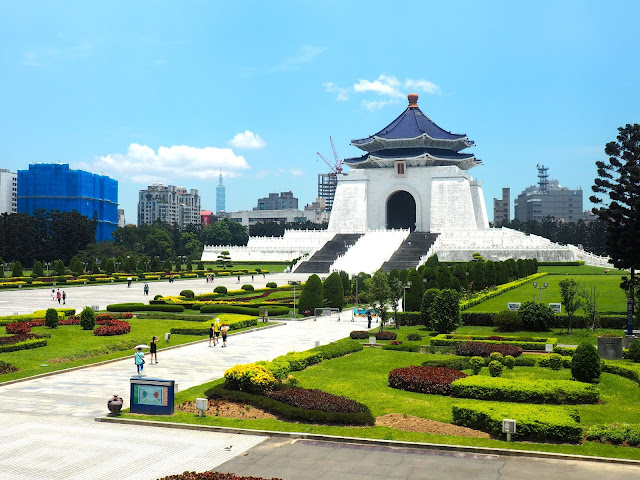 24 November 2018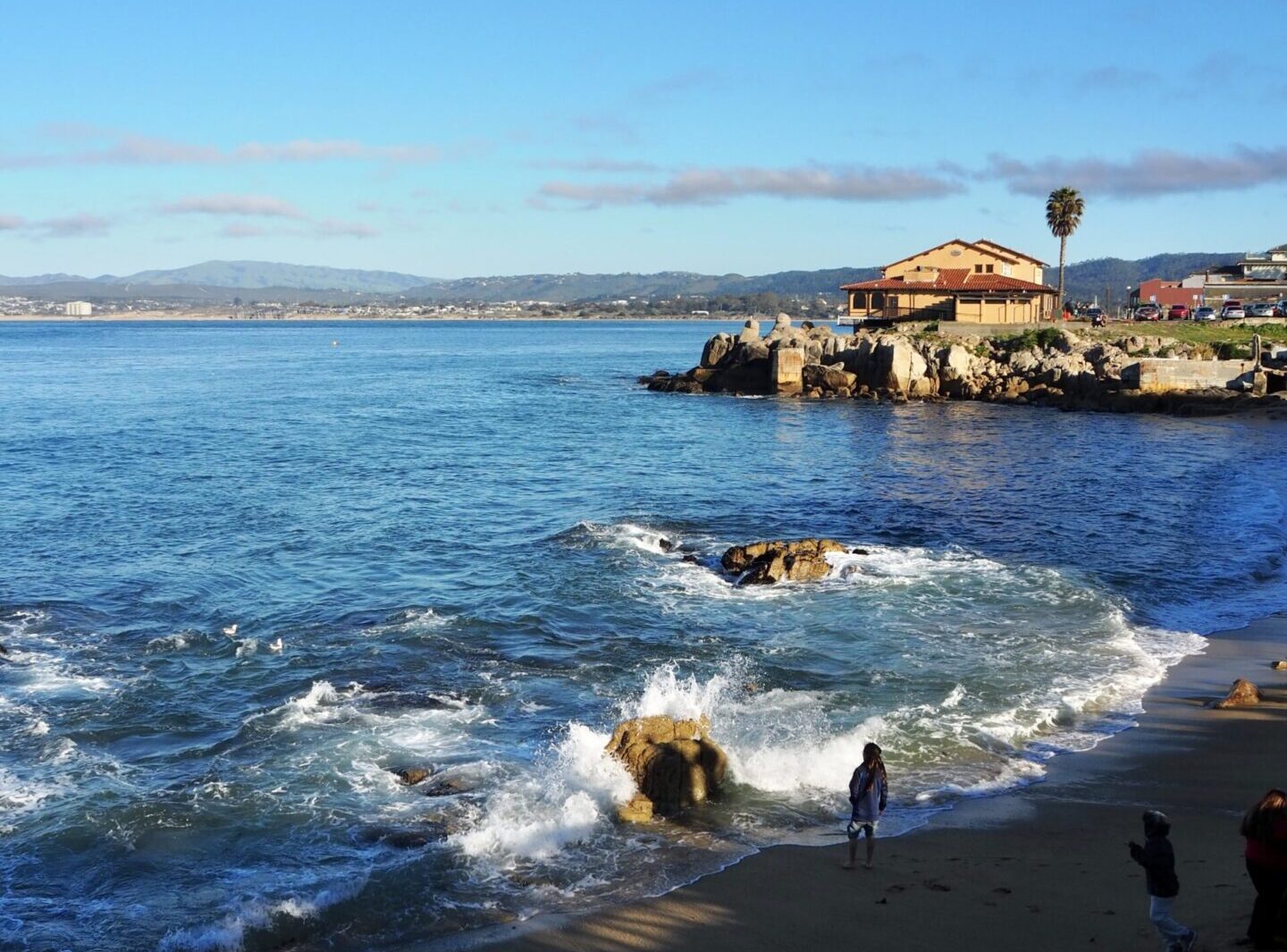 15 May 2023