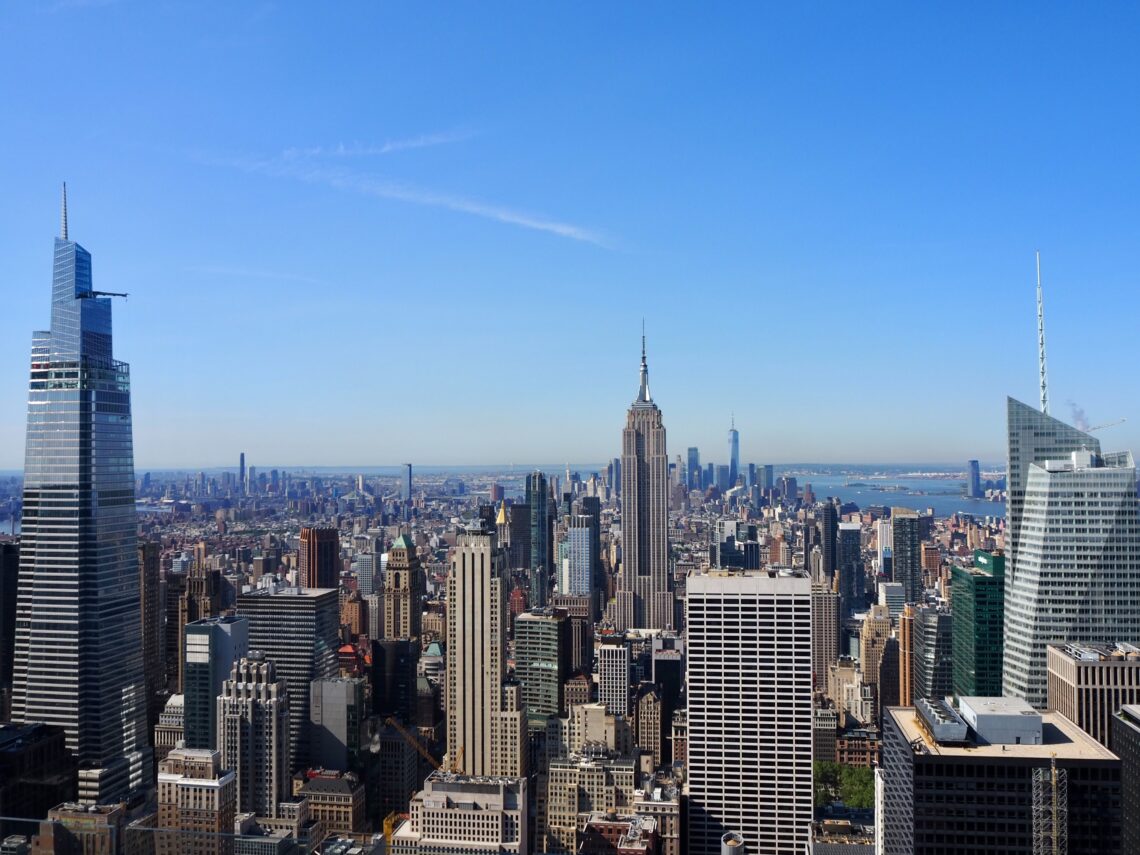 A Week in New York | USA
5 November 2023
Time for the Big Apple! There was no way my cross-country USA trip wouldn't include New York City. I've never been before, but it's so iconic and been used for so many films and TV shows, I felt like I knew loads about it already. There's so much to see that I decided to spend a full week in New York, to soak in as much as I could while also working remotely. For uninteresting reasons, I was doing late hours all week so had the mornings free for sightseeing. My week began by catching the train from Boston into Penn Station, then taking my first trip on the subway, luggage in tow, to leg it to my hostel in Brooklyn to work that afternoon. Other than a glimpse of the Manhattan skyscrapers from the train, I didn't see anything else that day.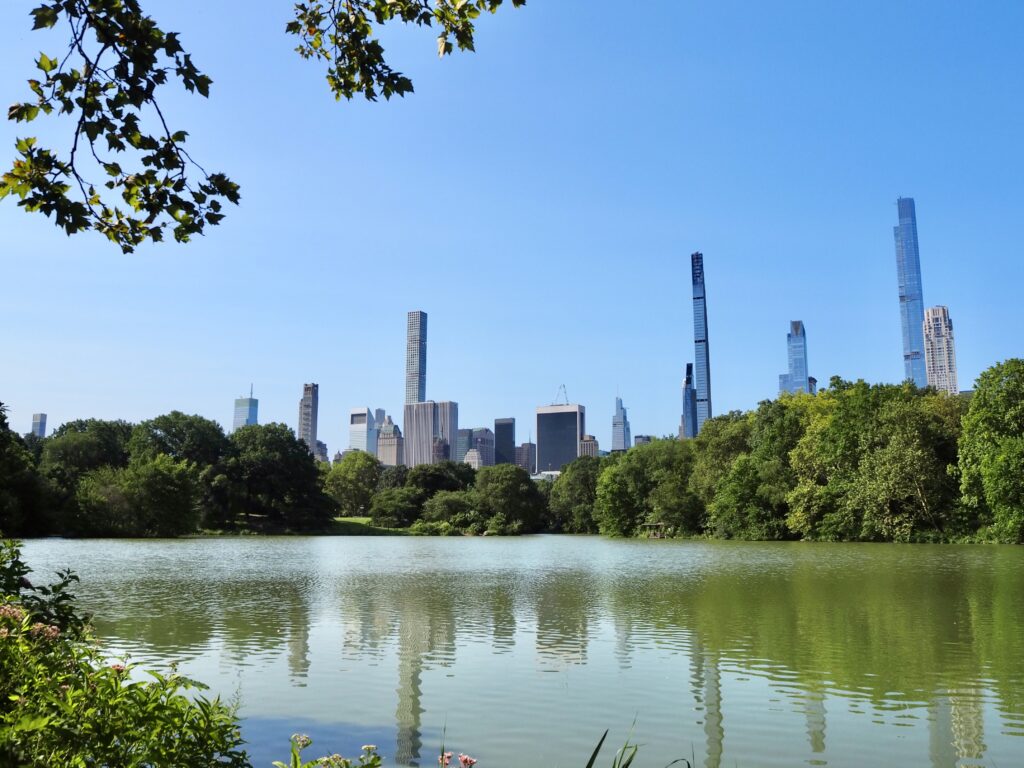 ---
Day One
Staying in Brooklyn was the cheaper option for the week, but did mean catching the subway into Manhattan most days, since that's where all the tourist stuff is. Don't worry – I did spend time in Brooklyn as well, more on that later in the week. I'd managed to choose a hotel near a subway station though, so it was an easy journey.
Central Park
Anyways, on morning one, I sped across to Manhattan, my first destination being Central Park. Obviously, it's a massive park and I didn't see all of it, but it was easy to pass a few hours roaming around! This was also my first of many instances during my week in New York of having a surreal sort of awestruck feeling at actually being here, in such a famous place I've seen hundreds of times on screen and in photos!
I started at the south end of the park and wound my way north, passing The Pond first. I was aiming for the Literary Walk, the English Lit nerd in me wanting to see the writers' statues. Sir Walter Scott and Robert Burns featured at the start, of course. The walk leads to Bathsheda Terrace, under the shade of hundreds of leafy green trees, which block the surrounding skyscrapers and make it easy to forget you're in such a huge city.
I looped around The Lake, the break in the trees offering up views of skyscrapers and looking very New York. On the other side of the lake, I found Belvedere Castle, a unique little feature and picturesque spot. Circling back, I headed south again to the Alice in Wonderland statue and yet another water feature, Conservatory Water. I got a coffee and late breakfast from the kiosk here and just sat and people watched for a while – an excellent Central Park activity!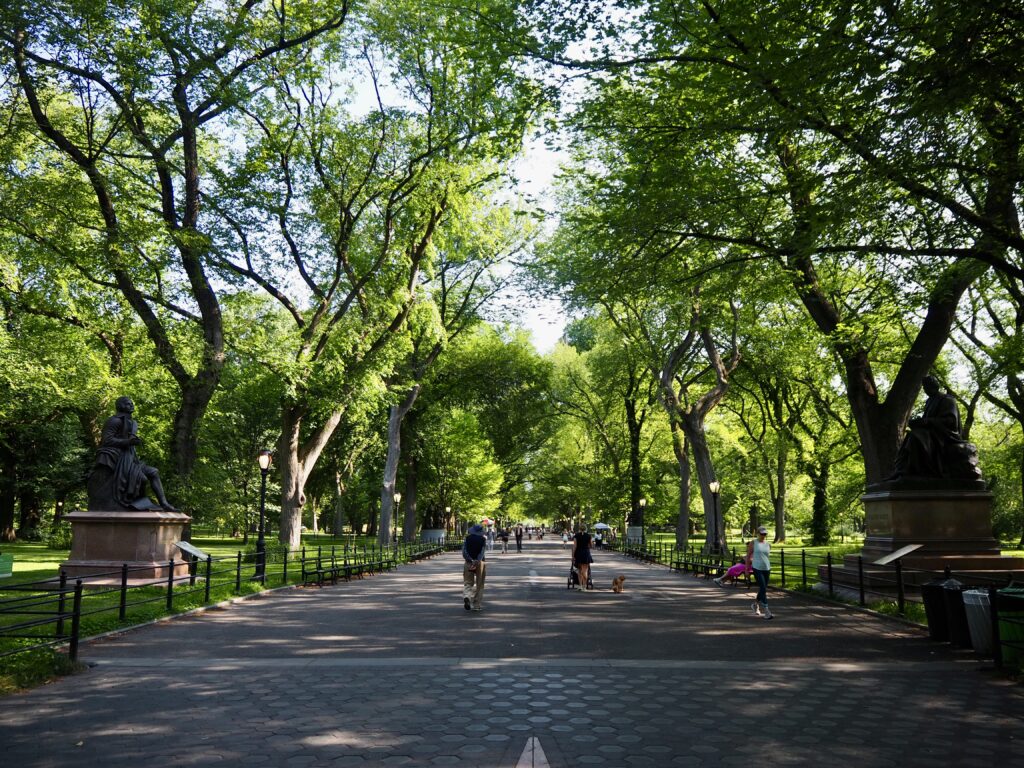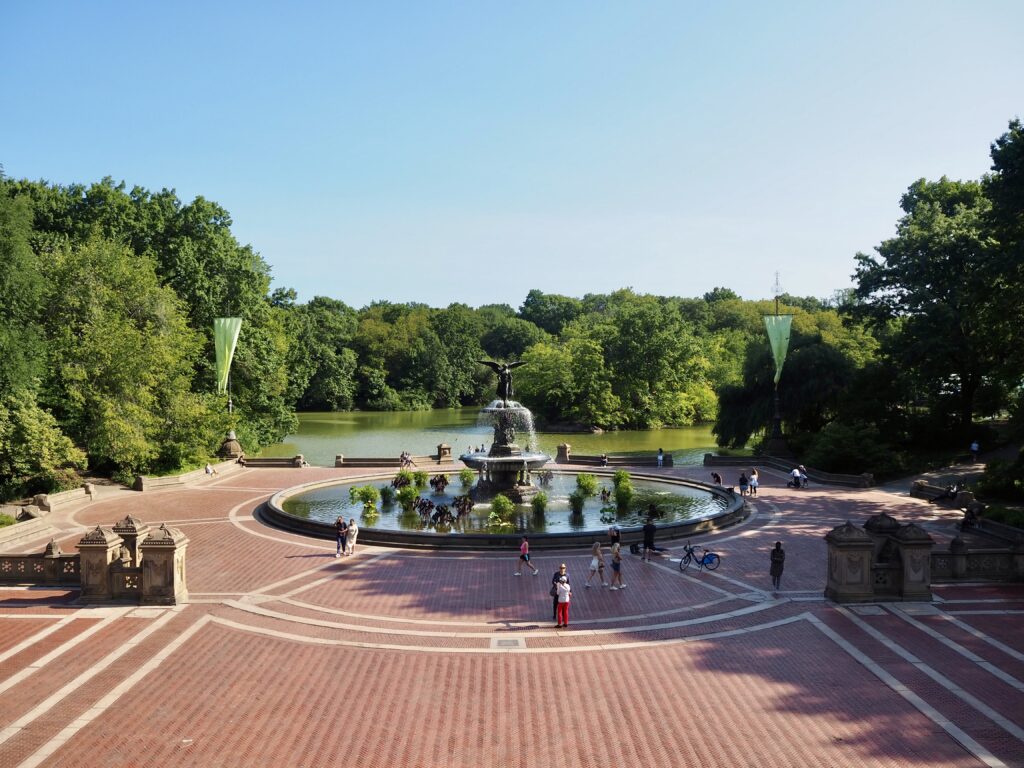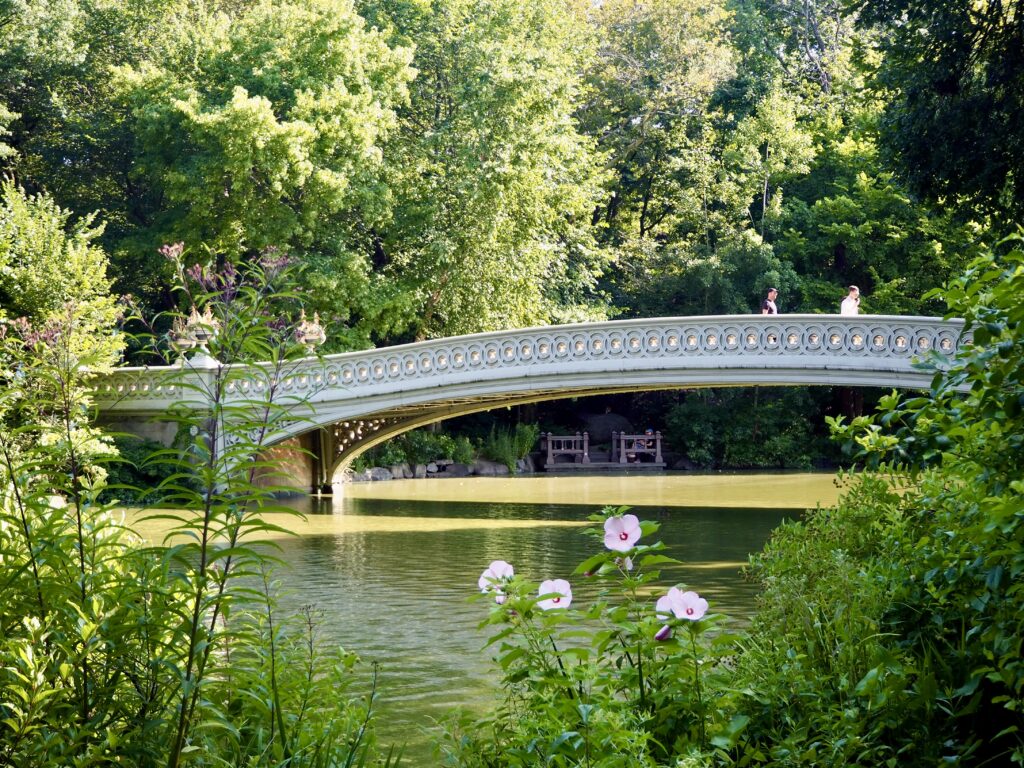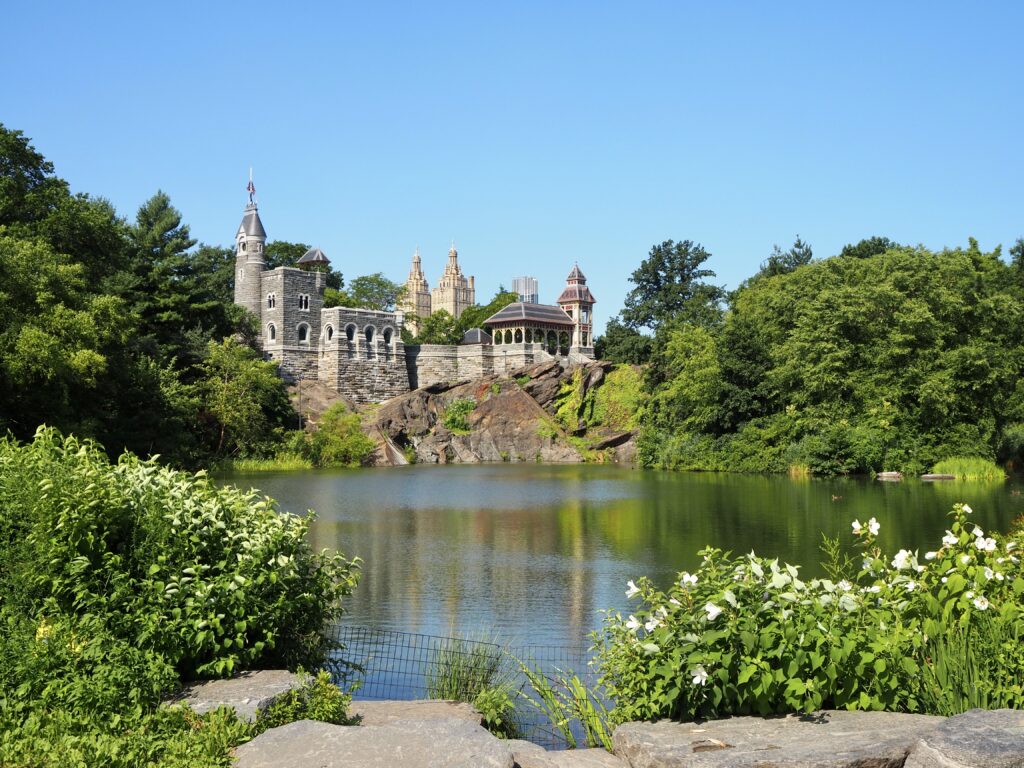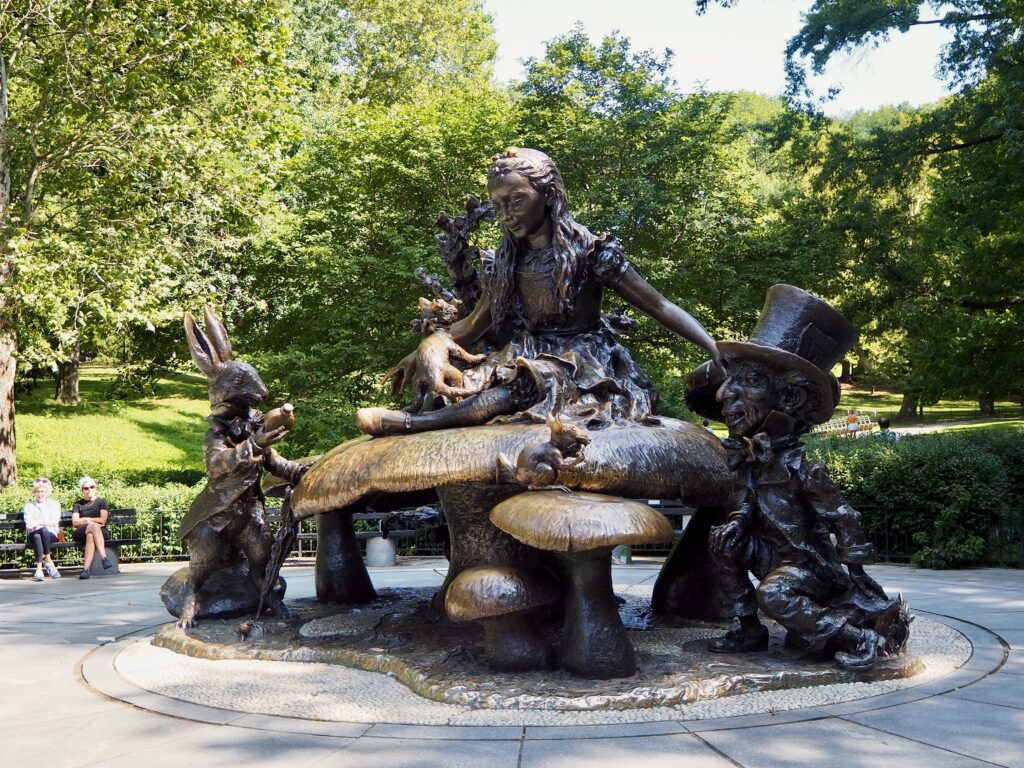 ---
Upper East Side
Does anyone else immediately think of Gossip Girl when they hear "Upper East Side"? It can't just be me, right? After my great big wander through Central Park, I had a little time to spare (and needed to stock up on food supplies for the week too). The Upper East Side was also the best place to catch the subway again, so I took a little stroll through some of the streets.
This was my first real taste of walking around New York streets and the height of the buildings did not disappoint! New York is an expensive city in general, but you can tell the Upper East Side is especially so, with many buildings with green awnings and uniformed doormen. I passed 5th Avenue as I crossed it and looked straight down through a scene of yellow taxis and concrete skyscrapers. 5th Avenue is one of the most expensive shopping streets in the world and "Millionaire's Row" next to Central Park, so a bit out of my budget for anything more than a walk-by. There was also Park Avenue, another exclusive, residential street. I can only imagine how decadent some of the apartment must be in this neighbourhood!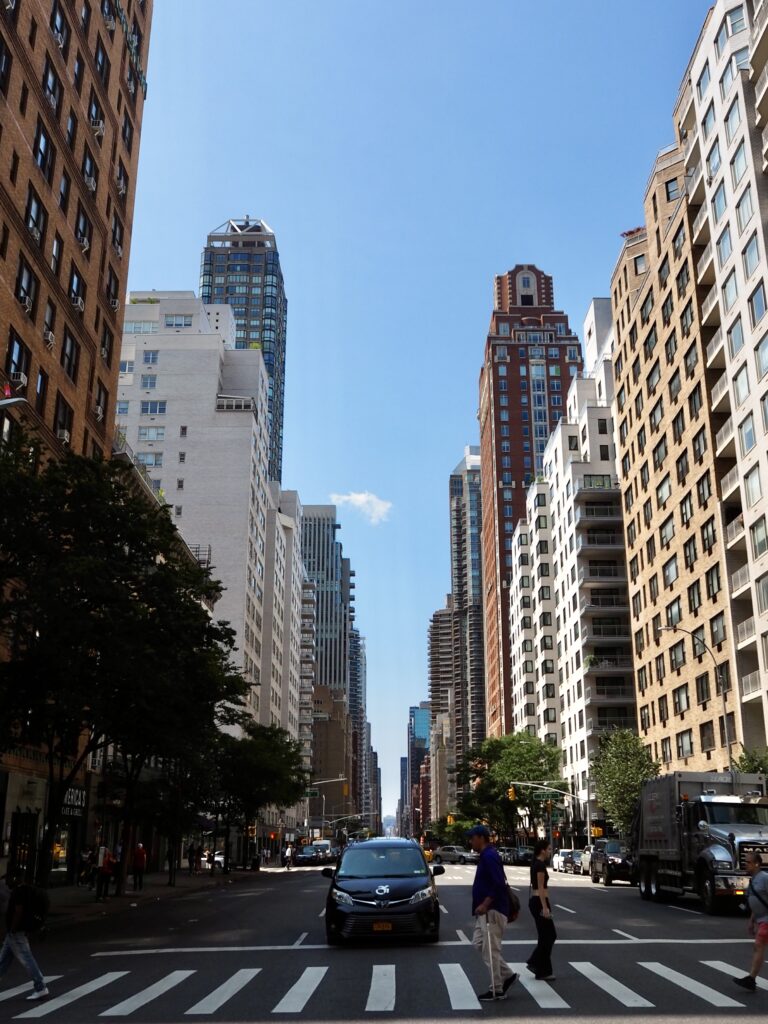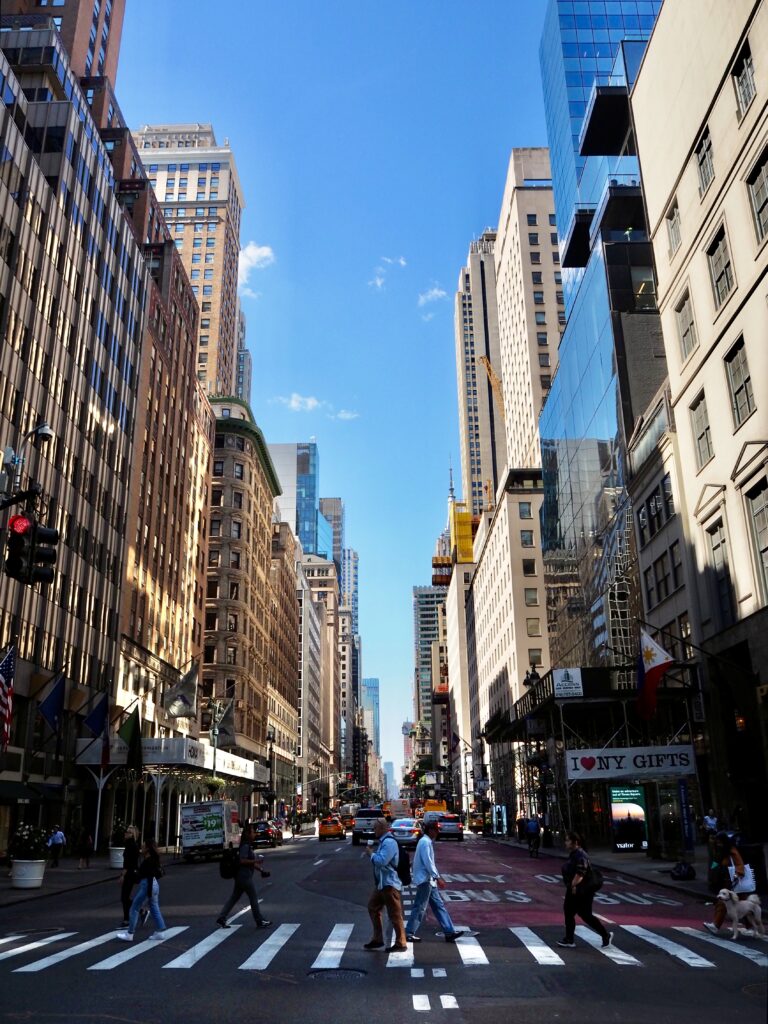 ---
Day Two
Top of the Rock
New York has half a dozen observation decks to choose from, to get sweeping views of that iconic skyline. Of course, the Empire State Building is probably the most popular – but if you're standing on its roof, you can't see it in the view! Instead, I had decided on the Rockefeller Center instead, whizzing up over 60 floors to the aptly named Top of the Rock. I hadn't reserved a ticket online as I had a city pass app instead, so I got there first thing, just before it opened, to avoid a massive queue.
Emerging onto the roof, there it was – New York City. A view of skyscrapers that I've seen photos of so many times before, but now I was here in person, staring out at the city. The Empire State Building was front and centre in the view, just as I'd known it would be. I could also make out the Brooklyn and Manhattan Bridges to my left, and the faintest glimpse of the Statue of Liberty way out to the south. Turning to the other side of the roof, the Rockefeller Center's more northern location means a spectacular view of Central Park from above. You really need a bird's eye view to appreciate just how big it is, an oasis in the middle of the city!
Rockefeller is also where the iconic photo of the workman sitting on the beam was taken, so there's a lot of souvenirs that make use of that. Returning to the base of the building I also got to see the courtyard which has a roller rink in summer and an ice rink in winter. Definitely an impressive building from below as well!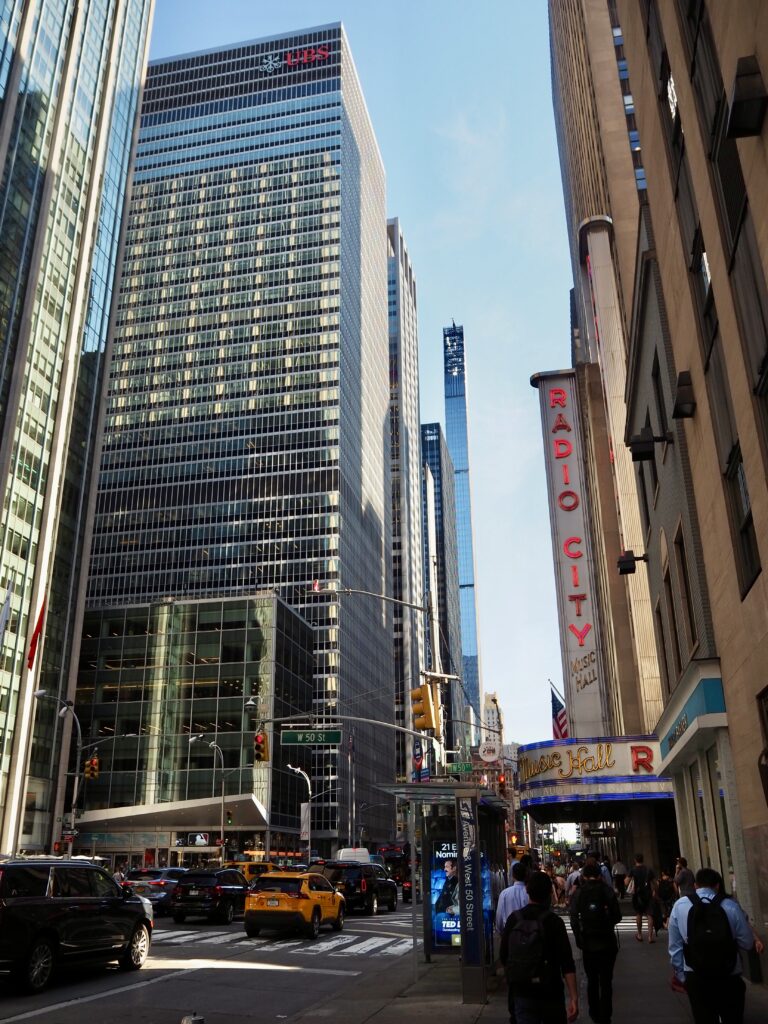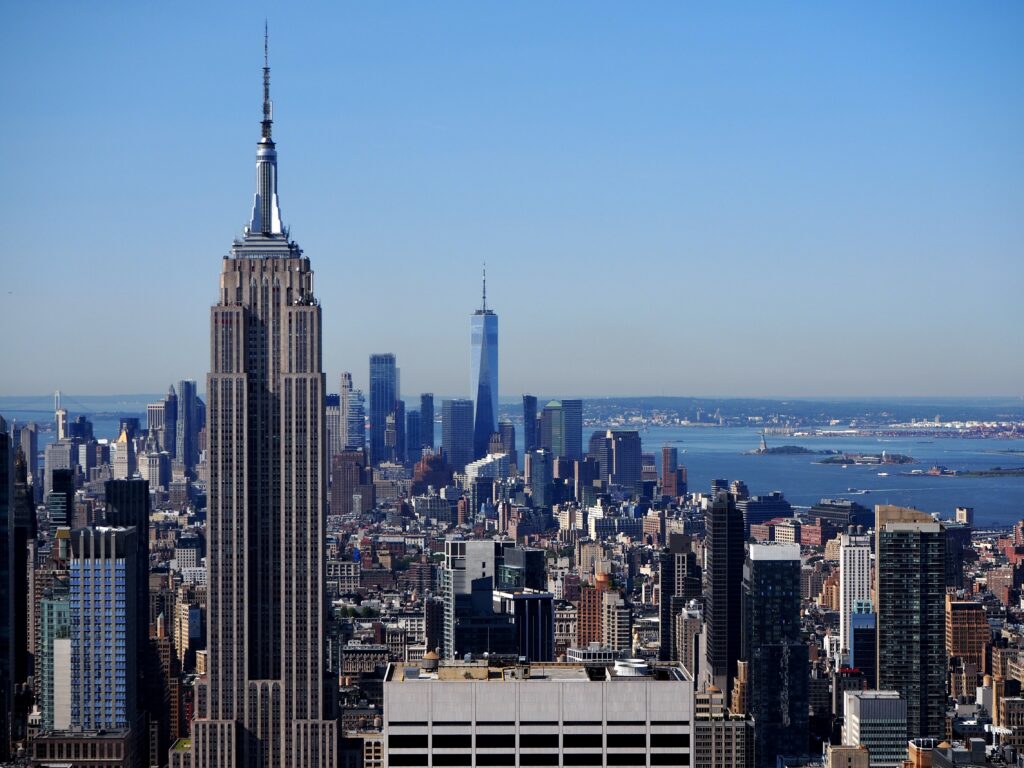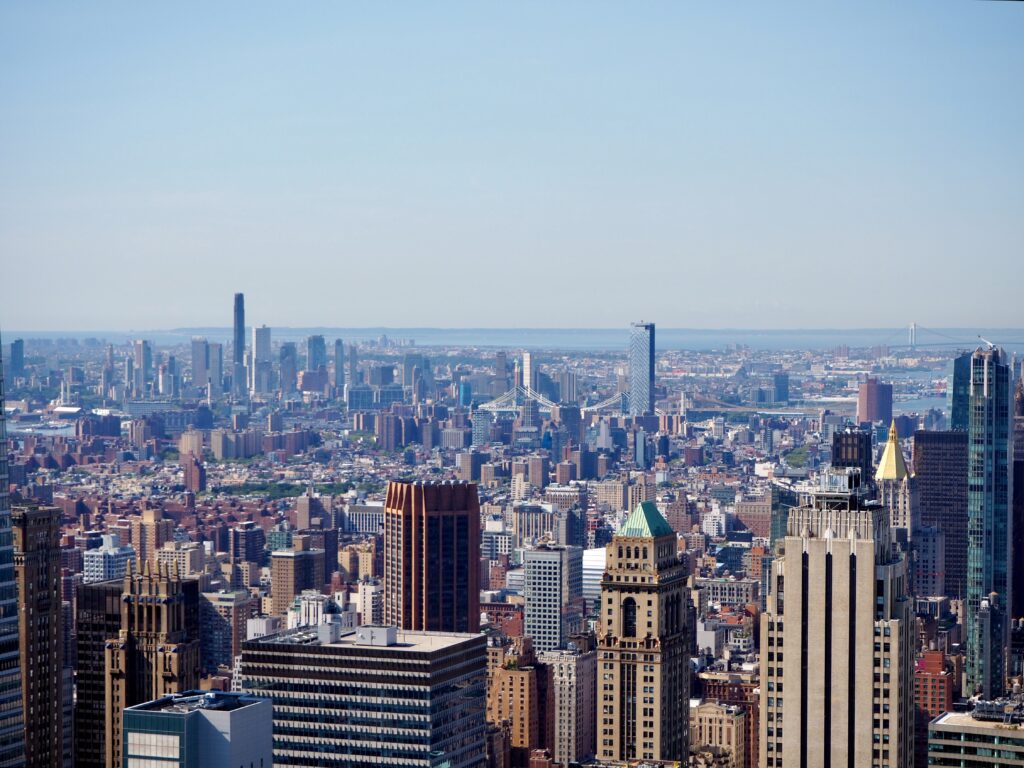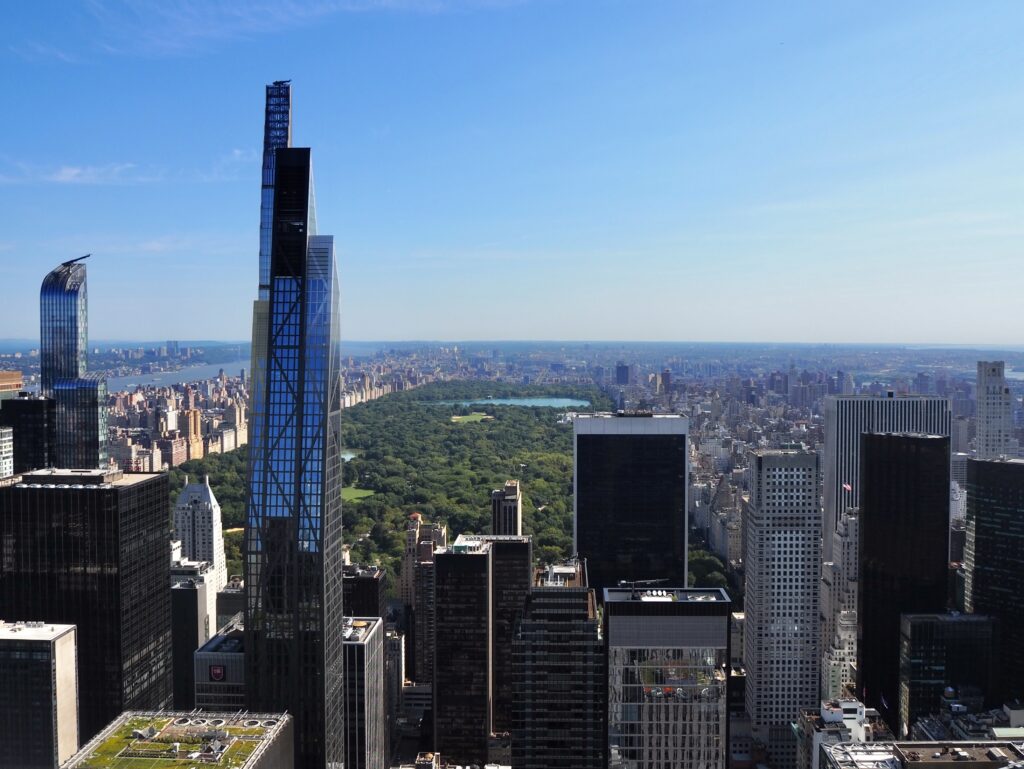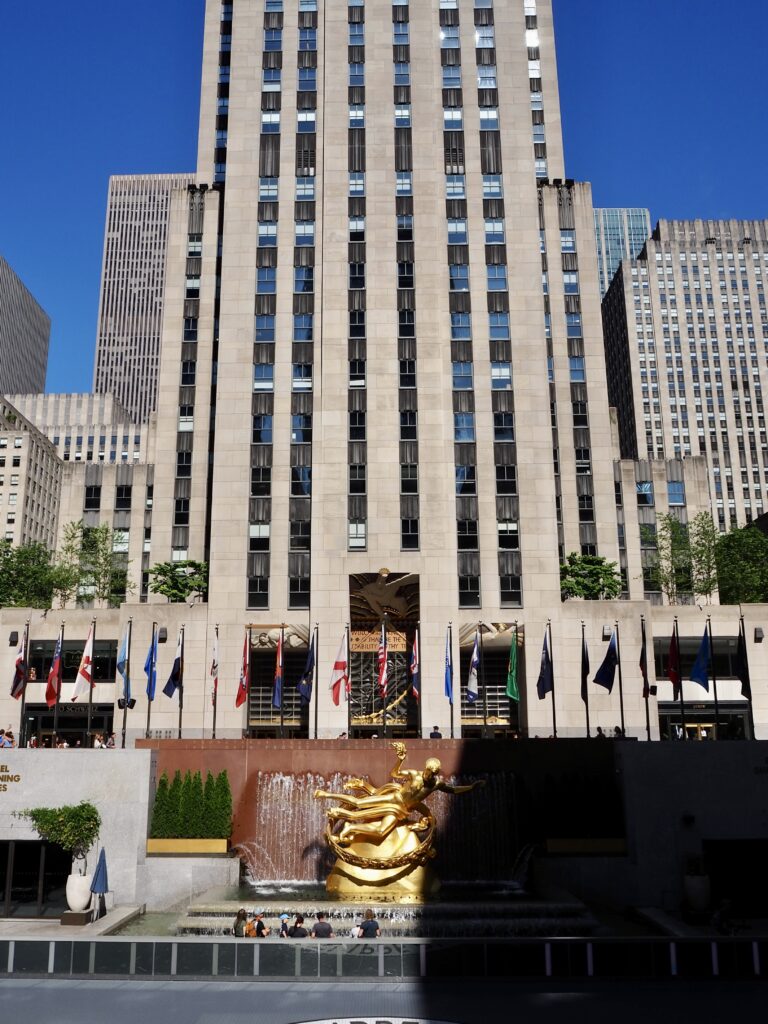 ---
Grand Central Station
I was hitting up a few key tourist attractions this morning, so from Rockefeller, I headed southeast in search of Grand Central Station. I had been a little disappointed that my train from Boston didn't arrive here at the start of the week! In some ways, I think the station's fame makes it more exciting than its actual architecture. The constellations on the ceiling are very cool though, and the Classic style with all the white marble makes it very pretty. The Chrysler Building is nearby too, another iconic, recognisable skyscraper in the skyline.
Times Square
I know, it's super touristy, but I'm a tourist, ok? I had to see Times Square at least once, just to experience it for myself. It was just as I had expected – dozens of huge billboards an glowing signs, people walking around in costumes, the red staircase in the centre covered in tourists posing, and the ball hovering overhead, ready to drop on New Year's Eve. It was kind of fun to watch the billboards for a little while, just to see what they had to say and the special effects some use. You can even pay to get your photo on one of them!
I did have a secondary reason for coming to Times Square this morning, which was to try my luck at the TKTS ticket booth. I'm not the biggest musical theatre person, but I enjoy some musicals and I had to see at least one Broadway show during my week in New York. A lot of shows are pretty expensive, plus some I've seen before in the UK (Wicked, Lion King, SIX) so I was on the hunt for cheaper deals for something I hadn't seen. The booth usually has good on-the-day deals, but it only opens at 11am and the line was already really long when I got there at 10.30am. I didn't have time to wait before starting work at 12, so I ended up getting something online instead – more on that later.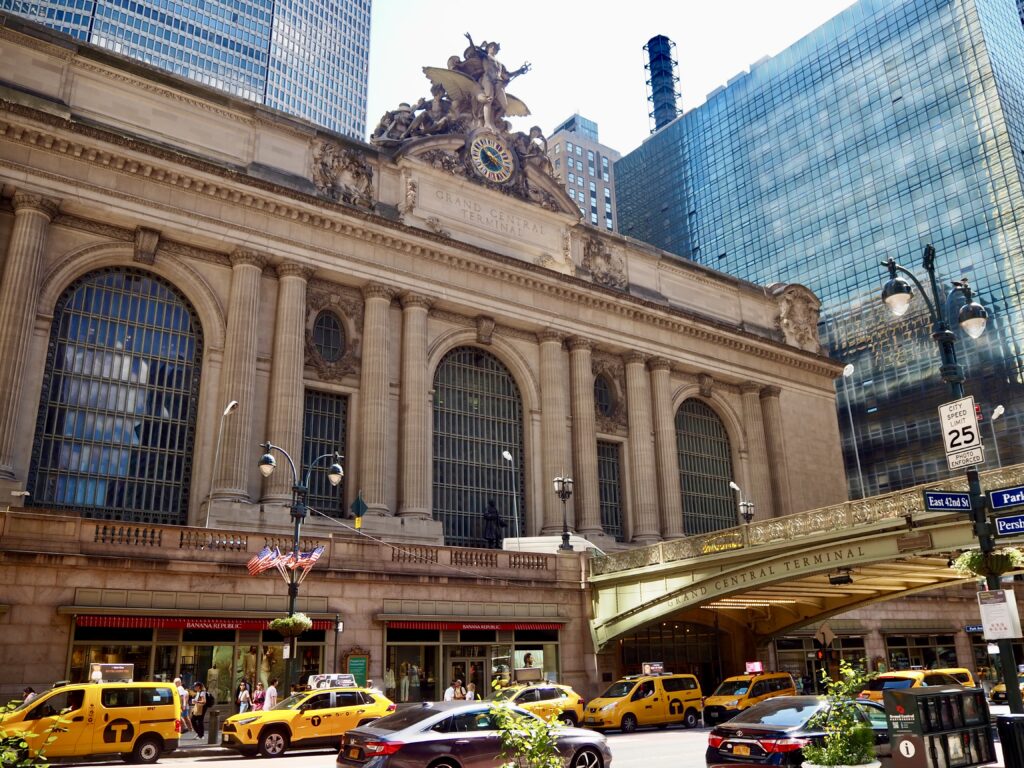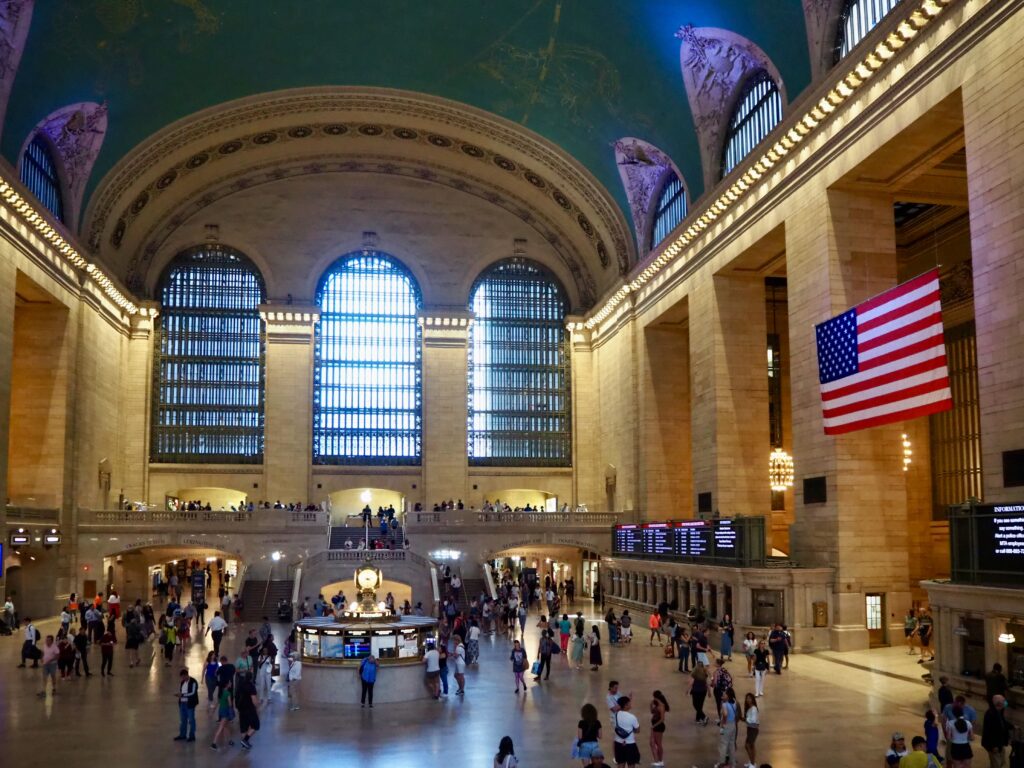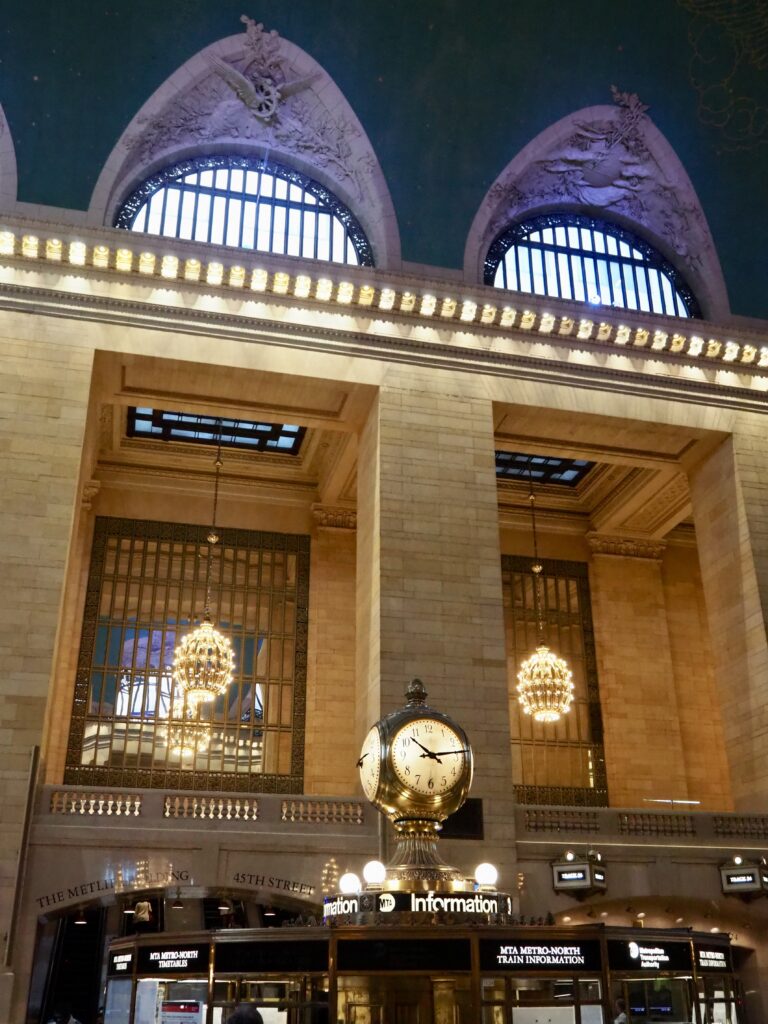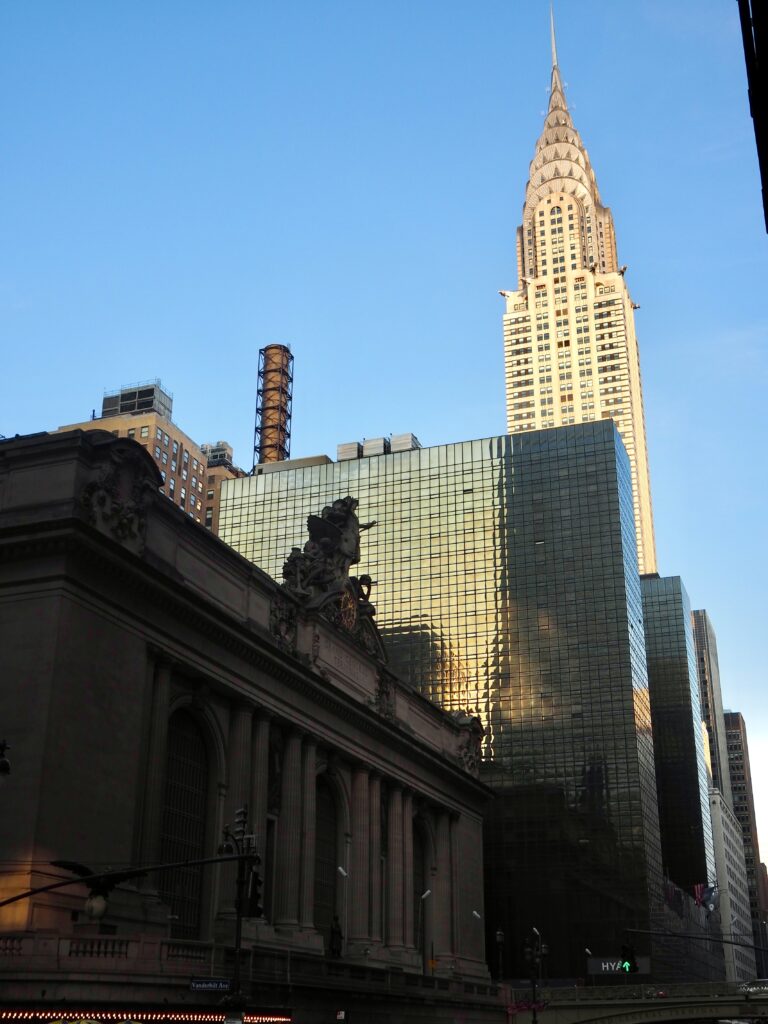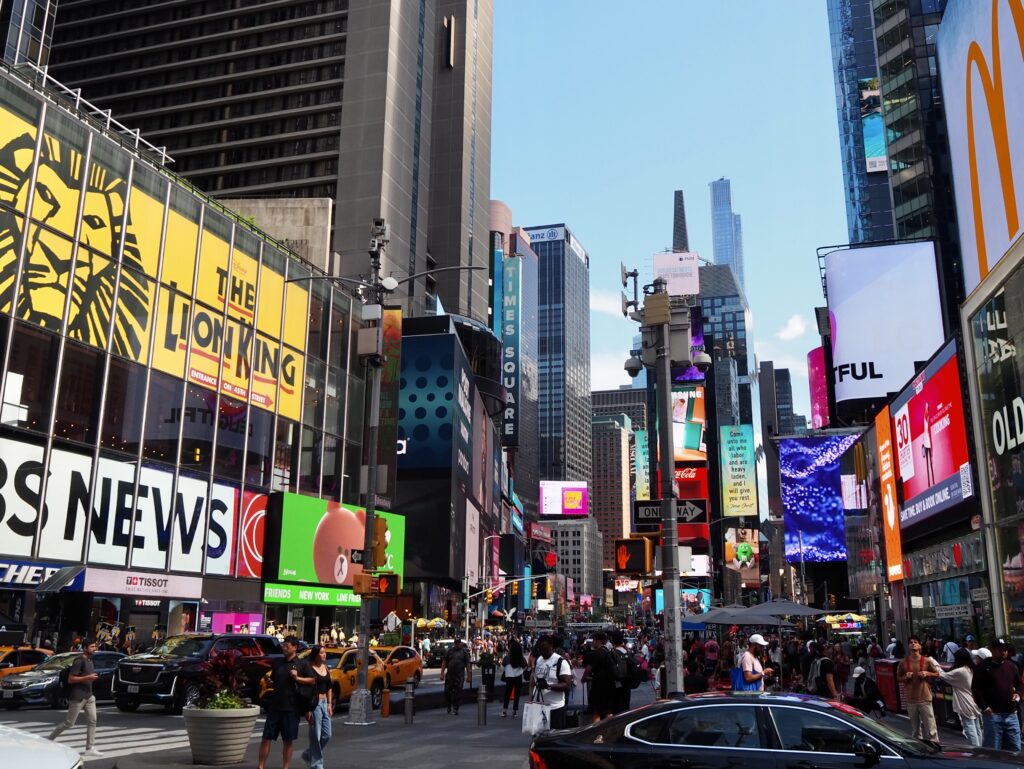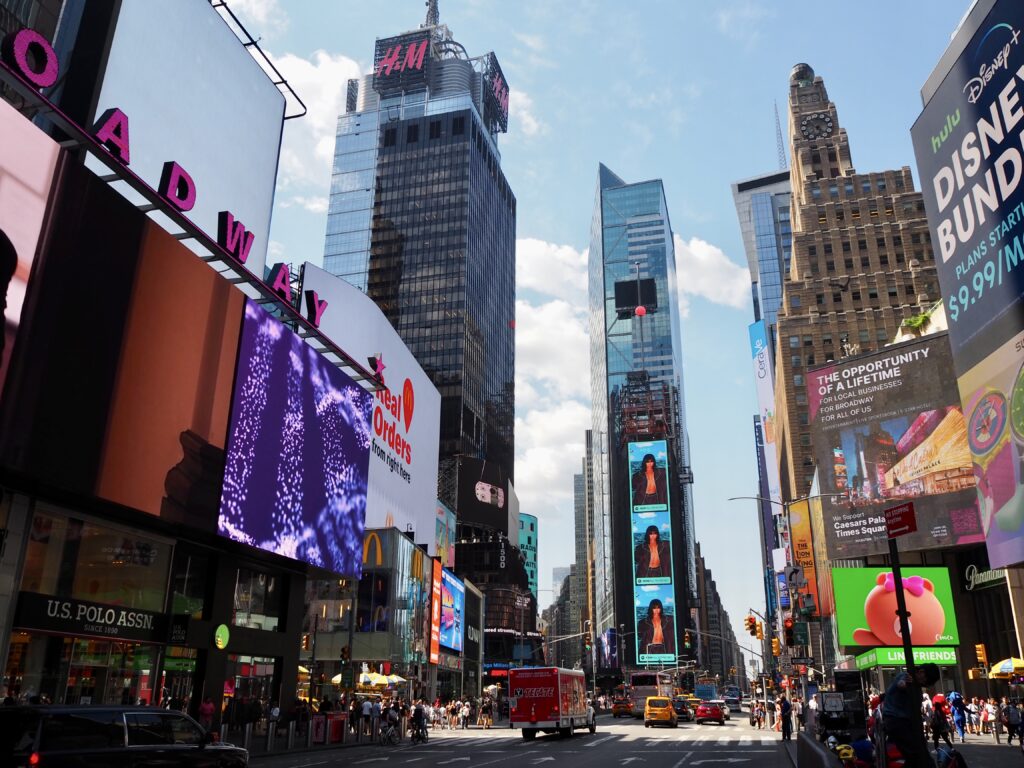 ---
Bryant Park
Between trying the booth and ending up with show tickets for that evening, I wouldn't have time to go back and forth to Brooklyn, so I worked in Manhattan that day instead. I ended up in a couple of cafes in Hell's Kitchen first, then headed to Bryant Park for the last few hours. The park has WiFi so you're only limited by your laptop battery (I did some strategic timing so mine would die at the end of my workday). I ended up coming by Bryant Park a few times this week, as I really quite liked it!
There are plenty of kiosks and seating around the sides to get food or drink, and a wide grassy space in the centre. A lot of events take place here, including a huge, outdoor yoga class that evening. It's also next to the New York Public Library so gets bonus points for that. And it has the nicest park toilets I've ever seen!
Broadway – & Juliet
Now, circling back to those Broadway tickets. My online search had found me a reasonably priced ticket for & Juliet, which sounded like something I'd enjoy from the description. Juliet not killing herself and instead living her own life after Romeo? A historic, literary text reworked with a strong, independent female lead (do you see why I love SIX so much?)? Yes, please!
It's also a jukebox musical, so uses pop songs, all written or produced by Max Martin, who is pretty much responsible for every pop banger of the last 30 years. It was quite fun seeing how they fit each song into the story. I was definitely not expecting a slowed down version of "Baby One More Time" as Juliet decides to not kill herself! I know some people don't like jukebox musicals, as using pop songs can take you out of the story. But I liked knowing all the music and words already and each song worked well in the plot.
The show is heartwarming and empowering, but also really funny – especially the inclusion of Shakespeare and his wife, Anne Hathaway, as it's her idea to rewrite the story. It has well-rounded characters (including showing that independent women can still be in relationships) and a wonderful queer storyline. Plus a super diverse, talented cast! I loved that I didn't know anything about the story in advance so it was all new and surprising and I was just smiling the whole way through!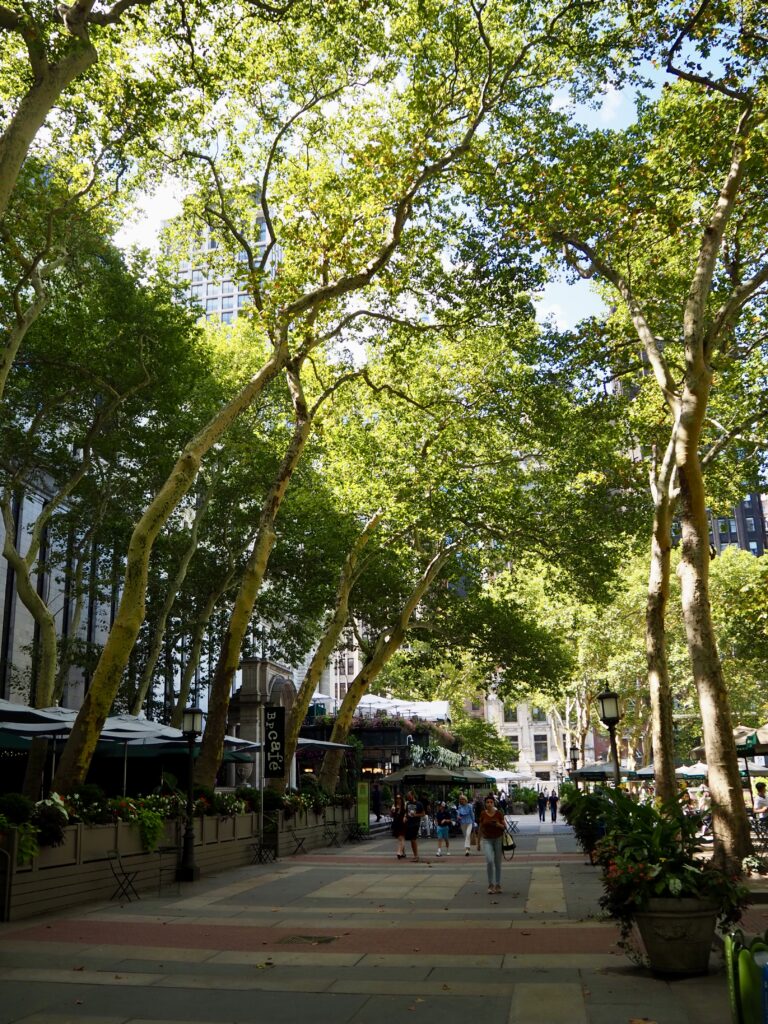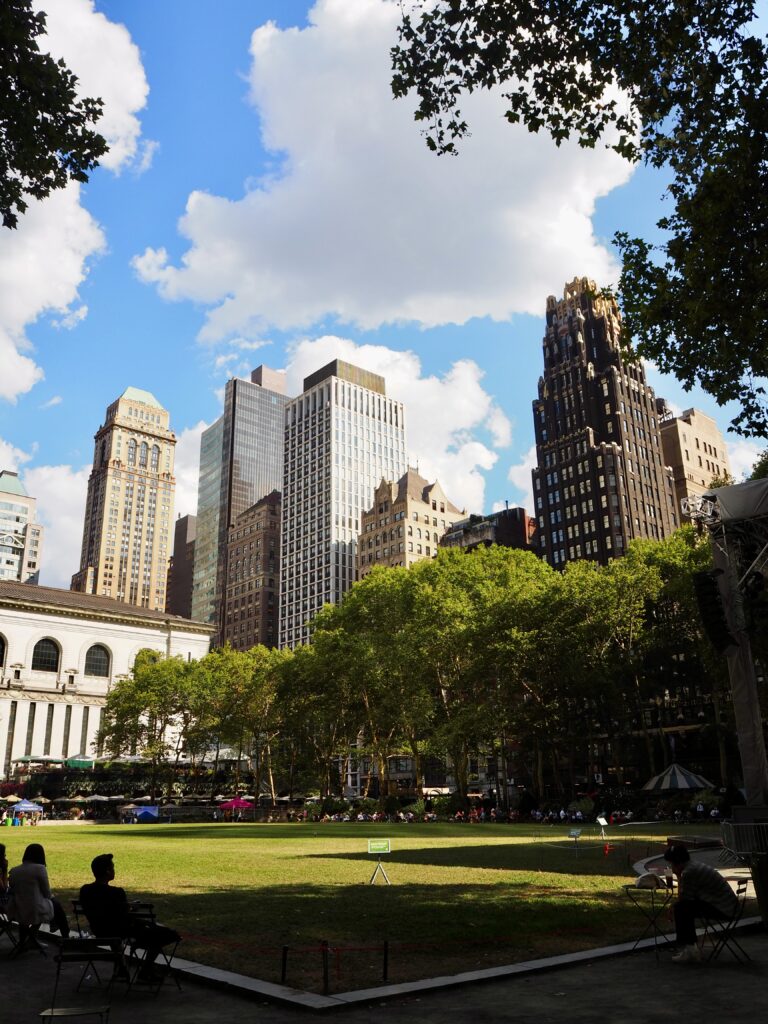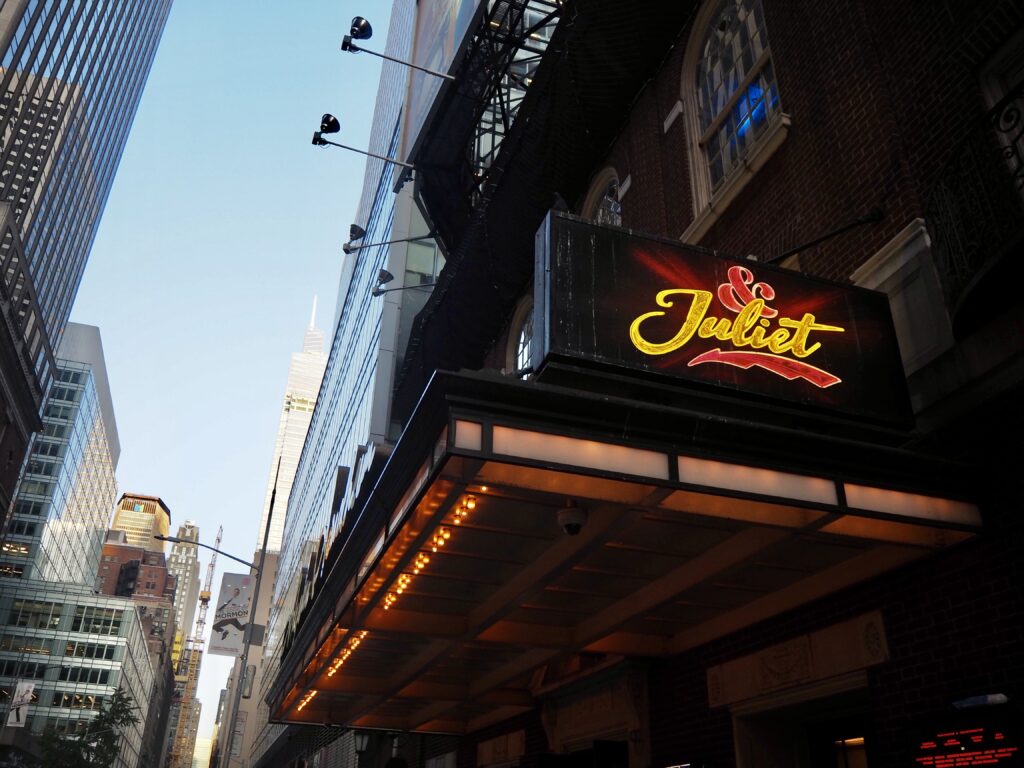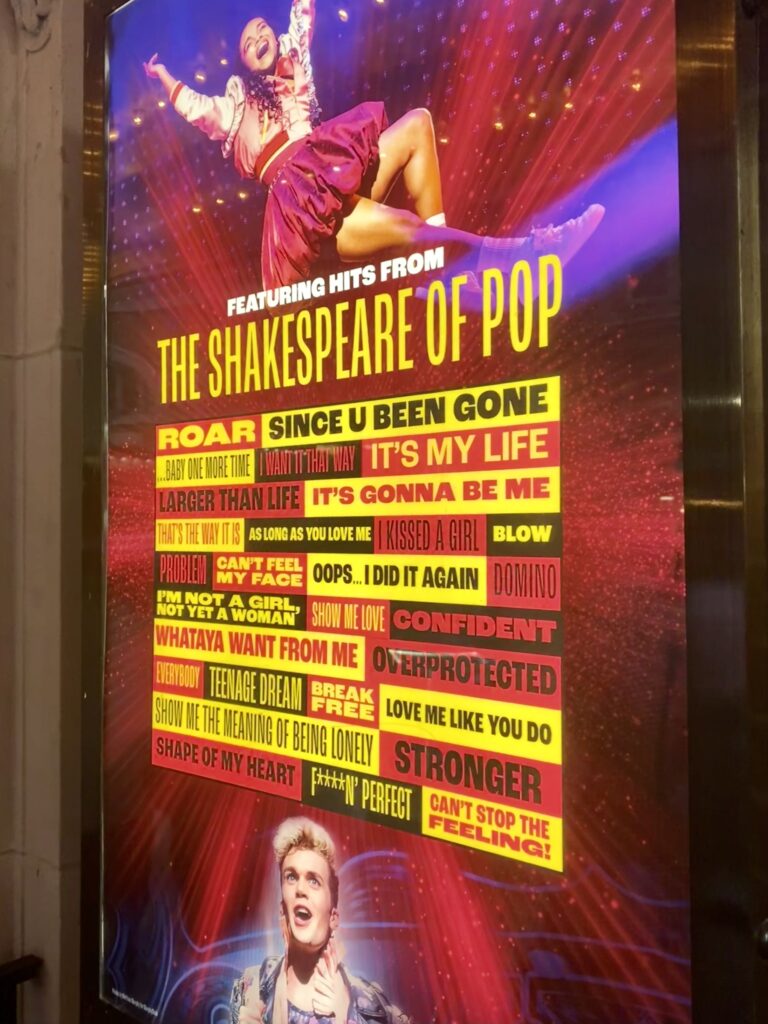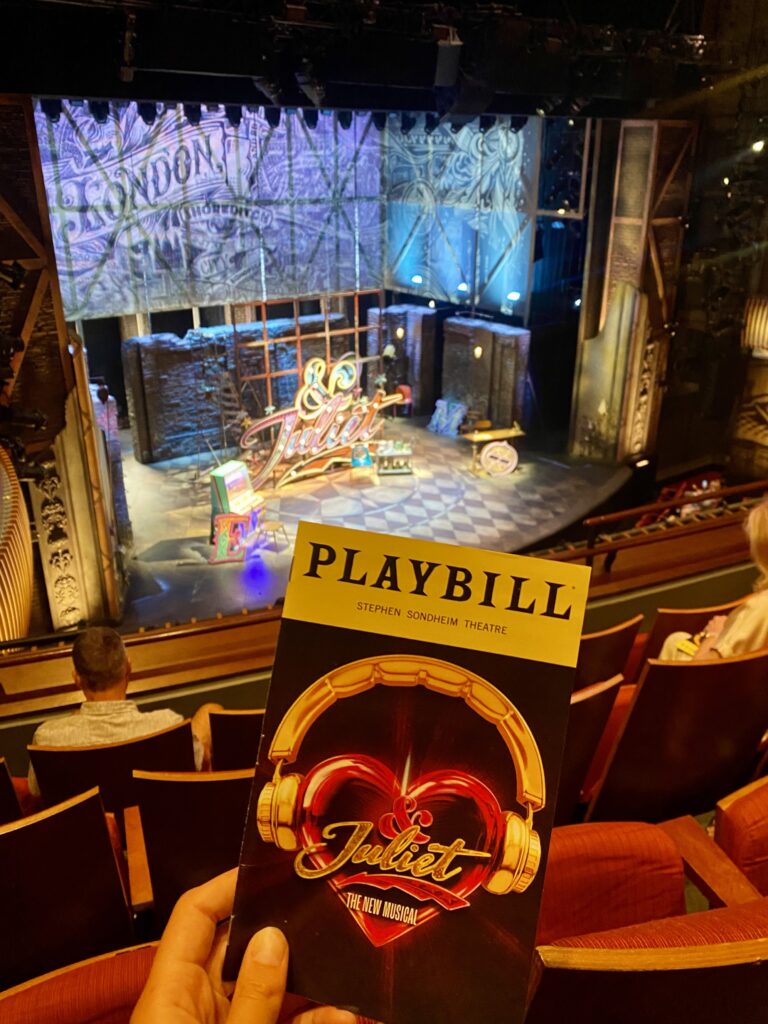 ---
Day Three
Empire State Building
After two days Uptown, I headed south to the Midtown area of Manhattan this morning. As mentioned, I had decided not to go up to the top of the Empire State Building, and I'd gotten a good view of it from the Top of the Rock already. But it was easy to slot into my route today, so I took the subway and got off just a couple of blocks away, to walk past it. I keep saying it, but this was definitely another surreal moment, standing right in front of such a famous building. It's not even the tallest building in New York anymore, but it's just so recognisable with its Art Deco design and pointed roof.
Flatiron Building
Continuing south, my next destination was the Flatiron Building – nowhere near as tall as most of the famous skyscrapers, but iconic in its own right. I was a little disappointed to find it covered in scaffolding. Apparently it's been like that for a few years, due to an ongoing legal dispute about who is paying for its upkeep and renovation. But, I could still see the shape of it, with that narrow end sandwiched between two streets, widening out on each side as you pass it. It's right next to Madison Square Park, a small green space with views of both the Flatiron and Empire State buildings. It had a cool art installation as well, made of wool threads suspended amongst the trees.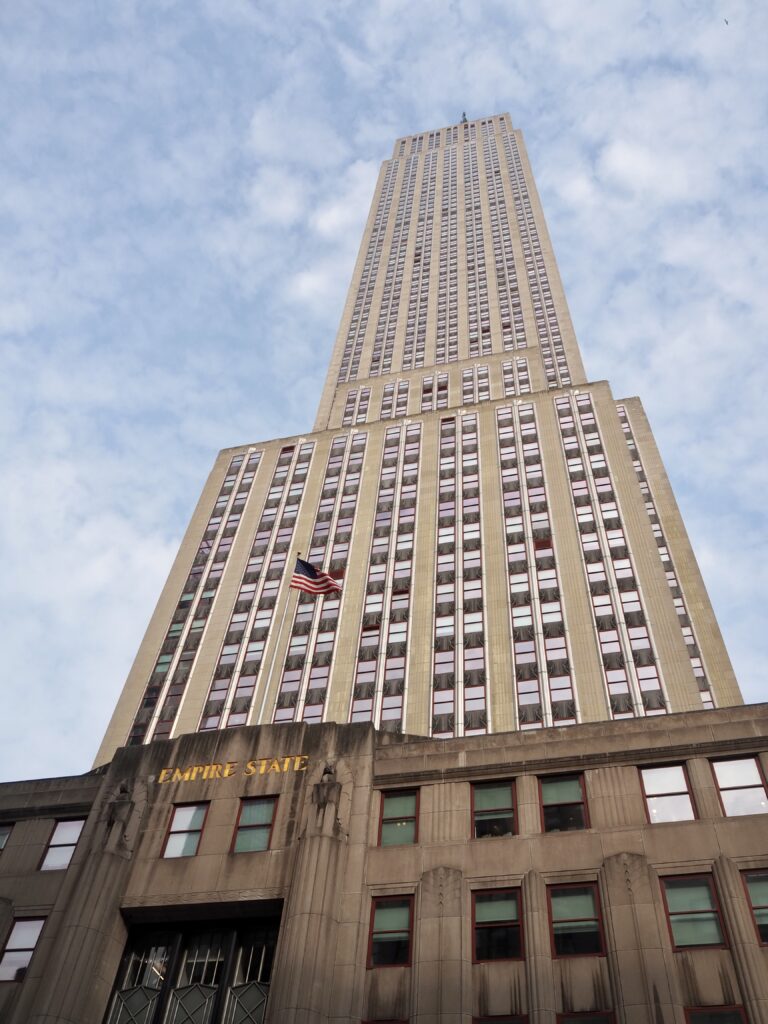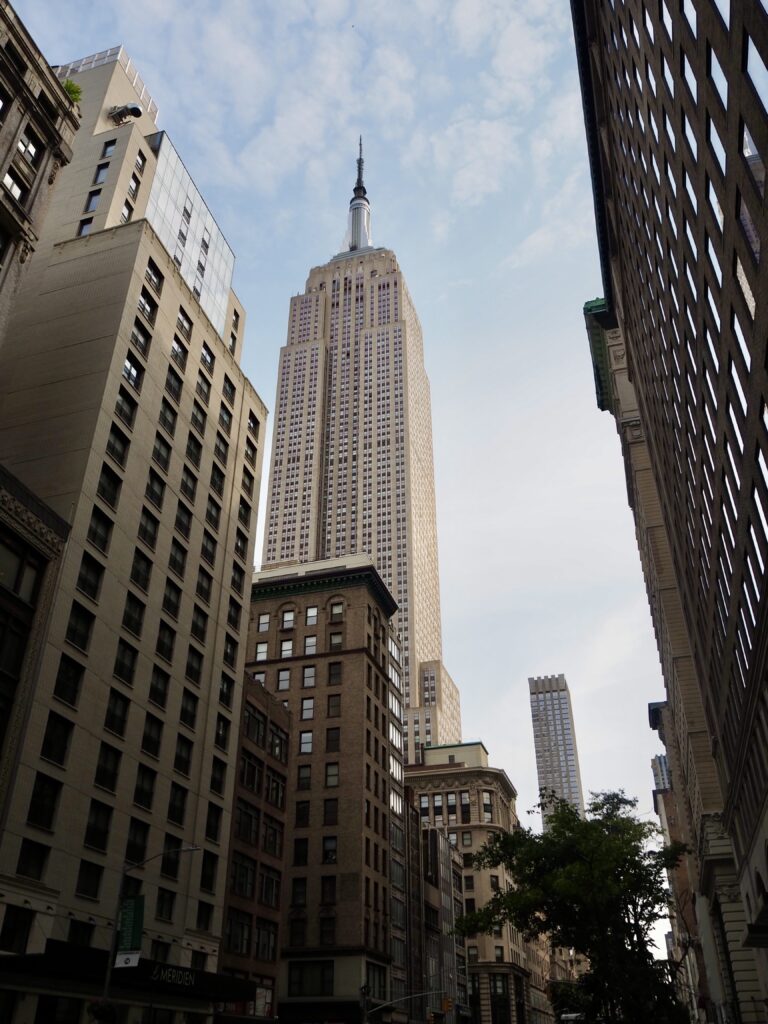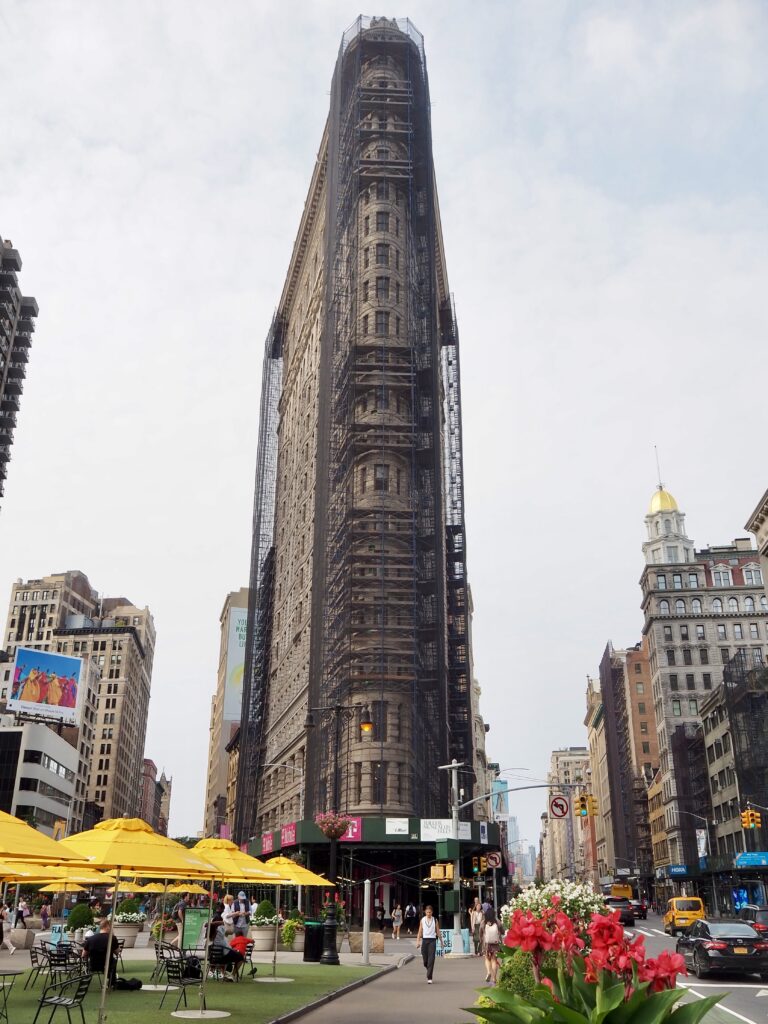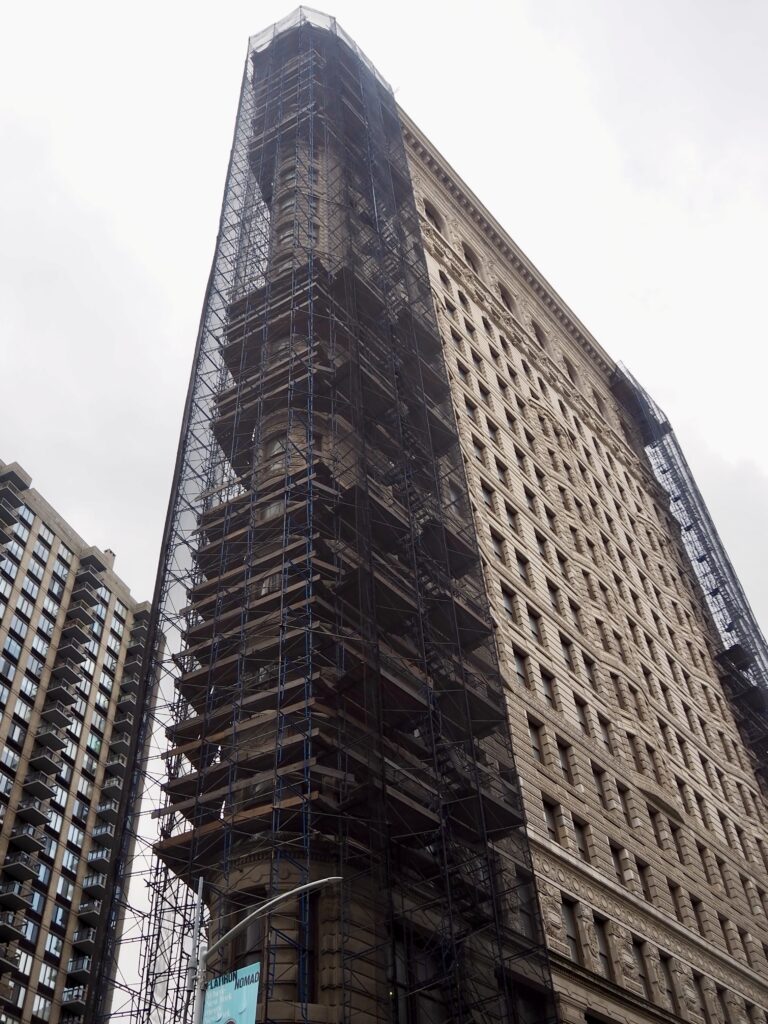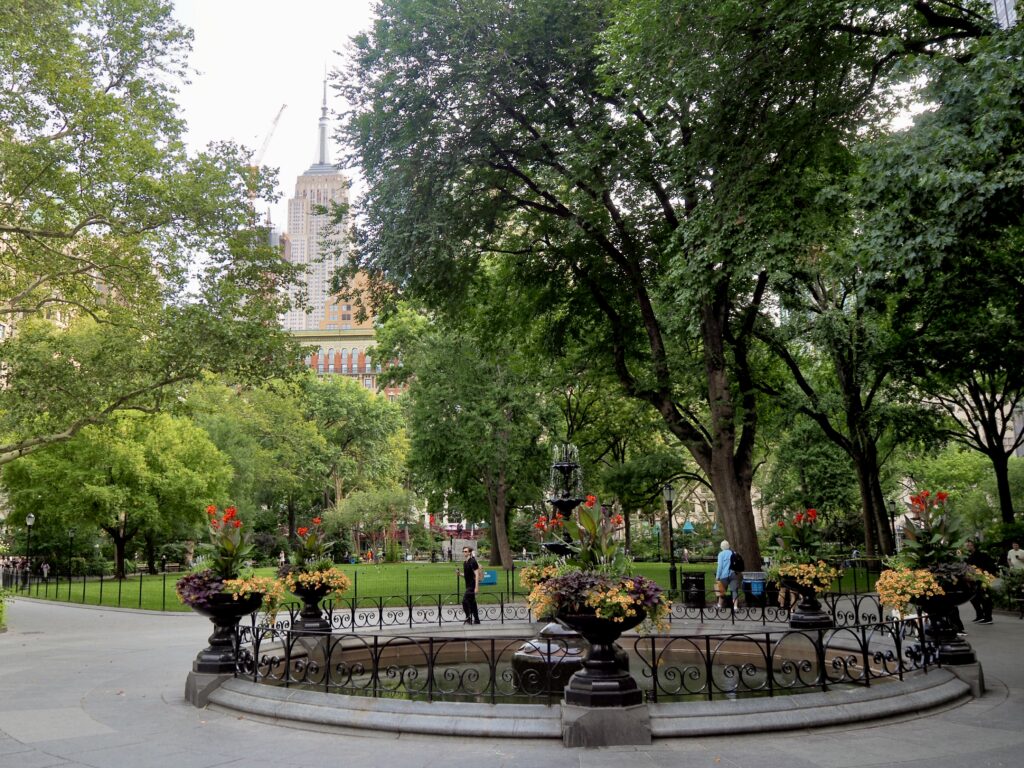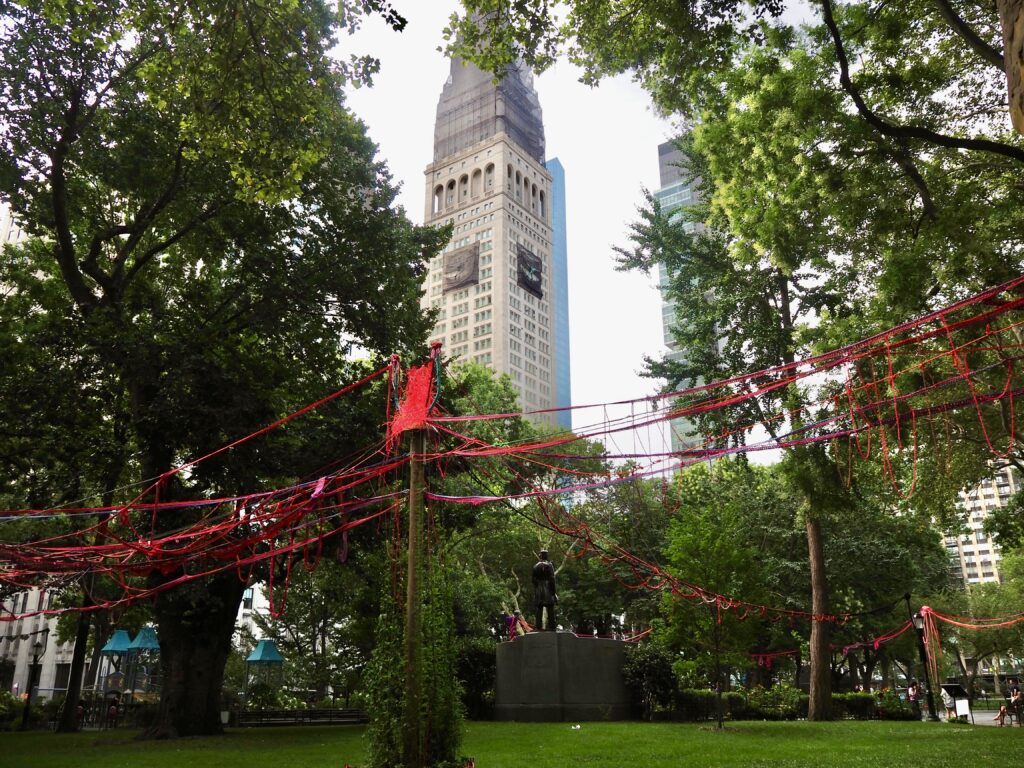 ---
Midtown & Greenwich Village
Making my way south into Midtown, continuing on Park Avenue and passing Union Square, I then found my next destination. I've heard of the Strand Book Store a few times before, though I've no idea when was the first time. I just knew it was this huge, old, famous bookstore in New York so as a book lover, I wanted to take a peek. Since I'm travelling light, I couldn't buy anything really (though I did get my New York magnet here!) but I spent a while just roaming the stacks. It has a few floors to explore, divided up my categories, and easy to get lost in for a while!
I was approaching the NoHo area of the city, close to NYU with all its purple pennants. I veered west next, towards Greenwich Village. This area used to be the artist's quarter of the city, though rising property prices later sent them across to Brooklyn. But in the 20th century, this was their bohemia, first with the Beat generation and then the '60s counterculture. The lower-rise buildings certainly made it feel quieter and simpler (simple for New York anyway). I also found the Stonewall Inn, a historic gay club where an uprising in 1969 kicked off the LGBTQ liberation movement. I would have liked to have spent a bit longer looking around this neighbourhood, but I was out of time before work at this point!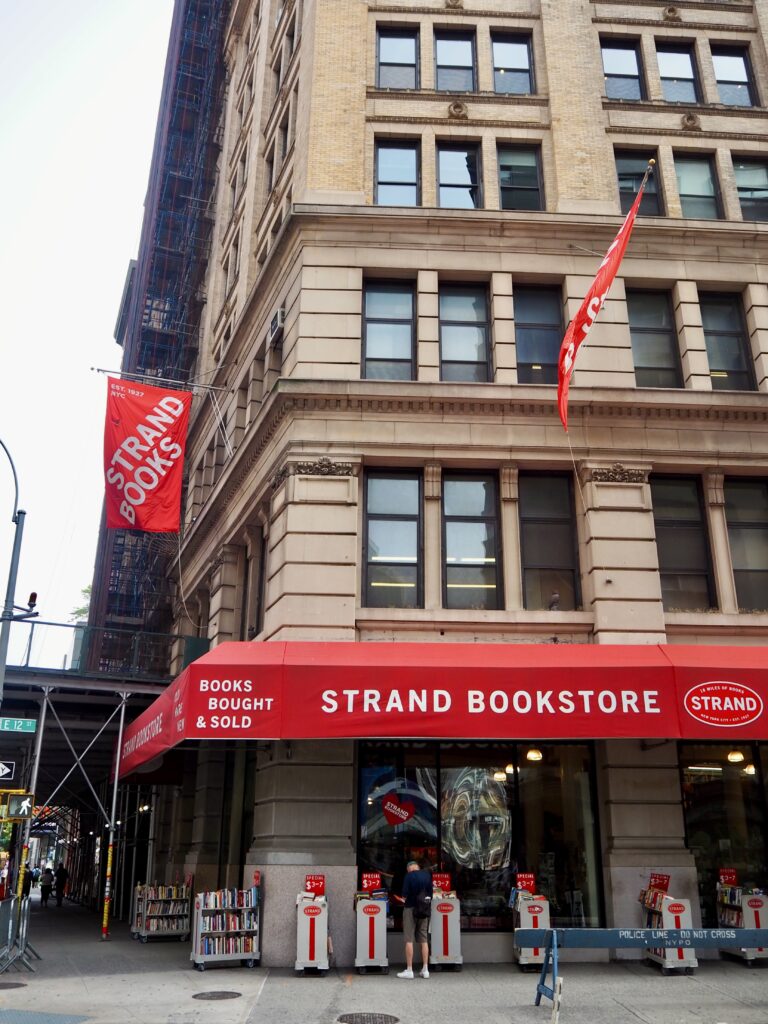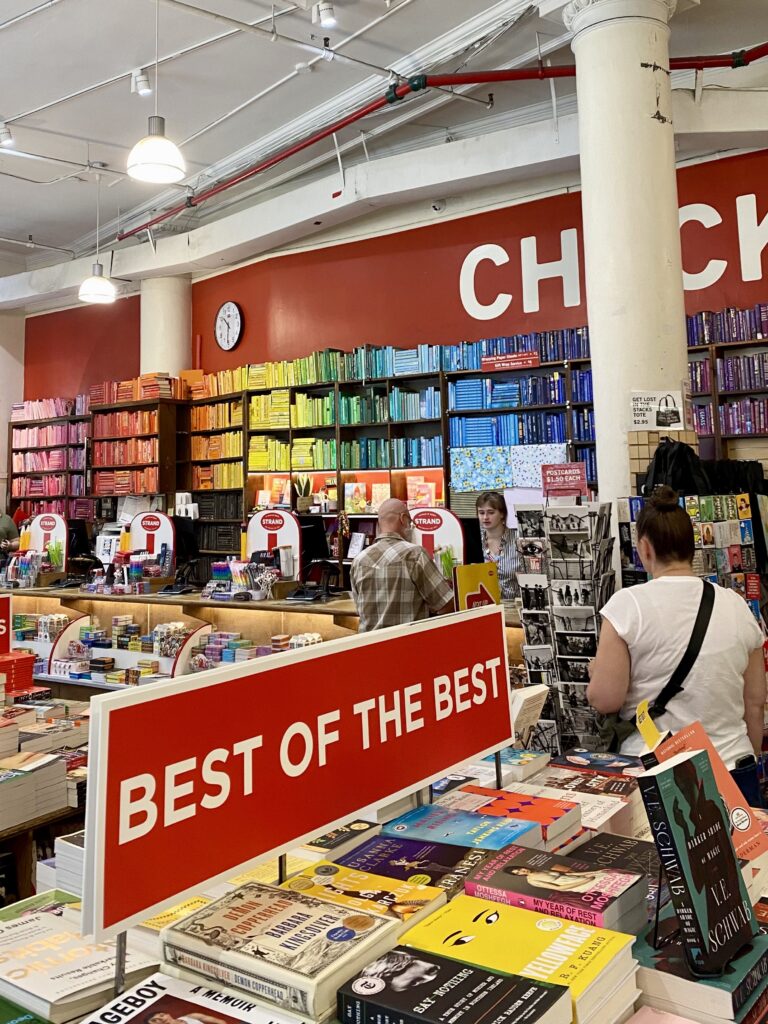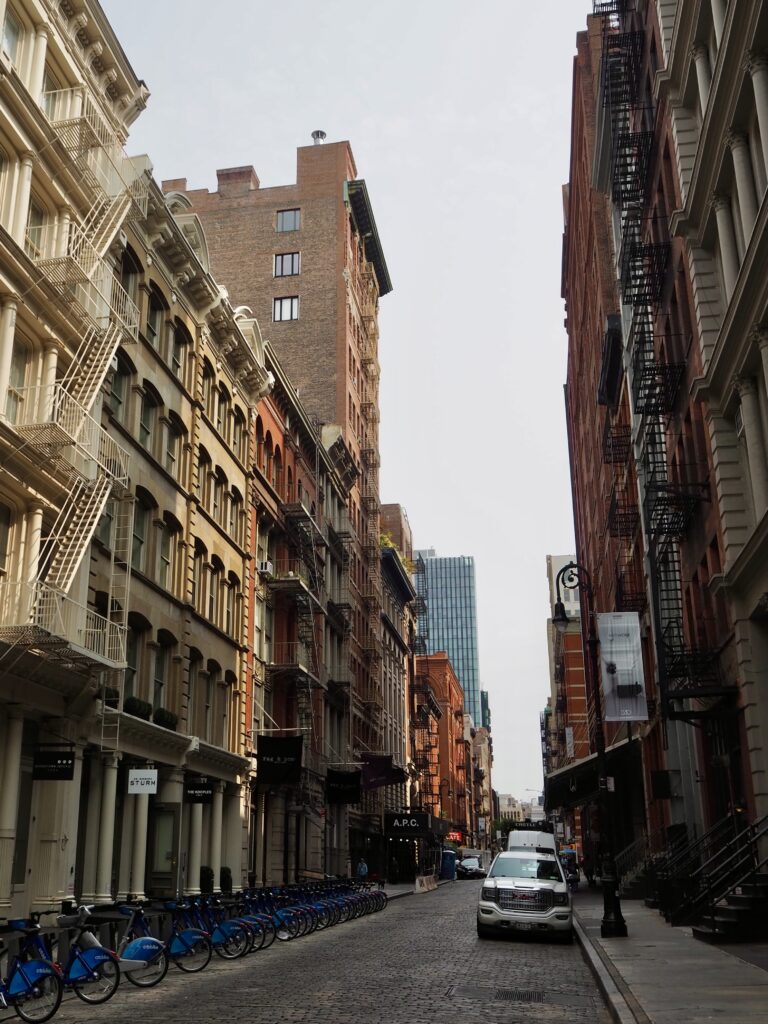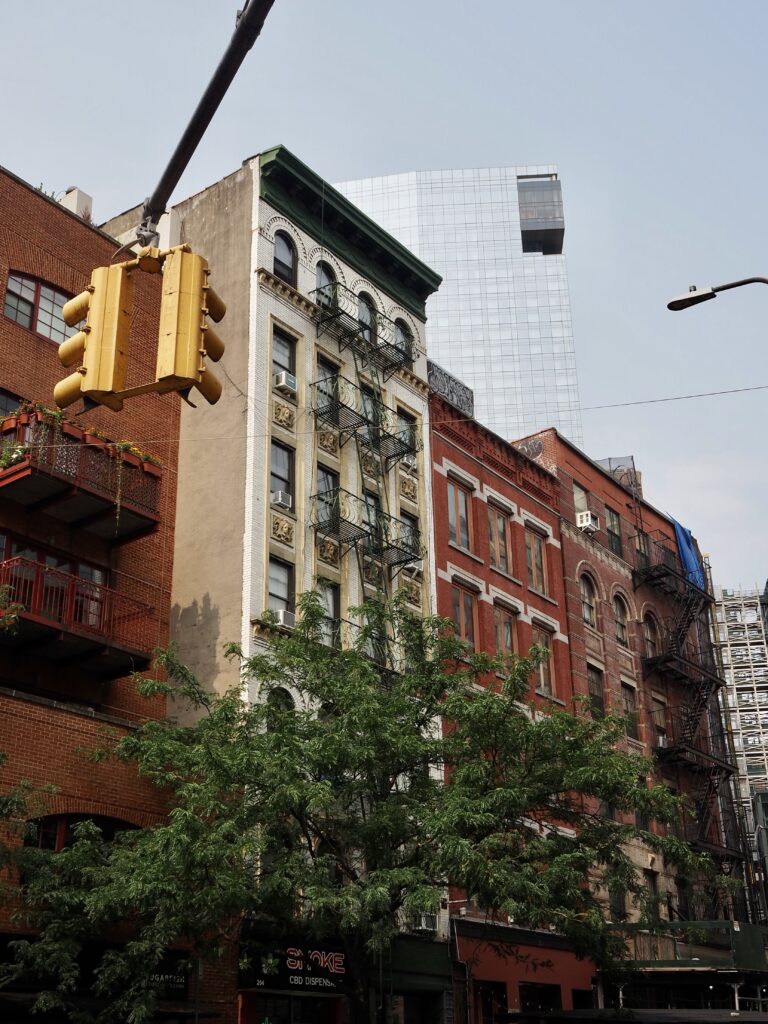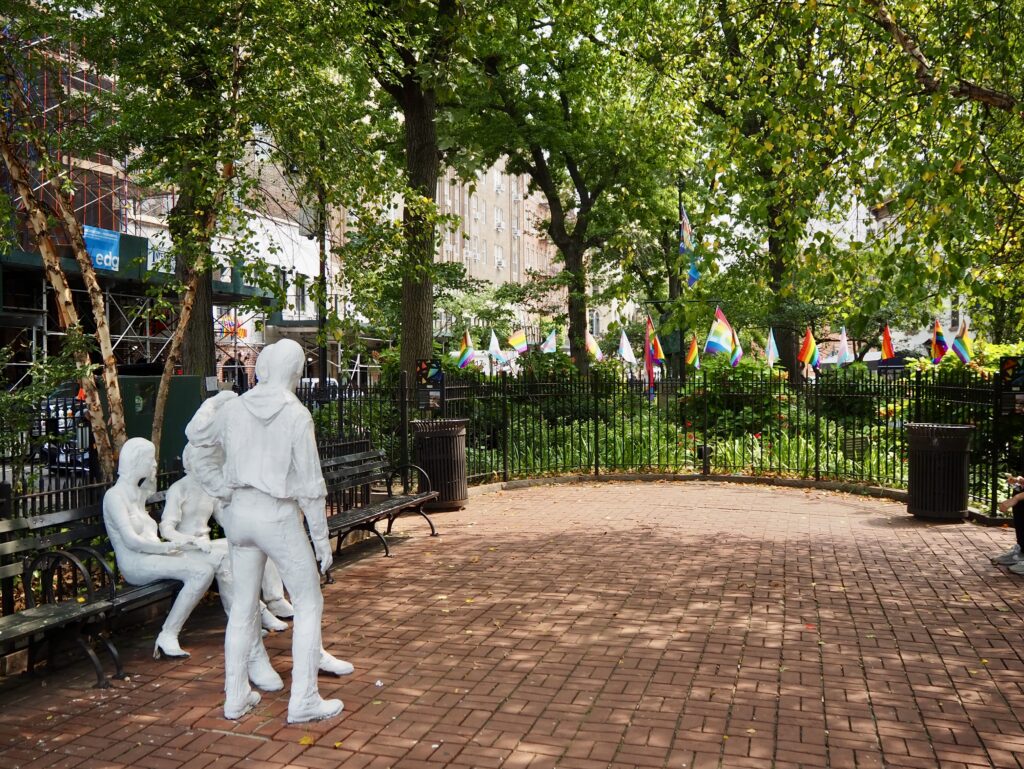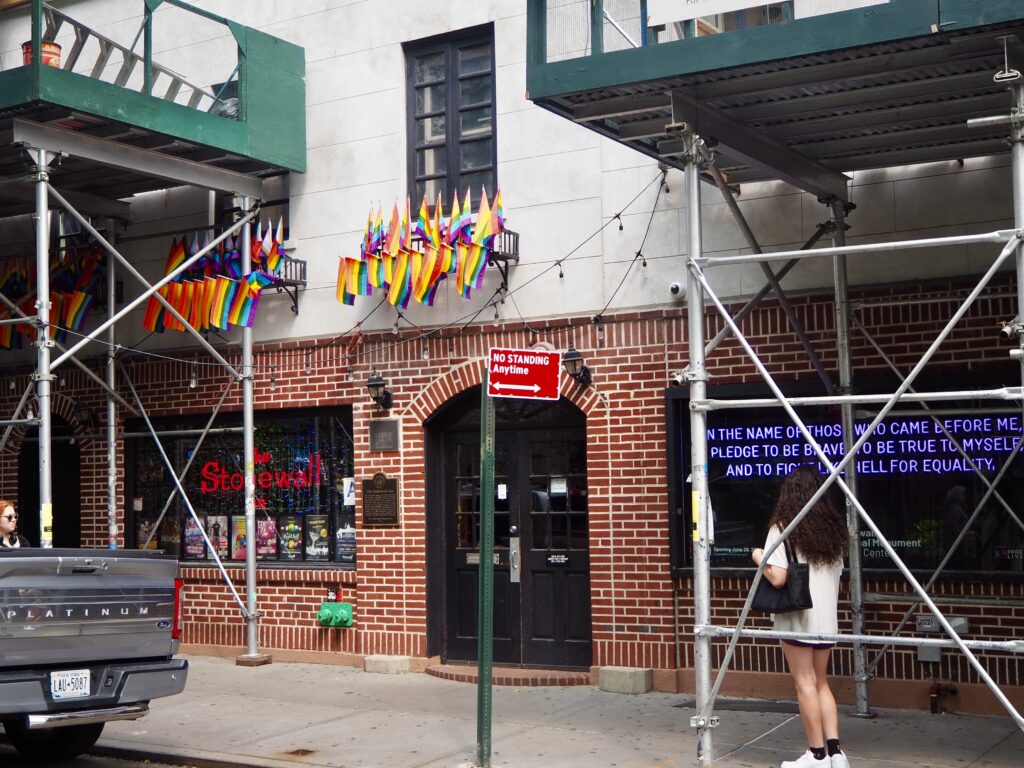 ---
Day Four
Sightseeing Bus Tour
As you may have surmised from the last few days, I walked a LOT. Obviously, I used the subway too, but I wanted to see New York's streets to get a feel for all the neighbourhoods, not just its underground all the time. But anyways, after a few days of plenty of walking, my feet needed a break. One of the options for my city pass was a sightseeing bus tour, so I thought that would be a way to get an overview of Manhattan while staying seated for a few hours. It is a hop-on-hop-off bus, but I just rode the entire circuit in about 2 hours, before heading back for work.
Starting and ending in Times Square, it pretty much did a loop of Manhattan, all the way down to The Battery and back. The first few sights were places I'd covered over the last few days, but it was quite fun riding down these boulevards in an open-top bus. The audio commentary also gave more historical context than I'd had wandering on my own.
Lower Manhattan was the area I hadn't really seen until now, as we rode past Chinatown, City Hall and Wall Street, including the Charging Bull statue. It passed the new World Trade Centre, but more on that later. Then we came up through Tribeca, another recognisable neighbourhood name. The bus taught me where the name comes from though – TRIangle BElow CAnal Street. The last leg went up by the piers on the West Side, before returning to Times Square. Yes, it was touristy but I am a tourist this week and it was a pretty chilled couple of hours!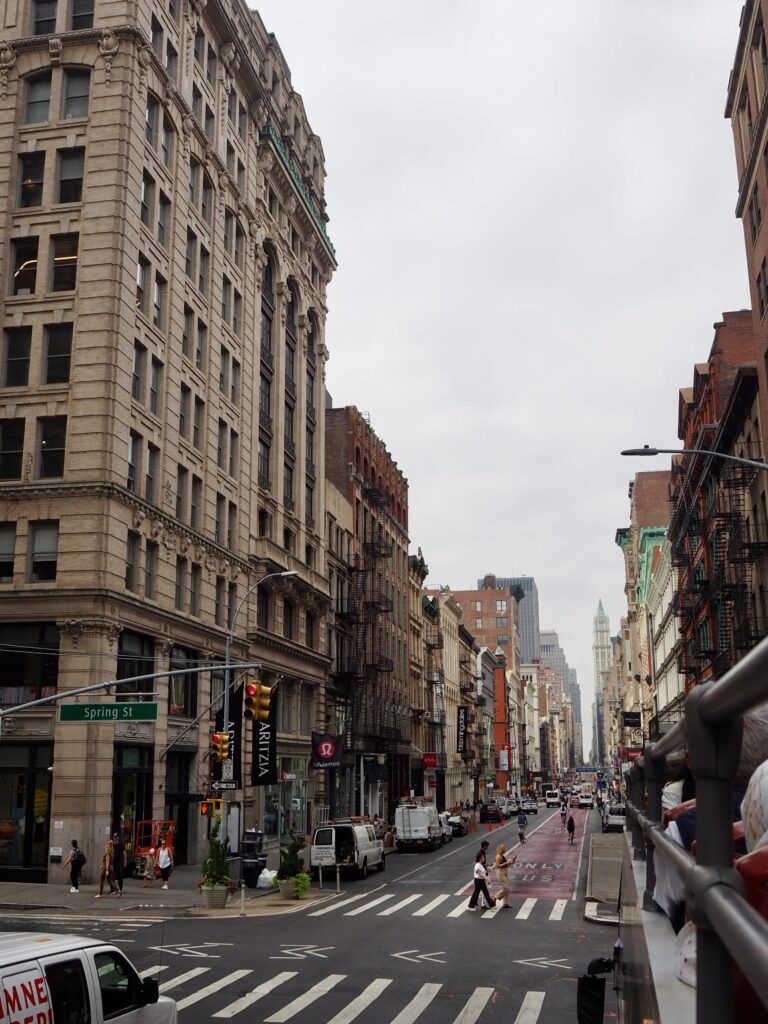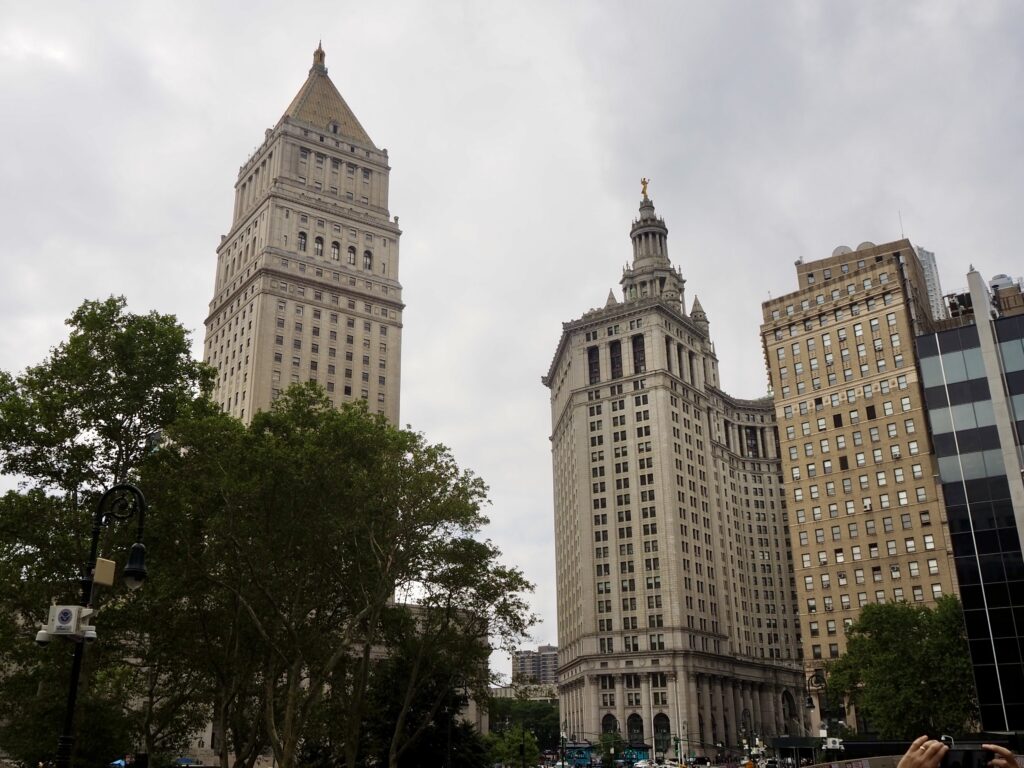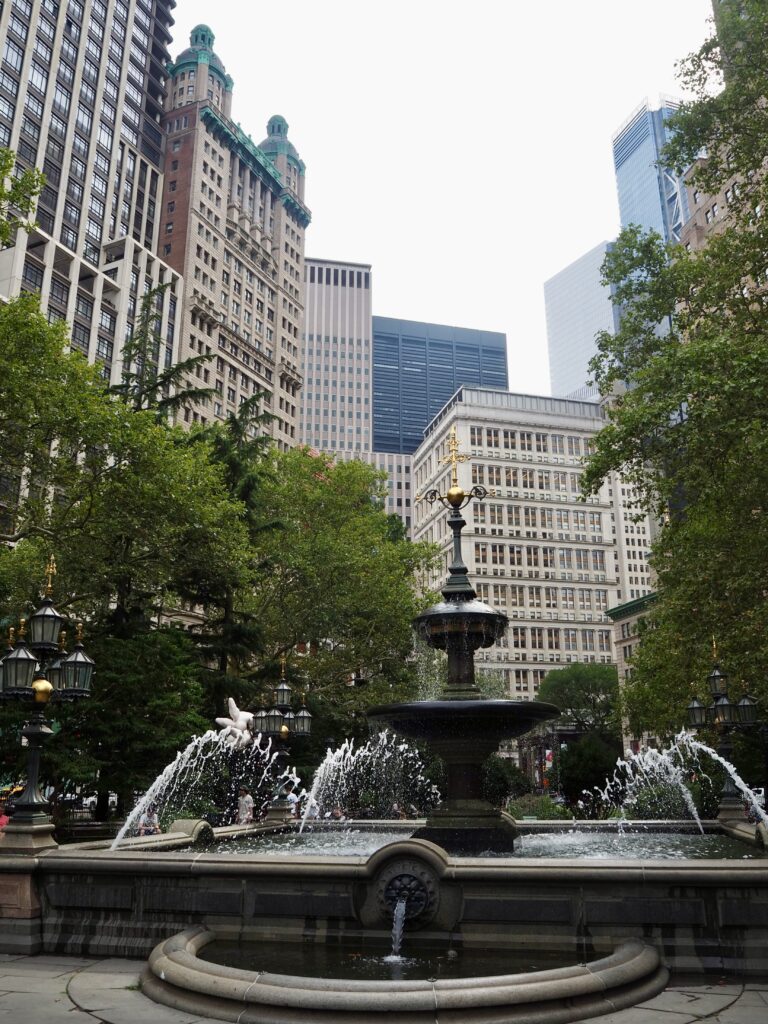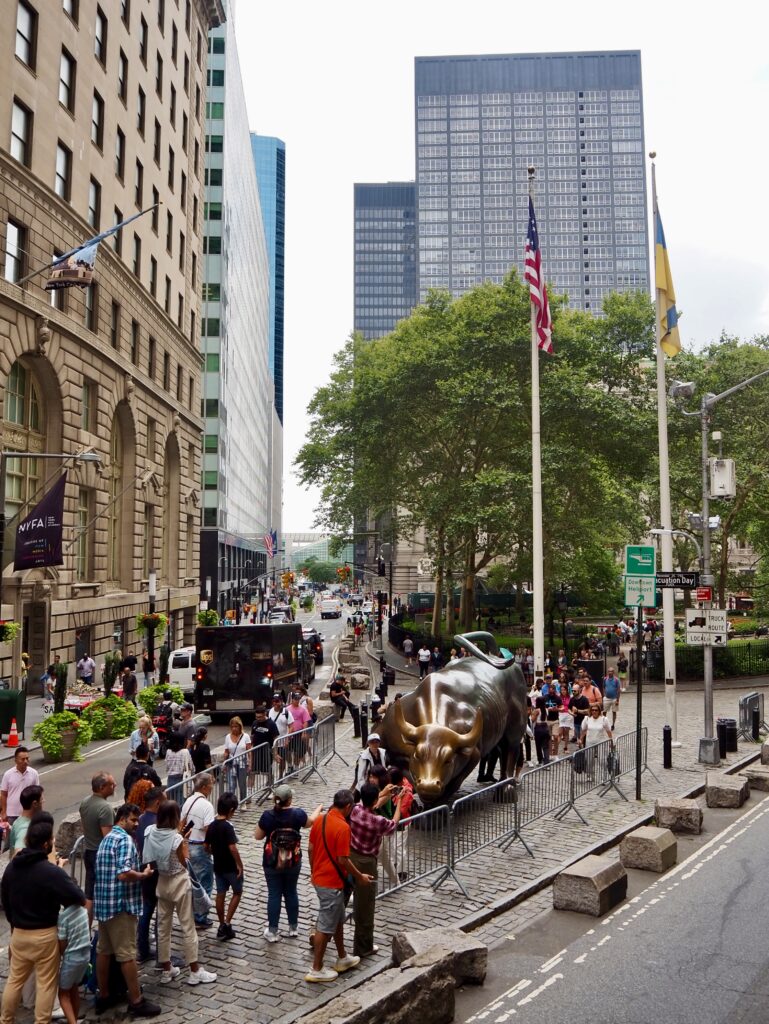 ---
Day Five
Hudson Yards & the High Line
Finally, the weekend and two full days to round up my sightseeing week in New York! I started today with a jaunt over to the pier where my harbour cruise would depart this evening to book a ticket using my city pass app (I couldn't do it online). So then, it made sense to check out the surrounding area. Hudson Yards is a newer redevelopment, where skyscrapers have popped up over the site of old rail yards (hence the name). I wandered past these towers of glass, through the park area in the middle which also houses the Vessel. This is a sculpture of freestanding staircases arranged in a vase-like shape, though you can't climb them, only look. It certainly makes for a unique feature in the area!
Nearby is the entrance to the High Line, a former railway track that has been converted into a park-like walkway. It links Hudson Yards to Chelsea, with several entrance and exit points, allowing you views of the neighbourhoods as you walk through. There are all sorts of trees, flowers and plants, as well as sculptures and artworks to view along the way. I loved the whole idea of it, repurposing a space in this way, and it made a lovely change of scenery compared to walking along street level.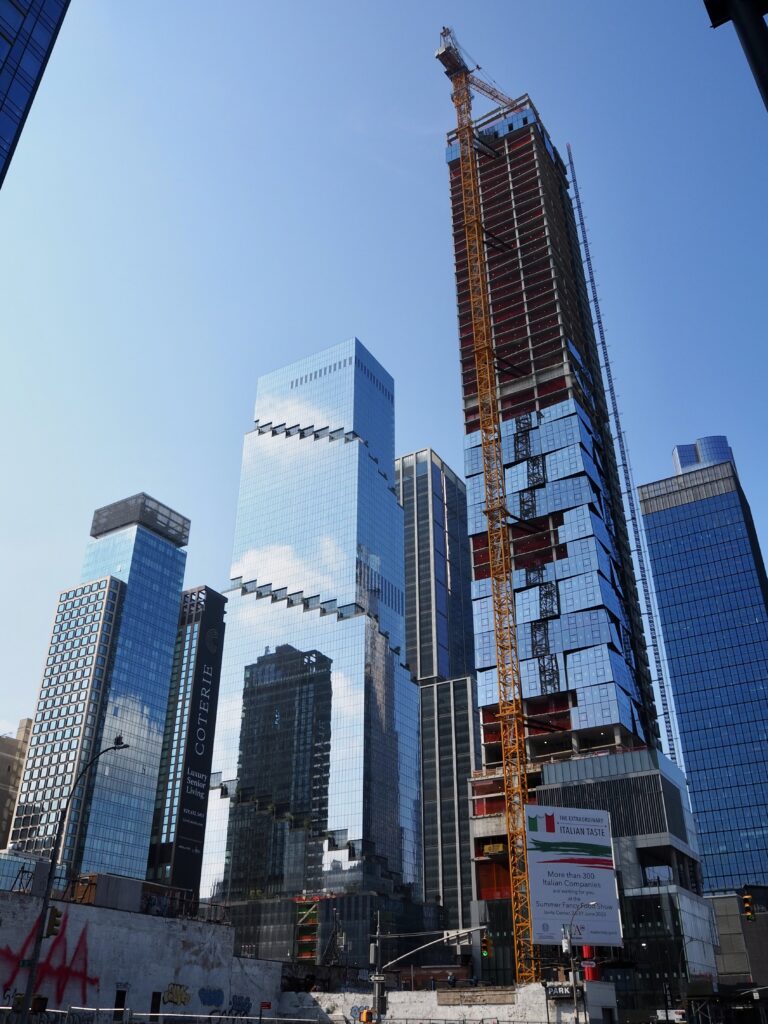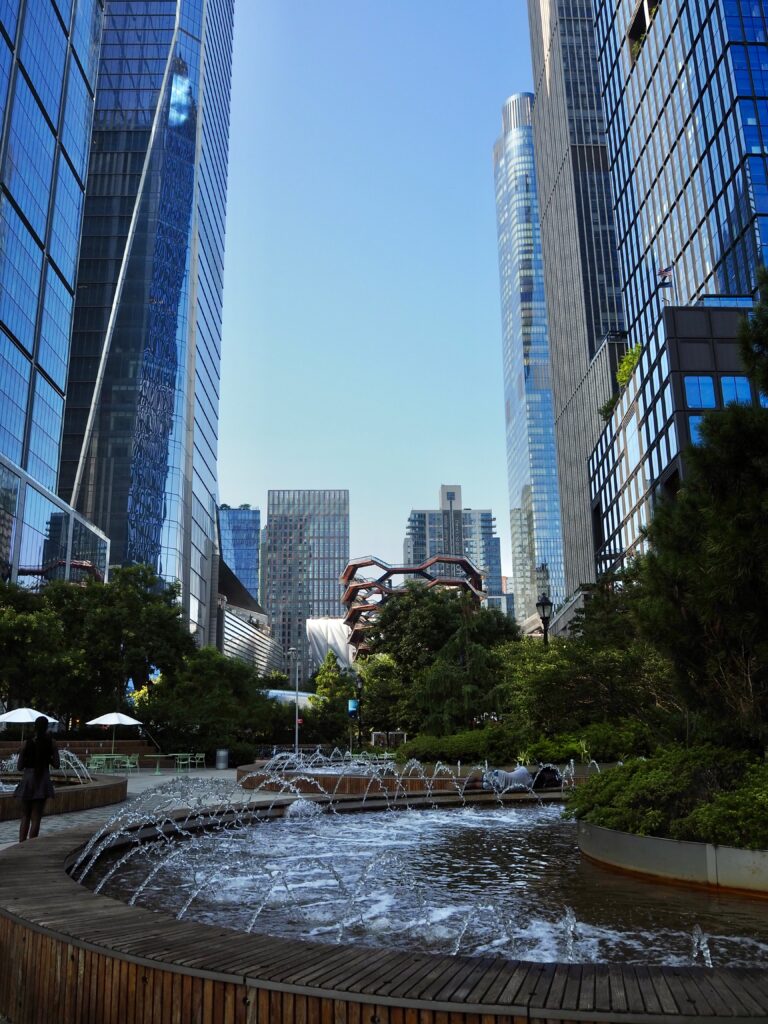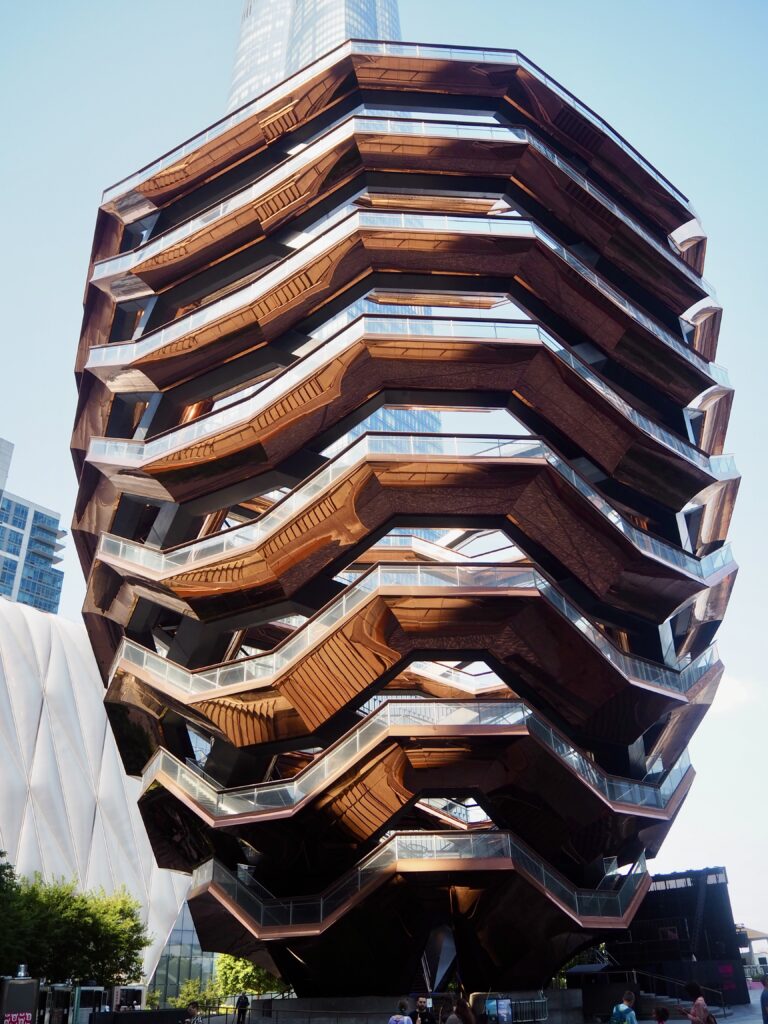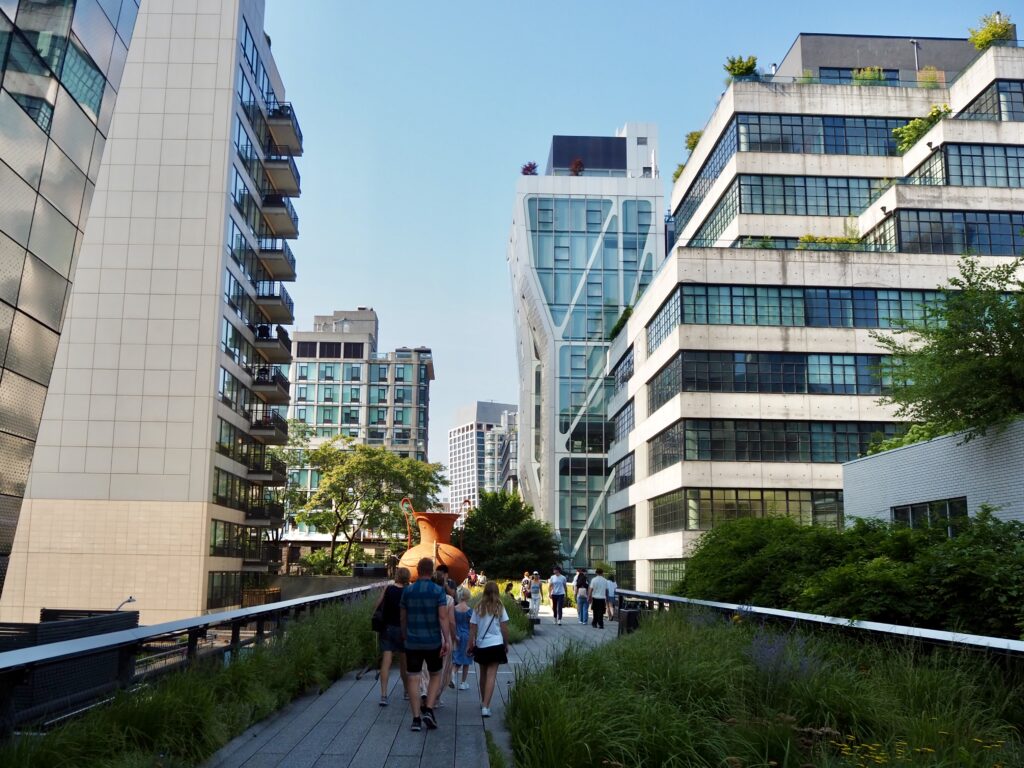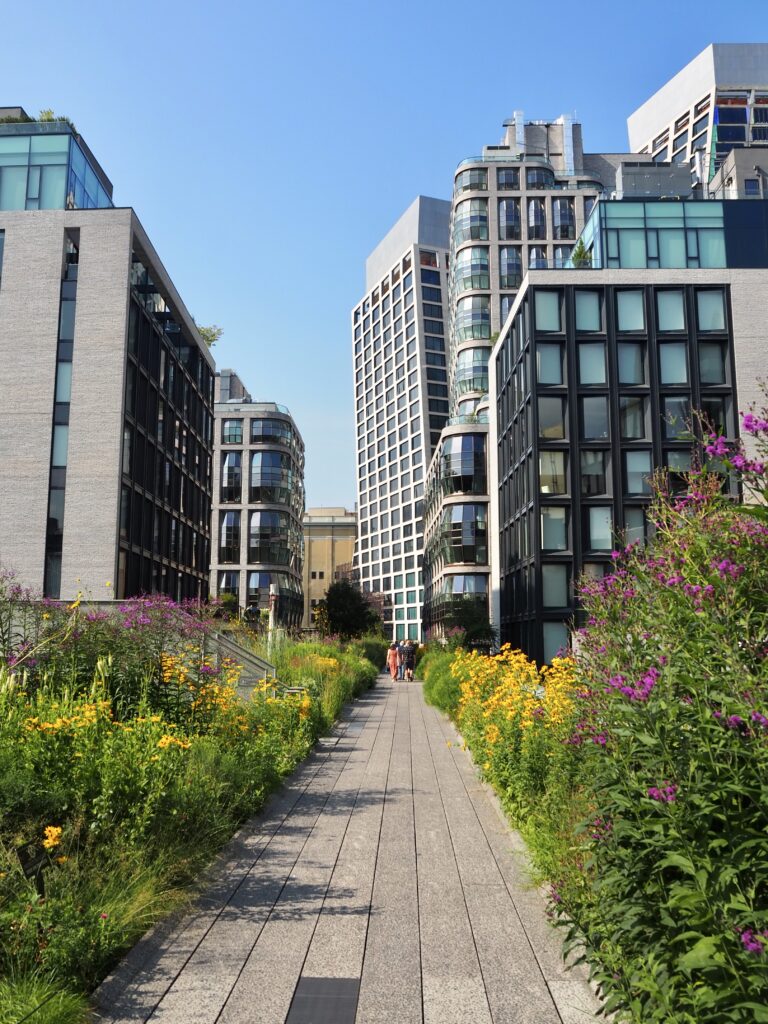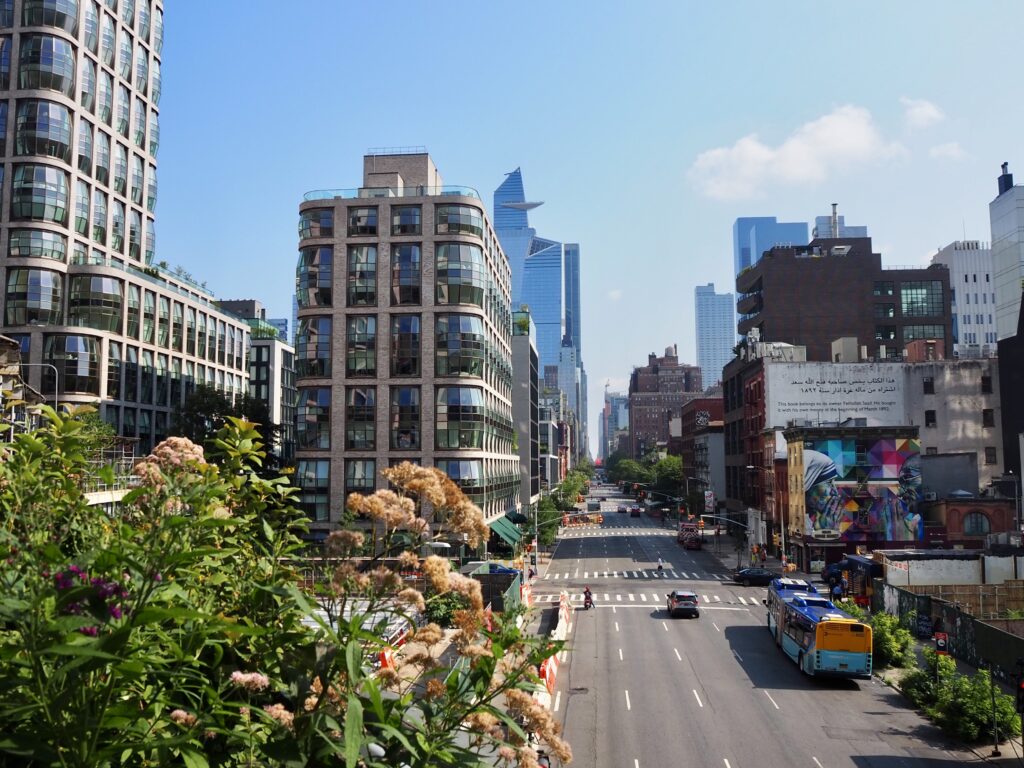 ---
Brooklyn Food Tour
After exiting the High Line, I found the nearest subway and zoomed back under the river to Brooklyn, an area I still hadn't explored yet. I'd signed up to join a food tour, mainly focused around the Cobble Hill area. New York has such an array of cuisines available, that this seemed like a great way to experience a lot of them, through local recommendations. I imagine if you did a tour with another guide, you'd get different locations each time. Cobble Hill is also a pretty historic area and many of the vendors we visited have been operating there for decades!
We started with fresh, buttery croissant from Bien Cuit, then continued the sweet theme with different flavoured cookies from One Girl Cookies. Moving into 'lunch' territory, we got cream cheese bagels from a classic New York deli, Shelsky's. Dipping into other cuisines, we wandered along Atlantic Avenue which has a large concentration of Middle Eastern shops and restaurants – we got wonderful, flaky pastries from Damascus. Then, the most quintessential New York food of all – pizza, thin-crust, handmade and fresh out the oven from Table 87.
We took a little break from eating next and went to look at some of the classic brownstone houses in the area, our wonderful guide telling us their architecture and histories. It was a pretty hot day so we then got Italian ices (not the same as gelato) from the window of Court Pastry Shop. Finally, we finished up across the street with truffles from the Chocolate Room. I was stuffed by the end of it, but it was such a great way to see a more local side of the city with so many delicious treats!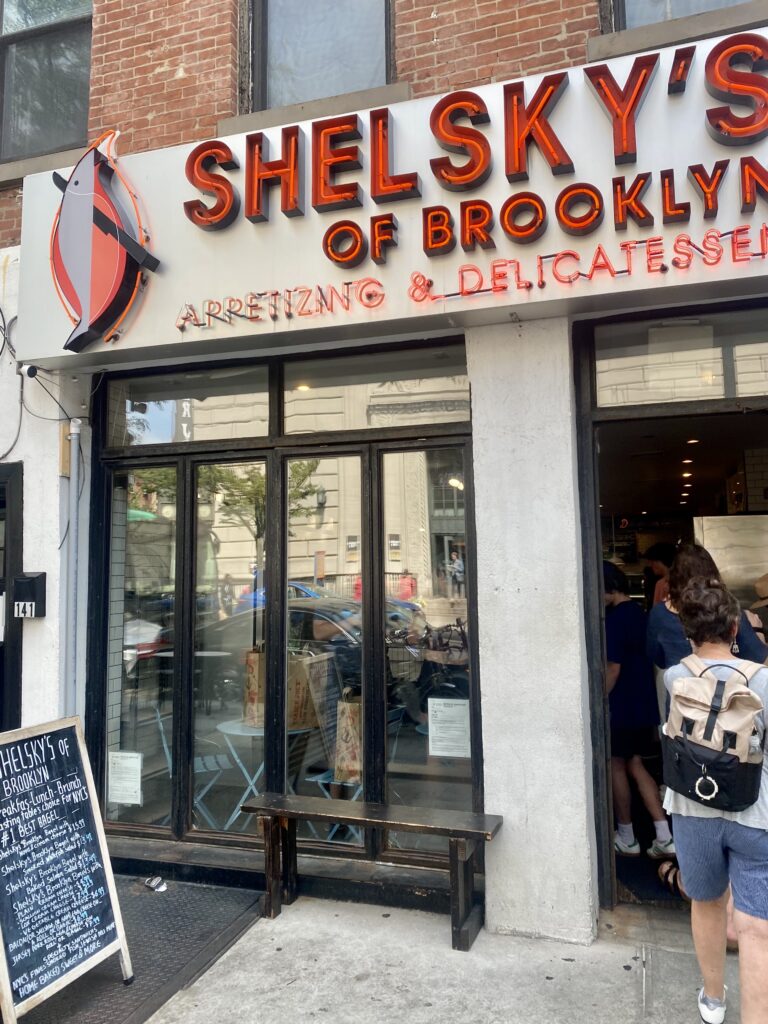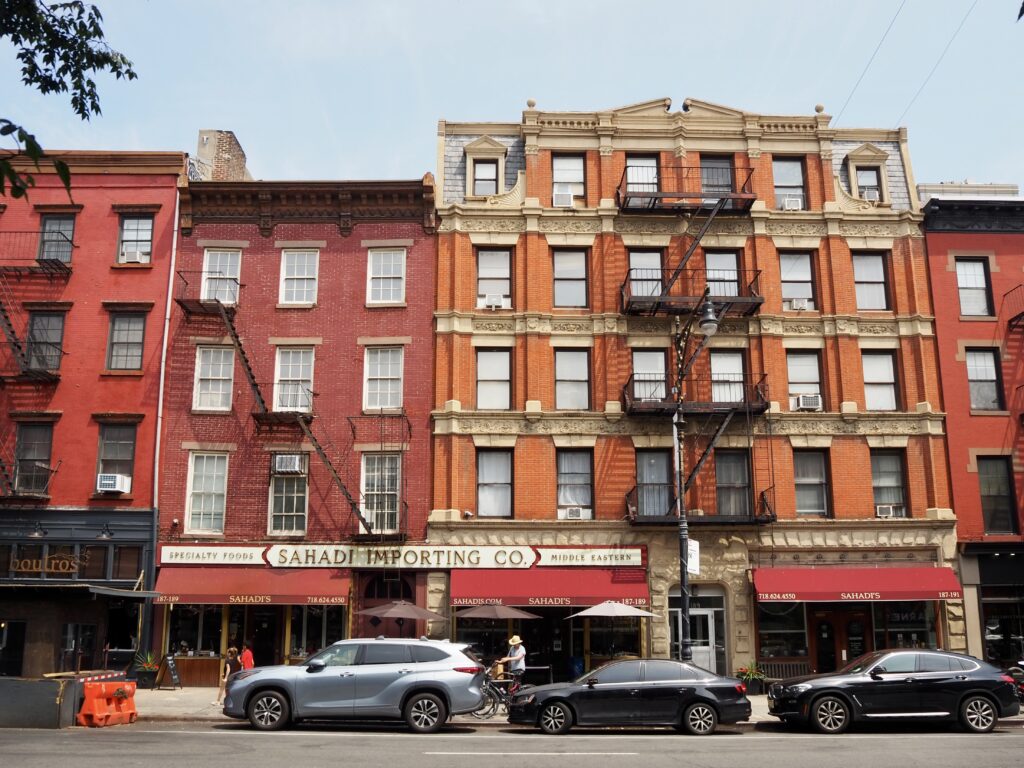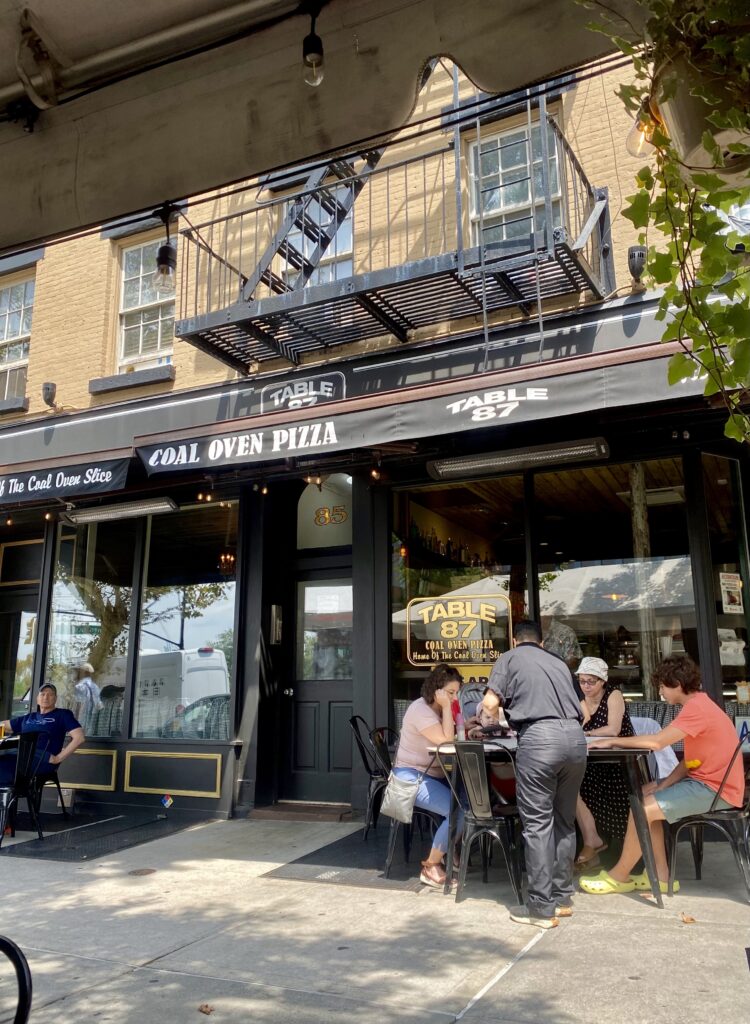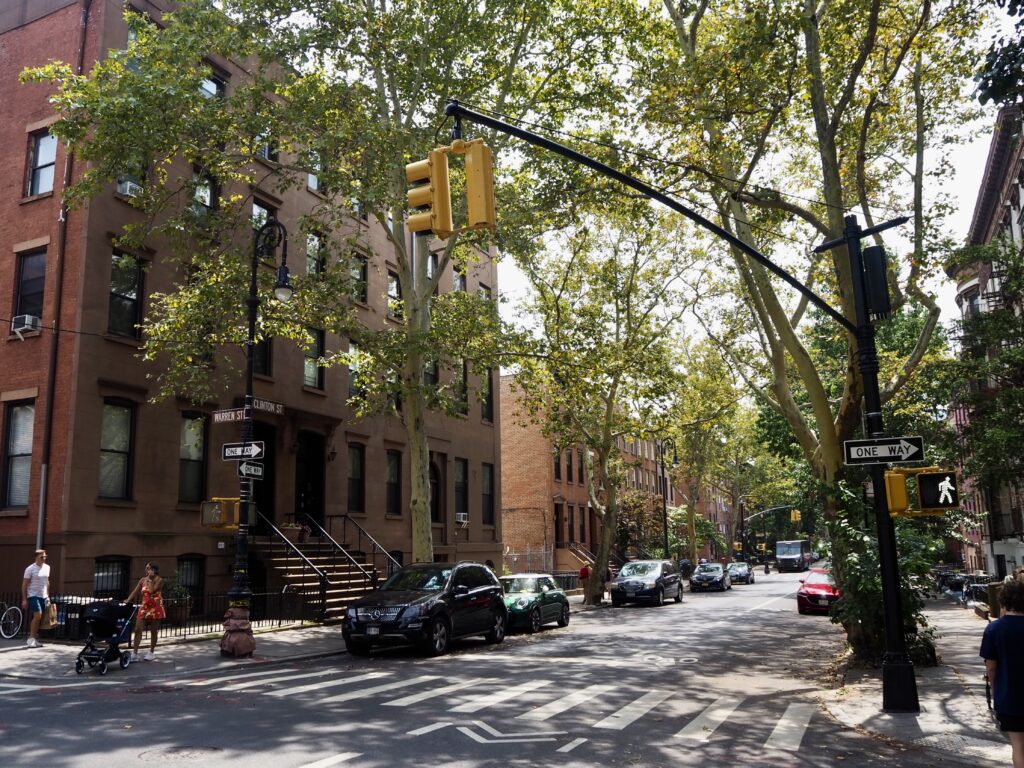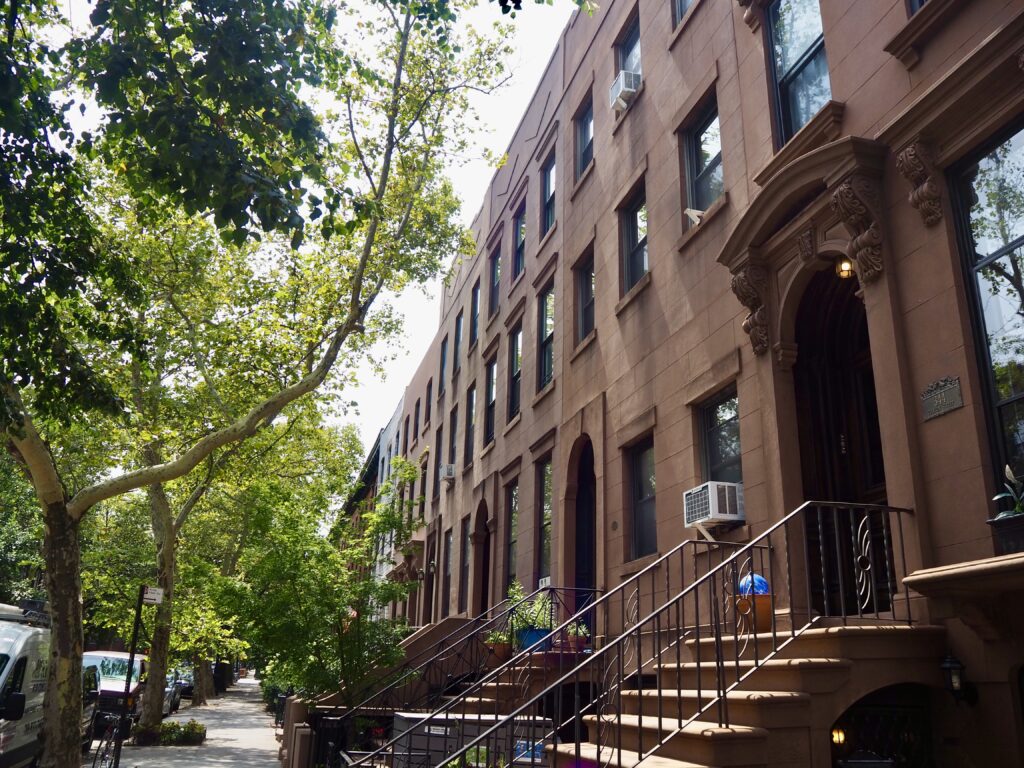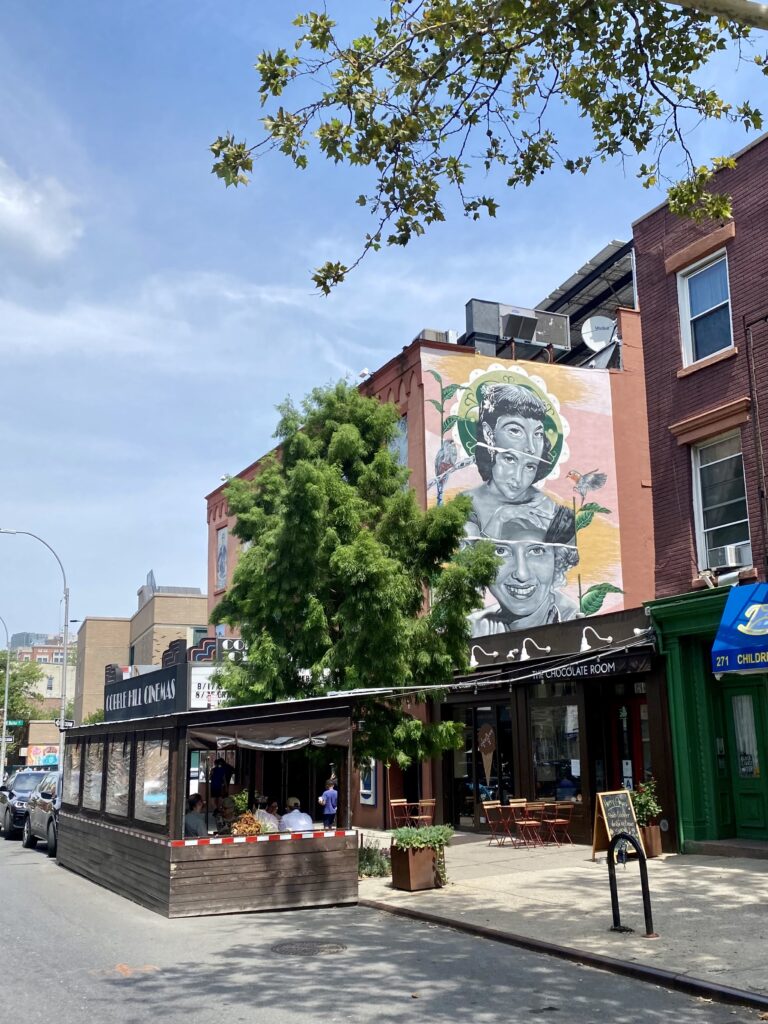 ---
DUMBO
After the tour ended, I continued exploring Brooklyn on my own. The area known as DUMBO stands for Down Under Manhattan Bridge Overpass and is the area closest to the river. This is where you'll find the most iconic view of the Manhattan Bridge peeking between the buildings, a photo most people have probably seen before! It's also the sort of hipster-artsy neighbourhood most people expect from Brooklyn as well. It used to be industrial warehouses, which artists then moved into, in amongst the picturesque cobblestone streets. Today, it's filled with boutiques, art galleries, coffee shops and the weekend flea market. I browsed around for a while and walked along the waterfront park area, admiring the views of the Manhattan skyline.
Brooklyn Bridge
Then it was time for another classic New York tourist activity – walking across the Brooklyn Bridge. Me and every other tourist it seemed, as it was packed, with plenty of street vendors throughout, too. Despite its crowdedness, it was still well worth walking across for the city views on both sides of the river. Plus, it's such an iconic structure, having stood there since 1883, the oldest of the East River bridges.
I also didn't know beforehand either that pedestrians actually walk above all the traffic on a raised platform. This is somewhat more peaceful than having cars rush by and means you're walking amongst all the suspension cables instead. It also provides many spots to jump up on walls and ledges for photos, though I was not about to fight my way onto one. Definitely a worthwhile experience to make time for during a week in New York!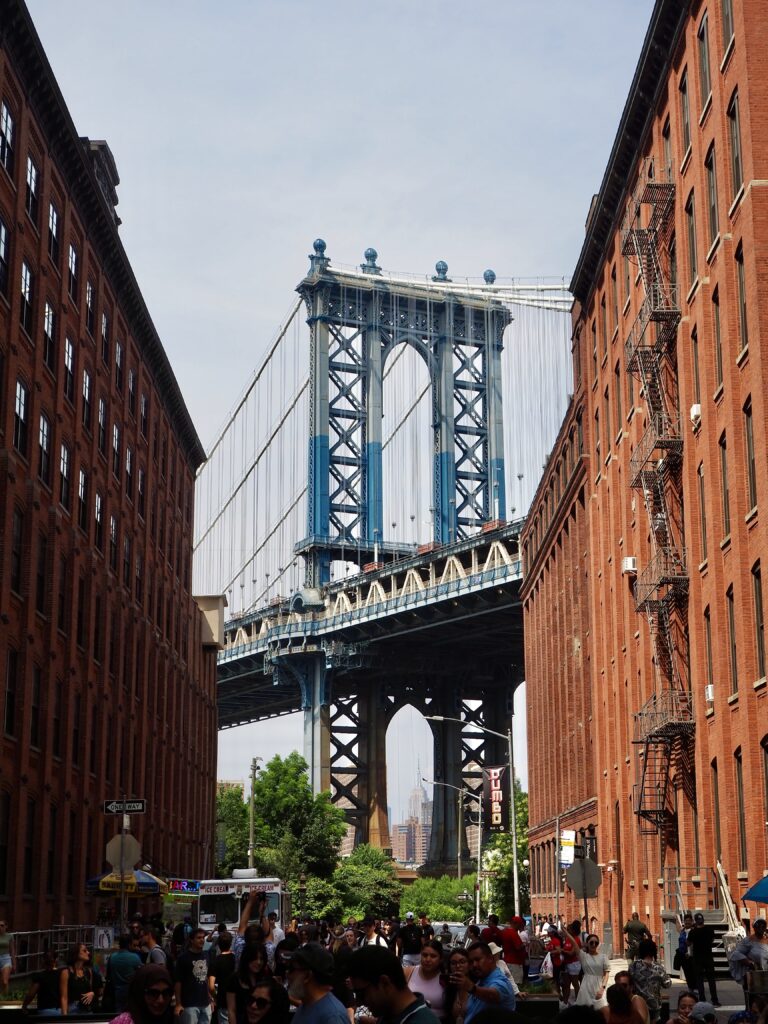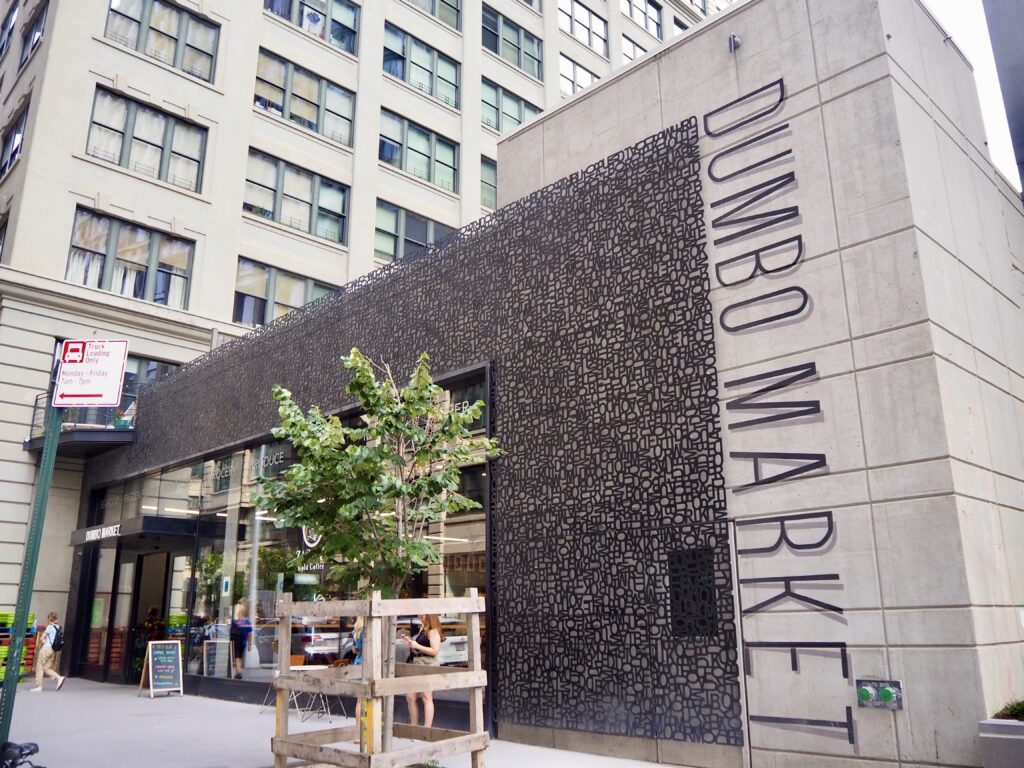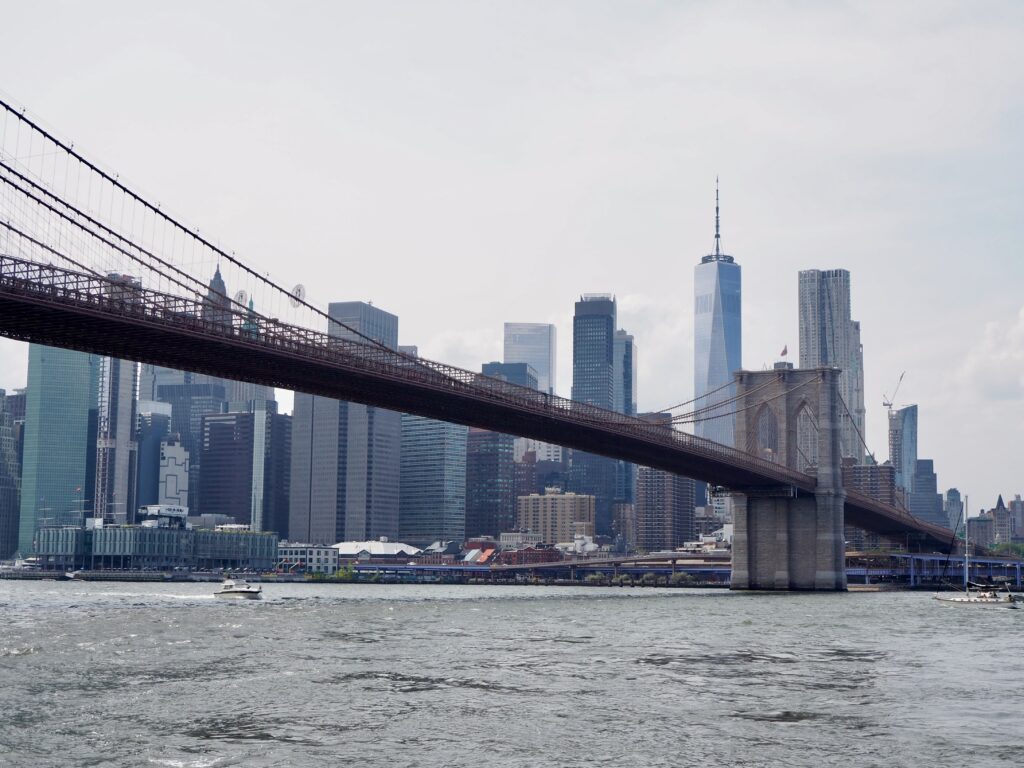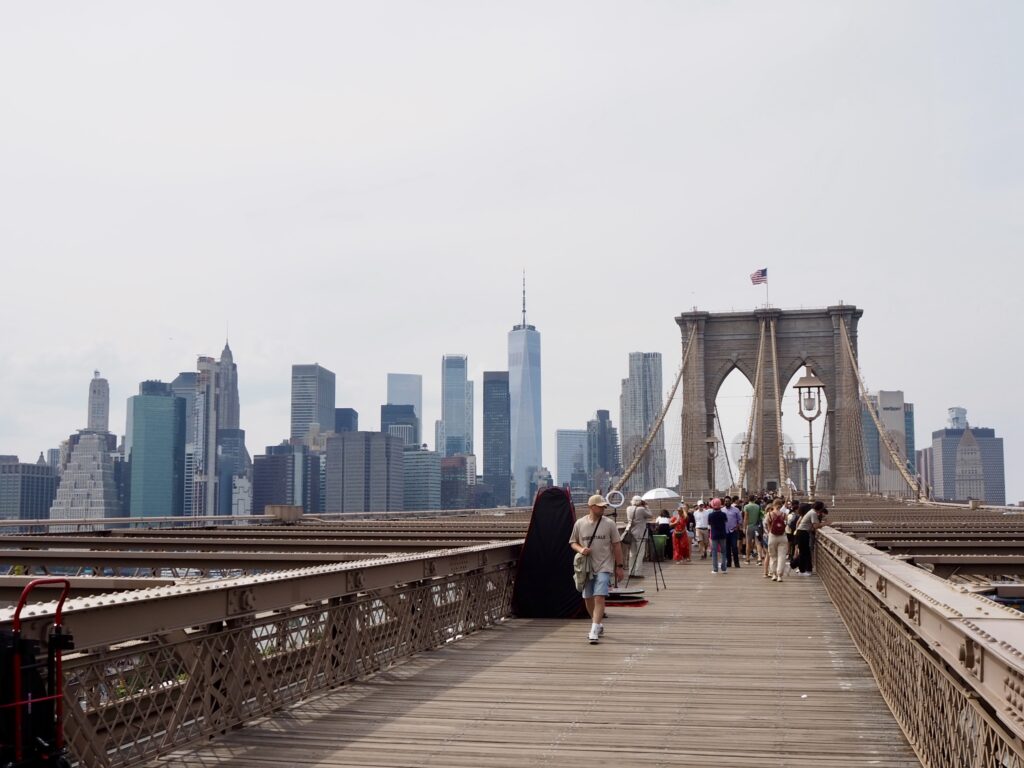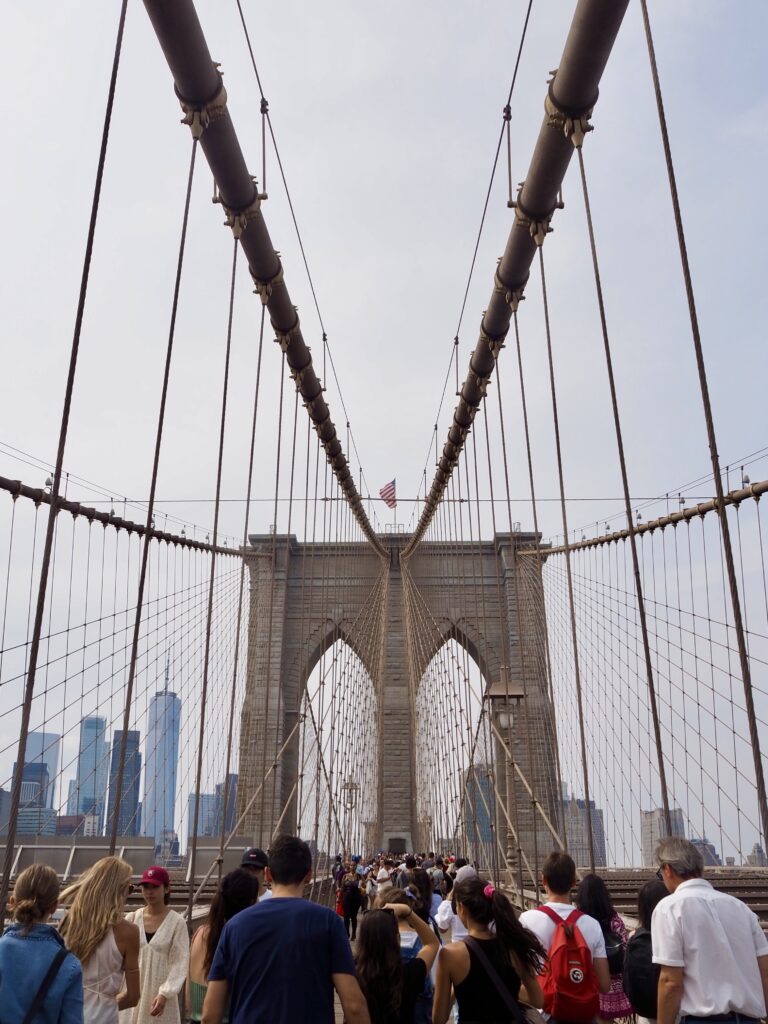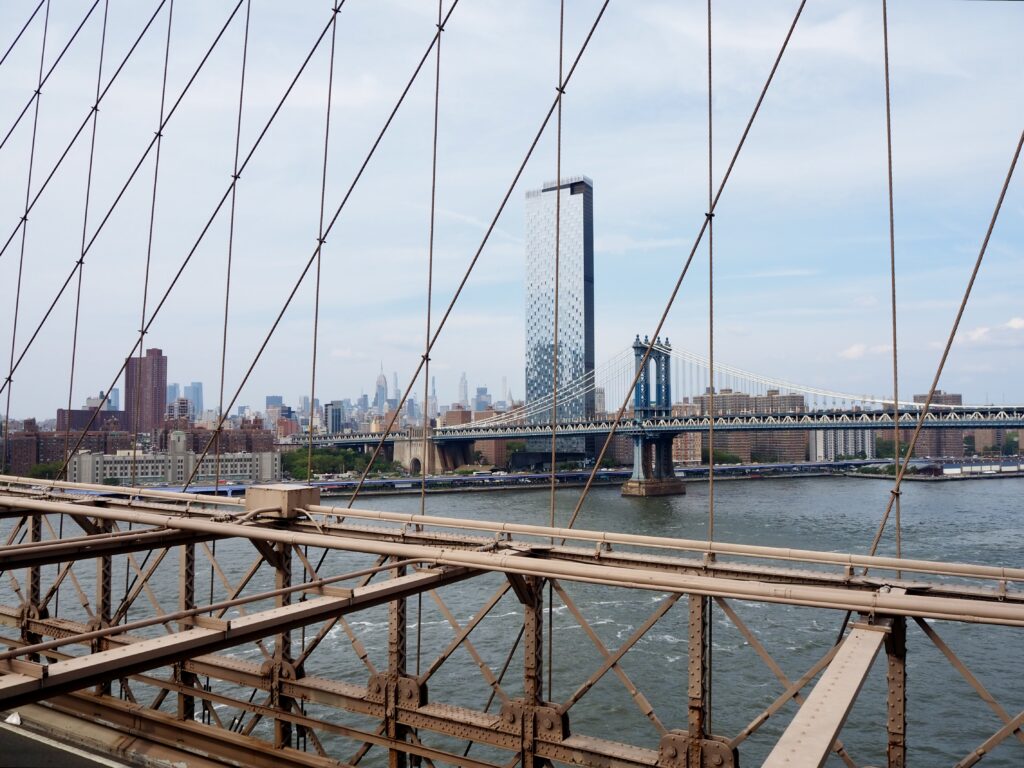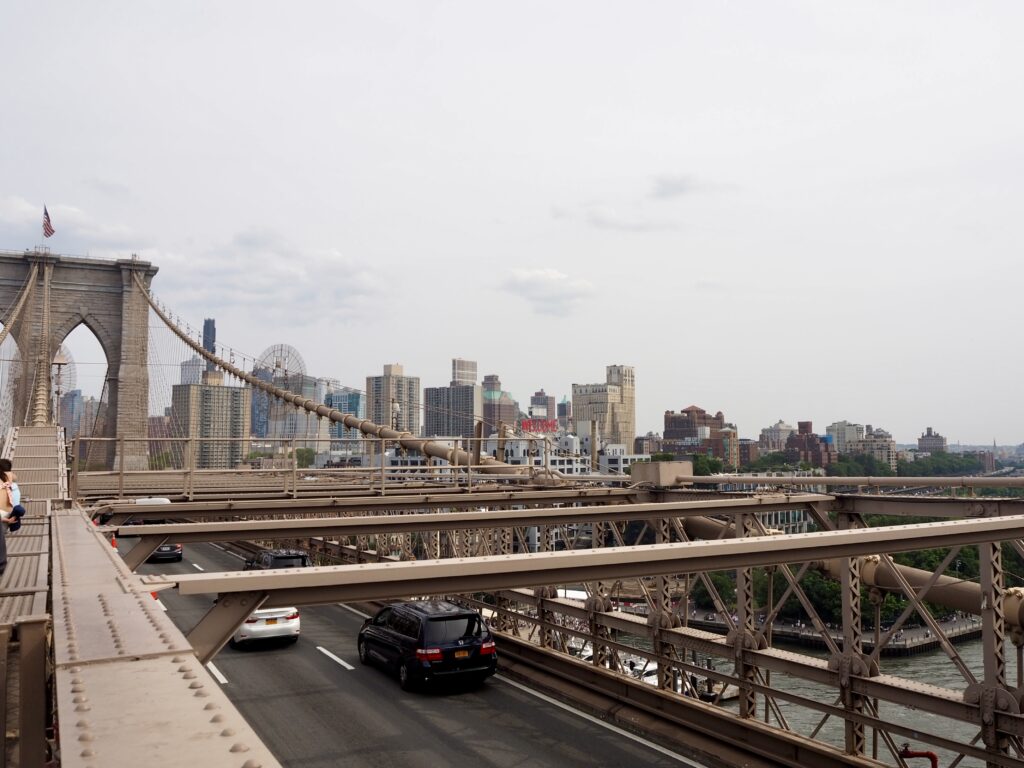 ---
9/11 Memorial & One World Trade Center
The Brooklyn Bridge of course transported me back to Manhattan, finishing up near City Hall again. From here, it was just a few streets over to the 9/11 Memorial. This was an interesting one, because something feels odd about considering a memorial to be a tourist attraction, yet of course, so many New York tourists come to see it. Really, my main concern was people taking selfies and posing for photos, as if it was another sight to tick off their list. That kind of felt a bit icky to me? There is a museum as well, but I didn't visit that.
Walking around the two vast pools where the Twin Towers used to stand, seeing the sheer number of names inscribed on the side was pretty heart-wrenching. I was so young when 9/11 happened, I don't really remember it, but being at the site hit harder than I expected. I think it was when I got to the names of the firemen and first responders, the ones who ran into the buildings to help, that really got to me. They read out all the names every year on the anniversary as well, which must be emotional still today. I only took a couple of photos, for the purpose of this post, but mostly just walked and stood by it.
The new One World Trade Center building next to it is pretty impressive. It's now the tallest building in the Western hemisphere, a whopping 1,776 feet. 1776 was also the year of the Declaration of Independence. Without its spire though, the top floor stands at 1,368 feet – the same height as the former World Trade Center. The new building is key feature of the Manhattan skyline now and certainly very impressive to behold!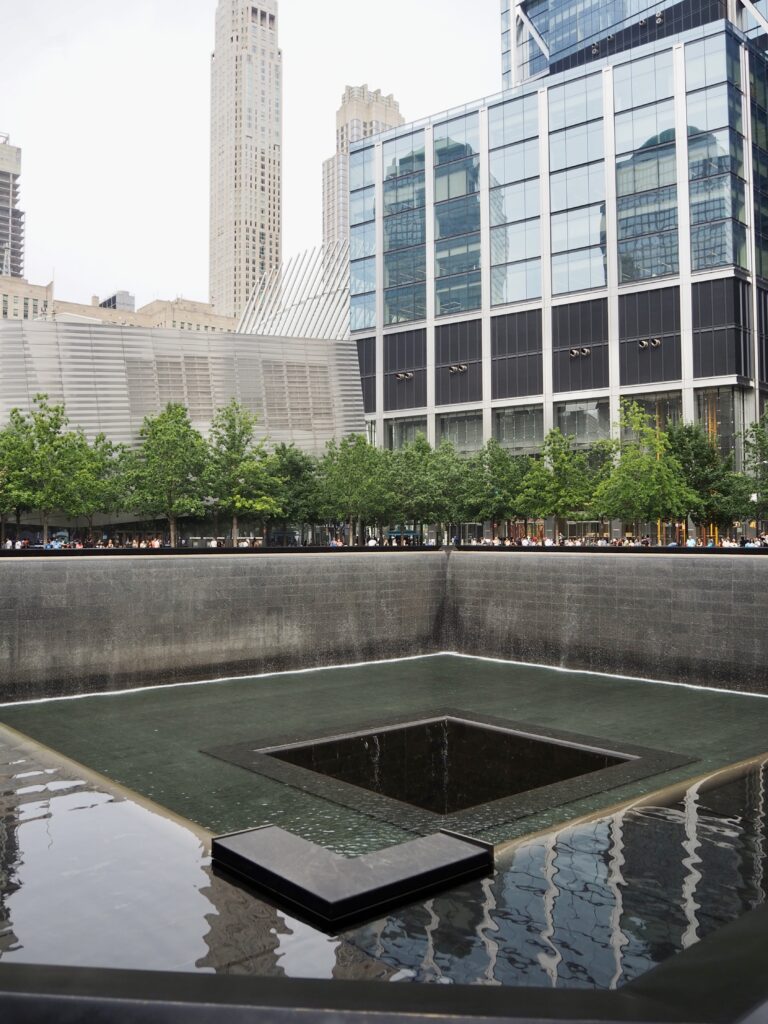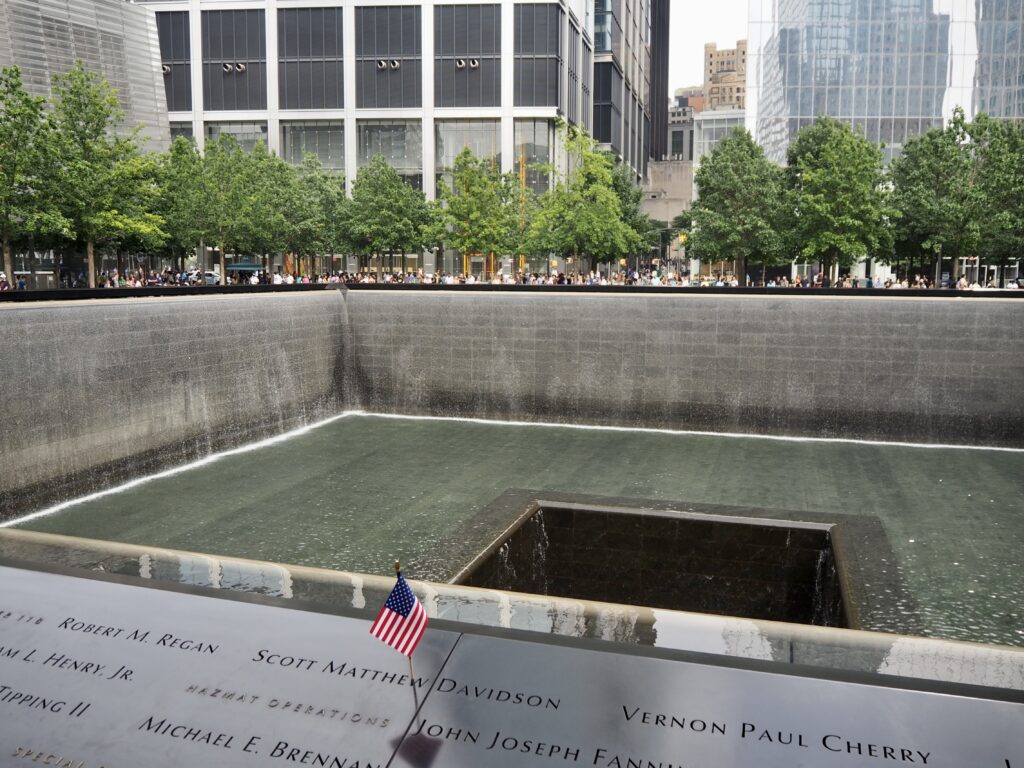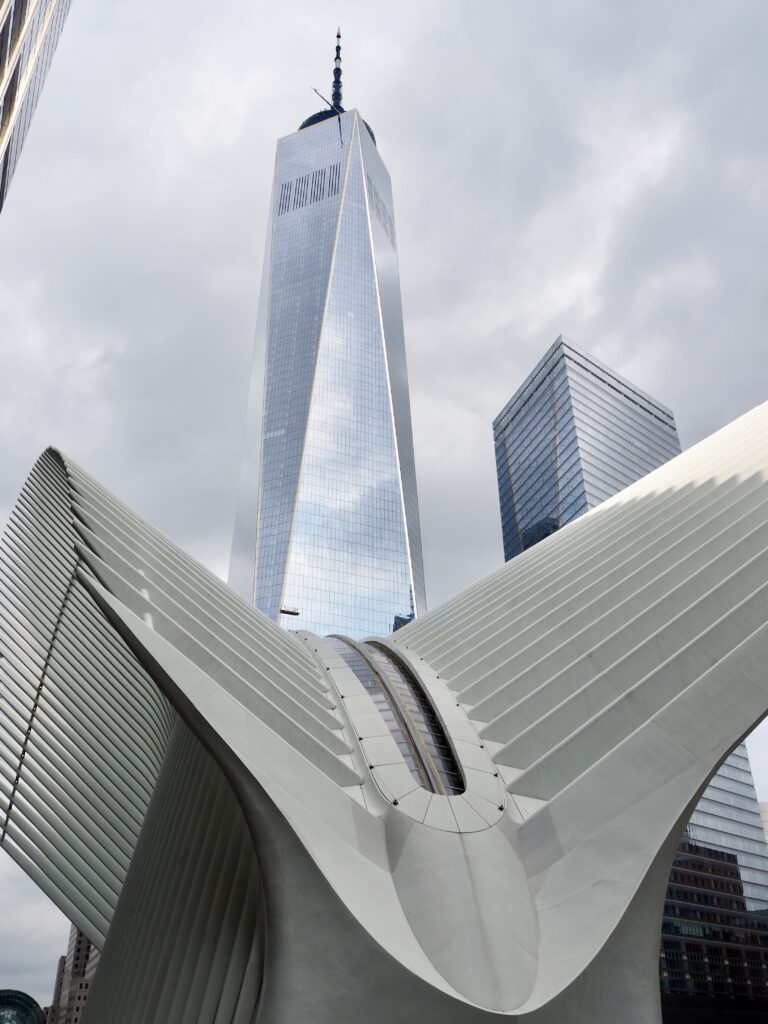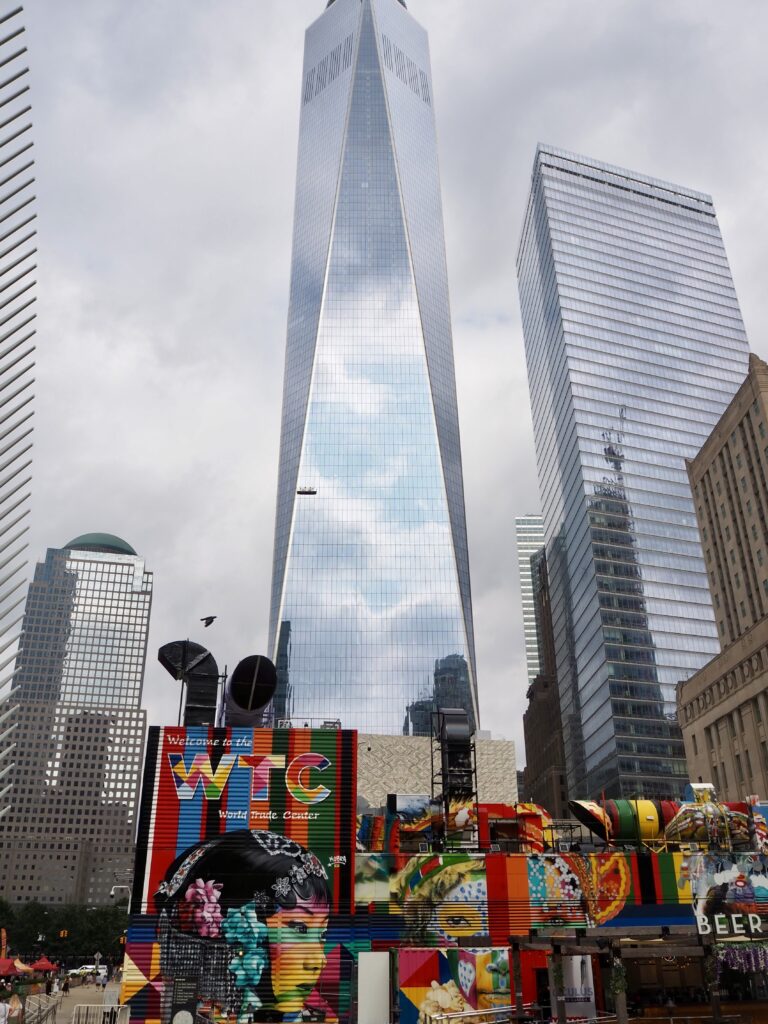 ---
Sunset Cruise & Statue of Liberty
To wrap up my day, I whizzed north on the subway again for the cruise I'd booked that morning. Circle Line has several cruise options, but I'd chosen sunset specifically to see the city skyline at night. We started in the daylight though, cruising down the Hudson River between the West Side and New Jersey. The cruise had a live tour guide onboard who chatted away to us throughout about the various sights. We looped round and up the East River, passing Brooklyn and sailing beneath the many bridges. The sun started to get low by this turning the skyscrapers into silhouettes against a glowing orange sky.
The cruise also served an additional purpose, of seeing the Statue of Liberty up close, since she's pretty small and far away when viewed from the Battery. The tours that actually land on the island and let you go inside the statue take up several hours of your day, and are pricey, and I wasn't all that bothered about them. Getting a fairly close view from the boat sounded like a better compromise! The best part was, by the time we got to her, the sky was glowing in pink and purple, making for a stunning backdrop. Again, a tourist hotspot, but fantastic to see such an iconic sight in real life at last.
We sailed near Ellis Island as well, where over 12 million immigrants entered America in the early 20th century. About 1/5th of the country today can still trace an ancestor back to this port! Then finally, as we returned towards the city and our port, the Manhattan skyline lit up in a million twinkling lights, truly the city that never sleeps. It was breathtaking to soak it all in and a definite highlight of my week in New York!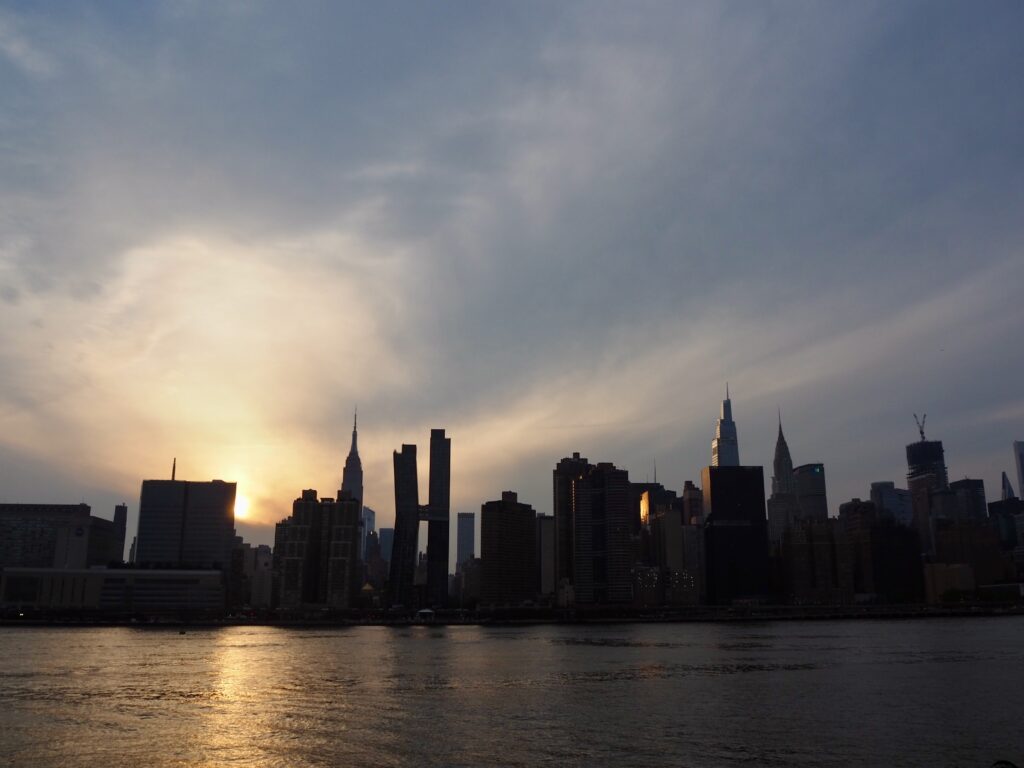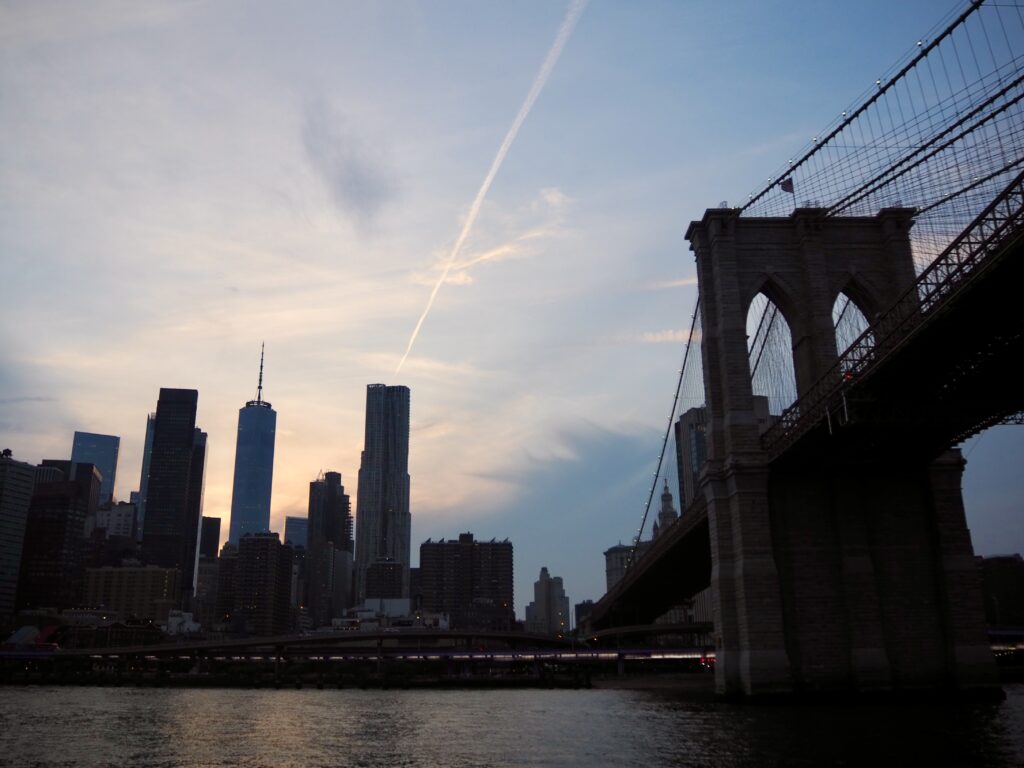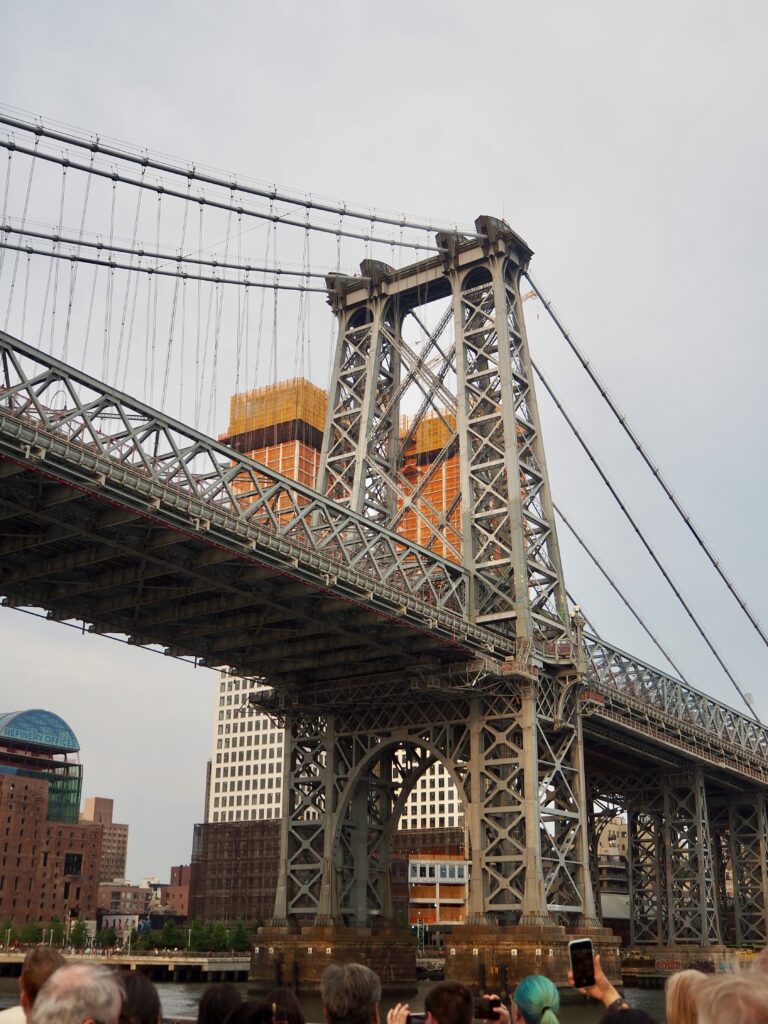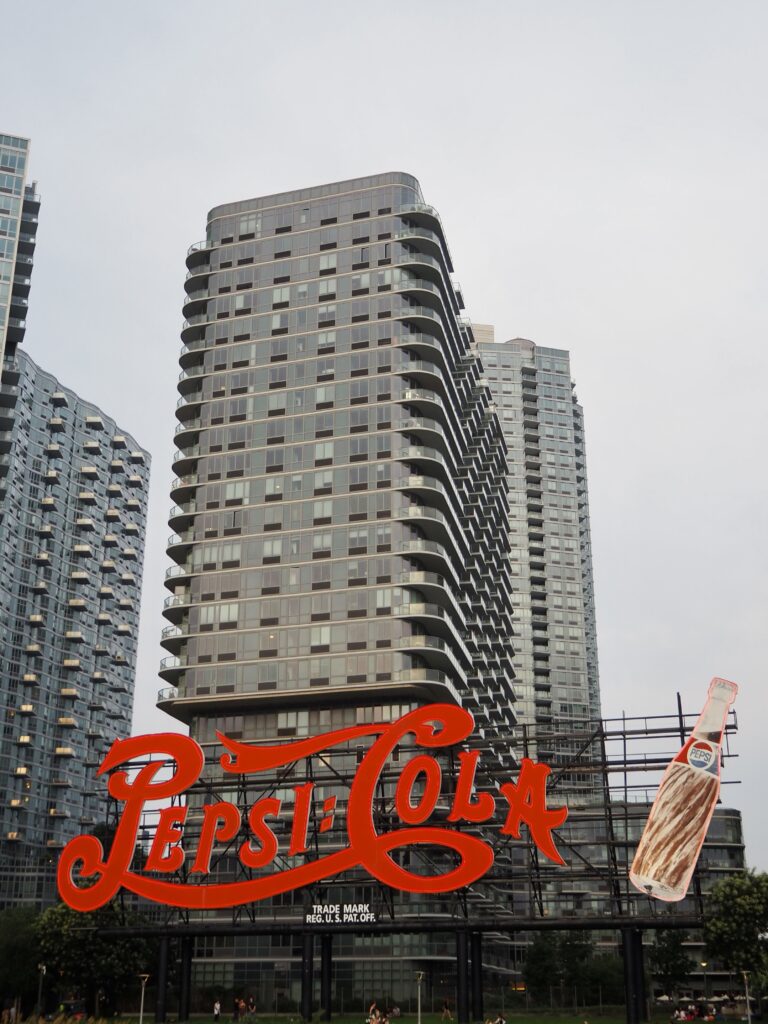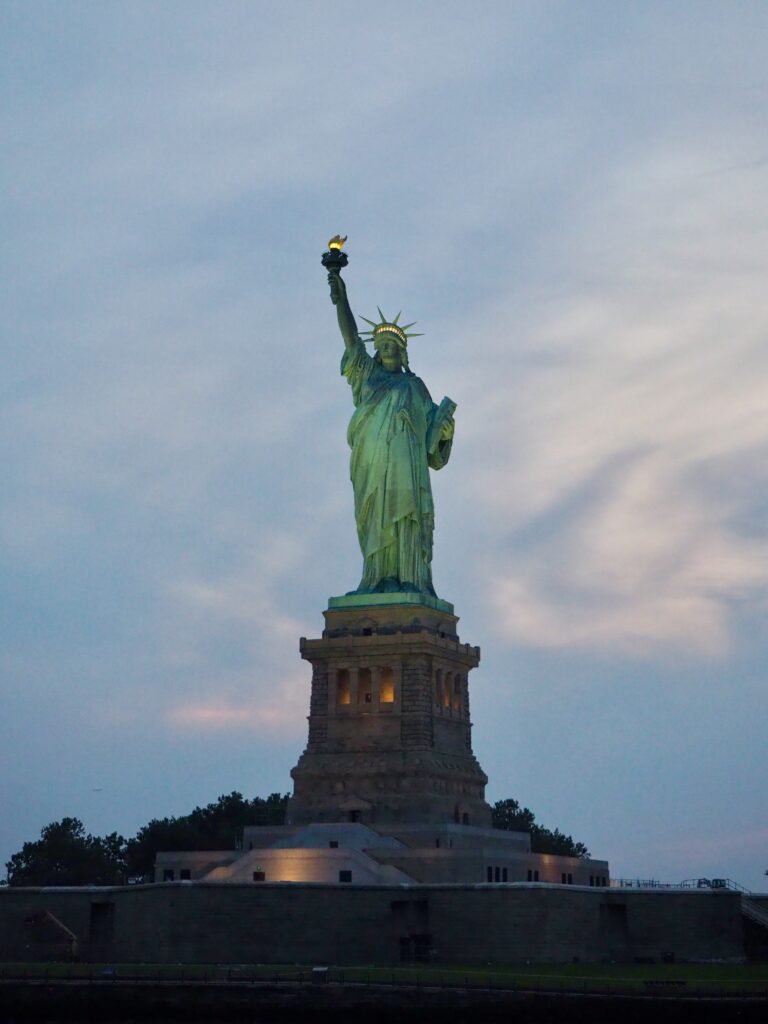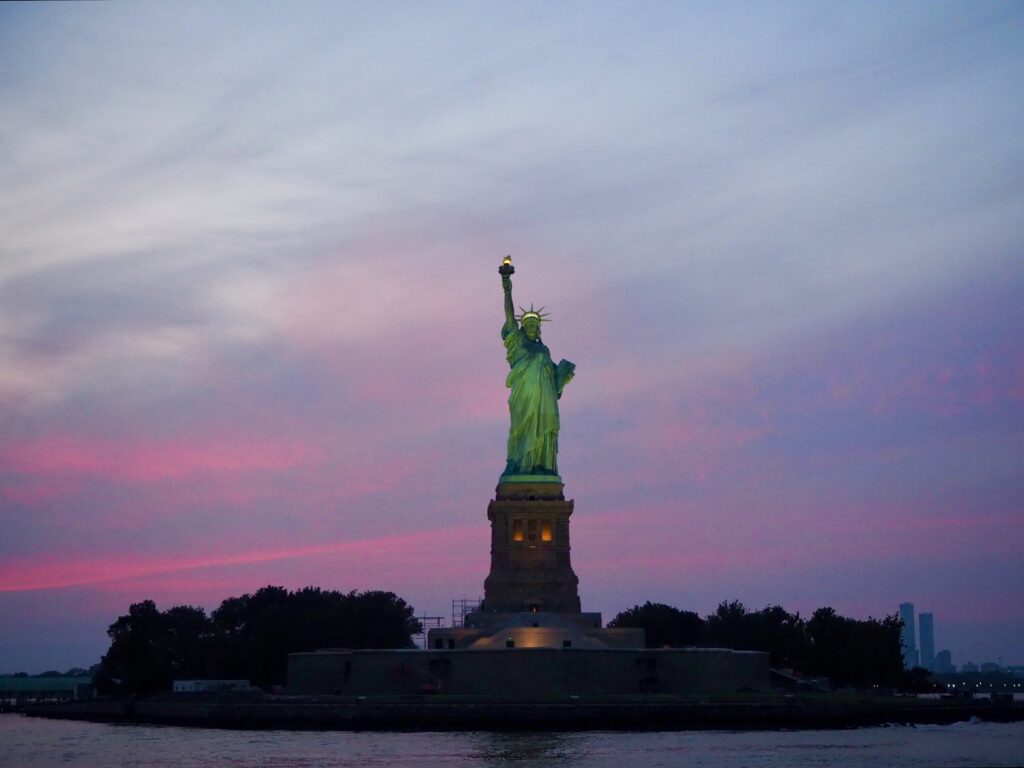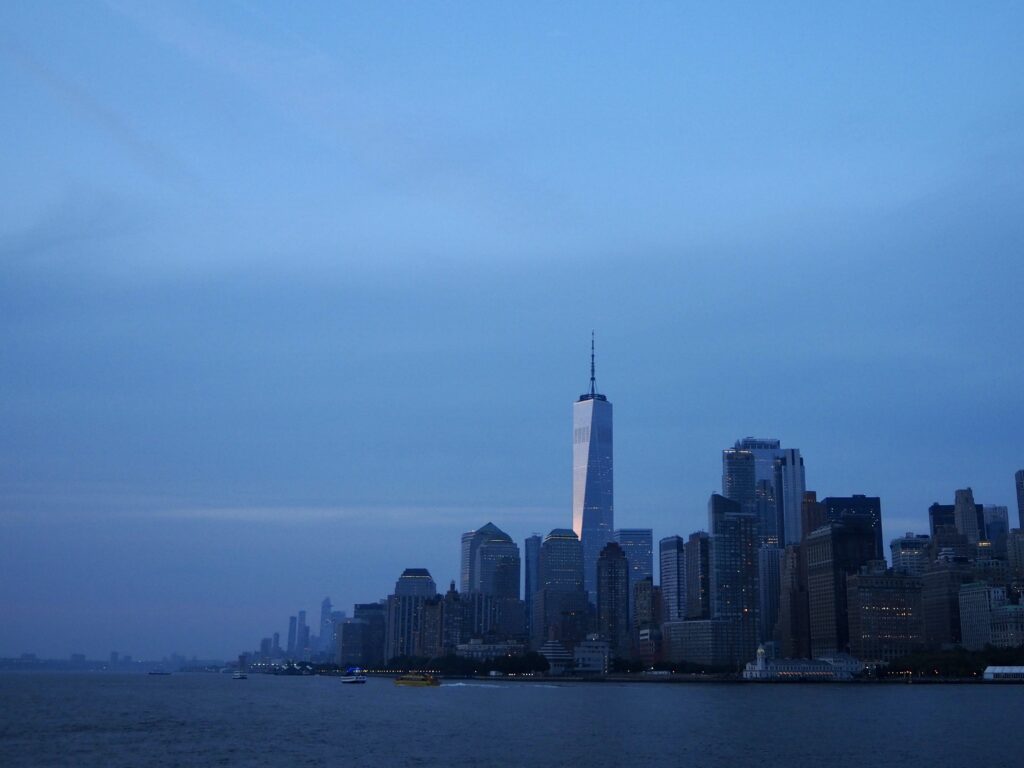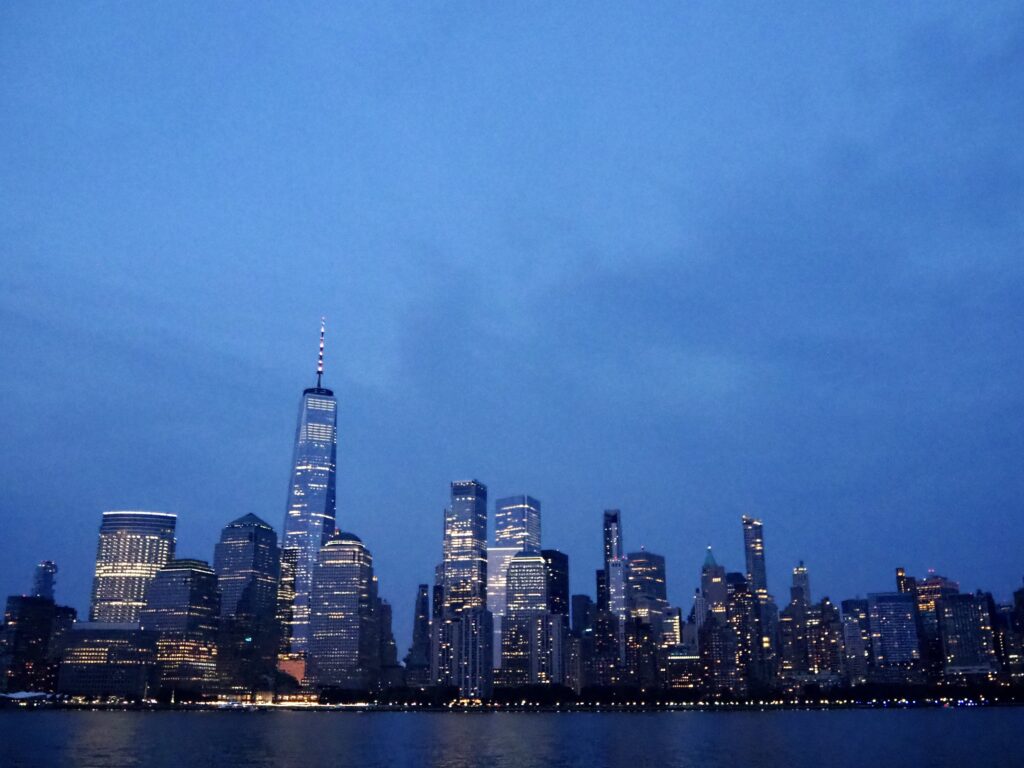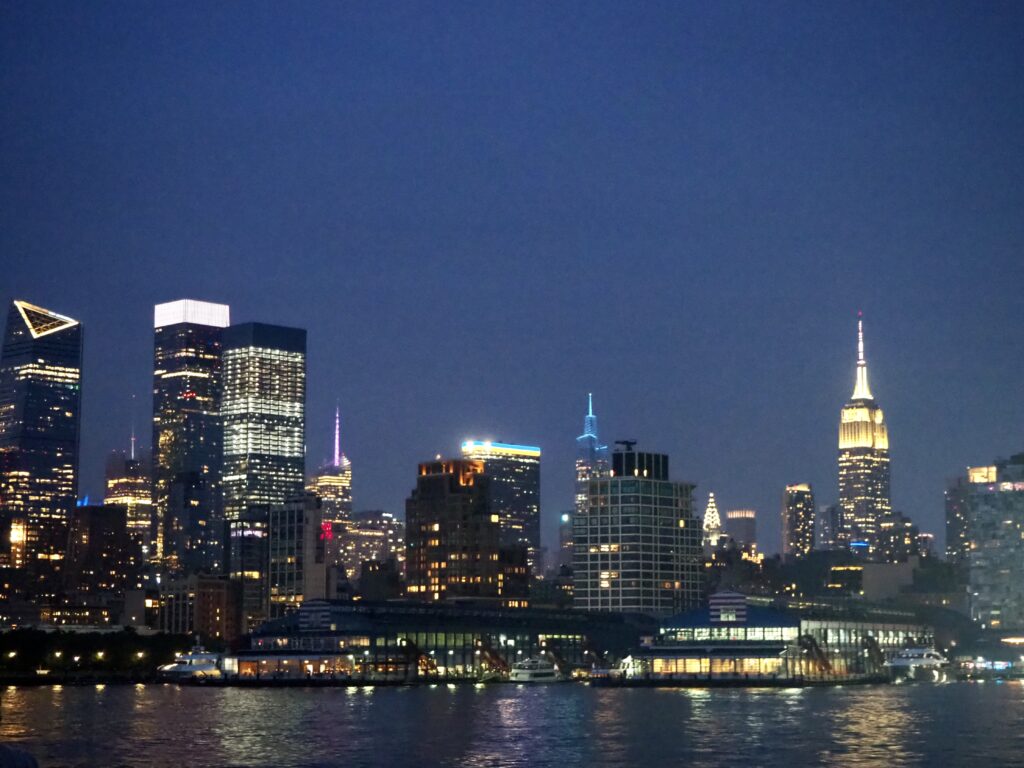 ---
Day Six
Williamsburg
Despite staying in Williamsburg all week, I'd barely seen anything besides the walk to the subway station. It was finally time to rectify that though, with a Sunday morning stroll through the neighbourhood. Williamsburg is considered an artsy, hipster sort of area, though like the Village and Dumbo before it, gentrification is creeping in. It was a bit early on Sunday for much to be open, but I ambled its leafy streets, window-shopping the boutiques and galleries. I also stopped for a later breakfast on a friend's recommendation, at Levain Bakery. They have locations all over the city besides this one, and their speciality are these huge cookies, of all different flavours. It was a lot of sugar for one morning but I very much enjoyed my chocolate chip walnut selection, with a coffee alongside it.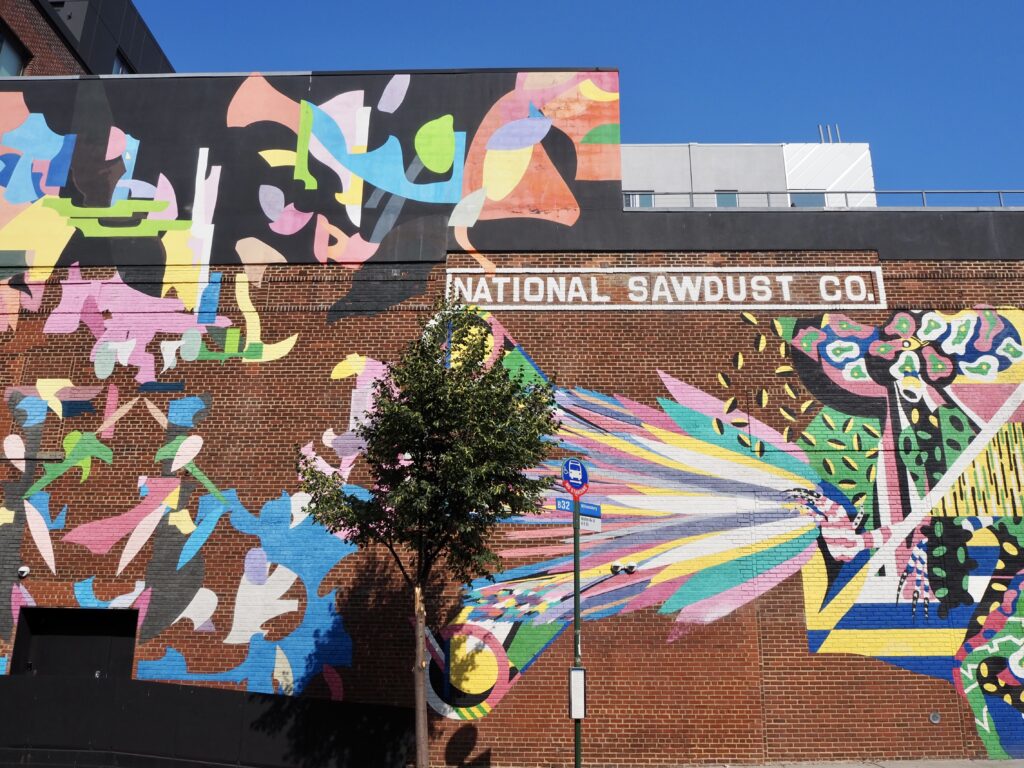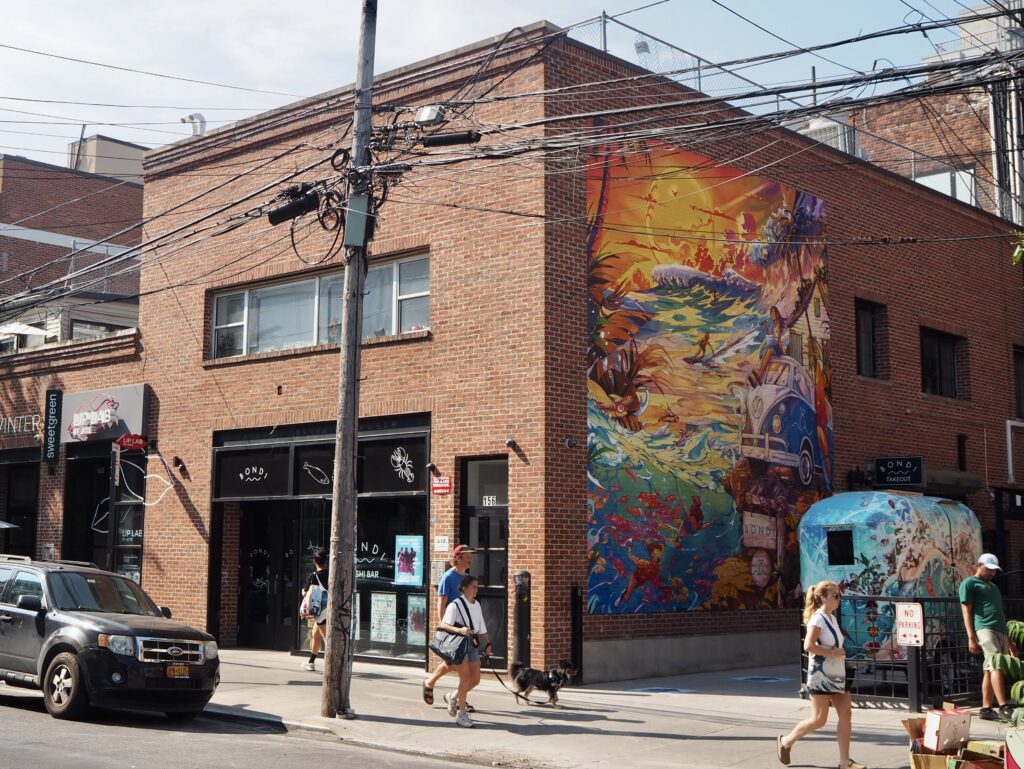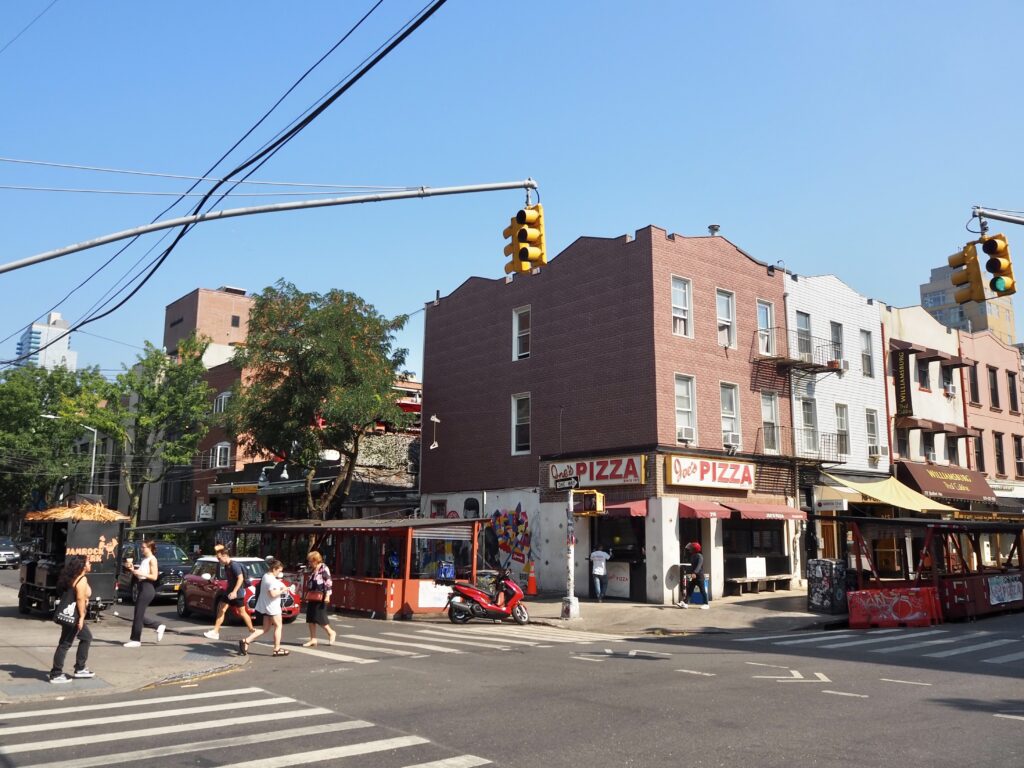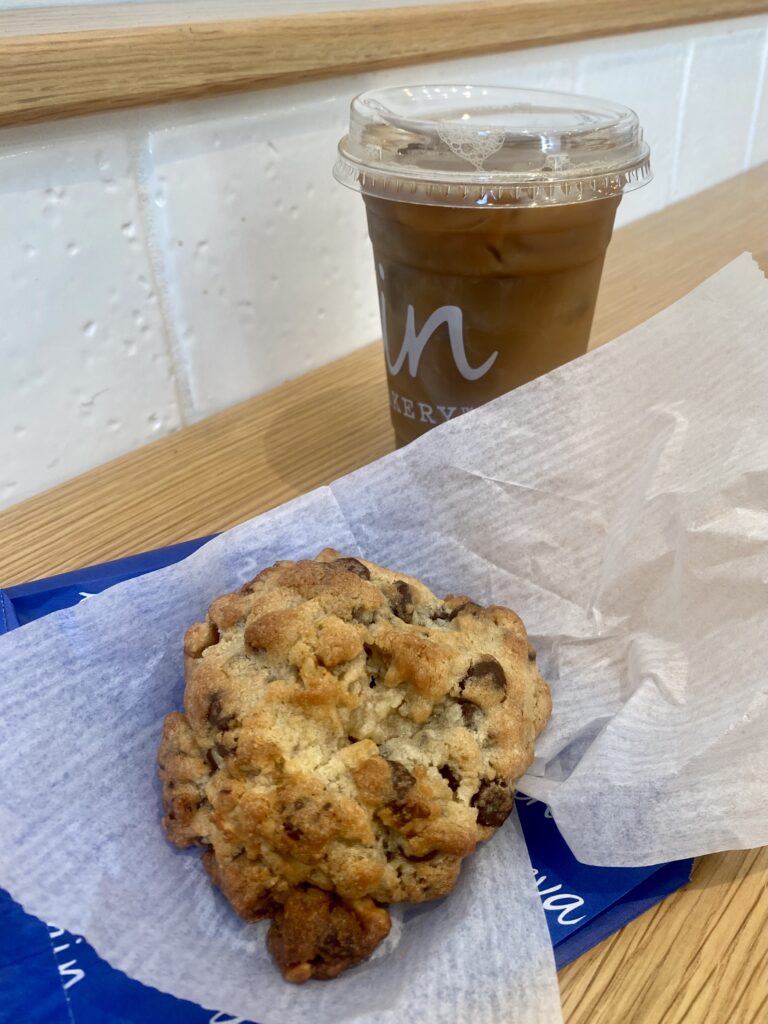 ---
The Met & MoMA
Jumping back on the subway into Manhattan again, I made a stop in the Upper East Side again to see the Met. I'd been going back and forth all week over which gallery to visit (I'm not a big enough art fan to fork out for both and could only get one on my city pass). MoMA eventually won, as it has of my favourite artists, but I still wanted to see the iconic Met stairs. This is where the Met Gala takes place each year, and they were featrued a lot in Gossip Girl, so most people will recognise them from something! There are fountains nearby and the building itself is pretty impressive. My only disappointment was that the Met had borrowed Starry Night from MoMA for a Van Gogh exhibit, so I'd miss out on seeing that.
Anyway, I then walked a few blocks down to MoMA, the Modern Art Museum. I'm not a huge contemporary art fan, but many of my favourite artists are from the turn of the 20th century and, therefore, technically modern art. I was on the hunt for Salvador Dali's The Persistence of Memory, Monet's Water Lilies, and Van Gogh's Irises (on loan from the Met in place of Starry Night). I find Impressionism and its similar genres very soothing, and I just kind of love how weird and dark Surrealism, especially Dali, is. Of course there are hundreds of other works to see as well, and while some weren't my cup of tea, it was still a pleasant way to while away a couple of hours.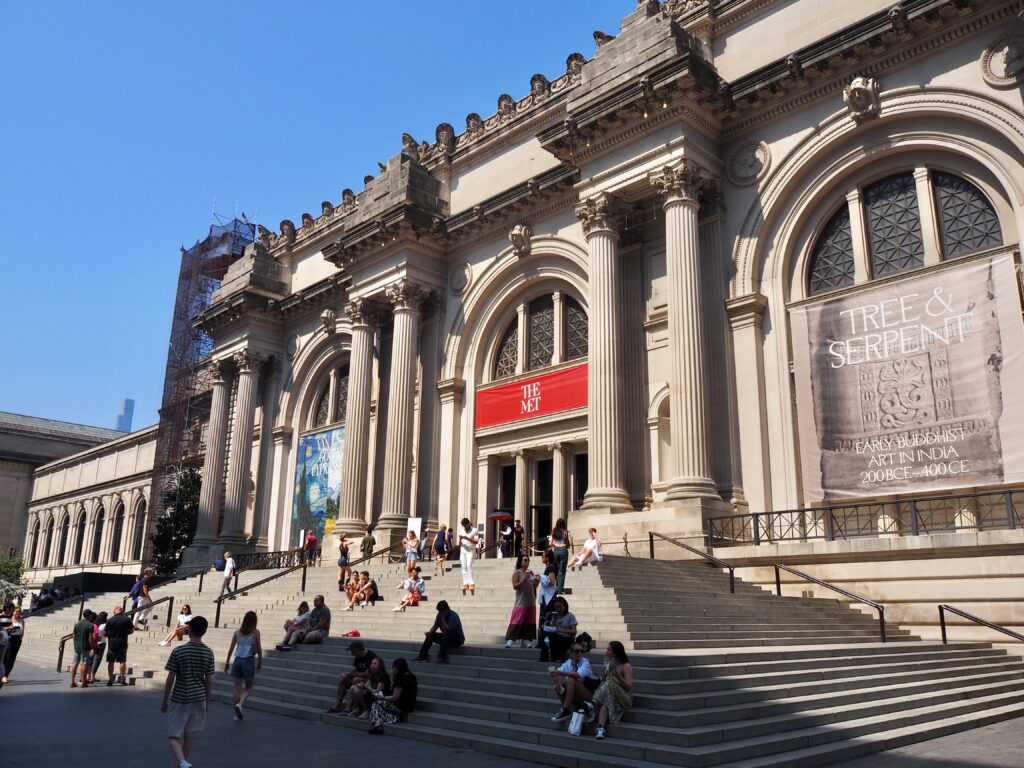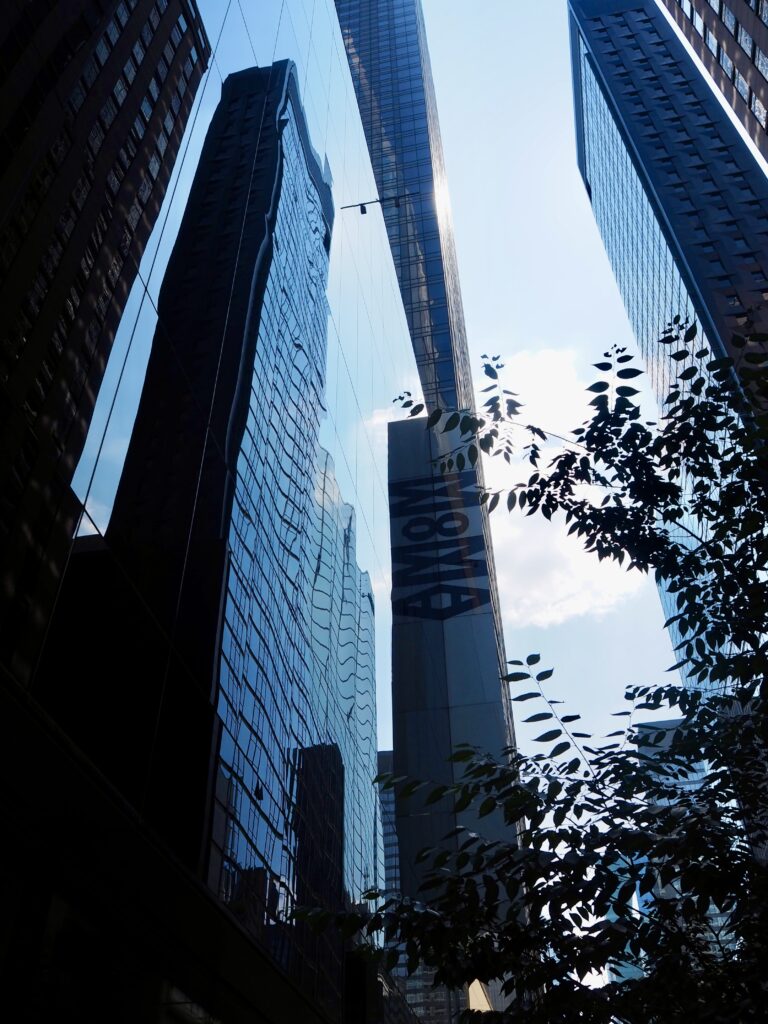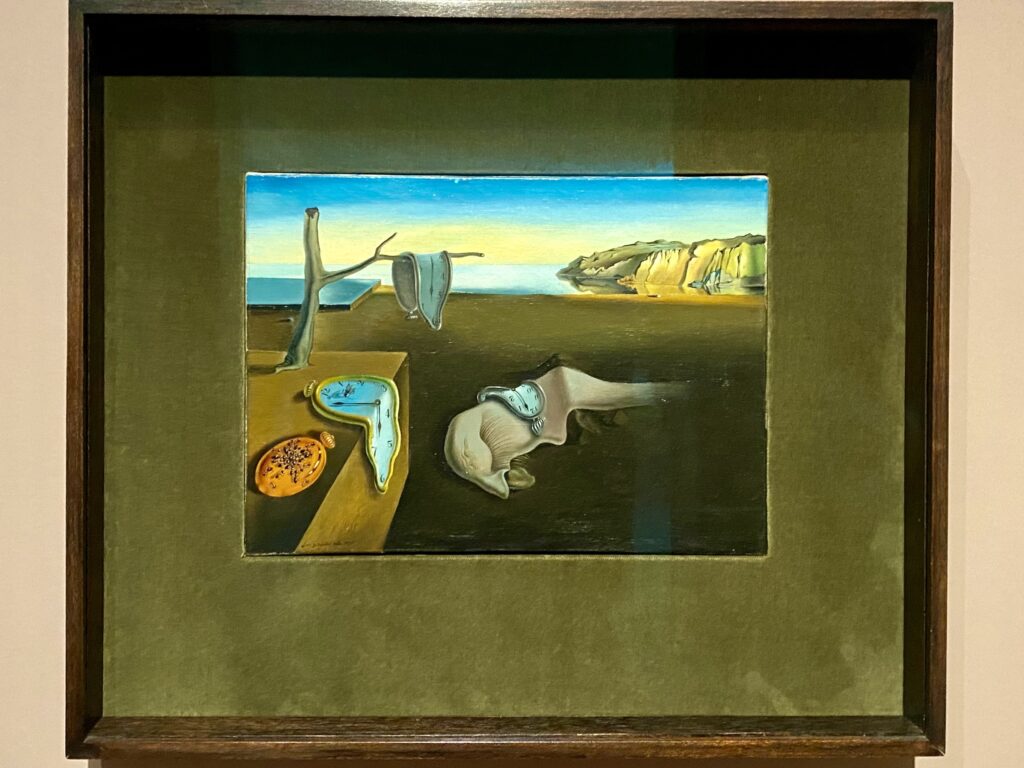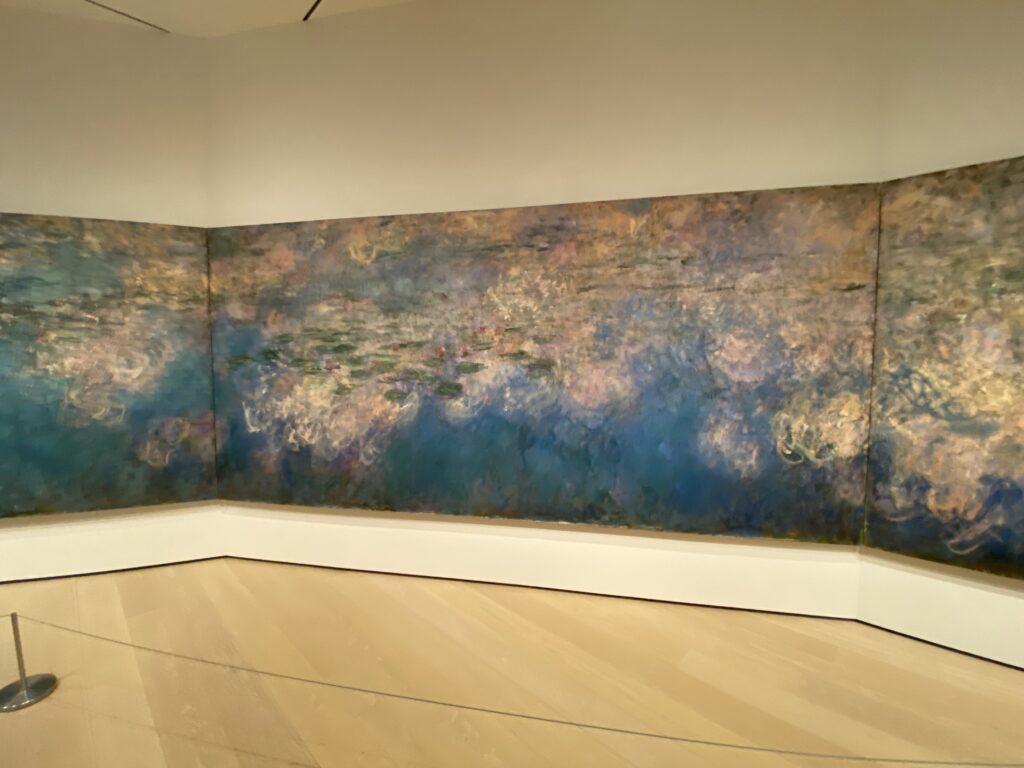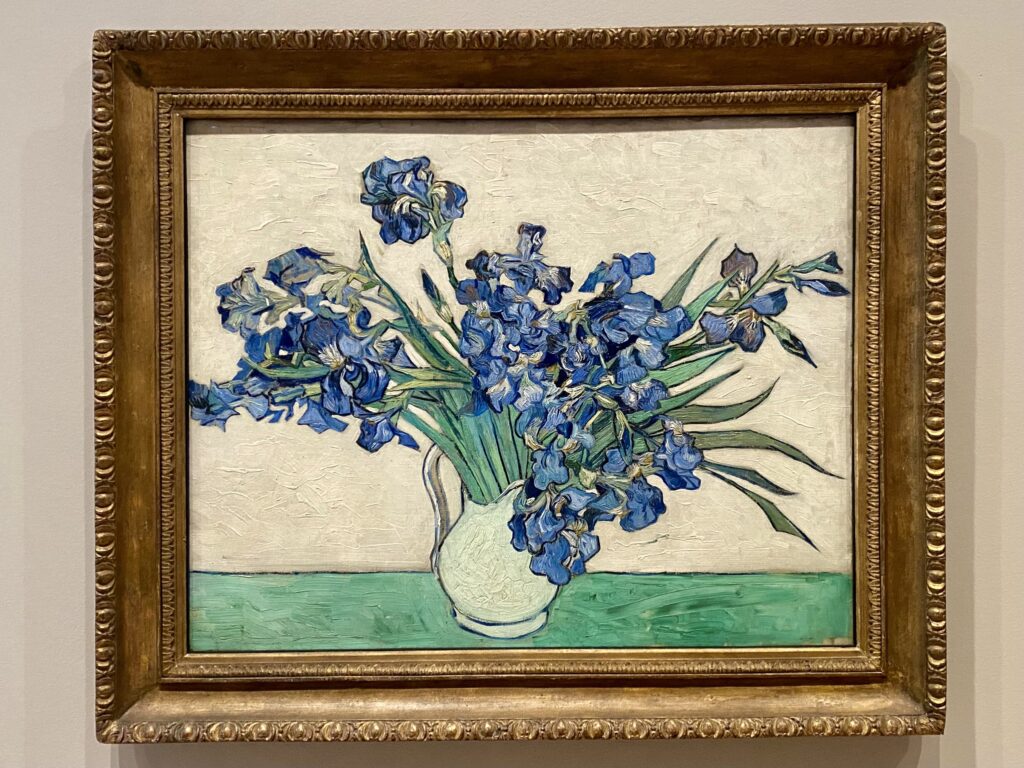 ---
Broadway – Hadestown
I'd been keeping an eye out all week for more Broadway ticket deals, including lottery draws. My efforts paid off, as I struck lucky winning a discounted lottery ticket to the Sunday matinee of Hadestown. It happened to be Eva Noblezada's last week in the show, who originated the role of Eurydice, so I felt lucky to get to see her!
Hadestown draws from Greek mythology, weaving together the stories of Hades & Persephone and Orpheus & Eurydice. I know quite a bit about mythology, so I knew the general plot already, but it was interesting to see how they intertwined the two myths. It took me a second to understand the setting though as it's certainly not Ancient Greece. Everything felt more industrial in the style of the staging and costumes. Meanwhile, the original music and songs had a lot of soul, blues and jazz influence as if it were New Orleans or somewhere in the American South. Which all certainly put a different spin on Greek mythology!
It felt a lot more classically Broadway musical theatre compared to & Juliet, as well as more serious and dramatic and definitely not as uplifting (if you know how the myths end, you'll know why). They're quite different, but it's all just preference if you ike one over the other. I enjoyed both but in very different ways! After the show, I popped by Bryant Park one last time for dinner, before heading back to the hostel for the night.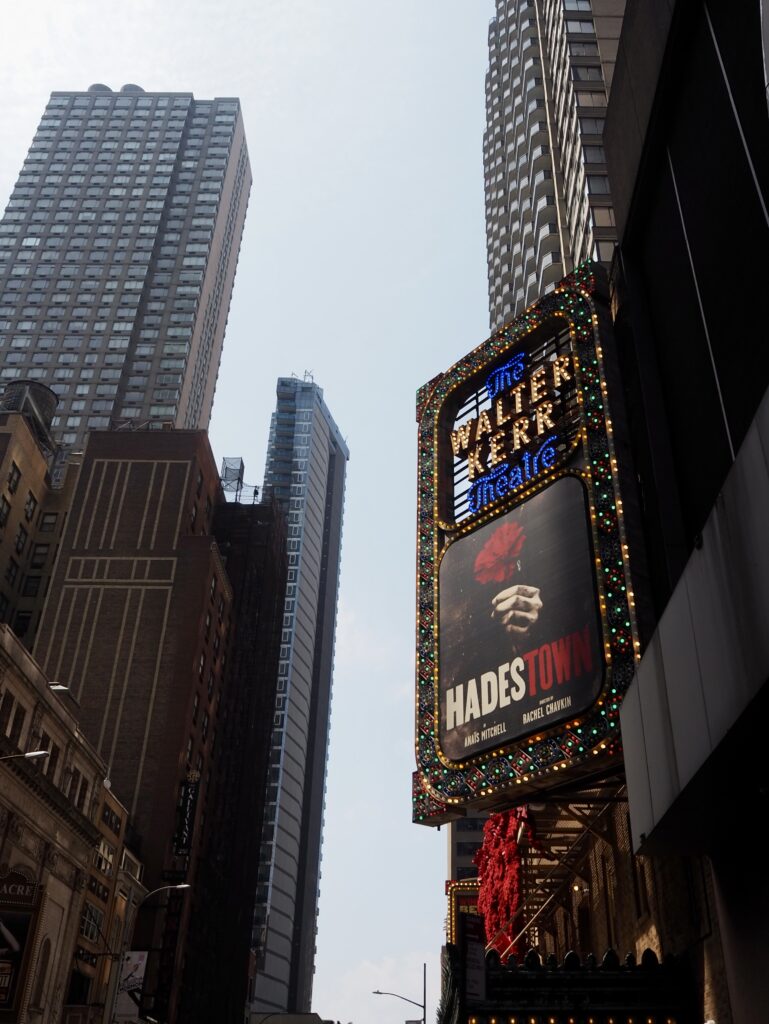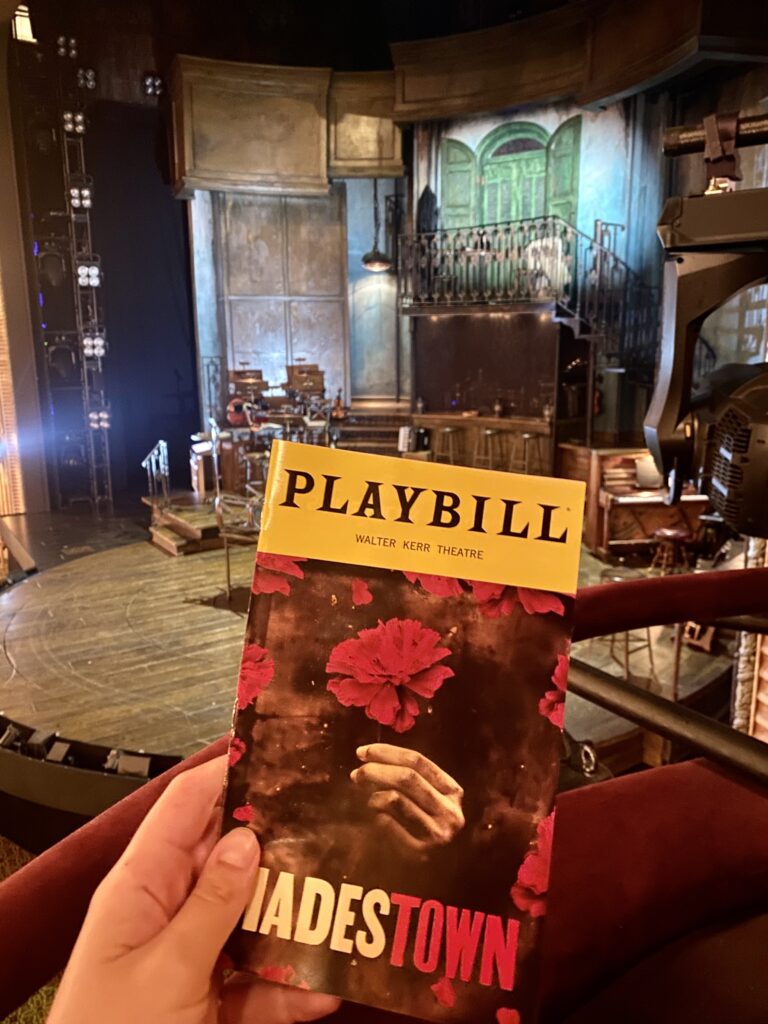 ---
A Week in New York City
The next morning, I was up early for a final subway ride to Penn Station for my next train journey onwards. After a week in New York, I think it certainly lived up to expectations. It's such an iconic city, and I knew about so many of the places I visited long before this trip. Finally seeing them in person was surreal in the best way.
Yes, it's big and loud and busy, but I actually didn't feel anywhere near as overwhelmed as I thought I would. It's not somewhere I'd choose to live for an extended time (maybe like a year would be cool), but I'd happily go back and visit again. The touristy sights are worth checking off the bucket list for their landmark status, then there's a million other local, lesser-known things to explore too. The city and its individual neighbourhoods all have an energy and a vibe and I definitely understand the hype!
You May Also Like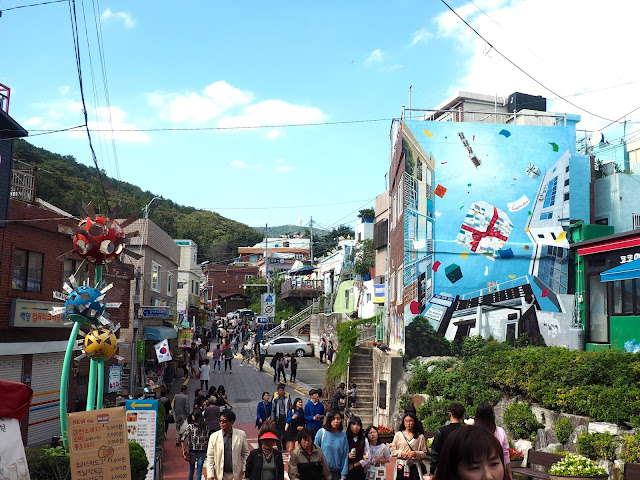 12 October 2016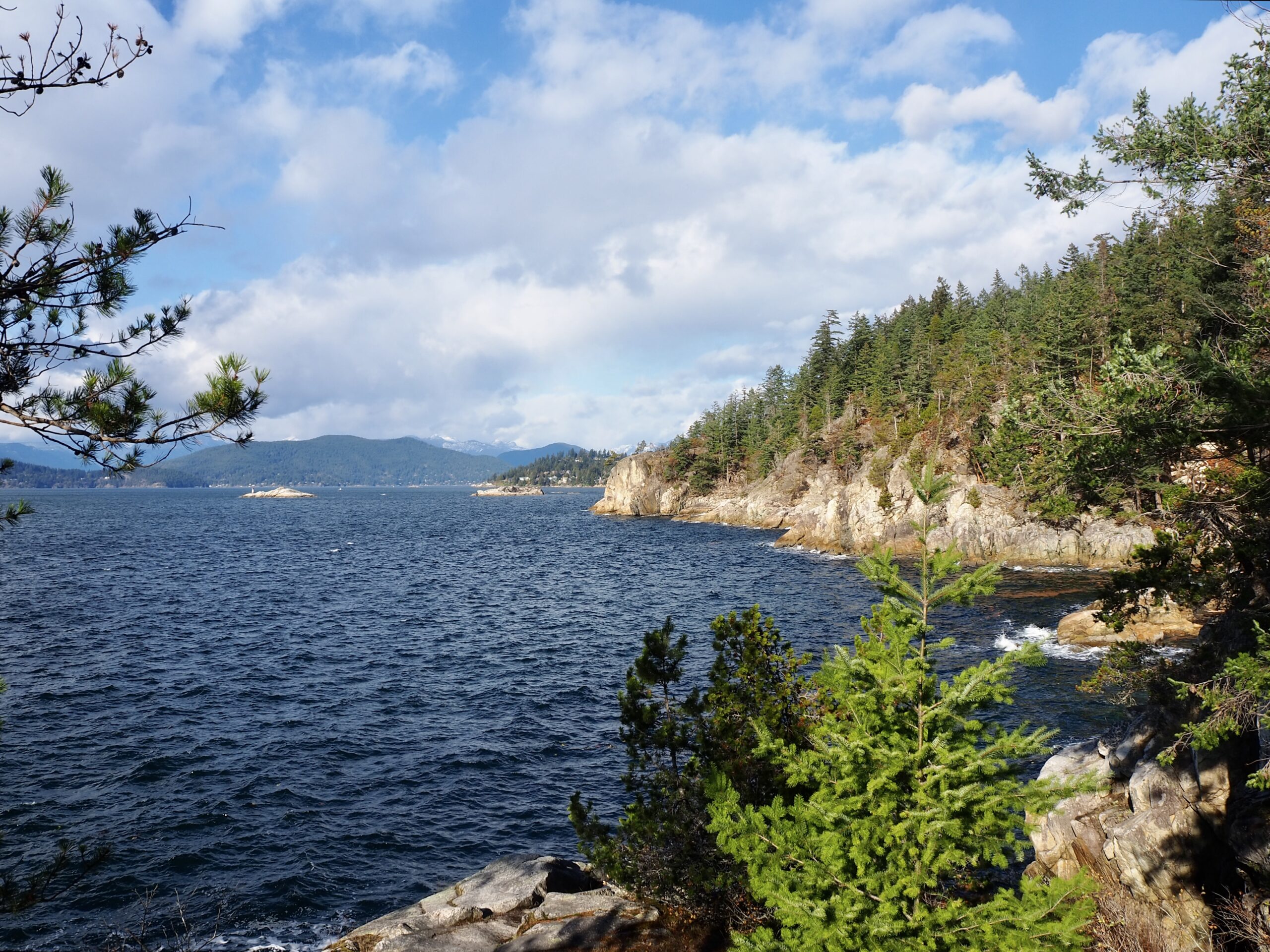 10 November 2022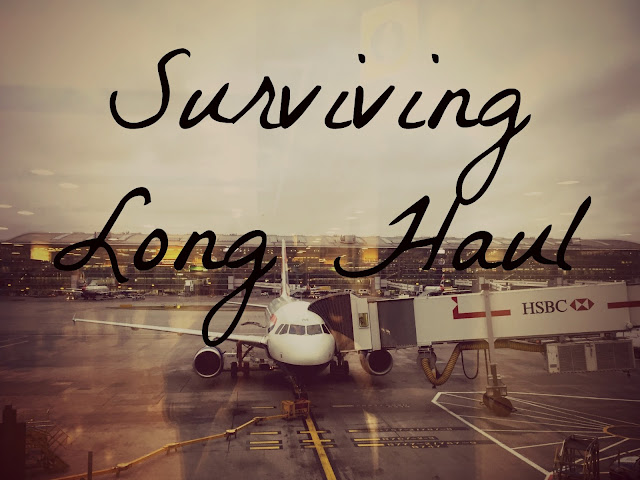 15 July 2017