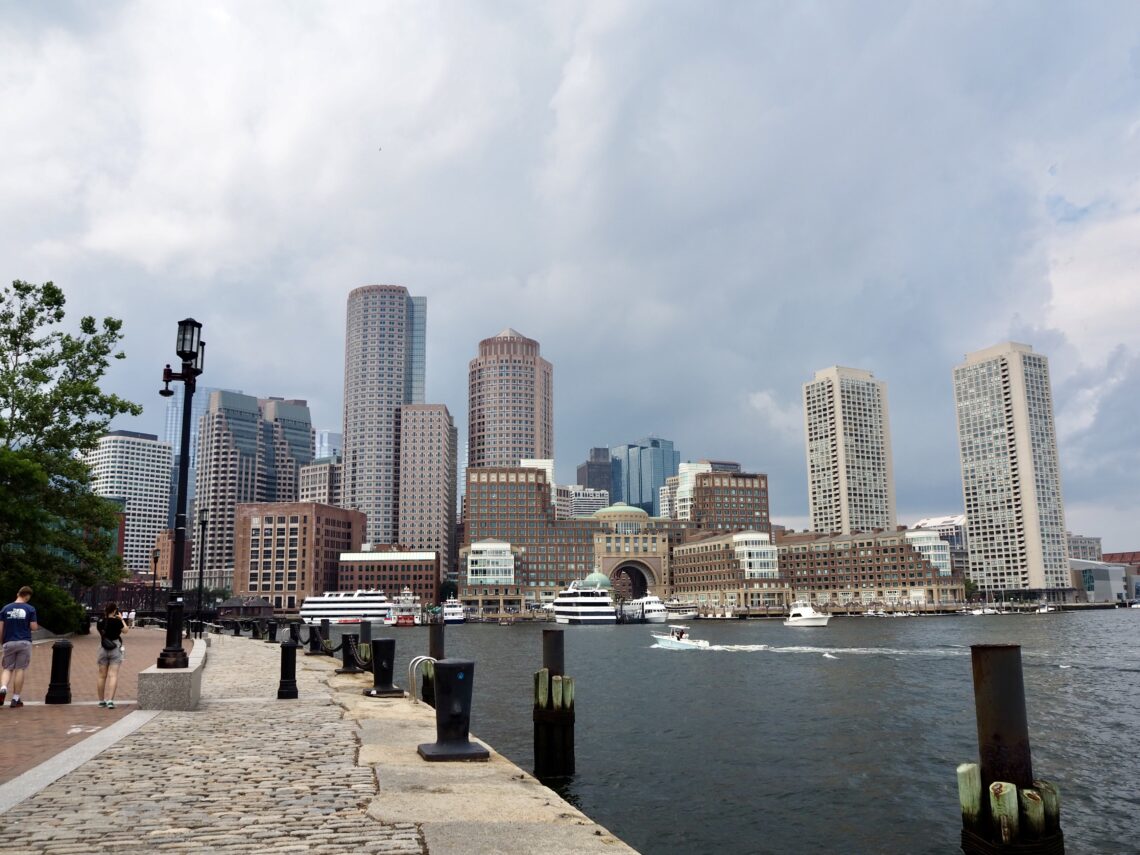 Weekend in Boston | USA
24 October 2023
Ok, technically a long weekend in Boston then. After the Canadian leg of my trip finished, travelling west to east, I flew from Toronto to Boston to begin my American leg heading westwards again. My parents flew home, so I was feeling pretty homesick and emotional this weekend, and suddenly very anxious as well, strangely. Plus, I think I had gotten a bit burned out and wasn't feeling very well physically for much of my time in Boston. I say all of this to note that my experience in the city might have suffered a bit as a result and I didn't do as much as I maybe would have otherwise. I still enjoyed my weekend in Boston overall though!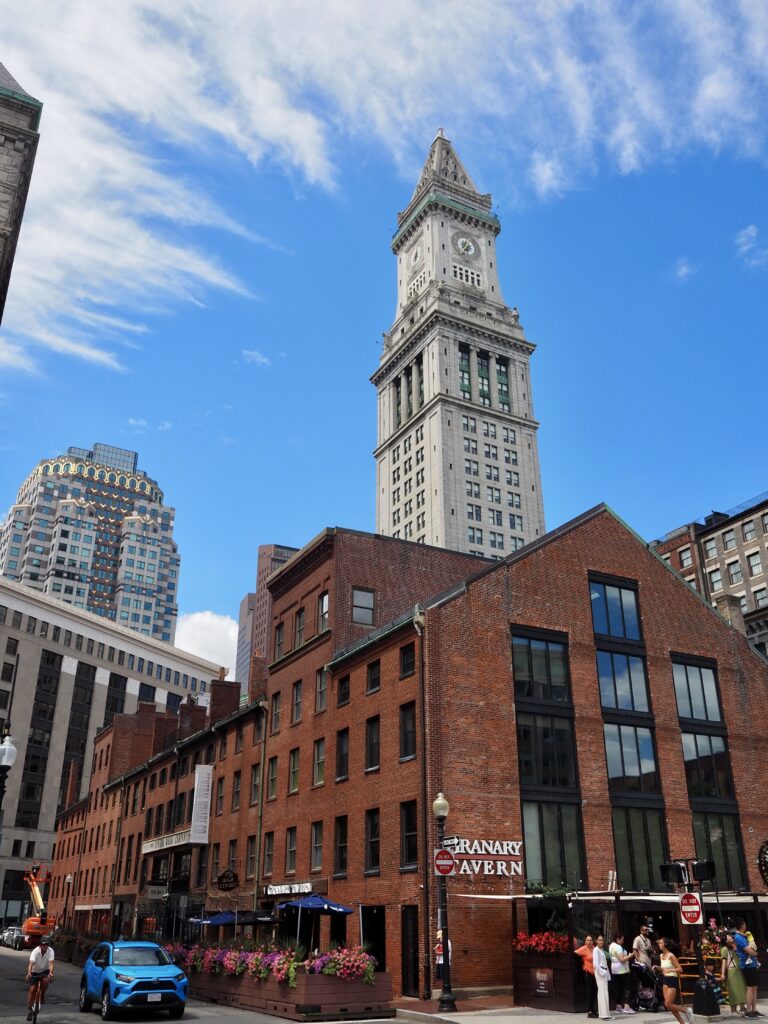 ---
Day One
Newbury Street
I was staying at the HI Hostel, which is pretty central in the city, and you can get to a fair amount of stuff on foot. I did make use of public transport a few times, though, mainly the train lines. On my first afternoon in Boston, I wandered past the Boston Common (more on that next) towards the Back Bay area. Newbury Street was the specific road I was aiming for.
There are a lot of expensive, upscale boutiques at the beginning of it, but then these gradually make way for more mid-range, bohemiam-type independent shops. There's lots of dining and drinking options as well. But the reason I wanted to see it was that all of these are located in renovated 19th-century brownstone buildings, which are so quintessential of New England the East Coast. It just made it so pretty to browse and window-shop my way along the street!
Fenway Park
Beyond Newbury Street, I navigated down a few more less-pretty streets until I finally caught a glimpse of the green-painted stadium – Fenway Park. I'm not a baseball fan in the slightest, but I at least recognise the name Fenway Park, and the Boston Red Sox, from movies and TV. Opened in 1912, it's the oldest ballpark in the USA still in use today, which is a fairly impressive achievement. I wasn't going to a game or touring the inside, so I just walked around one side of it, checking out its signs. It's pretty cool to see somewhere so iconic in real life!
From there, I also passed through the Back Bay Fens, a large park with a creek running through it. I didn't linger too long there, though, as there was a storm brewing. I got hit by a few summer thunderstorms while in Boston! Fortunately, my next destination was just on the other side of the park and open late on a Thursday…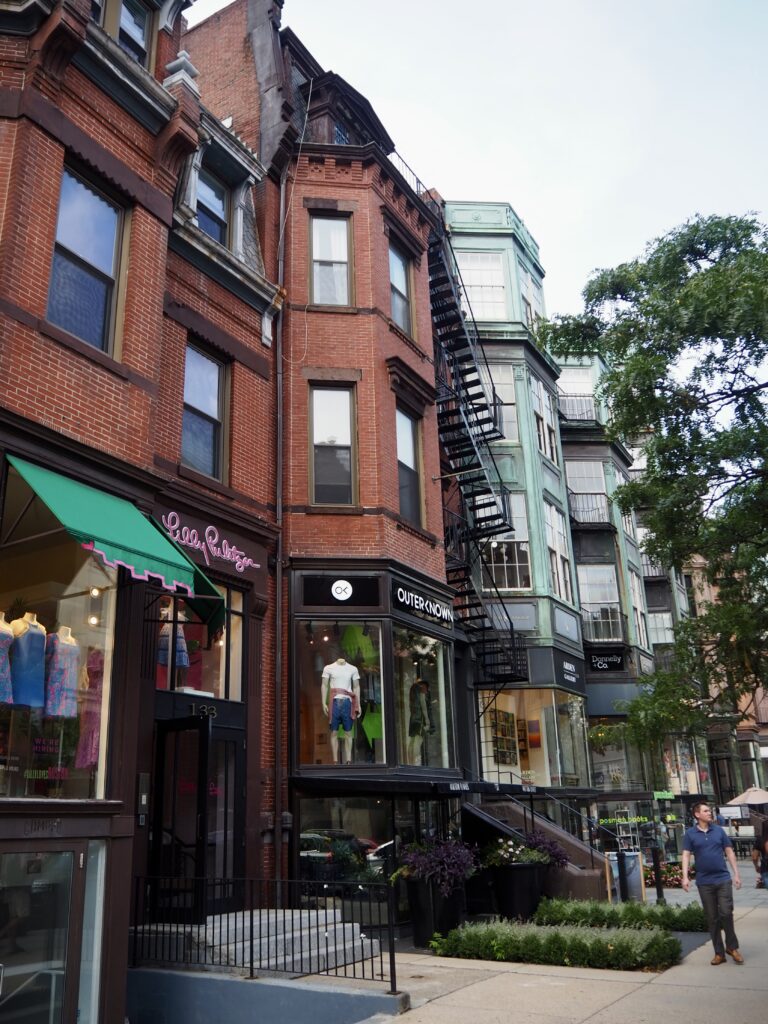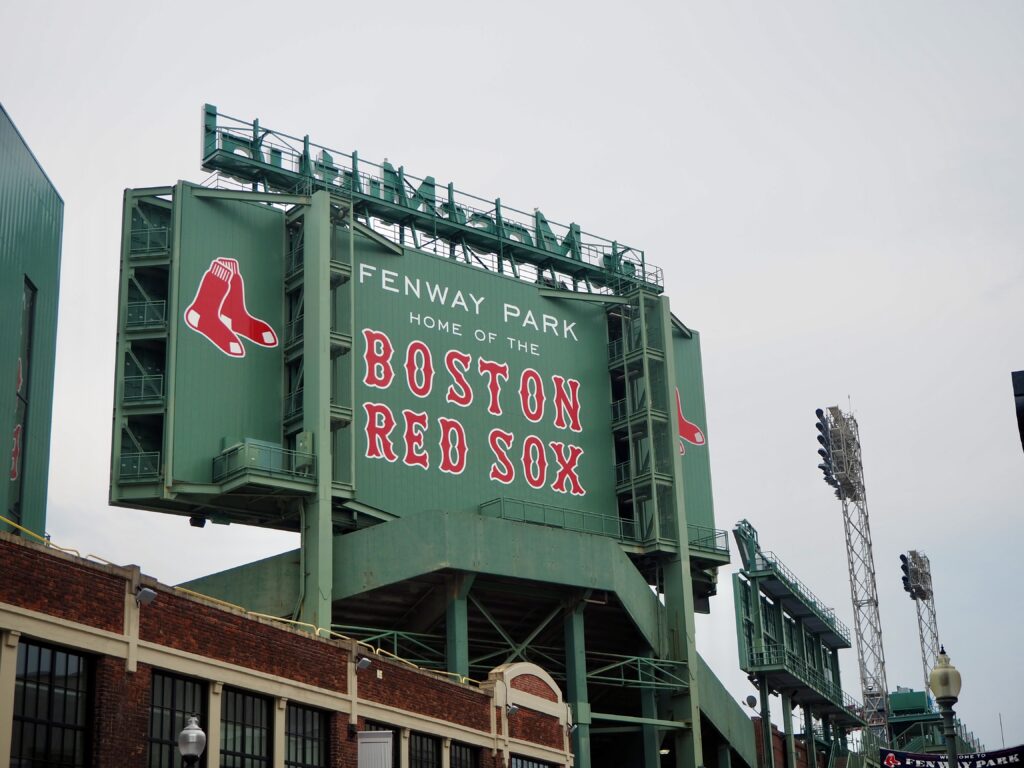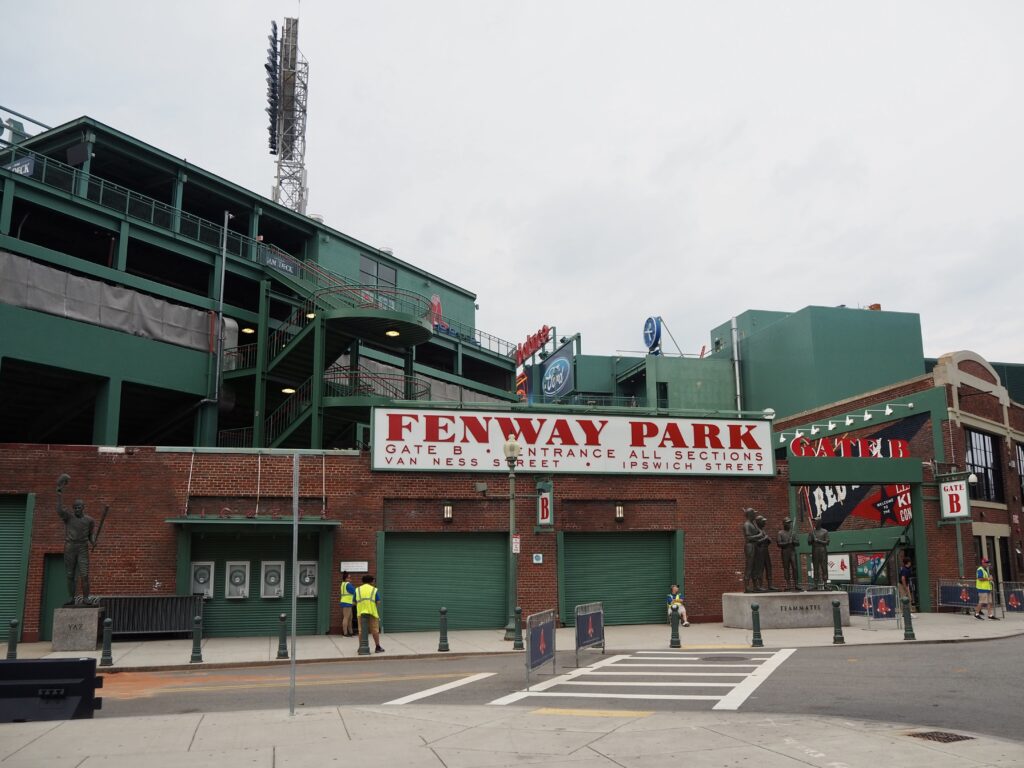 ---
Isabella Stewart Gardner Museum
This is definitely one of the more unique museum options in Boston. Isabella Stewart Gardner lived in Boston in the 19th century, and was an avid traveller and intellect. She had the museum custom-built using her inheritance to resemble a Venetian palazzo, and lived in the top-floor quarters once it was complete. She collected art from all over the world to fill the rooms, along with furniture, manuscripts and decorative arts, continusuly adding to it for the rest of her life.
The result feels more like a home than a museum. The courtyard is the centrepiece, its glass ceiling letting in natural light, although there wasn't much of it with the black clouds and torrential rain that evening! It's filled with flowers and statues, and the inner windows towering above on all sides. Also, the lack of explanatory signs that we're accustomed to in most museums means you have to just admire and interpret everything for yourself. It was a refreshing change actually, to just roam the many rooms and look at whatever most caught my eye, rather than feeling like I needed to learn and understand it all.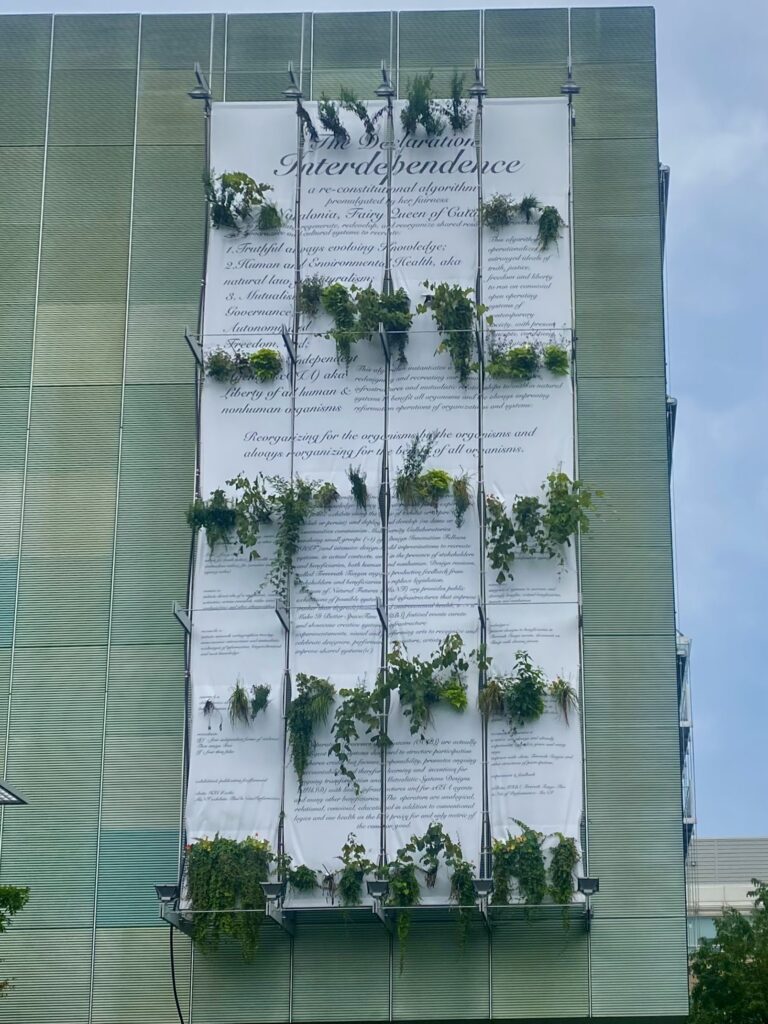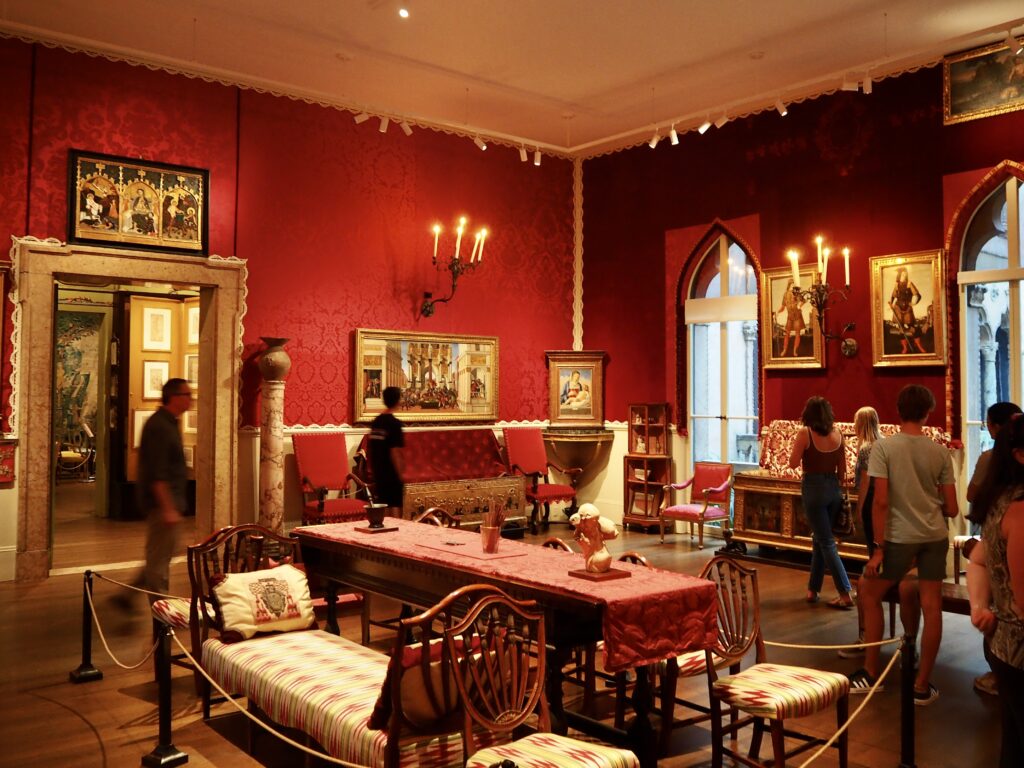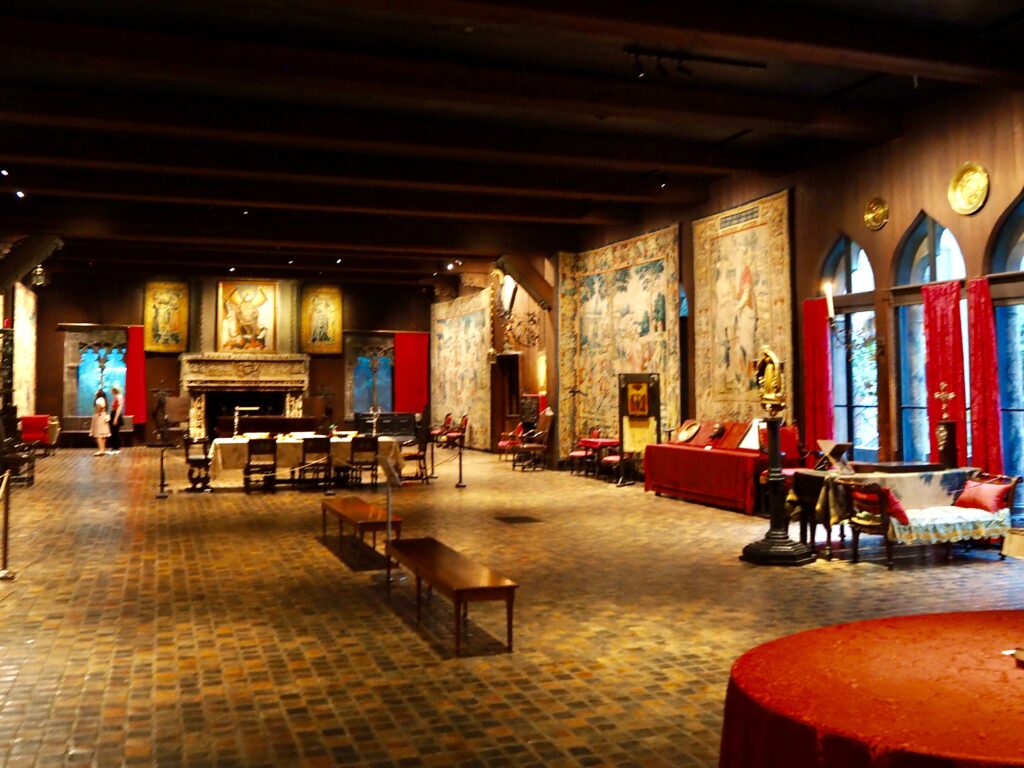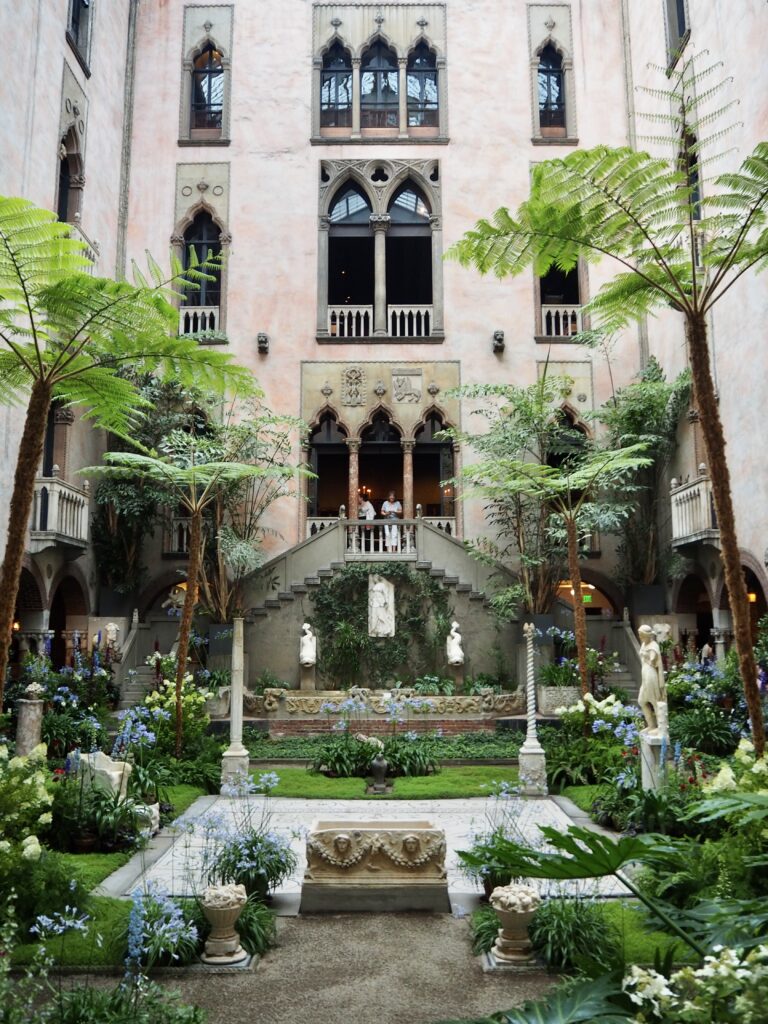 ---
Day Two
Public Garden
The next afternoon was much sunnier, thankfully! I was feeling pretty exhausted still so I didn't venture too far from the hostel. Luckily, the Boston Public Garden was just a couple of streets away. This was the first botanical garden in America, created in the 1830s, and is very decorative in style. Large, leafy green trees surround the central pond, which has a small bridge crossing its centre. Swan-shaped boats carry passengers around the water, drifting lazily in the sun.
There are various statues and memorials as well, but my favourite had to be 'Make Way for Ducklings', which is as cute as the name suggests. I also happened to notice the 'Robin Williams Park Bench' on Google maps, although there was someone sitting on it when I went past. For those unsure what this has to do with Robin Williams, this is the bench he and Matt Damon sat on during a scene in the film, Good Will Hunting. The whole park is just a very pretty, peaceful spot to visit.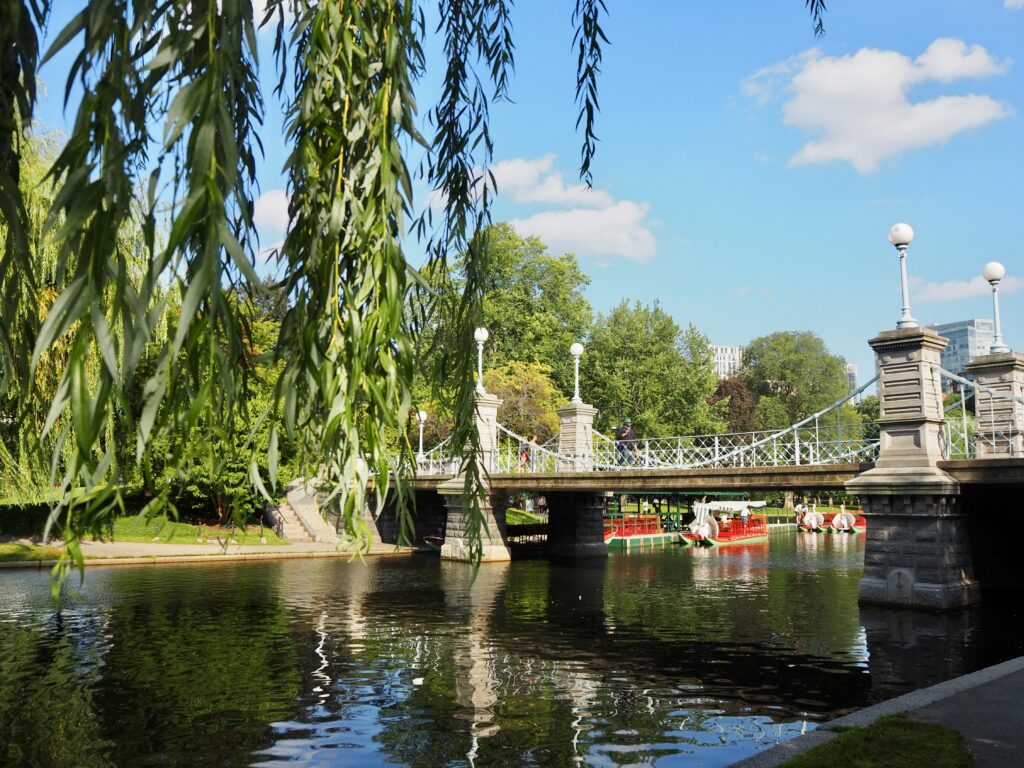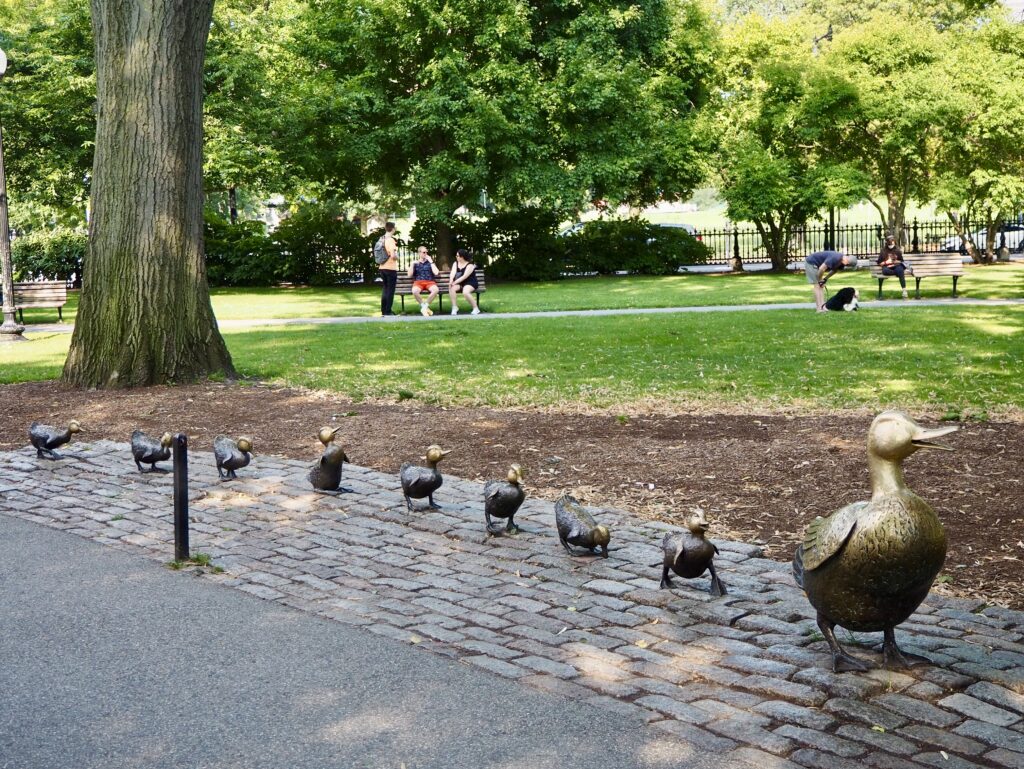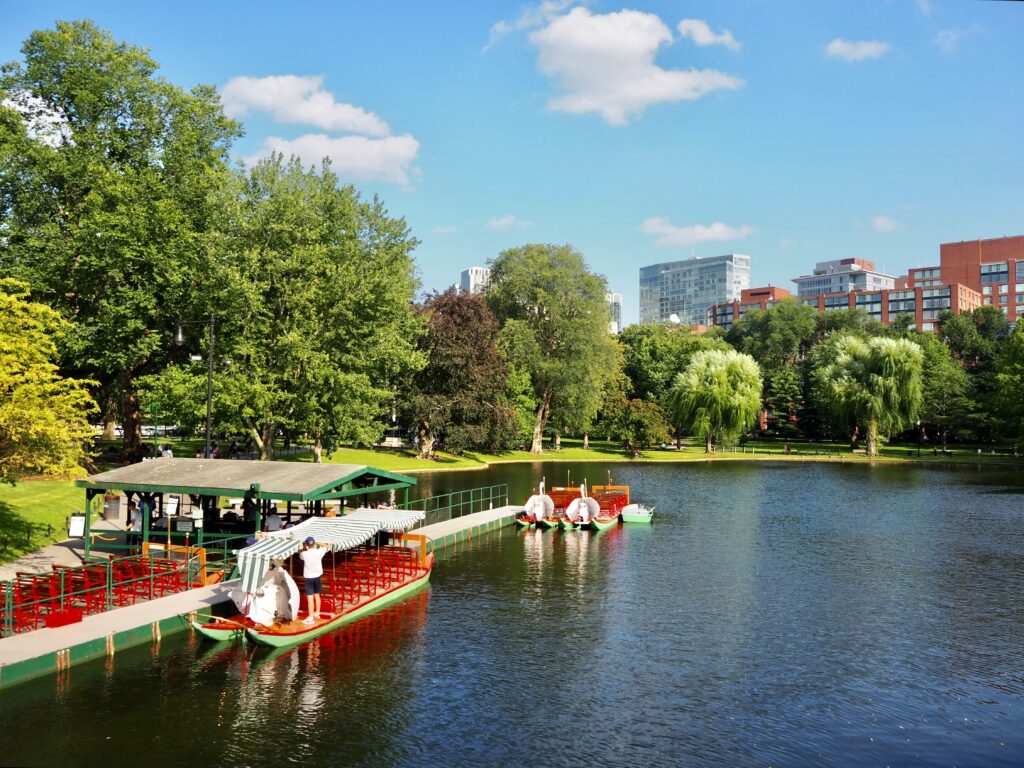 ---
Boston Common & Shakespeare on the Common
The Boston Common is next door to the Public Garden, dating back to the 16th century. It's rather less decorative than its neighbour and is mainly wide, open grass dotted with trees. There are some sports facilities, including a baseball field and Frog Pond, which is used like a giant paddling pool. Of the many statues and sculptures, The Embrace is probably the most unique, which depicts Martin Luther King Jr embracing his wife, but only shows their arms.
I stopped for a bite to eat at one of the food trucks, where a stage set up near the bandstand caught my attention. Posters quickly informed me that it was for a staging of Macbeth for the city's Shakespeare on the Common programme. And it was free! Although the show didn't start for over an hour, people were already getting comfortable on the grass, with blankets and deck chairs. I didn't have evening plans, so I figured I may as well stay to check it out.
I chilled out near the stage until the show began, though I did leave at the interval since it's a really long play and I was getting tired! I'm familiar with Macbeth from studying it in high school too, so I know how it ends. But it was really cool to see a city have a cultural event like that free and open for anyone to attend, helping out the arts. I even got to see the mayor, as she was there to present a donation to the Commonwealth Shakespeare Company.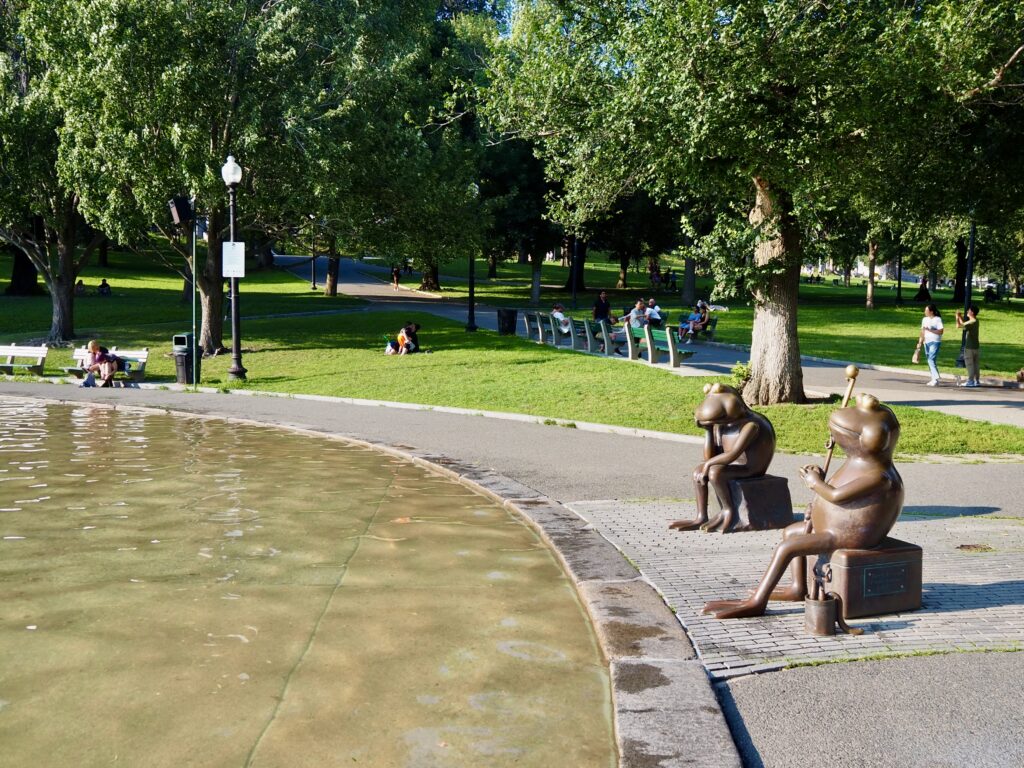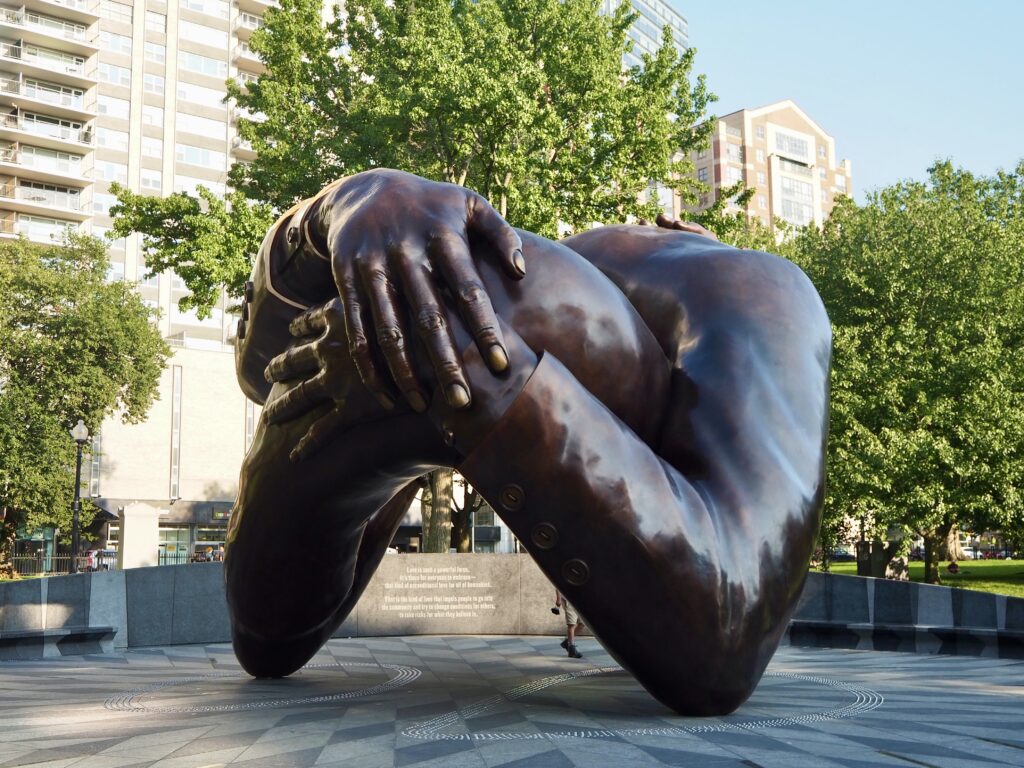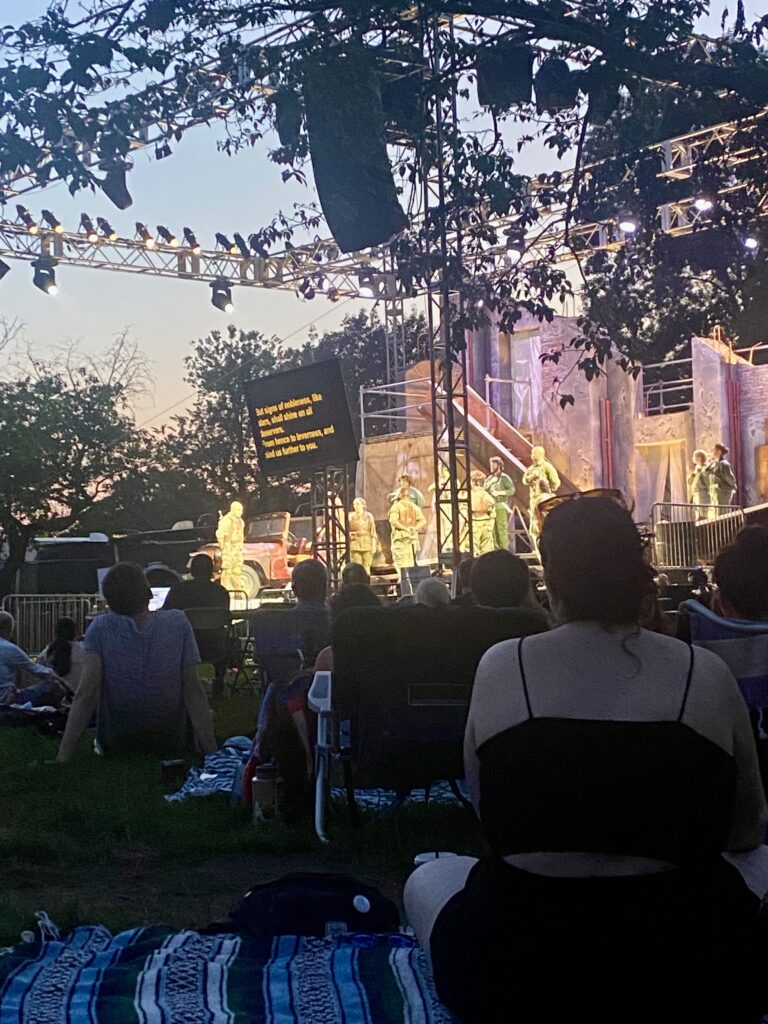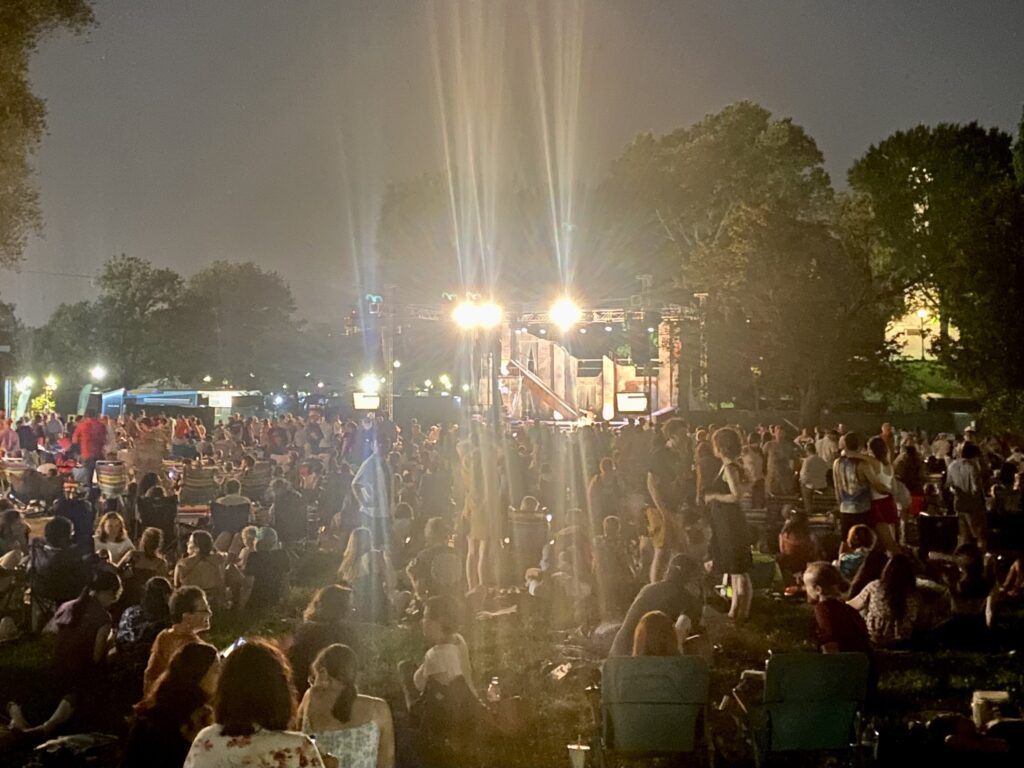 ---
Day Three
Seafood Tour
I think a lot of Europeans associate "American food" with burgers and pizza. But my cross-country trip actually included a couple of different food tours, revealing the range of cuisines across the States. And in Boston, as well as New England in general, seafood is king. So, I started the first full day of my weekend in Boston by wandering down to the waterfront to join a seafood tour. It was a small group, just another couple and me. While seafood was of course the focus, our guide also wove in pieces of Boston history as well, starting with a rooftop view of the site of the Boston Tea Party.
The first food stop was a lobster roll from James Hook & Co. This family-run business has been around for close to a century, using fresh lobster from the Atlantic to make these classic sandwiches. It's a tiny place, which sells a variety of other local seafood and mostly only has outdoor seating. Unfortunately for us, the weather had turned wet again today, so we found a more sheltered spot instead. Next up, we headed to Faneuil Hall to stop at Salty Dog Seafood to try quahogs, a type of clams. Clams have never been my favourite, but these were stuffed and baked and delicious!
Last up was the Union Oyster House, the oldest known continuously operating restaurant in the USA, dating back to the 1820s. It also boasts the Kennedy Booth upstairs, the favourite booth of JFK when in town. Here, we tried famous New England clam chowder, accompanied by cornbread. I'm not usually a fish soup person, but this was very nice! I also got a pint of their Colonial Ale, only available here – a bit too rich for more than one glass personally!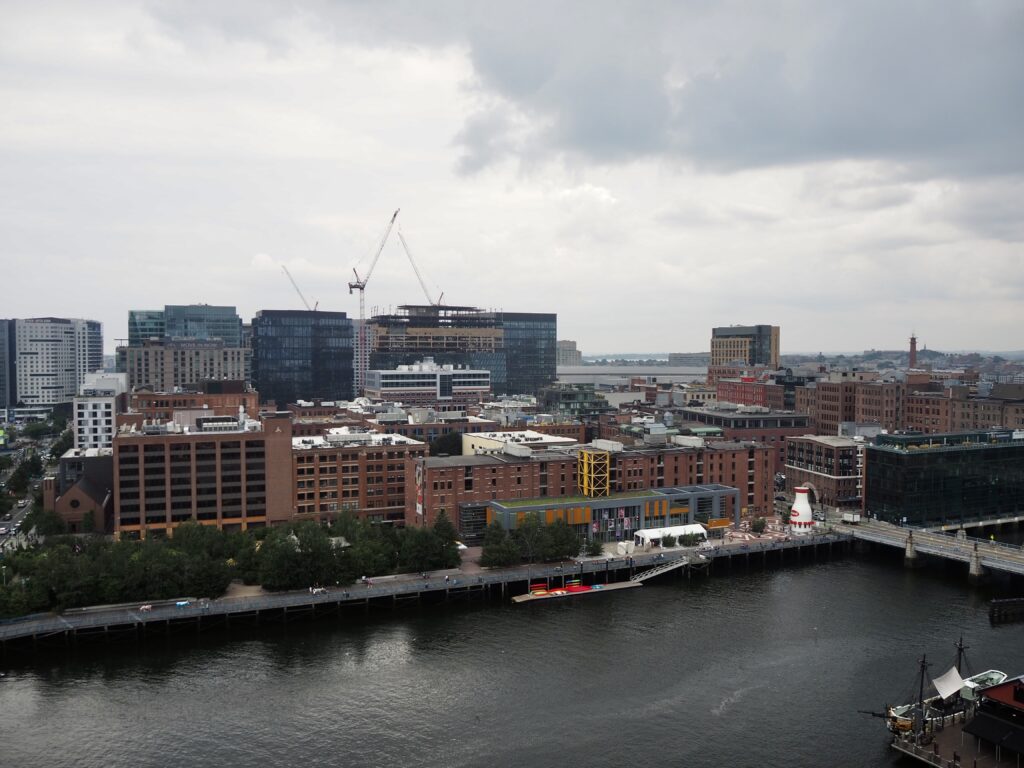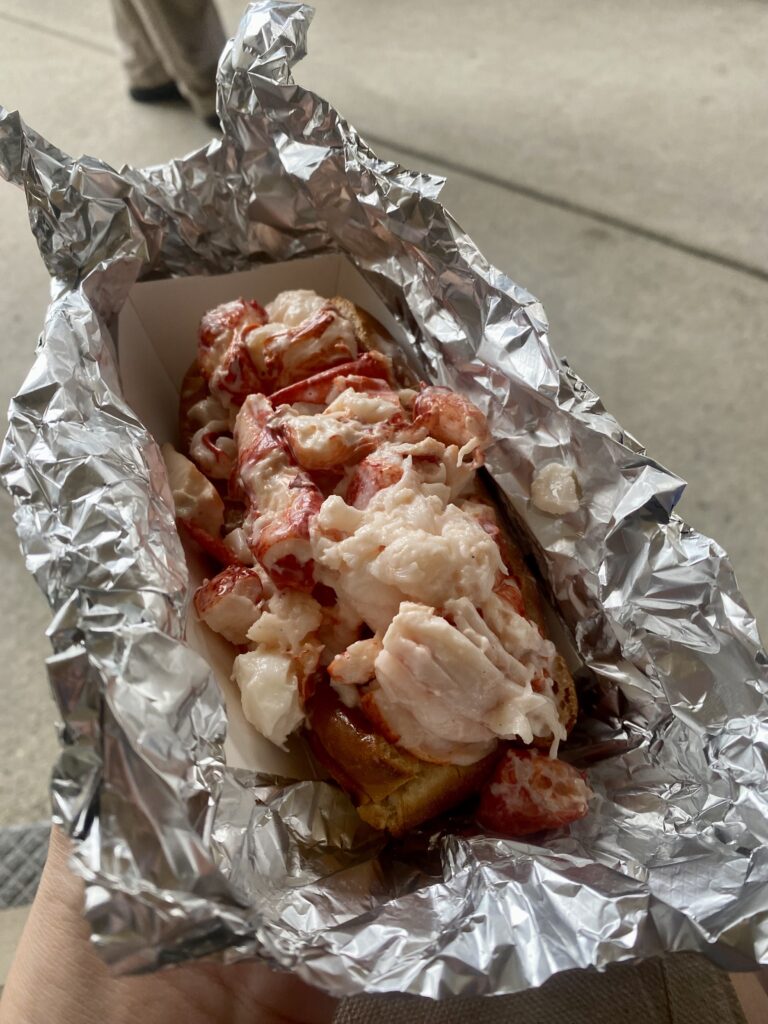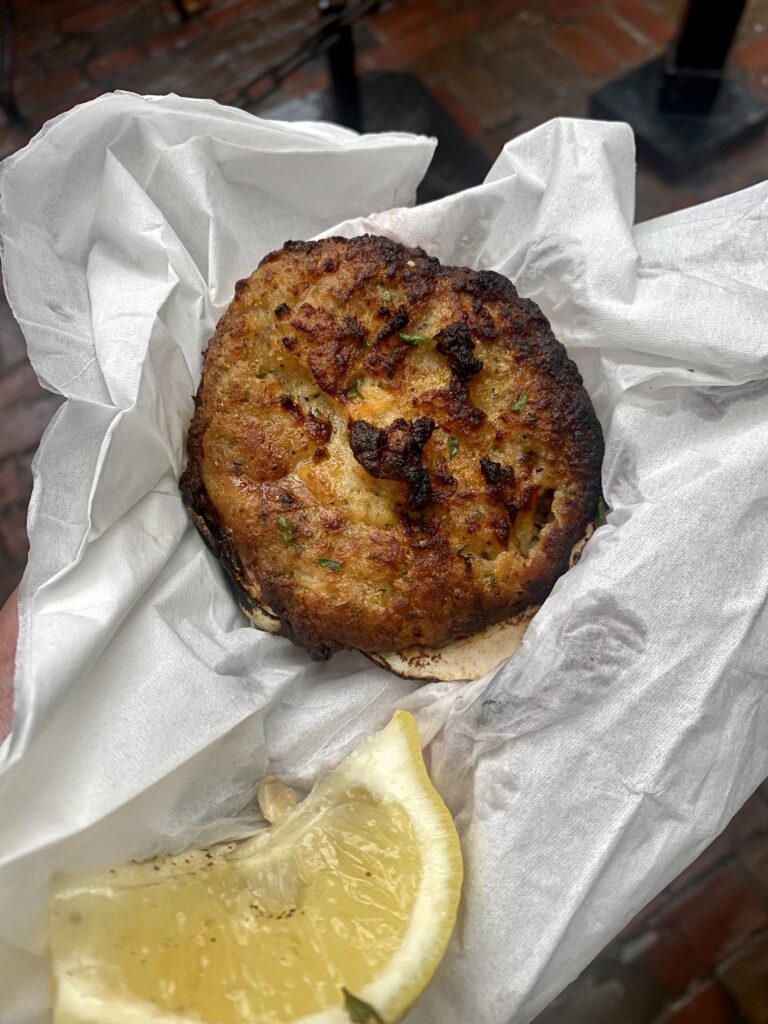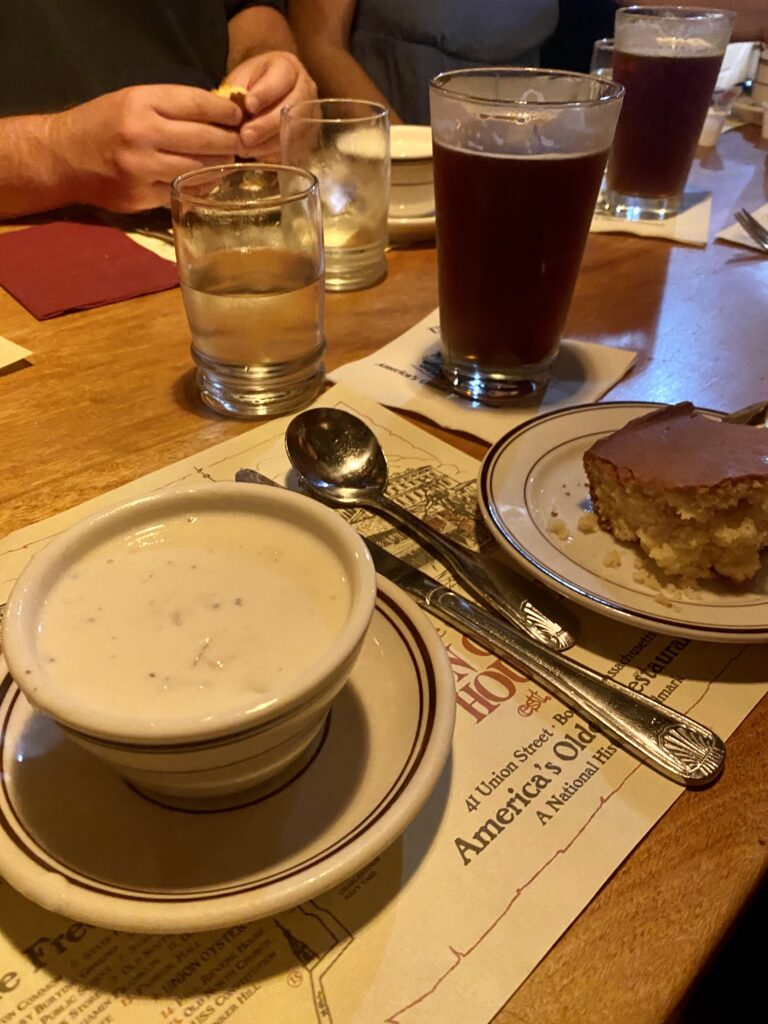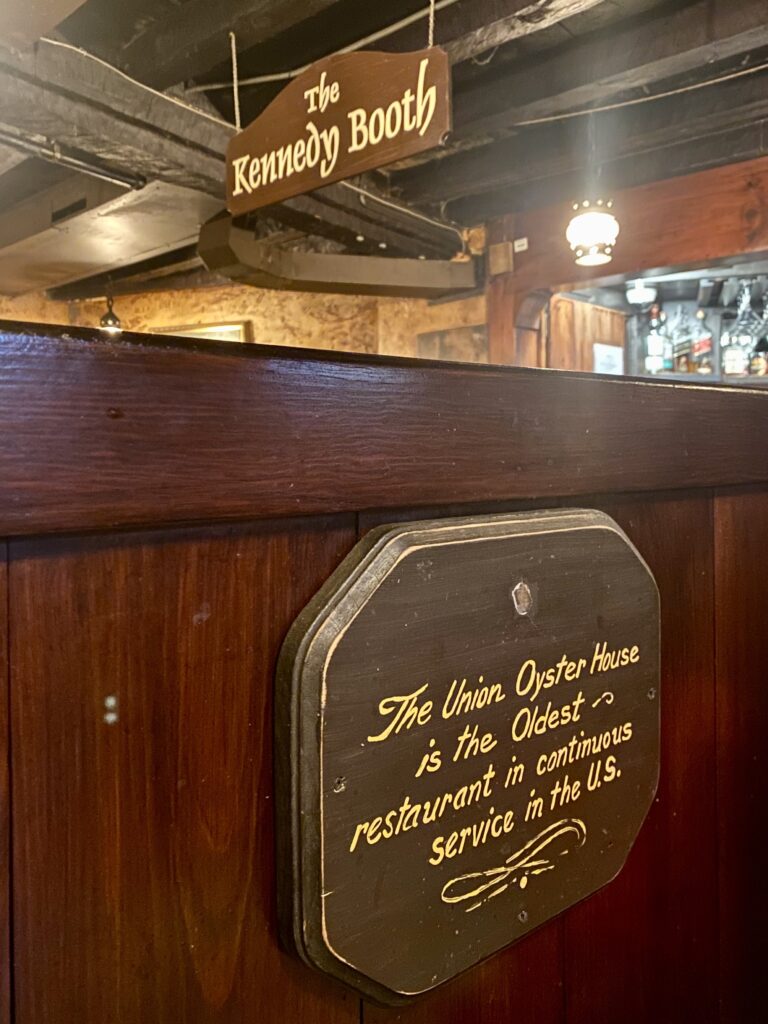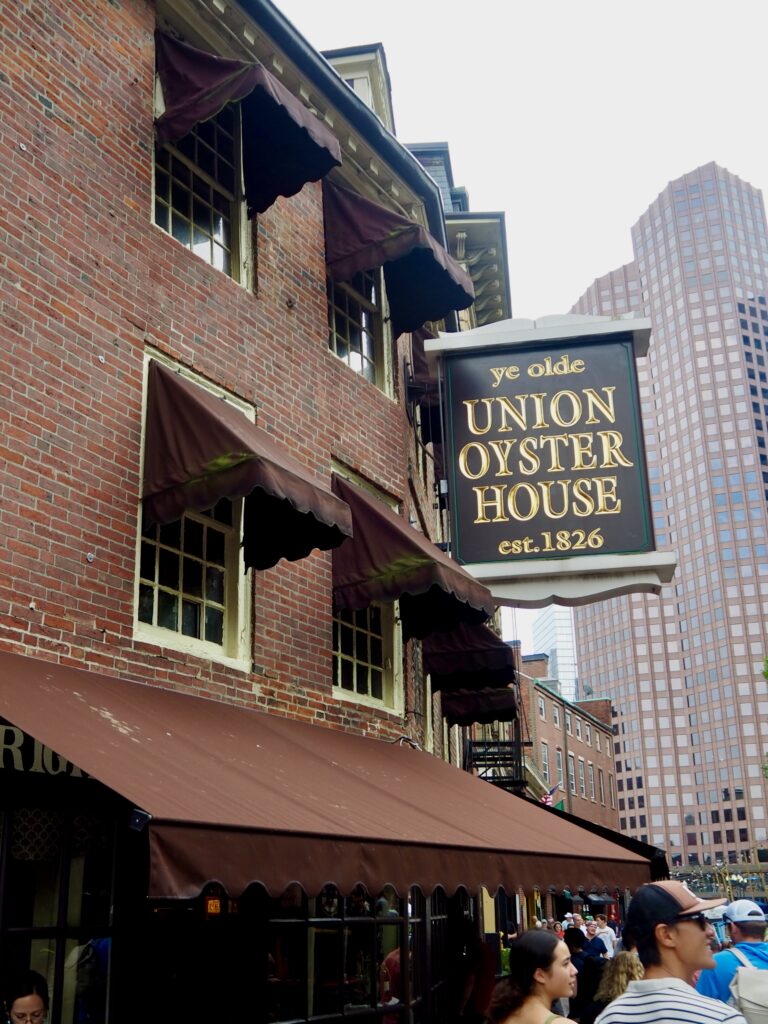 ---
Harbourfront
After the tour ended, I wandered back over to the waterfront area. I'd also spent a little time here in the morning before joining the tour. I've been travelling inland for a few months now, so it was nice to be back by the sea again. Although the last time was the Pacific Ocean, back in Vancouver, and now here I was across the continent by the Atlantic! There are plenty of boats lining the shore, of course, as well as numerous other seafood restaurants. I had started near Fan Pier Park that morning, which offers a great view of the Boston harbourfront, particularly the scenic Rowes Wharf.
After the tour, I looped up and down the Long Wharf, now shorter than it used to be since parts of the city are landfilled in. The historic wharf was once a centre of trade, lined with warehouses and leading up to the Customs House, which still stands.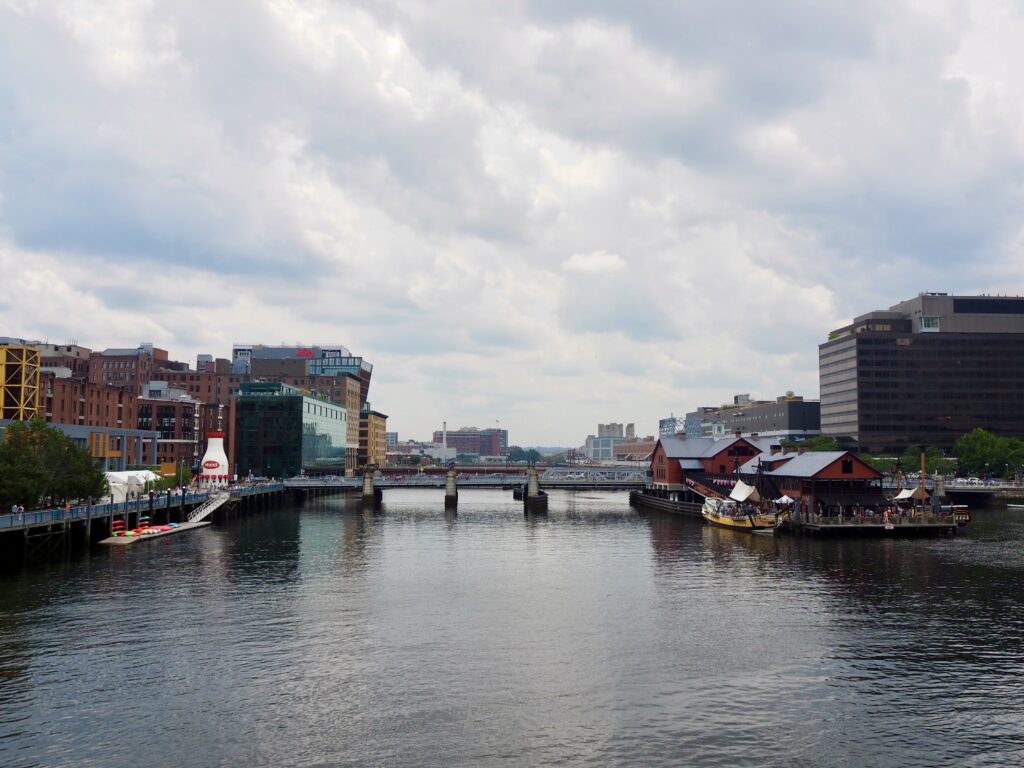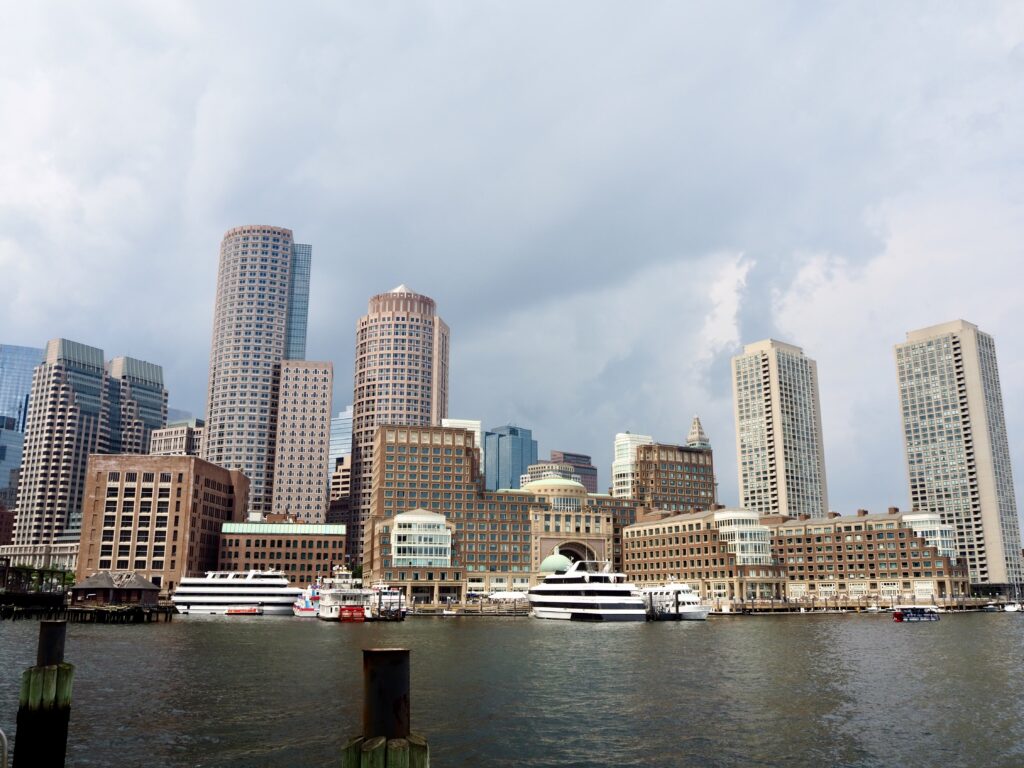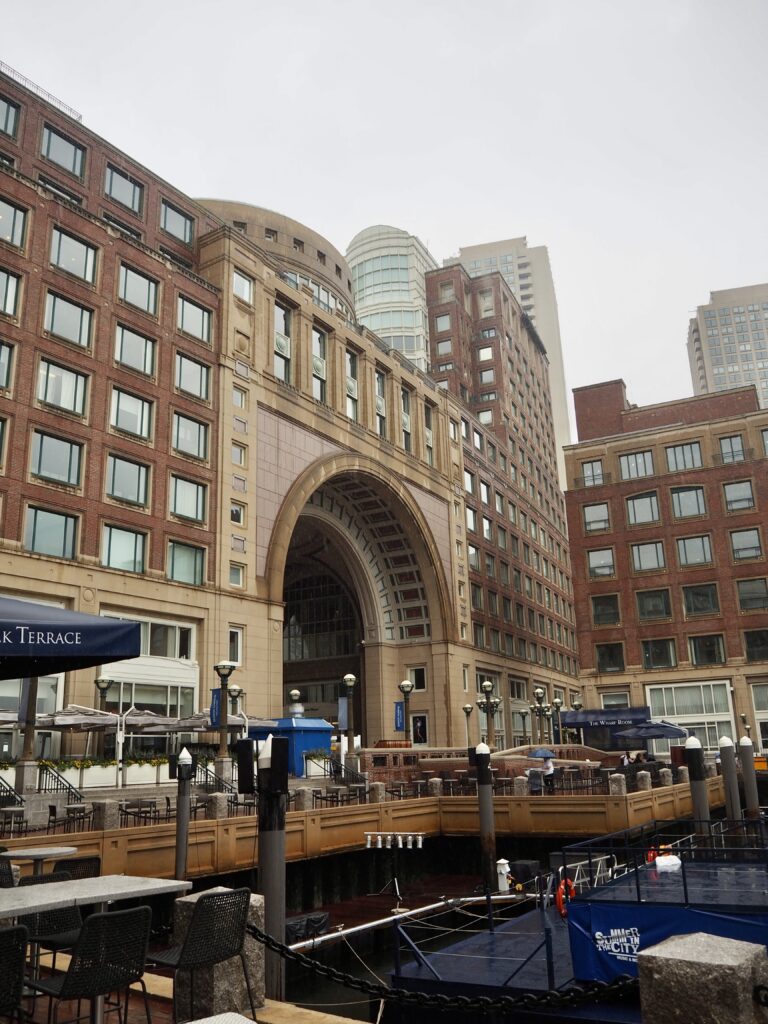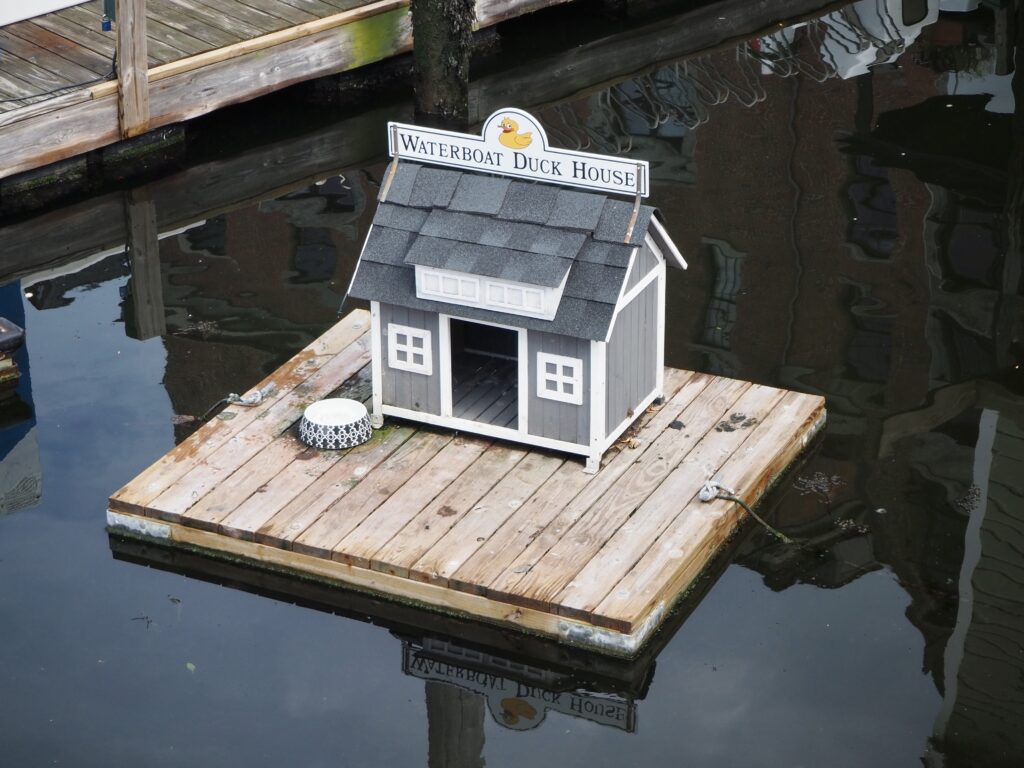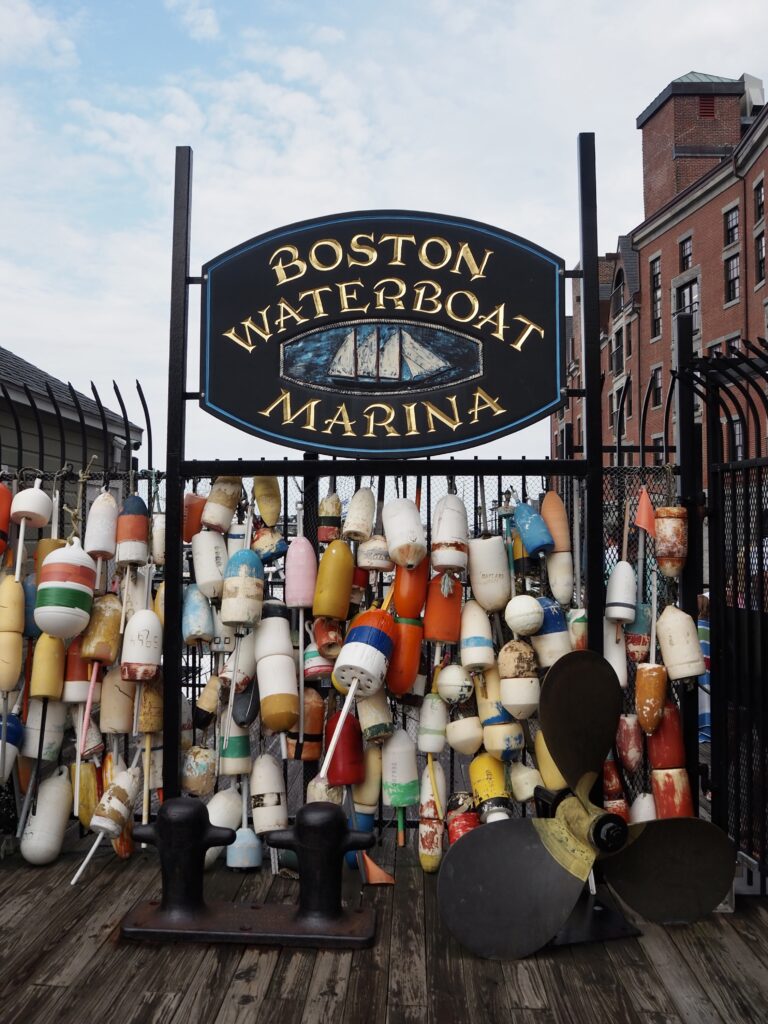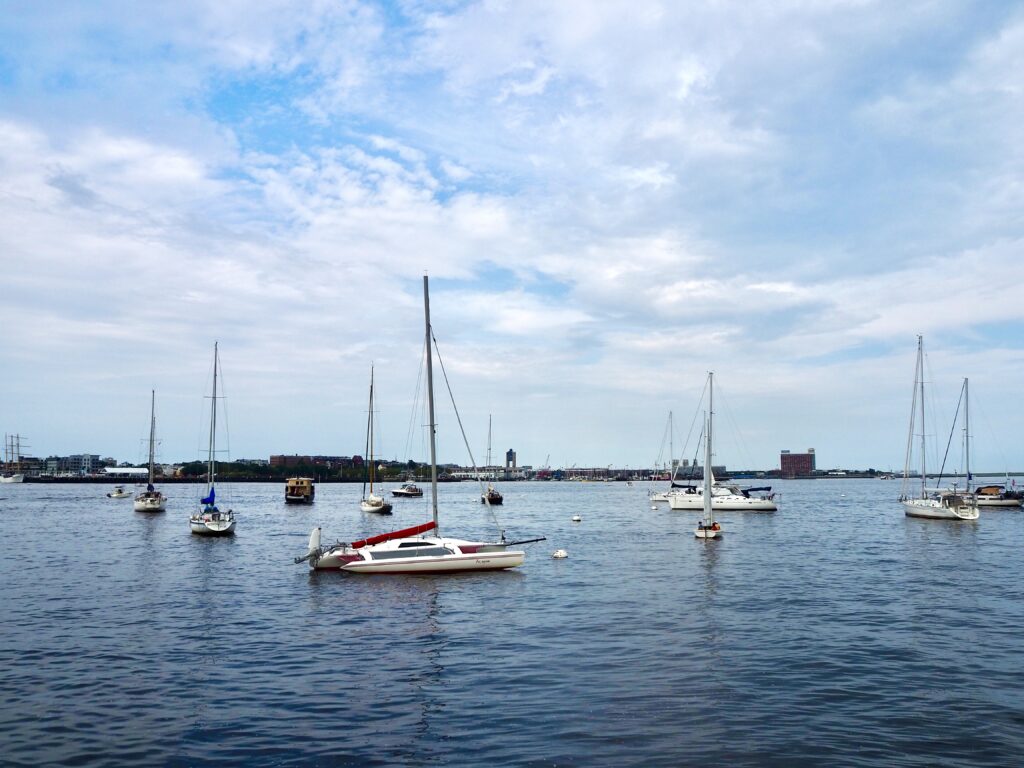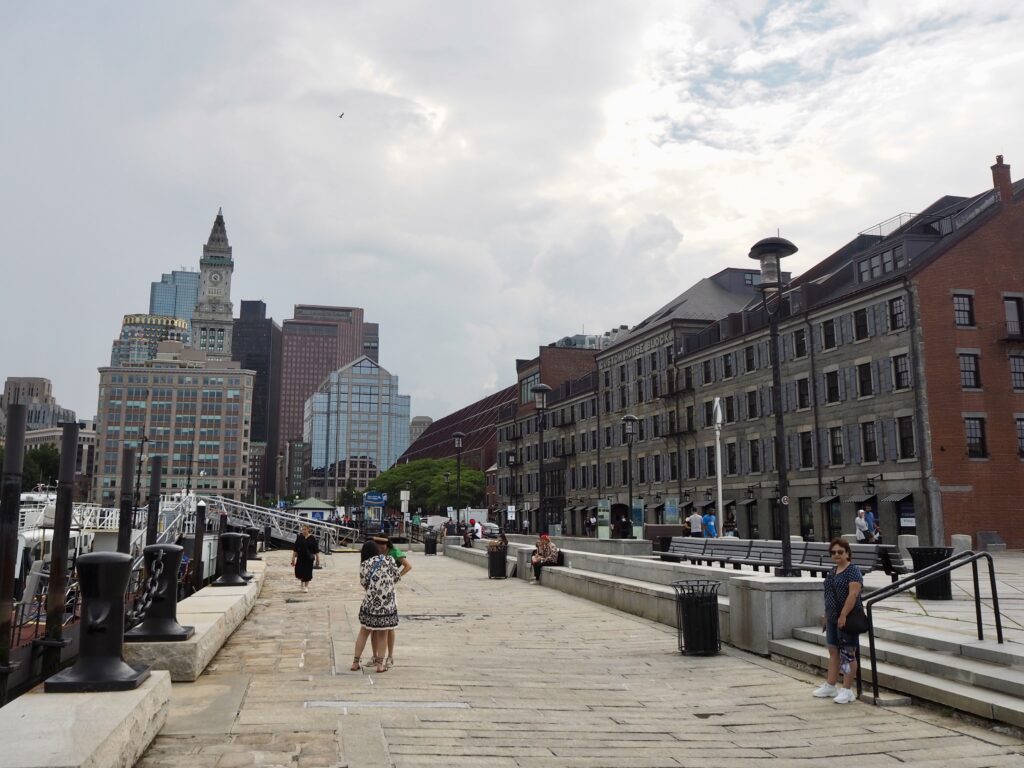 ---
Rose Kennedy Greenway
I was definitely lagging a bit by mid-afternoon, as I ambled round the city centre, so ended up heading back to the hostel a little early. I went via the Rose Kennedy Greenway though, the long, narrow park running alongside Atlantic Avenue as it carves through the city centre. Each section is a little different as you cross the roads spanning it. There were fountains and sculptures in some. Others had a beer garden or a small pop-up market of crafts. There's a carousel near Long Wharf and another section full of wildflowers to encourage bees. It's a pretty interesting route to walk through, with plenty different things to see.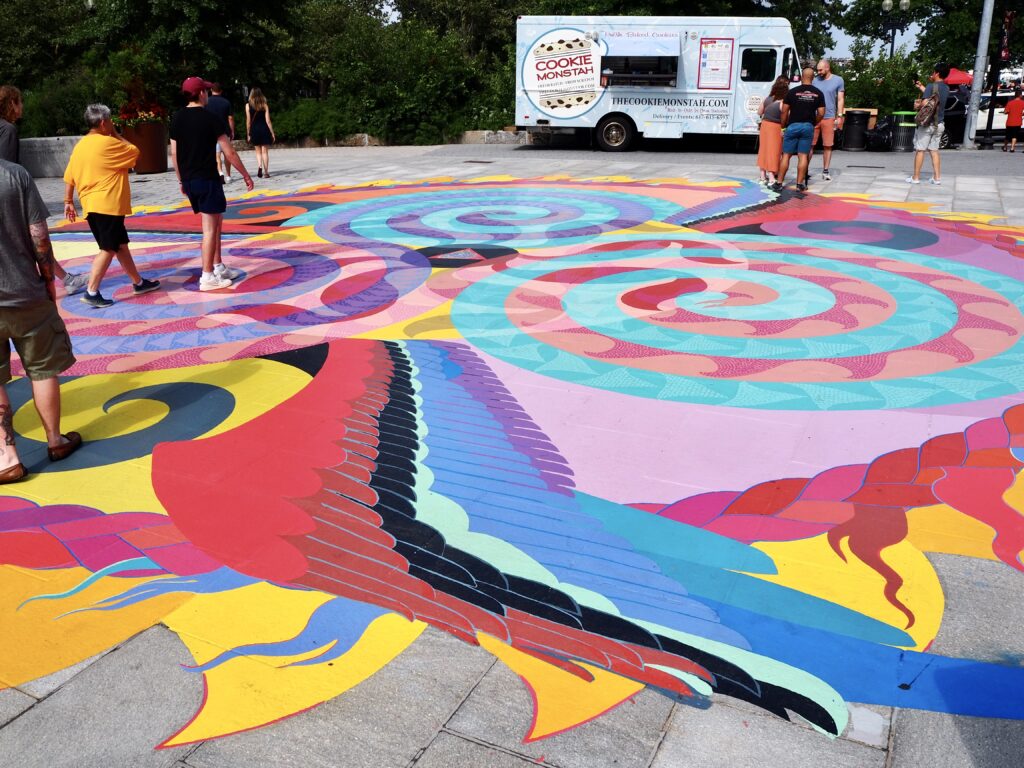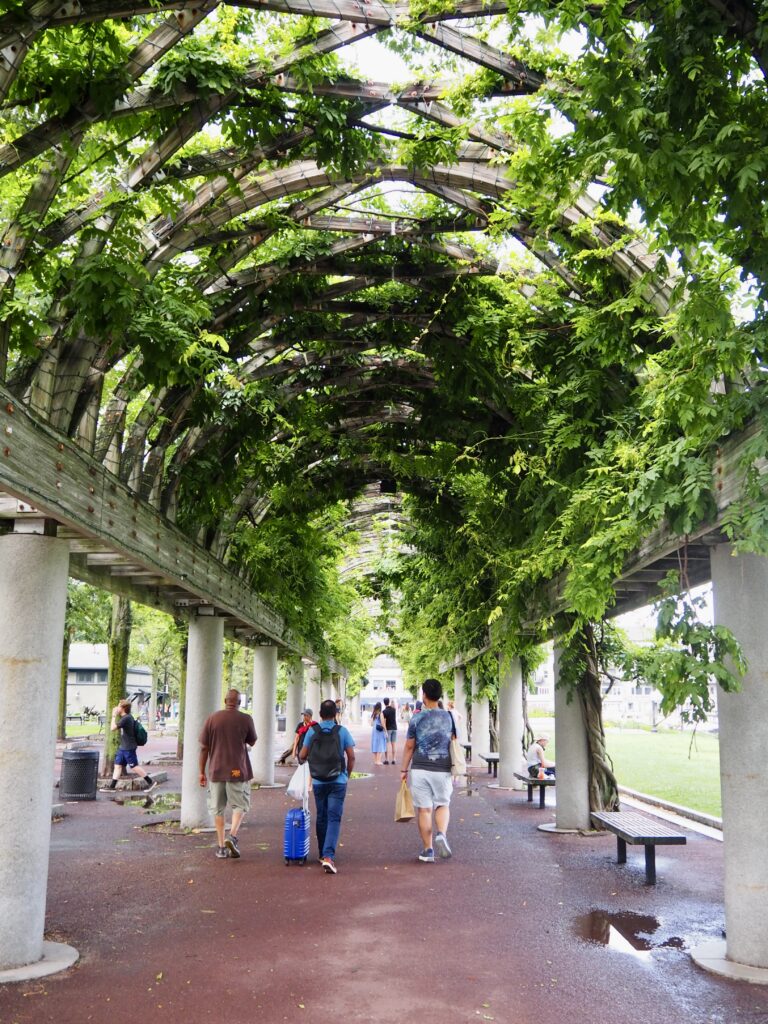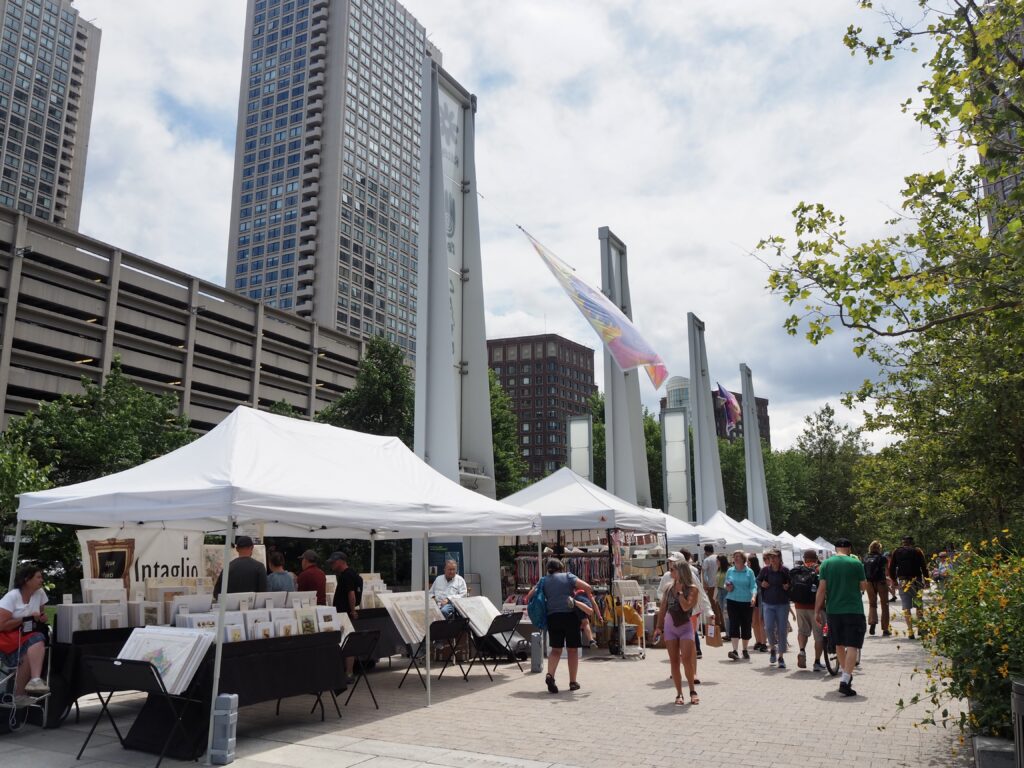 ---
Day Four
Freedom Trail
On the last day of my weekend in Boston, I finally did what probably comes up as the number one tourist thing to do – the Freedom Trail. Boston is one of the oldest cities in the USA, and therefore comes with a lot of history to it. Native Americans have, of course, been here since time immemorial – the Massachusett tribe. But Europeans started building the city in the early 17th century. It played an important role in the American Revolution, with many crucial events taking place here and revolutionary thinkers roaming its streets. The Freedom Trail is a tour route that takes you to the most importnat sites and buildings, many of which still stand.
The trail starts in the Boston Common, where you can join a tour led by one of their guides dressed in period garb. I wanted to do it at my own pace, though, stopping as I went (I was still feeling a bit off), so I downloaded the audio-tour on the National Parks Service app. The tour covers several churches and burial grounds, the Old State House and the site of the Boston Massacre, Faneuil Hall, the Paul Revere House and lots more! There some really great, old architecture along the way too – a nice change from a lot of more modern North American cities.
The trail winds up into the North End, another interesting neighbourhood to wander around. I did skip the last couple of stops, though, across the river in Charlestown, being just a bit far away. We don't learn American history in the UK, so my vague knowledge comes from what I've gleaned from TV shows. Needless to say, I learned a lot today!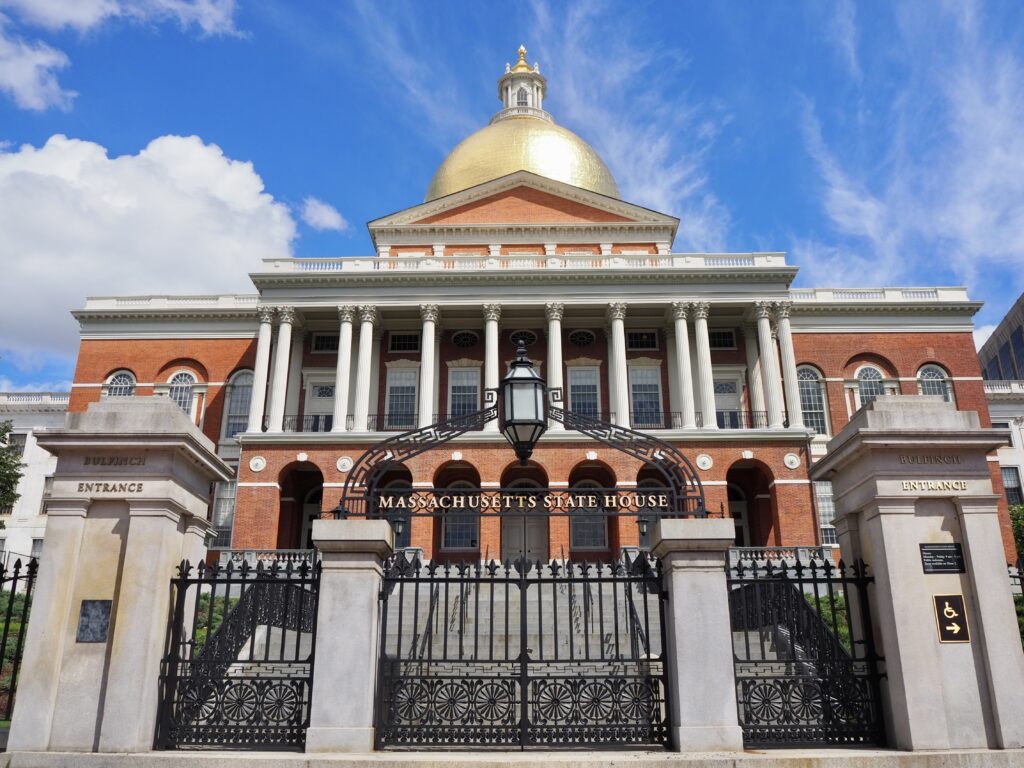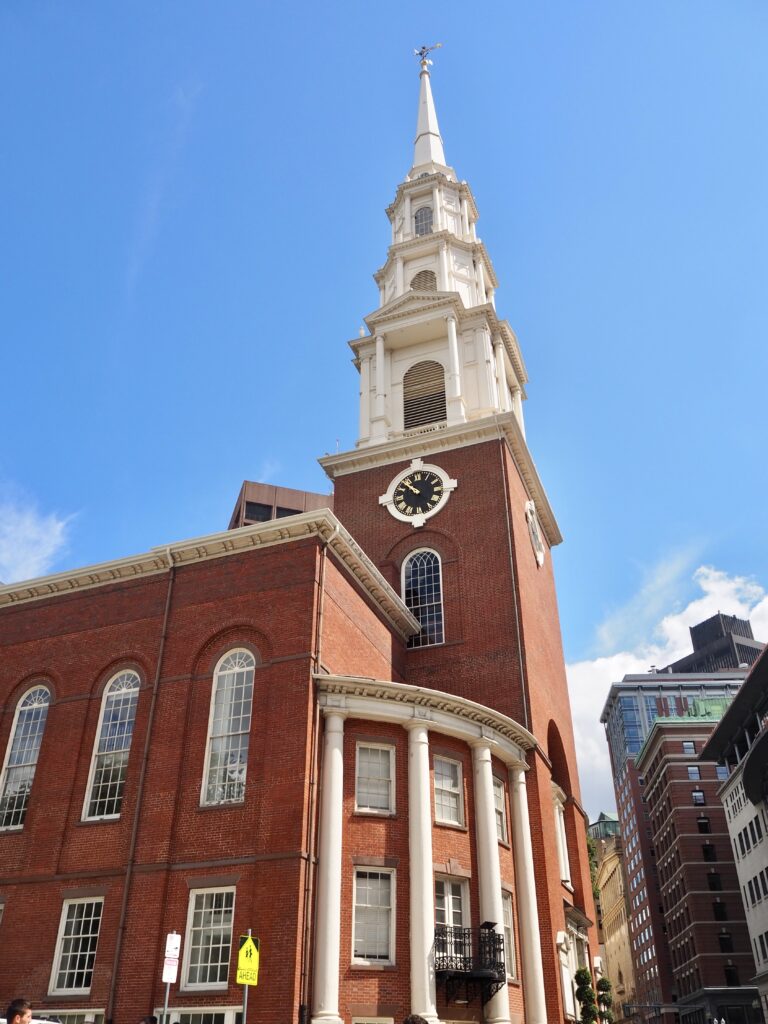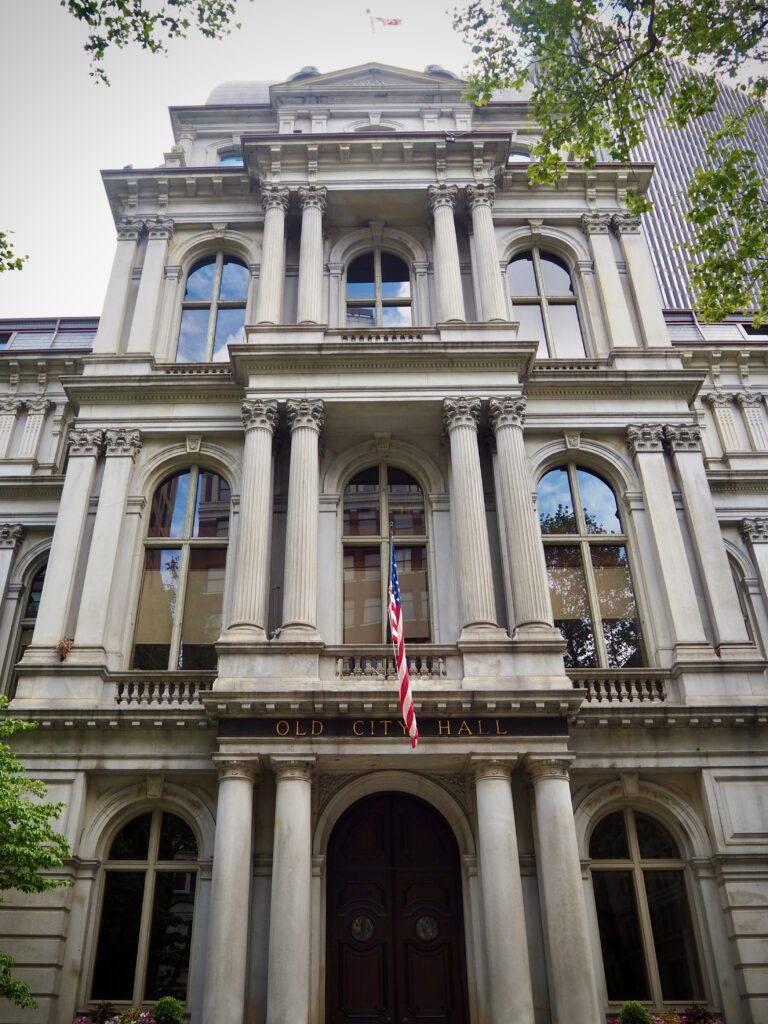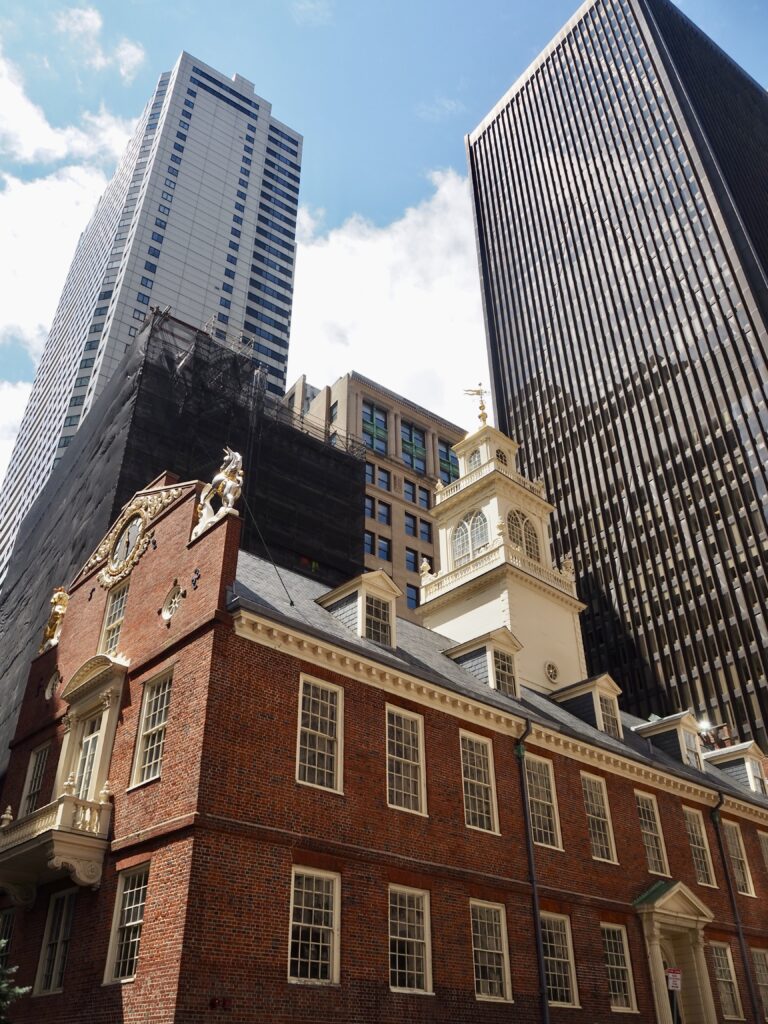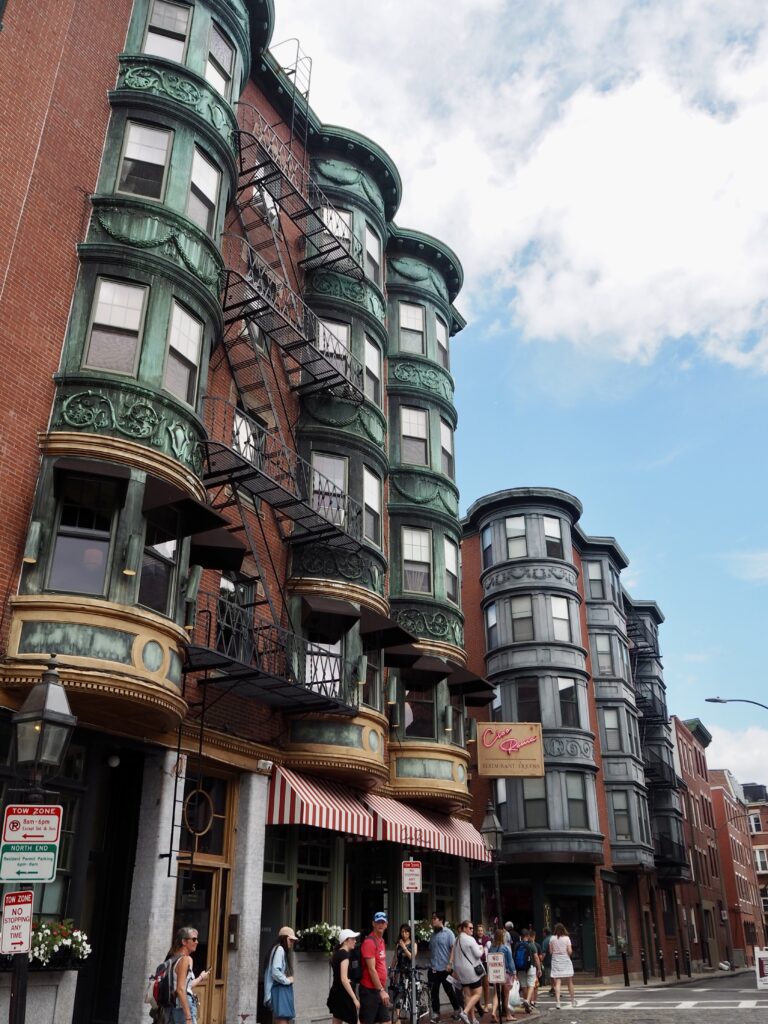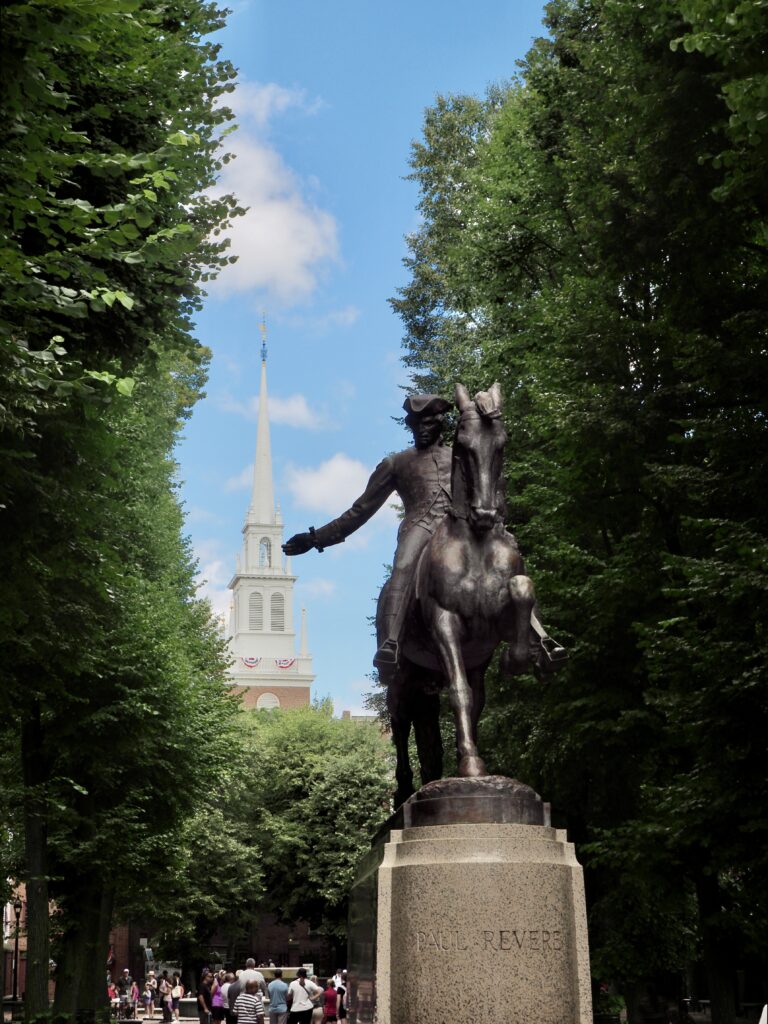 ---
Faneuil Hall
I circled back to Faneuil Hall, stopping at the Salty Dog again for lunch, this time going for a crabcake sandwich. As mentioned, I'd passed the hall a few times, but now I had a couple of hours to explore more. Inside the main hall is a visitor centre and exhibit for yet more history, while upstairs is the Great Hall, a historic space used for speeches and lectures. Meanwhile outside, street performers make use of the coveted space beyond the hall, in front of large crowds of tourists.
Behind is the Faneuil Hall Marketplace, composed of three long buildings – North, South and Quincy Markets. The North and South buildings have more well-known chain shops, while the central Quincy Market building is a food hall. A lot of seafood, naturally, but plenty of other cuisines available too, many with long lines of people queueing for their lunch orders. It was busy and loud, but that's really how a market should be!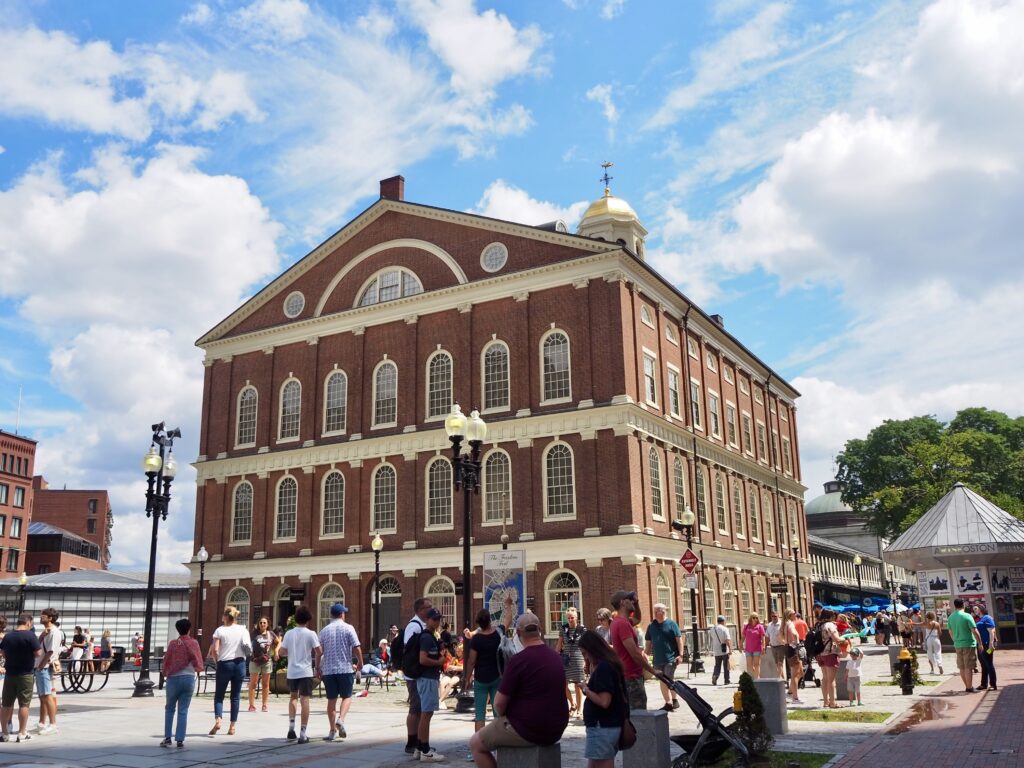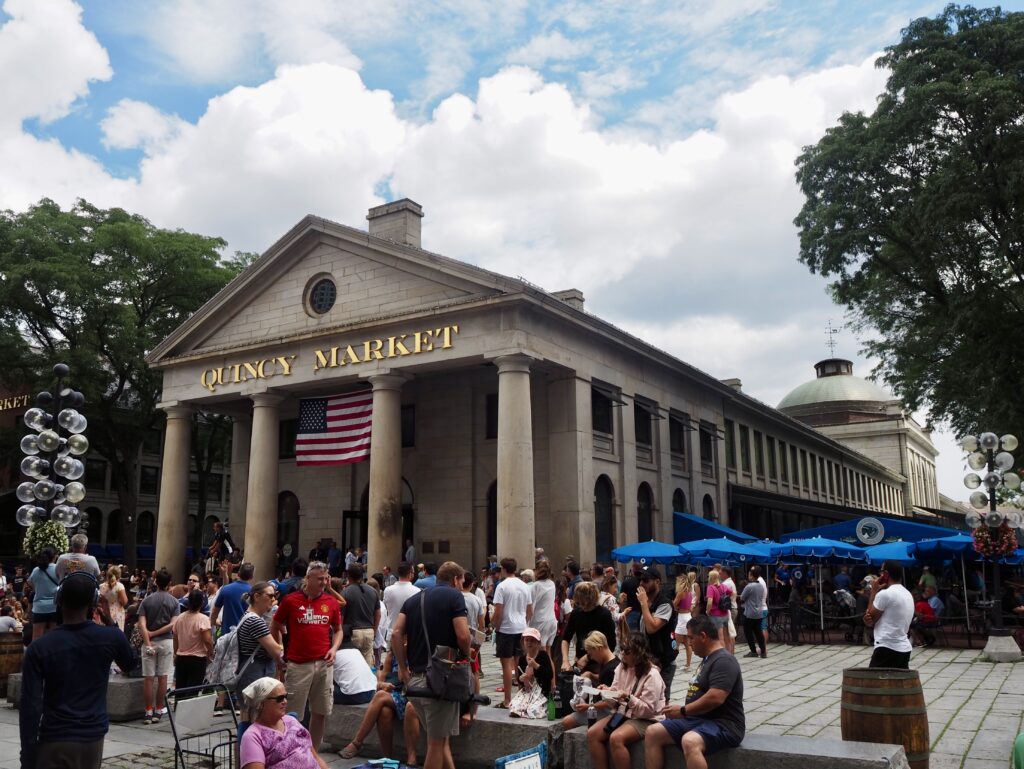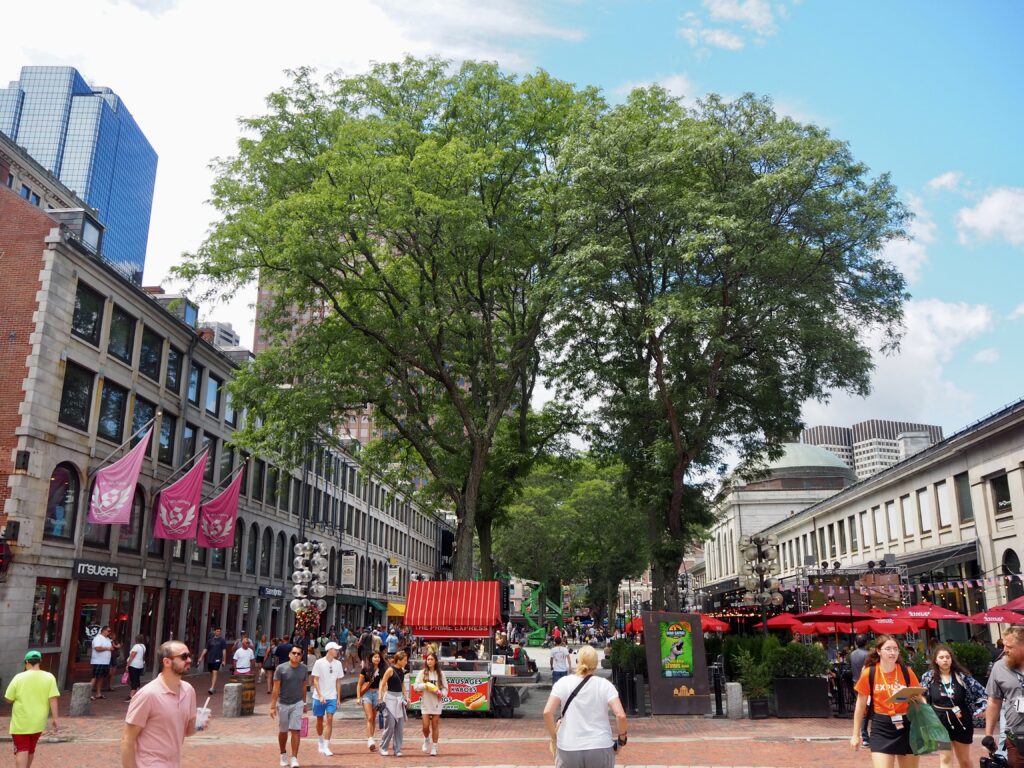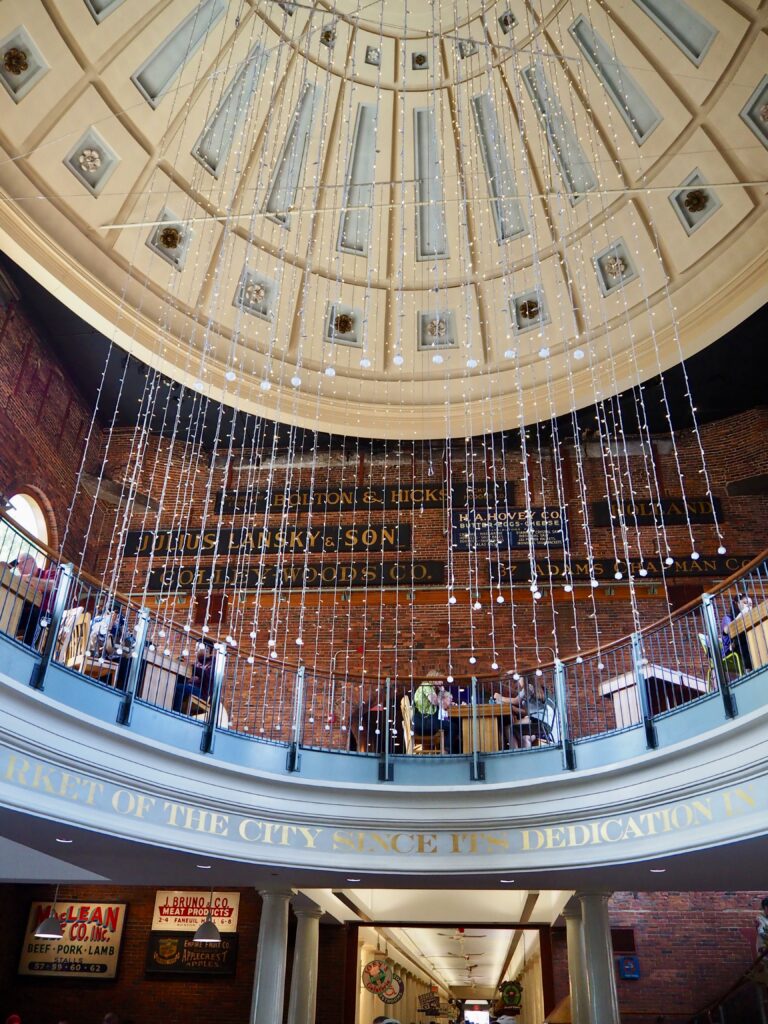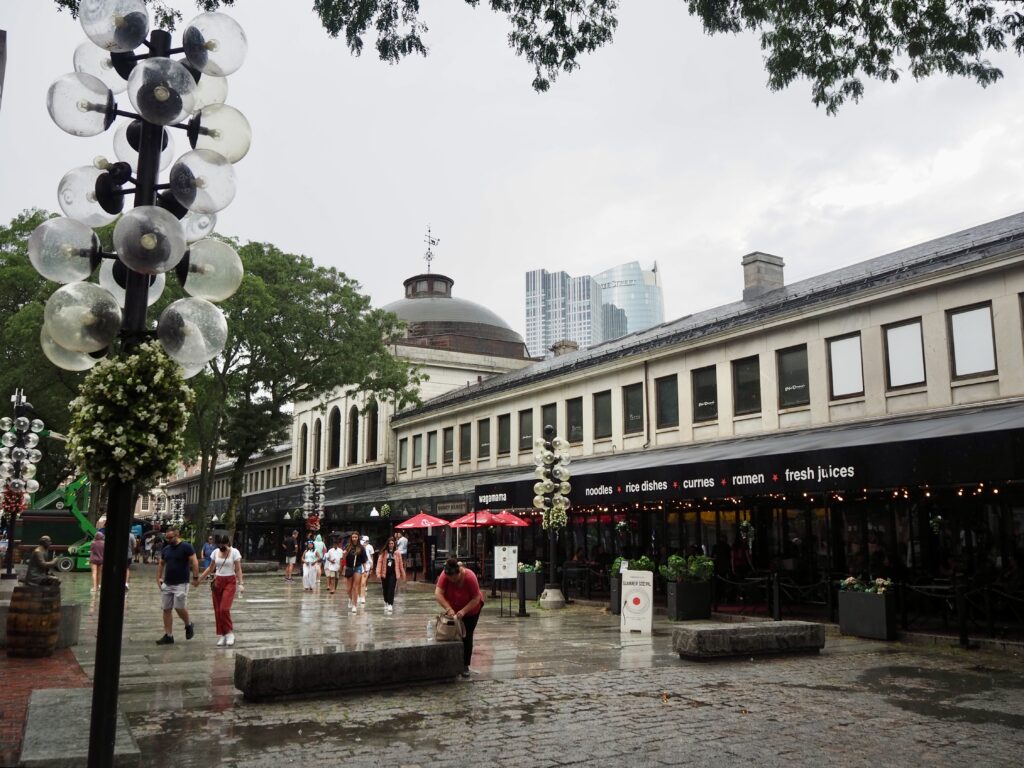 ---
Museum of Fine Arts
After exhausting the market stalls, but still with half the afternoon, I headed over towards Back Bay again to visit the Museum of Fine Arts Boston. It's a pretty huge museum, and there was a section closed off to be set up for an evening event, so I didn't see all of it. There are paintings, sculptures and more from many different countries and eras, so there's probably something for everyone!
The Impressionists and similar movements are usually my favourite, and I was not to be disappointed – the MFA has a whole room of Monet paintings, one of the largest collections of his works in one gallery. I find them very soothing and peaceful to sit at for a while. The paintings of Signac, Sisley and Pissarro were also new discoveries for me that I admired a lot. There was also a huge Chihuly glass sculpture in one of the atriums, whose style I recognised from seeing his work in Seattle. Eventually though, after roaming the many galleries for a while, my tiredness kicked in and I headed back to the hostel for the evening.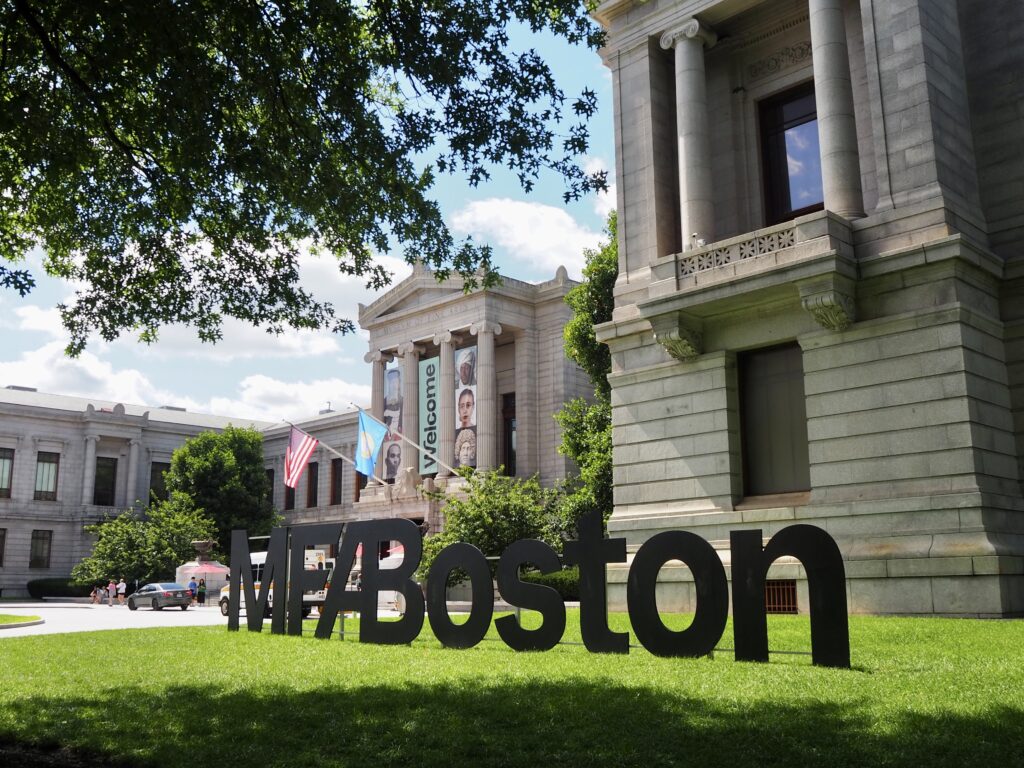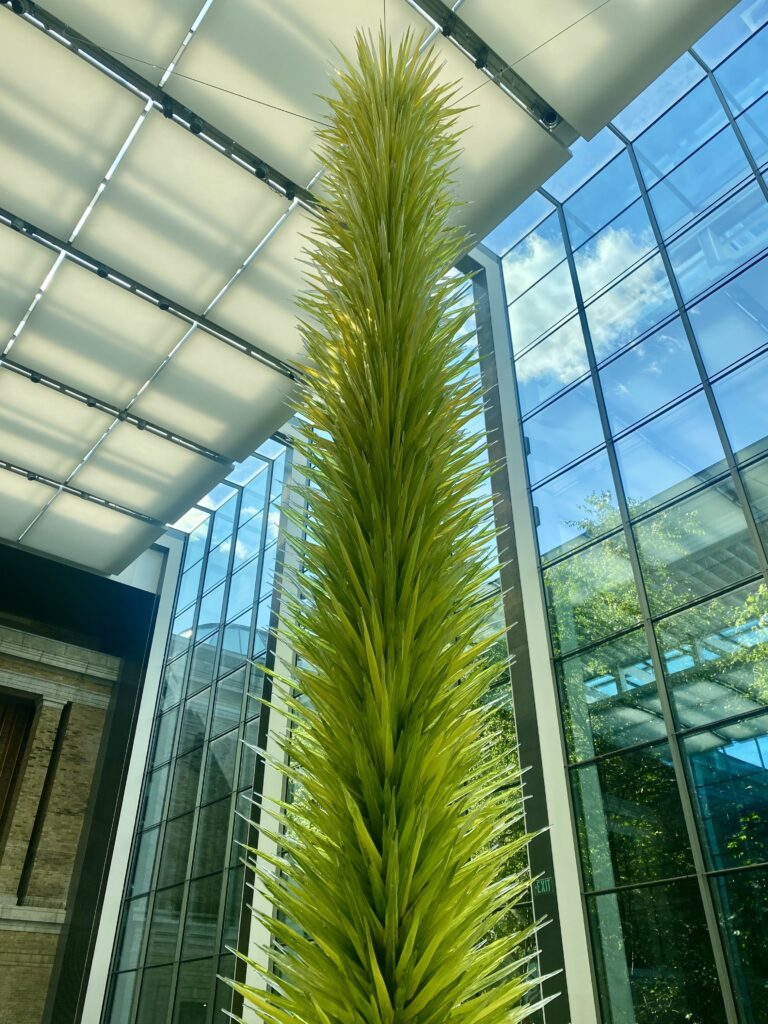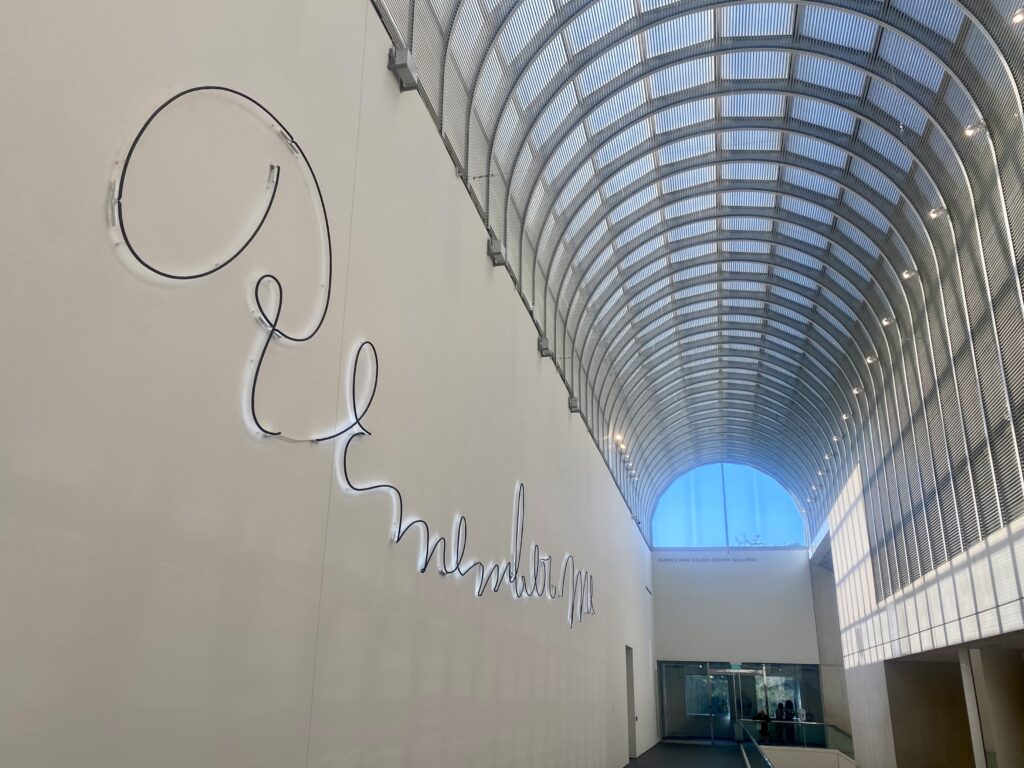 ---
Weekend in Boston
Boston's long history as a city make it a fascinating place to visit, with many sights to discover. A weekend in Boston is a good start, but certainly doesn't cover everything the city has to offer! I certainly enjoyed being surrounded by older, historic buildings again, as well as being by the coast and having green spaces to relax in. As mentioned, my mood and feeling a bit unwell meant I maybe didn't have the best few days, but that's not really to do with the city itself. Taking it easy seemed to pay off though as I was feeling better by the time I left Boston. Just in time to catch an early train through a couple of other States and on to the city that never sleeps, New York!
You May Also Like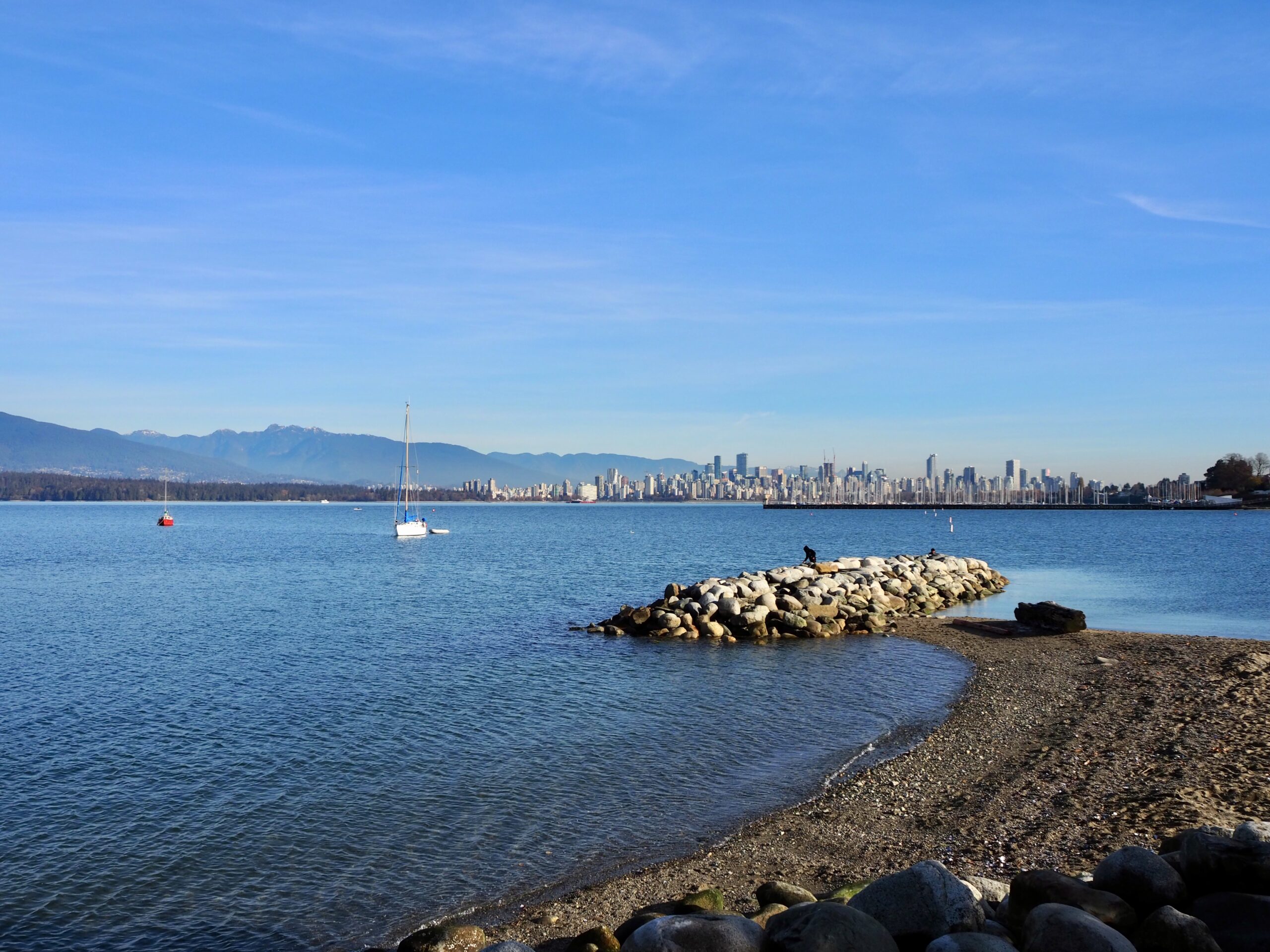 25 January 2023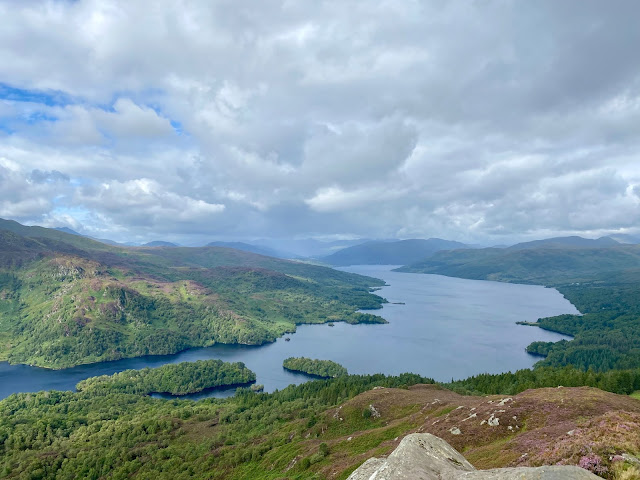 18 September 2020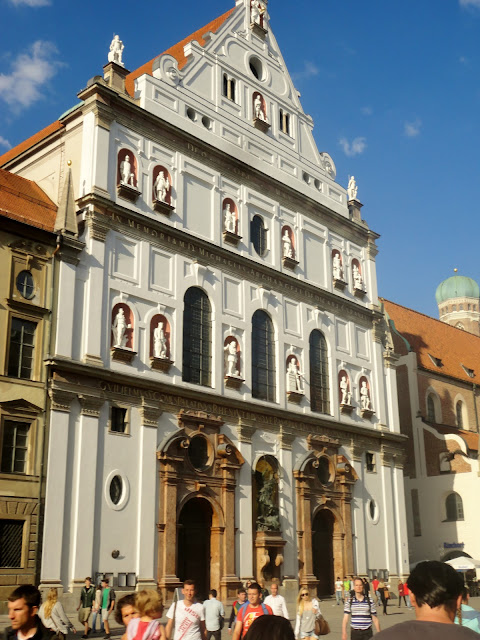 7 May 2018