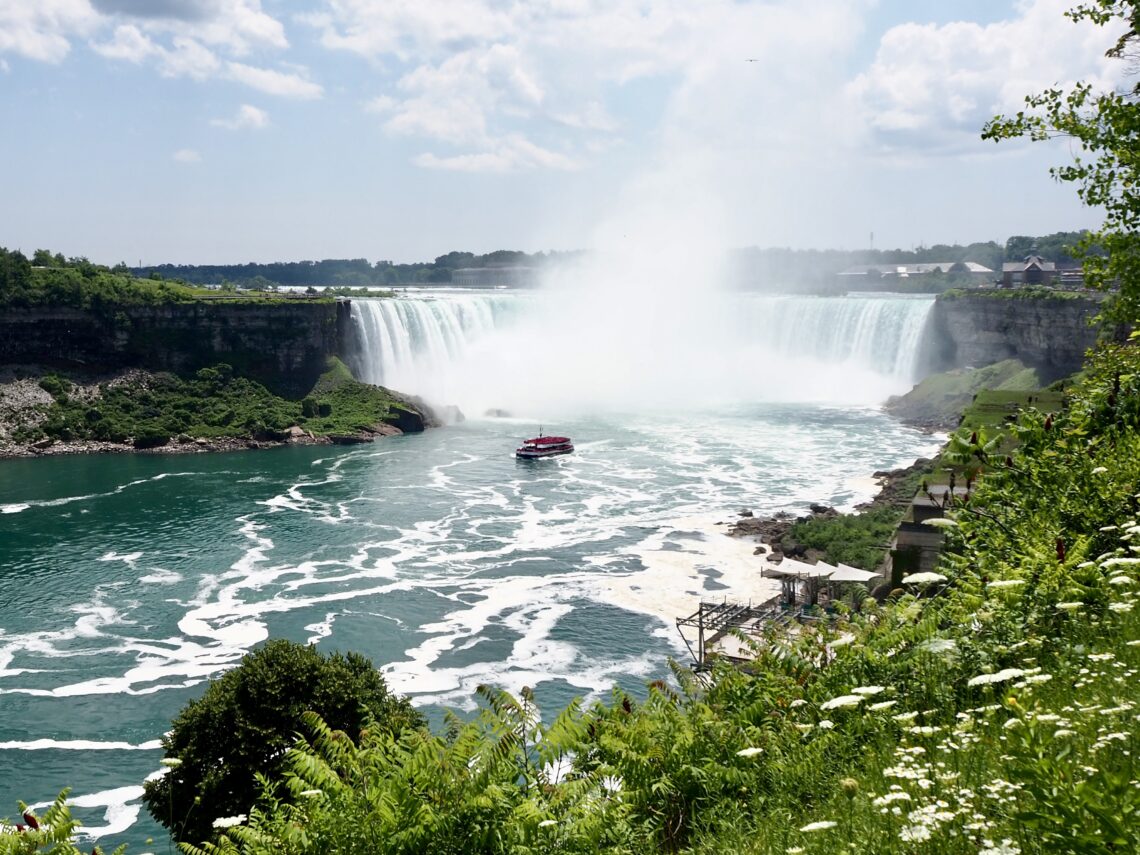 A Week in Ontario | Canada
18 October 2023
How much can you fit into a week in Ontario? A surprising amount actually! To be fair, technically me and my parents were there for 10 days, but when you remove the time I spent working, it may as well have been a week. Anyways, after our weekend in Quebec City, we hopped on the train to Canada's capital city of Ottawa for two nights. Then it was three nights in Algonquin Provincial Park, for a break from cities. And of course, every tourist in Ontario has to go to the most famous attraction, Niagara Falls, for a night. Then we finished up with three nights in Toronto, the country's biggest city.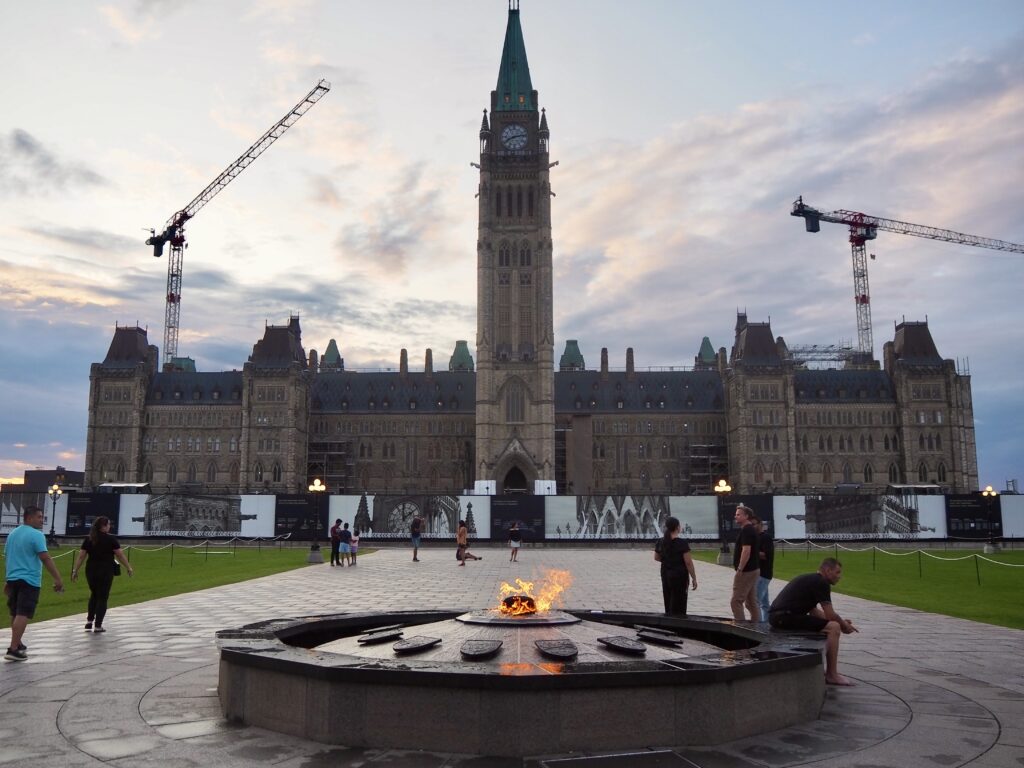 ---
Ottawa
Parliament Buildings
Ottawa is significant for being Canada's capital, strategically chosen for its proximity to Quebec back when the country was first formed with just these two provinces. That means, of course, Ottawa is home to the Canadian Parliament and government, and the numerous buildings they're housed in. It's easy for Europeans to think that North America doesn't have any old architecture, but these Gothic structures date back to the 1860s (though were rebuilt after a fire in 1916). They're suitably grand and impressive, and the top thing you should see when visiting Ottawa.
The day we arrived on the train from Quebec City, we went for a walk past them all, not far from our hotel. There is currently some refurbishment going on, hence the scaffolding and cranes in the photos. This also means the parliament are actually temporarily meeting in another building and that you can't go inside. There are any buildings along this street which all serve official, government purposes, but I don't really know enough about it all to understand what they all are. I just enjoyed seeing this spectacular architecture! In front of the main building, there's an eternal flame whose holder shows all the provinces and the years they joined Canada. We spied a few statues in the grounds too, most of which turned out to be former, notable Prime Ministers.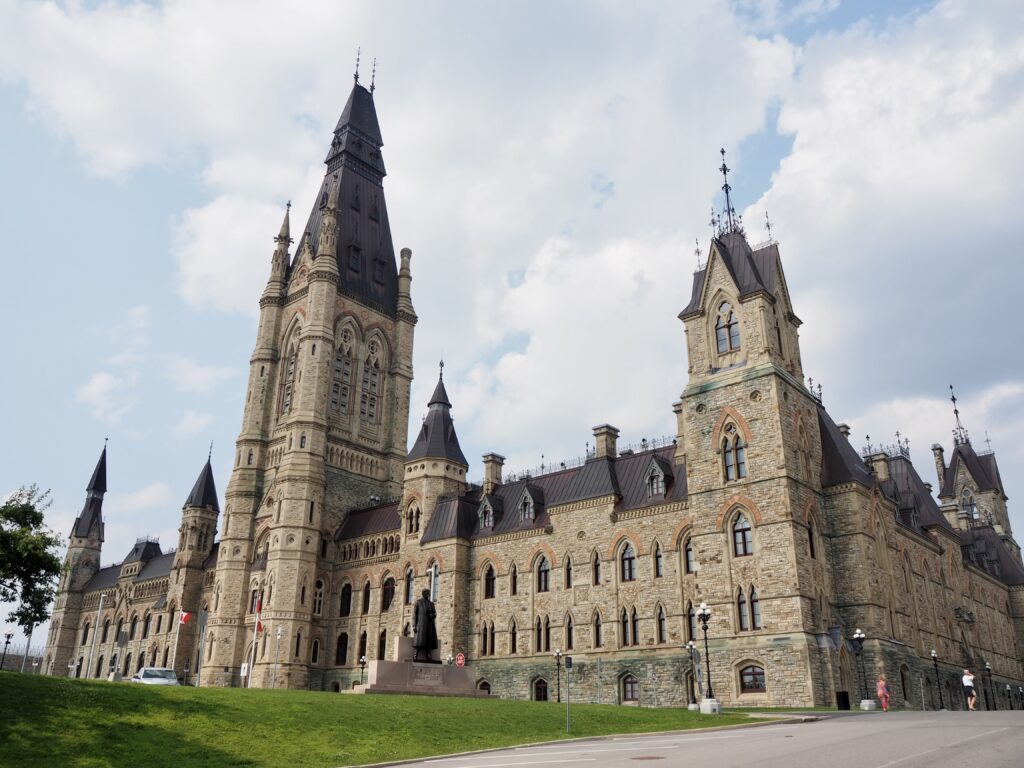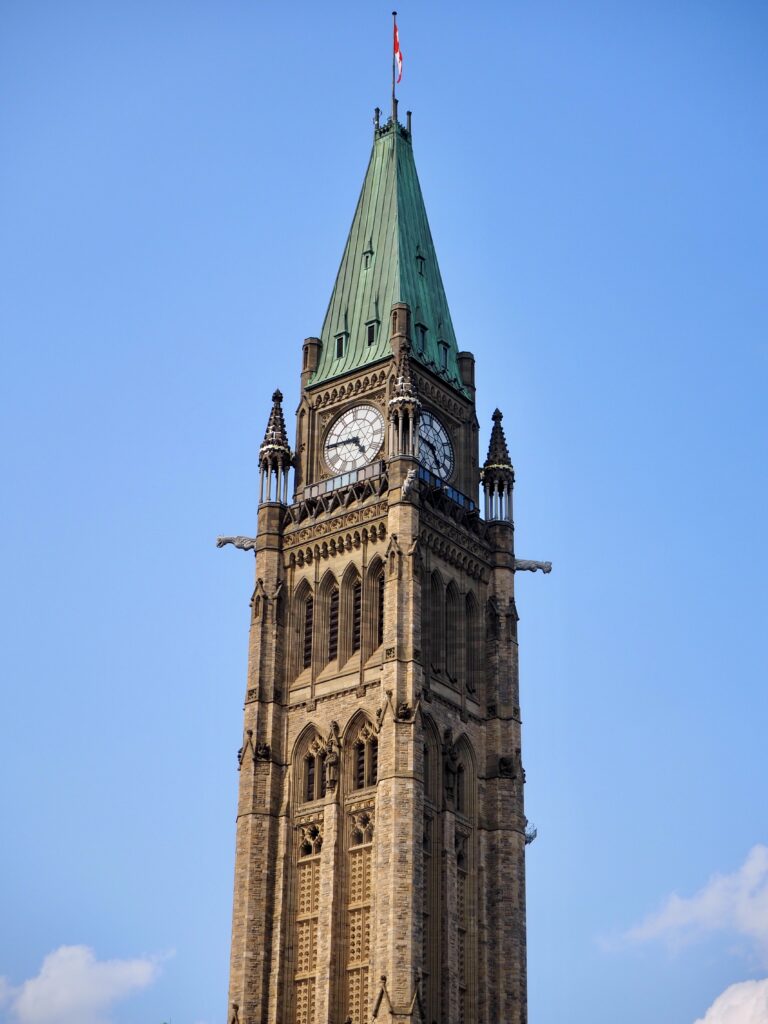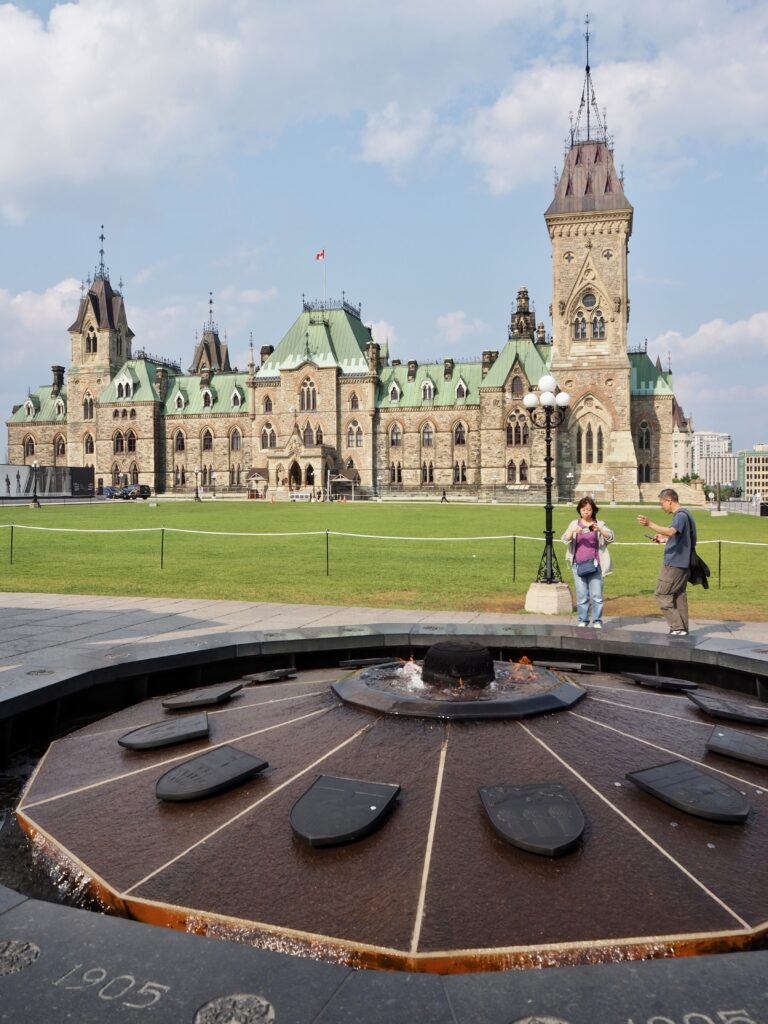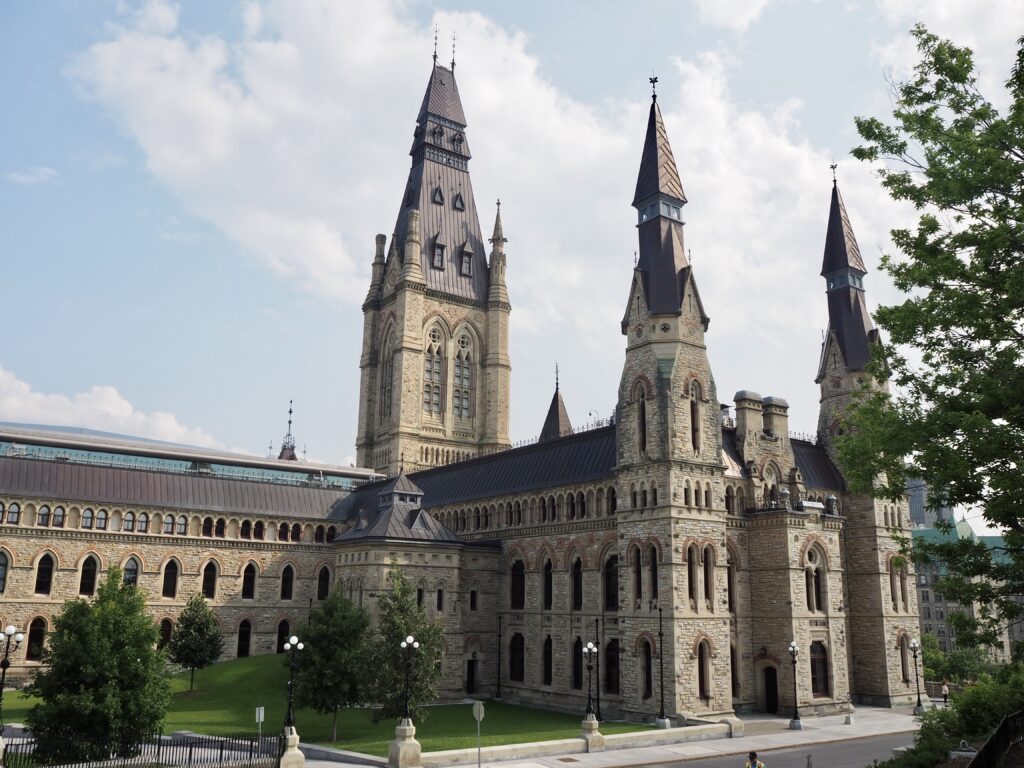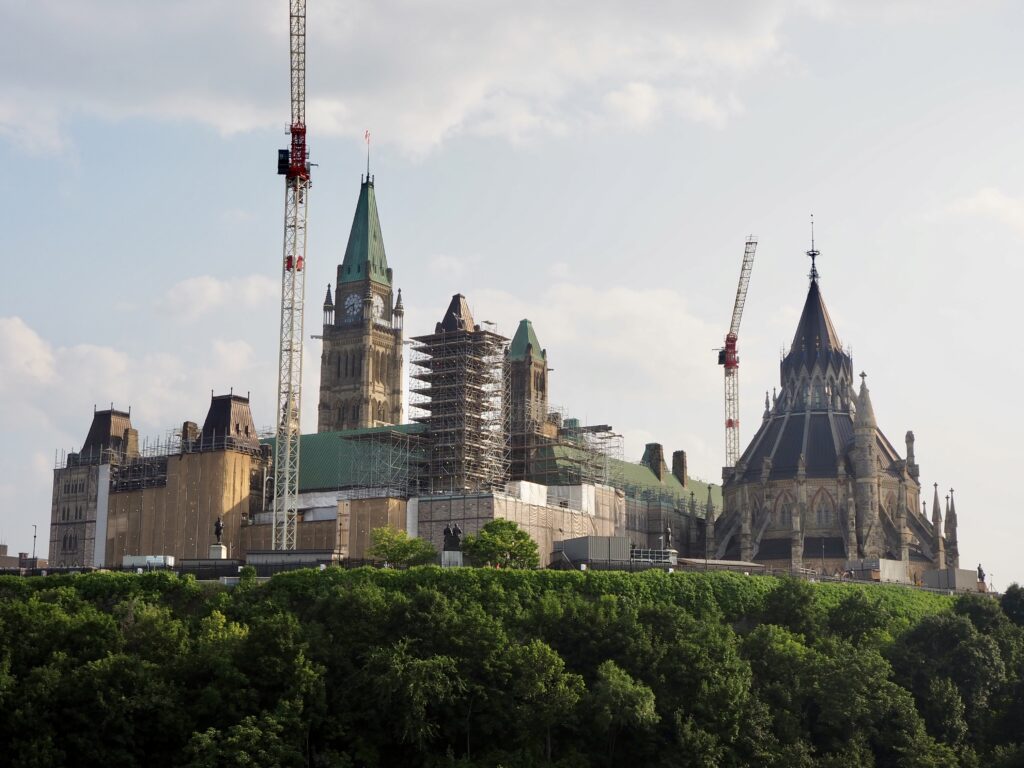 ---
Rideau Canal & Downtown
Aside from the Parliament, Ottawa isn't actually the biggest city! It has a few National Museums, but since I was working through the day, they were closed when I finished. But I did spend some time wandering the rest of the Downtown area nearby. This included the National War Memorial, Major's Hill Park, the Ottawa Sign near Byward Market and pedestrianised Sparks Street. I also didn't know Oscar Peterson was Canadian until I saw his statue here!
One of the city's more unique features is the Rideau Canal, a UNESCO World Heritage Site. It was built in 1832 and has a whopping 46 locks over its 200km route, connecting the Ottawa River to Lake Ontario at Kingston. They were opening a lock for some boats travelling up the canal as we were crossing one of its bridges, so we stopped to watch. The height differences between the locks on this section are pretty steep! I also went for a walk along the canal the following day, and came across some fun murals on the stairs too.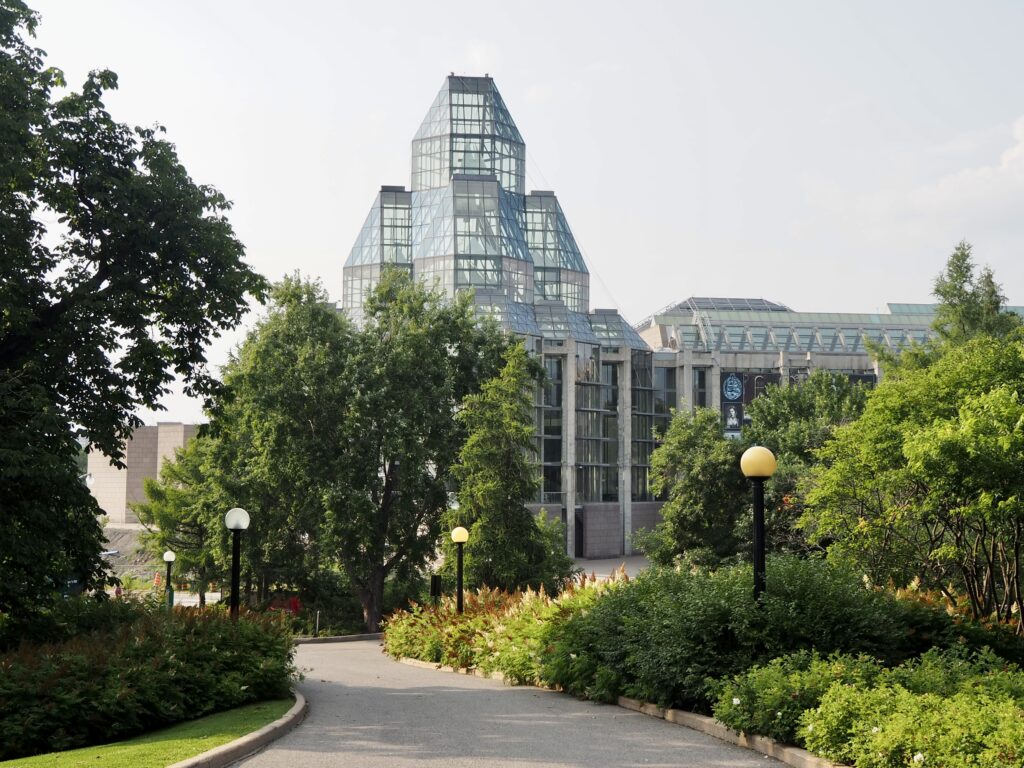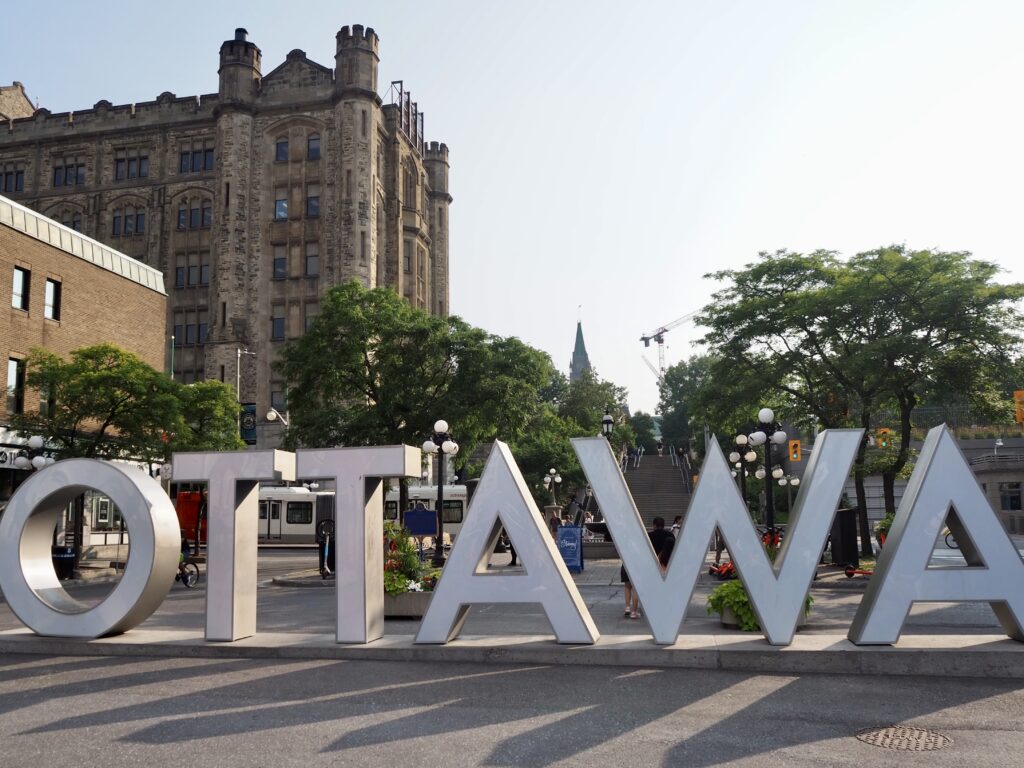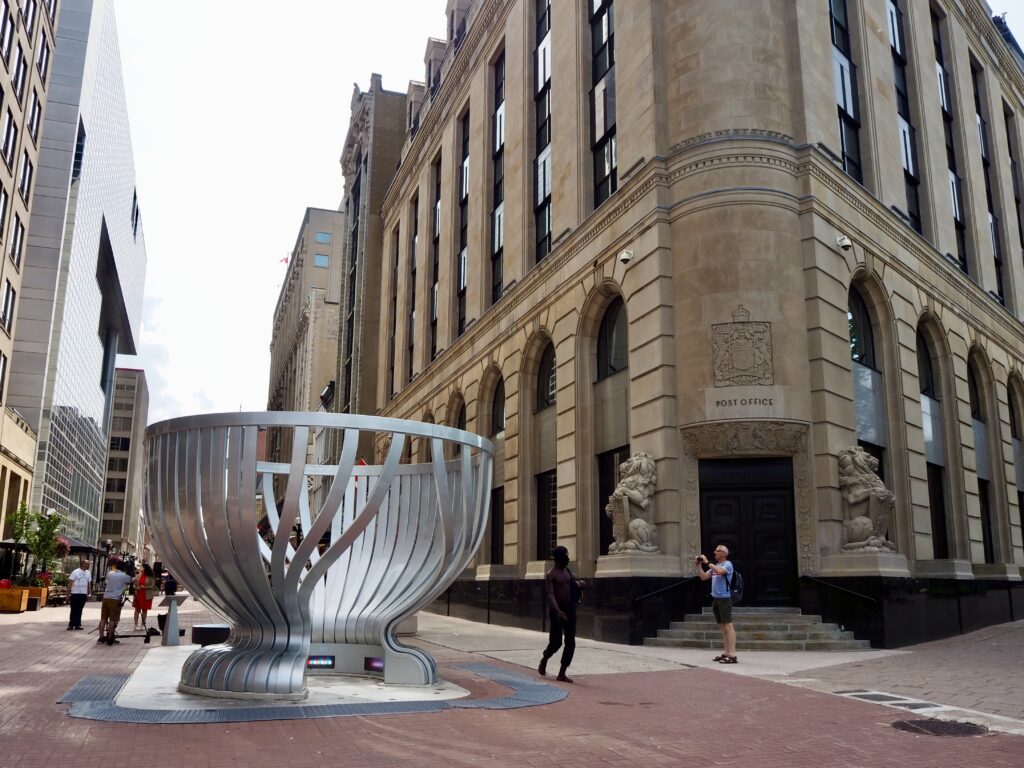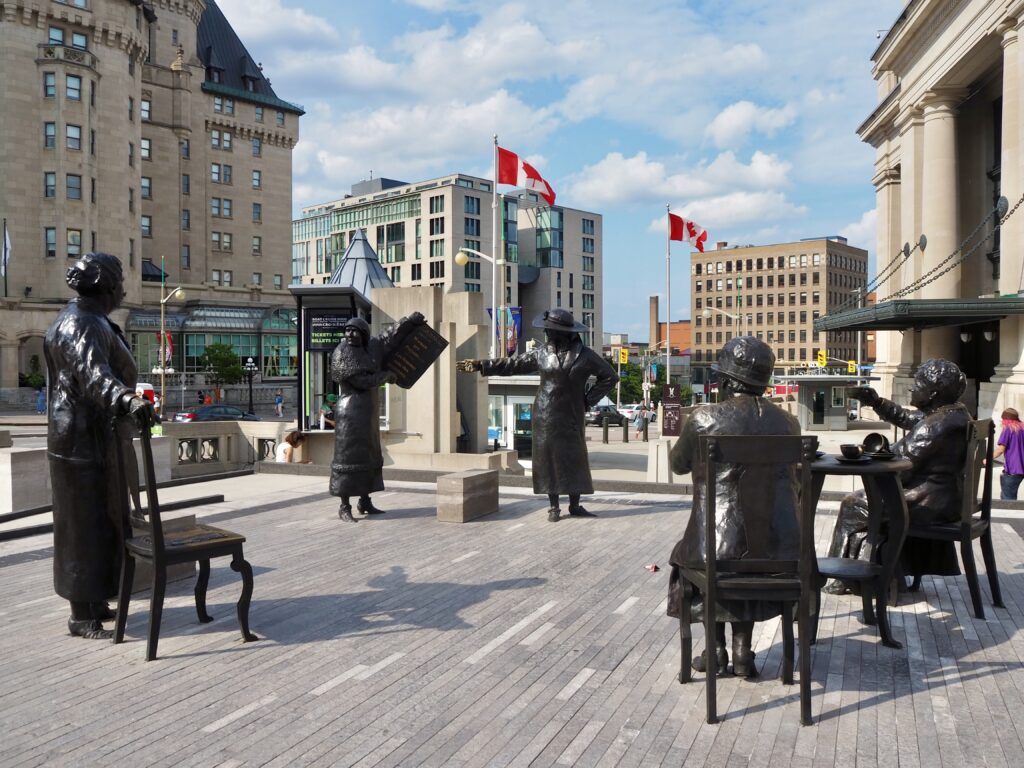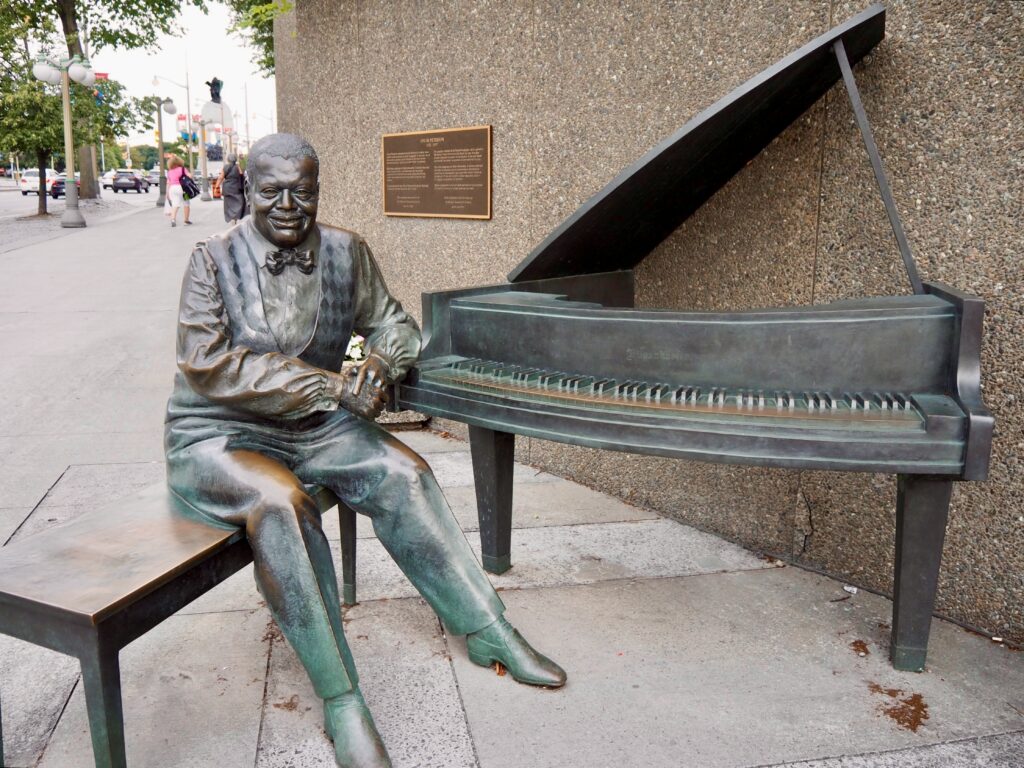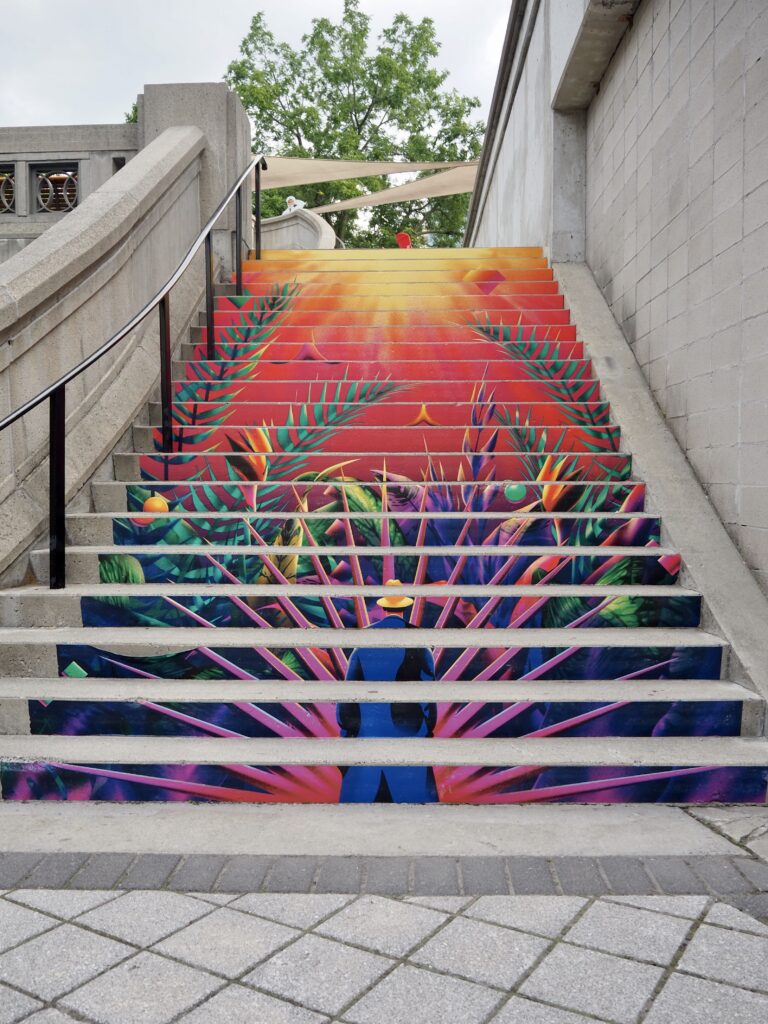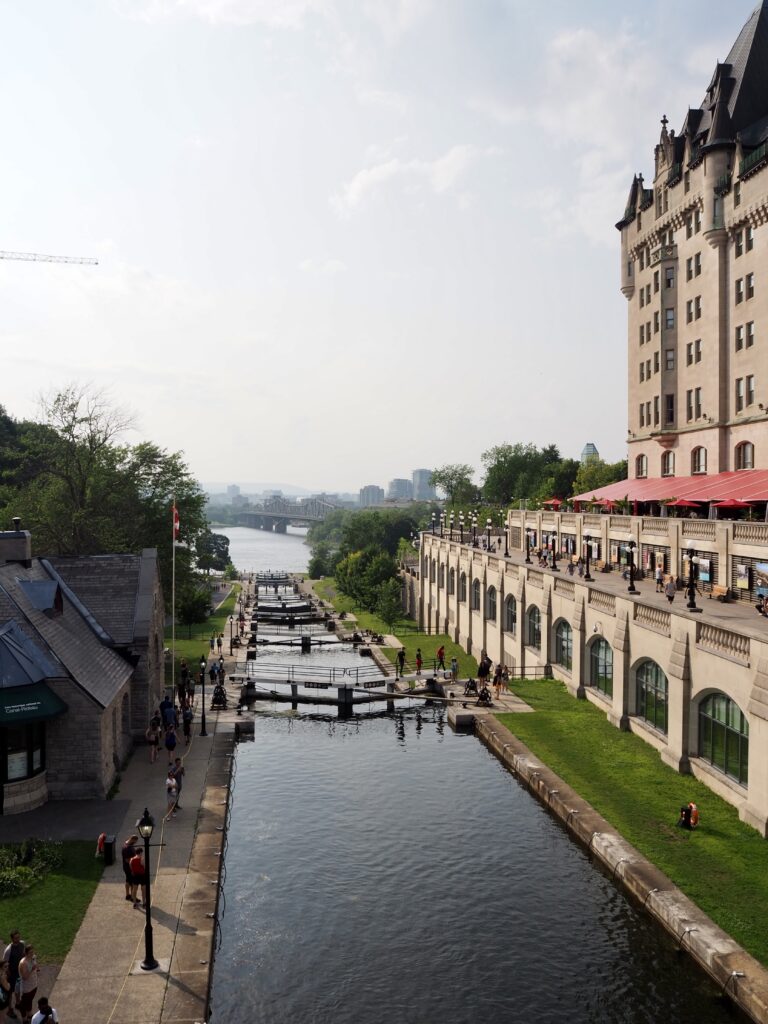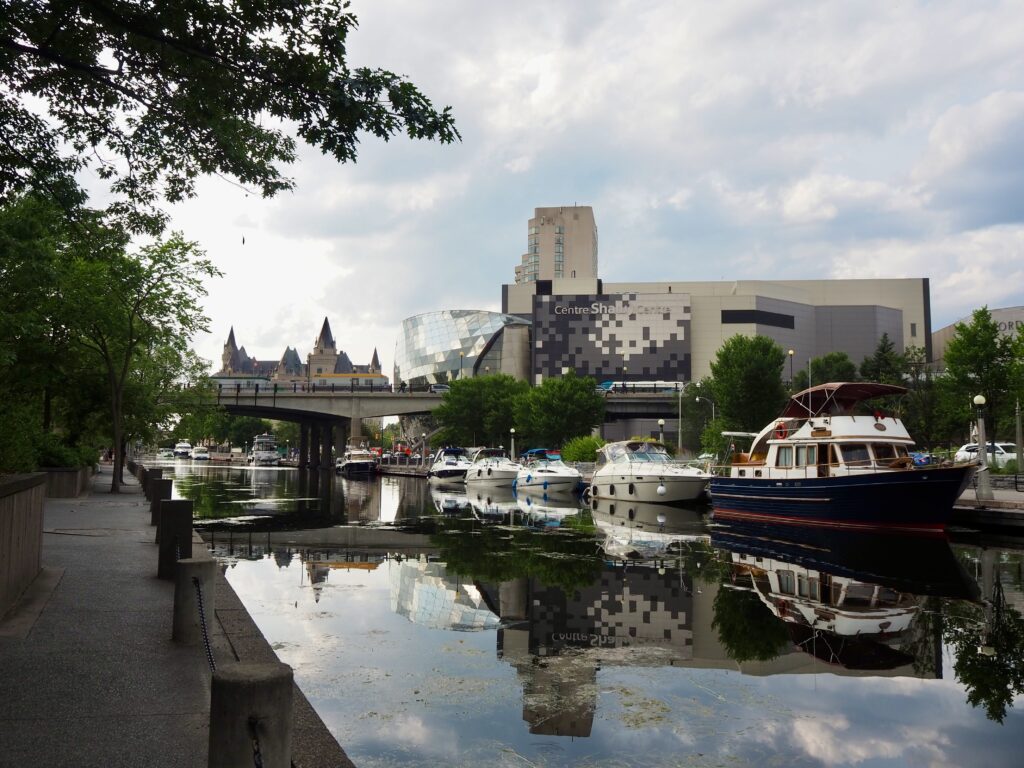 ---
Northern Lights Show on Parliament Hill
No, not those Northern Lights. If you're visiting Ottawa in the summer, the Parliament Building puts on a special show after dark. We didn't know about this in advance, but were lucky enough to be in the city on the right day of the week and saw the adverts for it when we were at the buildings earlier in the day. Northern Lights is a sound and light show projected onto the main building. It's free, lasts about 30 minutes, and you can sit on the grass of Parliament Hill to watch.
The show loosely tells the story of Ottawa and Canada's history, in both English and French of course. There are some pretty clever effects too, such as making the Parliament Building look as it originally did and then "burning down" in the fire of 1916. The Canadian national anthem played at then end, as the building became the flag, and a lot of the crowd stood up to sing it. Yes, I'd lived here for 9 months at this point and no, I still don't know the words.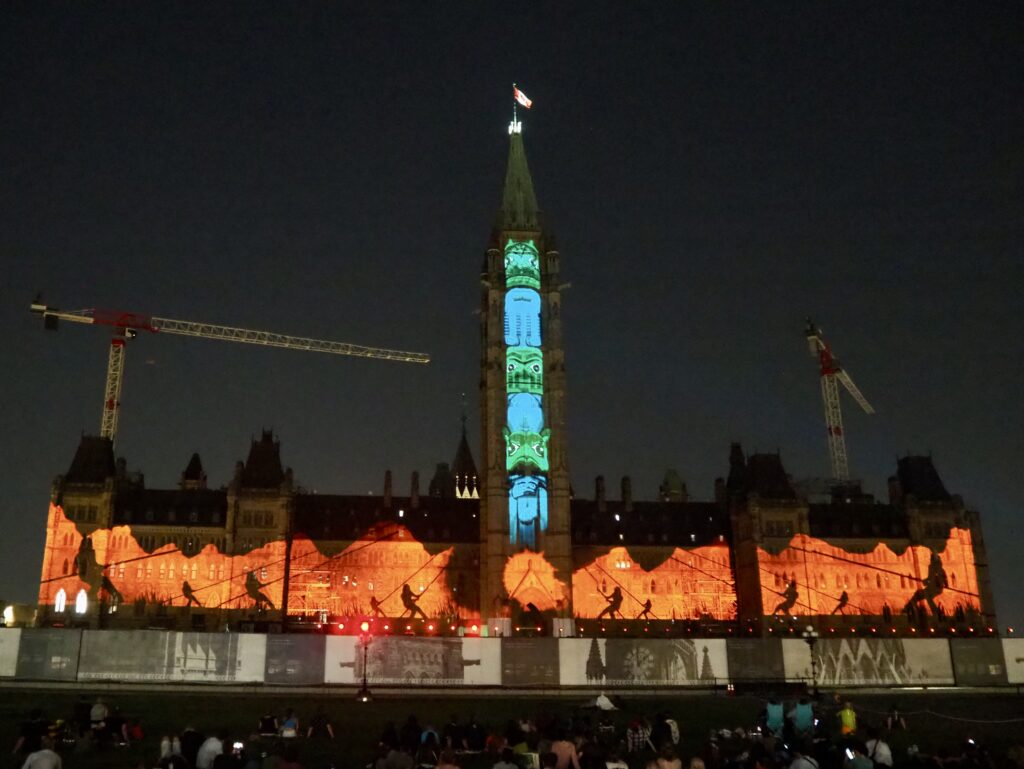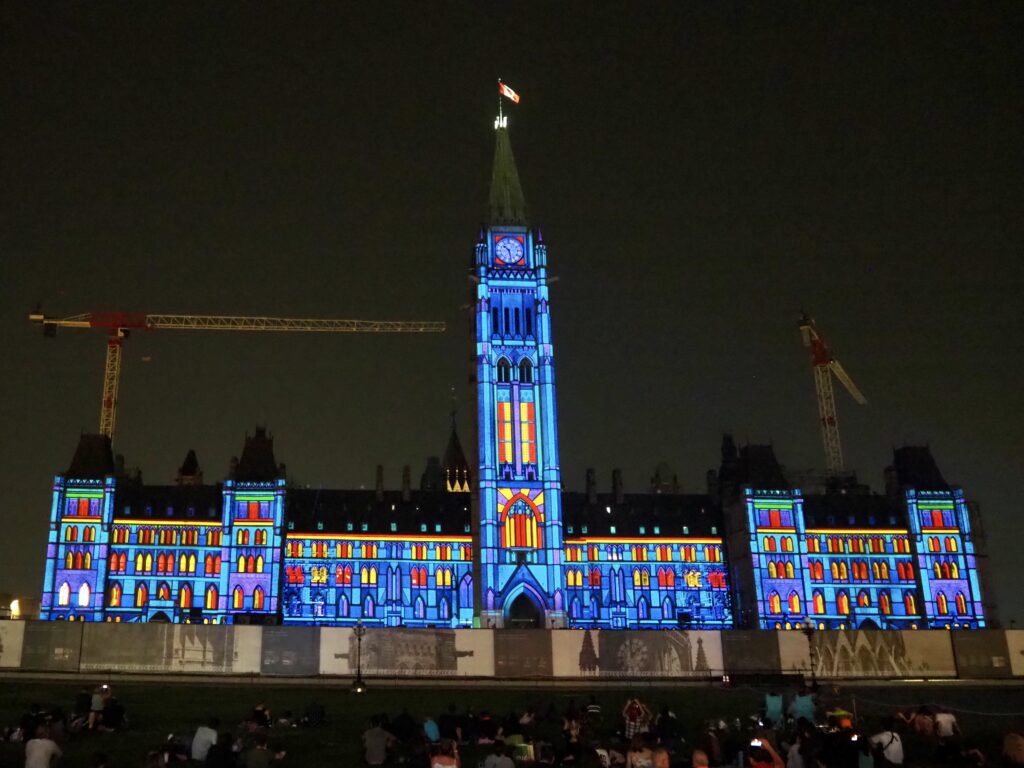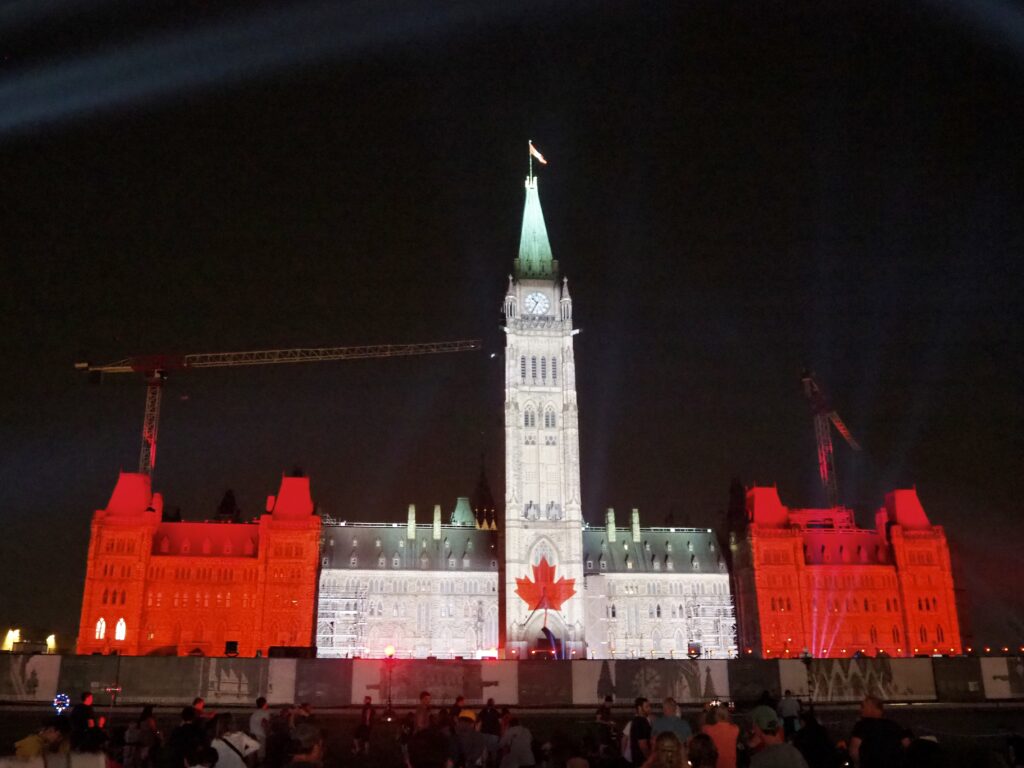 ---
Algonquin Provincial Park
Muskoka Lake Country
After Ottawa, we picked up a rental car and drove west out of the city for a few days back in nature. My cousin had highly recommended Algonquin Provincial Park as part of our week in Ontario. Technically, we were staying outside the park, though had to drive through it first. We had a small cabin in Muskoka county, which I've also heard referred to as "cottage country". A lot of people who live in larger towns and cities in Ontario have cottages or cabins around Muskoka for weekend trips and short breaks. The area is mainly thick forest, broken up by hundreds of lakes and rivers. There are a lot of canoeing options here, naturally, including campsites only accessible by canoe.
Our cabin was part of a campground of them and right beside a small lake. We arrived late on the first evening, and the afternoon of the day I was working was pretty wet. It dried up enough to go sit by the lake for a little while and just relax there. We also ventured out to dinner at 3 Guys and a Stove in the nearest town, Huntsville, where Mum & Dad also went to the Heritage Place earlier in the day.
Beaver Pond Trail
I did take a full day off work while in the area though, to properly visit Algonquin Provincial Park. Mum and Dad aren't big on water activities, like canoeing, so we did some hiking and sightseeing instead. We actually dropped off Mum at the visitor centre while Dad and I went off to hike the Beaver Pond Trail. As the name suggests, it centres around the pond – or rather, ponds, as we passed a couple. I was peering into every corner for a beaver spotting but with no luck in the end. Algonquin is also home to plenty of moose, but we didn't see those either.
The actual trail was a relatively easy one, with only some ascent and descent as we looped around the pond. We got a downpour halfway round and tried to shelter under some trees but luckily it didn't last too long. I enjoy a water feature of any sort though, be it rivers or lakes or the ocean, so a couple of ponds were nice too!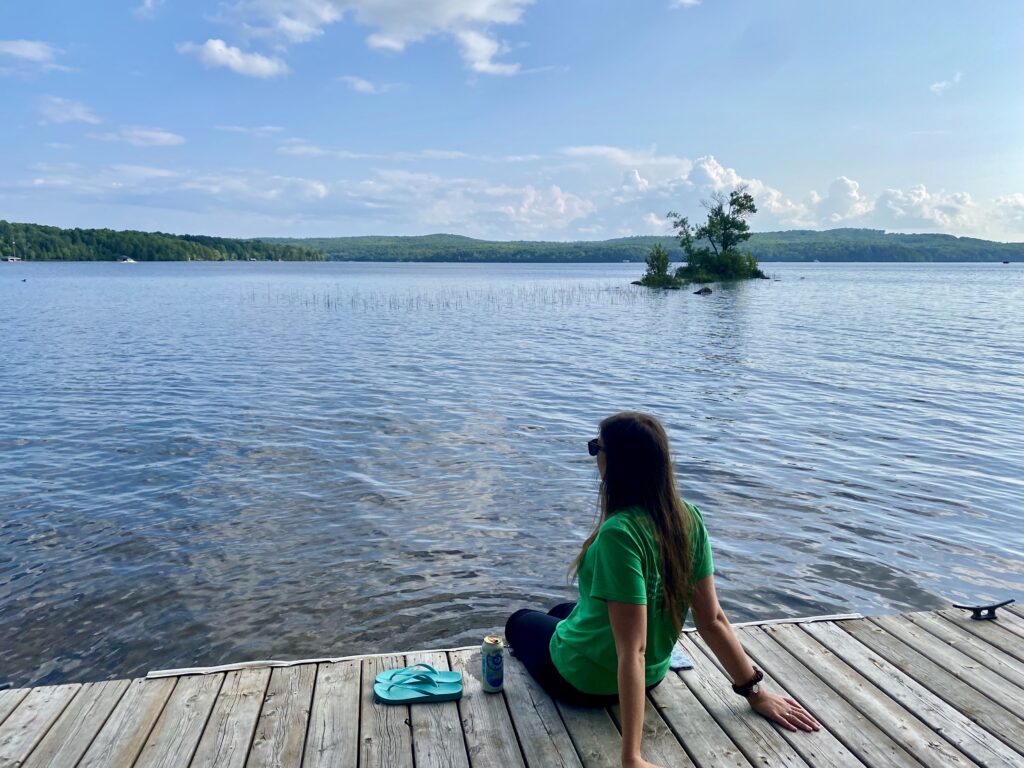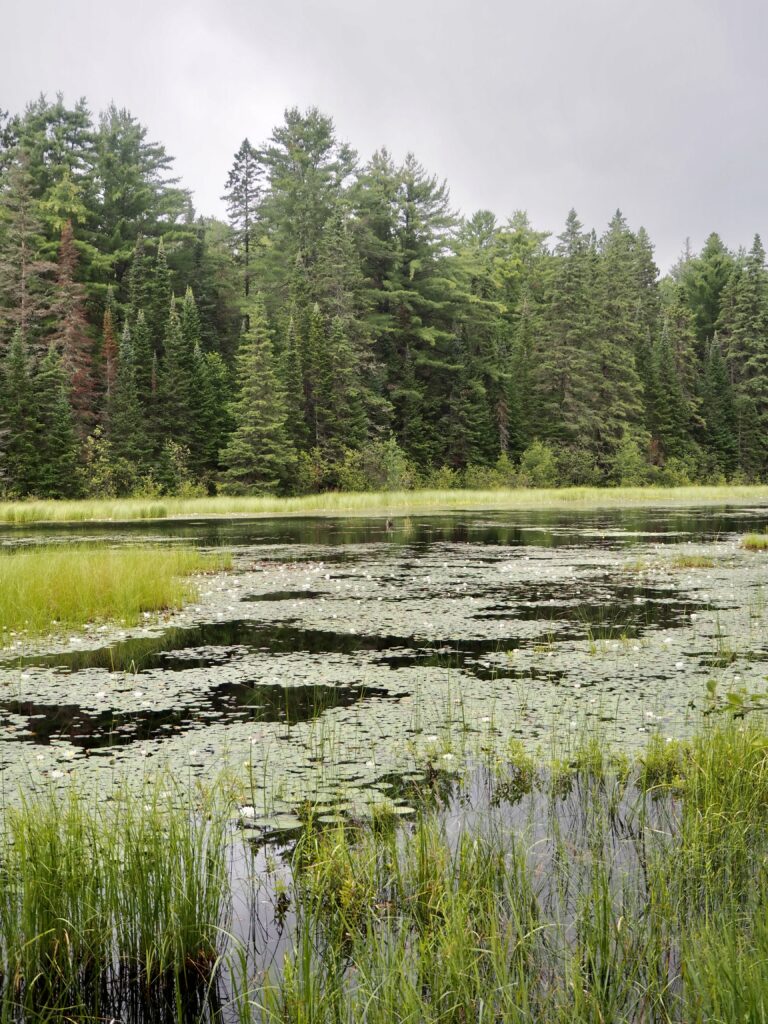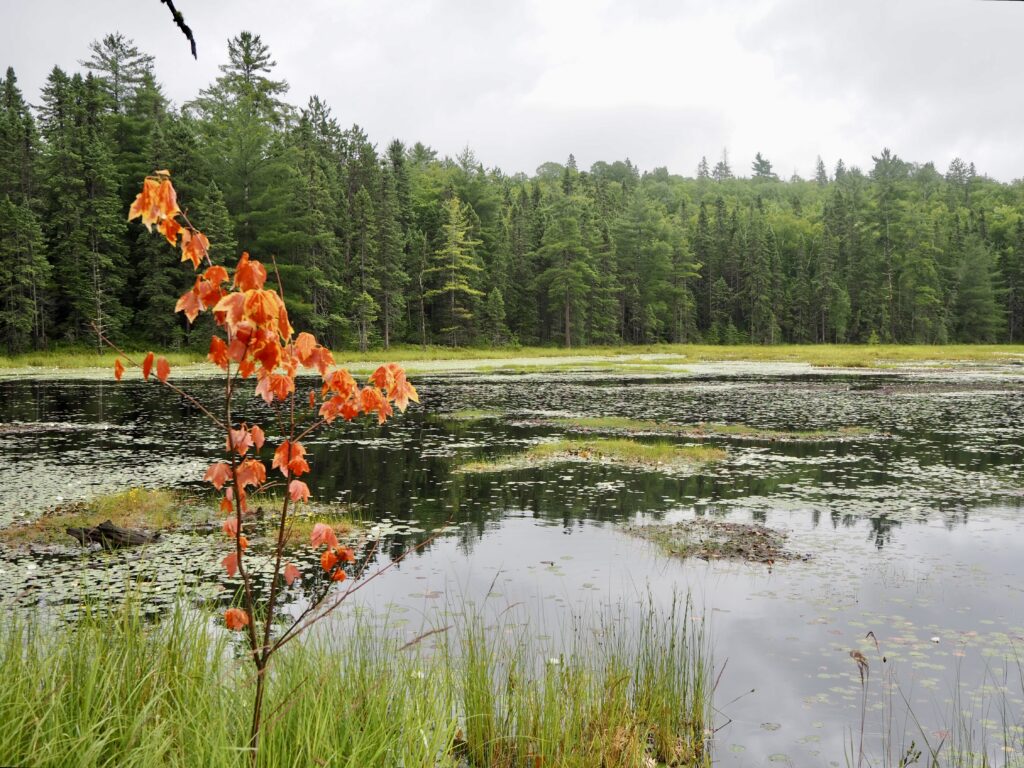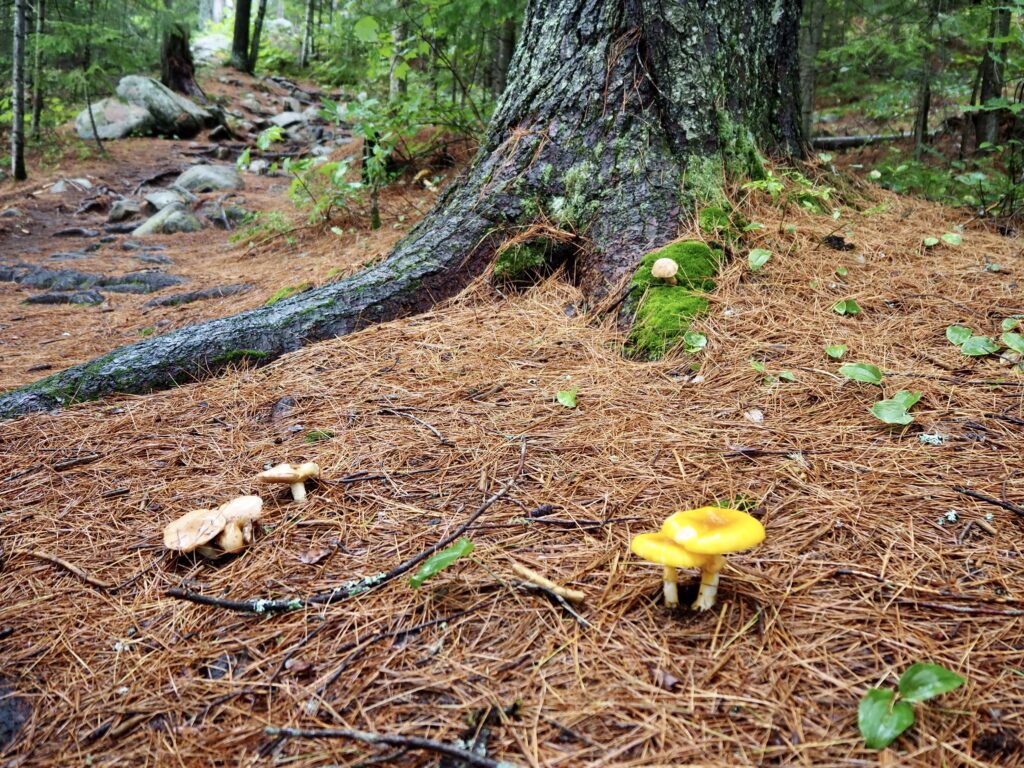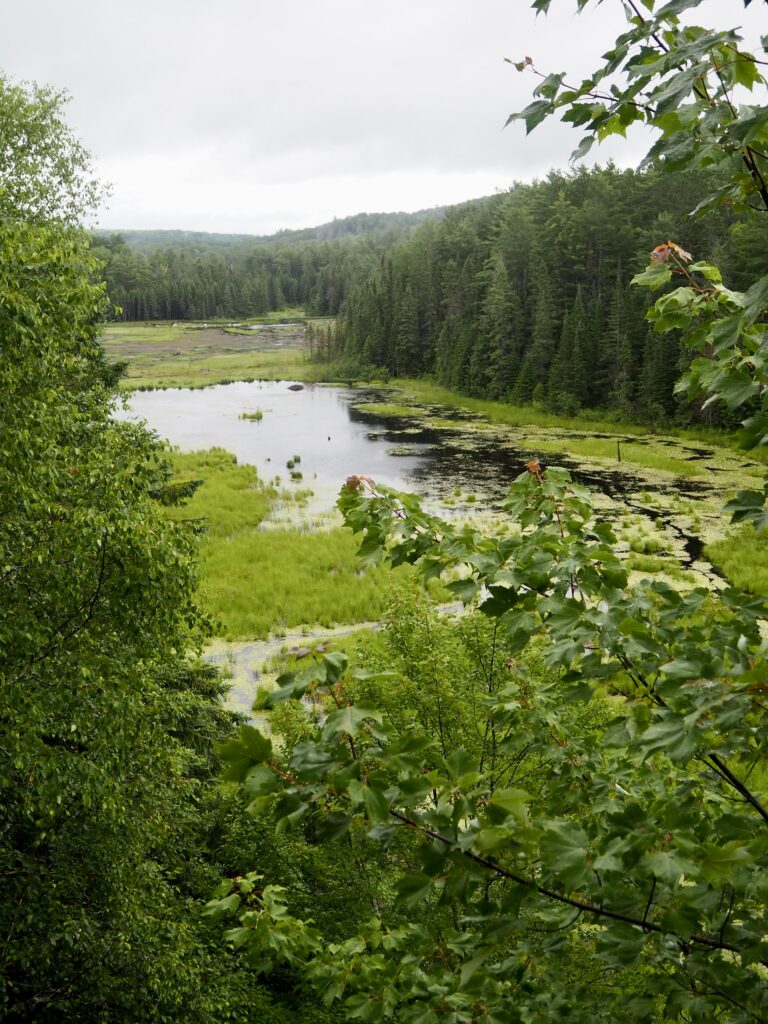 ---
Visitor Centre
We headed back to the visitor centre to meet Mum and have lunch, as well as check out the exhibits for ourselves. It turned out to be pretty expansive inside! A balcony at the back overlooks the forest for some scenic views. The sign out there explains the different ecosystems and how they change over time, with lakes becoming bogs and eventually forest. The lower exhibit inside is a look at teh wildlife of the park, detailing all the animals who inhabit the area. The upper level focusses on the human history, from the Indigenous people to the park's establishment for recreation. We ended up spending much longer here than we initially planned, since there was just so much to read and see!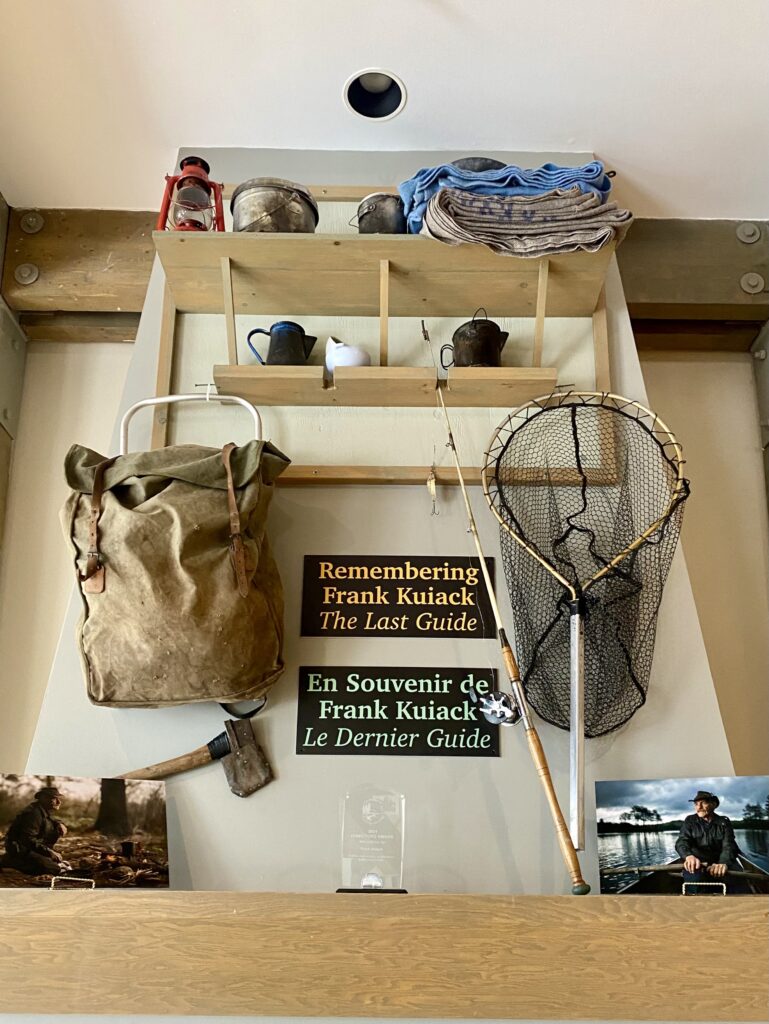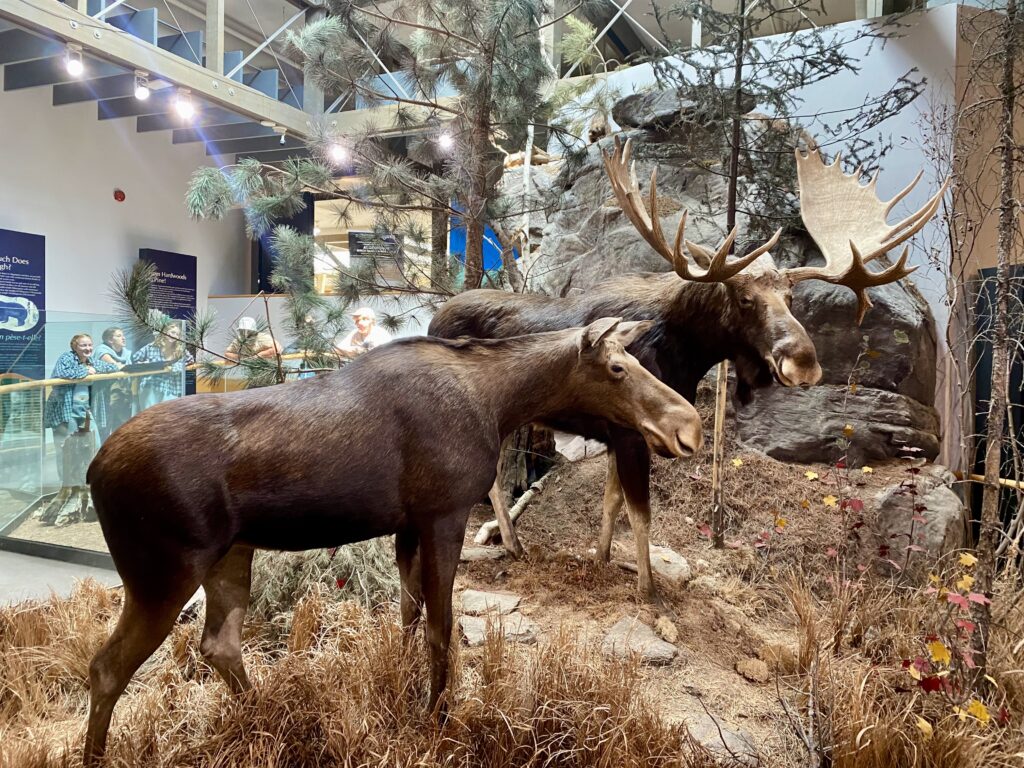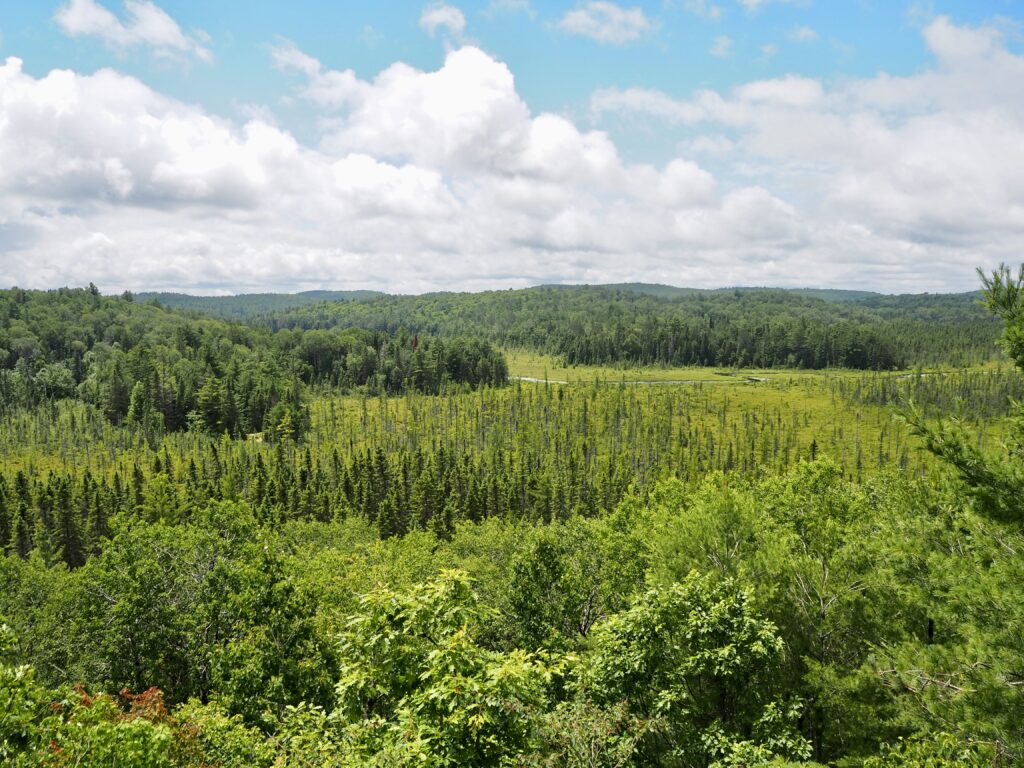 ---
Lookout Trail
We'd started with our furthest away point of the day in the morning, so were now working our way west again in the afternoon. The next hike on our list was the Lookout Trail which wasn't very long but did involve some elevation gain. It was pretty much a straight shoot uphill through the forest, emerging onto a rocky clifftop. A break in the trees here opens up views of the forest. It's pretty much just trees as far as you can see, but it's amazing to see just how large the forest is! It was broken up by a few lakes with cabins dotted around their shores as well. The trail makes a small loop at the top, but is otherwise an out-and-back and took us only about an hour to complete the whole thing.
Art Centre & Canoe Lake
Just down the road from that trail sits the Algonquin Art Centre, a free exhibit and shop. Tom Thomson was the most famous artist to paint the area, along with the rest of the Group of Seven, Canada's first art movement. Artists were crucial in getting these landscapes protected, by showing the natural beauty to the wider public through their works. This is true for the US national parks as well! The gallery houses a collection of original, contemporary Algonquin-inspired art for sale. It was cool to see how different artists interpret the same park. The shop had various gifts for sale, including prints of works by the Group of Seven.
It wasn't that late in the afternoon by the time we left, so we also made an impromptu ice cream stop at Canoe Lake. We kind of picked the lake at random, just looking for a scenic stop. Dad jokingly said "let's get an ice cream" when we had no clue if there actually was any – so we were pleasantly surprised to find some! We sat by the lakeshore, watching people come and go with their canoes and kayaks, and enjoying some sunshine, before heading back to the cabin.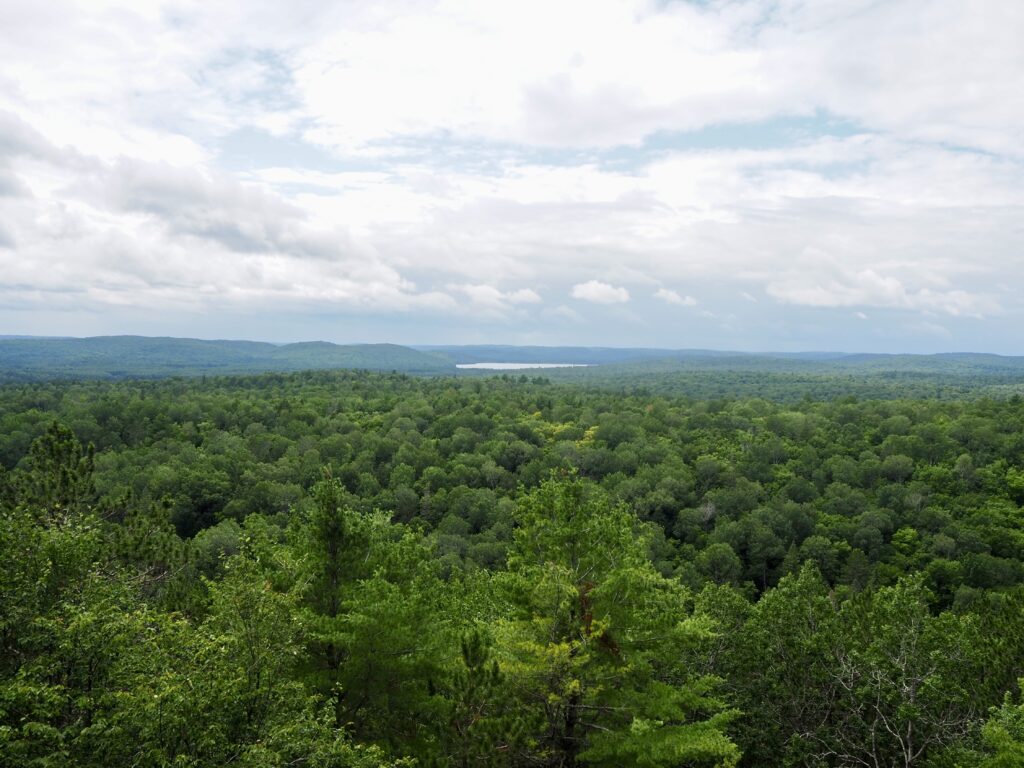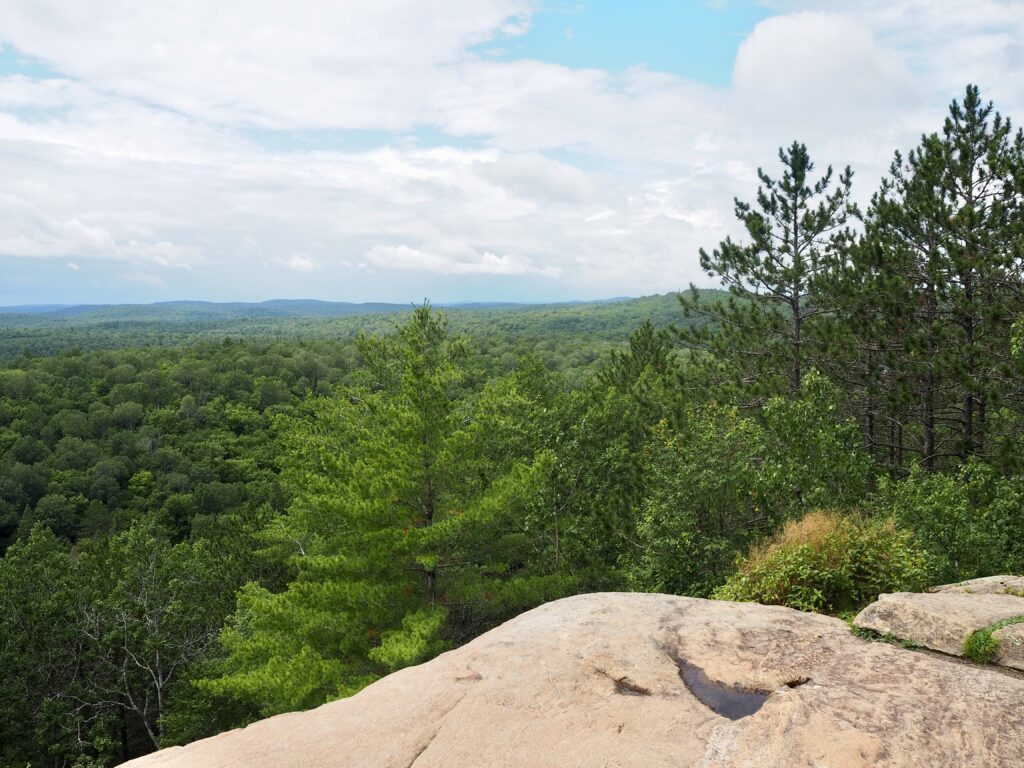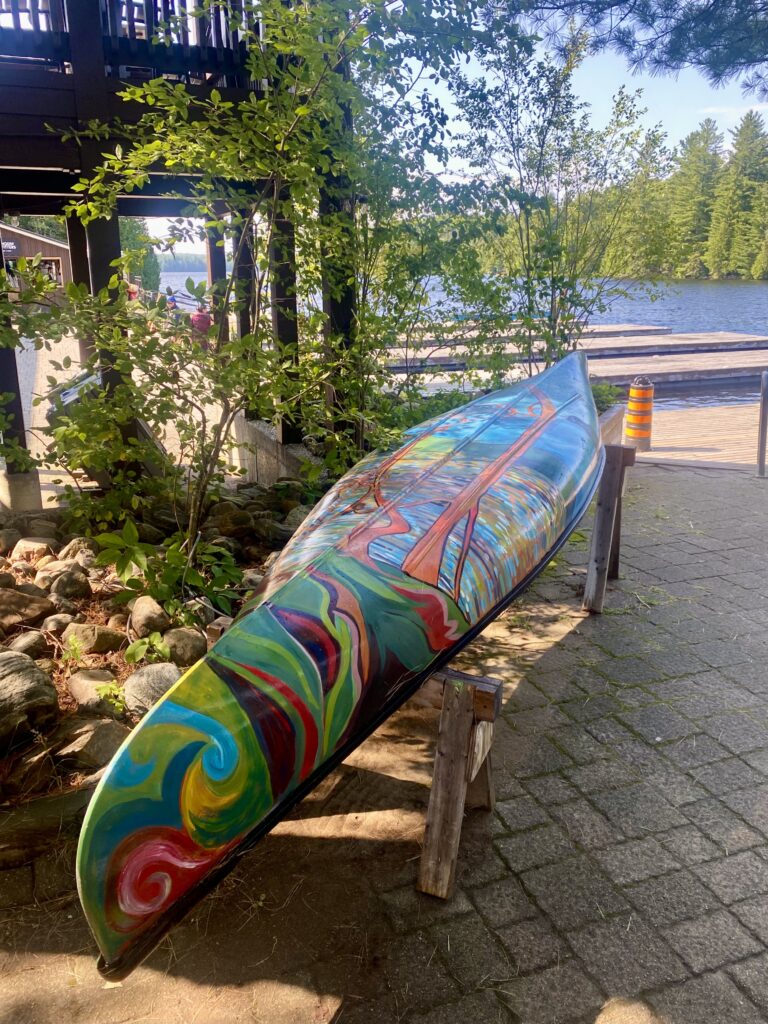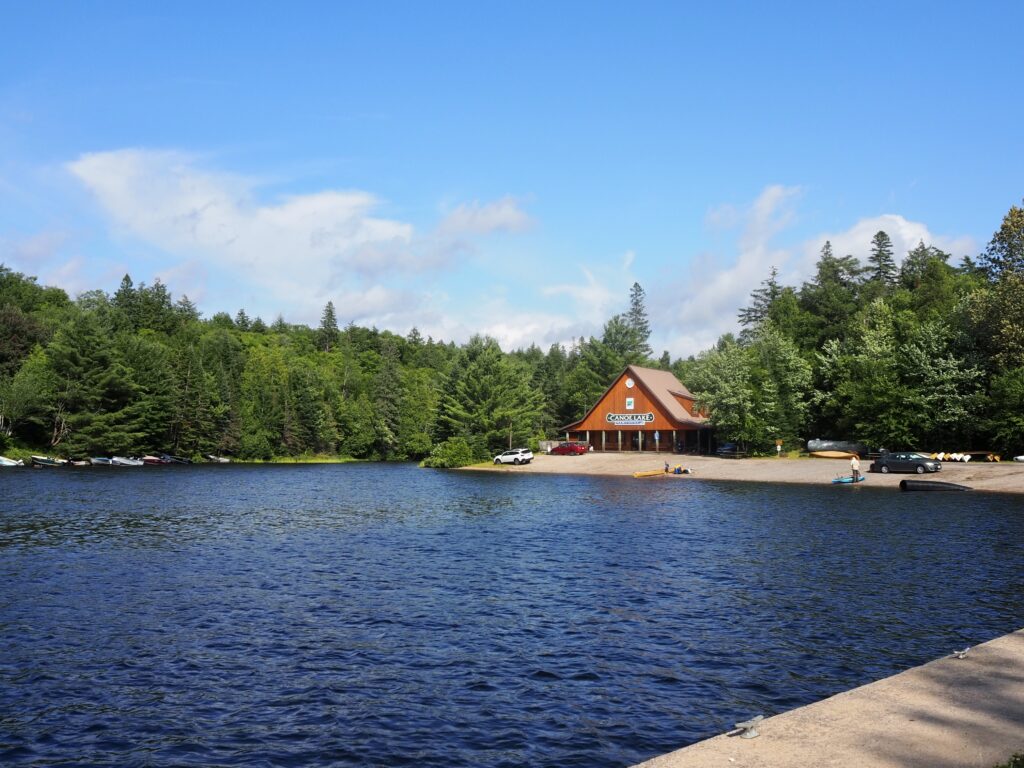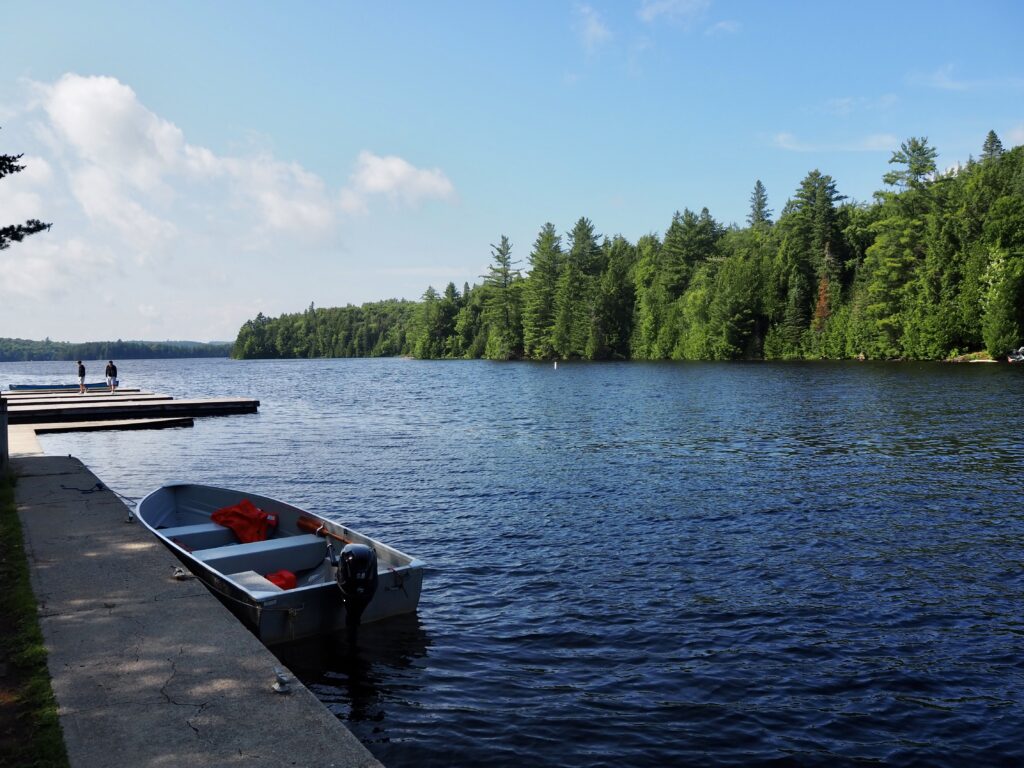 ---
Niagara Falls
Boat Trip
Next up on our journey was the drive to Canada's most famous attraction, Niagara Falls. We were spending just one night here, but arrived early enough to fit a lot into our day. After paying an arm and a leg for parking (Niagara is not cheap), we picked up the Niagara Parks Adventure Pass we'd ordered online. This includes entry to several of the main attractions around the falls. Beyond the ticket booth was our first glimpse of the river and the three sets of falls – American, Bridal and Horseshoe. Compared to Takakkaw or Helmcken Falls, Niagara isn't actually all that tall. Instead, it's the sheer volume of water tumbling over every second that makes them so impressive!
The famous 'Maiden of the Mist' is the boat tour available on the American side, just across the river. In Canada, you can still have the same experience, it's just called Niagara City Cruises, which was our first excursion. After waiting in line for some time and donning our plastic ponchos (there are bins to recycle them afterwards thankfully, because the plastic-usage was concerning me), we set sail first passing American and Bridal Falls. Horseshoe Falls is the main attraction though, sailing into its plunge pool.
It's not just mist – you get pretty soaked from all the water in the air! Too wet to take many photos either. We were standing on the bottom of the boat too (the top filled up super fast) and as the boat turned, water splashed all over the deck, soaking me entirely from the knees down, where my poncho ended. I had wet feet for hours! It was kind of funny though, and still worth it for the experience of being so close to such a mighty force of nature.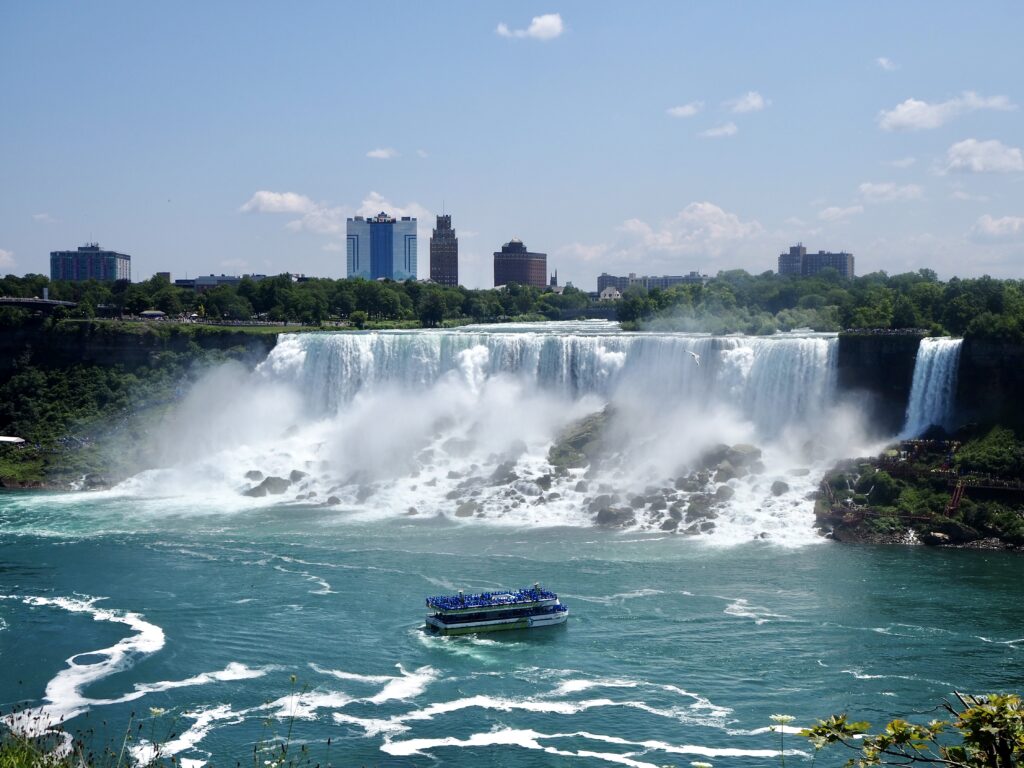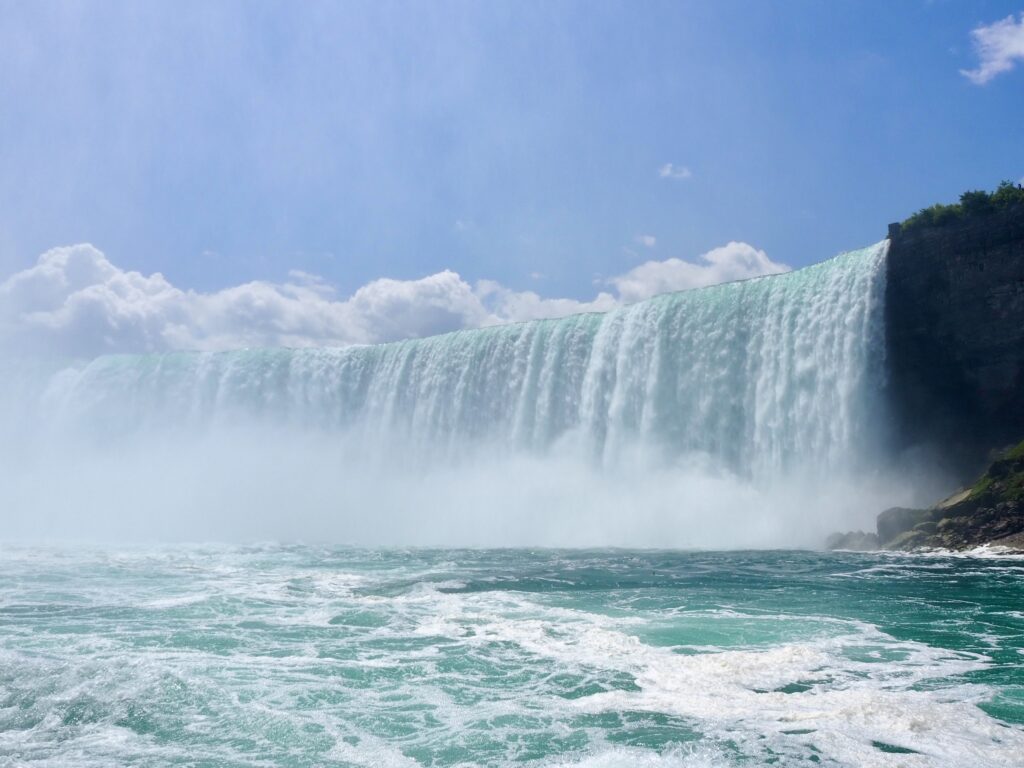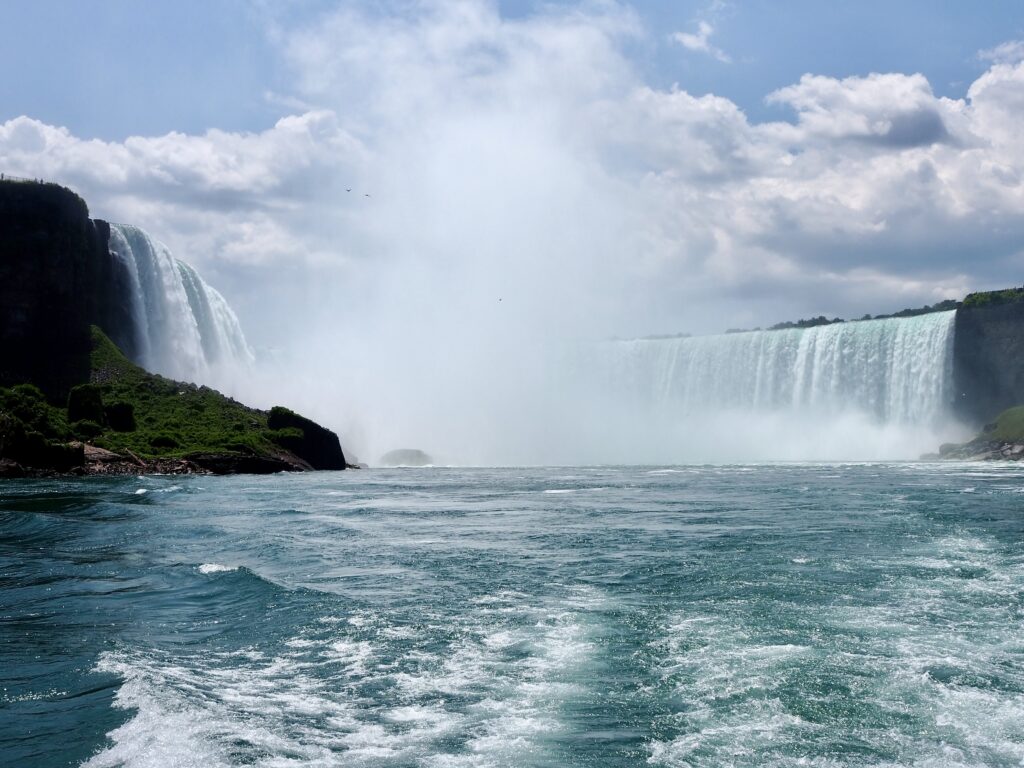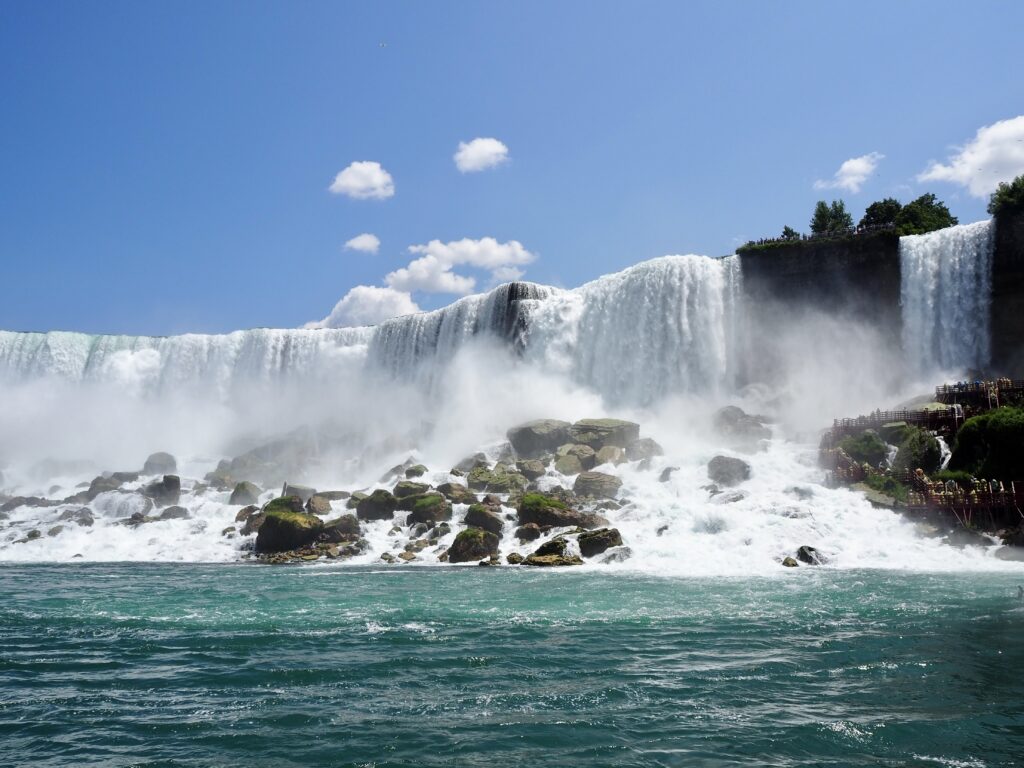 ---
Journey Behind the Falls
The Adventure Pass included 'Niagara's Fury', which is an animated film about how the falls were formed. You then enter a second area where you 'experience' the falls through a moving deck and water splashing around.. I get the concept, but comapred to the reality, it wasn't all that exciting. Probably would haev skipped it were it not included in the pass.
Next up was the Journey Behind the Falls, which was very cool. Descending the side of the gorge, you enter a tunnel that was carved out behind Horseshoe Falls. There are two small portals where the water hurtles down in front of you. You can only really see white spray, but it's so surreal to pause and think about exactly where you are standing! Especially when you remember that they built the tunnels over 100 years ago… You can then exit to a viewing platform right next to the foot of the falls – surprisingly, didn't get as wet as I expected here. We just sort of gazed in awe here, at the sheer size and force of the falls and what water is capable of.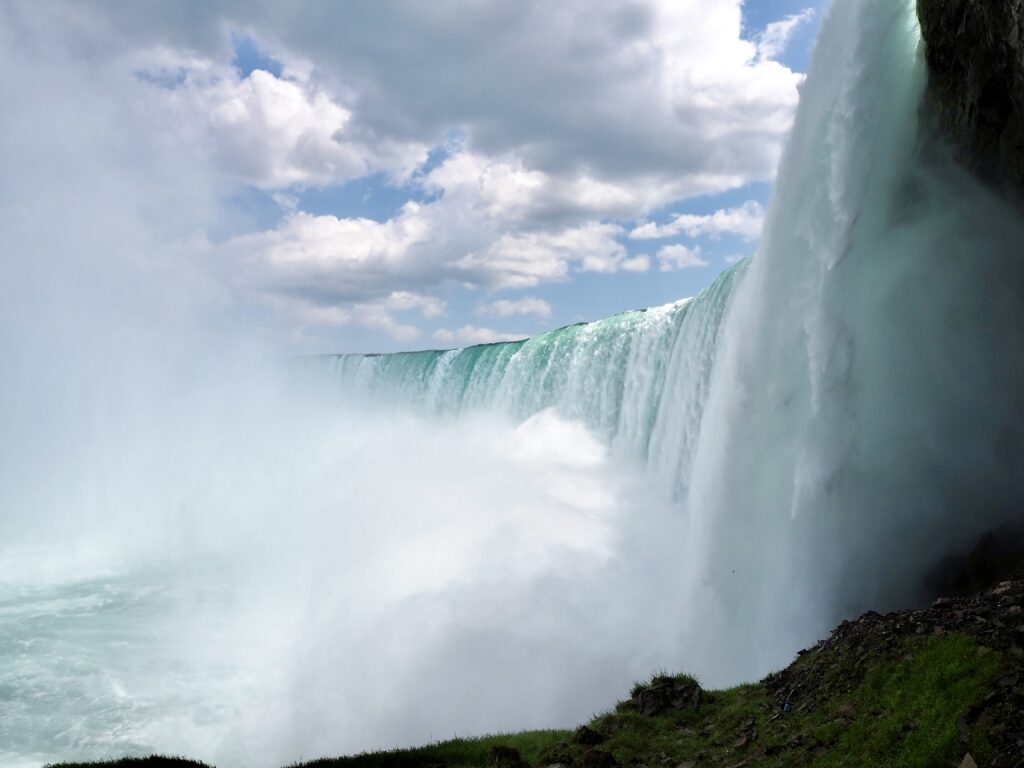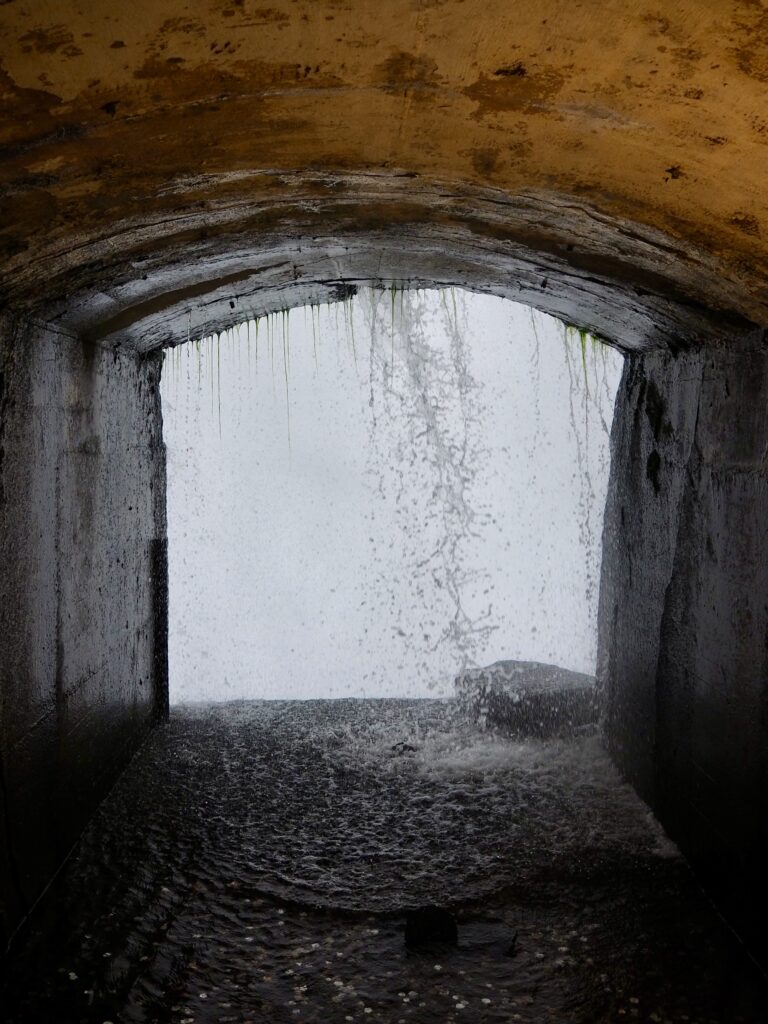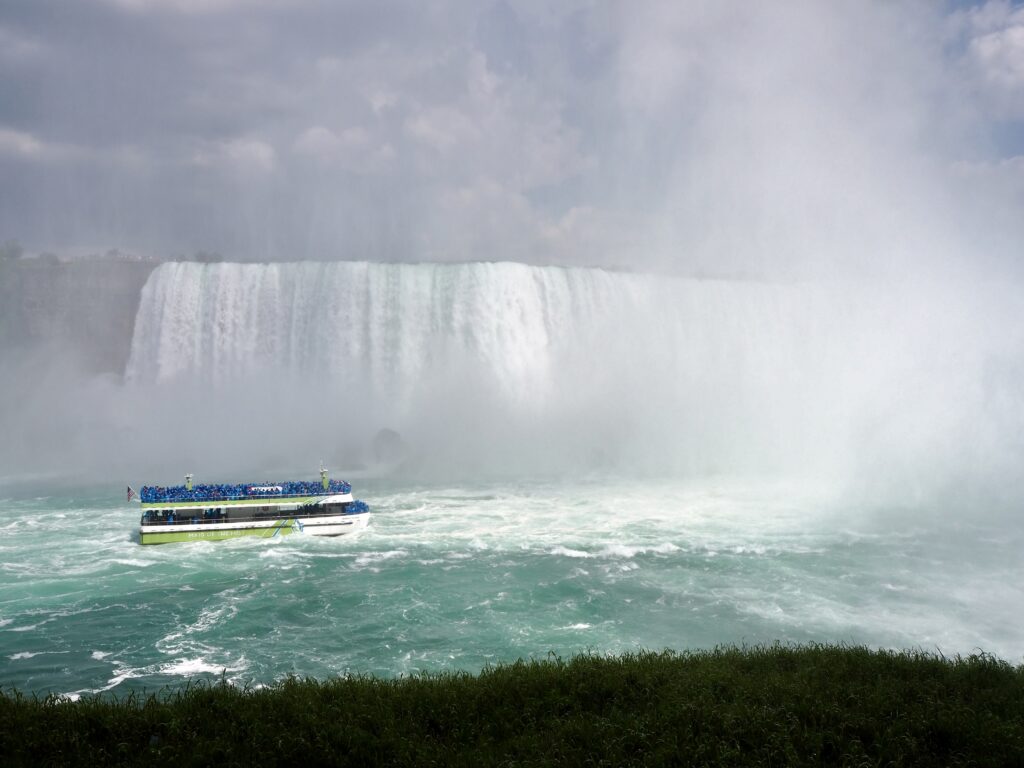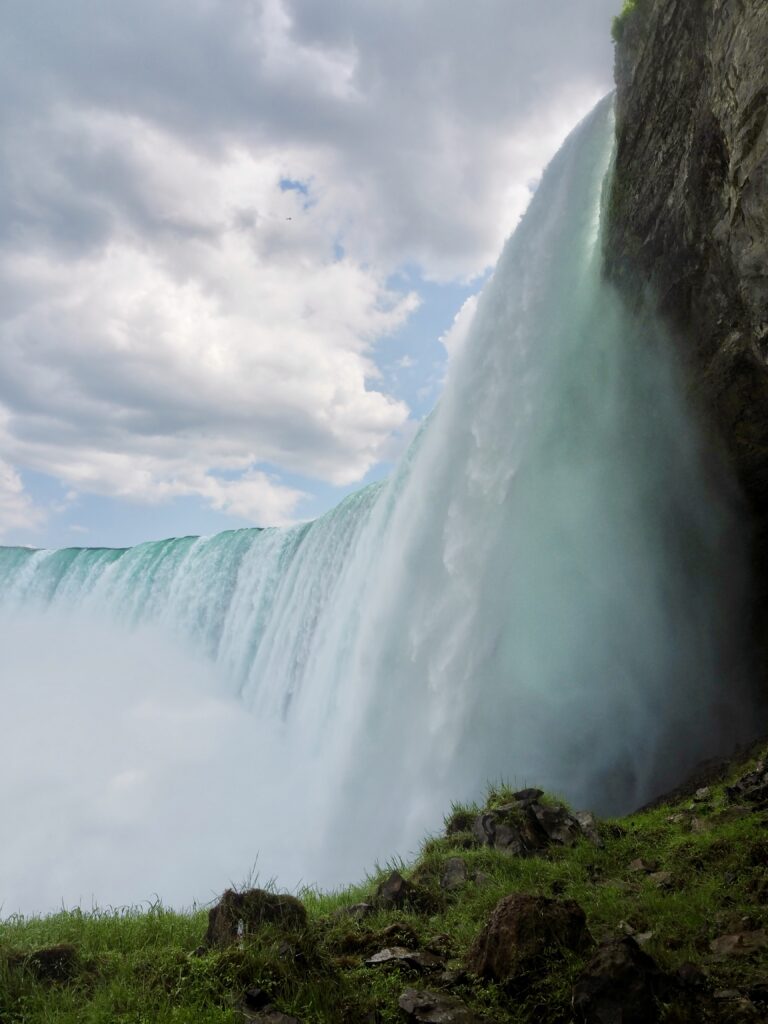 ---
White Water Walk
The final inclusion on our pass was the White Water Walk. I honestly think a lot of people don't know about this unless they get the pass and go check it out! It's downstream from the main falls, and we hopped on a bus to get there. Basically, the force of all that water on the falls des not make for a calm river. Downstream, the White Water Walk is a set of Class 6 rapids. Meaning too dangerous for anyone to enter the water or raft here! Not that people haven't tried. There's an exhibit about daredevils who have tried to swim them or traverse it (or gone over Horseshoe Falls) in barrels! Needless to say, many did not survive.
Anyway, the rapids are really cool to see! I'm always drawn to water features in general and find it really fascinating and kind of soothing to just watch things like this. You descend the gorge by elevator again, and there's a walkway along the river's edge to see the rapids. It's maybe not as dramatic as the falls when you first arrive, but I really enjoyed it as an alternative addition to our day.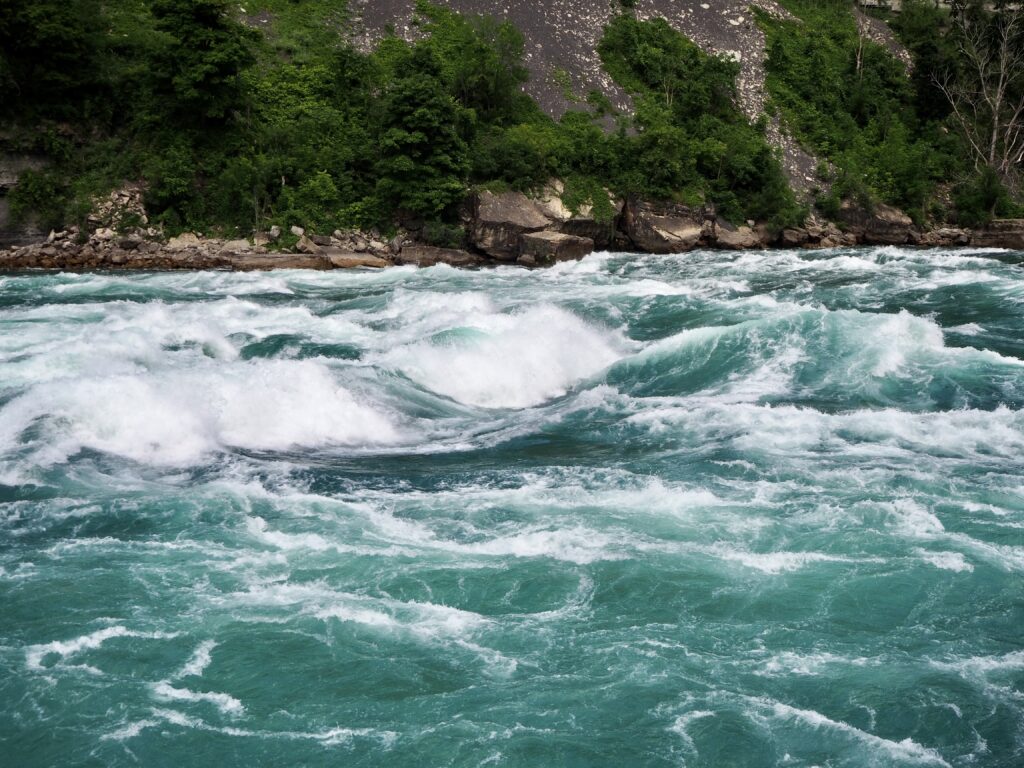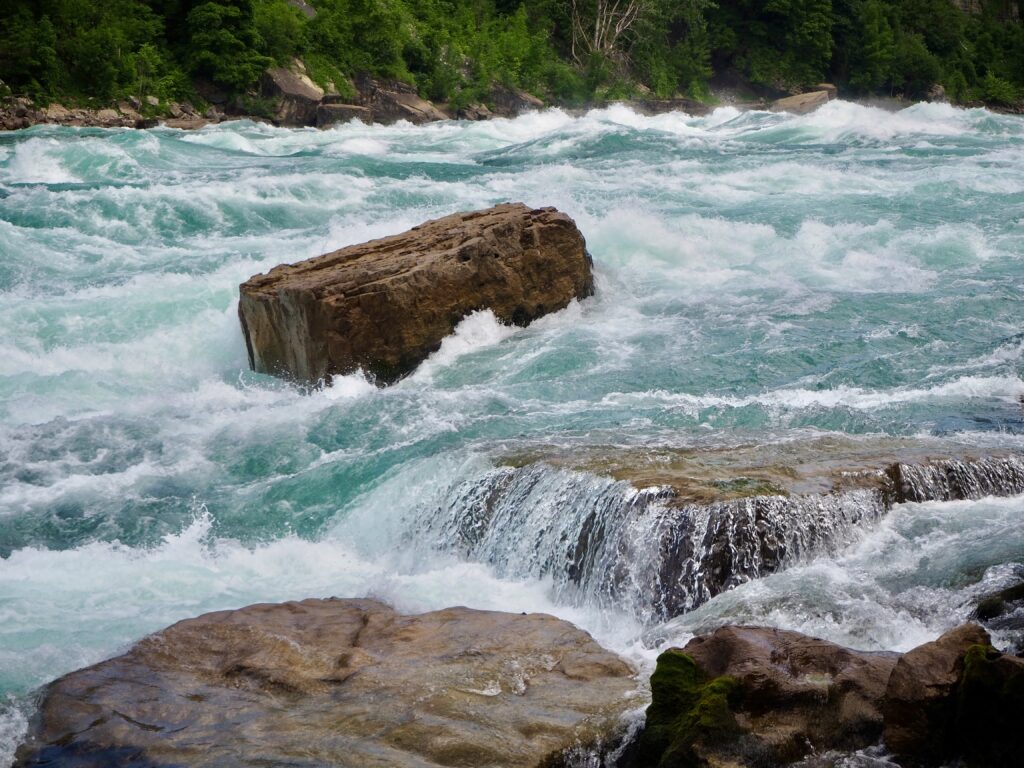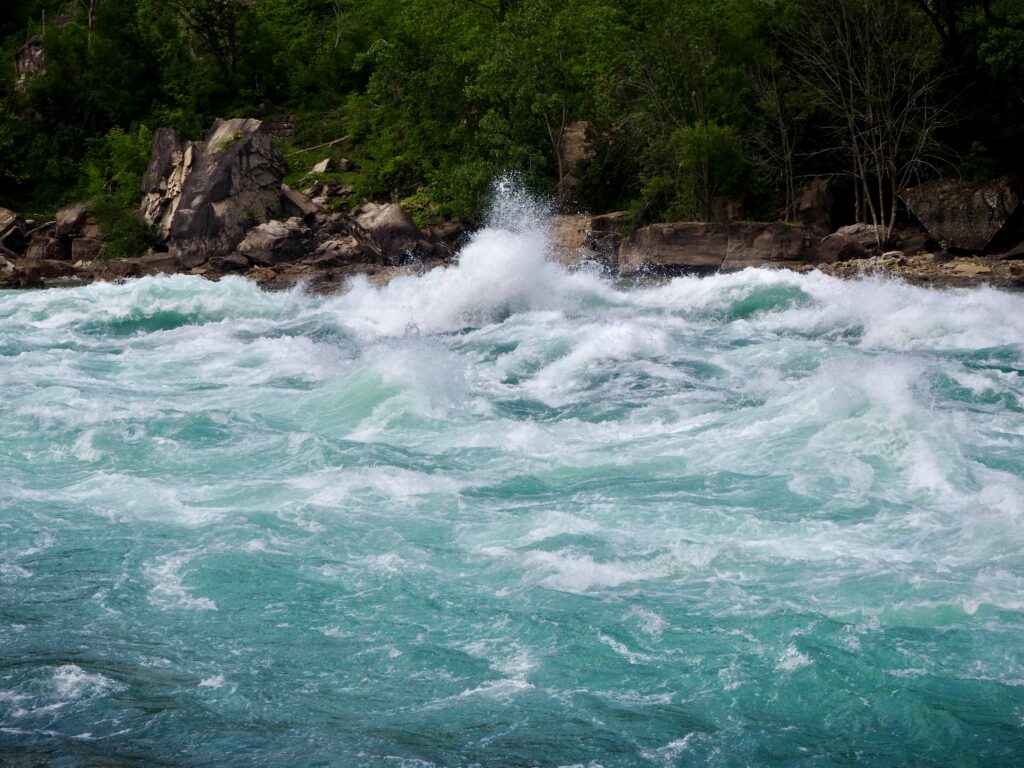 ---
Light Show
Since we were only staying in Niagara for one night, Mum and Dad wanted to do it right. Which meant seeing as many views of the Falls for as long as possible – including from the hotel. Our room had a window that looked straight out towards them, so we spent much of the evening sitting there after dinner. Especially because after dark, the Falls light up in different glowing colours, created by hundreds of LED lights. I believe there's music too if you're standing down near Horseshoe Falls, so obviously we couldn't hear that. They also have fireworks displays but only certain nights I think. We were there on a Saturday night though, so we got a short display later in the evening, sparkling over near the American Falls. Watching from a warm hotel room with a drink in hand was certainly a good viewing point!
Niagara-On-The-Lake
The next morning, we departed Niagara, with one last look at the Falls in all their breathtaking glory from our window. We were headed north again to Toronto, but stopped off in Niagara-on-the-Lake en-route. I didn't know much about the town, but Mum was keen to see it, having heard good things. It turned out to be a very quaint, pictureqsue place with small, brick buildings adorned in flowers and hanging baskets. We even saw a horse & carriage trot by! The main street has lots of shops and cafes and restaurants to browse, and it's a nice change of pace after busy, tourist-crammed Niagara Falls.
I actually had to work for a few hours, so hopped into a cafe. Which turned out to be a pretty practical idea when not long after, the skies opened up. It was pretty sunny when we arrived, but a thunderstorm appeared out of nowhere. And it was really, truly, torrential! It's been a very long time since I've seen rain that heavy. I was starting to wonder if we'd make it out of town, listening to people around me having similar conversations! Mum & Dad had gone off while I was working and also found shelter in a shop. Eventually, after a staggering amount of rain fell in about half an hour, it stopped again. I met my parents for lunch across the road, the sun back out again, before we continued to Toronto. Rain aside, it's a cute little town to stop in!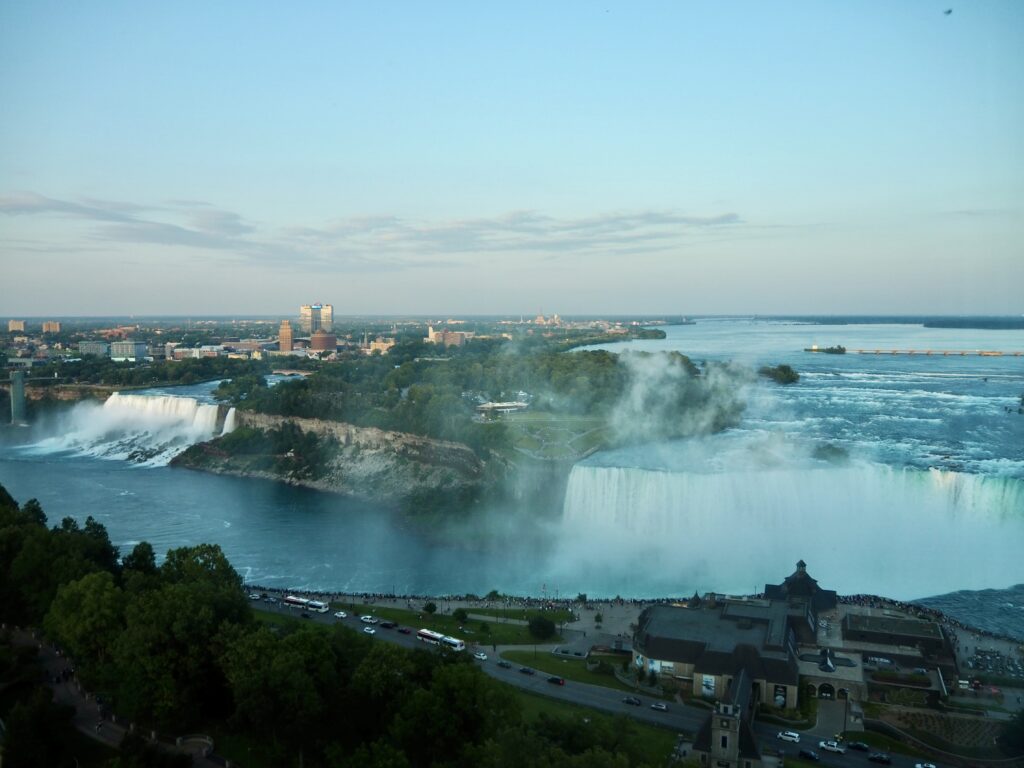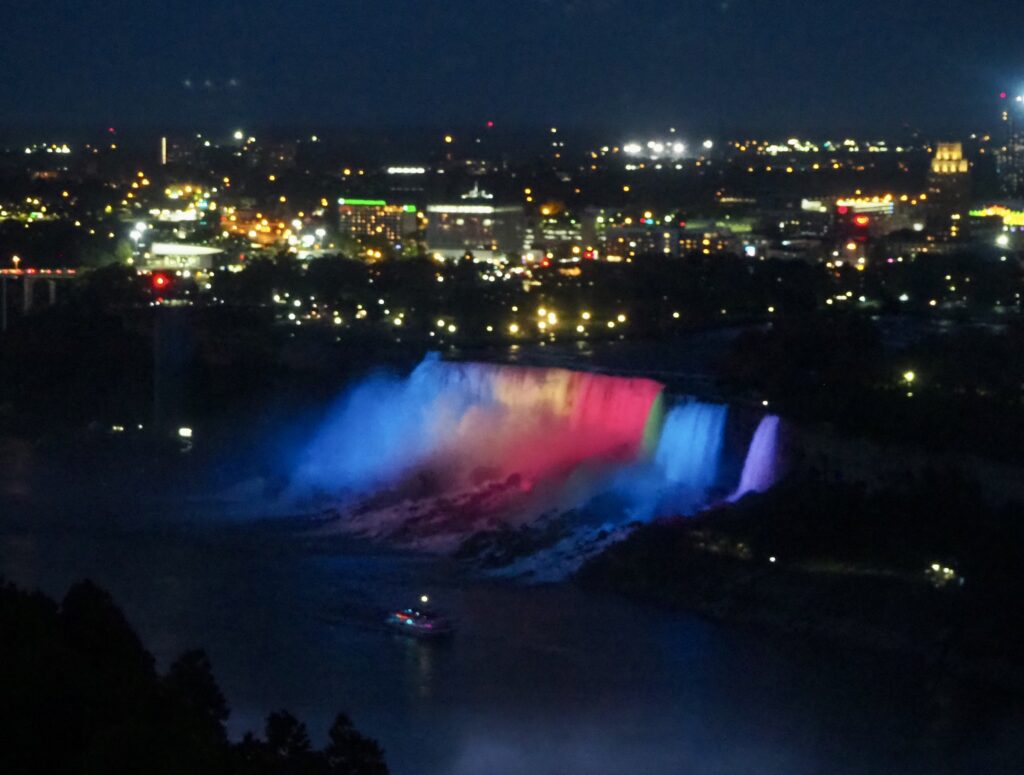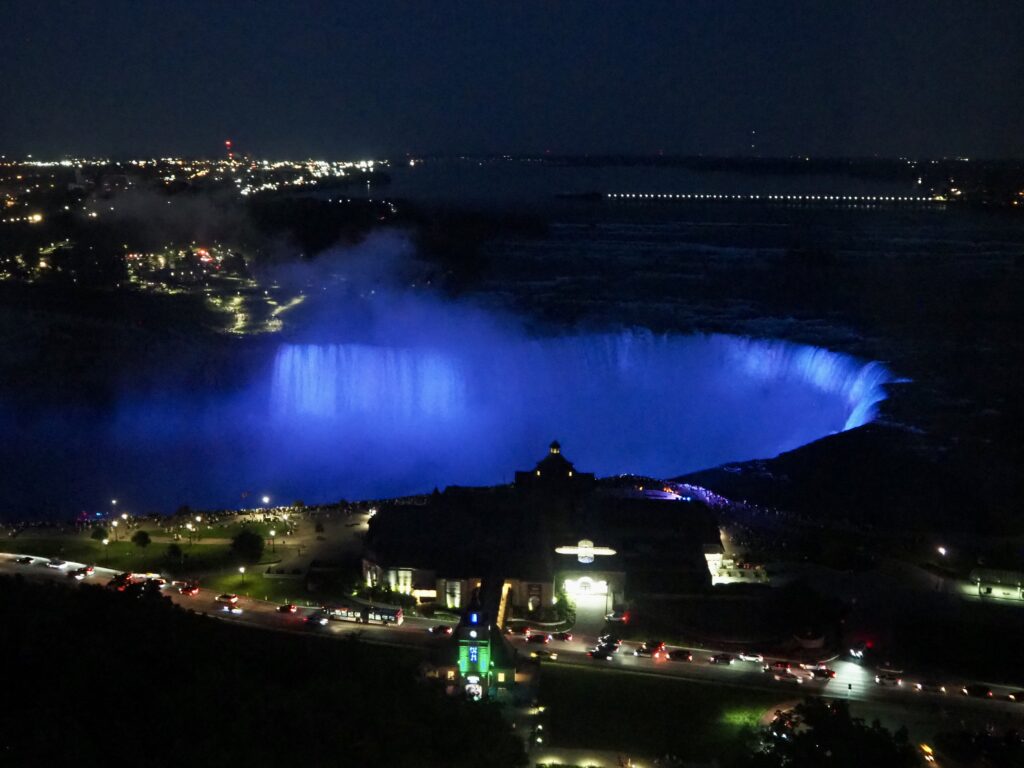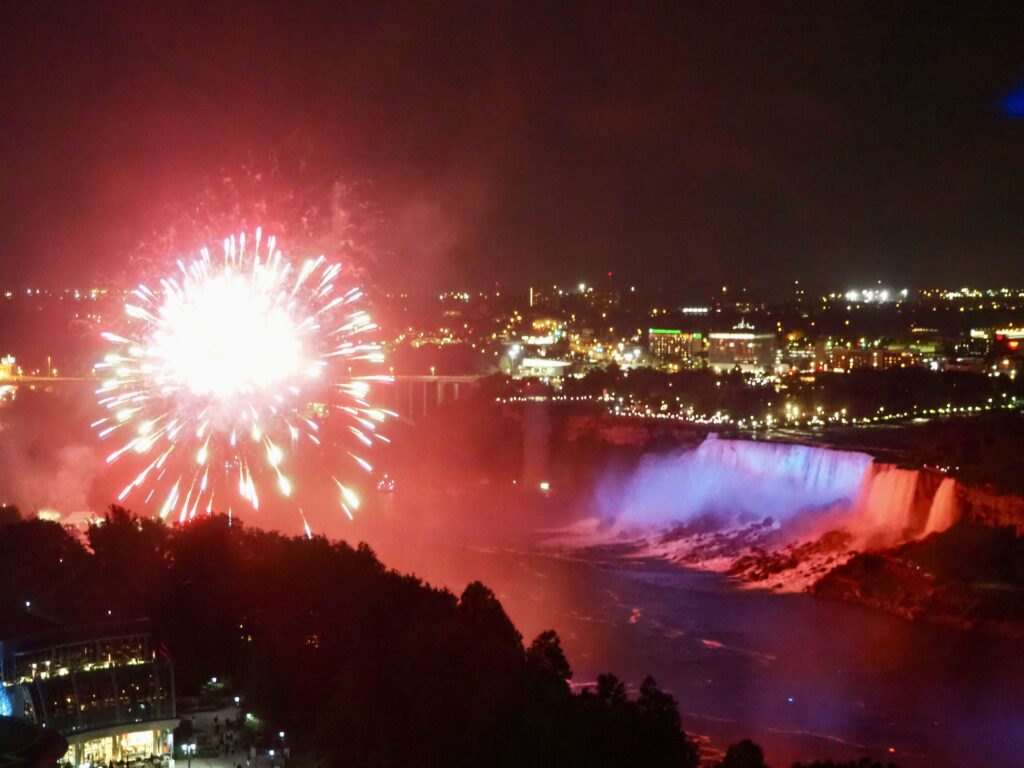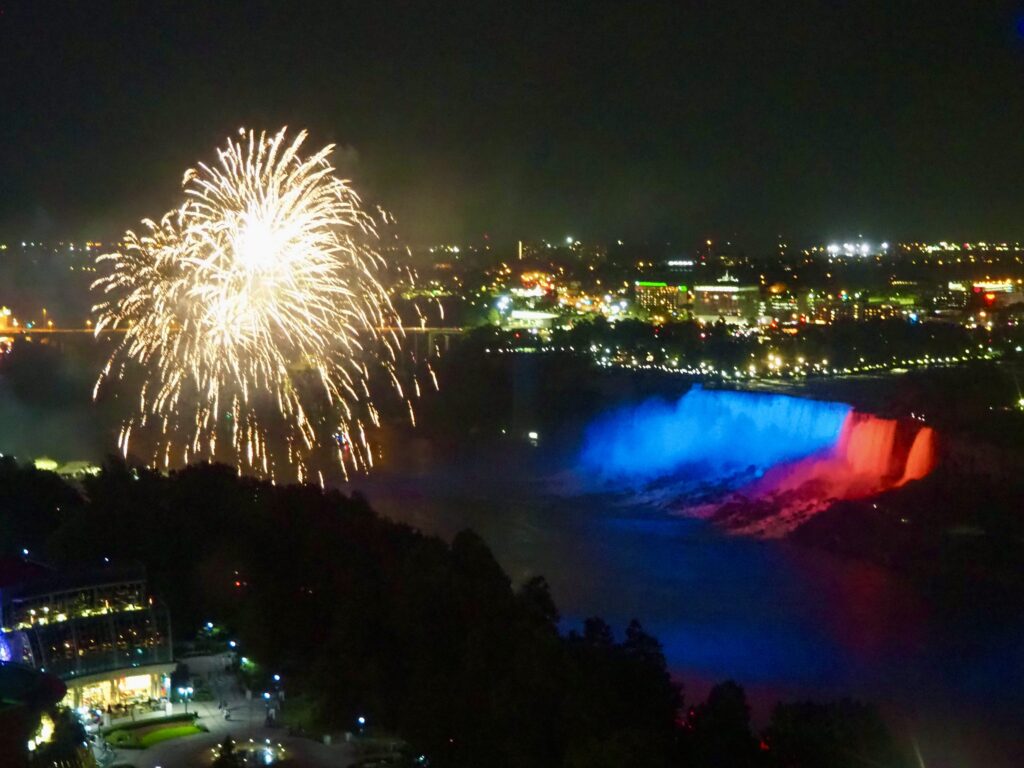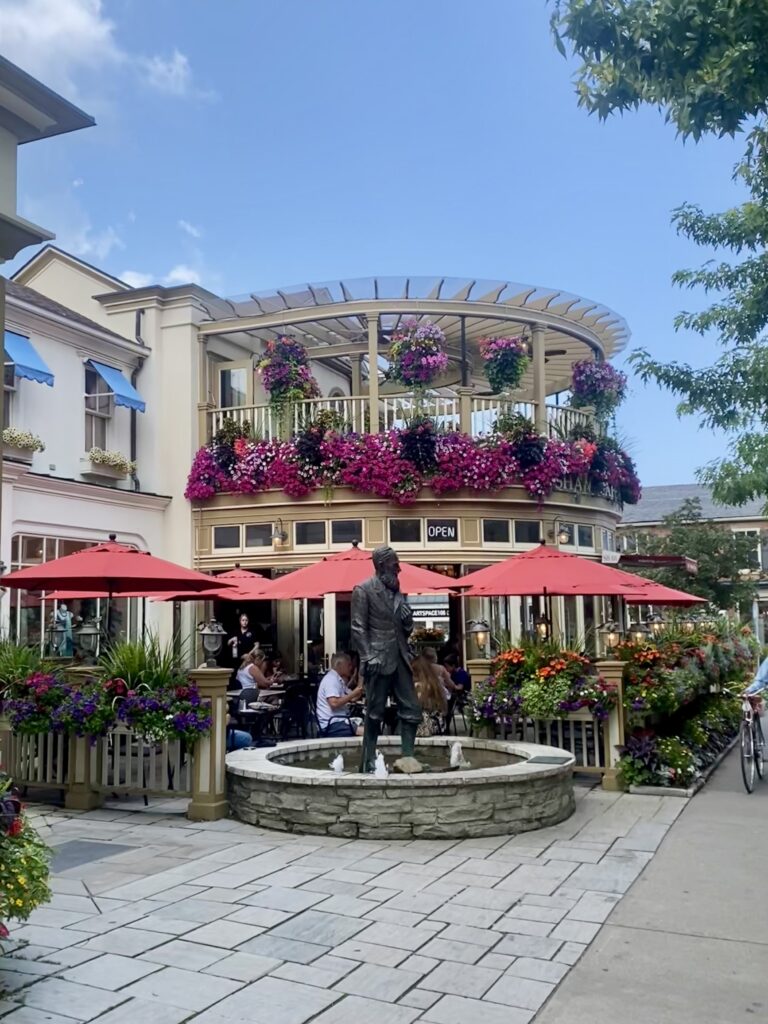 ---
Toronto
Now, I already spent a weekend in Toronto last year when I was there for work, so I didn't see and do all that much this time. But I was well-equipped to give Mum & Dad advice, and my last blog post has a whole itinerary there. The first night we arrived, we just got dinner and not much else and then I met a friend after work one evening for dinner and drinks too.
The third evening I did explore somewhere new that I didn't see last time. We headed down to the dock and hopped on the ferry to Centre Island in Lake Ontario. I never went back in December, because it's freezing out on the lake then! But in summer, the island has a whole park to wander through, with lots of amenities and activities (most of which are also closed in winter). There is even a beach on the far side, where we stopped for a snack and sheltered under a gazebo when it rained yet again!
We wandered around to some of the best viewpoints of the Toronto skyline, watching planes landing in front of it too. The views alone are worth visiting the island for, but it's a nice, peaceful spot outside the concrete of the city too. It's also pretty historic, as people did live there in the past (some still do!) and there are informational signs about it. There's a restaurant near the ferry where we grabbed dinner, before returning back to the mainland again.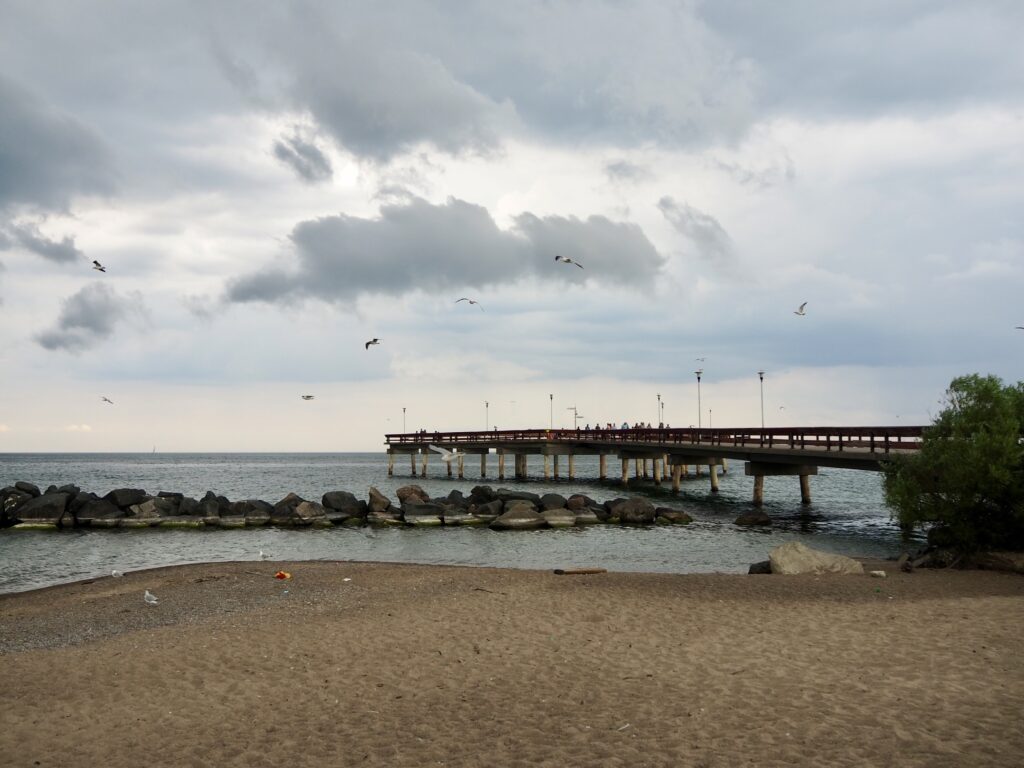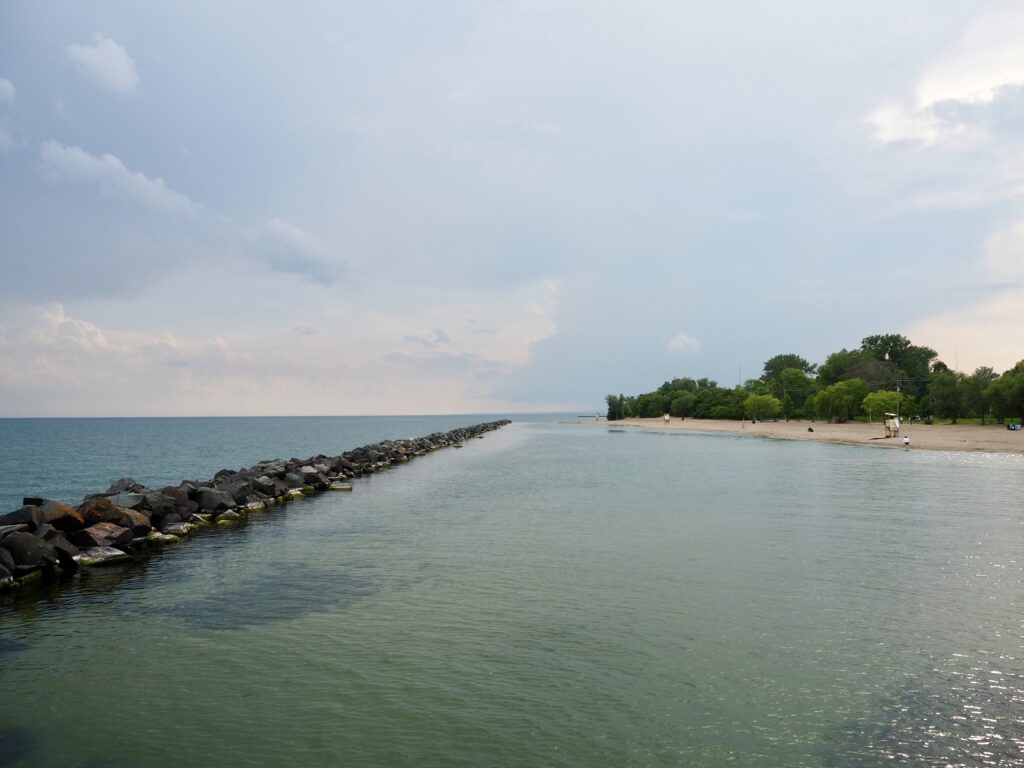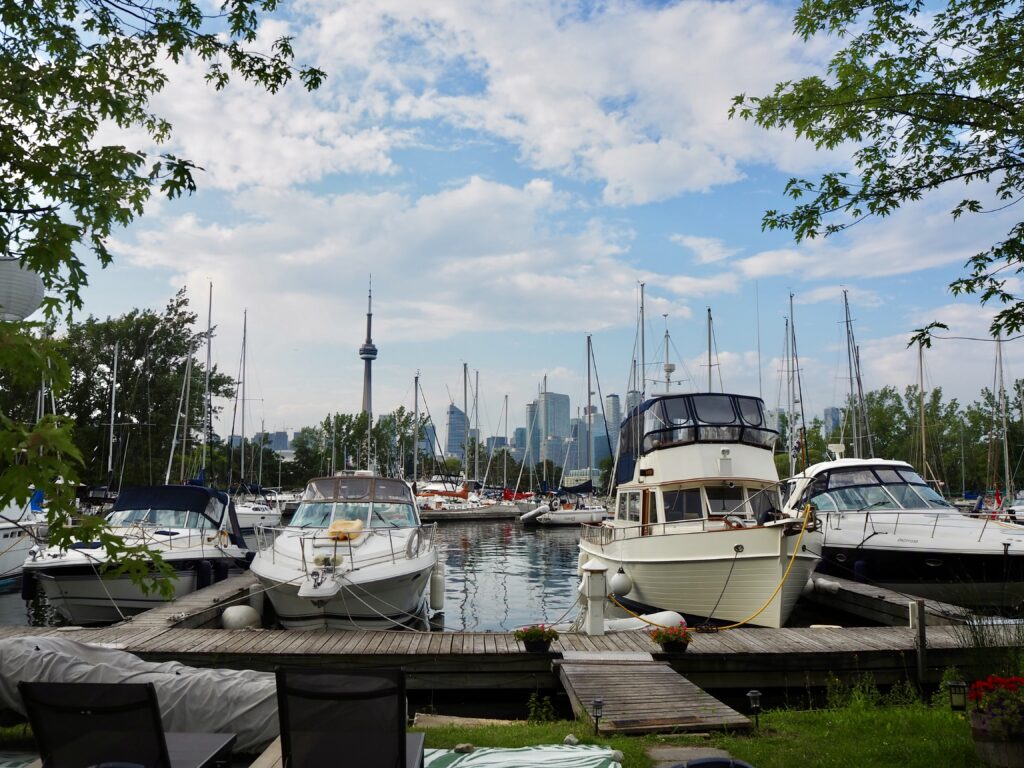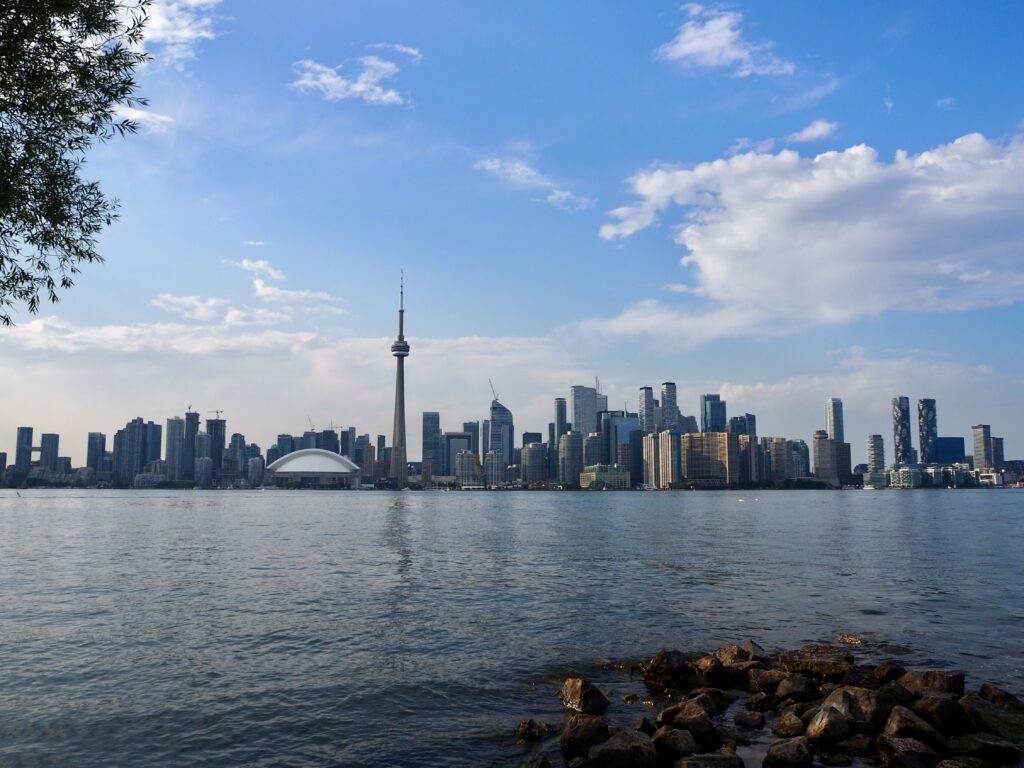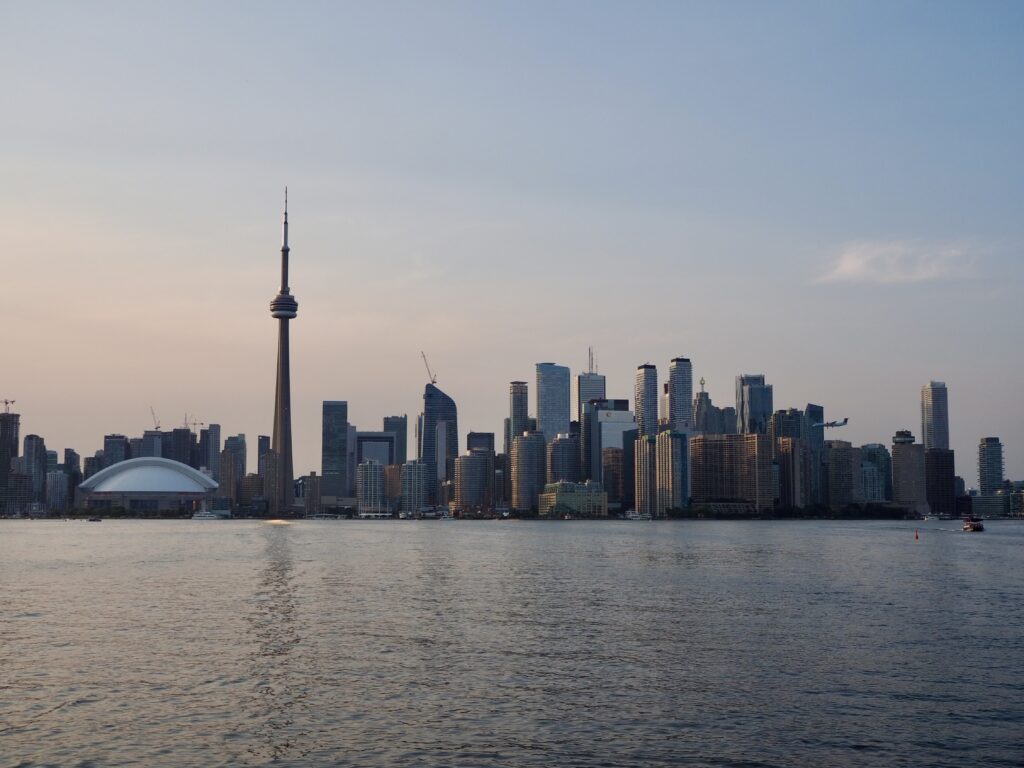 ---
A Week in Ontario
I might be biased since I've lived primarily on the West Coast of Canada, but Ontario doesn't have the spectacular landscapes – mountains, lakes and coastline – of BC and Alberta. I'm still glad I picked BC to live in this year! However, a week in Ontario uncovers some of the top spots in Canada's most populous province. From Ottawa's parliament buildings and Toronto's skyscrapers to Algonquin's peaceful forests and the truly spectacular Niagara Falls. I'm sure there's plenty more if you have longer in the province too, with so many small towns and lots more lakes to relax at!
It was a bittersweet week as well, as it was the end of my parents' trip to Canada, and they flew home again from Toronto. Meanwhile, I still had more adventures to come. An exciting prospect, sure, but I definitely felt a wave of homesickness when they left. Instead, I boarded a different flight and took off for the American leg of my trip…


You May Also Like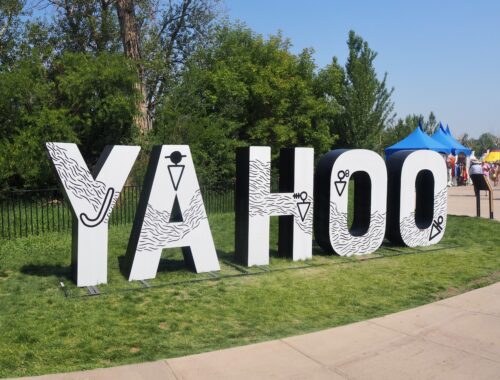 30 August 2023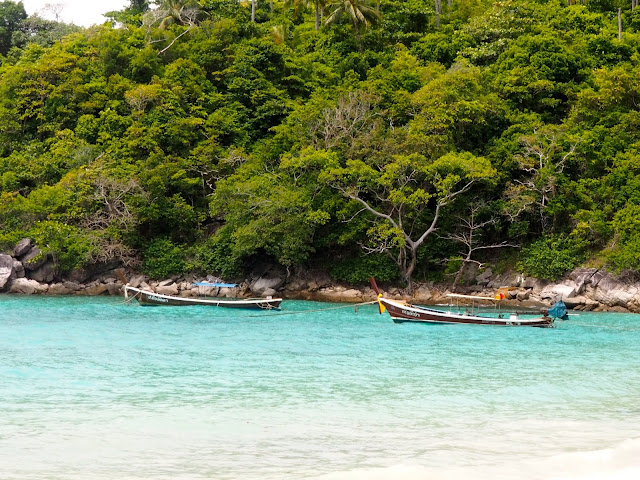 16 August 2017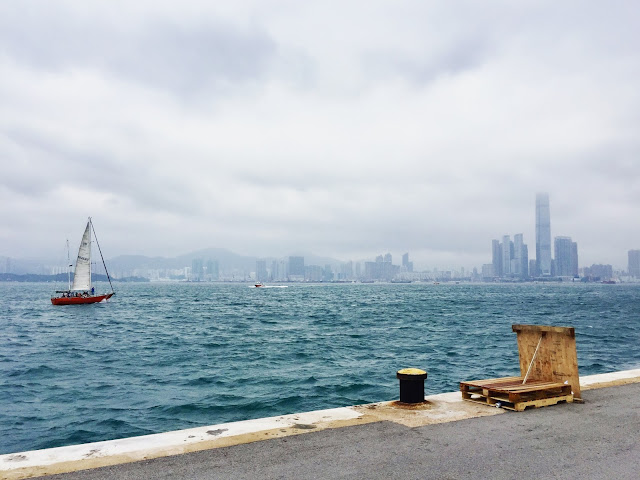 24 May 2017