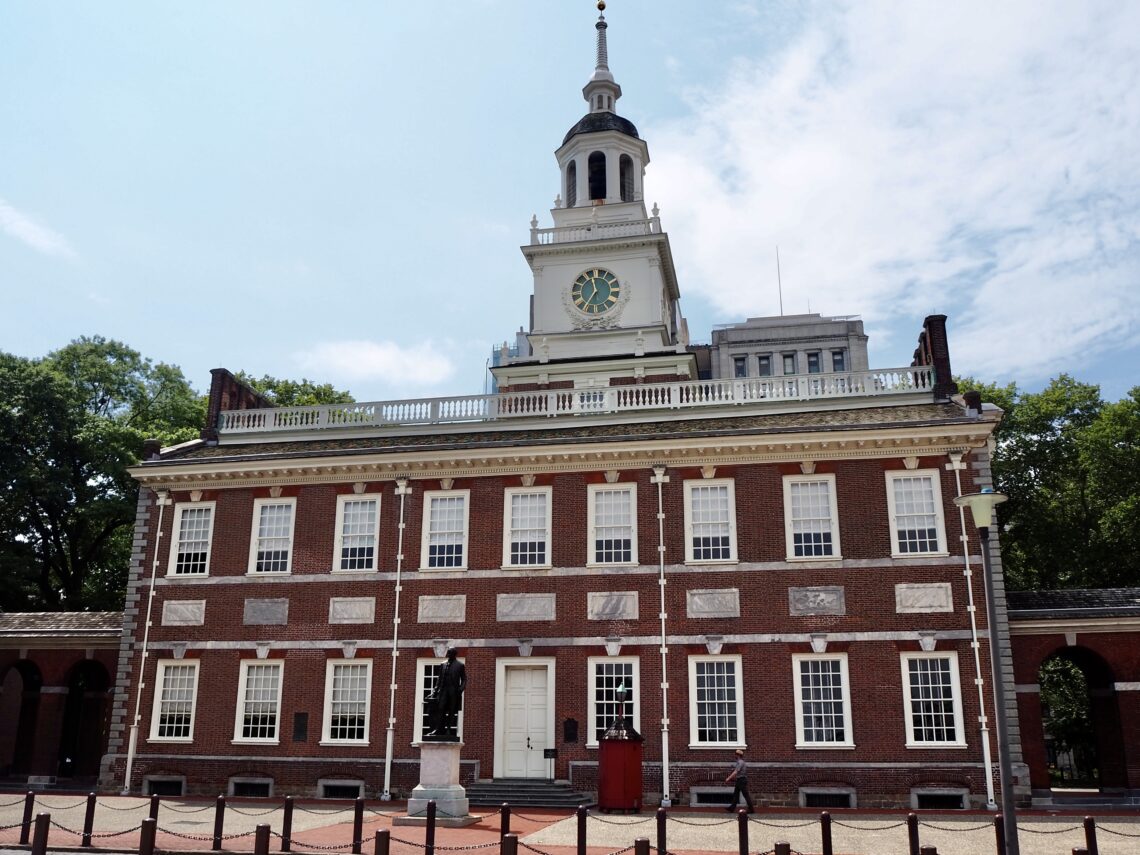 3 Day Trip to Philadelphia | USA
10 November 2023
Look, I'm going to be honest. The bulk of my knowledge about the American Revolution comes from Hamilton. Although, I definitely learned a bit more in Boston since a lot of the revolution took place there! But Philadelphia is famous as the location of the signing of the Declaration of Independence, and was the capital of the USA a few times, so that's the big draw for most tourism to the city. It wasn't necessarily something at the top of my interests list, but I wanted to visit at least one more city in the Northeast after Boston and New York, and I settled on a quick 3 day trip to Philadelphia.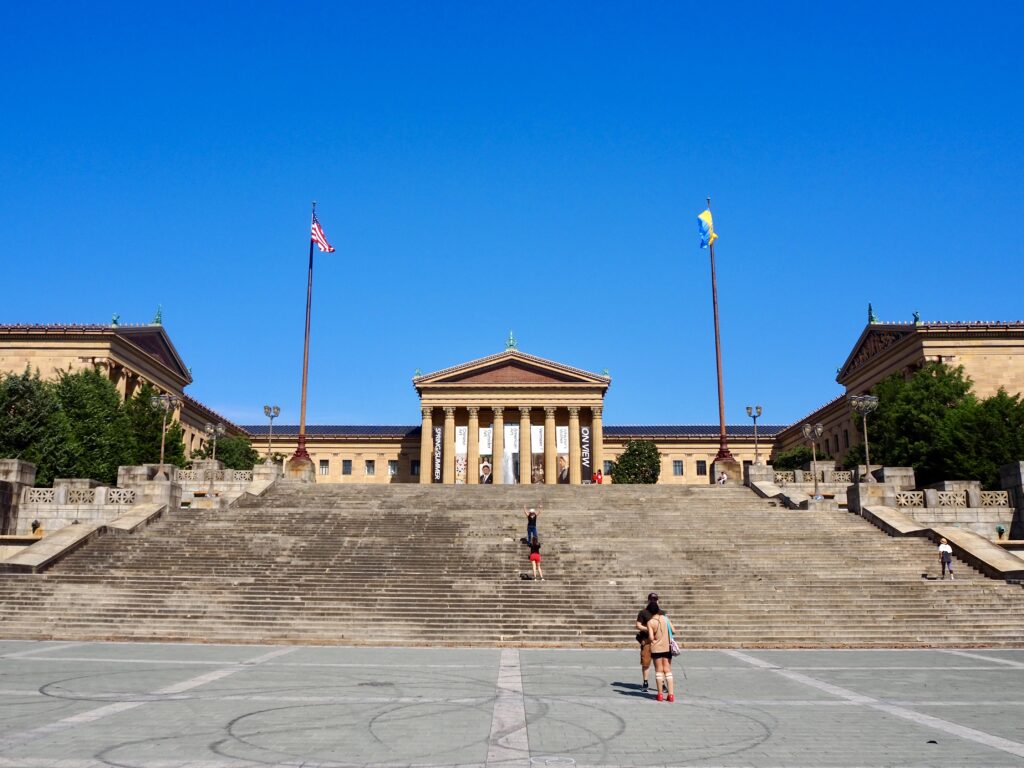 ---
Day One
Independence National Historical Park
I arrived early by train on a public holiday, so this was the only full day on my 3 day trip to Philadelphia. After stashing my bags at the train station, I took the subway into the city centre to see Philly's most historically significant buildings. They are all conveniently gathered together in Independence Park. You can pay to go into the various museums and halls, but it would've have added up price-wise quickly, so I just wandered outdoors. They're pretty buildings anyway, all colonial-style red brick facades. I was also a bit history-saturated from all the Revolution stuff in Boston. There are plenty of information signs around to explain what each one is too. Independence Hall is the most famous, where the Founding Fathers officially adopted the Declaration. I also passed Carpenters' Hall, Congress Hall and the First Bank of the United States.
I did go into the building where the Liberty Bell is, as that one is free to enter. There are loads of signs leading up to the actual bell, explaining why it's significant in the first place. Contrary to popular legend, no one rang it on the 4th of July, 1776, the day the Declaration of Independence was adopted. It used to be in Independence Hall and was likely one of many bells rung on 8th July, to mark the reading of the Declaration. But its status as a symbol of American freedom, with its iconic crack, has persisted so it was cool to see a famous piece of history in person.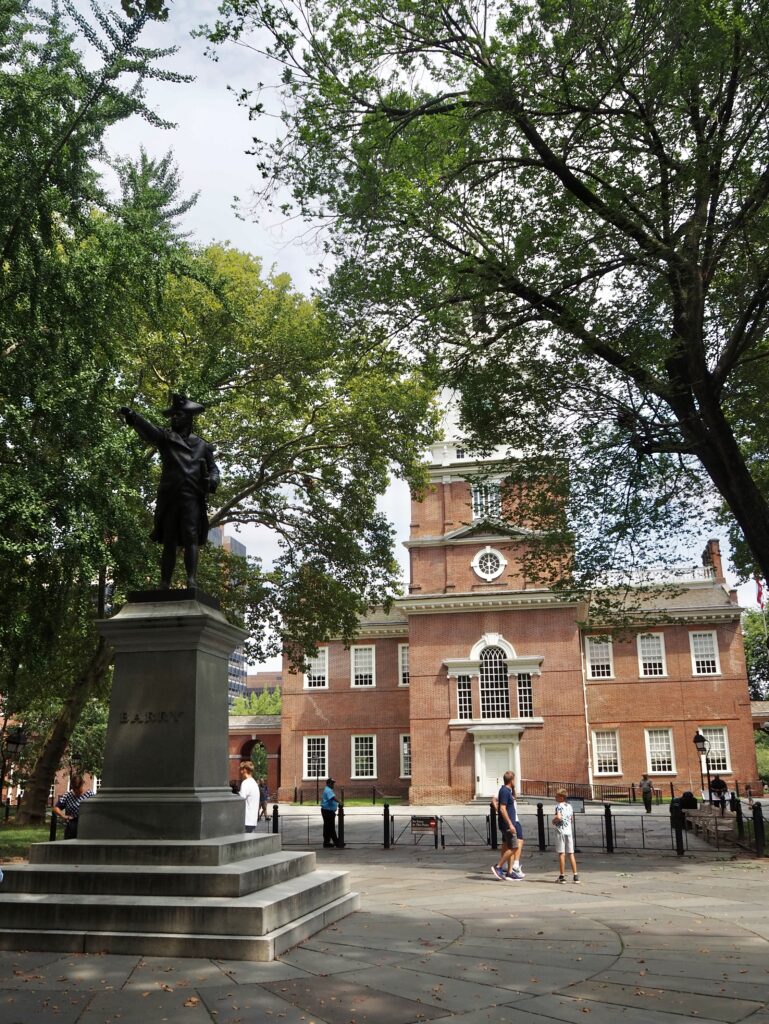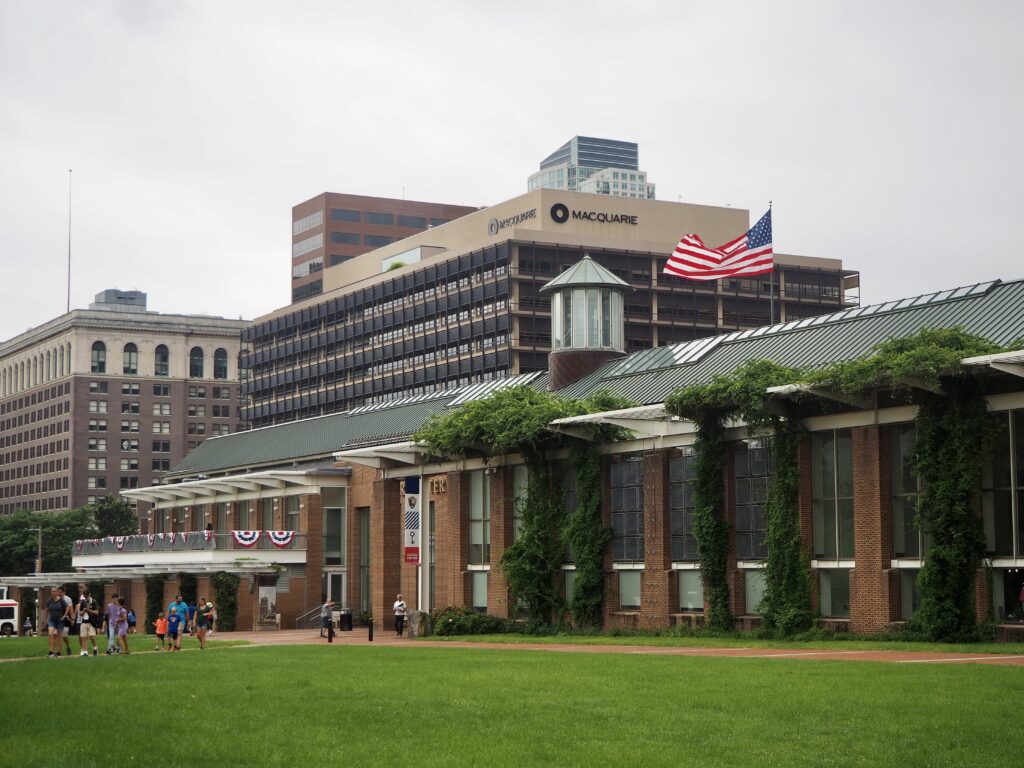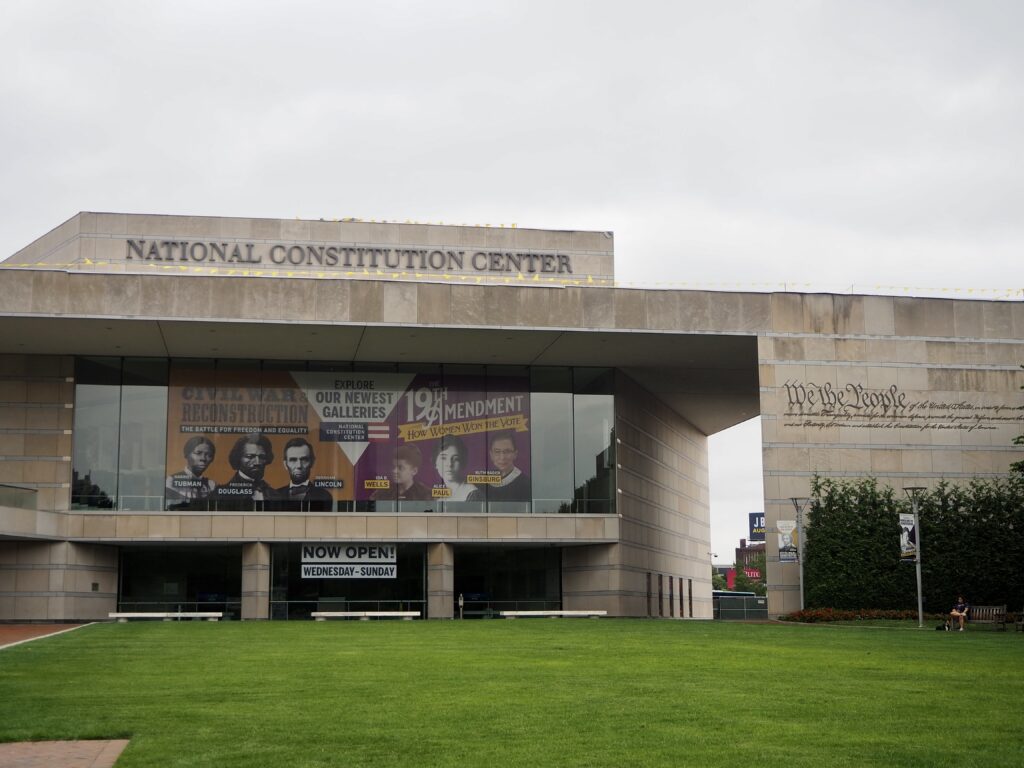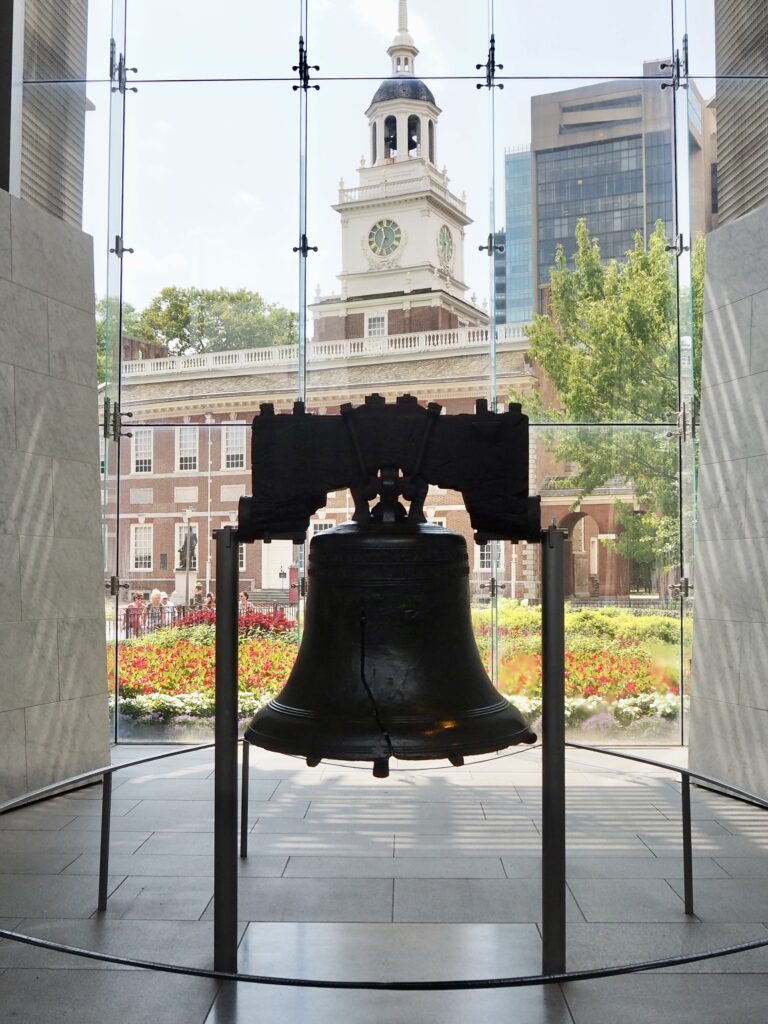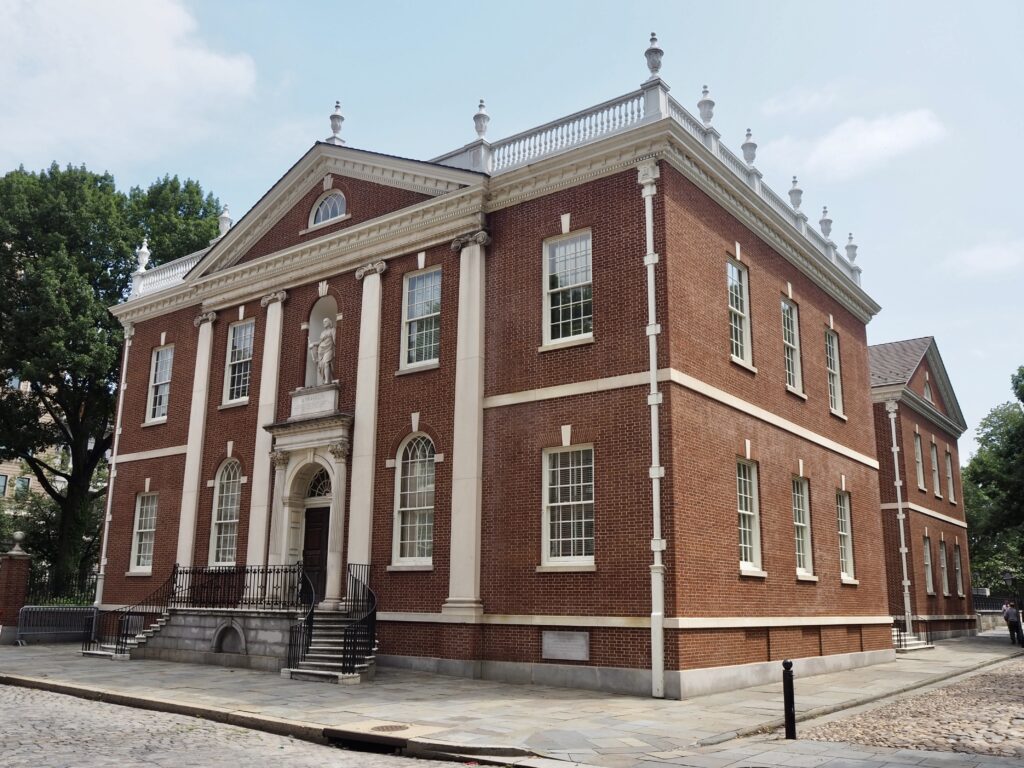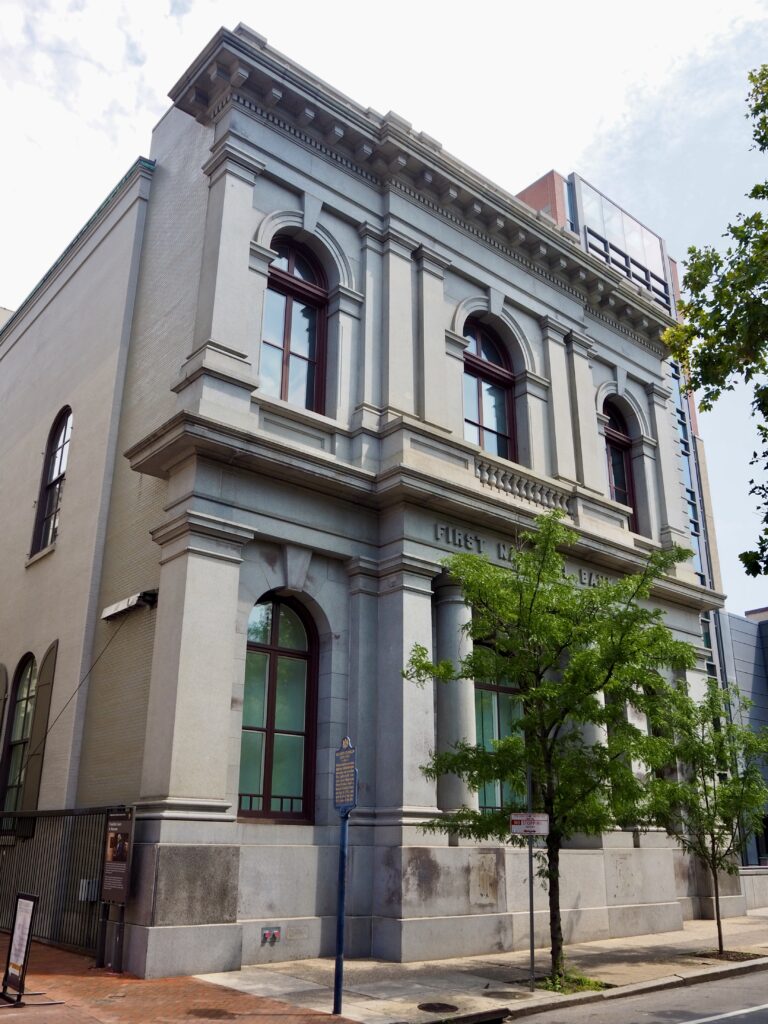 ---
Franklin Court
Technically still part of Independence Park, but a street over to access it, I found Franklin Court next. Benjamin Franklin was one of the Founding Fathers, who lived most of his later life in Philly. He had his house here from 1763 until his death in 1790. Unfortunately the house was demolished in the 1810s. However, the National Park Service now own the lot and have done excavations. You can see some of the remains underground, and they've also installed features that mimic where the building once was. It's actually quite a pretty courtyard too, set back from the main street. And it's tucked behind a beautifully preserved old post office building out front!
The Bourse Food Hall
Now, I wasn't doing a whole food tour in Philly, but there was one local dish I had to try. Of course, a Philly cheesesteak. I'd seen so many places selling them in Boston and New York, but I had held out for the real deal. Just up the road from Franklin Court, I found the Bourse Food Hall. The Bourse once housed an exchange hall, built in the 1890s. Today, it functions as a food court. It seemed to be a recent renovation as many of the outlets were "coming soon" so it's not quite full of vendors yet. Anyway, it's a beautiful building to visit and a great place to have a variety of cuisines to suit everyone.
I did a loop to browse the options, but decided I may as well try the cheesesteak, courtesy of Marino Brother's. Now, I do eat mainly vegetarian these days (climate change!) but I still have meat sometimes, especially for moments like this when travelling. In all honesty, it wasn't my favourite dish. I'm mostly blaming the American-style cheese for that, too plasticky. But I'm still glad I tried it at least once, and I had a very nice lemonade alongside it.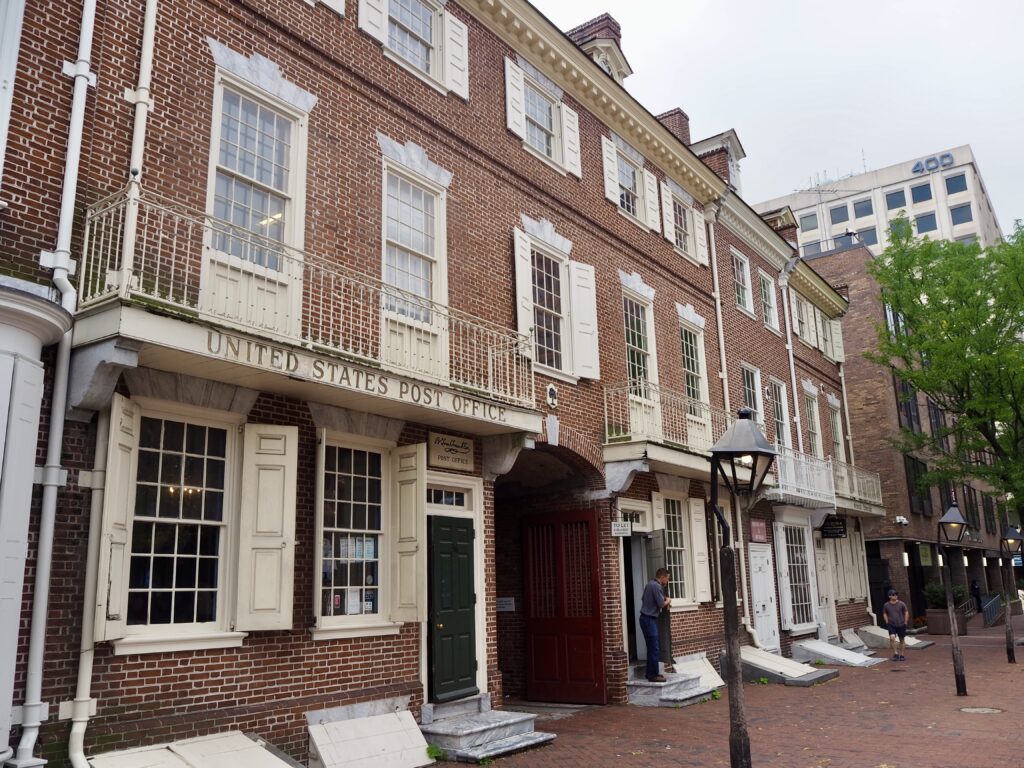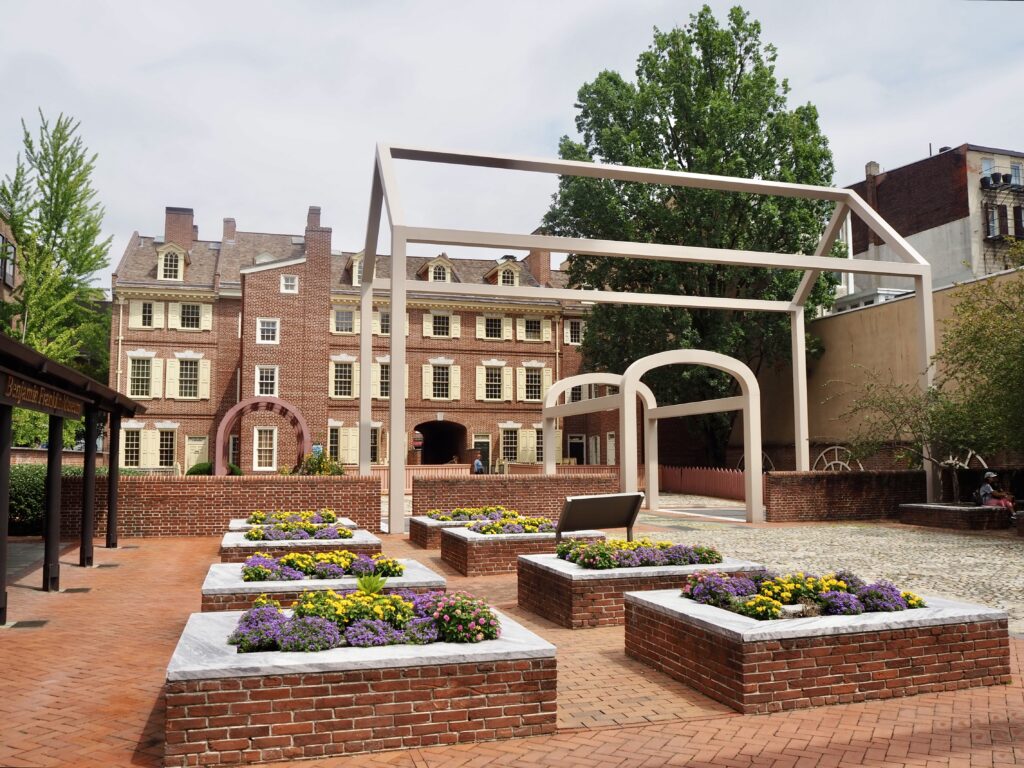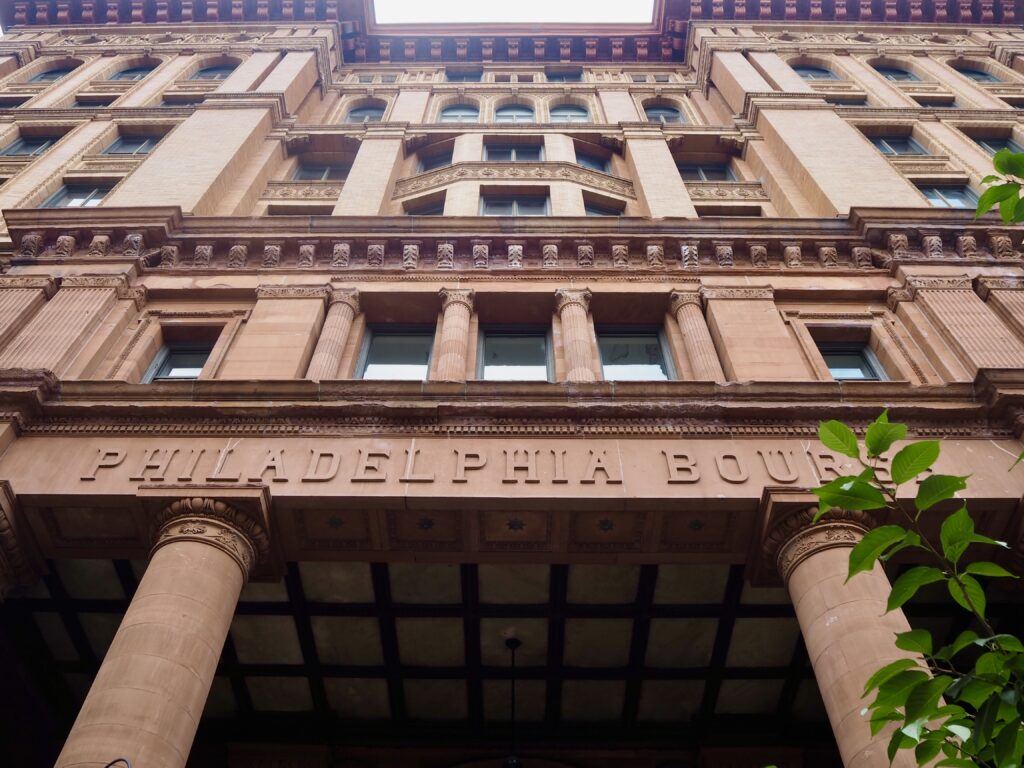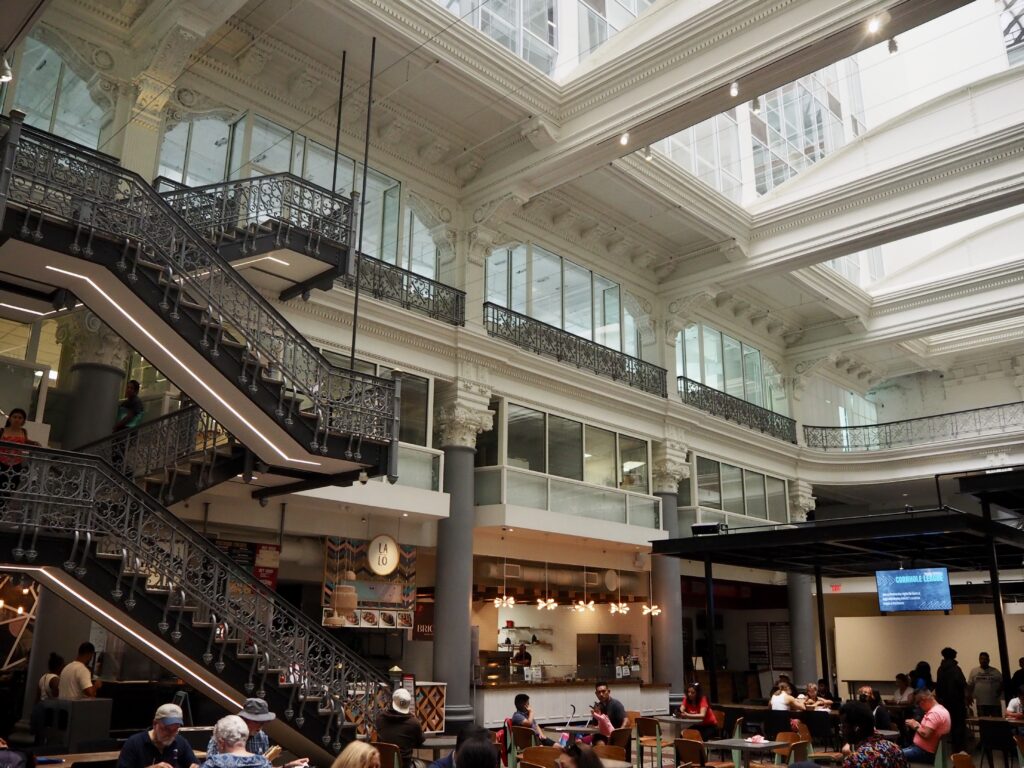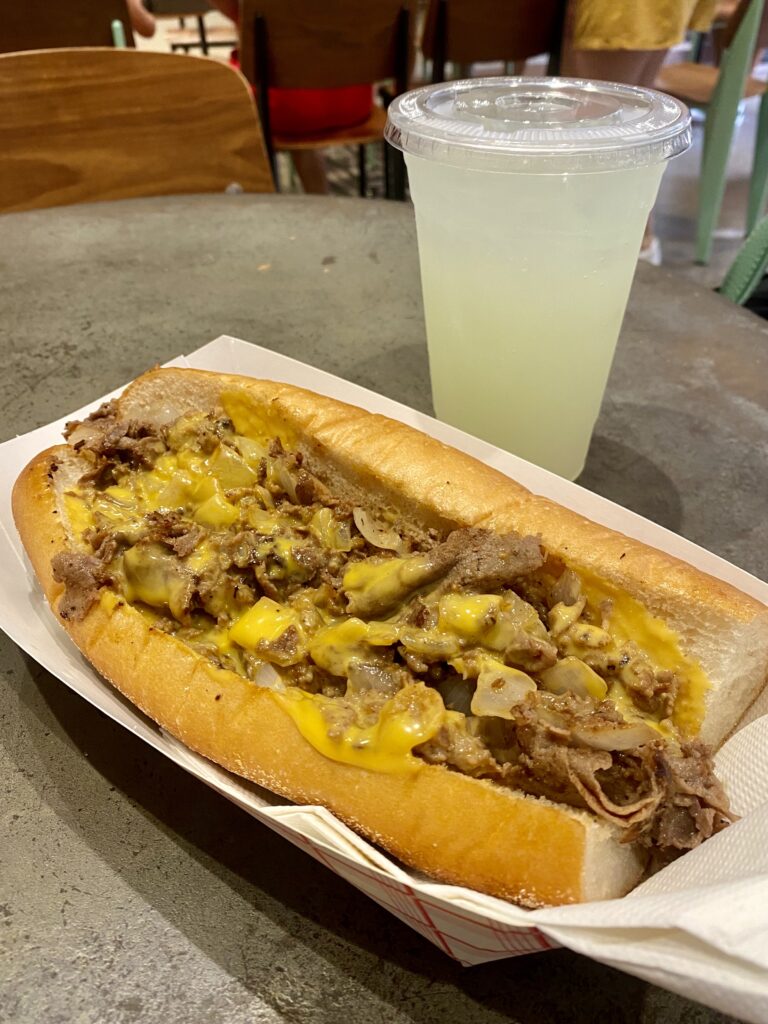 ---
Elfreth's Alley
A few blocks away, the historic sites continue, with more red-brick buildings. Firstly, I passed the Betsy Ross House, where the creator of the American flag lived. Again, I didn't go inside, I just made sure to take a route that would walk past it. Then, I continued on to Elfreth Alley, possibly the prettiest street in Philly? The whole alley has been preserved, over 30 houses built in the 18th century. It's a cobblestone street and each house is unique, with different layouts and colourful shutters and doors. They're small houses though, originally lived in by tradesmen for the most part, so it was a working class street.
There are still people living in most of them now, making it the oldest continuously inhabited street in the USA. Of course, this allows means a degree of respect and quiet is required when you're wandering past people's homes! One of them is now a museum, but only open on weekends and I was here on a Monday. My favourite feature though, was the child (based on the handwriting) who had created their own Elfreth Alley factsheet and stuck it in their living room window for tourists like me to read!
Penn's Landing
Moving away from the historic buildings, I headed towards the waterfront next, once a hub of industry. Philly sits next to the Delaware River, which separates it from New Jersey on the opposite shore. The area next to the river is called Penn's Landing now (William Penn founded the city) and houses various entertainment and recreation options.
First I passed the mini-golf and the roller rink, which doubles as an ice rink in winter. Colourful hammocks for lounging fill Spruce Street Harbour Park, and food stalls line the promenade in front of it. And anyone with an interest in maritime history won't want to miss the Cruiser Olympia and Submarine Becuna moored at the far end. They are part of the nearby Independence Seaport Museum as well. I took a lap down the waterfront, stopping to sit in the park for a while. I probably would have sat longer but the weather wasn't entirely on my side, so I pressed on.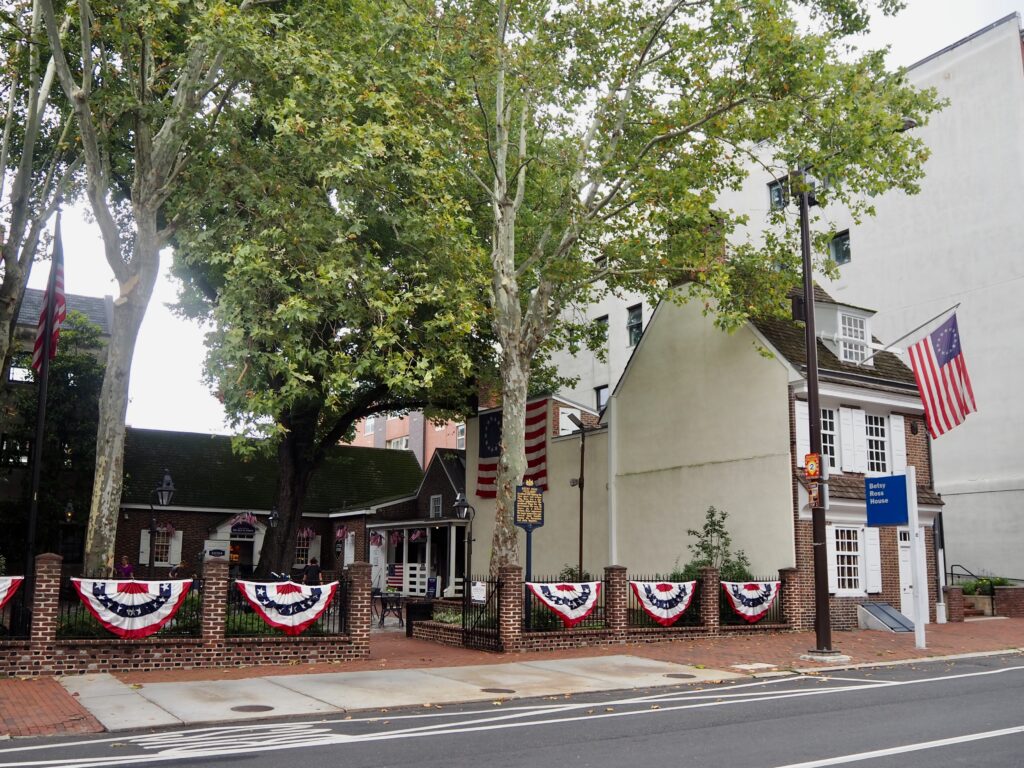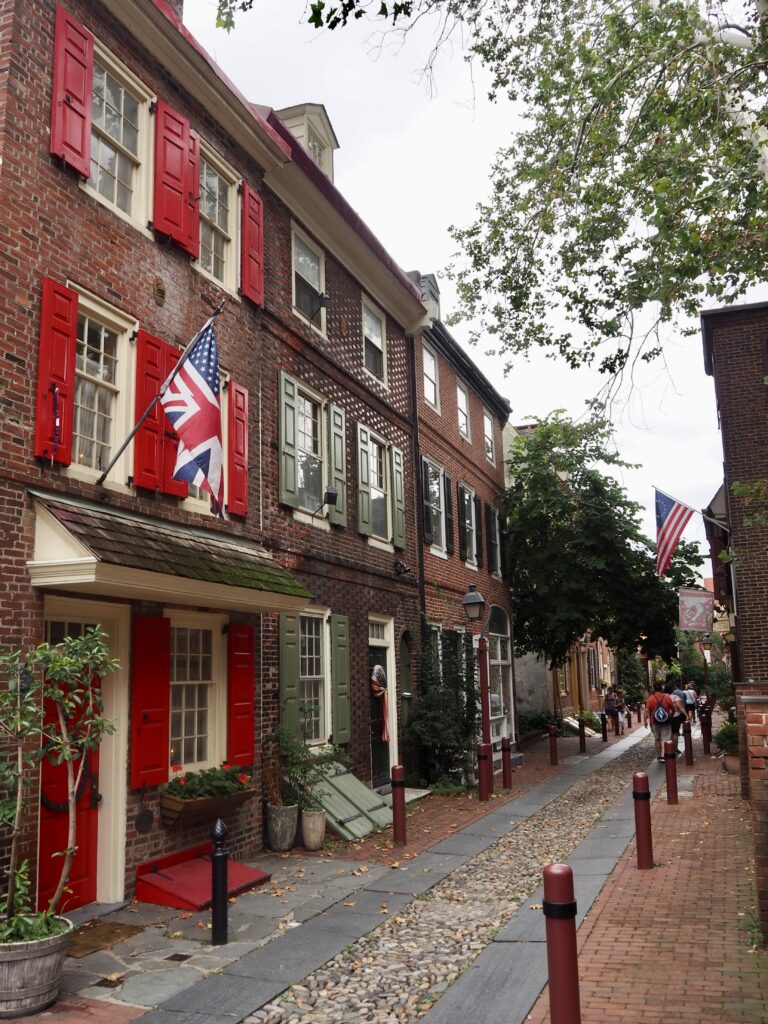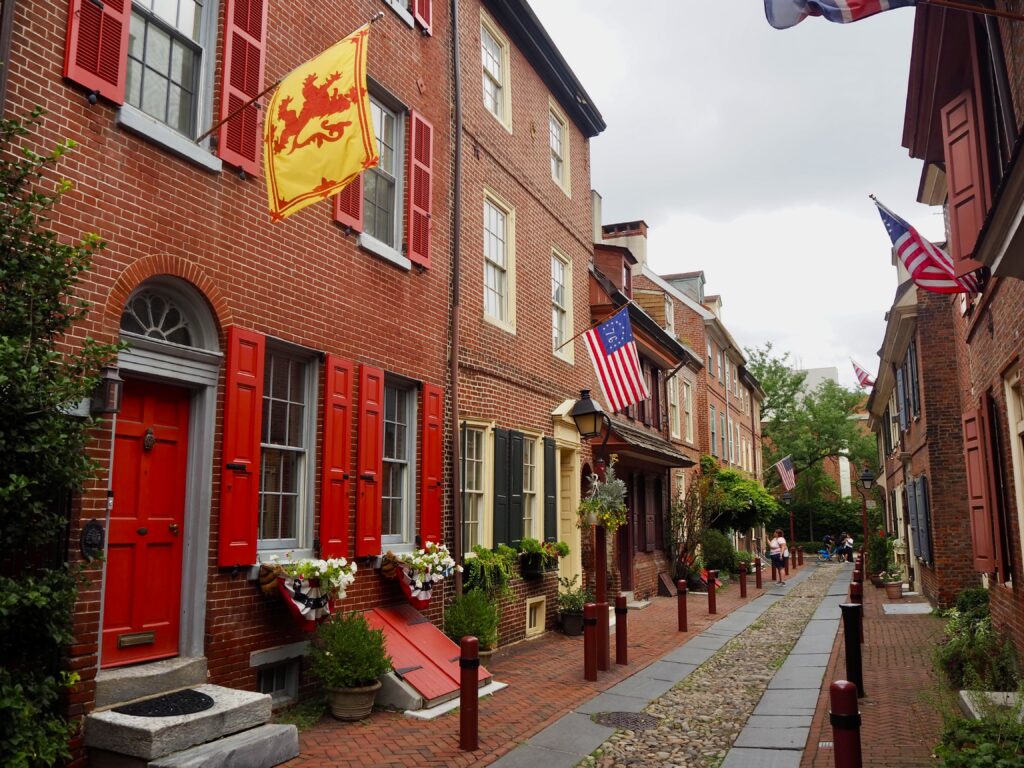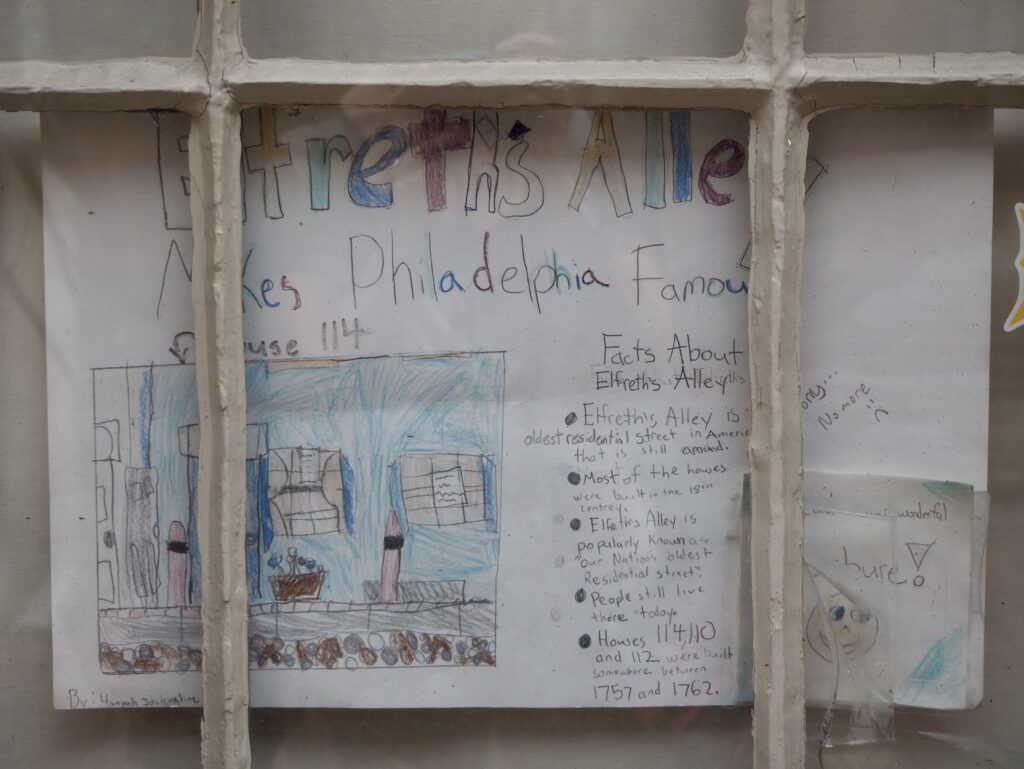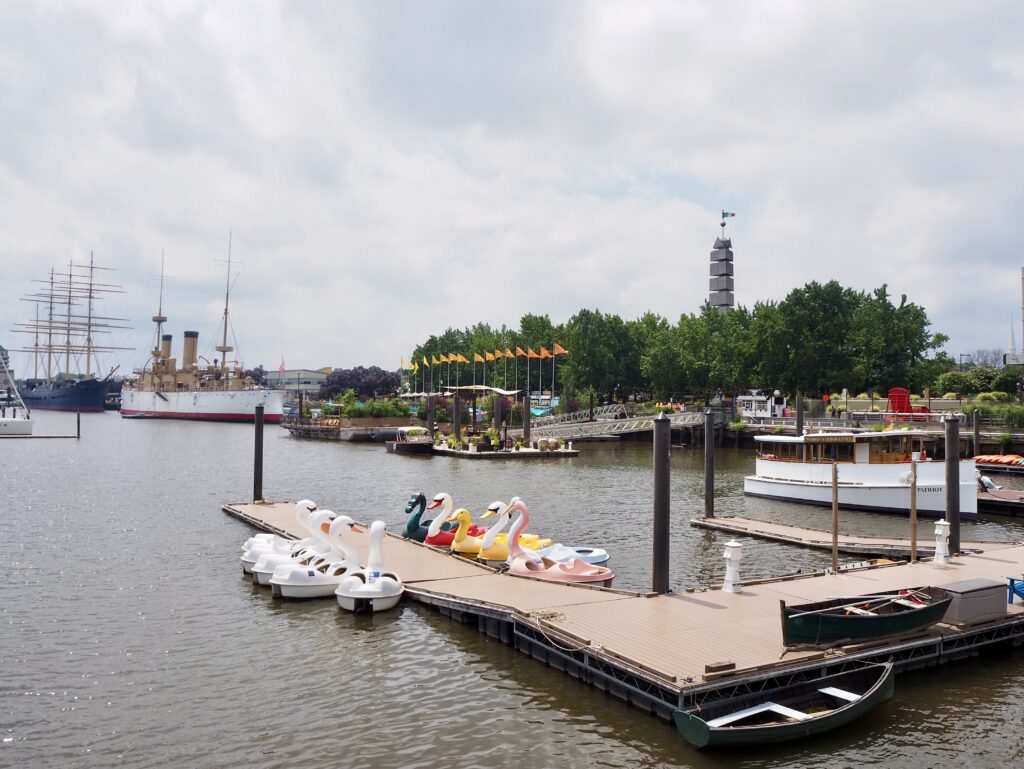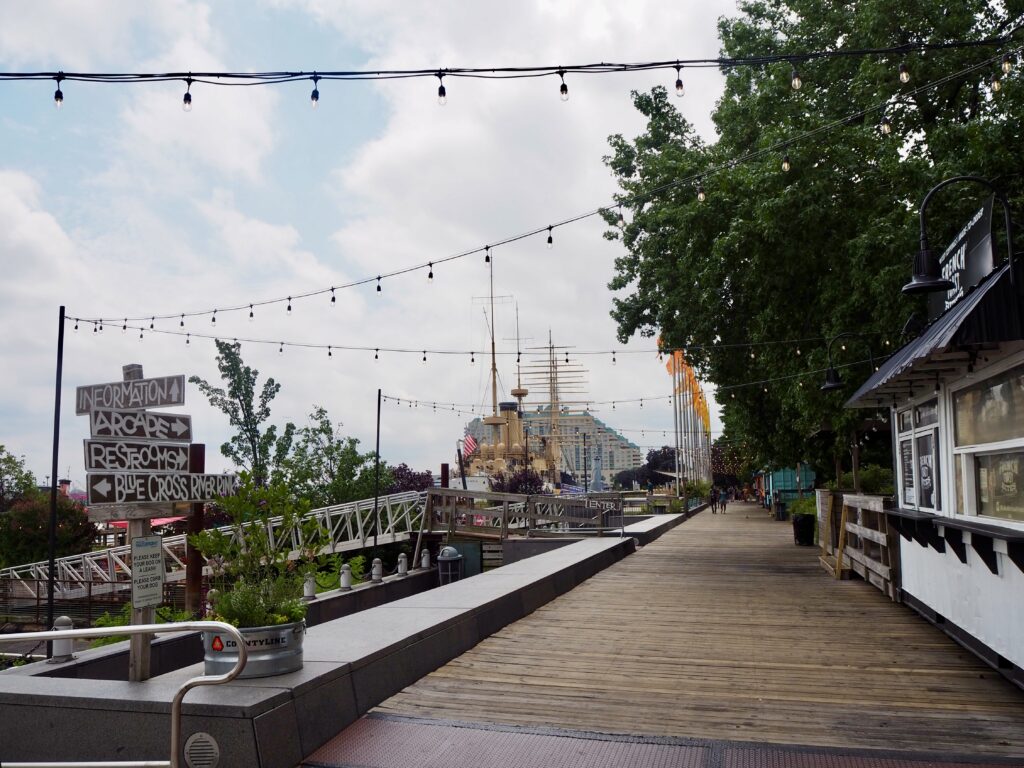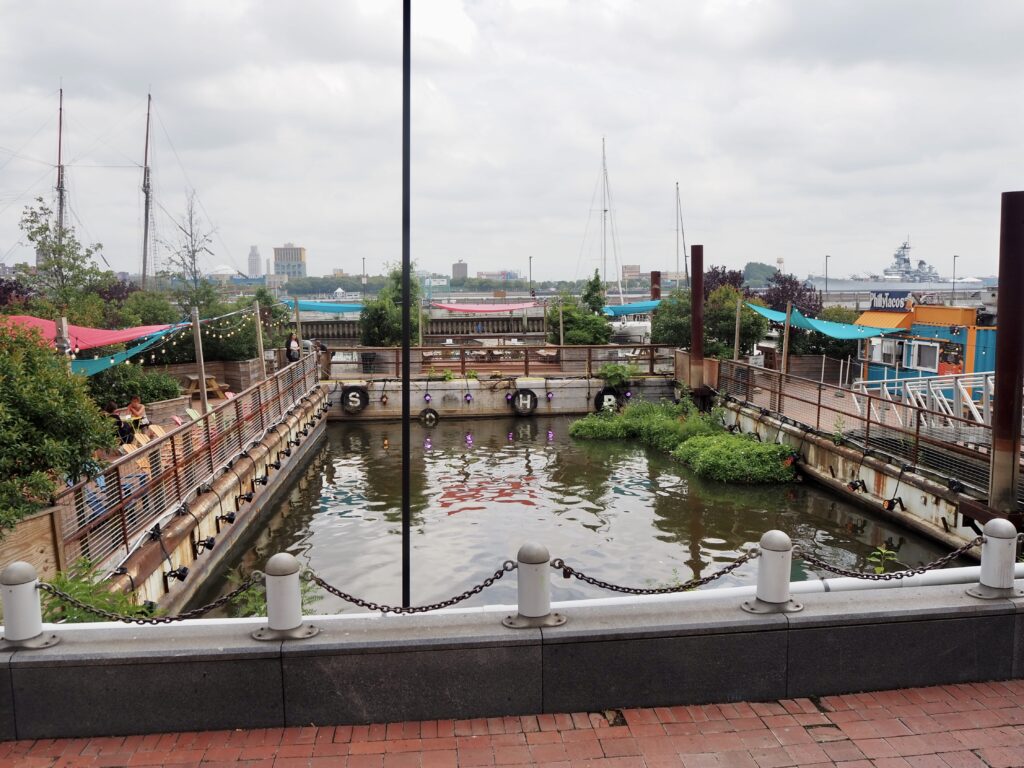 ---
Philadelphia's Magic Garden
Of all Philly's museums and galleries, one with the name "Magic Garden" caught my eye. After stopping for a coffee refuel and having already bought my timed ticket online (you can't buy it on entry), I headed up South Street. It's a fairly notable street, full of shops and restaurants to browse. The Magic Gardens are quite a bit further along though, and it took a while to walk there. There are a few murals and mosaicked walls to keep an eye out for on the way though!
Anyway, this art venue is a fully mosaicked house and a sculpture garden, created by Isaiah Zagar. Thousands, if not millions, of pieces of mirror, glass and tiles cover every inch of the walls inside and out. It's staggering to take it in! The outdoor space is like a maze of pathways and stairs, with all sorts of unusual sculptures and installations incorporated into the design. Inside the building, there is a souvenir shop and exhibition space. Folk art plays a role in the inspiration behind the mosaics, so the rotating indoor exhibits usually have a folk art connection. When I was there, it was all Mexican folk art, reminding me of my own trip there. It's not a huge venue, but definitely a more modern and different side to Philly after all the historic sites!
I was pretty tired after so much walking that day, so I sat and read in Washington Square Park for a little while, until it was time for check-in. Then it was back to the station to collect my bags, a taxi to my apartment and a quick supermarket run before a quiet night in.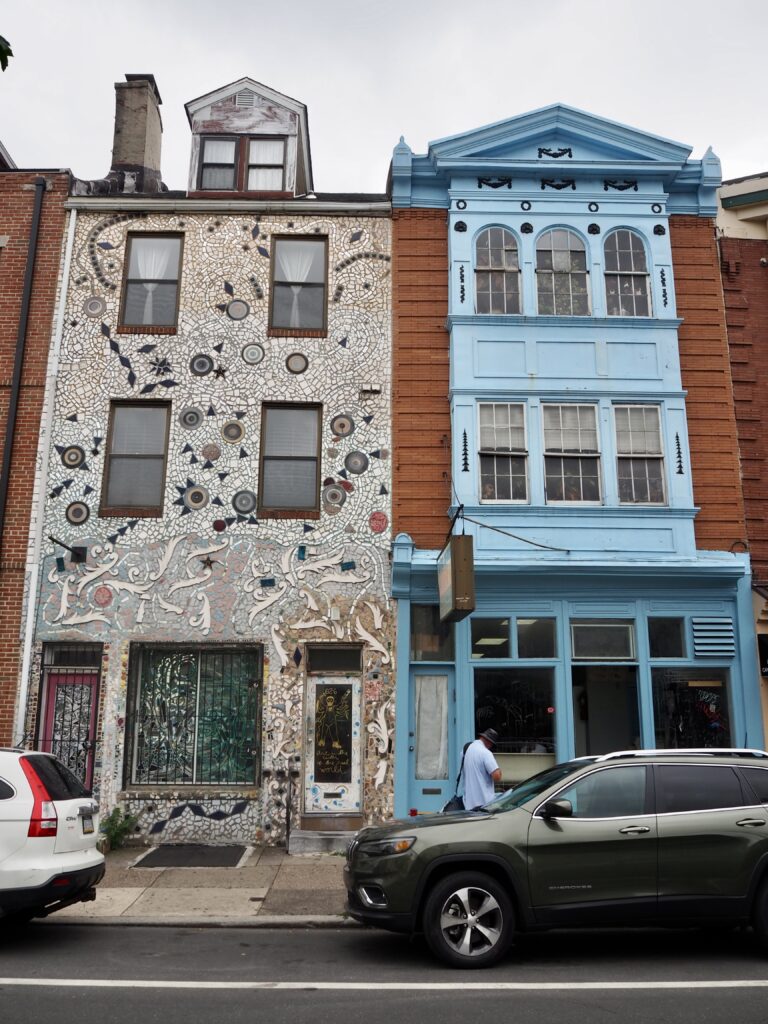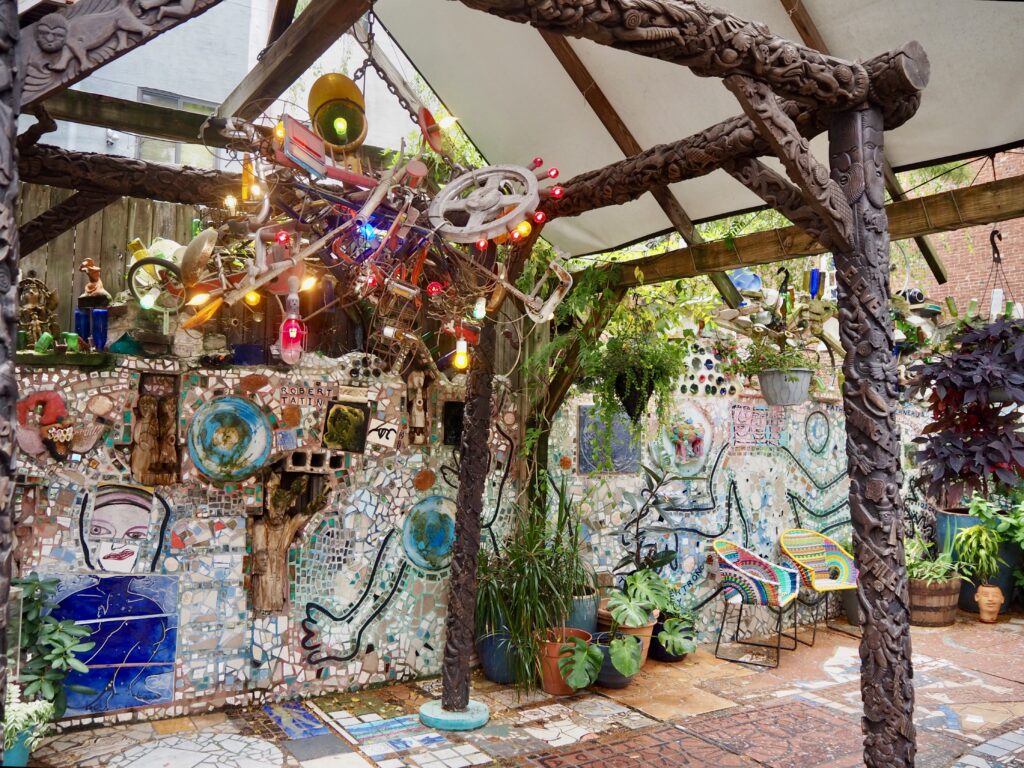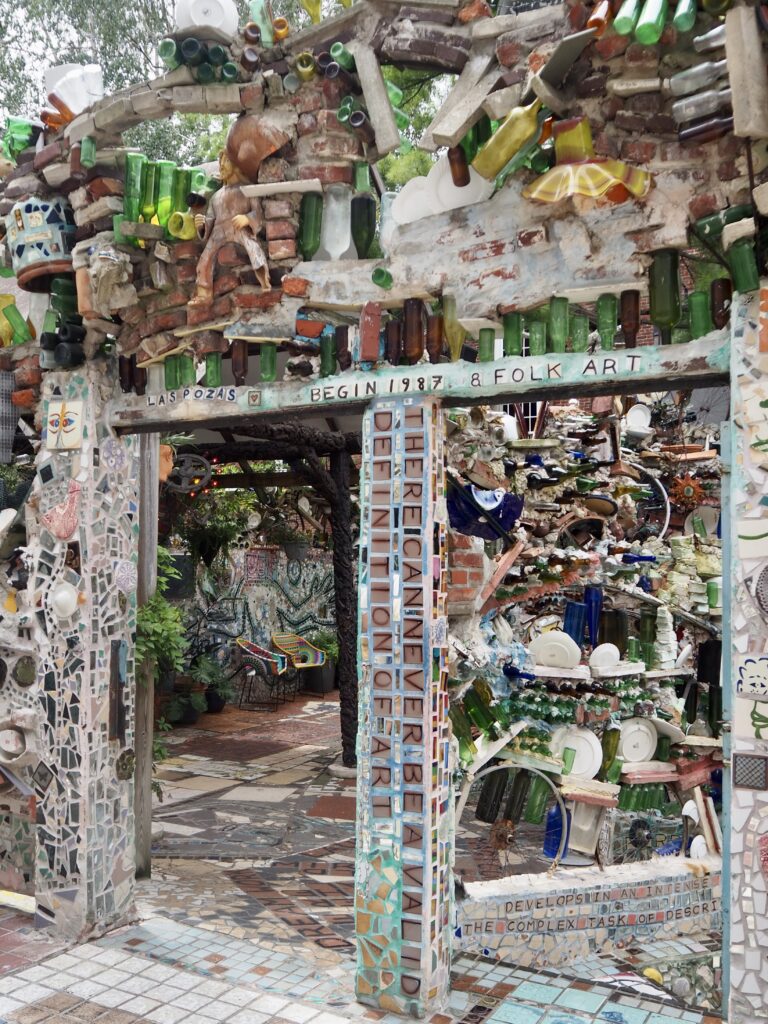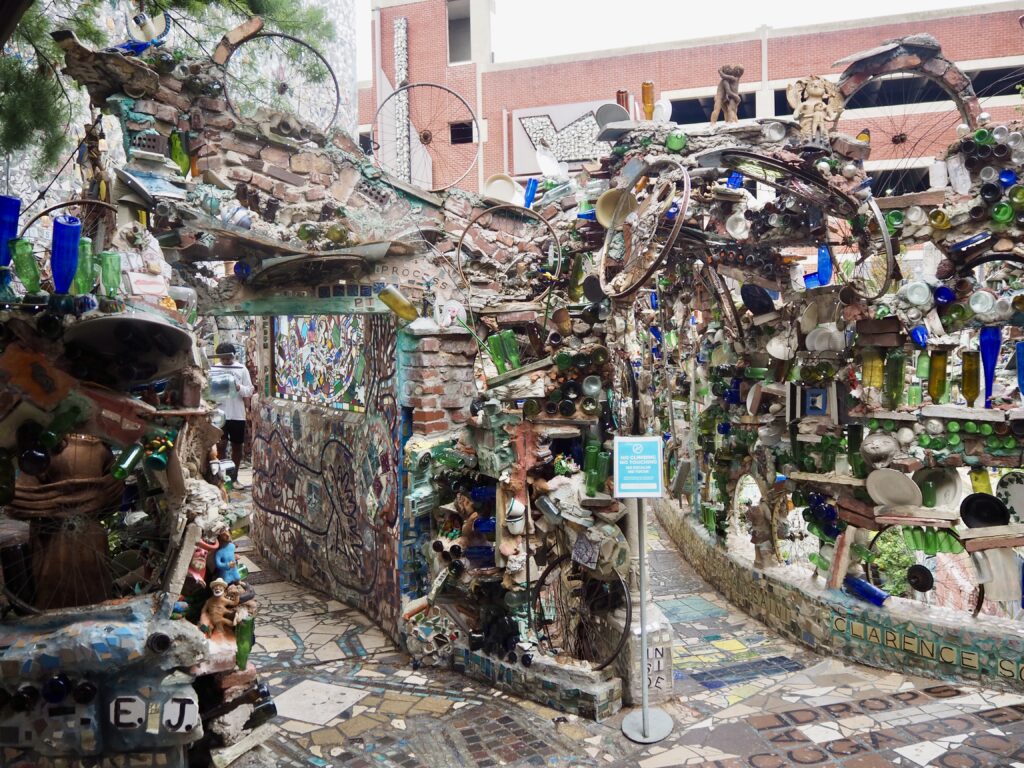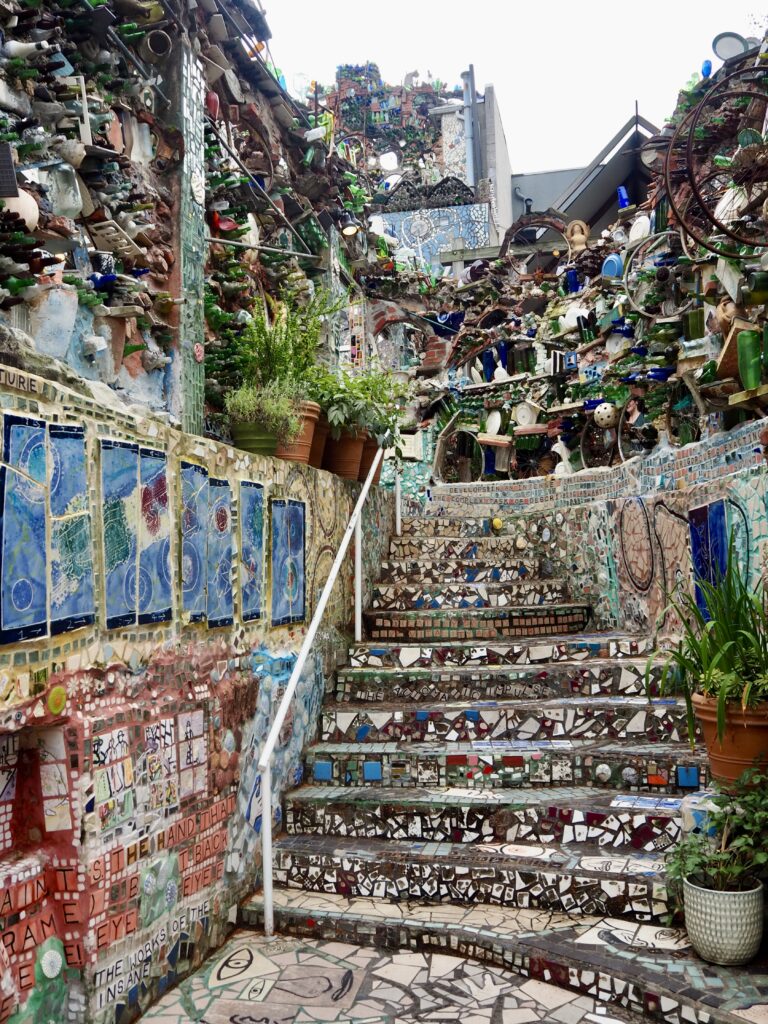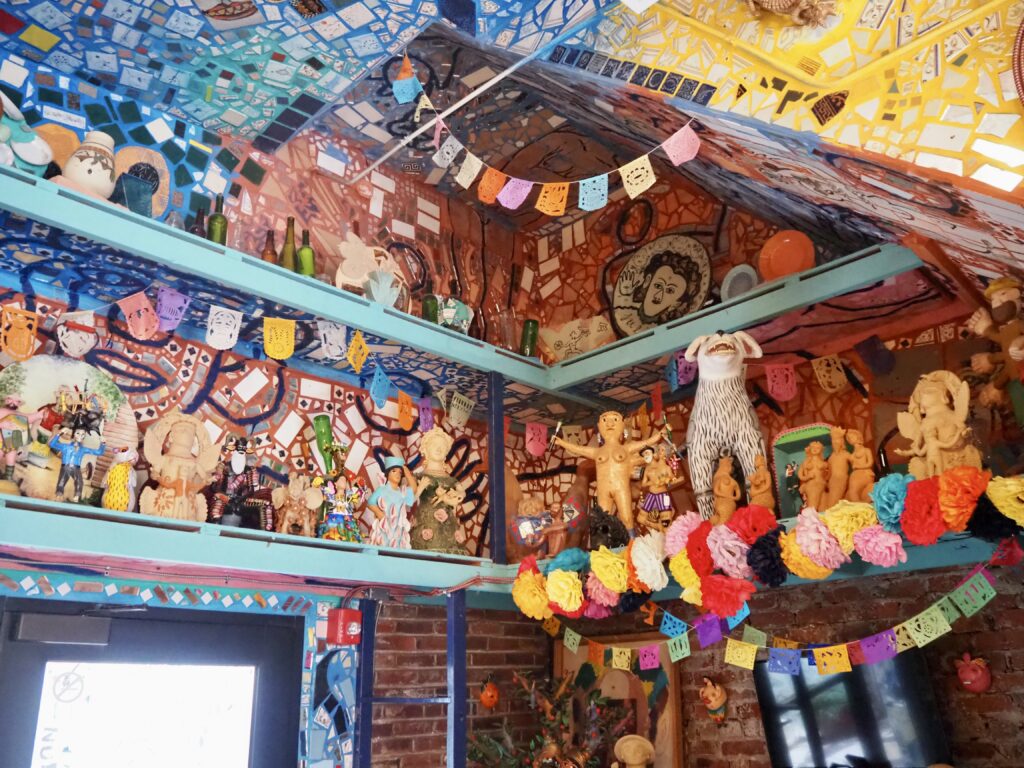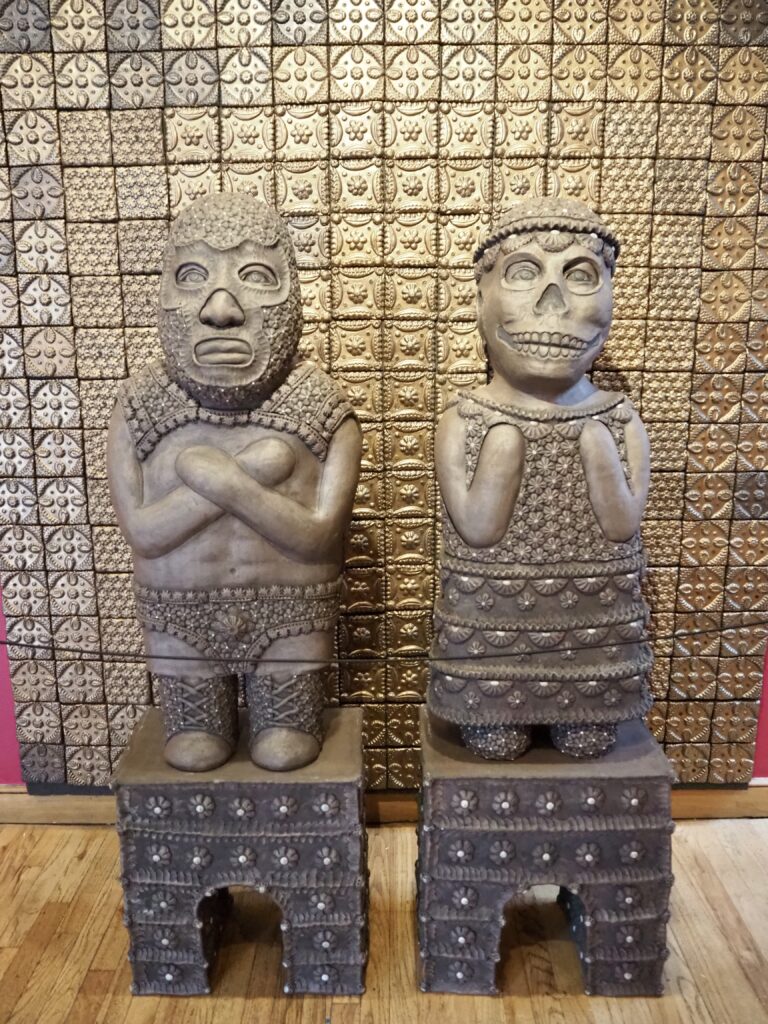 ---
Day Two
Edgar Allen Poe Historic Site
I only had mornings available on the rest of my 3 day trip to Philadelphia, as I had another week of working late shift hours. I'd happened to notice mention of Edgar Allen Poe on Google Maps and, of course, my English Lit nerd side kicked in. Poe lived in Philly for about six years, in several different houses, writing and publishing many of his most famous works while in the city. There is now a Historic Site that preserves the only one still standing. Located in the Spring Garden district, it's a fairly ordinary looking red-brick house. The giveaway, however, is the large black raven statue in the garden! Just around the corner there is also a large mural of him on the side of another building. It's only open at the weekends so I was resigned to only seeing it from the outside.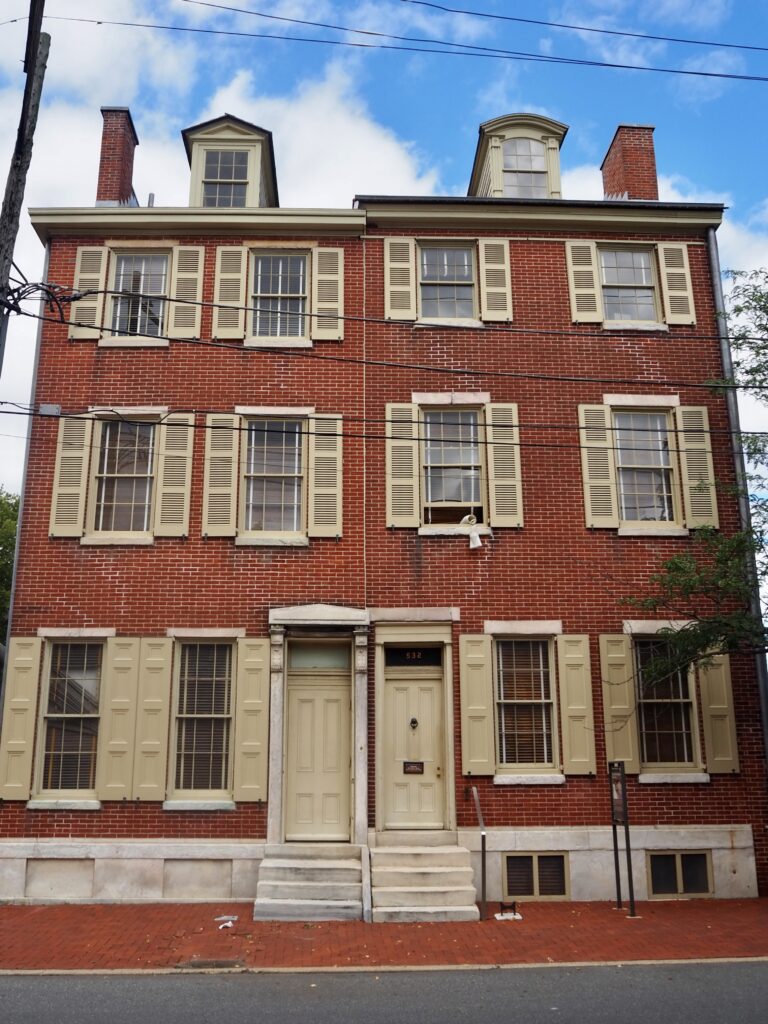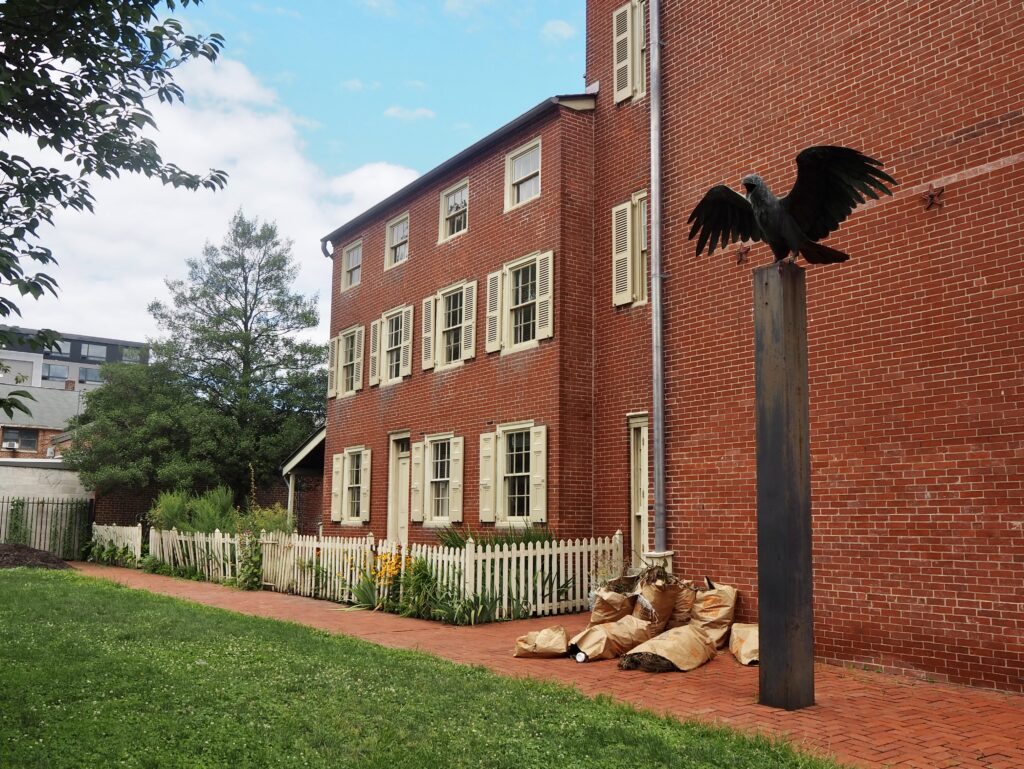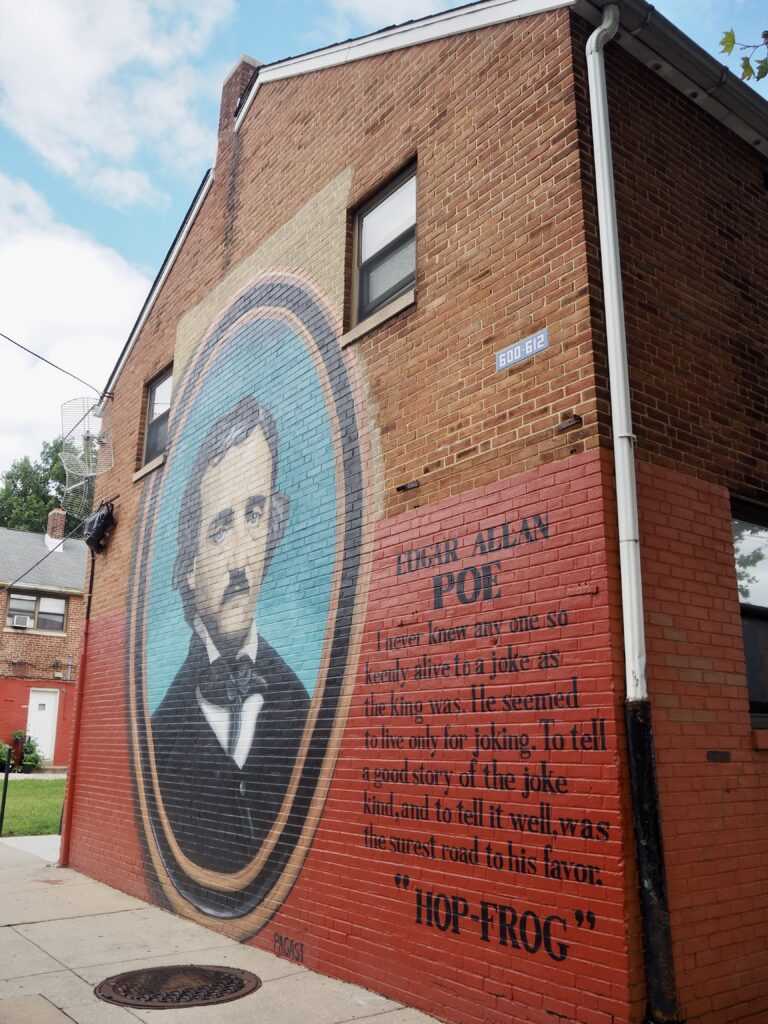 ---
Reading Terminal Market
Heading south to Center City again, passing by Chinatown, I made my way over to the Reading Terminal Market. This famous indoor farmer's market is another testament to Philly's history, having stood for over a century. Inside, dozens of signs dangle from the ceiling, pointing you towards an array of food and beverages to choose from. There's fresh produce to take home or you can stop for a whole meal of just about any type of cuisine. You could get chocolate treats or warm bread or artisanal cheese or freshly-made smoothies. It's not just food either; there are a few craft and gift type shops as well. It was an interesting place to just browse for a little while.
City Hall
The market is just next door to Philly's City Hall, a magnificent piece of architecture in the city centre. The vast, white building, topped with marble, was once the tallest in the world at the turn of the 20th century, which is wild to think about compared to how high New York's skyscrapers are now. The central clocktower has a statue of William Penn, the city's founder, atop it and the whole building dominates the square where it stands. I wandered around it, admiring the architecture from across the road. On one corner nearby there is also an art installation for Benjamin Franklin, depicting him as a craftsman for a change, rather than a political figure. From there, I made my way north again on Broad Street to my apartment to work for the afternoon.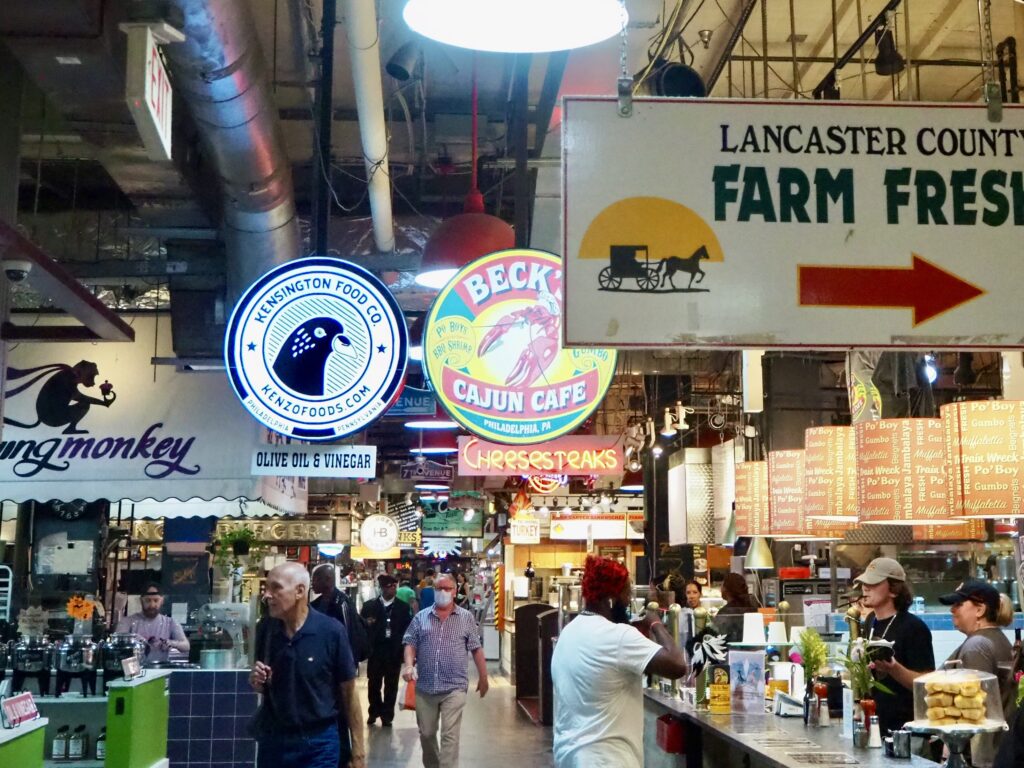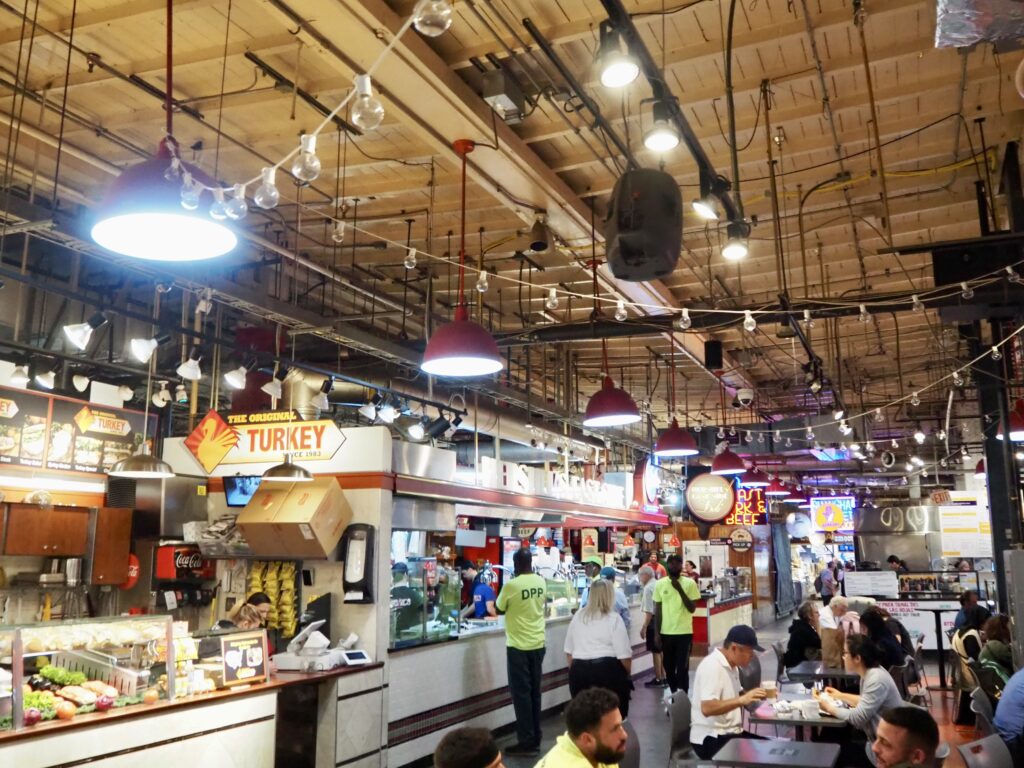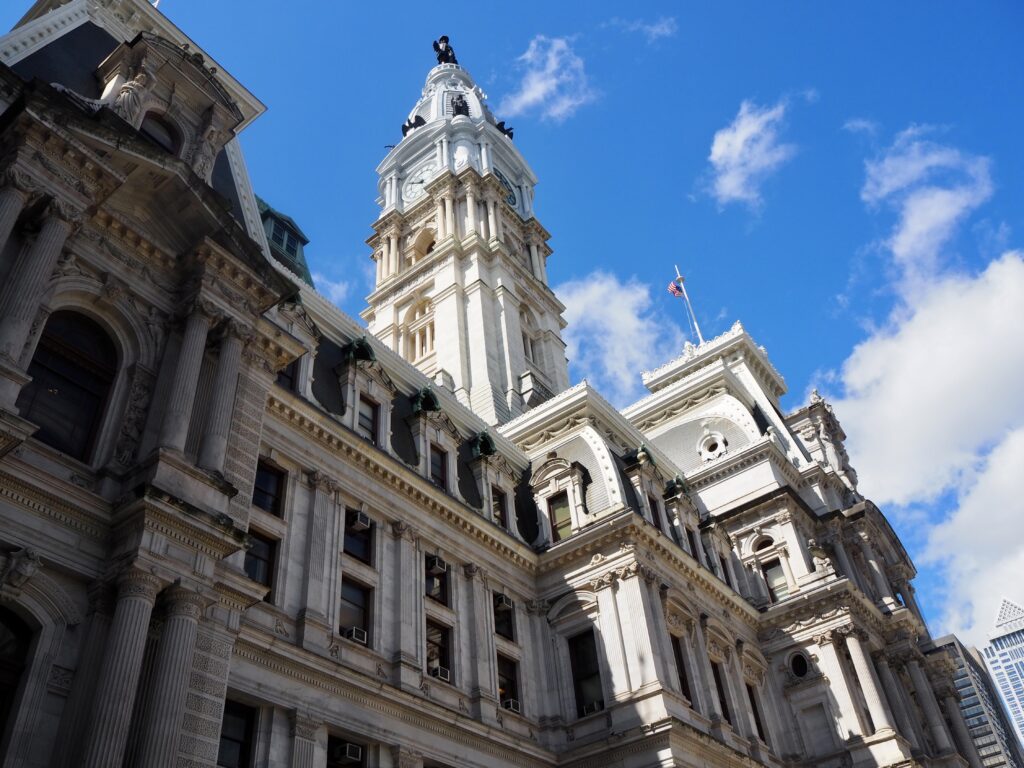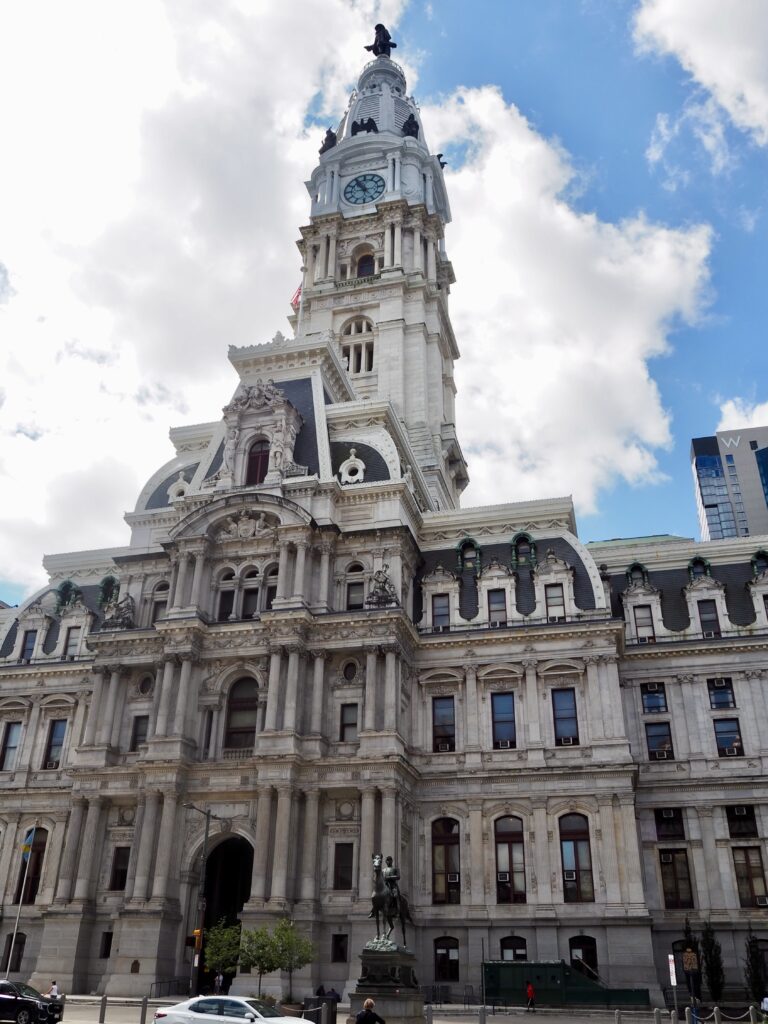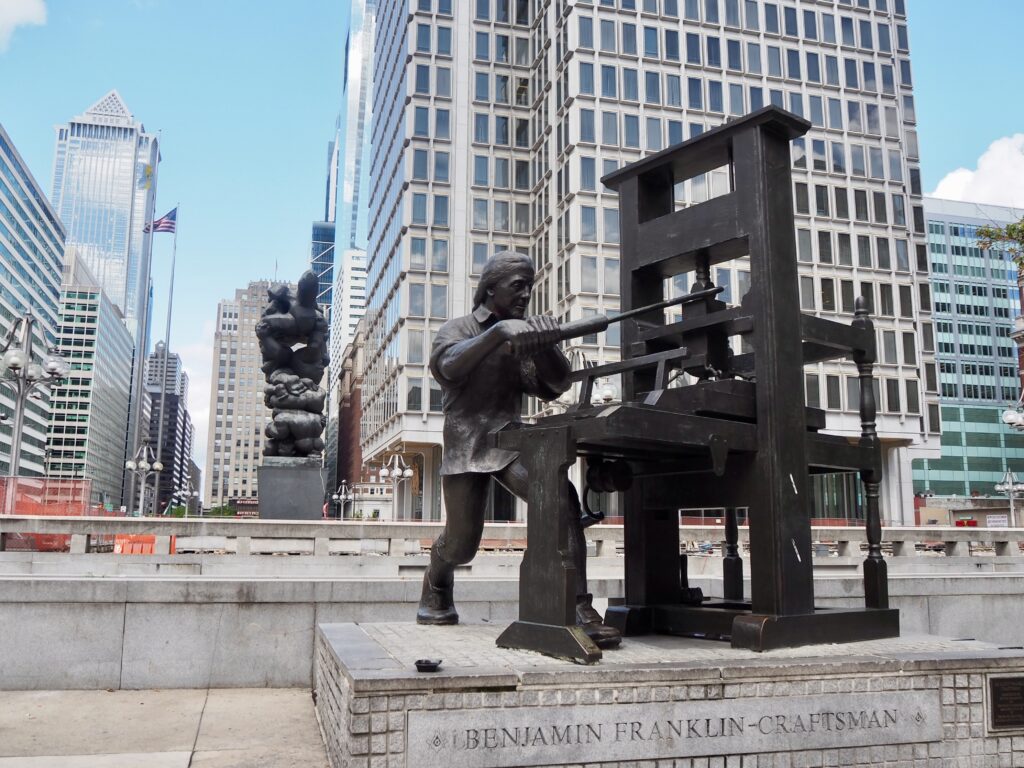 ---
Day Three
Philadelphia Museum of Art & Rocky Steps
Now, there's a very famous film set in Philly that we haven't talked about yet. Of course, I mean Rocky. I'll be honest, I've never watched any of the Rocky films all the way through, but I am familiar with the famous training montage. Which takes place in the streets of Philly, including when Rocky runs up the 72 steps of the Philadelphia Museum of Art, turning to face the city skyline and raise his arms in triumph at the top. The steps have therefore become a tourist attraction in their own right, where you will always find dozens of people posing for photos like Rocky. I figured it was worth going to check out such a famous scene, in case I'm never here again!
I walked about half an hour to get there from where I was staying. The museum itself is a Classical style building, like a temple on a hilltop. Tucked away in a corner between the trees at the bottom of the stairs, there's a statue of Rocky, arms raised, which a lot of people were taking photos with. I then headed up the stairs myself, though did not run. I didn't have enough time to warrant paying to enter the museum, so I just took in the views of the city and the building itself, before returning down the stairs again.
Benjamin Franklin Parkway
The Museum sits at the end of the Benjamin Franklin Parkway, which I wandered along next. At the bottom of the Rocky Steps, I saw the Washington Monument Fountain, depicting the former president on horseback. I crossed The Oval and then followed the tree-lined boulevard south. There are lots of museums in this area, including the Rodin Museum, Barnes Foundation and Franklin Institute. If I'd had more time, I probably would have visited at least one, but I had to get back for work soon. I also think if I'd visited every museum in every city I went to this summer, I'd have been exhausted by them all and they'd all start to blend together!
At the end of the Parkway, I reached Logan Square, with its fountain dotted with turtle statues and floral gardens. It's got a pretty good view of the City Hall clocktower as well, but I veered east again to return to my apartment instead.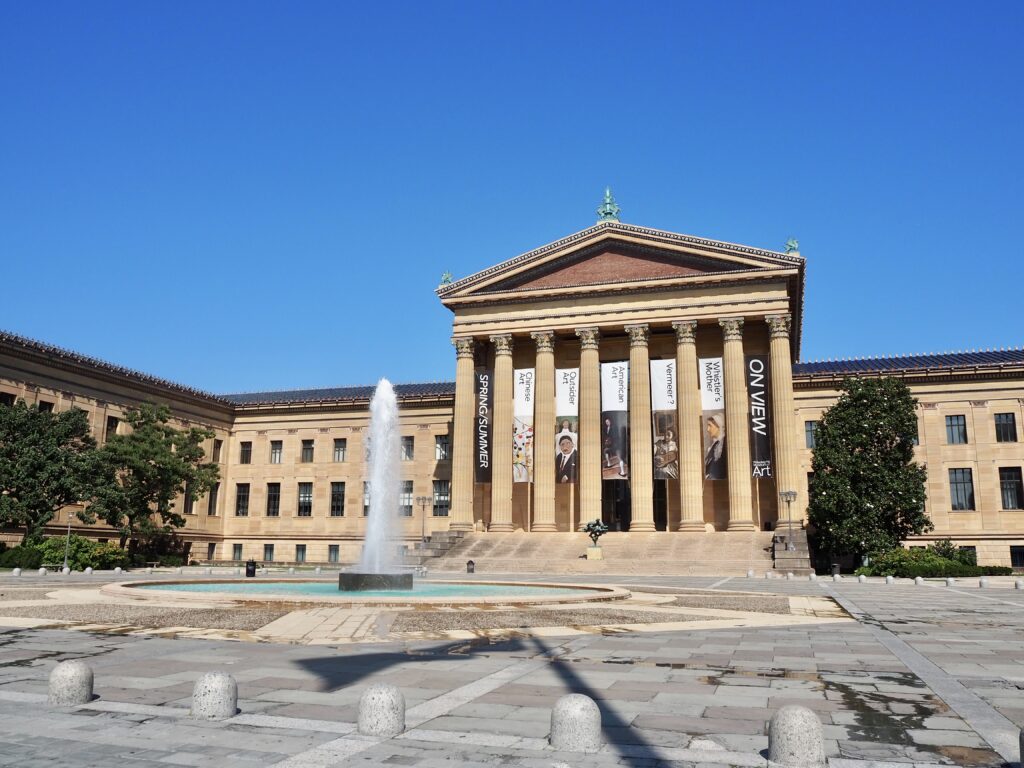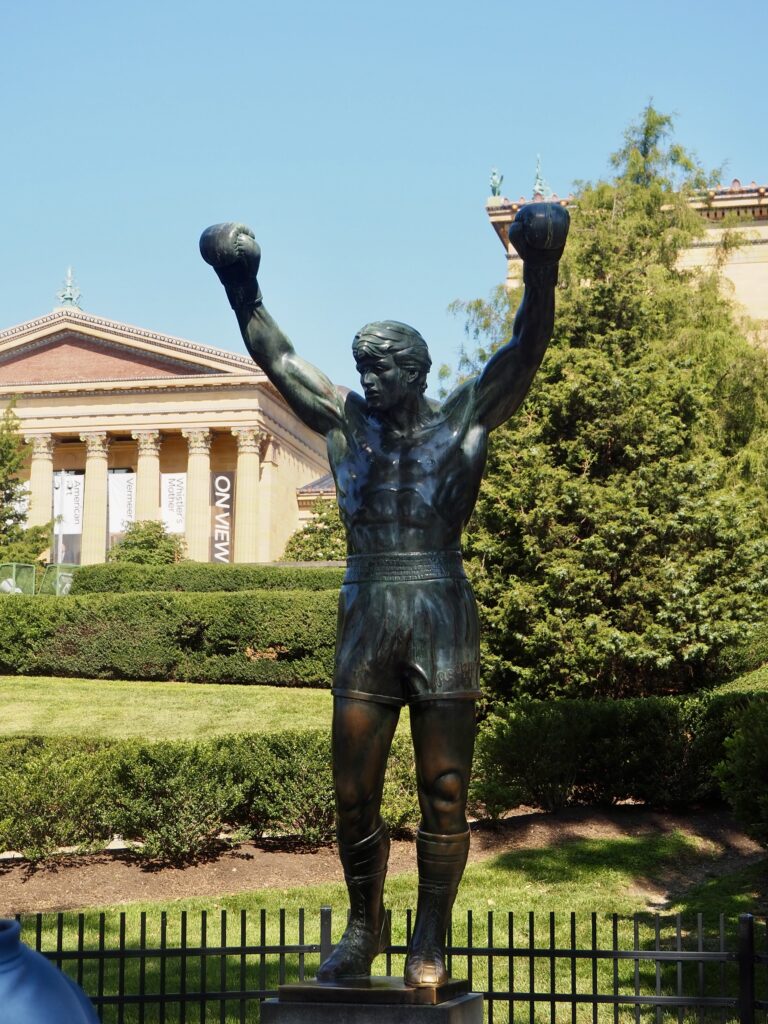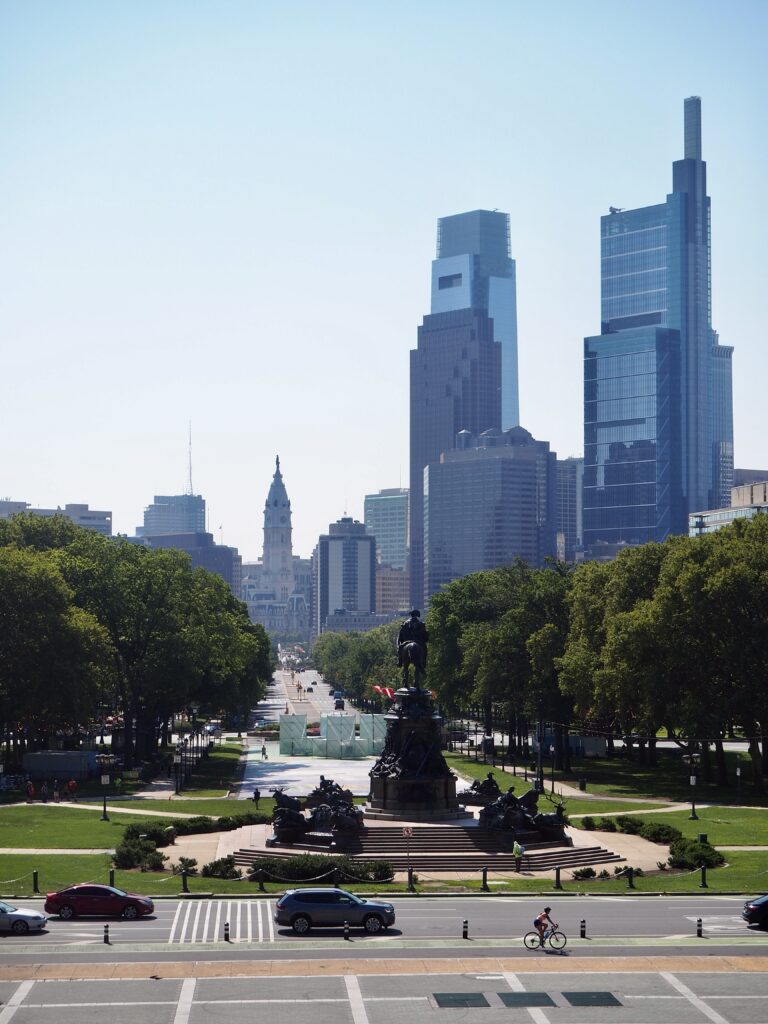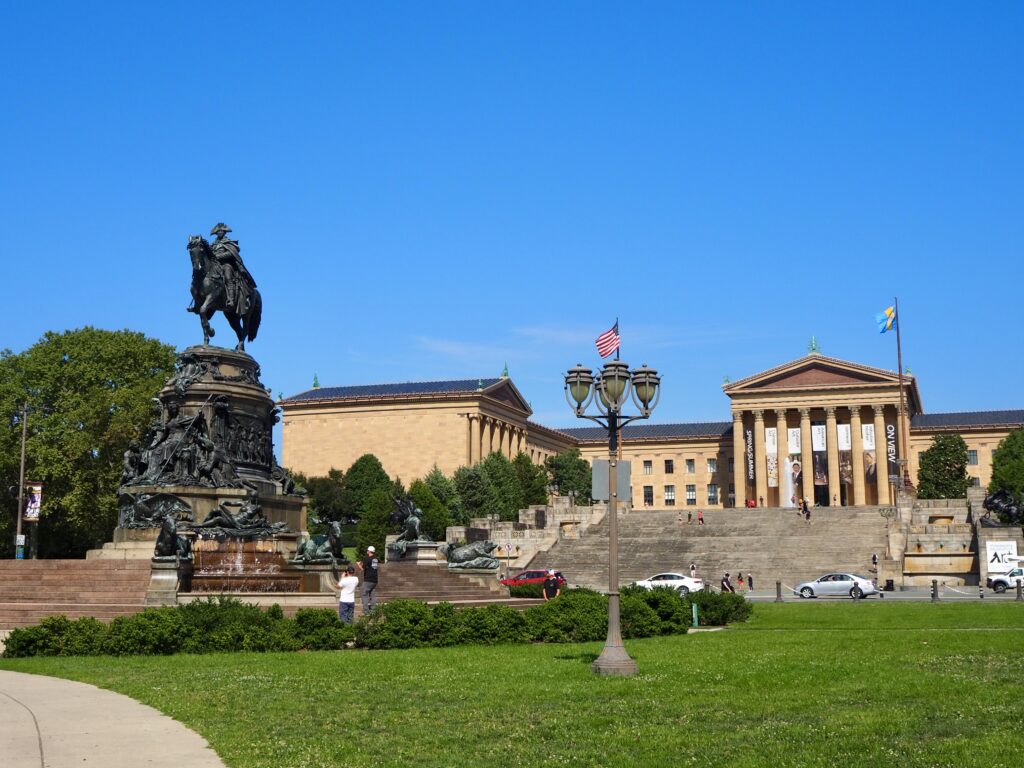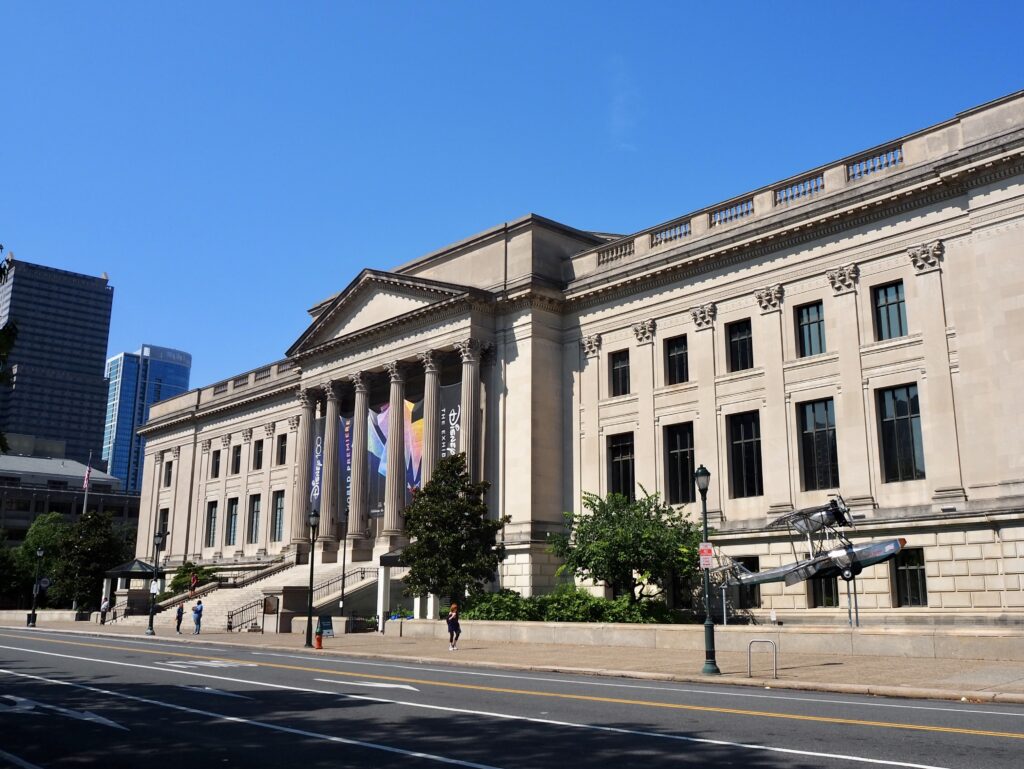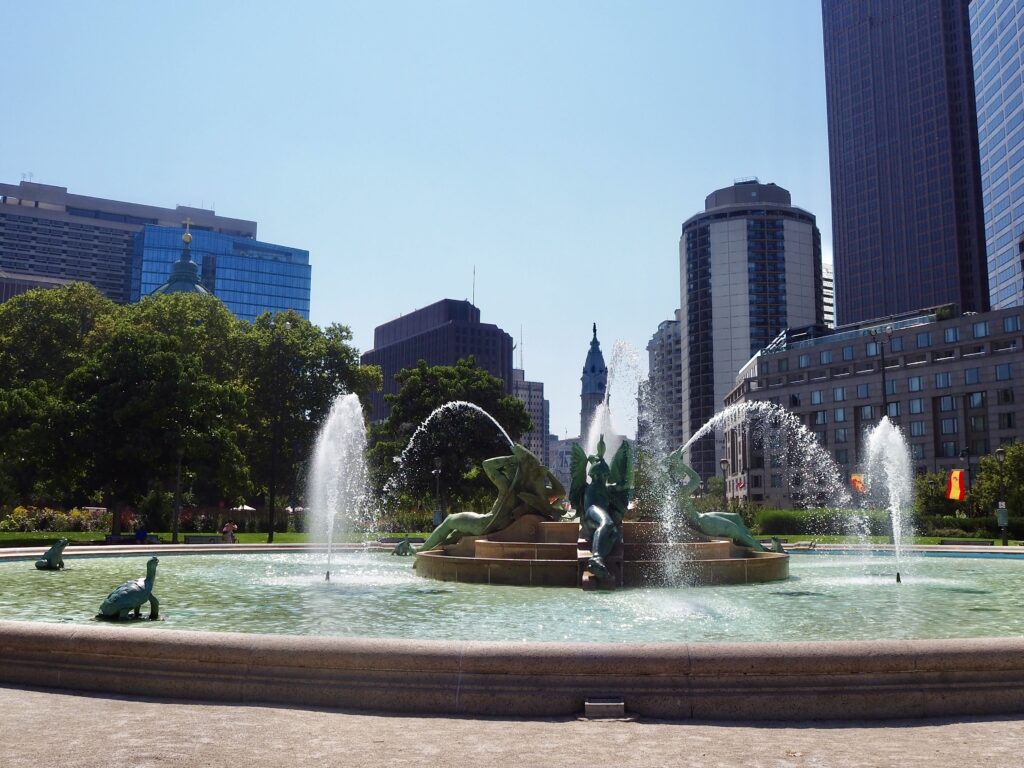 ---
3 Day Trip to Philadelphia
To be entirely honest, while Philly has some pretty interesting things to see, it wasn't my favourite city of this trip. Maybe it was tough to follow New York though! Outside of the famous sites I saw, the rest of the city just felt a little lacklustre or at least not my of vibe. Of course, American history enthusiasts have to visit for Independence Park, and it is cool to see these older, very significant sites. If I'd had more time through the day without work (and a bigger budget), I'm sure I would've enjoyed going to more of the museums as well! You could easily fill a 3-day trip to Philadelphia with so many historical tours and museums to pick from. As for me, the next morning was another painfully early start to catch a flight south to a personal bucket list destination…
You May Also Like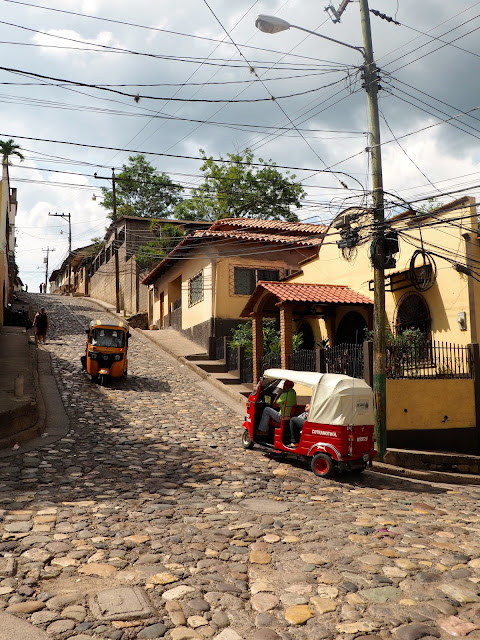 22 October 2016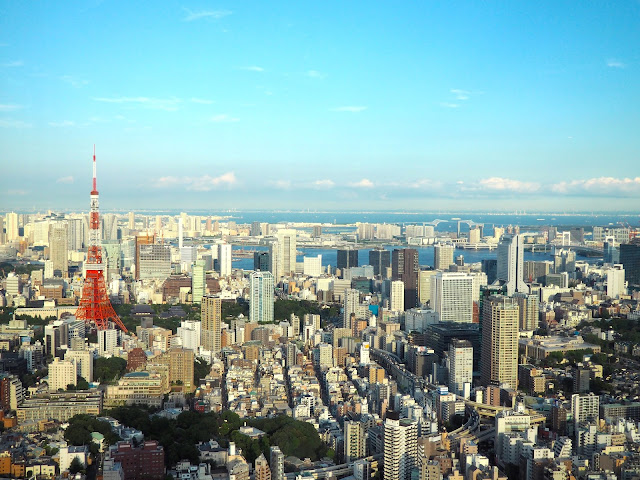 7 August 2017