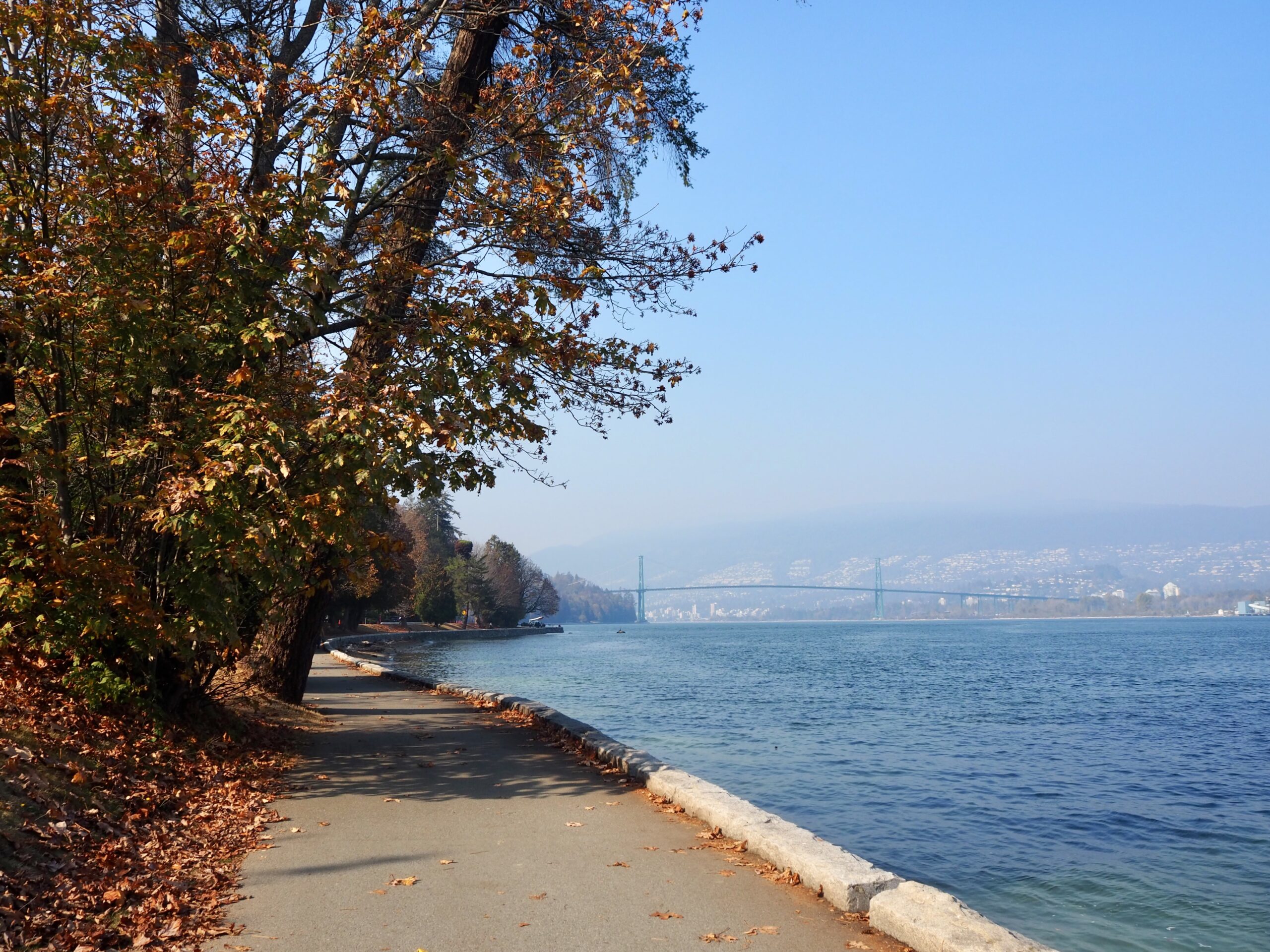 Vancouver's Parks in Autumn
29 October 2022
Vancouver is known for its rain, especially in autumn and winter. Fortunately, I was very lucky when I arrived here and the city greeted me with a week of glorious sunshine and crisp autumn weather. Combined with the trees decked out in red and orange, it was ideal for exploring the city's many outdoor spaces. Did you know there are over 250 parks here? I didn't! Sadly, it has turned a bit greyer and wetter more recently, but I've still managed to see quite a few of Vancouver's parks in autumn so far! Here are my thoughts on them…
Stanley Park
Probably the most famous of Vancouver's parks and in autumn, it looks glorious! You can find it right next to 'downtown' (which my British brain still wants to call the 'city centre'). It extends out to the north into Vancouver harbour, so most of the park is surrounded by water. Walking the seawall around the edge is a popular route, and I did a small section. The park is so big that I've really only explored the southernmost chunk, but I'm sure I'll be back! There are loads of yachts moored nearby in the harbour and views of North Vancouver as you continue around. I saw plenty seaplanes passing by overhead as well!
Most of the centre of the park is full of trees, which is why autumn is such a lovely time to visit. Everything is turning shades of red and orange and gold. I also saw the totem poles which were fascinating to read about and understand their meanings. I've generally noticed a lot of references to the First Nations lands Vancouver is built on, which is good to see acknowledged at least. There's also plenty of colonial history of course. So, it wasn't surprising that I'd been here only ten days and found a statue of Robert Burns!
I explored the rose garden, with many different colours in bloom. Then, continued over towards Lost Lagoon. I loved the views of the tranquil water and the buildings of Downtown visible beyond it. There are plenty of birds living on the lagoon, mainly ducks, and I even spotted a heron in the tree. Beyond the lagoon to the west, I ended up at Second Bay Beach and got a drink at the kiosk. Then I continued around to English Bay Beach and the views south to Kitsilano.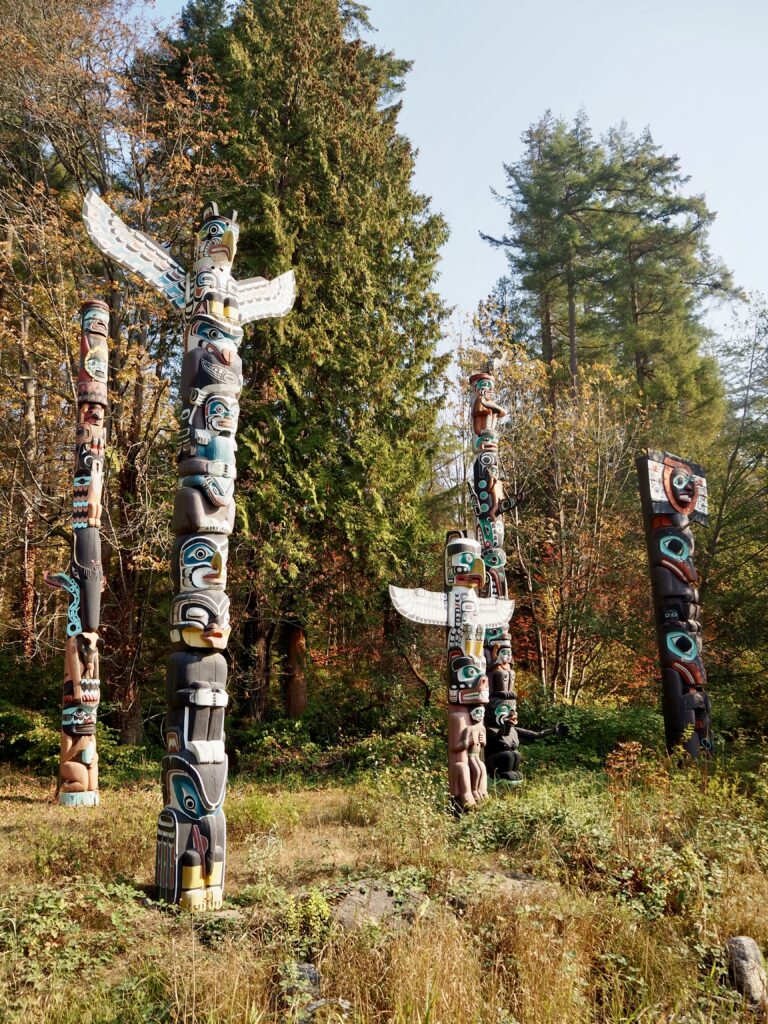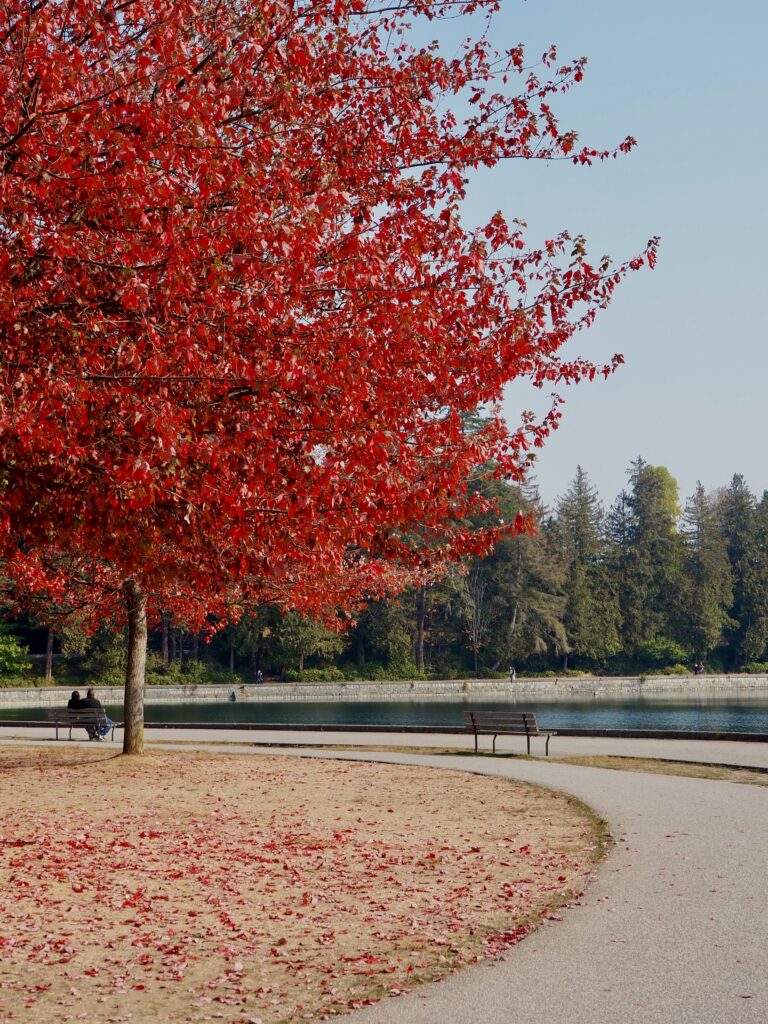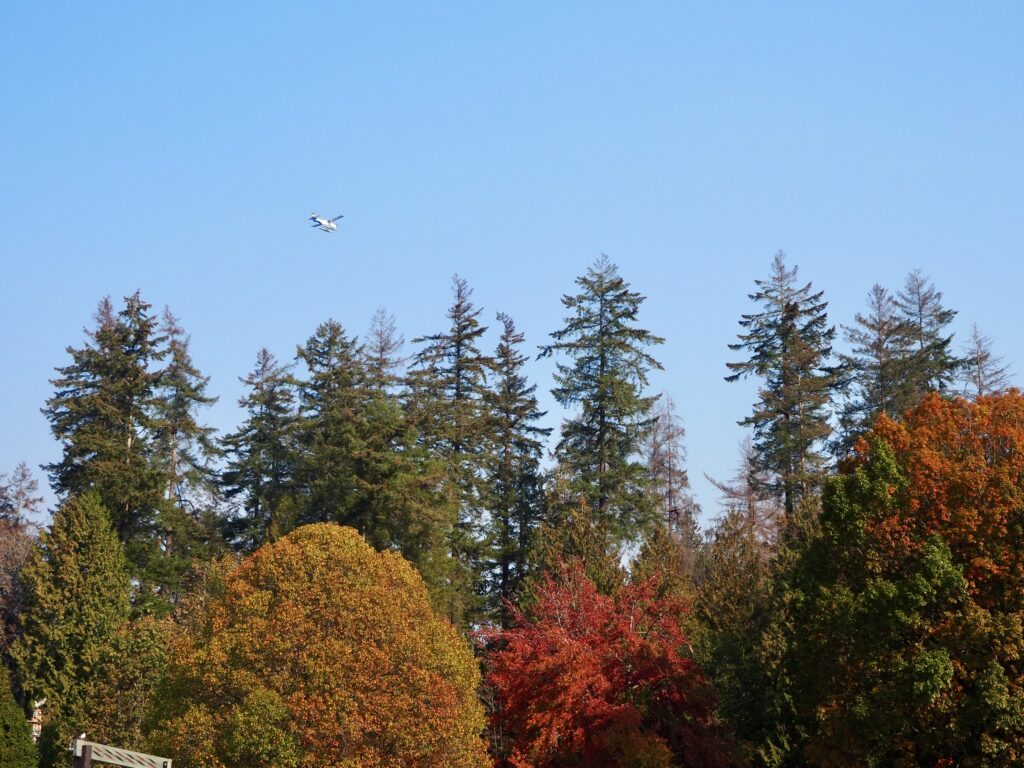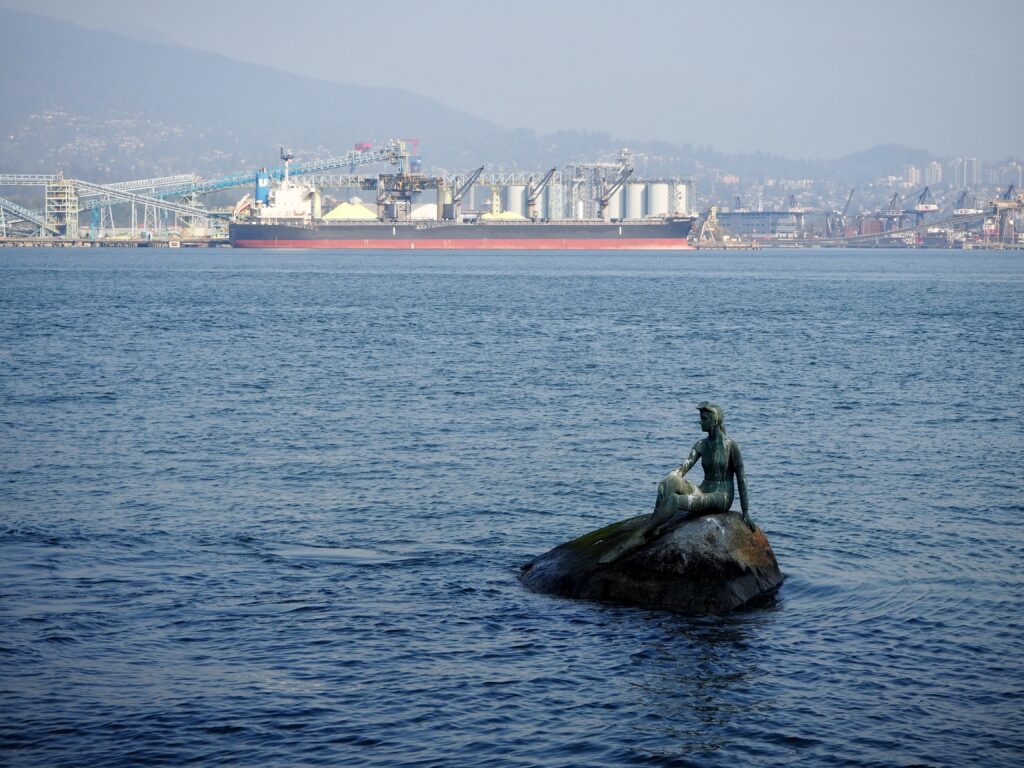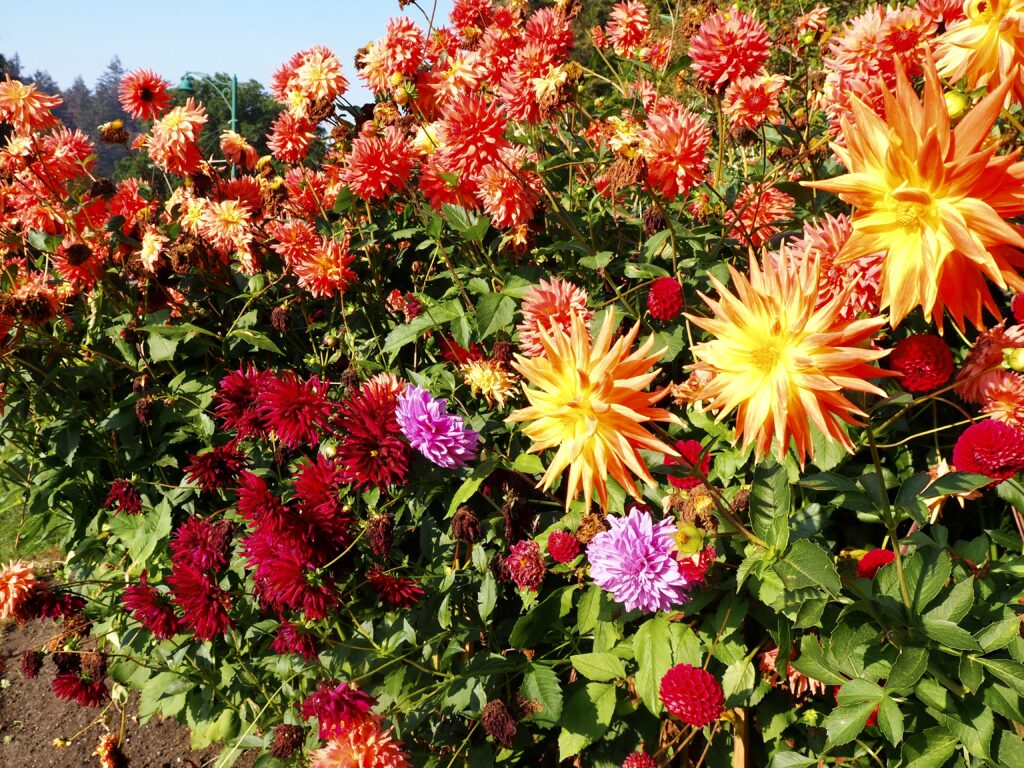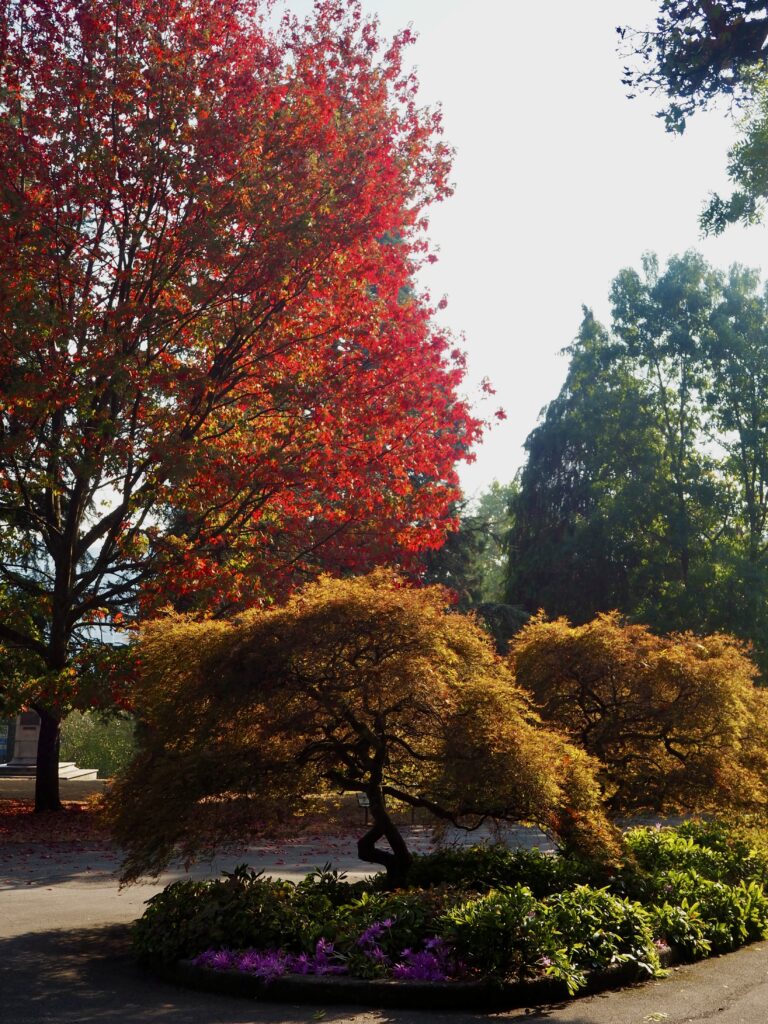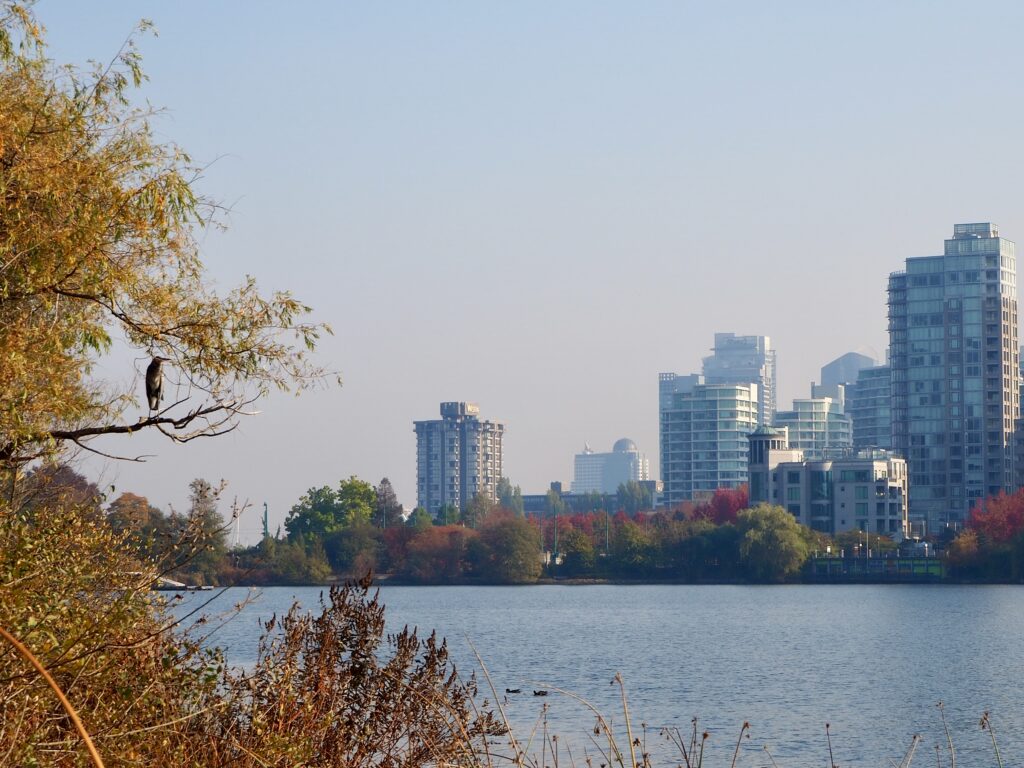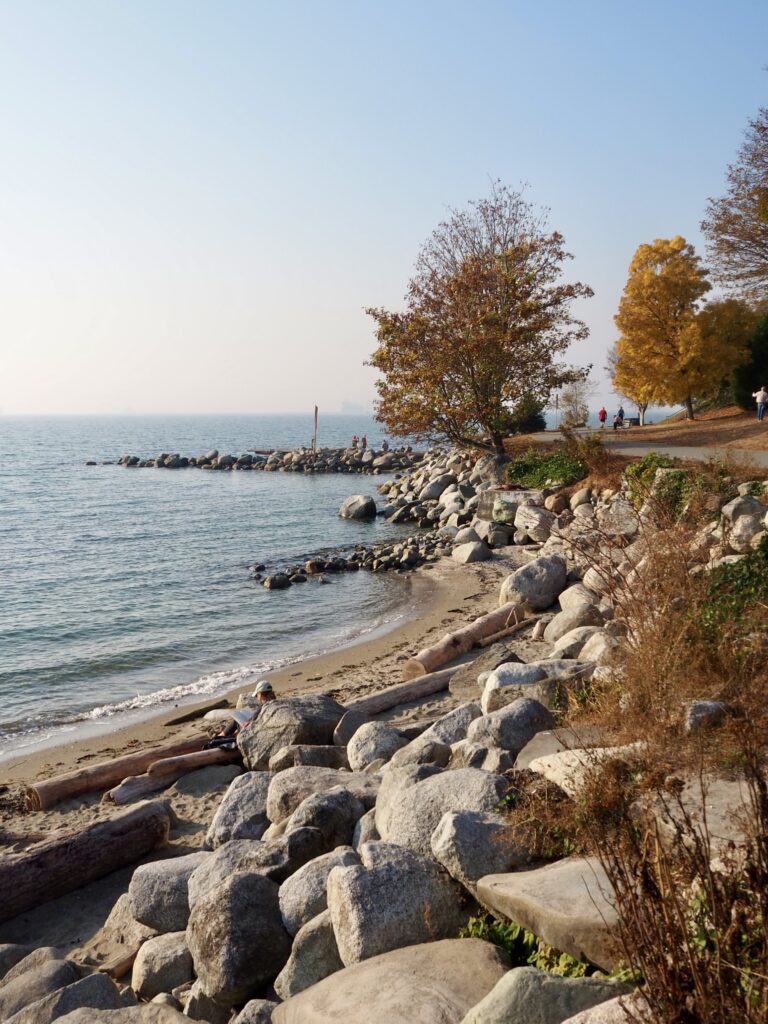 ---
Vanier Park
Across False Creek and visible from English Bay Beach, you'll find Vanier Park tucked between Kits Beach and Granville Island. I visited it while walking between the two locations and would perhaps argue that they were both more interesting. It does make for a nice afternoon walk between them though, and to see all three areas! Vanier Park has far less trees than many of Vancouver's other parks, so there's less autumnal foliage. I suppose it probably allows for more sunbathing spots in summer perhaps! There was also a dry spell here for a while so the grass was looking pretty dry and brown.
However, Vanier Park made up for the lack of autumn colours with its lovely coastal views instead. I was there on a clear day, so could see the many mountains of North and West Vancouver. And, the park is on the west side of Downtown, so you can see out over English Bay to the sea disappearing into the horizon. The park also houses the Museum of Vancouver and the Maritime Museum. I'm saving those for a rainy day though so have yet to visit myself!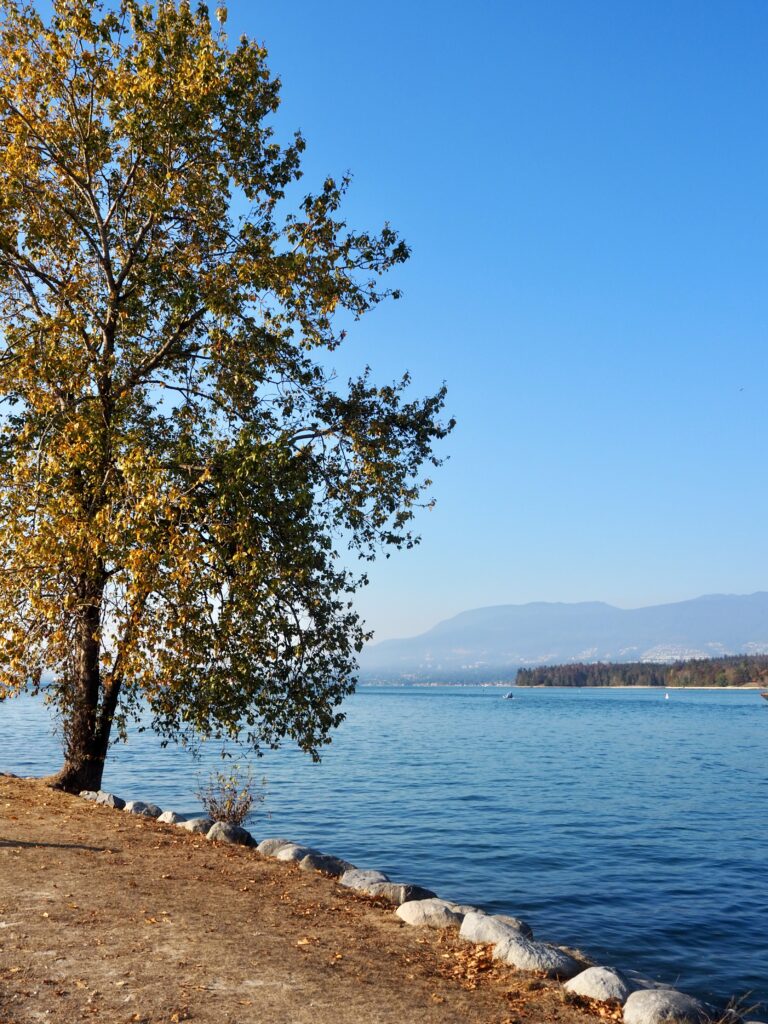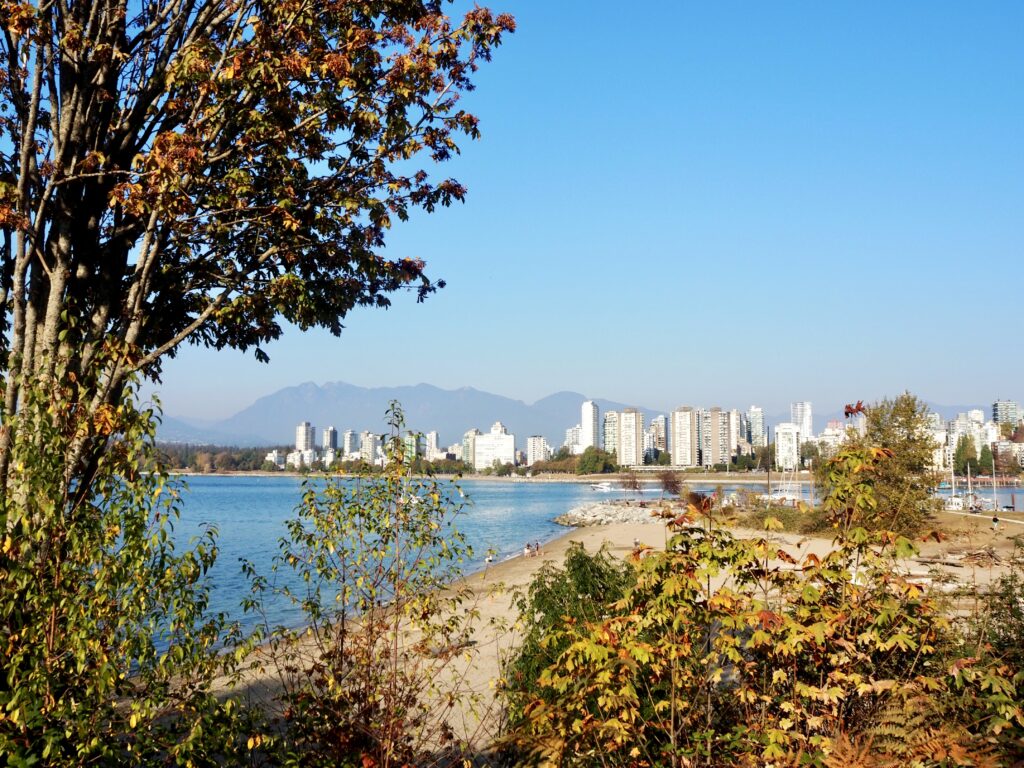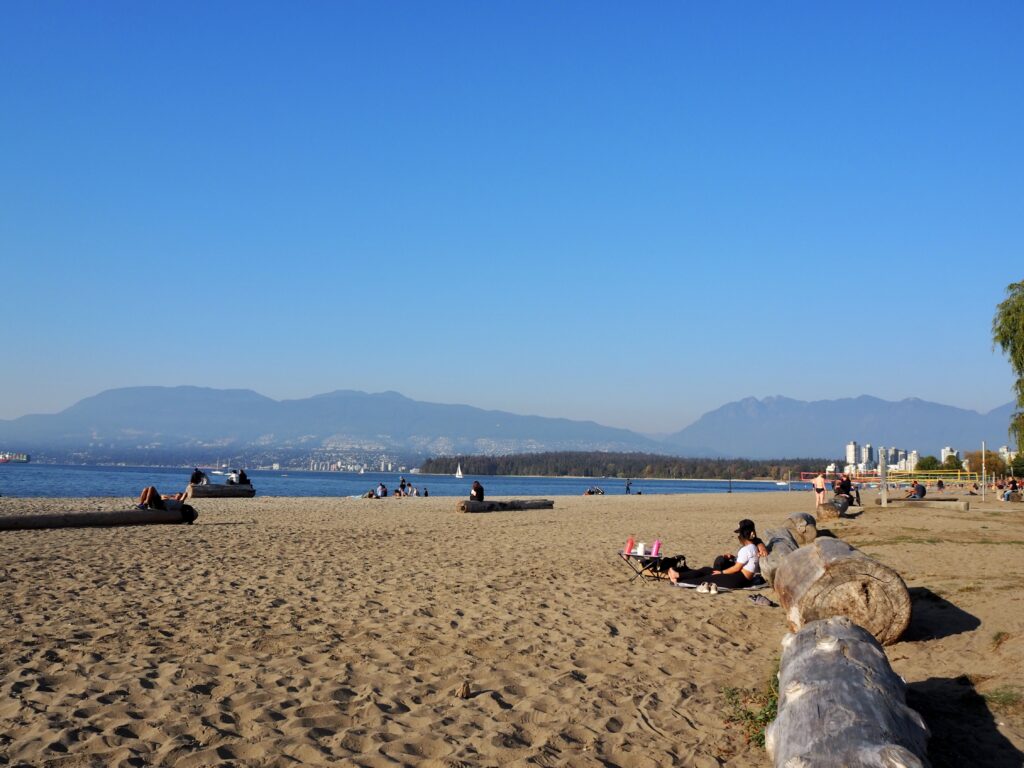 ---
Queen Elizabeth Park
Honestly, I wasn't prepared for the hill. After living in Edinburgh, you'd think I'd be used to hills, but Vancouver is relatively flat, so I just didn't think about it. The hill in Queen Elizabeth Park does offer a pretty great view towards the mountains in North Vancouver though, so points for that. You'll find this park in Riley Park, between Cambie and Main Street. As well as the view, the hilltop also has the Bloedel Conservatory (also on my list for a grey day) and a nice looking restaurants called 'Seasons in the Park'.
I mainly went for a walk outside in the sun though. Besides the hilltop, there's a fair amount of winding paths up and down the park, which is largely filled with trees and. So again, lots of beautiful autumn colours to see! There are some water features, however, these were turned off due to aforementioned dry spell. The duck pond looked pretty empty as well. Although, I spotted a sign explaining that this is left to dry and refill with rain as it would naturally. I liked the love lock statues too. The locks themselves I don't really care for, but I thought it was a good idea to have a designated sculpture for them. Rather than people putting them in places they aren't supposed to! The couples dancing fit well with the theme too.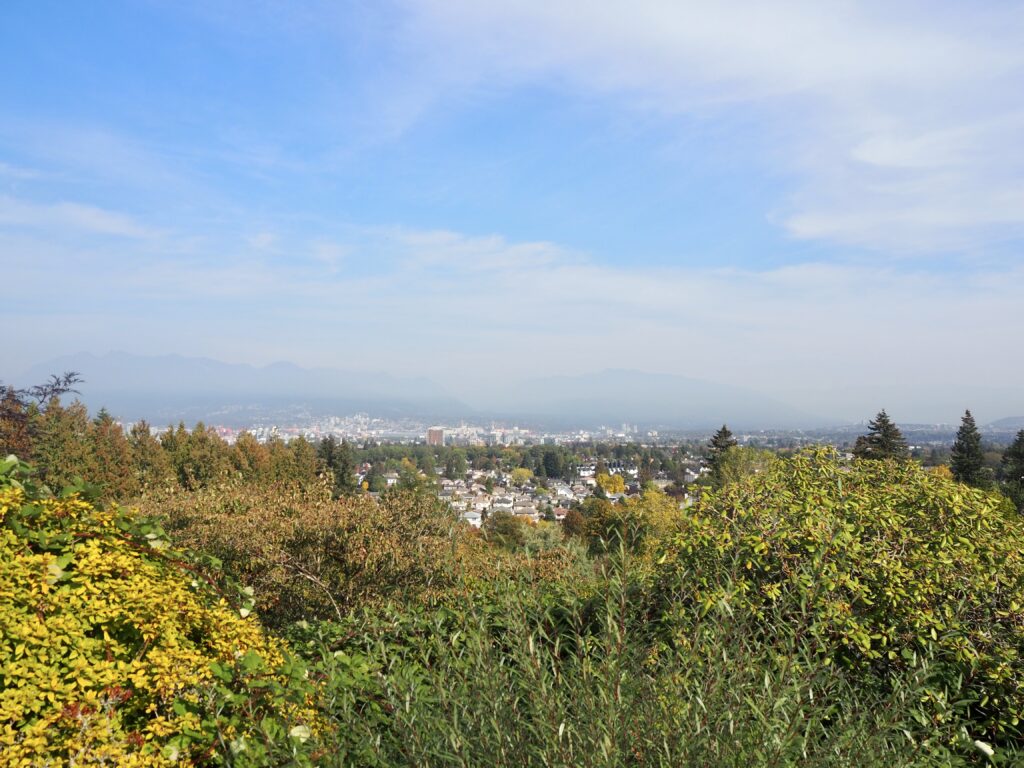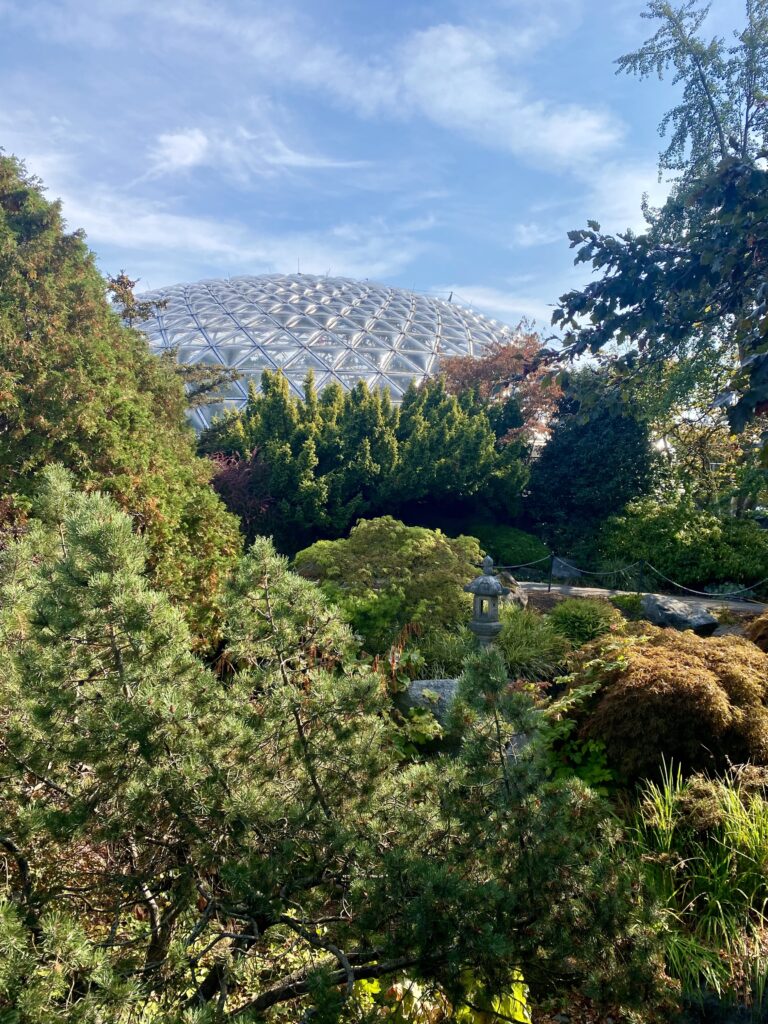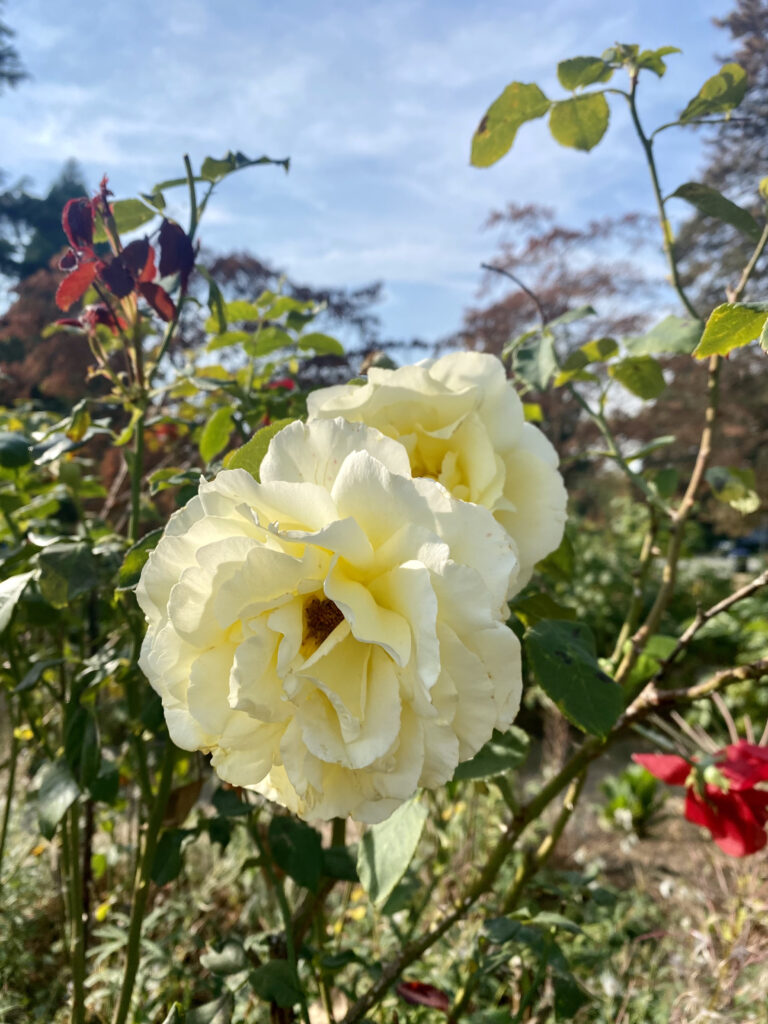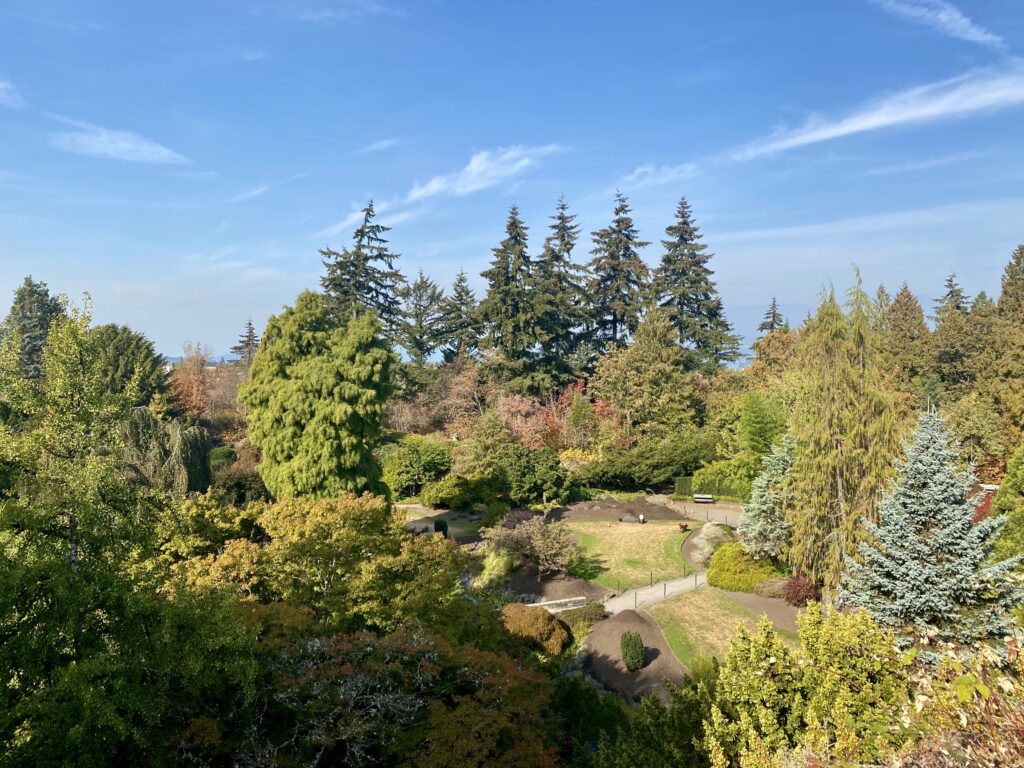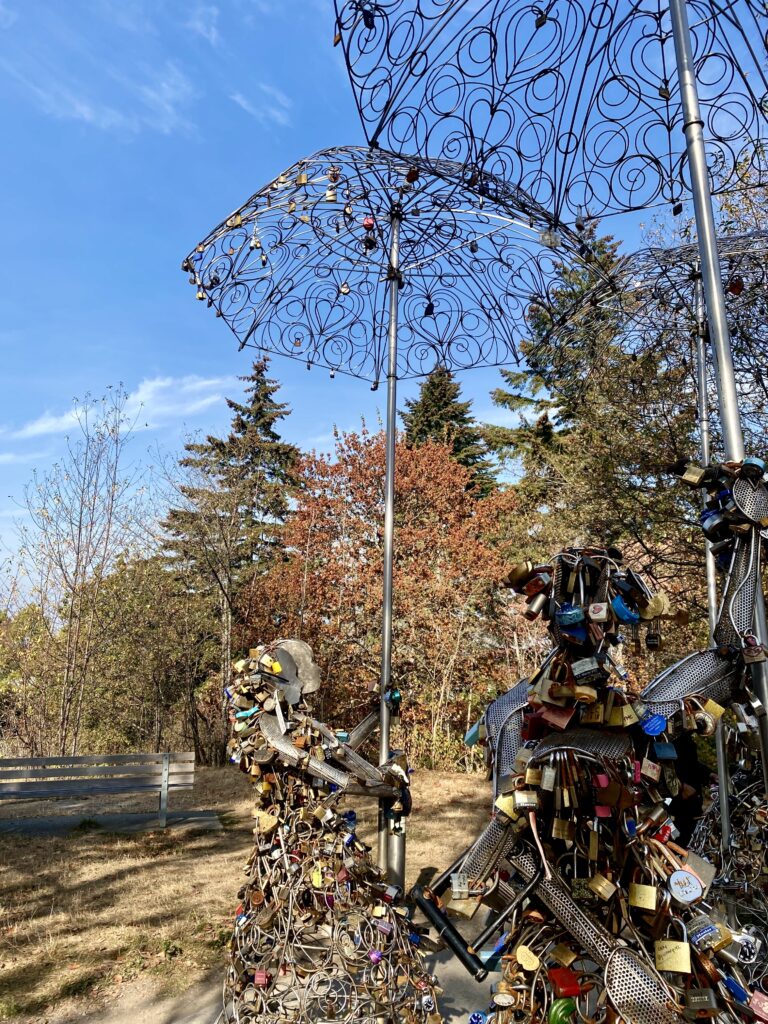 ---
Deer Lake Park
I had to venture out on the SkyTrain heading east to Burnaby to visit this park. I went on a more overcast day too, so it was a very autumnal vibe this time. As the name suggests, there is a large lake in the centre of the park with a path all the way around. I saw a few people fishing or on pedal boats and canoes too. And of course, lots of birdlife including the iconic Canadian geese (Stanley Park had a whole gaggle of them too). Birds aren't the only wildlife though – look out for bears! Much of Burnaby is 'bear country' and while they tend to avoid humans, people have spotted them in Deer Lake Park before. I've read up on bear safety though and the park was so busy that I think the noise keeps them away. So I haven't seen a bear in Canada yet!
The park houses the open-air Burnaby Village Museum, but it only opens seasonally. I think it opens around Christmas though, so I may come back then! I enjoyed walking by the lake, on the boarded walkway there, and you can see the city skyscrapers on the other side. To the west of the lake, the park sort of opens up into a meadow-like space. While there are trees, it's mainly a large expanse of grass, which was super long and yellow after all the dry weather. There was something quite surreal about it somehow? Maybe because this part of the park was quieter than the lake, so it was kind of eerie. I don't know!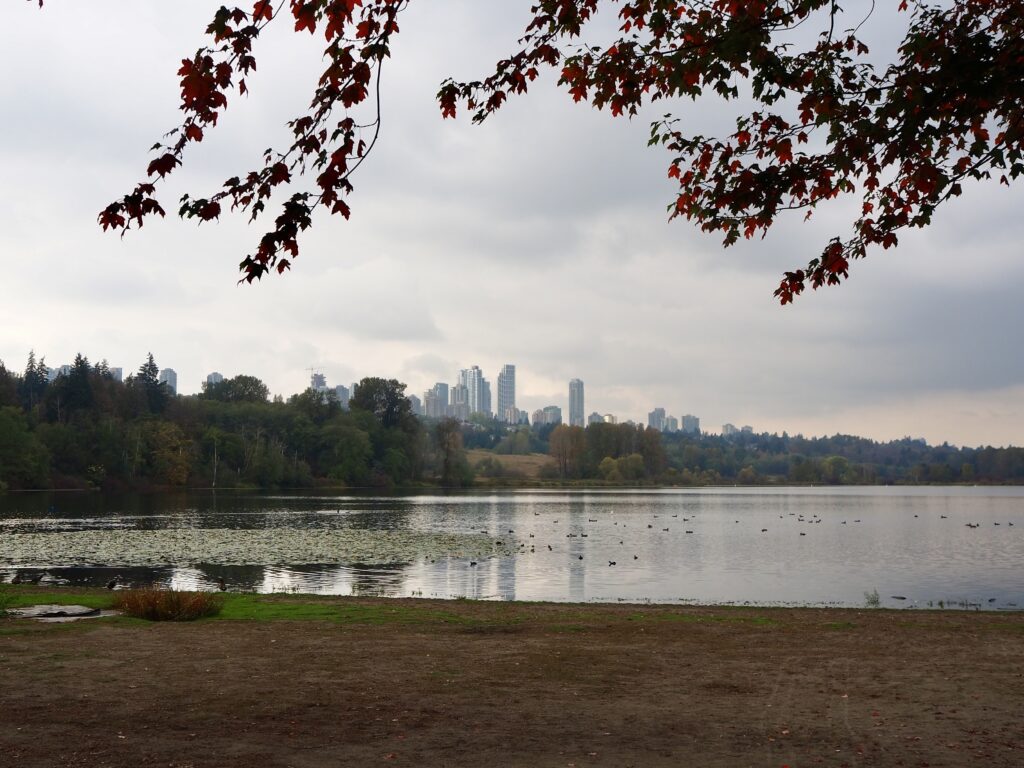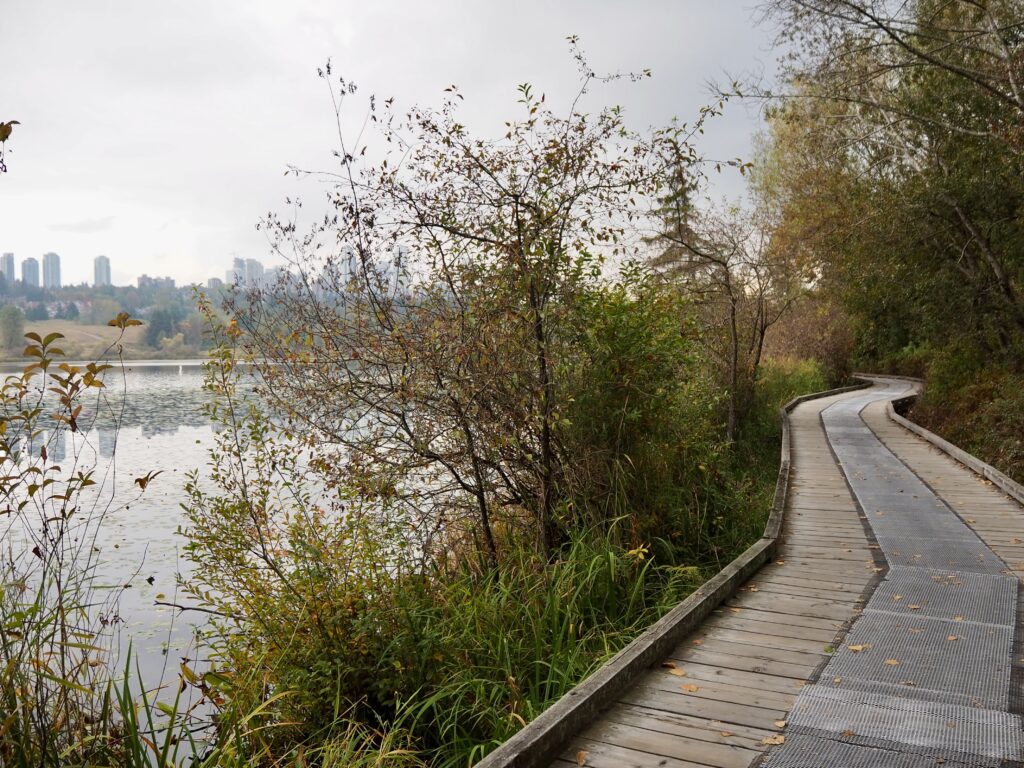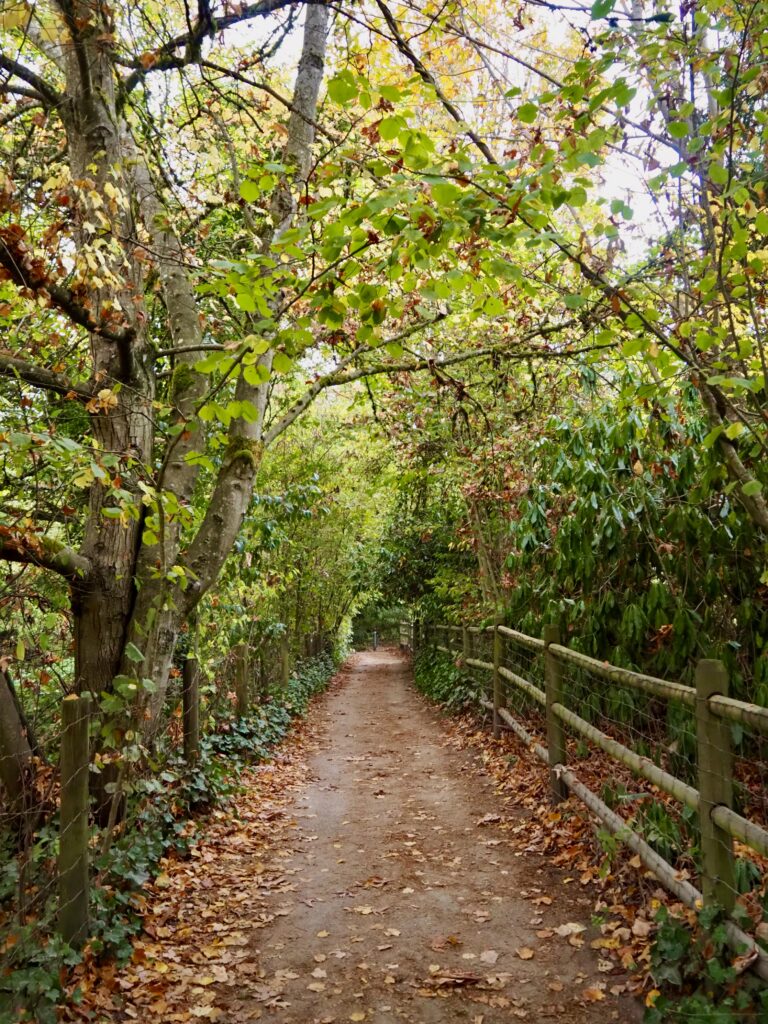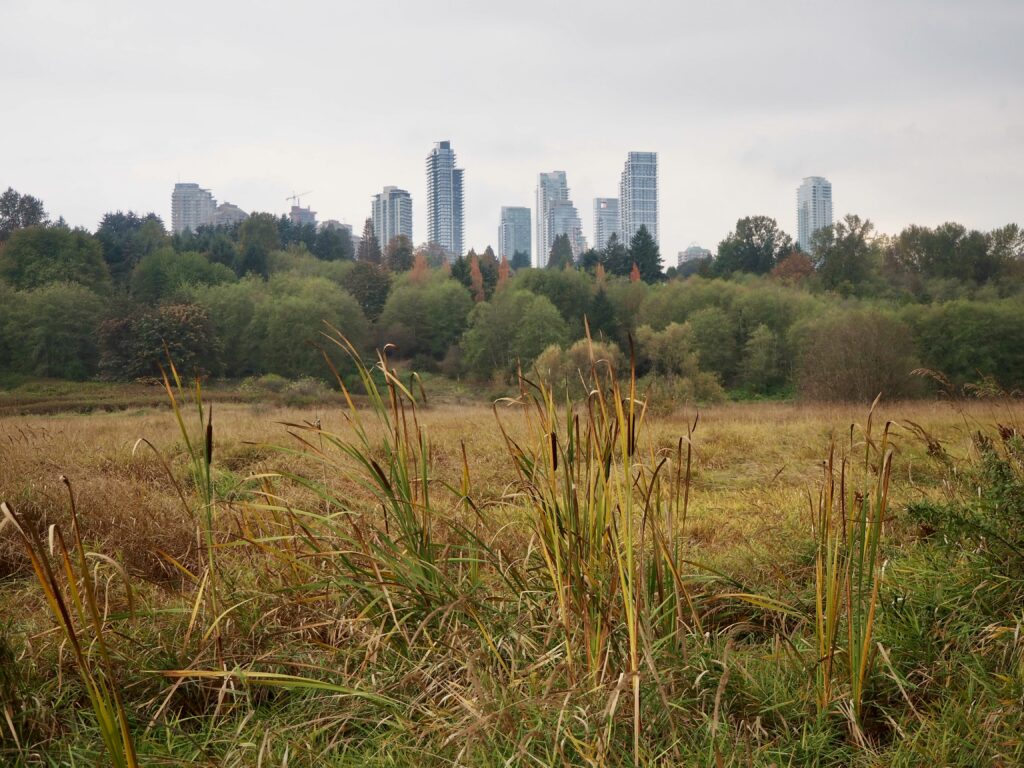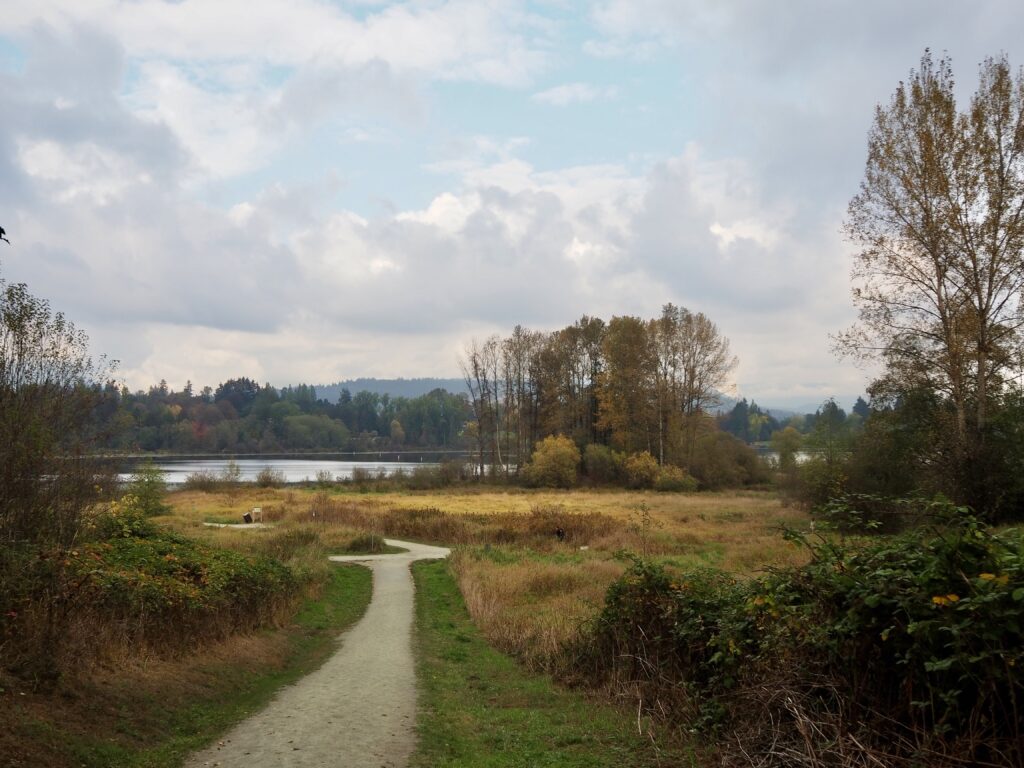 ---
Trout Lake Park
Also known as John Hendry Park, and you can find this one in East Vancouver, not far from Commercial Drive. Visiting so many of Vancouver's parks in autumn during my time here so far has mainly been to appreciate the autumn scenery in the sunlight – but I picked such a rainy day to go here! To be fair, I didn't realise how wet it was until I was halfway there, as the rain didn't look that heavy through the windows that morning. I've got good jacket and boots though, so I survived! Trout Lake is probably quite popular on sunny days though I imagine, with its little beach areas next to the lake.
There were loads of bright red trees though, which felt very typically Canadian to me, and I could enjoy them to myself even in the rain. The ducks were also having a great time with the place to themselves. There were sooo many of them just hanging out on the lakeshore! I didn't linger here long given the wet weather, but what I saw was still nice!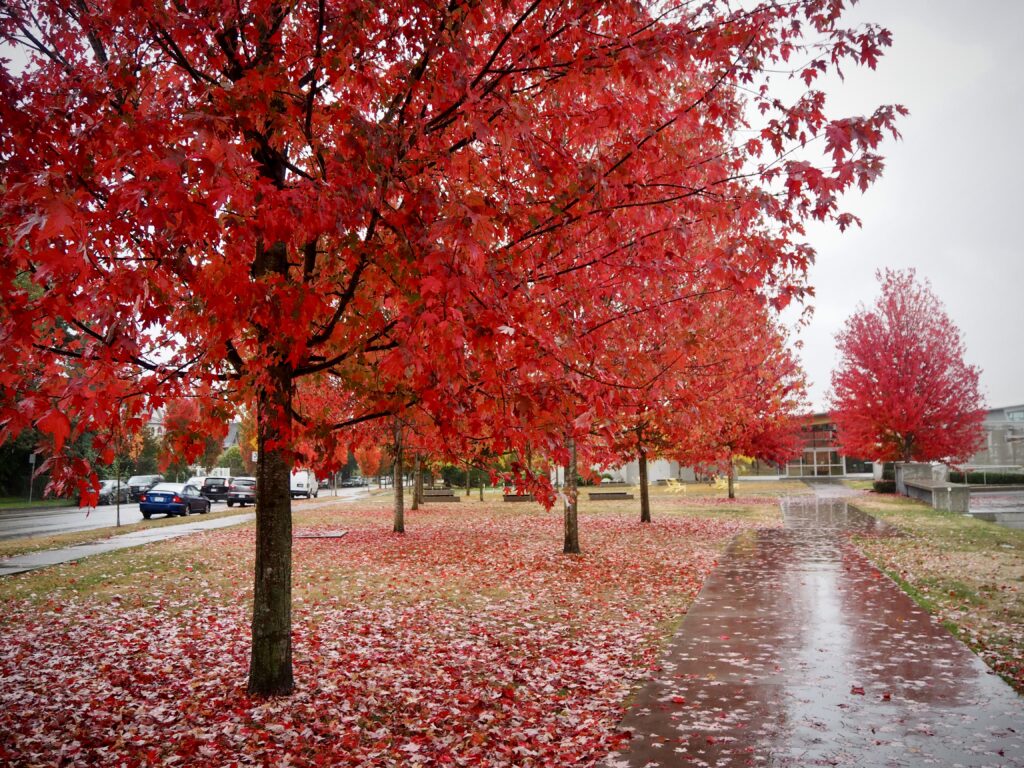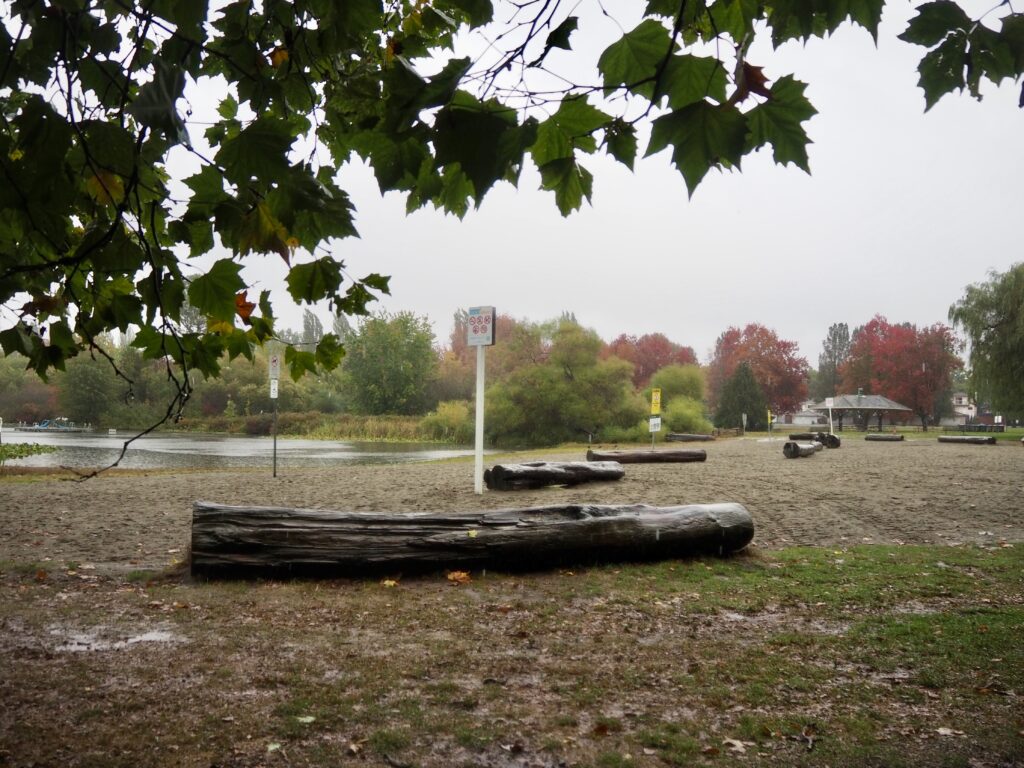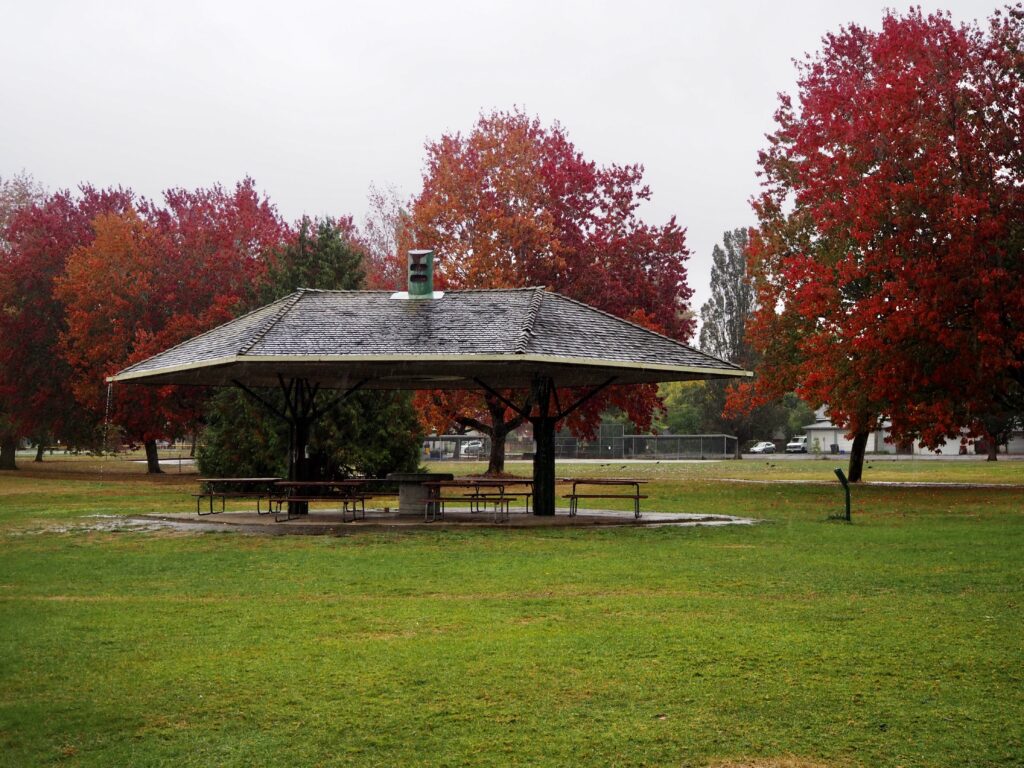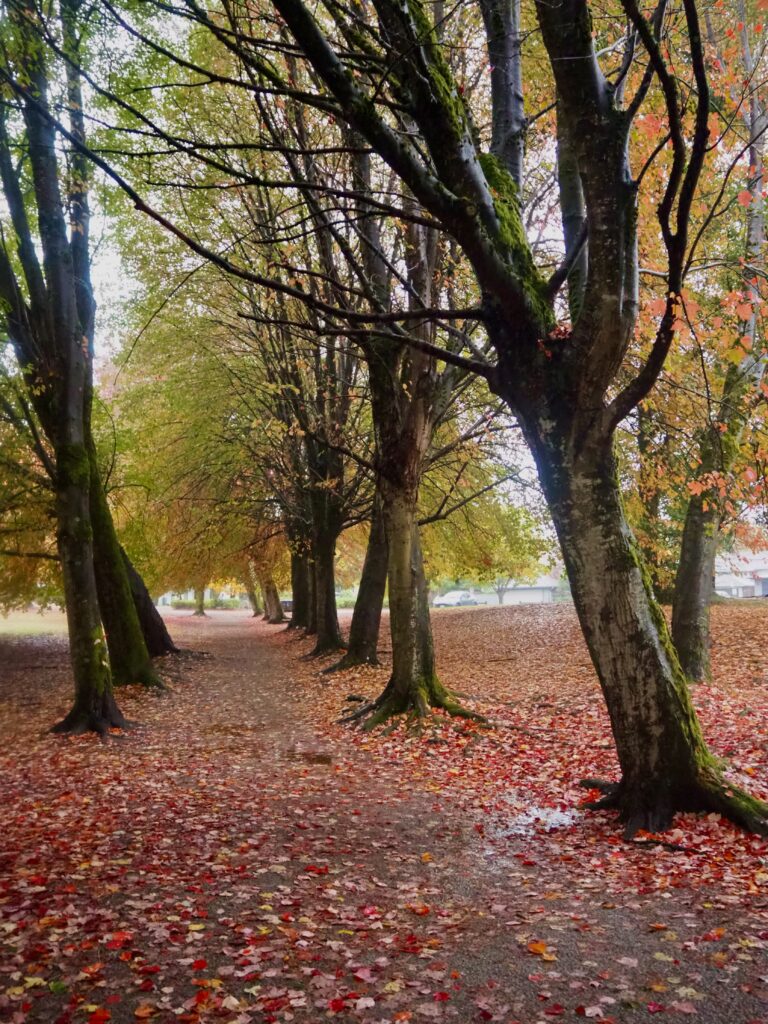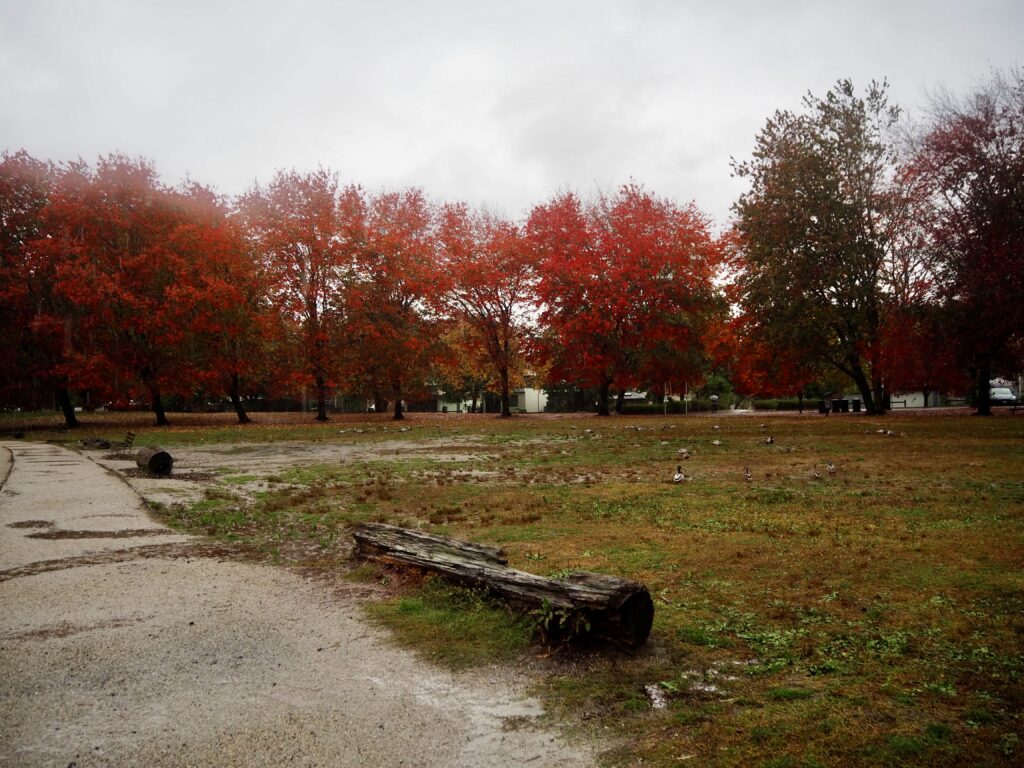 ---
Around False Creek
Many of the parks I've mentioned so far have been reasonably big in size. But Vancouver also has dozens of smaller, urban parks to wander through! The area around False Creek is quickly becoming a favourite of mine, mainly because I love being by the coast. There are walking routes pretty much the whole way round the coast here, passing through plenty of Vancouver's parks, so in autumn, the orange trees break up the urban landscape nicely. And provide quite the contrast against the blue water on a sunny day!
I didn't walk all of it in one day, but rather have wandered different sections when I happen to have been in the area. You can also take the Aquabus straight across False Creek instead of walking or taking a bus around. And like the harbour north of Downtown, there are plenty of yachts and boats moored around here too. Other sites around False Creek include Science World, BC Place Stadium and Rogers Arena, as well as Granville Island at the western end. There's several public art sculptures around as well, some of which I like more than others!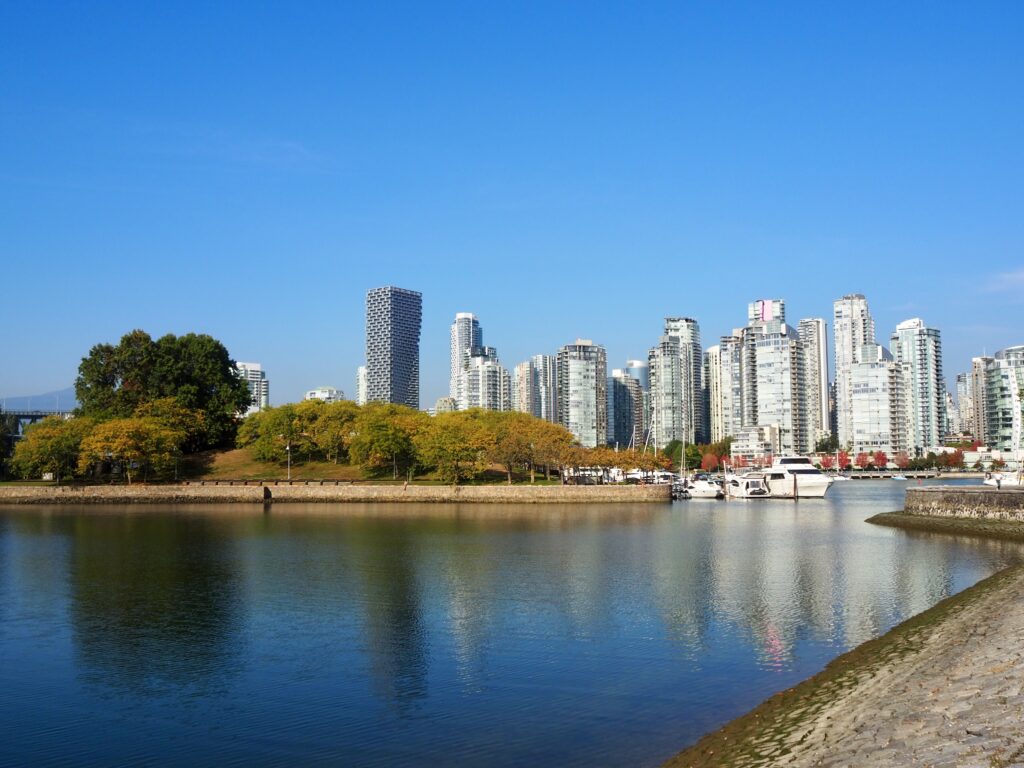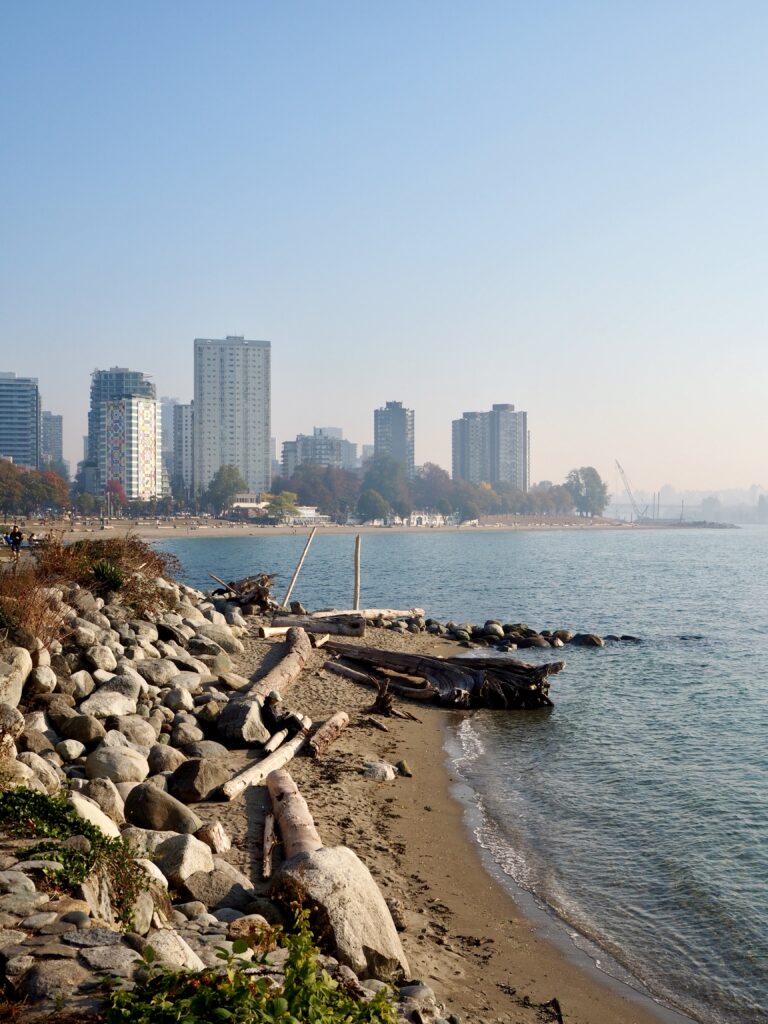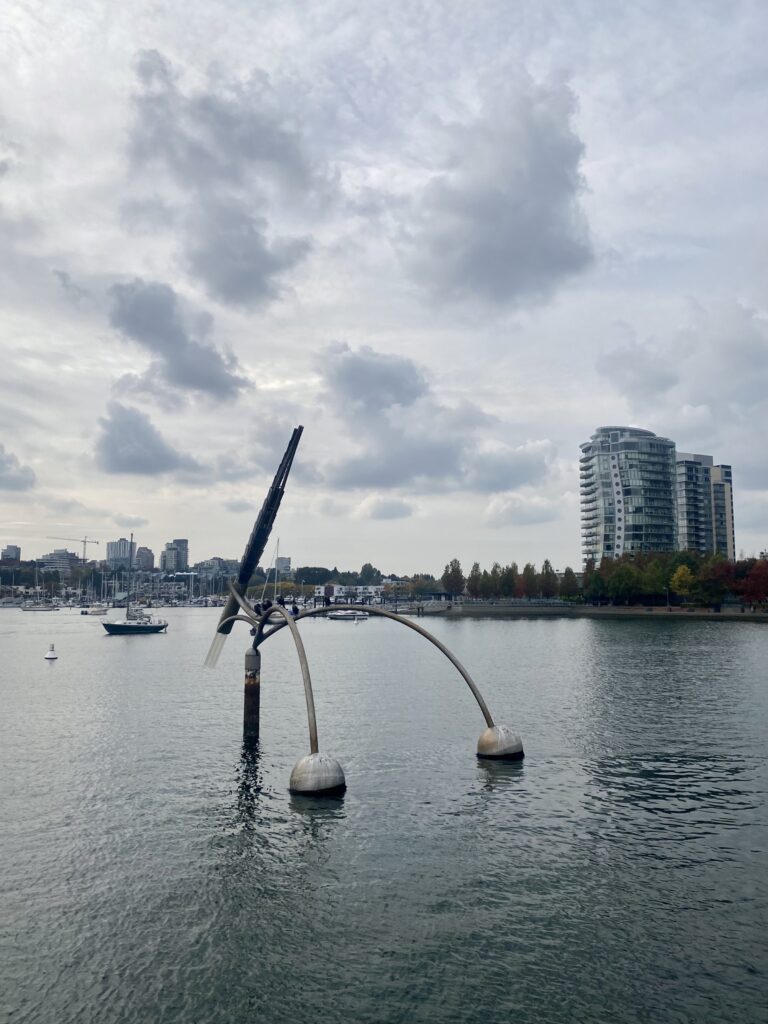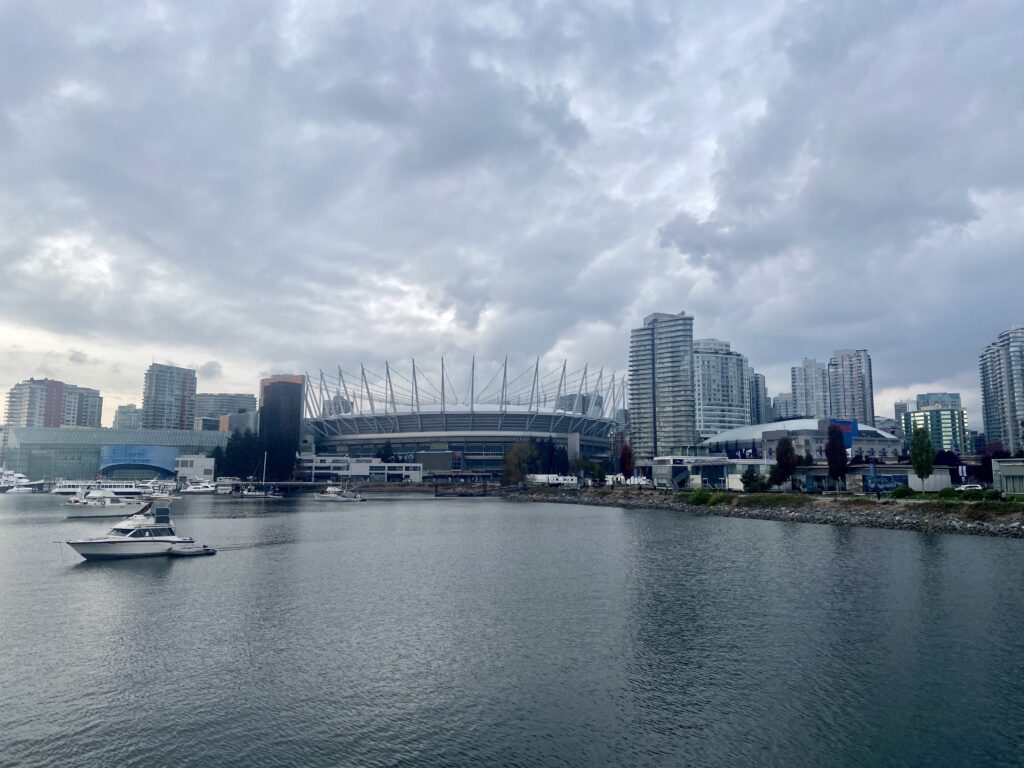 So, that's all of Vancouver's parks in autumn that I've seen so far! It's been a great way to enjoy the outdoor spaces while settling in and exploring the city. I'm sure I'll be revisiting many of them as the seasons change too. But I'm very glad I arrived in autumn and got to enjoy all the wonderful colours of the changing leaves, before winter fully hits!
You May Also Like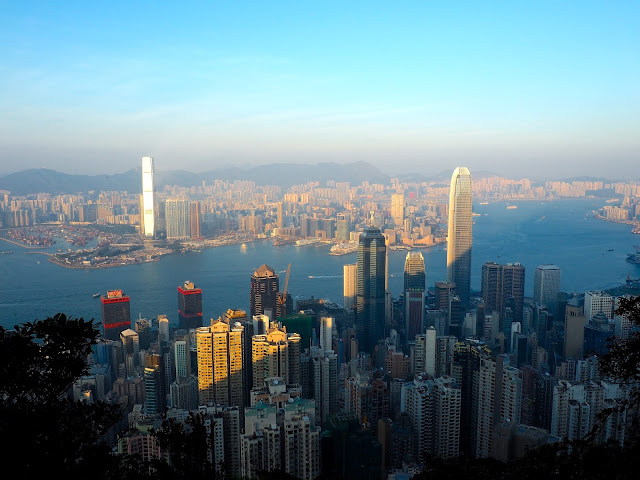 14 November 2017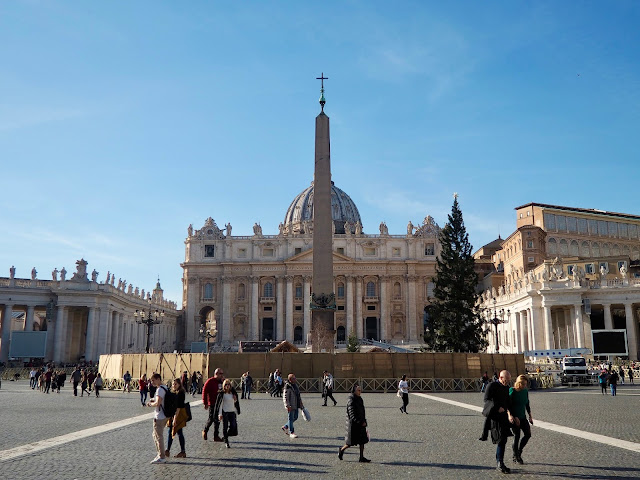 13 January 2020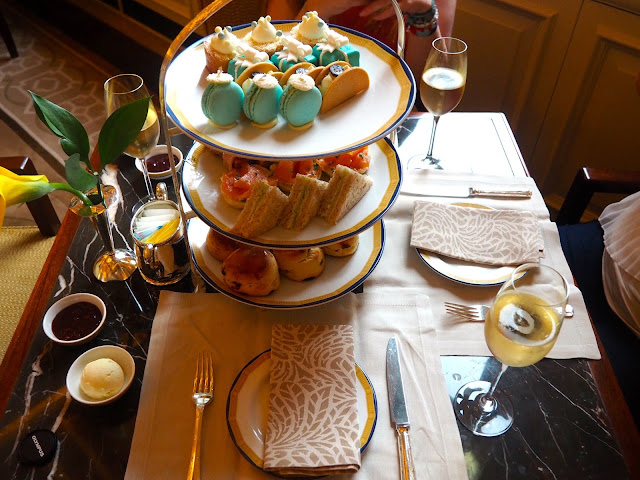 22 June 2016