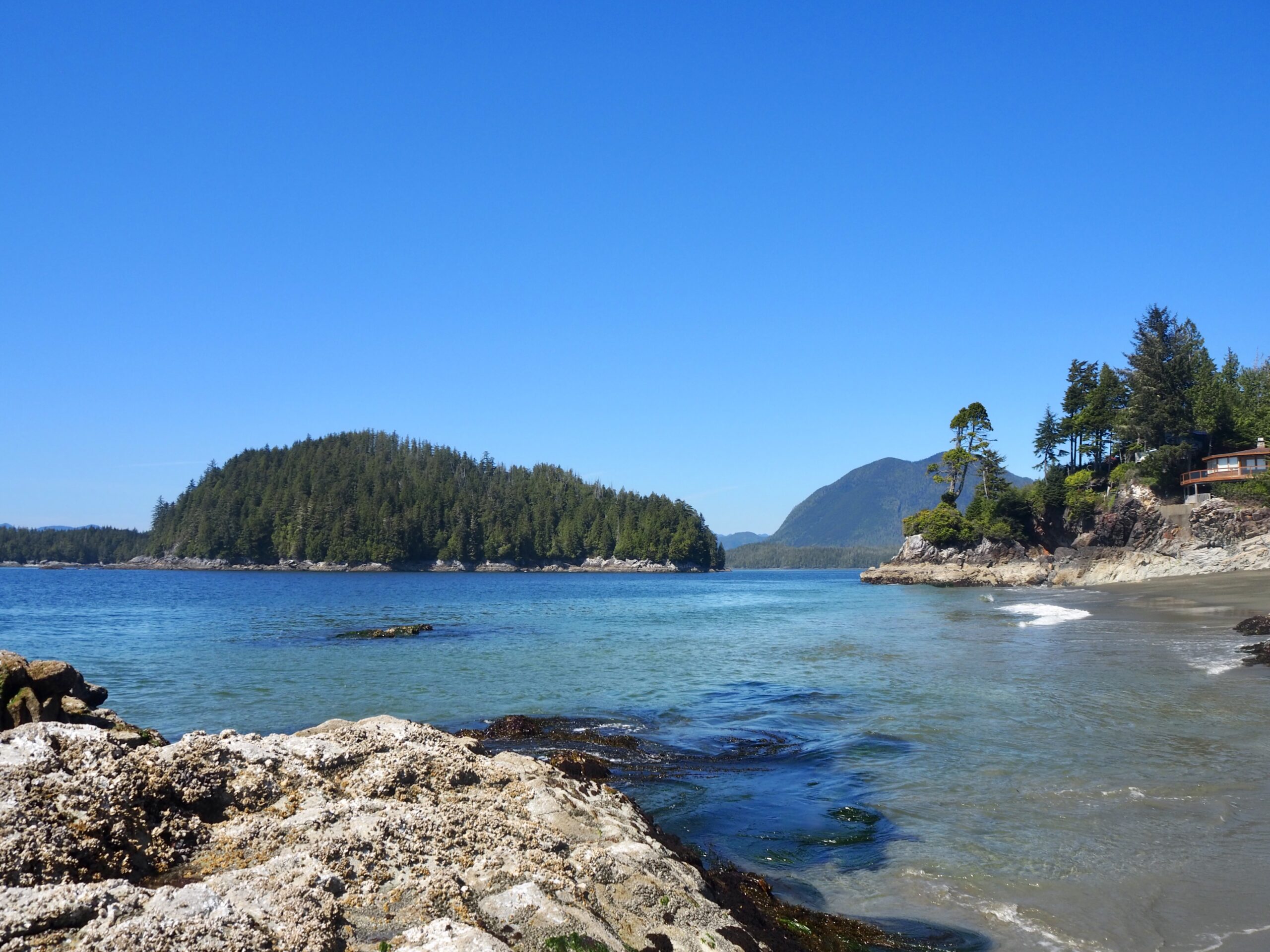 Day Trips on Vancouver Island
18 June 2023
After several weeks exploring California and a brief stop back in Vancouver, I decided to spend the month of May on Vancouver Island. I'd spent a weekend in Victoria back in November and had realised I definitely wanted to come back to see more of the island. It's far bigger than I first thought, and even a month of there only scratched the surface! I opted to stay in Nanaimo for the first few weeks, since it's more central to the island for exploring. Then, I headed back to Victoria for the last week and a half of the month. I was still working of course, but my month was peppered with numerous evening and day trips throughout Vancouver Island.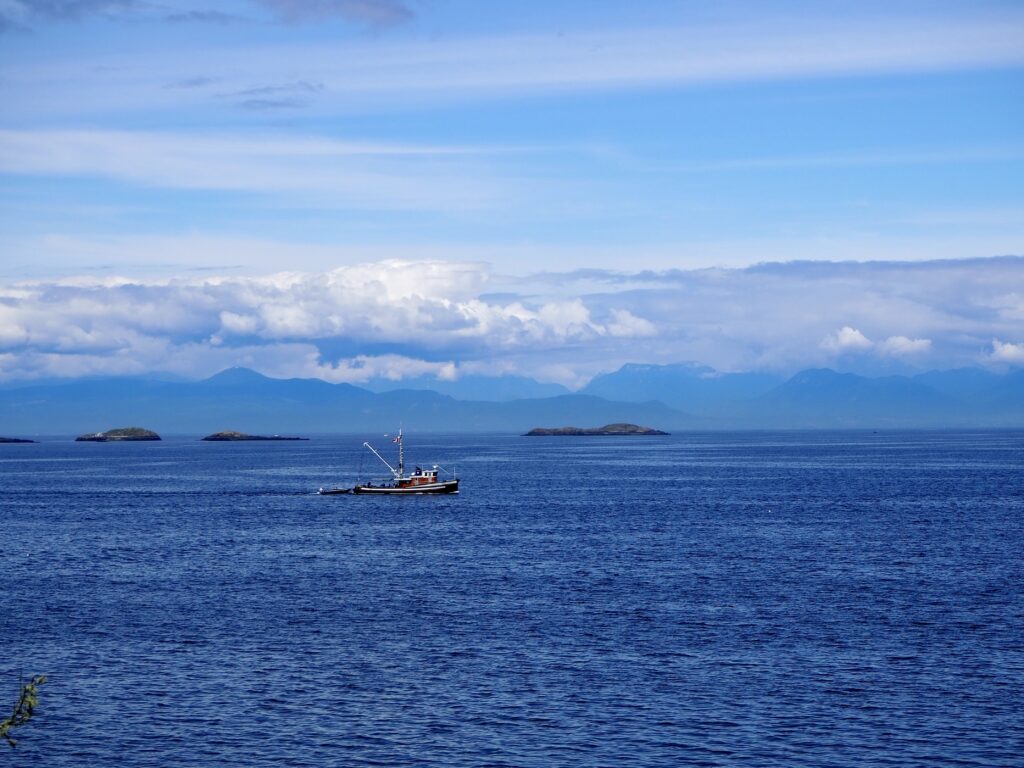 Nanaimo
Downtown
Nanaimo is a small town, so its Downtown area is easily walkable on foot. I explored it over a few evenings during my extended stay, but you could certainly combine everything into a day trip. Commercial Street runs through the centre of town, lined with shops and restaurants and facilities like the library and the Nanaimo Museum. Up the hill from here, you can find the Old City Quarter, a picturesque couple of streets where older houses have been converted into businesses.
On the other side of Commercial Street, you'll find yourself walking along the harbour front, where you can stop for a drink and watch the many boats and seaplanes as they come and go. The Bastion, a 19th century wooden fort, is a longstanding landmark to look out for along the way. At the northern end of the harbour, you'll come to Maffeo Sutton Park. This grassy space was full of flowers in bloom surrounding its small lagoon. Kids can enjoy the playpark and you can pick up lunch or coffee from one of the many food carts that park up here in summer. Look out for the giant Nanaimo sign, and the totem pole surveying the whole scene!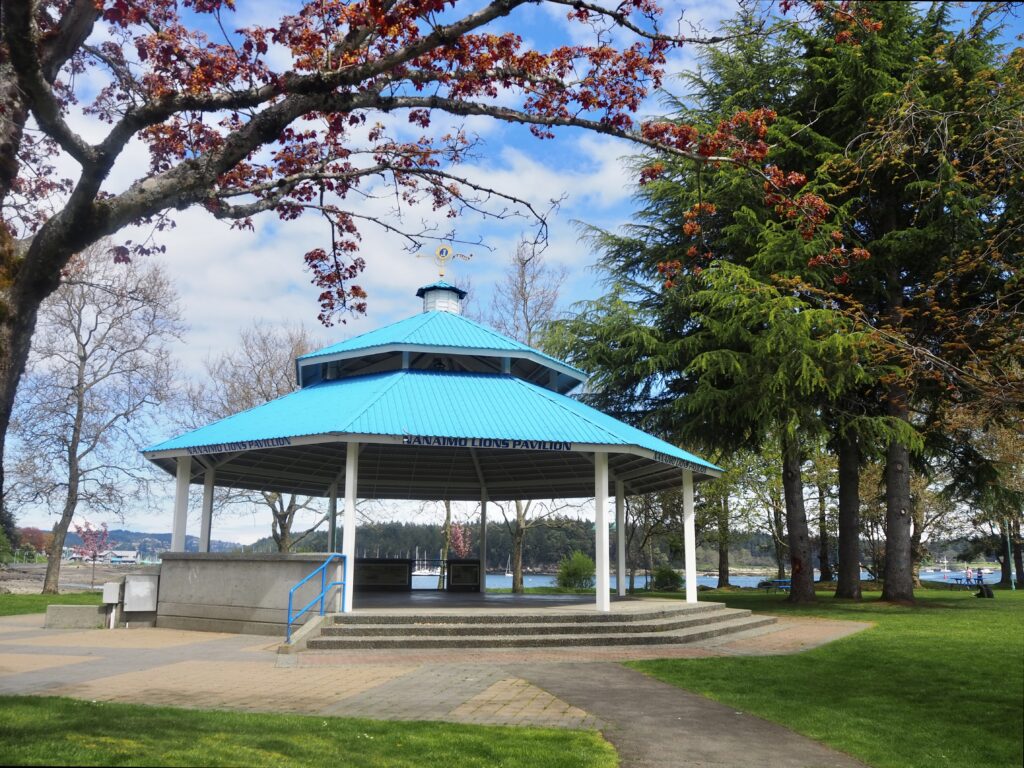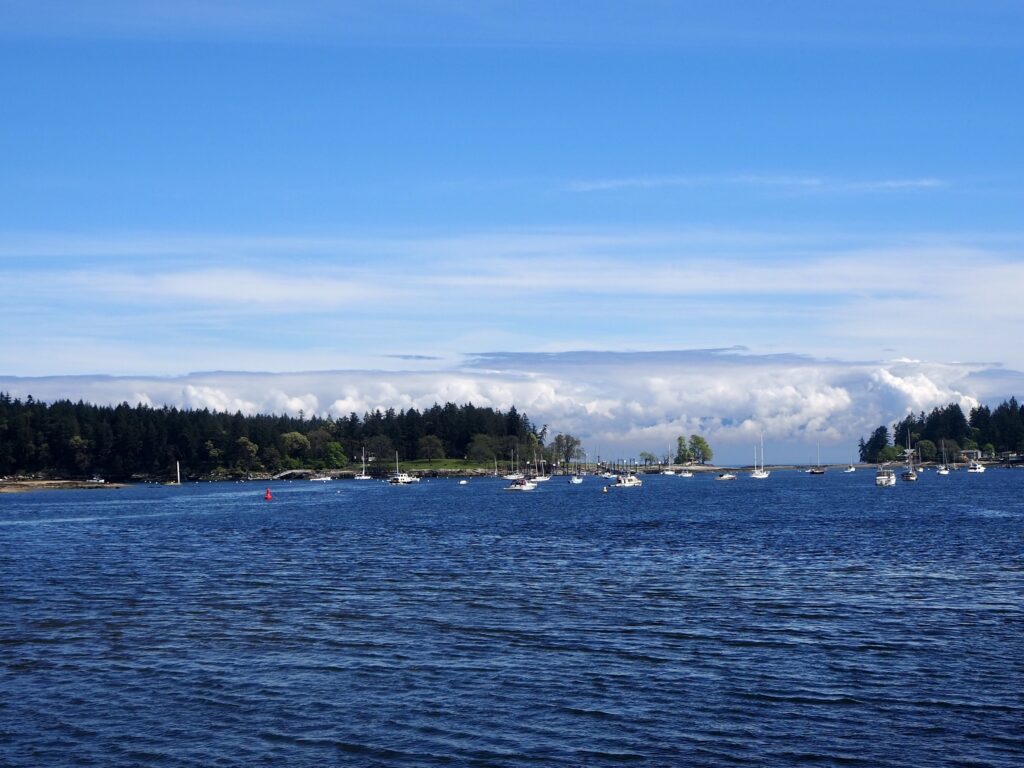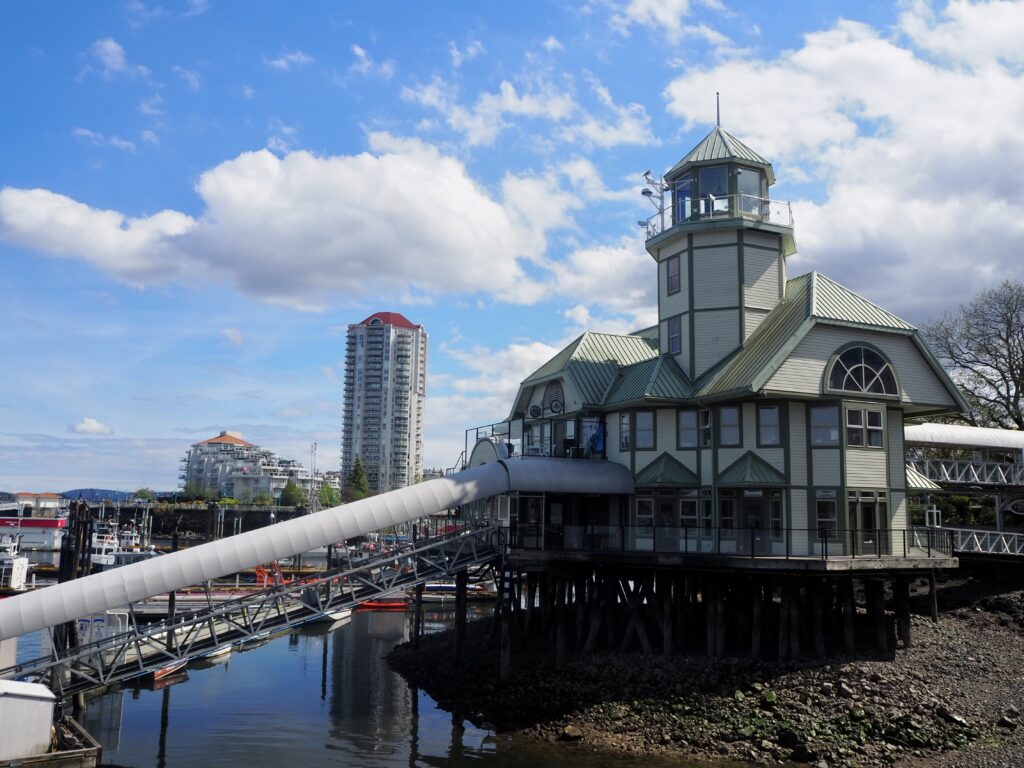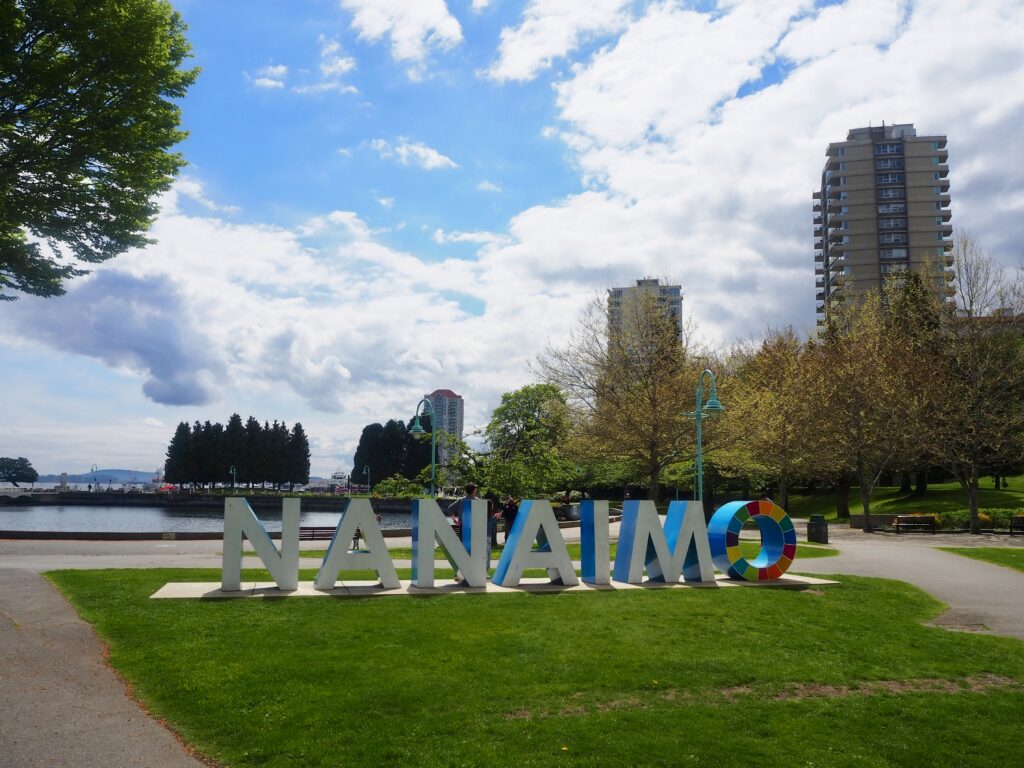 Saysutshun Island
Vancouver Island has dozens of smaller islands all around its coast. From Maffeo Sutton Park in Nanaimo, you can take a short 10-minute foot ferry across to Sayshutshun, also known as Newcastle Island. This uninhabited, pedestrianised island is covered in forest and crisscrossed by walking trails. There are some facilities, like a cafe and a kayak hire shop, but not all of them were open for summer yet. I first strolled up the centre of the island, through an incredibly peaceful forest, with only the birdsong to accompany me. From there, I headed over to the coastal trail that wraps around the circumference of the island. It offers views back towards Nanaimo and Departure Bay, where you can watch the ferris sailing and out.
As I came around the island's far end, the view opened up to the east, back towards the mainland. What I was not expecting to see was the staggeringly huge mountains of British Columbia's Sunshine Coast. Sure, I knew there were mountains, but they looked so huge from here! The entire east side of Saysutshun was a beautifully scenic stroll, before I eventually got close to completing my circle. There's quite a few beaches and bays along the way too, if you wanted to stop and spend a little longer at any of them. The entire walk took less than two hours and it made for a serene half day out. Or combined with Downtown Nanaimo, it makes for a full day trip on Vancouver Island.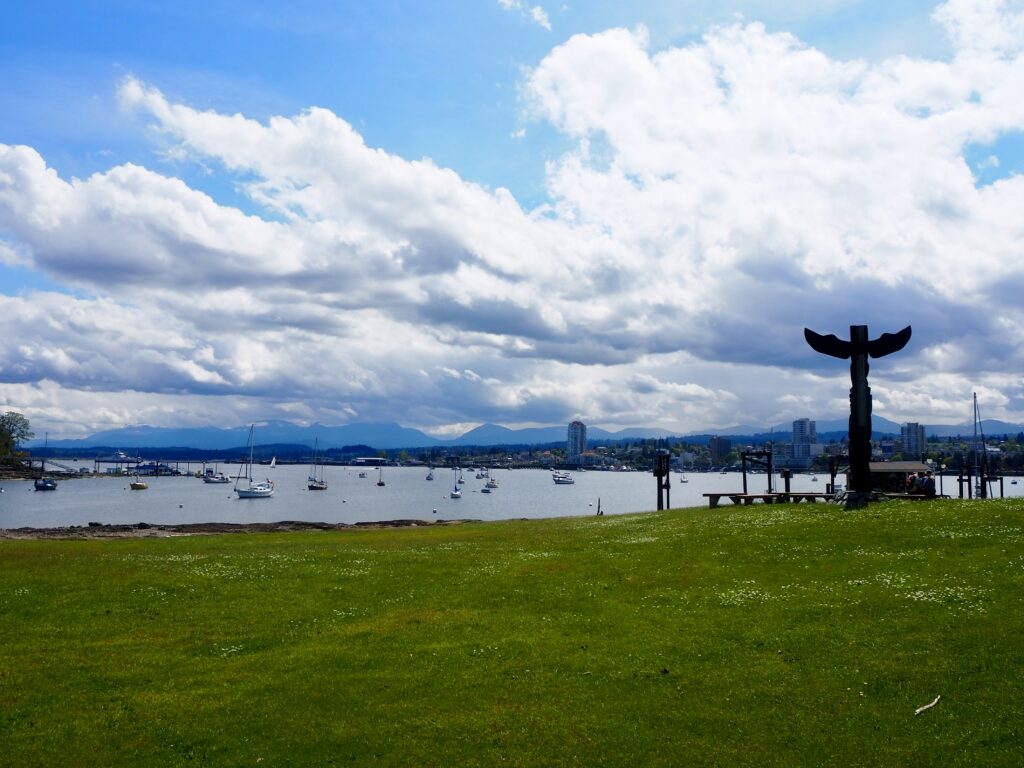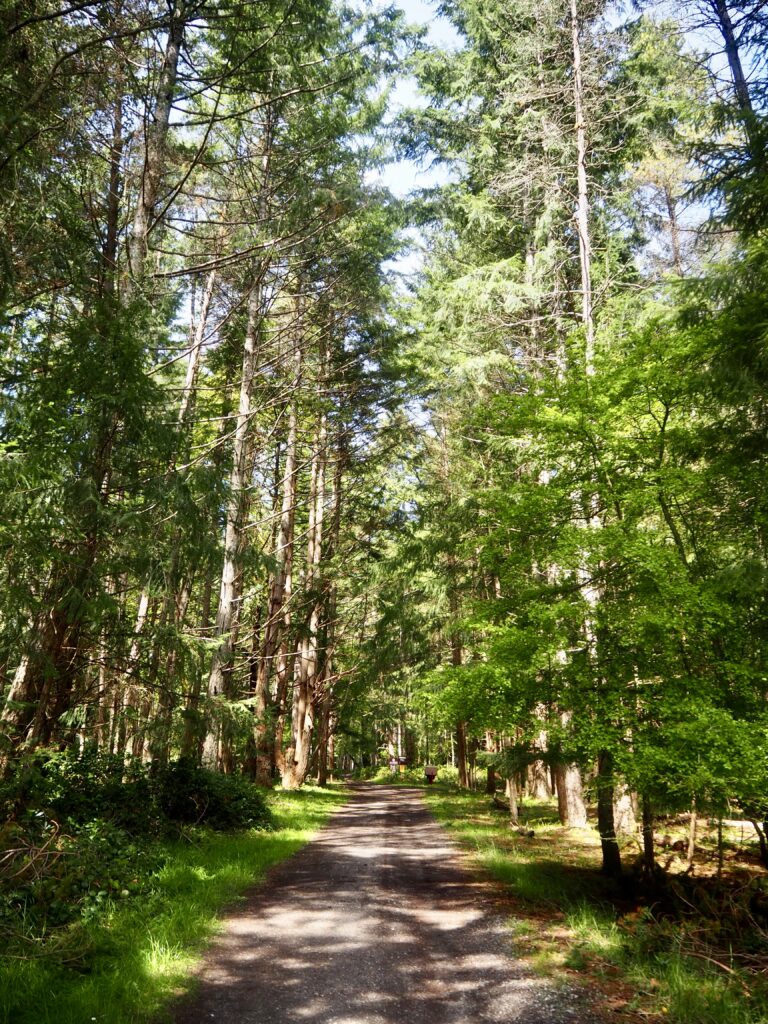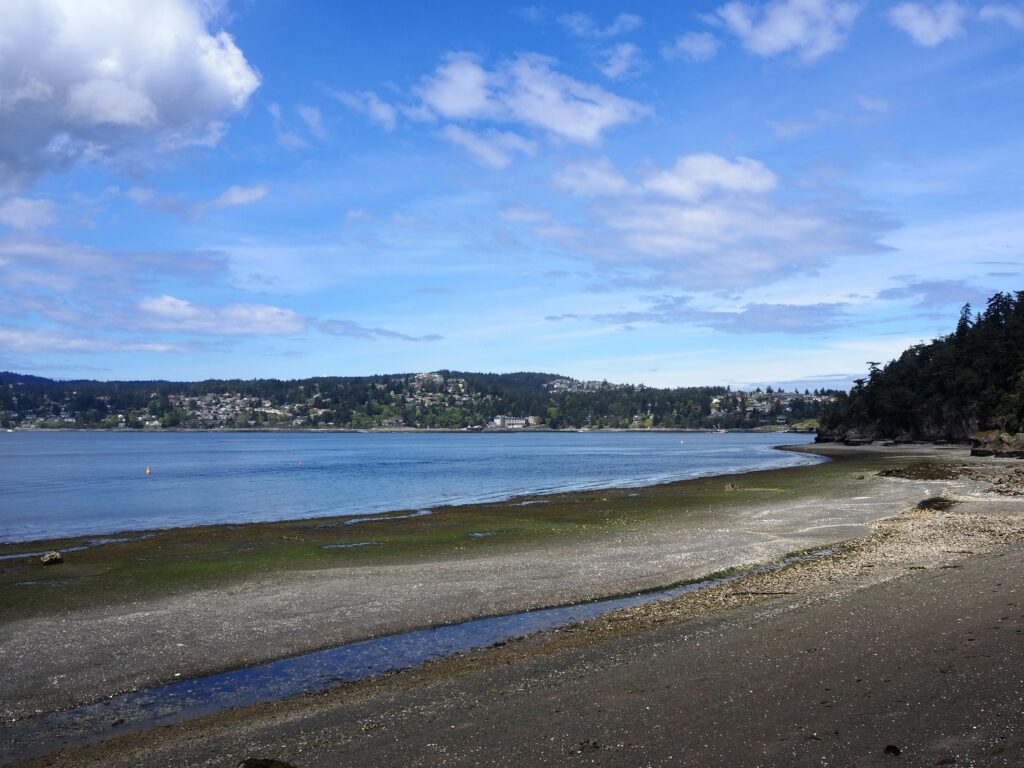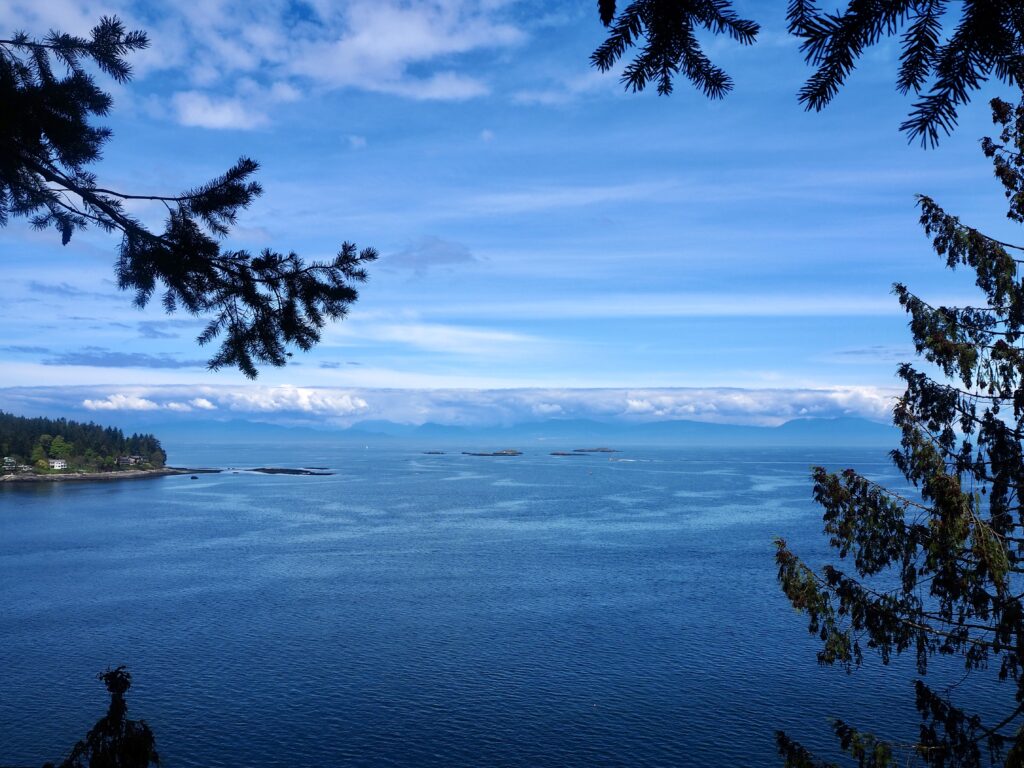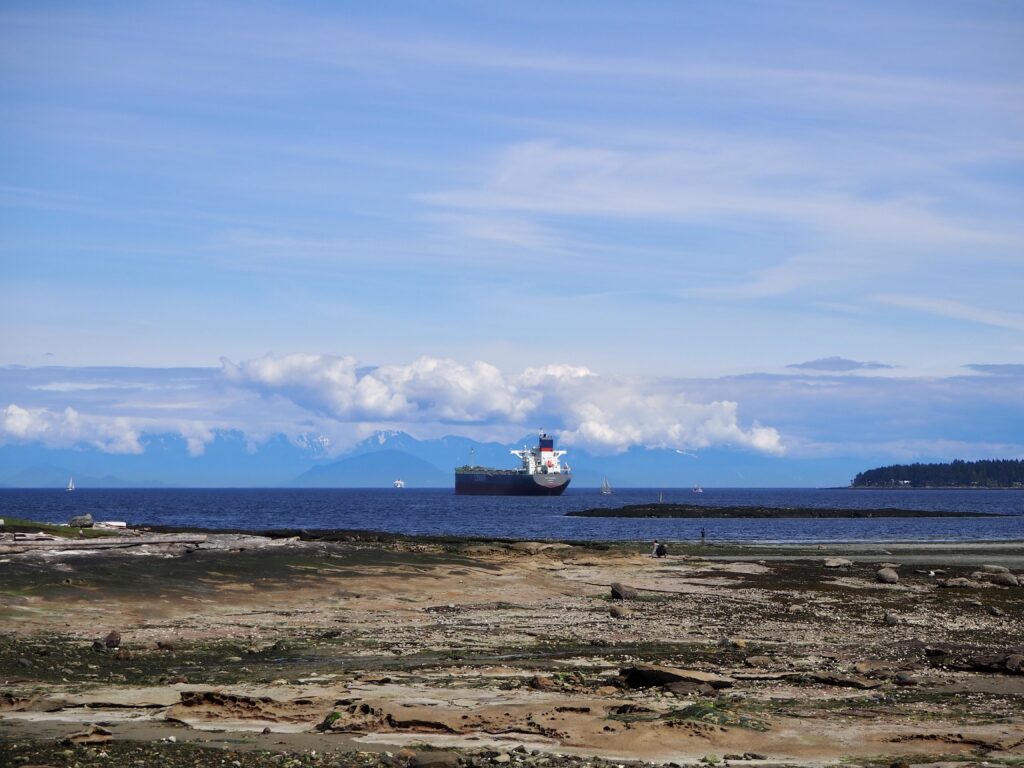 Neck Point & Piper's Lagoon
For more scenic, coastal walks, Neck Point Park is located in the north of Nanaimo. I ended up walking there from where I was staying, near Departure Bay, a route which took me through the dense forest of Linley Valley. Neck Point is a rocky outcrop, exposed to the elements of the Pacific coast. There are many rock pools and beachcombing opportunities in this wildlife-rich area. Or, you can just amble along the walking trails, with the trees to one side and the coast to the other. Several raised wooden platforms act as viewing points, to gaze out towards the Sunshine Coast.
To extend this day trip, you can continue around the coast to Piper's Lagoon as I did. The actual lagoon was pretty low and marshy that day, but I got the idea. A narrow strip of land extends from the island, fencing in the water of the lagoon from the rest of the sea on the other side. It's an easy walk up and down this peninsula, from which you can also spot the Hudson Rocks Ecological Reserve.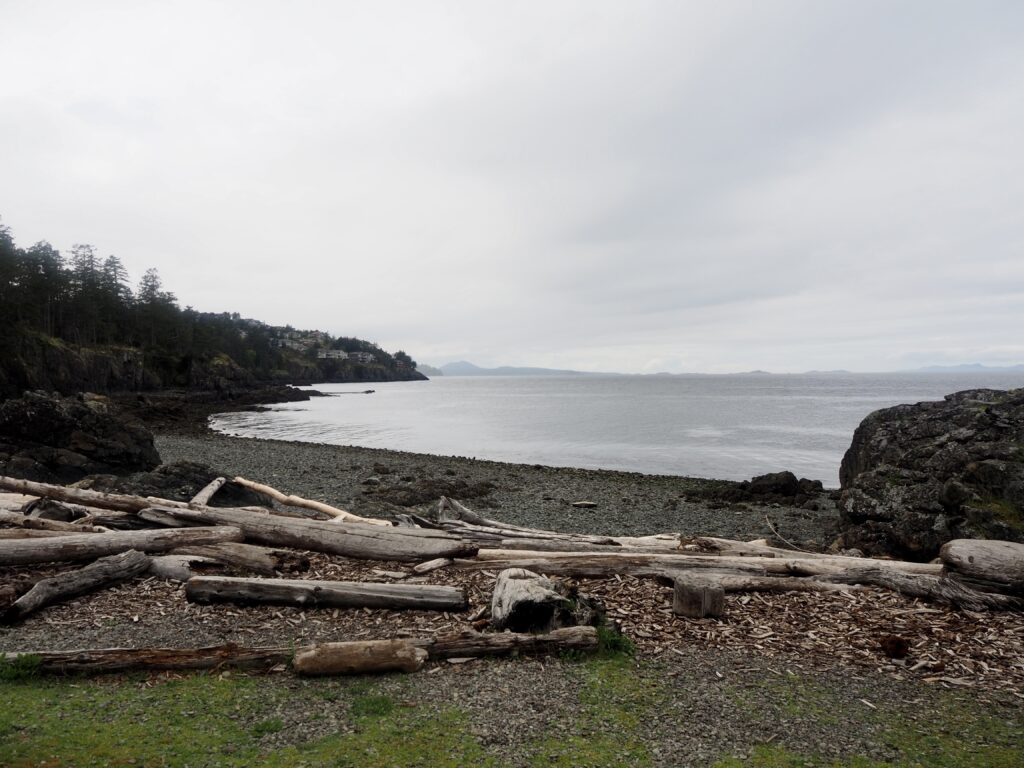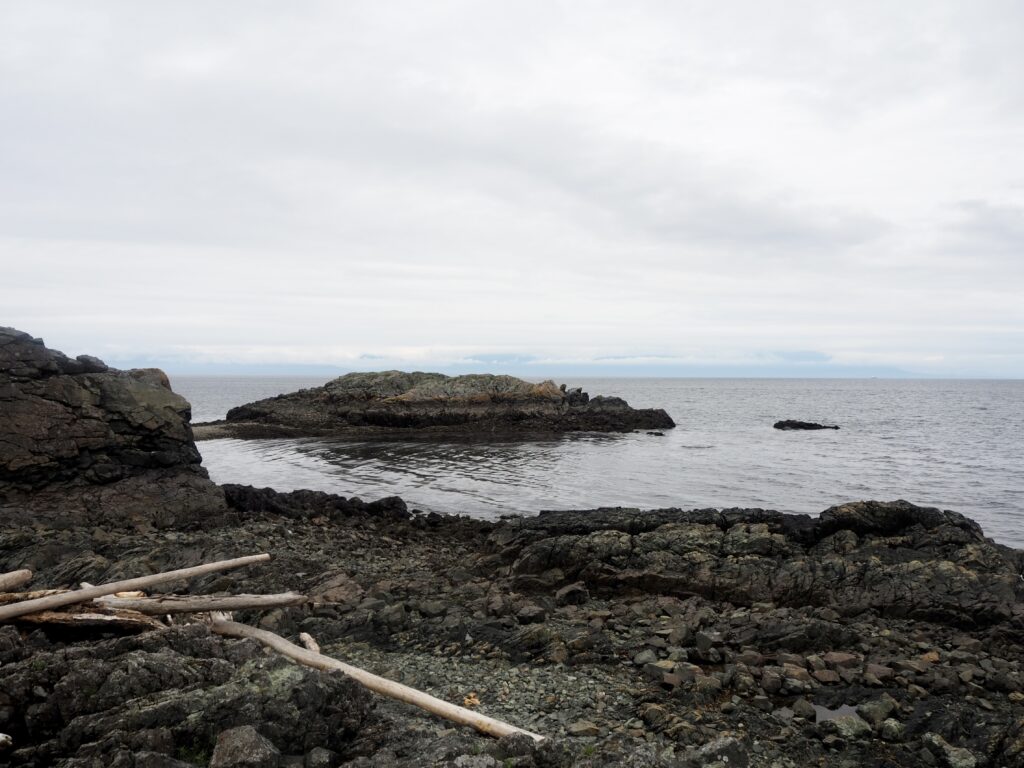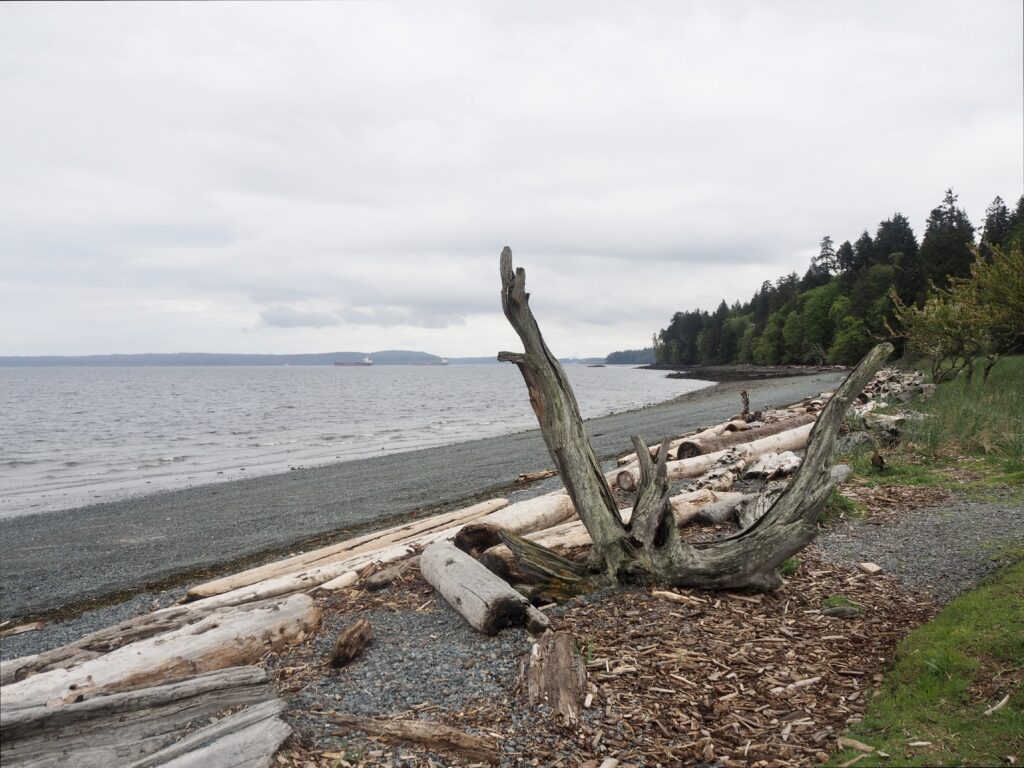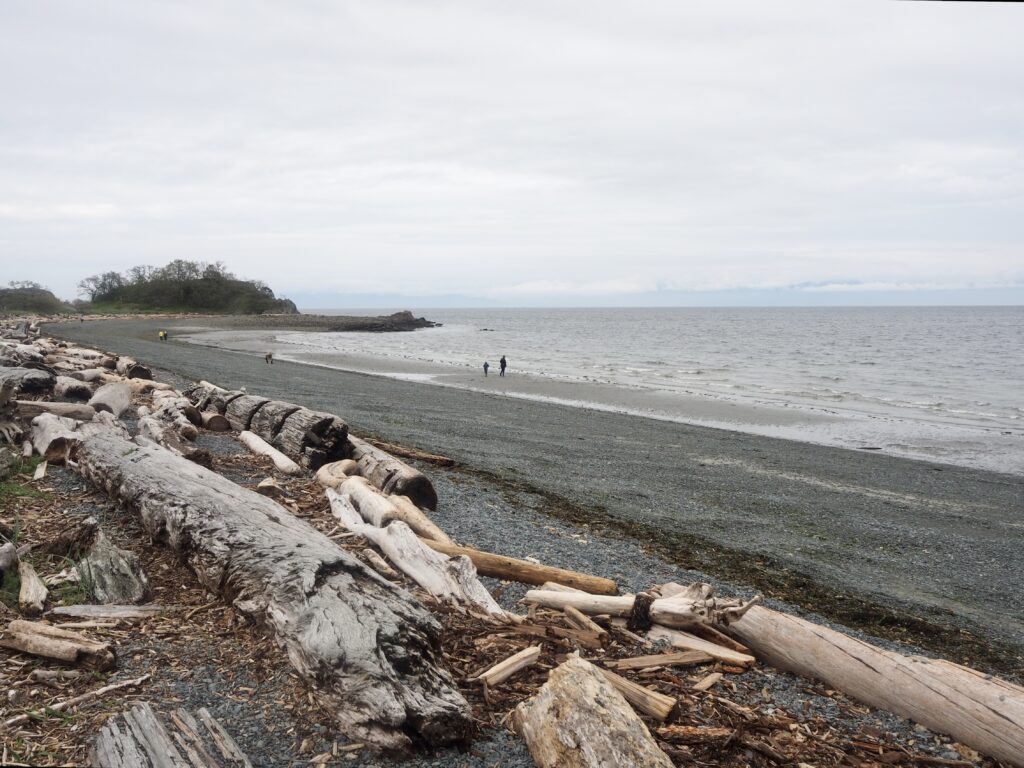 Departure Bay
Departure Bay is well-known as the ferry terminal for Nanaimo, but the bay itself that the ferries sail into is surrounded by the Departure Bay area of the city. I was actually staying right beside the beach here for the first half of the month; literally, a 2-minute walk across the road and I was on the shore! It's not a huge beach, but it was pleasant enough to swim in on a nice day once or twice, and you can watch the ferries and sea planes come in and out. During my last week, there was even a hovercraft pulled up on the sand!
I did a few other walks around the area as well, often just through streets of houses, but there are a couple of parks and I spotted a deer once! I also climbed Sugarloaf Mountain; "mountain" might be a stretch, as it's really just a big hill. But you get great views across the bay and the town, including Saysutshun!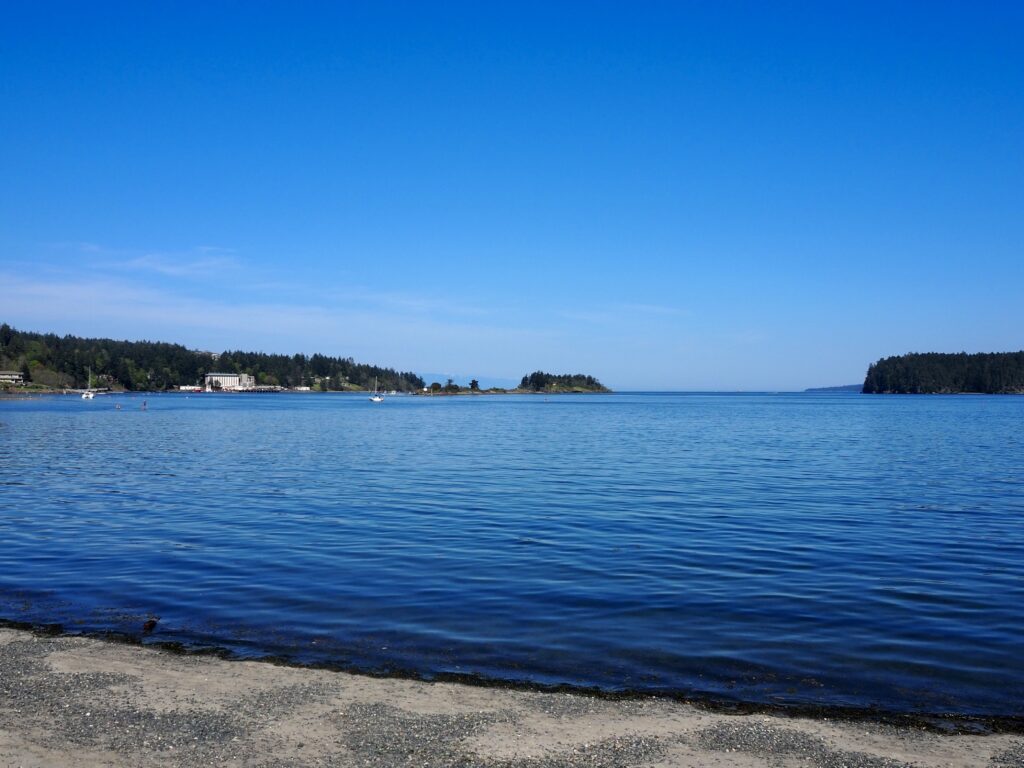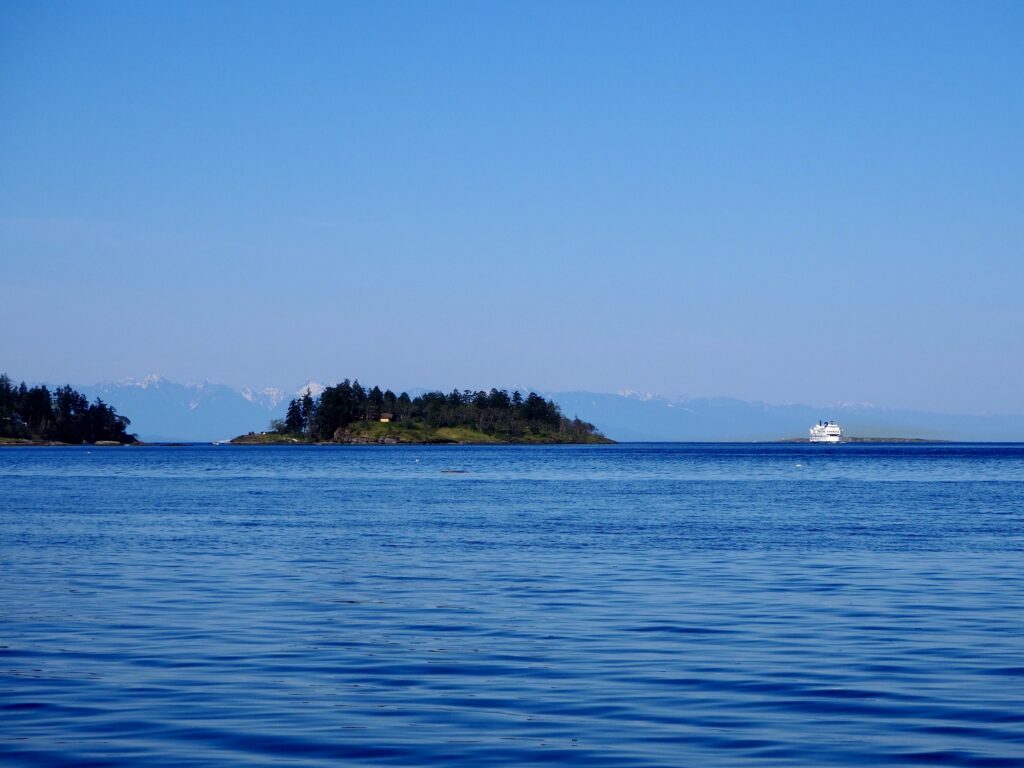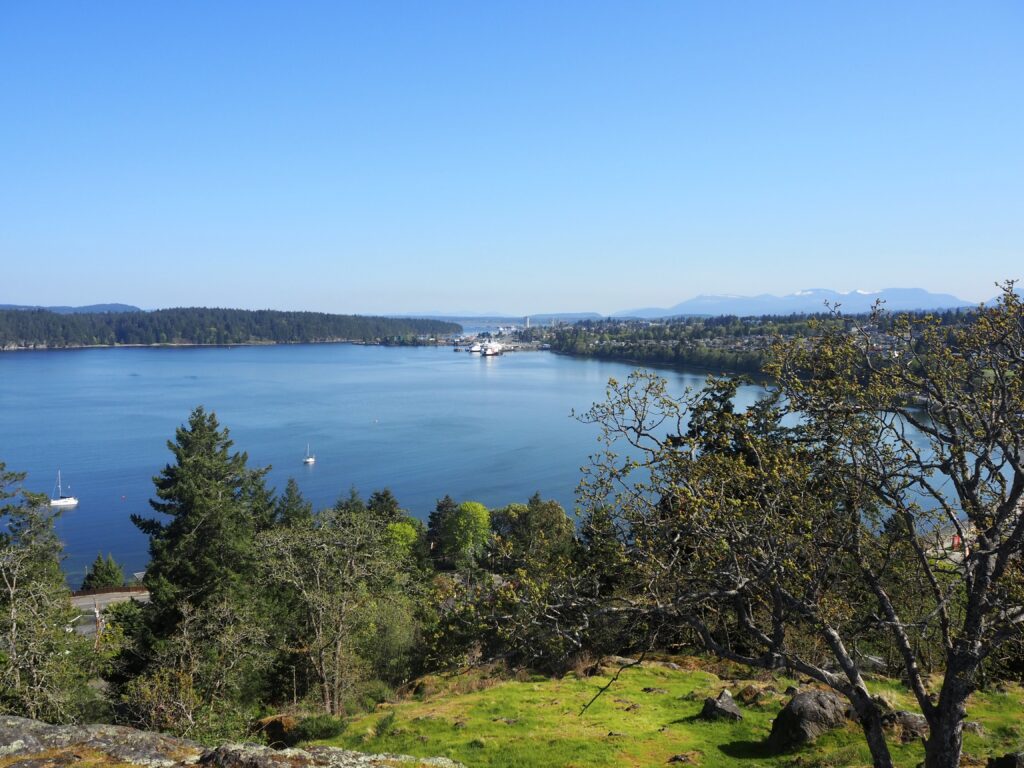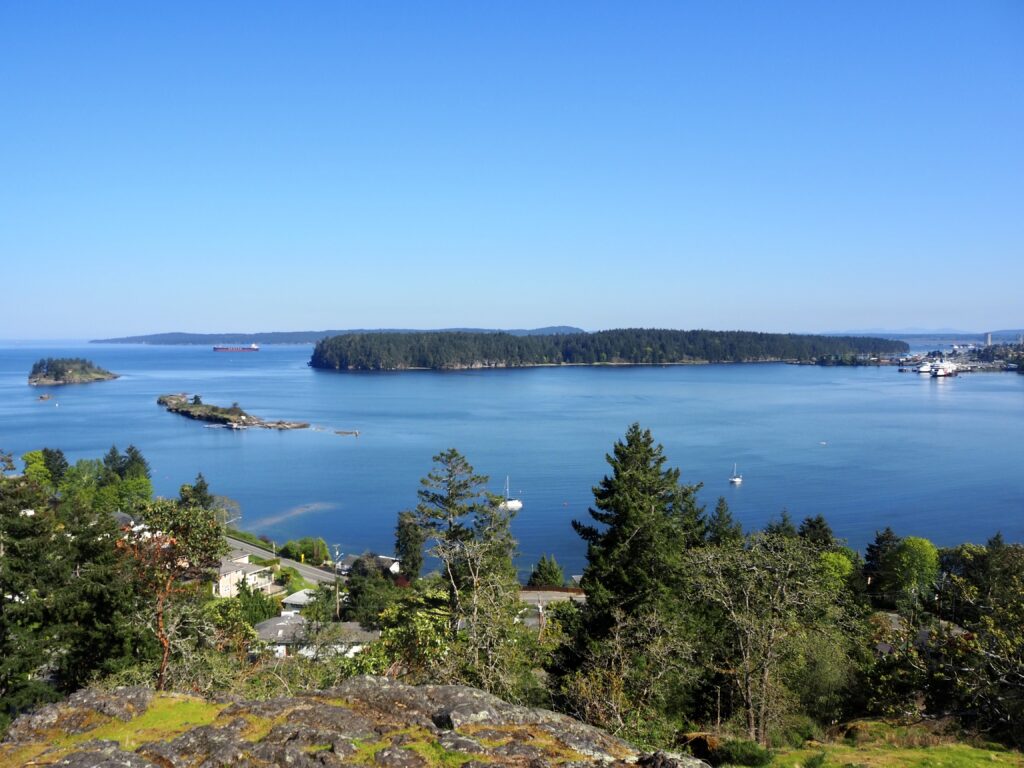 Weekend Trip to Tofino & Ucluelet
Tofino
Every single person who I asked for recommendations on Vancouver Island told me to go to Tofino. So, I turned it into a weekend trip, renting a car and driving over from Nanaimo on a Friday night and returning again on Sunday. It's a long enough drive, taking almost two and a half hours, though the scenery during the second half makes it worth it; Kennedy Lake is stunning! Tofino is all the way over on the west coast of the island, with only one road to access it. Situated on the Pacific Ocean, with no other land from here to Japan, it's a wild and rugged corner of British Columbia.
The town itself has become quite touristy from what I can gather, compared to how it once was, with plenty of souvenir shops and accommodation that can be pricey. It was pleasant to wander around, though, and I did pick up some gifts for myself. There's a distillery and brewery too that I'd heard good things about, but since I was driving solo, I wouldn't be able to taste any anyways, so I gave them a miss. It does still retain somewhat of a sleepy, small-town vibe however, despite the amount of holiday accommodation.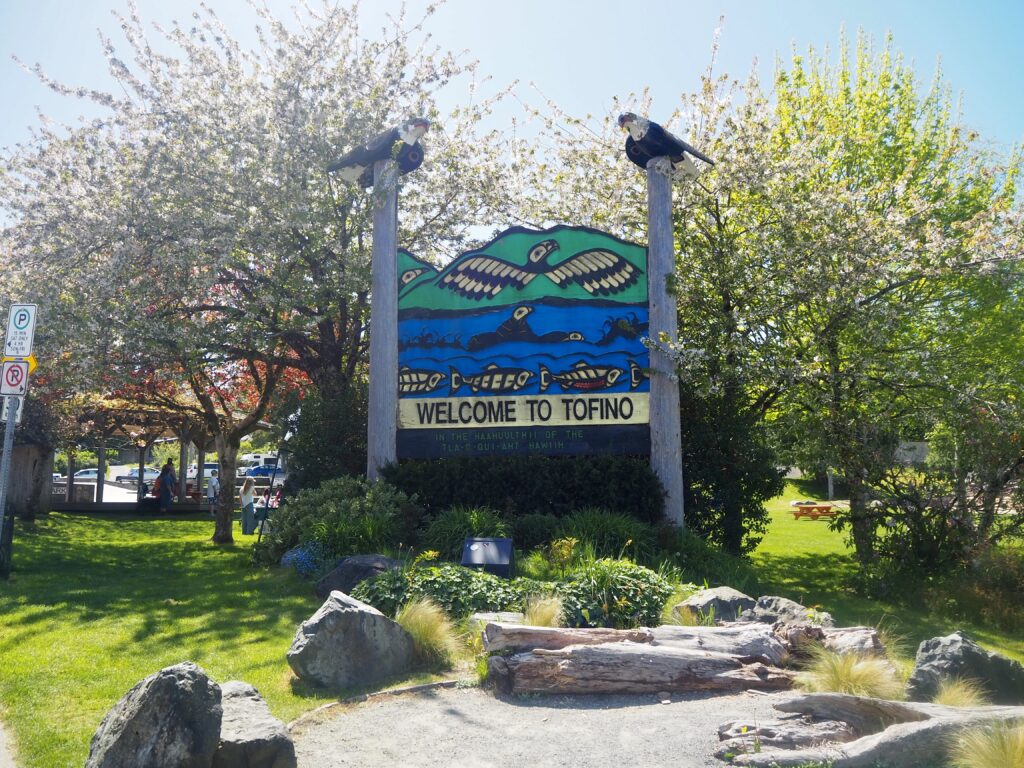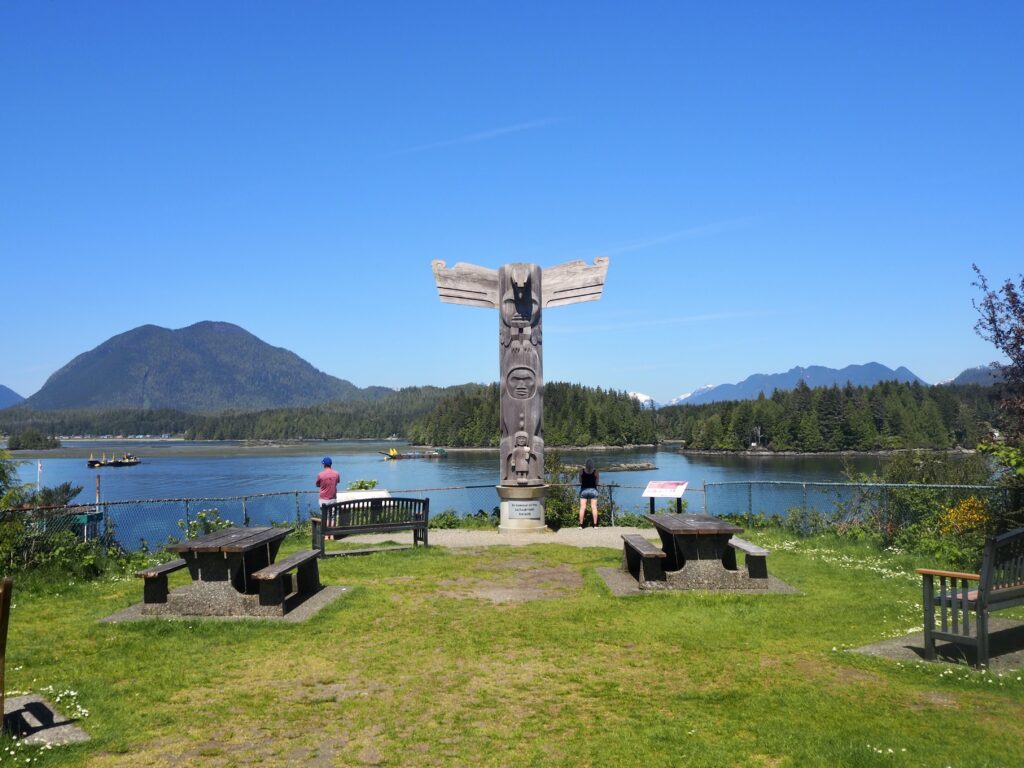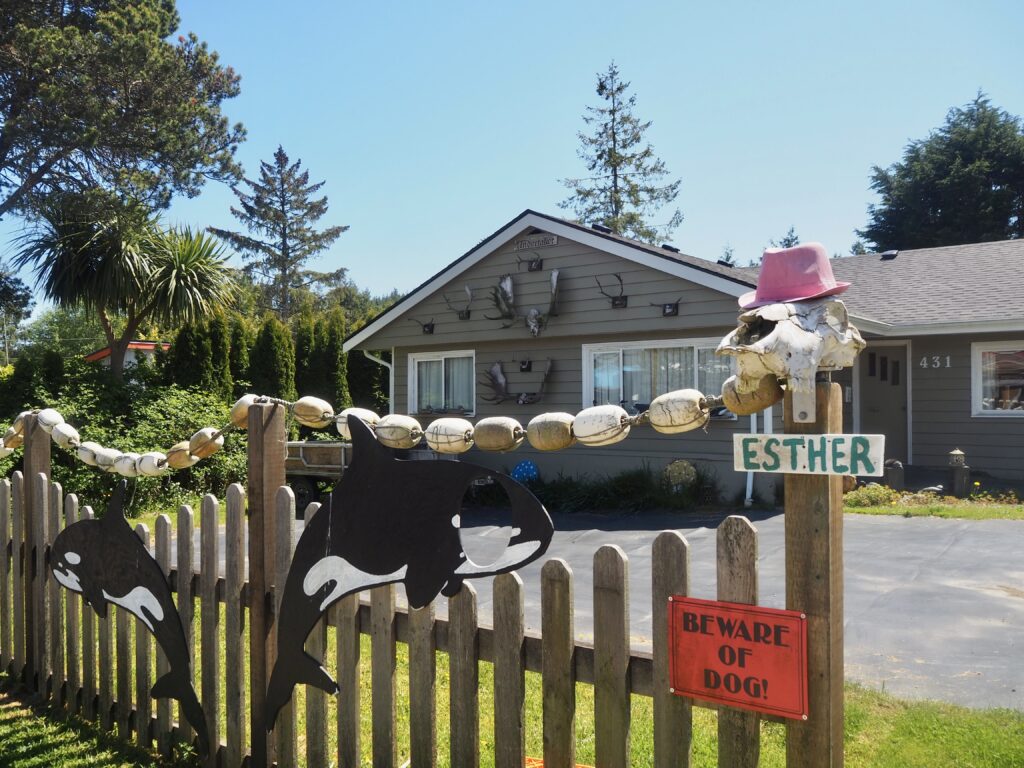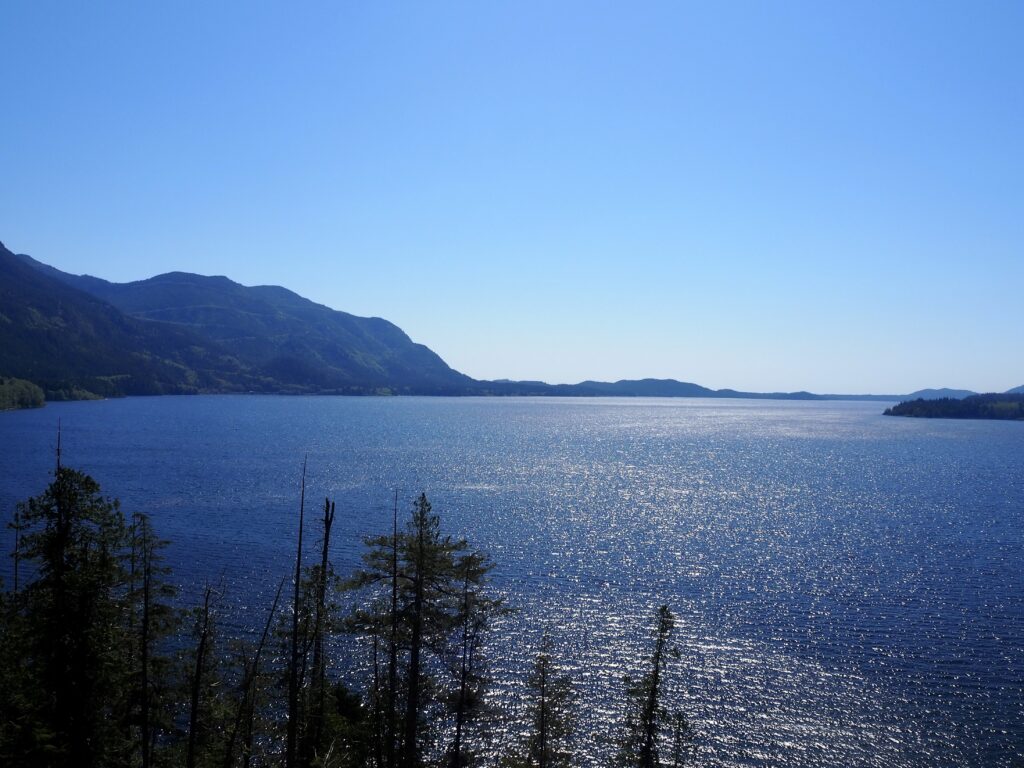 Beaches
Like much of British Columbia, Tofino and Vancouver Island is an outdoor enthusiast's paradise. There are plenty of options for walking and cycling, but the big draw for Tofino is surfing. The wild Pacific coastline produces huge, crashing waves along the miles and miles of beaches running down the peninsula from Tofino to Ucluelet. I'm not a surfer, but I do love the coast so this was still pretty dreamy for me.
From Tofino itself, I walked along a short forest path to Tonquin Beach. Here at the northern end of the peninsula, there are a few smaller islands offshore, breaking up the skyline. They also break up the waves, making these waters calmer, so the beach attracts more swimmers and sunbathers than surfers. I got the best weather for my weekend too! It treated me to sparkling blue waters, with the forest-clad islands dotting the background. I ambled up and down the beach, wading in the ocean l though my toes quickly went numb in the freezing Pacific waters!
I also stopped at Cox Bay Beach, the quintessential Tofino surfing spot, with wave after wave rolling into the wide, sandy bay. Surfboards filled the scene, though plenty of people were walking or lazing on the sand too. All of the spray creates a haziness to the air, enhanced by the fact that I was there late in the afternoon with the sun starting to get low in the west. After an hour or so just relaxing and people-watching, I took another amble up and down the sand, with equally cold water splashing around my feet!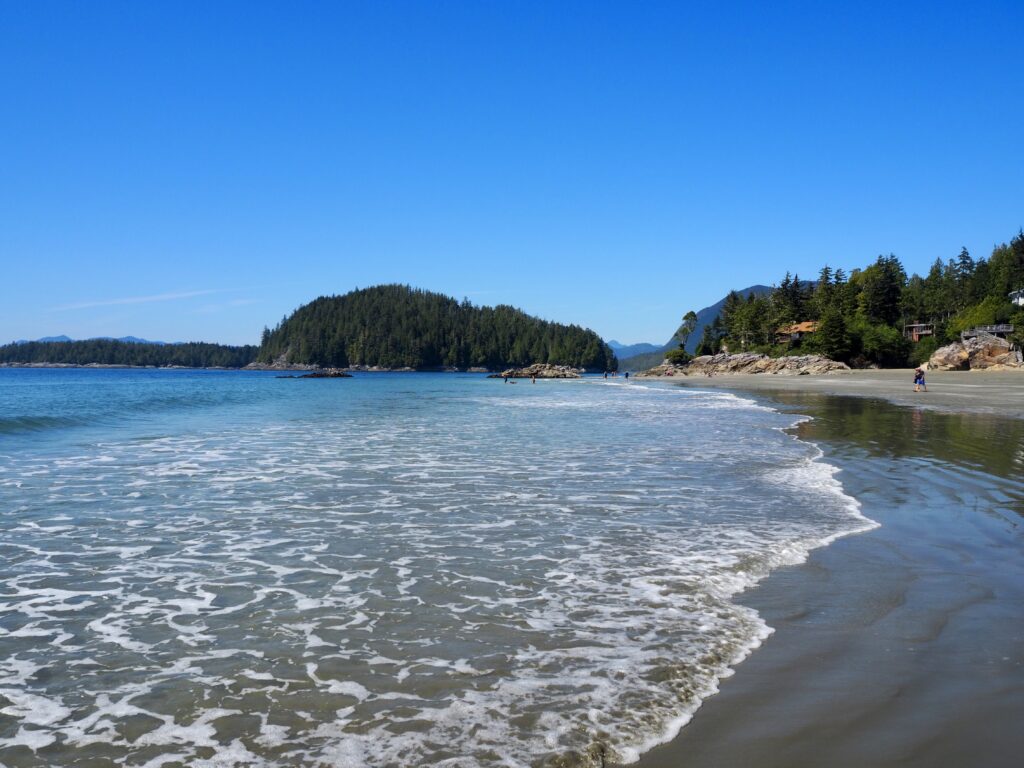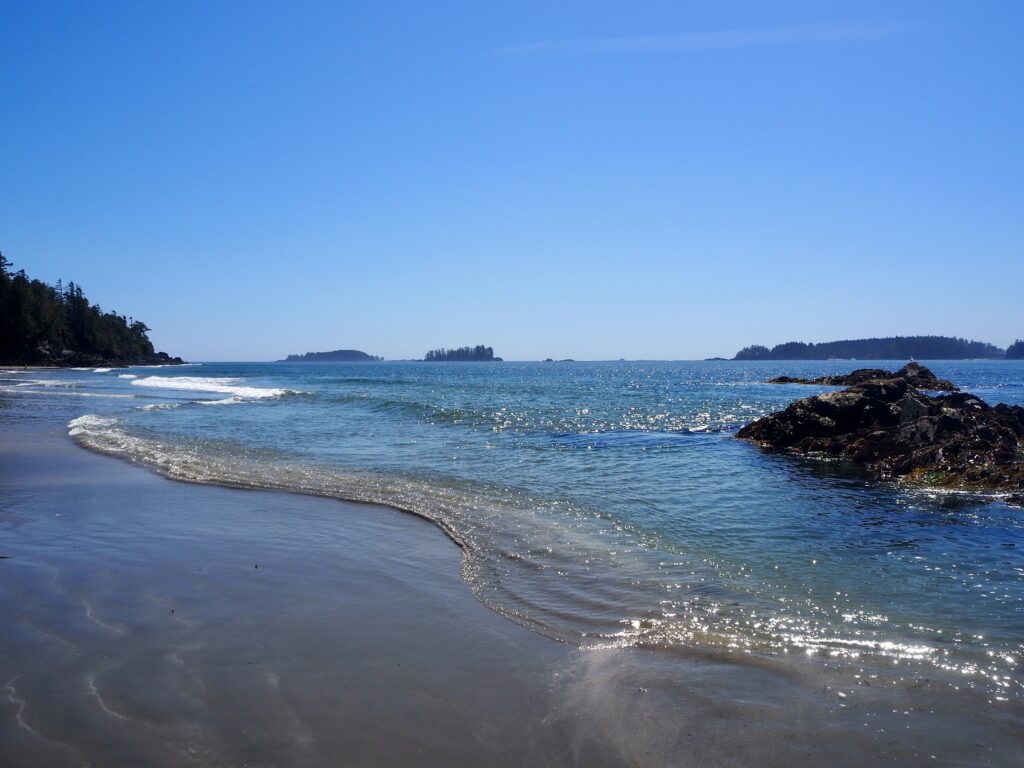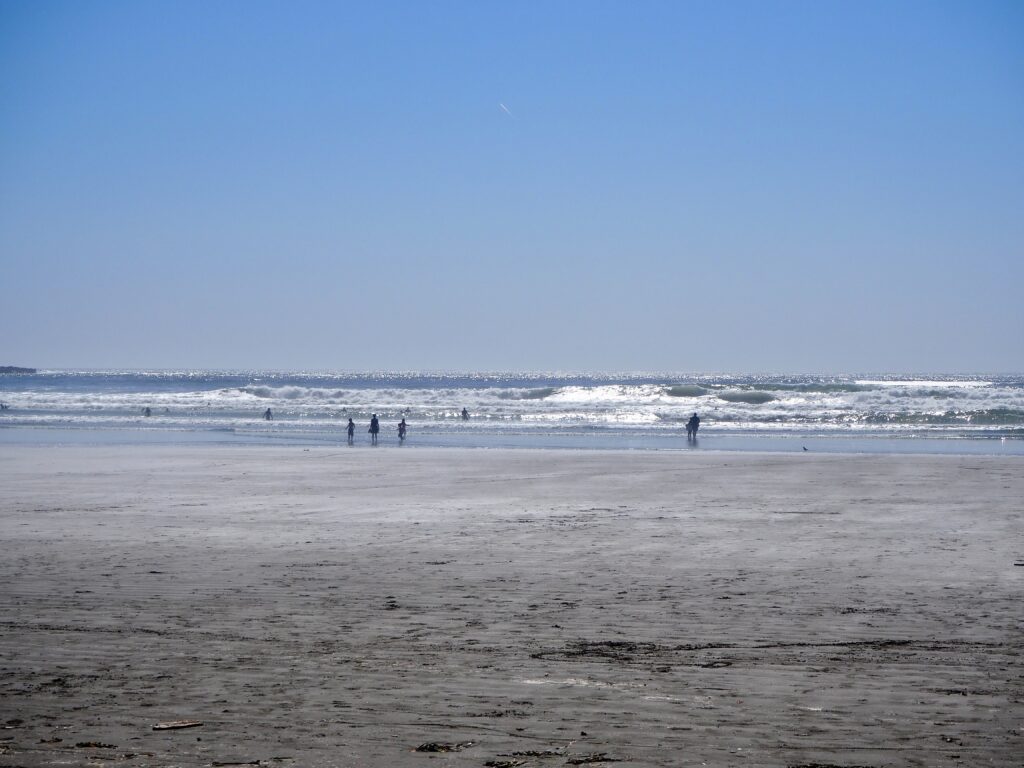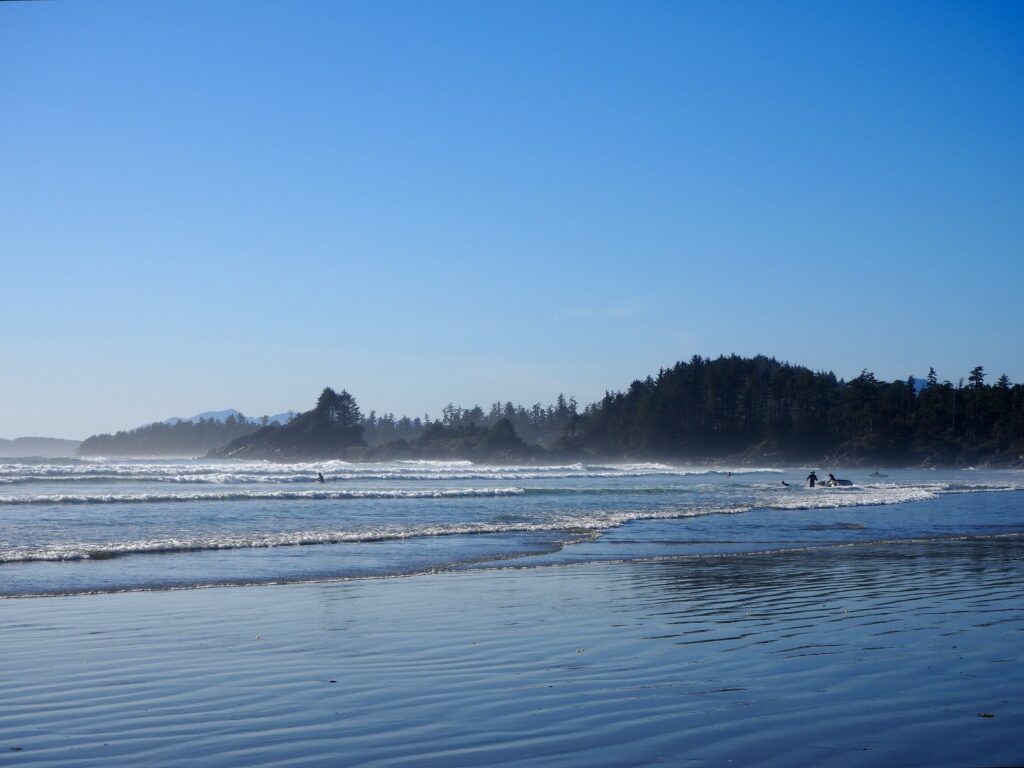 Wild Pacific Trail
While Tofino made for one of the best day trips on Vancouver Island, I was actually staying in Ucluelet for the weekend, at the other end of the peninsula. It's another sleepy small-town but hasn't attracted quite as many tourists as Tofino yet, making it the cheaper option. There are less beaches ad surfers down here; instead, you can explore the Wild Pacific Trail, a coastal hiking path along the rocky cliffs. It has a few sections to it, meaning you can take a longer or shorter hike as you wish. I did a couple of sections, starting with the Amphitrite Point Lighthouse Loop, just a stone's throw from where I was staying. Later in the weekend, I also walked from Big Beach along the Artist Loop to the Ancient Cedars.
Both sections of the trail offered rocky outcrops with wild waves crashing and the bright blue ocean beyond. This felt truly rugged and remote at times! The actual trail was sheltered by British Columbia's iconic coastal pines and cedars, evergreen year round. The paths were fairly easy to follow too, with regular signs and maps to keep you on track. Of course, I saw the lighthouse on the first trail as well, and the second featured cedars that had been carved and modified by the First Nations peoples. The only downside was the roadside walk back to town from the Ancient Cedars – somewhat less scenic.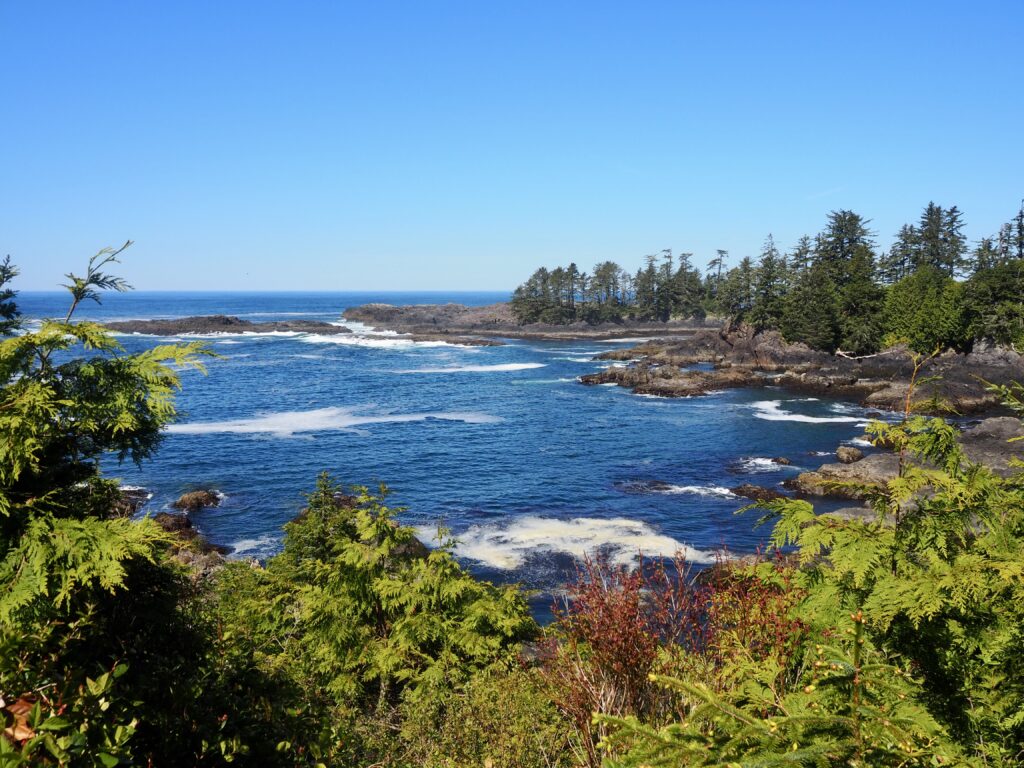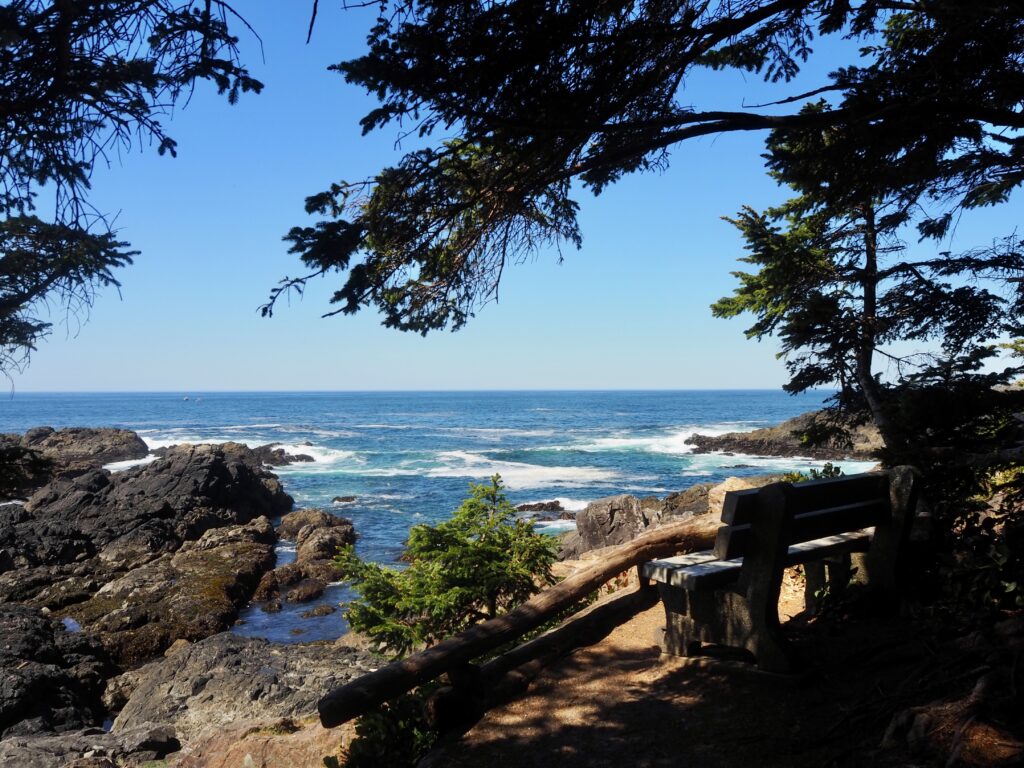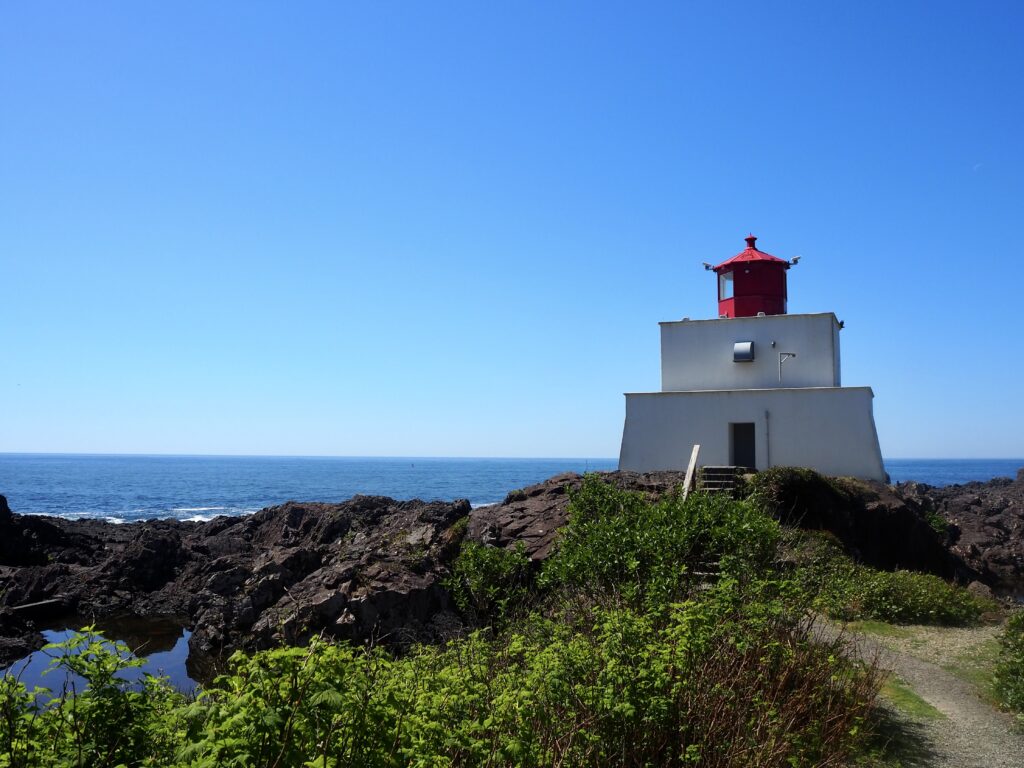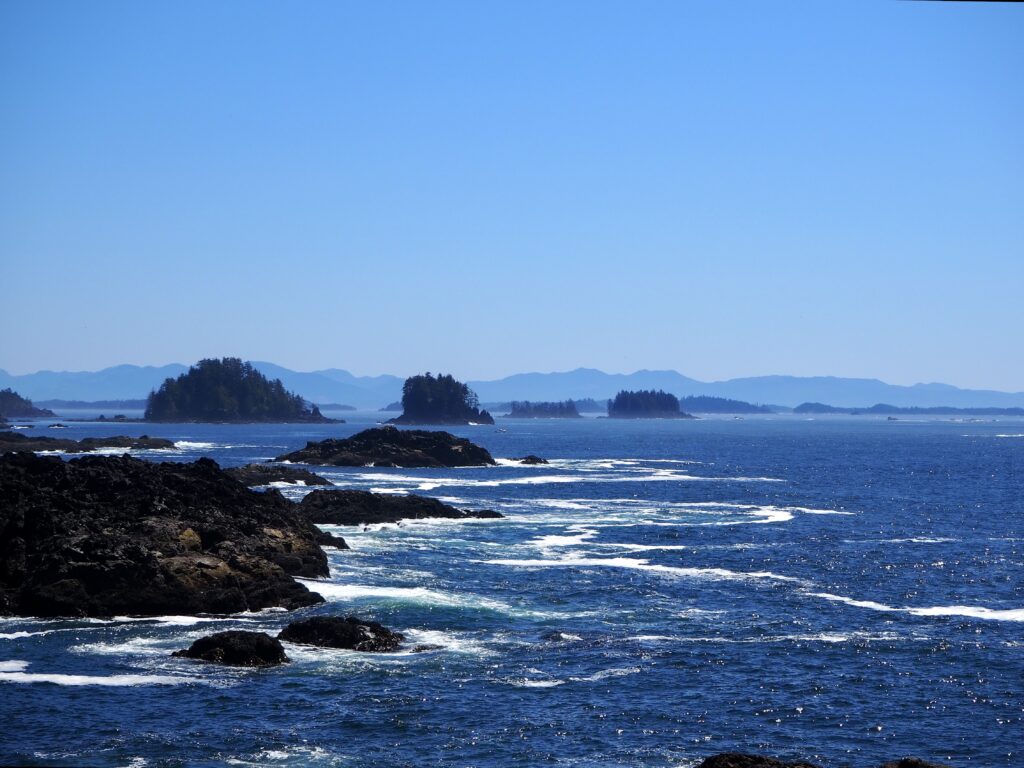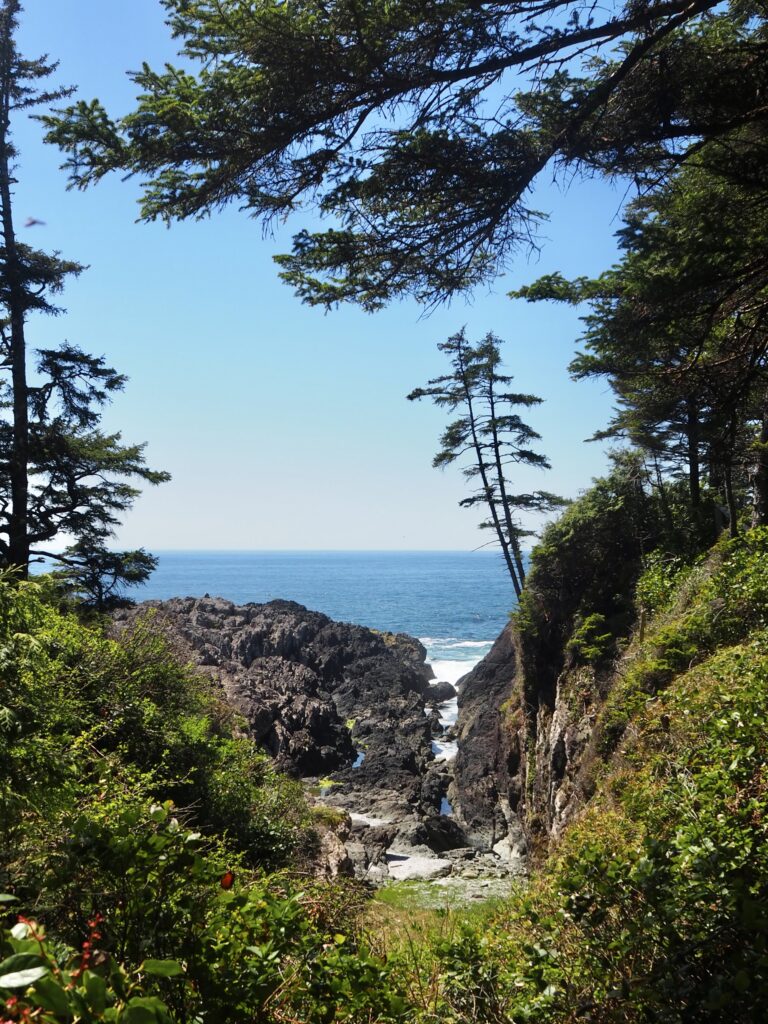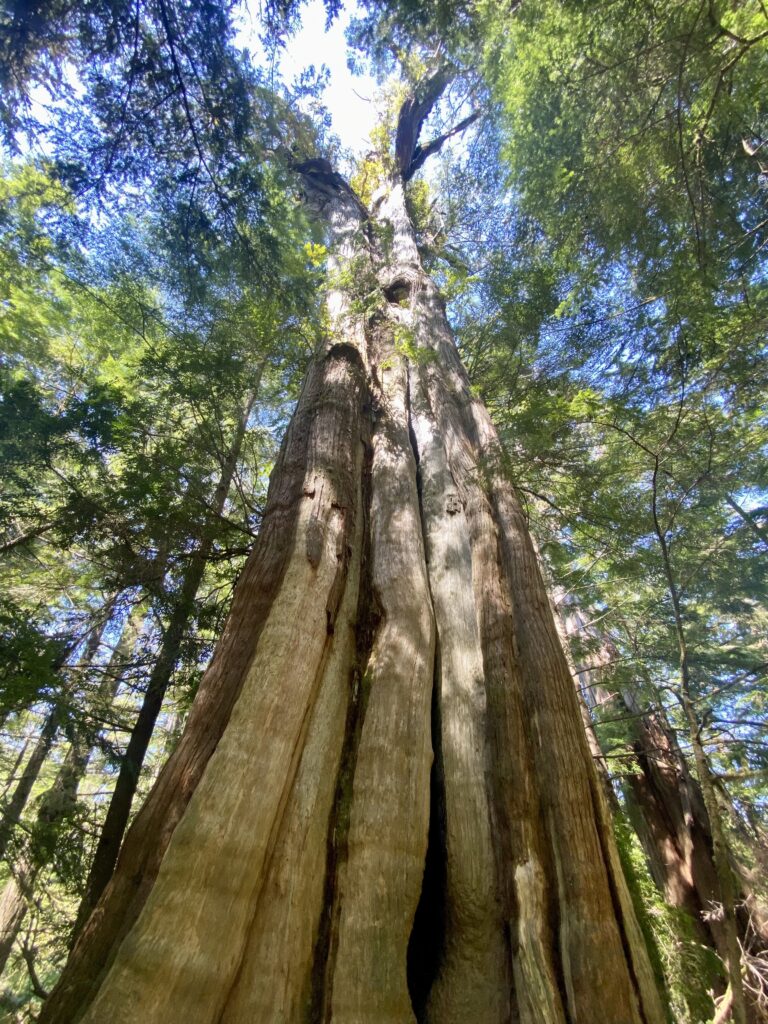 Ucluelet Harbour Kayaking
My other adventure in Ucluelet, which makes for a great Vancouver Island day trip, was a sea kayaking tour. I've kayaked a few times now, but given how wild the seas are around here, I wasn't confident enough to hire a kayak and go solo. Many of the tours are also 4-6 hour trips to the surrounding islands, which felt a bit ambitious for me. So, I settled for the 2-hour tour in Ucluelet Harbour.
The weather was so nice that weekend, that the harbour (which is massive) was completely calm, the only waves being made by other passing boats. We did an easy loop around it, just drifting much of the time rather than paddling too hard. The guide mixed between talking to us and telling us facts and stories, and staying silent to just let us enjoy the scenery. We spotted sea lions and a bald eagles well as some abandoned buildings and boats he had stories about. It was an easy, relaxing tour, and a lovely easy to spend a sunny morning! The whole weekend was a definite highlight of my month on the island.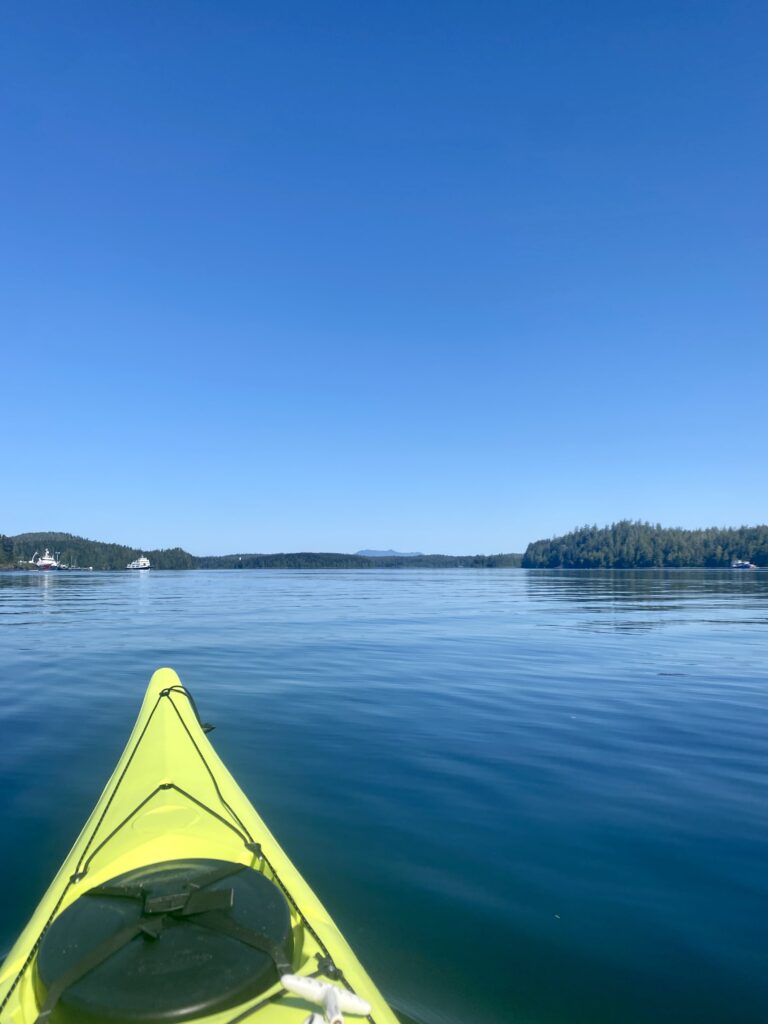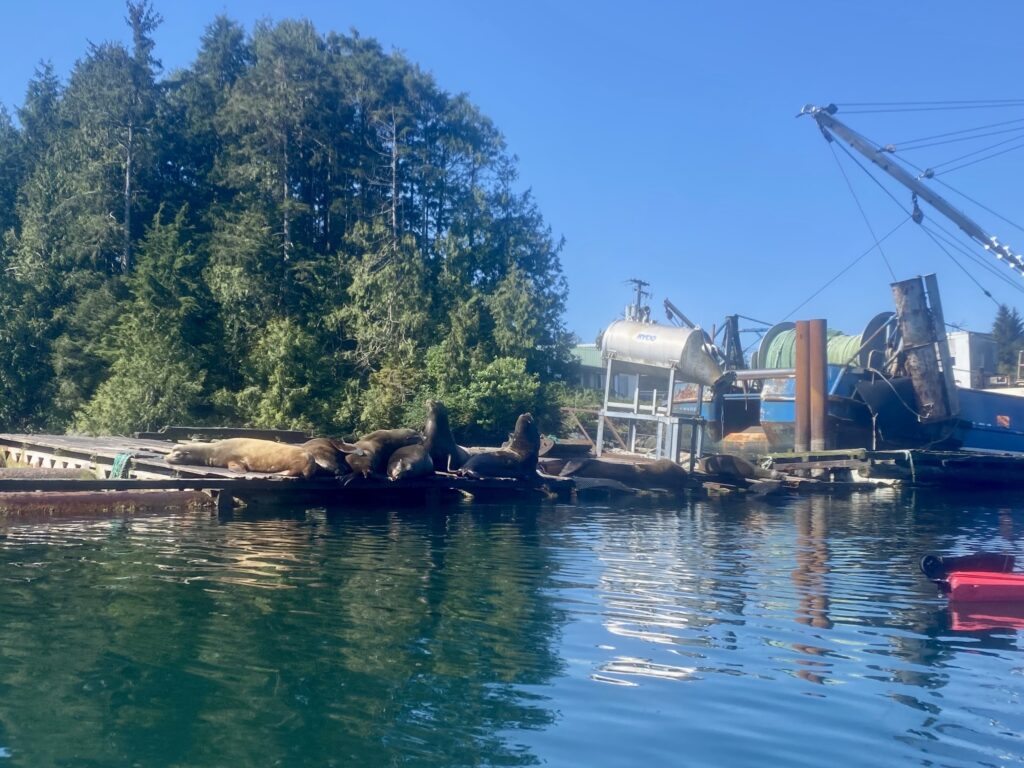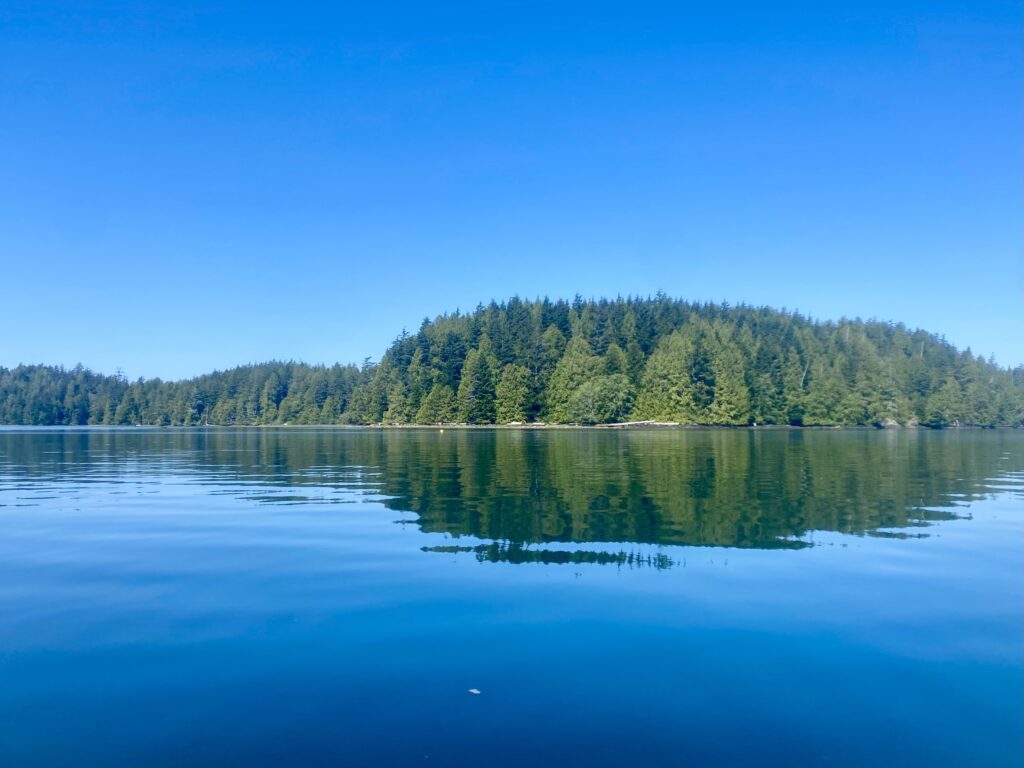 Victoria
Butchart Gardens
The last of my day trips on Vancouver Island all went out of Victoria, the provincial capital and largest town on the island. It has better public transport links and the option of hiring an Evo car for a few hours, making it a good base for exploring the southern part of the island. Butchart Gardens is north of the city, en-route to the ferry terminal, and there are regular bus services that take about an hour to get there.
The gardens are considered one of the best botanic gardens in the world. The huge, sprawling grounds were once a quarry pit, that the Butchart family decided to convert into gardens over 100 years ago. The pit site is obvious in the Sunken Garden, with its dancing Ross Fountain at the far end. However, there are dozens of different themed areas of the gardens to explore. Being there in May was ideal too, as almost everything was in bloom, with thousands of shades and colours dancing all around. I seem to get more excited about plants and flowers these days, so it was a lovely way to spend a few hours.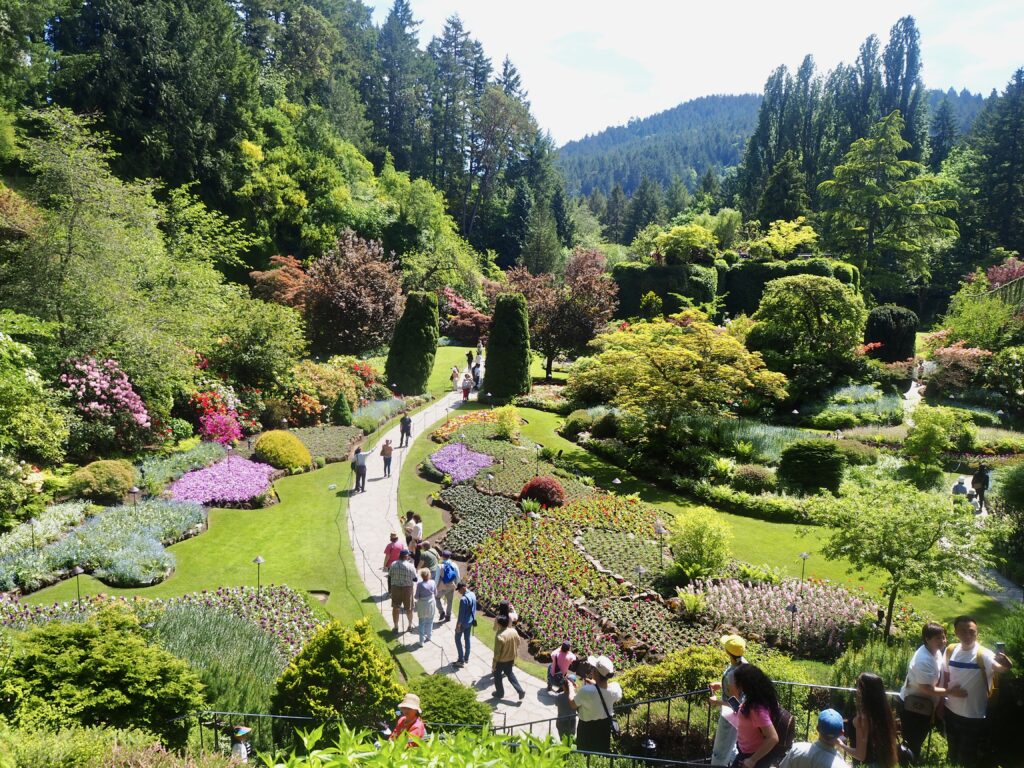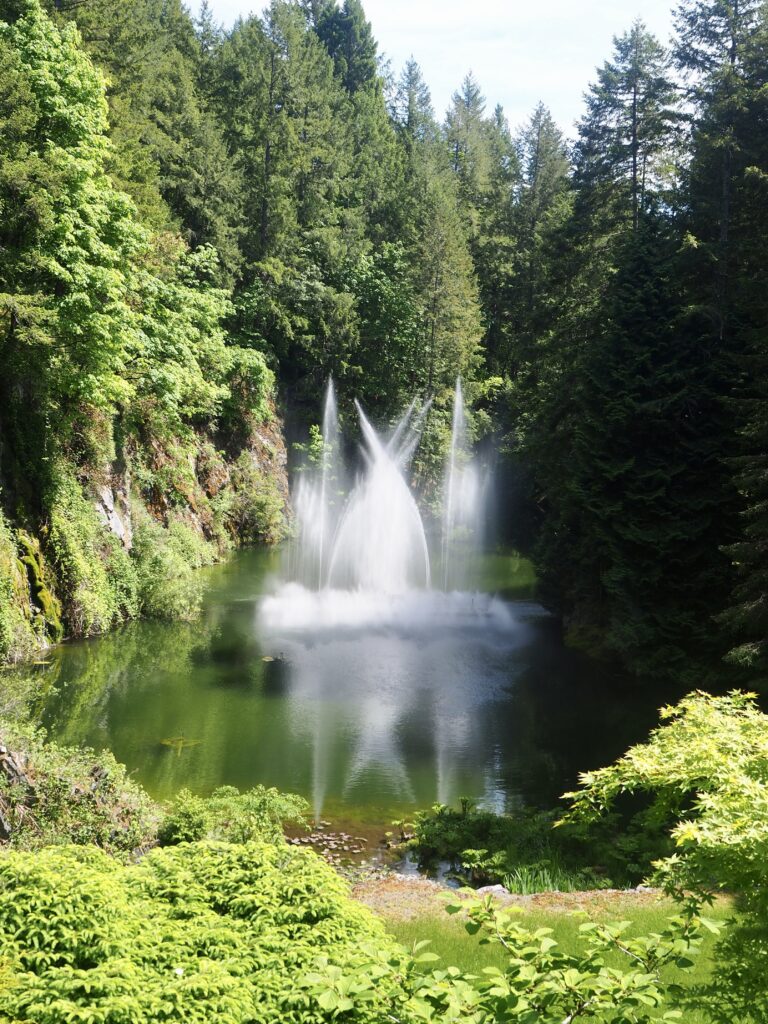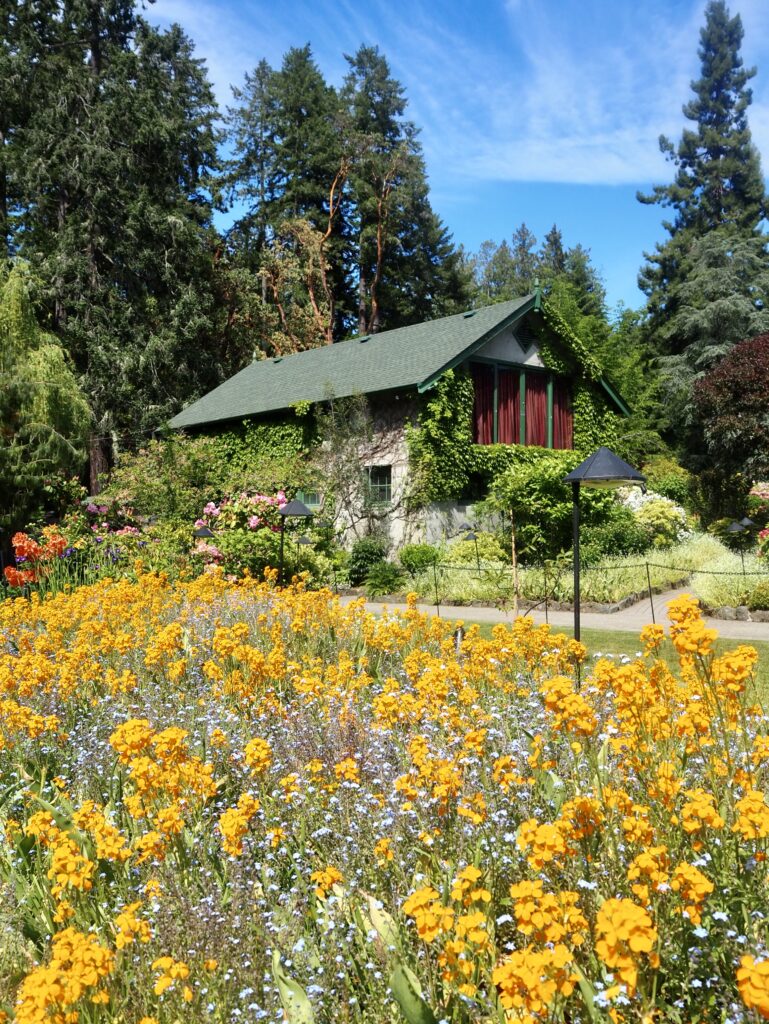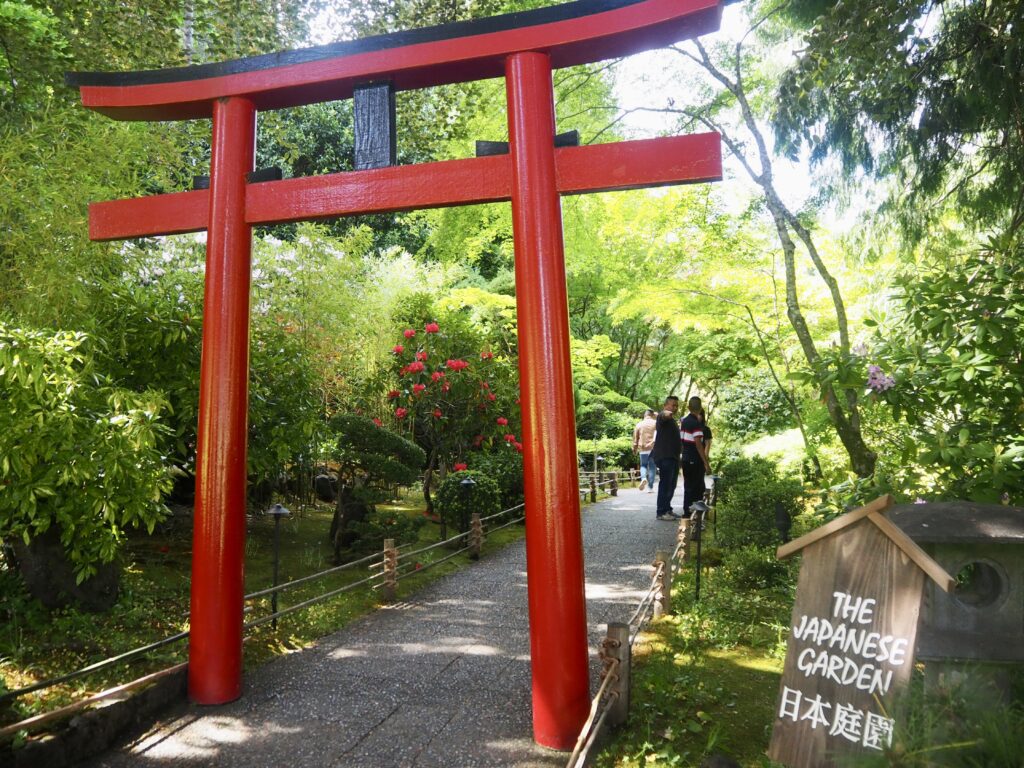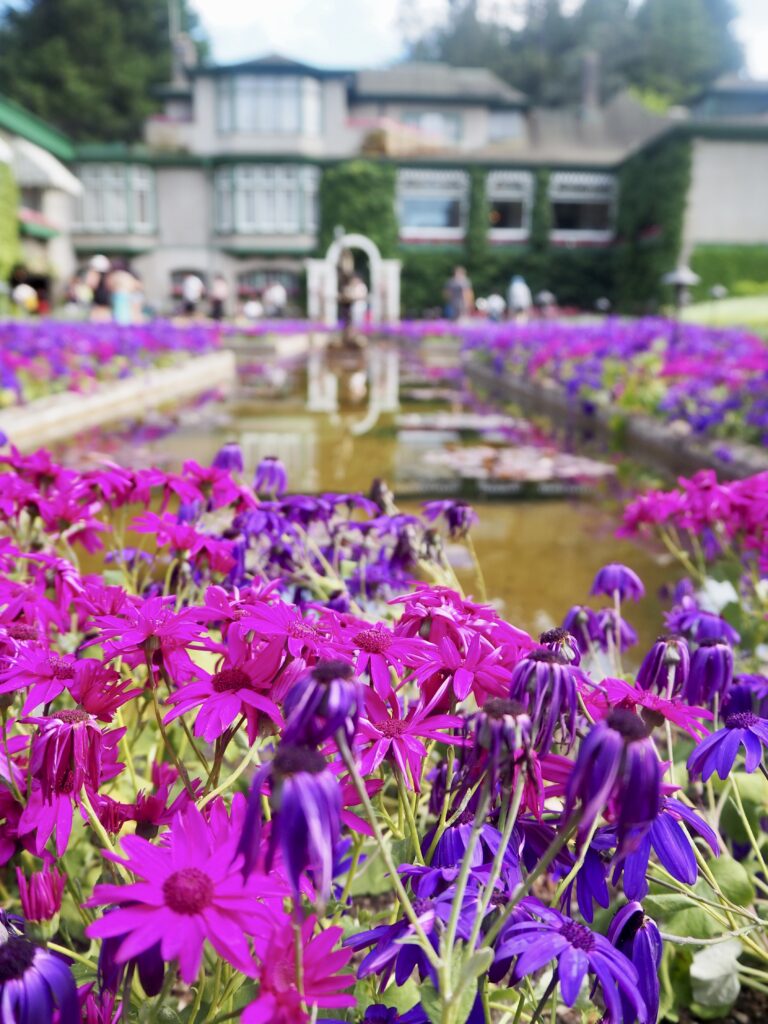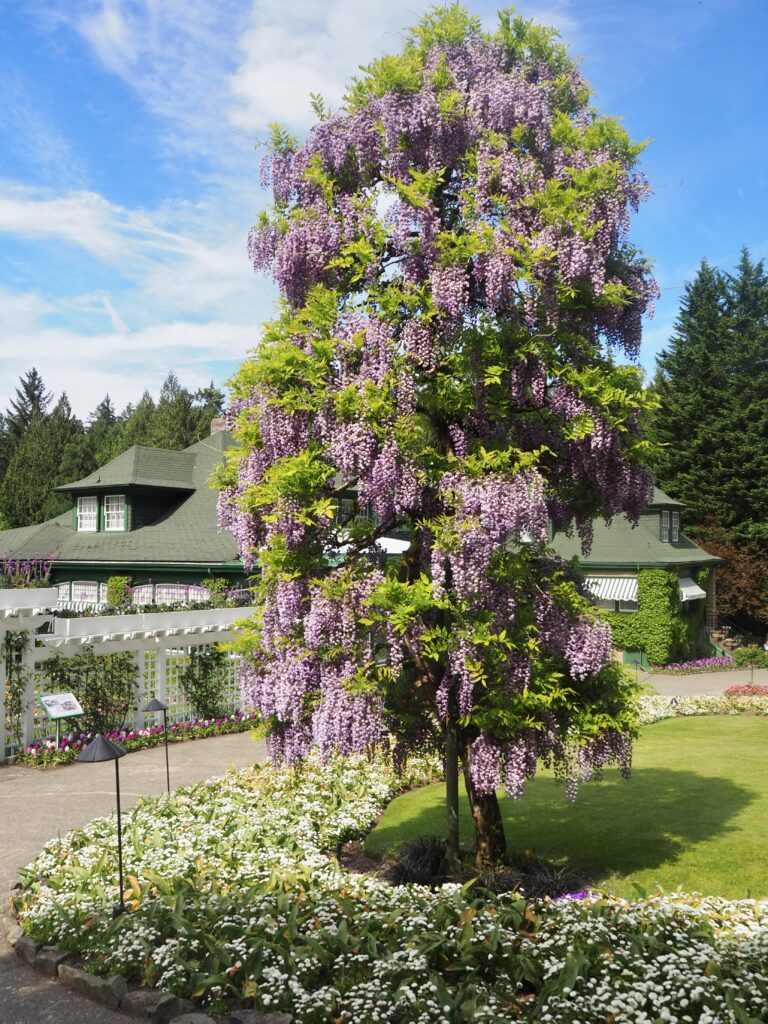 Whale Watching
I went whale-watching once already in Monterey, but Vancouver Island is one of the best places to spot whales year-round. Making a whale-watching boat trip one of the most popular day trips there. There are a few companies that do daily trips, but I used Prince of Whales which have a Vancouver branch as well.
It was a 4-hour trip, with the first and last half hour mainly being the journey in and out of Victoria to where the whales were. It was a pretty nice journey though, watching the island coastline stream past in the sun, and the Olympic Mountains just visible to the south. The crew will sail to wherever there was been a sighting that day, so the direction you travel in could be different every time. For me, we went over to the San Juan Islands to the east, technically in US waters (so my phone kept saying). The Salish Sea has resident orcas in the area, but whale-watching boats are not allowed to get near them, so they look for the transient pods.
It didn't take too long for us to find them, a group of six including one calf, periodically surfacing to breathe. They do a longer, sounding dive every so often, and can travel quite a distance underwater with no way for us to know where they'll resurface. Sometimes we had to race to catch up with them again, while other times they emerged pretty close to our boat! There were several naturalists on board in the crew, who told us lots about them along the way. We also detoured past another island, where we saw sea lions, bald eagles and seals. Then we saw our orcas again one more time before returning back to Victoria.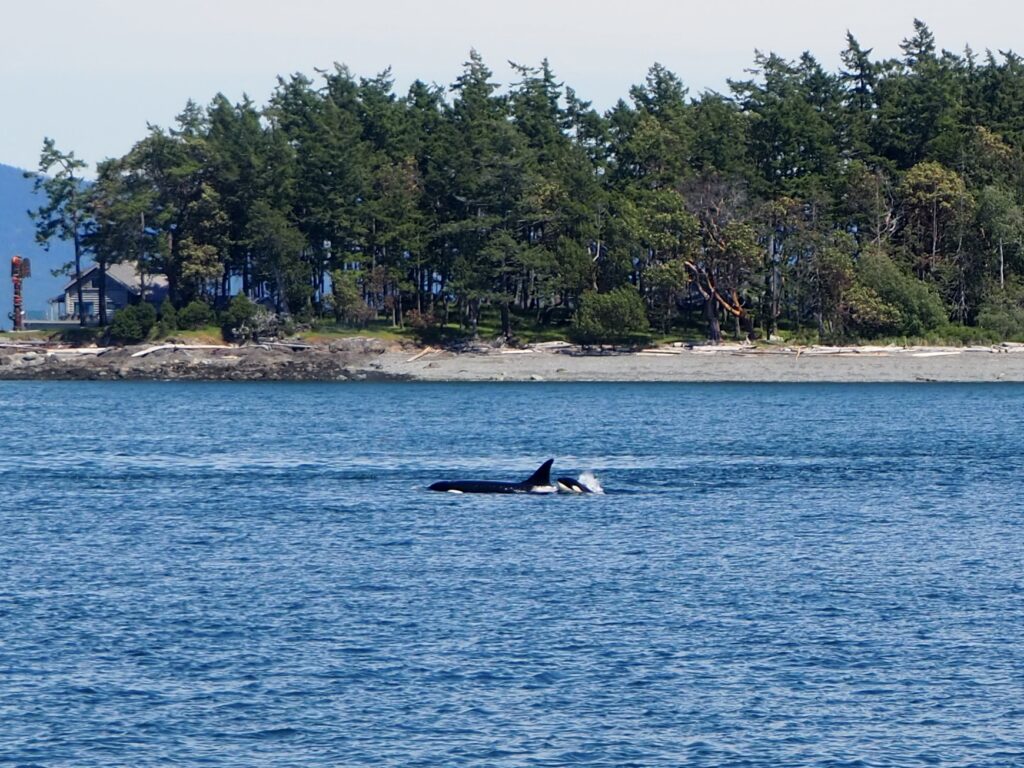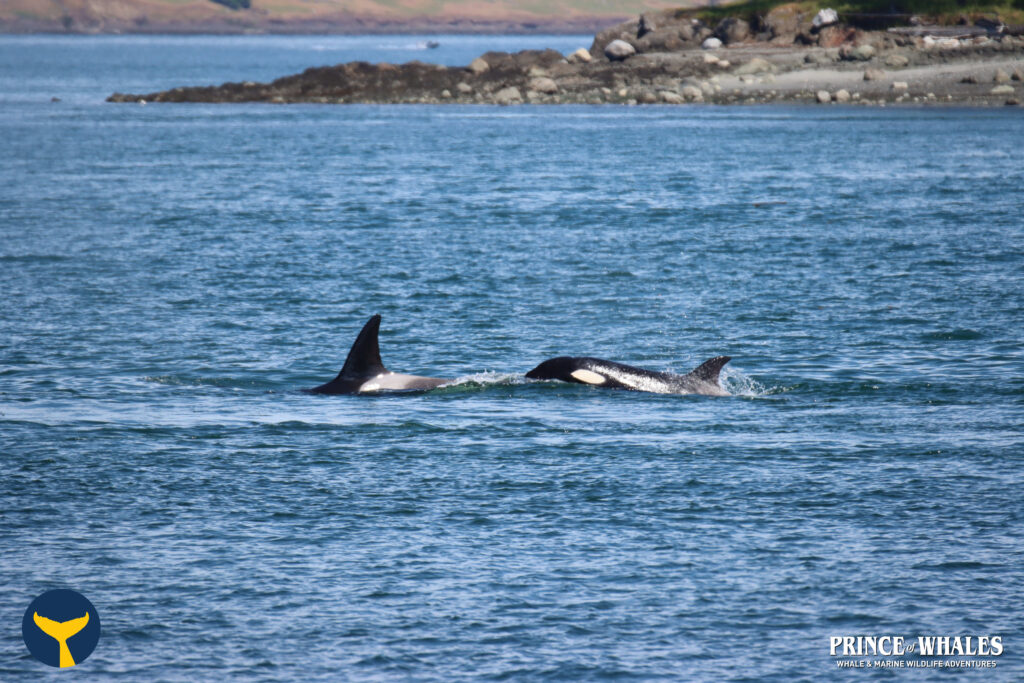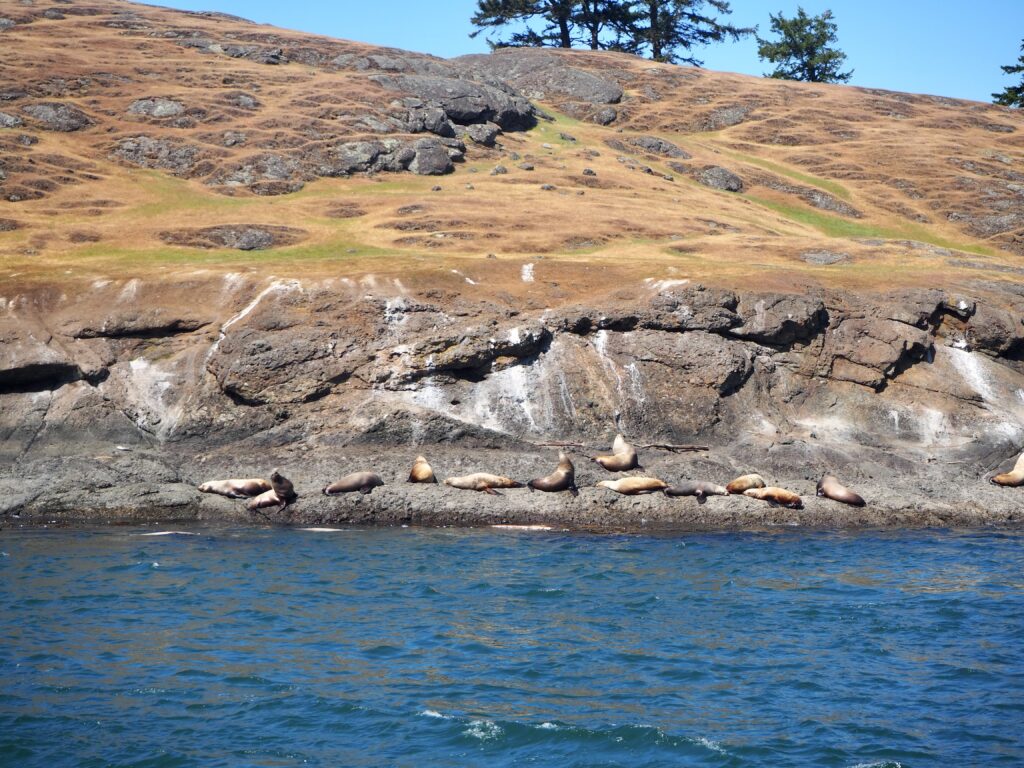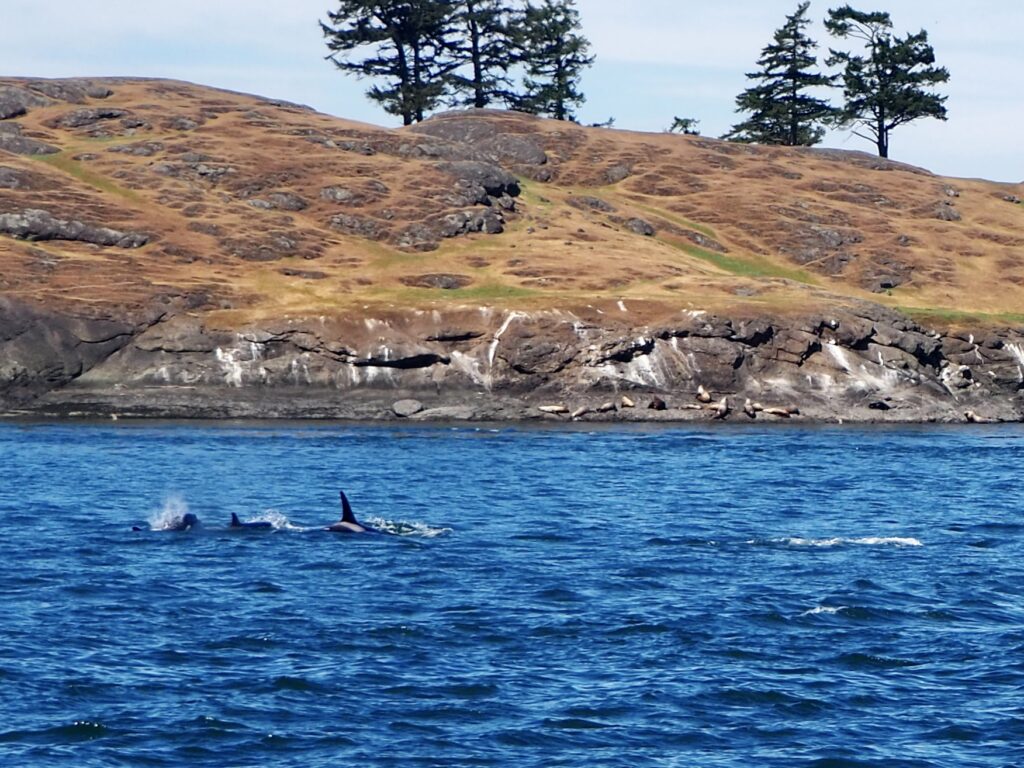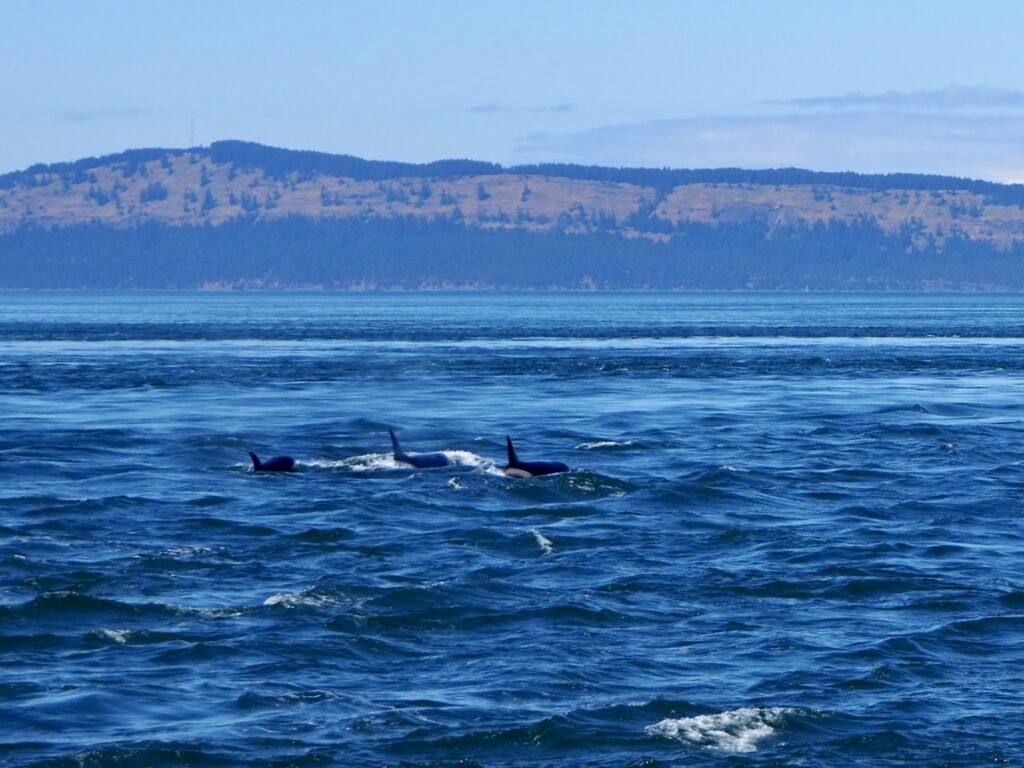 Sooke Potholes Provincial Park
Like most of British Columbia, Vancouver Island has a lot of hiking options. From Victoria, one of the more popular day trips I'd come across was to the Sooke Potholes. I actually met up with a coworker who lives in Victoria, and she offered to drive us for the day, with her dog tagging along. The potholes are a series of pools along the river, naturally created by the rock formations. There's a walking path up the river, as well as plenty of spots where you can access beaches on the riverbank. The river snakes up a valley between the forest-clad mountains, so we were surrounded by beautiful, quintessential BC scenery.
We had a super sunny day, which made for lovely walking weather. Our only regret was not bringing swimwear for a dip, or even a picnic to have on the banks! Although when we dipped our hands in, the water was freezing. We did stop to just sit and admire in the scenery in the sun before retracing our steps back downstream. There is the option to stop in Sooke itself a bit further up the road. But we actually headed to a small brewpub she had been to before, a little outside the town. Sooke Oceanside Brewery overlooks an inlet from the sea, and has a dog-friendly patio for a lovely hour or so in the sun.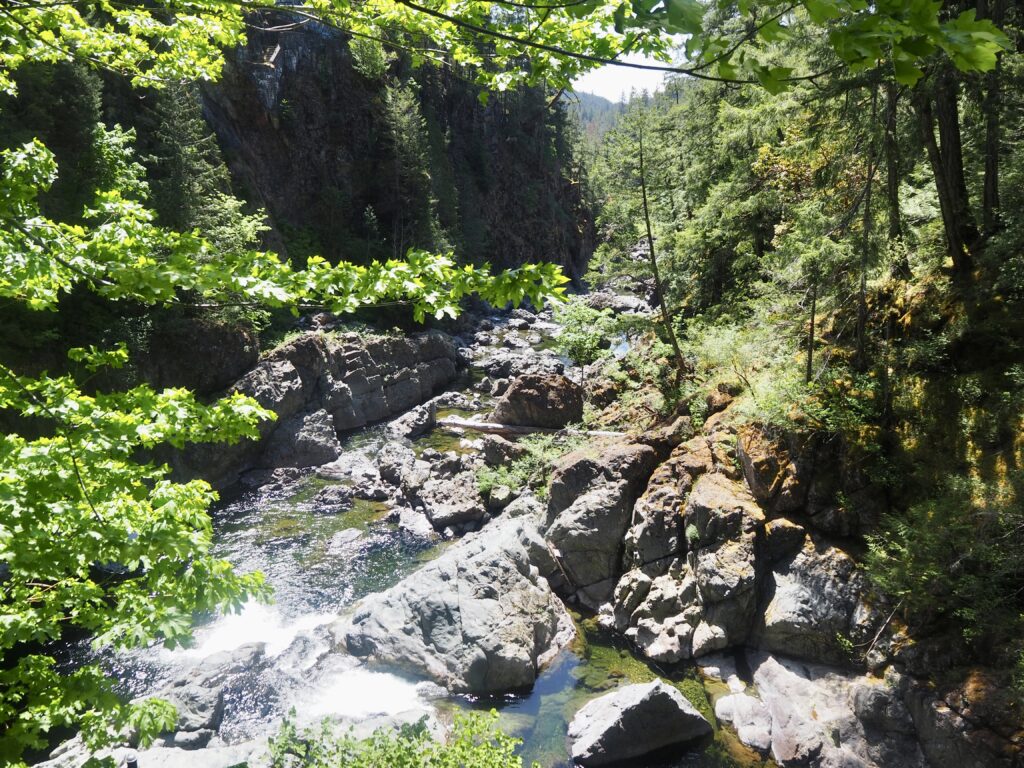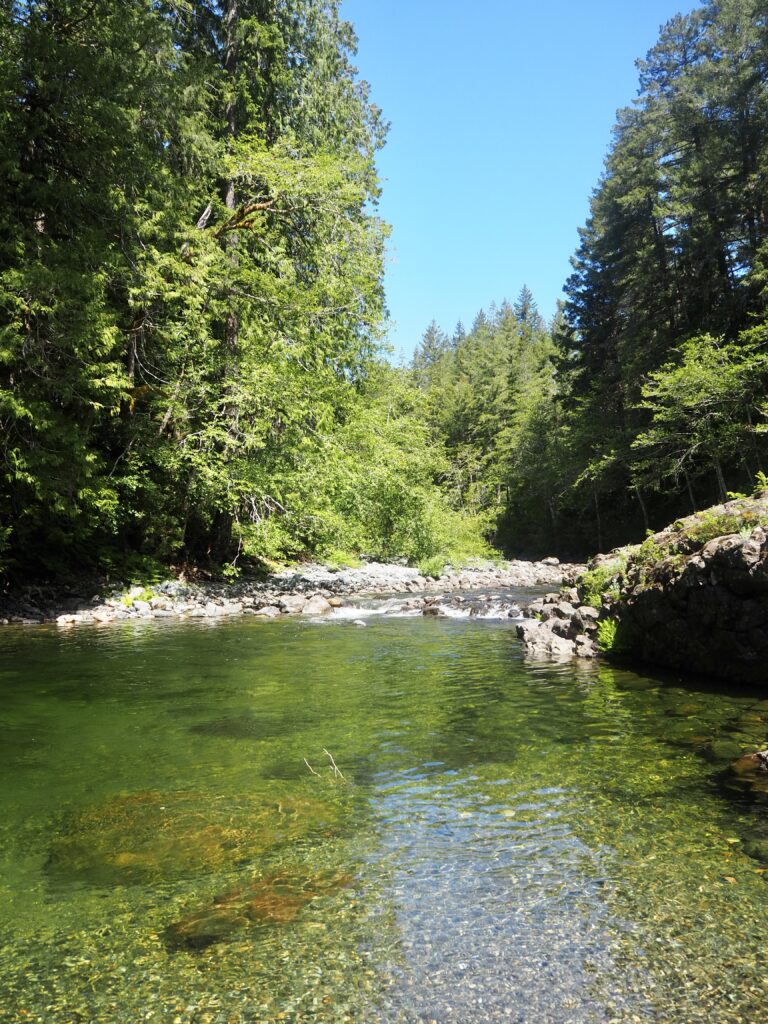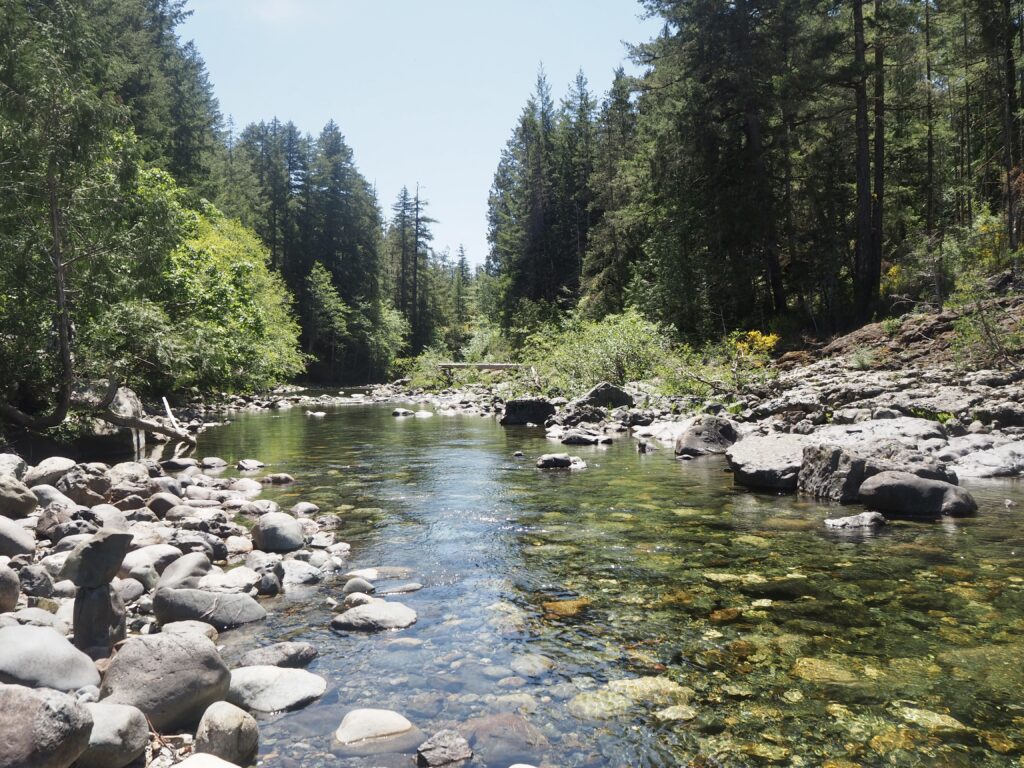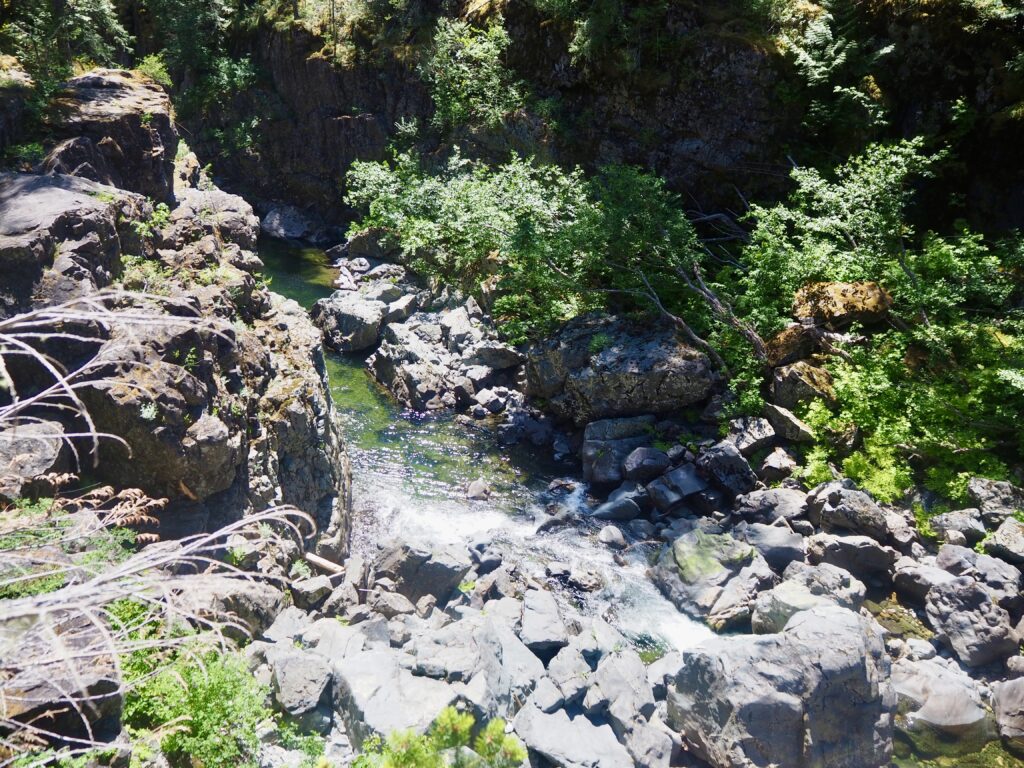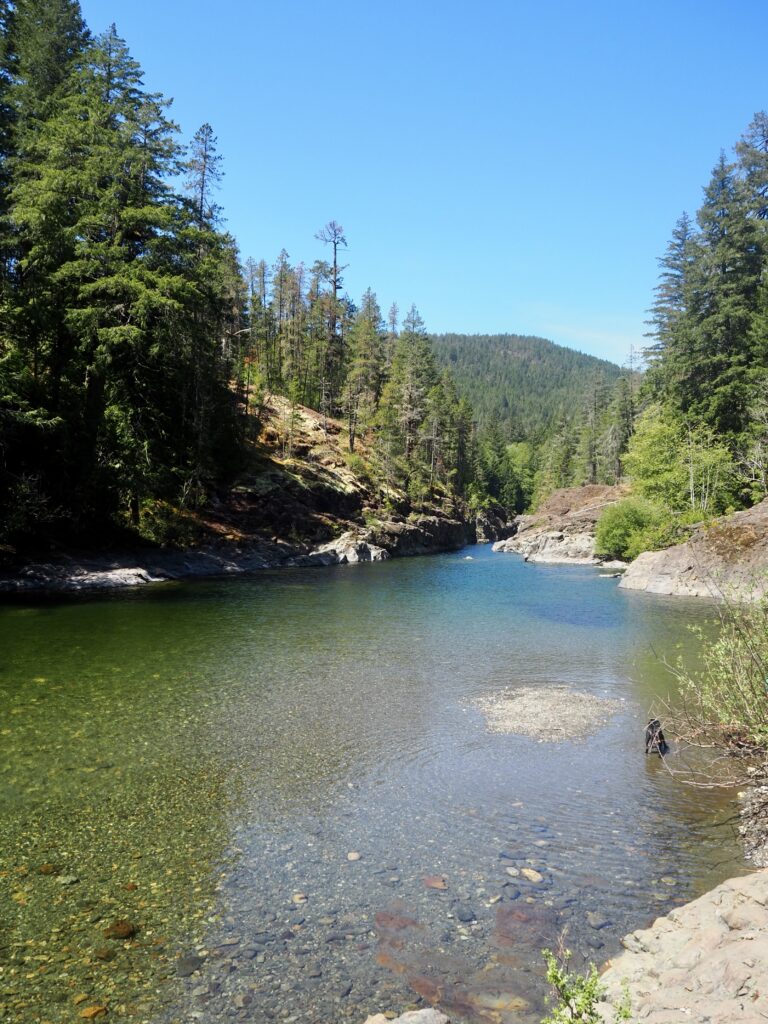 Cowichan Valley & River
The last of my day trips on Vancouver Island was a solo hiking trip outside of Victoria, taking an Evo car for the day. I ventured north to the Cowichan Valley area, heading for the Cowichan River Regional Park. I'd picked a hike along the riverbanks, the Skutz Falls trail. It took about an hour to drive there, with free parking at the riverside. The hike was actually a bit longer and tougher than I'd expected! It took about 2 hours in total, with some ascent and descent, though nothing too difficult. But much of the path is loose gravel which isn't always the easiest thing to walk on. I slipped a couple of times, and scratched, bruised legs are a great souvenir!
The scenery did make up for it, though, with brilliantly blue waters rushing downstream beneath me. I was surrounded by the temperate coastal rainforests of the island, but there were enough gaps in the trees that I could see the river regularly. I crossed it on a high bridge at the far end of the trail, too – a little too high for my liking! And I was able to get down to some wide, flat rocks by the river, to enjoy being by the water for a while.
There are numerous towns in the Cowichan Valley to add to a day trip to the area. Duncan, Cowichan Bay, Cobble Hill and Chemainus are all nice options. I ended up at Cowichan Lake, just upriver from my hike. It's a popular spot to go tubing down the river, but most of the rental shops were closed due to high waters that day. I had lunch and sat by the river, wandered around some more, then headed back to Victoria to finish up my day trip.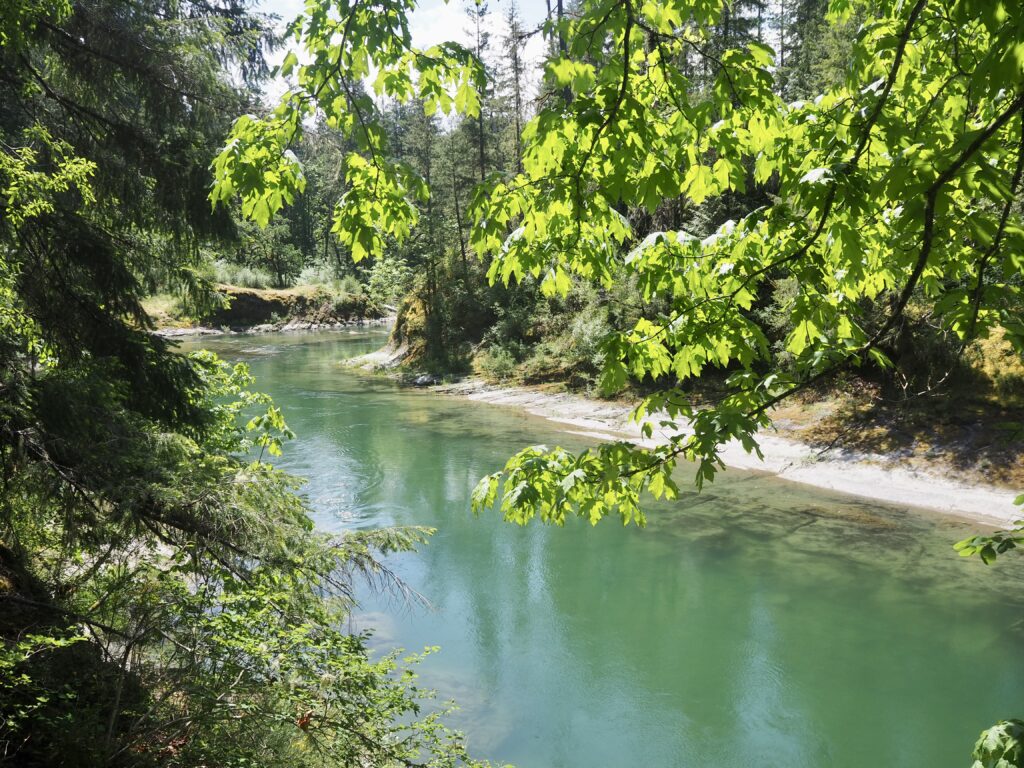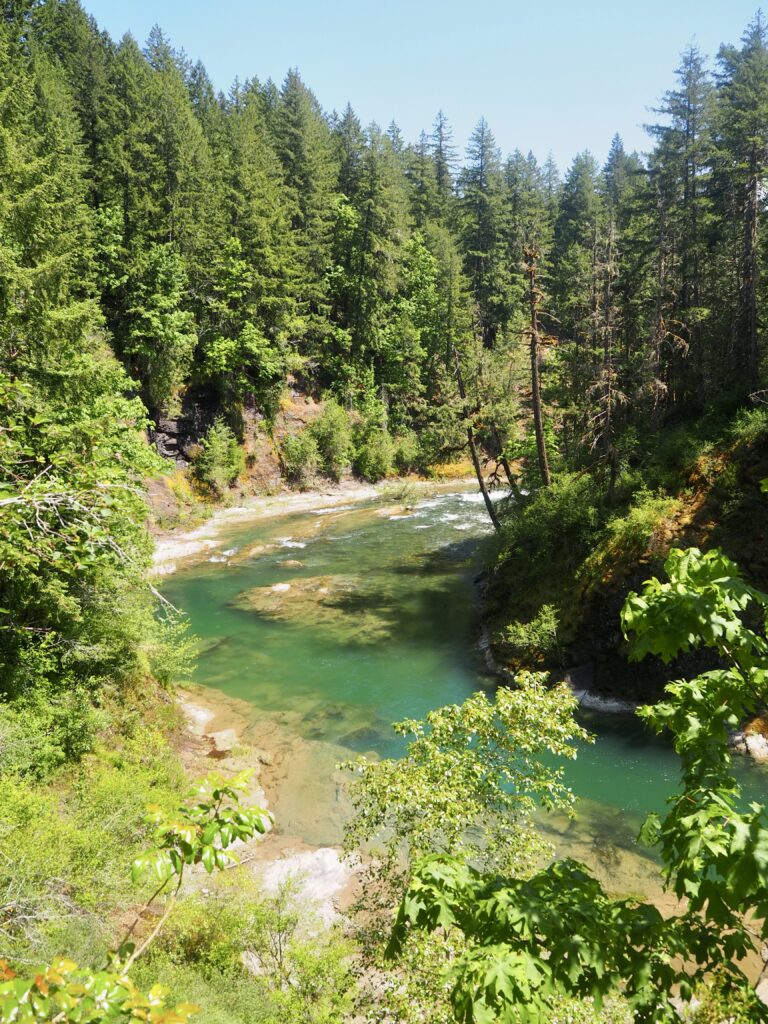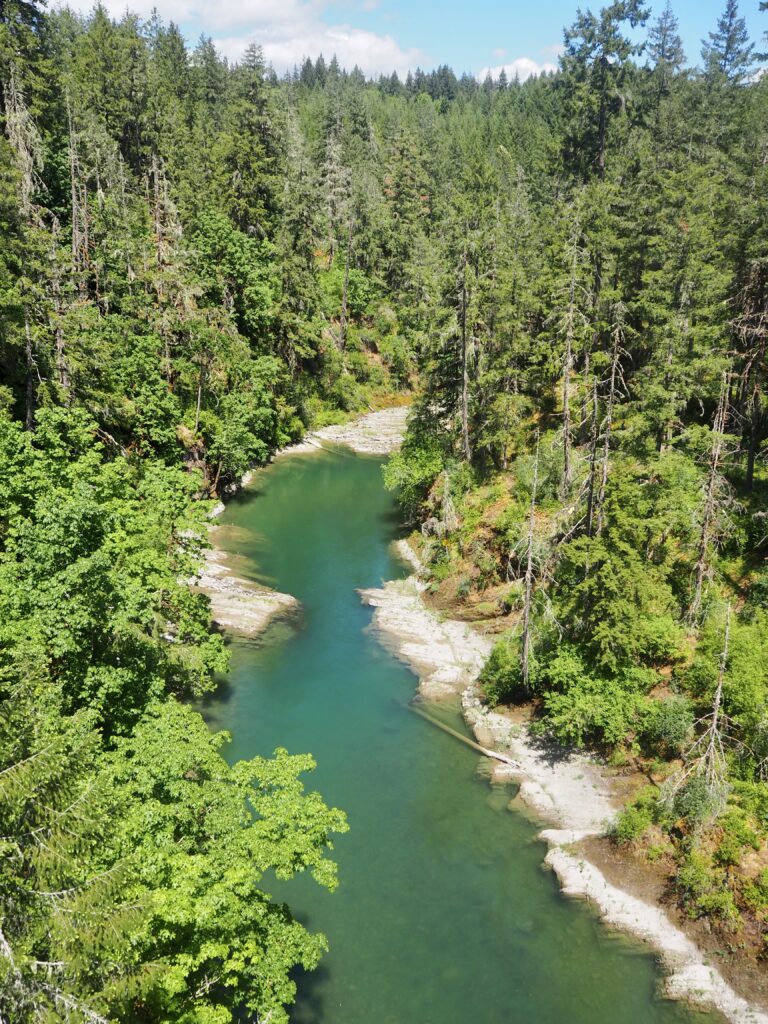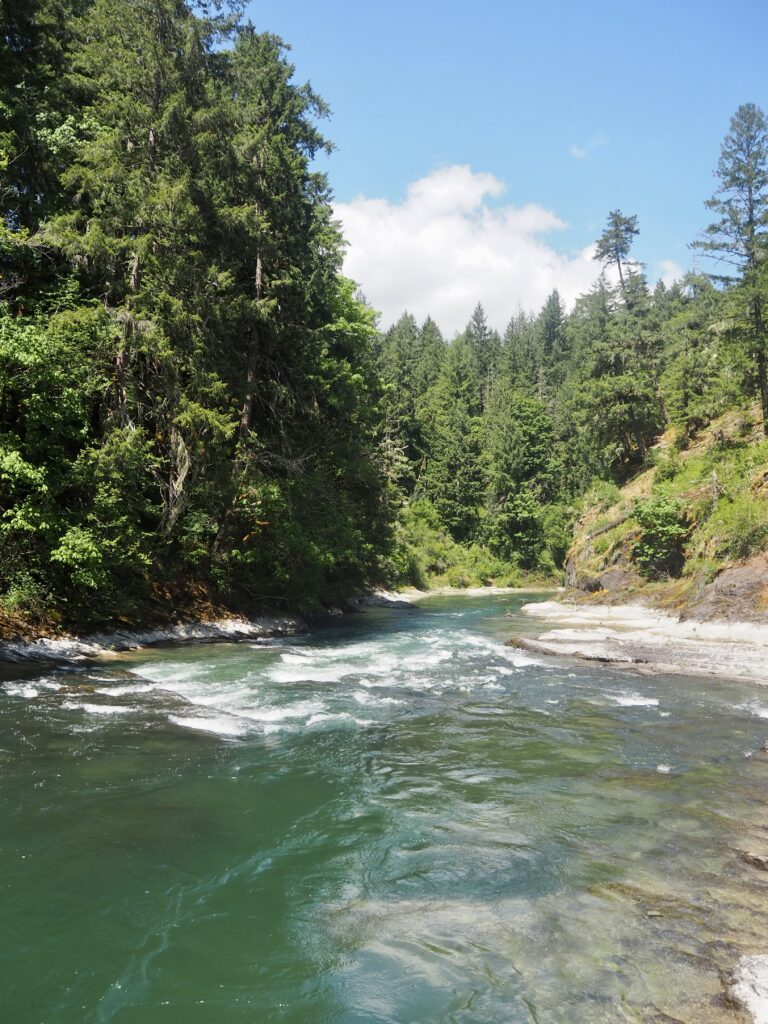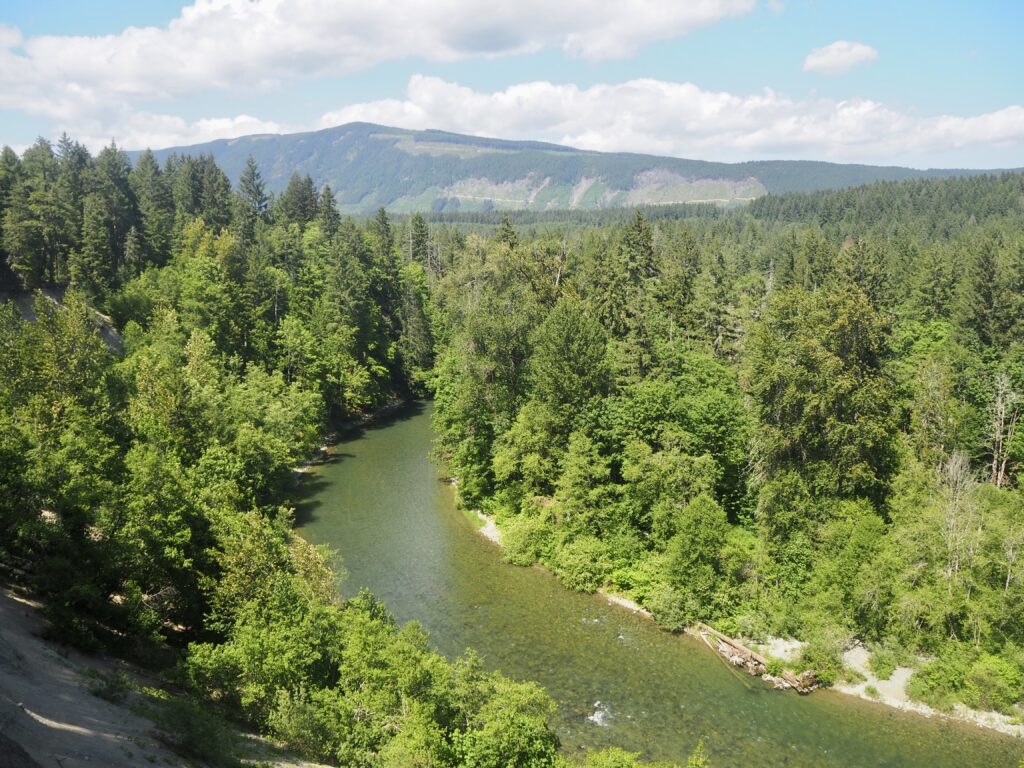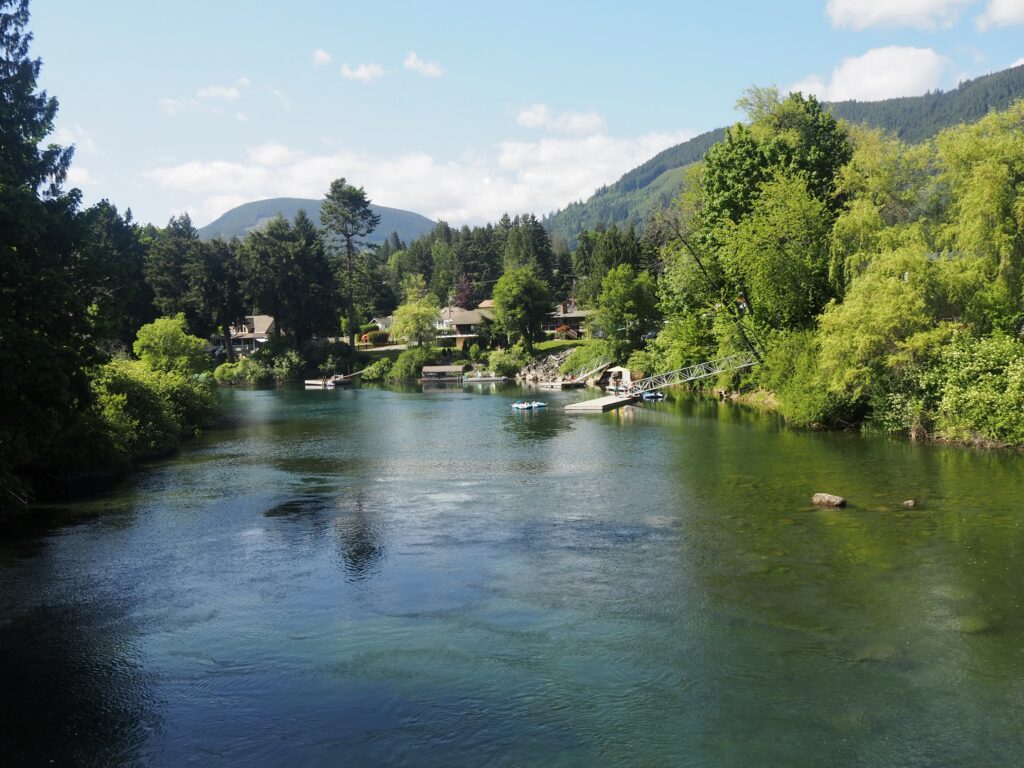 A Month on Vancouver Island
My month on Vancouver Island was a lovely few weeks, definitely helped by having beautiful weather all month! Splitting my time between Nanaimo and Victoria allowed me to see more of the island and had more day trip options easily accessible. My weekend in Tofino and Ucluelet was a big highlight too, and is in the running for one of my favourite spots in Canada so far! The island just has a really relaxed, laidback vibe in general, which suits me well. Living and working there for a month allowed me time to see a lot, but also relax and not do much on some days as well. It's a lovely little corner of Canada that I'm very glad I made time to see!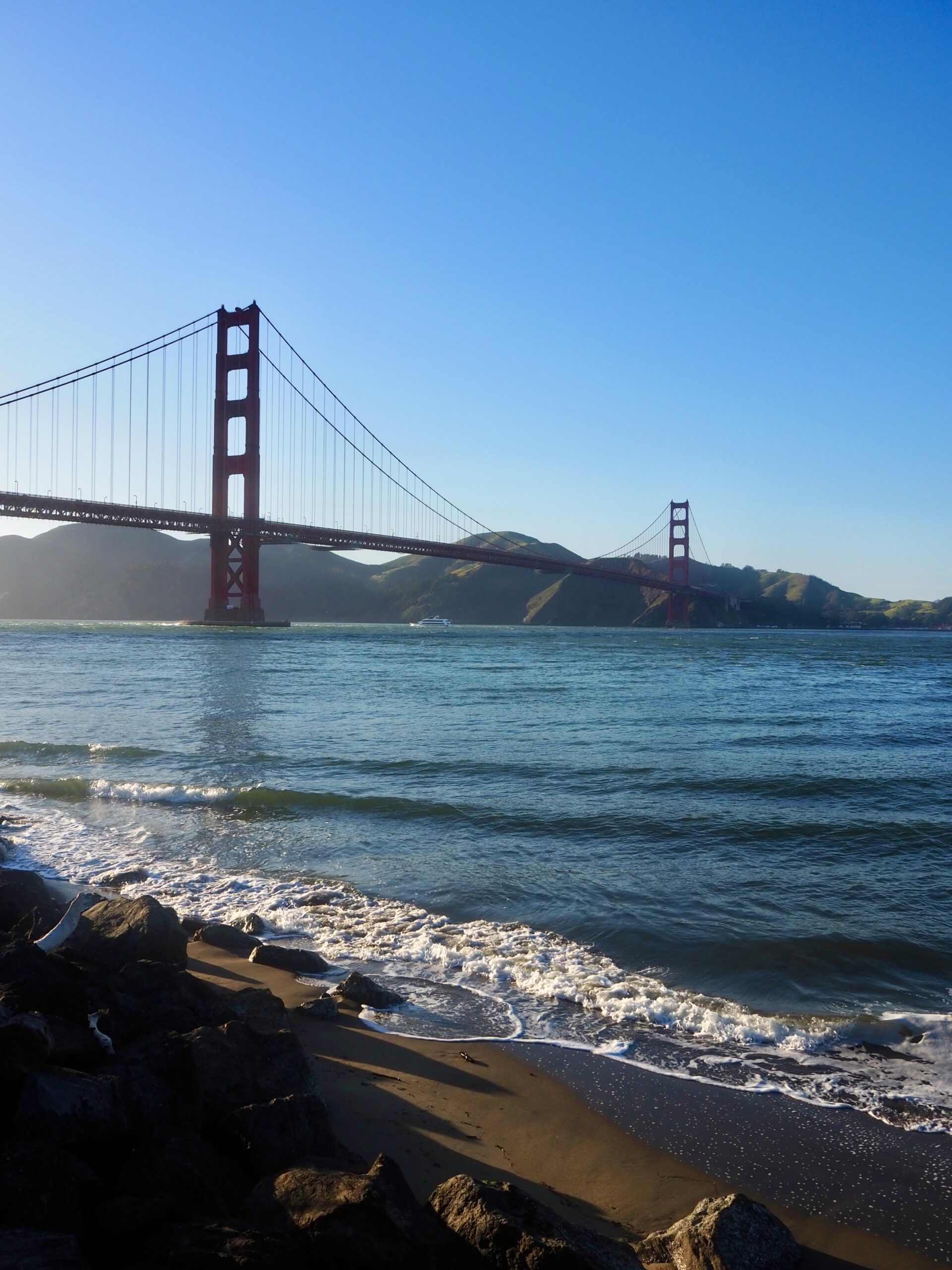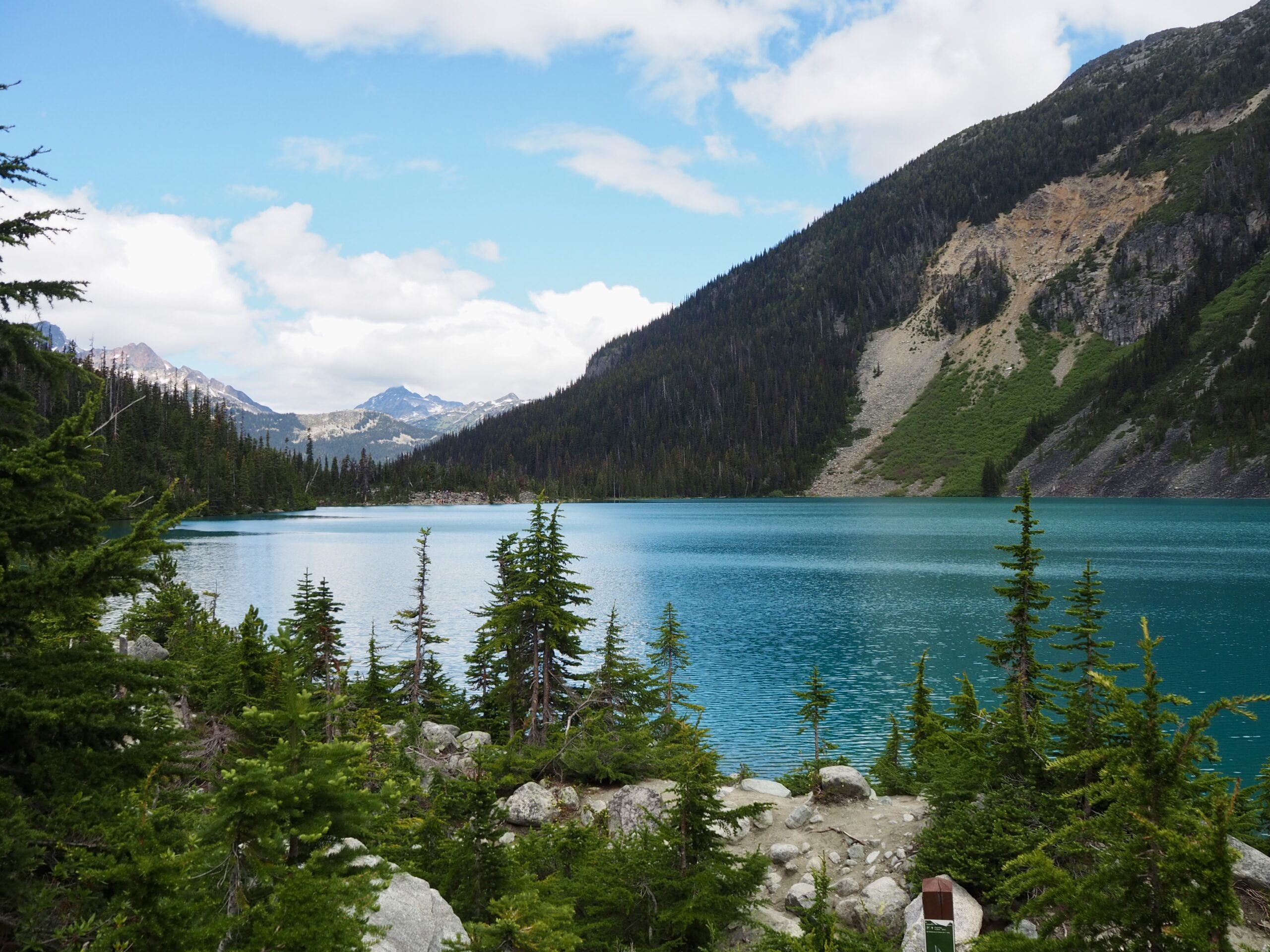 You May Also Like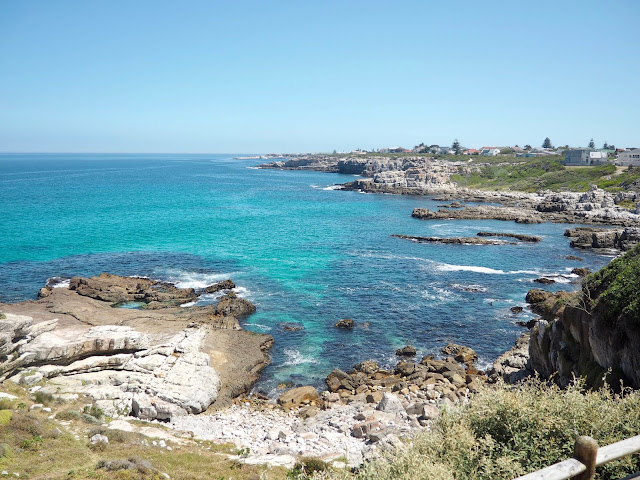 2 March 2019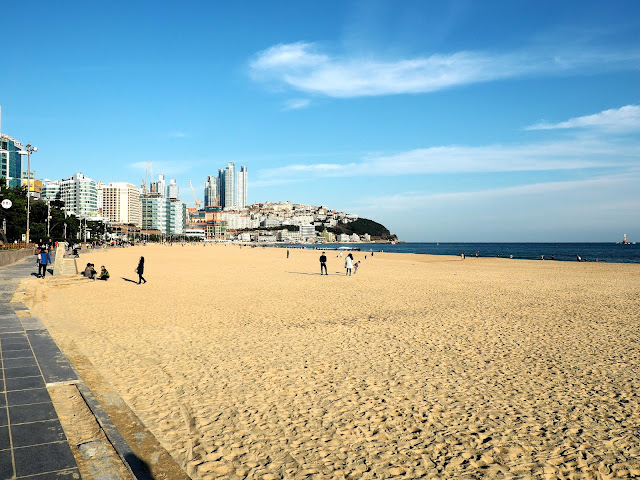 5 November 2016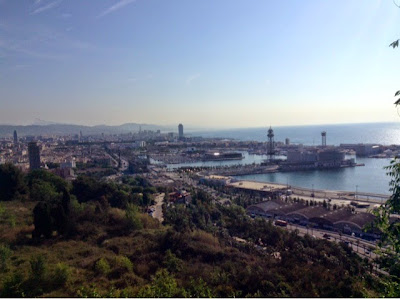 5 June 2014