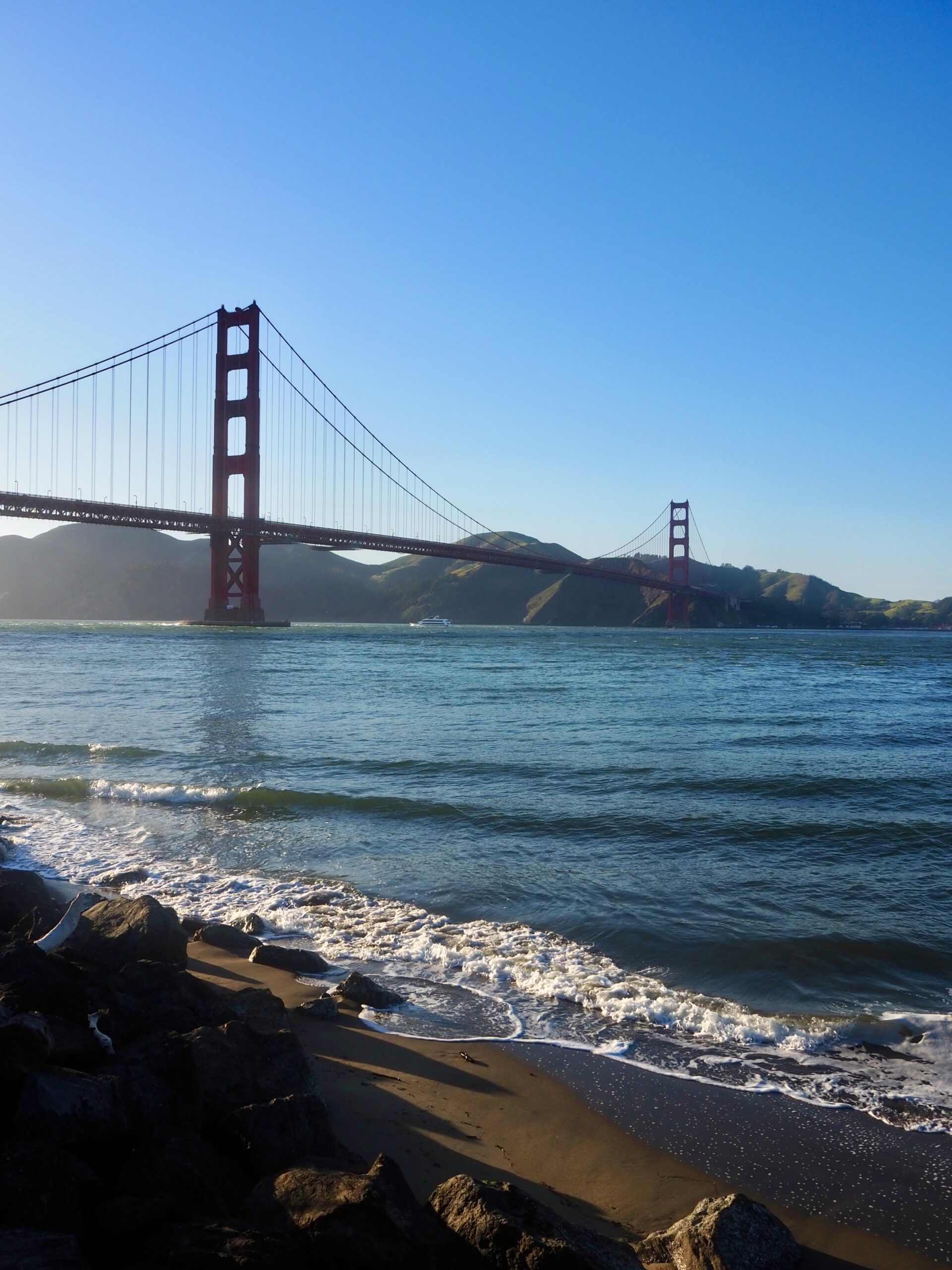 A Week in San Francisco, California
2 June 2023
The final stop on my travels through California was a week-long stay in San Francisco. I also tacked on a weekend in Napa Valley too, which I nearly made into a separate post. But since it was only one day of activity, I added it in here. The quiet of Monterey had given me time to recharge, ready for a week of exploring a big city again. Fortunately, unlike LA, San Francisco turned out to be somewhat more walkable. I say somewhat, because those hills are no joke. And that's coming from someone who lived in Edinburgh! Anyways, I was staying in a hostel again (we're on a budget!) and their common room was closed for renovations. Not ideal for working remote, as I didn't want to be waking up roommates at 8am. So, I turned to cafe working for much of the week, sightseeing in the evenings and weekend.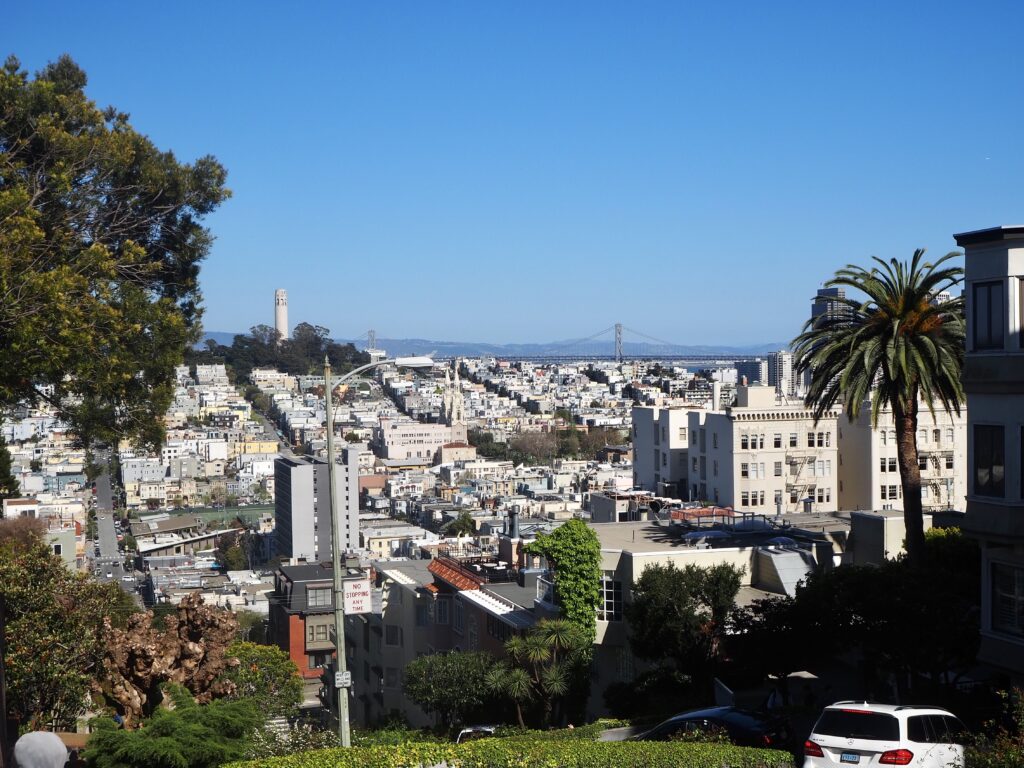 Day One
Getting There
My week in San Francisco started with the journey up from Monterey. They're not that far apart, but public transport options weren't ideal (typically for the USA). Most of them required switching from bus to train to bus again. In the end, I managed to source a shuttle bus service to San Francisco airport. It was only marginally more expensive but far quicker. It took a little under two hours, and then a half hour train ride from there into the city. I was staying in the Nob Hill area, which, as the name suggest, is up one of the city's many hills. Given that I was carting all my luggage around, I found a bus there but then did walk most of the rest of the week.
Marina District & Palace of Fine Arts
After checking in, I still had several hours of daylight, so I went out exploring again. I'd heard San Francisco can get very foggy, but it was clear and sunny that day, so I was making the most of it! From the hostel, I wandered north, quickly coming across the city's iconic sloping buildings on the hillsides and cable cars whizzing past them. Fortunately my route was mainly taking me downhill, as I made my way towards the coast. Honestly, I'm like a homing beacon drawn to water sometimes! I found it by Aquatic Park, from which I could see across to Alcatraz (yes, it's one of the city's most famous sights but no, I didn't visit it). From there, I pretty much followed the coast west, passing through the park by Fort Mason and on to Marina Green.
I detoured inland to check out the Marina district, full of large, fancy-looking houses. Definitely expensive, but, everything in San Francisco is pretty expensive. I went down to Chestnut Street, which had more businesses than residences, and was lined with people eating and drinking on outdoor terraces (though it gets very cold after sunset!). Continuing on, I stumbled upon the Palace of Fine Arts, which was a pleasant surprise! I had not been expecting to see this massive, gorgeous Classical style palace overlooking a pond and gardens. It was built for the Panama-Pacific International Exhibition in 1915. I did feel like I was getting in the way of dozens of photo shoots though, mainly younger people in formalwear – prom, maybe?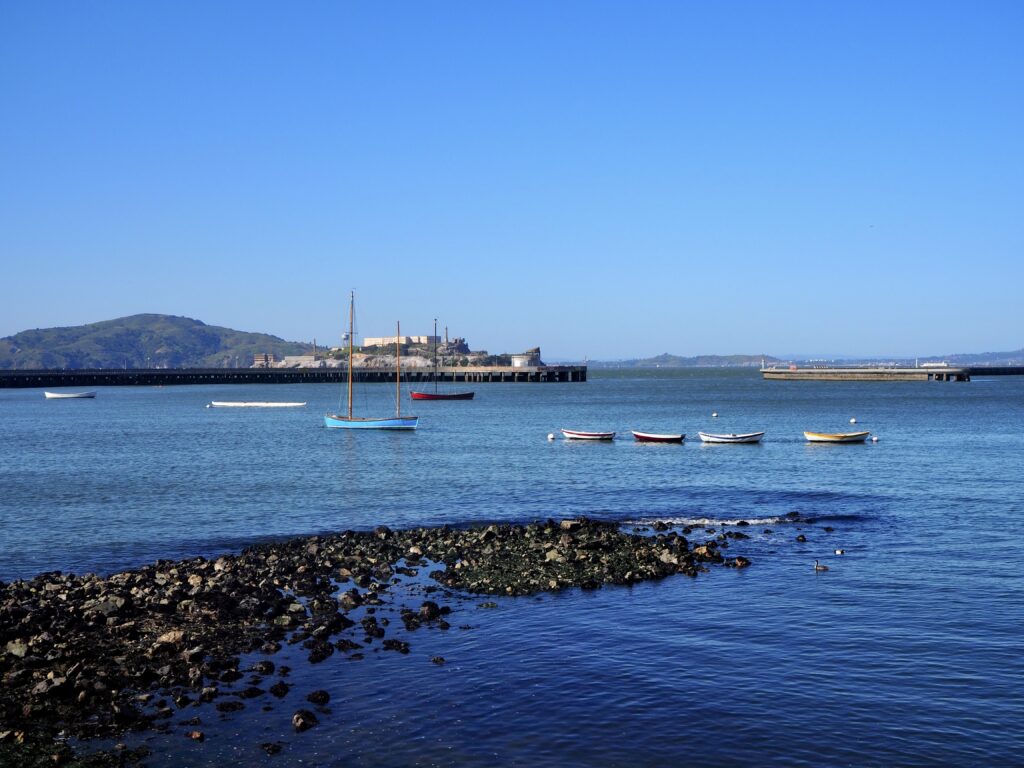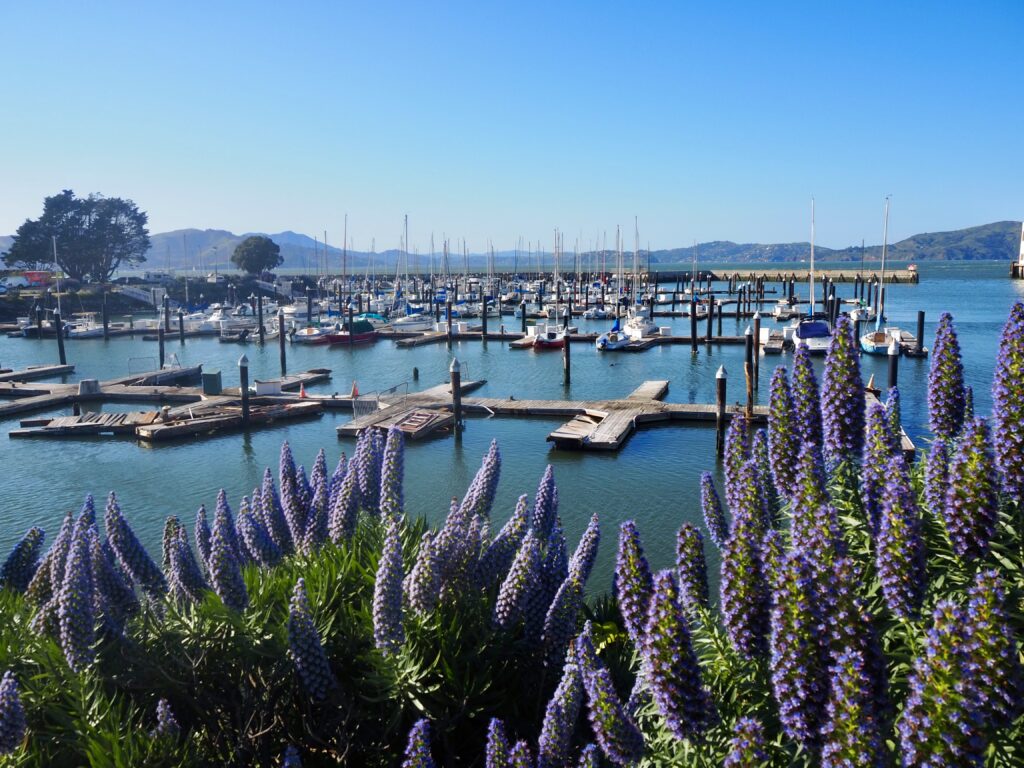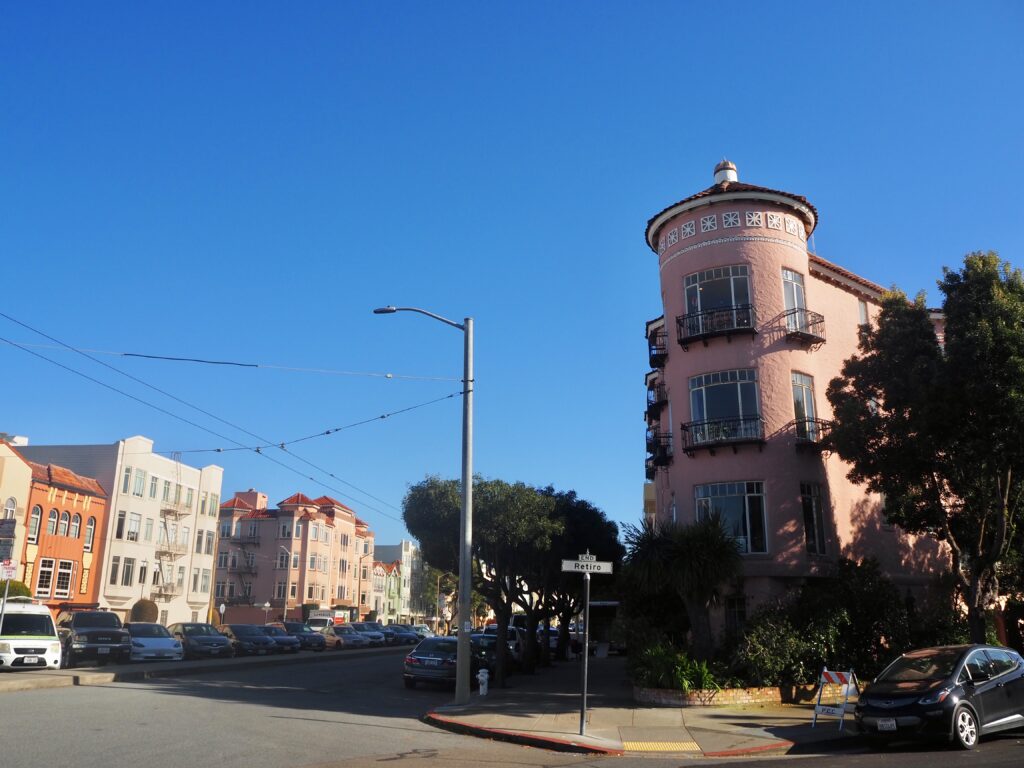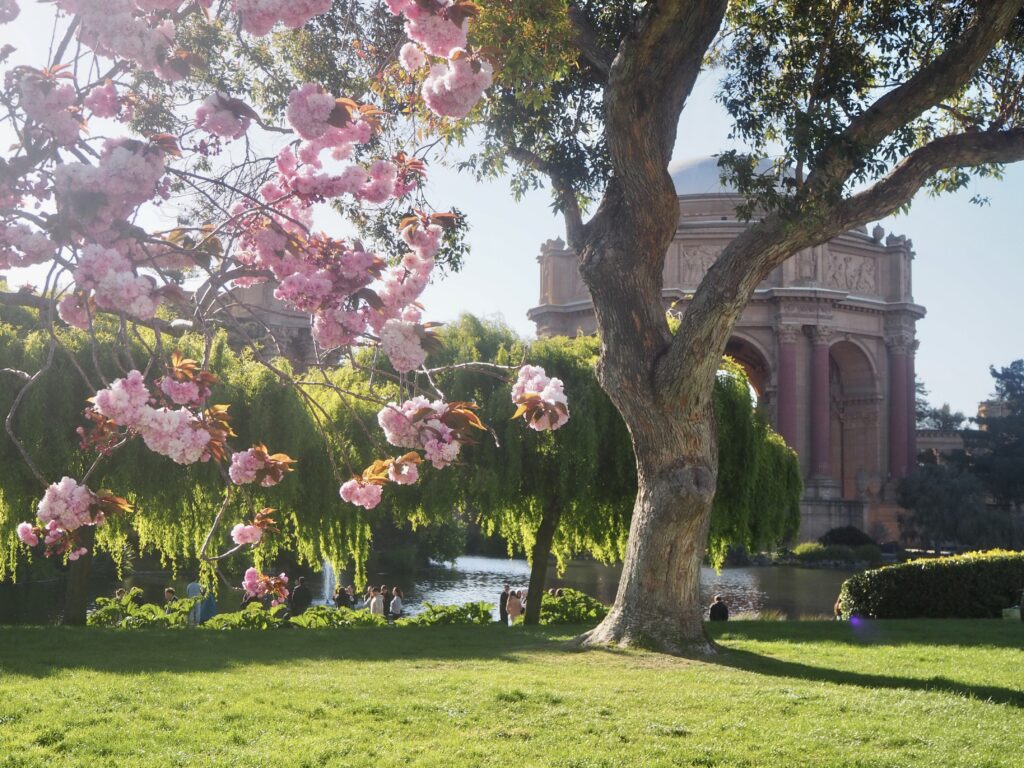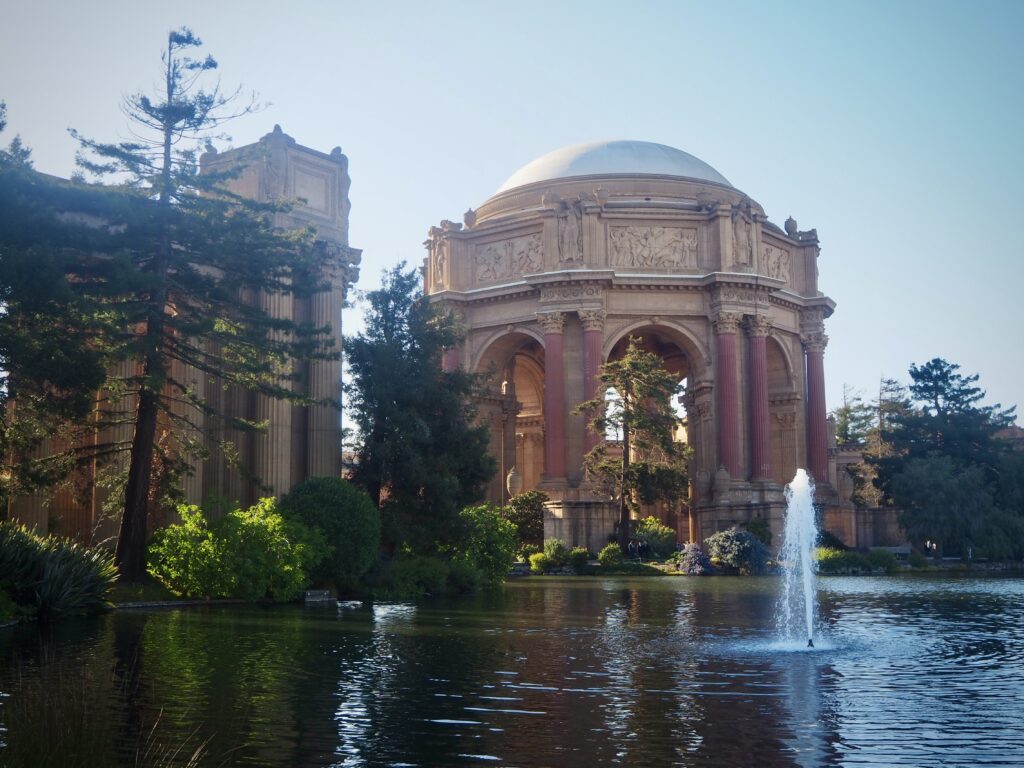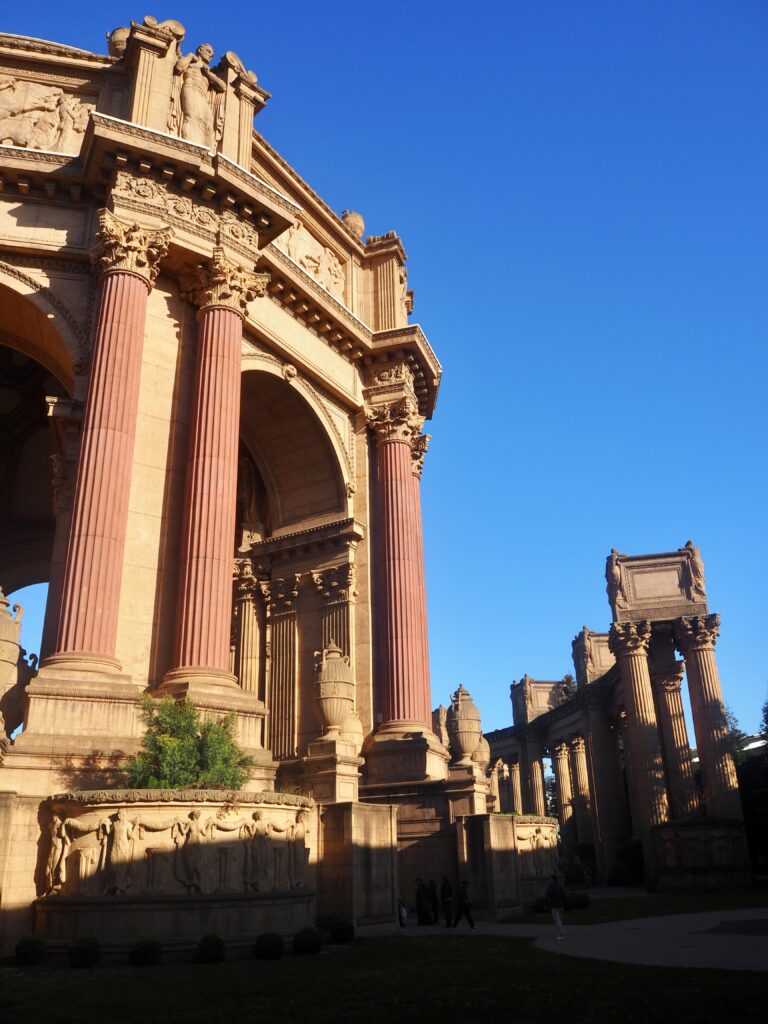 Golden Gate Bridge
Heading back towards the water, I made my way to Crissy Fields to continue my wander west. Away from the busier roads, they've restored the natural, coastal ecosystem of sandy banks and low-lying plants on the land here. And then soon, enough, my destination came into view; the Golden Gate Bridge. So named for spanning the entrance to the San Francisco Bay, the only natural deepwater harbour along the California coast, making it the entry to the state during the Gold Rush. As San Francisco's most iconic sight, obviously I had to see it, and since the weather was so clear on day one, there was no time to waste.
At first, I had just planned to walk far enough to get a good view of it. I made it to Torpedo Wharf, walking out on the wooden boards. The sun was getting low in the sky, making for some dramatic lighting, although lessening the iconic red colour. But the further I went, it seemed a shame not to go all the way when I was this close! I carried on all the way to the parking area by Fort Point, almost under the bridge itself, where I ran out of path.
All that walking was pretty tiring, so I checked for the closest bus back to my hostel, and realised it was up the hill beside me, on the road crossing the bridge. Winding my way up through the Presidio (the park next to the bridge), I got even more views of the bridge and the bay, surrounded by flowers in bloom. Then it was just a case of waiting right beside the toll entrance to the bridge for the bus to take me back to Nob Hill (and sparing me the walk up the hill!).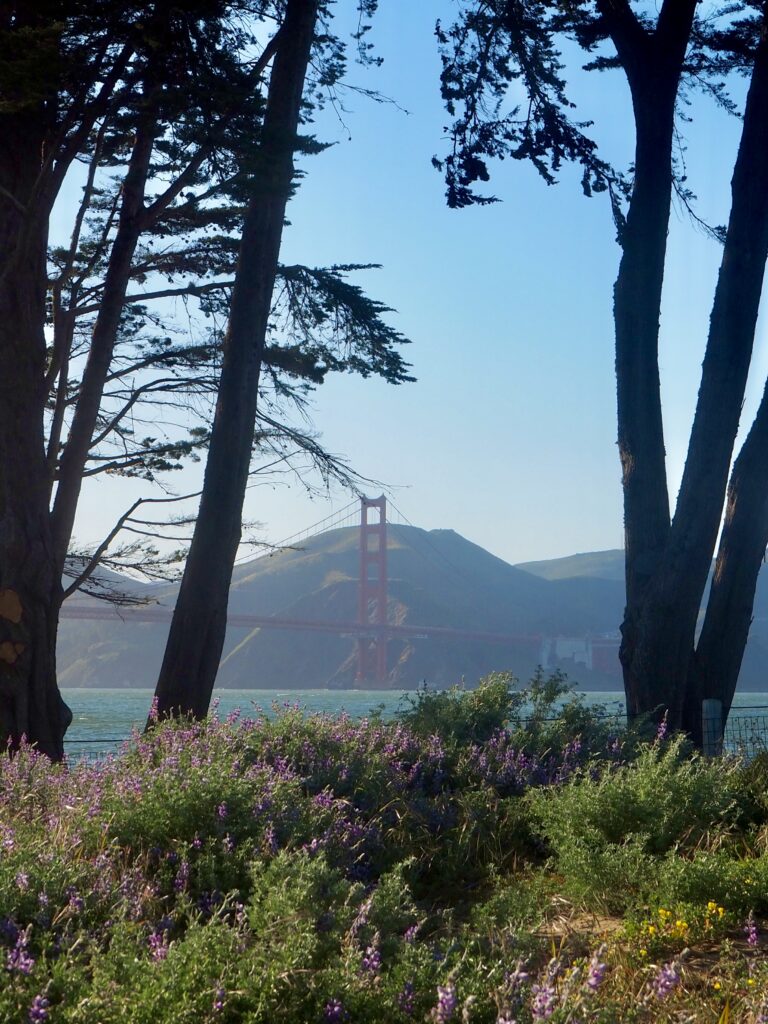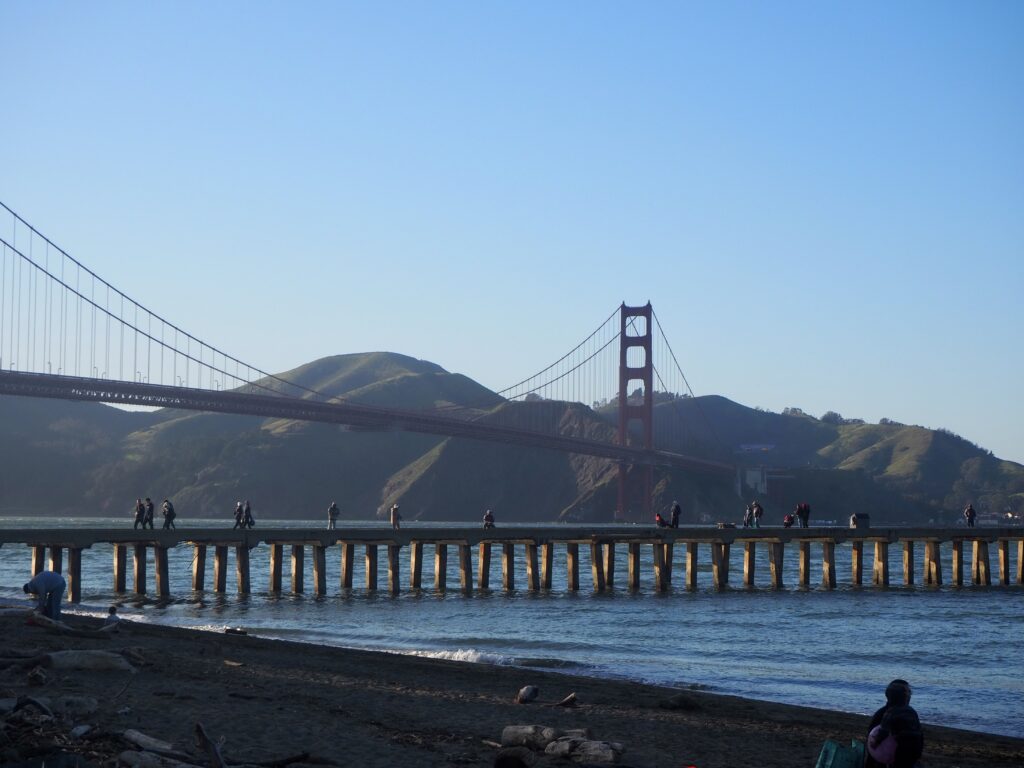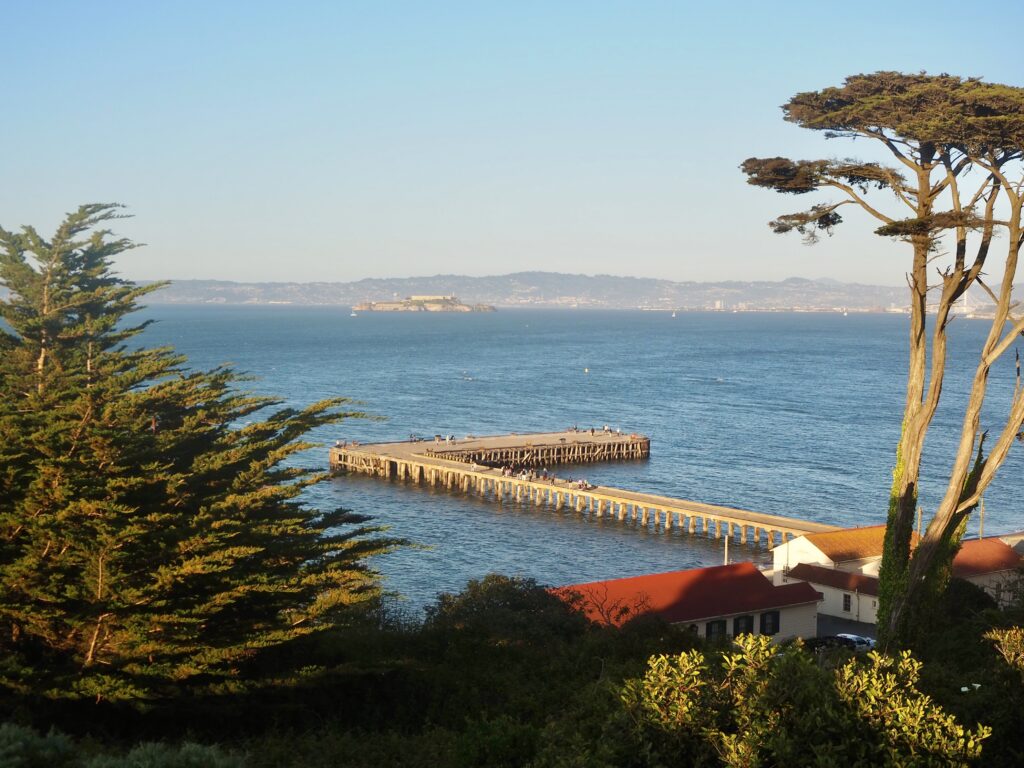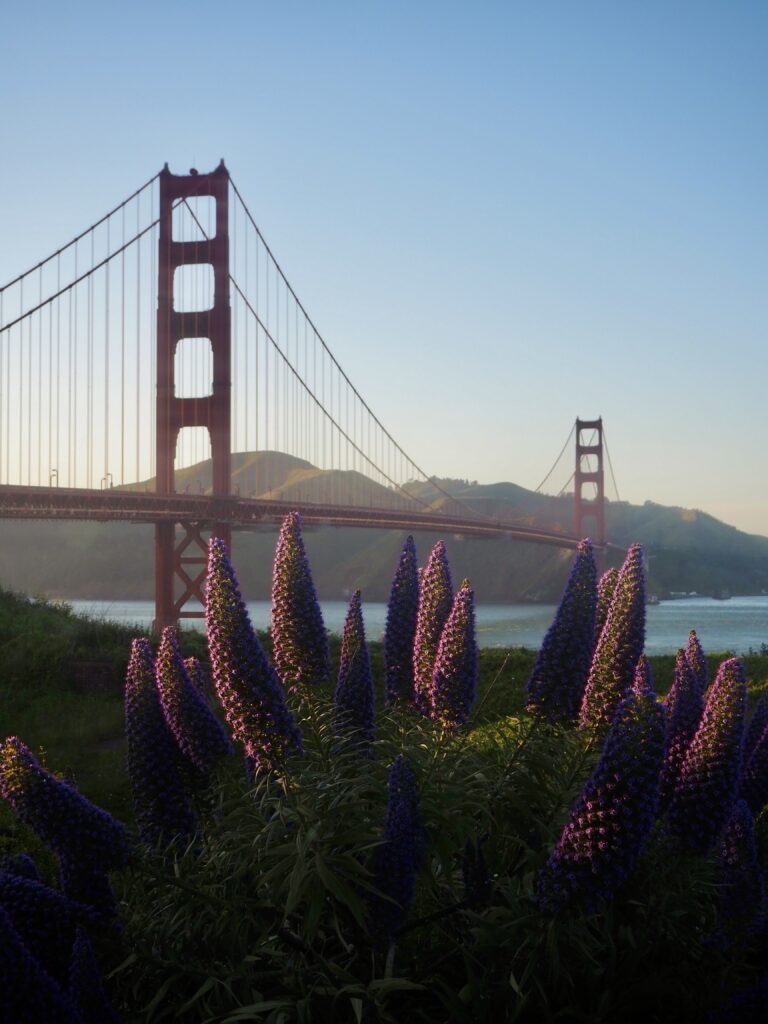 Day Two
Free Walking Tour
Today was my only full, free day of my week in San Francisco without having to work. And true to my tour guide roots, I had found a free walking tour to join for the morning, with Free SF Tours. I like to do these tours near the start of my stay in any city, to help get my bearings and recommendations for the rest of my visit. I knew San Francisco was a Gold Rush town, but not much beyond that, so I learned a lot on the tour. We covered more about the Gold Rush, how Chinatown came to be, and why the Financial District is built on top of dozens of buried ships – yes, really!
The tour met in Union Square, then went up through Chinatown, where we stopped at a fortune cookie shop where they make them by hand. The latter half took us through the Financial District, but more specifically, through the secret gardens there, hidden above the roads. There's a law that means businesses have to make a portion of their space public. But they make them these raised or secret parks so a lot of people don't know about them, keeping them not too busy. We finished up overlooking the Ferry Building and the 'other' bridge (the Bay Bridge, which is actually older and carries more traffic!). The tour took about 2.5 hours in total and was definitely a great introduction to the city!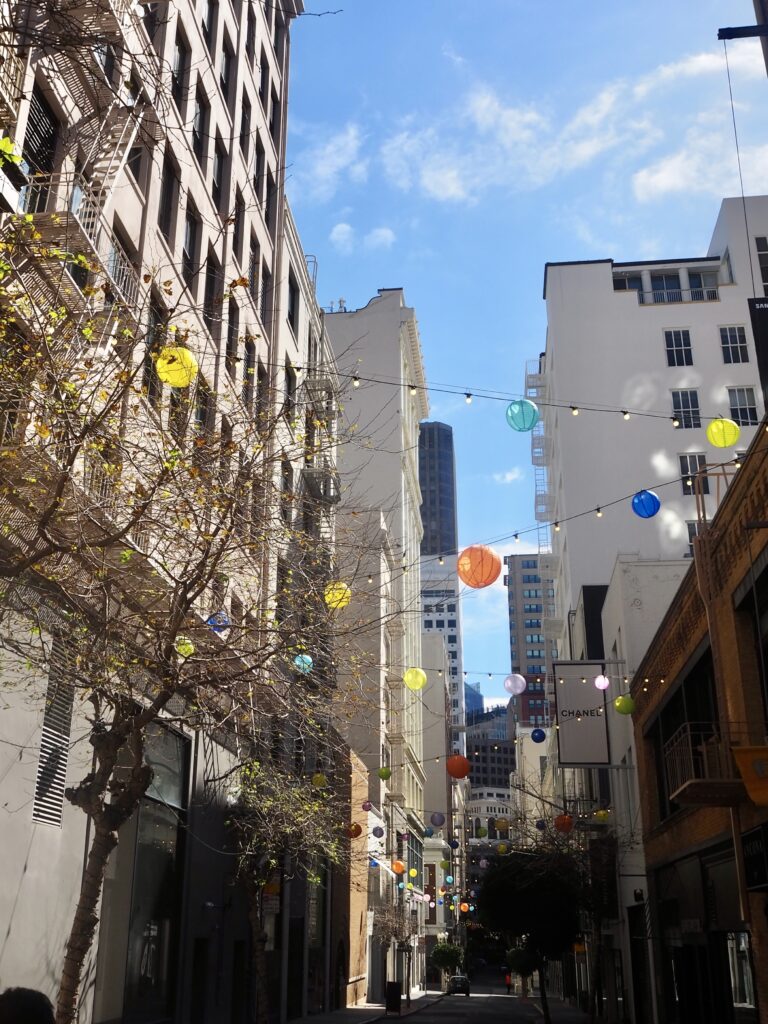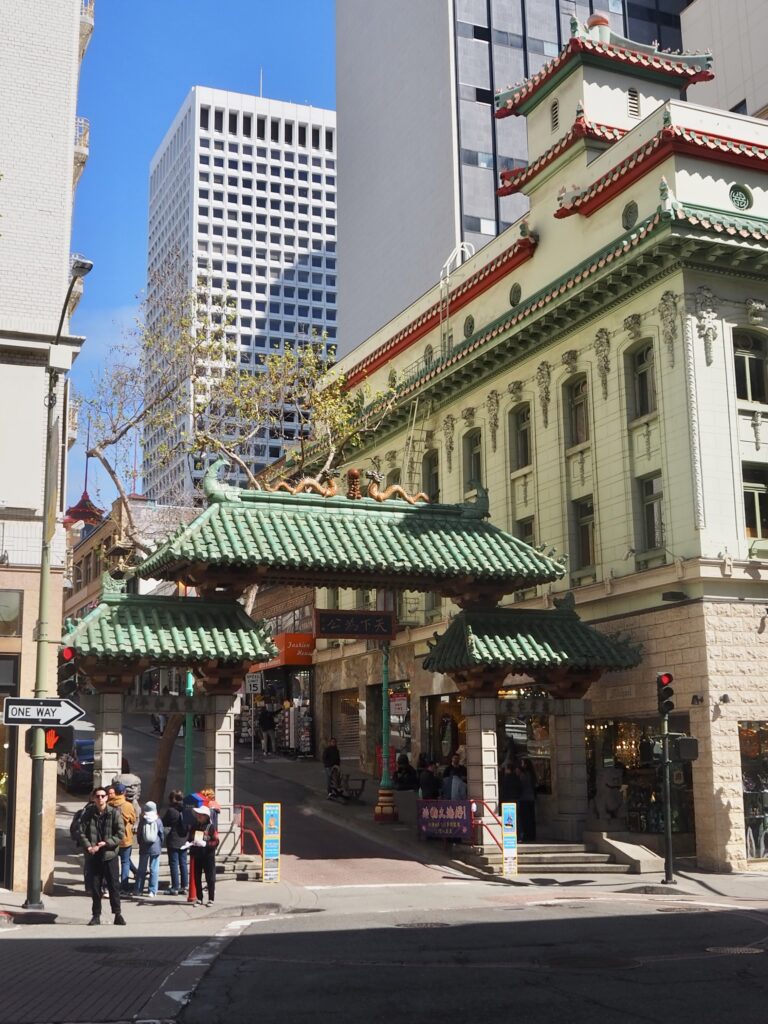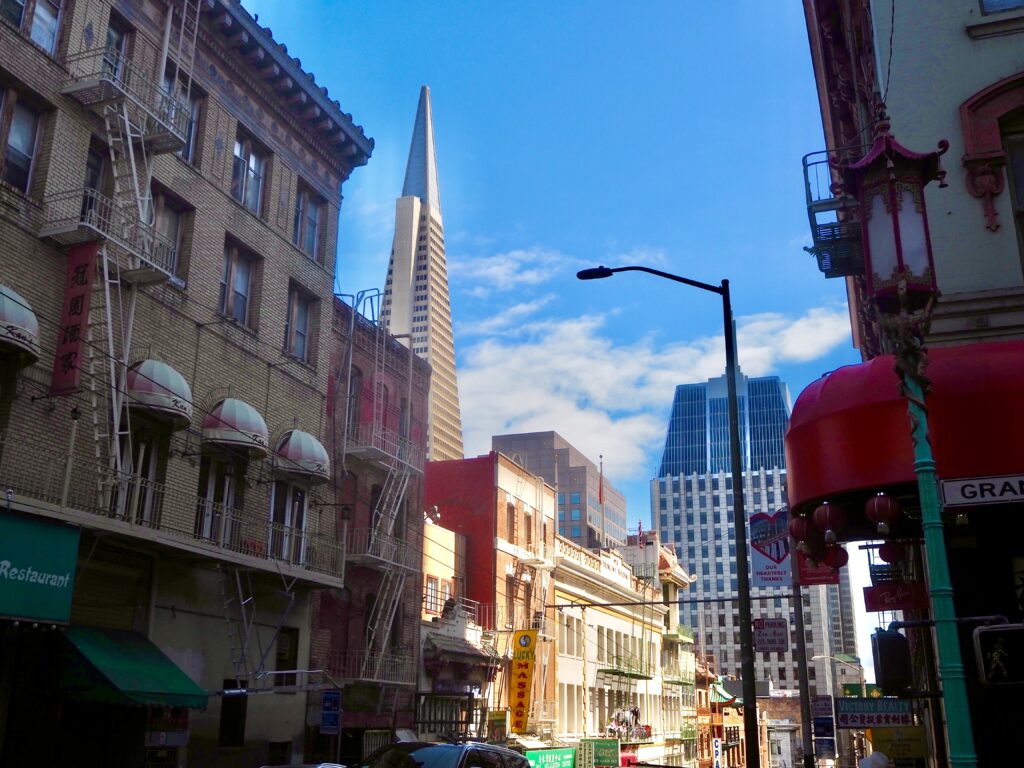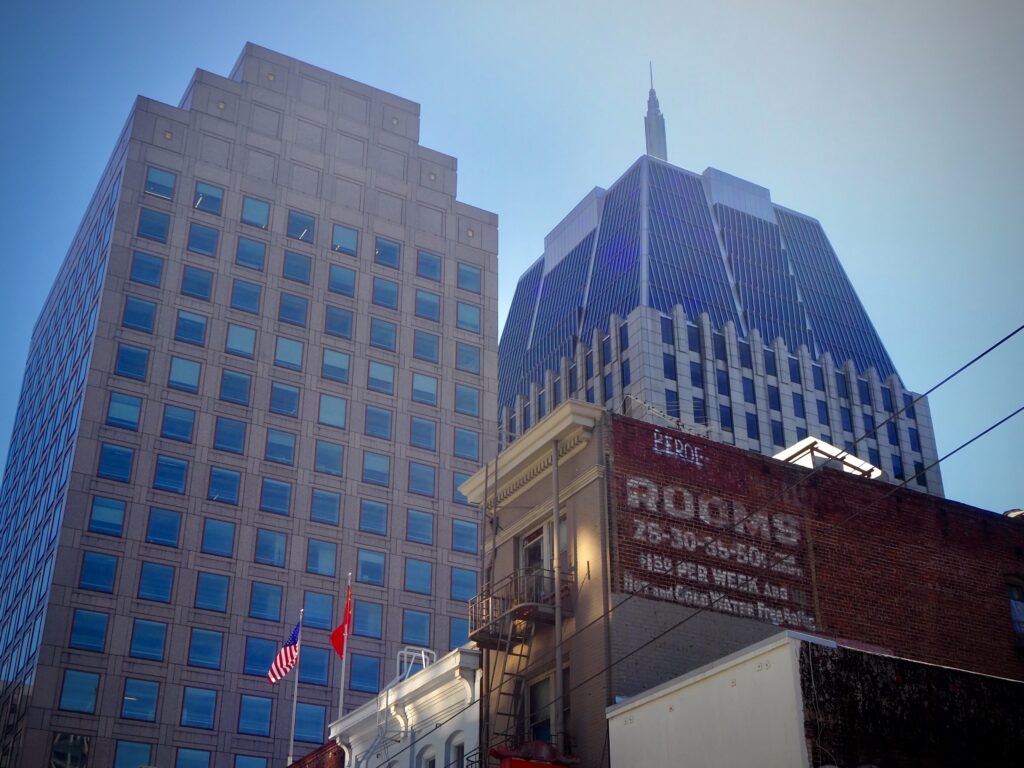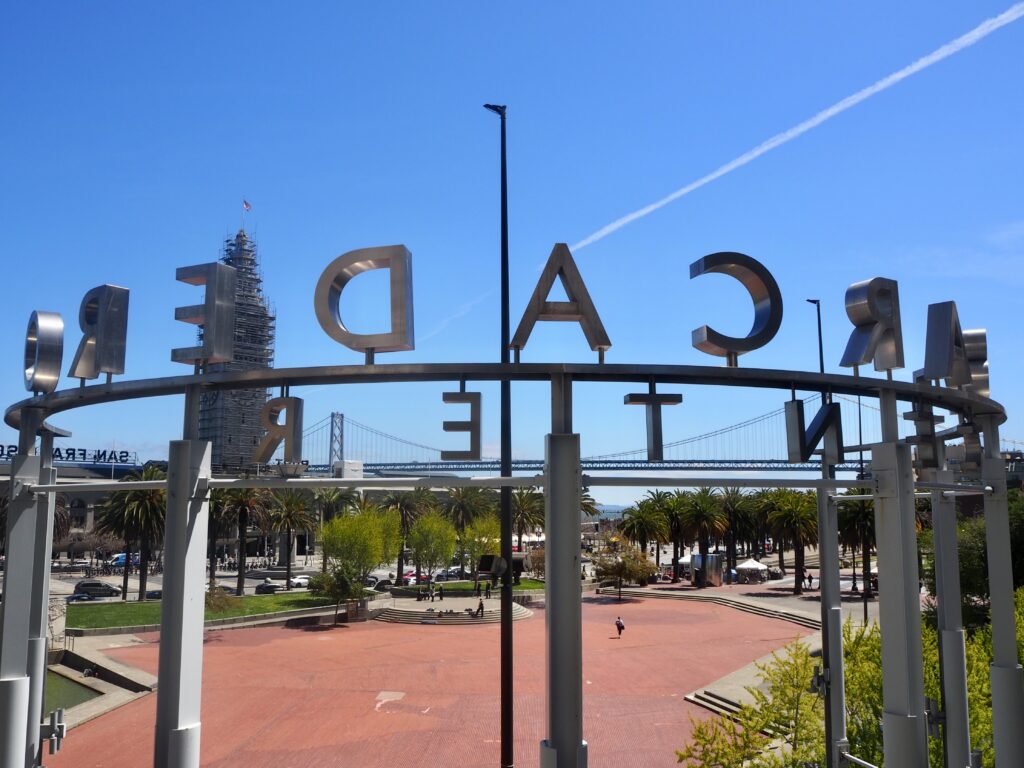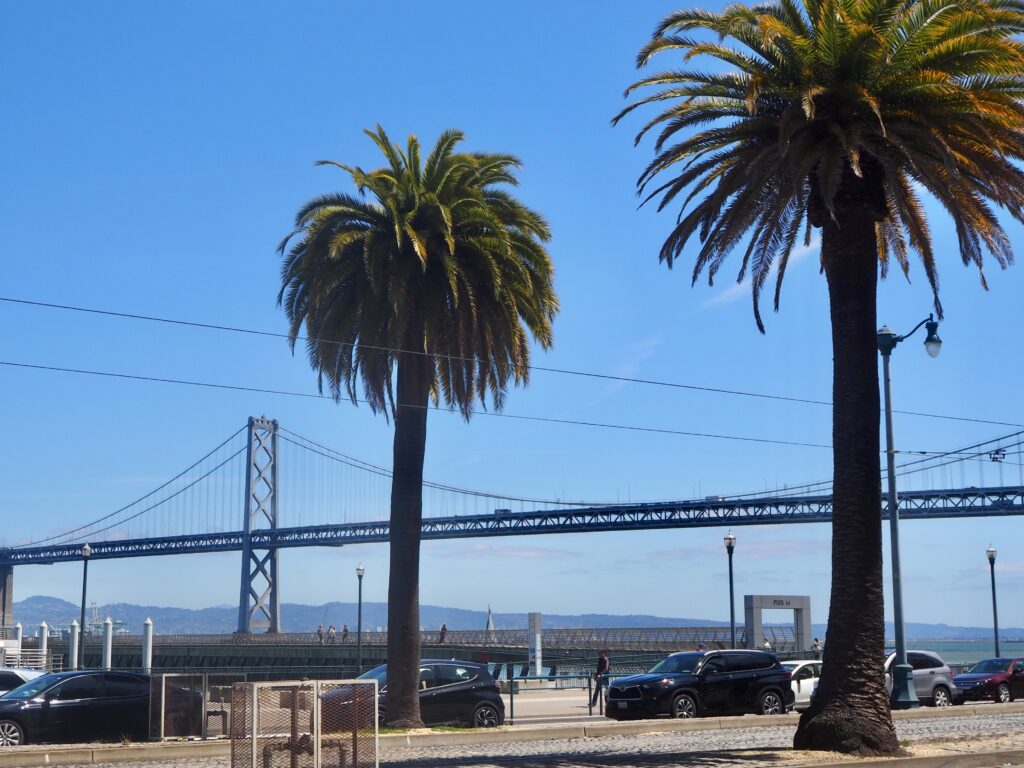 Salesforce Park
Since I was already in the Financial District, I followed the tour guide's advice and went to find another of these hidden parks! Salesforce Park was the one he recommended. I had to do a bit of a double take, because I use Salesforce at work and, honestly, not a big fan of it. I don't find it very intuitive or easy to navigate at all. As a side note, work recently updated our phone system to integrate it into Salesforce and it has been a nightmare of teething problems. While cafe-working one day in SF, I overhead a guy nearby say he worked for Salesforce. I was this close to tuning around and asking him to fix our phones! Anyways, I digress.
I didn't know they had their headquarters in SF, although not surprising really, since every tech company is based here. Mostly I was just shocked they have this whole secret park! It's also above a transit hub, full of bus stops, so it really took me a minute to find it. I can see how it would be easy to miss if you didn't know it was there! I was glad I found it in the end though, as it was a lush, leafy, green space floating in amongst all the glass skyscrapers. It made for a unique detour!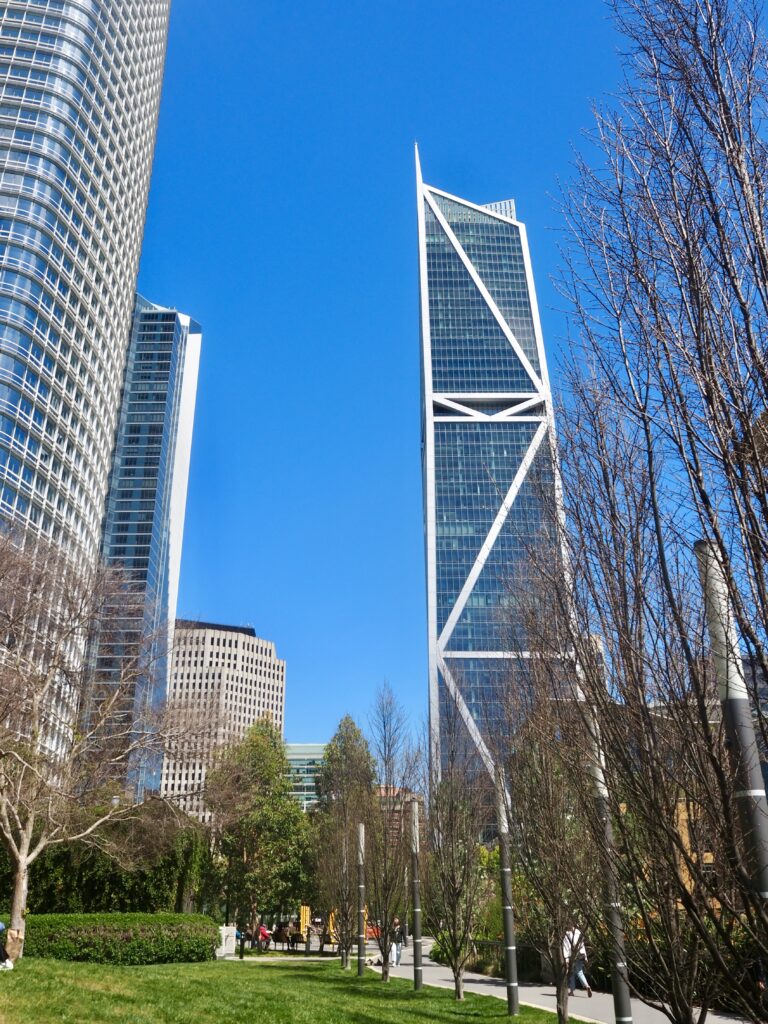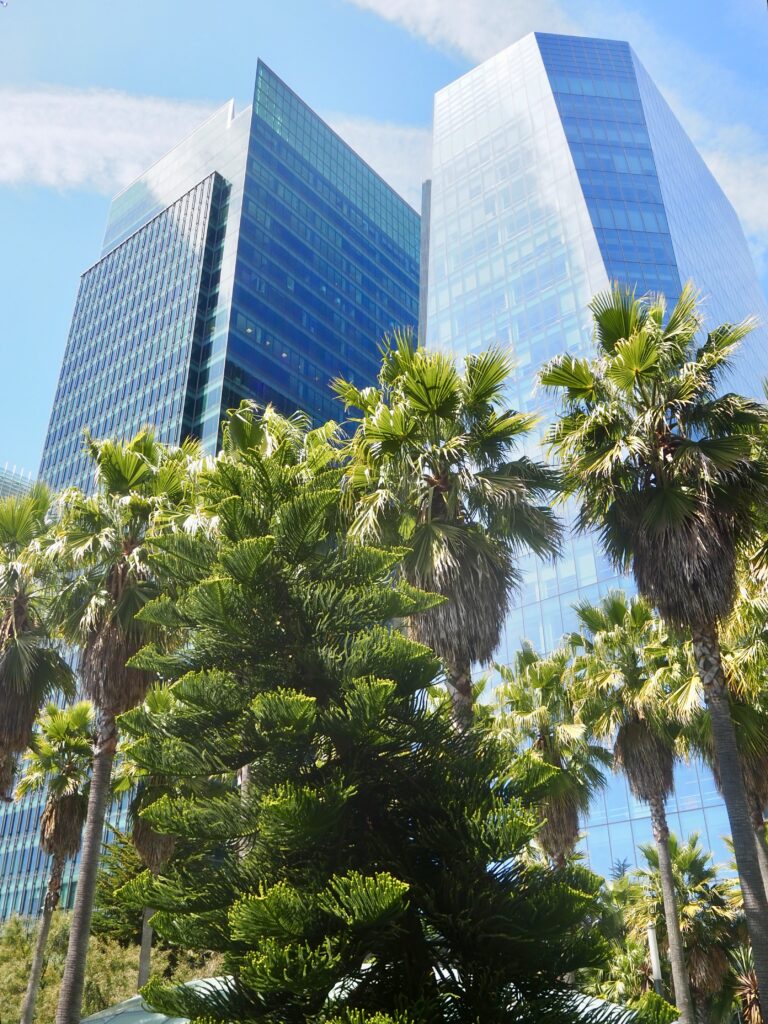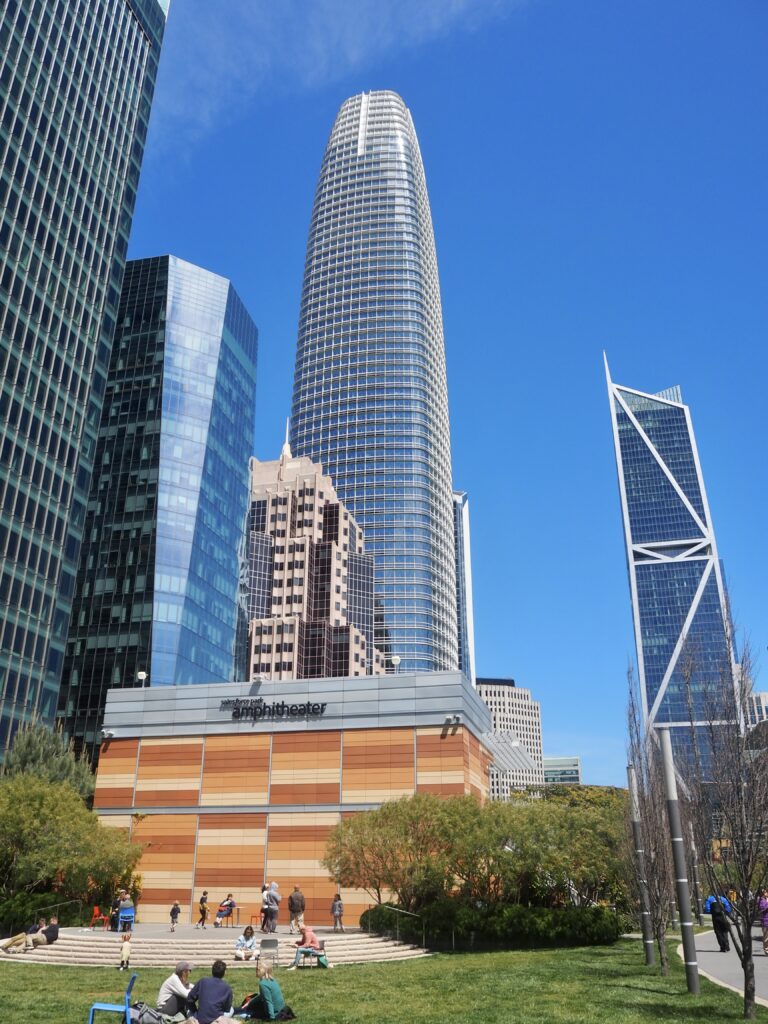 Japantown & Cherry Blossom Parade
I had randomly stumbled upon the fact that it was the Northern California Cherry Blossom Festival that weekend, happening in Japantown. It sounded like it could be an interesting event to check out, so I hopped on the train and whizzed over to City Hall. This large, domed building also marked the start of their parade route, though I was late. I ended up seeing the last performers first, and walking along the parade route to catch up and see more of them in reverse. I probably missed a few that had already completed the route by the time I reached Japantown though. A lot of them were performing with drums or dancing, while others were school groups or notable Japanese-Americans from the city.
The streets around Peace Plaza, where it ended, and the rest of Japantown were packed with spectators. There were other performances and events happening in the plaza later, under the Japanese pagoda. I wandered around some of the shops there, full of Japanese food and other goods. Although I did get a bit stressed out when I got lost in a shopping centre and couldn't find an exit again! It all got a bit too crowded for me, so I continued on to my next destination.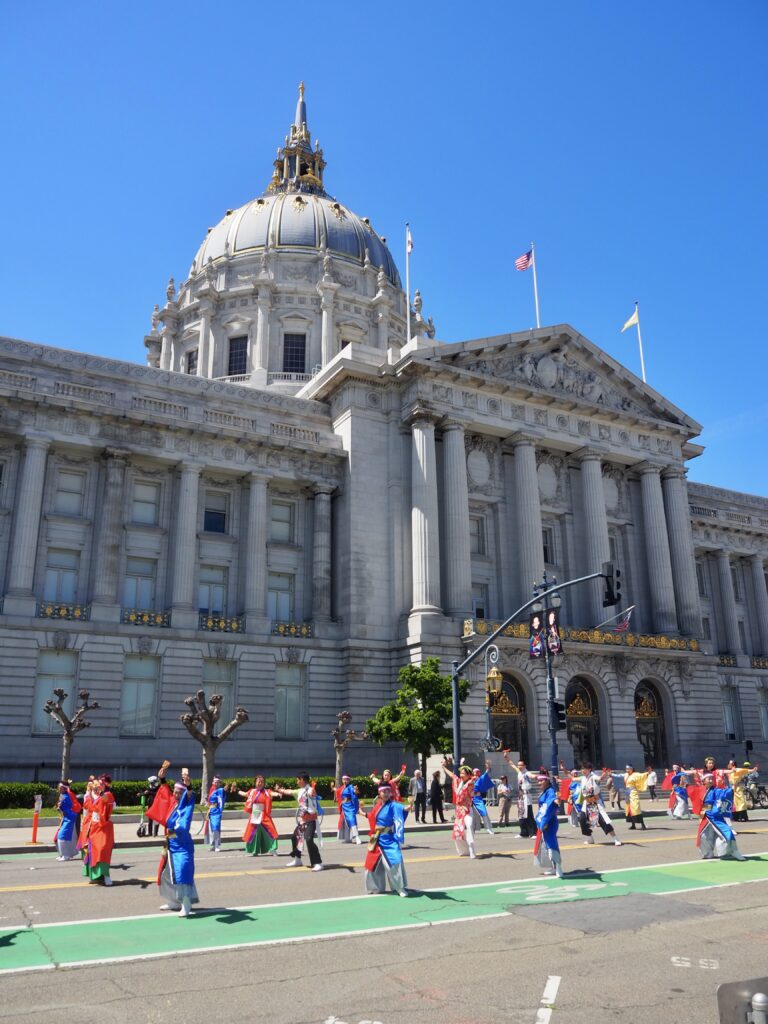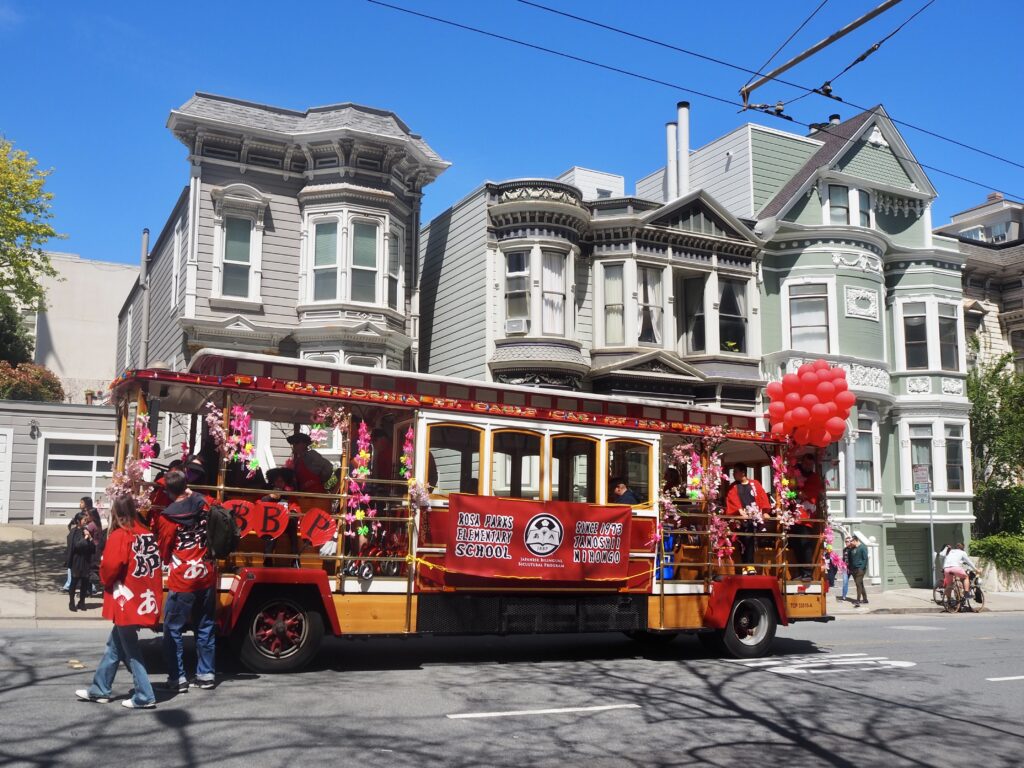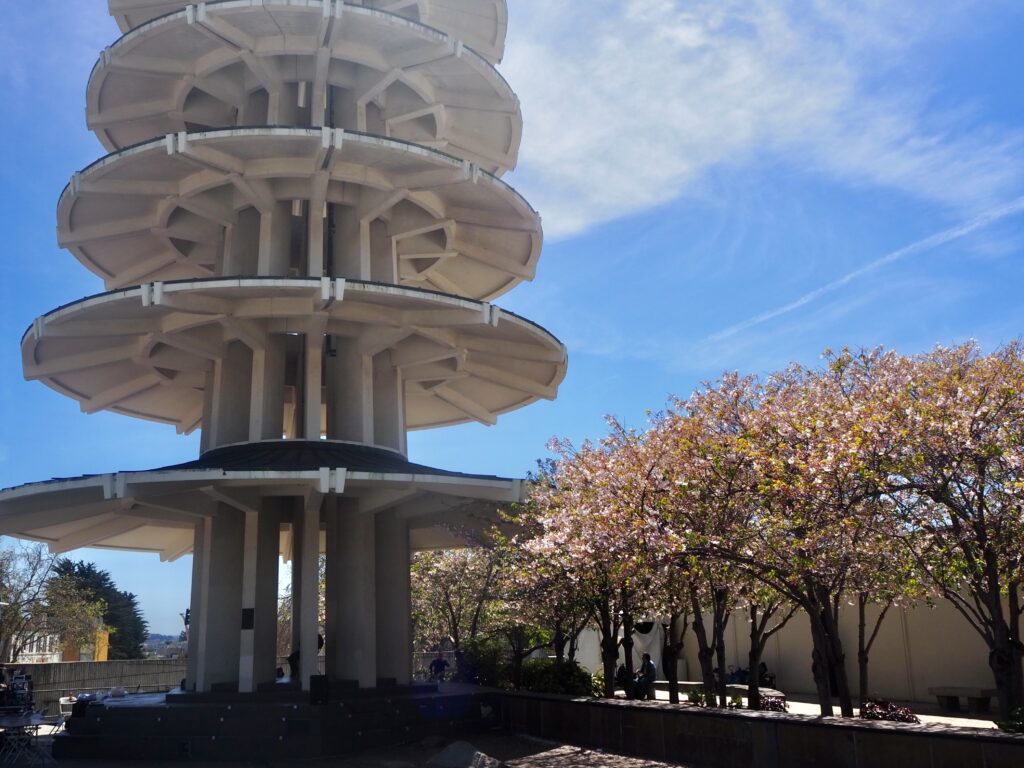 Golden Gate Park
Given how much walking in parks I do regularly, Golden Gate Park sounded right up my street. I walked over via Alamo Square, a hilltop park next to the Painted Ladies (iconic SF buildings) with a great view over the city. Then I wandered along the Panhandle, until I arrived at the east end of the park. It is HUGE, so I really only saw half of it. It was a lovely, sunny day too, and I'd kind of skipped lunch, so I grabbed food from one of the food trucks (an all-vegan one at that, Canada could never!) and enjoyed it on the grass.
After that, I just ambled through the park, taking in just some of the many sights it has. I passed by the big conservatory building, saw plenty of people jogging, cycling or skateboarding (not quite as many rollerbladers as Venice Beach though) and spotted various statues and monuments. I wound up near the Music Concourse, which has an observation wheel and a few attractions surrounding it.
The California Academy of Science was for another day, since it was already closed by the time I got here – more on that below. Someone had recommended the Japanese Gardens, but there was a long line ad an entry fee so I skipped them. Similarly, the Botanics were about to close so it wasn't worth paying for just a short visit. In the end, I did a loop around Stow Lake and sat in the sun for a while, just relaxing. Then I hopped on a bus at Crossover Drive to head back for the night.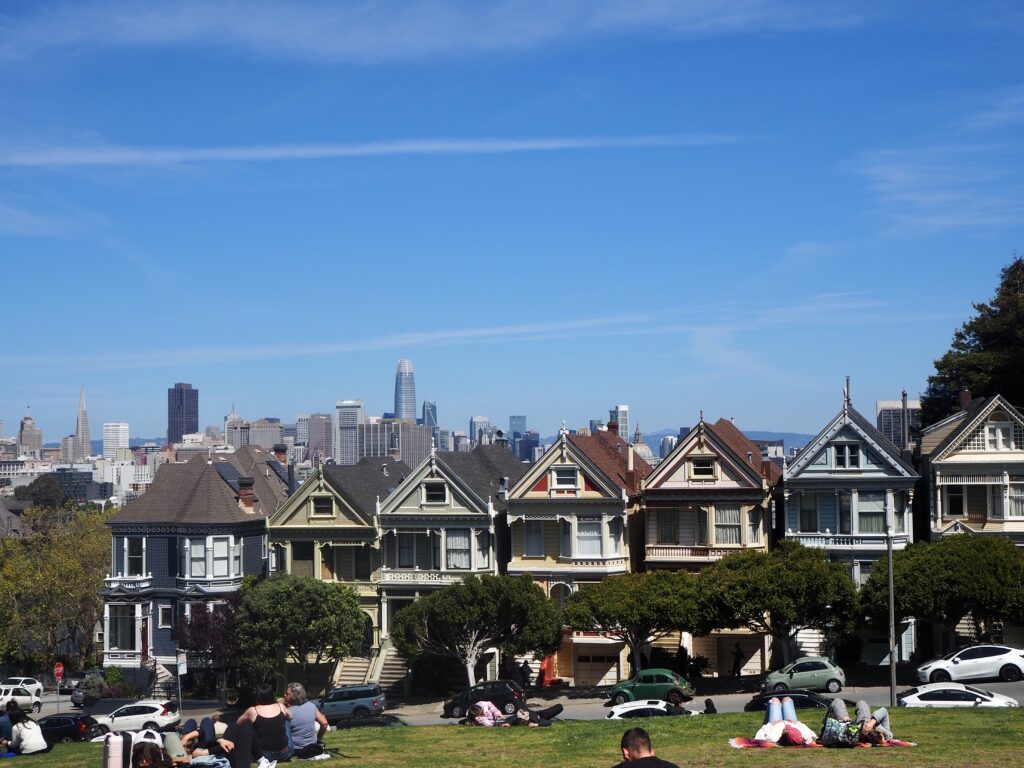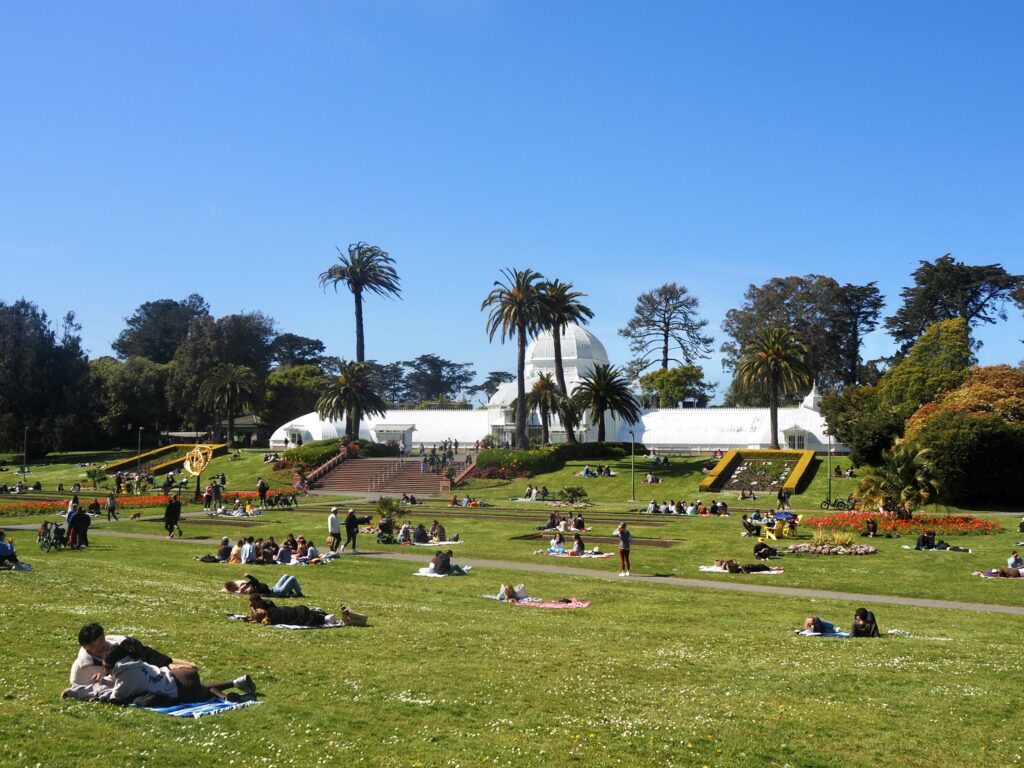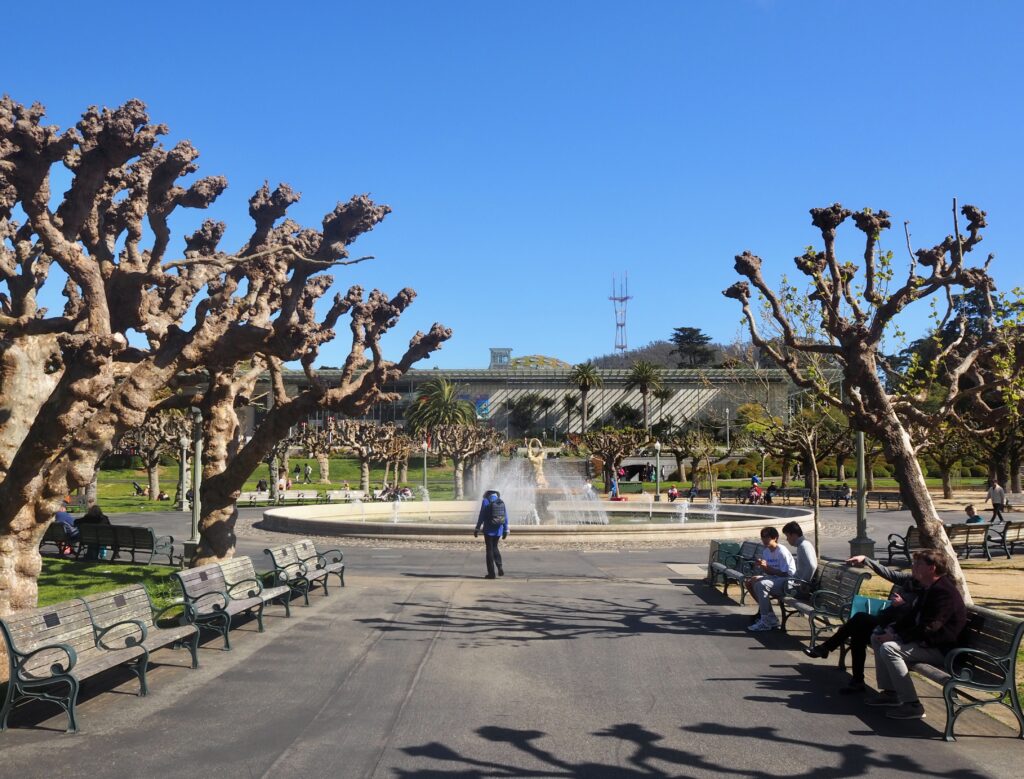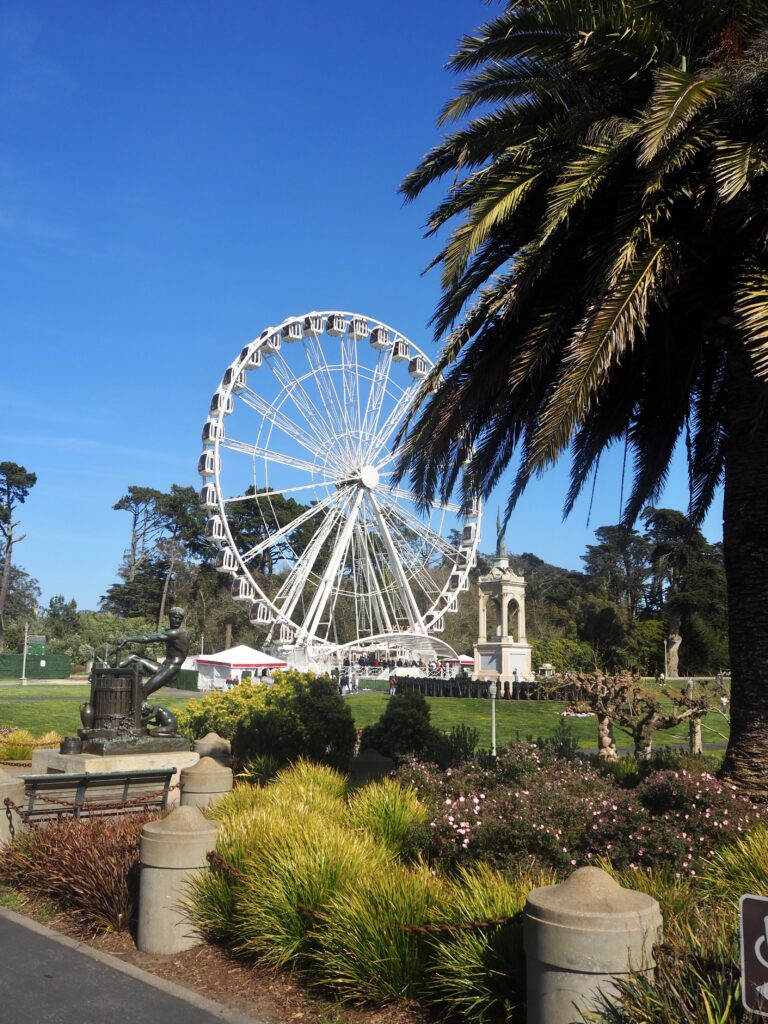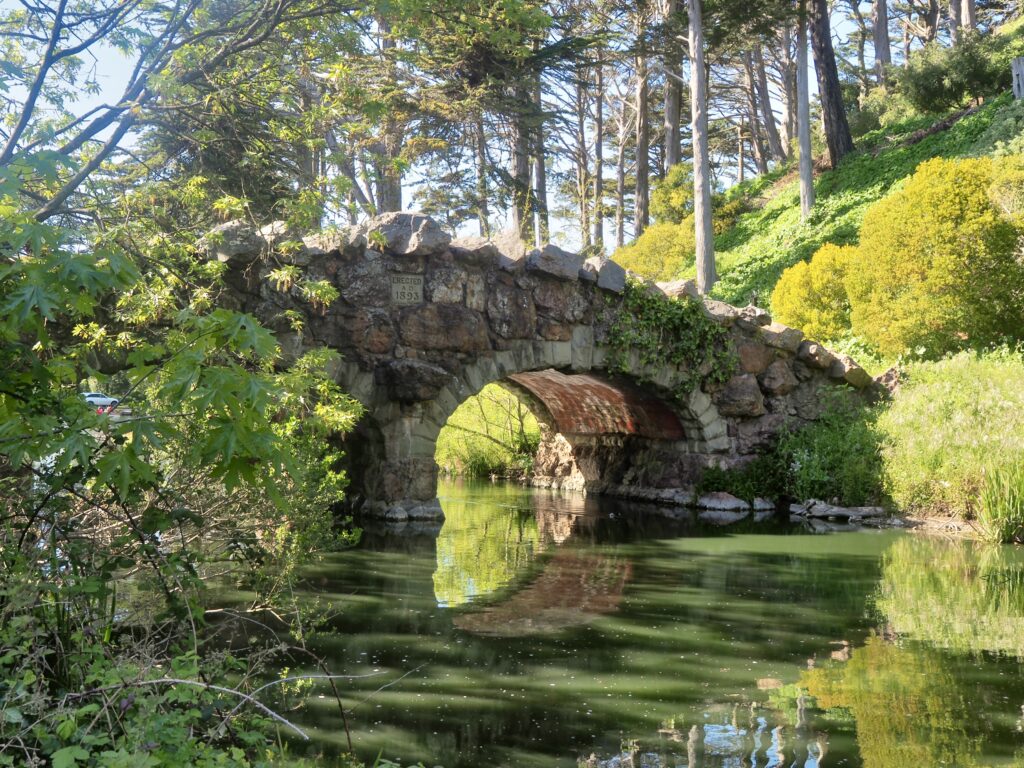 Day Three
Beat Museum & North Beach
Are my travels around the USA this year inspired by Jack Kerouac's 'On the Road'? They're not NOT inspired by it, ok? It's been a few years since I last read it though and I had completely forgotten San Francisco is an important location in it. I'd been reading about things to do in the city in the evenings (besides bars) and came across the Beat Museum, since Kerouac used to frequent San Francisco, along with other Beat writers.
On a corner near Chinatown and North Beach, you'll find Jack Kerouac Alley, covered in bright murals, and City Light Books on the corner. The bookstore has been around for decades and the Beat Generation often visited it, so I popped in for a browse. Then, just across the road is the Beat Museum, which houses a collection of artefacts and photos about these figures. It was small, but worth a visit for literary fans like me!
From there, I wandered through North Beach (which is not, in fact, a beach). Coit Tower loomed above me, but I wasn't feeling up to hiking more hills than I could help. There were plenty of shops and restaurants to browse and window shop, including Little Italy, which encompasses most of this neighbourhood.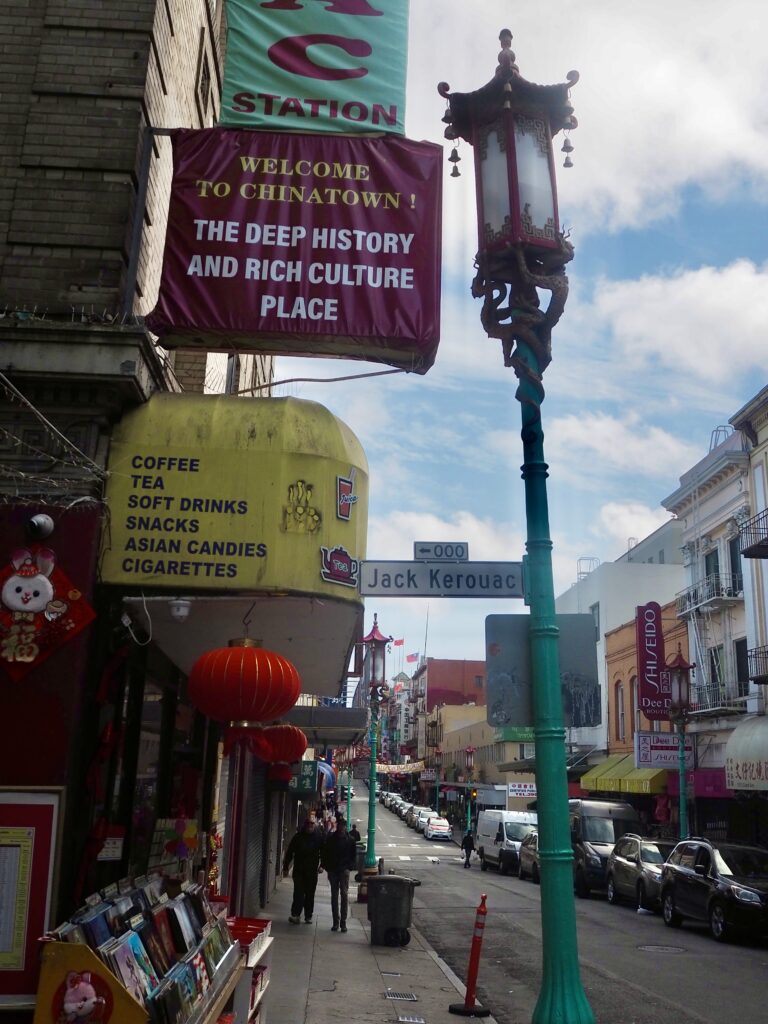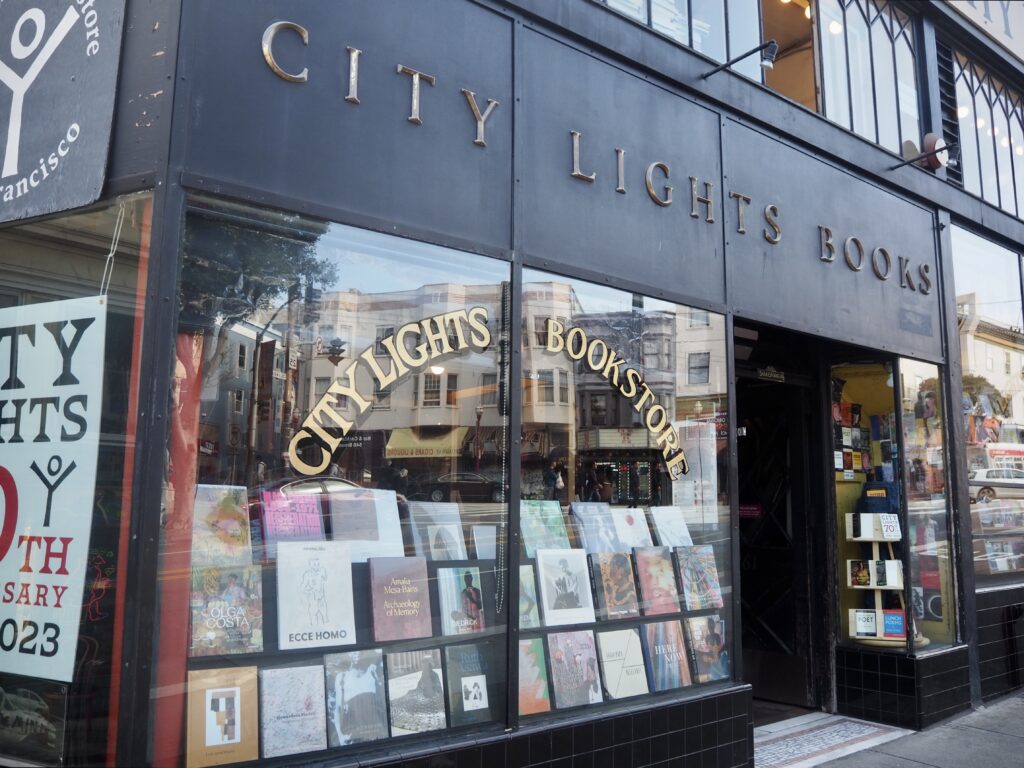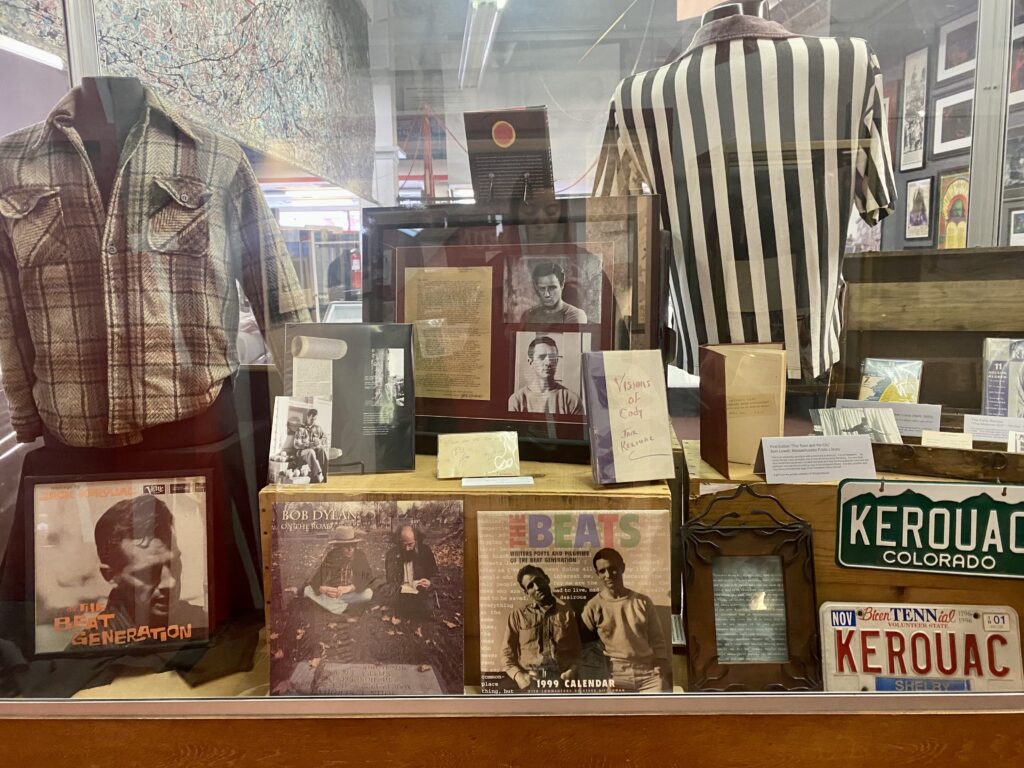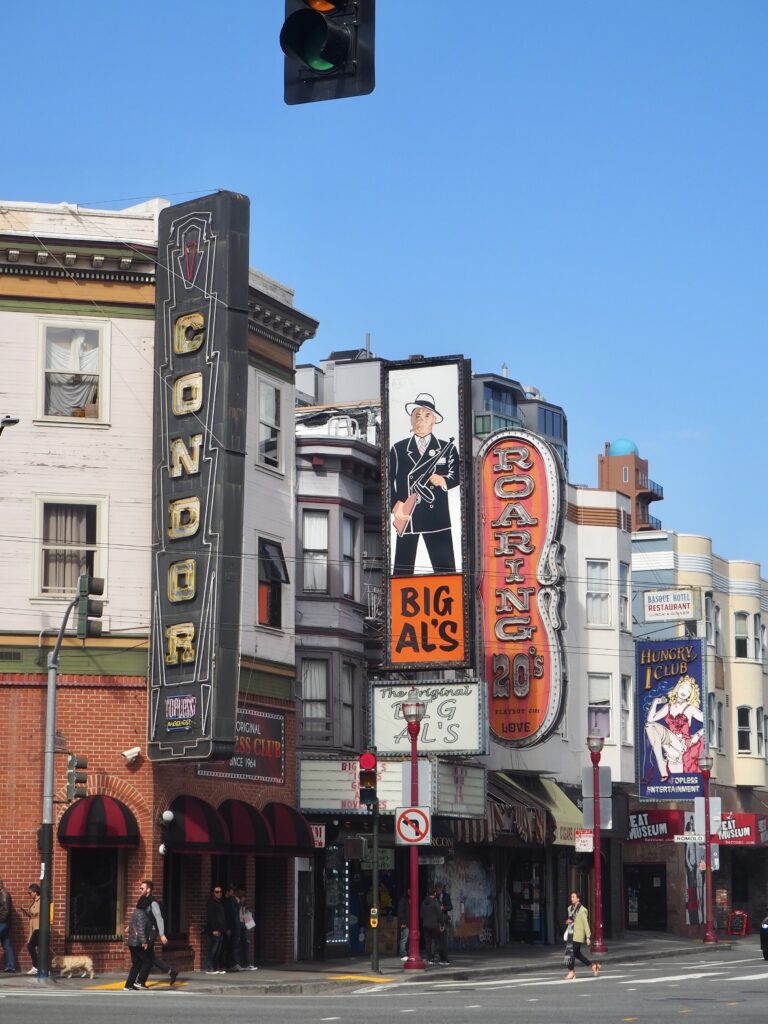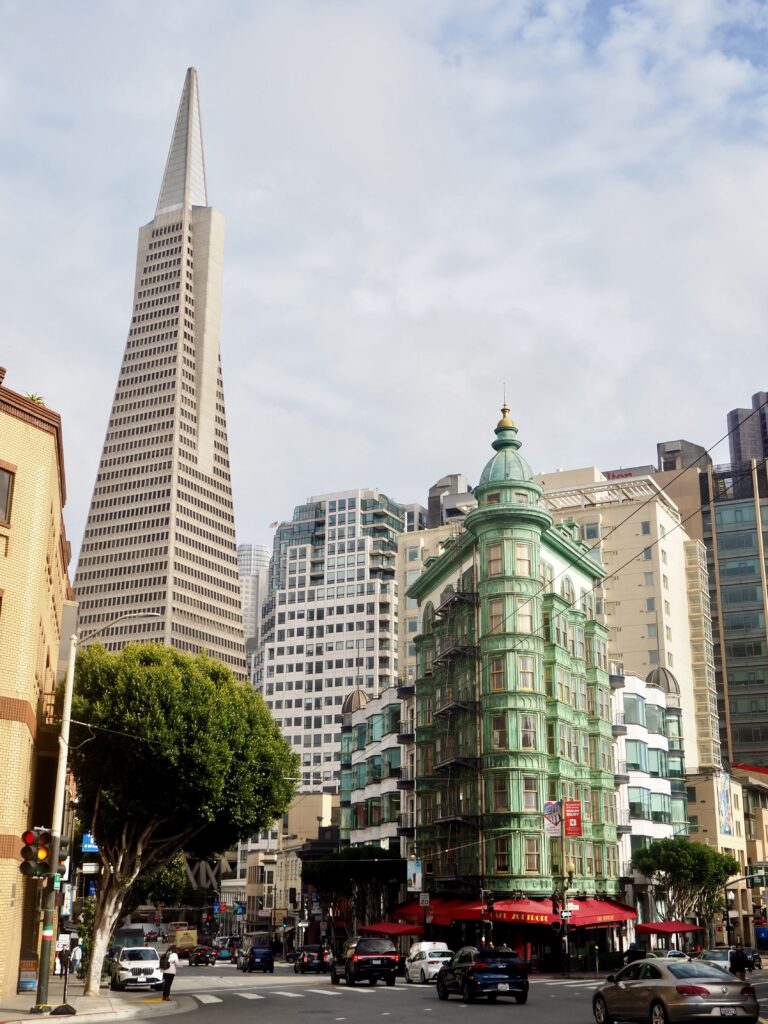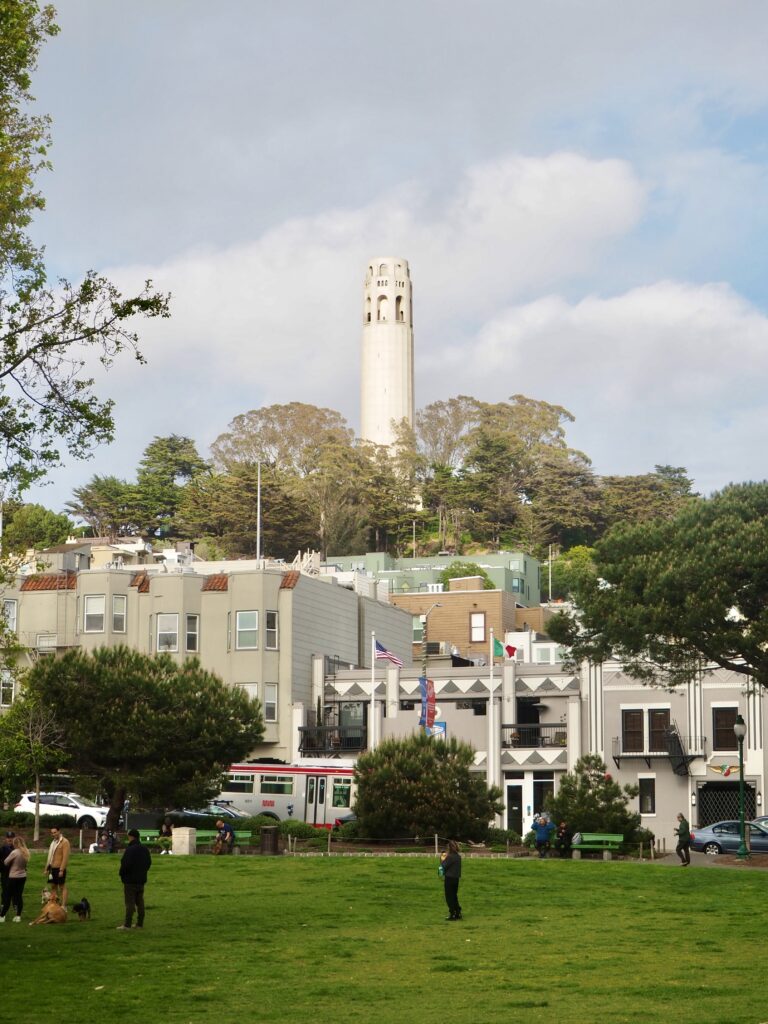 Fisherman's Wharf & Musee Mecanique
My stroll took me to the coast by Fisherman's Wharf and Pier 39. This is a pretty touristy area, with lots of seafood restaurants ad souvenir shops around the pier. Since I was here anyway though, I figured I may as well take a look around. Out at the end of Pier 39, you can find the sea lion platforms, with dozens of them lounging, barking and pushing each other off of them. Of course, after Monterey, I'd seen plenty of sea lions already, but they're funny to watch for a while.
Over by Fisherman's Wharf, there is an attraction that my cousin had recommended to me from his visit to San Francisco. Our extended family are showpeople (like travelling fairgrounds), so he suggested checking out Musee Mecanique. This free museum is full of dozens and dozens of old-fashioned arcade games, some of them close to a hundred years old and all still functioning! There was everything from arm-wrestling machines to fortune tellers to puppet shows to a miniature working farmstead. I would have definitely missed it if I hadn't been told about it, and it was a fun display to explore!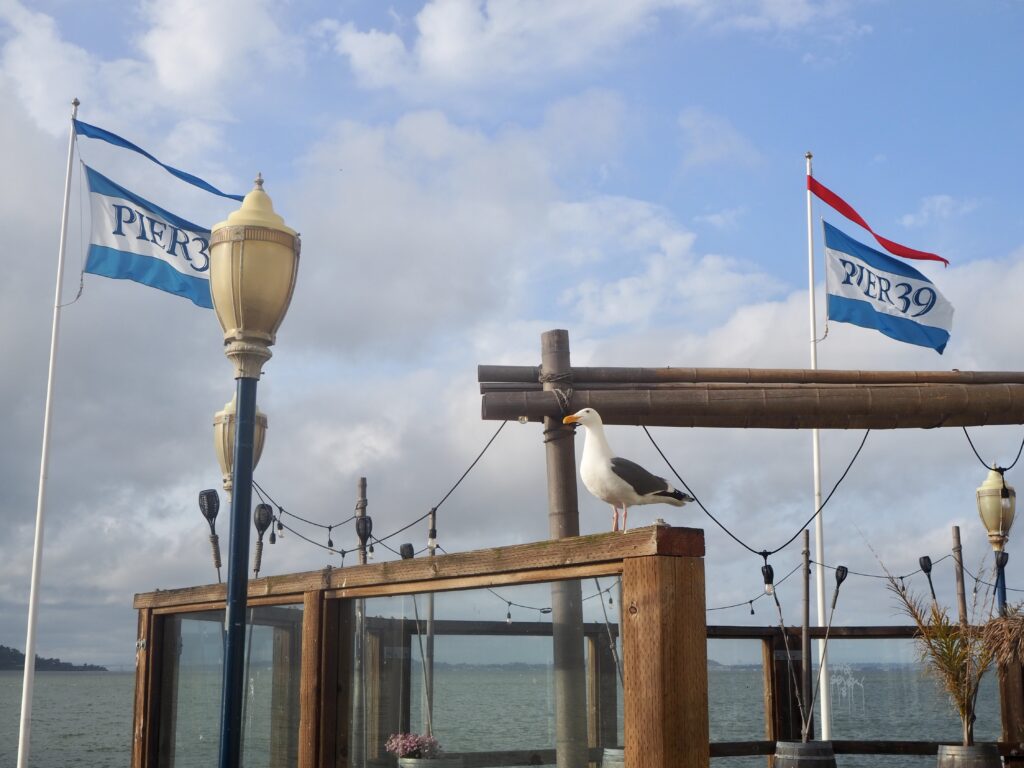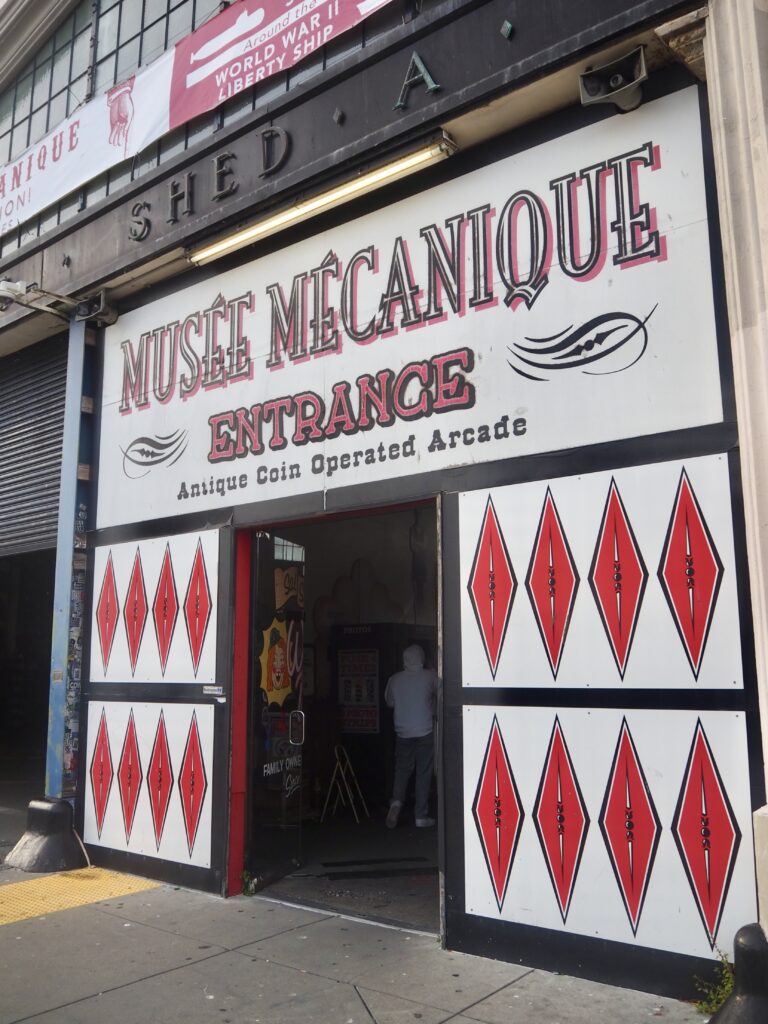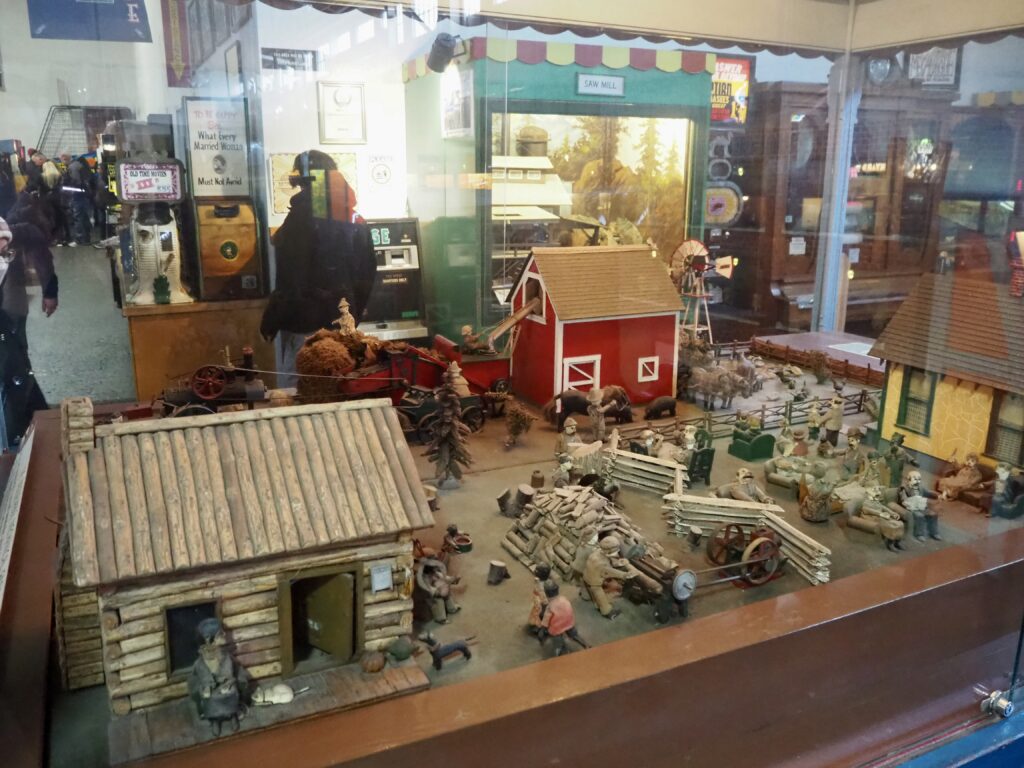 Day Four
Cable Car to Chinatown
I'd been in San Francisco for half a week at this point, and had yet to ride on a cable car! I'd been hoping to do it as a means of getting from A to B, rather than purely for the ride. But it hadn't fit in with my plans yet! Not wanting to miss out, I decided to make a point of taking one. There are a couple of lines that cross the city, but California Street was closest to my hostel. I hopped on at its terminus and rode to Chinatown, almost the full length of the line. We sped up and down the hills of San Francisco, with a few good views along the way. You have to tell the driver when you want off though, since there's no bell. Then don't get hit by a car as you cross from the tracks to the pavement!
I'd already been through Chinatown on my walking tour the other day. But San Francisco's Chinatown is pretty huge, so we obviously hadn't covered all of it. I wandered through, admiring all the red decorations, Chinese characters and incredible murals. Chinatowns are funny to me because they remind me of Hong Kong, but yet are not like it at all! I was at a bit of a loose end at this pint, but it seemed too early to head back to the hostel. So, I checked my list of neighbourhoods to explore and decided Pacific Heights was the closest option.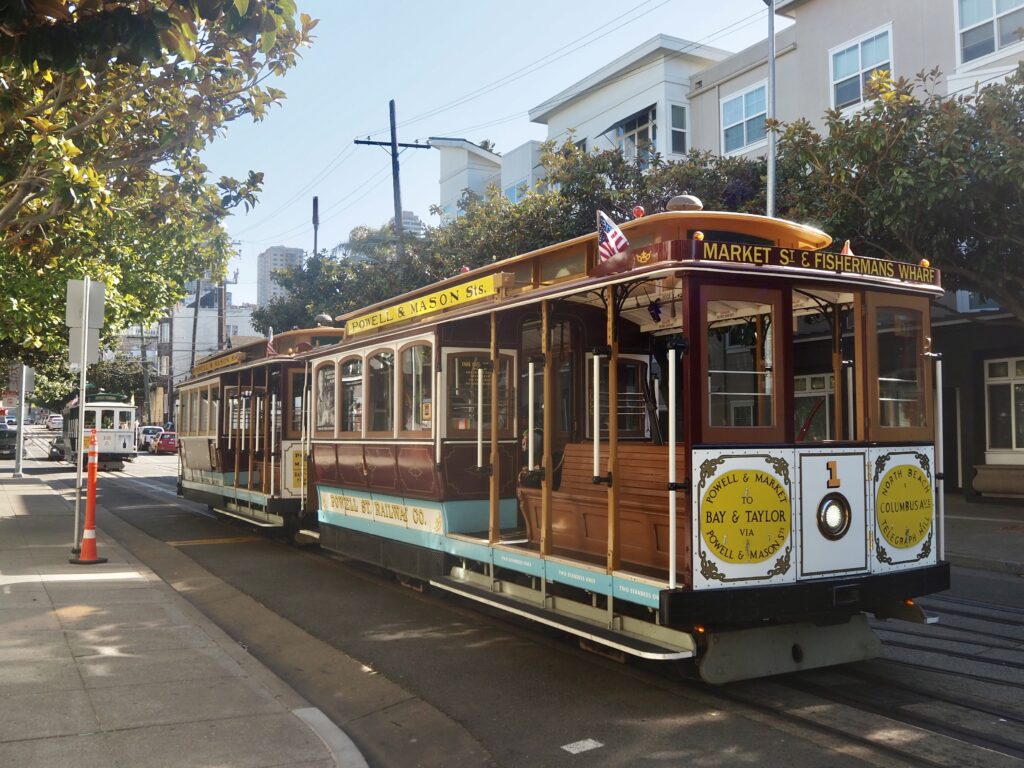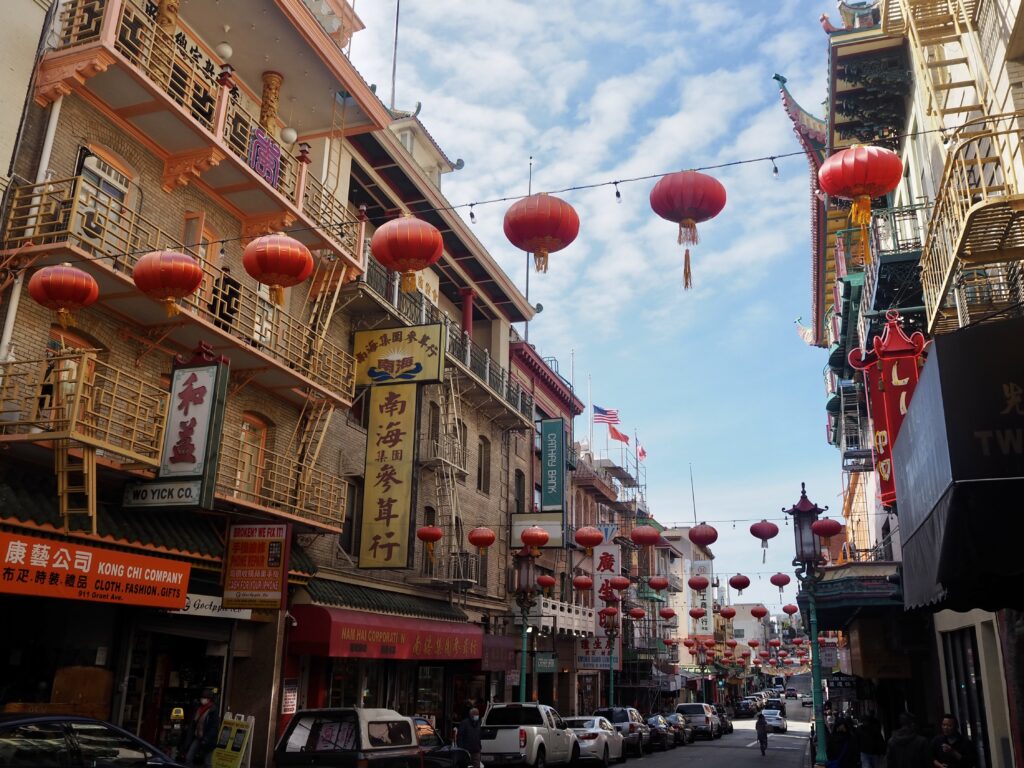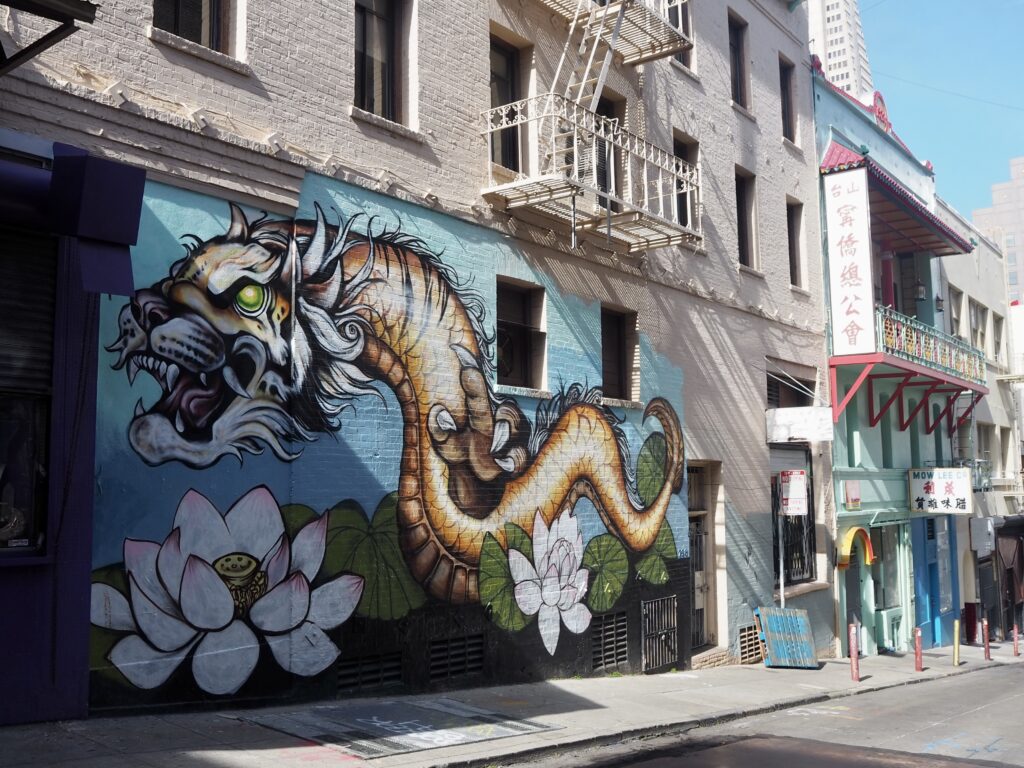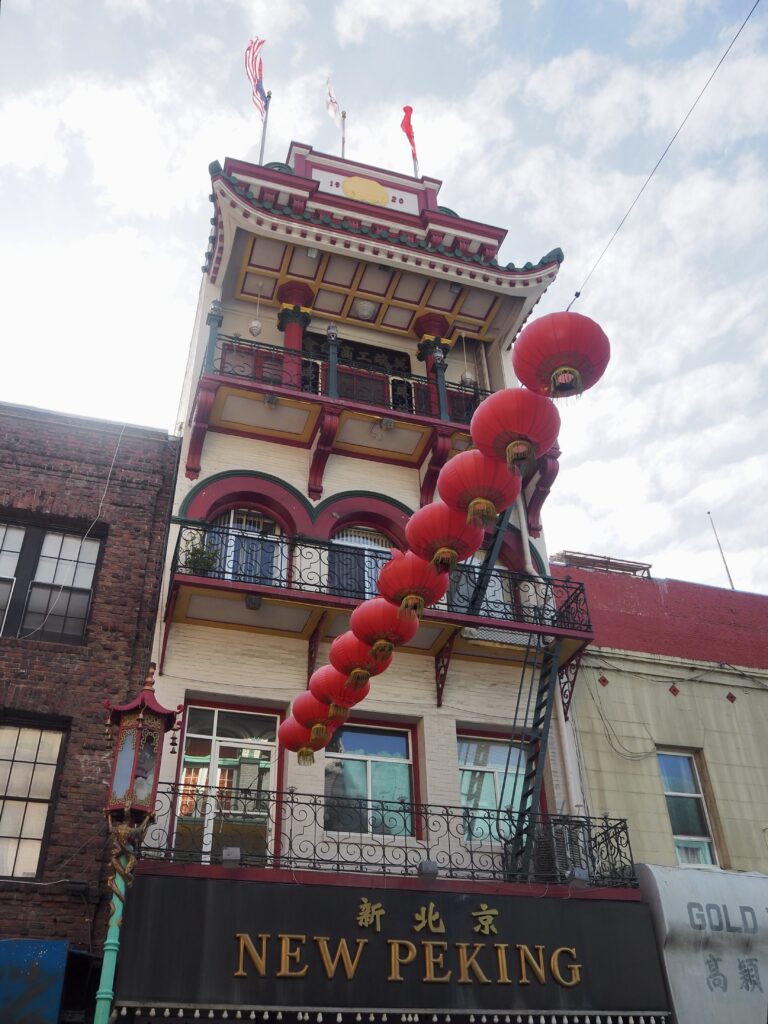 Pacific Heights
This neighbourhood is actually close to the Marina district, but I'd skipped it on my way to the Golden Gate Bridge. I passed by the Marina area again then quickly learned why it's called Pacific HEIGHTS, built on a steep hillside as it is. There are lots of big, fancy houses here, and I don't even want to know how much they cost. The hill did offer me some views across the bay again too. I came down the hill through Cow Hollow and ended up at the edge of the Presidio again. My feet had done plenty of walking this week already so I didn't go much further. Finding a pond with a view of the Palace of Fine Arts, I chilled out in the sun for a while, watching the ducks. Then it was back on a bus to turn in for the night.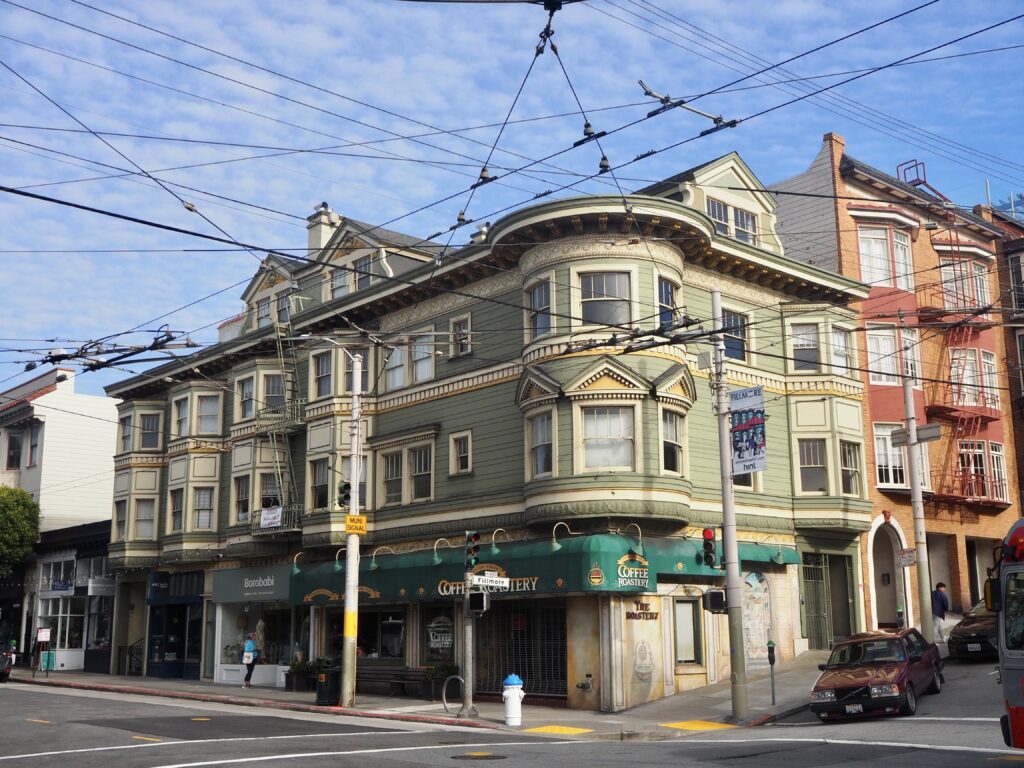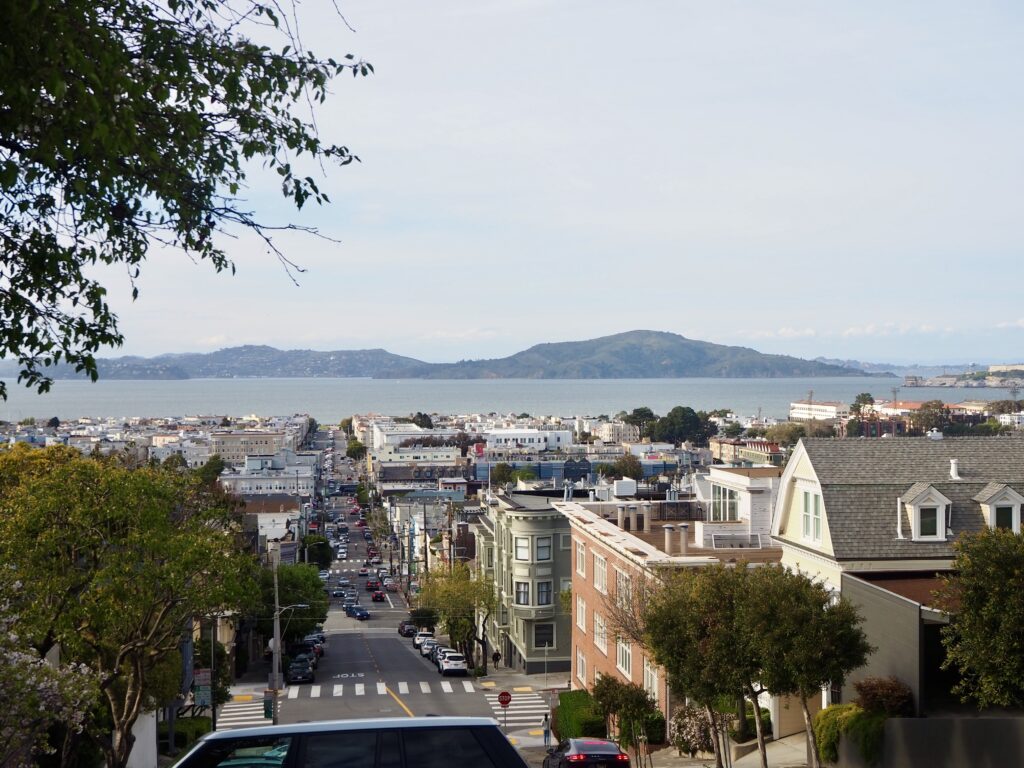 Day Five
Drinks in Hayes Valley & The Castro
By the power that is Instagram, I'd realised an old friend from Scotland was now living in San Francisco. I'd reached out when making my plans to visit the city, and we'd arranged to meet for some drinks. There was the intention of getting food too, but apparently when you put 2 Scots in a bar with happy hour prices, food gets forgotten! I also went into full tourist mode, allowing him to be the guide and decide where we should go. So can I tell you the names of the bars we went to? Not at all.
We started off in Hayes Valley, with the aforementioned happy hour prices on a terrace, making the most of the sun before it set. From there, we took a stroll through the Duboce Triangle, heading towards Castro, both districts I had yet to explore. Castro is the LGBTQ neighbourhood, with rainbow flags everywhere. We stopped in a gay bar here for drinks, where I was the only woman in the whole place (not mad about it though!). Since it was a weeknight, a lot of places were pretty quiet or closing though. We ended up heading back to Hayes Valley to one more bar, aiming for food, but the kitchen was closed. So, more cocktails it was! Until eventually, after a very fun 6 hours of nonstop talking, it was time to call it a night.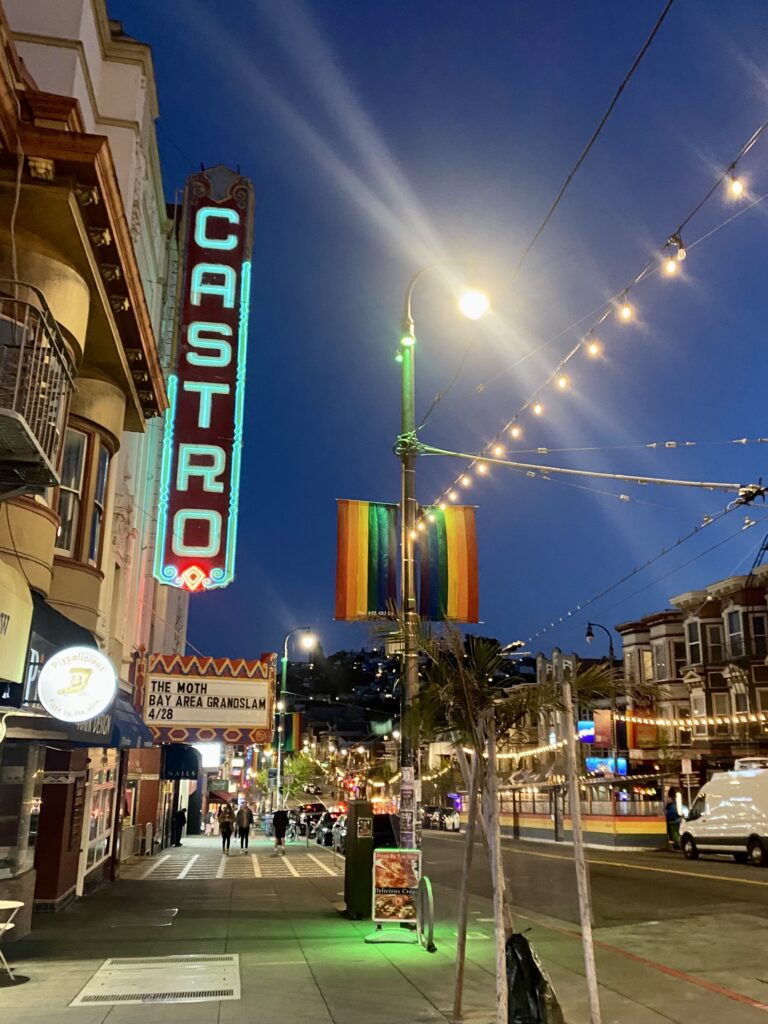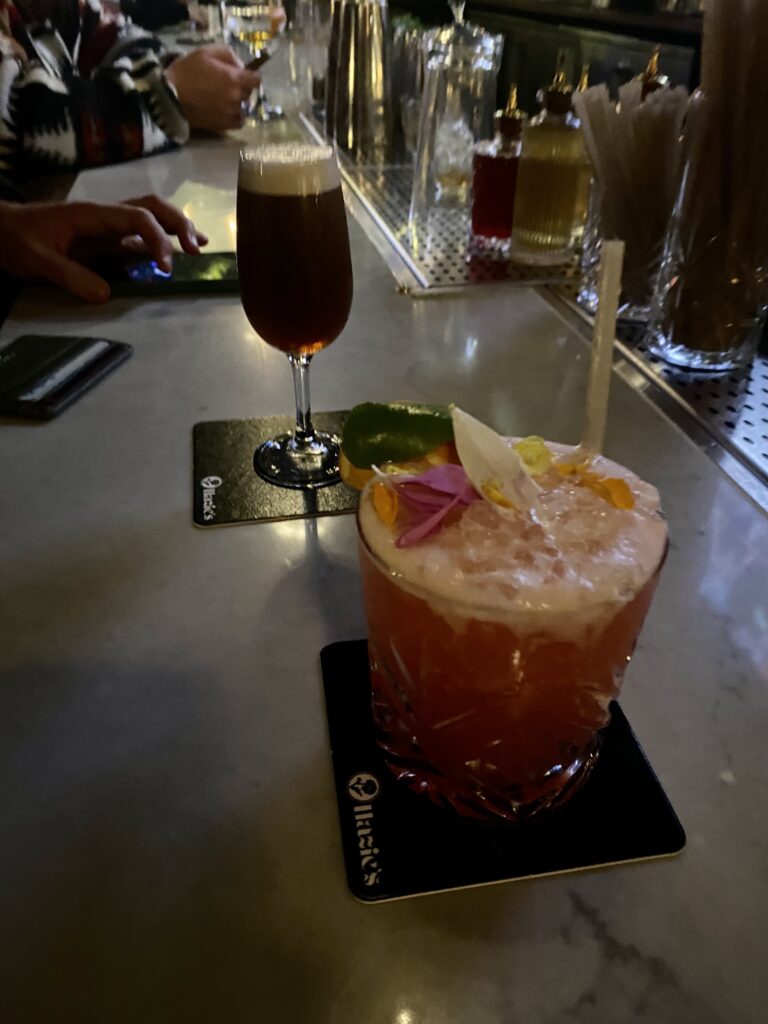 Day Six
Haight-Ashbury (on 4/20)
Did I intentionally plan my trip to California to coincide with 4/20? No, not at all. I live in Canada, folks, weed is legal here, so it's not such a novelty anymore. Since Castro had been quiet the night before, I took another walk around here to see it by day. From there, the most logical route to Golden Gate Park again, was through Haight-Ashbury. Where I think every person I passed in the street was high. The place was positively humming with the smell!
Turns out there are lots of dispensaries around here, and a bit of a hippie vibe in general. I hadn't known this in advance, but it was a happy coincidence, as it was quite the experience to wander through it all on 4/20 of all days! There was music everywhere and a bubble machine let loose in the street? The theme only continued as I entered Golden Gate Park again too.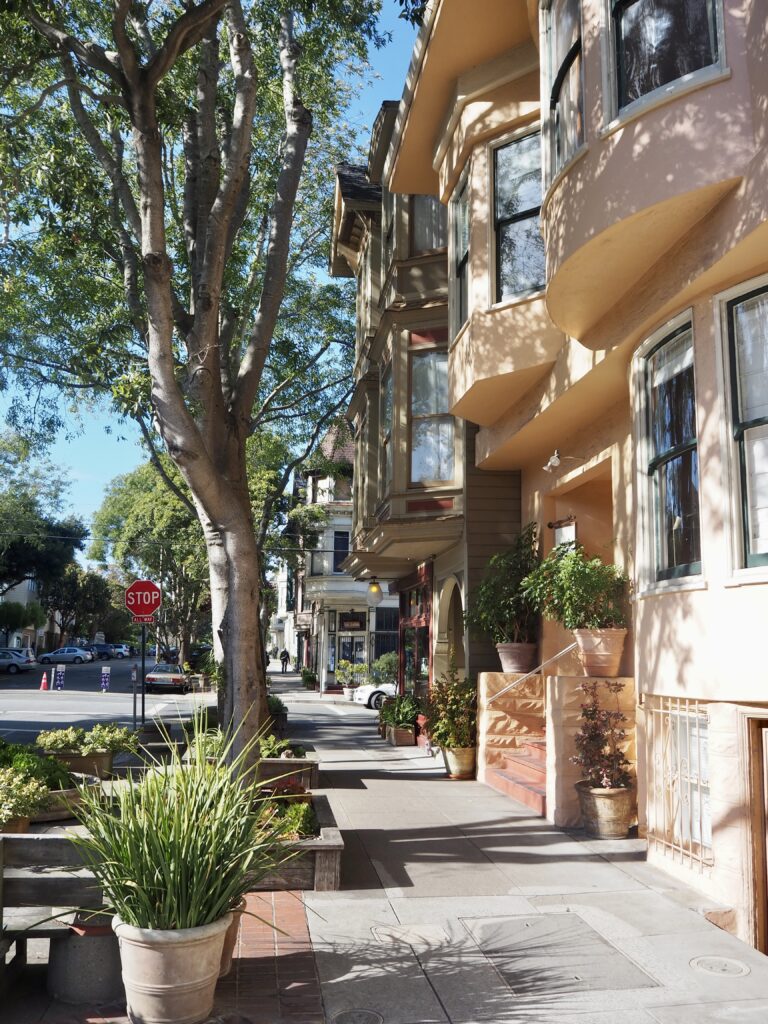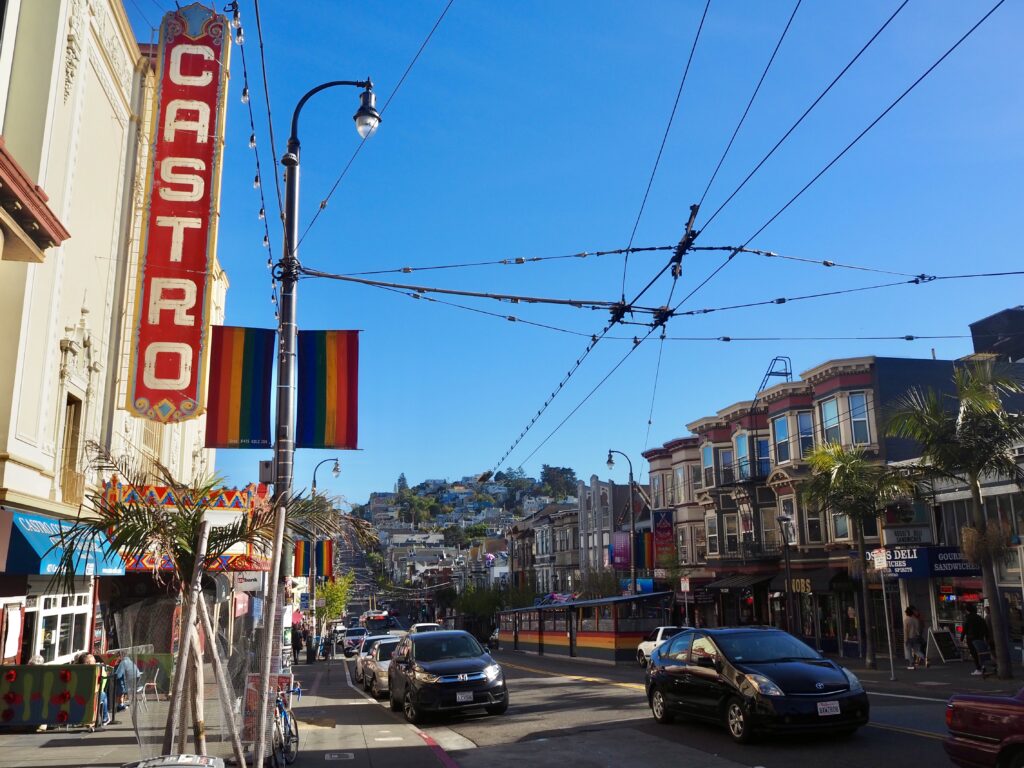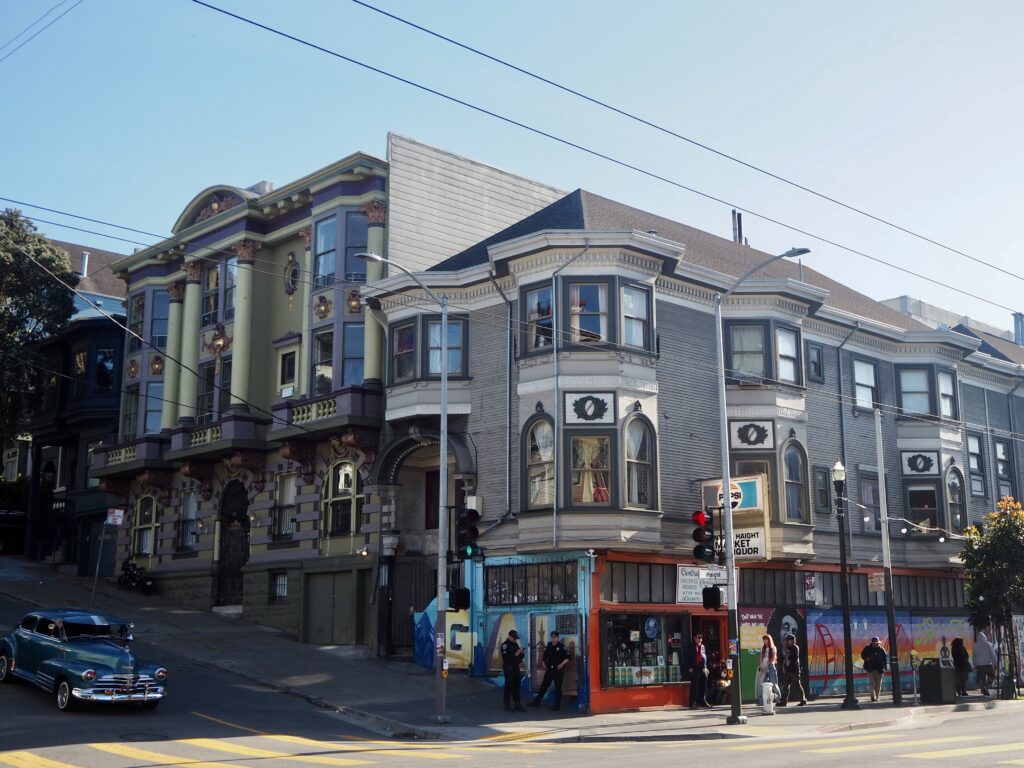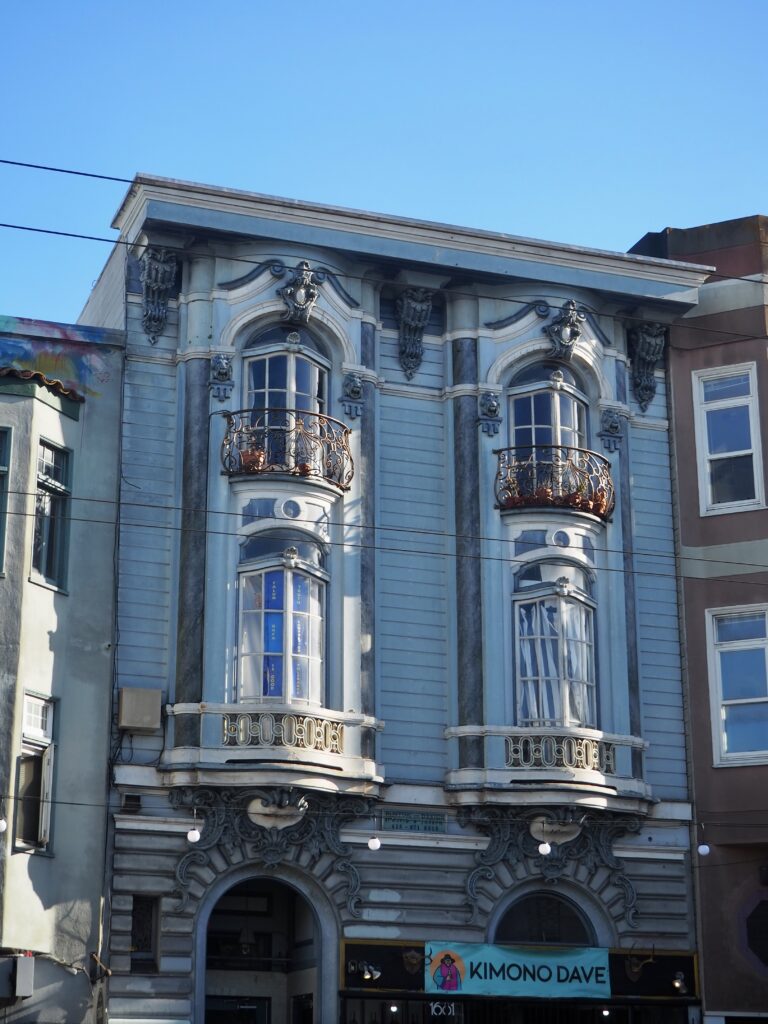 California Academy of Science
My destination was the California Academy of Science for its weekly Thursday 'Nightlife' event, when it stays open late for adults only. A science museum serving cocktails and without screaming children running around? Heavenly! They also give each week a different theme, and this time it was 'Stoned' – for geology folks, come on. I picked up a 'Swamp Juice' tropical rum cocktail and browsed some of the exhibits about California's natural features, from oceans to forest to earthquakes. There were various stalls where geology experts had been invited to set up displays, many with interactive elements like jewellery-making. They had a DJ set up in the centre of the main hall too, next to huge wildlife photos.
The two main attractions are contained in large domes on either side of the main hall. One is the Morrison Planetarium, which had a few features showing that evening. I hadn't reserved a seat for any but got in via the stand-by line for their 'tour of the universe' where a live guide talked us through a digital zoom-out from SF to the solar system, galaxy and entire universe. The other dome houses he Osher Rainforest, a living biome full of plants and animals with walkways curving up from the forest floor to the canopy.
When you exit, you're transported by elevator to the basement, which is a massive aquarium. There are dozens of tanks featuring ecosystems from different regions of the world, including the pond in the rainforest. And of course, the swamp exhibit with Claude the rare albino alligator! I spent a good couple of hours in the museum, and it was a really fun evening out!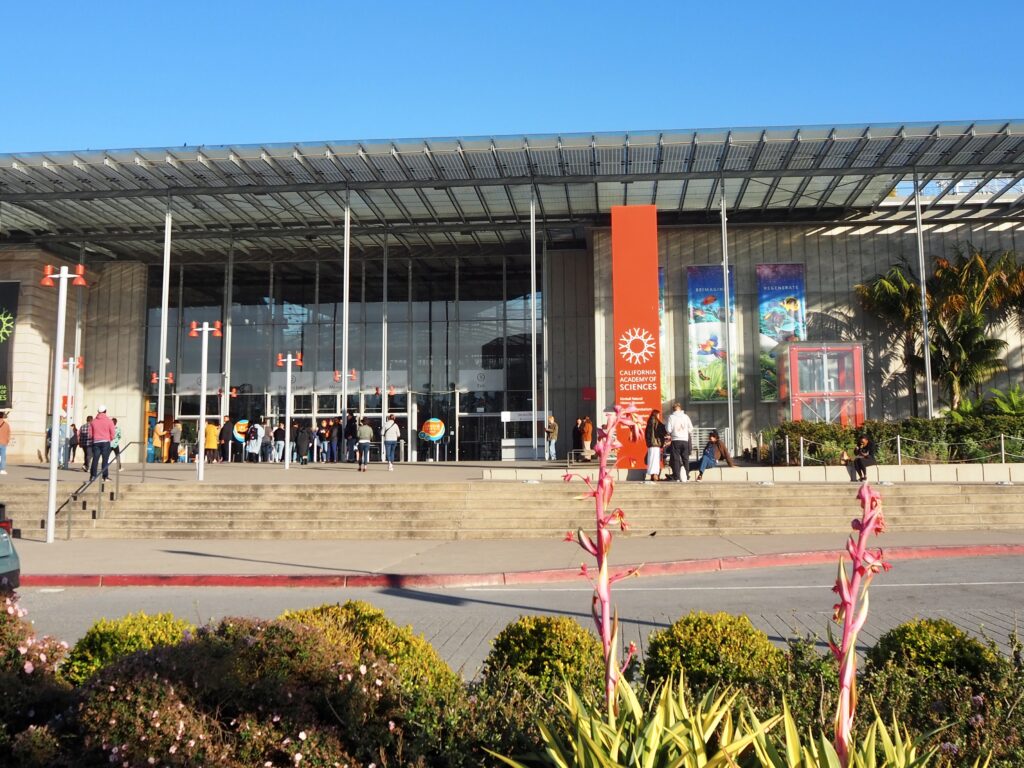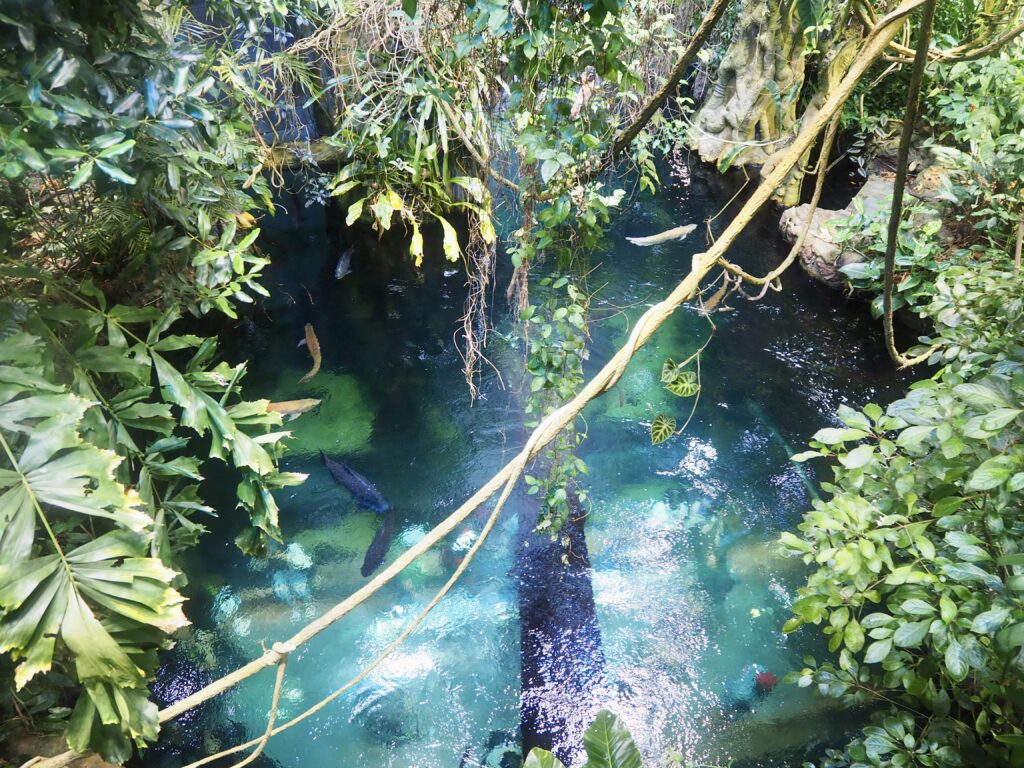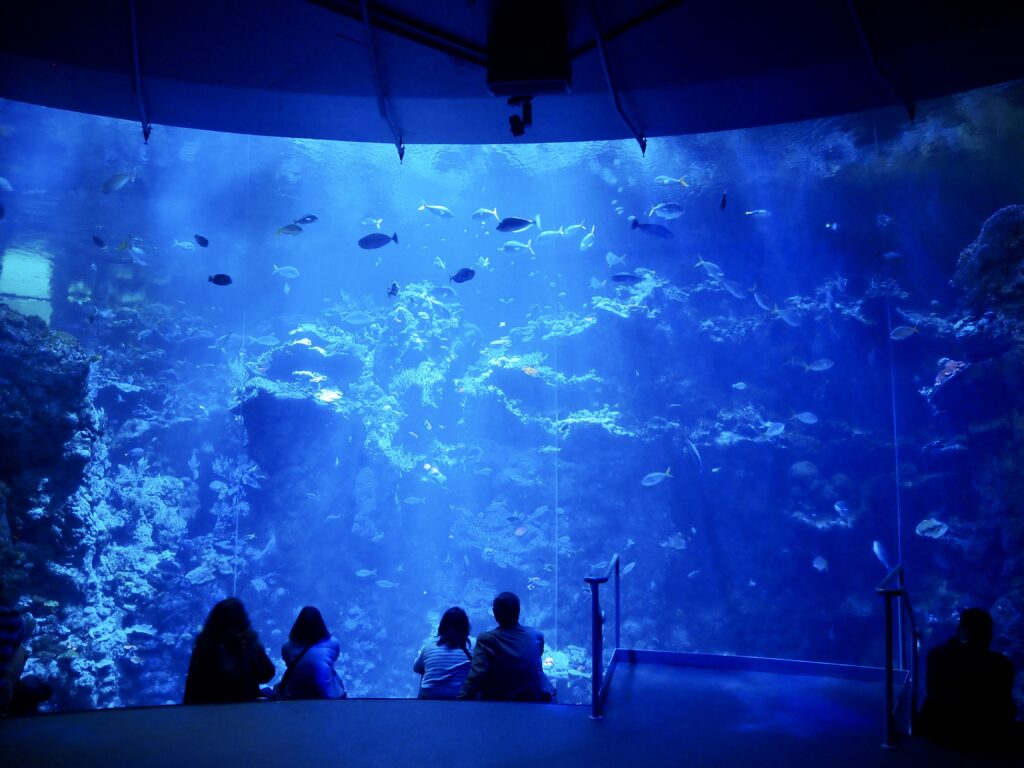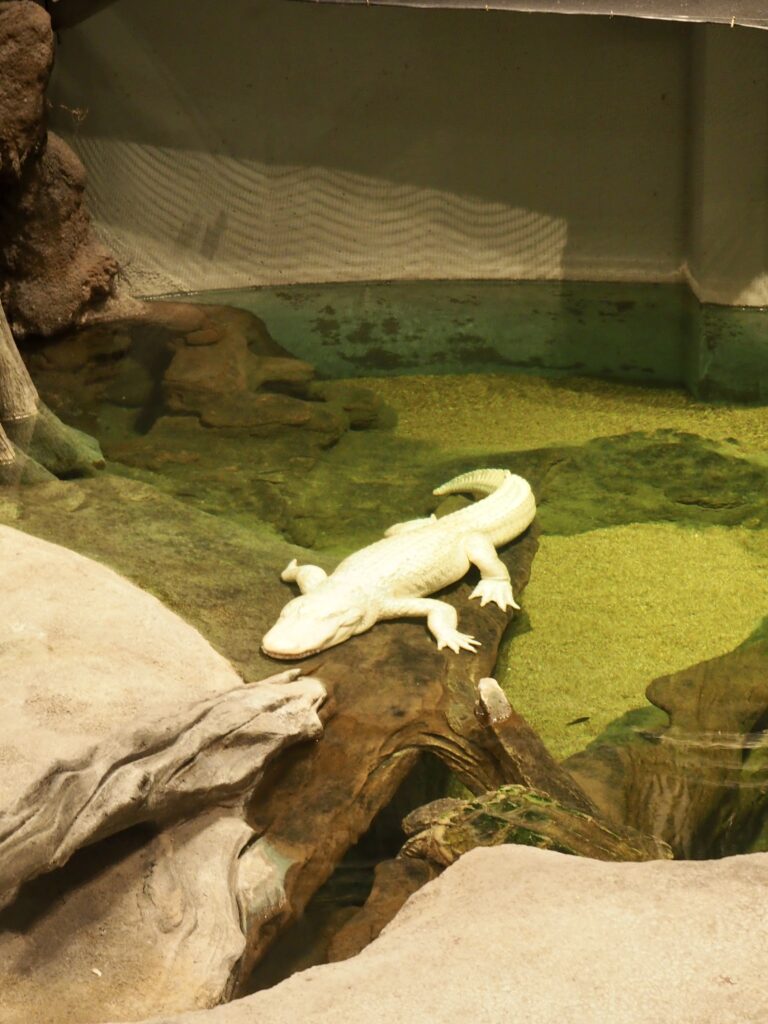 Day Seven
The Journey to Napa
I spent my last day in San Francisco working in a few cafes around Hayes Valley and the Duboce Triangle, a change from the locations I'd been using near the hostel. It was a super sunny day too, making it hard to focus on work. I did get to sit outside for a while though! When I inished, I swung by the hostel again to pick up my bags and journey north to Napa fr the last 2 nights of my California trip.
Rather than take the bus the whole way, I'd decided to catch a ferry across the bay. I hadn't done any of the boat tours on offer, so I thought this was a good opportunity instead. From the Ferry Building, it was about an hour northeast across the water to Vallejo. I got a couple more glimpses of the Golden Gate Bridge and Alcatraz, then just sat back and watched the hills whiz by to my left. From Vallejo, I caught a bus (a small 16-seater which I had all to myself) north to the town of Napa, where I immediately crashed at my hotel for the night.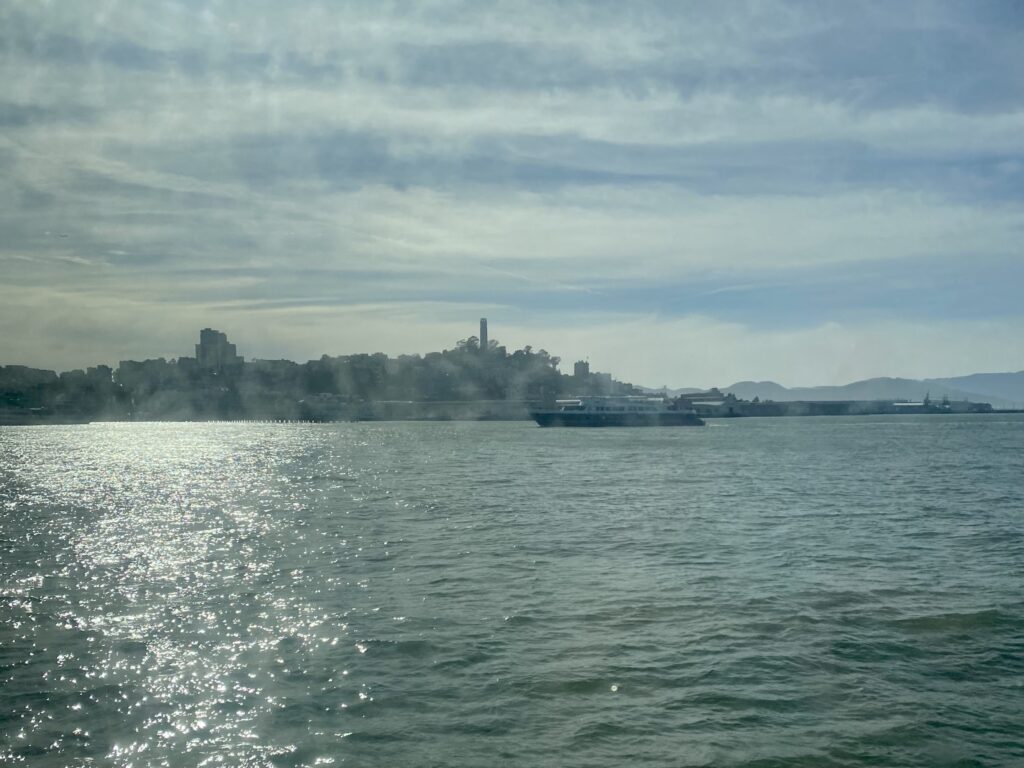 Day Eight
Napa Valley Tour
Now, of course, the entire reason I added Napa to my trip was for the wine! Napa Valley boasts dozens of vineyards, as the valley traps a lot of heat (seriously, it felt so much hotter here than SF!) making it great for growing grapes. Since I'm not about to drink and drive, I booked a day tour with Platypus Tours. They take you by bus to three vineyards, and there were about twelve of us in the group. We started with the furthest vineyard up the valley, which meant the first half hour was a pleasant drive through the scenery. I learned later that a few weeks ago, it was looking quite brown. But the heavy rains California experienced at the start of the year had led to lush, verdant, green hills and bright flowers blooming. Very scenic!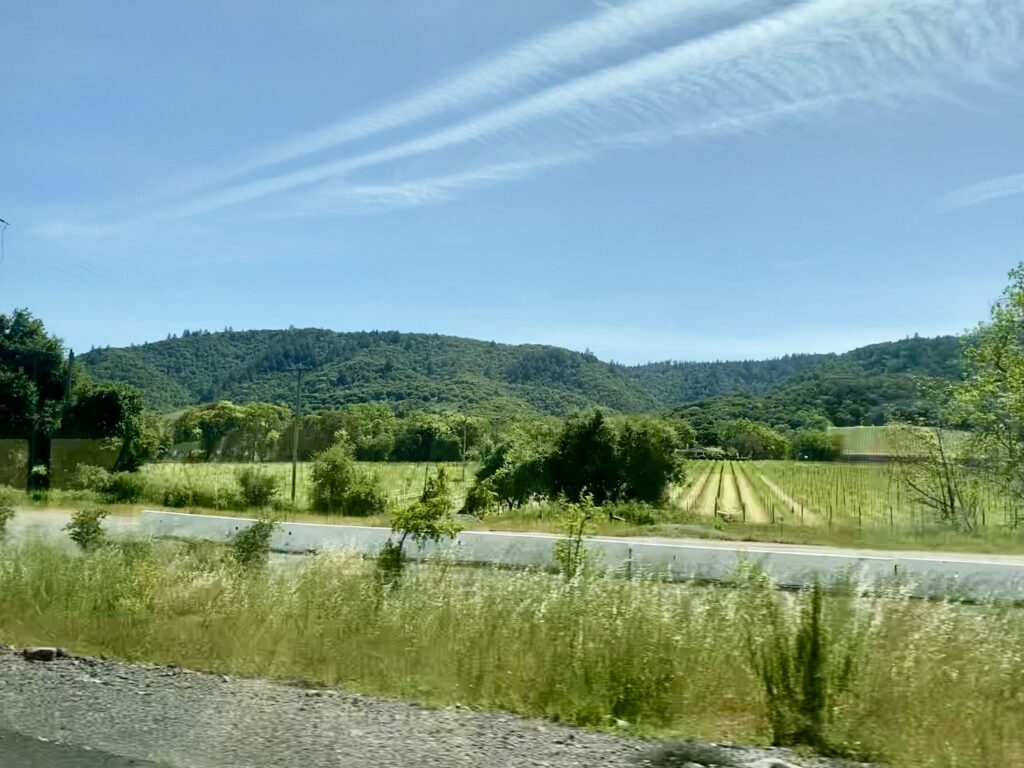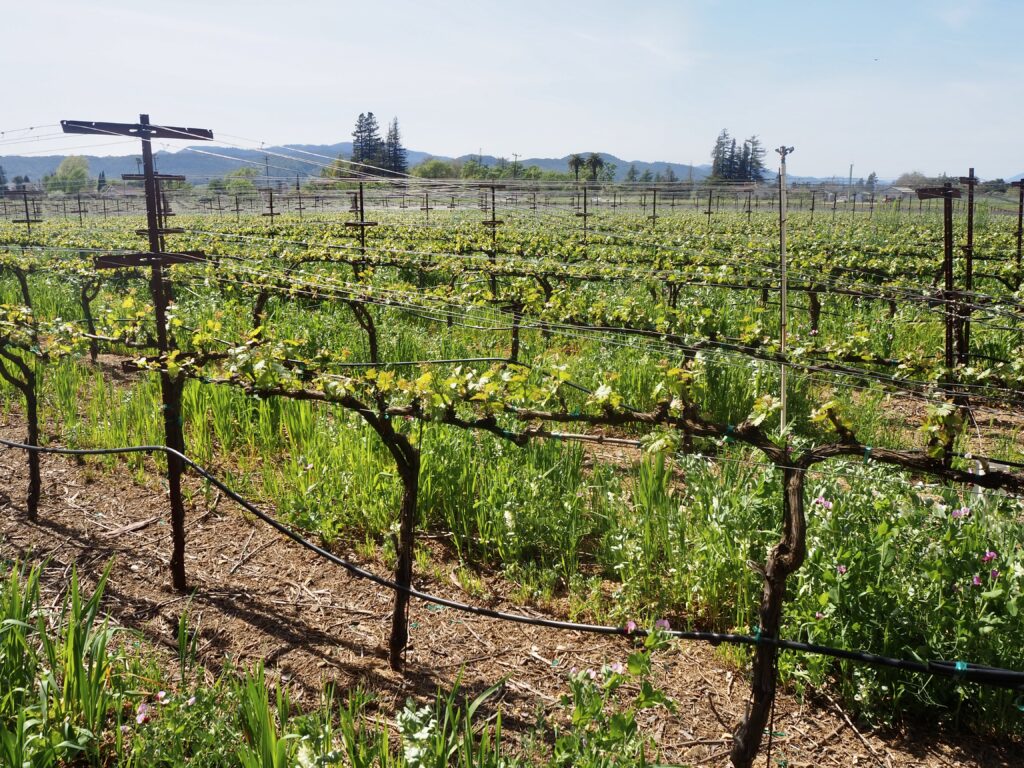 The Wineries
Our first stop was Varozza, where the owner welcomed us into a large, rustic barn, and we sat around a long table. It was a great first stop, as we were all still sober enough to listen as she told us about the region's grapes and many wine varieties. Each tasting started with a white, then a rose, then 2-3 reds, since Napa produces mostly red. The next stop was Ghost Block where we had lunch outside on the patio first. We moved inside for the tasting, but also got to visit their storage building, where all the wine barrels are stacked up. The guide gave us a taste straight from one of the barrels!
Finally, we went to Backstage Winery and after going to see a field of the actual vines, we sat outside in an Italian-style patio. By this stage, a lot of the group was pretty tipsy and chatty as a result. Our host told us a little about each wine as he poured but left everyone to chat otherwise. Then, it was time for our driver-guide to herd everyone onto the bus to take us back to town. All that wine and sunshine left me sleepy and ready for bed!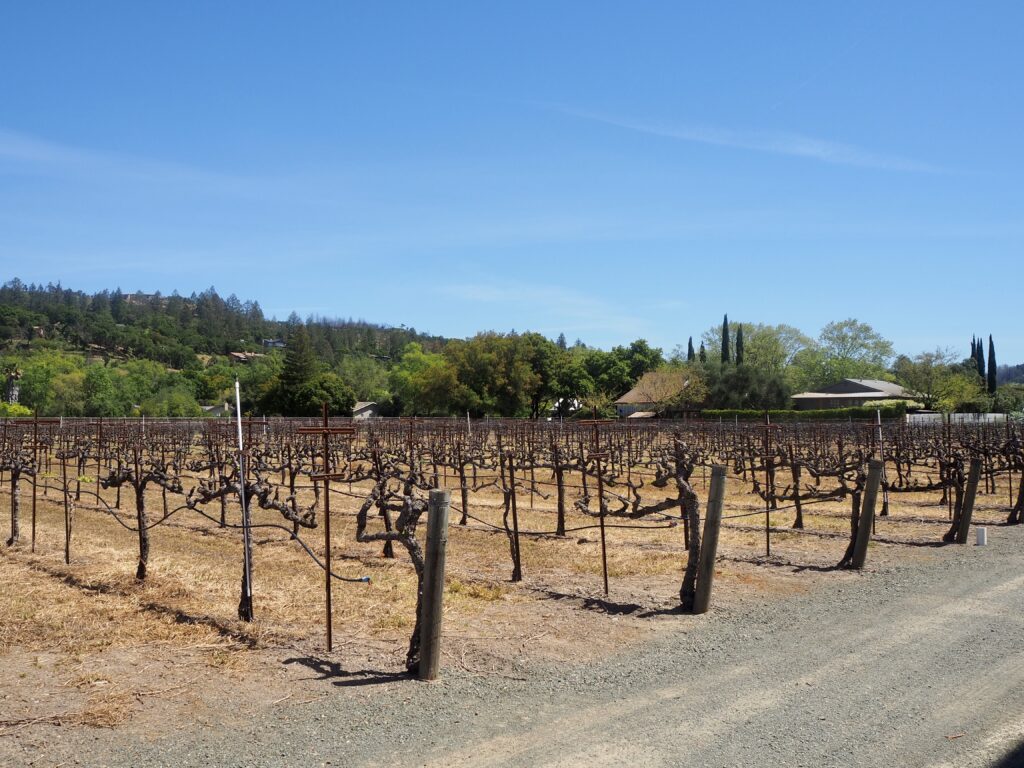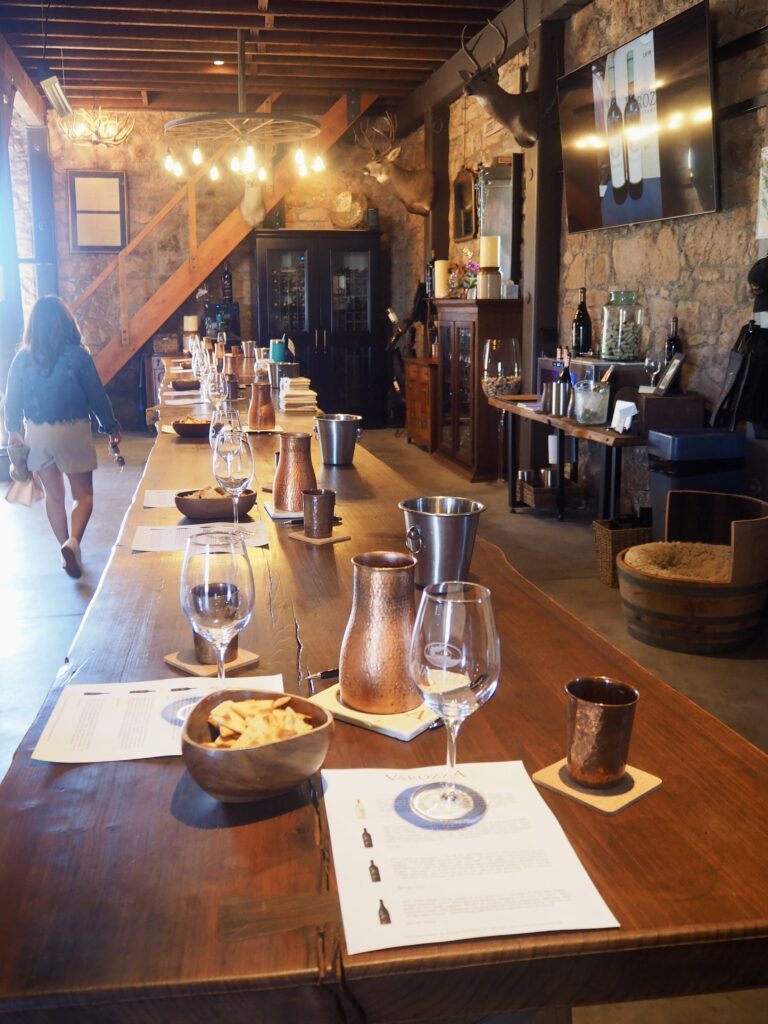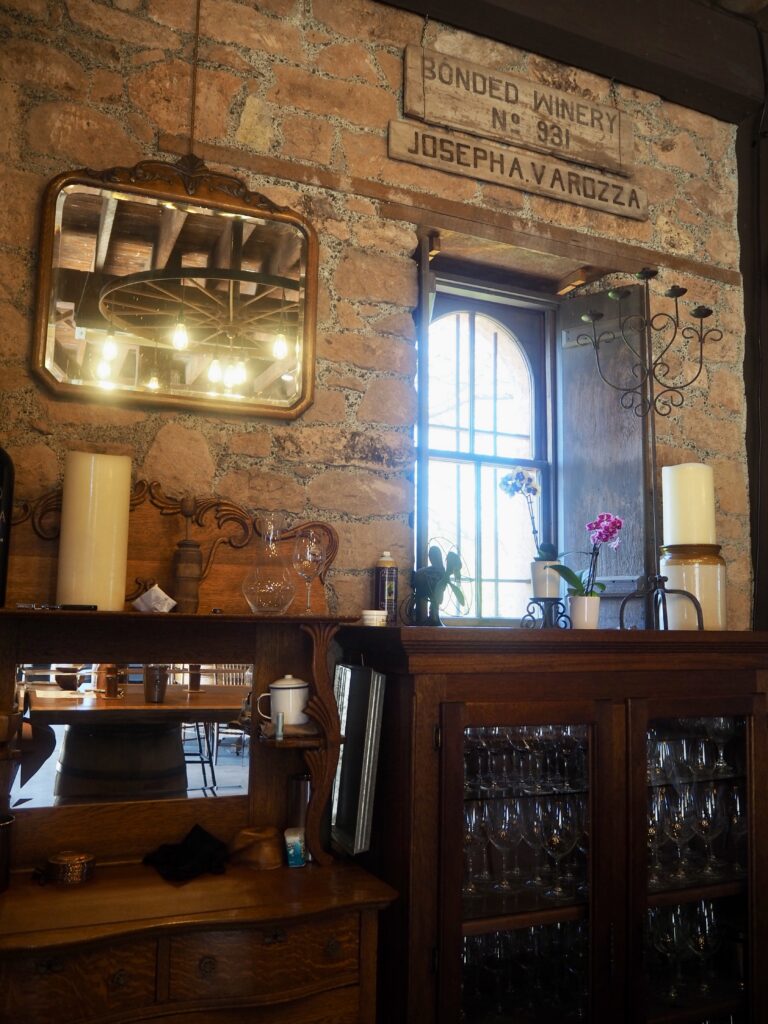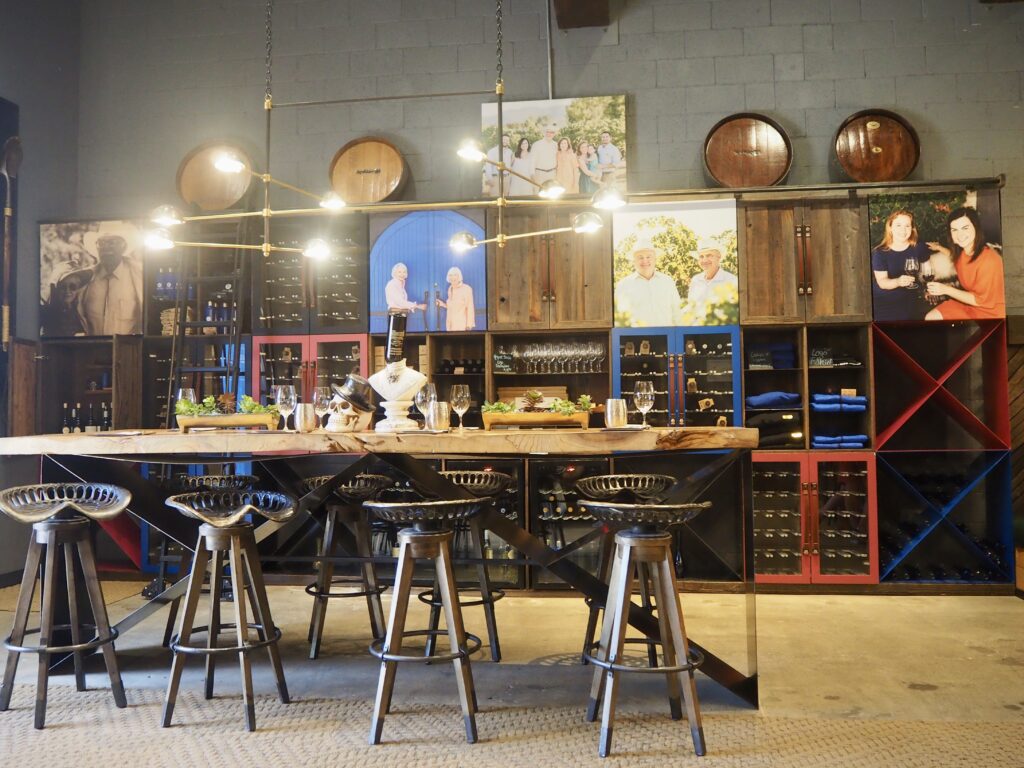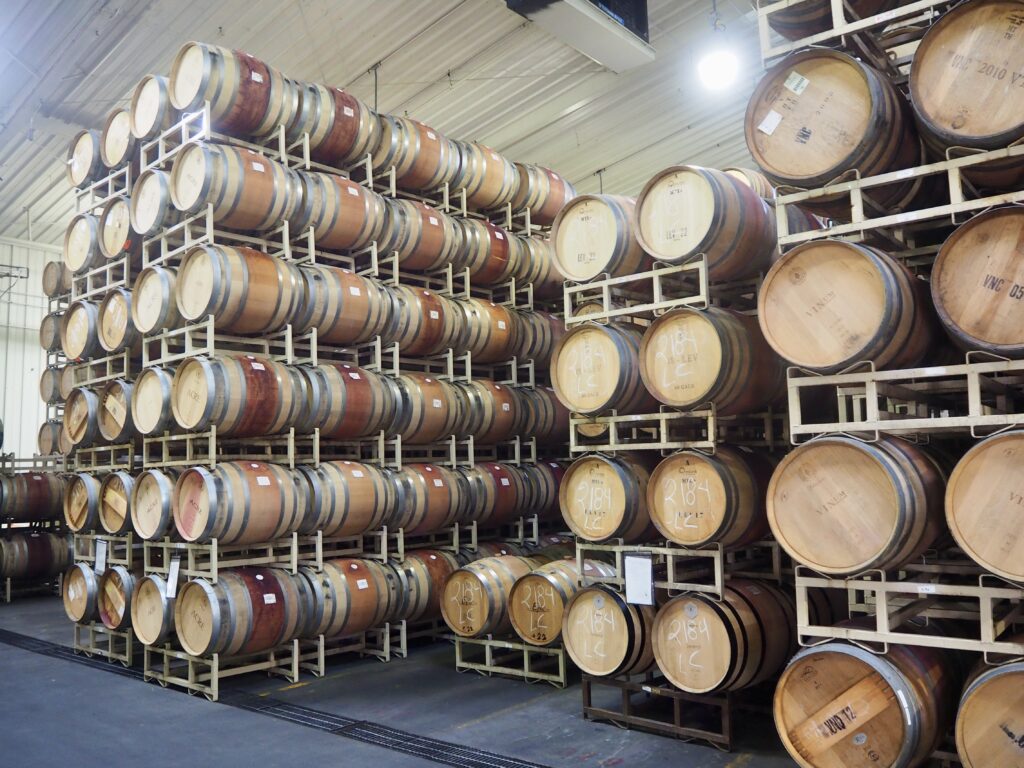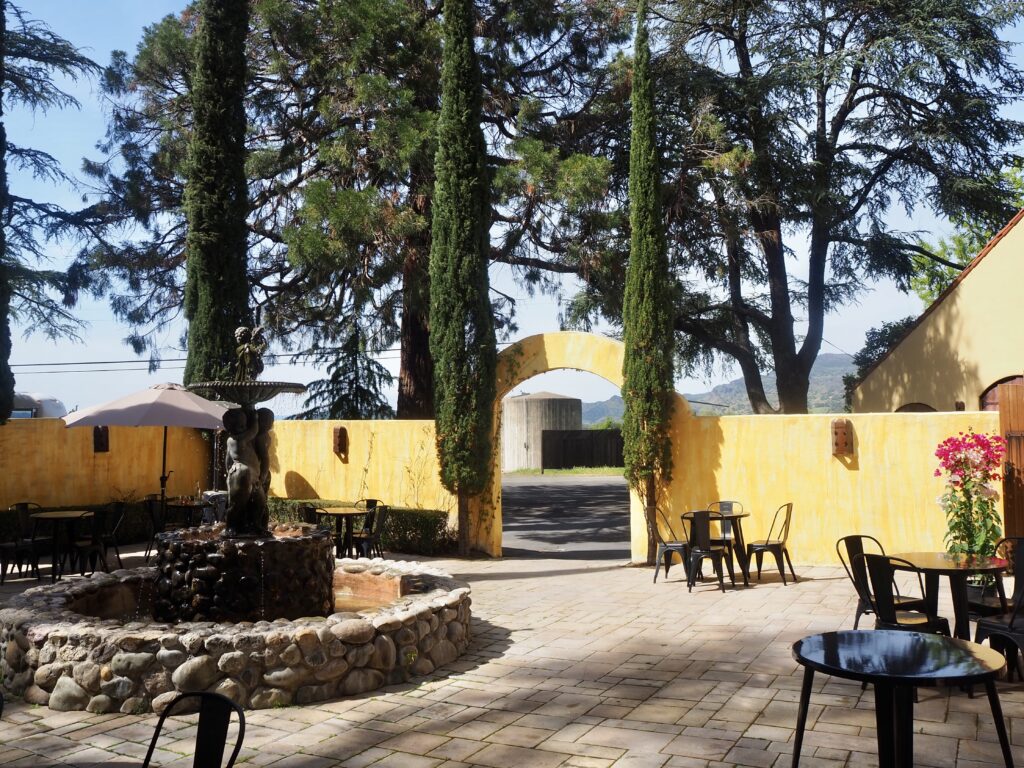 A Week in San Francisco
The next morning, I journeyed by bus then train to San Francisco Airport to fly back up to Canada. San Francisco was certainly one of my favourite stops on my California trip! It's a really cool city, with lots of history, plenty of events, and a diverse array of neighbourhoods and things to see. I was glad I had a whole week to explore to cover a lot of ground. And working from cafes was a different way to experience a city. I liked how walkable it was too (hills aside), especially for someone like me who doesn't like driving.
My whole California trip was amazing too, and I was kind of sad to be leaving. I got to do a bit of everything, from Hollywood sightseeing to desert hiking, and wildlife spotting to winery touring. Plus Disneyland, of course. All while being extremely lucky with sunny weather and spring flowers in full bloom. It was a jam-packed three weeks, but I had such a good time in every location!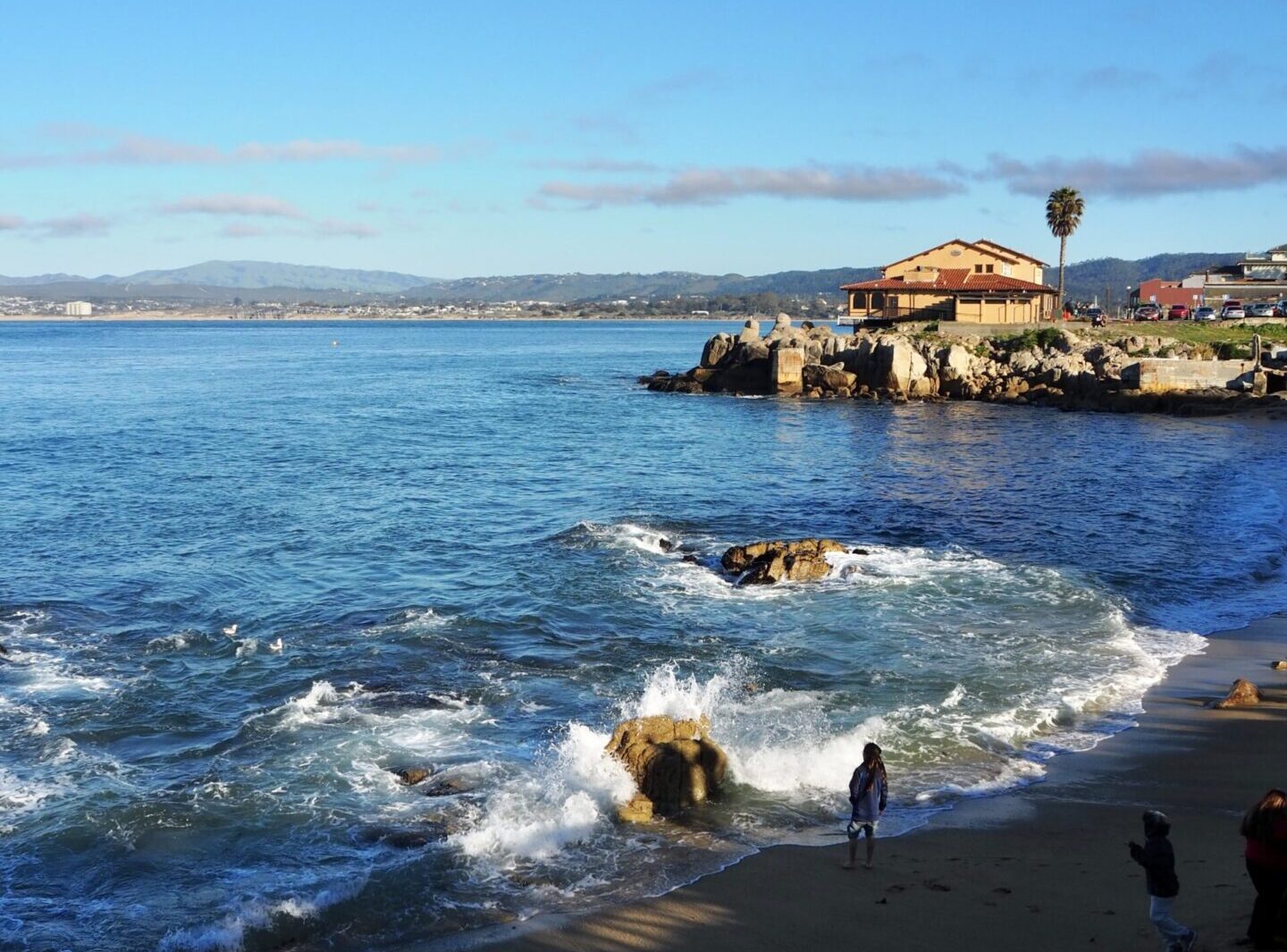 You May Also Like
26 May 2015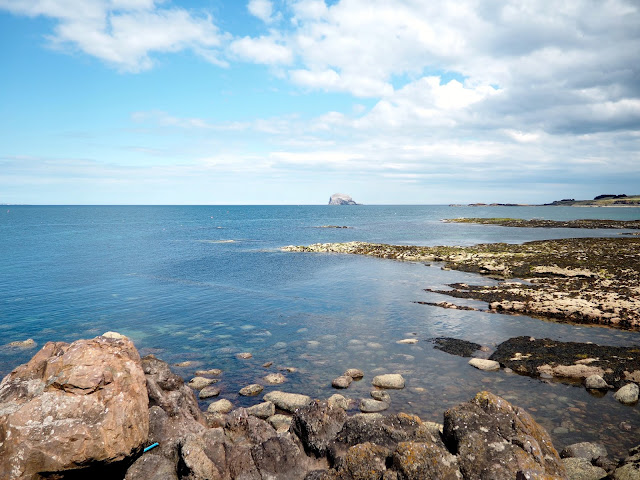 23 July 2018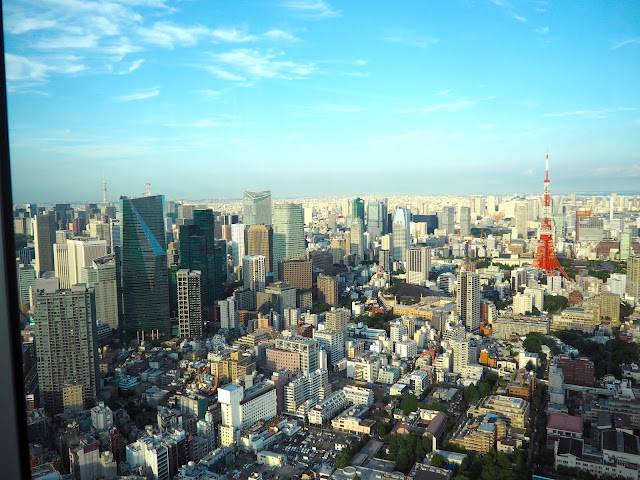 7 February 2018