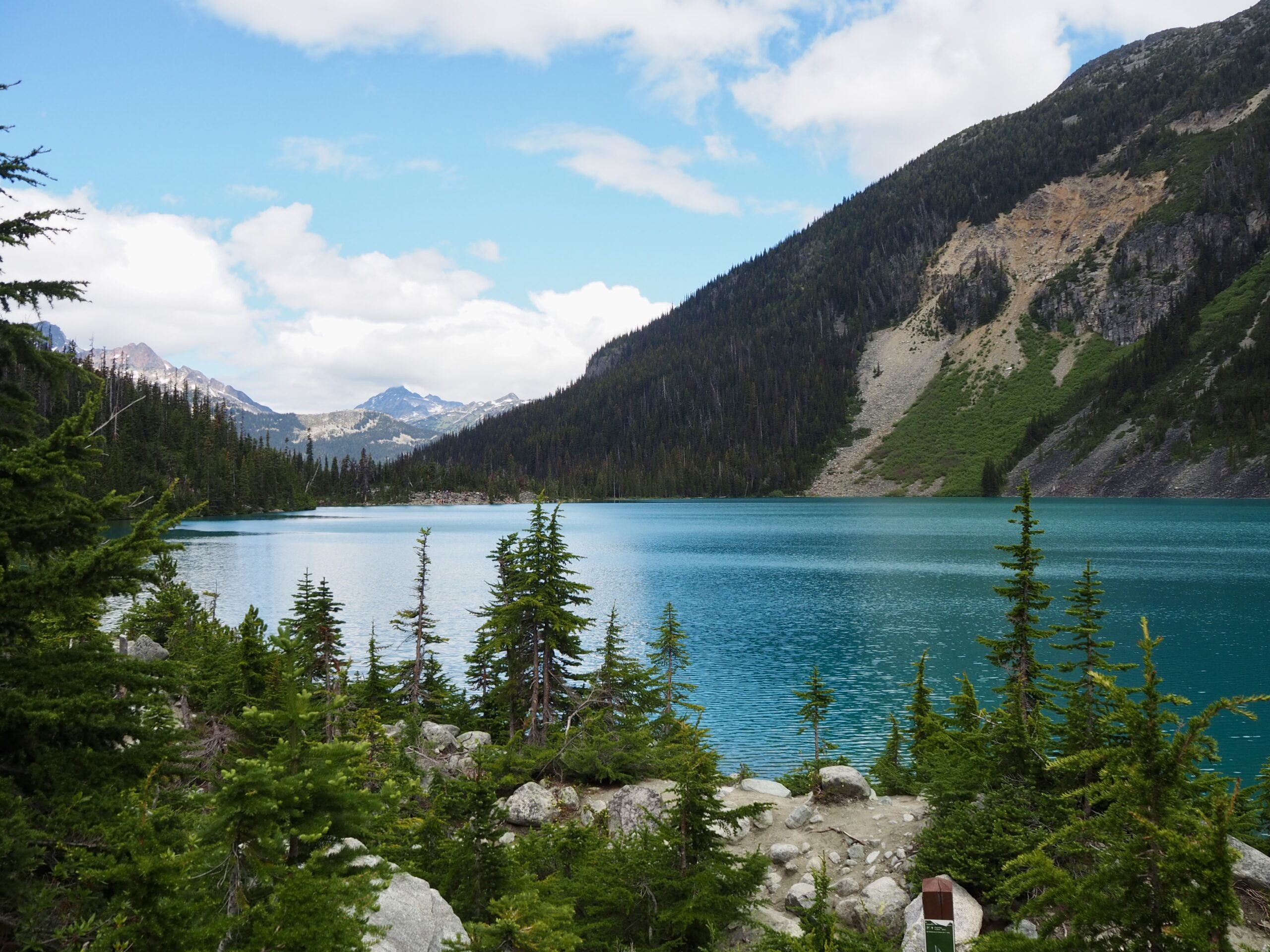 A Week in Whistler
18 July 2023
After my month on Vancouver Island, I returned to the mainland once more. Just in time for lots of visitors to arrive! I had a week back in Vancouver, first with my parents before they went to explore the island themselves. Then, my best friend and her sister arrived, splitting their week between Vancouver and the mountain town of Whistler, two hours north of the city. After they left, my parents met up with me in Whistler again. I had about 10 days there in total, though about 4 were spent working. Whistler is a top destination for mountain biking in summer and skiing in winter. I'm not a snowsports person, hence waiting until spring/summer to visit! There's lots of other outdoor activity options and I was eager to explore the hiking and paddling! So this is how I spent a week in Whistler.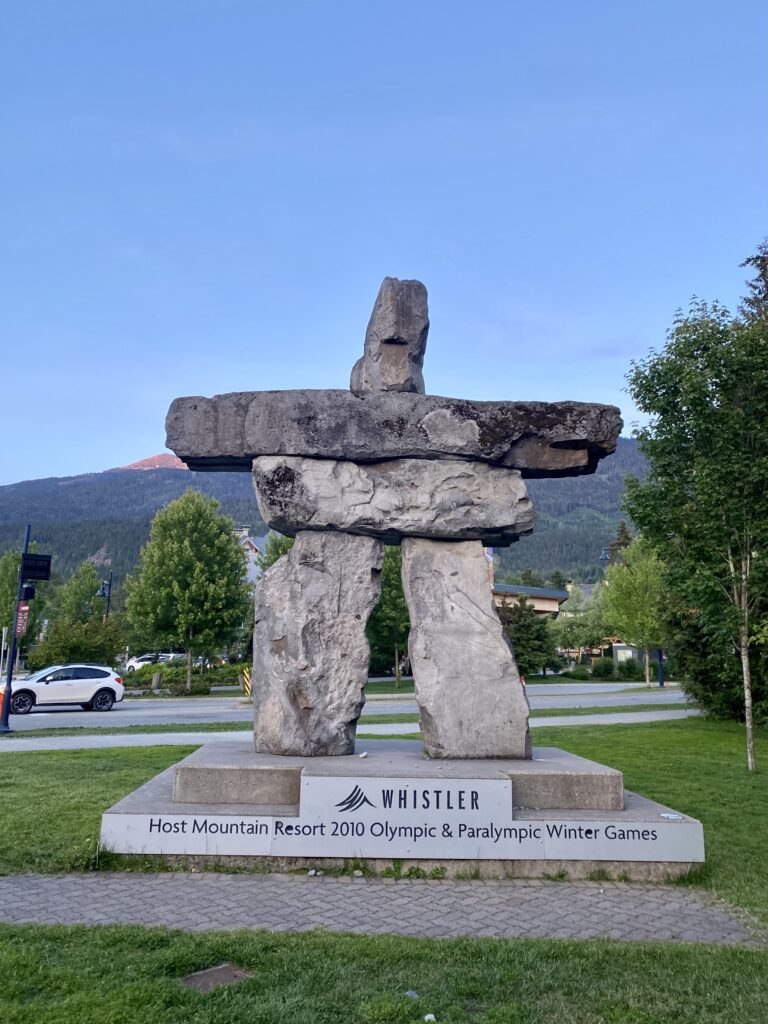 Day 1 – The Sea to Sky Highway
Squamish
When travelling from Vancouver to Whistler, the drive is half the fun! Well, not fun when you don't like driving, like me. BUT it is one of the most spectacularly scenic drives in the area up the Sea to Sky Highway, passing by the Howe Sound and its many islands, and up into the mountains of British Columbia. Halfway up is the small town of Squamish, a sleepy respite between the city lights of Vancouver and the tourist haven of Whistler. It's a big location for rock climbers tackling the Stawamus Chief. Not my cup of tea, but I did do a small hike a few months ago up the Smoke Bluffs which was non-too strenuous but mostly in the forest so not many viewpoints.
The town itself is centred around Cleveland Avenue, a collection of shops and restaurants. Many of them are independent stores, with clothes, outdoor equipment or gifts and souvenirs. There are several martial arts studios too! It's a pretty street to wander as there are lots of murals and street art, plus the little park in the middle. We made a lunch stop here, getting pho at Taste of Saigon on a friend's recommendation.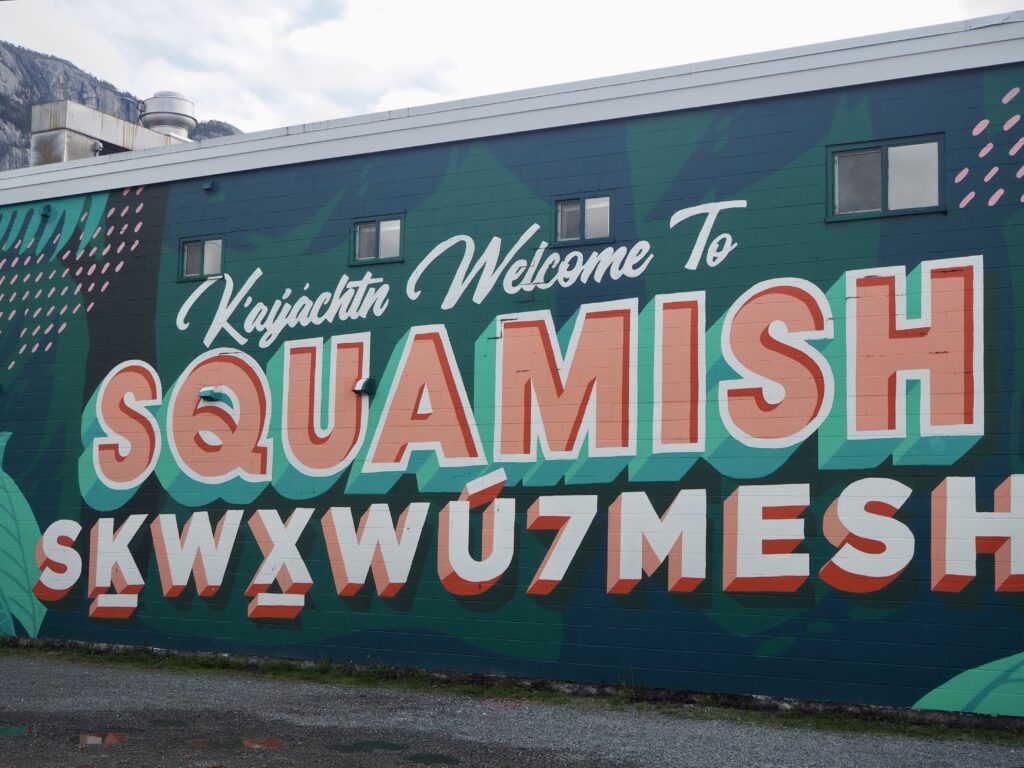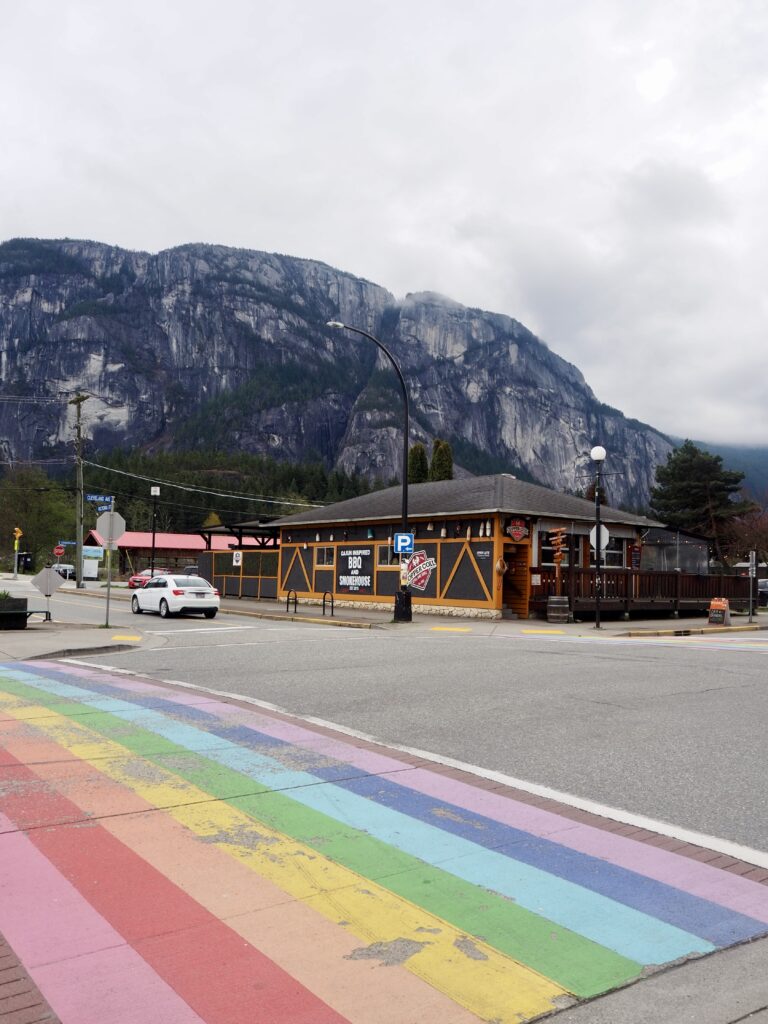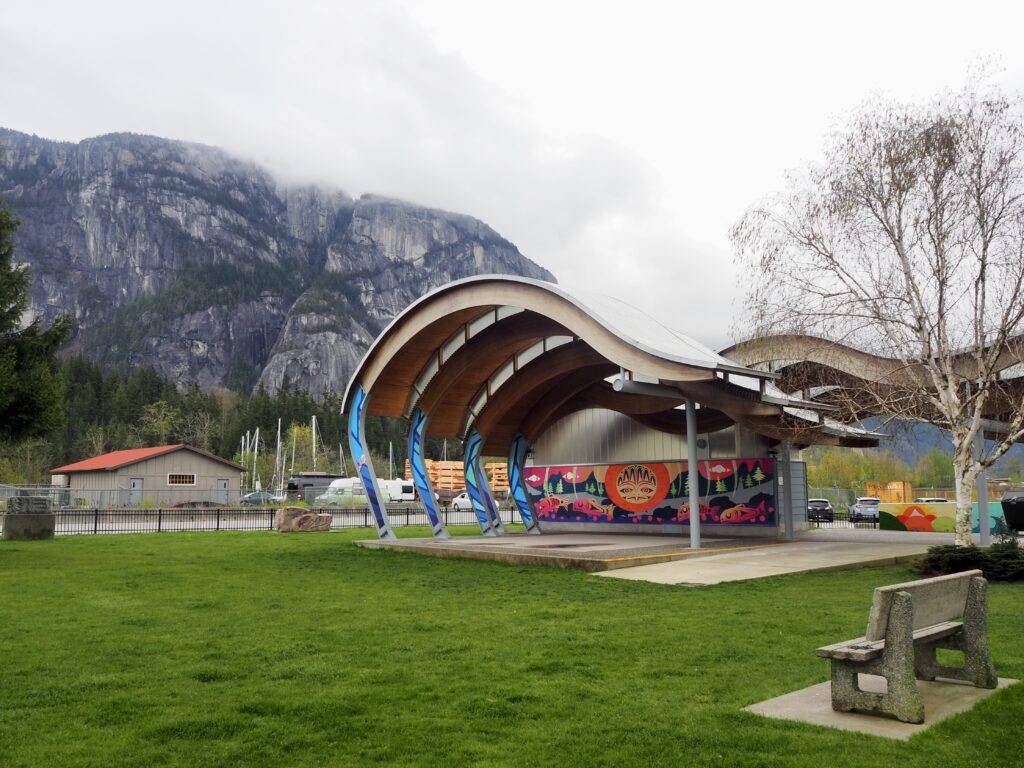 Cheakamus Lake Hike
Continuing up the Sea to Sky to Whistler, we stopped off on the way to hike to Cheakamus Lake. Word of warning – the road to the trailhead is a dirt forest road for the last 20 minutes or so, with lots of stones and potholes and bumps! Our rental car was filthy! The hike itself is fairly level, a straight route through an evergreen forest where we encountered many squirrels along the way. There are a few mountain biking trails in the area too, which we passed on the drive. A couple of bikes passe us on the trail too, not going super fast, but we did jump when one called out to warn us they were behind us!
The trail finishes at the lakeshore, near a campsite. You can continue around the lake a bit further, but given it was late afternoon already, we didn't. It wasn't the sunniest day so we didn't get the turquoise colour you see in some photos. But we could still look out across the lake to the mountains beyond, capped with snow even in early June. We even braved paddling our feet, but it was chilly!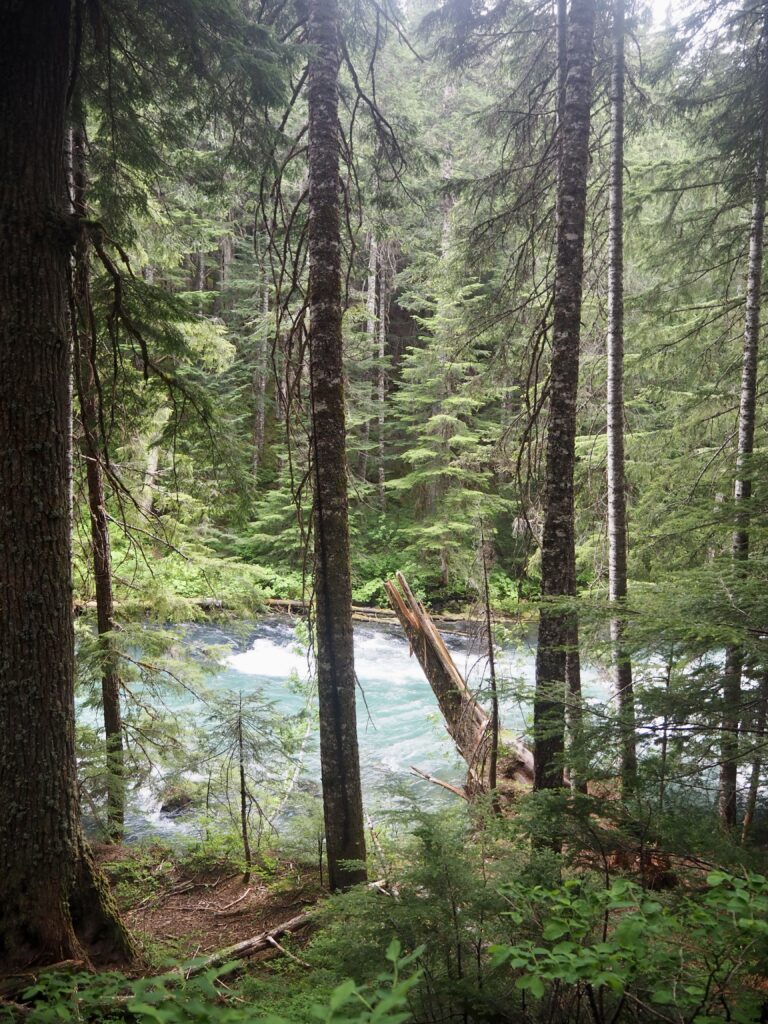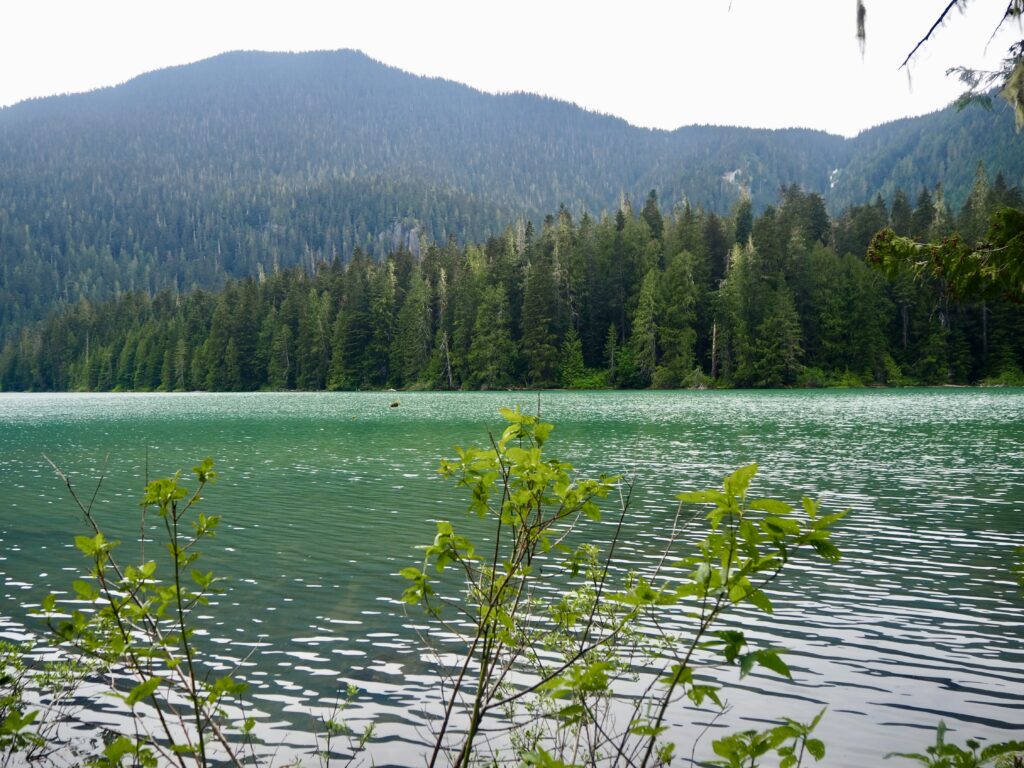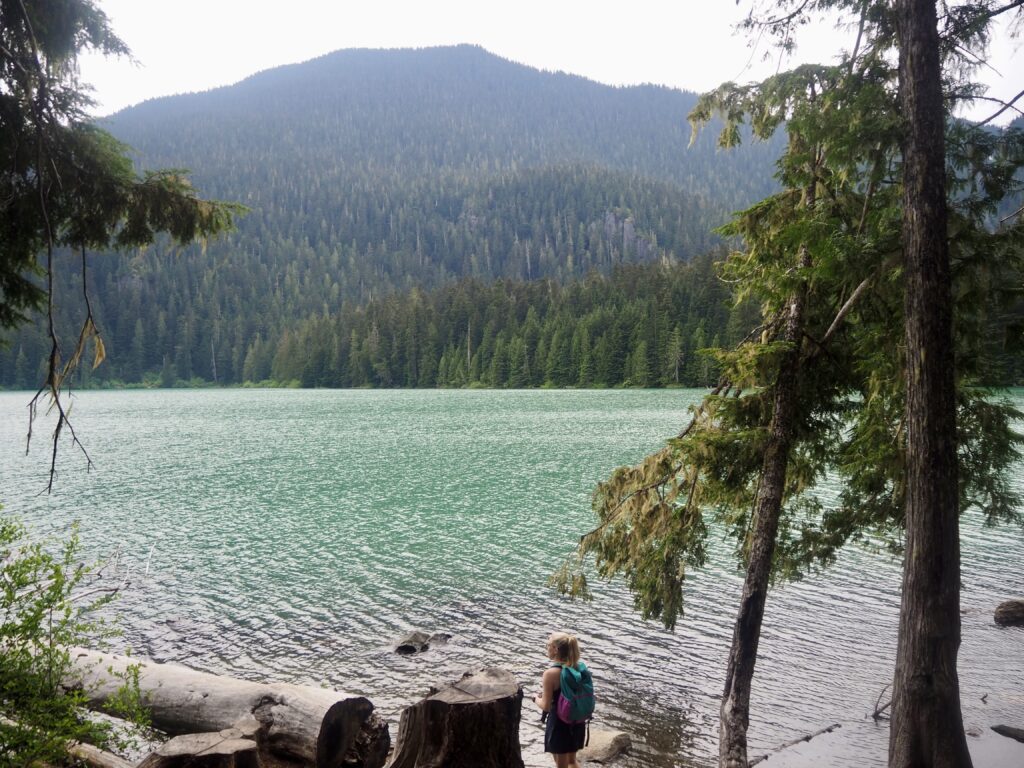 Day 2
Squamish Lil'wat Cultural Centre
Our first day in Whistler was a rather overcast and rainy one, so an indoor activity made sense! I was super keen to visit the Squamish Lil'wat Cultural Centre to learn more about the First Nations of the area. The Squamish lands extend from Vancouver up to Whistler, while the Lil'wat are further north, around Pemberton and Lilloet. Whistler actually falls in both of their territories, but they agreed many years ago to share the land. If only other parts of the world could do the same! Which is also why the cultural centre reflects both Nations and their individual cultures, noting the similarlities and differences between them.
Most of the staff were Indigenous as well and would lead free tours every hour. Our timing was a bit off; we arrived too late for one and didn't have time to stay for the next. But every tour starts with a welcome song and then a 15-minute film, so we managed to stay for them. The film was great because it let you see their lands and homes beyond the museum walls. The temporary exhibit was a photography series, which I really enjoyed, plus there's a cafe and gift shop too. Definitely would recommend!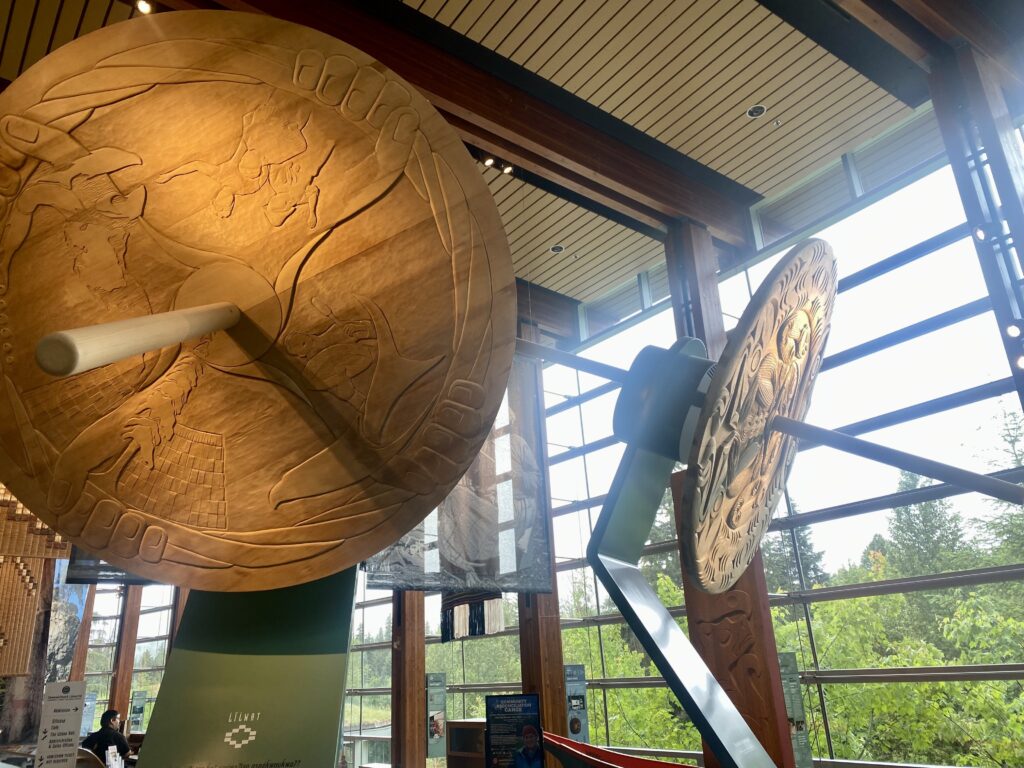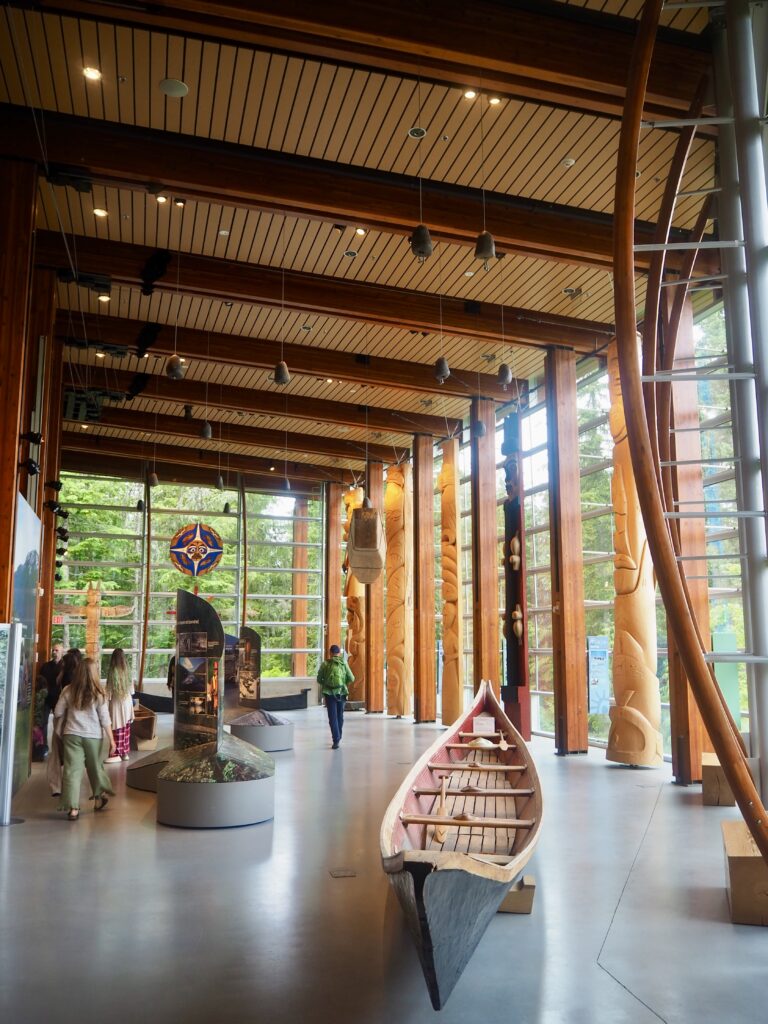 Whistler Village
I wandered through Whistler Village numerous times throughout my 10-day stay. It's an interesting village as it definitely feels like a sort of resort. Which makes sense, as much of it was built with the Winter Olympics in mind! Though it did take them many years and a few failed bids before they successfully hosted in 2010. But the village is mainly shops, restaurants and tourist accommodation, along a handful of pedestrianised streets. It has everything you need for a holiday visit – especially in terms of outdoor clothing and equipment – but you can tell that no one really lives there? Most of the locals live a bit further out in the surrounding areas instead, such as Whistler Creek and Alpine Meadows.
You can wander through Olympic Plaza, which is quite cool, where you'll find the Olympic Rings, Torch and Paralympic symbols. I visited many restaurants during my stint as well, for lunches and dinners. Hunter Gather, Stonesedge Kitchen, Mongolie Grill and, of course, Cows ice cream were all memorable ones. Plus Espresso Martini Mondays on the Pangea Pod Hotel's rooftop bar – the only rooftop patio in the village!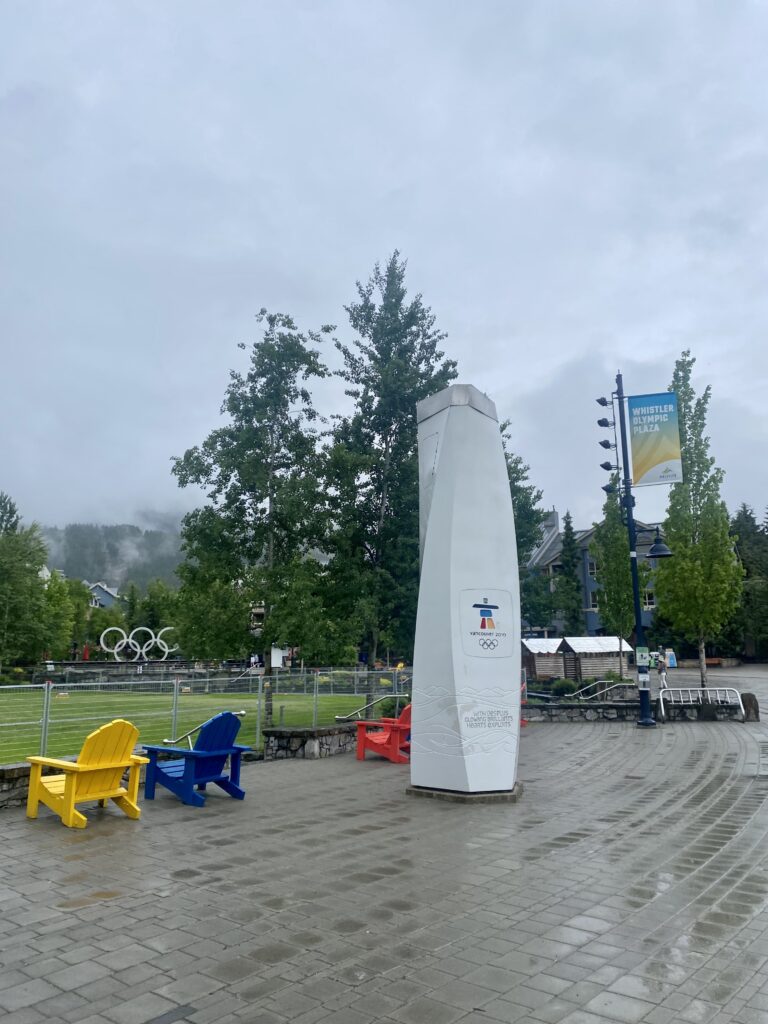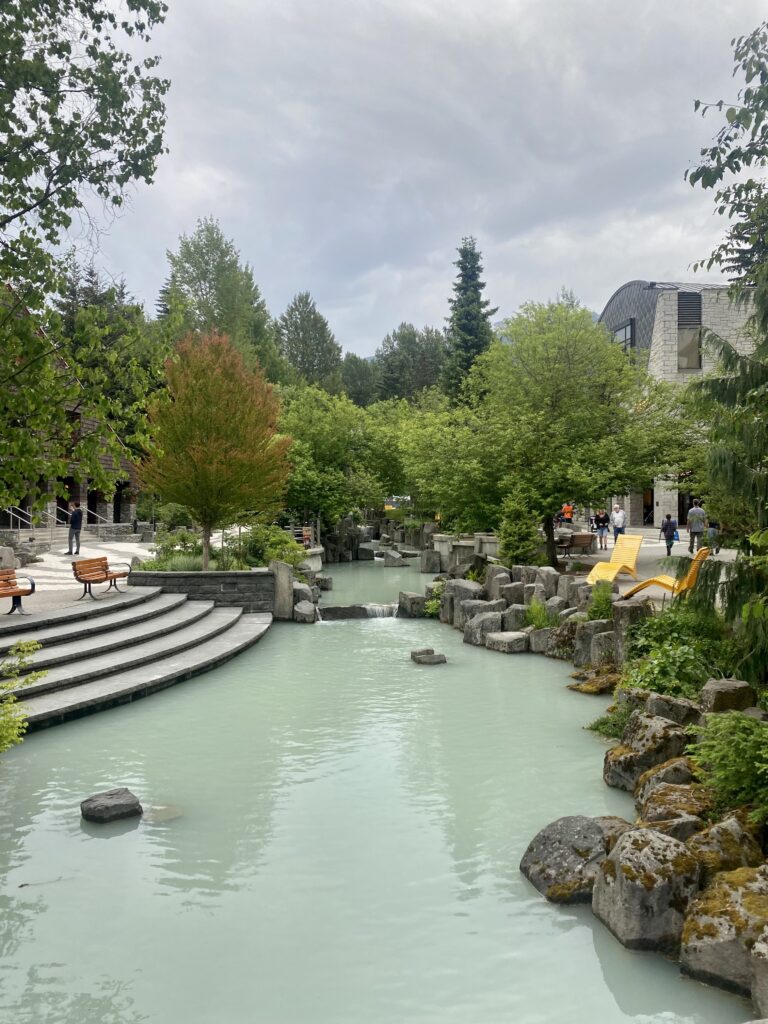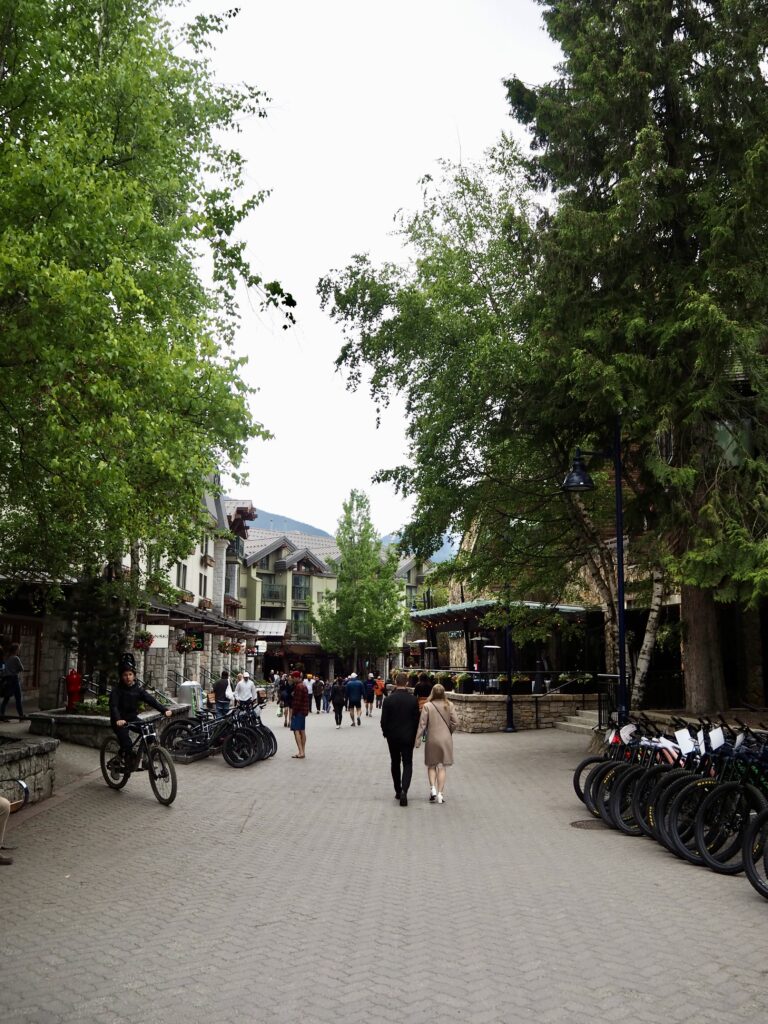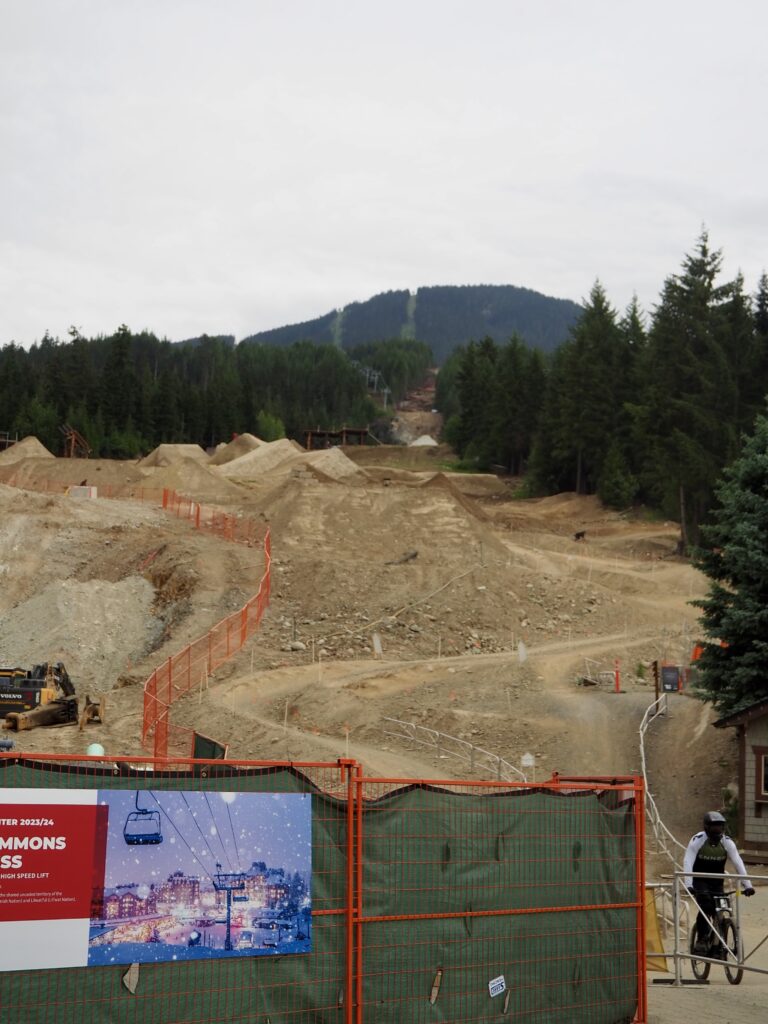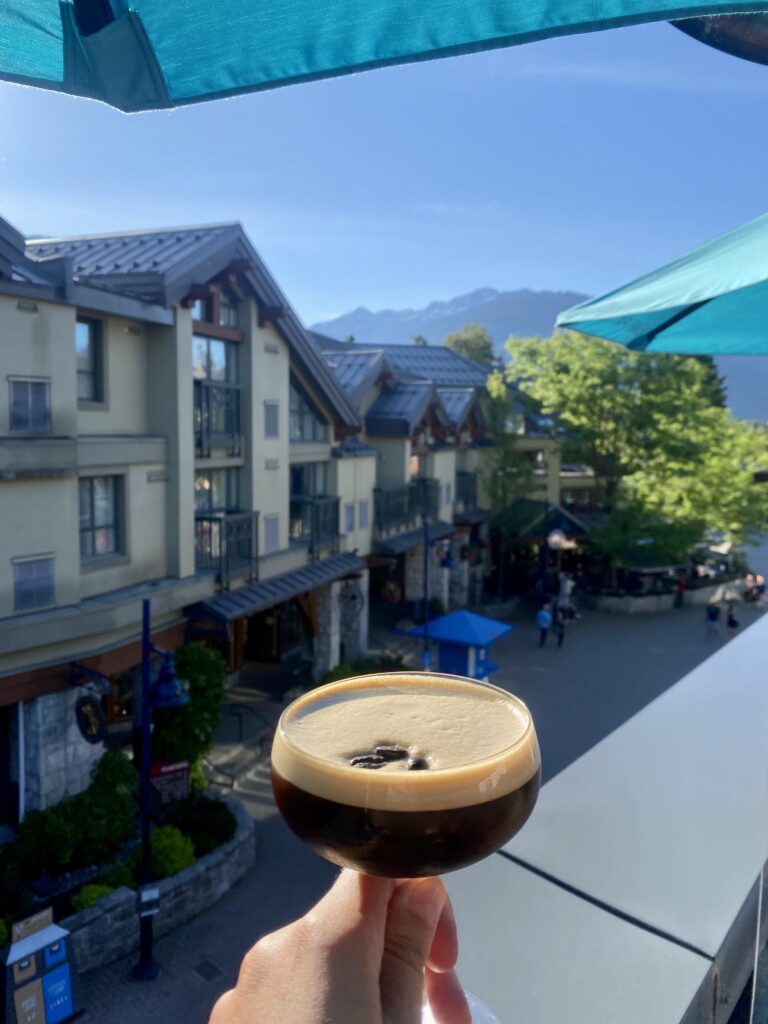 White Water Rafting – Cheakamus River
After lunch in the village, we ventured south out of Whistler again, back towards Squamish, for another rainy day activity. If you're already wet from the rain, what does it matter if you get splashed on the river? I've done white-water rafting a few times before but it's been several yeara since last time. For the other two, this was the first time, so we opted for the 'family-friendly' Class II rapids trip offered by Canadian Outback Rafting. I'm pretty sure I've done Class IV before, and they both said after this first experience, they would probably be able to do Class III-IV in future.
We arrived at their base and did all the usual briefings and changed into our wetsuits. Then it was a very bumpy ride in an old school bus (yes, the classic yellow American ones!) towing the rafts behind us, down a forestry road to the river. Th actual rafting was about 1-1.5 hours, including another safety & training session before we started. The rapids were as expected for Class II – fun, but nothing too crazy. We drifted down the Cheakamus River, past the BC forests with a few mountains in the surroundings. Our guides were fantastic too, which really made the experience – super helpful and informative, but also very friendly and funny and laidback!
Day 3
Joffre Lakes Hike
Joffre Lakes is about an hour north of Whistler, past Pemberton, but it's one of the most popular must-do hikes in the region. The most important thing is that as of 2023, you MUST get a day pass online in advance. The trial has been so popular n recent years, they now limit the number of people per day. The passes are free and you can register 48 hours in advance. There's no signal at the trailhead either, and the chances of getting a pass on the day are low, so you will be turned away by the park staff if you show up without one!
The trail itself was a bit tougher than we expected! It takes about 2-2.5 hours to get all the way to the third lake, and most of that is quite a steep uphill climb. It's totally worth it though! You can get to the first lake in about 20 minutes along an easier, level walk, but the other two are at the top of the trail. All three lakes are sparkling, bright blue as the water flows down from the glacier, instilling the water with 'rock flour', the fine, crushed sediment picked up by the glacier. The third lake sits right beneath the glacier, with views of it and the mountains all around. You also get a lot of mountain views on the way up, very Alpine in style, covered in evergreen trees. Keep an eye out for wildlife too, with many birds, chipmunks and pika along the way!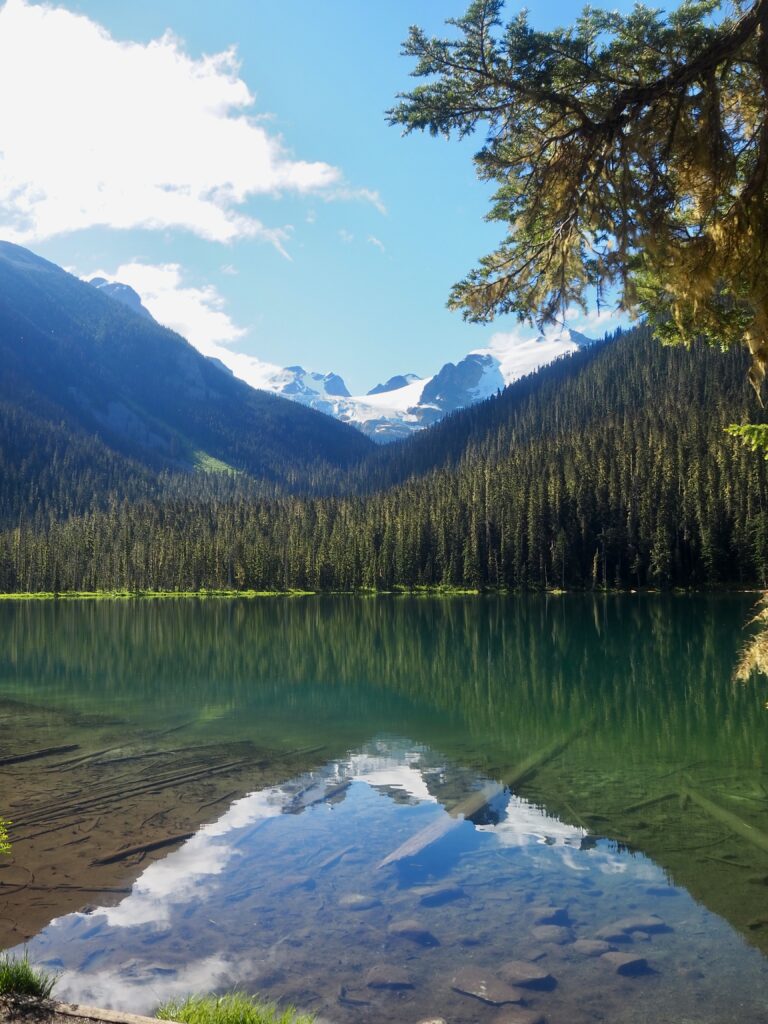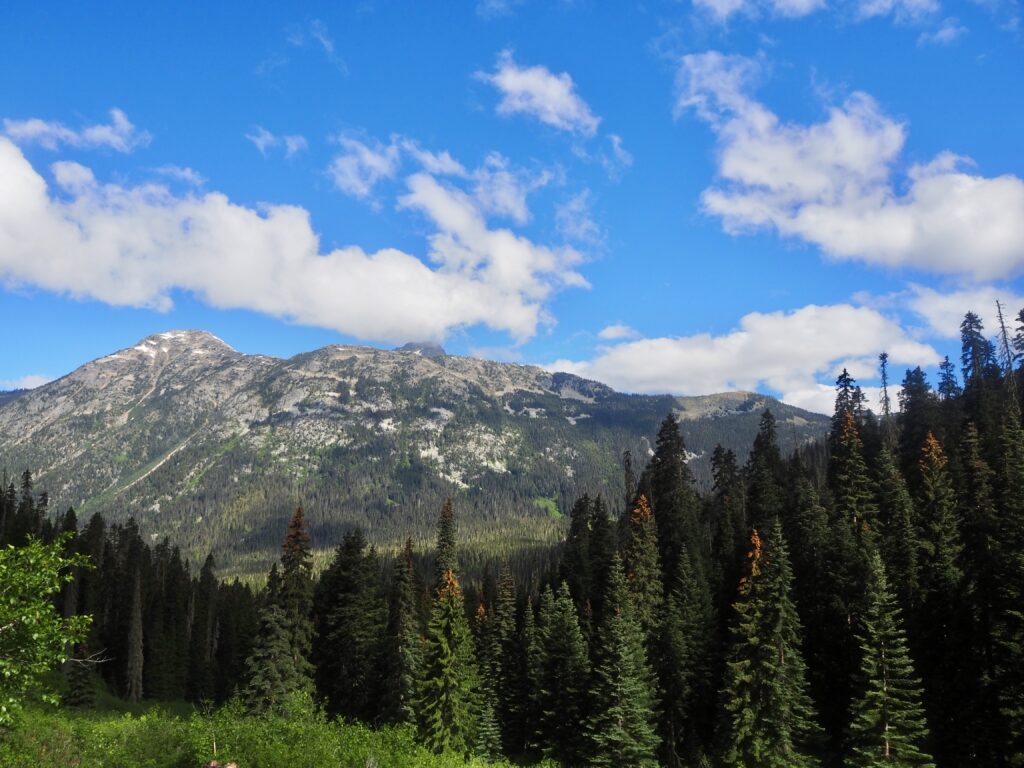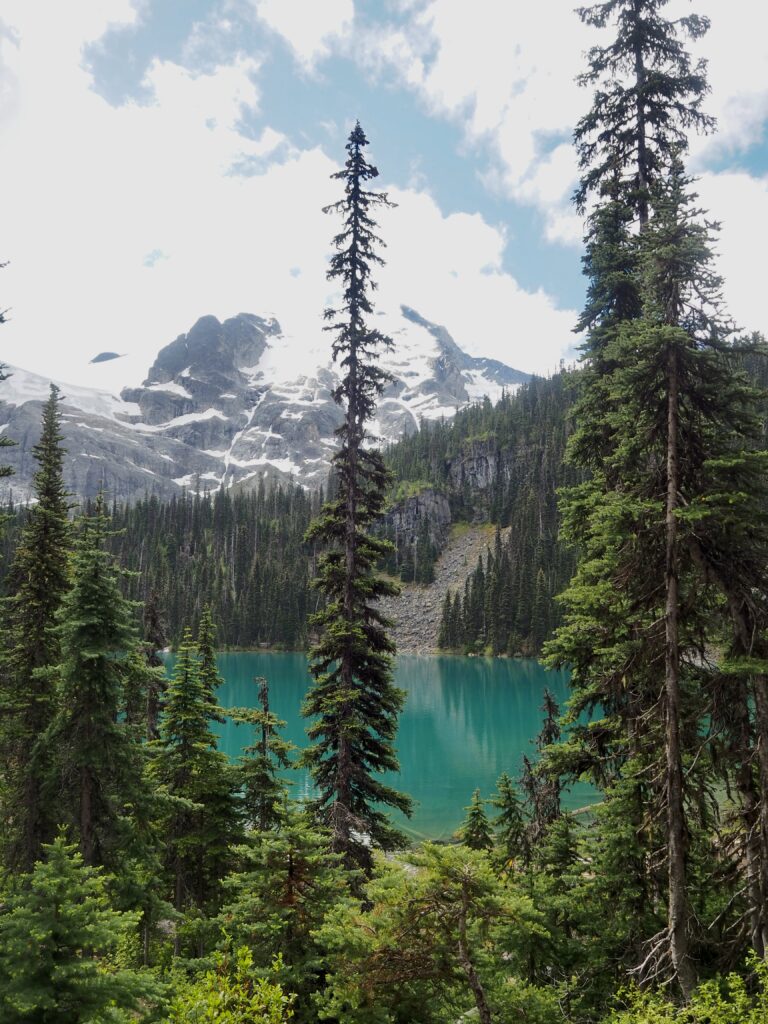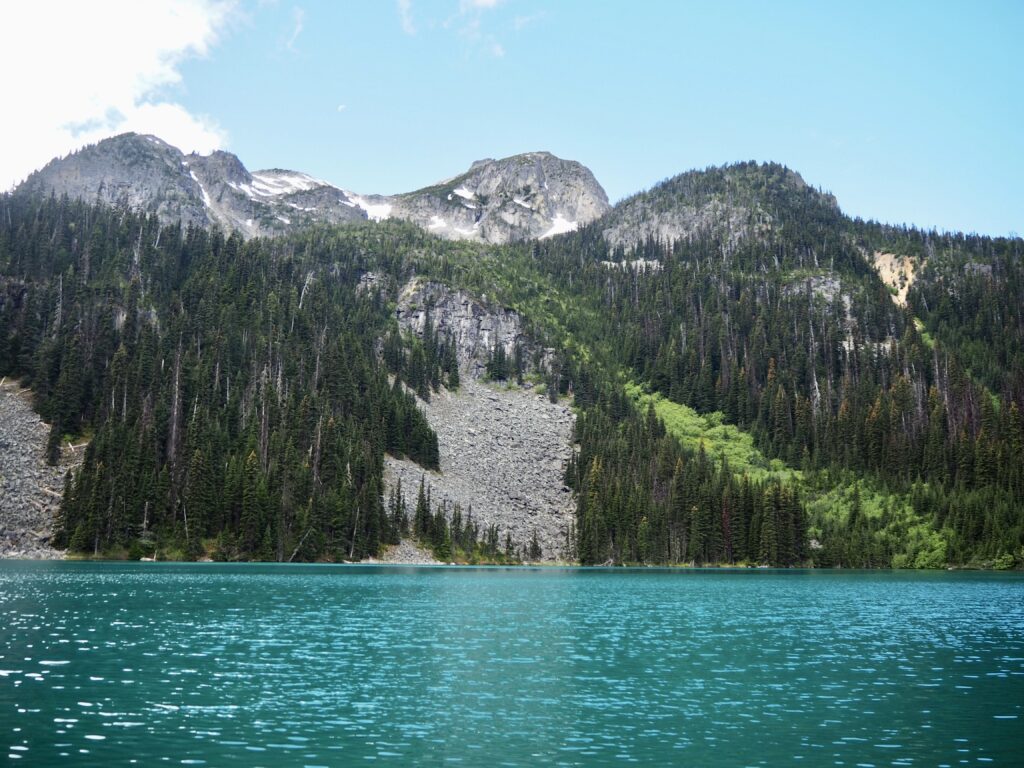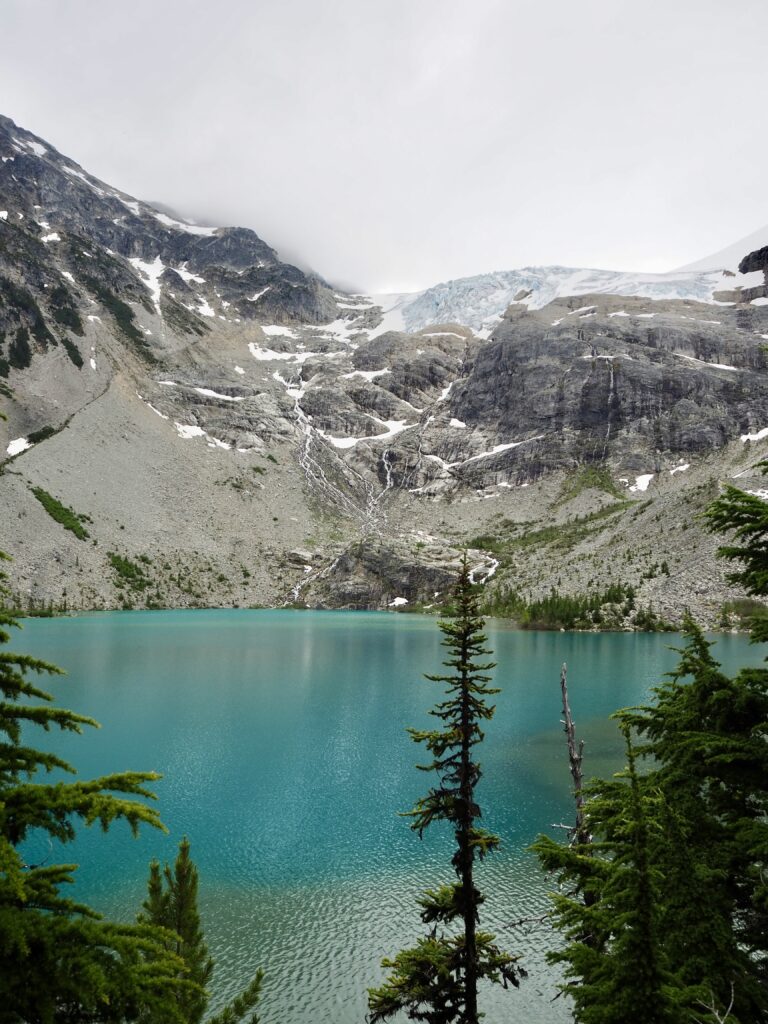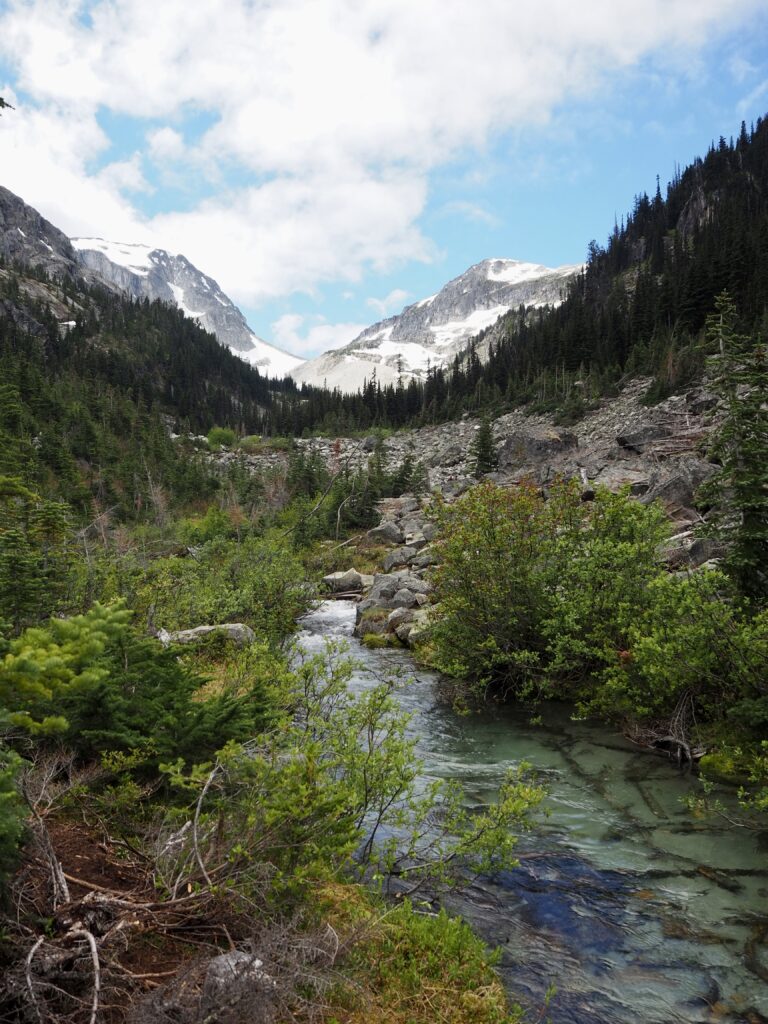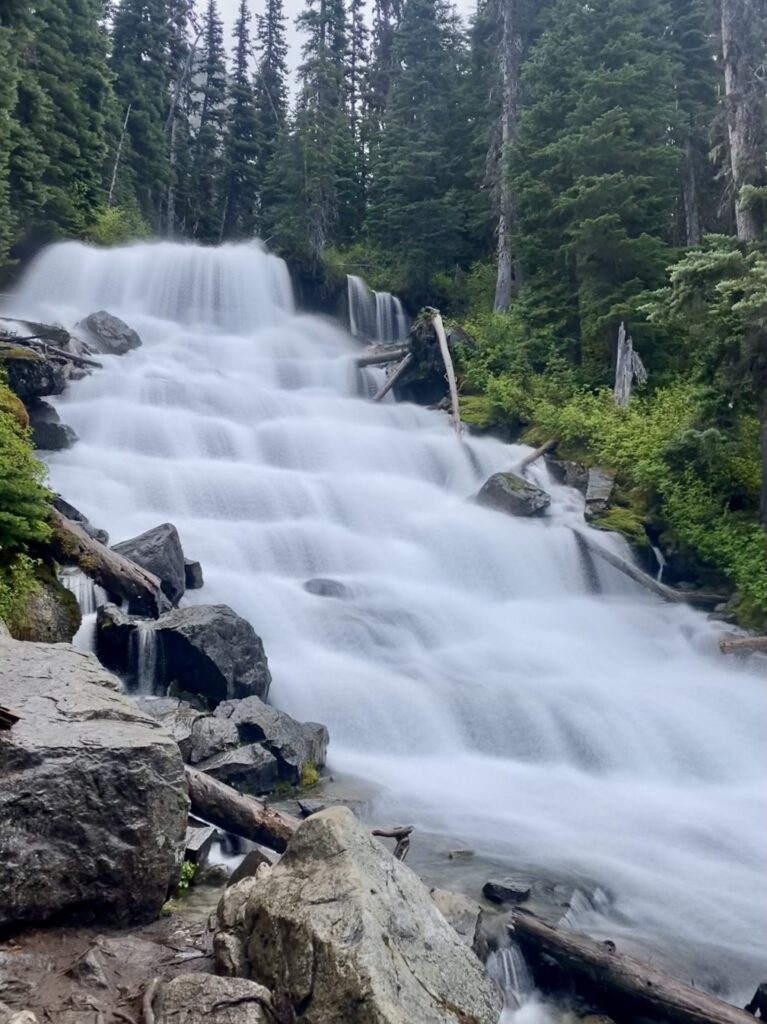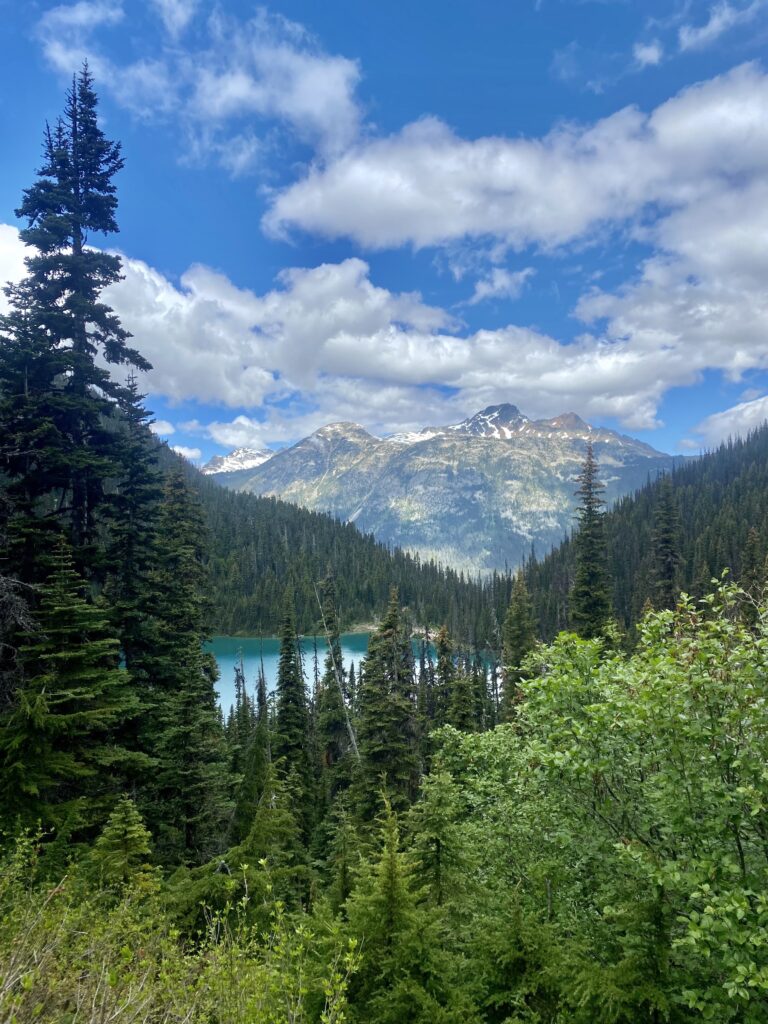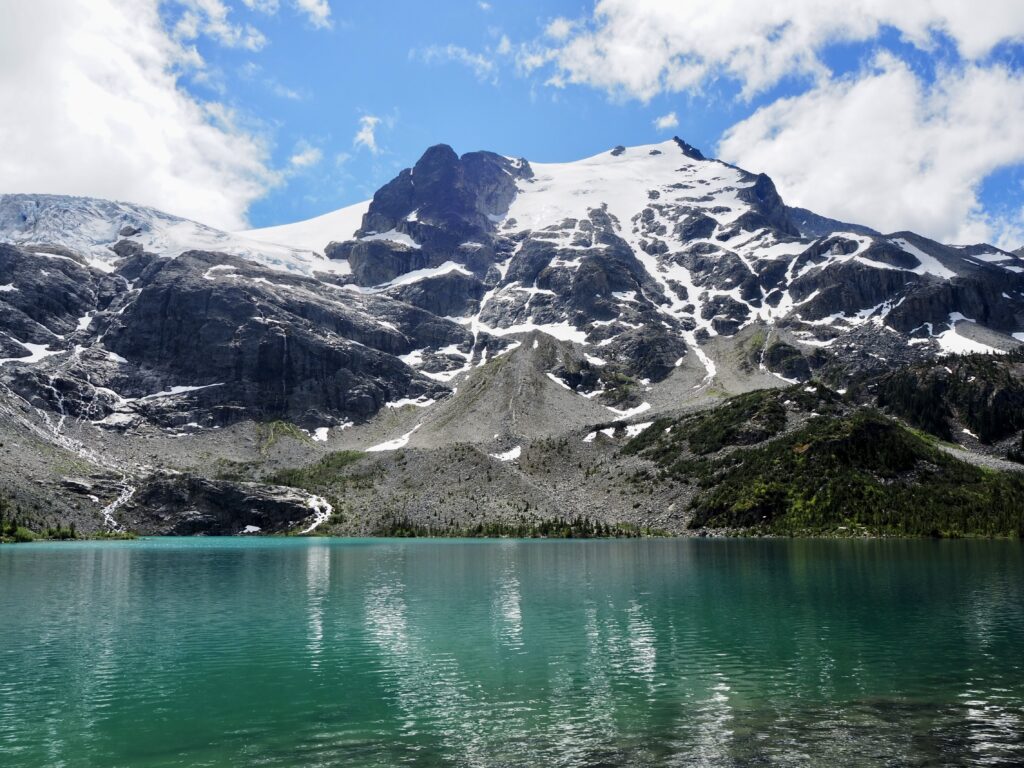 Day 4
Train Wreck Hike
For a shorter, easier hike, just a 15-minute drive out of Whistler, the Train Wreck hike is ideal. The path is a fairly level route through the forest and actros a small suspension bridge over the river. The train wreck ahs been here since 1956, when a train lost control and ran off the nearby tracks. A few cars were removed, but the others proved too tricky to get out and were left in the forest, though were dragged from their initial landing spots to their current locations. Since then, graffiti artists have come to the site and transformed every car into a multi-coloured artwork.
It's definitely an Instagrammer's paradise, with the cars acting as excellent photo backdrops. But it's also pretty cool to read some of the graffiti, admire the drawings, and even carefully venture inside or on top of the cars. Just go carefully! It's an out-and-back trail, so you'll return the way you came, and it takes about an hour total. Plus, however long you spend taking photos at the cars!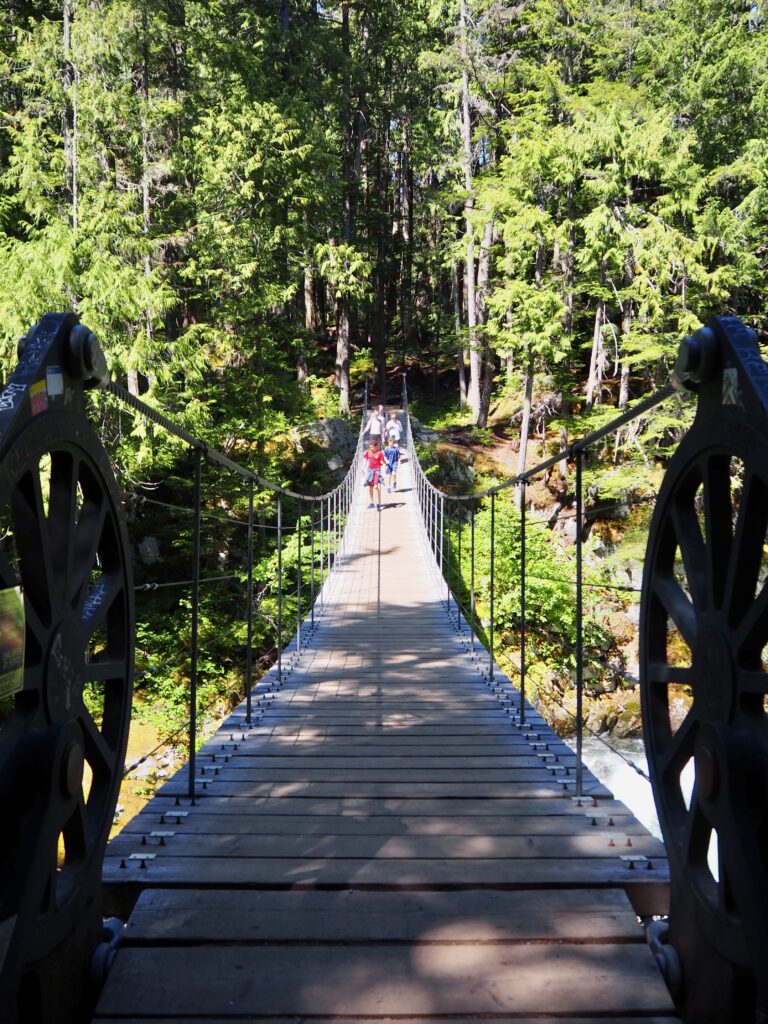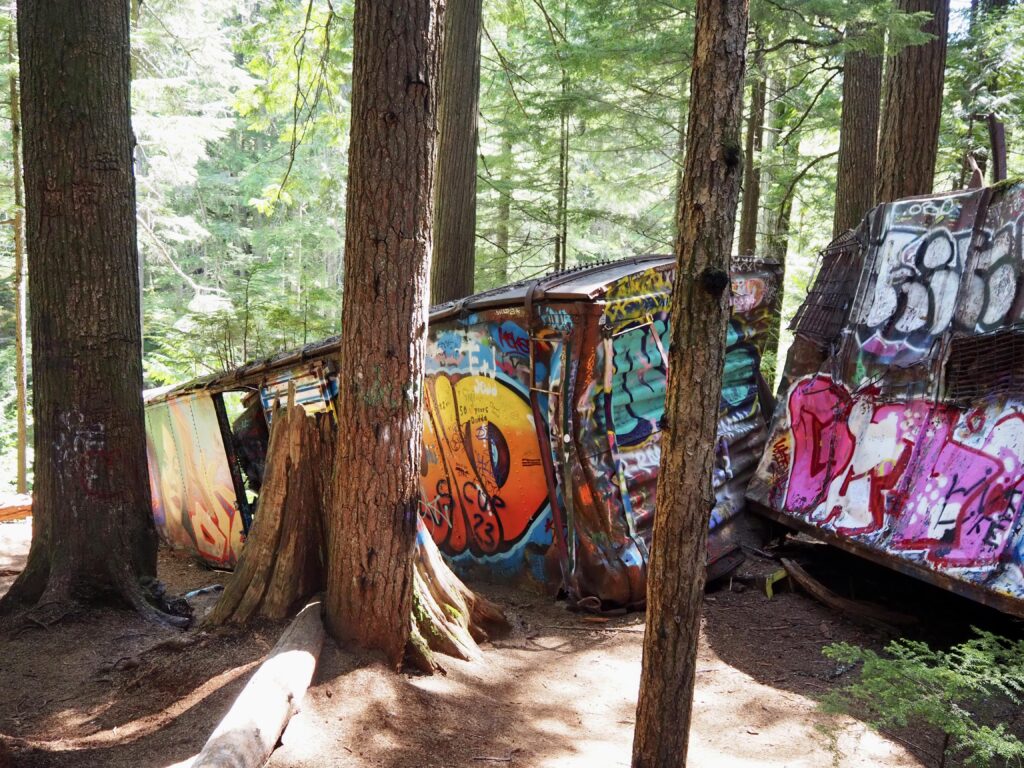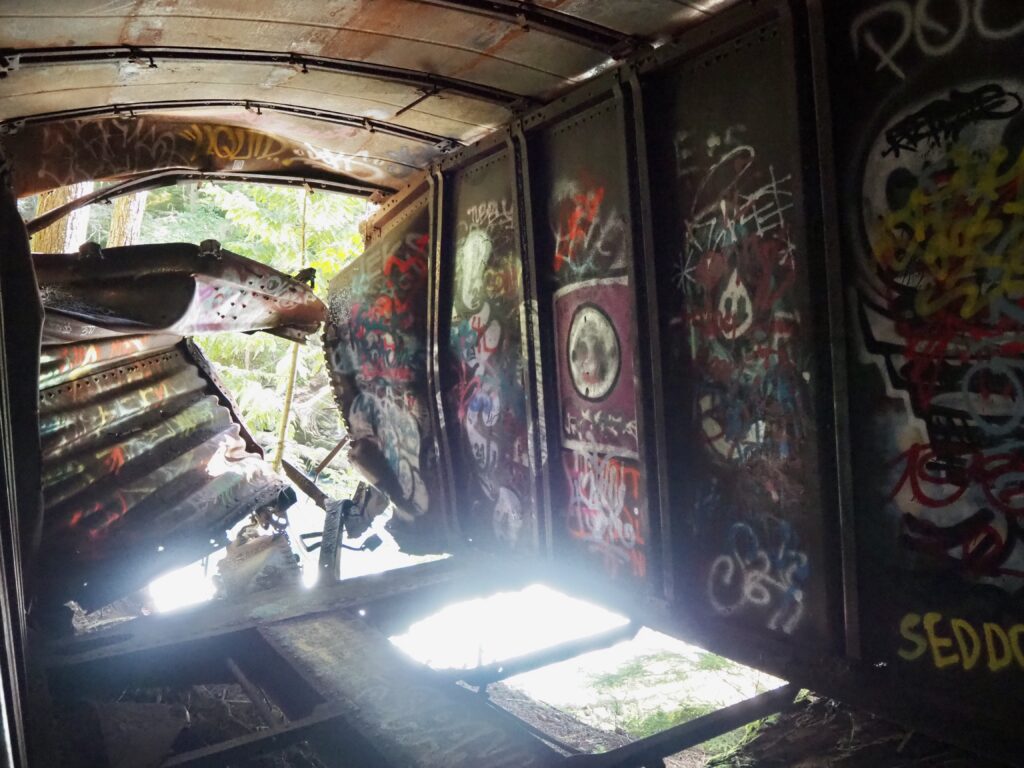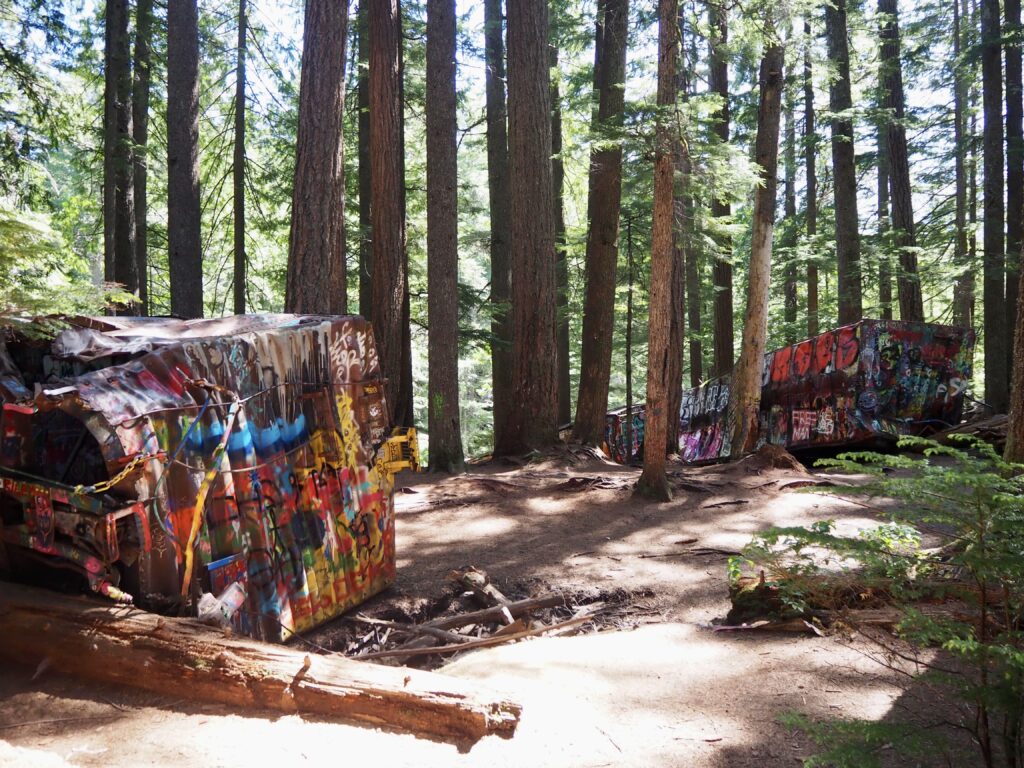 River of Golden Dreams Paddling
I took my friend kayaking for the first time in the Lake District last year, so since she was visiting, I thought it was a good chance to try it again. Although, canoeing seems to be the more popular (and traditional) option here. As there was three of us, they ended up giving us one of each, so the girls took the canoe and I kayaked solo. Turned out I had picked the easier option, as it took them longer to get the hang of it.! We did feel that the guides could've given a little more guidance or training at the start too.
Anyways, we opted for a guided session because we were doing the River of Golden Dreams – none of us are very experienced at paddling in moving water! We started off in Alta Lake, paddling its length to reach the river entrance. Not too far after the entrance, you also have to get out the water, carry the vessels along the banks briefly, and then get back in and push off over a log dam! The guide cam in handy for that! The river itself meanders through the grasses and bushes, with a few faster corners to navigate, as well as other paddlers and people floating along in tubes. Above, you can admire the mountain views all around the valley and on a sunny day, it's all very scenic!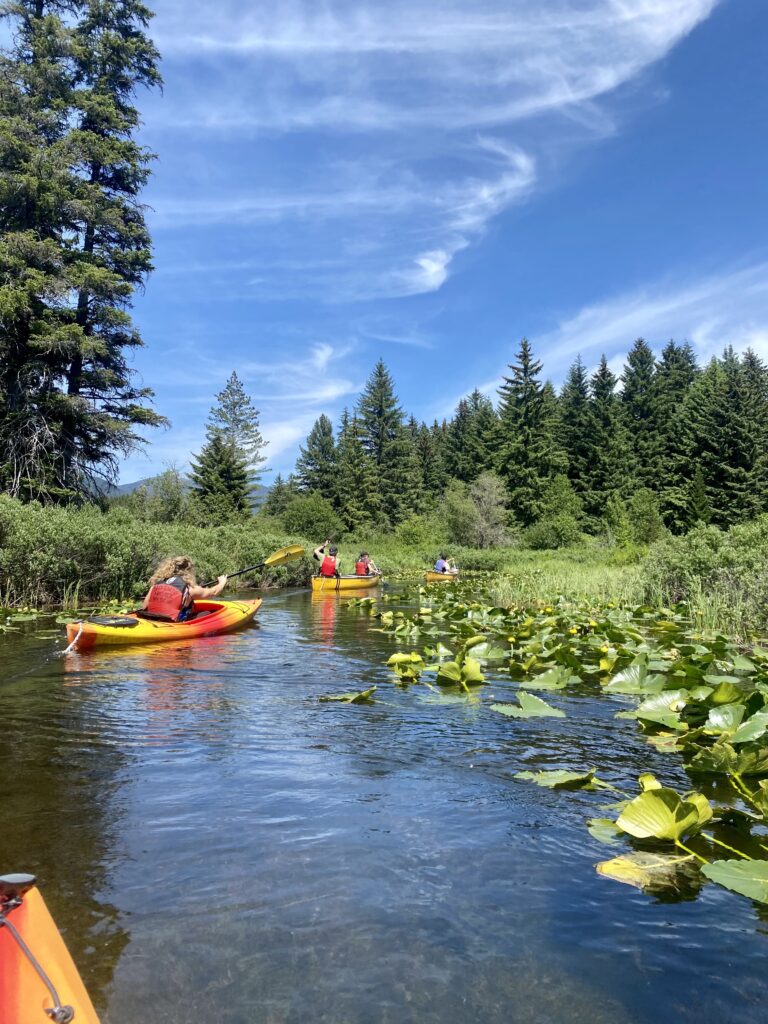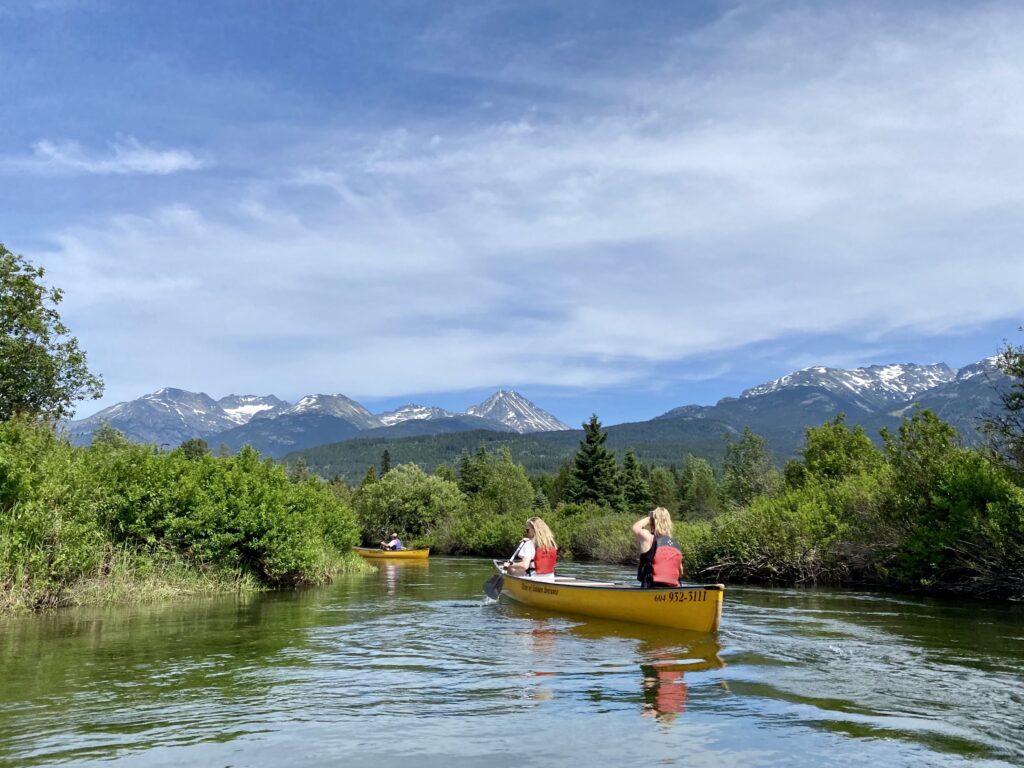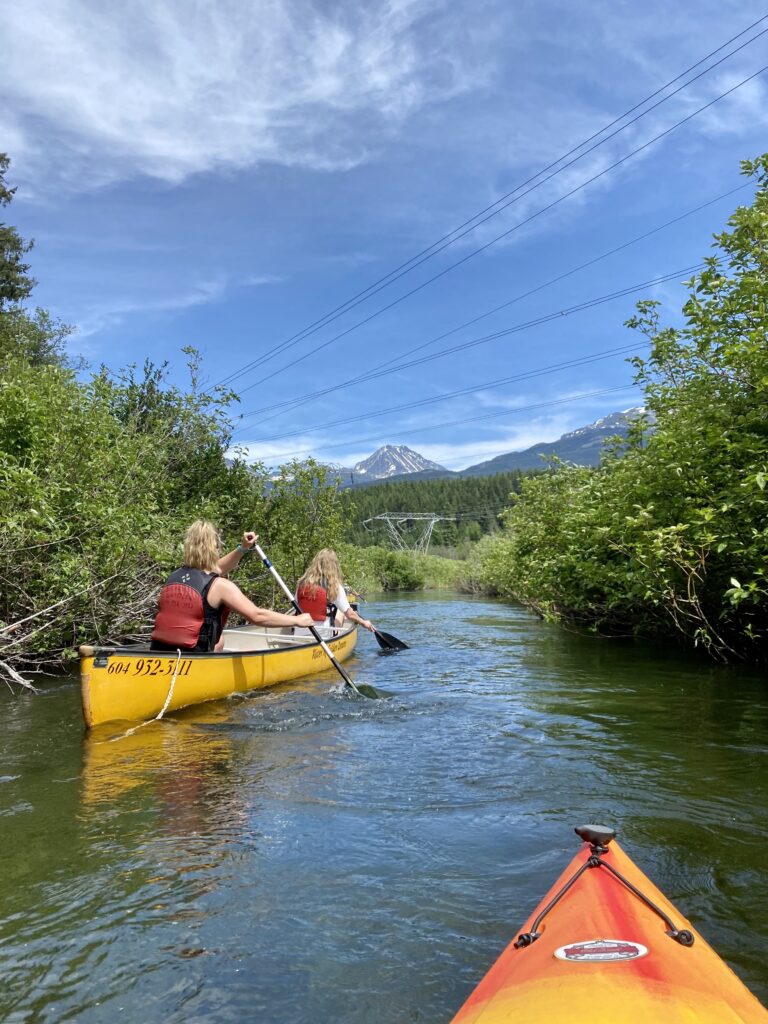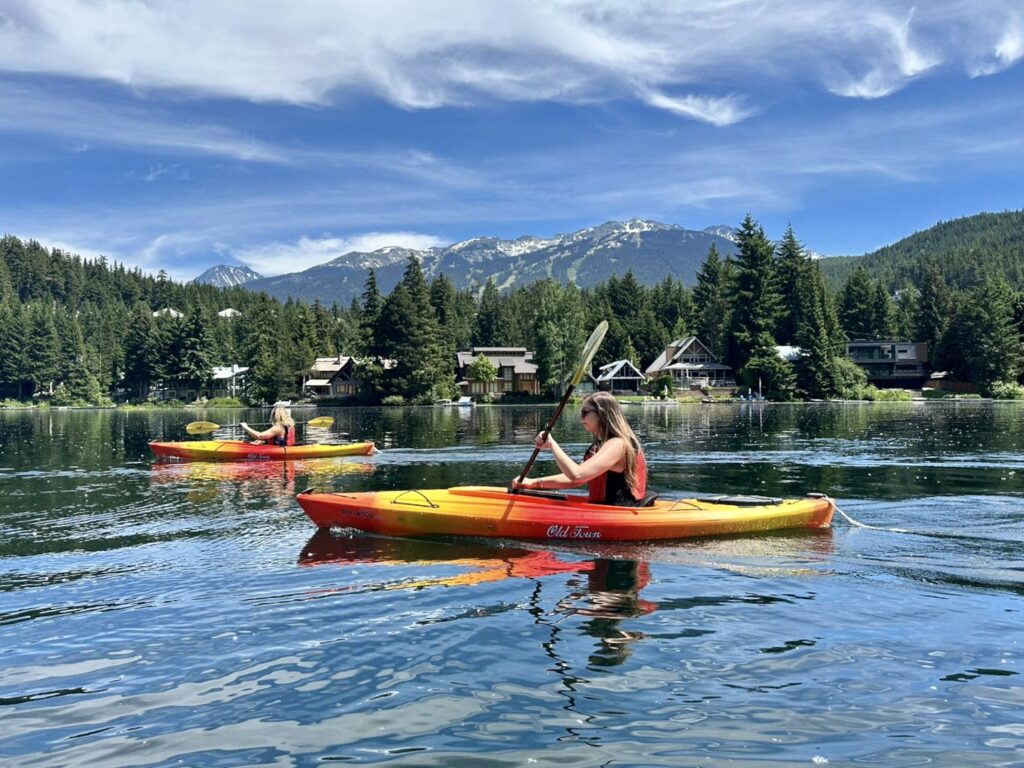 Lakeside Park
After our paddling trip ended, we had an included ride back to the start point, where we parked the car (though it did take a long time for their bus to come for us!). Since it was a sunny day and not too late in the day yet, we decided to hang out in Lakeside Park for a while, next to Alta Lake. One of the paddling guides told us it was busier in the park than usual, because Rainbow Park, across the lake, was closed for refurbishment. It's not a huge park, just a small grassy patch by the lakeshore, but there's a dock and a floating platform further out. We went for a swim out the platform – yes, the water was cold, but it was manageable if you kept moving! We lazed on the platform to warm up, then swam back and did the same thing in the park.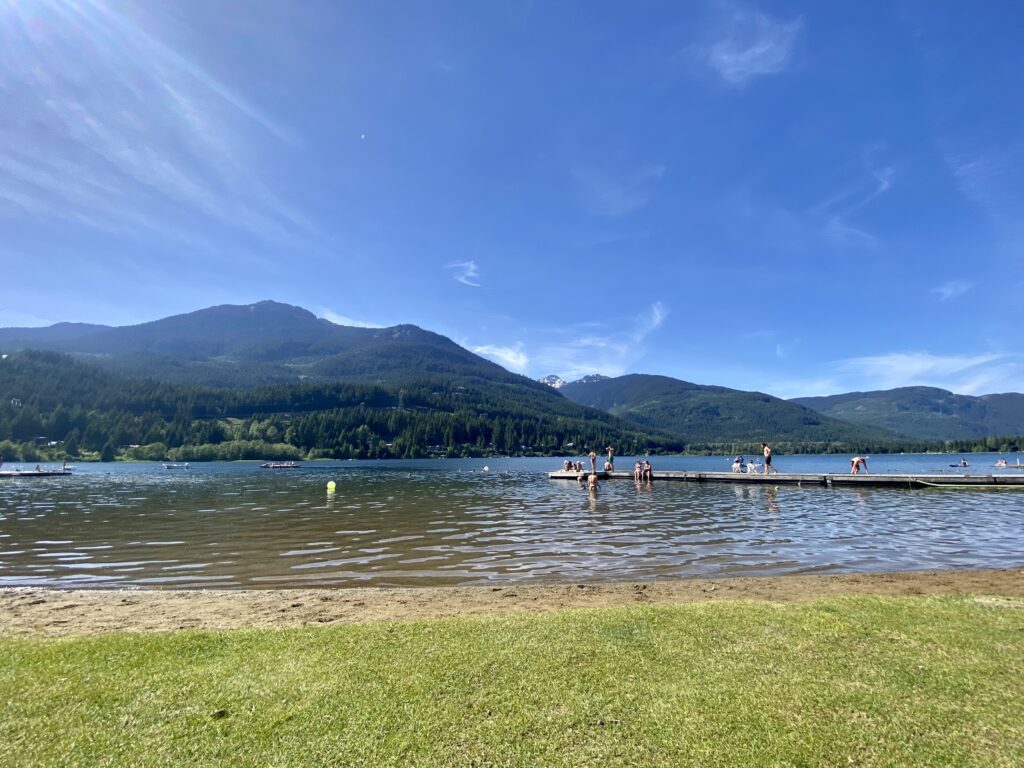 Day 5
Lost Lake Hike
After my friends left and my parents met me again, I did have to work for a few days, which relegated me to evening activities only. Although, I'd crammed a lot in during my long weekend off anyway! On one of my free evenings, I took a wander out to Lost Lake, which is only about 20 minutes from the village. I got some decent views of Blackcomb and Whistler mountains on the way too. My parents took the gondola up, and the Peak 2 Peak from one to the other, but my fear of heights (especially of dangling over drops) meant I was not keen for that AT ALL. They said the views were great though!
Anyways, back to Lost Lake. There are a few trails around the forest in that area, most of which are cross-country ski routes in the winter. Lost Lake has a loop all the way around, which mostly follows a flat route through the forest – just watch out for bikes! The lake itself is one of the smaller ones in the area, and it's not glacial and bright blue in colour. It was a little beach though, with chipmunks scurrying around and a frog crossing under the paths. Part of the trail is on the boardwalk, and as you continue to loop around, the mountain views appear again. I walked back via the village too, taking the path along the riverside and past the mountain bikes at the foot of Whistler mountain, which were pretty cool to stop and watch for a bit.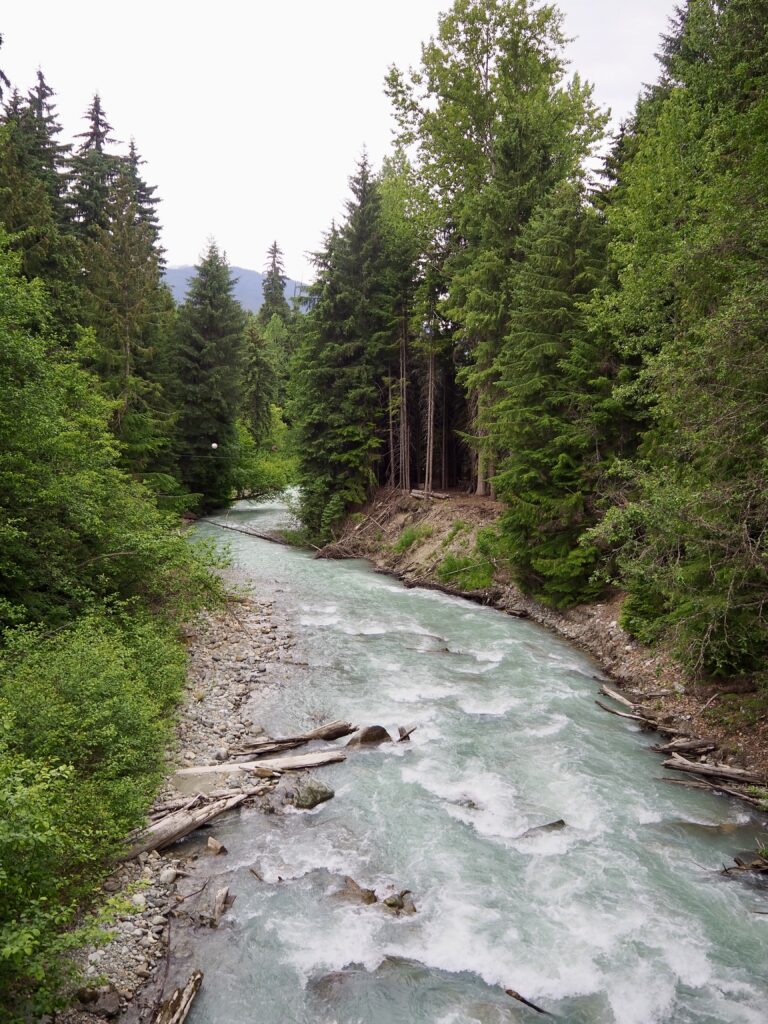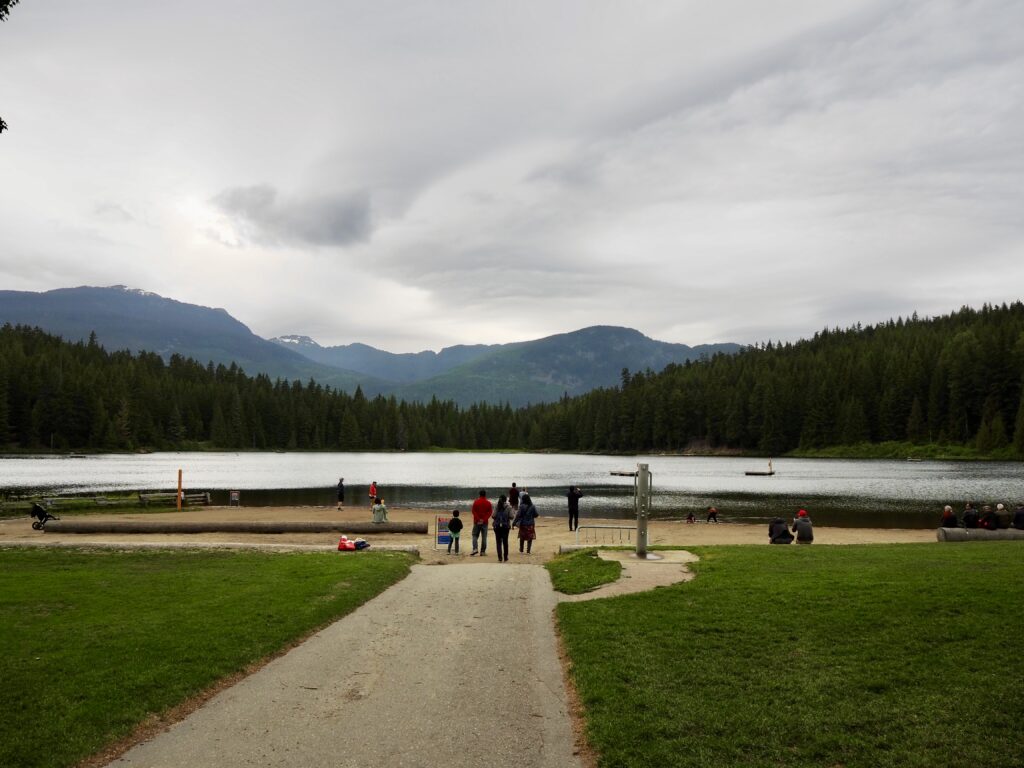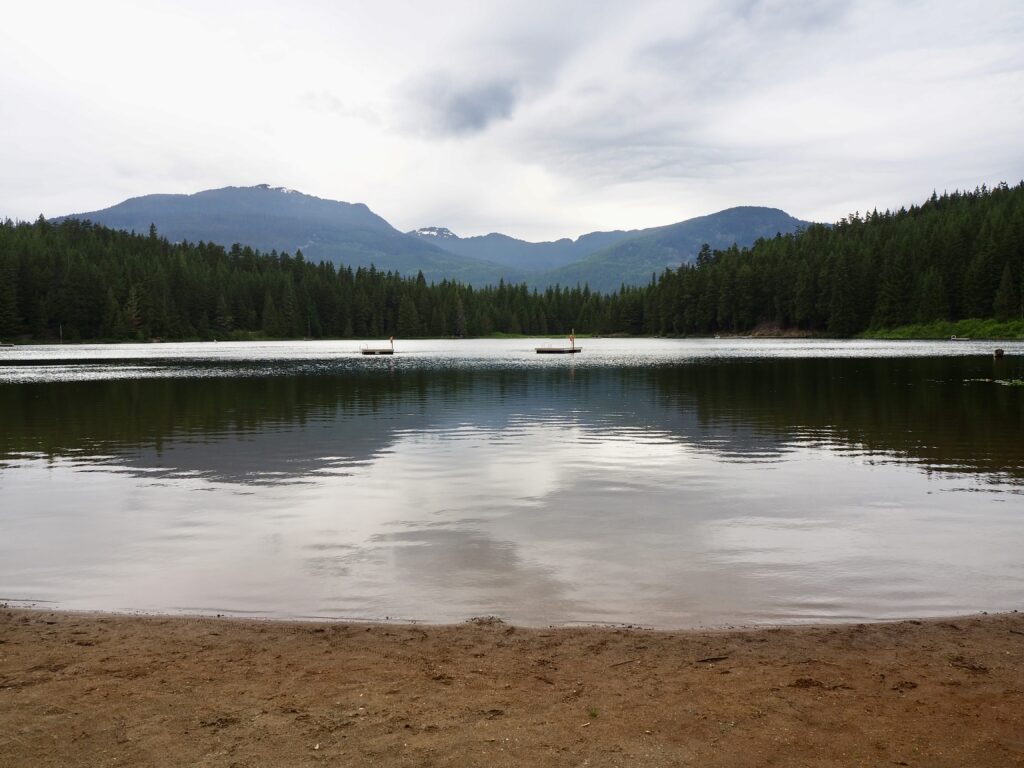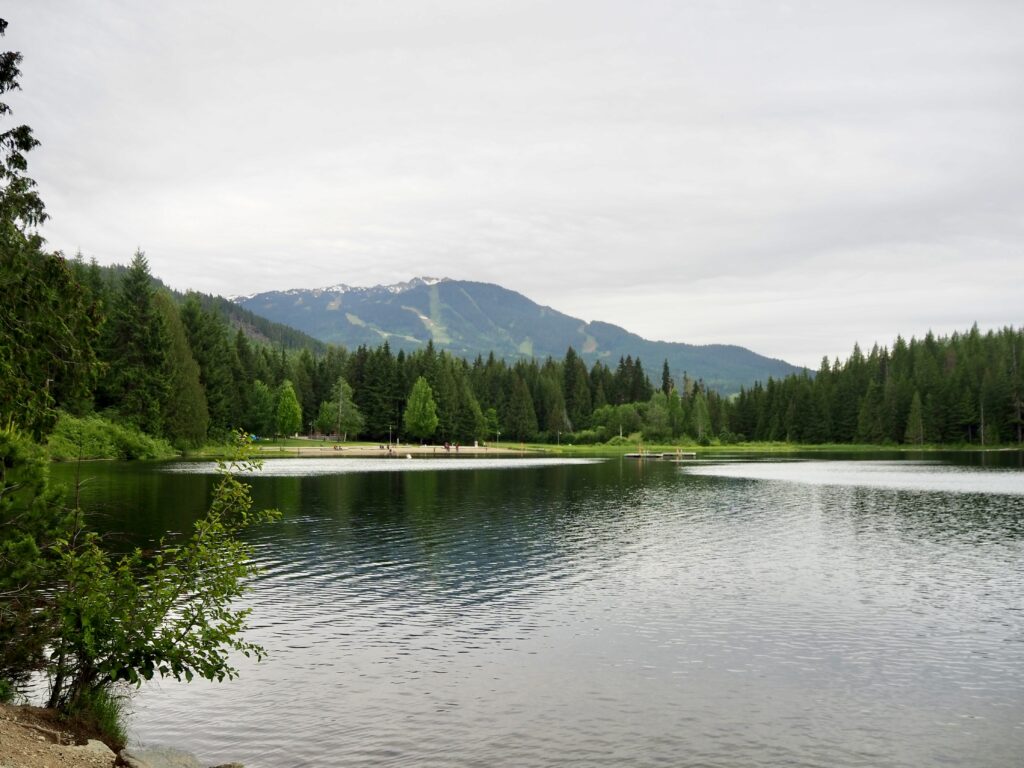 Day 6
Scandinave Spa
When I left my old job back in the UK to move to Canada, my bosses very kindly gave me a gift voucher to the Scandinave Spa as a leaving present. Mum was keen to go as well, so I was saving it for their visit. The spa is open late in the evening too, so it worked well as an after-work (specifically on a Friday!) activity. They do have massages, but the main portion of it is the thermal journey. It's mainly outside, a series of hot and cold pools, saunas, steam rooms, solariums and fire pits strewn along a hillside. It's surrounded by greenery and has mountain views.
You're meant to alternate between hot, cold and then a relaxation break to reset. We did four full rounds, but my time in the hot section decreased each round. I'm the same with hot tubs, I can't last in them all that long somehow! The whole outdoor area is phone-free and mainly silence (aside from a few whispers). I think lazing in the hammocks and solariums might have been my favourite part! It was all very chilled though and nice to spend some time just doing nothing without feeling guilty for it.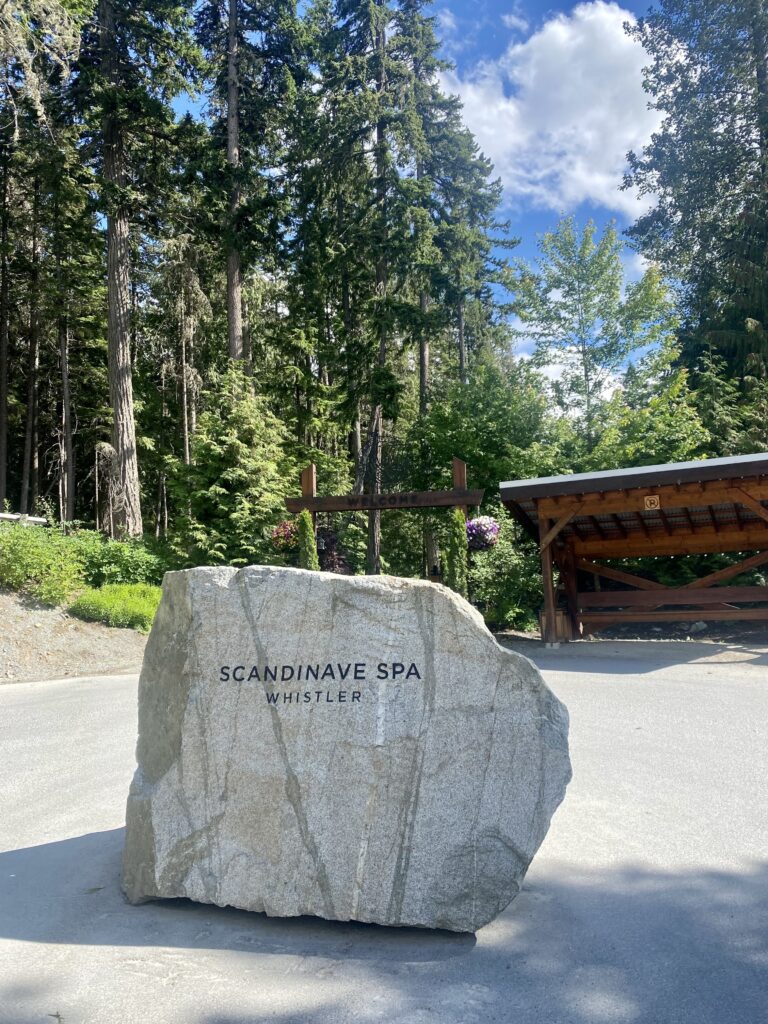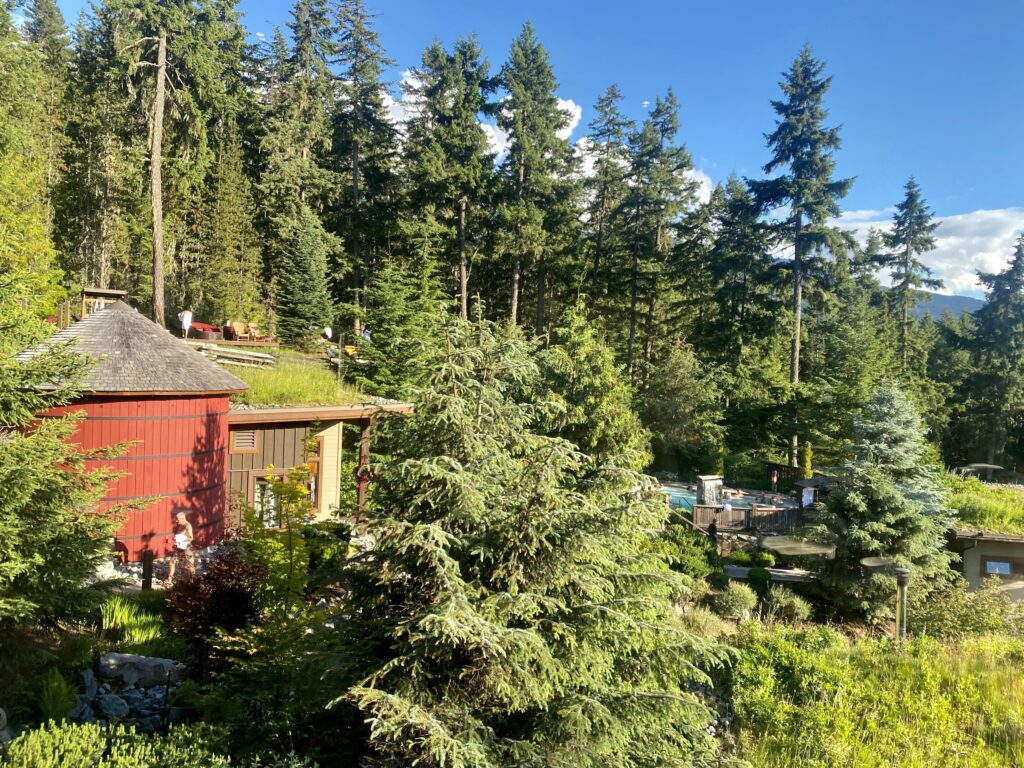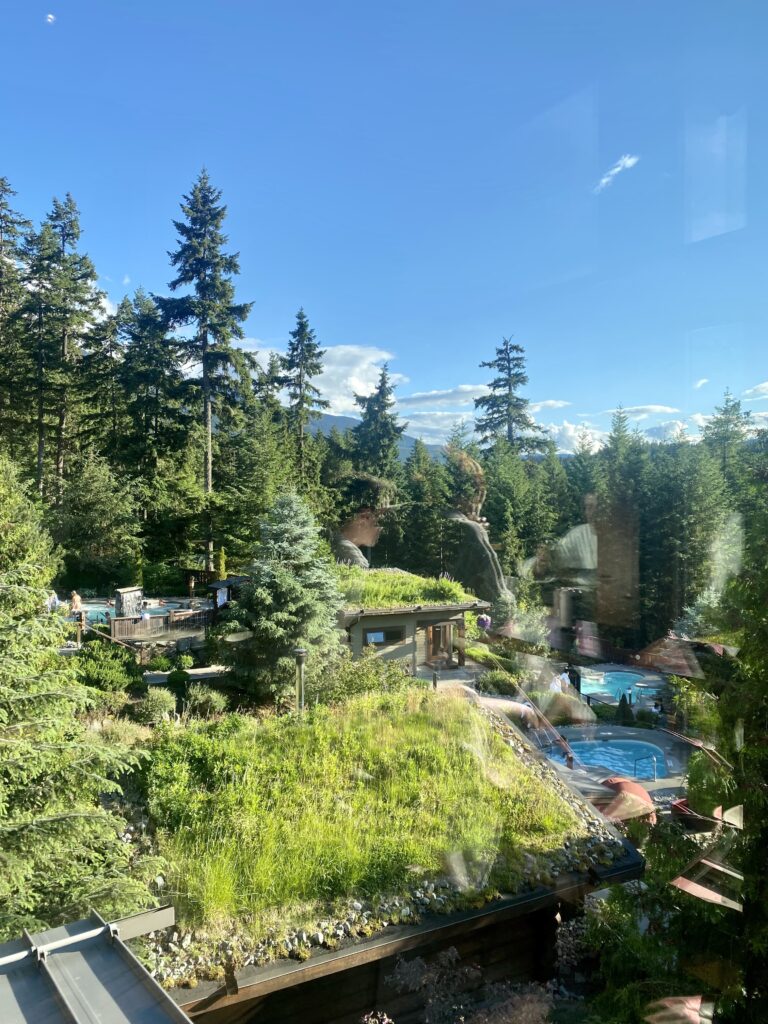 Vallea Lumina
So originally we were only doing the spa that evening and were saving Vallea Lumina for another night. But the weather forecast was looking wet for the next few days, so for an hour of walking outside, the dry evening seemed the best choice. You need it to be dark too, so they only open at about 10pm in the summer months. Just a few minutes' drive outside the village, up a side road, Vallea Lumina hides in the forest. Following a one way trail for about an hour, you're transported through the forest on an interactive journey made of sound, lights and projections, as you follow two hikers to the Hidden Valley. Starting with tents and ranger stations, the journey gets increasingly more magical with fireflies and leaping salmon and spectral bears floating through the night skies. It's cleverly set up through the forest and a unique evening experience!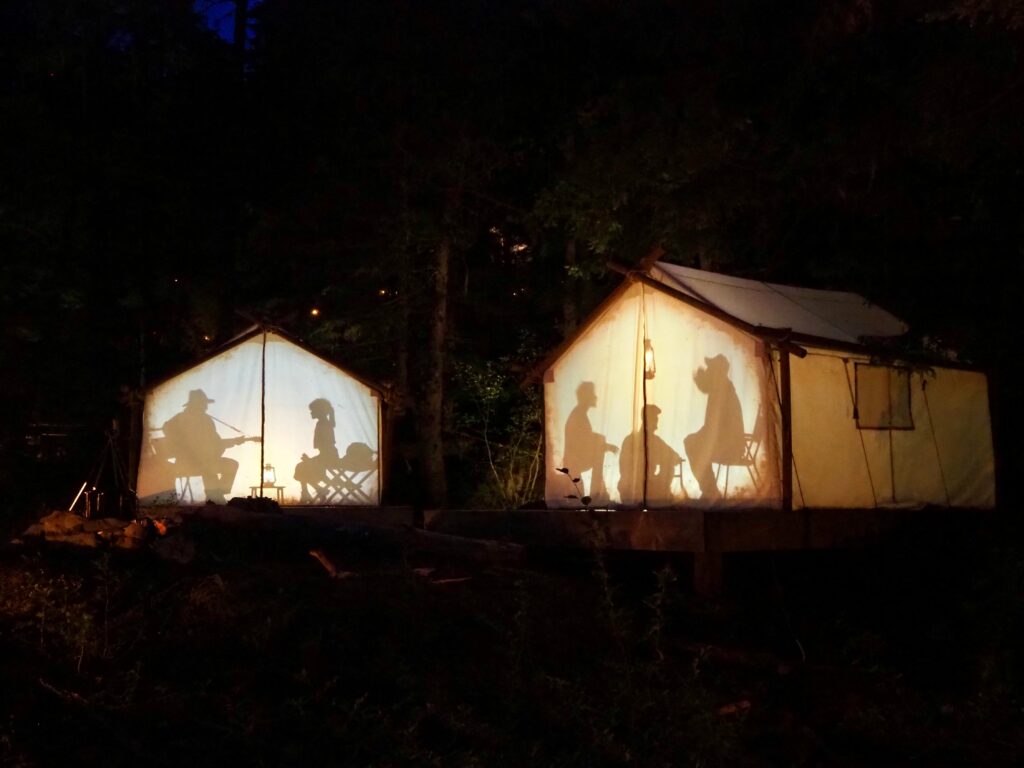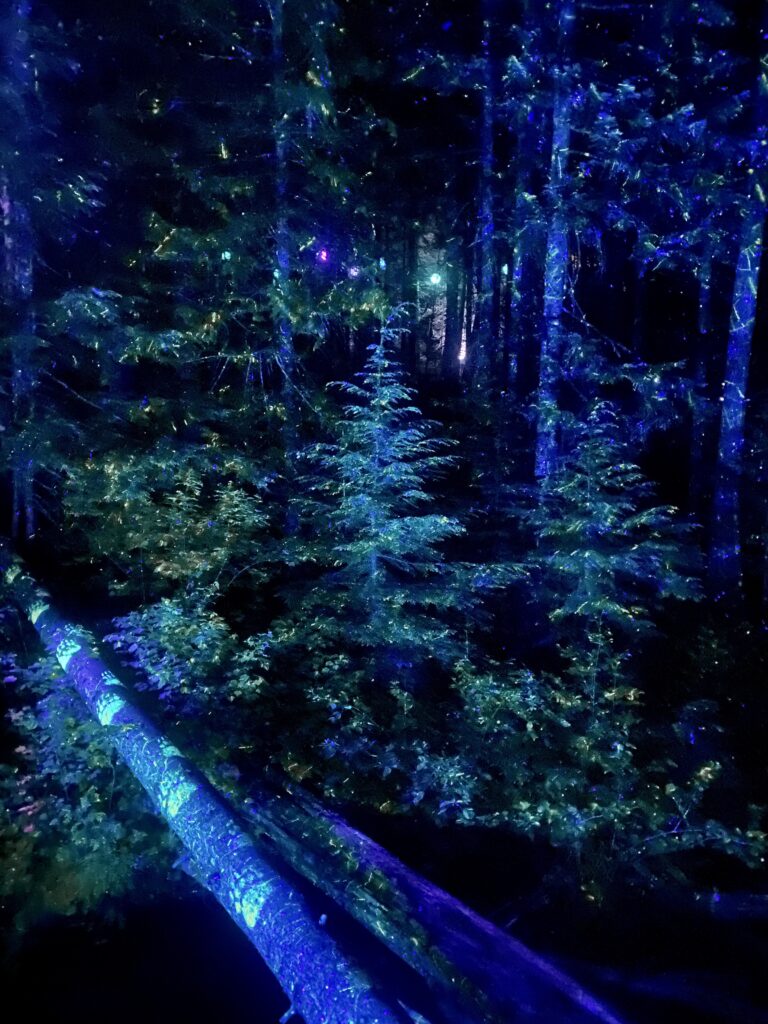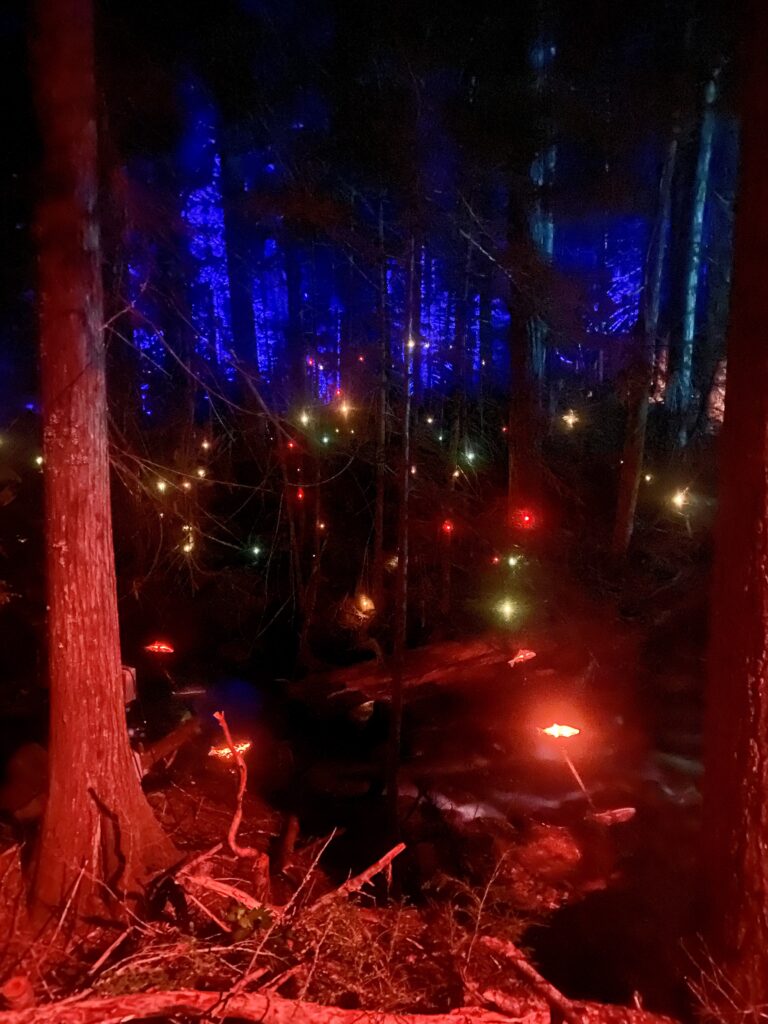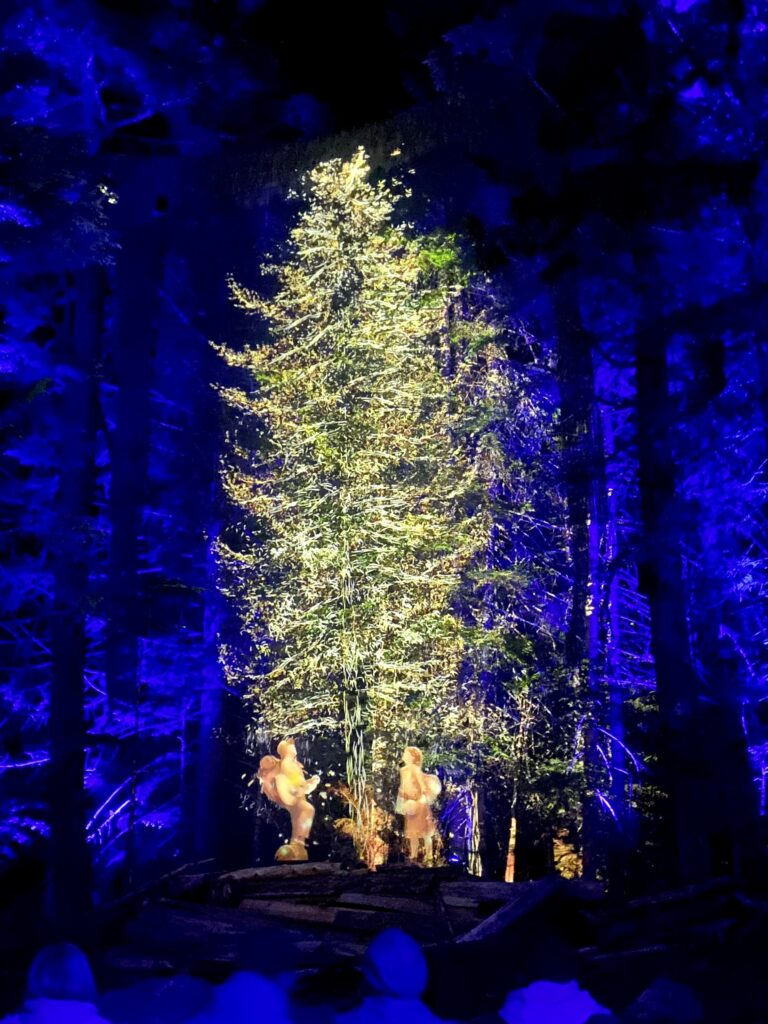 Day 7
Crater Rim & Logger's Lake Hike
I think you're meant to hike and THEN go to a relaxing spa, but I did it the other way around. The morning after the spa was the weekend again and Dad hadn't had the chance to hike in Whistler yet (aside from the Train Wreck), so we headed out for a longer one. A lot of the hikes in the area ware very long, difficult ones, that felt a bit too ambitious for us. After a bit of searching online, we settled on Crater Rim and Logger's Lake. It would take about 3-4 hours and hopefully give us some decent views!
The first section was certainly the most strenuous, heading uphill. We nearly took a wrong turn at one point and were scrambling about a steep rock face until we found the path again. Though it was still a very steep, rocky path! This was taking us to the top of the crater rim. Like most of BC, it was all covered in trees, but through a break in them we got a view out across the valley below and the snow-capped mountains surrounding it. There were lots of birds making some unusual sounds too!
Logger's Lake sits inside the 10,000-year-old crater, and we had to descend again to reach it. It was a gentle slope through the trees, and we found a spot by the lake for lunch. This isn't a glacial lake, so no dazzling blue colour, but it was still a pretty enough spot. The rest of the trail took us down to the river, which was bluer in colour, following the Farside Trail to make a loop back to the start. Just watch out for the mountain bikers sharing the trail!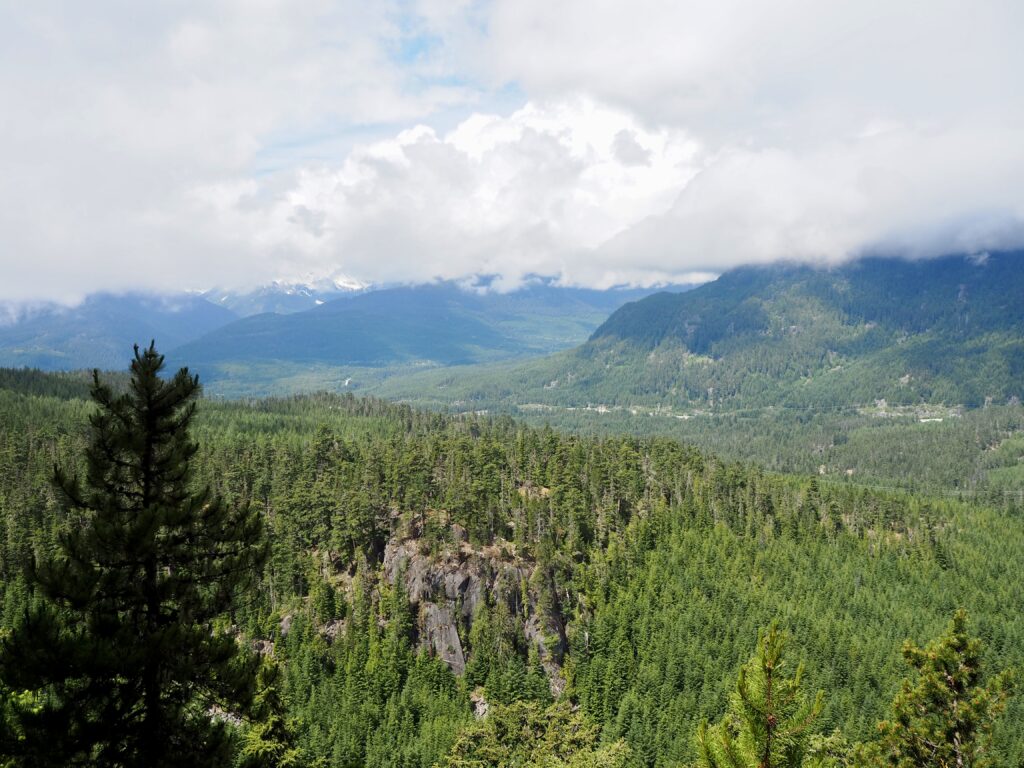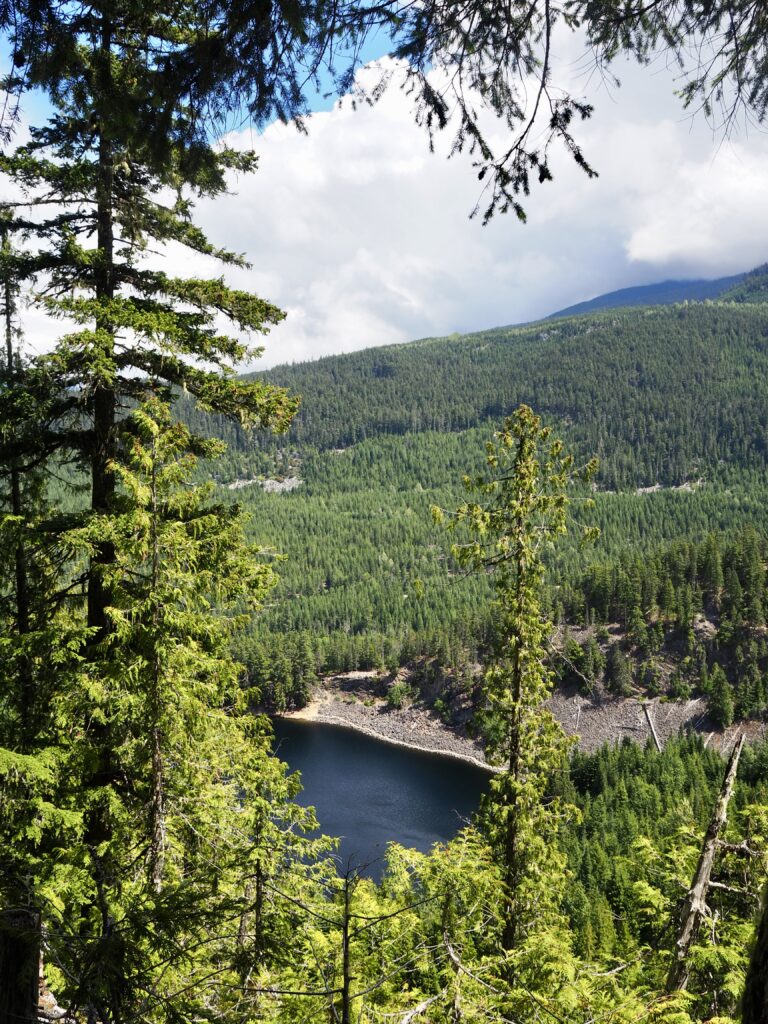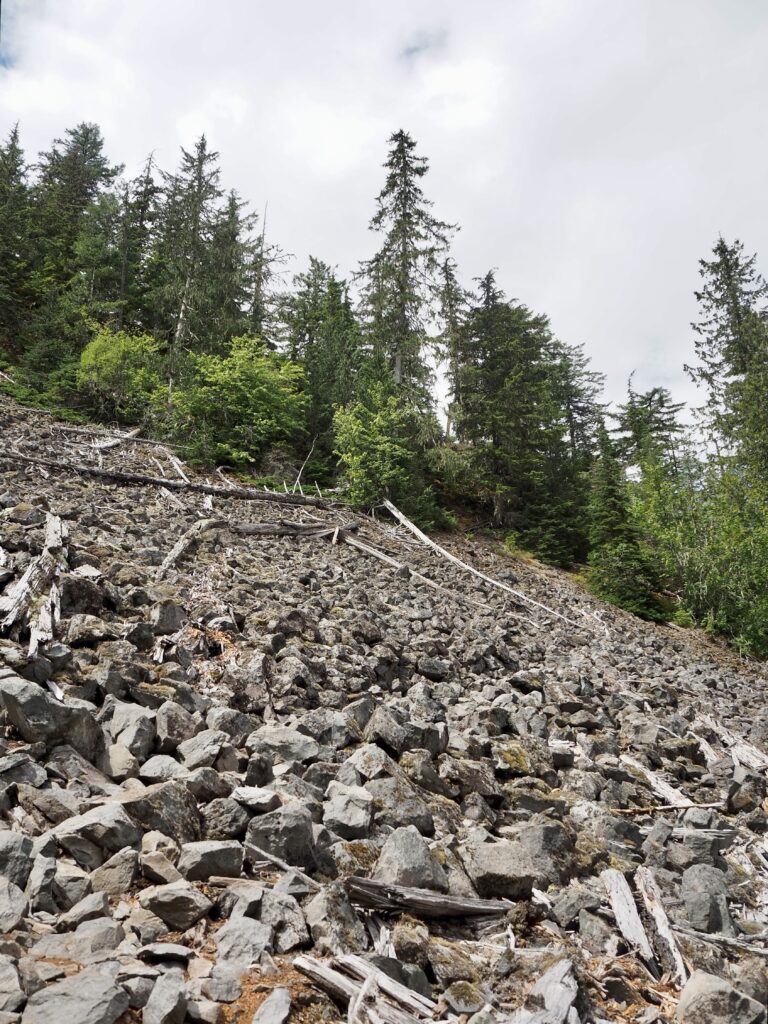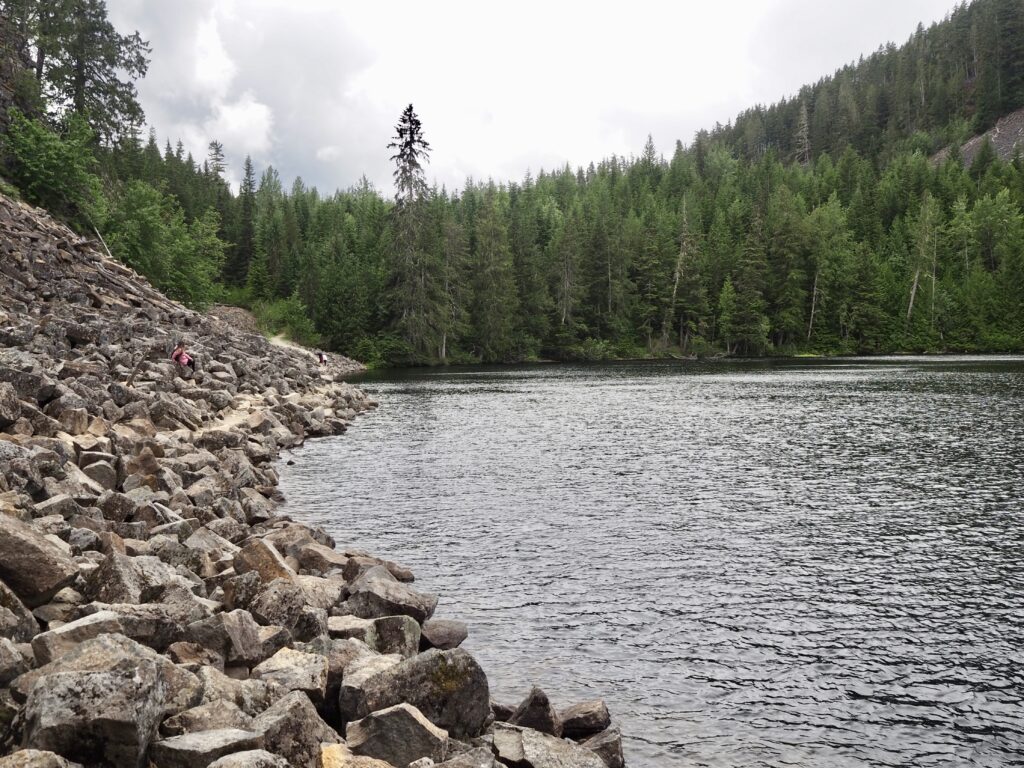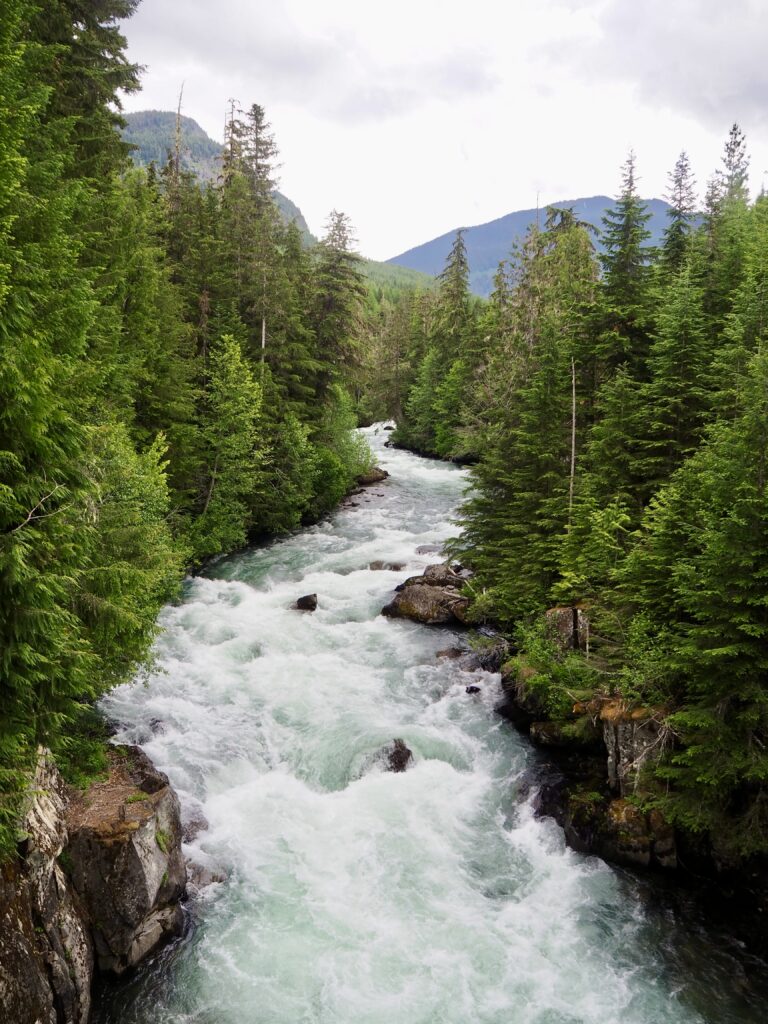 Day 8
Whistler Museum
On my last day in Whistler, I was kind of running out of things I wanted to do. Yes, there are still plenty more hikes and outdoor activities. But I'd had a busy week! Instead, I took a quiet morning while Mum & Dad went to the Cultural Centre. I met up with them again after lunch to visit the Whistler Museum. It's a small place, with entry by donation, and focuses on the history of the town. There barely was a town prior to the 1960s, when they started building it up in hopes of a Winter Olympics bid. It took 4 failed bids before they eventually hosted in 2010, to the great pride and celebration of the residents. In the decades between though, the town built up a reputation for the ski hills, plus all the other recreational activities. For its short history, it has packed a lot in!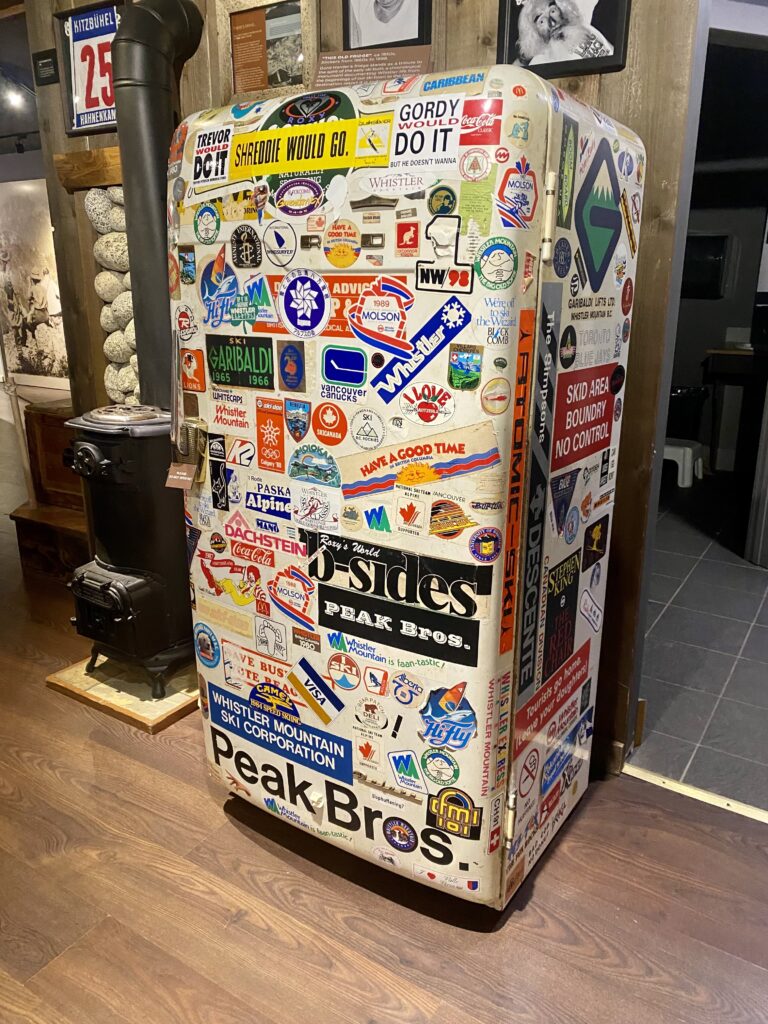 A Week in Whistler
I wasn't sure about Whistler when we first arrived. Being built as a resort as it is, aimed very much at tourists, it was hard to get any sort of local vibe from it. Most of the staff were Brits or Aussies working there "for the season" too. I kind of got used to it after 10 days though! And the natural landscapes and recreational options certainly make up for it. If you enjoy skiing or biking or hiking or the multitude of other options available, it's definitely a place to add to your list. Plus, with the spa, light show, and museums, there are options for the less active travellers too!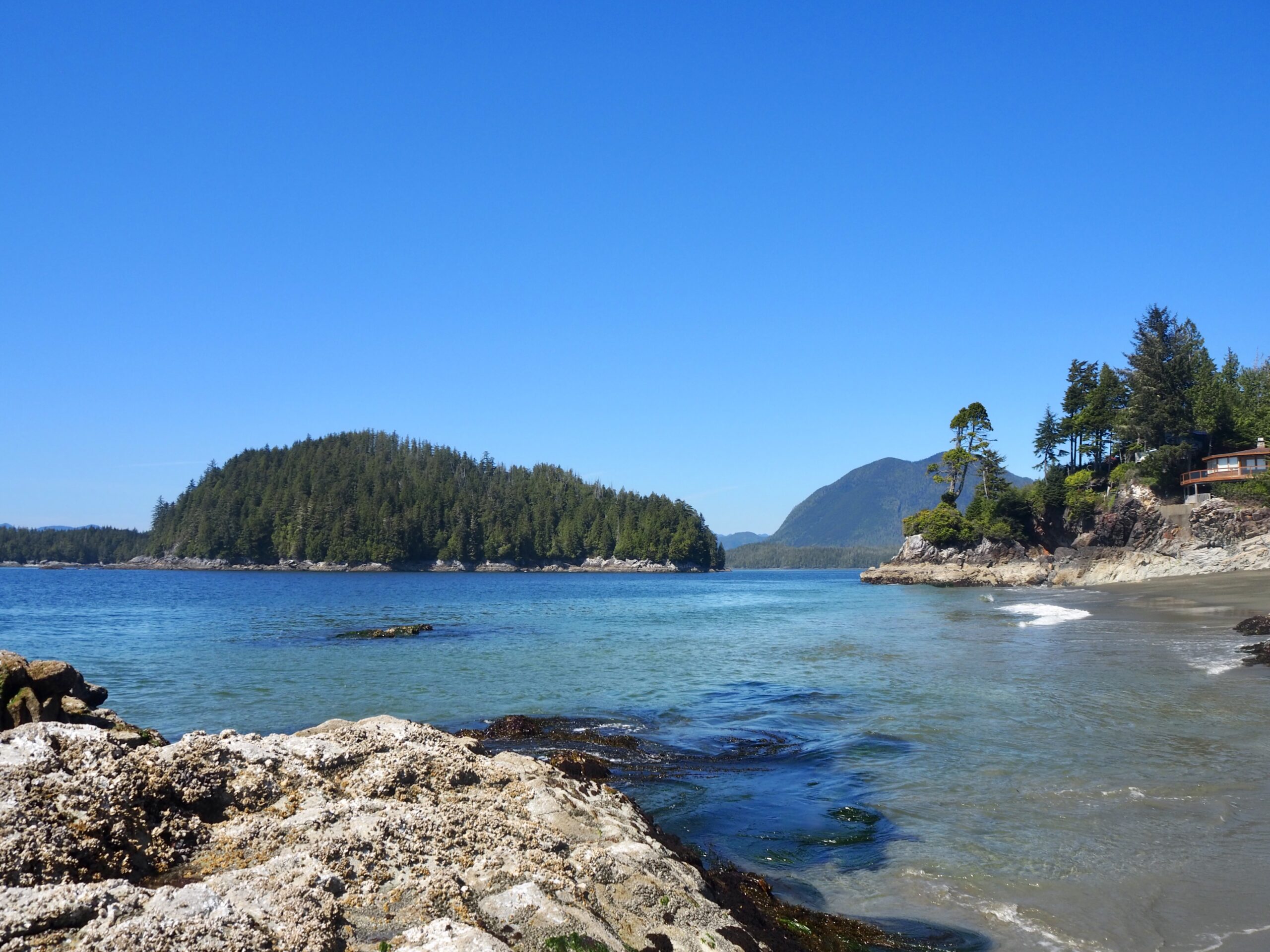 You May Also Like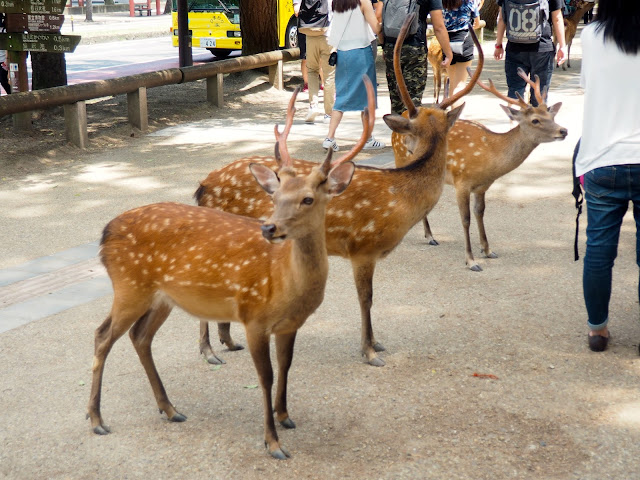 1 August 2017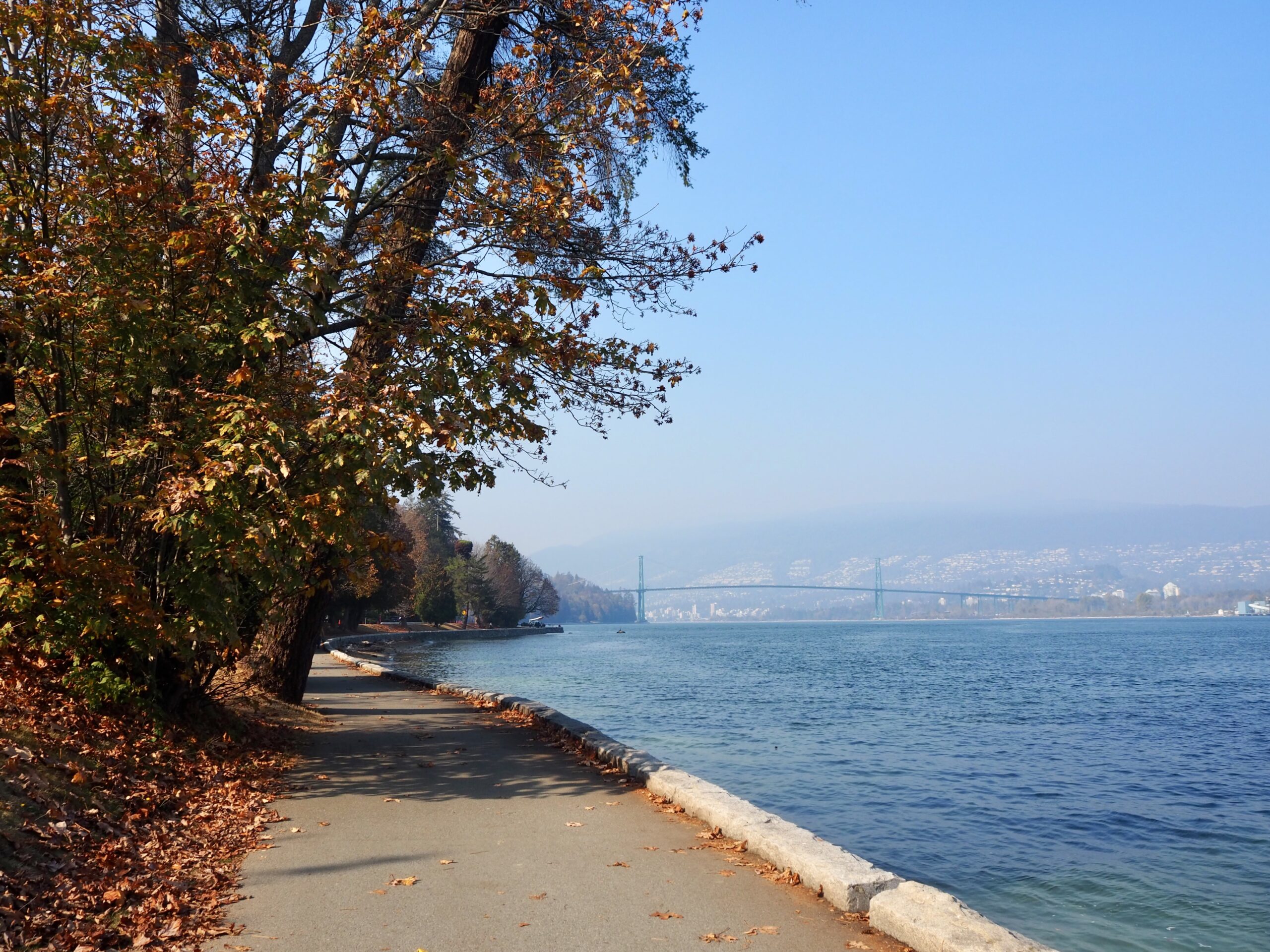 29 October 2022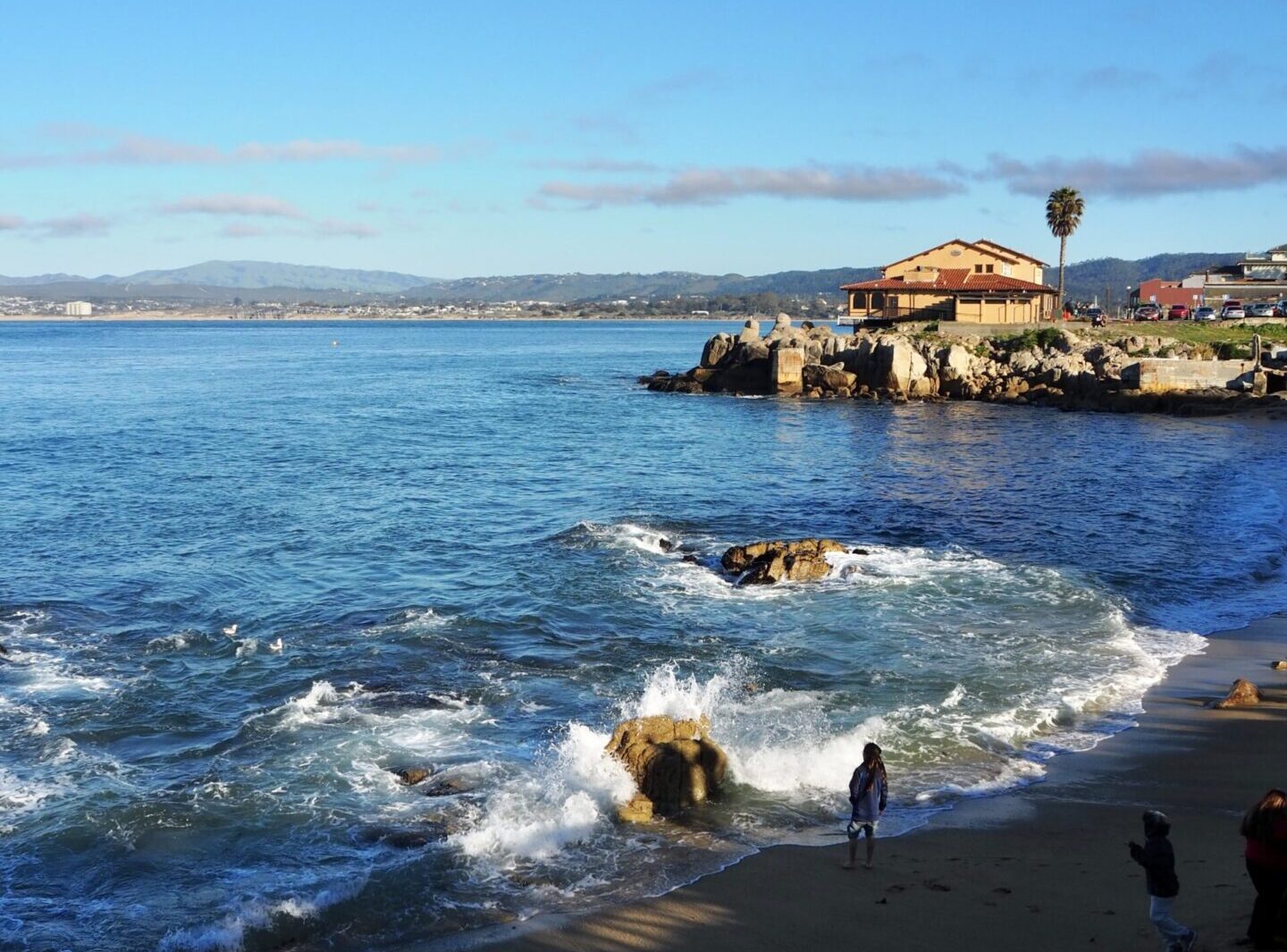 15 May 2023