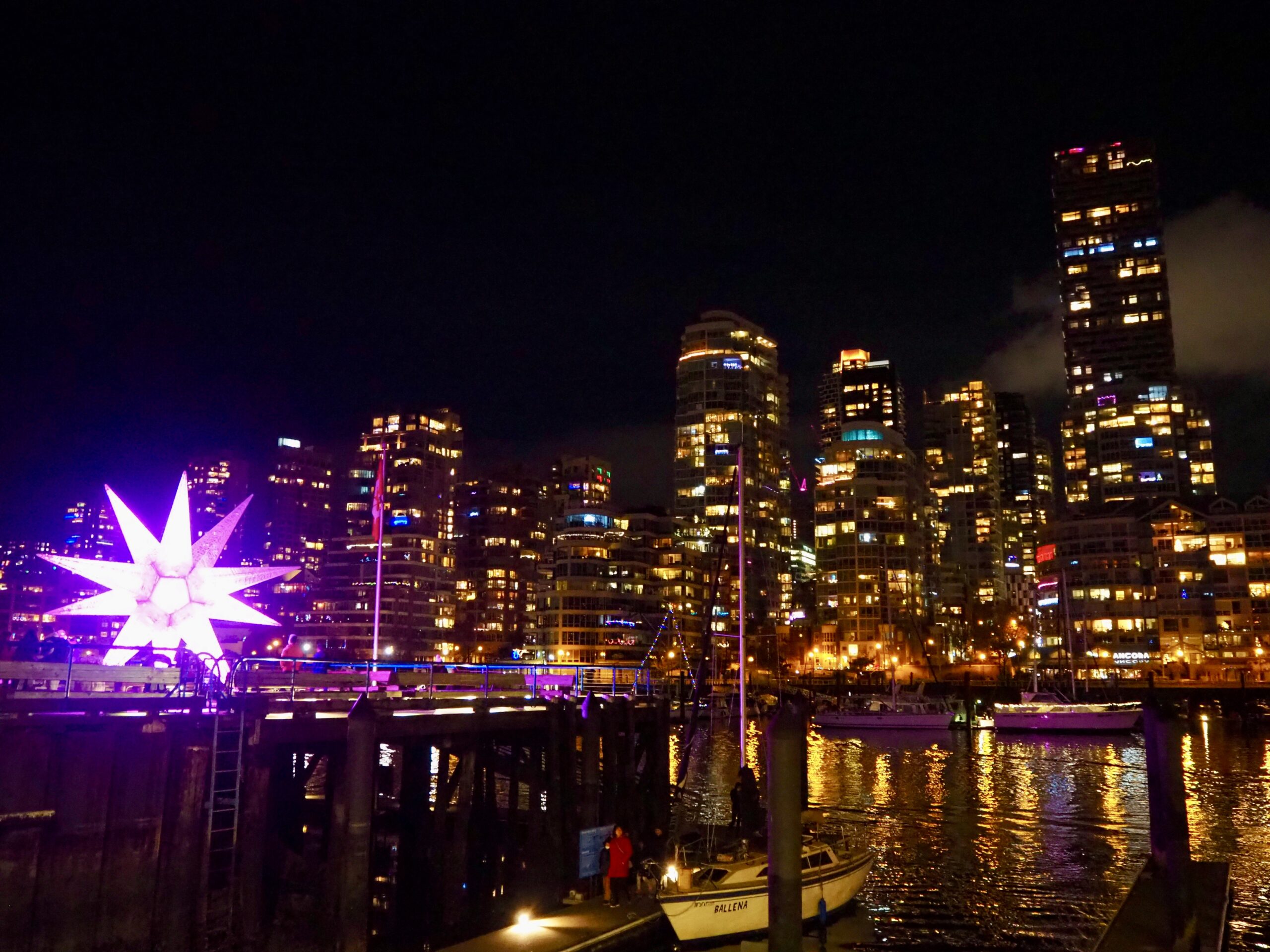 Christmas Events in Vancouver
31 December 2022
This year I had Christmas away from home for the very first time in my life. Having only moved to Canada in October, it was just too soon to be spending money on (expensive) flights home. Christmas is one of my favourite holidays though and I was sad to be away. So, to try and stay cheery and festive I decided to go to as many Christmas events in Vancouver as I could squeeze in! The snowstorm and subsequent rainstorms in December delayed some of my plans until the week after Christmas. Which is also why this is quite a late Christmas post! But I still got around plenty of them in the end.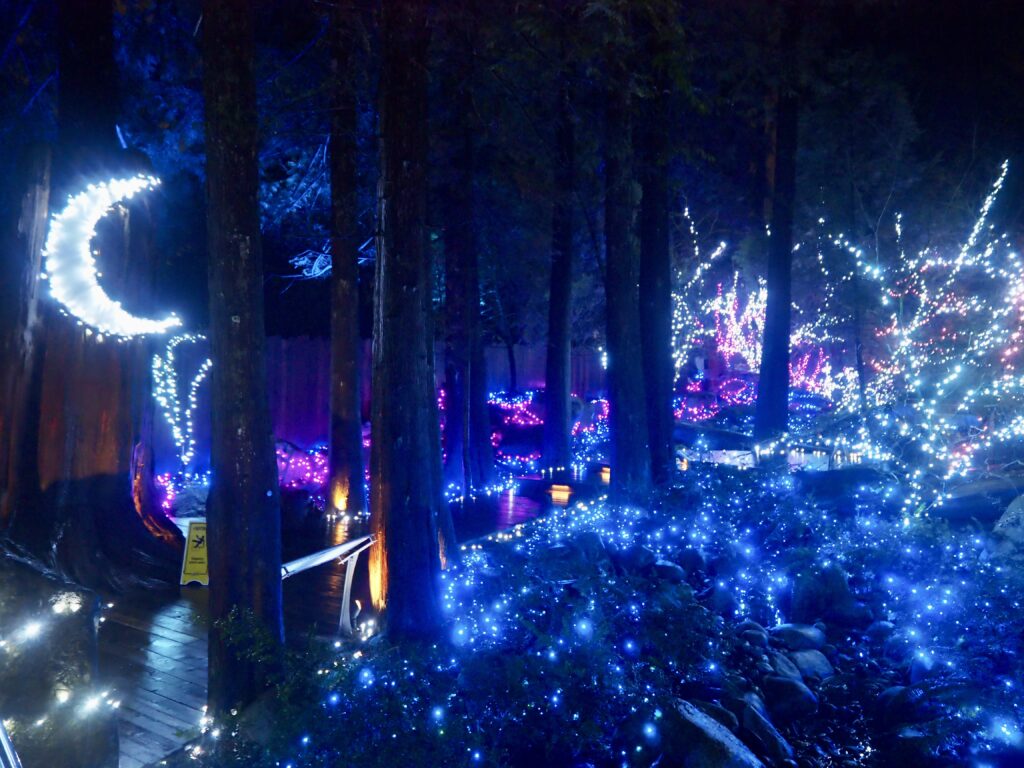 ---
VanDusen Botanical Garden – Festival of Light
Is it a universal thing that botanical gardens do Christmas events? Vancouver has one and so does Edinburgh back home. Anyways, this was one of my favourite light displays I visited in the city. I picked the one day in the week before Christmas where it wasn't snowing! However, there was a thick layer of snow on the ground, which made walking over to the gardens pretty tricky when the pavements aren't cleared! Sidenote: the rest of Canada is good at coping with snow. Vancouver is not.
But the snow blanketing the entire garden made the Christmas lights even more festive and wintery. It was about -8 degrees Celsius, and I lost all feeling in my nose, but it was so pretty to look at! The first thing I saw when I walked in was that the pond was totally frozen over. It was also the star of the 'dancing lights' as the trees both on and around the pond dance to the music. The music plays all throughout the gardens as well, with plenty of Christmas songs, making the whole thing an immersive experience. Although, the rock cover of 'How Far I'll Go' from 'Moana' did catch me by surprise!
The gardens are pretty sizeable and there are lots of areas decorated differently, from rainbow glowing trees to huge stalagmite-like icicles to twinkly light tunnels to traditional Christmas trees. It took a while to get around all of it and I was so mesmerised by it all too, with not a single dull area to be seen. They have various food stalls and trucks scattered around the gardens too, offering a variety of cuisines. I was too cold to entertain the prospect of outdoor dining, although I did grab a hot chocolate to try to warm myself up again. Much as I'm not a winter person, the snow did make it more magical!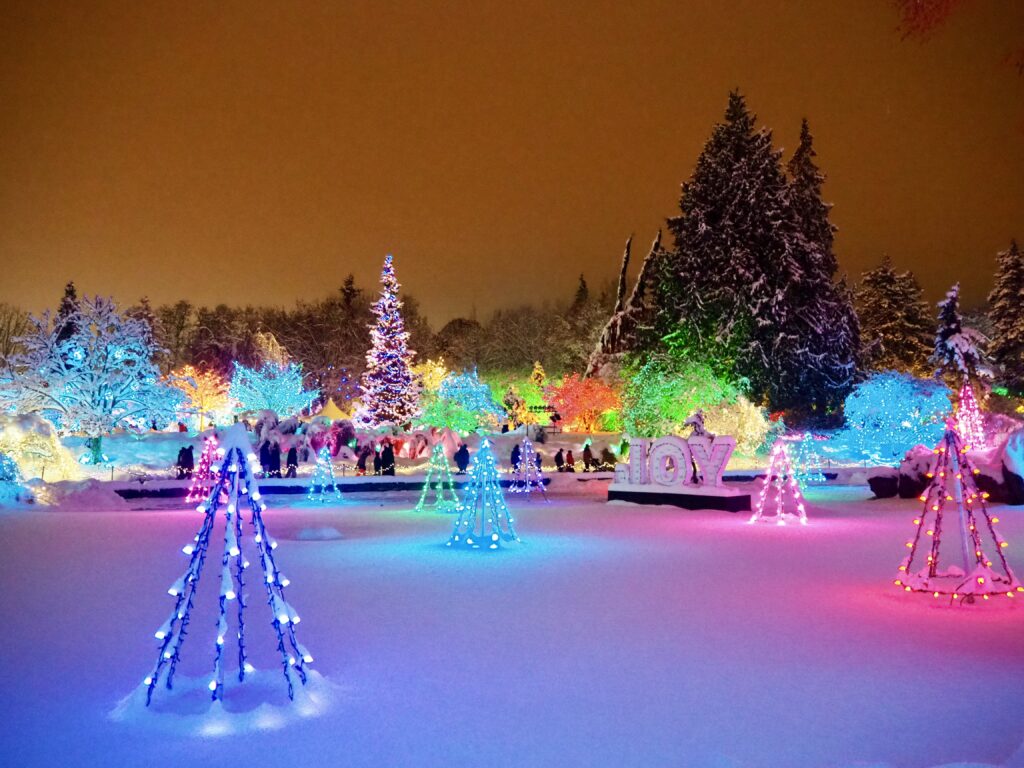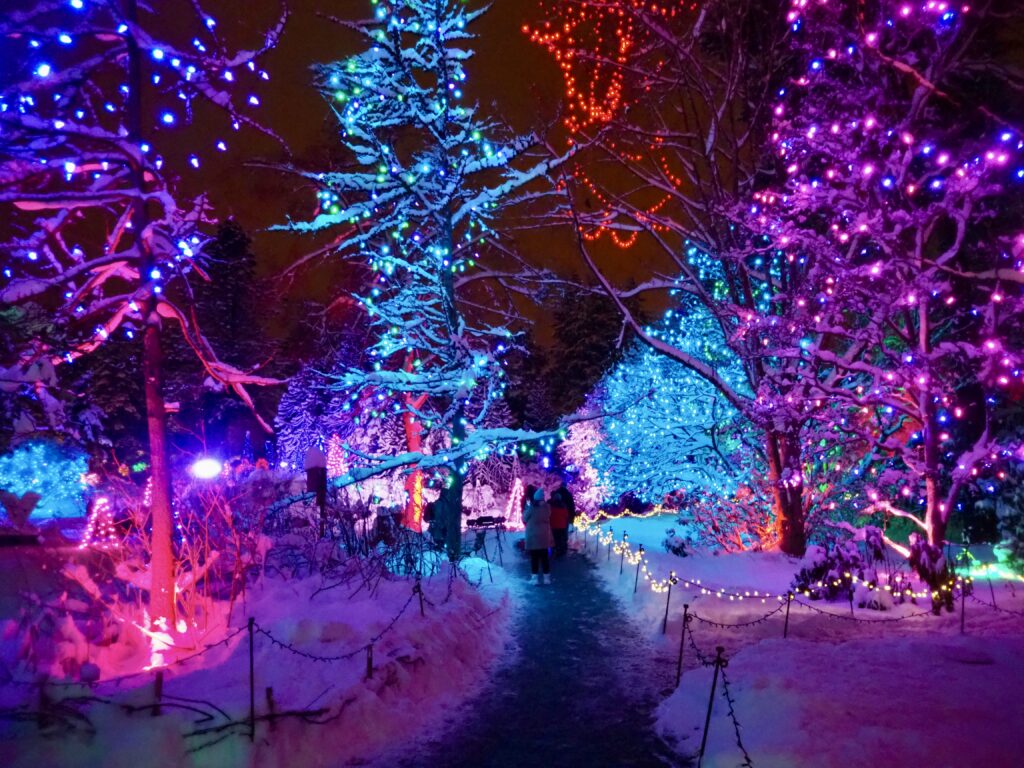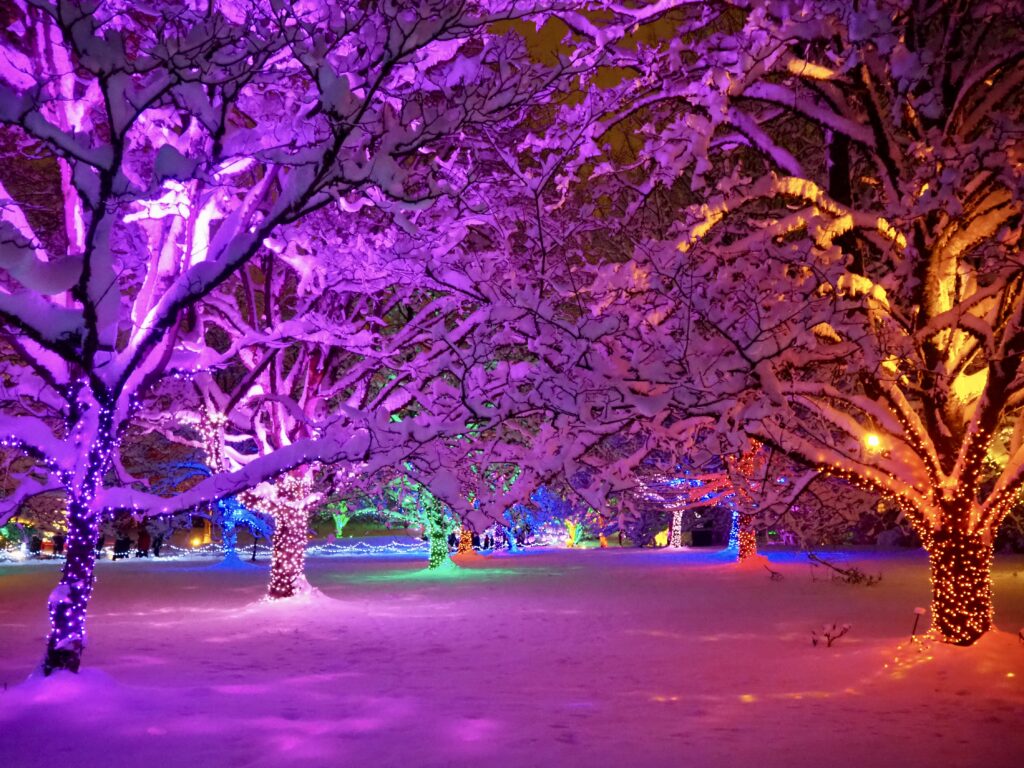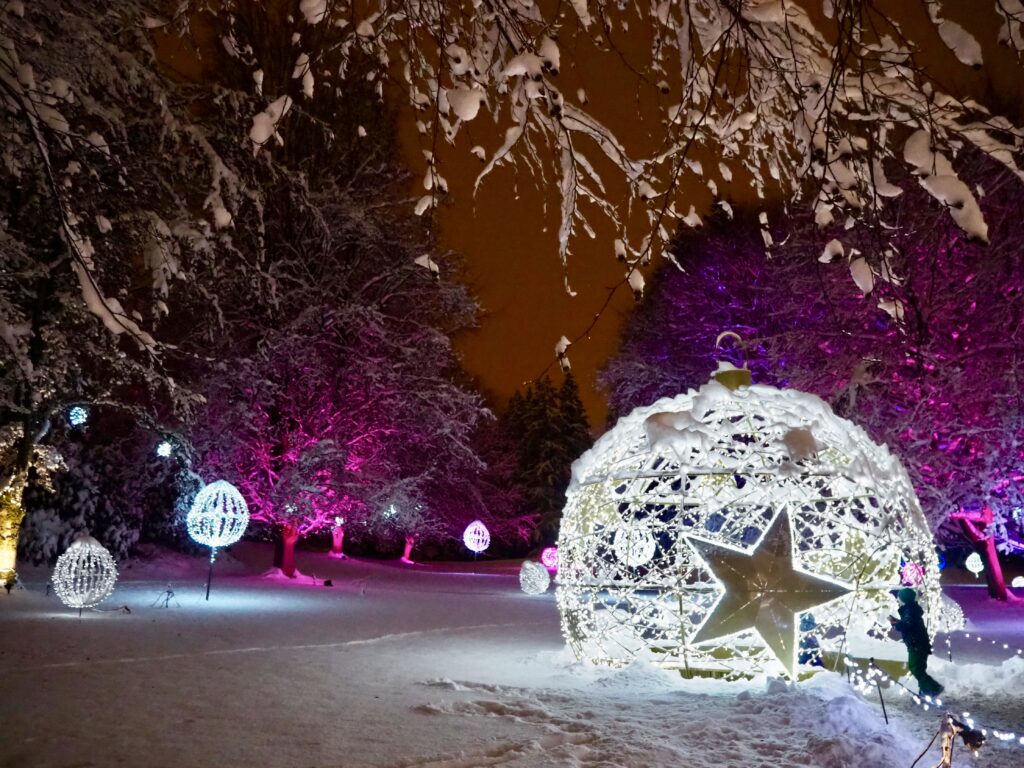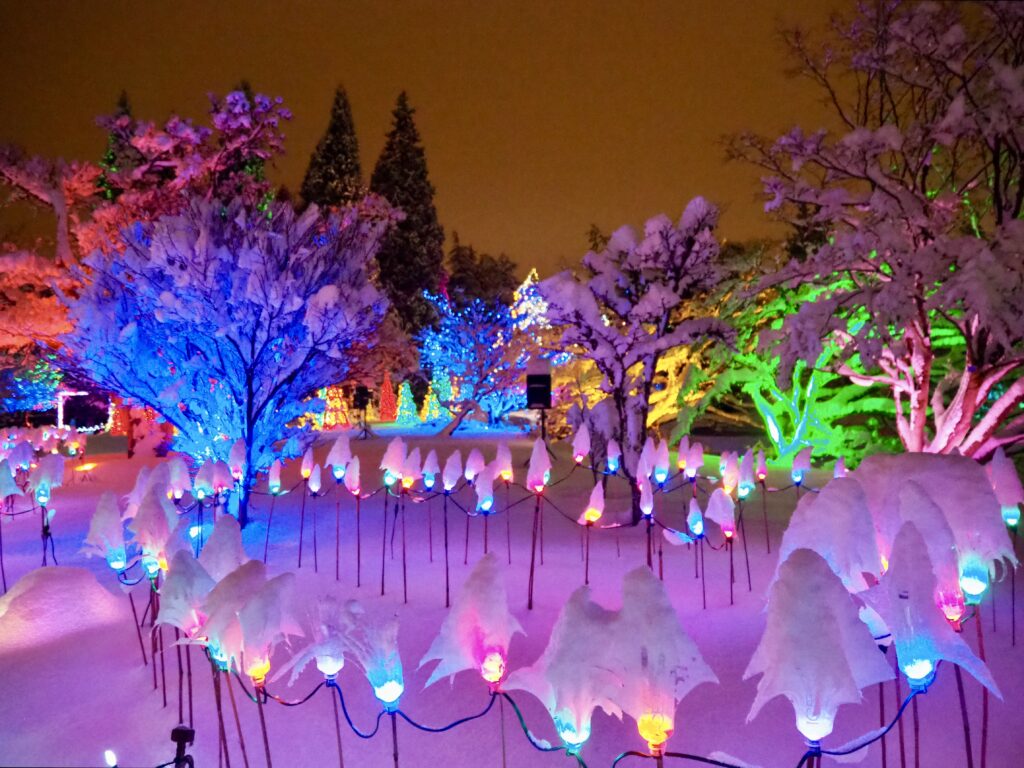 ---
Vancouver Christmas Market
I can hardly write a list of Christmas events in Vancouver without including the Vancouver Christmas Market! This is your classic German-style market, full of wooden huts selling food and crafts. I did feel that the entry ticket was a bit overpriced, considering you then have to spend more money on everything else inside! But I let it slide for the sake of feeling festive for an evening. And between the giant Christmas tree, Santa in the chimney and the live singers performing carols, it certainly was just that.
I probably spent half the time we were there trying to decide what I wanted to eat. I must have done at least three laps of the various food stalls, browsing all the options! In the end, I had a very hearty vegan goulash in a bread bowl. And then my sweet tooth came calling, and I had a 'croffle'. A mix between a waffle and a croissant, which seems like it should be North American but the sign had an Irish flag! Topped with maple syrup to be Canadian though, of course.
The market is near Canada Place, on the waterfront, so you also get lovely views over to North Vancouver. The big light-up photo frame is the obvious Instagram spot, of course. It was just nice to see all of the city lit up at night for Christmas too. We browsed the craft stalls as well and ventured through the light tunnel. I did get a little stressed out and frustrated by how crowded it was at times. But overall, a solid choice of Christmas event in Vancouver!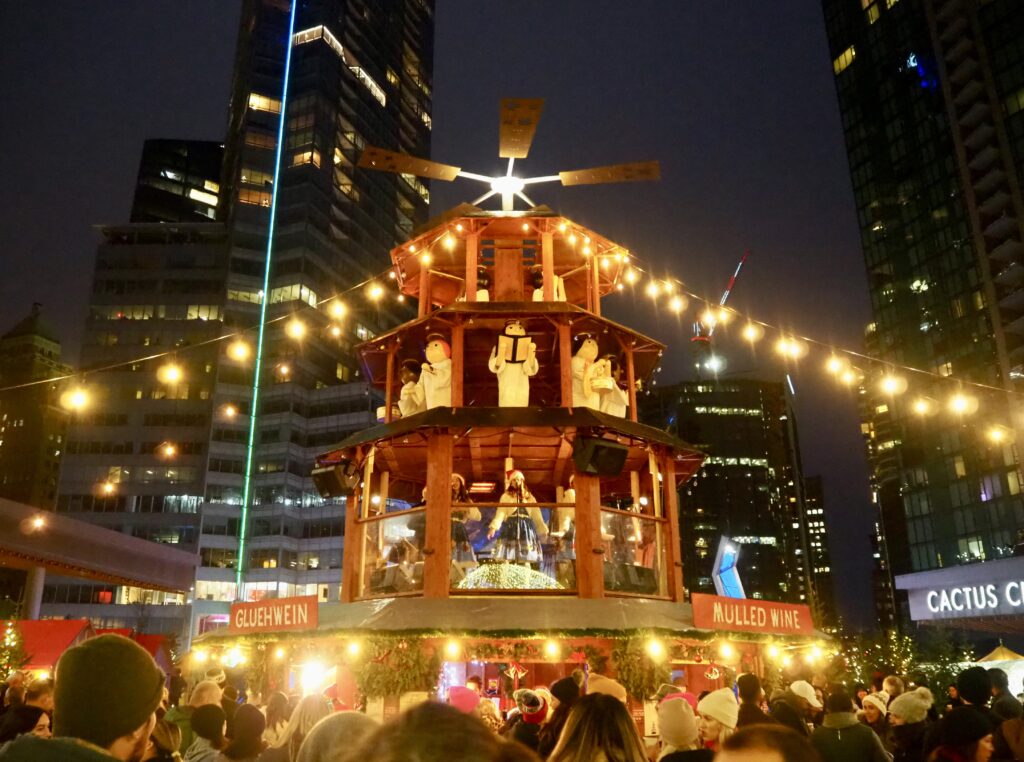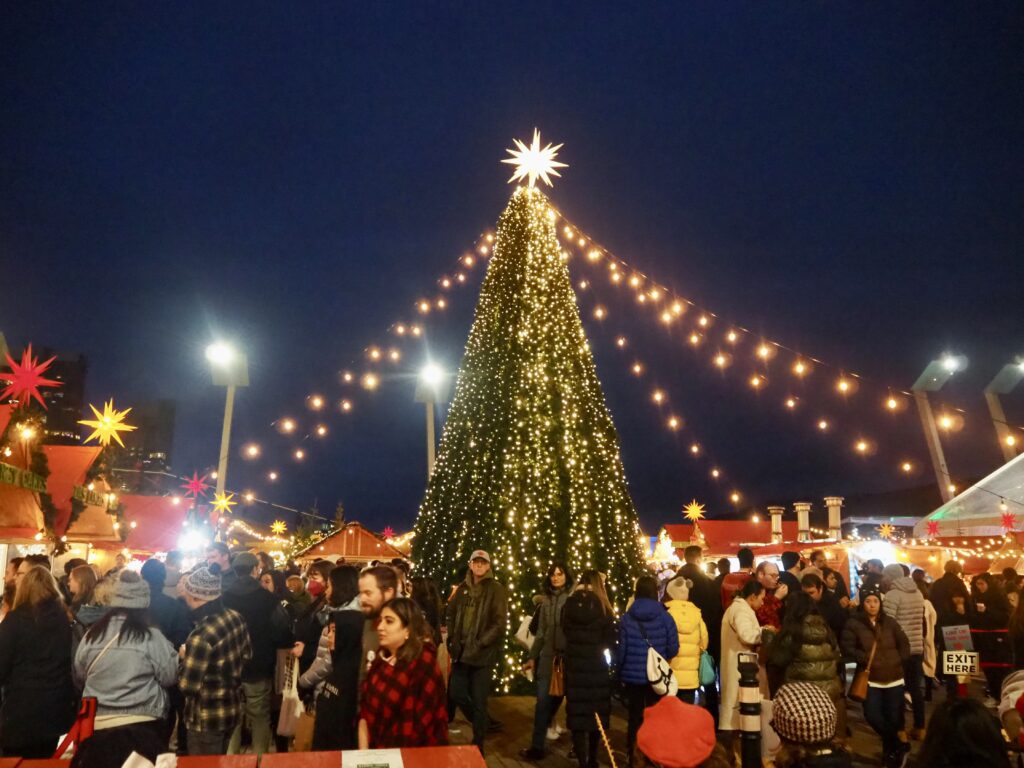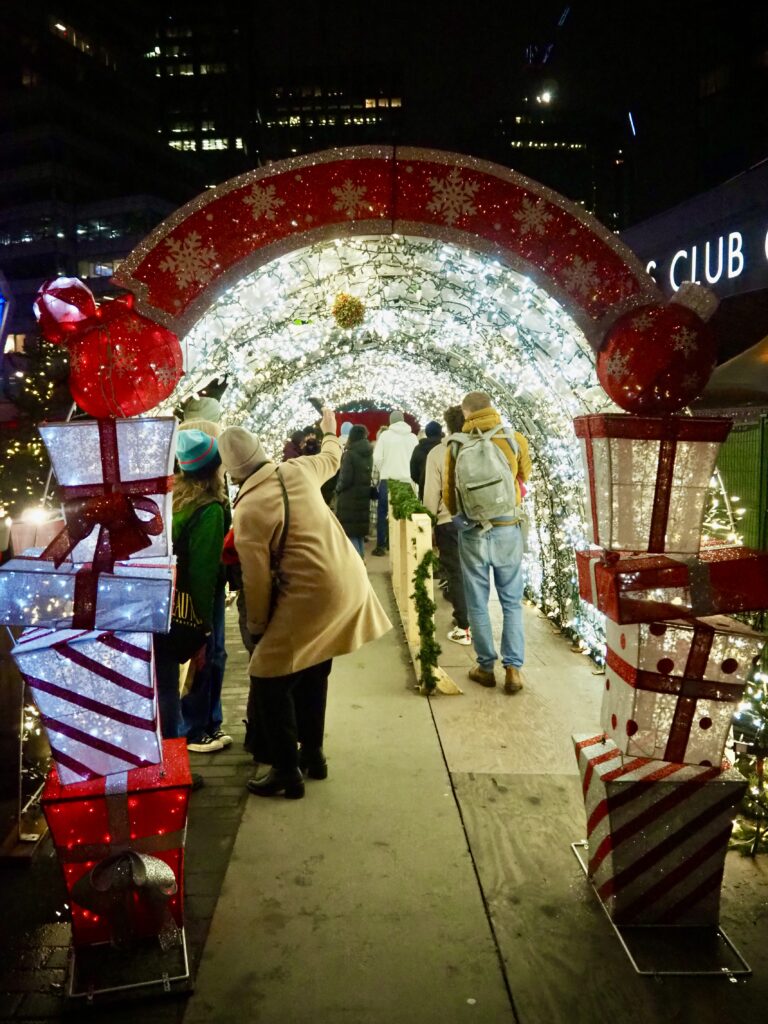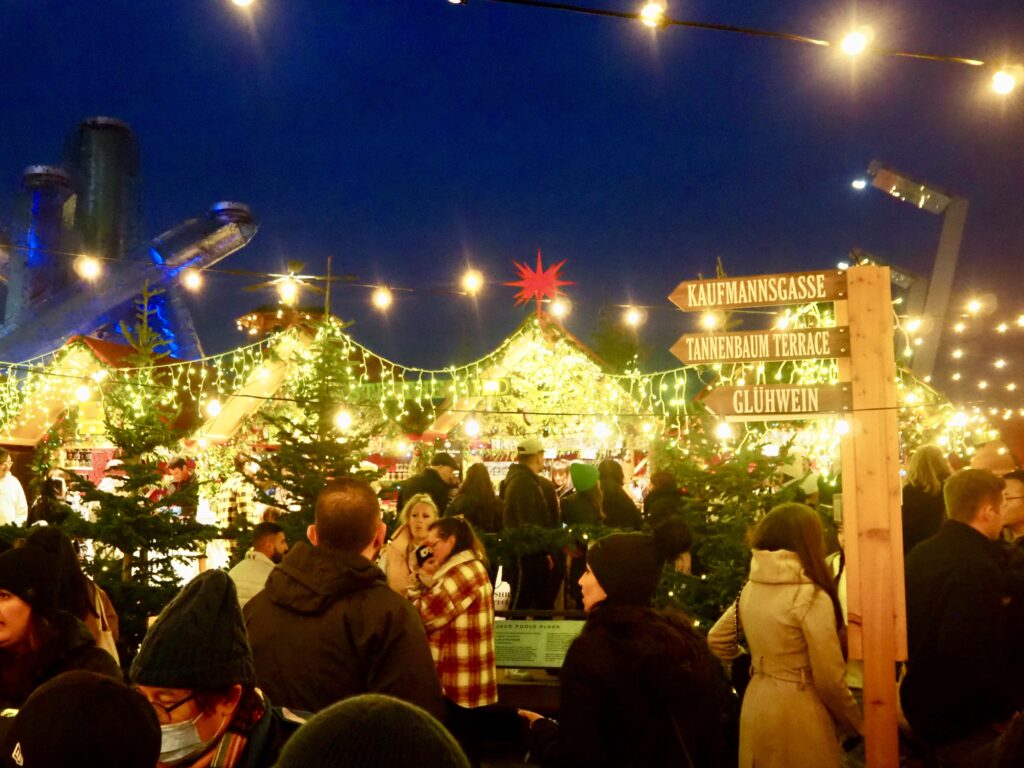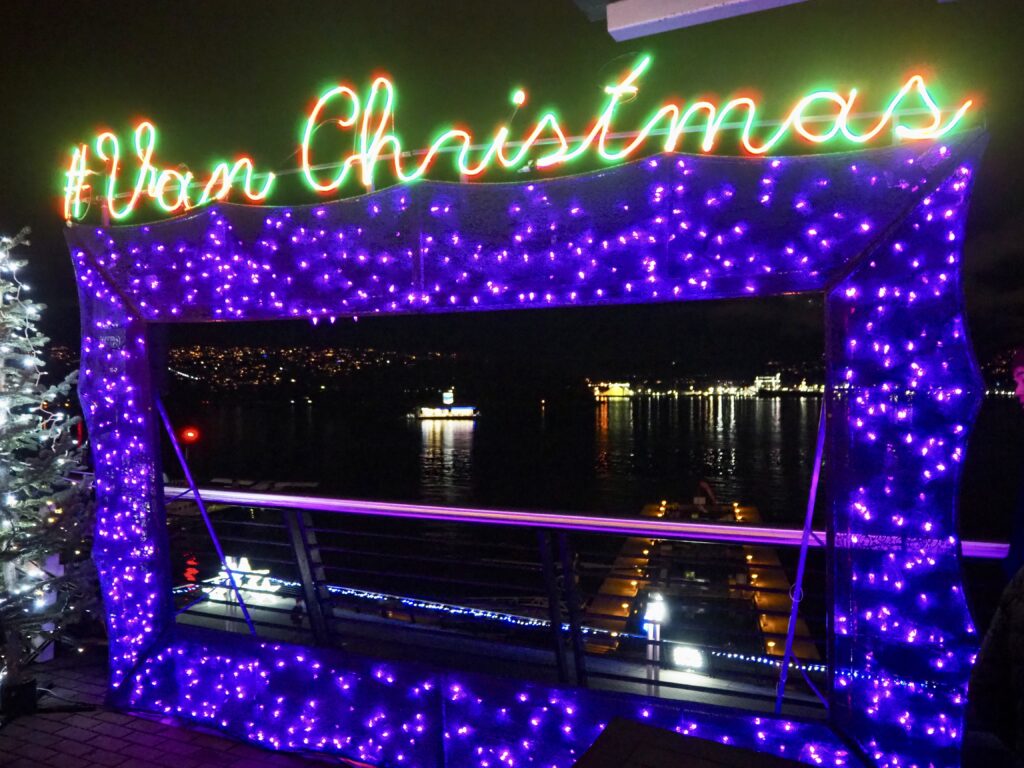 ---
Capilano Suspension Bridge Park – Canyon Lights
So this was supposed to be my Christmas Eve event, having booked my ticket weeks in advance. Then on the morning of, they had to close the park for the day due to the storm! Fortunately, I was able to reschedule for the week after instead. It still rained – obviously, because that's what Vancouver does in winter. But I didn't mind because this is an actual temperature rainforest, which is so cool to me (yes, I'm a nature & plant nerd sometimes)!
Capilano Park is open year round (and I did get an annual pass and I will be back), but Canyon Lights is their special Christmas event. The rainforest sits along the canyon, with this huge suspension bridge across it plus a treetop walk and lots of educational nature features. I'm quite looking forward to another trip by daylight to appreciate that more! However, wandering through the giant trees decked out in their lights was just magical. So many of them seemed to float in the darkness, creating this ethereal, fantasy-like setting. I didn't even care about the rain, I was just totally entranced by it all.
And, for those who know me, it's common knowledge that I'm terrified of heights. And in all honesty, that bridge was kind of terrifying. I wanted across it as fast as possible each way! But maybe going for the first night at night was the best plan. After all, I couldn't really see the river that well to know how deep it was! I even ventured onto the cliff walk too, which was pretty nerve-racking, but worth it for the field of lights after it. Maybe next time I'll even brave the treetop walk (there was a big queue and I think I'll enjoy it more for the nature and wildlife by day)!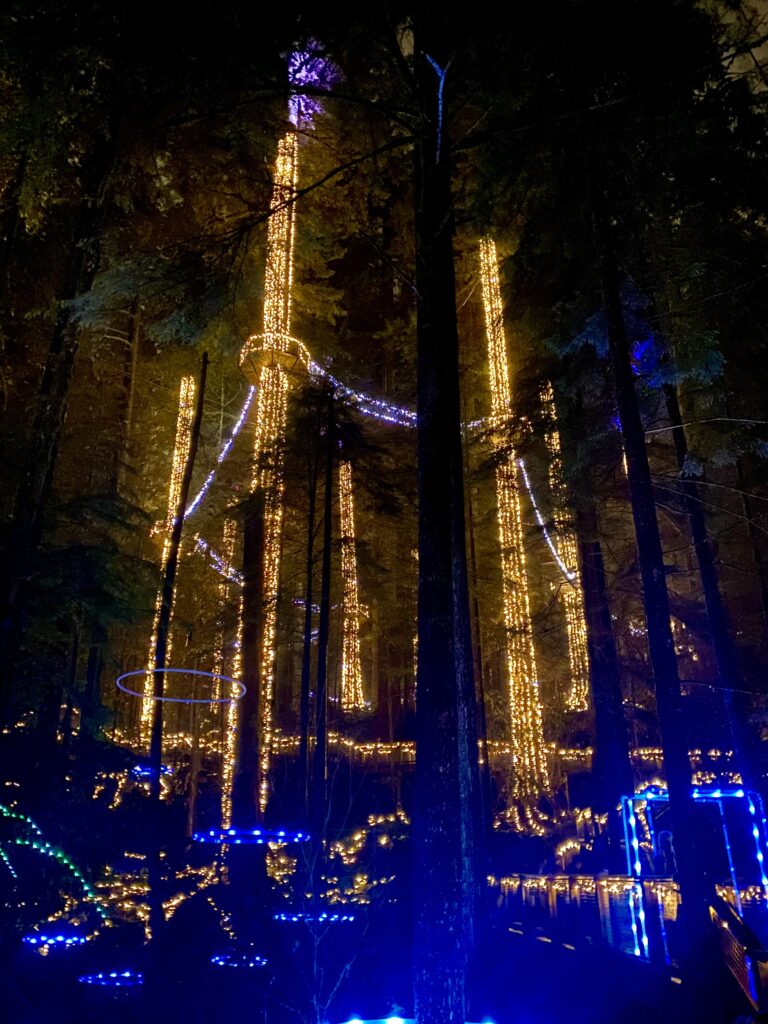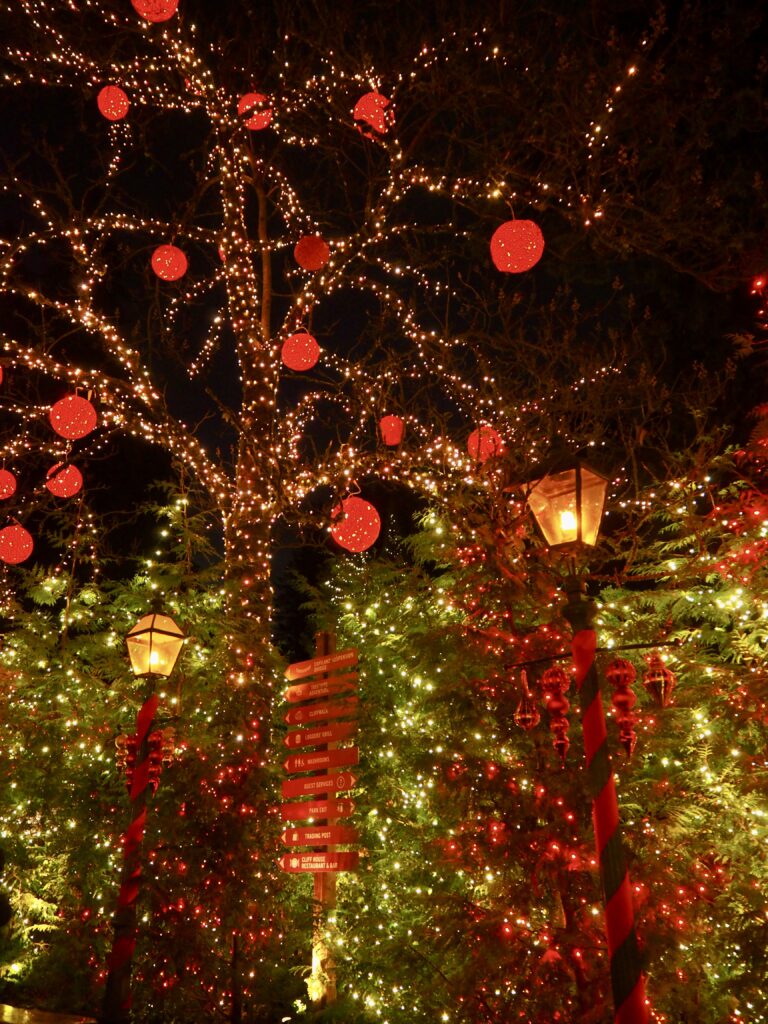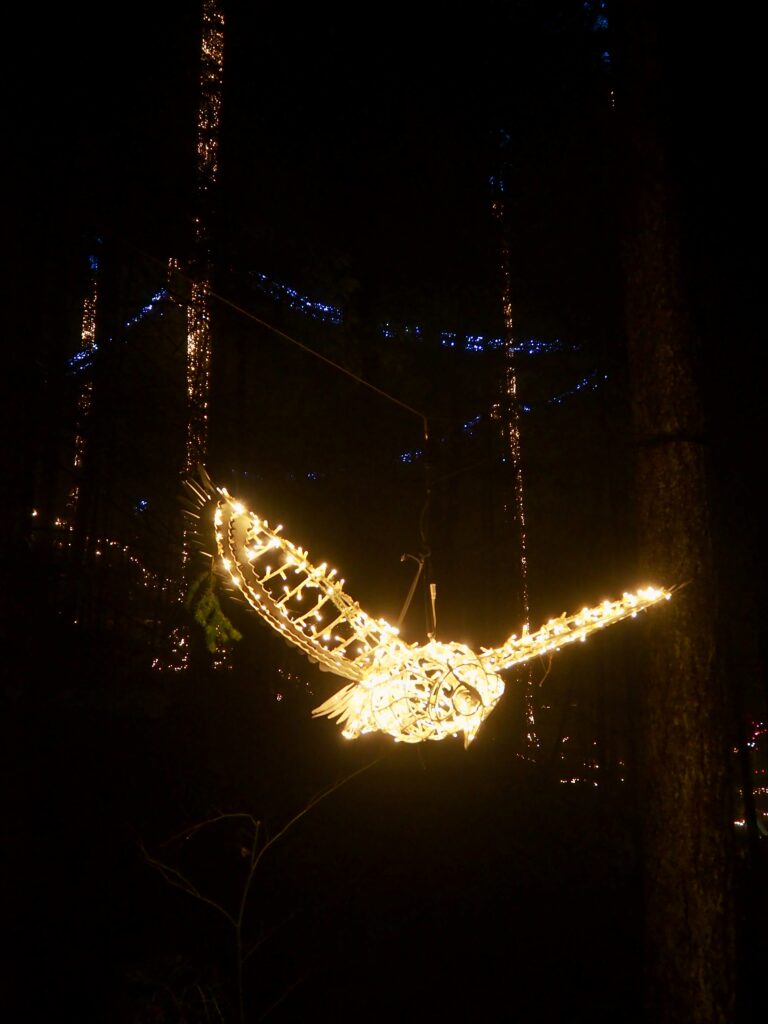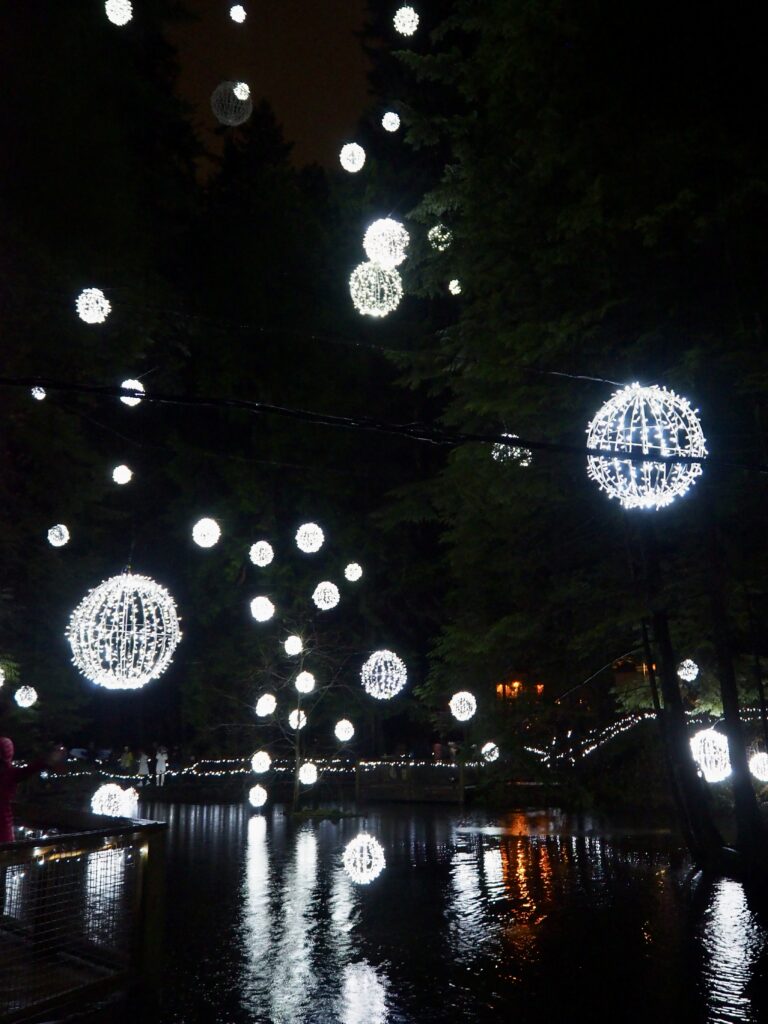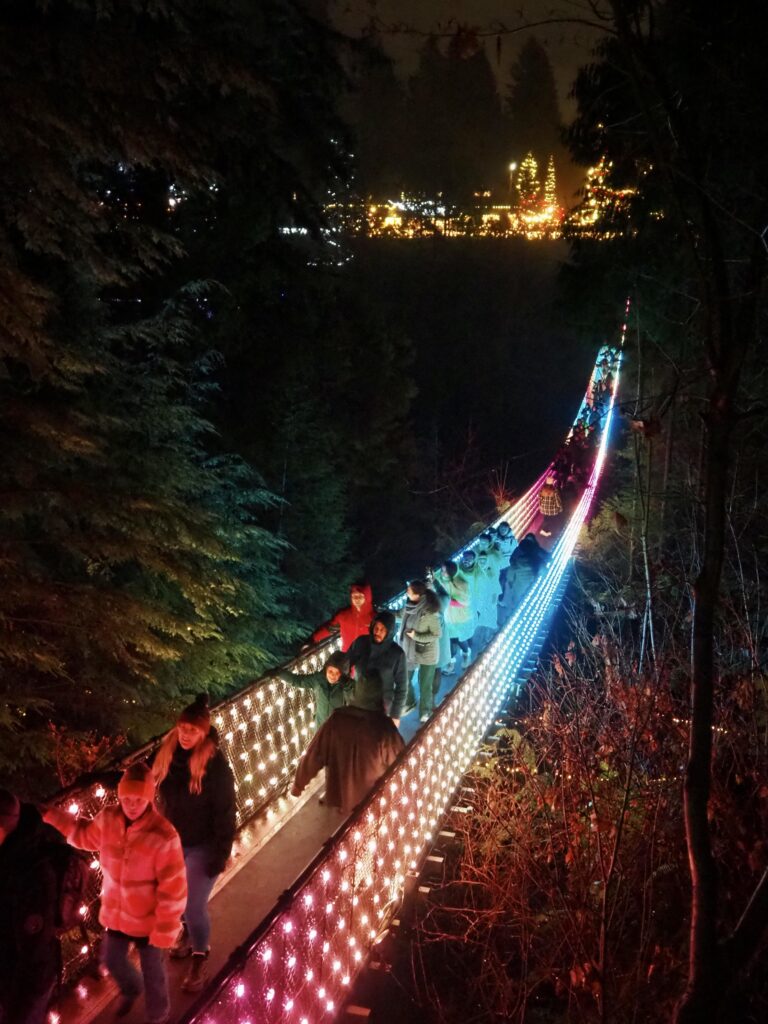 ---
Stanley Park – Bright Nights
My favourite thing about this Christmas event in Vancouver's famous Stanley Park, is that it's actually a fundraiser. They put it on every year to support the BC Fire Fighters' Burn Fund, so entry is by donation. It was a little tricky to find at first, since Stanley Park is so huge and it wasn't as obviously signed as I had expected. Fortunately, Google Maps was able to find it (pinned as 'Bright Nights') near Pipeline Road and the bus stop inside the park.
I also wasn't quite sure what to expect with this one, other than light displays. Which is basically what it was, but it also had quite an eclectic mix of installations and sculptures. There was a giant reindeer and Santa in his sleigh and a nativity scene. Plus a big fire engine and a few old fire houses, which makes sense for the fundraiser. Then there were also pop culture characters, including the Grinch and Disney characters. As well as general wintery scenes, like the penguins and polar bears. It certainly kept me on my toes as to what I'd find around each corner!
They had Christmas music playing throughout, as well as a few food trucks in the middle and a covered seating area. While it had been dry on my way over, it started raining a lot just after I arrived. So, I snacked on a pretzel and a hot chocolate under the covered area first. I was hoping the rain would let up, but eventually just had to brave the lights while getting wet. That also meant I didn't stay as long as planned, since the rain was only getting worse. The place isn't huge though, so I still got around it and enjoyed it all before dashing for a bus again!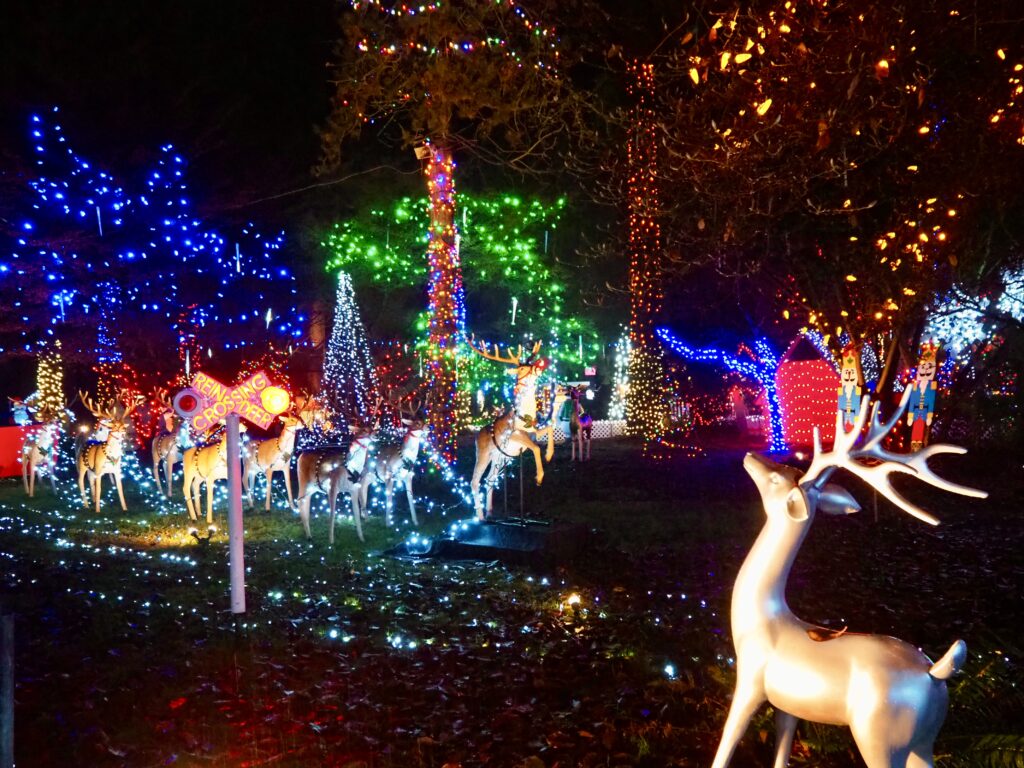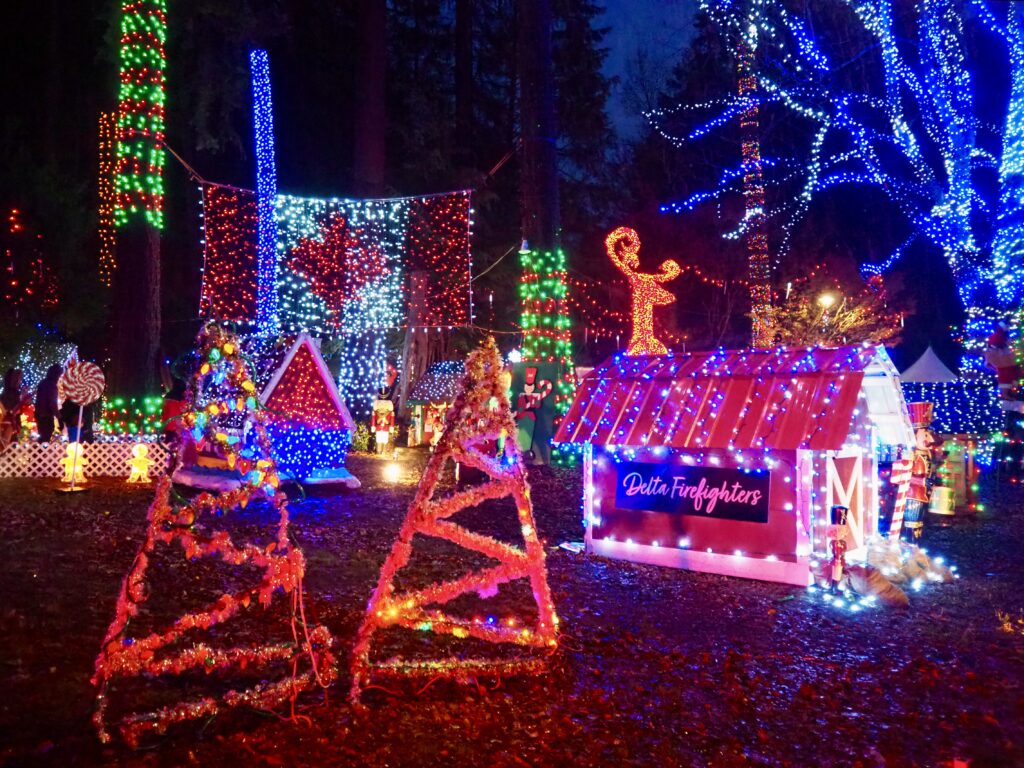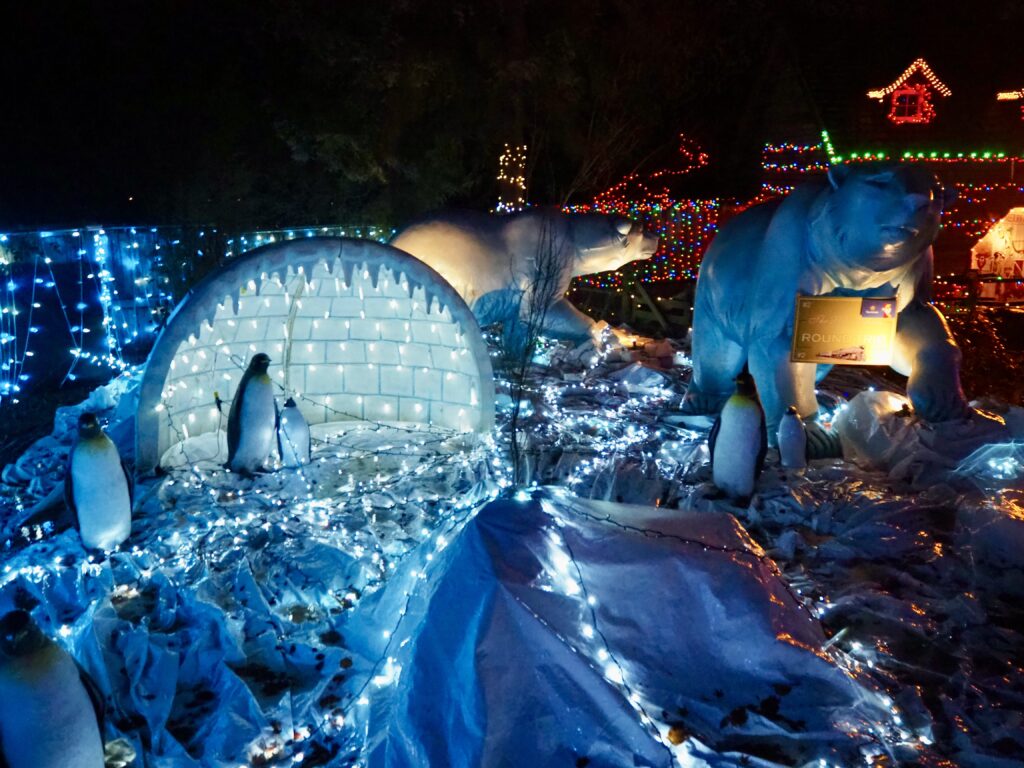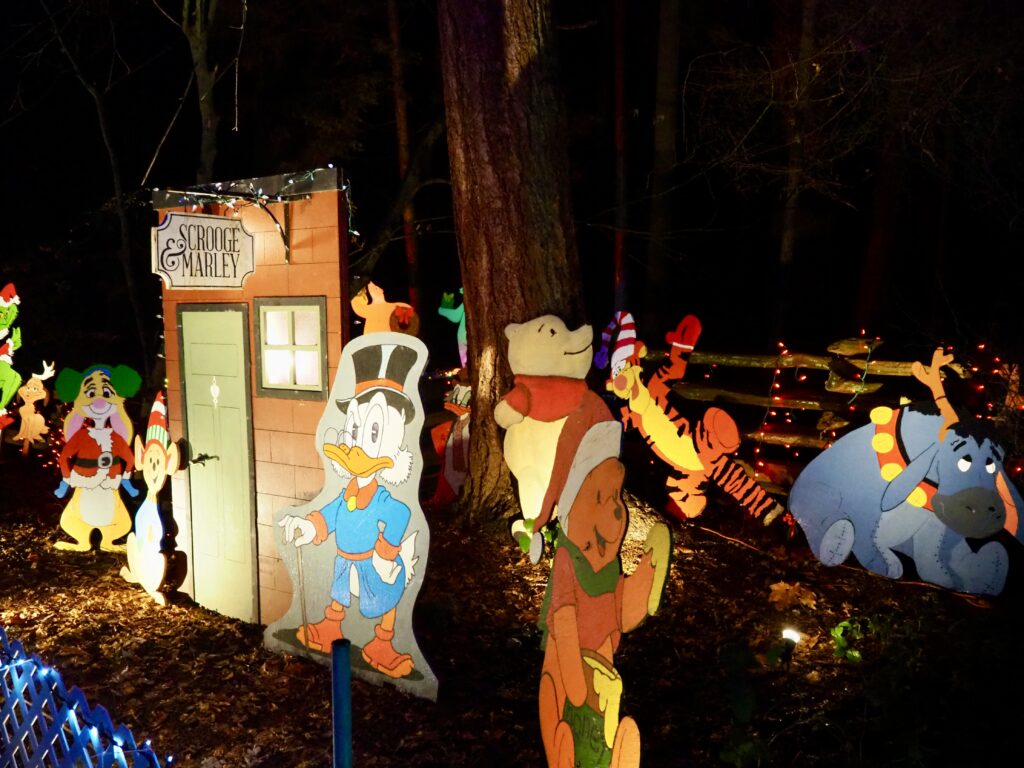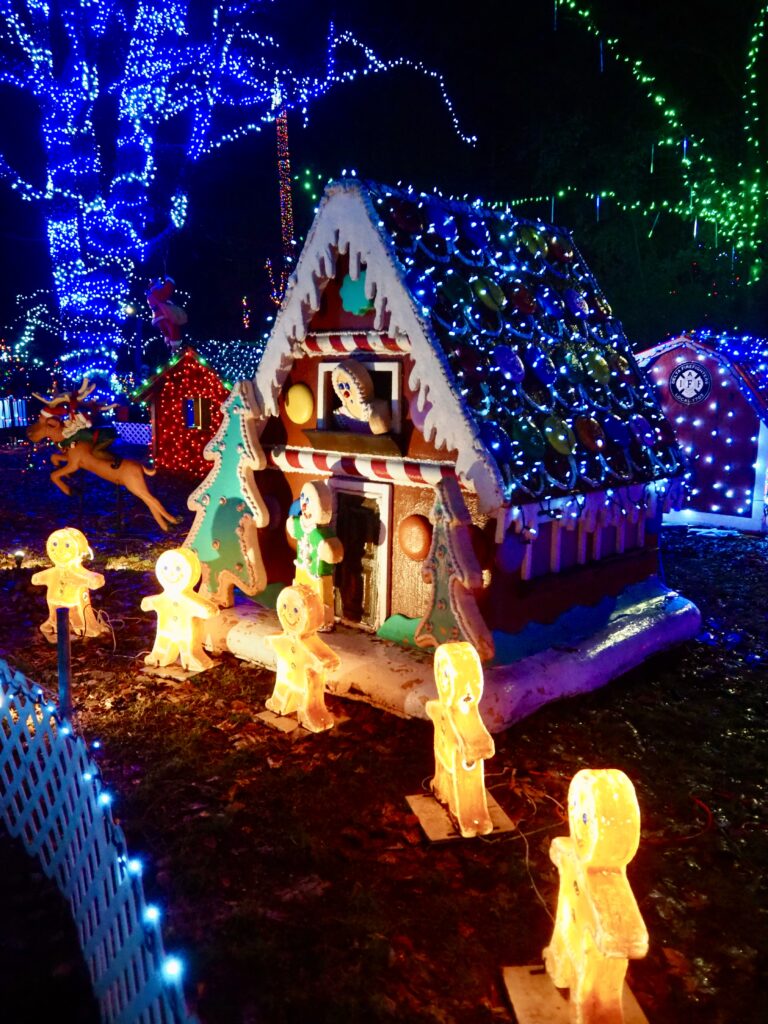 ---
Burnaby Village Museum
So this one might not technically be a Christmas event in Vancouver. Seeing as it does open at other times of year. And it's in Burnaby. But it only opens seasonally and they decorate it for the time of year, so they deck it out in Christmas lights and open for a few weeks in December. It was on my list of places to check out in Vancouver anyway, and won't be open again until spring. So this seemed like a good time to go, plus it's free to enter!
The village is like an interactive, open-air museum. It's set up as a village from about 100 years ago, during the Edwardian period when colonisers first settled in Canada. They have all the features you'd expect from that time, including a post office, general store, bank, tinsmith, garage and ice cream parlour. You can go inside most of the buildings and see all the old-fashioned items on display. The staff put on demonstrations in costume sometimes as well, so it's a great one for kids.
Having seen similar places in other locations, it was perhaps a tad underwhelming for me and I whizzed around it quicker than intended. It was also pretty busy and the indoor buildings were jam-packed so I skipped a few due to the crowds. However, the lights were really pretty to look at, with a Christmas tree inside the gazebo and big glowing baubles in the trees. I can definitely see why Christmas is such a popular time to visit it!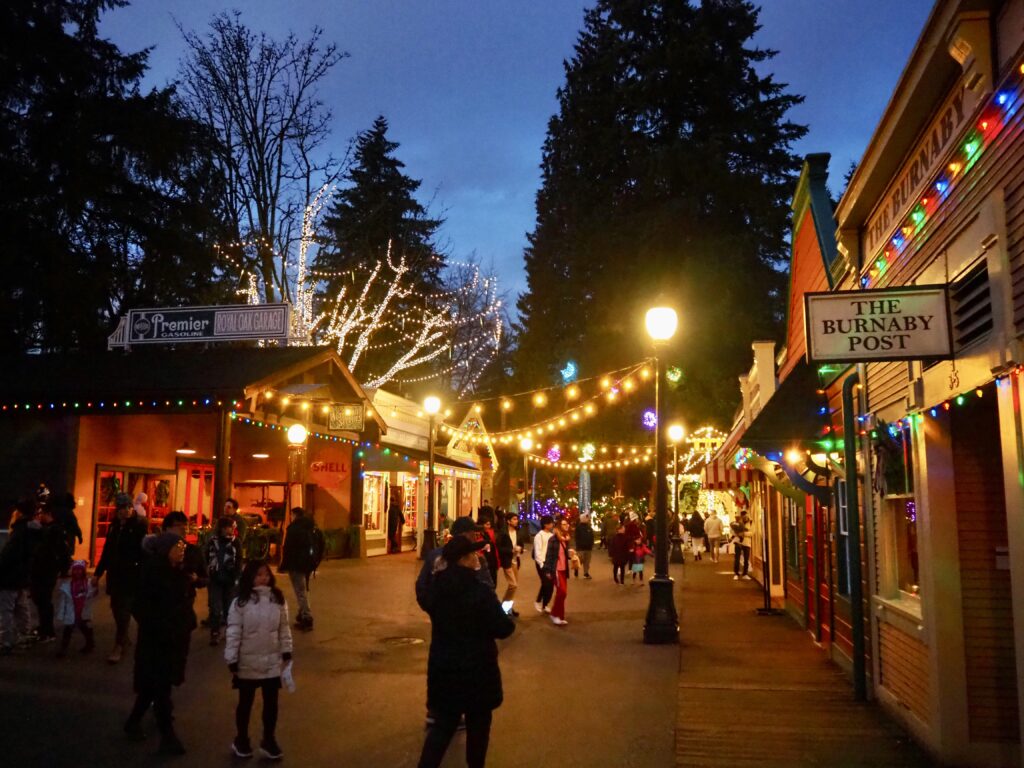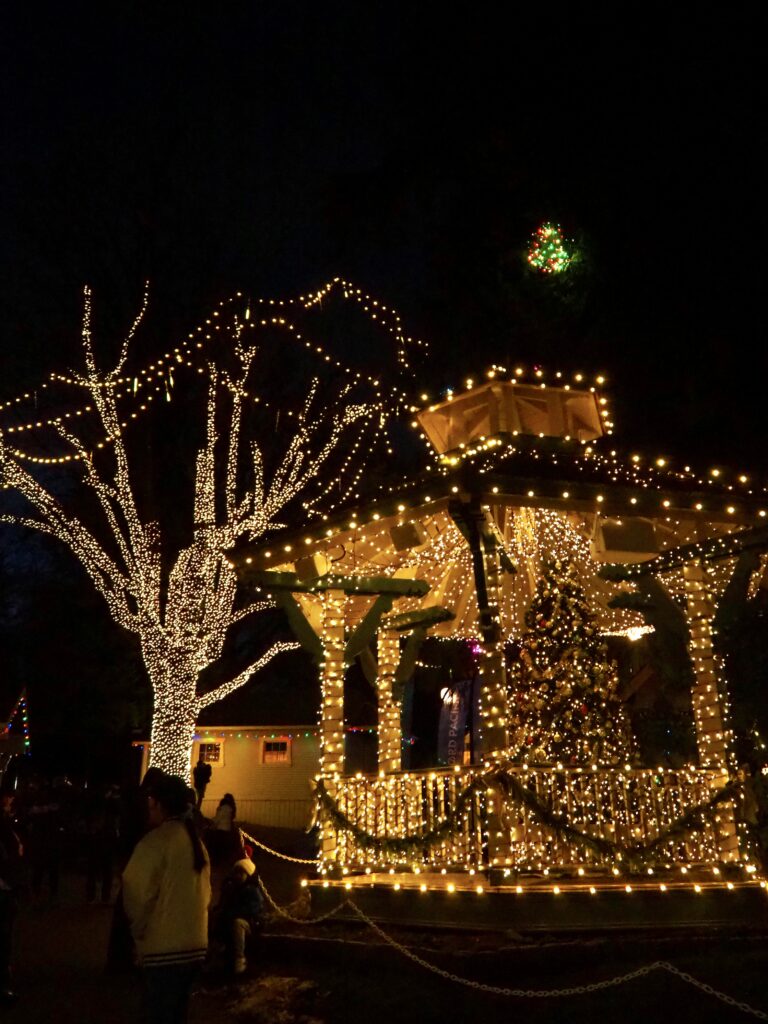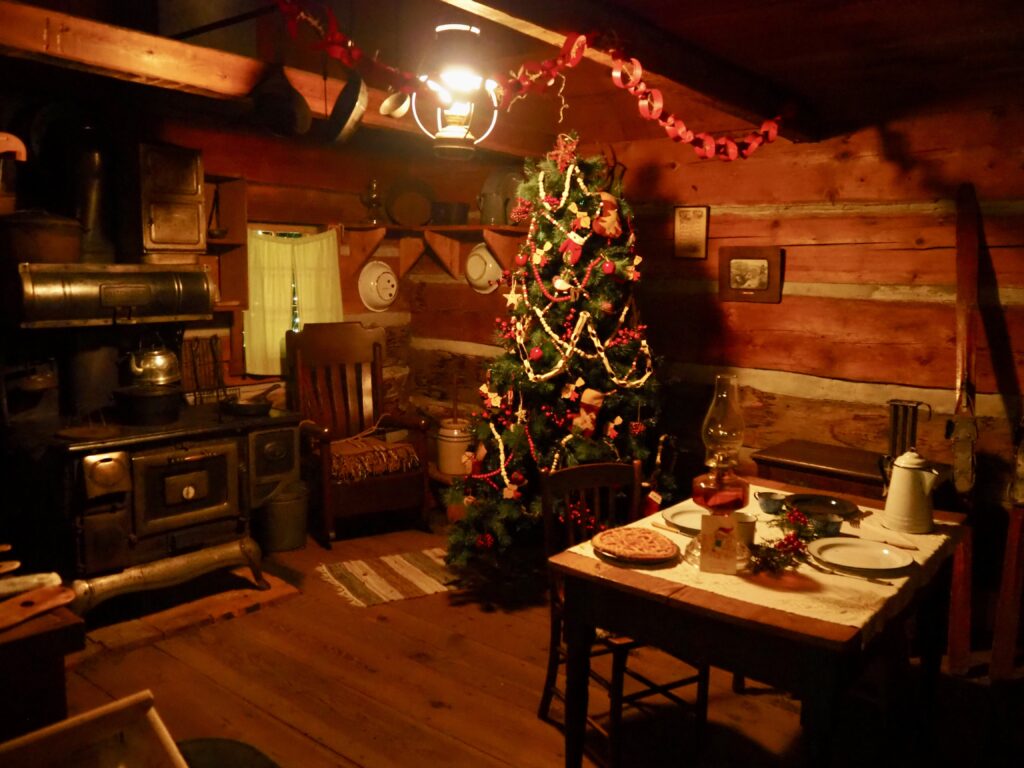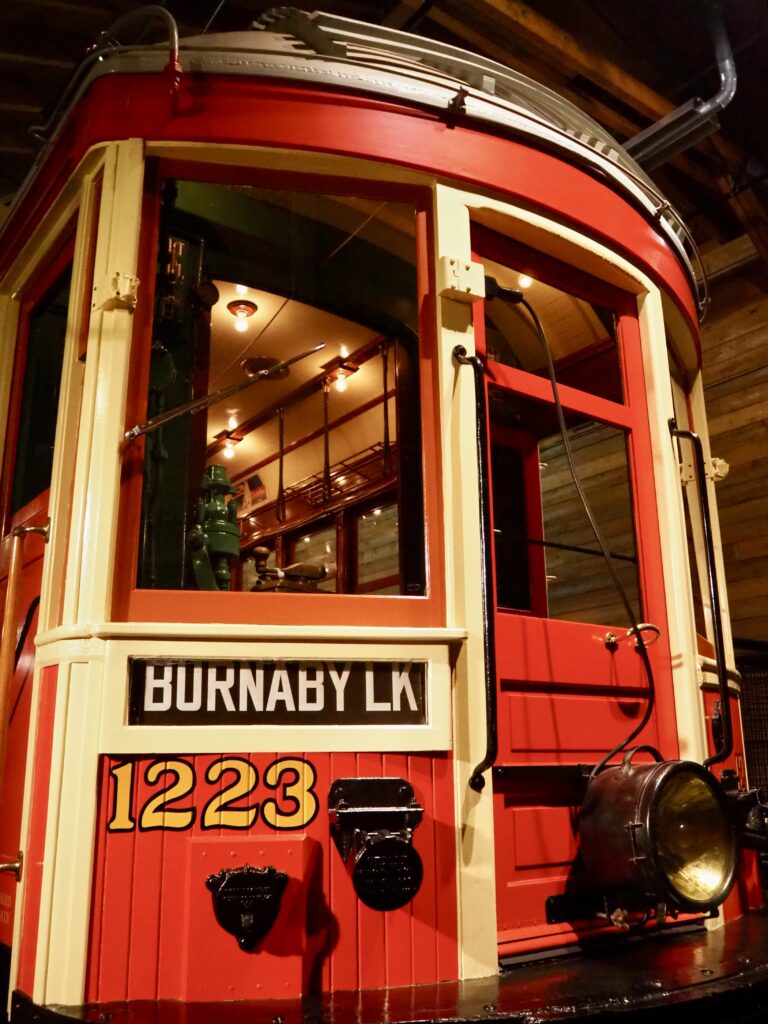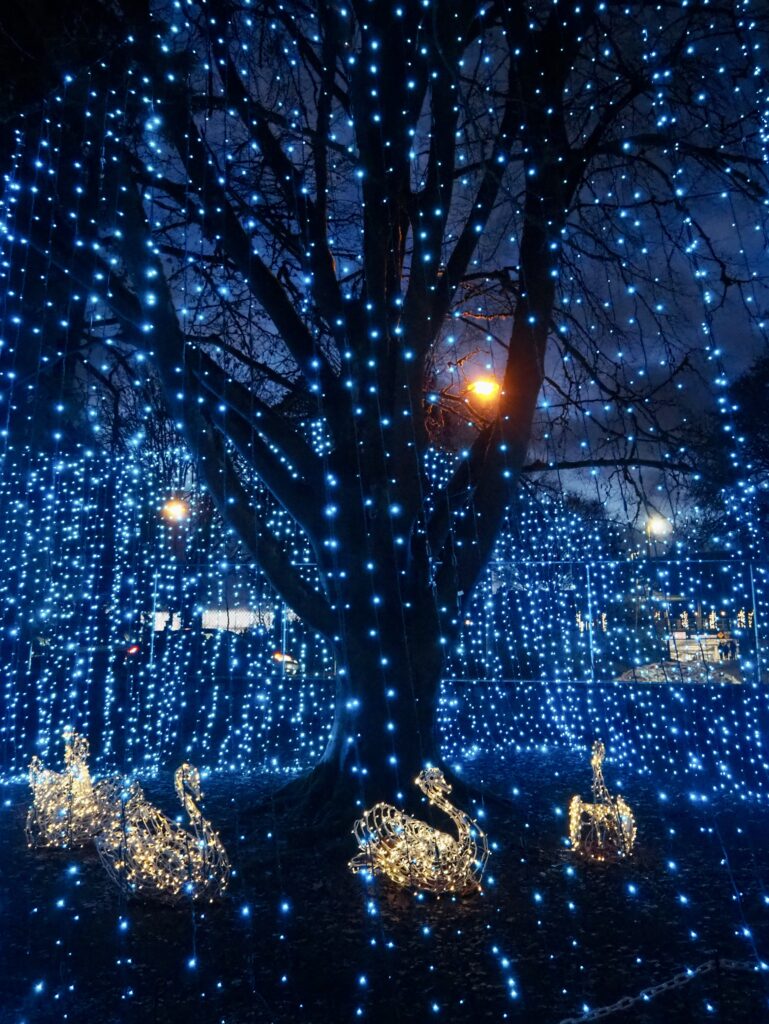 I definitely found it hard being away home from home for Christmas for the first time ever this year. Waking up on Christmas morning, it didn't feel like it was Christmas Day at all! However, having so many Christmas events in Vancouver to explore definitely helped get me more into the festive mood. I also enjoyed getting to experience events that only happen seasonally. A perk of living somewhere else for a while, compared to just visiting!
You May Also Like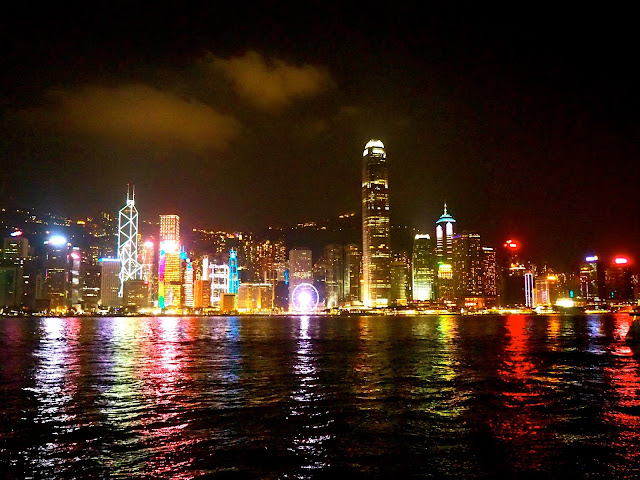 12 August 2017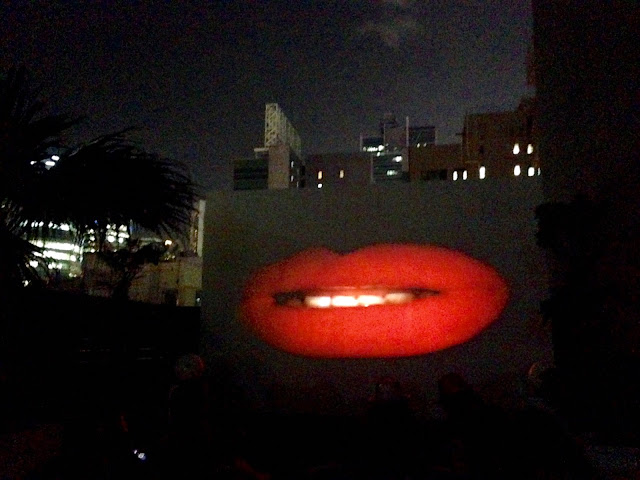 4 November 2015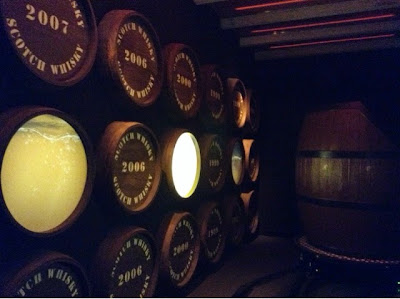 9 August 2014