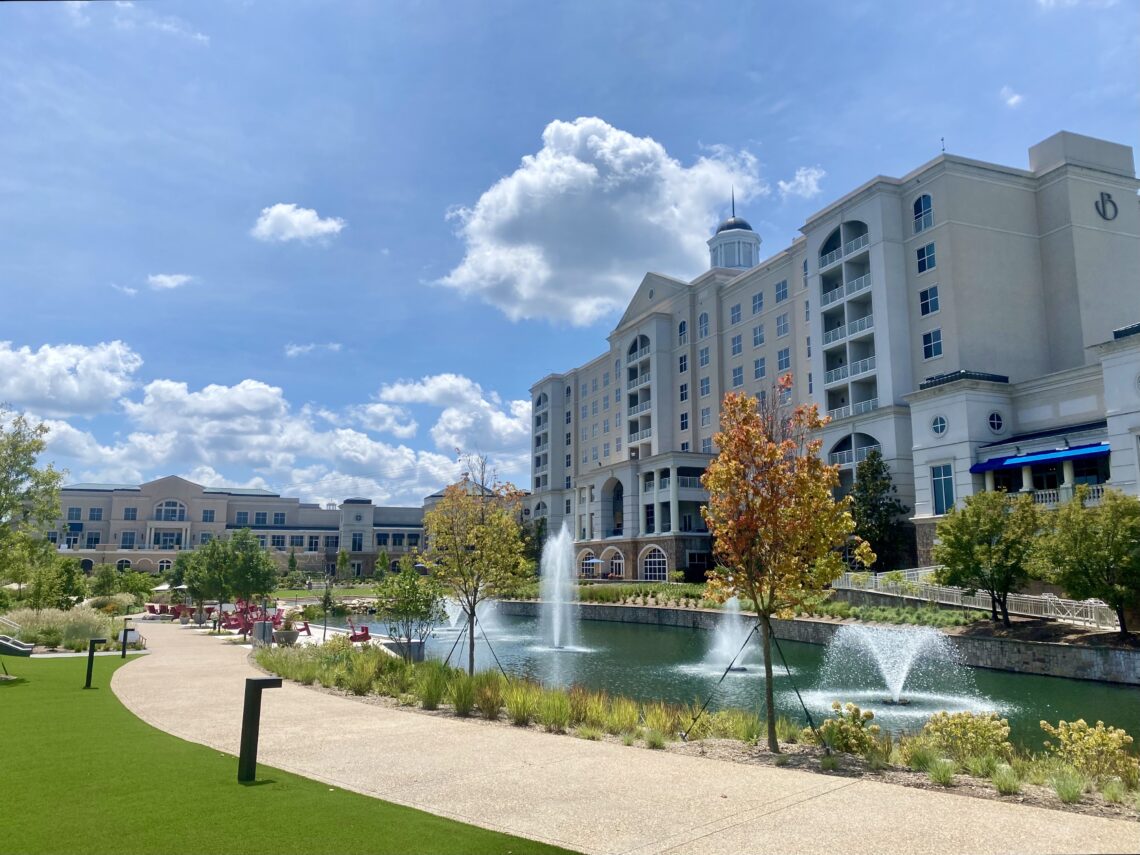 The Ballantyne Hotel, Charlotte | USA
11 November 2023
When I was younger, I played that game where you Google your own name and see what comes up. In my case, the answer was The Ballantyne Hotel in Charlotte, North Carolina. Yes, a whole hotel that shares my name! So, it's been on my bucket list ever since to spend a night there. And when I was planning the route for my cross-country USA trip, I did just that. The Ballantyne Hotel is quite expensive, and I wasn't going all the way to Charlotte for only one night, so I spent 2 nights in an Airbnb while working first. Then, I headed to my hotel for Saturday night.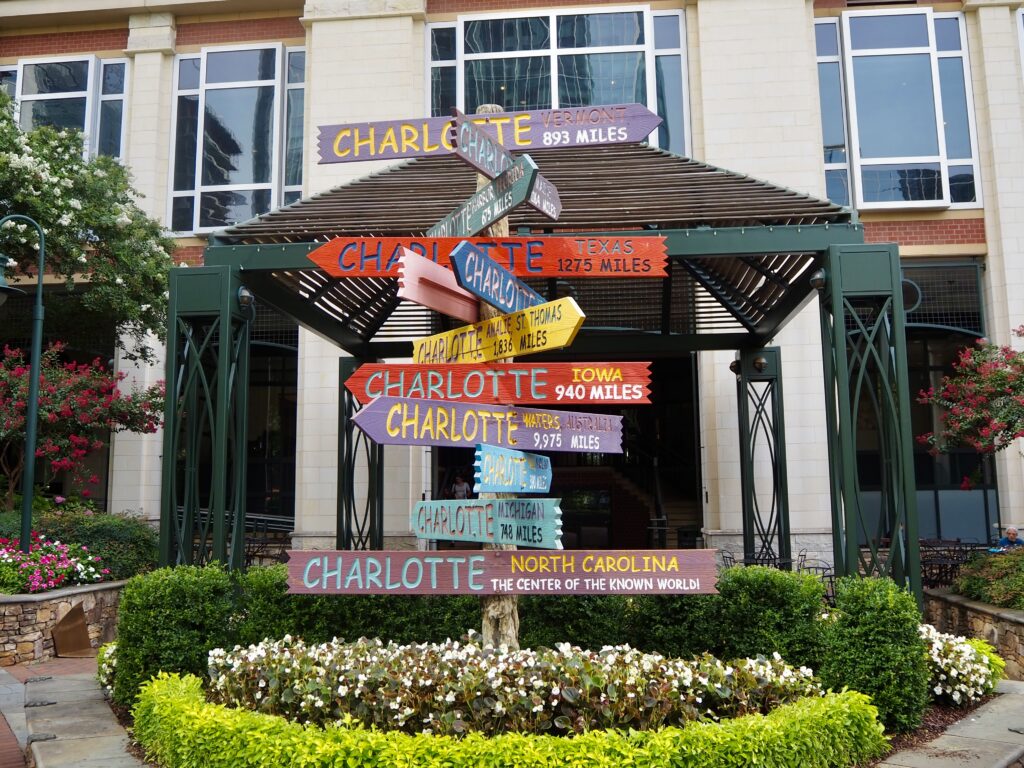 ---
Exploring Charlotte Center City
I flew into Charlotte from Philadelphia, catching a very early morning flight. After dropping my bags at the Airbnb, I took a 30-minute bus into Center City to explore for a few hours. I was working in the afternoon and ended up doing so from a cafe to allow more time in town. I didn't have long enough to enter any museums or such, but managed to walk around plenty. Downtown is split into four quadrants or wards, and I was mainly in the third and second today. From the bus stop, I wandered around Romare Bearden Park first, which has winding paths through the trees and a few sculptures and installations.
Continuing on the park theme, I made my way over to The Green. It had caught my eye on the map as it has a 'Books Monument'. This turned out to be two huge sculptures of stacked books at one end of this small strip of park. The literary references continued, as signs with the names of different cities dotted the park, combining to make the authors' names. For example, Emily (Minnesota) and Bronte (Texas). I loved this whole idea, I thought it was so clever! There was also a central sign of towns and cities all with 'Charlotte' in their name, which I was obviously a big fan of. An excellent choice of name! I eventually saw a statue of Queen Charlotte too, the city's actual namesake.
Not far from The Green, I spotted black and white checkers on the pedestrian crossing, a clever nod to the NASCAR Hall of Fame on this street. I'm not a petrolhead in the slightest (I hate driving) so I wasn't interested in going inside, but interesting to learn that it is a big event in Charlotte!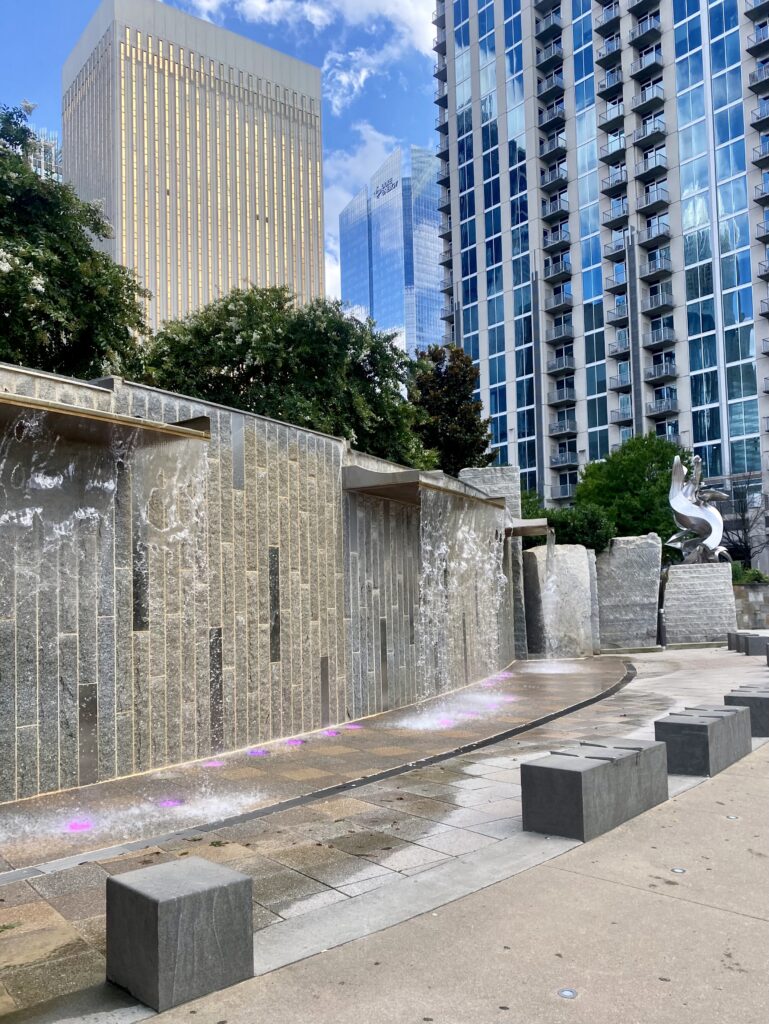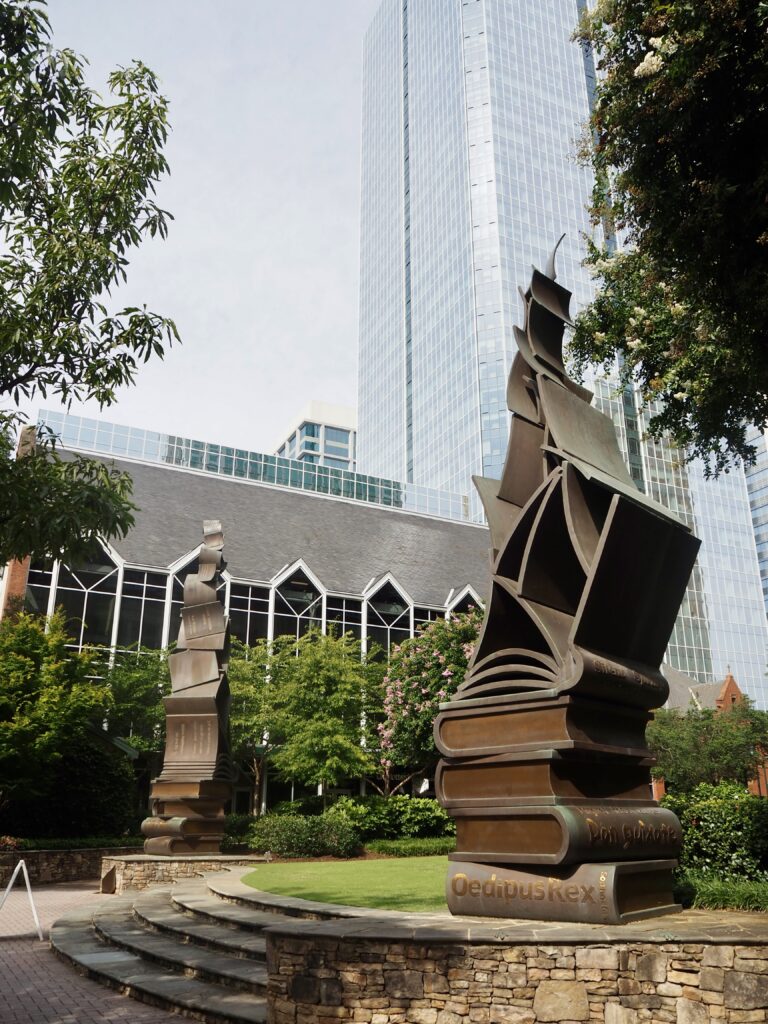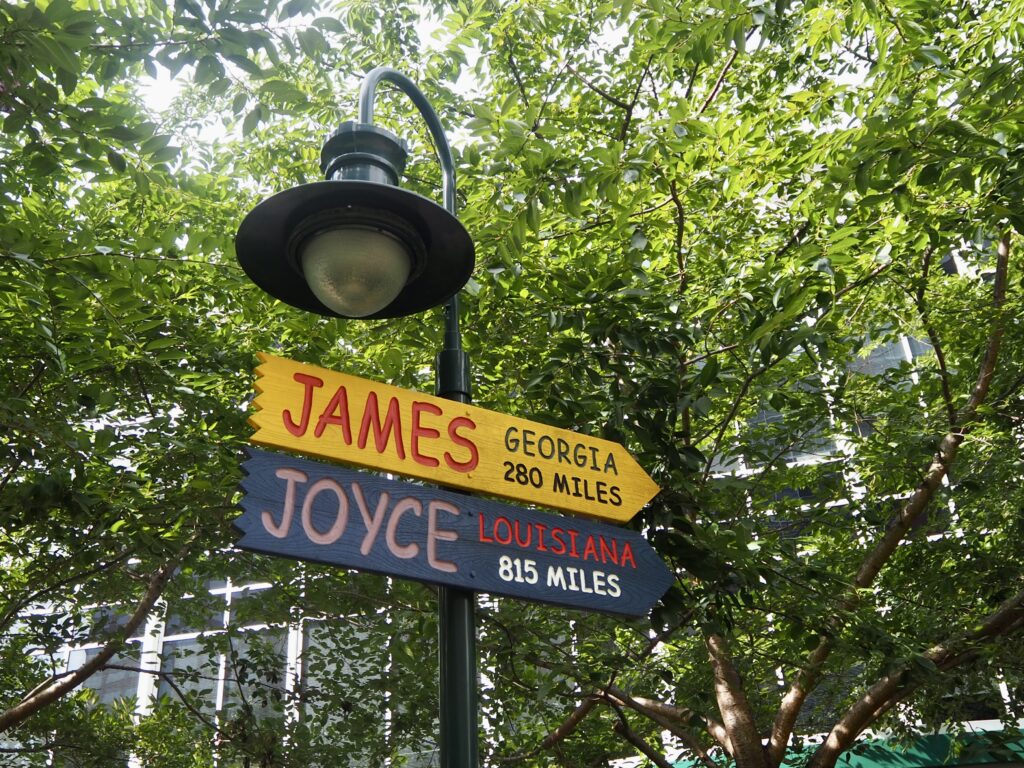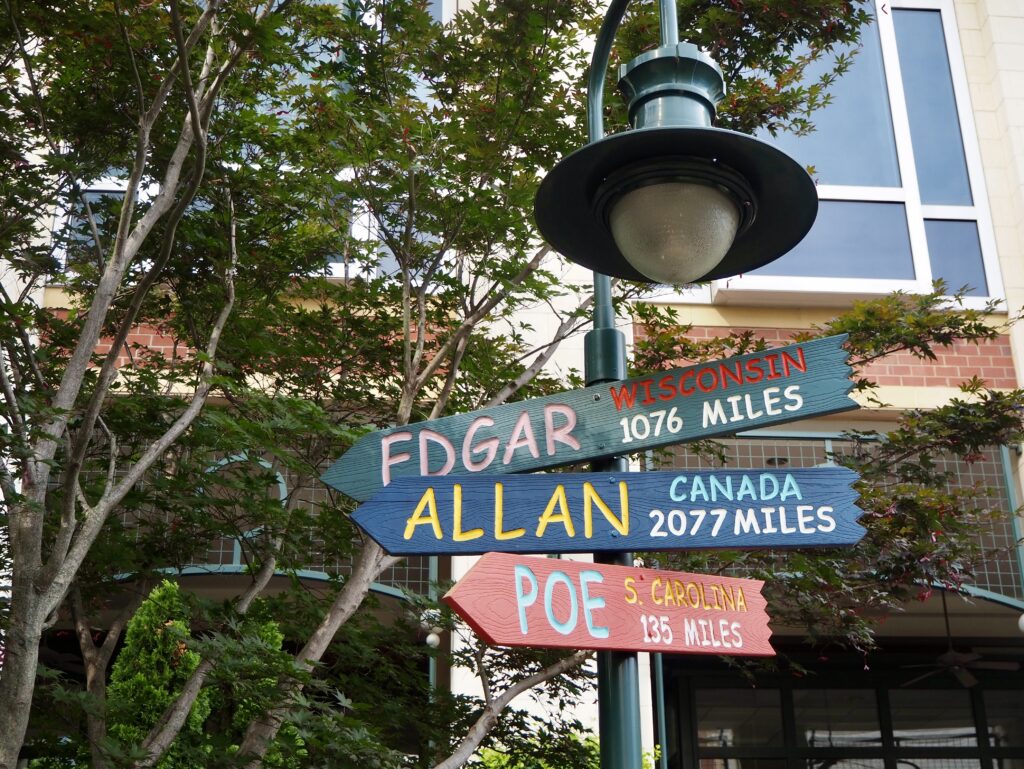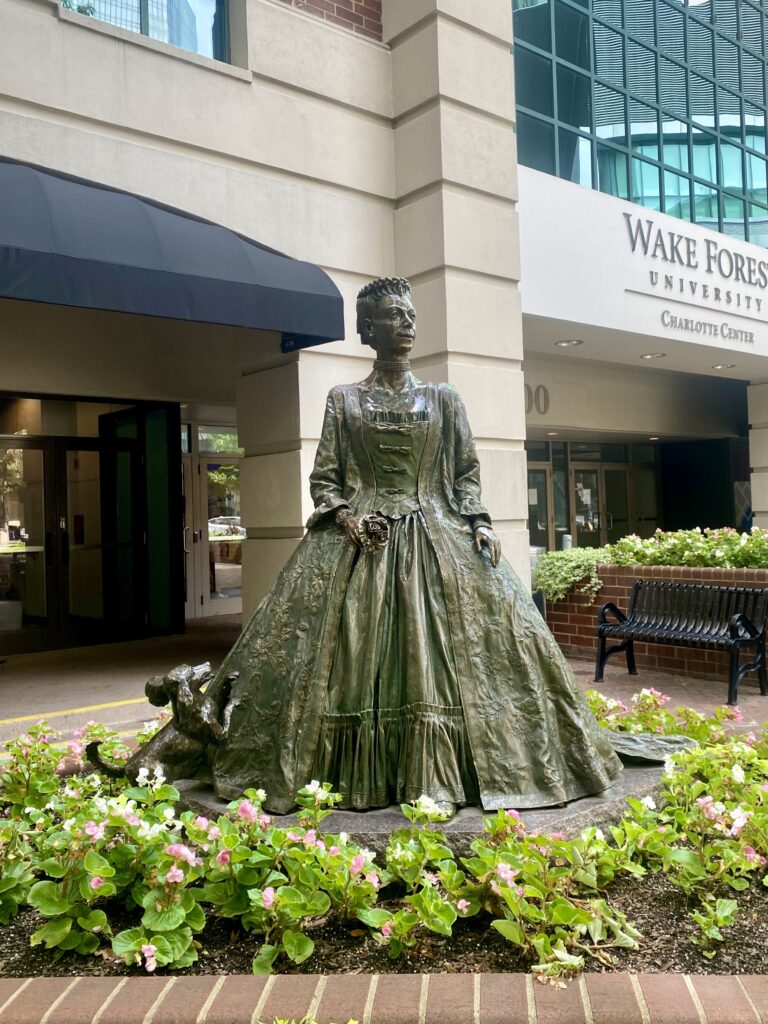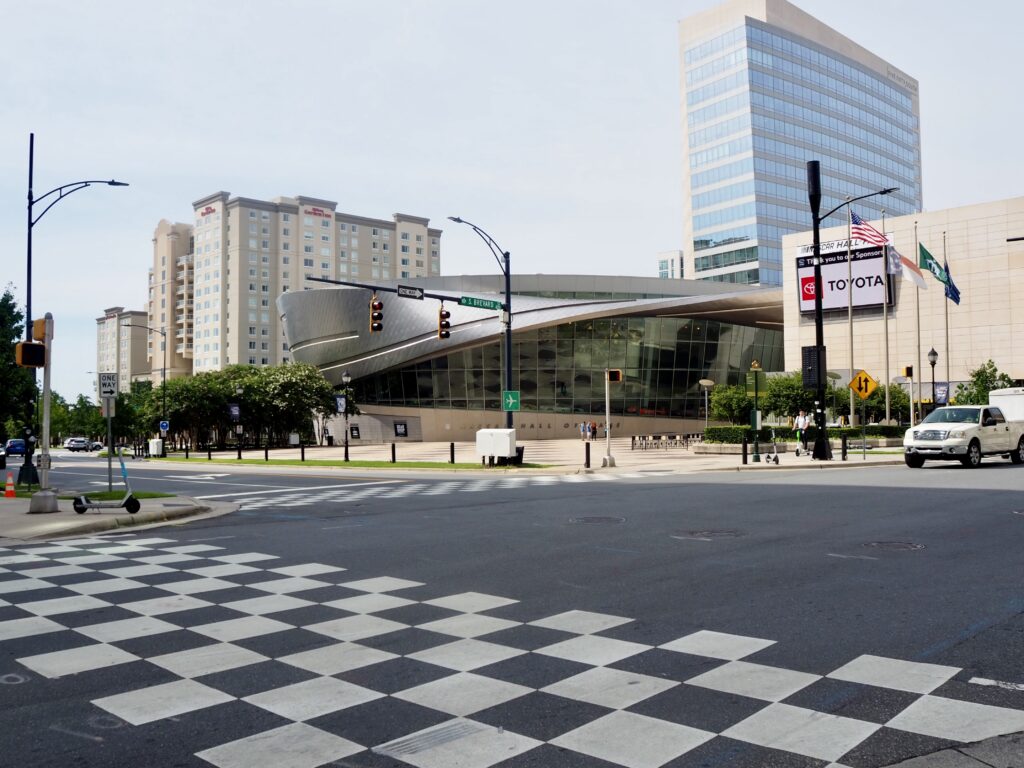 ---
First & Fourth Wards
The next morning I was back for a stroll around the other two wards. I found the Charlotte Rail Street and used it to make my way over to The Market at 7th Street. This is an indoor food stall market, with a few cuisines to choose from and a large bar in the middle. It was a bit too early in the day for a drink though, since the bar wasn't even open yet! It was a smaller market than I had expected, so didn't take long to loop through the whole thing. Just across the road, I headed into First Ward Park, another open grassy area with some water features and a play park. I was a big fan of the Chair Monster sculpture too, a wonderfully quirky addition to the park. This arrangement of dozens of bright yellow chairs makes a Loch Ness Monster style serpent!
I wandered north from there, crossing into the Fourth Ward. This was the most residential of the four quadrants, or at least the parts of them I had walked through. Away from the office blocks and university buildings and museum, here I found smaller, individual houses on quiet tree-lined streets. There were some really pretty buildings, and with gardens still in bloom and fountains in small squares, it was a picturesque area to walk through. I looped back to Third Ward again to work for the day, nestling myself in Coco and the Director for the second day in a row.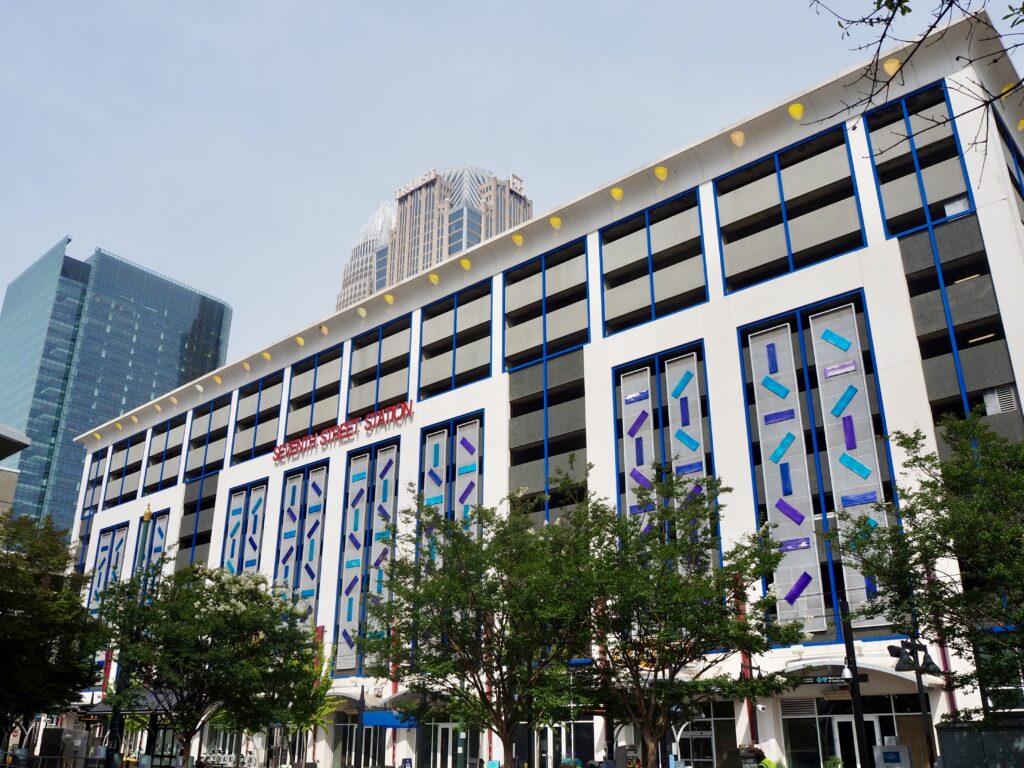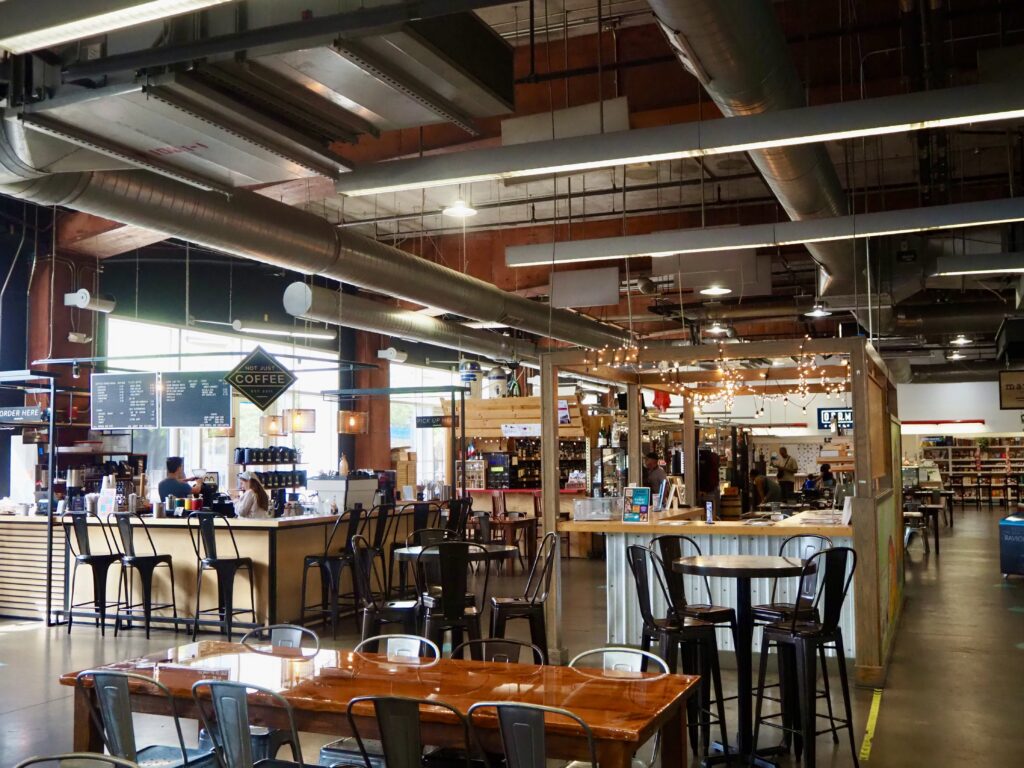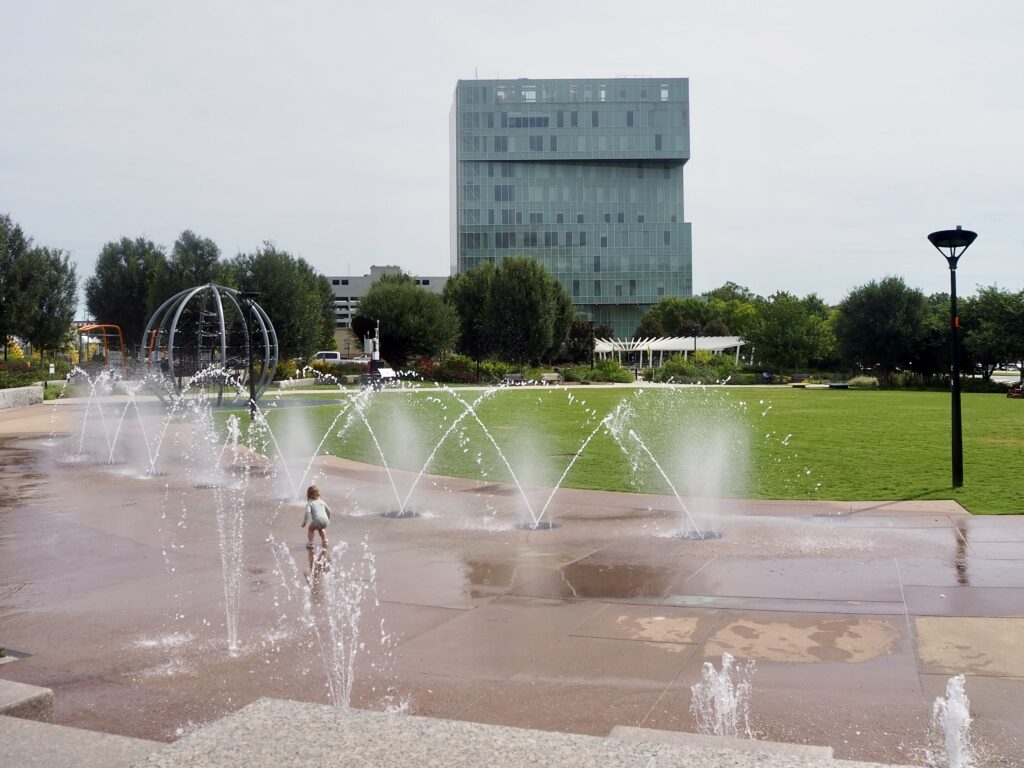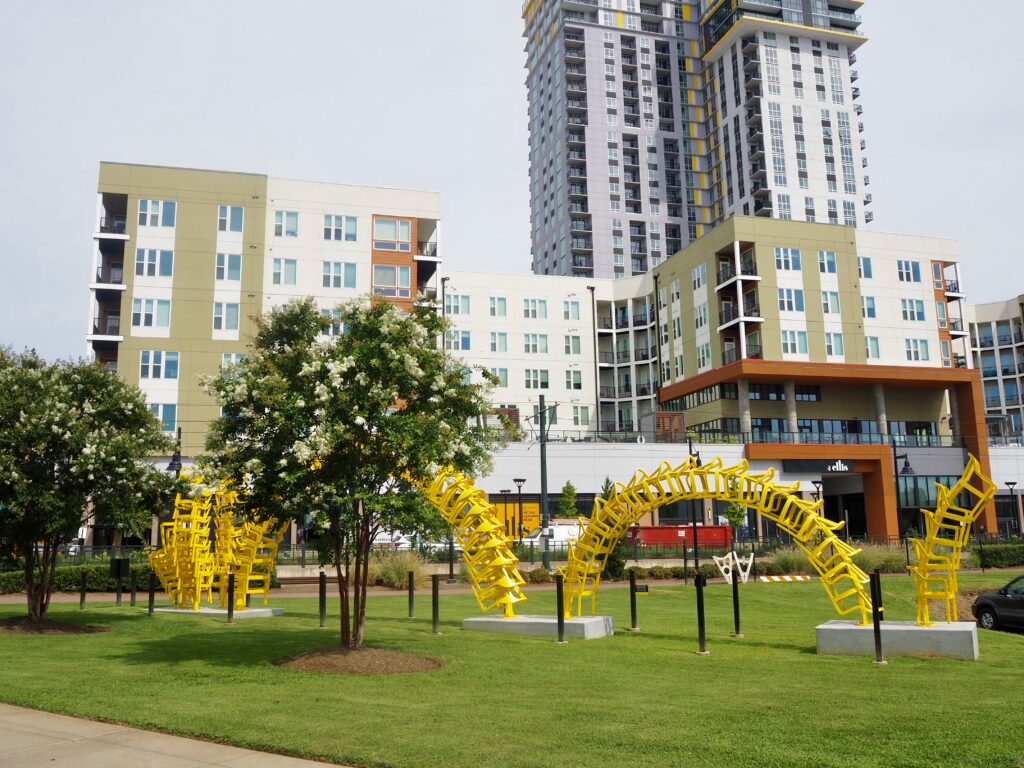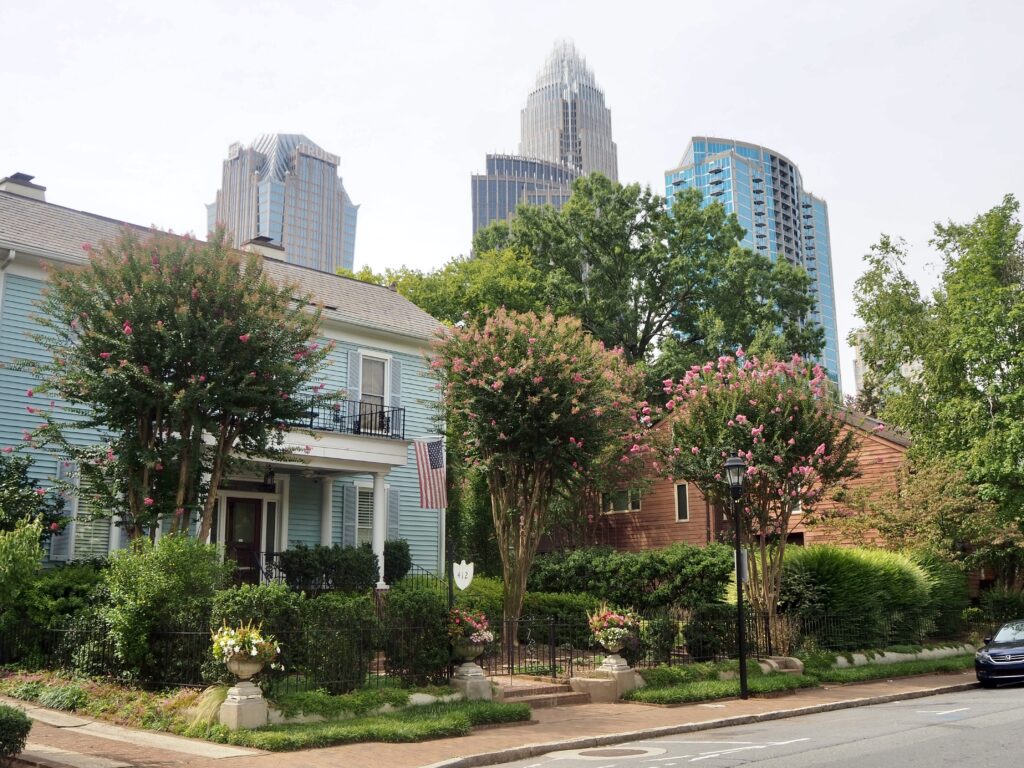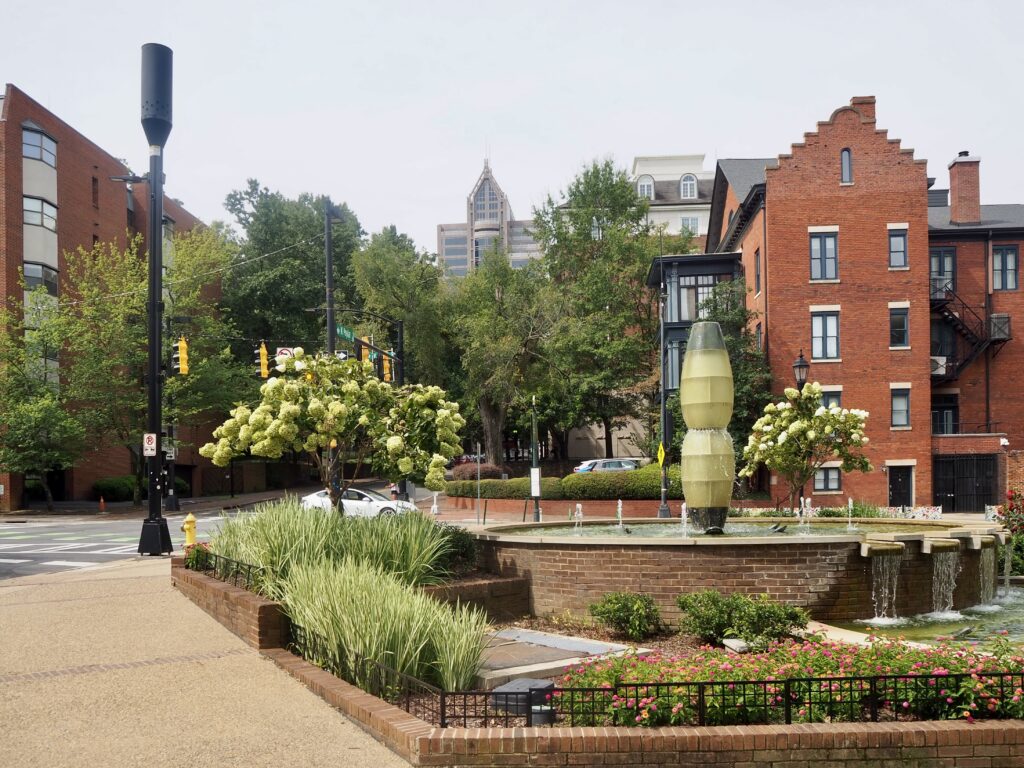 ---
The Ballantyne Hotel Room
On Saturday morning, it was time for the main event of my trip to Charlotte. Although check-in wasn't until mid-afternoon, I decided to head to The Ballantyne Hotel early, to make the most of only having one night and check out the rest of the hotel. It's in the Ballantyne neighbourhood in southwest Charlotte, so pretty far away from the city centre and not possible to go back and forth between the easily. Anyway, I was pleasantly surprised when I arrived around midday and they were able to give me a room straight away. And just as I had hoped, the receptionist did a slight double-take when he saw my name!
I had booked the cheapest room they have, which was still a few hundred dollars on a weekend. It was a very spacious room though, with a giant king-size bed in the middle. There was a mini-fridge, plenty of storage space, and a good-sized table and chairs in the corner. My view overlooked the car park, so not super exciting there, but with plenty of greenery and trees to brighten it up. And the bathroom was huge, with double doors and a separate bath tub and shower.
Shortly after I checked into the room, I also got a knock on the door from Guest Services with free gifts for me! They'd spotted my reservation and were as delighted as I was to have a guest sharing the hotel's name, so they brought me some goodies. I'd really been hoping for something like this to happen – if all the staff had ignored my name, I'd have been quite disappointed. So this was perfect! I got a fancy-looking soap and a scented candle from their spa shop, both exclusive to The Ballantyne.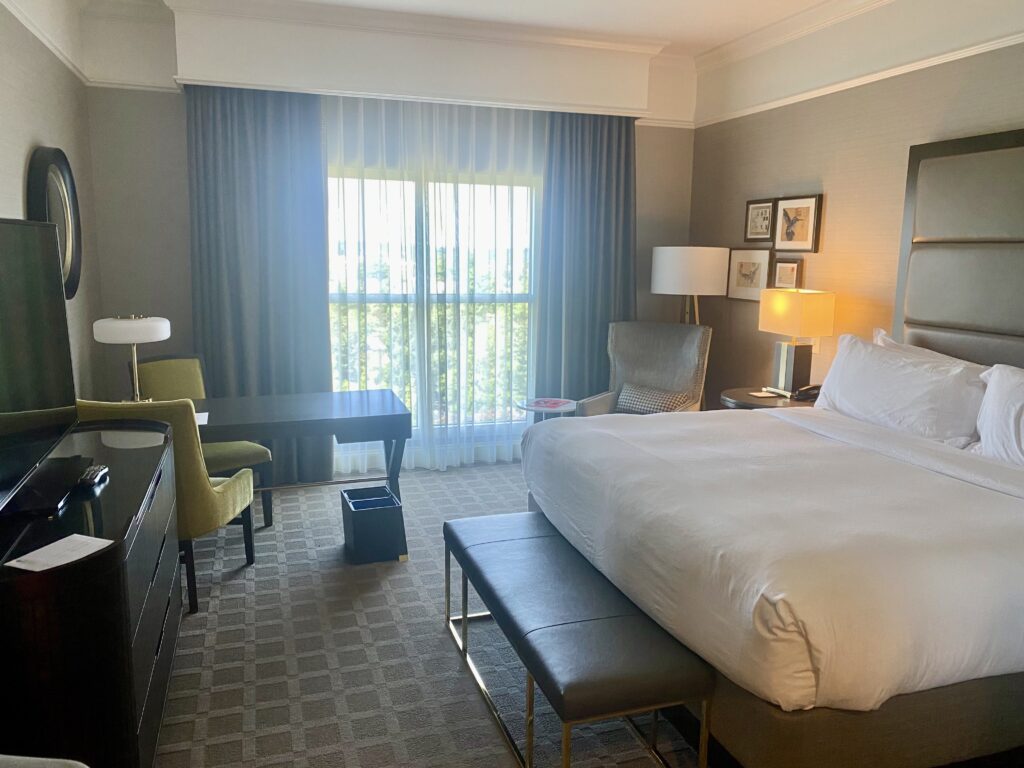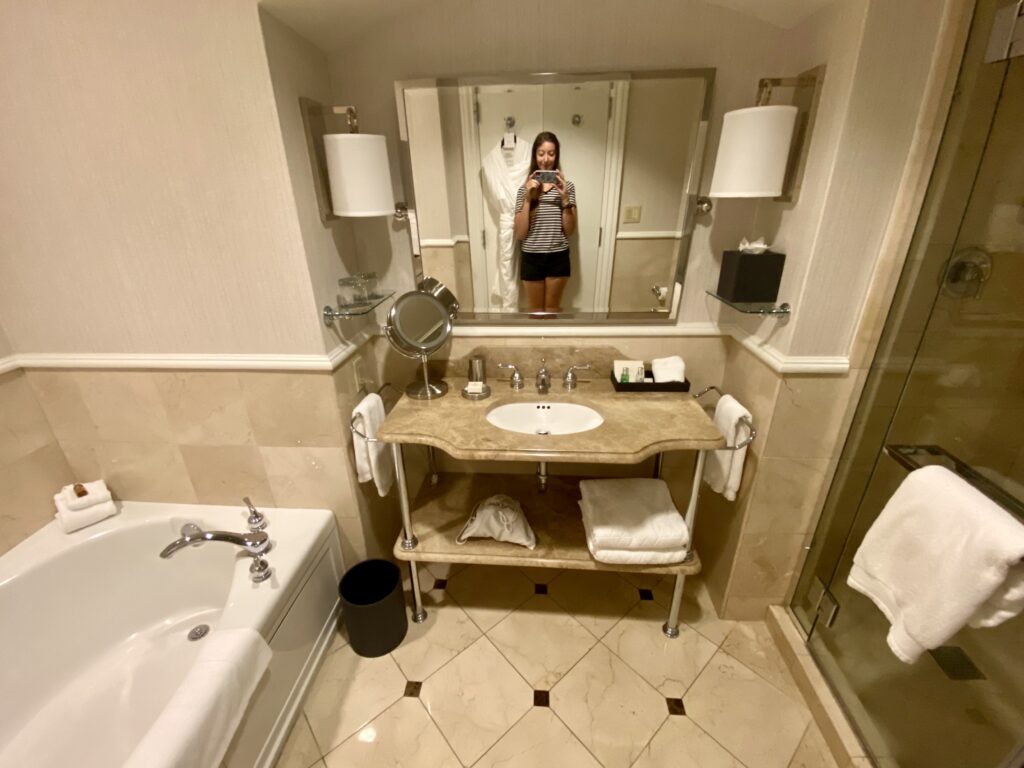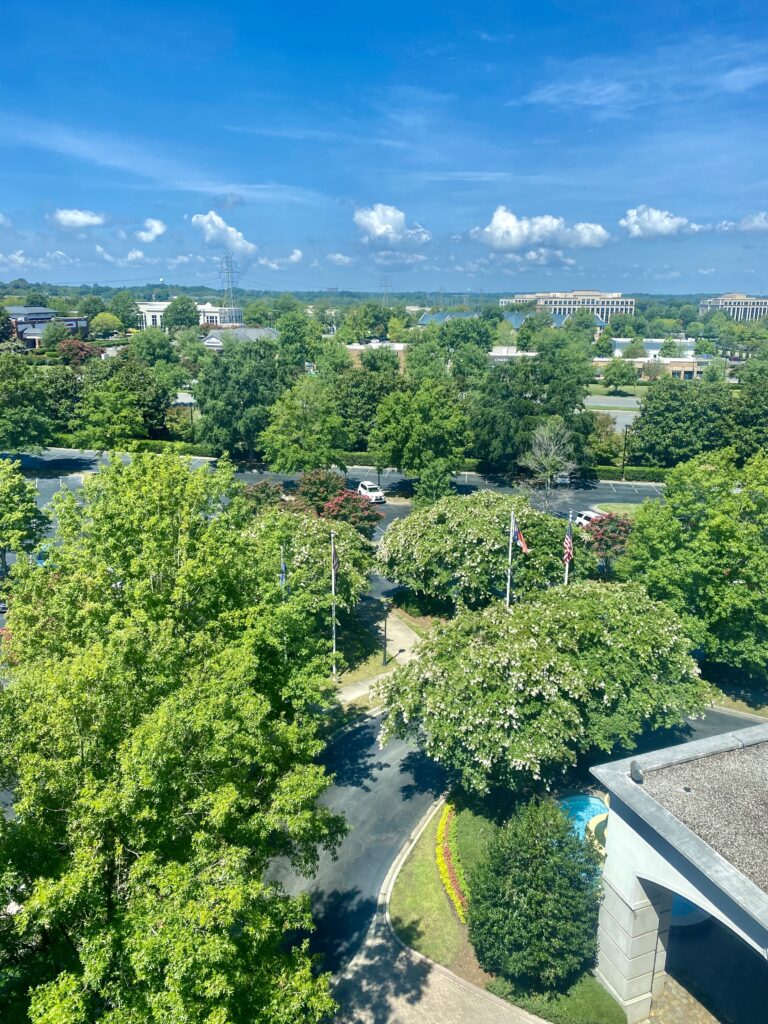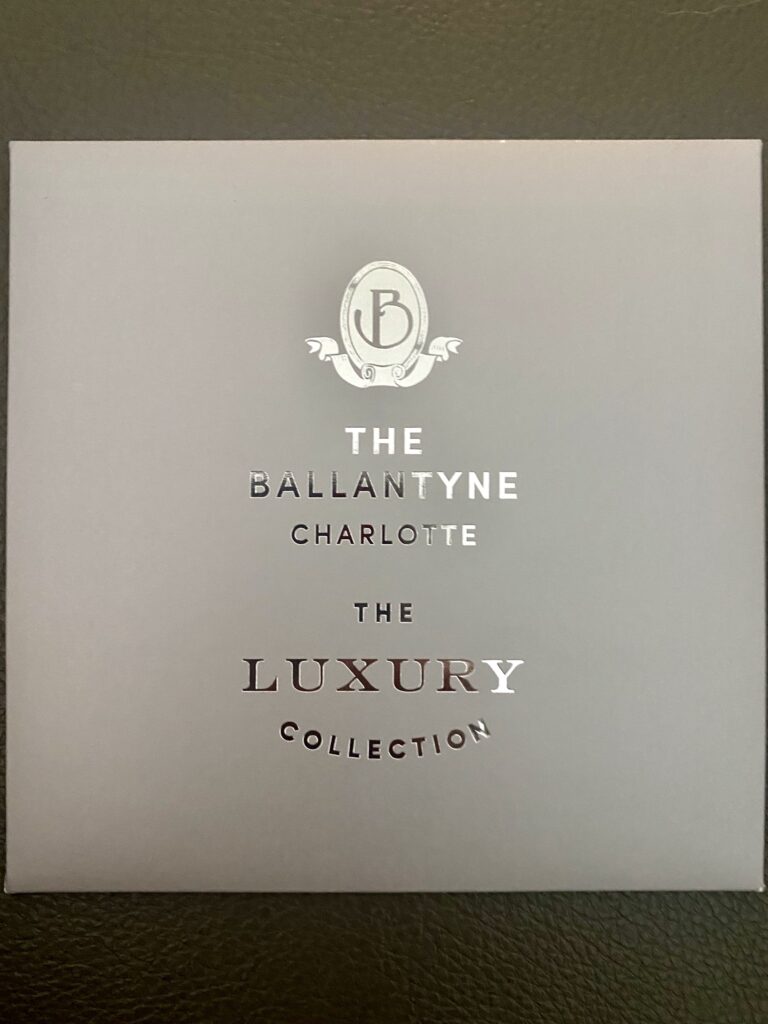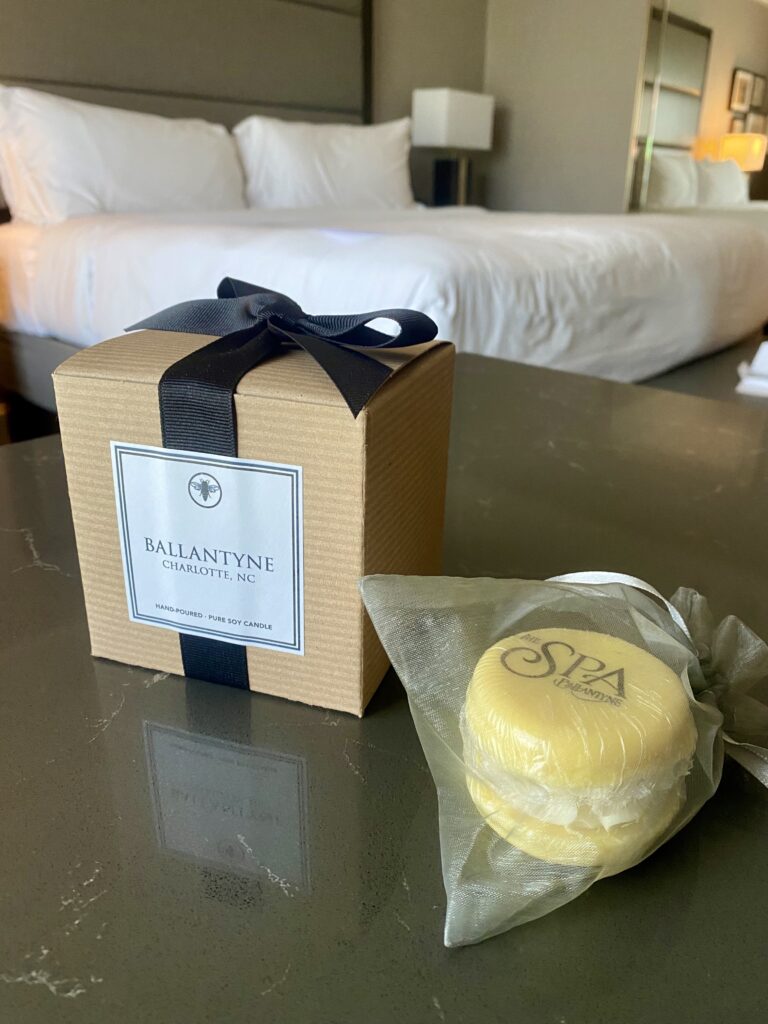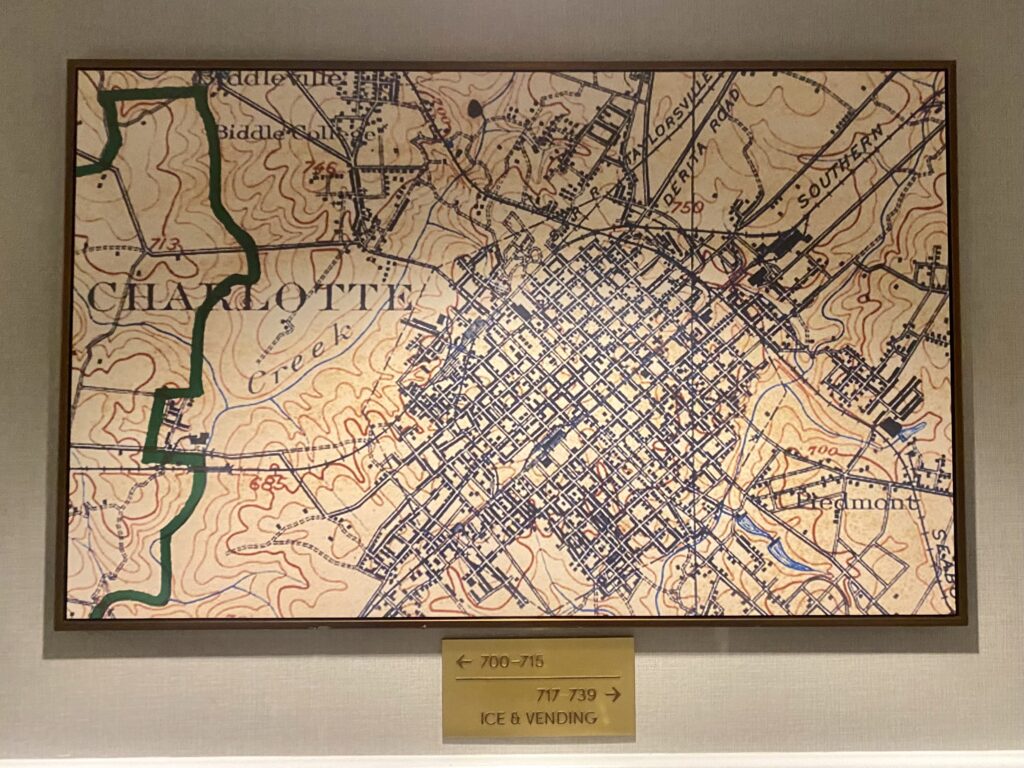 ---
Exploring the Hotel & Grounds
I spent the afternoon exploring the rest of the hotel after that. Heading back down the lobby, there's a dining area for afternoon tea, but I wasn't hungry then. I was in need of coffee though, as there was no kettle of coffee maker in my room. The staff directed me to the bar, located in the far wing of the hotel. I had to pass through some large hallways with various event and ballrooms branching off them. There seemed to be multiple family reunions that weekend! Everything was decorated very elegantly, with lots of white and gold accents, looking classic but simple enough to be modern. I grabbed a coffee at the bar and then took it outside to the grounds behind the hotel.
There is some construction going on next door, which wasn't the most scenic view, but otherwise the grounds were lovely! It's all landscaped gardens surrounding a huge pond with fountains in it. A kid's playground and mini-climbing wall sit in the middle and paths wind through it all. I took a stroll through it and sat in the chairs by the pond for a little while, just enjoying the view. It was very hot to sit out for too long though!
After finishing my coffee, I changed into my swimwear back in my room and came down again to check out the pool. It was very busy, so I initially had to leave my things in a corner while I swam a few lengths. Some chairs opened up as I got out though, so I was able to sit in the sun and read for a while. There's a bar by the pool too, so I could see why it was so busy here on a hot day!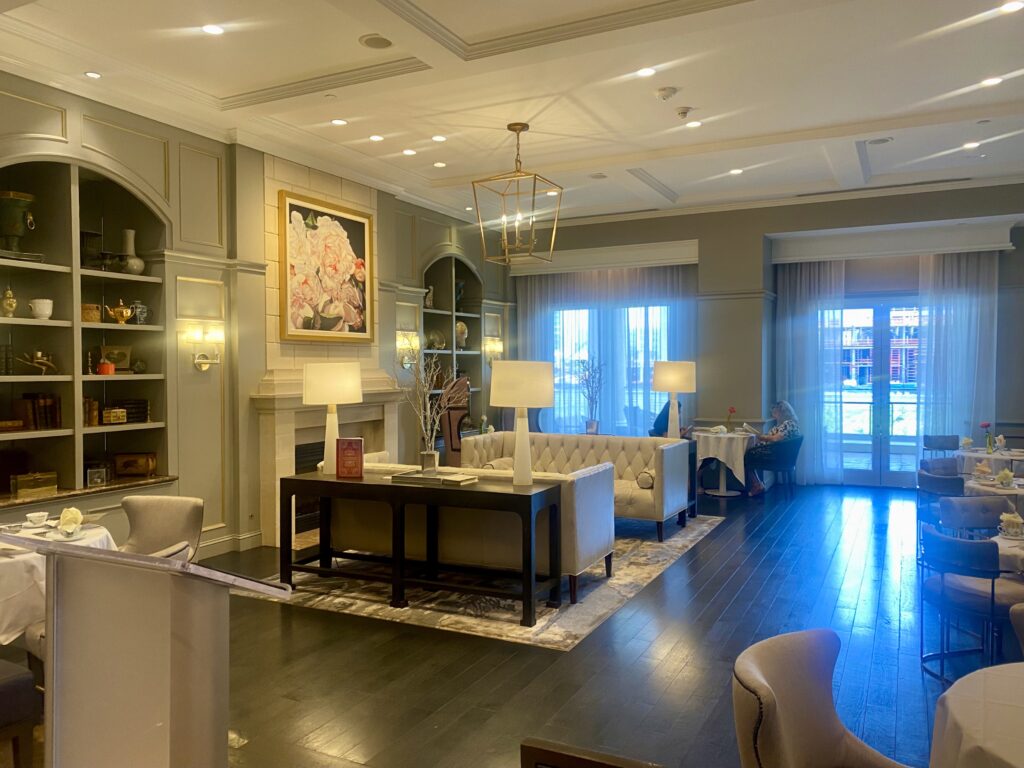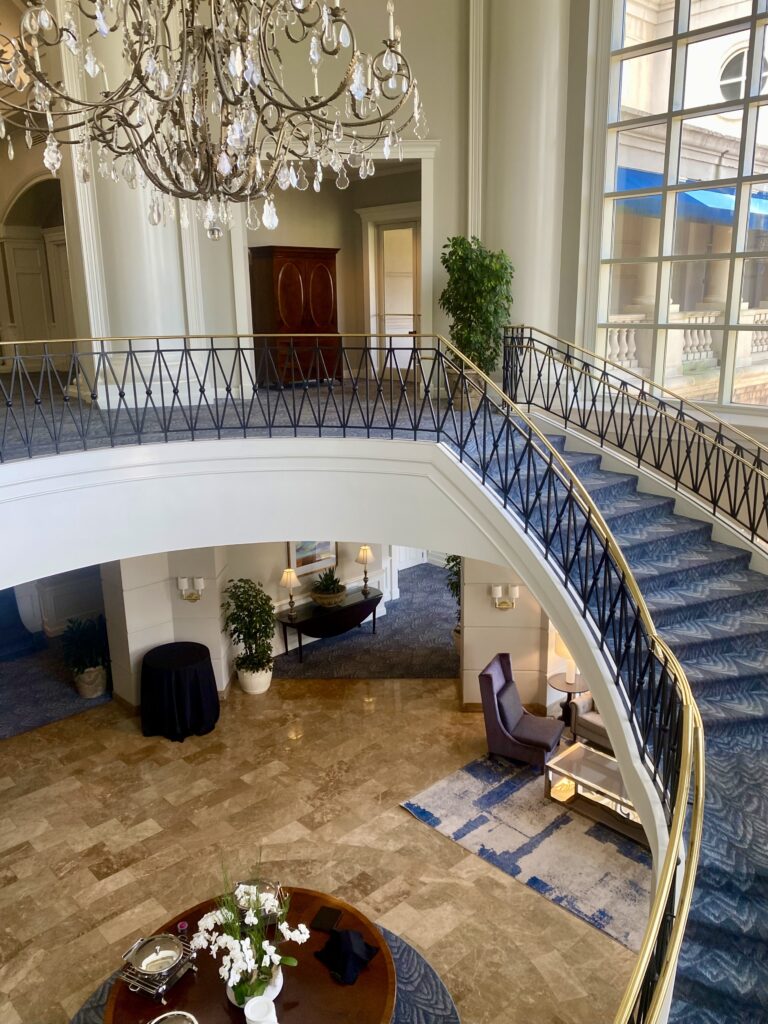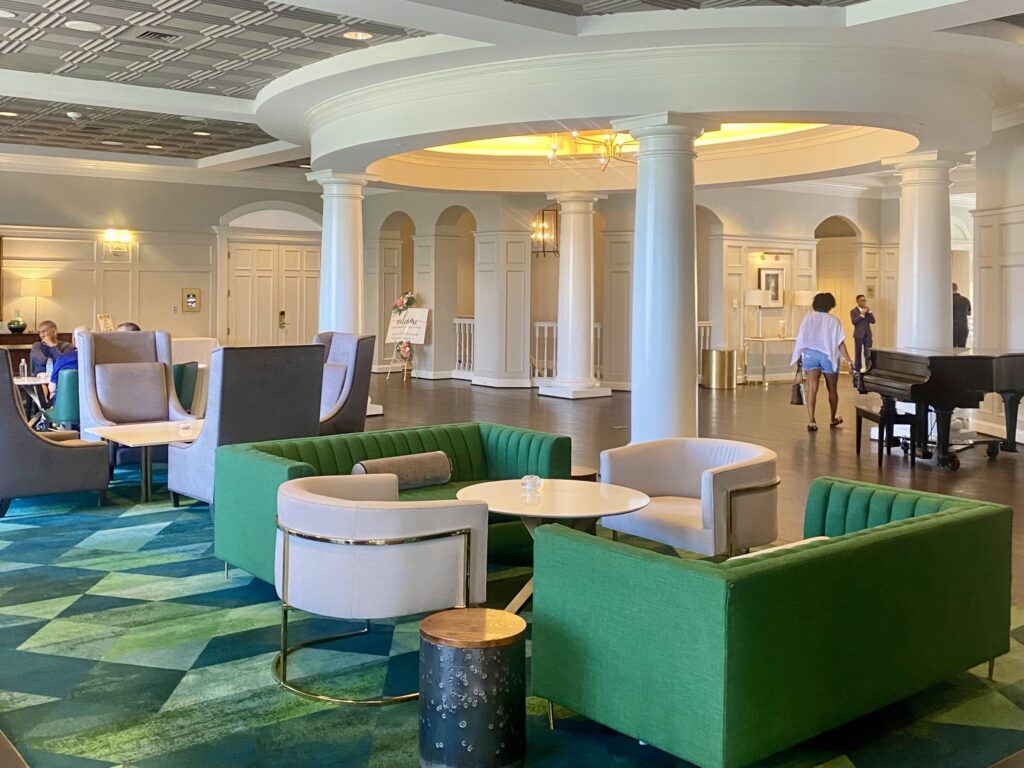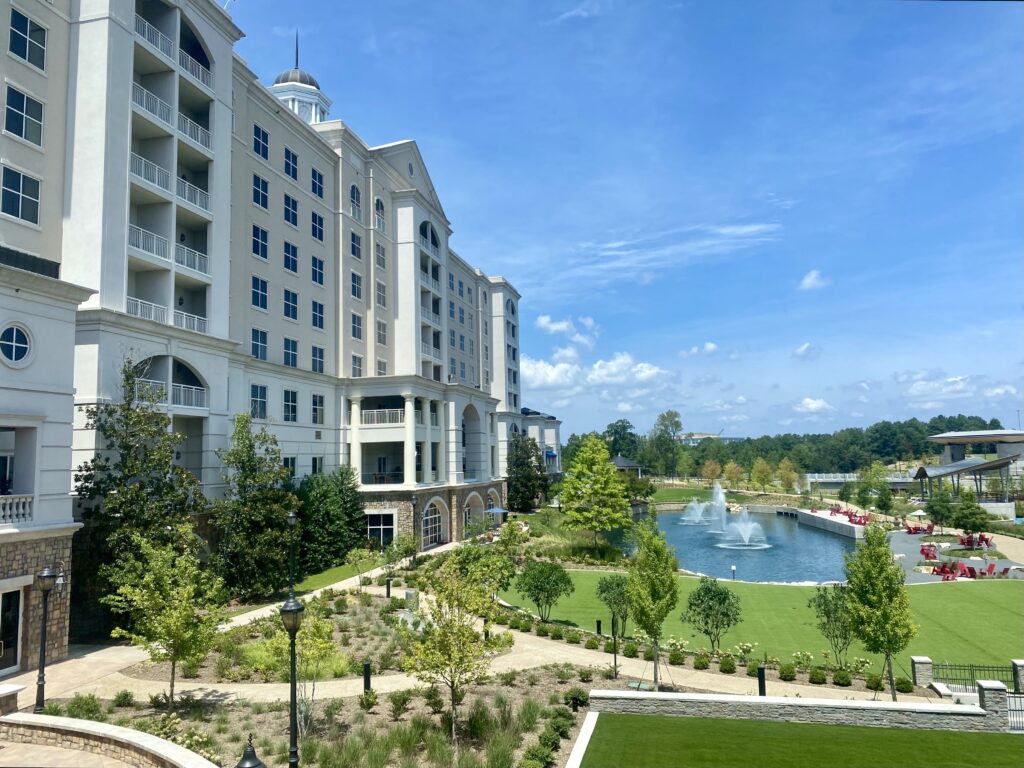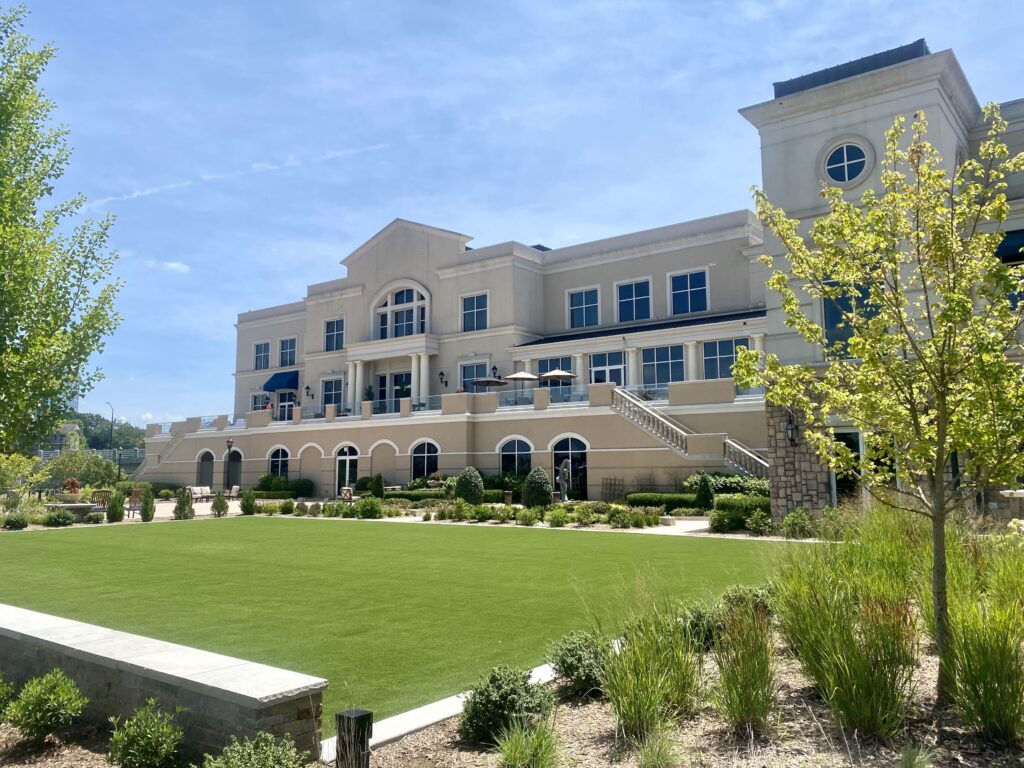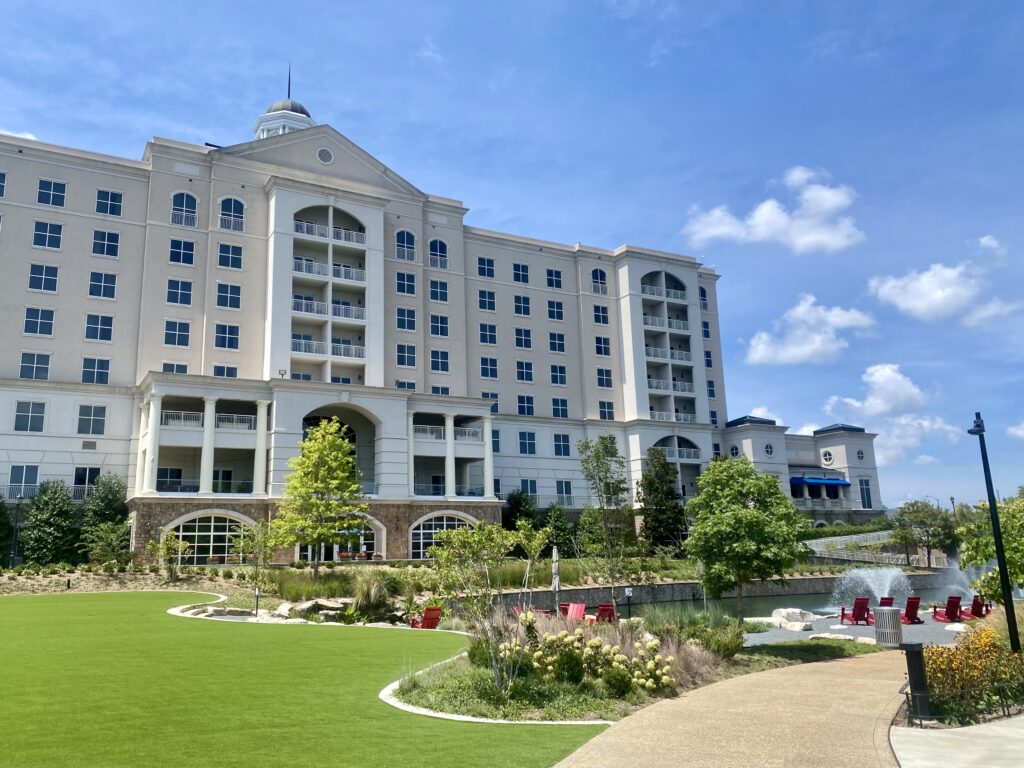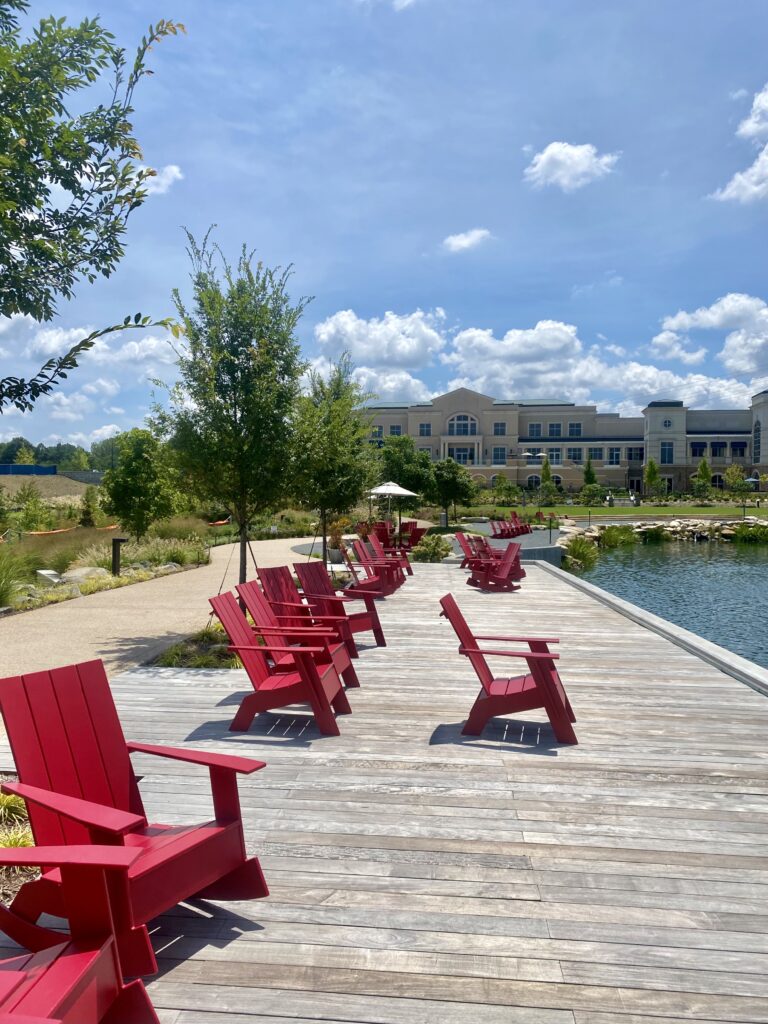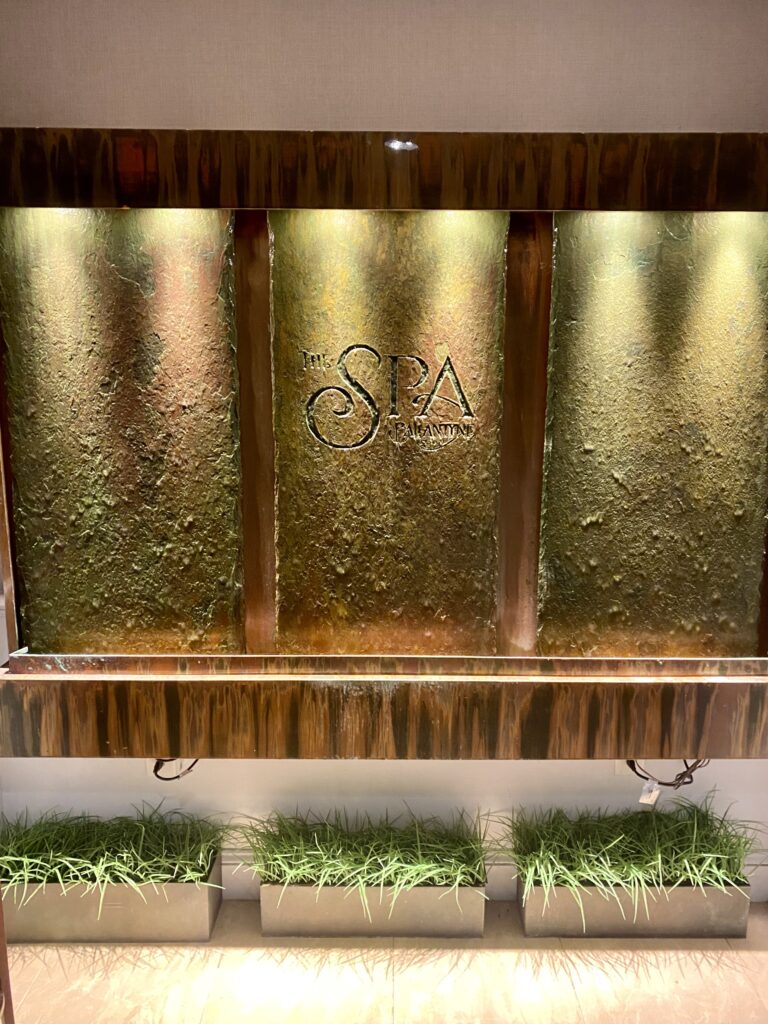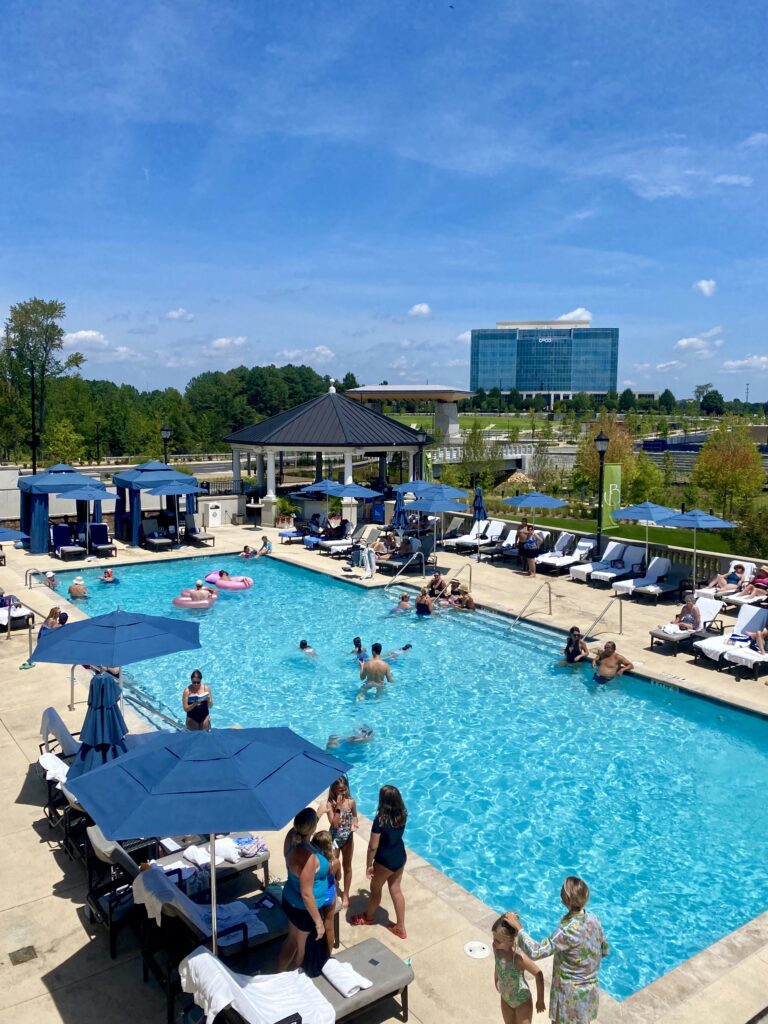 ---
Gallery Restaurant
Back upstairs, I leaned into my decadent overnight by taking a bath and having some wine and a rather lazy couple of hours. Then, it was time to get some dinner. The Ballantyne Hotel is so far out of the city, there aren't really other dining options nearby besides its own restaurant. But that's what I was here for! My parents had very kindly arranged a gift card for me at reception when I checked in, which paid for my dinner and drinks. The host also did a double take at my name as well! They gave me a quiet table by the wall by myself (I'm getting better at dining out solo) and I people watched everyone coming and going. I also really liked the glass candle holders!
I had a chicken roulade for my main course, with a cocktail to begin with – a Ballantyne sangria, to really run with the name! Then I indulged some more with a French Silk Entremet for desert. It was a concoction of chocolate mousse, brownie, peanut butter chantilly cream and oat crumble. Absolutely delicious, but very filling! And I topped my meal off with a dram of whisky. I'd noticed that The Ballantyne Hotel has their own exclusive cask of Maker's Mark. You can only get it here, so I seized my chance to try a whisky of my name! I'm still a Scotch drinker over bourbons, but I enjoyed trying it.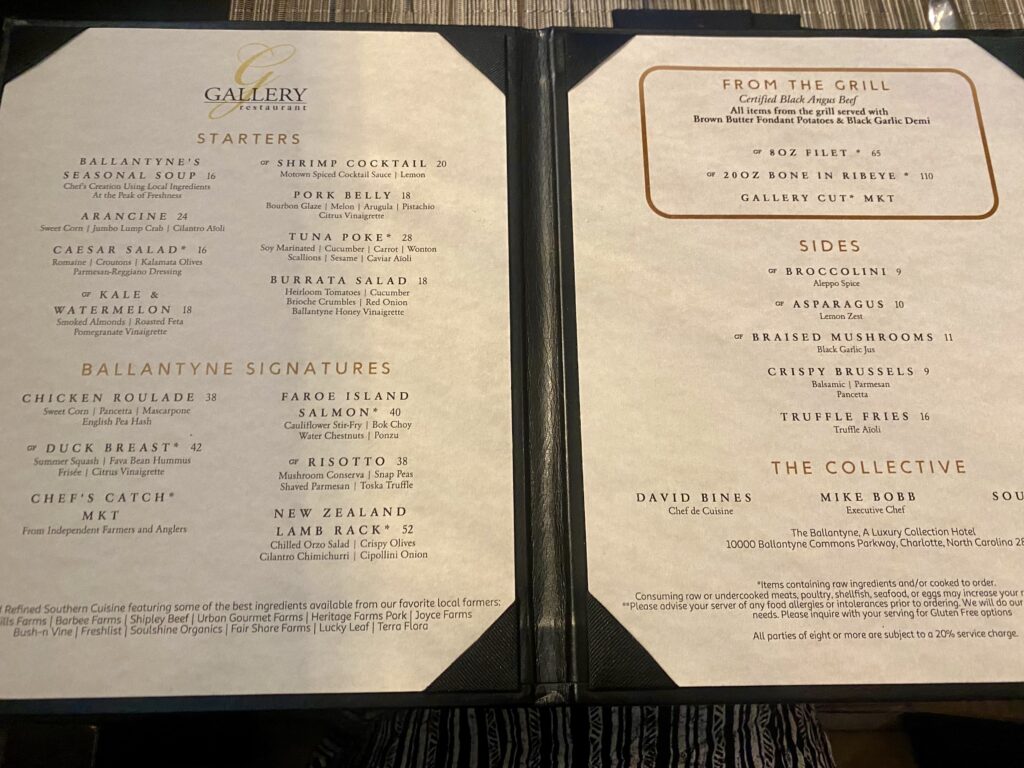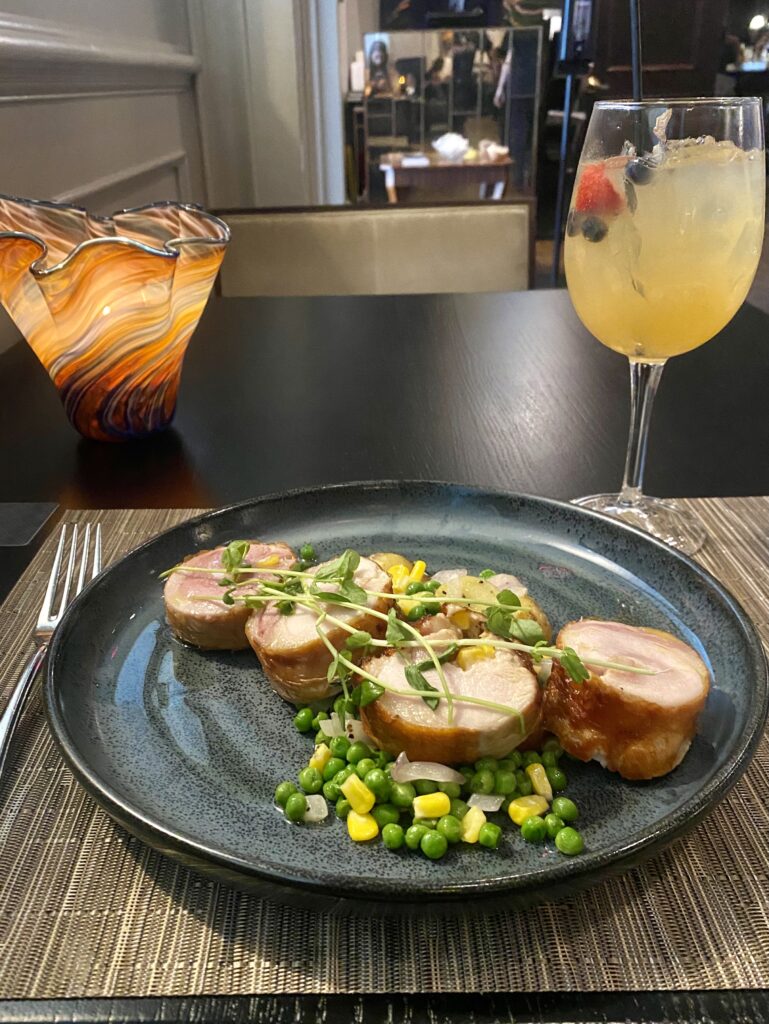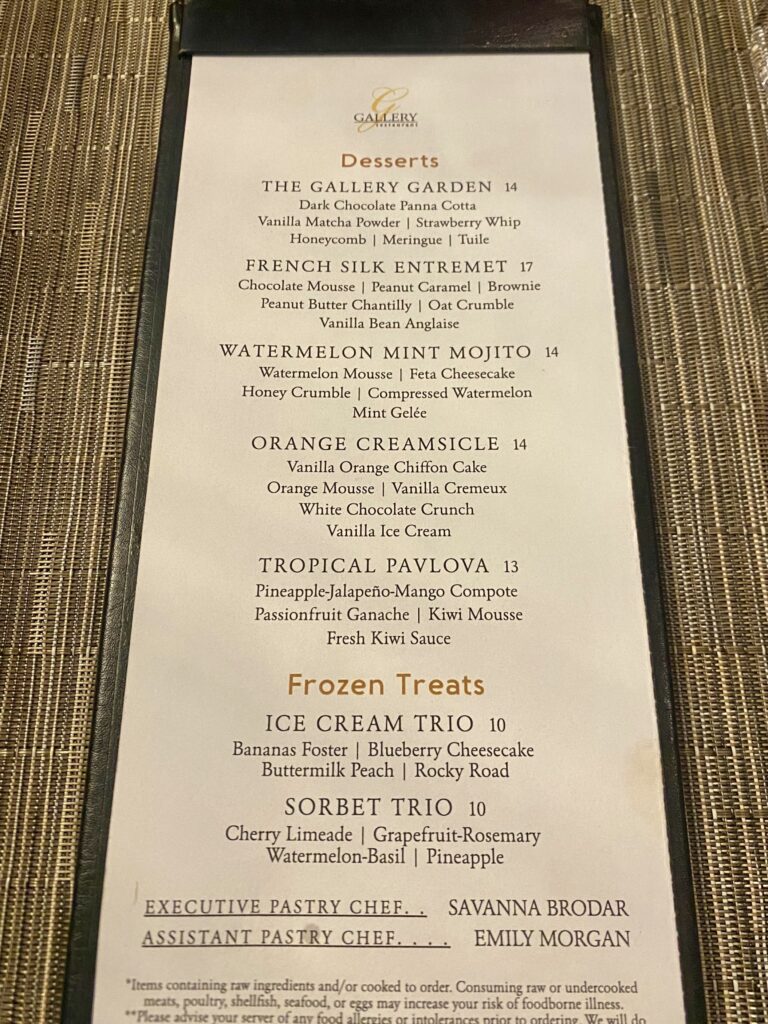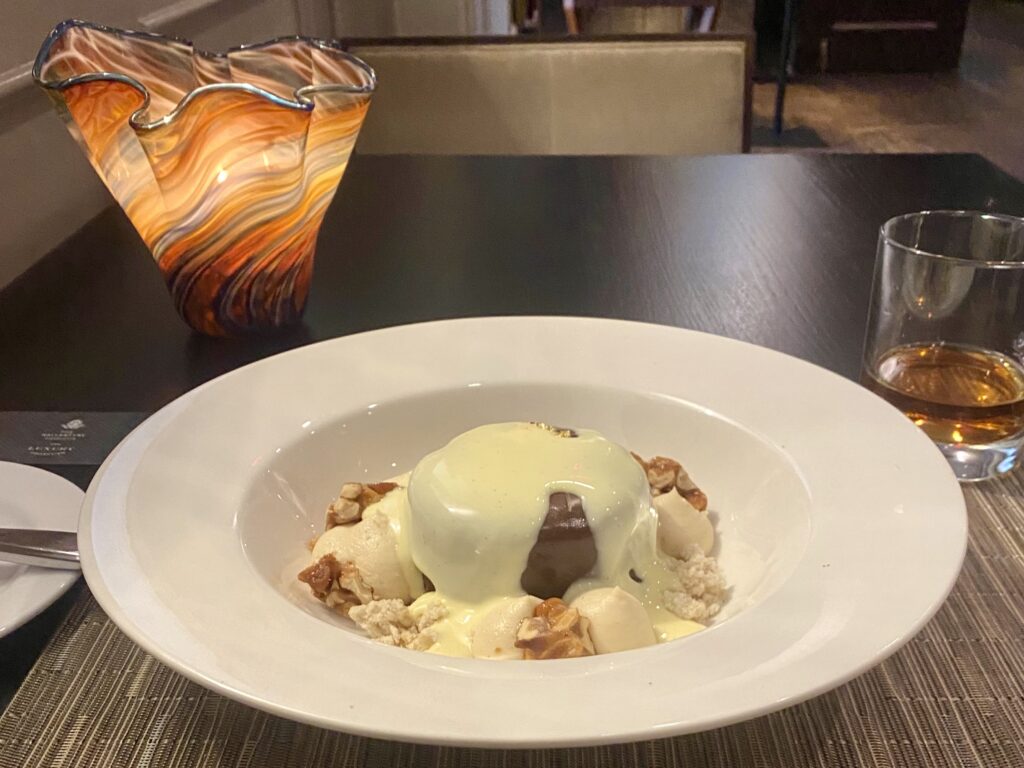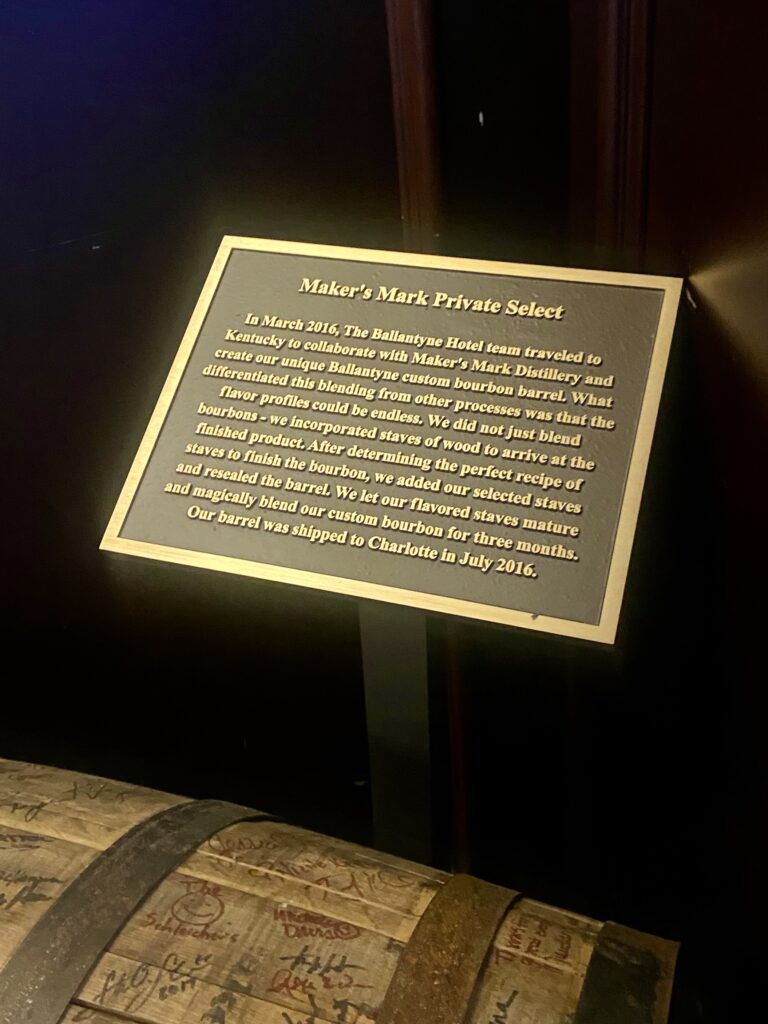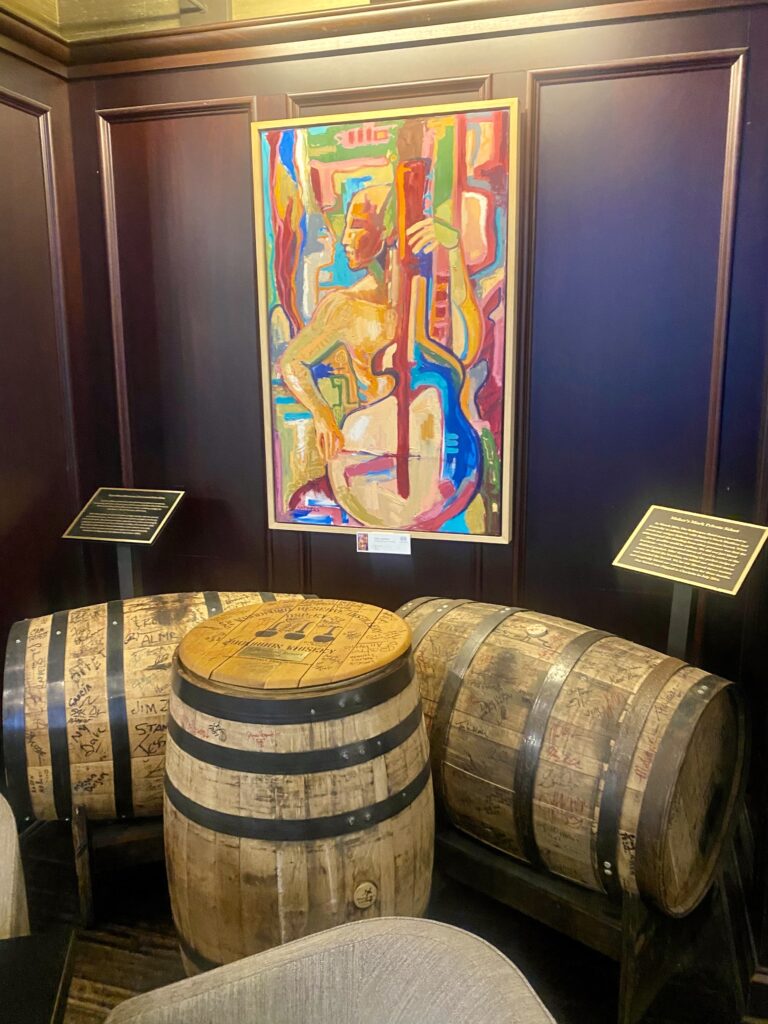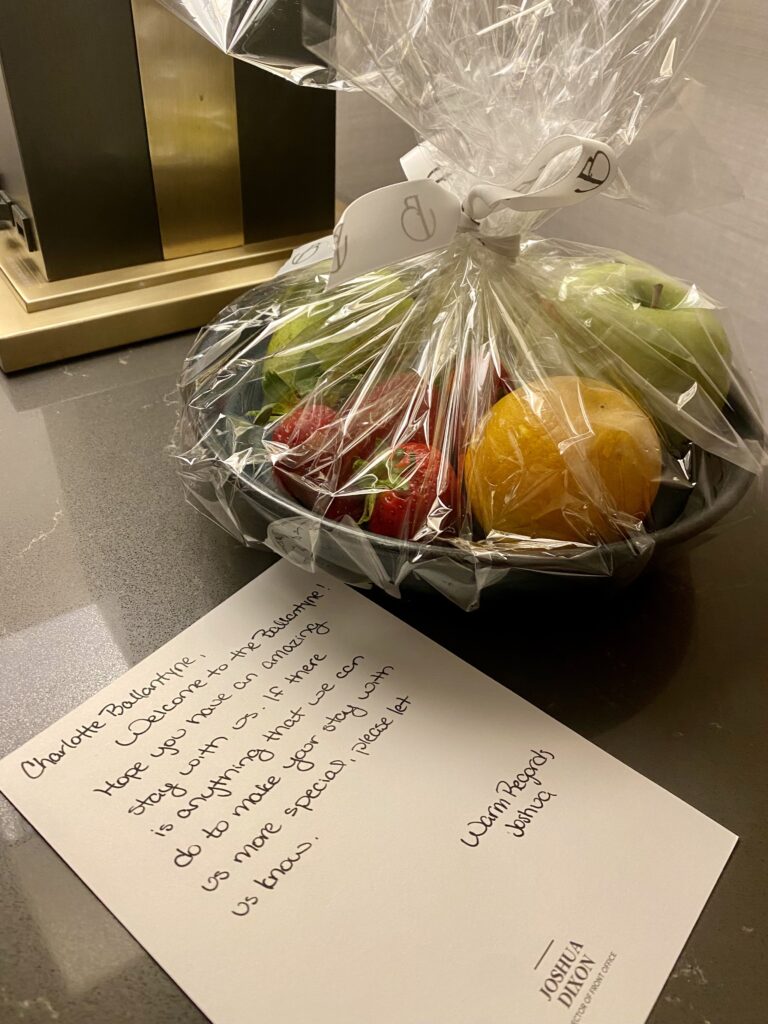 ---
Leaving Charlotte
On returning to my room, I also got one more surprise from the staff when they delivered a fruit basket to my room. I polished off the strawberries pretty quickly and stashed the rest to take with me in the morning. Then it was off to bed, in a big, comfy pile of pillows and blankets, before my early morning departure to catch a bus south in the morning. Too early to get to see what their breakfast was like unfortunately!
While Charlotte didn't have as many tourist attractions as other cities and isn't one I'd be rushing back to, I was very glad I could fit this into my trip. I'm so grateful to The Ballantyne Hotel staff for all my treats and their reactions! Even when I checked out early the next morning, that receptionist was just as delighted at my name as well. It was so fun to get to tick this whole experience off my bucket list at last.
You May Also Like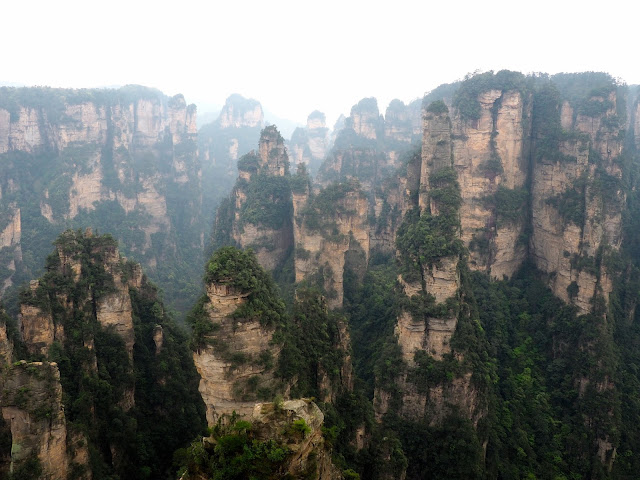 22 April 2017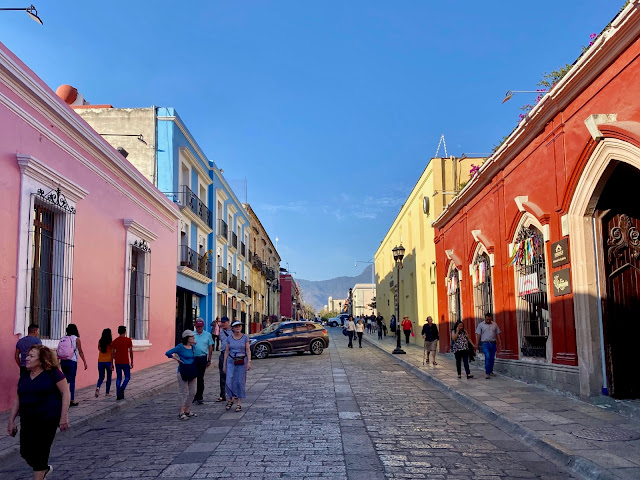 30 March 2020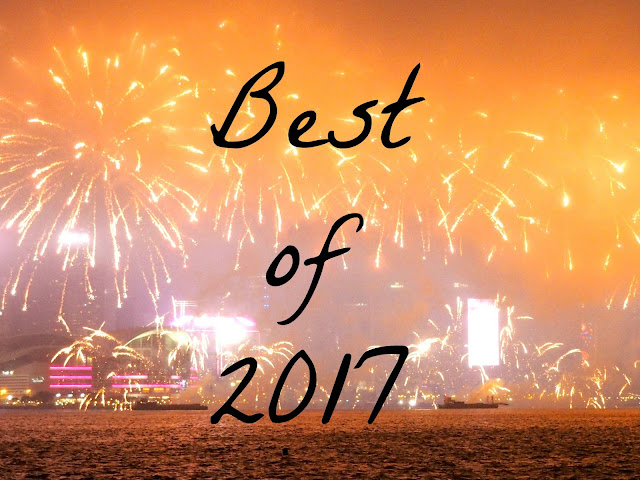 29 December 2017