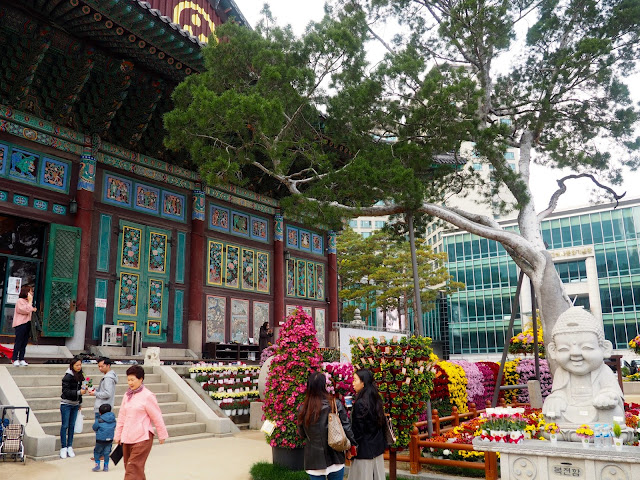 Exploring Markets & Memorials | Seoul
13 November 2016
Last weekend I hopped on the train and zoomed up north to Seoul again (read about my last trip there in this post). The reason that brought about this trip was a friend of my parents was over in Korea for work, so I was going to meet up with her. And she'd brought over some goodies from home for me, mostly skincare and makeup products that I couldn't find here – ridiculous, given how big Korea's skincare industry is, but it's hard to know what to buy when you can't read the labels! – and some foodstuffs, because all I really need in life is decent tea, coffee and chocolate! Anyway, I figured I may as well make a whole weekend out of it, so I caught a train up early on Saturday morning and stayed until Sunday evening. I do like that Korea is small enough that it's easy to explore outside of Busan even in just a regular two day weekend, although I've yet to go anywhere besides Seoul so far.
When I arrived, the friend met me at the train station and we jumped on a bus to Insadong straight away. Last time I was here I used the subway most of the time, as it's easy to navigate in English, so it was fun to take buses most of the weekend, and nice to actually see the areas we were driving through. I passed through Insadong briefly on my last visit, but didn't spend much time there. My purpose this time though was to get a head start on my Christmas shopping, since I want to take presents home for people that are Korean, that they probably wouldn't get elsewhere. Insadong is the perfect place for this, as the street is packed with shops selling Korean style goods. It is quite a tourist-y street, since everyone goes there for their souvenirs, and there is a fair amount of cheap tat and the same T-shirts and key-rings and postcards you get all over the world. But there's also some nice stuff in there too, like pottery and jewellery and embroidery. I'm not going to mention anything I bought, since I obviously don't want to ruin the surprises for those getting gifts! I didn't get something for everyone yet, but it was a good start at least, and gave me some ideas too. The street itself is nice, as it's pedestrianised, and long enough to have a good selection of things, but not overwhelmingly huge. We stopped for lunch while we were here too, and most of the restaurants are either above or below the shops, or there's food carts dotted about the place if that takes your fancy.
We spent quite a while there, since there were so many gift options for me to consider, before wandering off to other areas. We were going to stop off at a Lotte Mall before catching a bus, and on the walk there we happened upon Jogyesa Temple and its Autumn Chrysanthemum Festival. This was pure chance that we walked past it, but we were immediately captivated by the sight of these huge, colourful floral displays. The temple itself looked like most other temples I've seen, and we didn't actually go inside, but the courtyard around it was brimming with flowers. There were pretty flowerbeds and bushes, but also dragons and fish and tunnels and mountains made of chrysanthemum flowers. It was small, and didn't take long to look around, but it was a fun little detour along our way.
After our Lotte Mall stop, which only took a few minutes for a quick errand, we took a bus to the university where the friend works and was staying – she teaches classes there, but since many are online, she doesn't have to stay in Korea all year, she just comes over to lecture now and then – and where she'd arranged a room for me for the night. Chung-Ang University is south of the river, in Dongjak-gu. Trekking up the hill it's built on from the bus stop wasn't my favourite experience – though there are shortcuts by taking lifts up various buildings – but it looked like a nice campus anyway. I mostly just saw the building we were staying in, which is student halls but has a guest area on the upper floors. I loved the room I had for the night, which was so much bigger and nicer than the apartment I live in in Busan! And being on the upper floors, and on top of a hill meant we had great views; I was facing the other direction, but the friend's apartment had a view across the river. We had dinner in the area that evening, with one of her colleagues joining us, and we went to a Korean barbecue place nearby. Most of the food I'd had before, since I've had many Korean barbecue meals here, but they did order raw beef, which I haven't had before. It was pretty good, but I was very full by the time it came, so I didn't have much.
The next morning we caught the bus back to the other side of the river, and went to visit the Korean War Memorial. The Korean War and the division of the North and South is obviously a huge part of Korea's history, but I don't know all that much about it, so this was a very educational visit for me. War museums aren't places I visit often, but given that the two countries are currently operating under a ceasefire, and therefore technically still at war, I felt it was something I should learn more about. It was fascinating too, for instance, I hadn't realised that the country split before the war, with Soviet and American influence, as I'd always assumed that it happened as a result of the war. It's a well designed museum, which provides plenty of information, in an interesting format. Nothing bores me more than case after case of old artefacts, so I was happy that these were mixed in with information signs, video displays, and interactive features. Some of the videos seemed a little repetitive, but we did stop to watch one from start to finish, which gave me a good understanding of how Korea was split and what happened during the war. They even have a couple of 4D movies, but our timing was off for catching them, and outside there are several army vehicles and airplanes to see, which are highly impressive. But as well as being a museum, this is also a war memorial and there are several features which are designed to commemorate fallen soldiers, both Korean and foreign, and there's a clear show of gratitude towards those foreign troops who came over to help South Korea. The desire for reunification is also clear throughout – interesting fact, only North Korean and American representatives signed the armistice agreement, as South Korea didn't want to without reunification – and I found the Statue of Brothers outside to be particularly poignant, depicting brothers who have been separated by the border and must fight on opposite sides.
After this, we went to look around Namdaemun Market. I didn't get anymore presents here, as it wasn't really the sort of thing I was looking for, but it was fun to wander around for a while. It's a proper market of stalls (as oppose to our Insadong shopping, which is actual shops, not a market), which seems to sell everything. There were lots of clothing stalls, but I also saw many accessories, children's toys, homeware, and food carts. And these stalls were loaded, almost groaning under the weight of the sheer amount of goods piled on to each one. The streets were crowded too, mostly with locals, and it was probably busy being a Sunday. It was interesting, but all of it was average day-to-day goods, that you could get anywhere, so not what I was looking for as gifts. We went down a side street full of small restaurants, so we stopped at one of these for a late lunch.
Our last few hours were spent wandering around the streets of the Jung-gu area. We passed by Myeong-dong, and places I recognised from my last trip, as I was staying in this area. We were loosely aiming for the Cheonggyecheon stream, though it took some roaming around, followed by some Google maps to find it. It's fun to just wander a city though, as I feel like this gives you a better idea of what it's like for people living there, rather than only visiting tourist attractions, so I try to do both when possible. We found the stream eventually, which is sunk down below street level and has paths along the side, which were created to turn it into a public recreation space. It was also hosting a lantern display while we were there (though it was day, so nothing was lit up), and it was a very interesting collection of designs! There were traditional market scenes, historical soldiers and war scenes, flowers and animals; and then a bunch of sponsored brand designs, like the Duracell bunny in a battery train! It was a nice area to walk along though, and after seeing the Jinju Lantern Festival, I'm always intrigued and amused by the lantern designs here. Once we reached the end of the river, our route to the bus took us down Sejong-daero, a big, busy street (which also leads down from some of the palaces). We passed by Seoul Plaza, where we stumbled upon a huge crowd waiting to enter a large red tent, and quickly realised that there was a kimchi festival taking place. We were too late to visit ourselves, but it's fun to come across events like this happening. We crossed over to Deoksugung palace, as its grounds are a nice park to wander around, and it has a cute gift shop where I picked up another gift. The palace buildings weren't as remarkable as those I visited last time I was here, since this is one of the smaller ones, but it was nice to walk around a park with the beautiful autumn leaves on display – coming from a country where it rains so much, I'm very much enjoying this dry, crisp autumn I'm experiencing here!
And that was about it! We went back to the university to pick up my stuff and have a cup of tea – I'm not a huge tea drinker, but regular breakfast tea is very difficult to find here and expensive when you do, so I'm thoroughly enjoying having some in the cupboard at last! Then it was time to head to the train station for my journey back to Busan, now with an extra bag in tow, full of the things I'd been sent from home and the Christmas gifts! So I'd say it was a pretty successful trip, all in all, and I'm looking forward to my next trip up already.
If you're interested in visiting Seoul, you might like to check out some tours from Trazy Crew, such as the Seoul City Tour Bus Ticket or their various Seoul by Foot Walking Tours. I haven't done these myself, but I am an affiliate for them.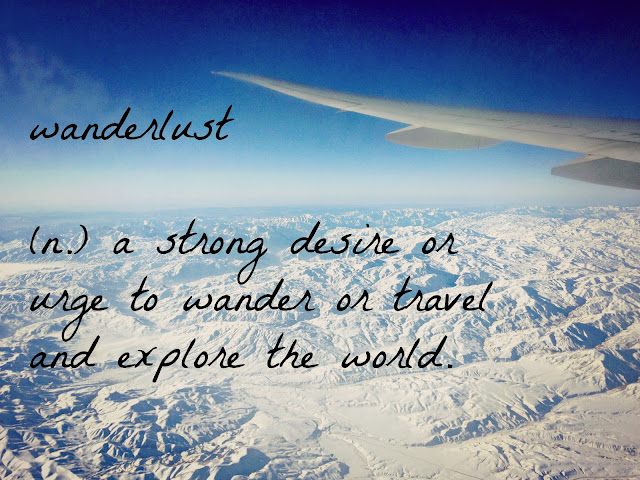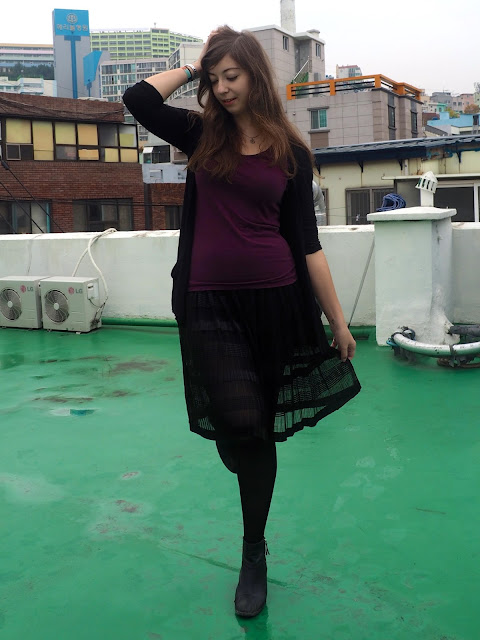 You May Also Like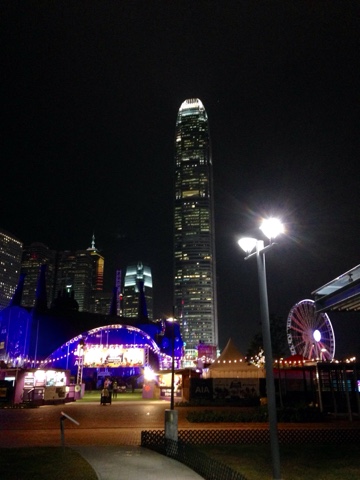 6 February 2016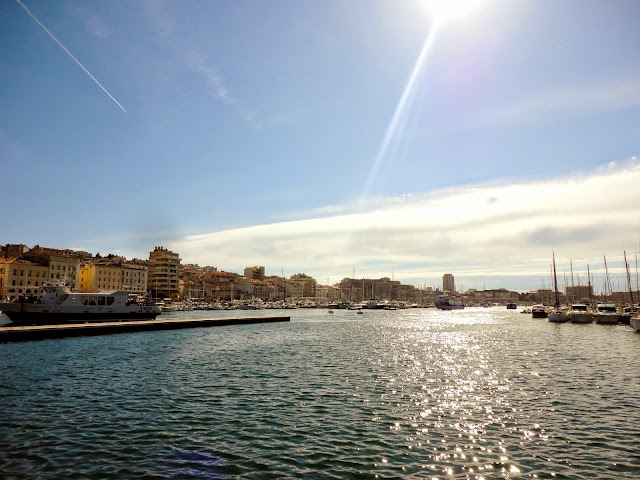 13 May 2015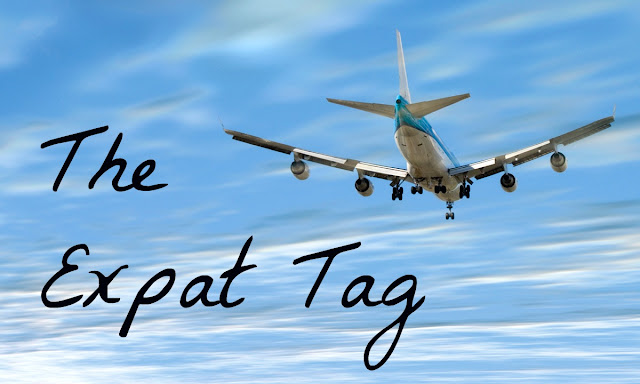 8 June 2016