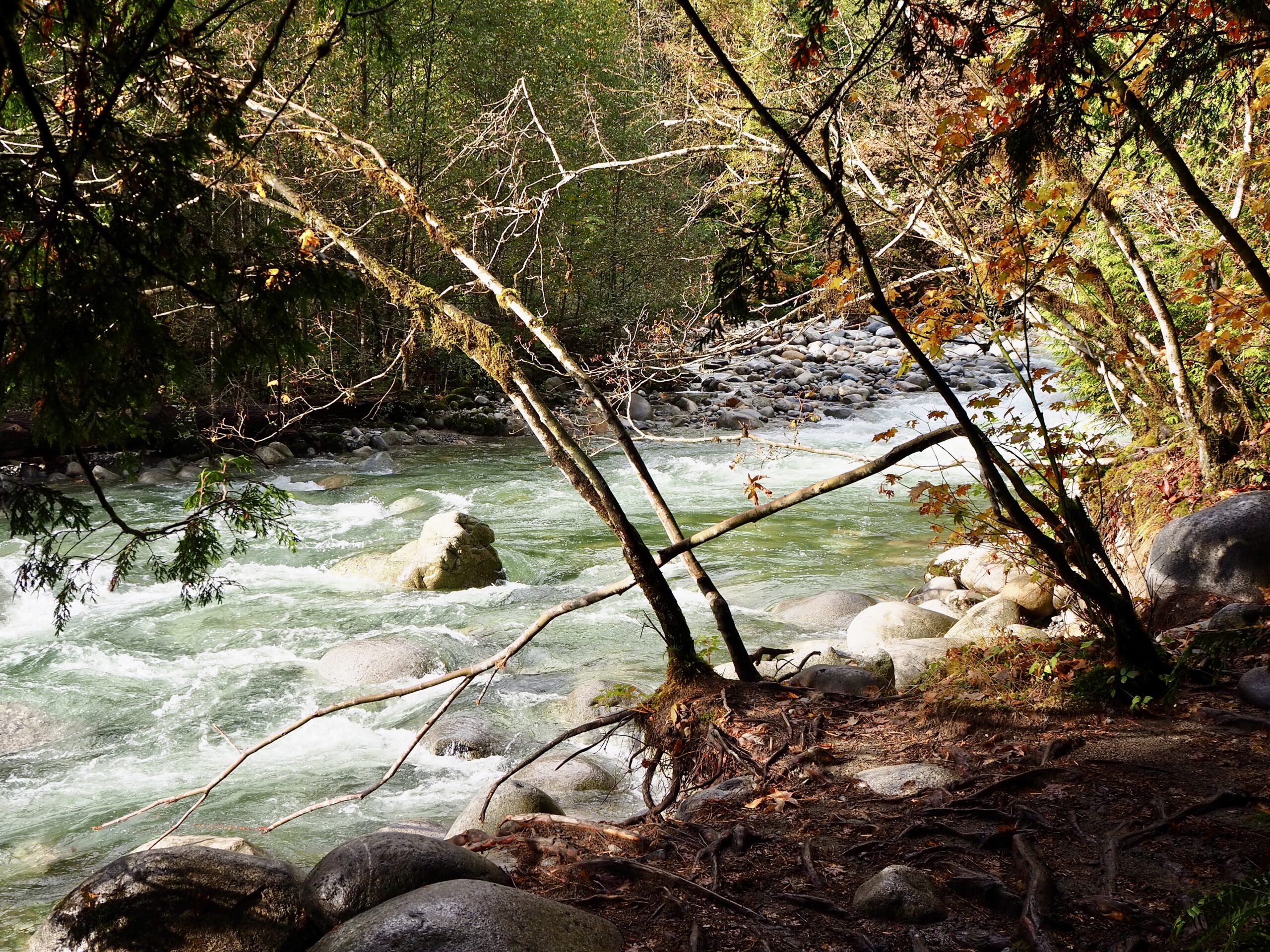 Lynn Canyon Hike | Vancouver
3 November 2022
One of the reasons I chose British Columbia over Canada's other provinces for my working holiday (at least to start with) is the abundance of hiking opportunities. Although, arriving in autumn means I'll save a lot of them until spring and summer next year. However, I'm trying to squeeze in what I can on the dry autumn days right now! I spent a week in North Vancouver, which was pretty wet most of the time, but on the driest day, I decided to do a Lynn Canyon hike.
You can easily reach Lynn Canyon Park from North Vancouver by bus or on foot, as it's very close to the urban area. I walked from where I was staying, which added half an hour each way to my total hike. The park is a forested area around the canyon of Lynn Creek. There are lots of routes to choose from, and many are quite short. I saw lots of families and people of all ages that day, as it's not a strenuous hiking area. I opted to combine two of the most popular routes, 30 Foot Pool and Twin Falls, for a 2 hour Lynn Canyon hike in total.
---
Lynn Canyon Suspension Bridge
So, suspension bridges aren't generally my thing. Fear of heights and all that. But unless you enter the park elsewhere or use the Twin Falls Bridge twice, you have to cross this one to reach most of the trails. So, I just had to suck it up this time!
I popped into the ecology centre for a quick visit before I started. It's a small building tucked in the trees beside the car park, and free to enter with donations accepted. There are various exhibits about the geology, wildlife and history of the area. I also picked up one of the map booklets, which is always handy for hiking trails! Between the centre and the bridge, there are also bathrooms and a cafe too.
The bridge then appears, strung across the narrow canyon. My fear of heights is mainly when I don't feel secure on something. Going up mountains or tall building is fine as long as I'm not near any exposed drops or edges. But I really don't like anything that dangles – cable cars, zip lines, climbing, abseiling, anything that requires a parachute. So suspension bridges aren't my favourite. I tried to cross as quickly as I could, but most other people were lingering for photos so I had to squeeze through or wait a few times. I did pause for a couple of moments for my own photos though – with a waterfall visible on either side of the bridge, how could I not?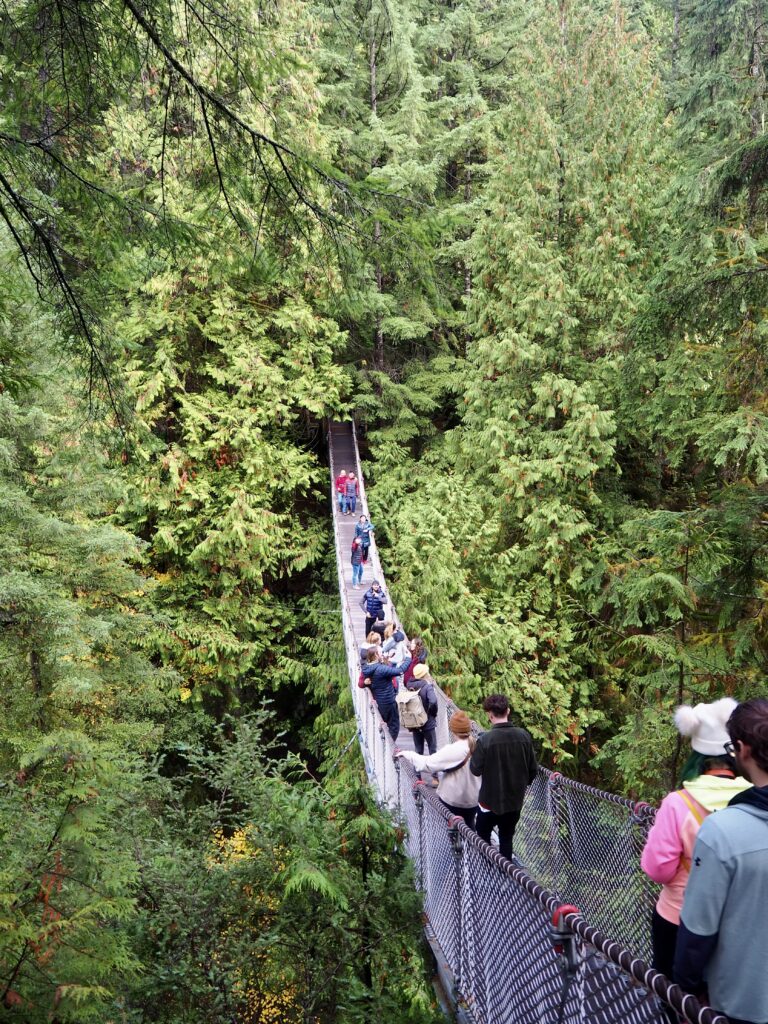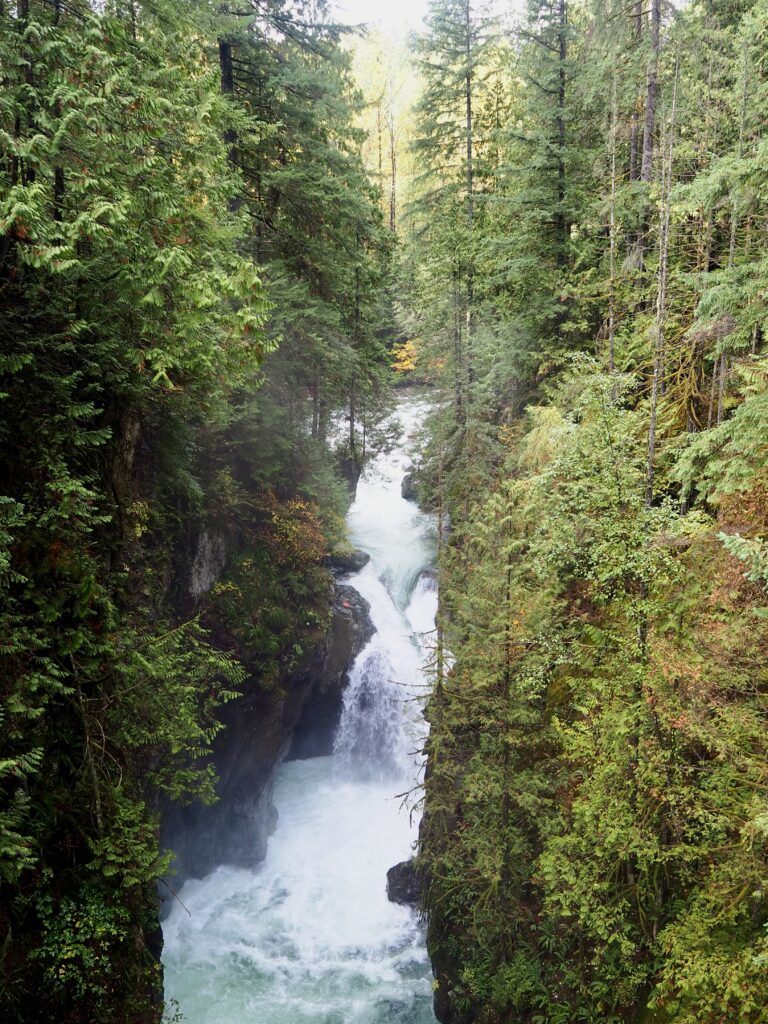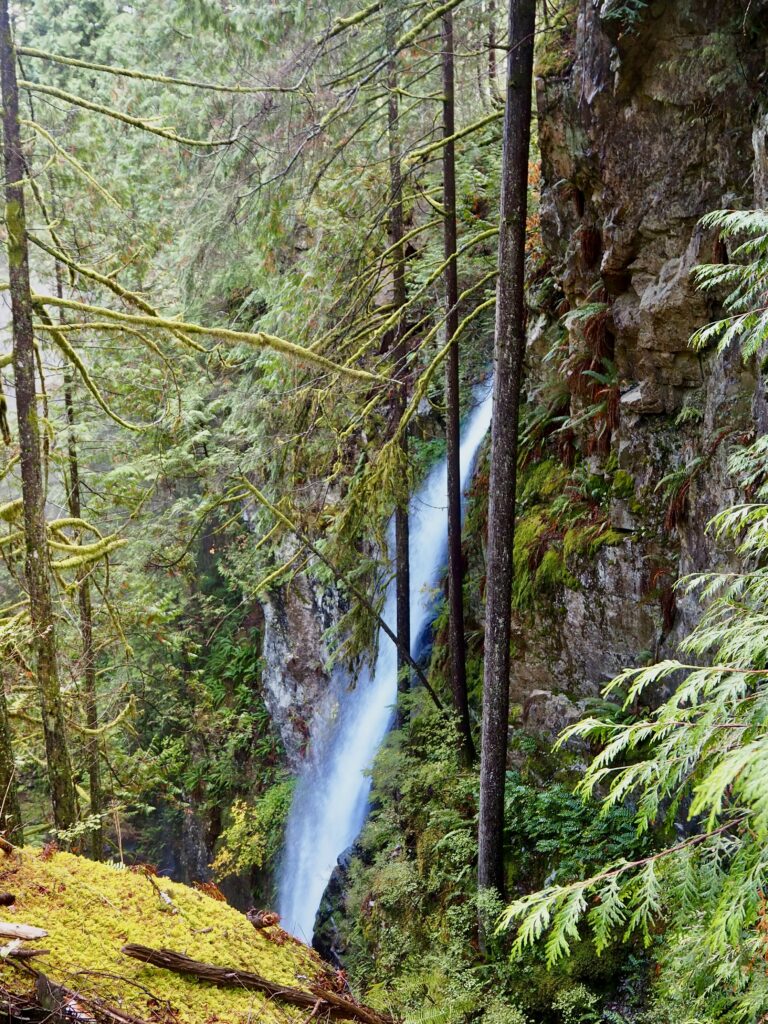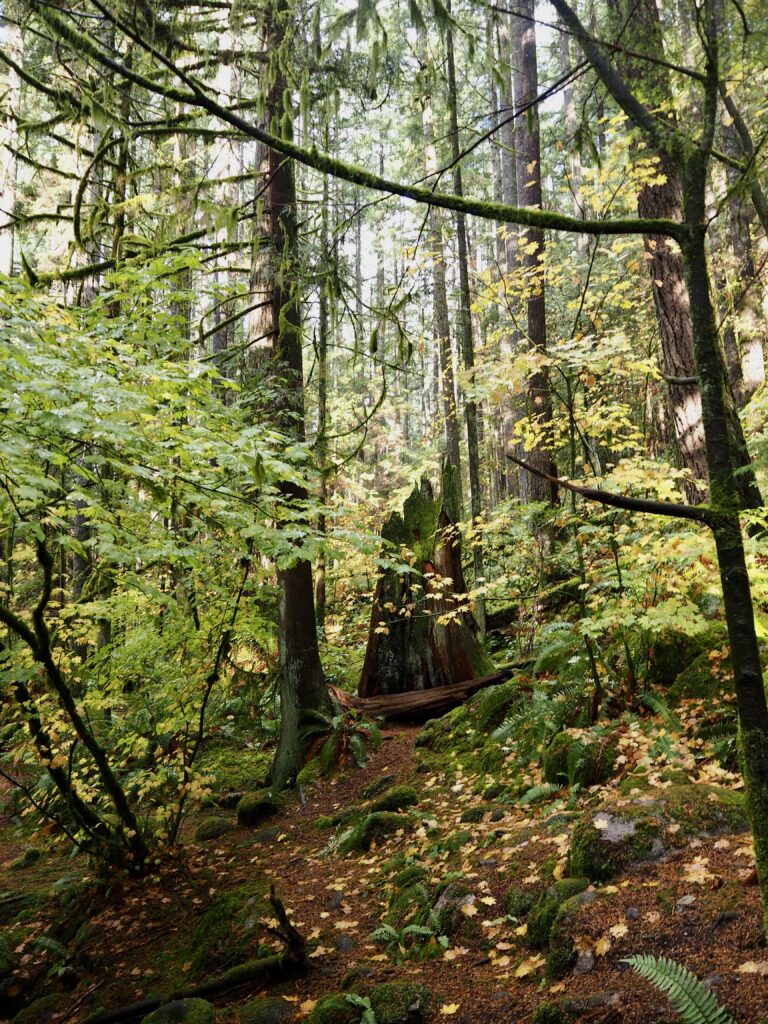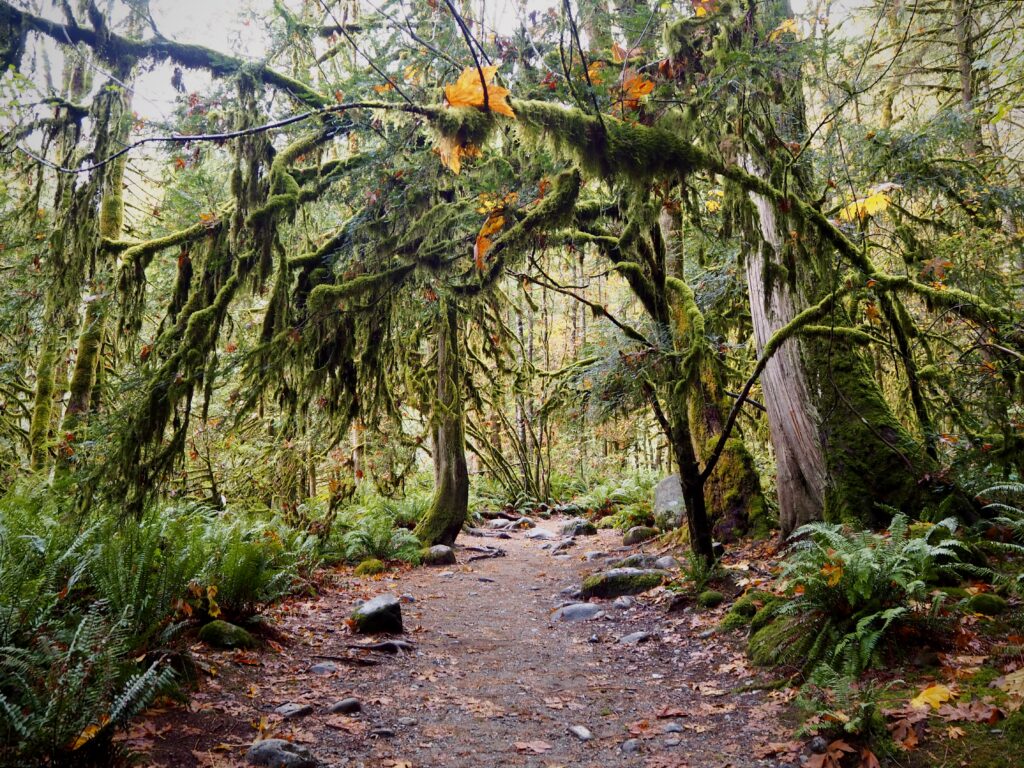 ---
30 Foot Pool
Once across the bridge, I headed to the left toward the 30 Foot Pool. The route there was pretty easy as the trails are well maintained. Many of them are actually wooden plank walkways and stairs rather than rough tracks. I kept wandering off the track though to see the creek to my left instead. As the whole area is forested, the trees restrict your view of it at times. But there are plenty of small detours to the water's edge! I'm not enough of a tree expert to know what species they were, but the forest was full of tall conifer trees, so shades of green permeated everything. Though there was the occasional orange deciduous to be found too!
It took maybe half an hour to reach the pool itself. It's a popular swimming spot in summer, but perhaps a bit too chilly by this time of year. A large family were having a picnic on the rocks – a lovely idea, but also funny watching other people try to pose for photos without having them in it! The water was a gorgeous turquoise colour, so very easy to see why it would be enticing for a swim! I climbed down over the rocks a little for some more photos and to get closer to the water.
Then, to continue my circuit, I was heading all the way up a very large flight of stairs. There were even more than it looked from the bottom! It's safe to say I was a little out of breath by the time I reached the top! It's definitely worth remembering to turn and look back every so often as you go up, though. You get some more excellent views of the 30 Foot Pool as you ascend. From the top, it's a level, meandering path through the forest to circle back towards the suspension bridge. This stretch was much quieter and less busy than down by the water. Quiet, except for the noisy woodpecker hammering away at his tree, though that was pretty cool to see!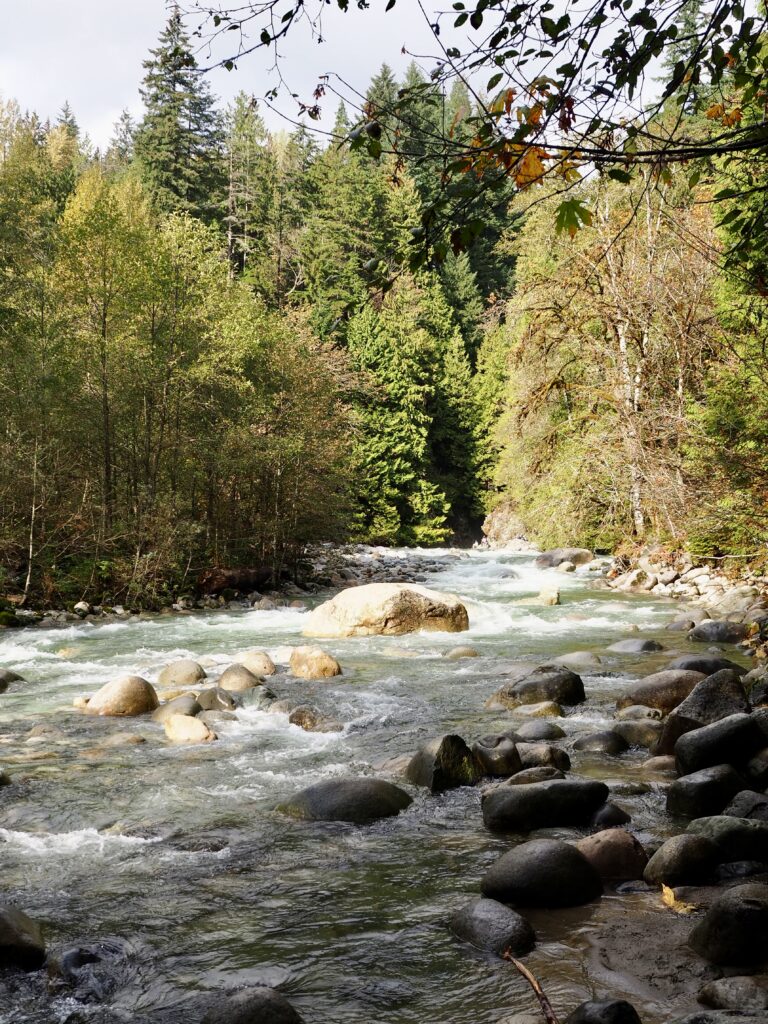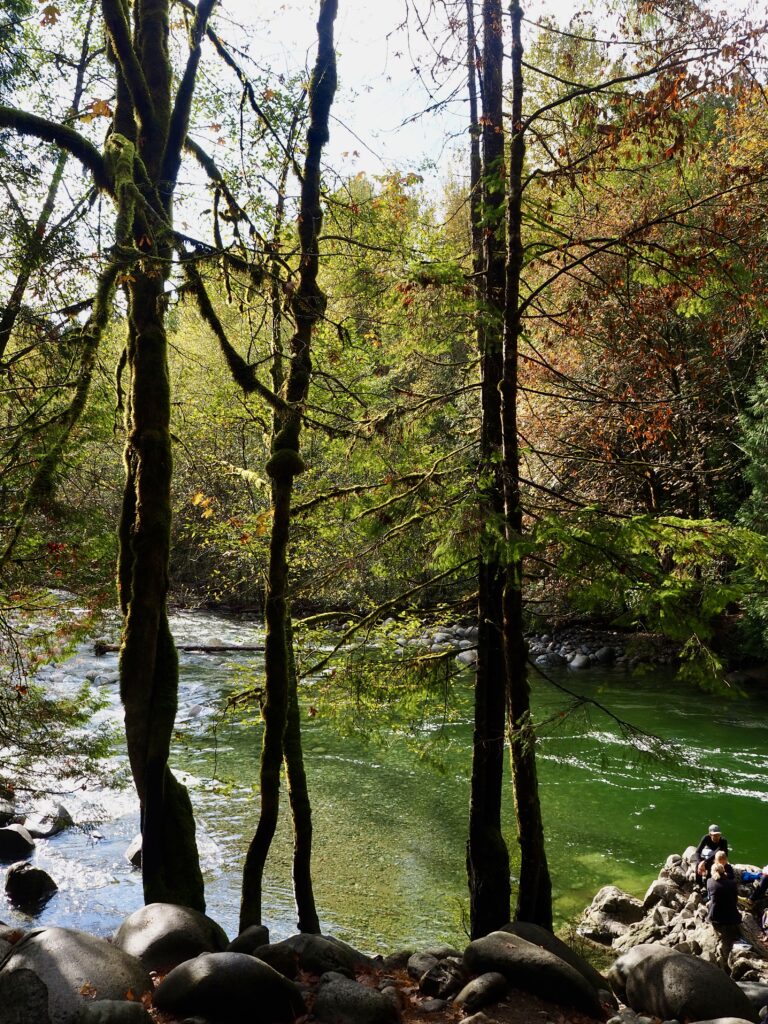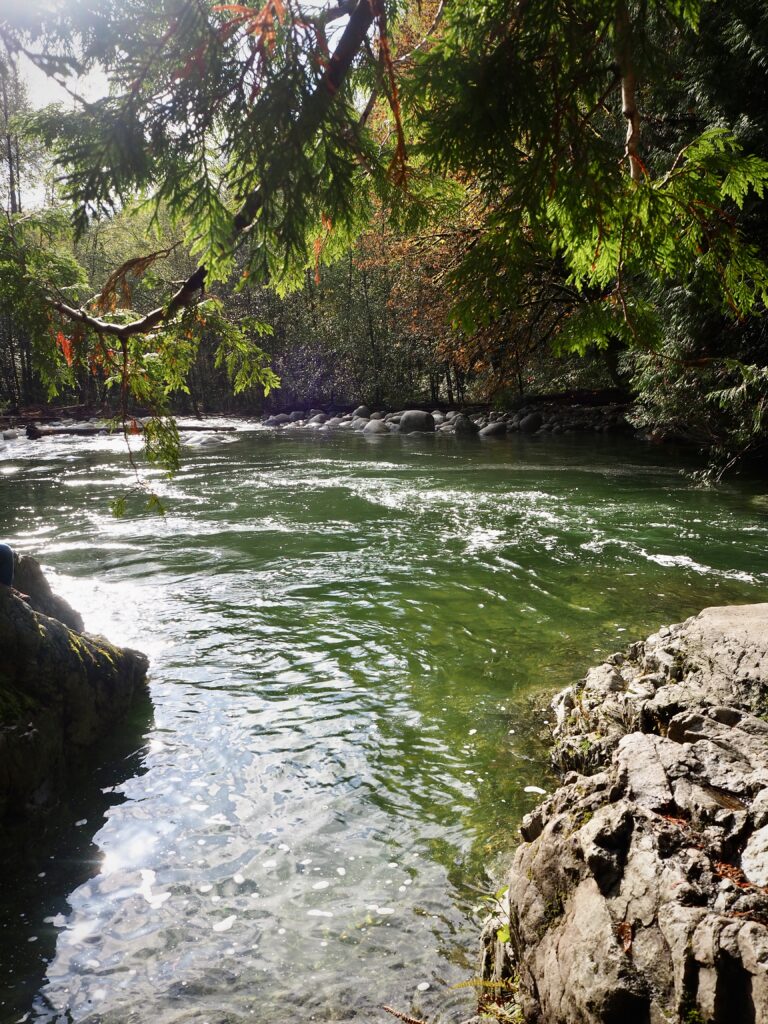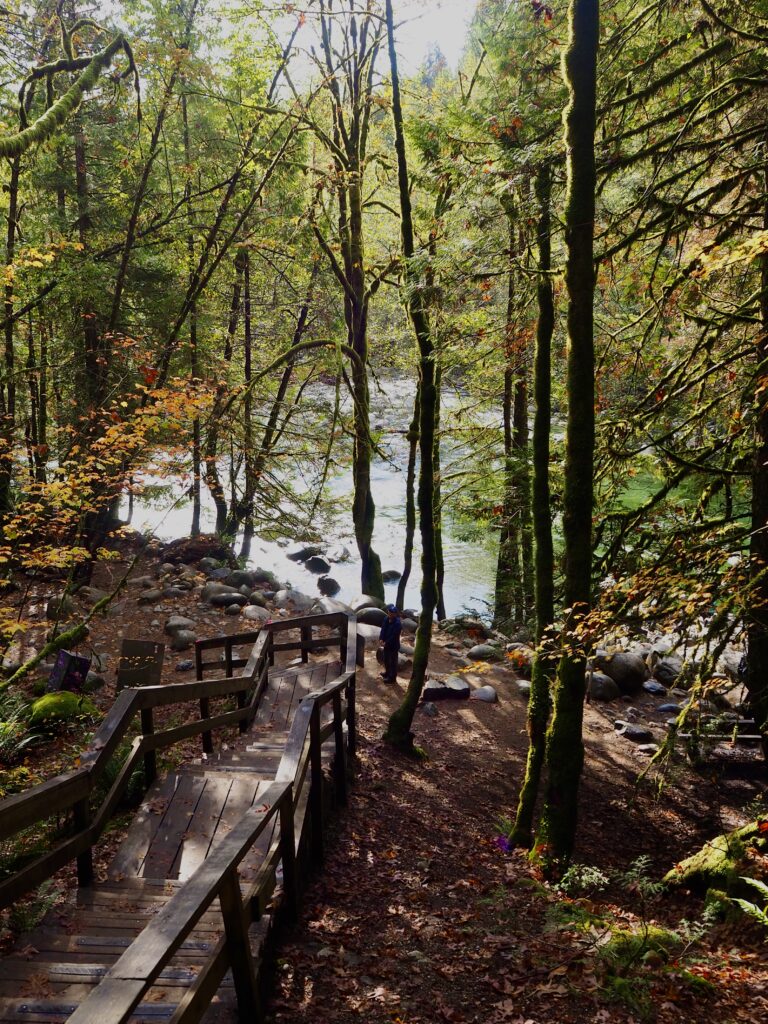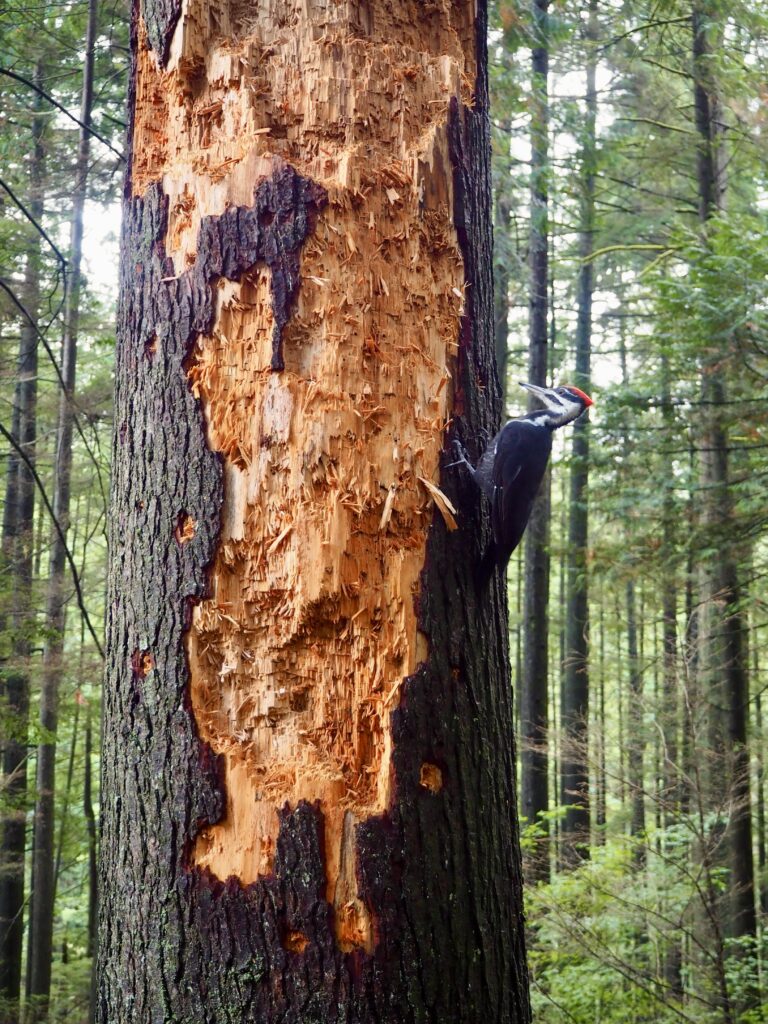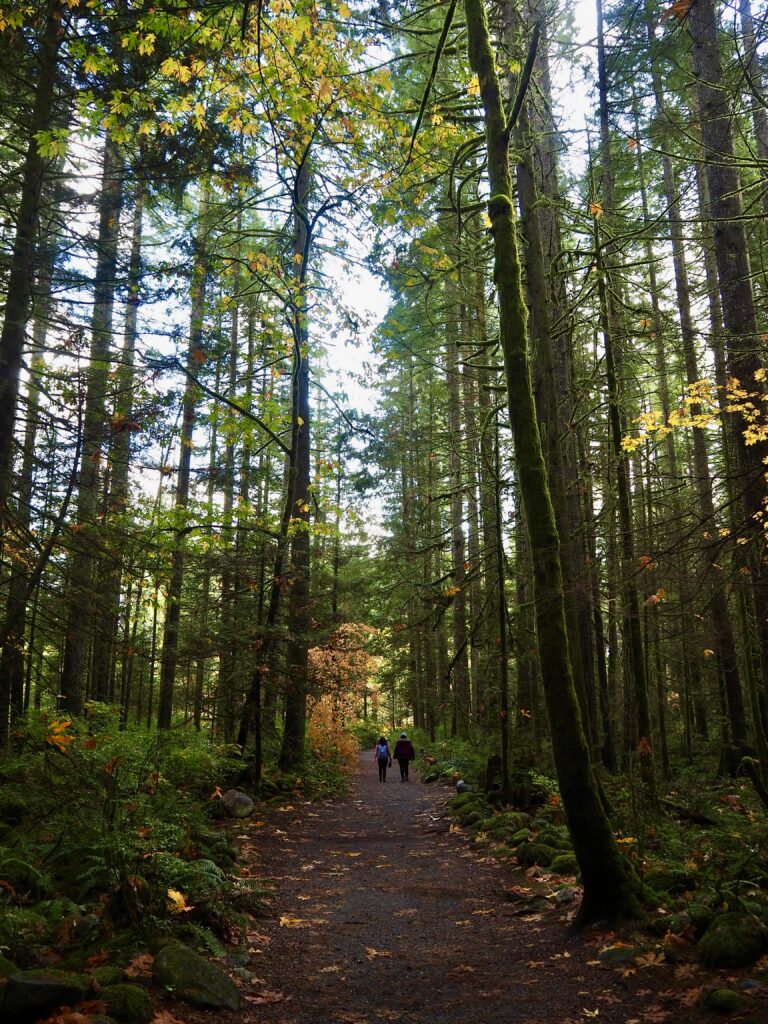 ---
Twin Falls
I eventually reached a junction of paths, signed for the suspension bridge one way and Twin Falls the other. The latter was my destination, which can also be done as a hike on its own from the bridge. Most of it was along more wooden walkways and I had to go down more stairs to get back to the waterside again. I did get some nice views of the water through the trees again as I went!
It didn't take long at all for me to reach the Twin Falls Bridge. This one is just a straight, wooden bridge – not a suspension one this time – so I was far less daunted by it! The bright blue creek flows under it then immediately plummets down in a small waterfall. Far smaller than those back up by the suspension bridge! I decided to follow the trail just past the bridge to get a view of the falls from he other side. It turns out you can't really see it well from the path, but I managed to carefully climb down the steep hill a little ways for a better look.
I decided to continue on this path a bit further, as I felt I'd arrived at the Twin Falls Bridge much quicker than expected! I believe I was actually on part of the Baden Powell Trail at this point. The wooden walkways led me through more greenery and alongside the startlingly turquoise creek. This was probably the most colour-saturated water of the day! I ambled on for a while before doubling back to the bridge when I felt I'd gone far enough. From the Twin Falls Bridge, it was a short but steep climb back up yet more stairs to return to the car park by the cafe.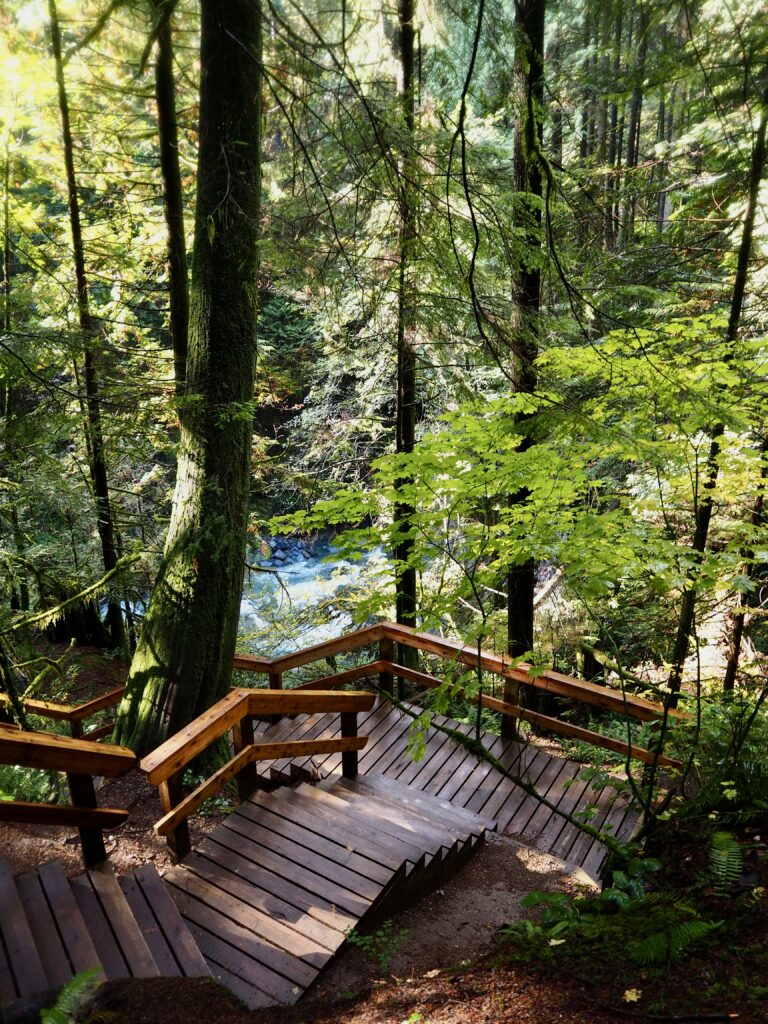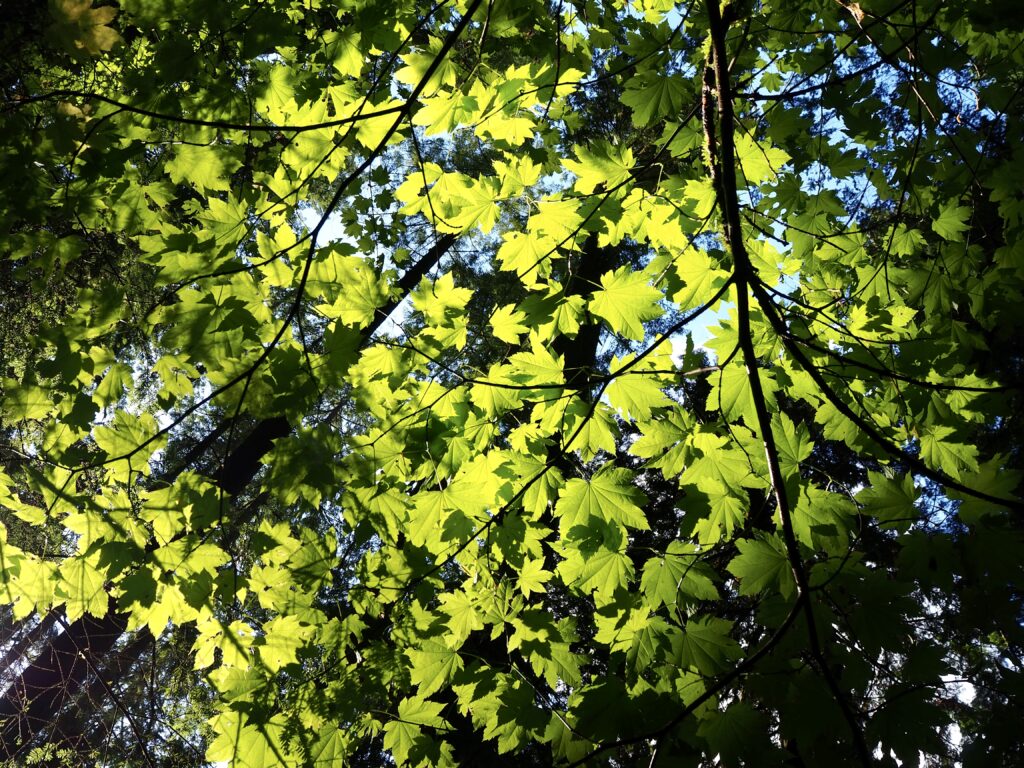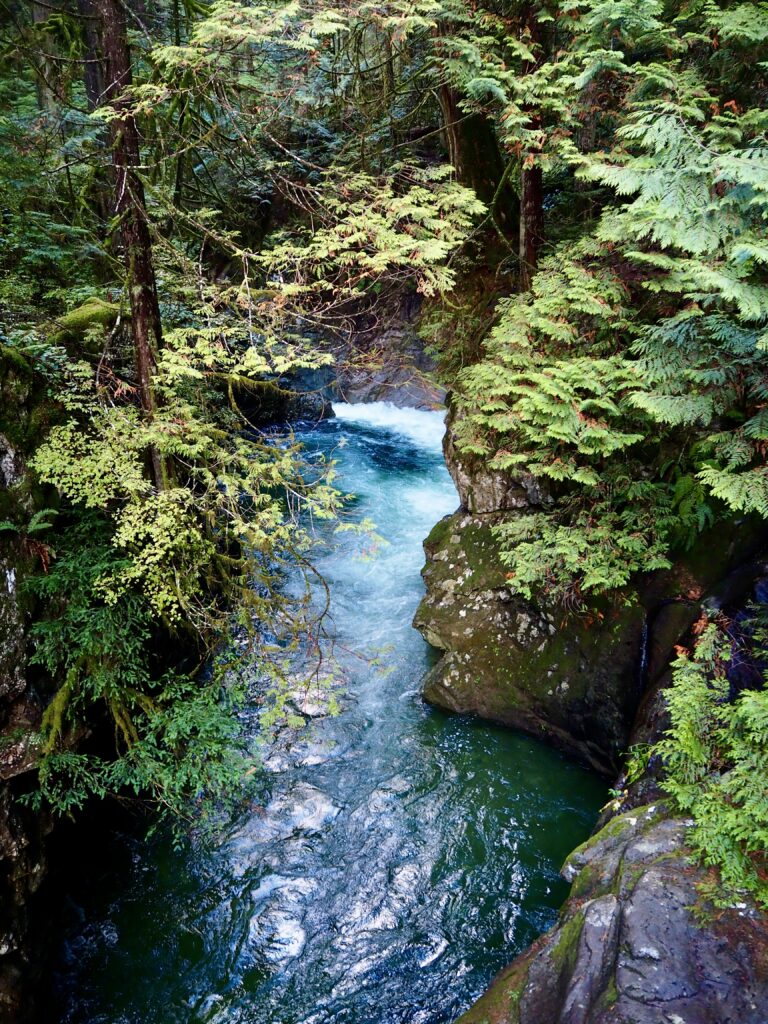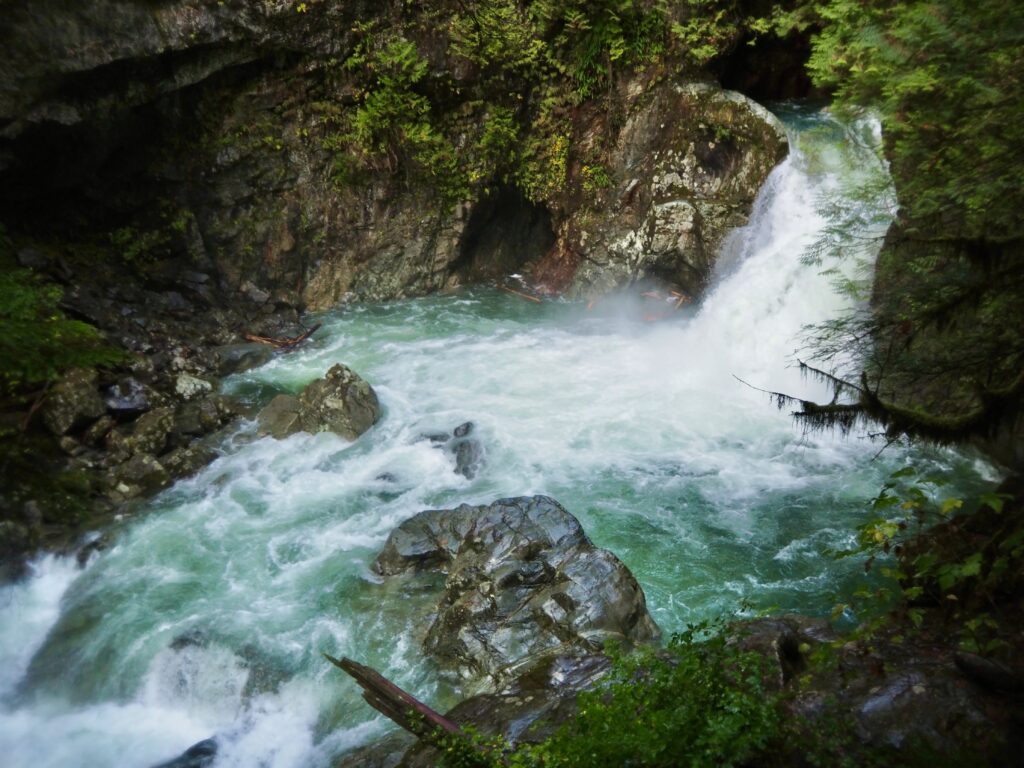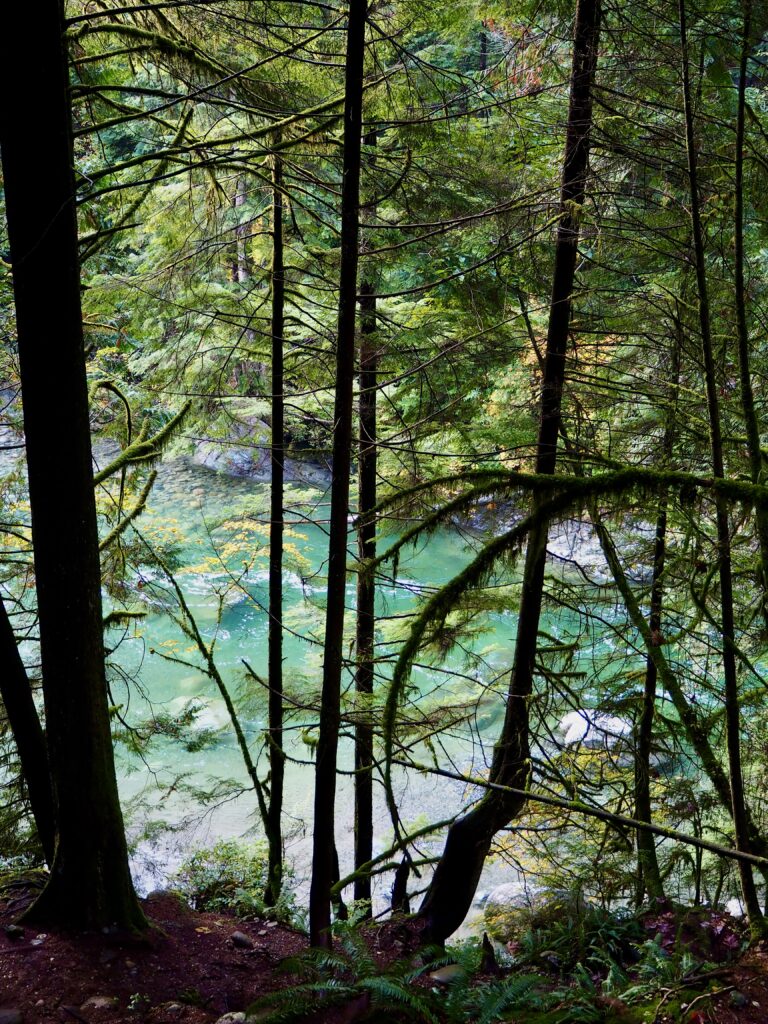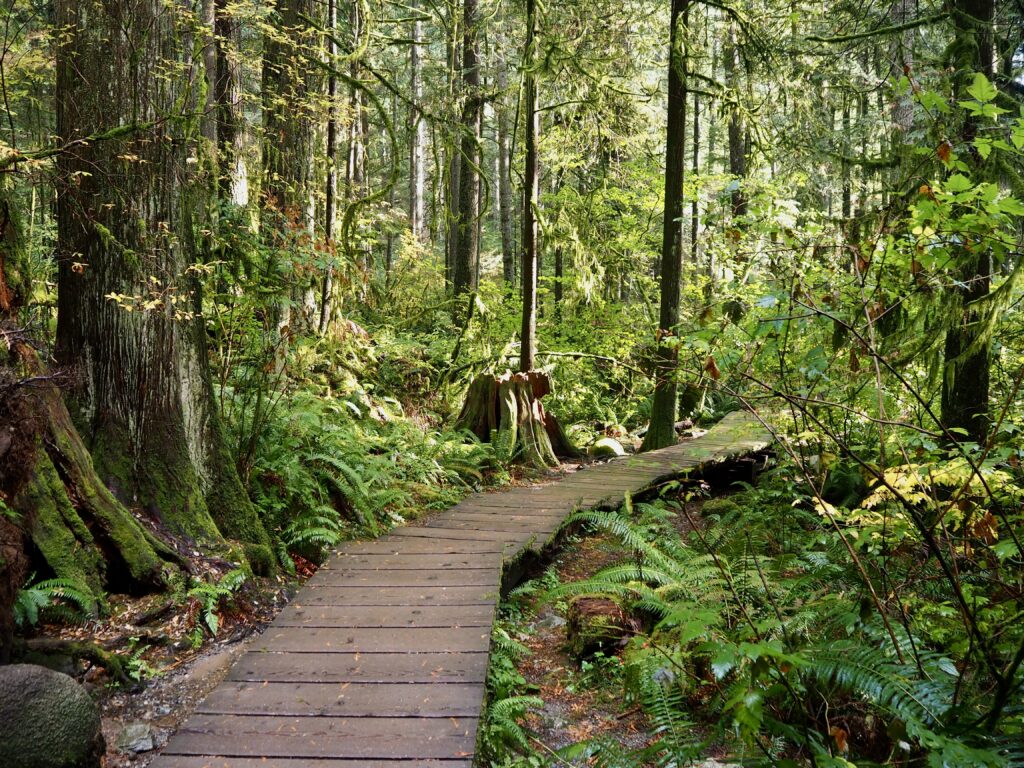 A hike in Lynn Canyon is a great choice for a shorter hike close to Vancouver, especially if you're not driving (I am relearning to drive right now, to explore further afield later on). It's also doable at all times of year, whereas the winter snow makes some more mountainous trails impassable. I was glad to get my first taste of British Columbia's outdoor trails and I'm looking forward to more!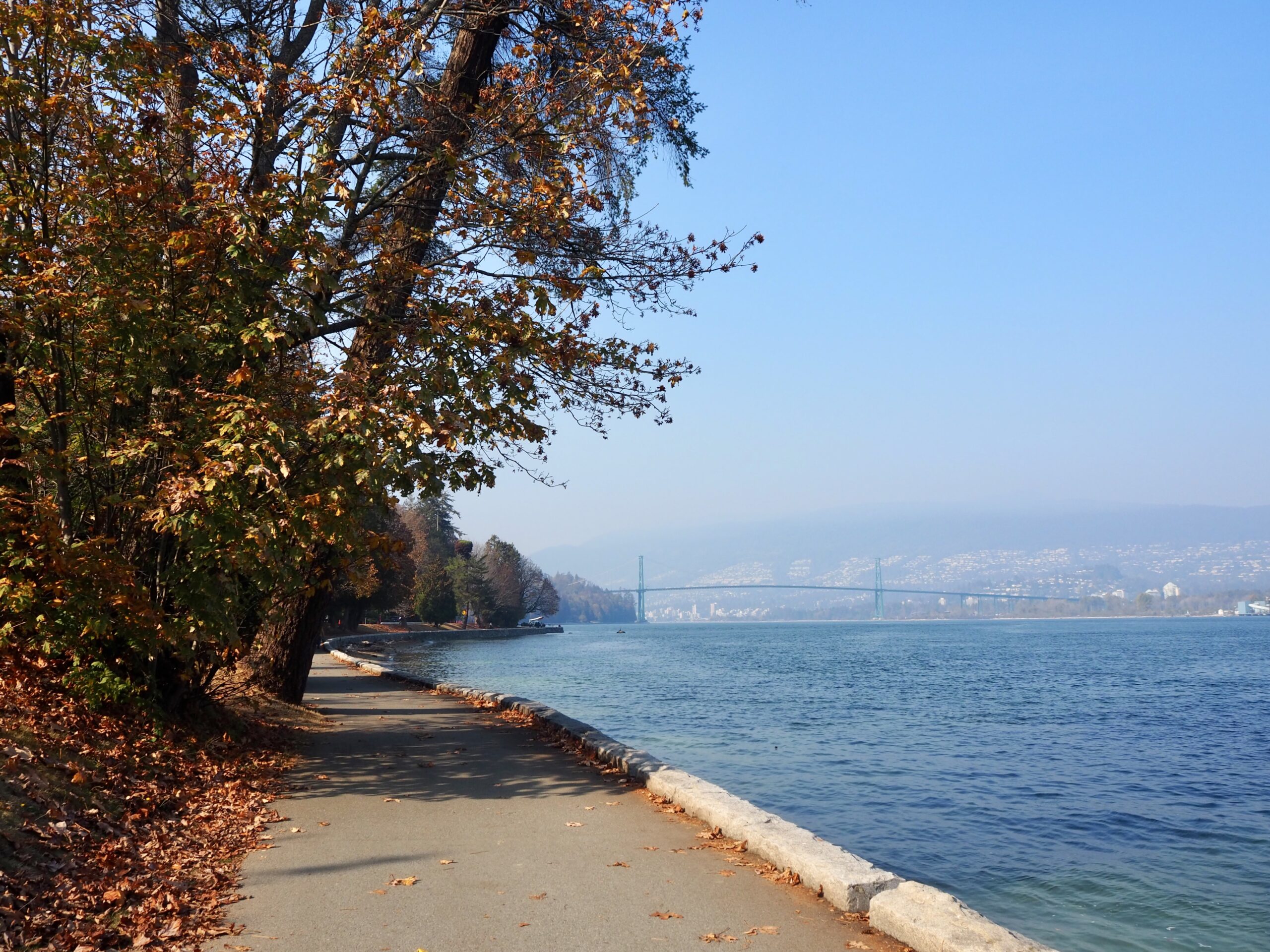 You May Also Like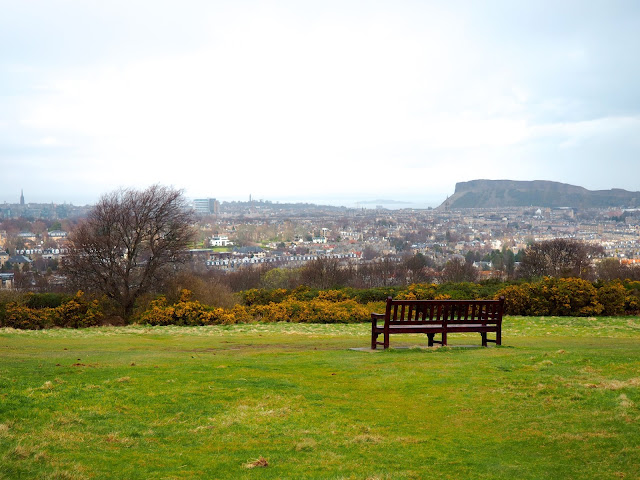 14 April 2018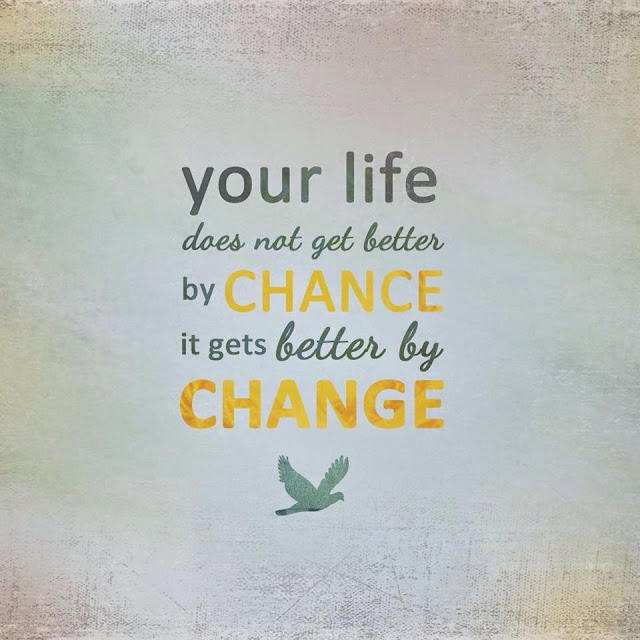 14 January 2017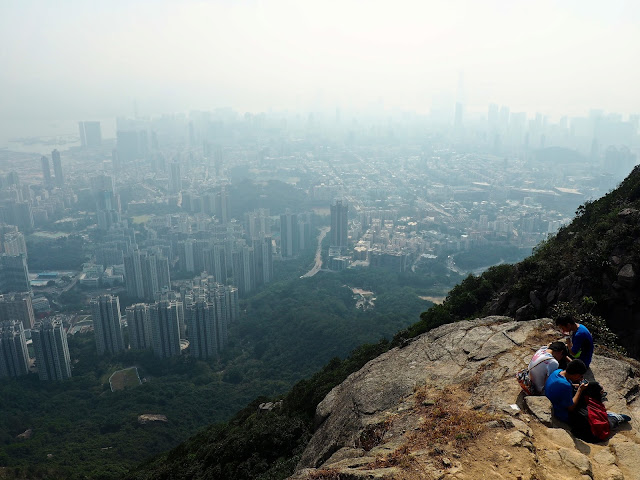 2 December 2015