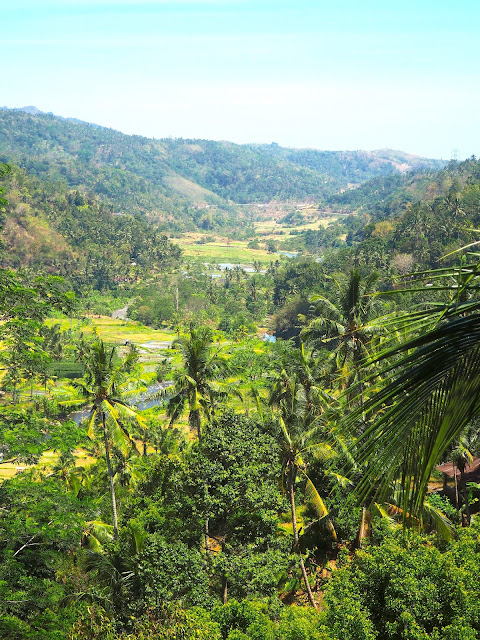 Ubud | Bali Part 2
2 October 2017
After a peaceful couple of days by the beach in Pemuteran, there was only one night left of my group tour, which concluded in Ubud, in the heart of Bali. Aside from the beaches in the south, this is one of the most popular tourist destinations on the island, known for its art scene, yoga retreats, and its famous rice terraces and temples in the surrounding area. We drove here from Pemuteran, which took just a couple of hours, as traffic was on our side luckily. We made a few stops along the way though, to see as many aspects of Bali's culture and scenery as possible.
Our first stop was a viewpoint off the side of the road, where a magnificent valley, filled with rice terraces stacked up on each other unfurled below us. Palm trees lined everything, and it was all contained within the surrounding hills (Bali, like most of Indonesia is pretty mountainous). We stayed there for a while, soaking in the spectacular scenery around us. This is by far the only place to see such a view, as throughout our drive we were surrounded by towering hills and the rice fields lining the valleys below. Everything was so lush and green, and despite how many tourists visit Bali, it's clear that most of the island is still rural and fairly untouched by consumer developments. We stopped at another rice field a bit further along, to see it up close, even treading carefully around the edges of the paddies, and taking a closer look at the young rice plants growing there. Our other stop on the road to Ubud was Taman Ayu Temple; after Java, where Islam is the predominant religion (as you couldn't fail to notice, being woken early by the sounds of the mosques at about 5am), it was then interesting to come to Bali, where Hinduism is most common, as well as some Buddhism and Islam still. In the past, I've seen lots of Buddhist temples throughout Asia, as well as Chinese and Shinto ones, so it was most interesting for me to visit a Hindu site (aside from the Batu Caves back in KL, and Angkor Wat, which was Hindu before being changed to Buddhist). We couldn't enter the main complex, as it's reserved for worshippers only, but there is a path all the way around it, so we could still see quite a lot. The ornate carvings on the stone structures fascinate me, and the tiered pagoda-like towers were striking in appearance, as they stretched skywards – our tour leader, Gede, explained that the number of tiers on each has significance. This is also a water temple, being surrounded by a wide moat, and it was fairly quiet during our visit, which was nice.
We made a quick pitstop to eat some lunch next – we were potentially going to skip lunch, until our tour leader suggested we try babi guling, or suckling pig as it translates. He explained that this is a popular meal choice for local workers, and many of the roadside places serving it in this area wouldn't get a lot of tourists stopping there (there are so-called 'best' spots for it listed online that I assume are busier). We were game to give it a try though, and it came served with rice and soup – there were various parts of the pig there, prepared in different ways. Parts of it were a bit too spicy for me, but others were delicious; one part reminded me a lot of black pudding (or blood sausage) that we eat back home, and that was probably my favourite part. Our final stop before reaching our hotel in Ubud was a birth clinic, a local charitable organisation which Intrepid supports. The Bumi Sehat Foundation provides healthcare for women throughout their pregnancies, and has several labour suites. Their services are free, intended for those who cannot afford healthcare otherwise, or their patients also can give donations in exchange. There are other services there too, such as an acupuncture treatment room. We were shown around the entrance area, but didn't go to the labour rooms, as some were currently in use, and were told about the foundation by one of the staff, before leaving a donation ourselves (which Intrepid will then double).
We checked into our hotel after that, but as it was still mid-afternoon, there was enough time to explore Ubud a little more. My roommate, Hannah, had been here previously, so she was going to act as my tour guide for the remainder of my time here (before she continued on with another Intrepid trip, while I left myself for the south). We wandered through the streets of town, heading in the direction of the art market, though we were also window shopping as we went, as most of the shops here were independent boutiques, selling a variety of clothes, accessories, and art. As always, I never buy too much because of my budget, and the space it would take up, but it was interesting to browse. The art market had all sorts of goods available – some of it I felt, could have been bought anywhere in South East Asia, while other items were perhaps a bit more unique. I found my magnet for Bali here, but that was all I bought. That evening, we had our last dinner together as I group, in a restaurant near the hotel, where I opted to stick to local cuisine, making the most of it before my time here ended. A few of us carried on the evening at a bar in the middle of town, linking up with the other group we'd met back in Pemuteran, and resulting in a fairly late night out for me!
The next morning, our group tour was technically over, but I wanted to spend most of the day in Ubud to see as much as possible, before continuing to my next destination. My roommate took us out for breakfast, to a place she'd found during her previous time staying here – and poached eggs on guacamole toast was perfect to soak up my light hangover! She also got a friend who worked here to call us a taxi, which was not one of the official Bluebird ones (recommended to use if you want a metered fare), but he gave us a great price for the whole day and waited at each location, so we were very happy with his service. First, we headed south out of Ubud to a nearby village named Celuk. Each of the surrounding villages specialises in a particular trade, depending on what interests you, and Celuk is the jewellers' town, home to dozens of gold and silver shops at wholesale prices. You could spend all day looking in all of them, but fortunately my roommate had been before and directed us to the same place, Budhi Ayu Silver. As its a wholesale shop (but sells as retail as well, for people like us), there are hundreds of options to choose from, including necklaces, earrings, bracelets, and rings. We each took a basket and began rummaging through basket after basket on the shelves around the room, pulling out each basket with a design on the side that interested us. Once we'd exhausted those, we took our baskets to a staff member, and perused our choices further, narrowing down the ones we actually wanted to buy, and she packaged and priced them for us (there are no prices on the baskets), until we were happy with our choices. I ended up with some leaf earrings, similar to a pari I lost a few years ago, and a woven pendant design, with a chain for it to go on.
We drove back into Ubud itself after that, and got dropped off outside the Monkey Forest, situated in the town centre, and one of the most popular tourist attractions there. It's hard to say what's the most interesting part of this; the monkeys, the forest, or the temples! I think the forest did it for me though, as its a maze of paths and bridges through the trees, whose branches sprawl in every direction, vines dangle across clearings, and roots clamber their way over the old stone carvings. It almost feels like you've been transported back in time, far away from the busy streets just metres outside the forest, and the carvings and temples in amongst it all only add to the effect. The monkeys are pretty fun to watch too, though I've seen lots of those in plenty other locations around Asia, and although these ones could be cute and entertaining, you also have to be wary of them! I watched one harmlessly clamber over a woman's shoulders, but others would steal people's belongings, snatching hats, glasses, food, and whatever else is easy to grab, and disappearing far above into the treetops. Don't make eye contact or show your teeth either, as they interpret that as a sign of aggression! The forest isn't huge, but it's definitely interesting, and quite unique actually, especially to find something like this preserved in the middle of a town.
Our next destination took us north out of Ubud, to Tirta Empul, probably the most famous water temple in Bali – if you don't recognise the name, you'll probably recognise it from the photos. It's another Hindu temple, with the central complex made up of stone buildings and sculptures of gods, and tables full of offerings. You have to wear a sarong to visit, and tie up long hair, but there are sarongs and hair ties provided if you don't have your own. The main reason people visit this temple though, is for the holy spring. It starts from a pool inside the main complex, which feeds out of several pipes into the bathing area just outside. Anyone can take part in the bathing ritual, not just local worshippers, and there are people around who can explain it to you if you want. I didn't take part myself, as I wasn't sure I was spiritually tapped in enough to really appreciate the full experience, but my roommate, Hannah, tried it (pictured below). She had to spend some time meditating first, holding the offering she'd got in exchange for a donation. Then she entered the water and placed her offering above the springs. She had to work her way along each spring, splashing it on her face, then putting her whole head under the running water. After completing the row in the first pool, she climbed through the stone opening and repeated it in the second pool, before finally re-emerging on to land. Fortunately she'd brought a change of clothes! Even though I didn't do it myself, it was interesting to hear about it from the local who helped her, and to watch the whole process.
We returned to town in the middle of the afternoon, and stopped in a cafe near the hotel for something to eat, since we'd skipped lunch to head straight to the water temple, in hopes of getting there before the afternoon crowds (it was busy but not excessively crowded while we were there). This was my last bit of time with the group, and luckily I got to see the rest of them again briefly when I picked up my luggage from the hotel. We said our goodbyes, thanking the tour leader for such an enjoyable trip through Indonesia, and then I hopped into my waiting taxi, which would transport me south, for my last few days of relaxation in Legian, before I eventually had to depart Bali altogether. Ubud was a little busier than Pemuteran, and I did find myself getting frustrated and irritated by all the other tourists at times, but I did enjoy the places that we visited there, and I was pleased to have see so much in such a short amount of time there. Only one place left now…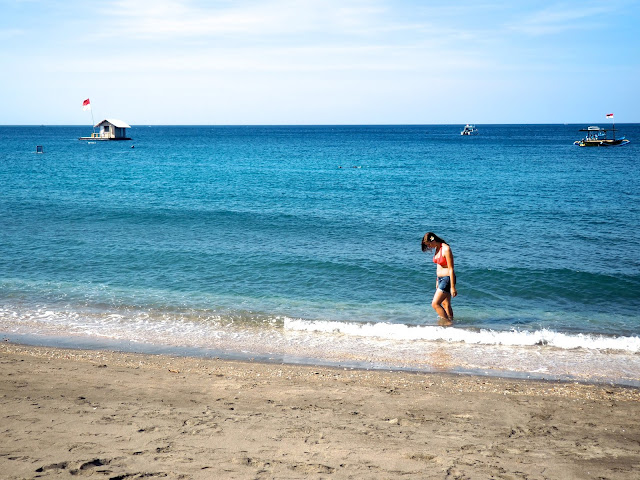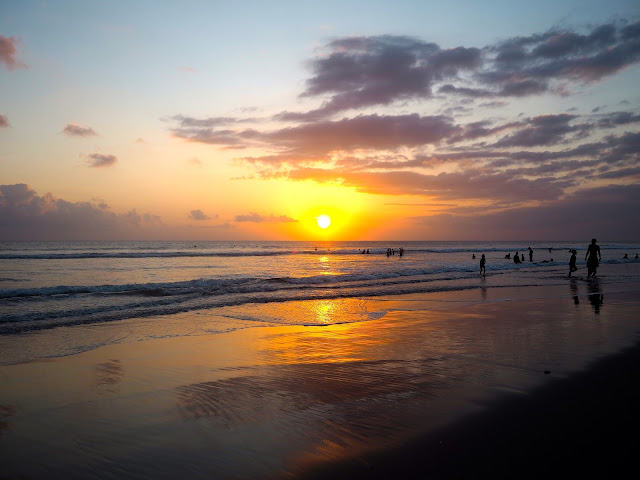 You May Also Like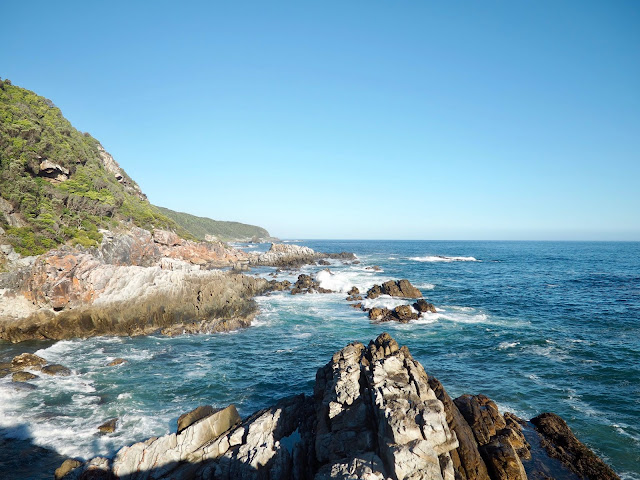 26 February 2019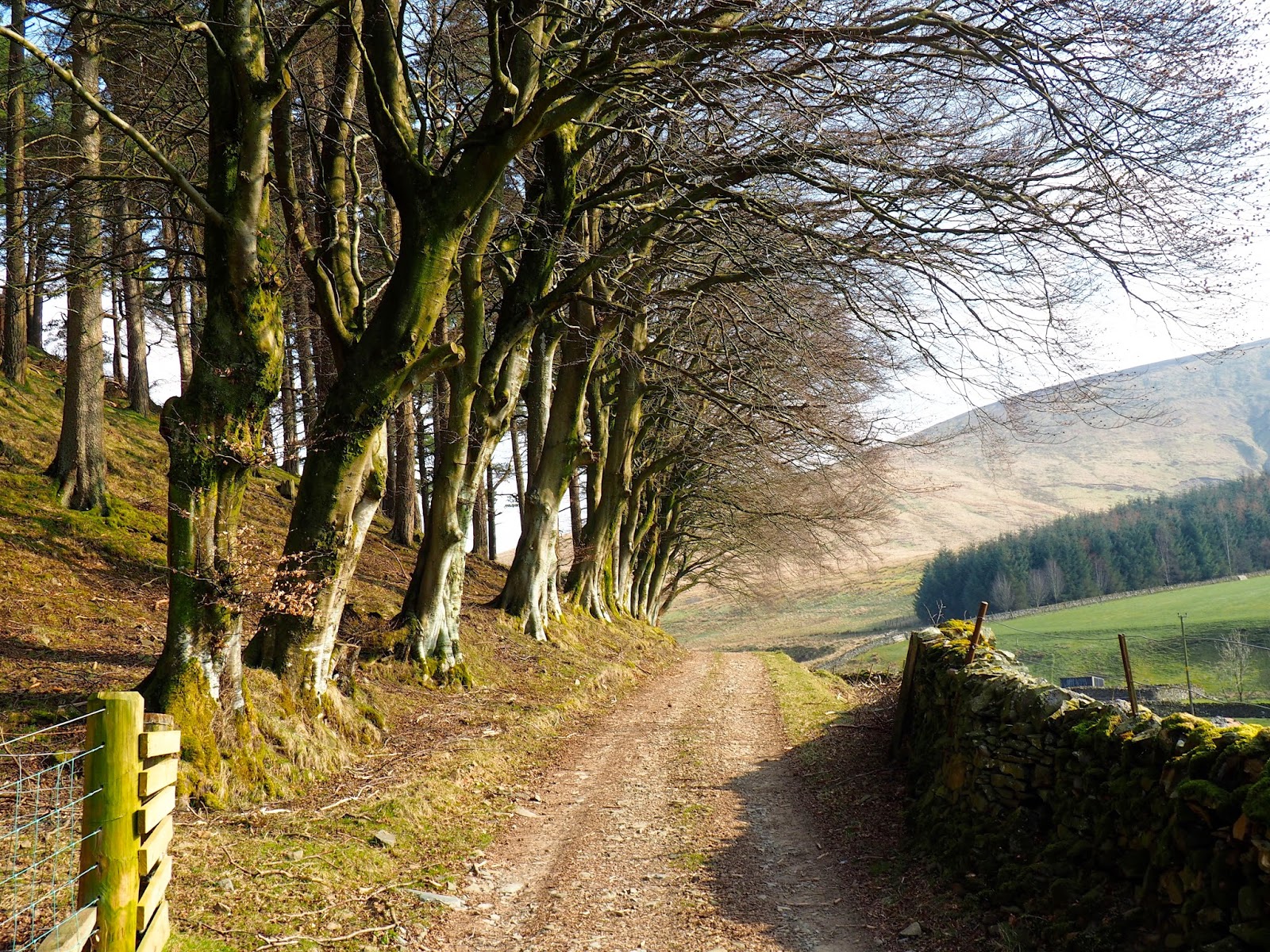 22 April 2015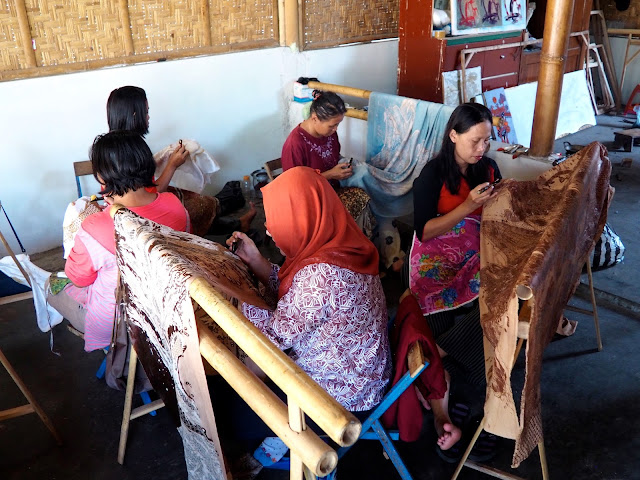 24 September 2017