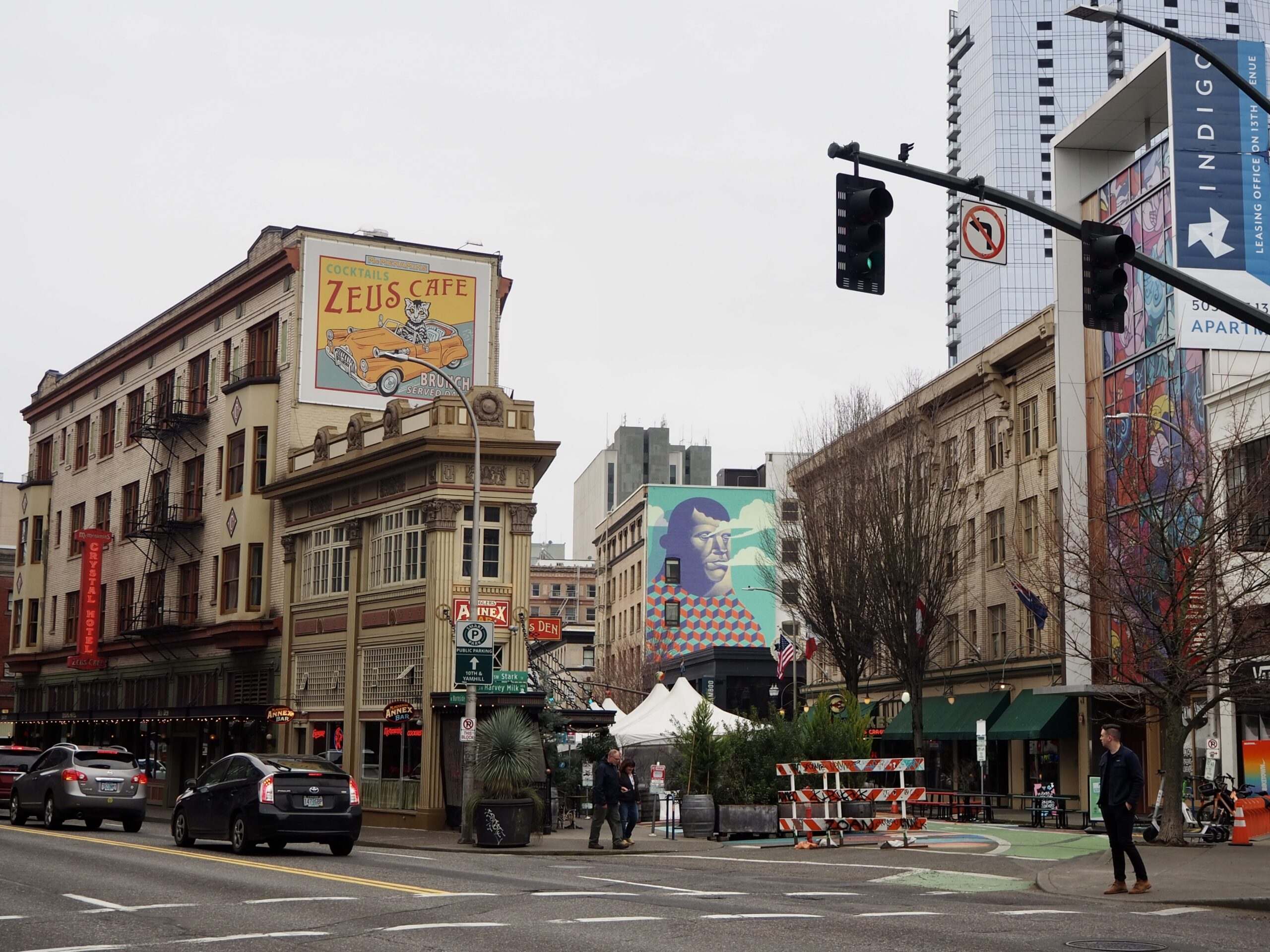 3 Day Trip to Portland, Oregon
27 February 2023
Vancouver is about an hour away from the Canadian border with the USA, making it easy to access the Pacific Northwest region. Think temperature rainforests, mountains and wild coastline (it's also where Twilight is set). So with my most recent long weekend off work, thanks to a public holiday in Canada, I decided to head south across the border for a city break. My destination was a 3 day trip to the hipster haven of Portland, Oregon. You can fly from Vancouver in about 2 hours, but flight prices were crazy. So I did some internet digging and found the bus to Seattle, then continued on by train. Leaving in the wee hours of Saturday morning and returning late on Monday night, I spent a long weekend in the city of Portland.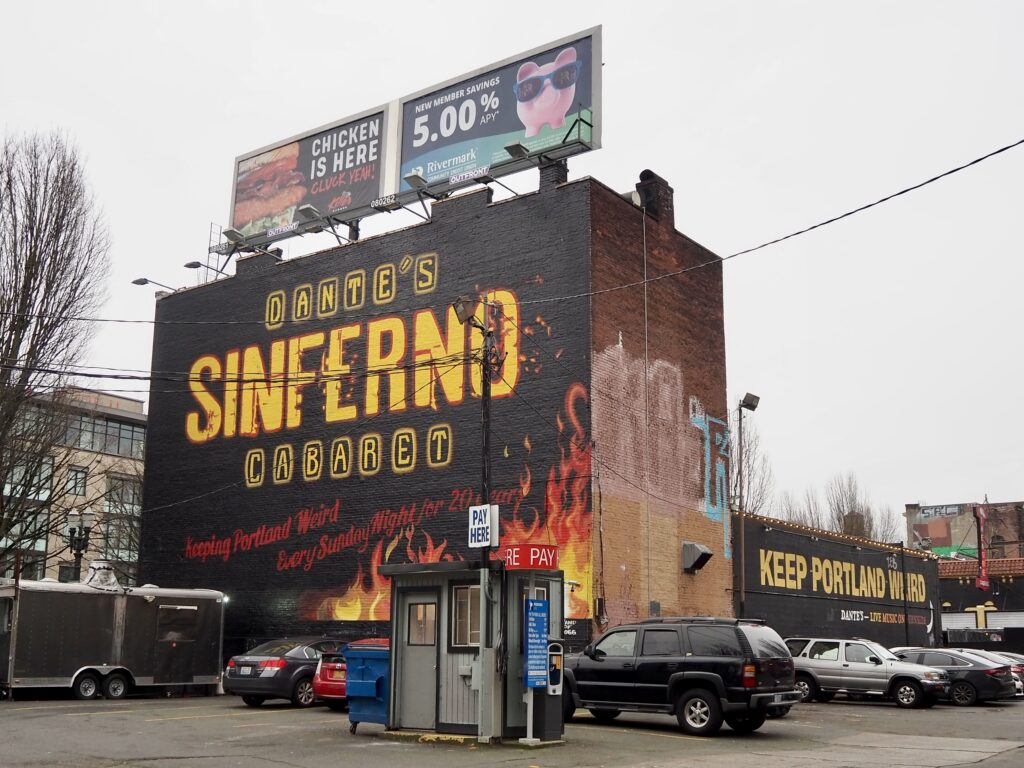 Day One
The Journey from Vancouver to Portland
Now, I have to talk about the journey first. I knew North American public transport was bad, because they're so car-obsessed here. But I had assumed bad like, lack of services. Turns out, the services that do exist also suck. The bus takes 3-4 hours to reach Seattle, depending on the time taken to cross the border. Then it's another 4 hours by train to Portland – because trains here are infinitely slower than their European or Asian counterparts. To maximise my time therefore, I was taking a 1.30am bus, followed by a 7am train with an hour's connection between them.
Or at least, I was supposed to. Except the Greyhound bus never showed. Honestly, there were about 30 people sat in Vancouver bus station in the middle of the night, with only the security guards (who aren't employed by the bus company) with no bus in sight. The online tracker kept getting later and later and of course, no one answers their phone at that time. Not a word of communication to any of us.
Eventually, it reached the point where I was going to miss my train whether it appeared or not. So I quickly hopped online and bought one of the last seats on the next bus (Amtrak this time) at 5am. Then paid an arm and a leg to change my train ticket to the next service. It was that or miss the entire trip! The train change was extra costly because there were only sleeper rooms left. Although, after staying up basically all night, I was quite grateful to be able to stretch out in my private room! And I had a meal included. I eventually rolled into Portland at about 1.30pm on Saturday afternoon, three hours later than planned.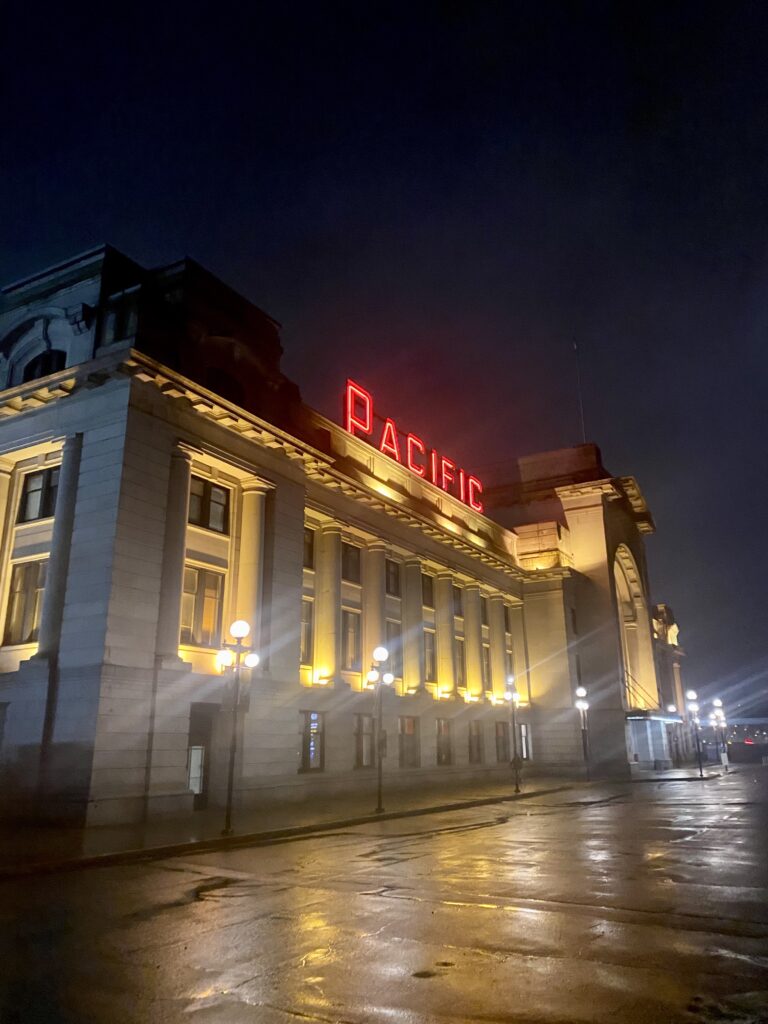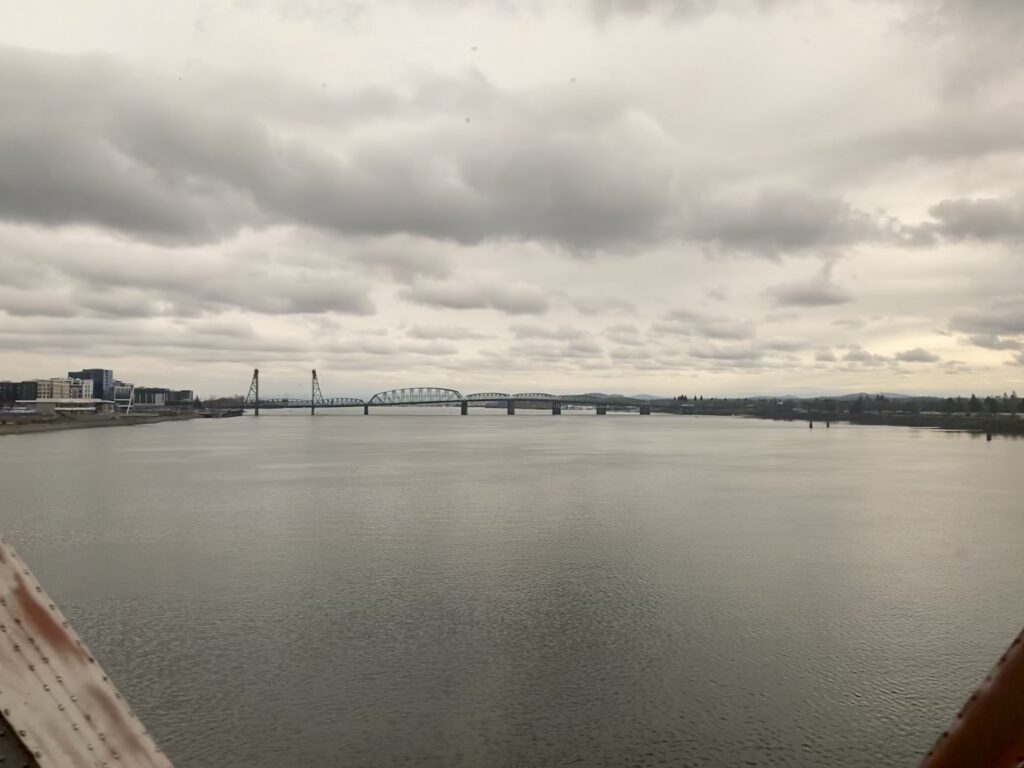 Chinatown
I was staying at the Society Hotel in the old Chinatown area of the city. The hotel is an old, preserved historic building but all decorated more modern inside. They were able to let me check in early too, so I could catch my breath after the long journey before heading out again. I really liked the style of the hotel overall, and they even have a roof terrace where I got my first views across the city. My room had a shared bathroom but it was always clean and I never had to wait to use it. The street outside was a little loud at night, but no worse than my Vancouver street, and I use ear plugs anyway. I had breakfast in their cafe downstairs the next morning too.
Sadly, the Chinatown area now has a pretty large homeless population. There were dozens of tents along the pavements. I learned from a tour guide the next day that Portland has some of the highest numbers of mental health issues in the US. Lack of access to proper care has contributed to the homeless situation. While I felt for their plight, I definitely didn't feel very comfortable walking through the area after dark. Chinatown still has its red lampposts, but otherwise there isn't much to see in the area.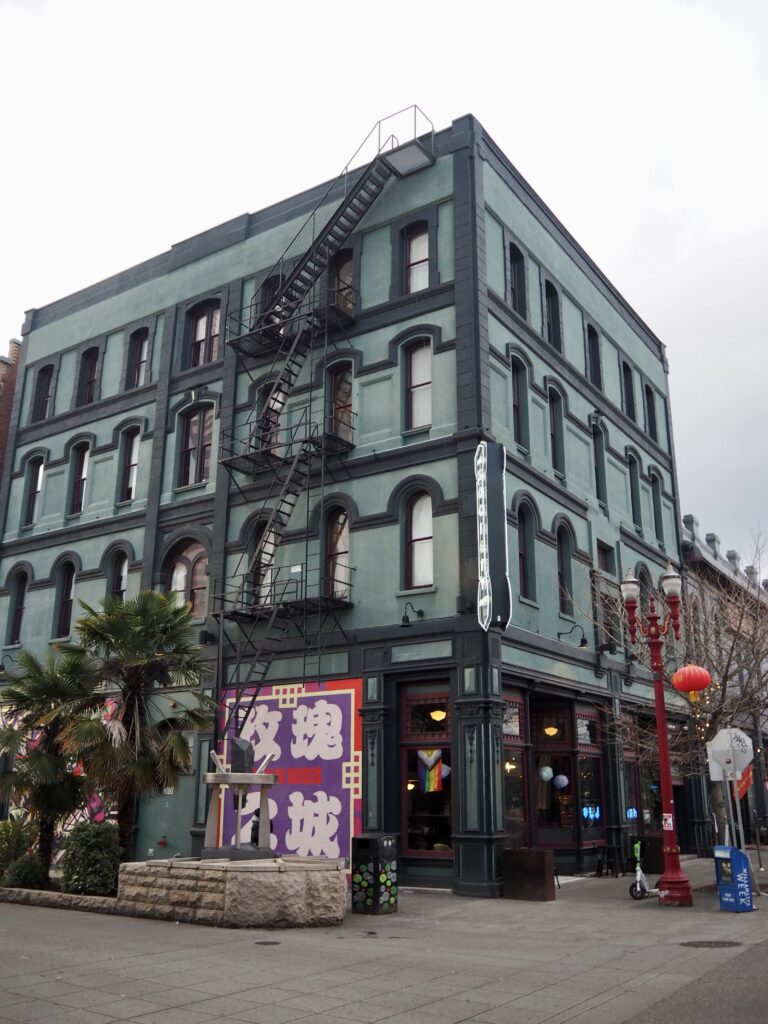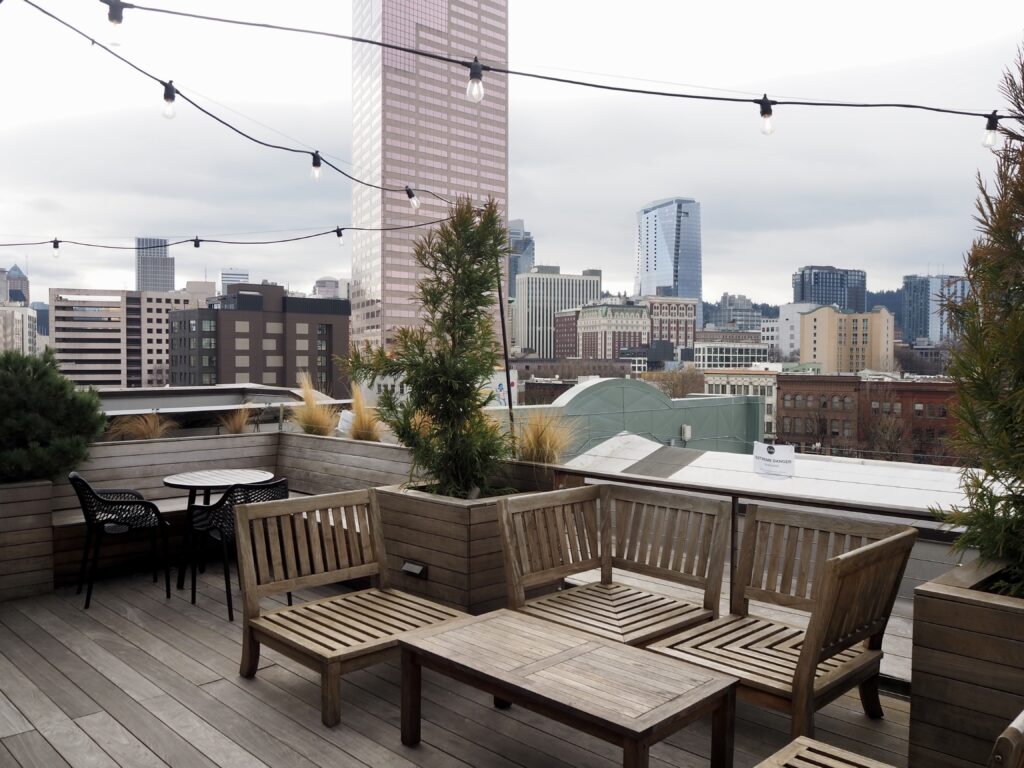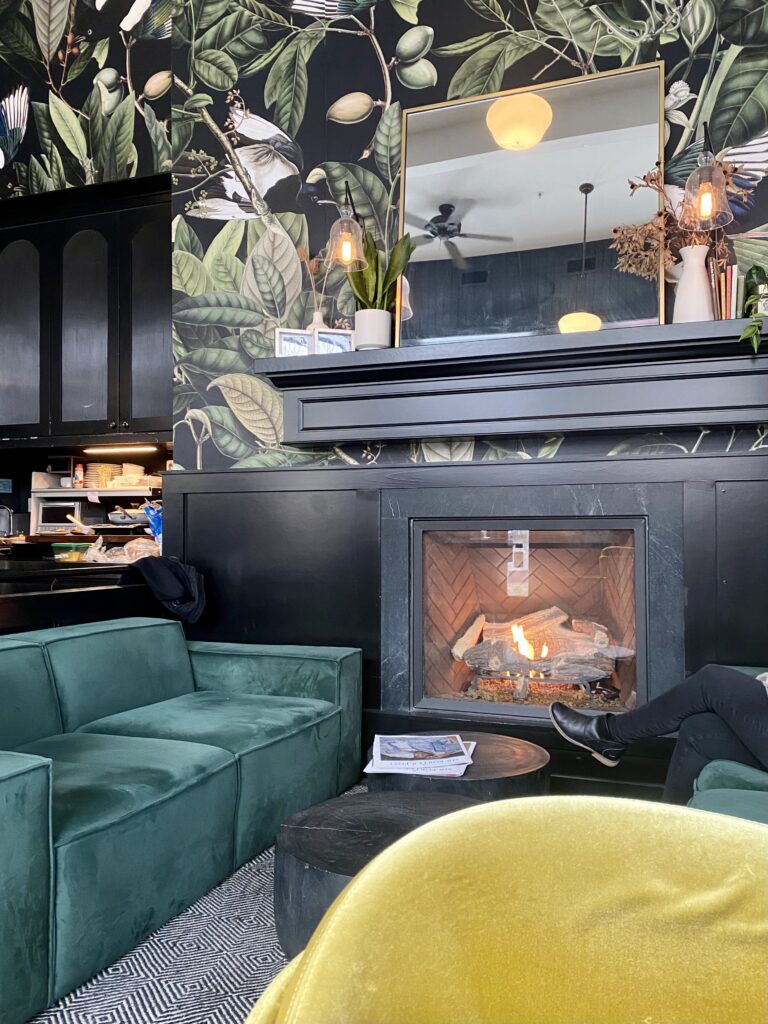 Waterfront Park
Once I was ready to venture out the hotel again, the first of my 3 days in Portland truly began. Just a couple of minutes from the hotel, I reached the Waterfront Park next to the Willamette River. Portland is a city of bridges, with plenty of them spanning the river that bisects the city. Each one is different to the next and I passed several as I wandered south along the banks. Usually, there is a Saturday Market with handicraft stalls, but I had failed in my research here since it was closed for winter and resumes in March. However, I did get to see the iconic white stag Portland, Oregon sign and the old steamboat that houses the Oregon Maritime Museum.
It was a sunny afternoon, and luckily I remembered to bring sunglasses, so it was a pleasant riverside stroll. There were plenty of others out walking, running or cycling as well and I started to get a feel for the city's laidback vibe. Vancouver is fairly chilled, as I think most of the West Coast is in general. But Portland felt smaller and even less hectic, as well as being fairly pedestrian and cyclist friendly, at least for an American city.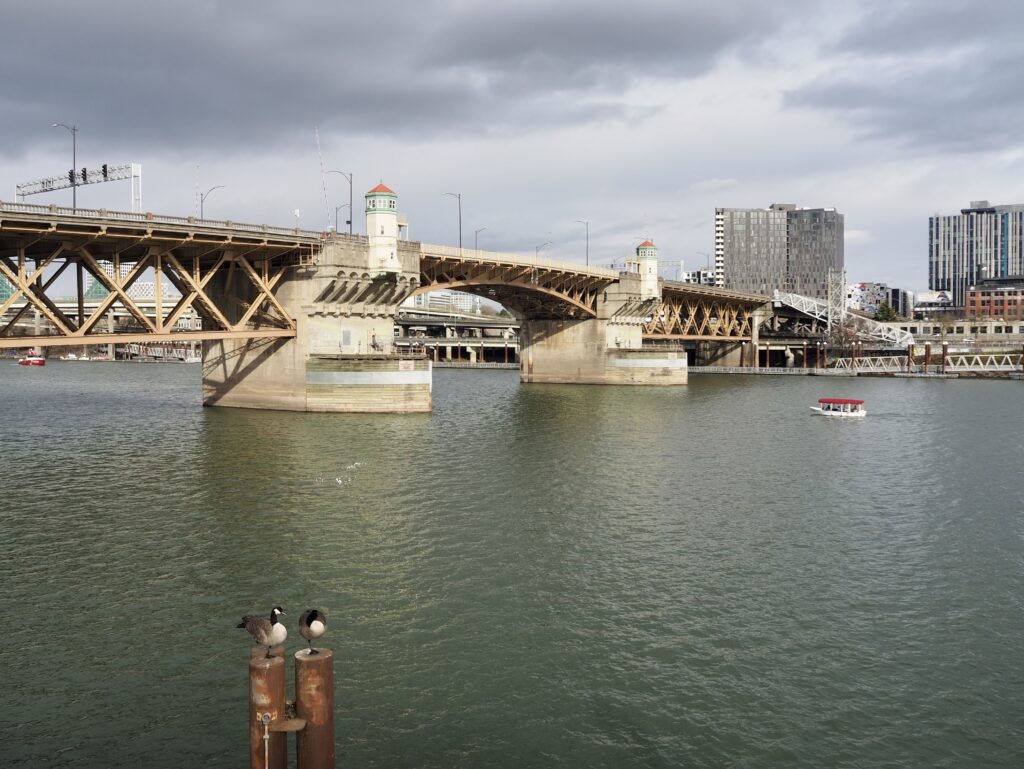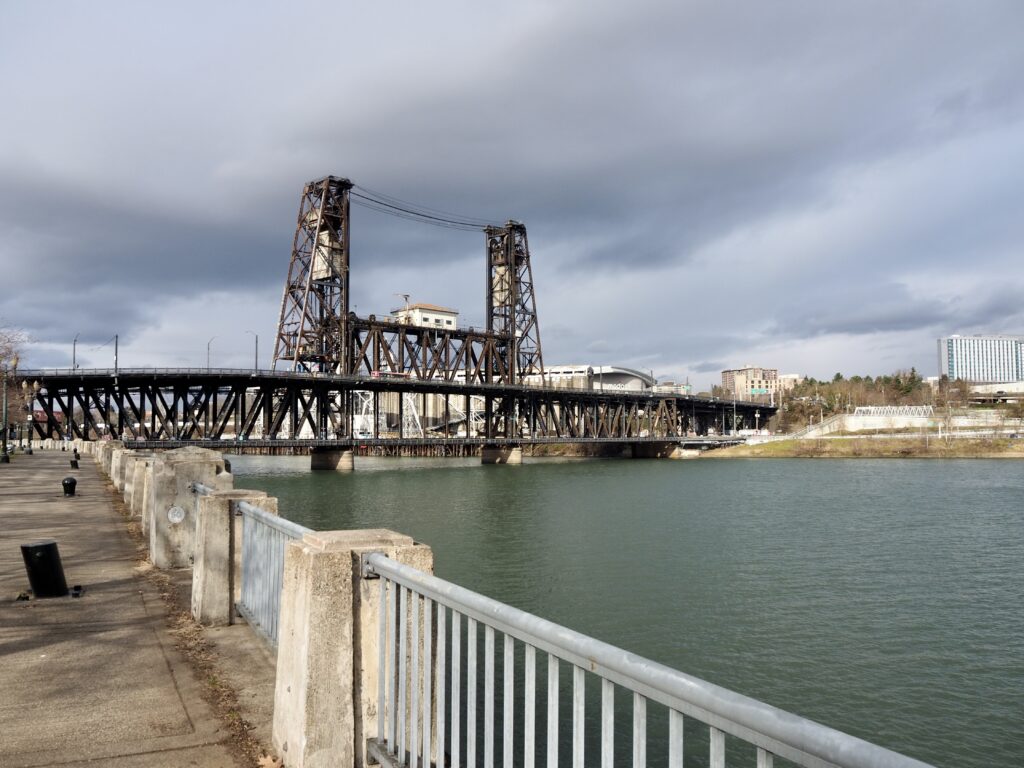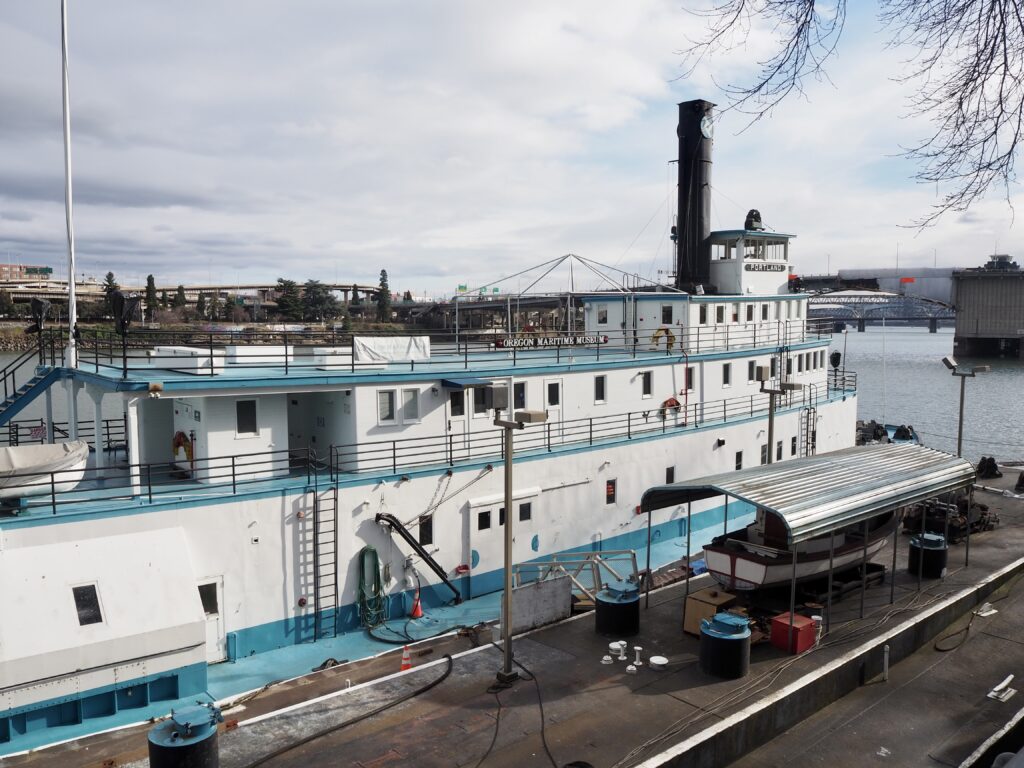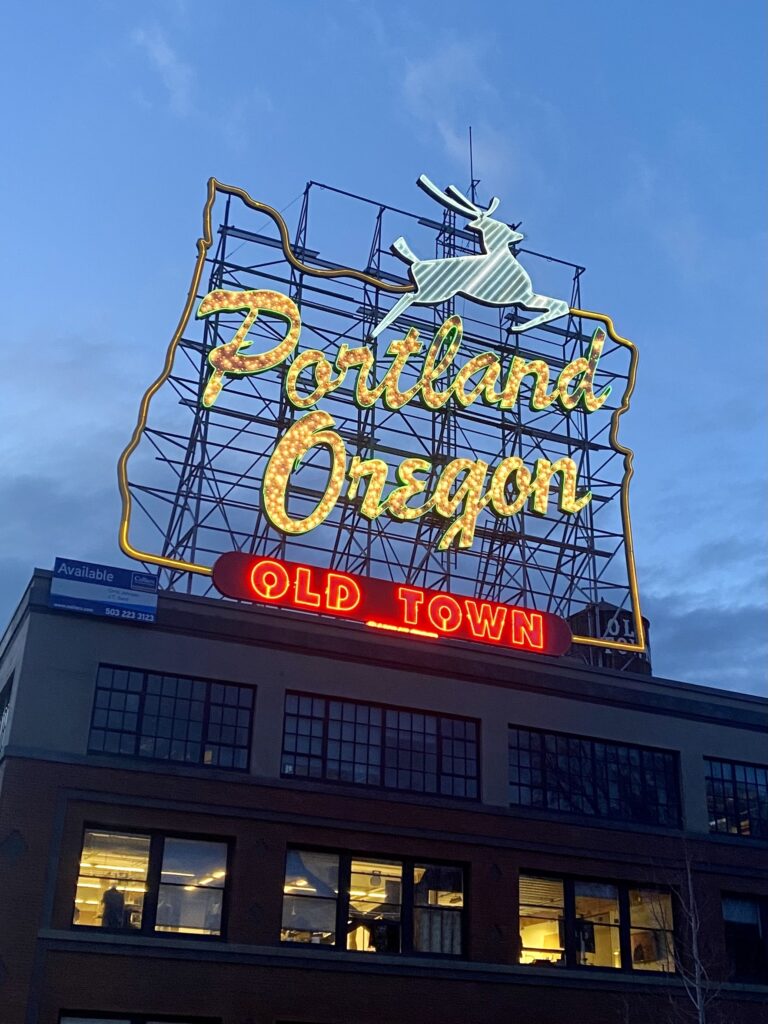 Downtown Portland
Leaving the riverfront, I turned west again to head into Downtown Portland. Still feels weird to say 'downtown' instead of 'city centre', but when in North America, I guess. The city has a saying: "Keep Portland Weird", which is where that hipster perception comes from. I could start to see evidence of this as I roamed downtown, with lots of murals, sculptures and other public artworks scattered through the city. I learned from both tour guides (see below!) that all new developments must give over 1-2% of the building to public art. Portland is also brimming with food carts, microbreweries, cannabis stored, cafes and life music venues, all contributing to its fun, quirky, laidback vibes.
I was also pleasantly surprised by how historic Portland felt. Coming from Europe, everything in North America seems new to me, with 50-year-old buildings that seem modern back home considered ancient here. But compared to the modernity of Vancouver and Toronto, there were far more historic buildings in Portland. Some date back to the Victorian-era settlement of the area. There's lots of exposed red brick buildings and pavements, and various Art Nouveau or Art Deco finishings. I've heard North American cities can feel a little generic, and I have found that at least partly true in Canada, but Portland definitely had a unique feel, at least compared to what I've seen so far.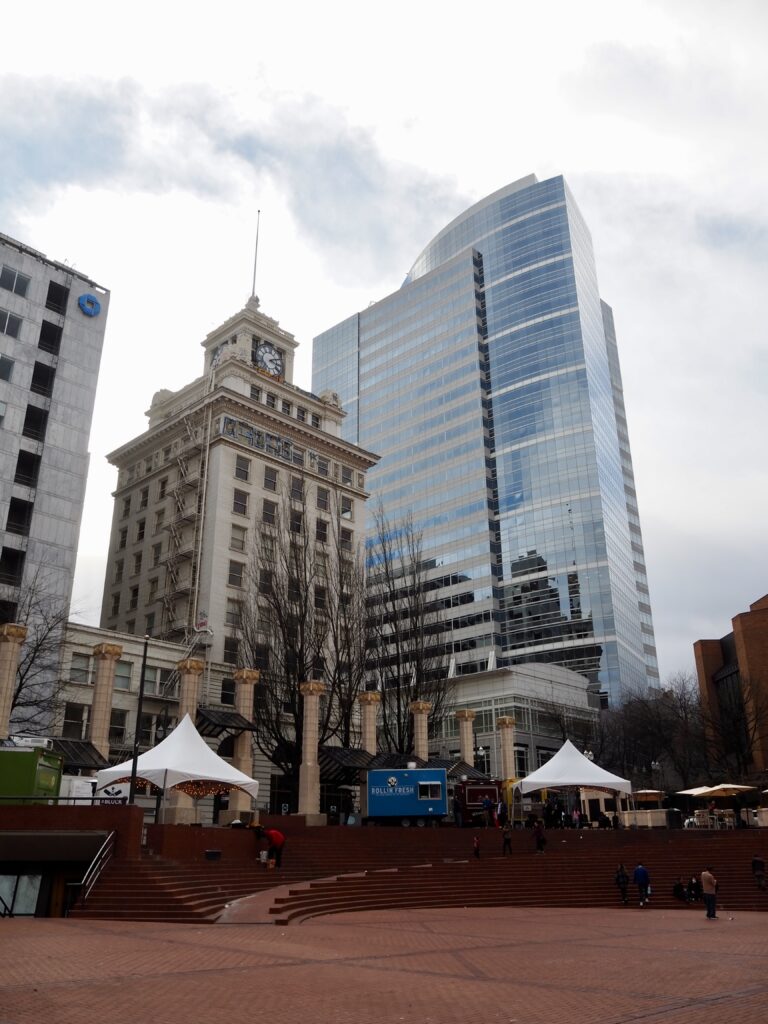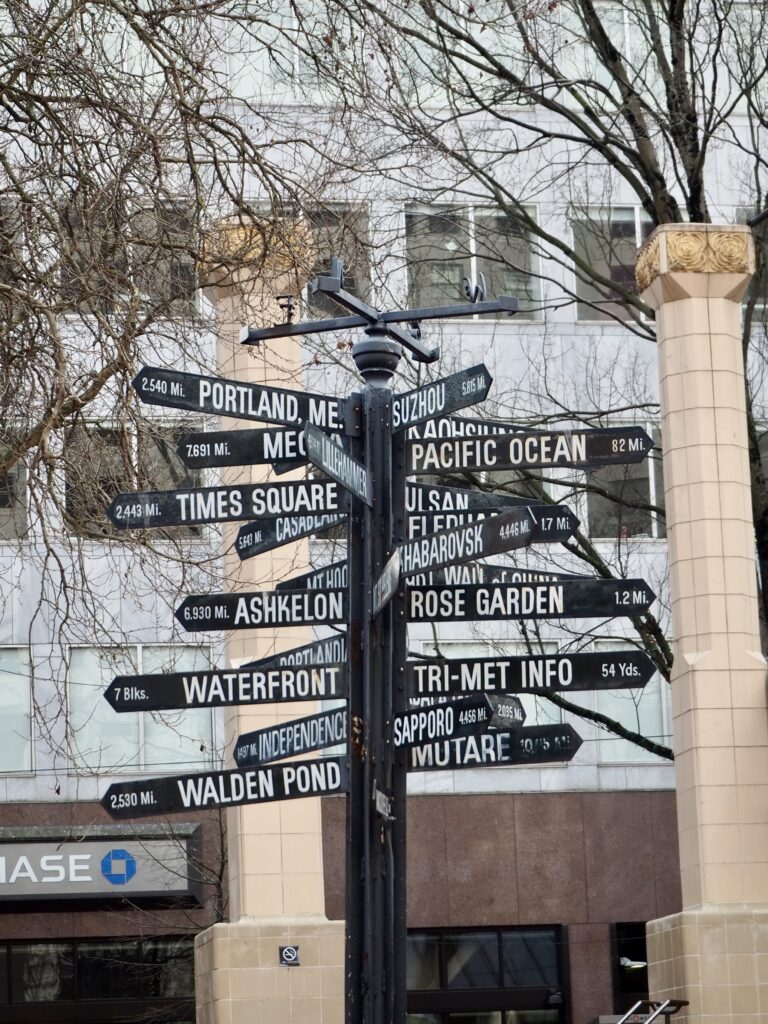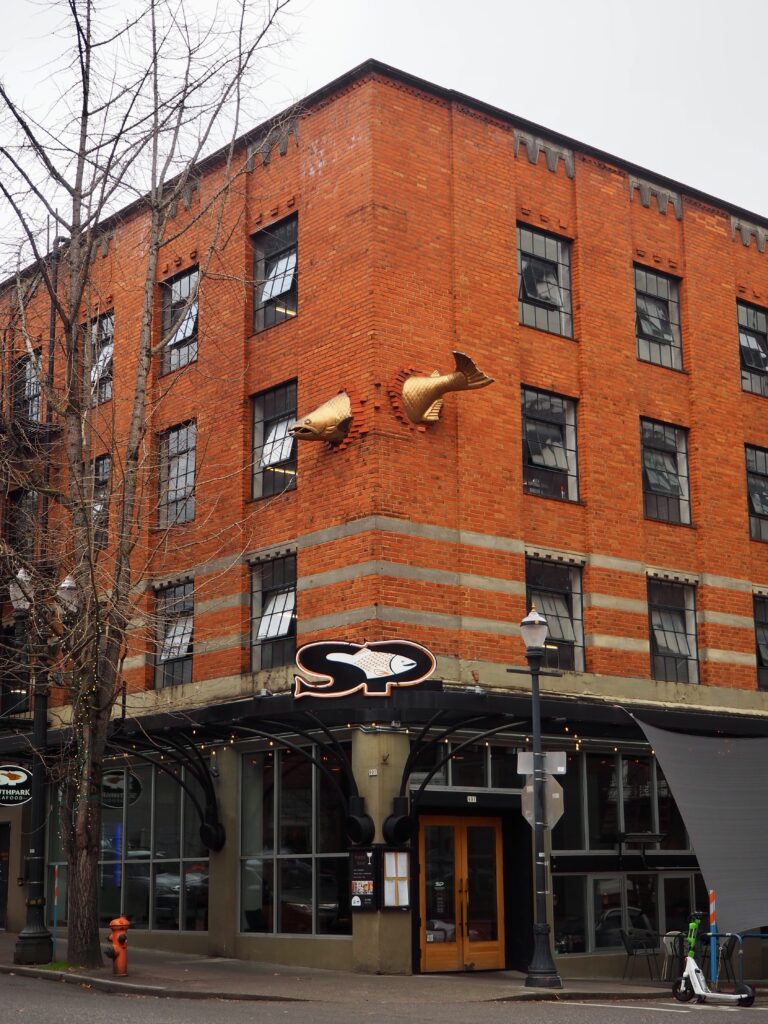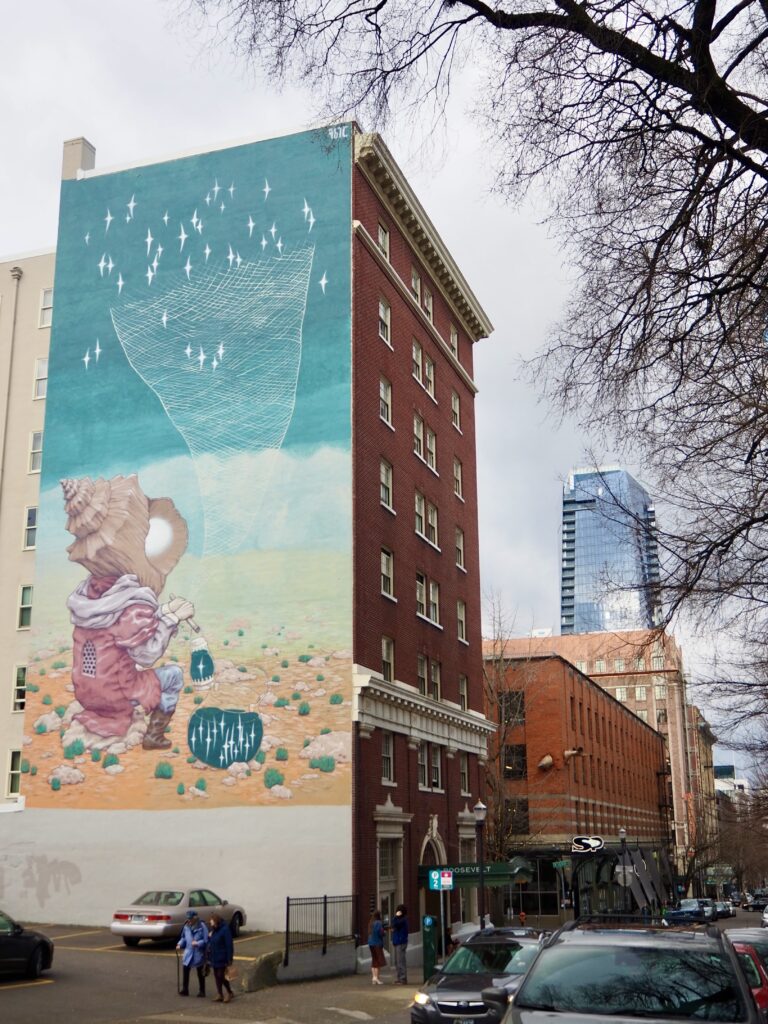 Portland Art Museum
My vague ramble through Downtown eventually brought me to the Portland Art Museum. Which is far bigger than I first realised since it was two separate wings! The first had a strong focus on Indigenous art and the slightly older (19th century) Euro-centric art, while the other wing is all modern and contemporary. There were a few temporary exhibits as well, which featured more contemporary Indigenous artists so it was cool to see the traditional influence on their work. I definitely enjoyed seeing the art that was local to the area the most, being something unique to this part of the world. Though I did also thoroughly enjoy the Impressionism gallery – I was not expecting them to have one of Monet 'Water Lilies' series! Modern and contemporary art is less my thing, so I did move through those galleries a little quicker than others.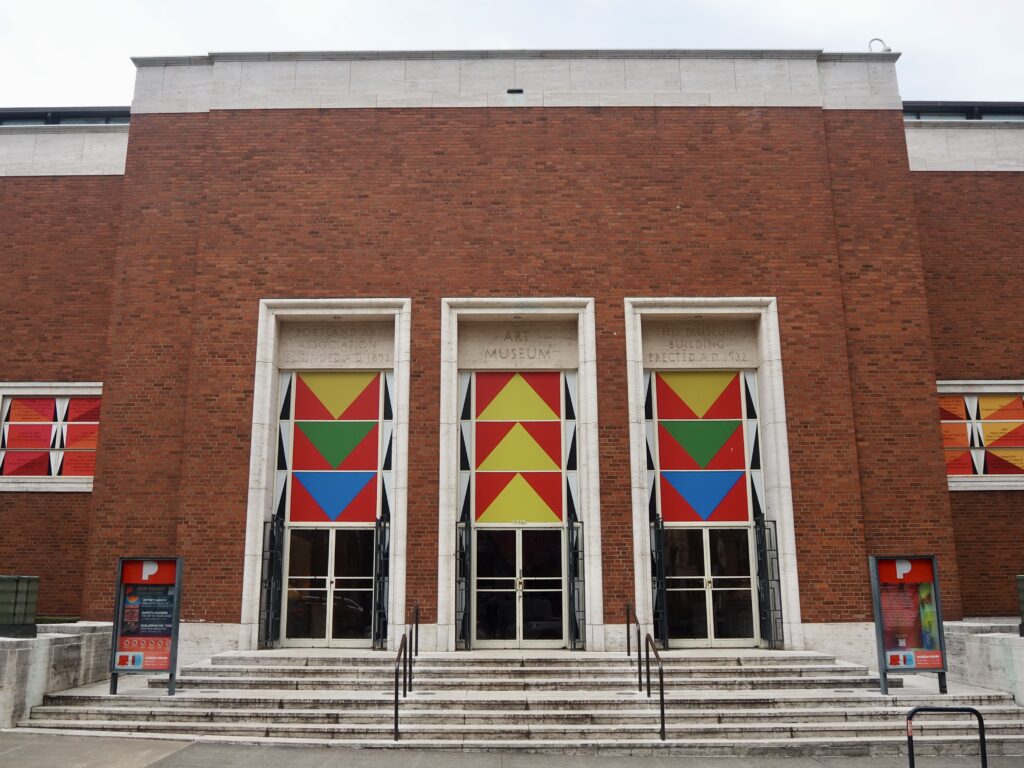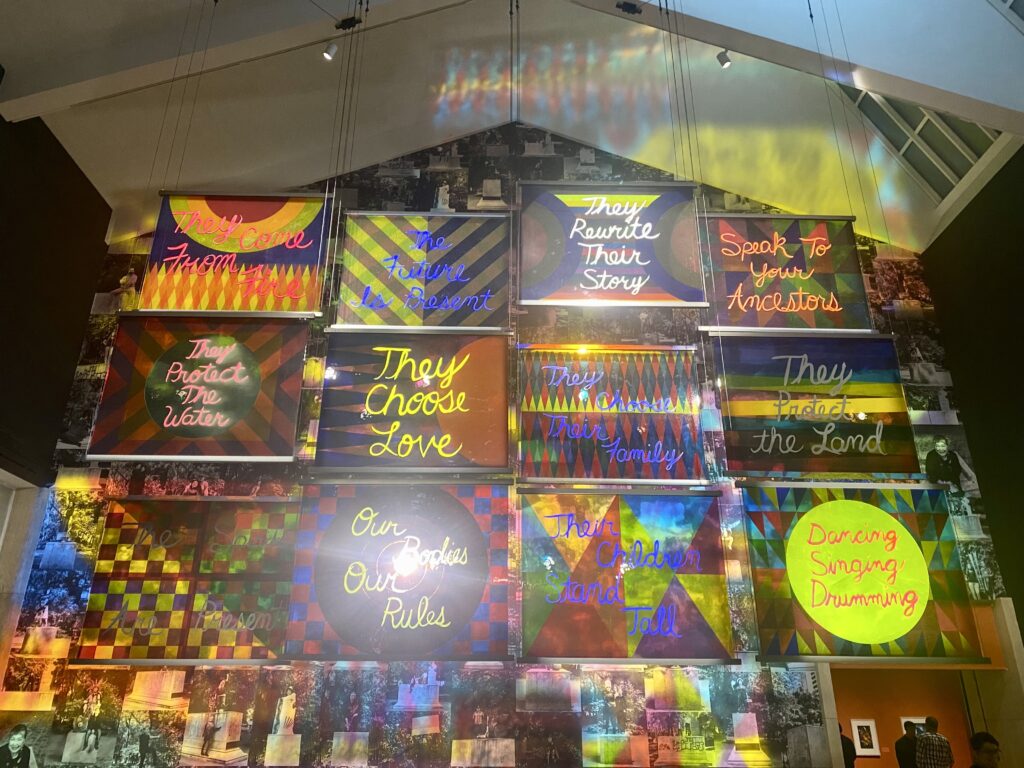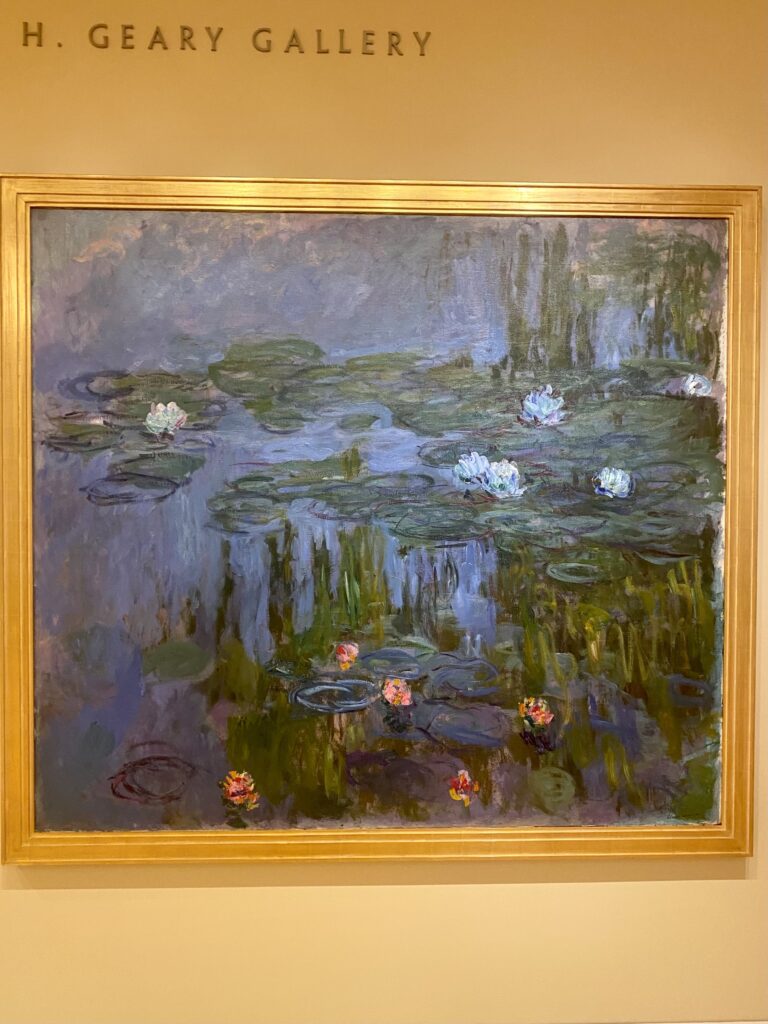 Weird Portland Microbrewery Tour
After leaving the gallery, I wandered back to the hotel to relax for a bit, then headed out again for the evening. I typically don't go out after dark myself wherever I'm travelling, as I just don't feel super comfortable going for dinner or drinks alone. However, my research into Portland just before the trip had revealed a big microbrewery scene here. I was curious to check this out, and came across BeerQuest Tours who offer a few brewery tours. I chose the 'Weird Portland' one, to hear some of the wackier stories. It was a good way to learn more about the city and feel safer out at the bars with other people. A few of us were even able to share an Uber back to downtown later.
The tour took place on the east side of the river, taking in three bars with their microbreweries attached, Rogue, Lucky Labrador and McMenamins Barley Mill Pub. Each one had something that made it unique, from the giant 'Dead Man' skeleton in Rogue, the dog theme in Lucky Labrador and The Grateful Dead inspired decor of Barley Mill. The ticket for the tour also included a flight of 4 beer samples in Rogue; then in the other two, we each picked our own pints, which was mainly me choosing the fun sounding names. Our tour guide gave us an overview of the brewery scene in Portland in general, before delving into the various weird stories Oregon boasts. Which included (but was not limited to), D.B. Cooper, the McMinnvile UFO sightings, the Belmont goats and blowing up a whale carcass with dynamite. Yes, Oregon is weird.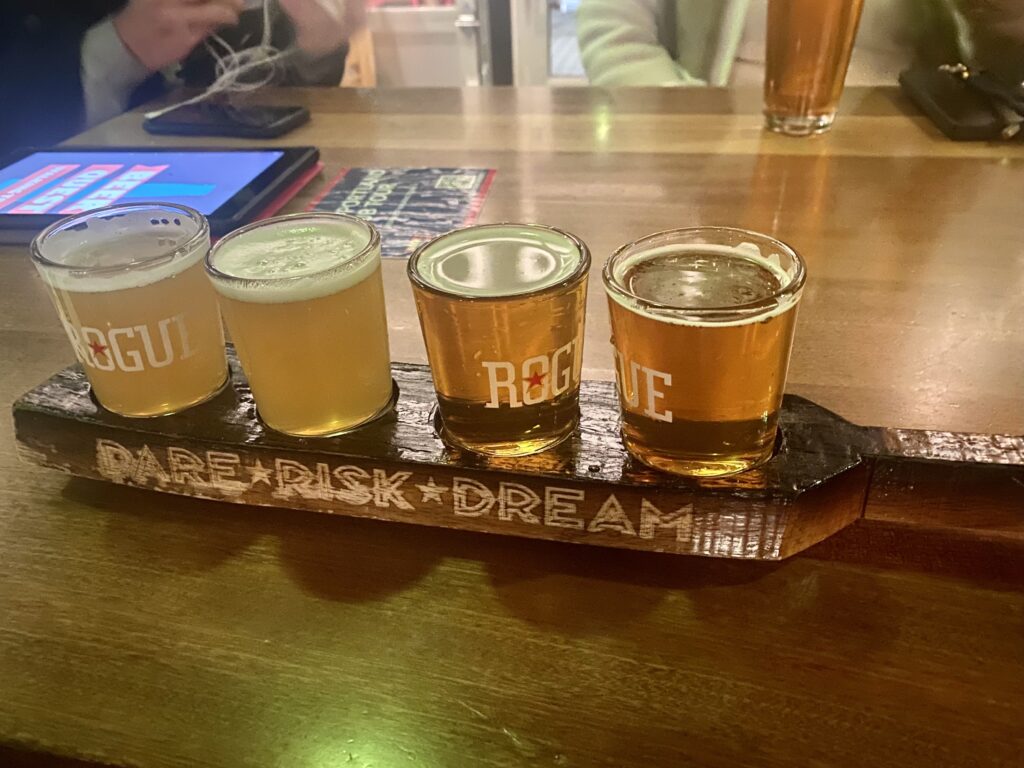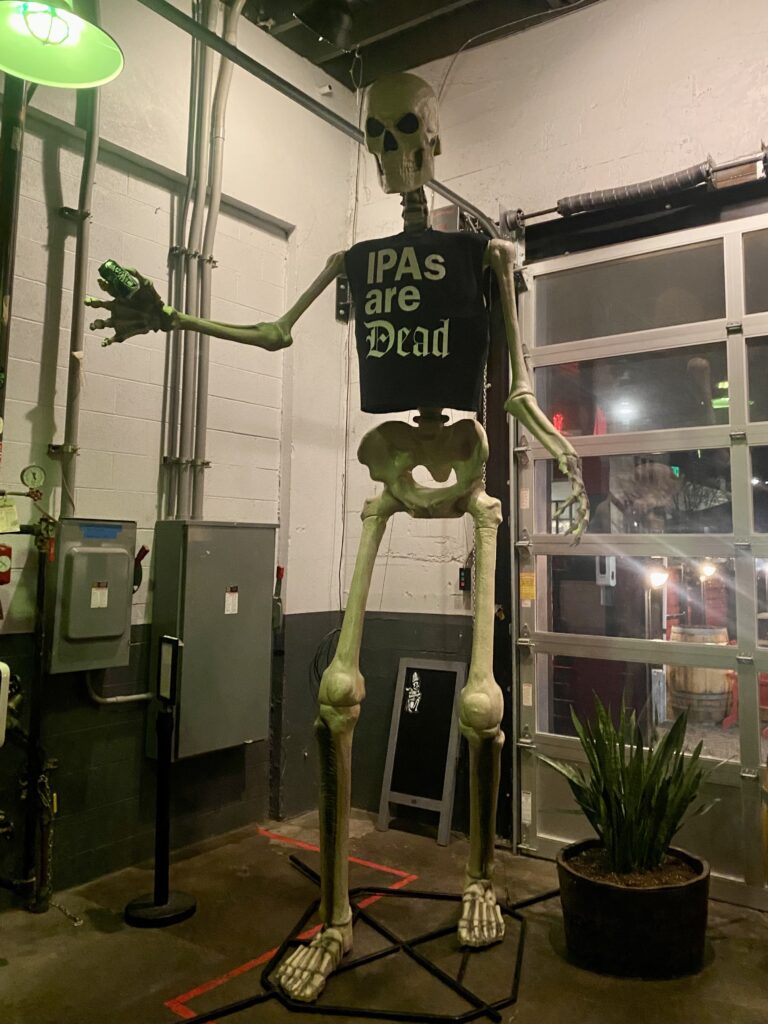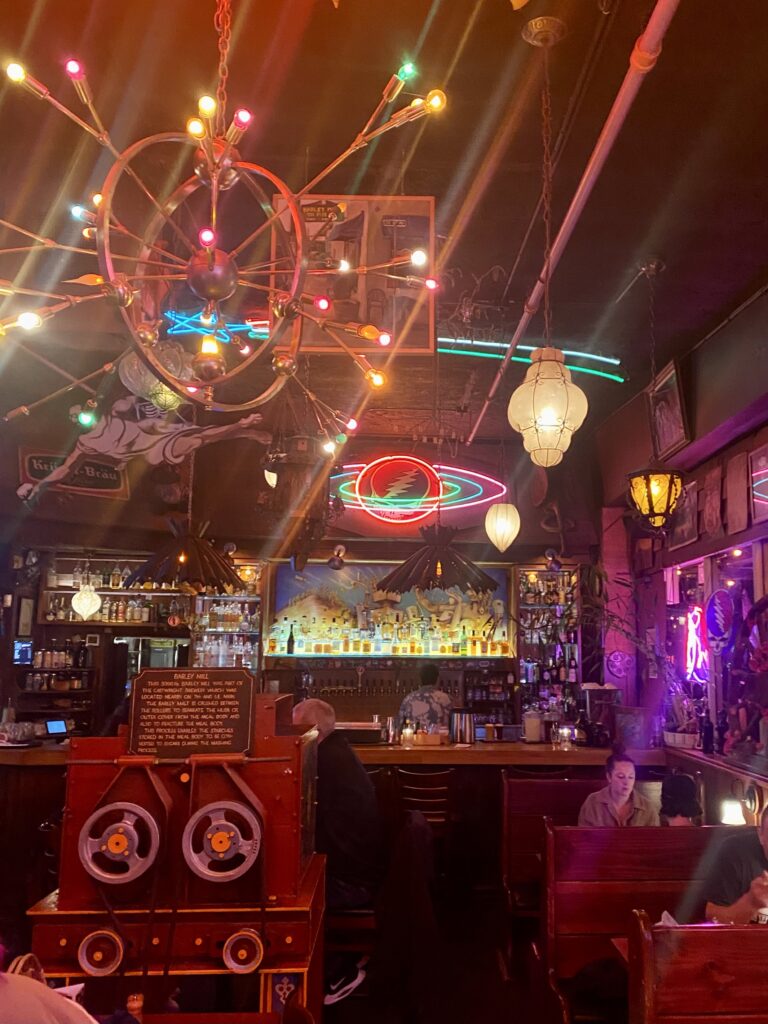 ---
Day Two
Around Portland Walking Tour
After catching up on sleep lost the night before, day two of my trip to Portland began with a walking tour with Around Portland. I was actually meant to do this the afternoon before but had to reschedule when my journey got delayed. The tour started from Discovery Square, spent a good portion along Park Avenue and looped through Downtown to finish at Pioneer Courthouse Square. The guide was very chatty and knowledgeable and the small group made it easy for her to point out things while walking, rather than having to re-gather a large group every few metres.
She touched on some of the 'weird' parts of Portland as well, like the weather machine in Pioneer Courthouse Square and the Portlandia statue that was their answer to Lady Liberty. It was also a recurring theme that many buildings were destroyed or remodelled in the 1950s when they found most were far from earthquake proof! The tour also had a big focus on social justice and didn't shy away from the uglier parts of history. This included the Lewis & Clark expedition, the treatment of Indigenous peoples and the racist laws that made Oregon a predominantly white state. This spanned contemporary issues too, particularly the 2020 season of protests and issues of police brutality.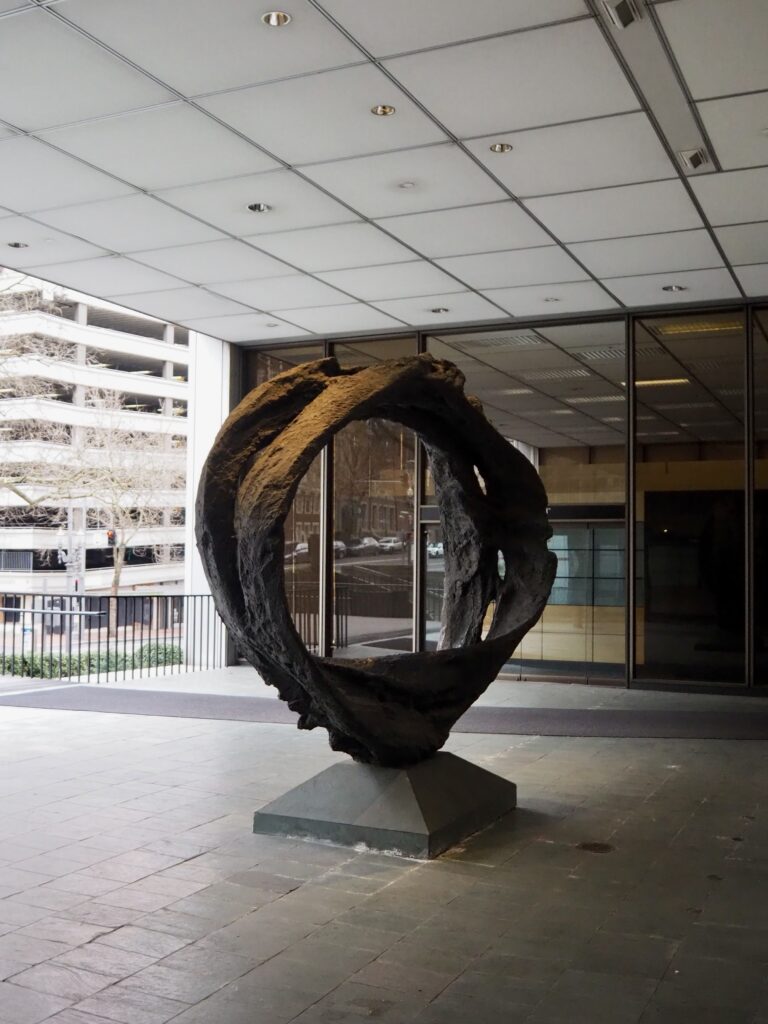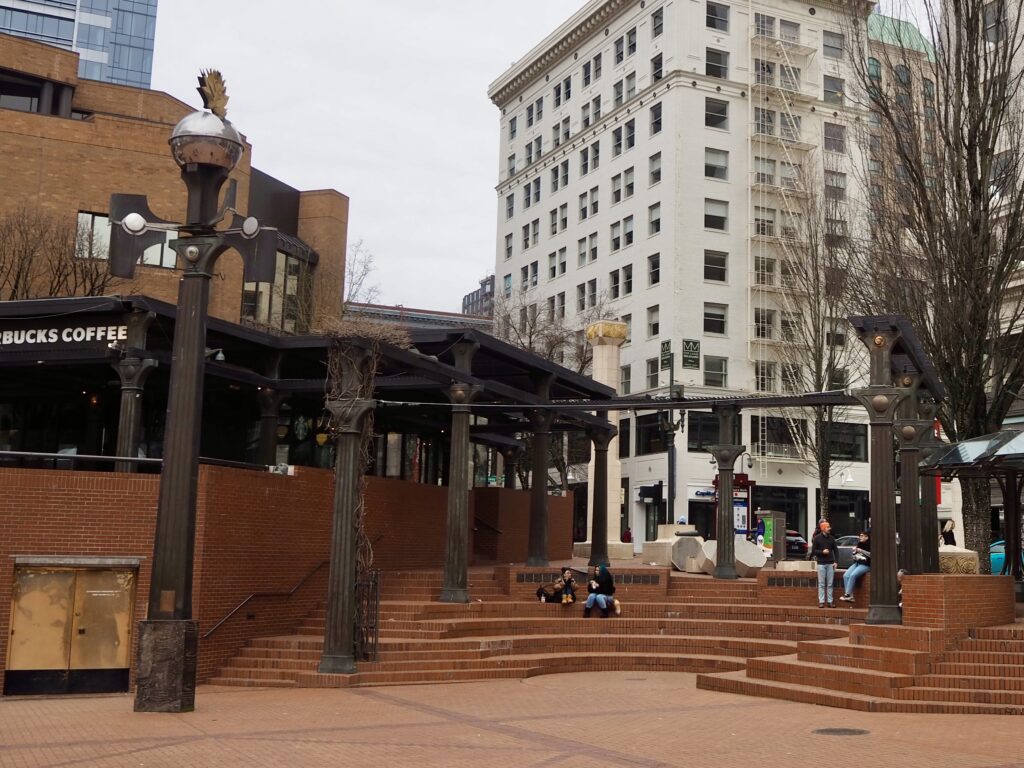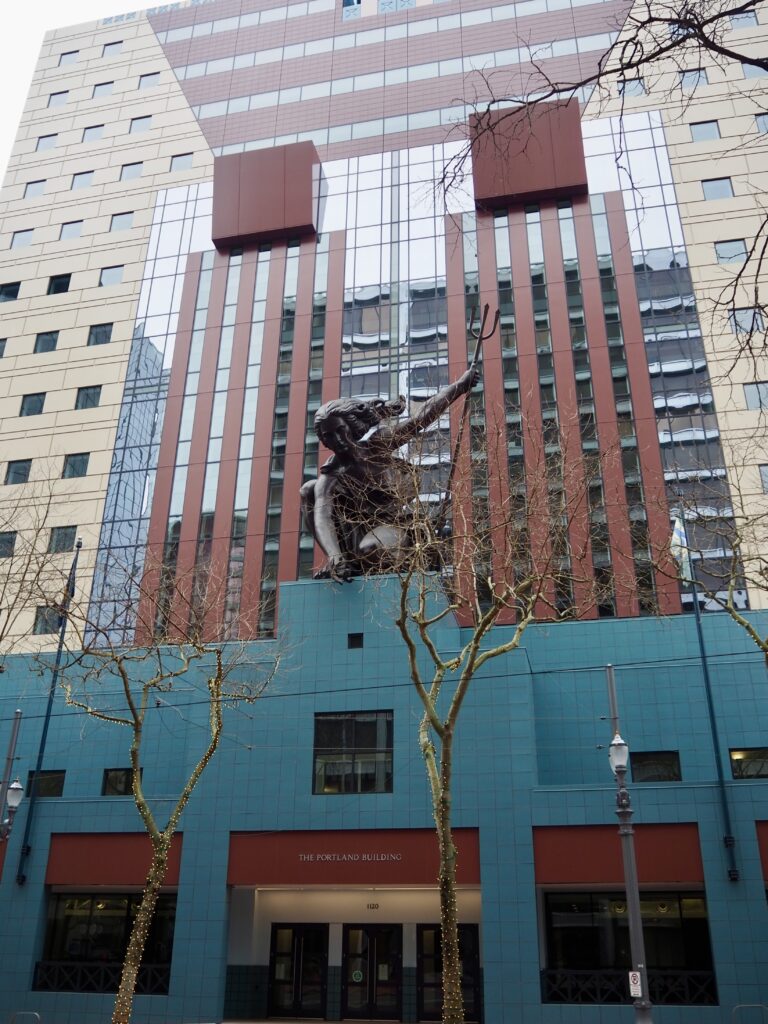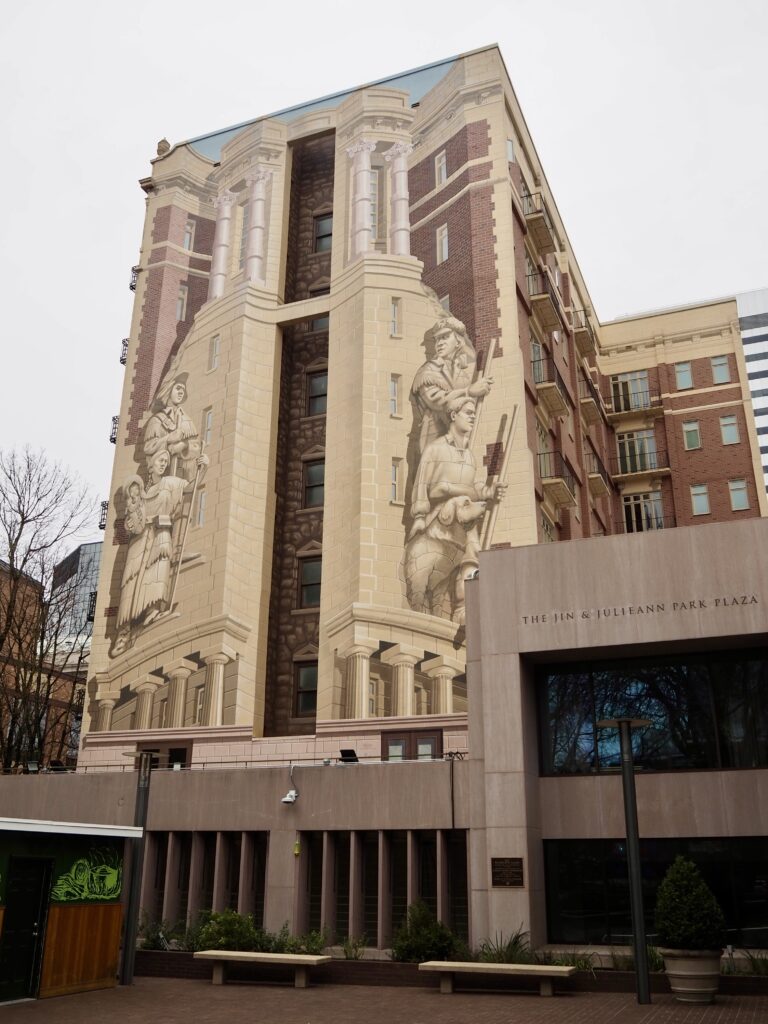 Pine Street Market
The tour lasted around 2 hours and I was ready for coffee and food by the time it was over. My hotel had lists of suggested restaurants in the elevator, and I was most intrigued by Pine Street Market. Portland has food carts all over the city, mostly outdoors. They are carts rather than trucks, since most are trailers that lack their own engines! There are plenty of food tours of them available, but after doing two already, I was toured out. Pine Street Market is a covered venue housing about half a dozen carts. It has a bar at the centre and lots of seating too. I browsed the various cuisines on offer, before settling on some Chinese dumplings. After eating, I picked up a coffee from Stumptown, one street over – Portland isn't lacking independent cafes either!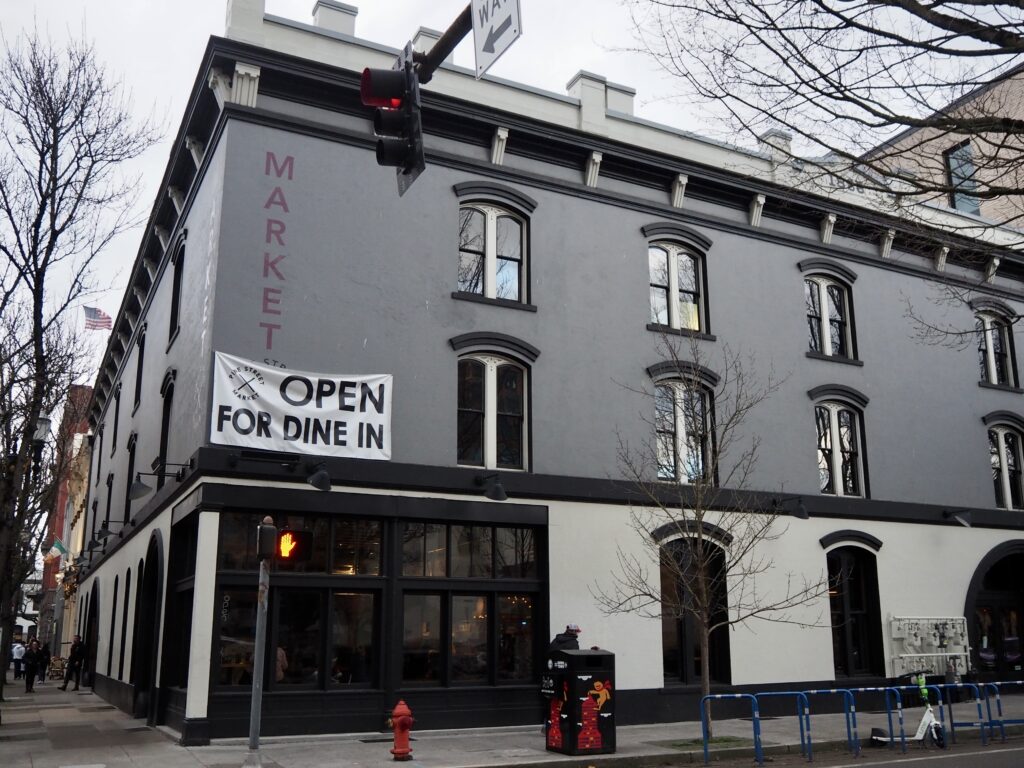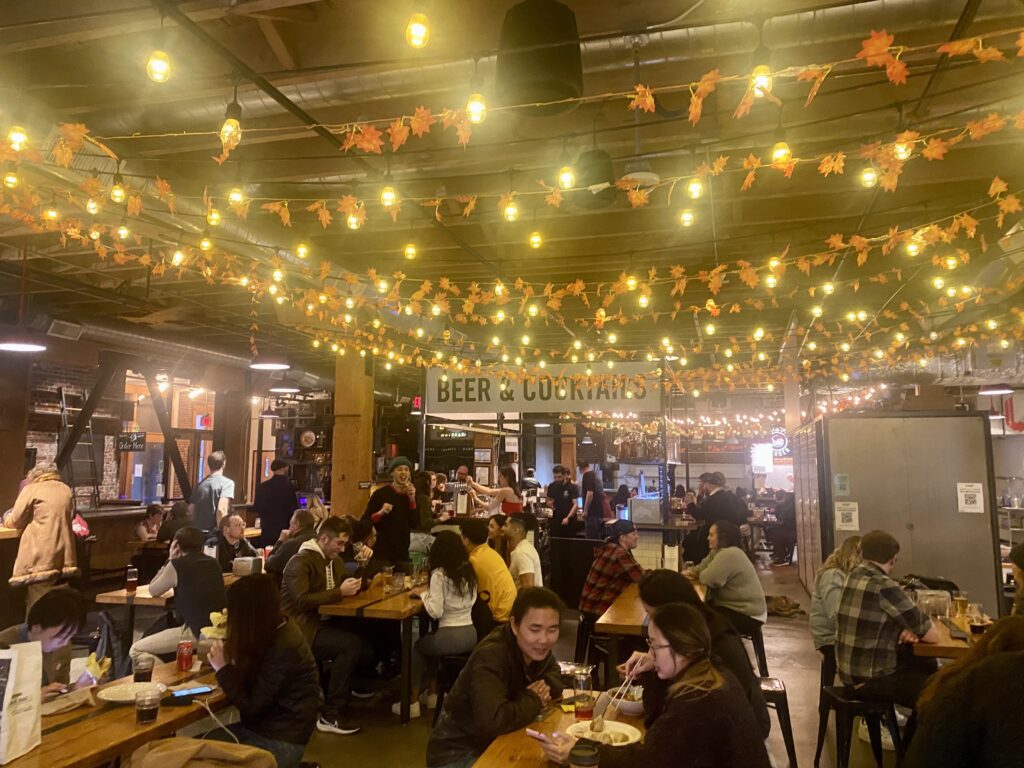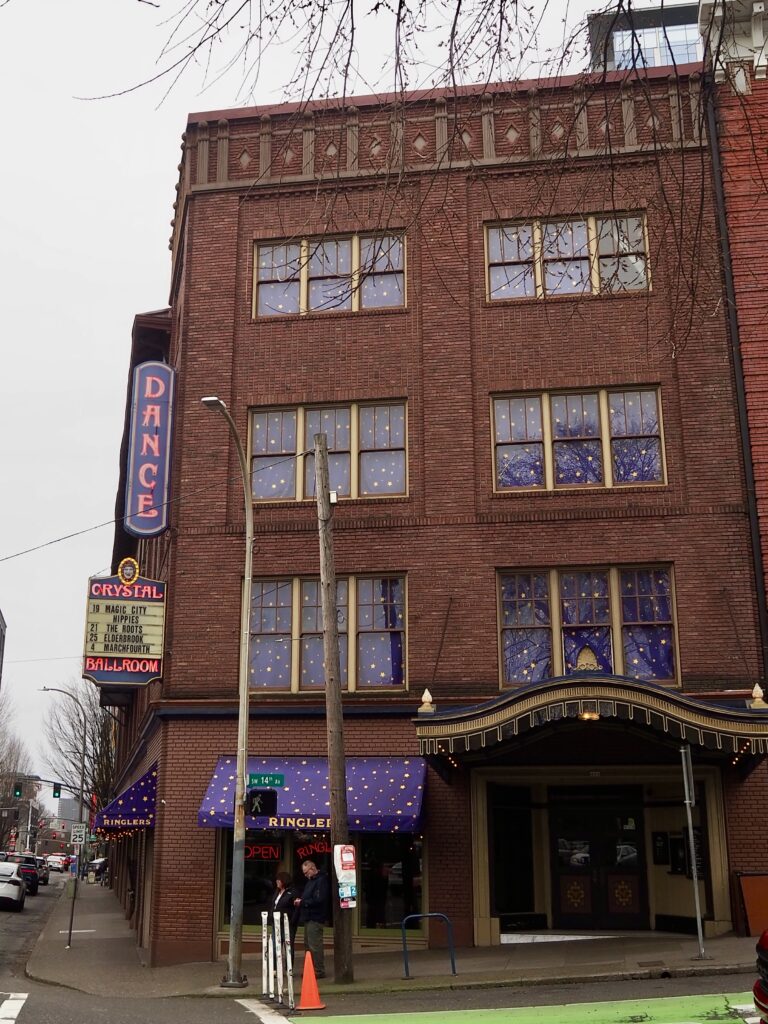 Washington Park
Since this was my only full day of my 3-day Portland trip, I wanted to use it to venture further afield than the city centre. Just west of Downtown lies Washington Park and Macleay Park. Originally, I planned to visit both and find the Witch's Castle in the latter. However, they were on a larger hill than I had expected and honestly, stopping work as a walking tour guide has definitely impacted my fitness! Plus, I was still tired after the long journey yesterday. I did walk the half hour there and back from Downtown to the Washington park entrance though. On the way, I passed by a few of the city's music venues, including Dante's and the Crystal Ballroom.
I scaled the hillside of Washington Park, heading up to the Rose garden, though of course, nothing is in bloom in February. From there, I spent an hour or so following the Wildwood Trail through the Pacific Northwest forests. It was reasonably busy, being a weekend, but still a quiet break from the urban city environment. I enjoyed the Redwood grove too, the iconically tall trees stretching skywards. I ended up crossing the pedestrian bridge over Burnside Road and ending up at Pittock Mansion. I've seen plenty of stately homes before, so wasn't bothered about paying the entrance fee to go inside. It then took me a while to get down from the hillside again, having to zigzag through residential streets for a while.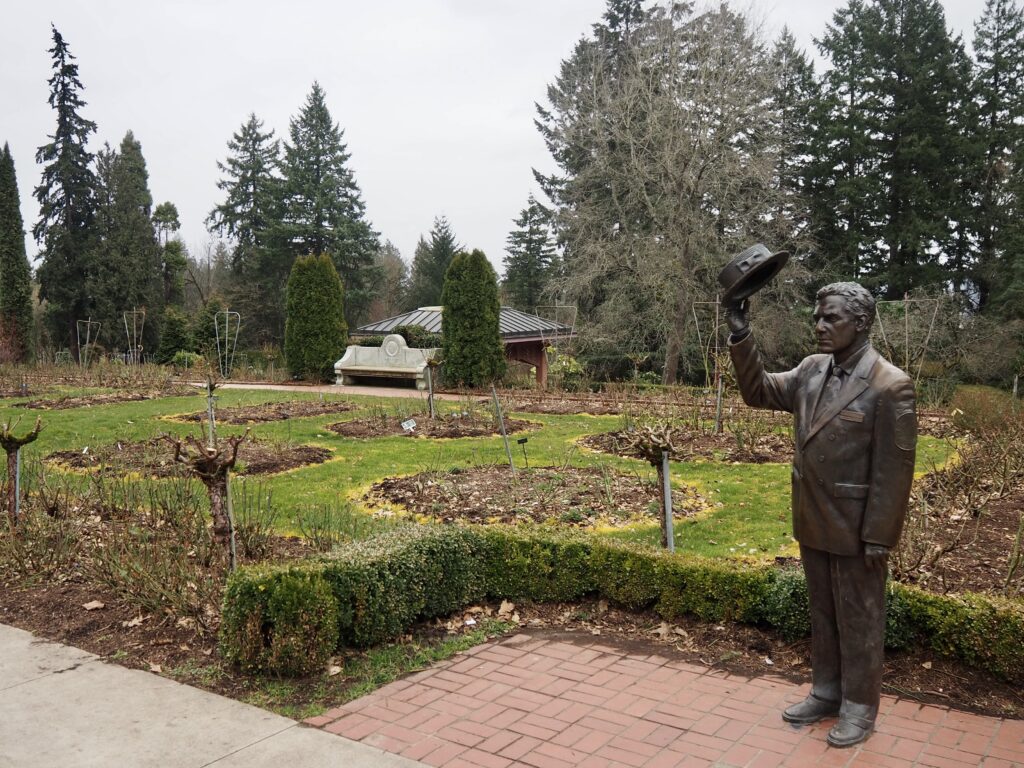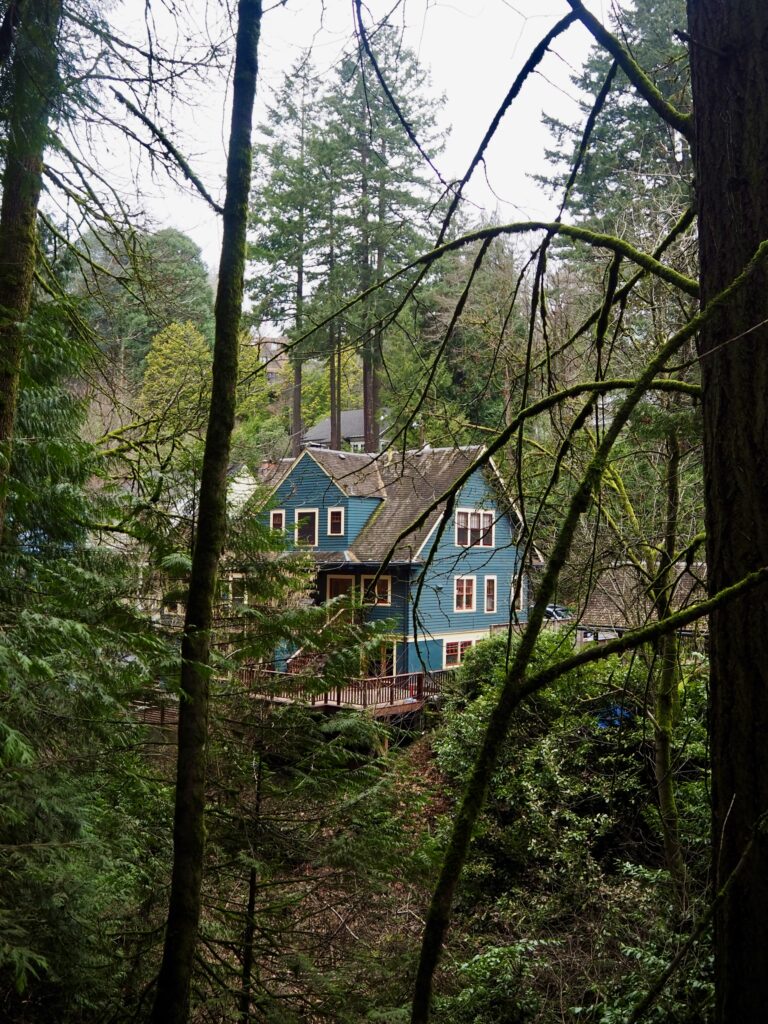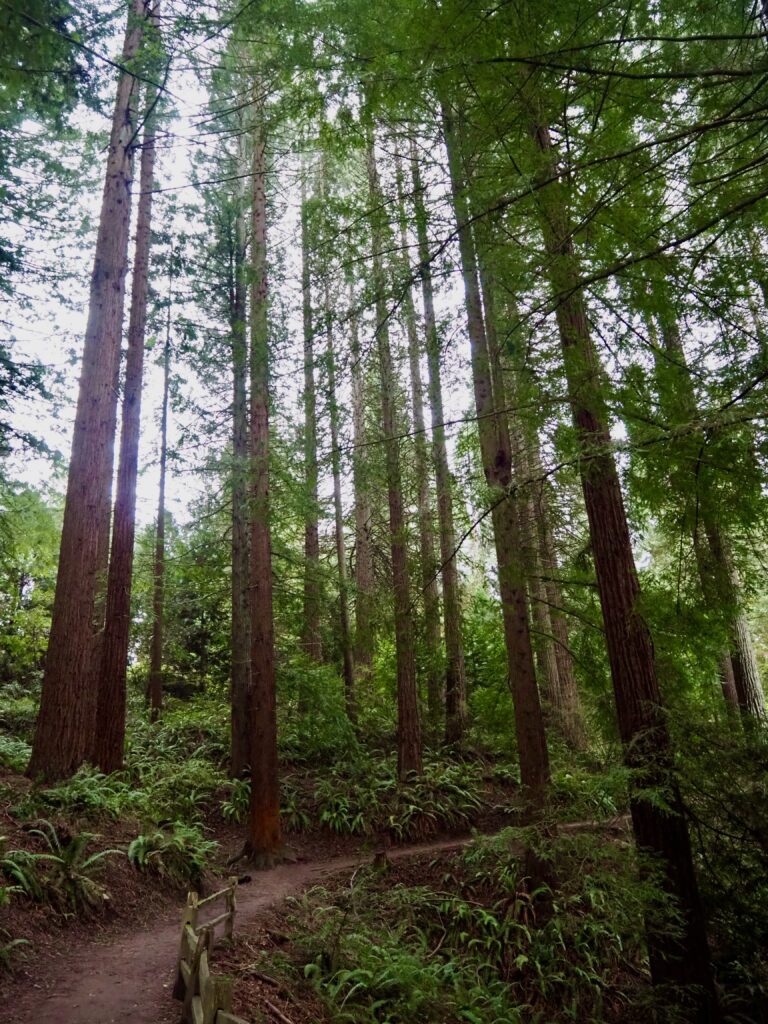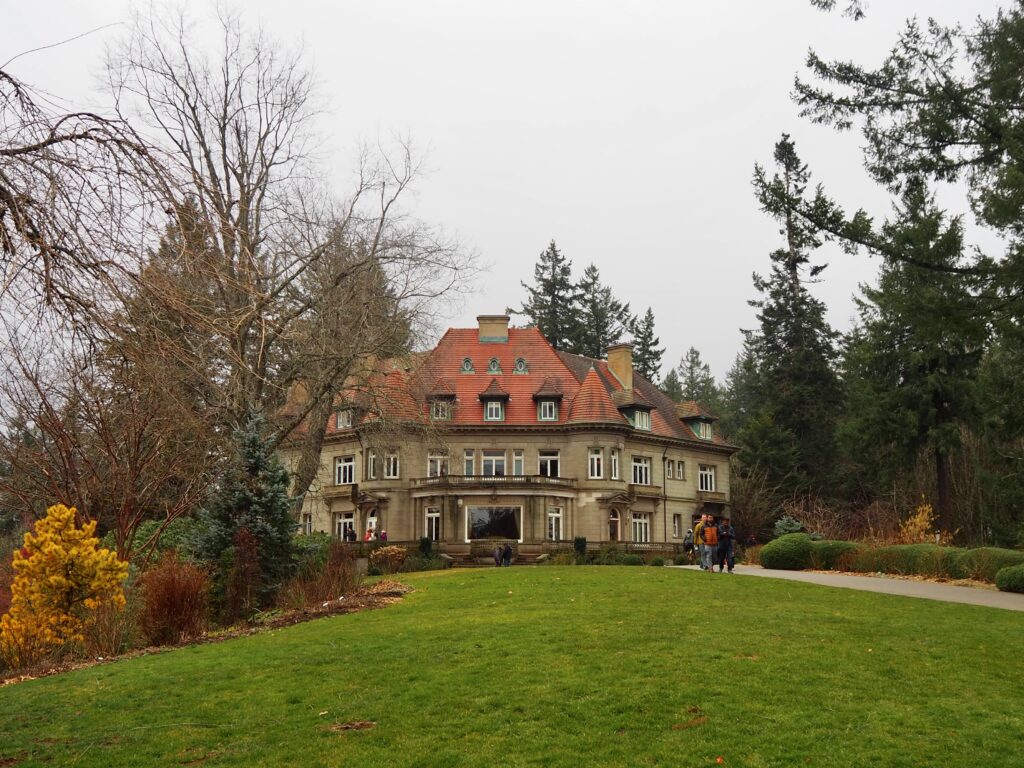 Voodoo Doughnut
I was pretty exhausted by the time I returned to the city centre, so what better way to recharge than with sugar? Voodoo Doughnut is an iconic Portland institution that's been around for years. I'd already seen lots of people walking around with their bright pink doughnut boxes since I arrived in Portland. It's open 24 hours a day, but I think the wee hours of the morning is probably the only time there isn't a queue. I had to wait about half an hour to get inside. However, I think I needed most of that time to decide what to order!
The menu is on the building exterior, and there are about 30 flavours to pick from. They range from the traditional to pop culture references to the outright weird. It was impossible to pick just one, so I got a few to enjoy over the next couple of days. I knew I wanted their signature Voodoo Doll, which comes with a pretzel stick for stabbing. I also got the Vicious Hibiscus and the Dirty Old B*stard. Plus one other with a rude shape and a white creamy filling…
The doughnut shop was pretty close to my hotel too, so I didn't have far to transport my pink box back. I picked up something for dinner too (because we can't only live off desserts). Then I had a quiet night in, to rest up before another big day.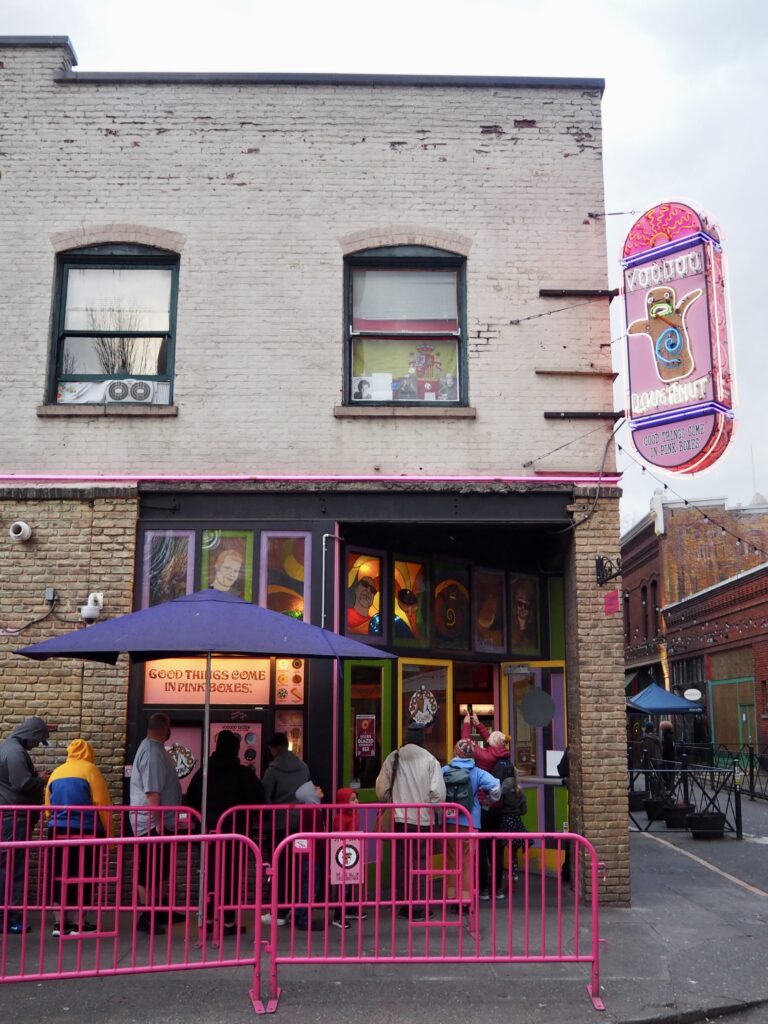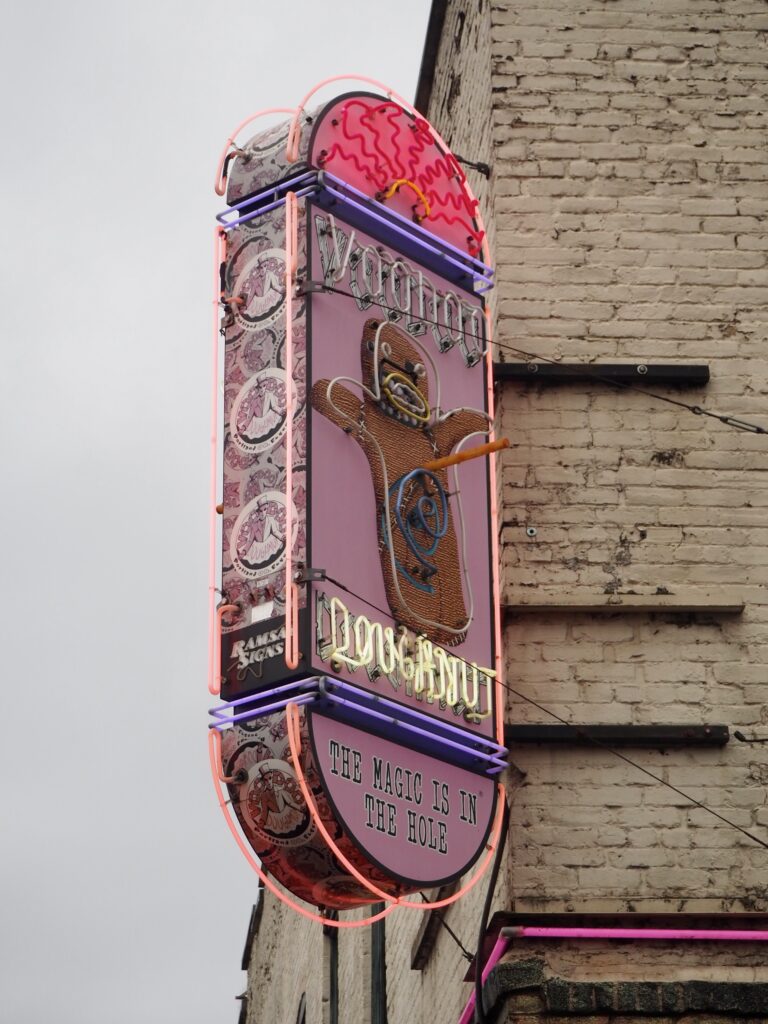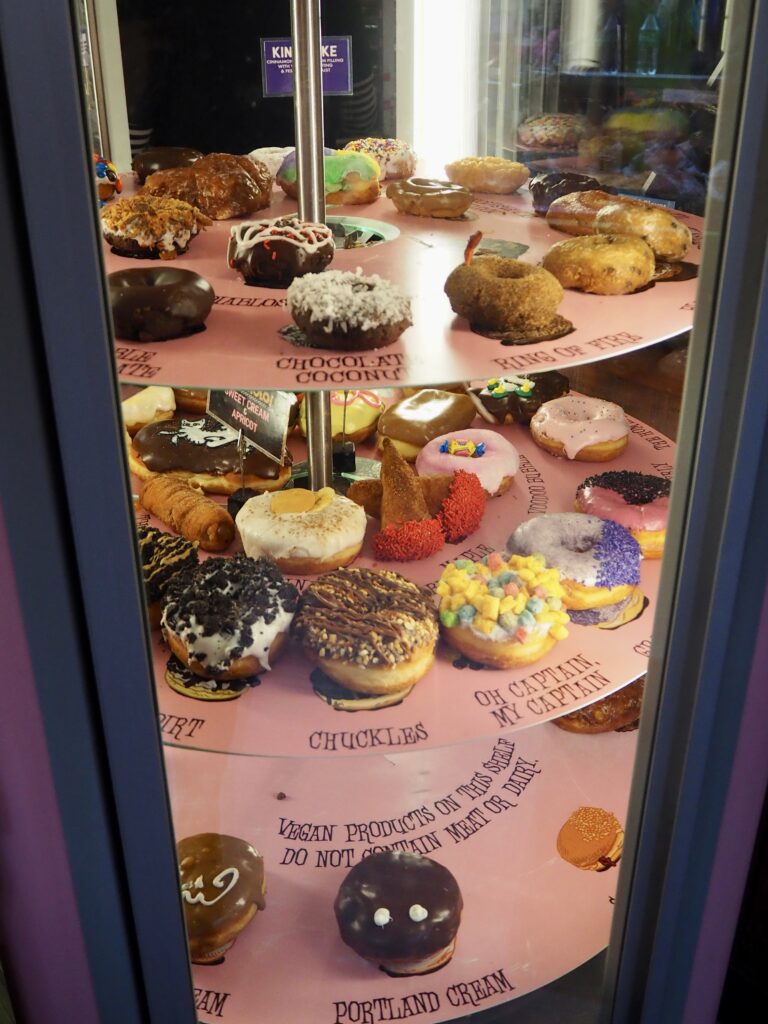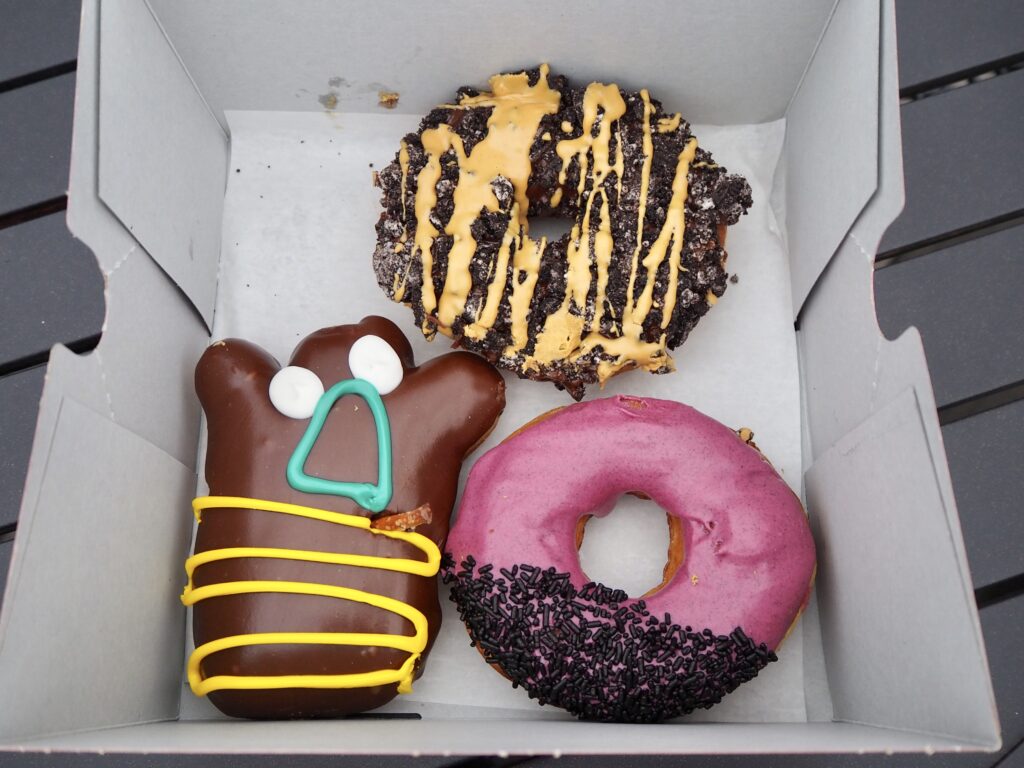 ---
Day Three
Pioneer Place & Gallery Go Go
The final day of my 3-day Portland trip began with a long lie in bed! I checked out of the hotel late morning then ambled back towards Downtown. If you've read my travel blogs before, you may know that I like to collect magnets from my travels. There's no pattern to whether I get them per city or country or trip. But since Canada and the US are both so large, I'm leaning towards one per state or province this year. I hadn't seen many obvious souvenir shops so far, but a quick Google map search pointed me to Pioneer Place. This shopping mall houses quite a few designer stores, which are not my thing. But there was also a 'Made in Oregon' shop which I had a wander round and picked up a Portland magnet.
While in the shopping centre, I noticed some signs about a gallery exhibit. It didn't take me long to find Gallery Go Go on one of the upper floors. It's an art gallery but also a shop with the works for sale, as opposed to a museum. There was nothing I liked enough to drop that much money on (or fit into my backpack) but it was cool to look around. I especially liked the hidden mirror displays in a back corner that I nearly missed! This also felt like another prime example of Portland's weird quirkiness!
Speaking of, after Pioneer Place I picked up a coffee from Less and More Coffee. This was a recommendation from the tour guide yesterday, as the owner is like an award-winning barista. The 'weird' thing about this place is that it's inside an old bus shelter! The coffee was very good too.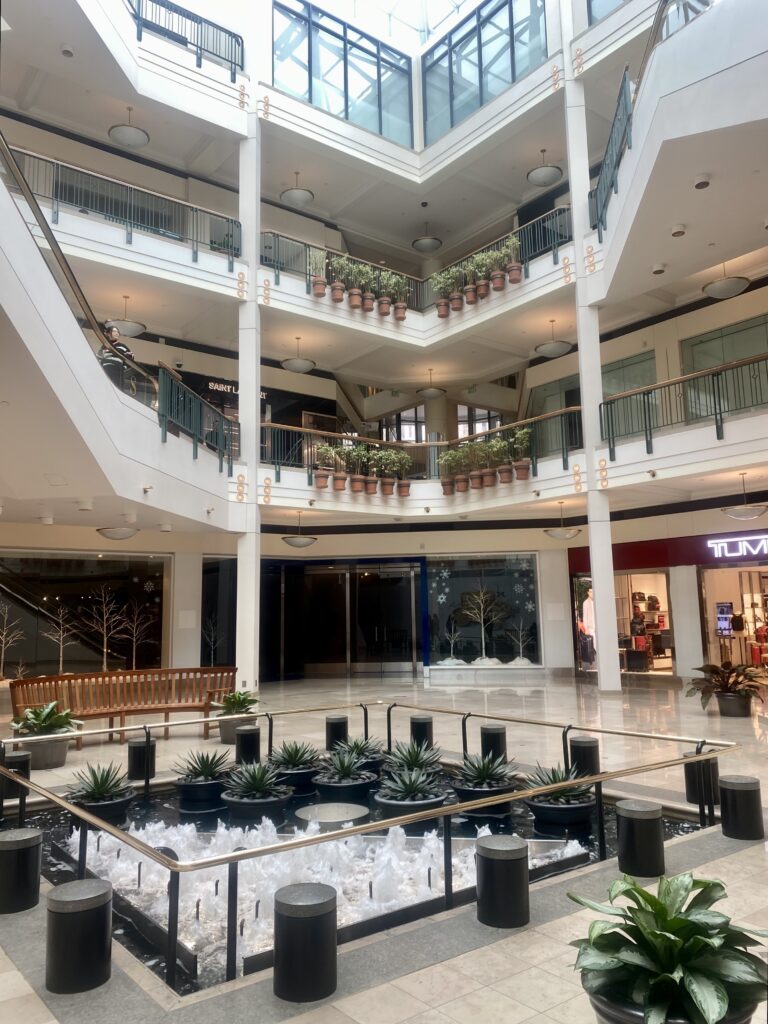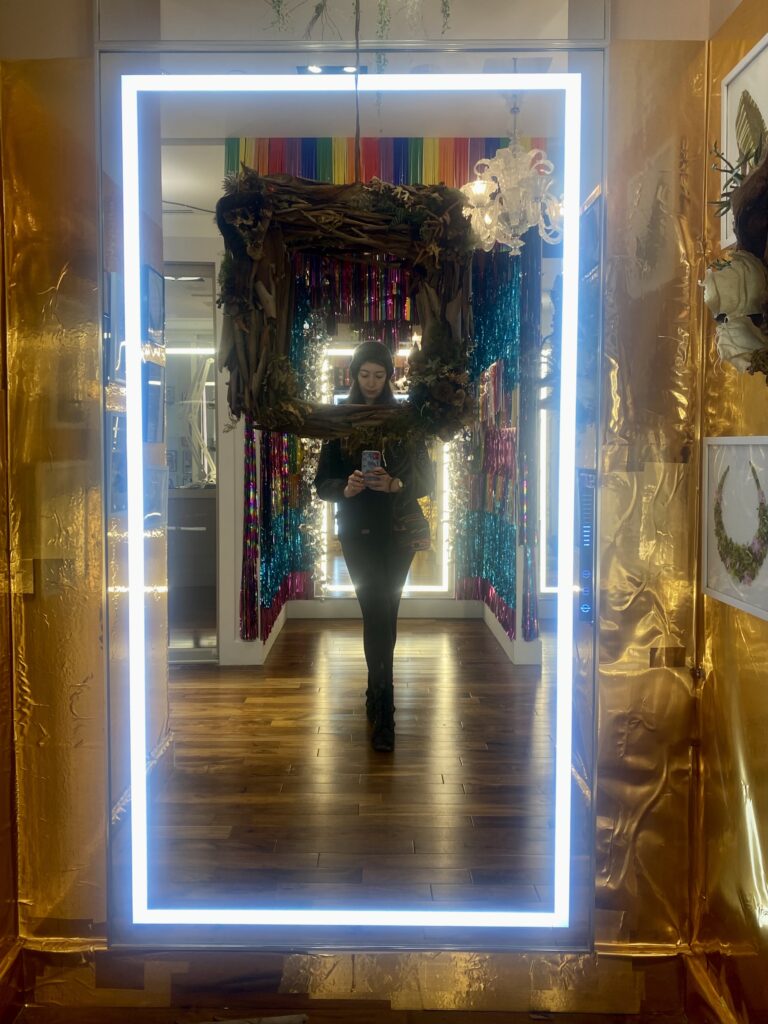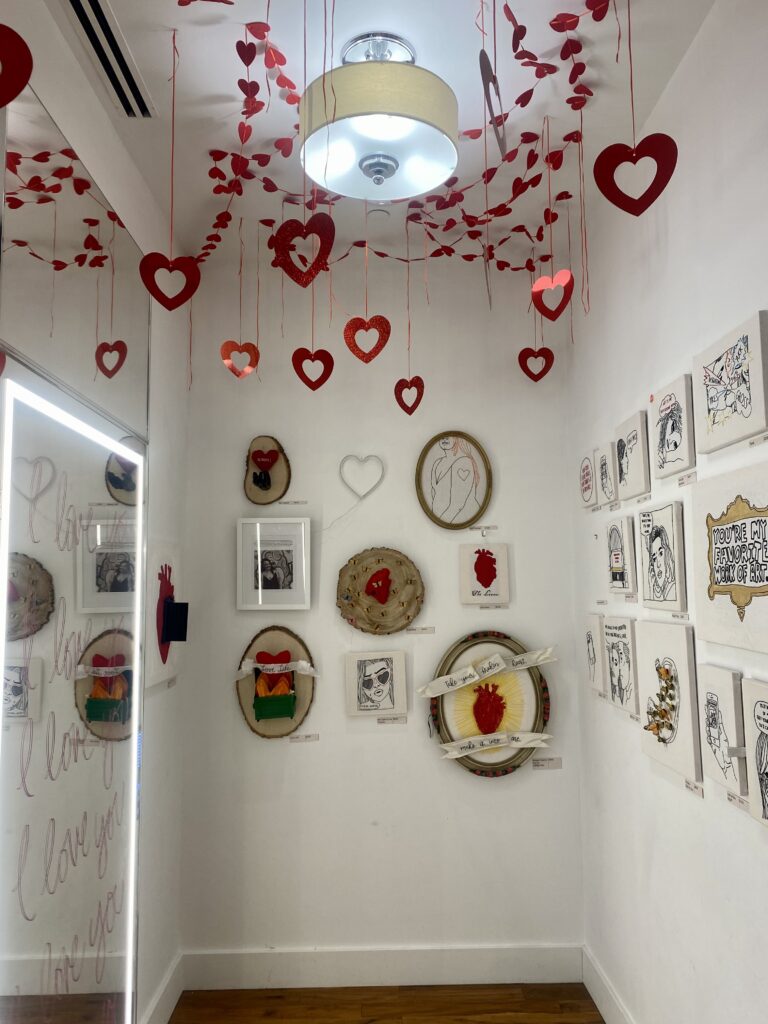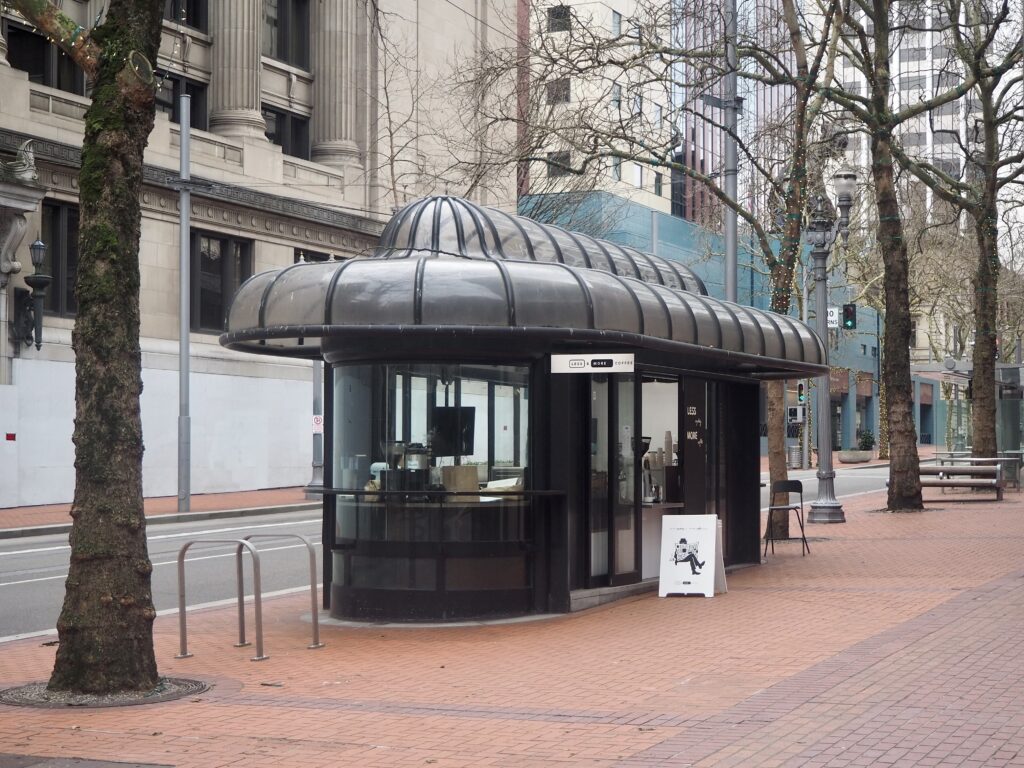 Oregon Historical Society
I'm a history nerd and a walking tour wasn't enough to satisfy my curiosity. So, my next stop was the Oregon Historical Society, the city's main history museum. The girl at reception was brilliant, as she was clearly super passionate about the place and gave me a great intro when I arrived. The ground floor had two temporary exhibits. The first was about Motown and was on loan from the Grammy Museum. Not a subject area I was expecting, but I do love music related history and memorabilia, so I really enjoyed this! It also made me add the Grammy Museum to my USA 'to visit' list. The other was about the history of the society itself, since this is an anniversary year for them.
Upstairs was the main exhibit, Experience Oregon. It started from the geological formation of the Pacific Northwest and went through the Indigenous settlers to the arrival of Europeans and all the way to the present. This was a very comprehensive look at Oregon's past and fleshed out even more of the history I'd picked up from the walking tour. There was too much to read absolutely everything, but I still must have spent a good hour or so in there! I know the broad strokes of American history, but it was interesting to see the focus on this state in particular.
When I finally exhausted the museum, I headed back up Broadway to Pioneer Courthouse Square. I had planned to get lunch from the food cart the tour guide had recommended, but it was already closed for the day! A few others were still open though, so I grabbed something tasty from the Mexican cart and ate overlooking the square.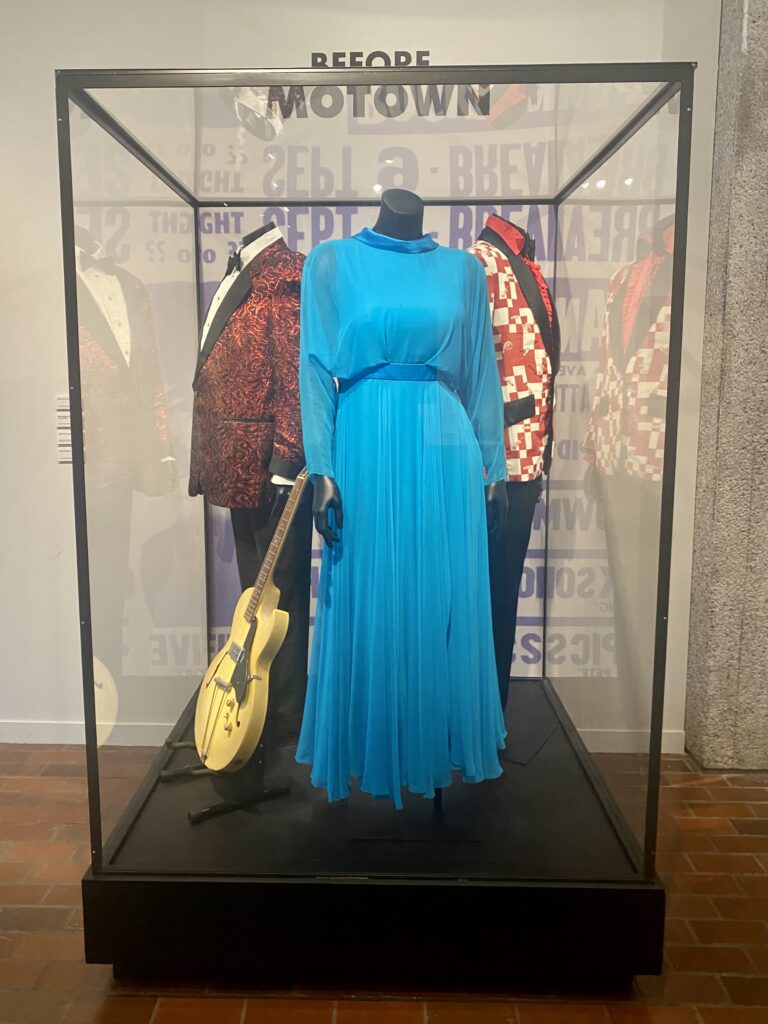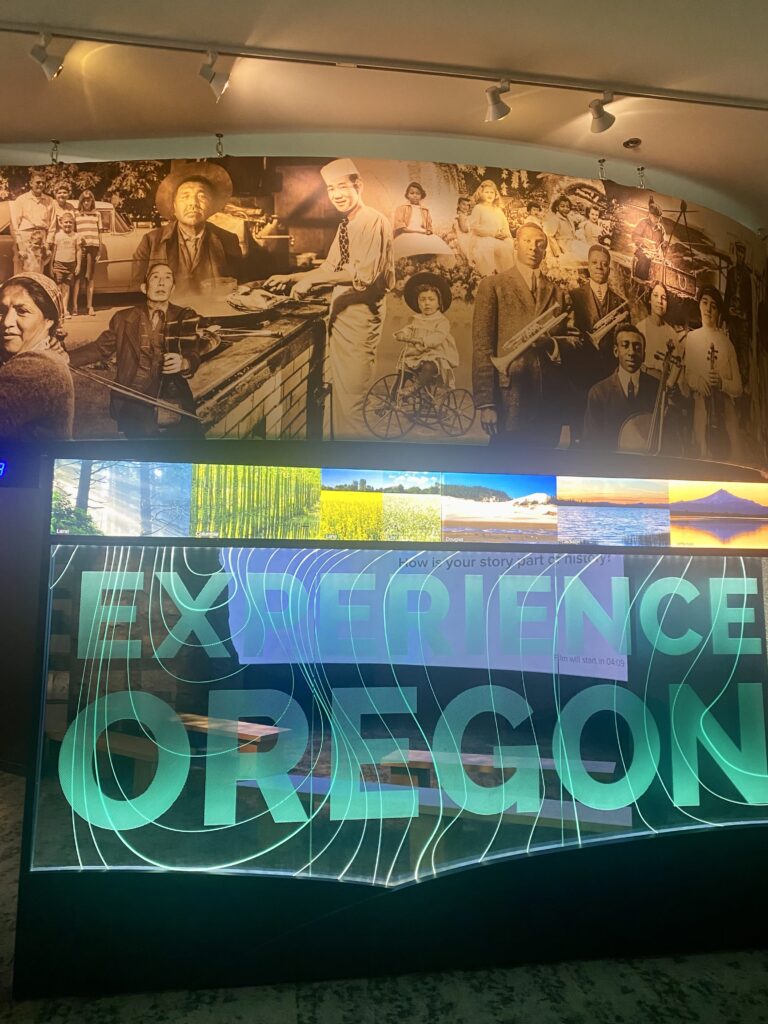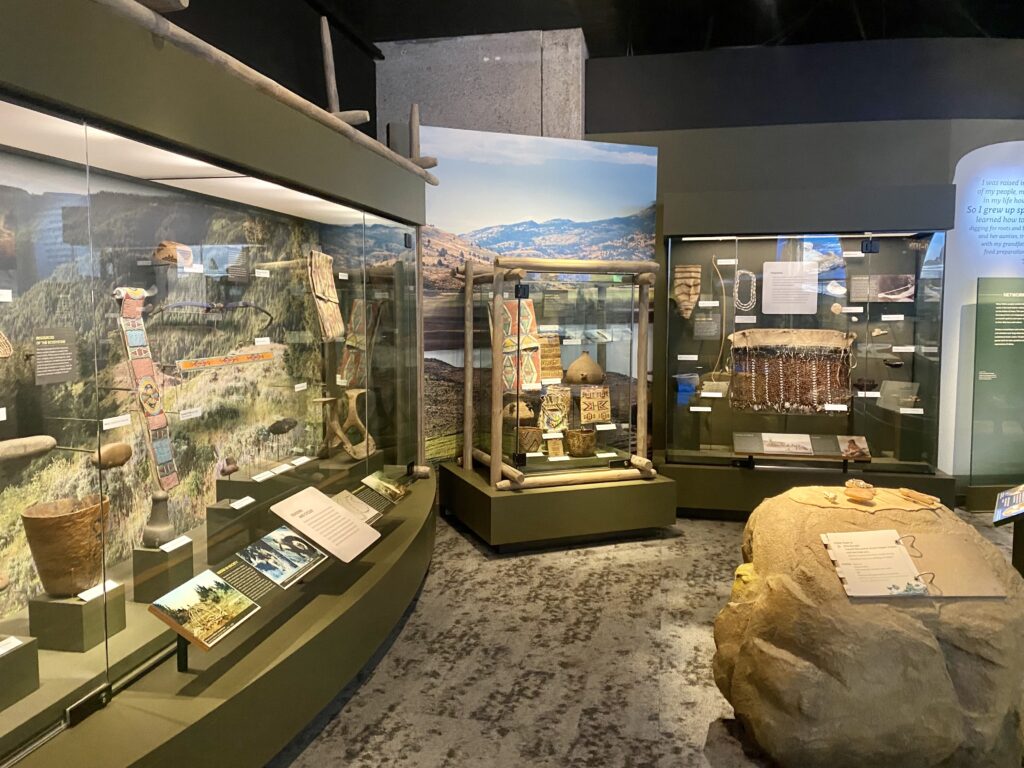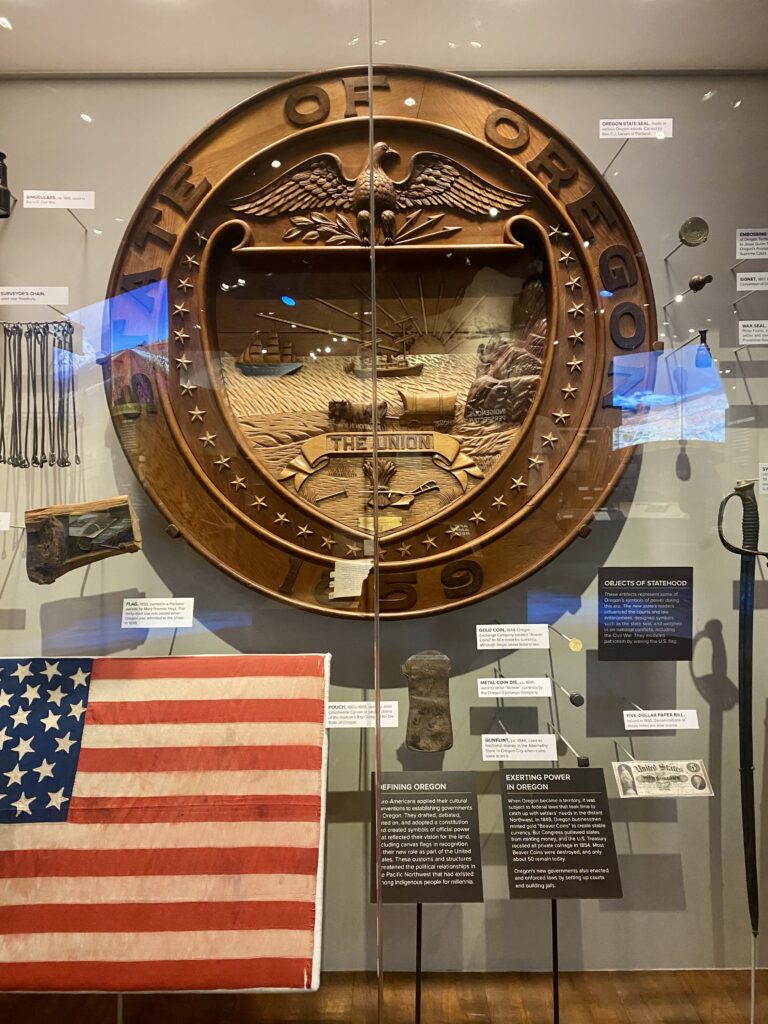 Powell's Books
By this time, I had a little under two hours left before my return train north. En-route to the station was one of my last stops, Powell's Books. It claims to be the largest independent bookstore in the world, so as a book lover, of course, I was making a stop here! The shop does indeed take up an entire city block, and spans two floors for most of the building. Inside, it houses new and used volumes on every subject imaginable. The shop is split into rooms, each given a different colour and covering different topics. There are even paper maps available to find your way around!
I wandered through the travel guides and the history section but spent much of my time in fiction. I'm trying to travel light this year, so I couldn't walk out with a stack of new volumes. But I have been borrowing from the Vancouver library instead! And I'm always adding to my 'to read' list, so I made a few notes of interesting looking novels to look up again later. The staff recommendations was particularly useful! Then it was time to head back to the train station, for the long ride back over the border to Vancouver.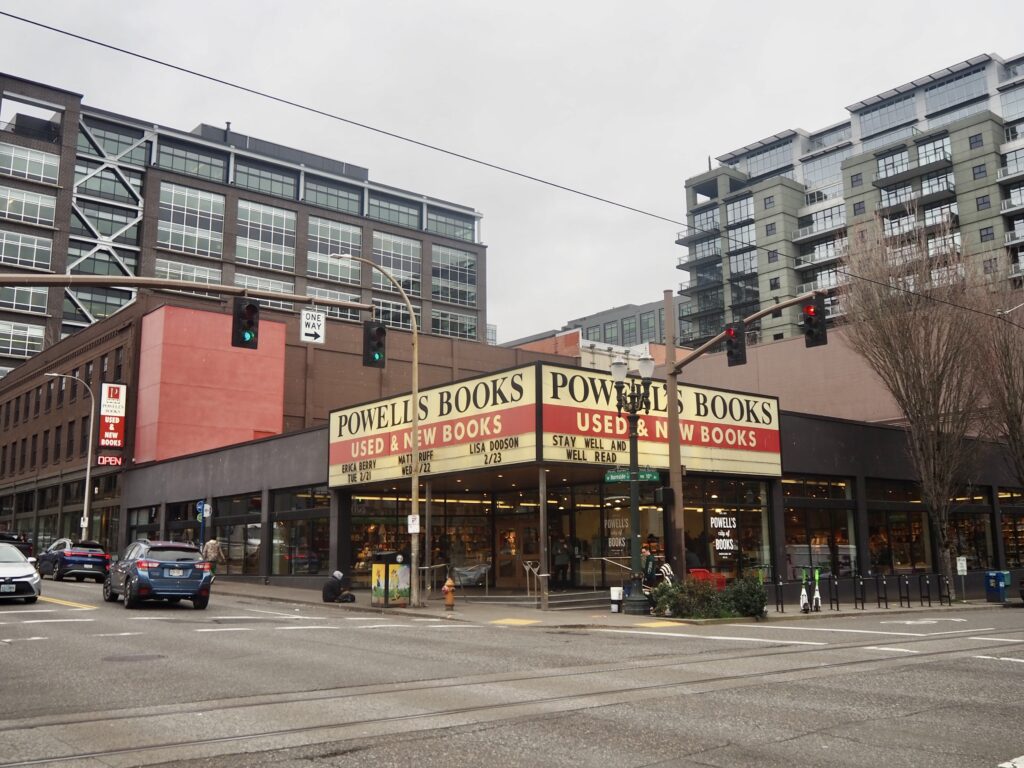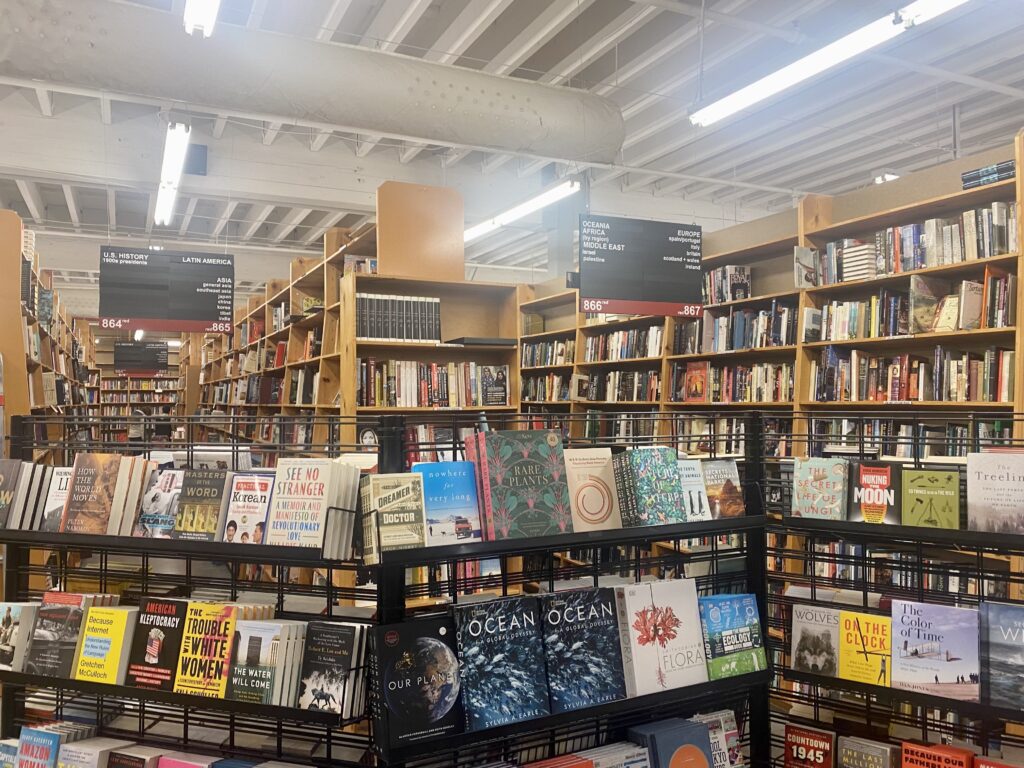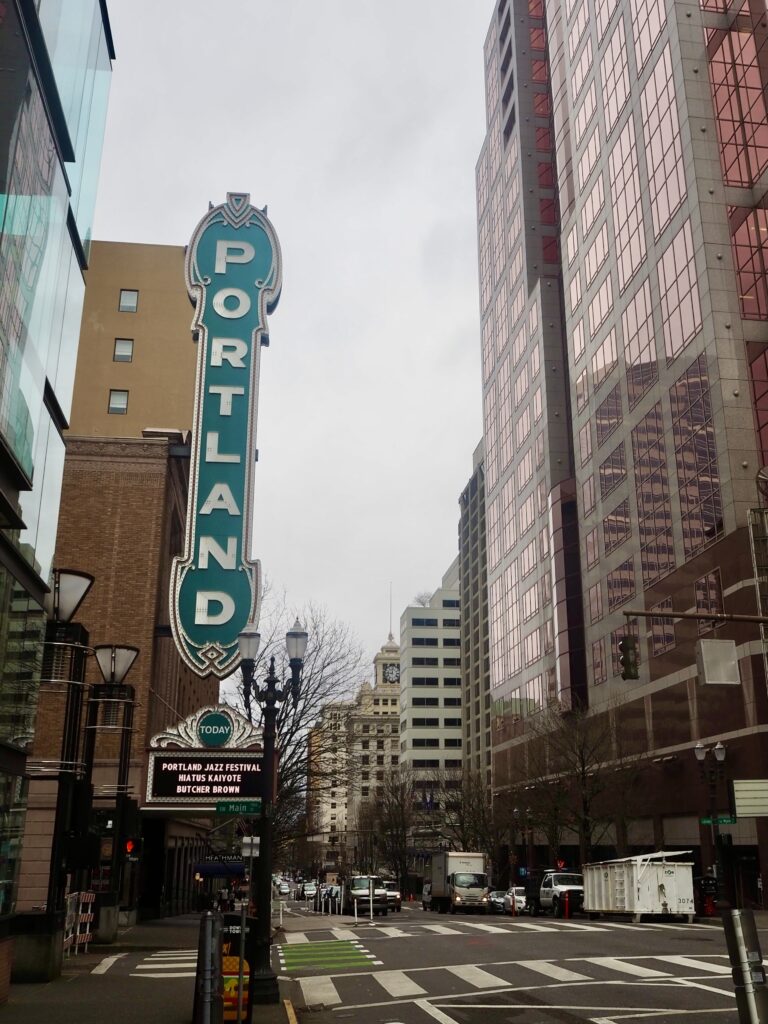 I think a 3-day trip was a good amount of time to see Portland. I got a good feel for the city and enjoyed its laidback, weird, artsy vibes. While there are some tourist attractions, I think if I'd spent any longer there, it would have consisted of more food carts and breweries mainly. Or else, a day out of the city to see the rest of Oregon. So all in all, lengthy, delayed journey there aside, 3 days was a good amount of time to explore a fun, new city.
You May Also Like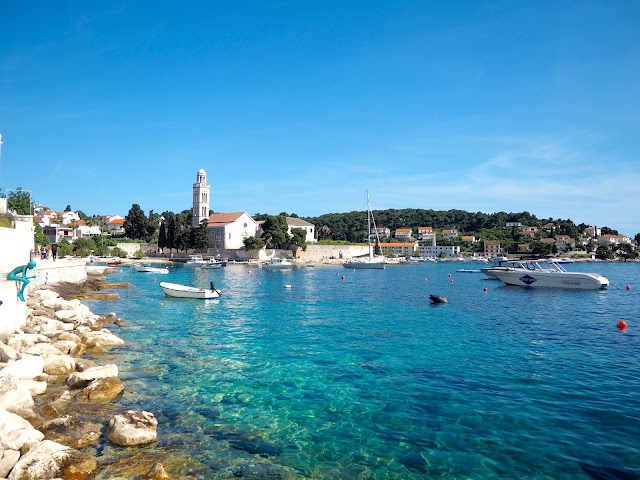 26 May 2019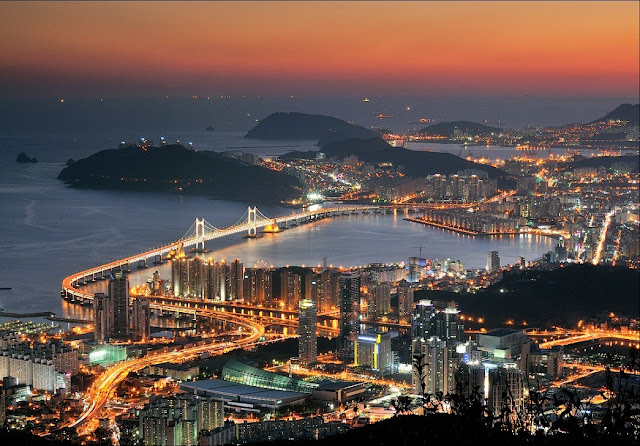 29 August 2016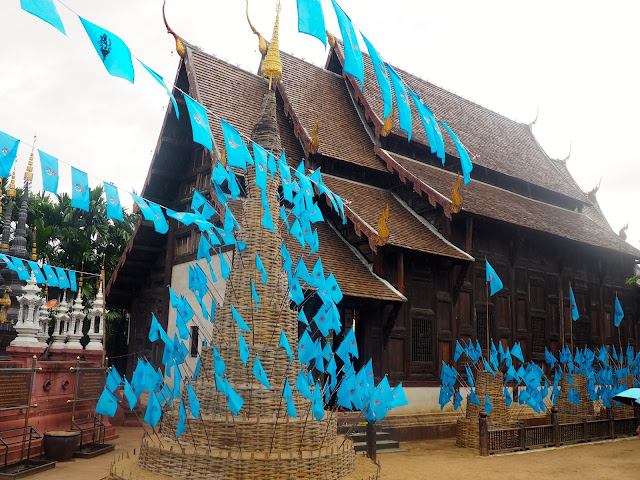 16 August 2016