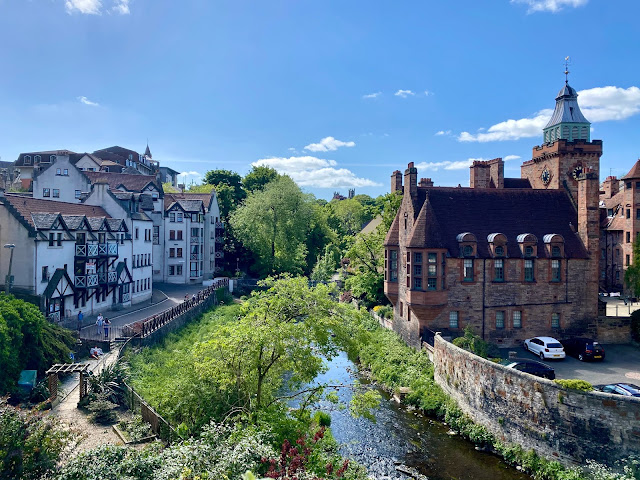 Edinburgh Walking Routes | Hiking Scotland
6 March 2021
Edinburgh is a city known for its 'Seven Hills', which naturally offer a wide choice of hiking routes without leaving the city limits. However, hiking hills all the time isn't for everybody, and even someone like myself who enjoys hiking, occasionally wants to go for a walk that doesn't involve a huge, uphill trek. I mean, some days I just want to ramble along slowly with my headphones in, rather than turning into the red-faced, sweaty mess with burning thighs that typically happens when I go on uphill adventures. Luckily, in between its seven hills, Edinburgh has plenty of more level walking routes. Though, in a city this hilly, I wouldn't promise that any of them are entirely flat!
The Water of Leith
Edinburgh doesn't have a major river like many other big cities, but there are a few waterways spanning the city. The biggest river is the Water of Leith, which starts out in the Pentland Hills and winds through the north of the city before reaching the sea at the Port of Leith. Historically, it wasn't even inside Edinburgh for many years, until the city grew large enough to absorb the surrounding villages, and the river. The river has a pathway along the entire length of it, mostly sheltered from the city by trees and foliage. It's actually quite easy to forget you're still in the middle of an urban area. The river is also home to plenty of wildlife if you keep your eyes peeled; herons are my favourite sighting!
This is probably one of the most popular routes on this list, as it passes by or near various other well-known sights and neighbourhoods. These include the Dean Village, Stockbridge, the Colinton Tunnel, the Scottish National Gallery of Modern Art, and Leith itself. There's also the Water of Leith Visitor Centre, run by the Conservation Trust who volunteer to preserve this natural space, where you can learn more about the river, its history, and wildlife. The entire route spans 12 miles, so it's a long day to do the whole thing. However, its proximity to the city centre (and the transport network) makes it easy to do smaller sections of it at a time. So far, I've done everything from the Colinton Tunnel to Leith, but in around three separate stretches. I do plan to do the final section to Balerno eventually!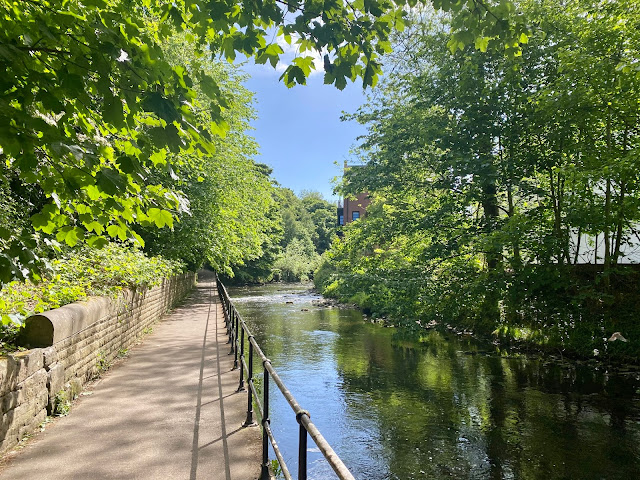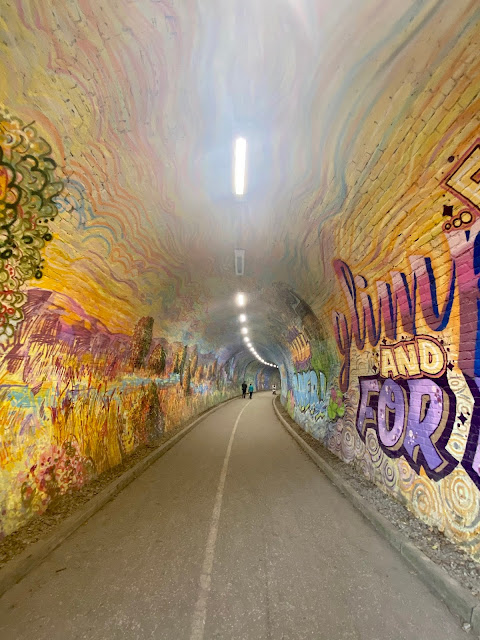 ---
Braid Burn
Edinburgh's smaller, lesser-known river is the Braid Burn, which also starts in the Pentland Hills, and flows through the southern regions of the city, reaching the sea at Portobello. It doesn't have such a defined walkway as the Water of Leith does, so if you wanted to walk the length of it, you would find yourself walking along regular city streets for large stretches of it. However, the most popular part of it is through the Hermitage of Braid, a woodland area nestled between Blackford Hill and the Braid Hills. It's so secluded that I've even seen deer roaming through it, despite it being well inside the city limits! I walk this stretch the most often, as it's not far from where I live. It's a lovely, natural, shady walk when I don't feel like going up one of the neighbouring hills.
I've posted before about continuing along the Braid Burn as far as Holyrood Park, which was largely on city streets. I believe this is also the case if you go west, towards its source, which is the part I haven't explored yet. However, if you go all the way to the sea, it flows through a few parks and green spaces in Duddingston and Portobello. I haven't quite taken this route, but I did walk to Portobello first along the Braid Burn, then veered off it. I followed a different pathway that runs alongside the Brunstane Burn, and reaches the sea further south along the coast. That route gave me shaded forests, colourful wild flowers, and views across open fields. I passed very few other people, so it's most definitely another option if you're craving green spaces and solitude.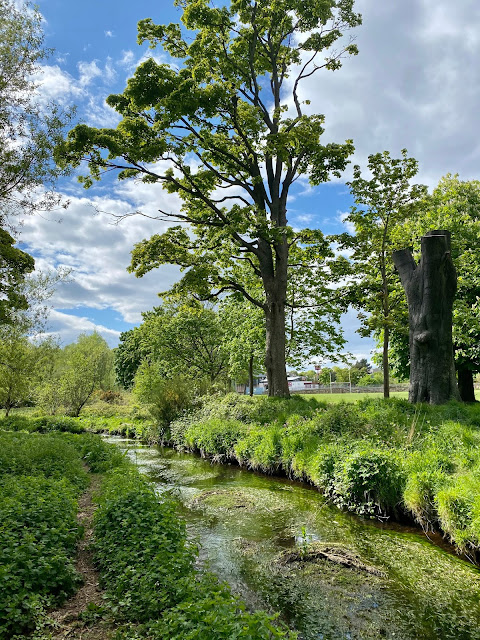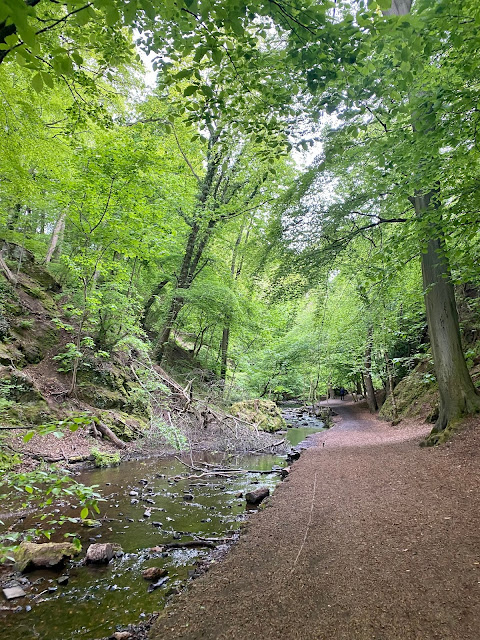 ---
Queen's Drive
Of Edinburgh's seven hills, Arthur's Seat is the largest and probably the most famous, towering over the historic city centre like a sentinel. Fun fact: one old legend claims it's actually a sleeping dragon! But it can be found inside a larger green space, Holyrood Park, which was once a royal hunting ground for the nearby palace. Though the area doesn't have any entirely flat routes, if you aren't up for scaling the hill itself, an alternative option is Queen's Drive. This route circles the base of the hill around the perimeter of the park. Like I said, there is some uphill walking involved, but you're following a paved road the whole time, and most of it is quite a gentle incline. But you still get high enough to enjoy views out to the east, towards Portobello and the North Sea, as well as over Duddingston Loch and the rest of the city centre.
There's also a few baby-sized lochs along the way, which are nice areas to stop and rest. St Margaret's Loch is home to a small army of ducks and swans (plus the occasional vicious seagull swooping in for a visit) and is overlooked by the ruins of St Anthony's Chapel. Dunaspie Loch has lots of other wildfowl, and apparently there's otters living there now. I'm always hoping to catch a glimpse of them, but am yet to be that lucky!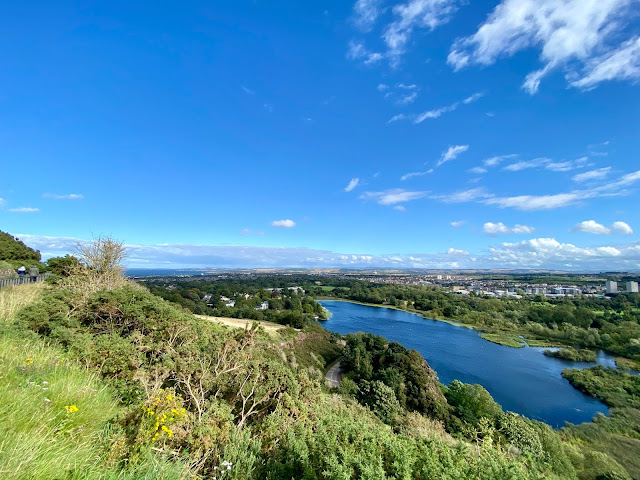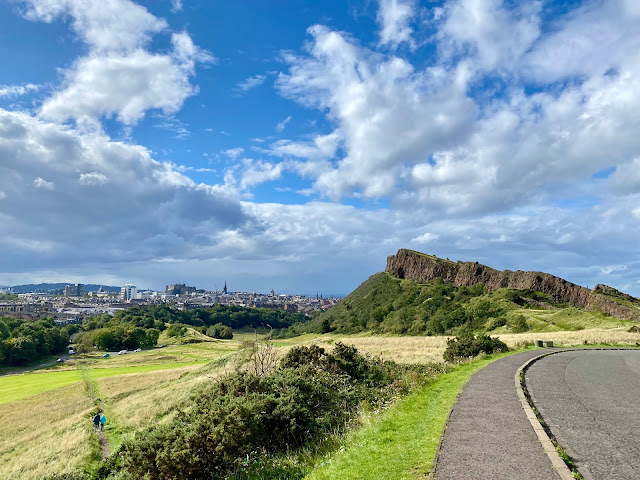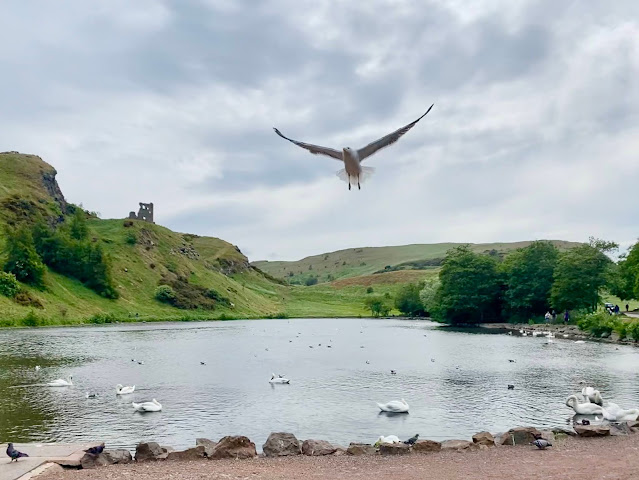 ---
Union Canal
Continuing on our waterways theme – can you tell I'm a fan? – but with an artificial addition this time, is the Union Canal. This one is actually a massive, 30 mile construction that goes all the way to Falkirk. Bonus: another good walking option, if you're heading out the city for the day, is the canal stretch between the Falkirk Wheel and the Kelpies. But it enters the Edinburgh city limits from the west, and concludes not far from the city centre. Like most canals and their towpaths, it's pretty much totally flat, so it's ideal if you're avoiding hills! It's a little closer to the city streets than some of the other routes on this list. However, for the most part, you're walking behind houses rather than next to busy roads. Plus, you also pass by green spaces like Harrison Park, and it's lined with many trees along the way.
Being artificial, you might not expect as much wildlife here, but I've seen many ducks, and you might even spot the family of swans that live here. It's also the location of the Edinburgh Boat Club, and I've often seen rowers and kayakers paddling their way along. The end of the canal, nearest the city centre tends to be the busiest, but it gets quieter the further out you go. I typically start near Fountainbridge, and walk for as long as I feel like before doubling back. The canal crosses paths with the Water of Leith near its visitor centre at Longstone, so another option is to combine the two into a circular route from the city centre.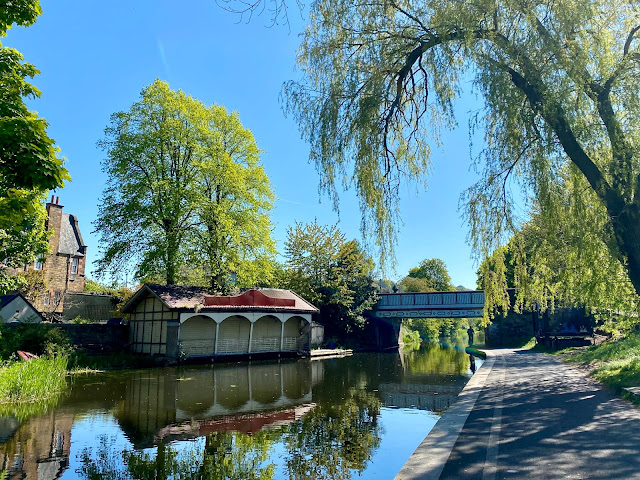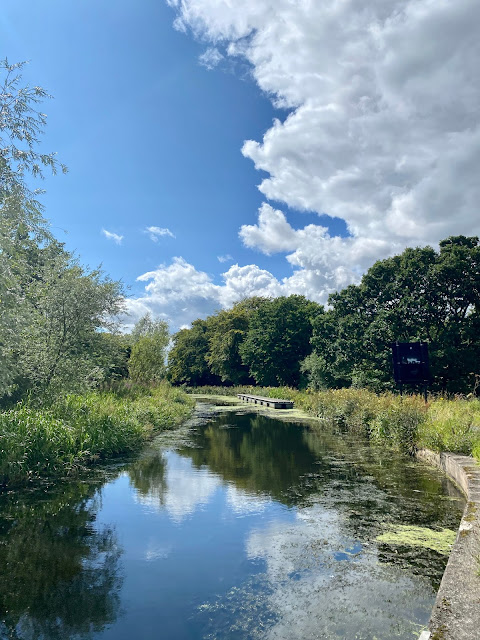 ---
Cycle Path Network
Now most of the routes I've mentioned so far are accessible by bike as well, and this exchange goes both ways. It's perfectly possible to walk along the city's cycle network. This is a series of routes that I'm still exploring, and I'm a ways off of covering them all so far! But there are several cycle paths which span the city, covering impressive distances. Many are surrounded by trees and green spaces, making you feel removed from the urban environment. Pedestrians can walk along them too, just stick in to one side and keep an ear out for bells, so you don't get in the cyclists' way too much. There's a more comprehensive list and route maps available here on the City Council website.
Some of them overlap with routes I've already mentioned, like the Union Canal and Braid Burn in the south side of the city. Last summer, I followed one of the north/south paths, from Roseburn (near Murrayfield Stadium) all the way up to Silverknowes Beach, on the shores of the Firth of Forth. You can get excellent views of the Forth Crossings, after a very pleasant walk (long, but level) which barely felt like I was in the city at all. There are also a couple of routes across the north of the city, and around the coast between Leith and Portobello, which I hope to explore eventually.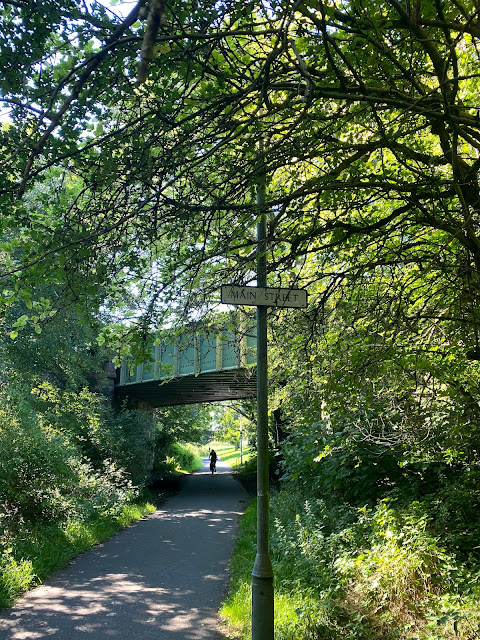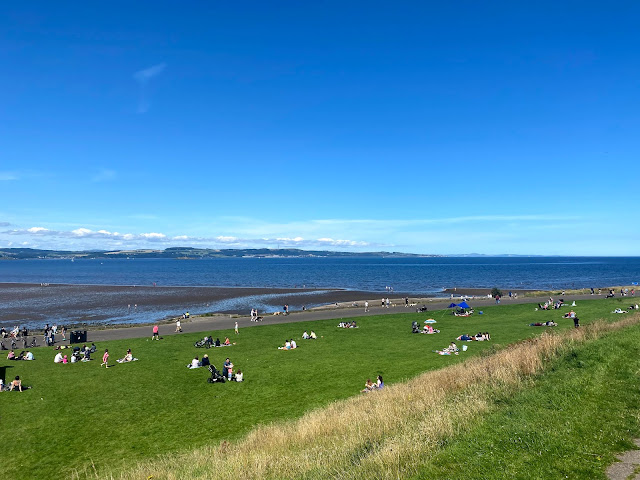 ---
Parks & Gardens
All of the routes mentioned so far are fairly lengthy if you do them in their entirety. Although as I said, the city has good transport links if you're only doing a section at a time. However, if you really don't fancy a marathon trek, Edinburgh also has an abundance of parks and gardens for a quick ramble. You could walk the length of Princes St Gardens, nestled between the bustling, commercial Princes Street, and the majestic skyline of the Royal Mile and Edinburgh Castle towering above. A quick half turn loop around the Meadows is my preferred lunchtime stroll when I'm short of time, and is usually thrumming with cyclists, pets, picnics, and other sports on a sunny day.
May is a particularly excellent time to venture to the Meadows, when they became a pastel-coloured paradise as the cherry blossom put on their annual spectacle. Or, for a plethora of plants and blooms year round, the Botanic Gardens has an elaborate network of paths to roam through its maze of themed garden areas. Inverleith Park is also right next door for some wider, open green space. These are the bigger, more well-known parks near the city centre, but if you just look at the amount of green on an Edinburgh map, you'll see even more to explore!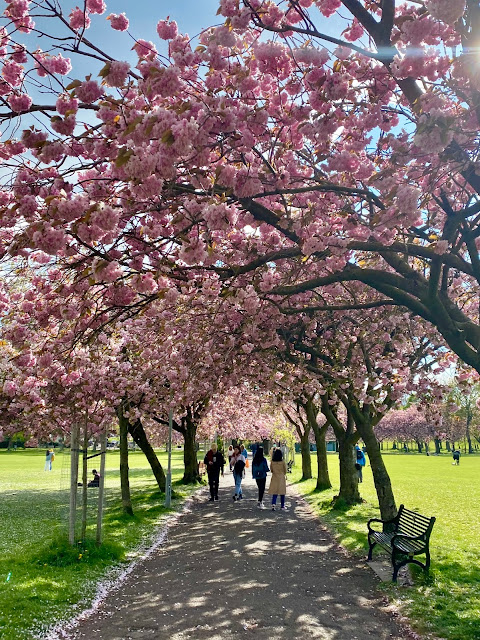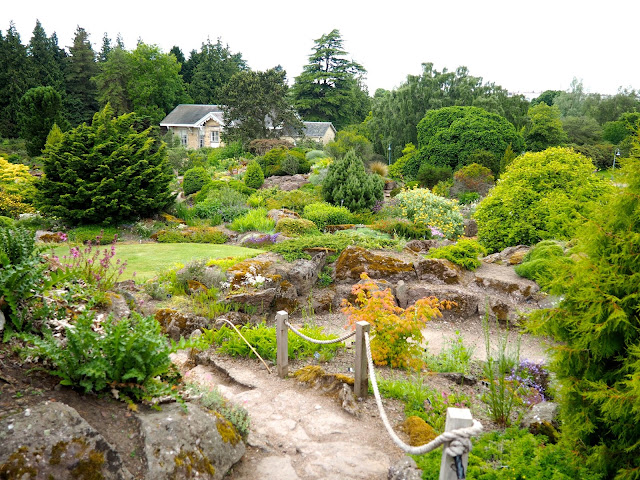 I've definitely covered a lot more ground in the city than I ever had before this past year, with the pandemic limiting my options for venturing further afield. So, I've been very grateful to live in a place with so much green space to enjoy. And yet there's still more I haven't seen! I'm actually writing this from my parents' home in the Borders, where I'm camped out for the current lockdown, for a break from city living. But I'll certainly be back up for the spring and summer! Are there any other routes I've missed that I should check out?
You May Also Like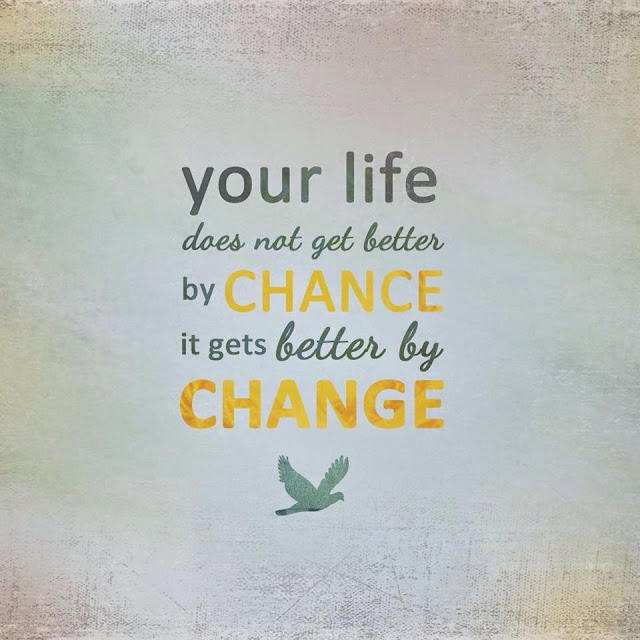 14 January 2017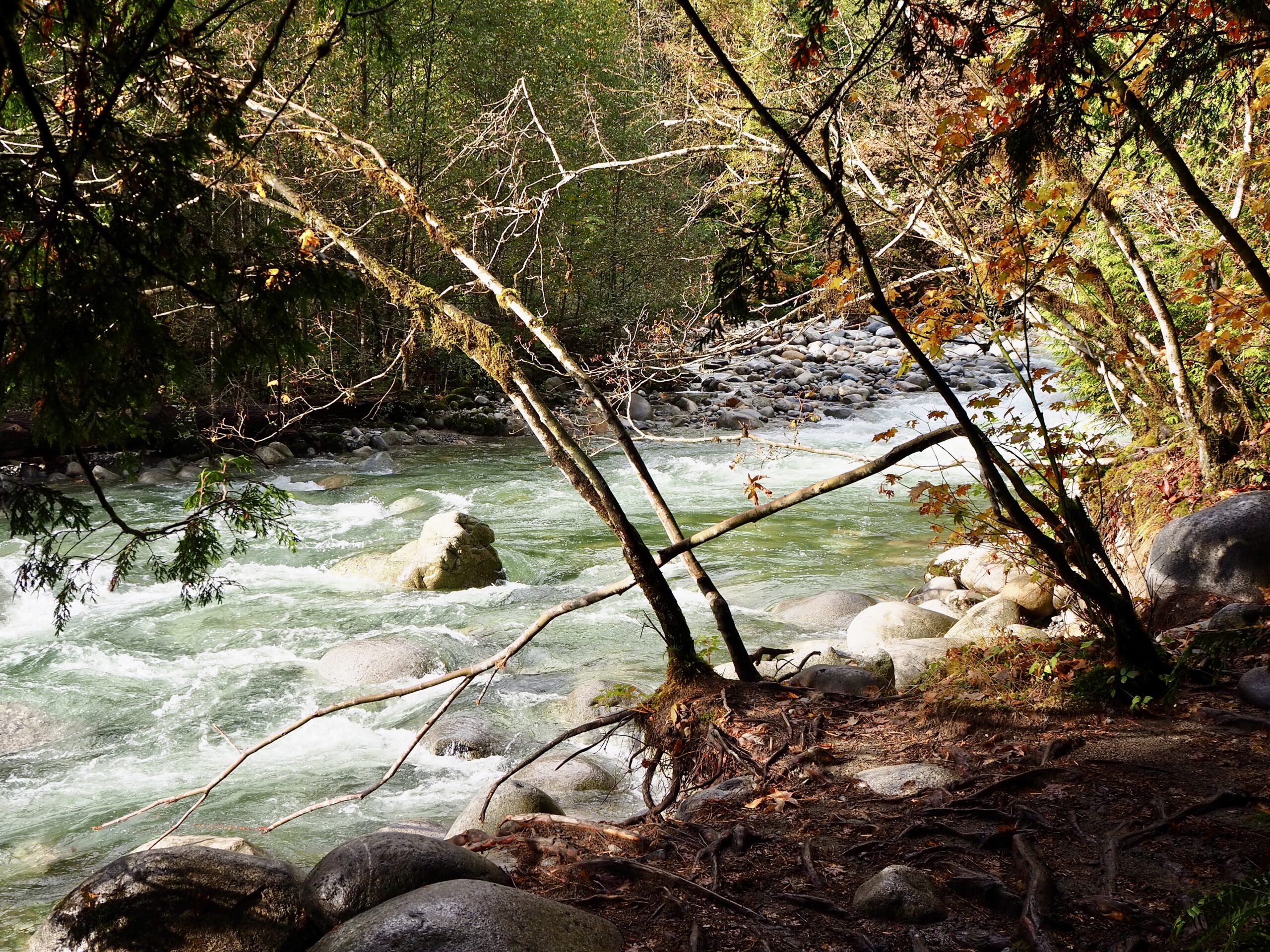 3 November 2022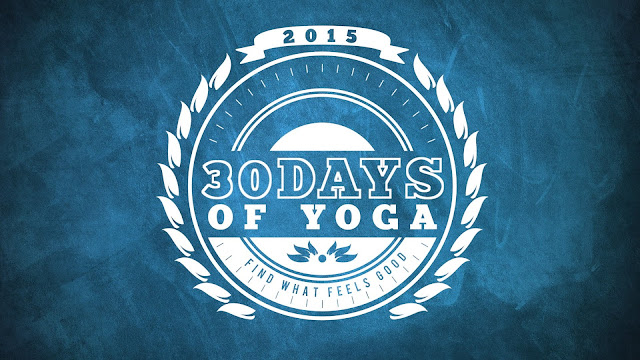 9 July 2017