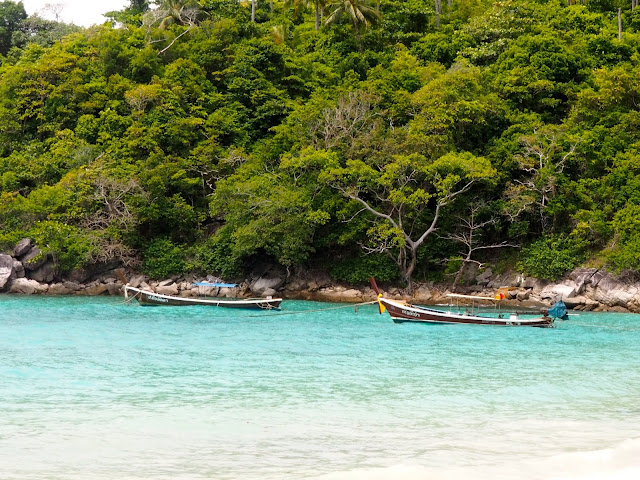 Karon | Thailand Part 1
16 August 2017
So I came to Thailand at around this time last year, and as far as I remember, we got decent weather. Maybe some rain, but overall we were able to go out and do all our planned activities. Well, this year I'm in the south (last year was mainly the north) with my family for 10 days, and it won't stop bloody raining! This is Thailand's low season for tourism (yay for less crowds!) and I was expecting some rain while we were here, but this is getting ridiculous. Obviously, we haven't been able to go do a lot of stuff so far, though we were always intending to spend at least some of the time at the pools in our resort – we're staying at the Mandarava, in the Karon Beach area – but that has been limited to the insides of our rooms for the last few days. Actually, I'll include the video I just took of the rain in this post, so you can understand what I mean! All that said, we have been able to go do a few things, during the drier windows of time, and I'm keeping my fingers crossed that the rain will let up a bit before we leave, so we can do a few more things too!

Karon Beach
This is the area we're staying in, so on one of our first dry days we went to explore the neighbourhood, starting with Karon Beach itself. It was still quite cloudy – not the brilliantly sunny pictures with blue seas that you see advertised – but dry and warm enough to stay on the beach for a while. Since we're on the west side of Phuket, the coastline is more exposed than the east, which is a more enclosed bay, so the ocean is a bit rougher! It's been windy and stormy too, so the waves were much bigger than we'd realised – we had plenty of fun jumping and playing in them though, it was just tricky to stay inside the designated swimming area at times, since the current is quite strong. Karon is quite a long beach, so there's deck chairs in abundance, as well as various water sports – most of the non-swimming areas are for surfing and kite surfing. There's also plenty of other tourists posing for photos, which can make for some fairly entertaining people-watching to pass the time. We did notice that the sand and sea are not the cleanest, with a fair bit of litter around, which proved to be true on the other beaches and islands we've visited so far – most of Phuket is over-saturated with tourism now, and you can see how it's taking its toll on the land and sea.
The rain hit hard after a few hours on the beach, so we took shelter to have lunch in a nearby restaurant. Once it let up a little later on, we went to explore the rest of the town, since it still looked like it might rain again and we didn't fancy the cold, windy beach! It seemed like a typical tourist town in South East Asia, nothing fancy or well-developed, but lots of restaurants and shops, as well as the numerous hotels and resorts. We walked up the road by the beach, eventually finding Karon Market, and had a look around that. It sold mainly souvenirs and beach equipment and clothing, clearly aimed at the tourist market. Most of these types of market in Asia all look the same as me by this point, but if you were lacking something for the beach or wanted a cheap souvenir, you'd certainly find it here. It wasn't all that busy though, and was a little larger than I'd been expecting, when we turned down the narrow alley to its entrance. We then walked up the main town street, with a similar array of shops and tour companies, before reaching Wat Karon at the end. This was slightly more impressive to my family than to me I think, as it's the first temple they've seen it Thailand, and the white exterior and brightly painted statues look quite different to those we saw in Hong Kong. Whereas, as I've said before, I've spent too long in Asia now, and have seen similar version of everything already. It was still suitably impressive though, especially the large dragons statues flanking the entrance to the main hall.
Coral & Racha Islands
Anywhere you go around Phuket, you'll be bombarded by tour offers, with most companies offering trips to the same few places. There are various inland activities, like ATVs and white water rafting, which I've already done elsewhere, as well as activities I refuse on ethical grounds, like elephant trekking, tiger kingdom, and live shows featuring performing elephants. The island tours held the greatest appeal for me, so we decided to start with the ones closest to us, to see what they, and the tour company (JC Tours, who outsourced the excursion to Raya Princess Tours) was like. We were picked up from the hotel and driven to the pier, where several other vans were arriving with groups from other regions around Phuket. We did have rather a long wait at the tour base for everyone to arrive, making us question why we had to come so early, until they eventually took us all down to the awaiting speedboat. We visited Coral Island first, about 15 minutes away from the mainland. Every single boat drops off at the same beach here, so it was absolutely crammed with people. I was aware that the islands were popular and busy, but I probably underestimated just how busy they would be, considering this is the low season! We only had an hour here, so we wandered up the beach to a quieter area, then back again, not bothering to swim and then have to sit around in wet things for ages. You could see that the island was beautiful, but is rapidly being spoiled by rubbish left lying around by the crowds of visitors bobbing around in their fluorescent life vests (which I never put on unless boat crews insist). Crowds I was prepared for, but the careless littering irritated me immensely.
The boat then took us further south to Racha, or Raya, Island (I'm not sure why it's known by two names!). The boat company has its own restaurant for lunch, named Princess Restaurant, which is how we figured it out. It was in a much more idyllic location, since no one besides our boatful was there, and it was tucked away in a quiet cove, with brilliantly blue waters around it. The restaurant was a simple wooden structure built into the hillside, where they served up a buffet lunch, which we could enjoy with uninterrupted sea views – this was the sort of scenery that you see advertised for this part of the world, with the sun shining brightly, and removed from the busier beaches. We could only enjoy it for so long though, before it was time to leave again for our next location. My parents disembarked at the beach, where they would have a little over two hours to spend before leaving again. My sister and I stayed onboard for the snorkelling stop, after which we would be dropped off at the same beach for the last hour or so. The snorkelling was off the coast of a rockier section of the island, where boats could pull in along a line of buoys. There were plenty of other boats moored there, but since each group stayed near their own boat, it didn't get too crowded. The water was deep here, so we were far above the reef – which was good news to me, since Coral Island had os much dead coral washing ashore, most likely from people standing on it, who don't know any better, whereas here they can't. We saw a good variety of fish too, so I was actually more impressed than I'd been expecting, the litter around other parts making me think that much of the reef would be dying here. Most of our boatload stayed very close to the boat, so while I wasn't getting too close to the rocks, I was swimming further out than most of them, meaning I felt I had plenty of room around me to explore.
We were then returned to the same beach as before, which was busy with people. However, on Racha it's only a 20 minute or so walk to a couple of other beaches on the other side, so we decided to go exploring in that direction. We tramped along the muddy path, passing lots of cows and a large pond in the middle – without being able to see the ocean to either side, it felt a lot like we were in some rural, countryside area inland. There were ATVs available to rent here too, and many people were being shuttled across to other beaches by tractor and trailers. Many tours offer the option to spend a night on Racha, so we saw a few trailers of luggage being taken across the island. We found a beach on the other side, though we weren't sure which one it was (the roads aren't well signed, we just picked a path and gave it a shot), but there was a hotel next to it, so the beach was busy with guests and visitors. It was crowded, but did seem a little cleaner than Coral Island had been. We thought our parents would have been here, but didn't see them, and since we had a limited amount of time until the boat left again, we took a few photos, then headed back to the first beach, snapping more pictures along the way – it looked lovely when you could get a shot without anyone else in it! We had a quick dip in the sea to cool off, which was much stiller and calmer than the waves back at Karon, then dried off on the sand, before it was time to get back on board the speedboat and return to the mainland and our hotel.
Naka Market
This was a spontaneous trip; after spending the start of the day at the hotel pool, and seeking shelter in our rooms during a heavy shower in the afternoon, we discovered that Naka Market is held in Phuket only on the weekends, so this was our only chance to go (it being Sunday). We took a taxi there, which took longer than expected, clocking in at about 45 minutes. Naka Market was much, much bigger than the one in Karon, and we spent well over an hour roaming up and down its numerous avenues. I never buy too much while travelling, since I'm generally on a budget and can't carry a million souvenirs around with me, but I did find my magnet for Phuket amongst these stalls. Some of them were selling similar clothing and souvenirs to every other market I've seen in Thailand, which gets a little tedious for me these days, and lots were selling fake brand names of everything from bags to watches. A few had more unique wares on offer though, like wooden animal lanterns or small sculptures of twisted metal, and some more upmarket jewellery stalls (my photos came out very dark though, annoyingly, so I've only included the brighter food ones).
The food stalls are probably the most interesting part though, with your senses being assaulted with smells, colours, and of course, tastes if you buy anything. Stalls selling sushi or Thai sweets were the brightest and most eye-catching, but there were also ones laden with platters of seafood, or dozens of sticks of dumplings, fish balls, and other popular street foods. Some of them even had seating areas, offering full meals you could sit down for. There were lots of fruits too, coconuts being a popular drink choice here, and there were several durian fruits too, which I can smell a mile off – not my favourite! The barrels of roasting chestnuts were surprising, as I associate them with winter time, not August! And one lady had a table of different plates of insects, an element of South East Asian cuisine I've heard about, but don't think I'd seen in person before now! We didn't get anything to eat ourselves here, but just walking through it all is very interesting.
After those few outings, we were then assaulted with torrential rain for the next couple of days, largely confining us to our hotel rooms, as there's not a lot we wanted to try to do in that weather. This is the video I mentioned earlier, taken from the balcony, but it doesn't really do justice to how hard it was raining! There will be a part 2 from our time in Phuket coming at some point in the next few days (followed by a few more in other parts of Thailand), as we've got plans in the works for our last days here, when the forecast looks more amenable!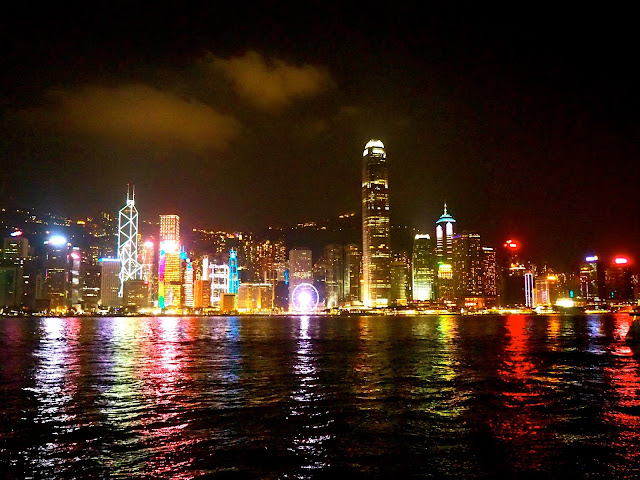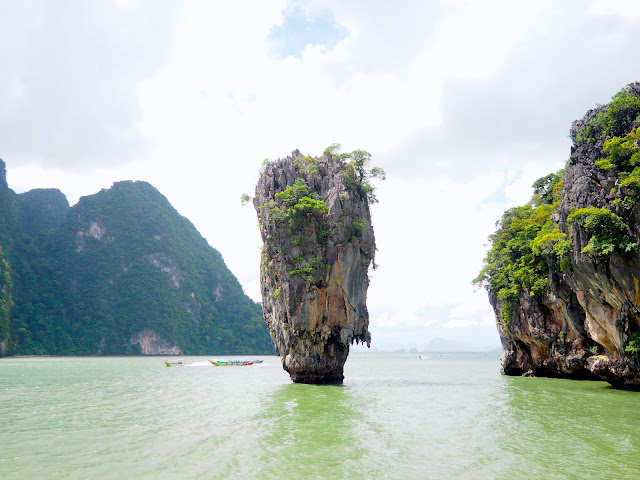 You May Also Like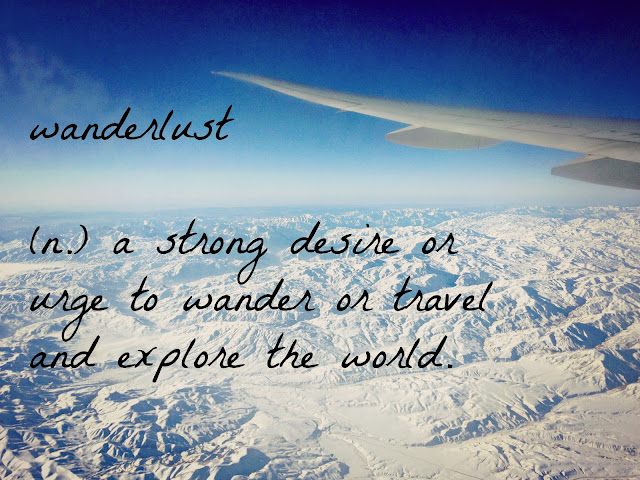 9 November 2016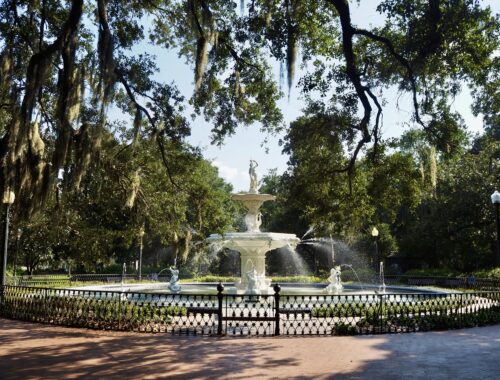 23 November 2023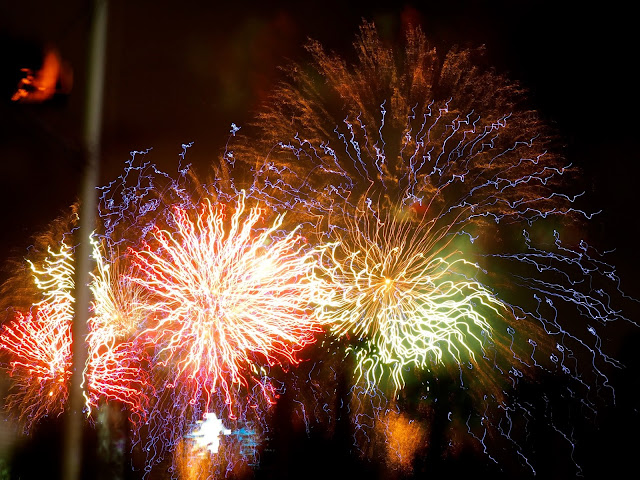 26 October 2016