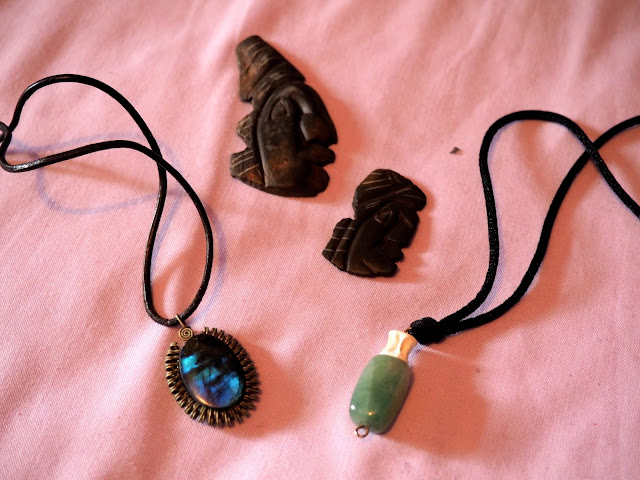 Central America Holiday Haul
29 June 2015
So if you've been reading my blog lately at all, you might have noticed that I've been off travelling through Central America for the past month. I mean, you know, there's only been about a dozen posts about it… Anyway, I'm starting to get into my usual schedule for posting again, but first up, I'm going to round off the trip with a haul post about the various souvenirs I bought (I say round off, but there will be Travel Inspiration posts in the future with more of my photos). I told myself I wasn't going to buy loads, but that was wishful thinking! I got quite a few things, the majority being jewellery, as it's small, easy to carry, and I know I'll definitely wear it and not just leave it sitting in a box somewhere. Also, not included here are my magnets, as I collect at least one for every country I visit (sometimes more for different cities or trips).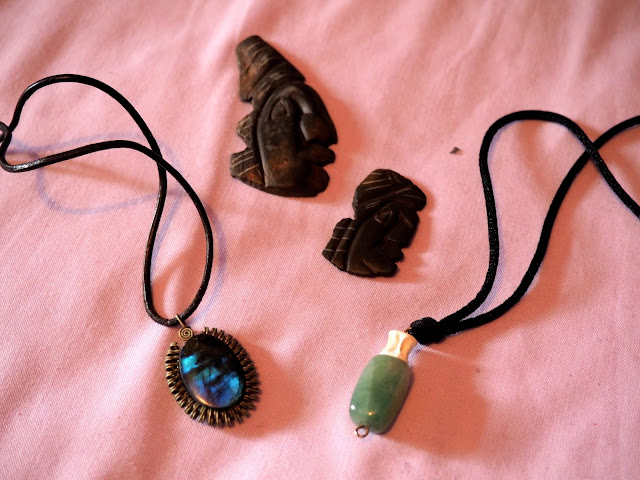 First, are my souvenirs from the island of Caye Caulker, off the coast of Belize. Both necklaces came from street vendors. The first was the jade necklace, which is a common stone throughout Central America, and was considered valuable by the Mayans, as well as having healing properties. It's accompanied by what the vendor told me is part of a shark's spine, and was harvested after the shark died naturally (I made sure to ask, I just have to hope he was telling the truth!). The other necklace appears iridescent under lights, which was what first made me pick it up, and then I learned that it's a representation of the four elements. Finally, the stone carvings were sold to me by a funny old man on the beach. I know, sounds a bit weird, but he gave me a very good price, and I think they're pretty well made. He didn't tell me much about them, but they look like the sorts of Mayan carvings found throughout these countries.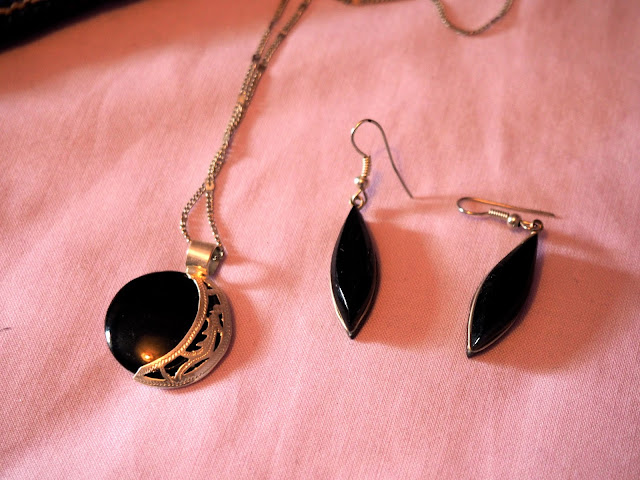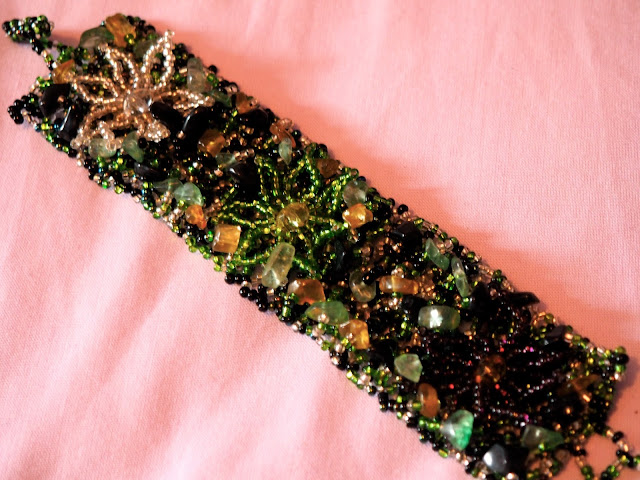 My next few purchases all came from the huge market at Chichicastenango, Guatemala. I love buying things from markets abroad, so I got a few pieces of jewellery, all featuring jade – the vendors often scratch it with a knife in front of you, so you can see it doesn't scratch, and is therefore real. I thought this necklace was really pretty, and the silver chain makes it dressier than the others I got. The detail in silver is a quetzal, the national bird of Guatemala. This side is black jade, the version I think I'll wear most often, but flipped over, the other side is a pale pink jade. The earrings are also black jade, and I just liked the shape and how elegant they look. Finally, there was a lot of beadwork in Guatemala, so I chose this beaded bracelet, with pieces of black and green jade woven in. It's quite heavy, but I like the flower patterns, and the colours are beautiful!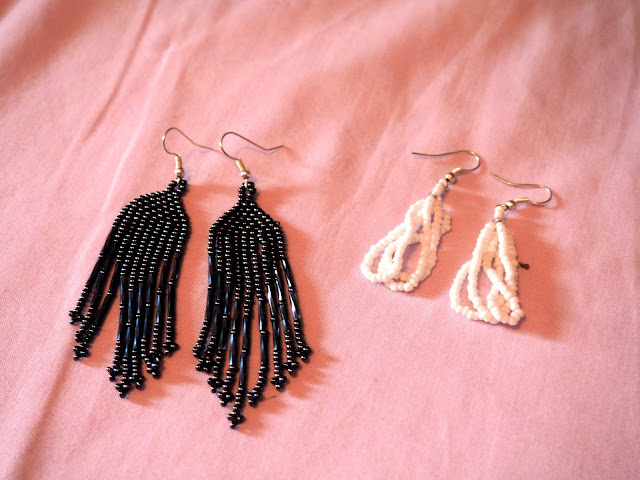 After buying a few pieces of jewellery at that market, I wasn't going to get much more for a while, but when we were staying with our Mayan homestay family that night, the mother, Patricia, revealed the beaded jewellery that she makes, so of course I had to get some! She had loads of different pieces, mostly bracelets, but I don't wear them all that often, so I went for more earrings instead. The darker pair are the sort of colour and style that I often choose, but the white ones are a bit different for me in terms of colour, but I found they really stand out in my hair. And she actually had to make the second one on the spot for me, which was amazing to watch!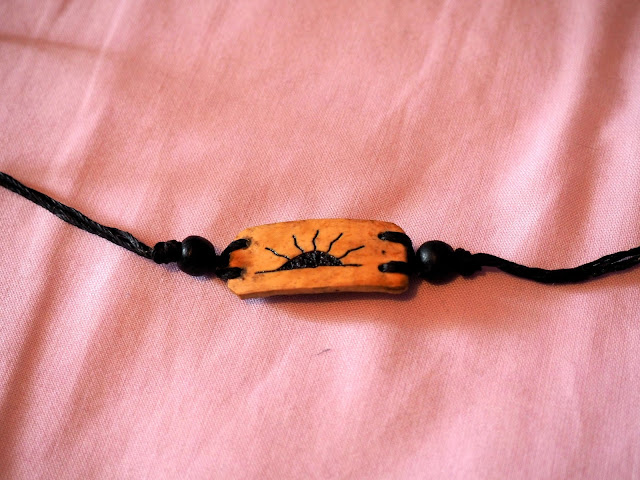 My last Guatemalan piece came from the Lava Store. If you want to visit it, you'll have to hike up Pacaya volcano, just outside Antigua, where the tiny hut sits amongst the lava, still warm from last year's eruption. They had the idea to use the lava, normally so destructive, and turn it into something beautiful, in the form of jewellery. The sun pattern is made from lava, and inlaid into part of a coconut shell (they also had more expensive pieces set in silver).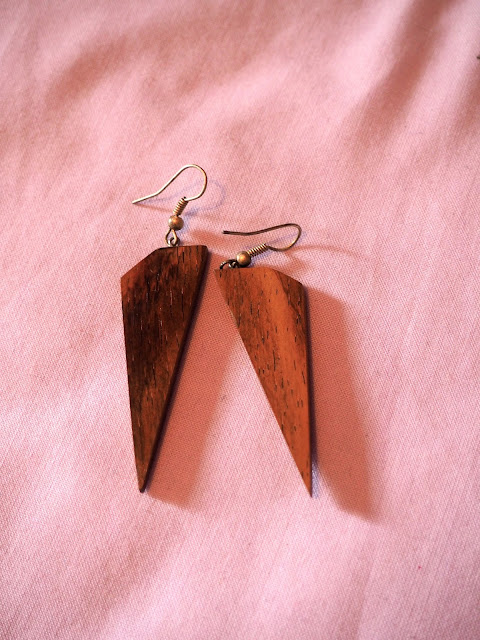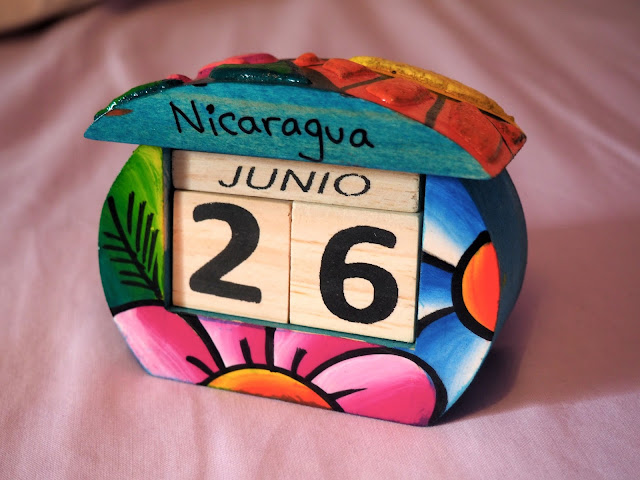 We visited another, smaller market in Nicaragua, at Masaya, near Granada, where I picked up a few more things for myself. There was a lot of wood on display, so I went with that, to pick a change from all the jade and beading. These earrings are simple, but the shape appealed to me, perhaps being a little more dramatic than the other options. Then, this little wooden calendar was just too adorable to walk away from, and the bright colours and patterns will make it so fun to have on a desk. Of course, I have to change the date myself every day, and all the other blocks are tucked away behind the visible ones at the front.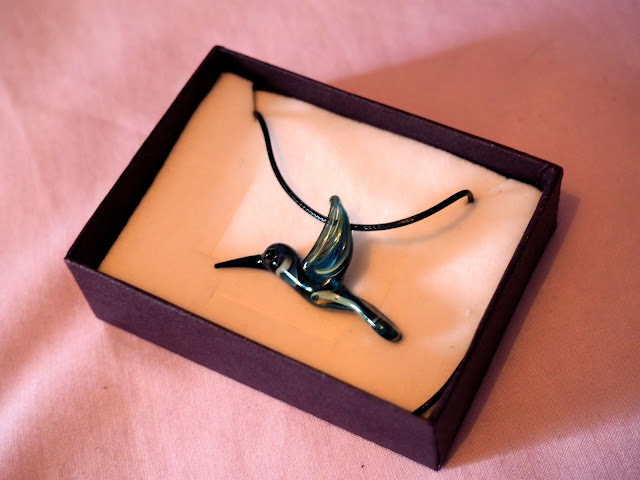 For a while, I said I wasn't buying anymore jewellery on this trip, but then I always did, so eventually I just gave up. This was my last piece of jewellery though, from Monteverde, Costa Rica. I spotted the 'glass art' sign, so went for a look, and discovered the craftsman moulding a glass hummingbird in front of all the shop customers, using two long metal rods. It was incredible to watch the bird take shape, so then I couldn't resist getting one for myself. Photos don't do it justice though, as there are so many shades of blue swirling through the glass!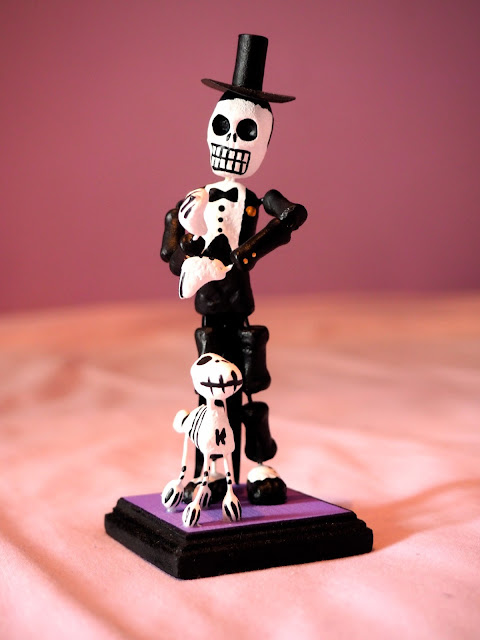 My final purchase was a last-minute spontaneous buy in Cancun airport, while trying to use up my spare currency (I do have a few coins from every country though, as another form of souvenir). I love the 'Day of the Dead' celebrations Mexicans have, though I don't know loads of details about it, but I've always like the sugar skull designs. This little guy isn't quite a sugar skull, but there were lots of different skeleton models available, and I just thought they were so quirky and fun, and would be another cute addition to a desk. There were plenty to choose from, but this guy stood out to me for some reason. I'm still looking for names for both of them though, if anyone has any suggestions?
You May Also Like
3 November 2018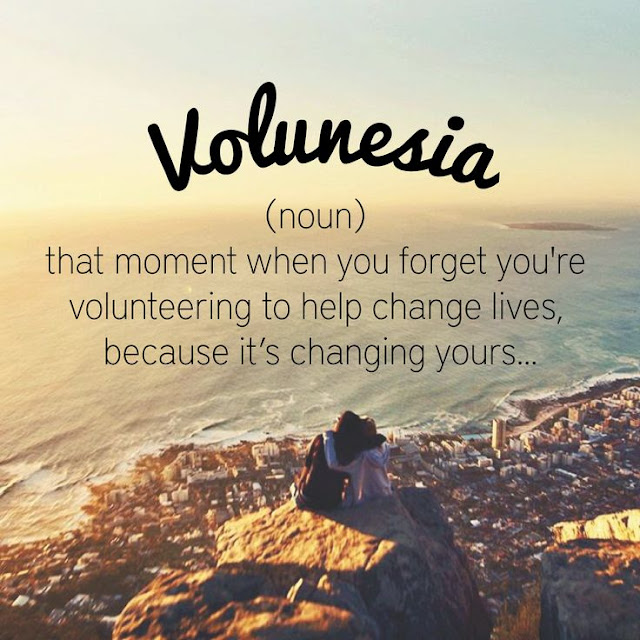 5 November 2018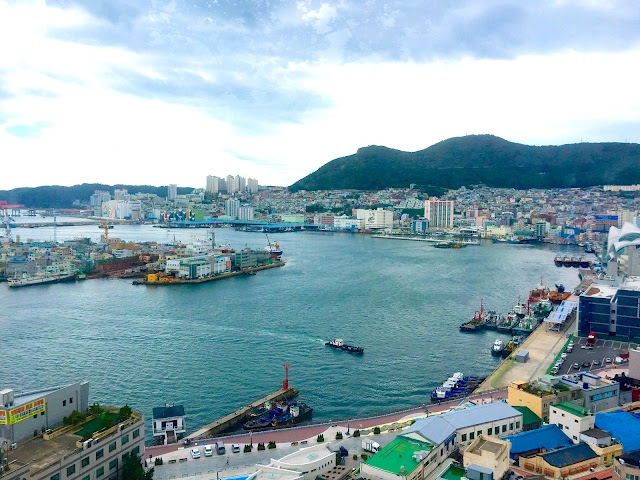 1 September 2016