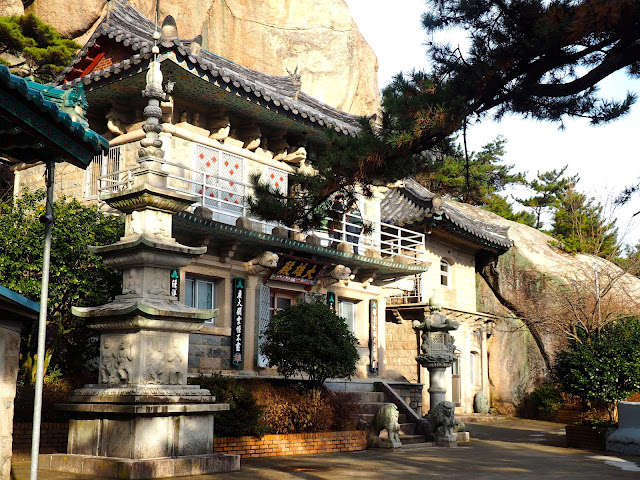 Hiking to Seokbulsa Temple | Busan
3 December 2016
Ok, so I have to confess now, I suppose we did cheat a little and cut out a big part of the hike by taking the Geumgang Park cable car most of the way up the mountain. I'm not really sure what the options are if you want to hike all the way, instead of taking this, but the cable car definitely seemed like the easiest option to avoid getting lost. We were following these directions to the temple, which served us well, and they do have an option without the cable car too. I don't like heights much (i.e. I'm terrified) when I'm dangling from anything – like a cable car rope – but walking around high buildings and mountains etc. is fine. I braved it though, as although it was taking us high up the mountain, it wasn't actually too high up off the ground directly below us, and I was rewarded with sweeping views of Busan from the windows. The cable car definitely offers the best versions of these views, since they're obscured by the trees once you reach the park at the top. It was actually strange for me to see how big and spread out Busan actually is, since I don't think it feels very big most of the time.
From the cable car, we began our walk, following the signs for the South Gate. A lot of the signs are only written in Korean, but there are some English ones too, which seemed to cover the route we were taking, and these ones clearly look to be more recent additions to the signposts. This part of the walk was pretty flat and easy most of the way, with only a few rockier parts to walk around. I don't own real hiking gear, so as long as I can do it in my Converse sneakers, it's within my abilities, and this was plenty easy enough. The path is easy to see too, just keep following the signs, although the ground was coated in leaves of gold, orange and brown, and the trees are now starting to look pretty bare. Korea has definitely offered one of the most picturesque autumns I've experienced, since the weather has been so bright and dry, showcasing the beautiful colours far better than the rainy autumns I'm used to.
We reached the South Gate and paused here for a few minutes to admire the architecture and snap some photos. After walking the fortress walls of Suwon, these sorts of defensive gates are nothing new to me, and others pale in comparison a little now! It is interesting to be reminded that these were once necessary though, and made us wonder a bit more about the history of Busan and Geumjeongsan mountain (something I've yet to research though). We didn't follow the path through the gate though, and instead veered left and downhill, following the signs for Nammam village, which was only a few minutes walk away.
I suppose, in my head, I had been picturing a traditional sort of rural village, and was instead quite surprised by what we stumbled upon. There were a few small houses, but most of the village consisted of these big tents serving food, which Korea is so fond of. Fellow hikers were sat inside, eating late lunches, and most looked to drinking fair amounts of soju alongside it. There was music playing around the village, and lots of people just hanging out there; spending your weekend drinking in these sorts of places, whether in the middle of a hike or not, seems to be a fairly popular recreational activity here, much to our delight! We even saw this group of slightly older men playing some sort of ball game outside, with their drinks sat around the court with them. We didn't stop for any food ourselves, having eaten before we started the hike, but it was certainly an interesting place to pass through!
After that, most of the hike continued through the forest, fallen leaves scattered around us, and various other hikers passing by us in different directions. It was still nothing too strenuous, and a lot of it went downhill for a while. We crossed a cute wooden bridge, just after the village, where we paused for pictures. Then we came across one of the prettiest spots along the route, as we descended a long series of steps in a rockier hillside, and reached small stream trickling through the forest. We had to walk down the side of it, then cross over using the large rocks in it (very easy!), and it just made for such a nice view to suddenly find around the corner!
Not long after that, the path took us back to a main road, and from there we had to turn right and finally start our uphill hiking. The route is easy to follow, as you just keep going up and up this road. We did hesitate at one point, when we reached a small building and there was a low chain across the road, but then we realised this was to prevent cars going all the way, when we saw someone park theirs then get out and start walking the rest of the way up to the temple, so don't be deterred! It's not a hard uphill hike, but was definitely the most strenuous part of our day, and we worked up a bit of a sweat by the time we reached the top. From the temple's entrance, the ascent rewards you with views across the mountain, with Busan's buildings visible in the distance.
Seokbulsa Temple is unique because it's built into the side of the mountain. The buildings themselves are quite small, and nothing very extravagant, with the most interesting perhaps being the tall bell tower built up the hillside. But tucked away amongst the buildings is a sort of hollow, a small prayer area open to the sky and surrounded by the stone walls of the mountains, into which Buddhist figures have been carved. We walked through this, admiring the carvings, and climbed the stone steps at the back of it, which lead to a tiny shrine at the top, nestled into the mountain and peering out the narrow gap to the views below us. What was really striking too, was the quiet. I've visited so many temples in my travels through Asia, and Seokbulsa is certainly not one of the most famous or extravagant (it's plainness does make you question a little if the hike there is worth it) , but most of these others have been busy with worshippers and tourist. At Seokbulsa, there were only a handful of other people looking around, and while we were in the prayer area, we were only joined by one other person, who had come to pray himself. It was so quiet and peaceful, an so removed from the rest of Busan, and connected with nature instead.
After looking around, we began our descent again. The simplest way to go is to follow the main road again, which will take you all the way down into the city again. We did get a little adventurous instead, and followed a tiny path we found instead, leading through the forest. It was much less trodden that the rest of the day's route had been, but still seemed to be taking us more or less in the right direction. It was a bit slippy in places, and my knees didn't thank me for the steep descent, but it was fun to feel like we were exploring, and to get off of the main, well-beaten path for a while. Eventually we did rejoin a main route, and which took us back to city, near the Mandeok area. We could hear some loud music during the descent though, and at the bottom we found its source when we came across a large group of people eating and drinking at tables outside, with a small stage that people were singing on (it looked to be karaoke, or noraebang as it's called here). Like the village, this seems to be quite a common sort of activity for locals at weekends, and they definitely looked to be enjoying themselves! We stopped to watch briefly, before continuing on home again.
Seokbulsa is often listed as one of the top sights in Busan, and I think it's unique position and design, the way it is almost a part of the mountain itself, definitely makes it an interesting visit. However, it is small and we didn't spend very long there, so you really have to want to enjoy the hike as well, to make it a worthwhile day out. I'm not sure I'd list it as a top sight myself, since it is small and plain for the most part, but I'm glad I went to see it anyway, and spend an afternoon outside walking again in this nice autumn weather.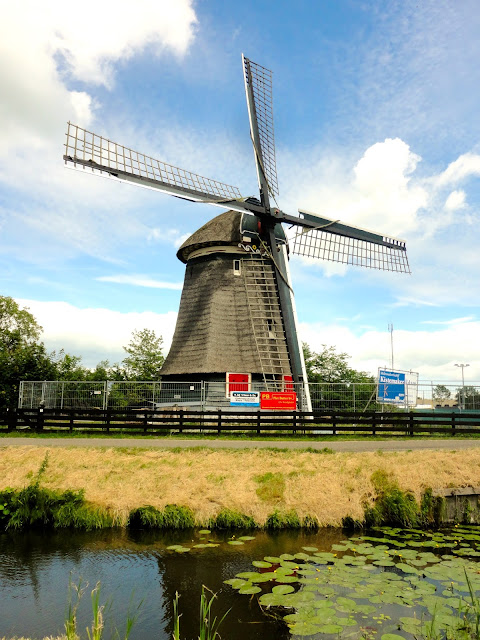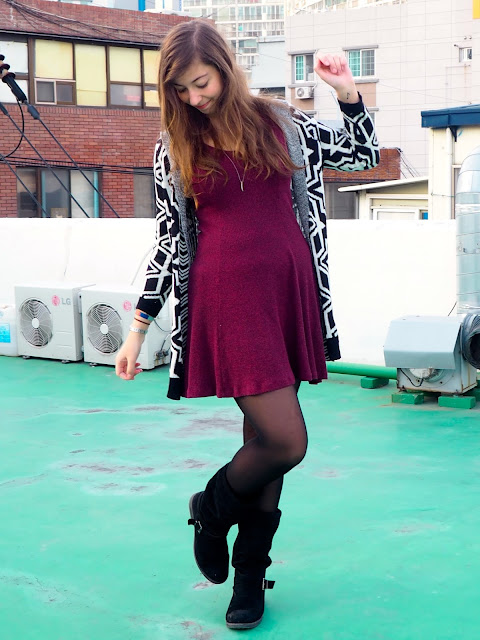 You May Also Like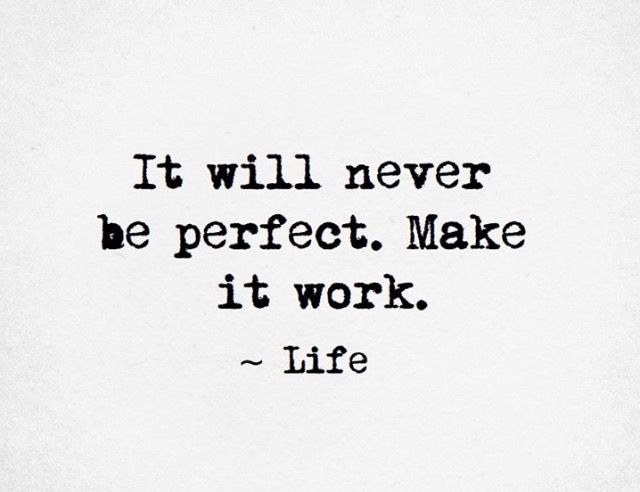 15 November 2018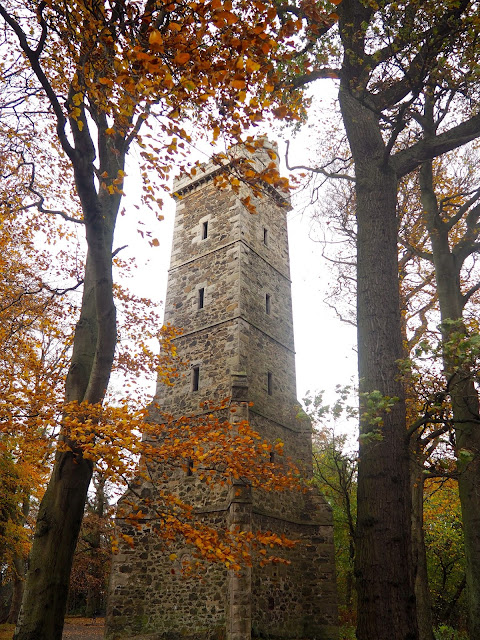 11 November 2018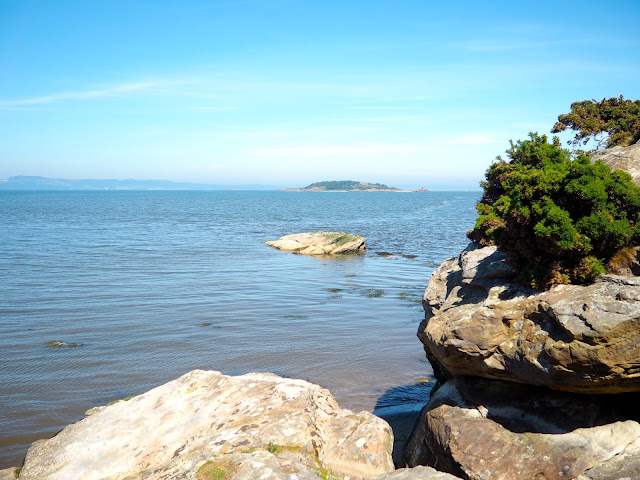 5 July 2018