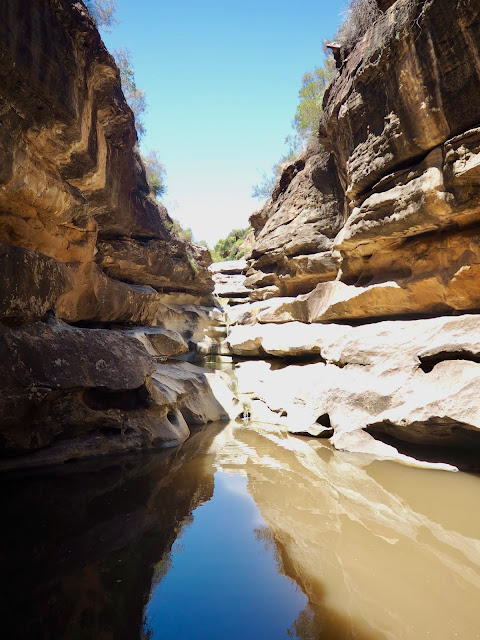 Lesotho | South Africa
18 February 2019
Alright, first of all, Lesotho is not in South Africa, I know. It's its own country, but which is completely surrounded by South Africa, and I'm only including 'South Africa' in the title because I visited on the same trip! Here's part one if you haven't seen that as well, to explain what my trip all entailed too. Right, details out the way, on with the actual post!
We started early for our departure from Drakensberg, as it's a long drive into Lesotho. It's known as the 'Kingdom in the Sky', as the whole region is very mountainous, so as you can perhaps imagine, there was some pretty impressive scenery throughout the drive! The land started to get drier though, and we left rolling green hills, in exchange for brown, rocky, dusty mountain ranges. This time of year is actually rainy season, hence the thunderstorms we'd experienced, but there's also an ongoing drought, compared to their usual levels of rainfall. We drove through South Africa for several hours, before reaching the border crossing, conveniently placed on a bridge, so the river serves as the border. It was an easy process, simply getting our passports stamped out and in for each country. The drive continued through Maseru, the capital of Lesotho, which actually started out as a police camp!
We weren't staying in the city though, so our drive continued into the countryside, through those vast mountain ranges, and dry, dusty valleys in between. There was lots of farmland though, as we passed dozens of people tending to their crops and animals. The roads were pretty rough going at times, with bumpy dirt tracks, and narrow twists and turns through the mountains. Eventually, we arrived at our accommodation late in the afternoon, at the Malealea Lodge, next to a tiny village. It turned out that many of the villagers are employed by the lodge now.
Before dinner that evening, we got to enjoy a performance from some of them, as the village choir and band each came to perform. The choir consisted of about 14-16 people, who sang traditional songs in Sesotho for us. Each voice had different parts to sing, so the songs were wonderfully arranged. The band was five guys, plus a couple of younger boys singing and dancing, who played on homemade instruments, built from whatever materials they could find (4 guitars and a drum kit). They called themselves 'Malealea Band' and the music is called 'famo' music, traditionally for men only, having originated as an after work activity, but now everyone can enjoy it. The boys tried to teach us dance moves as well, and the whole thing was very enjoyable! We spent the rest of the evening having dinner, then playing card and board games in the common area.
The next morning, it was time to go and explore the region's scenery with some more hiking, though this time we were just doing a half day trip, escorted by a couple of guides from the village. We were heading into Pitseng Gorge, which first meant traversing the village farmland. They have fields on the less steep hillsides, and herds of cattle grazing in the areas less suited to crops, all of it surrounded by those larger, rocky mountains. We passed houses and people working away, under a blazing sunny day. This was an easy walk too, on fairly flat paths along the hillside. It was an unusual hike though, as we went downhill first, into the gorge itself, and would have to come up again to get out of it. The path down was very rocky and dusty, though nothing too difficult, and it didn't take us long to emerge onto the riverbed. As there's an ongoing drought, the river was very low, just a thin stream running along, though they did tell us that it never gets all that high anyways.
We followed the riverbed, gently winding through the gorge, occasionally climbing over some rocks in places, but it was all very easy going, albeit pretty hot under the sun. We passed meanders that almost went under the mountains, with the rocks stretching over the gorge like a roof. Eventually, after twenty minutes or so, we rounded a corner to our destination, a small waterfall and plunge pool. The water was brown and murky, but it was still a picturesque spot, a quiet little corner hidden away from the rest of the world. It was a series of small waterfalls leading into the pool, surrounded by more large rocks. We were allowed to swim in it, the guides told us, and though the water was pretty dark, we figured why the hell not? We'd all brought swimsuits anyway, so we soon changed and hopped in. The water was freezing and the floor of the plunge pool was very muddy and slippery, but I wasn't passing up on this unique experience! We spent time swimming in the pool, attempting to climb up the waterfalls – tricky with a lot of algae in places! – and drying off again on the rocks overlooking it all.
Once we'd had our fill of the water, it was time to make our way out of the gorge again. I did say this was an unusual hike, as we were basically going in reverse, having to climb uphill to return to the lodge. And when I say uphill, I do mean up. It was a near vertical climb up the rocks, probably even harder than the scramble we'd done in Drakensberg! Especially under the hot sun, and after already walking quite a bit. It was tough going and required many breaks, but our efforts were rewarded at the top with views over the gorge and the surrounding landscapes, the flat valleys and distant mountains, huge rock formations painted in shades of brown and yellow, dry and dusty in the summer heat, but dotted with green foliage in places. Then it was back through fields and farmland again, though it was a circular route, so not the same ones we'd come through earlier, until we eventually returned to the lodge.
We got back at around lunchtime, and spent a couple of hours eating and playing more card games together, taking time to relax, before our second activity of the day. We took a tour of the local village, next to the lodge, where all the employees and guides actually lived. We were slightly hesitant at first, as we didn't want to turn these people and their homes into a tourist attraction, and we had been advised not to do any sort of school tours in Africa, for the same reason. However, all of the hikes and tours contribute to the Malealea Development Trust, so the money is used to help the village, such as building its school, so we thought doing the village tour would be another way to help contribute. We had three guides taking us around, and we learned a lot about village life and customs there. The houses are simple, with no electricity or running water, and the main work, aside from the lodge, is farming, so they showed us some of the local plants and explained some of their farming methods. We also met a woman who brews her own beer and sells it to the villagers, especially on special occasions. We got to try some, and it was quite different from beer back home!
They took us to the village chief's house, who we didn't get to meet, but they told us about the hierarchy, with sub-chiefs in every village and one greater chief for the whole region of 14 villages. The chief must be informed about who moves in or out of the village, who marries who, and when anyone dies, and his son will inherit the position after him. They also showed us the cemetery and explained their funeral customs. We finished at the handicraft centre, funded by the Trust, and every item for sale has the name of its creator listed, and each sale is recorded, so you could see that the money got back to the right person. I got my Lesotho magnet here (I collect them from every trip I take), and a pair of rolled paper earrings. The whole tour ended up taking longer than planned, as we had many questions, and it was very interesting and informative to learn about such a different place and way of life. I think it also made us all very appreciative for what we have, as it's definitely not a wealthy region.
We finished our day with dinner back at the lodge and some more games, before our departure from Lesotho, returning to South Africa, the next morning. I was glad that this was a part of our trip, not just to add another country to my list, but to see both the impressive landscapes, and the different culture here. When the British colonised Africa, they created many colonies, but Lesotho (formerly called Basutoland) became a protectorate, holding on to its king and traditional chiefs. South Africa was formed by the union of four former colonies, but Lesotho sought independence, as a kingdom, which was gained in 1966. Of course, the entire history is much more complicated than this abridged version! But my point is, it was interesting to see the differences between the two nations visited on this trip.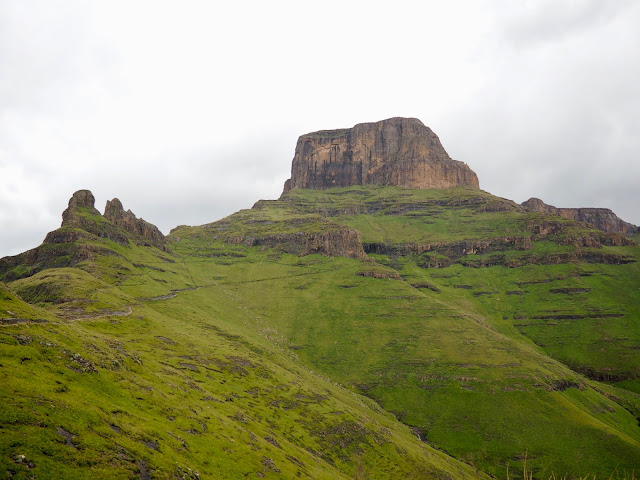 You May Also Like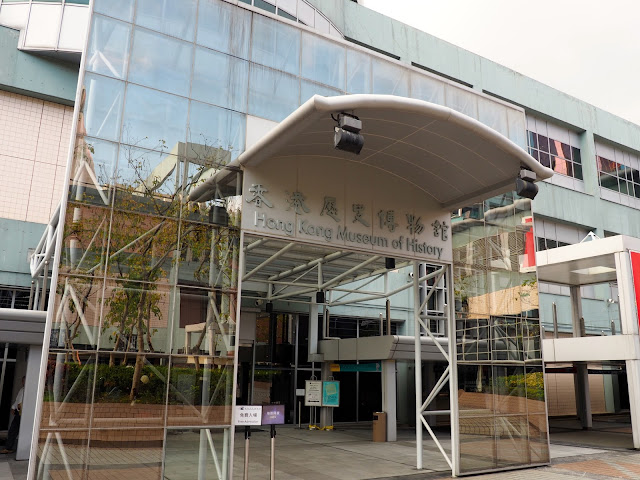 20 April 2016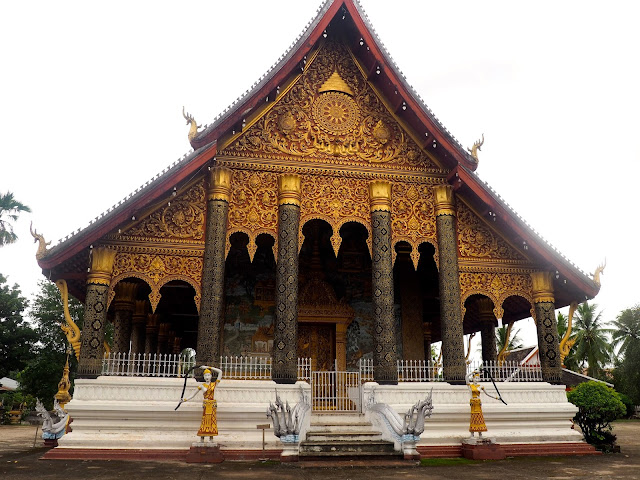 22 August 2016