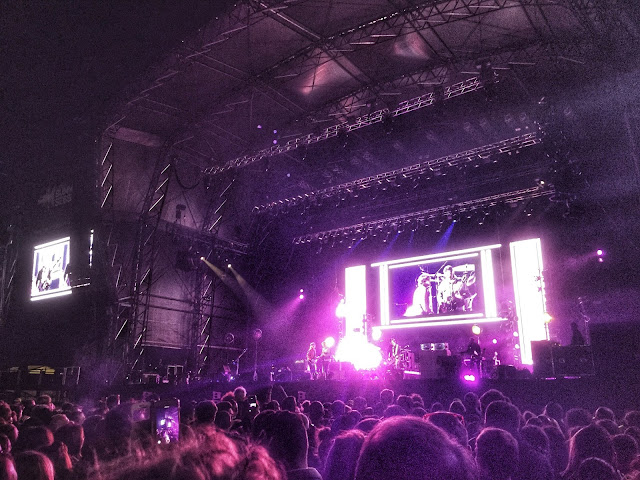 Kings of Leon | Glasgow Summer Sessions
26 August 2018
A day outside in the park, beer in hand, the smell of food trucks drifting through the air, and a stellar line up of live music on the stage in front. Add some bracing northern winds, and a lot of people wearing wellies and rain jackets, getting progressively drunker as night falls, throwing beer around and chanting "here we fucking go", and that's a music festival in Scotland. Oh, and of course, there's always the obligatory Scottish flag being waved around by someone in the crowd!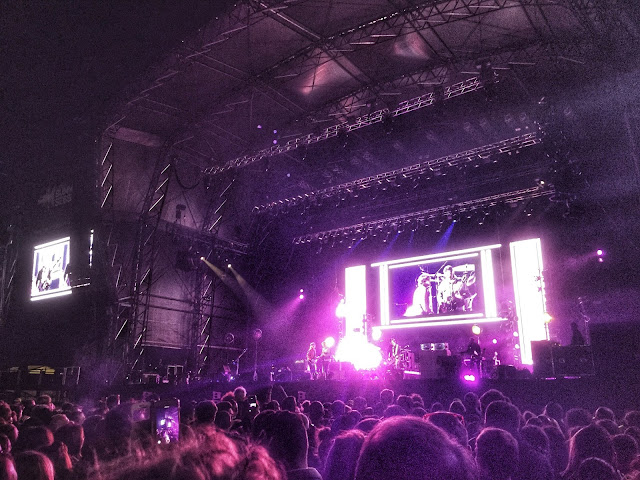 So, I've never gone to camping three day weekend music festivals, as they rarely have a line up that I'm willing to pay that much money for. But the Glasgow Summer Sessions are a slightly different affair, as it's three days spread out over the course of a week, and you can buy a ticket for one, two, or all three days (the price is discounted for each additional day you add). So this year a friend and I got tickets for two of the three days, the first of which, Kings of Leon were headlining. The gates opened at 4pm, and the event ended at 11pm, as there were a total of five bands playing, however due to our work commitments earlier in the day, we missed the first two of them, arriving just after 6pm.
The Summer Sessions are held in Bellahouston Park, which is a half hour bus ride from Glasgow city centre, but they had designated buses running the route all day. Once we got in the gates, the main stage was in the centre, surrounded by the bars, food trucks, and of course, portaloos, around the edges. We made a beeline for the bar first (the goal was not to get drunk, just to have a couple), where we had to queue through a huge snaking line of barriers, and of course, I got ID-ed every single time. The drinks weren't cheap, but they also weren't extortionate, so having a couple would do us just fine. Once we had our drinks in hand, we ambled into the middle of the crowd, and found a spot to sit down for the next band, since we knew we'd end up jumping around in the middle later on.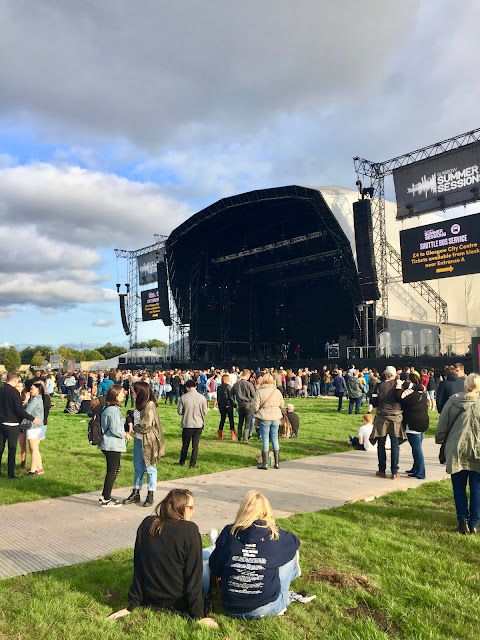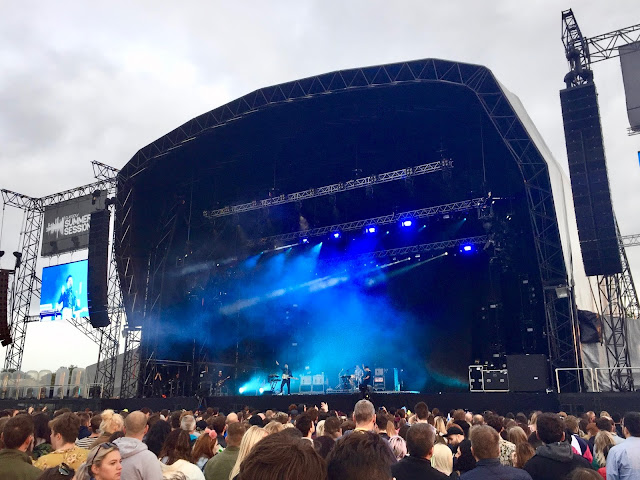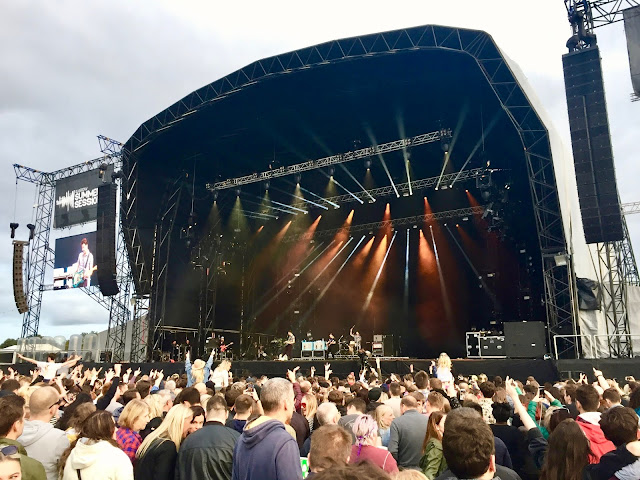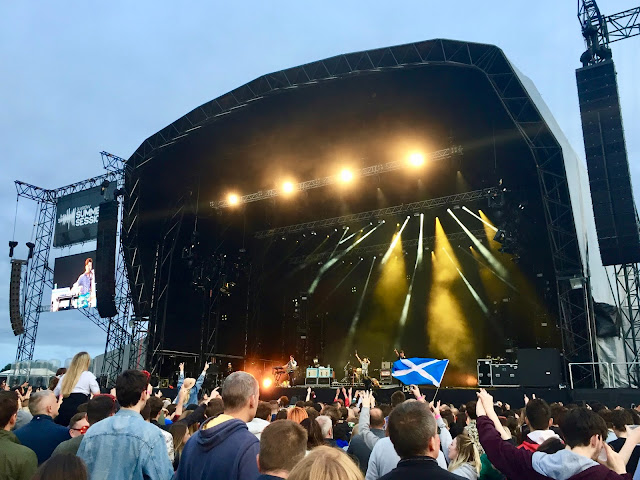 The Hunna were the first band we saw, and were one that neither of us was familiar with. They're a rock band, so their musical style proved to be in line with Kings of Leon, therefore matching our tastes, meaning that we enjoyed them quite a bit. I'd have to go check out their discography to see how much I definitely like them, but they were very energetic and sounded good up on stage, and we had no complaints while sitting their listening to them. It was still early in the evening, so we weren't ready to fully rock out just yet, but we could see from the big screens that many of the people in the front of the crowd were already very much up for a good time, which was great to see.
Between acts we did a bathroom run and drink refill, then we moved further up in the crowd for the main support act, The Wombats. They're a band I've always known of, but somehow just never really got into properly. I knew I'd enjoy their set though, as they do fit my usual tastes, and the crowd were pretty into it as well. My favourite part had to be the bizarre moment when they did an elevator music interlude, and someone dressed as a literal wombat came on stage to dance with them. It was pretty strange, but highly entertaining as well! I did take some videos throughout the day (not excessively, like those people that record most of the show), which you can see in my Instagram story highlights! I really should check out more of their music too, as I did enjoy them a lot. After they finished, we went to grab some food before the final act. We thought we were getting cheeseburgers, but they turned out to be even better than that, as they were served to us absolutely slathered in melted cheese! Delicious, but quite messy to eat!
Then it was time for Kings of Leon. They are the absolute favourite band of the friend I was with, so this is the part she was most excited about, and as such, we headed further into the crowd again to get closer to the stage. Unfortunately we ended up surrounded by a few people who were far too drunk by this stage, and proved to be pretty annoying for the duration of the set, as they'd apparently forgotten that it's generally not nice to be shoved into repeatedly by someone's outlandish dancing. However, we tried to not let this affect our enjoyment of the show. It was dark by this point as well, so it had transformed from a chilled, day drinking music session, to a full on concert, with lights and smoke and a crowd ready to party.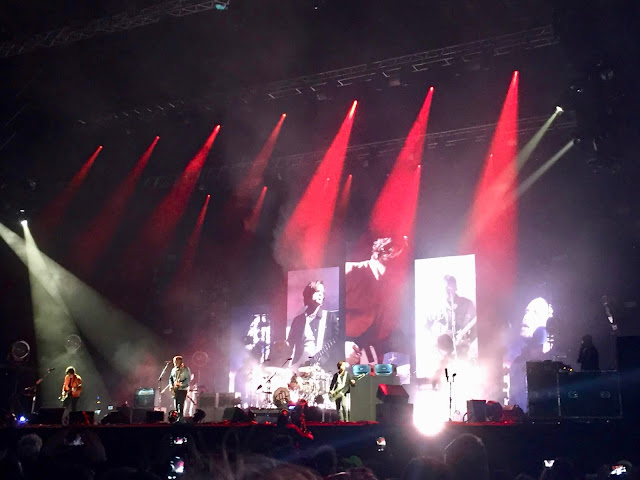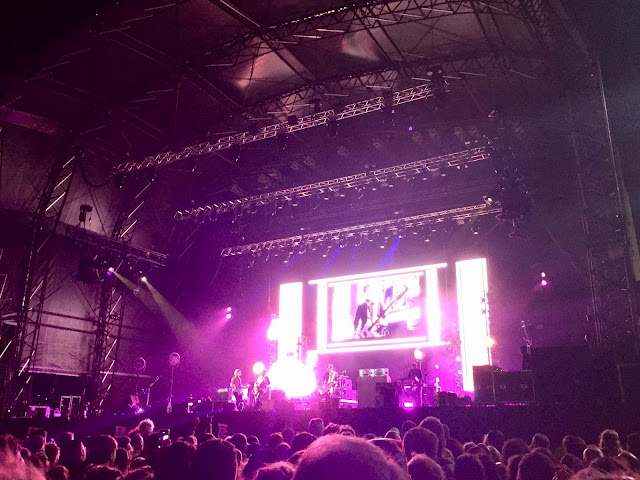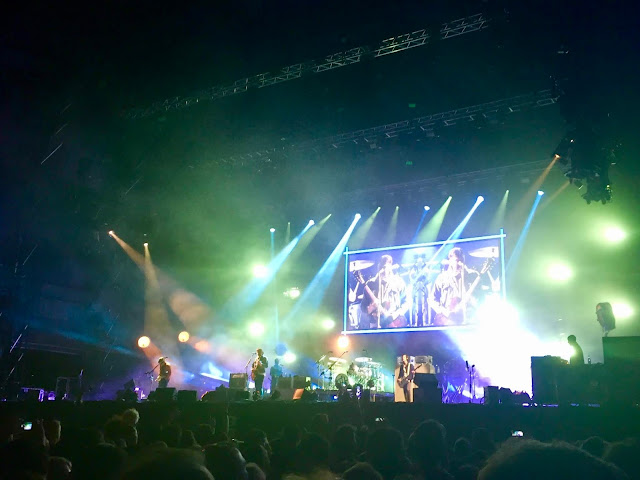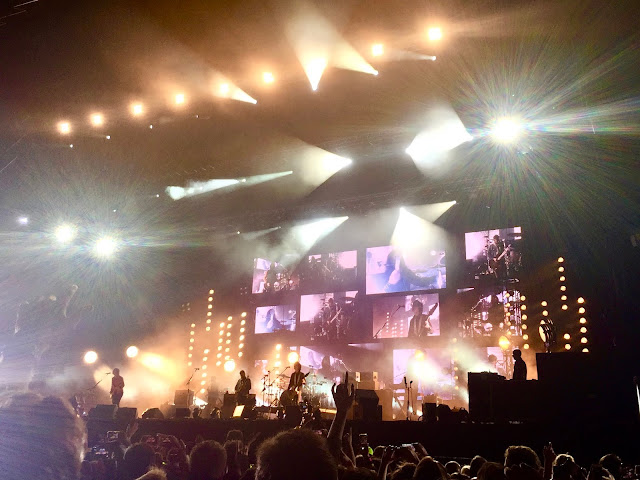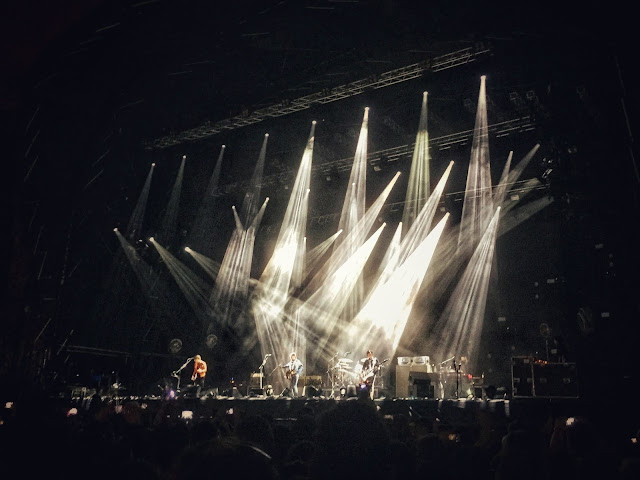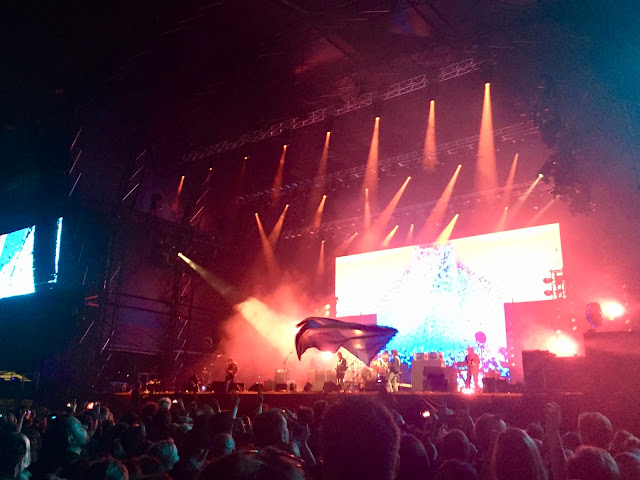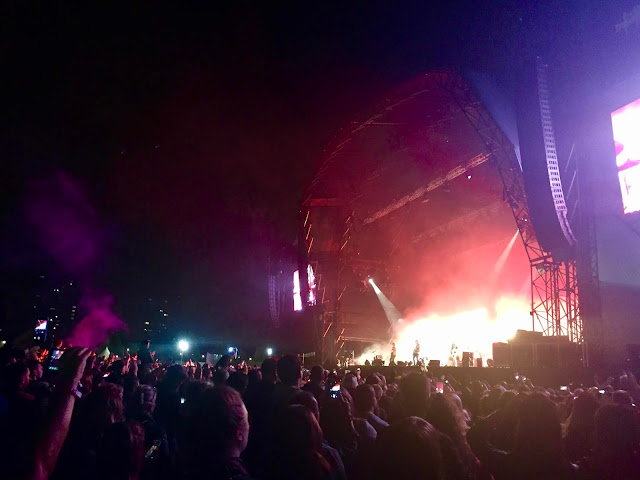 I've never really gotten into Kings of Leon, so I only recognised a handful of songs, the ones that were released as singles, but as with the other acts on that day, they match my overall music tastes, so I knew I'd enjoy it. We both agreed that the set seemed pretty mellow overall, with a lot of slow and chilled out songs for the first two thirds of it. That wasn't necessarily a bad thing, and they still sounded fantastic musically, but we did reach a point where we were sort of waiting for it to really kick off, which only really happened in the last twenty minutes or so, when they brought out songs like 'Use Somebody' and 'Sex on Fire'. Their visuals going on behind them were a bit unusual at times, but certainly intriguing, and I'm always a sucker for a good light show incorporated into a concert, which can really enhance the music and the overall experience.
It ended up being a more chilled out today than I was perhaps expecting, in part because I didn't know lots of the songs from all the bands, and in part because of that mellow set list that Kings of Leon went with (I'm anticipating more from Saturday, when the line up includes a couple of my favourite bands), but it was still a really great day out. We escaped the crowd during the last song (Sex on Fire), to beat the masses heading back towards the buses, which was definitely a smart idea, since there were thousands of people there, and we had a fairly long journey back to Edinburgh. All in all though, I really enjoyed it. It's been a while since I've been to many concerts (I basically went to none while living in Asia for two years), and even longer since I was at an outdoor gig like that one. It's more than just seeing a concert of the headlining band, it's a whole day out experience, and a great one at that!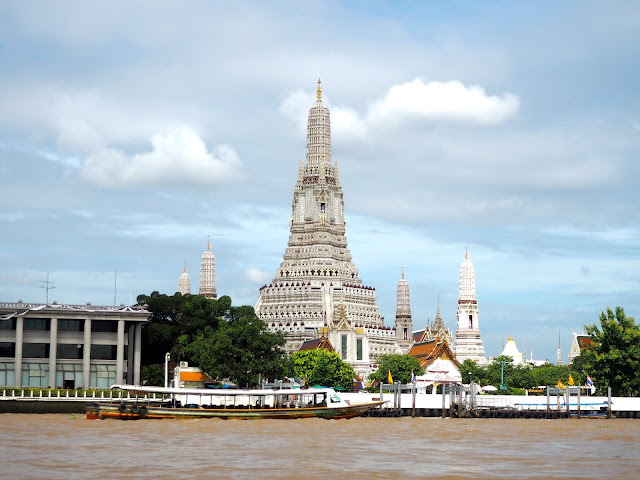 You May Also Like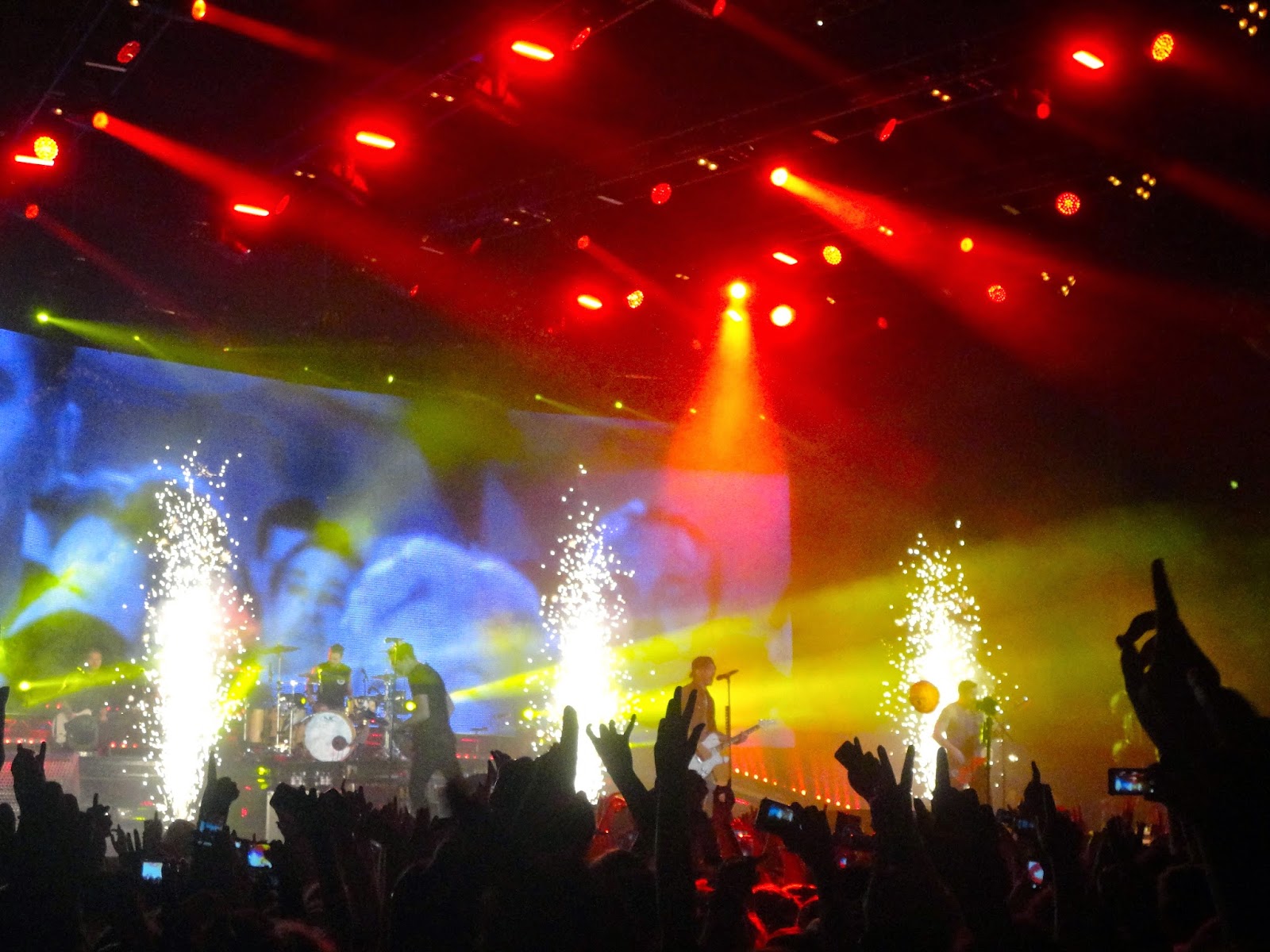 14 February 2015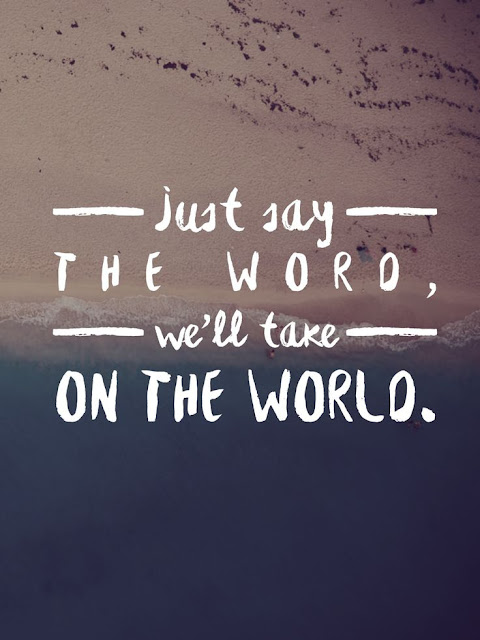 21 October 2017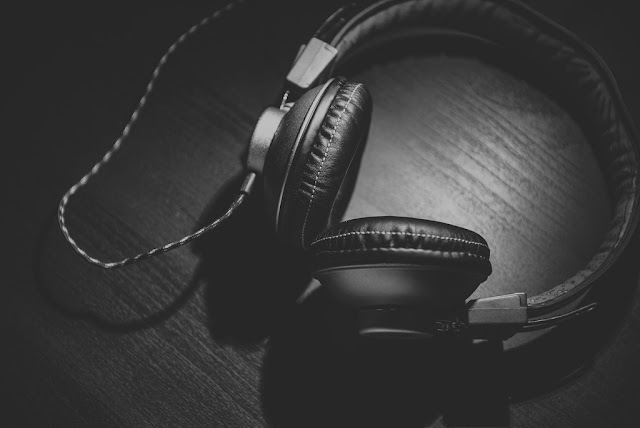 3 June 2019