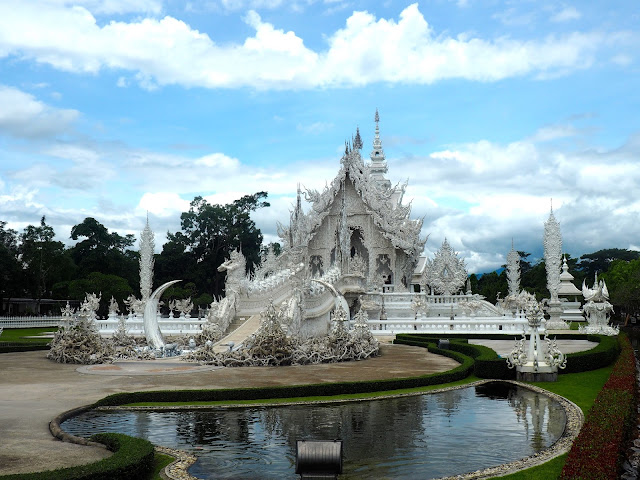 Mekong River | Laos Traveller
20 August 2016
I wasn't sure what to make of the prospect of two days on a boat down the Mekong river at first, as it could have potentially been a rather boring journey, but in the end, I quite enjoyed it. It was relaxing and laid back, and the boat is far more pleasant than say, a bus or a car. We spent one more night in Thailand on the way though, staying in Chiang Khong, right beside the river, which marks the border. On the way, we stopped at the White Temple; I had seen pictures of this before, but hadn't actually realised it was that that we were going to see. I know I've said before that the temples all start to look the same after a while, but the White Temple completely blew the rest away. It's huge for starters, and surrounded by water and bridges and fountains, and everything is so intricately and beautifully designed. It's the colour that makes it stand out though (can you guess what colour it is?), as it just looks so clean and pristine, and is a bright change form the reds and golds found on most other temples. Randomly though, there were various heads hanging from trees nearby, of famous fictional characters, such as superheroes, aliens and fantasy creatures, which was all very odd to discover around such a stunning religious building. We had a snack at the little food court outside, before hitting the road again.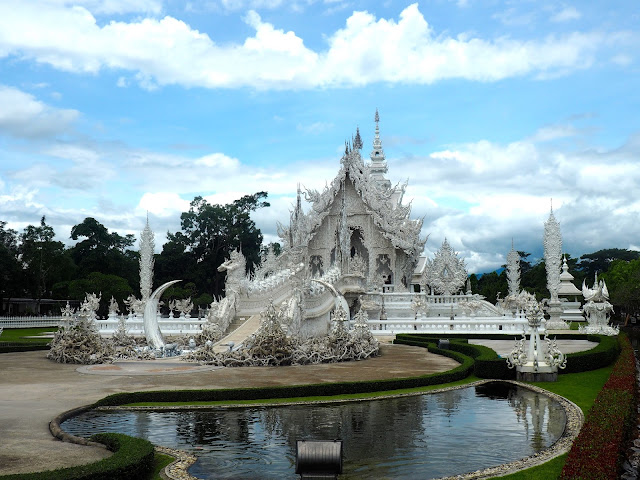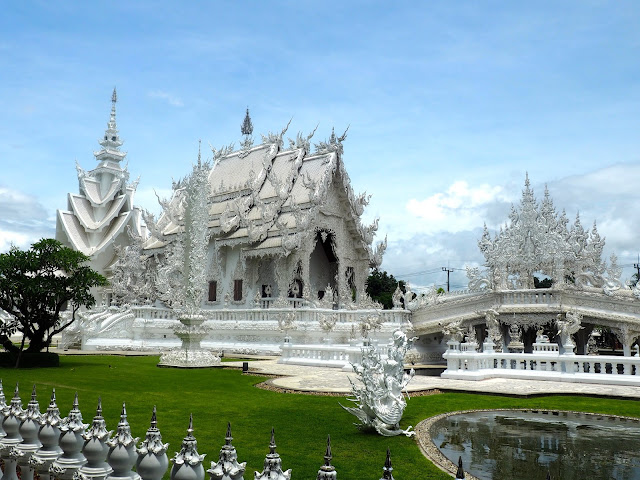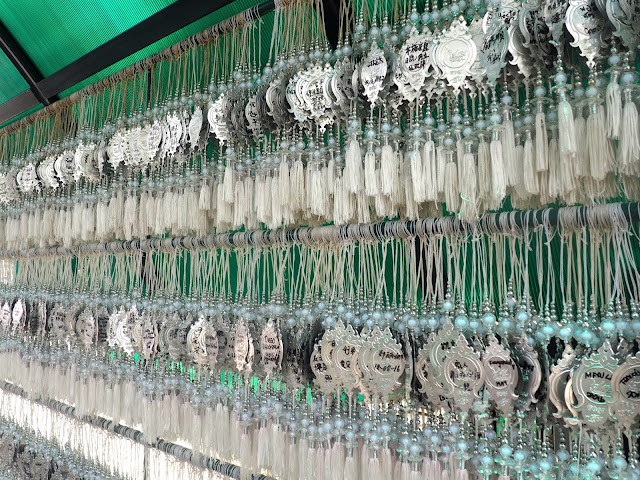 Our evening in Chiang Khong was very chilled out, as there is really not much to do there. I don't mind having a little time like that though, where we all just sat around having drinks and dinner, and picking up snacks and such for the next couple of days. We were staying right beside the Mekong river, and it was actually Laos that we could see on the other side of it. In the morning, we drove up to the border crossing, to officially leave Thailand and enter Laos. The no-man's land between the immigration offices involves driving across the river itself, when we were technically in neither country. Getting our visas and entering Laos was pretty straightforward too, and then we drove back up the river to the boat stop.
The journey along the river was long, spending around 7 hours on the boat on each of the two days, but it still enjoyable. Our local Lao guide joined us at this point, and gave us an introduction to his country, and to the river. It's interesting to me that I've spent time now in the Lao portion of the Mekong, and its delta in Vietnam, so I feel like I know it all pretty well now! We were lucky to have good, dry weather both days too, and we had our own private boat, so there was plenty of room to spread out, to lie in the sun (part of the roof could be slid open or closed), and there was an ample supply of drinks, snacks, and lunch provided each day. The banks of the river were beautiful, as it's all jungle countryside, with only small villages every now and then, no big towns or cities, and we passed other long slow boats like ours sometimes, as well as speedboats and small local fishing ones, but it was pretty quiet overall. It takes a long time to learn to drive along the Mekong too, as there are so many miles of it to learn, and lots of rocks and whirlpools to avoid, do often the boat would be zig-zagging across the water a bit. We passed the time chatting, reading, playing various games, and having a snooze every now and then, and it was all very pleasant and relaxing.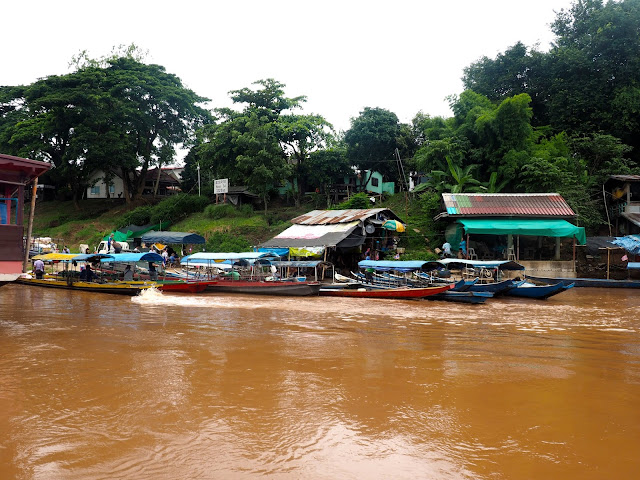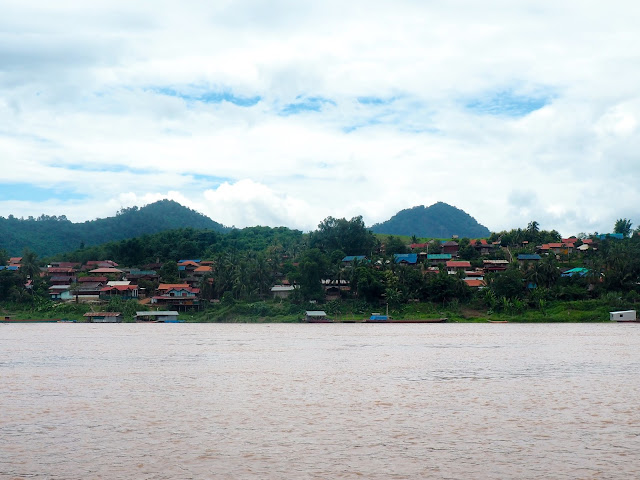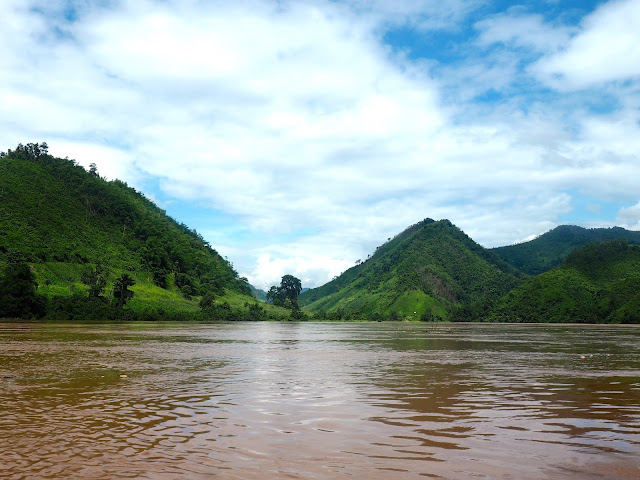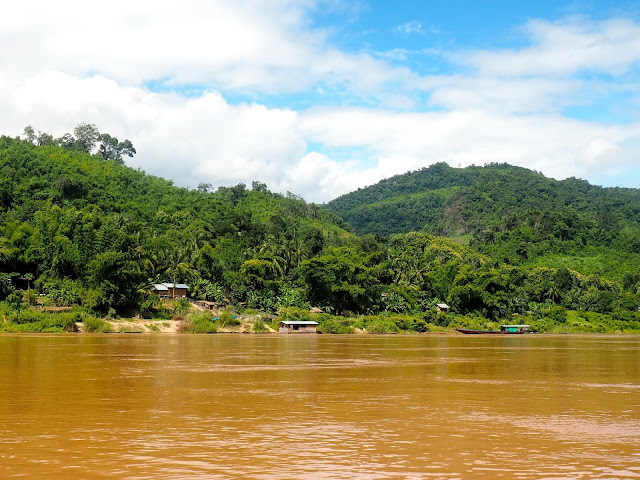 We stopped off for the night in a small town called Pak Beng, which gave us our first look at life in Laos. It was a small town, but with plenty of guesthouses, as its the common stop for people doing the two day boat trip like us. It was also quite apparent that most of the people here were not well-off, and we learned that the average person in Laos makes just $2 USD per day. It's easy to group the countries of Indochina together, and there are many similarities between them, but having visited all four now, the differences are also apparent. Cambodia and Laos are significantly poorer than Vietnam and Thailand, and all of them have had a share of turmoil in their recent histories, though Thailand less so than the others. Anyway, we had another relaxed evening in Pak Beng, having dinner at the guesthouse, and then venturing out to another bar for some more drinks, where we also had Jenga and a deck of cards to amuse ourselves with.
The second day on the boat passed relatively similarly to the first, but we did make some stops along the way. We were supposed to visit one of the local villages, but ran into some problems when our boat got stuck in the shallow, vegetated waters next to it. They had to unclog the plants from the boat's propellor, and use poles to push ourselves back out again, which took a little while, but we got there in the end. We decided to skip that village, since we had the option of finding another later, or visiting one later in the trip, on one of our driving days. It ended up being the latter, and then we just had one more stop that day, which was the Pak Ou caves, Tham Ting and Tham Theung. The caves are natural formations by the river bank, and have become Buddhist shrines, filled with dozens of statues and figurines of the Buddha. The lower cave is smaller, and easy to reach, while the upper involves climbing a hundred or so steps, and has a much smaller entrance, so there is no natural light inside. We used our phone lights to find the many statues inside, and I found this one more impressive, as the gold Buddhas emerged from the darkness.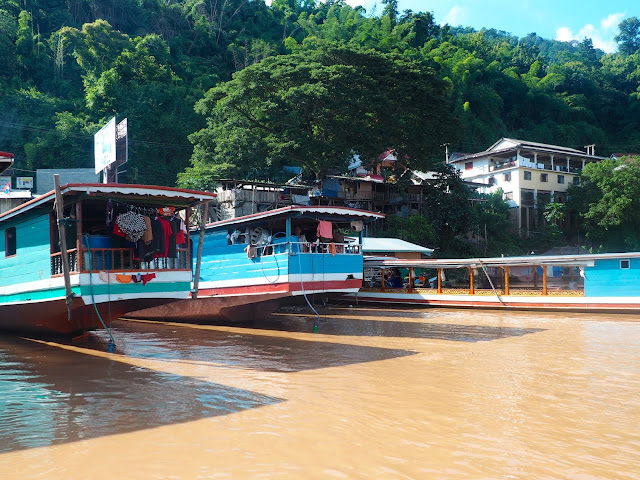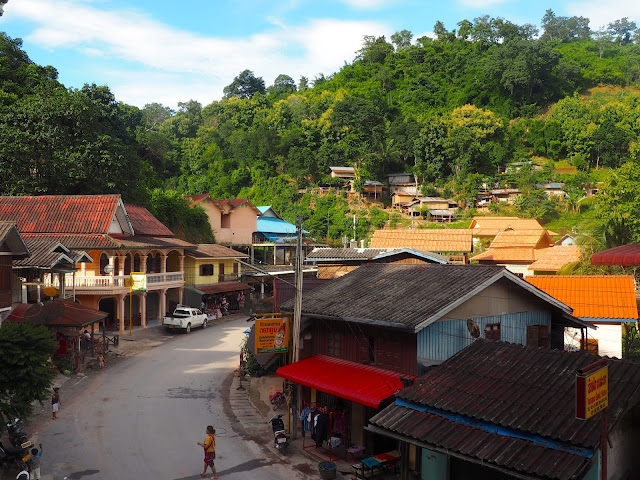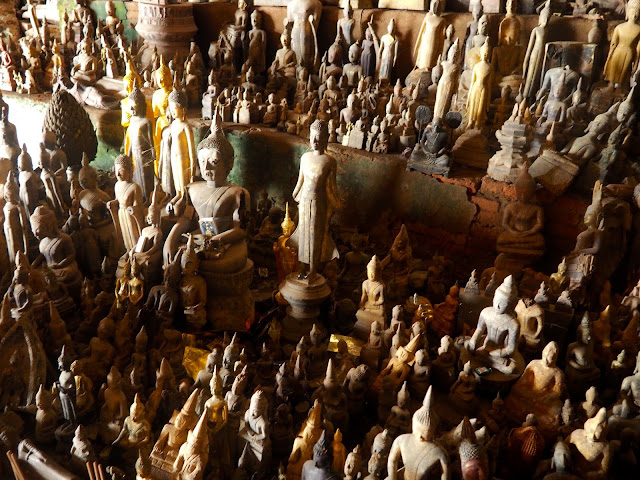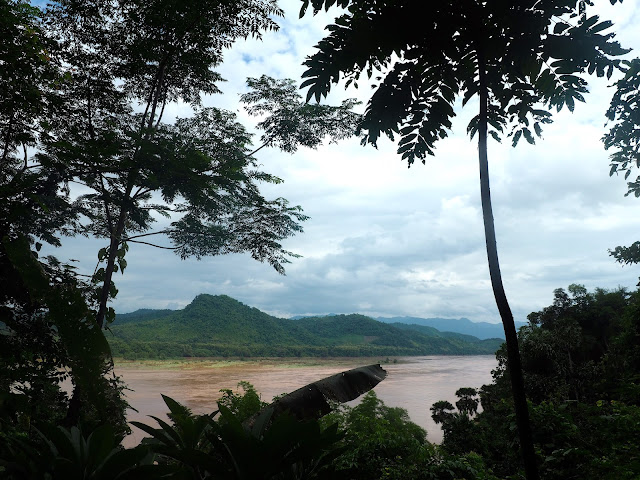 After that it was a short ride to Luang Prabang, our destination for the next few nights. While my main purpose in travelling is to do and see as much of each place as I can, it was lovely to have a couple of days of doing very little. It was relaxing and the landscape around us was lovely; a thoroughly enjoyable way of passing a few days travelling from place to place.
If you're interested in visiting Chiang Rai and the White Temple yourself, you might like to check out the Chiang Rai 1 Day Tour from Chiang Mai by Trazy Crew. I didn't use them myself, but I am an affiliate of the company.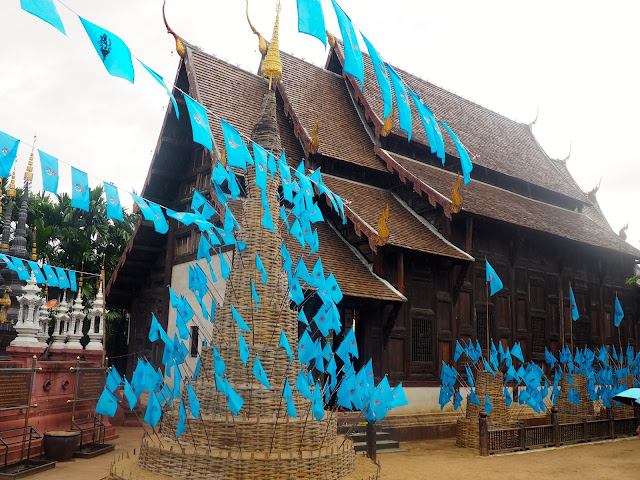 You May Also Like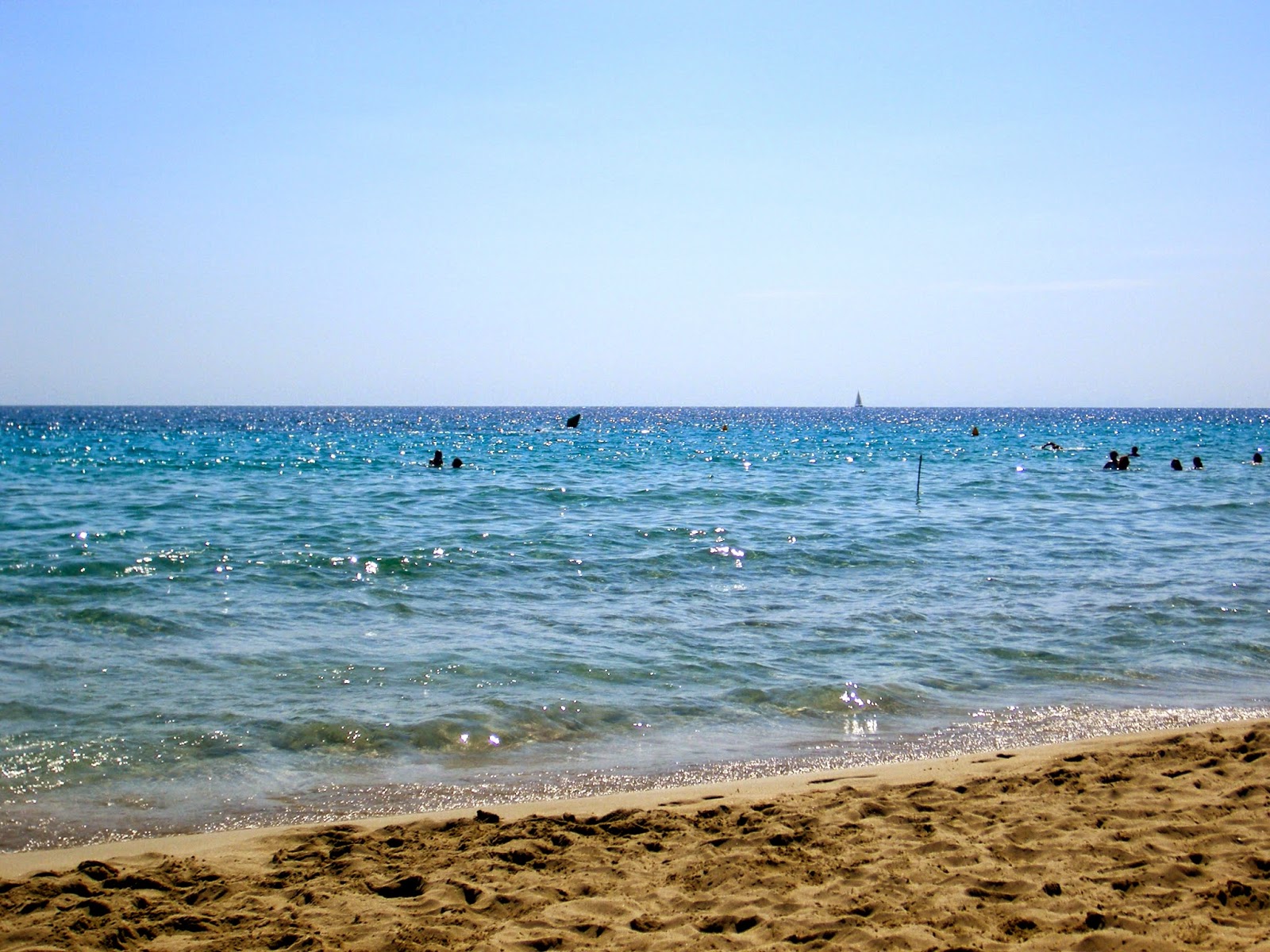 4 April 2015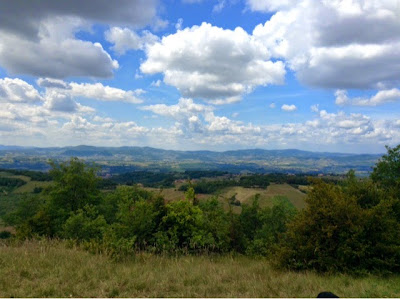 3 June 2014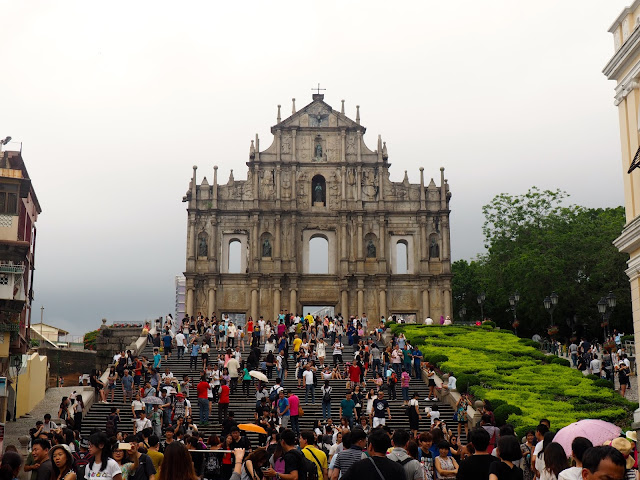 21 February 2018