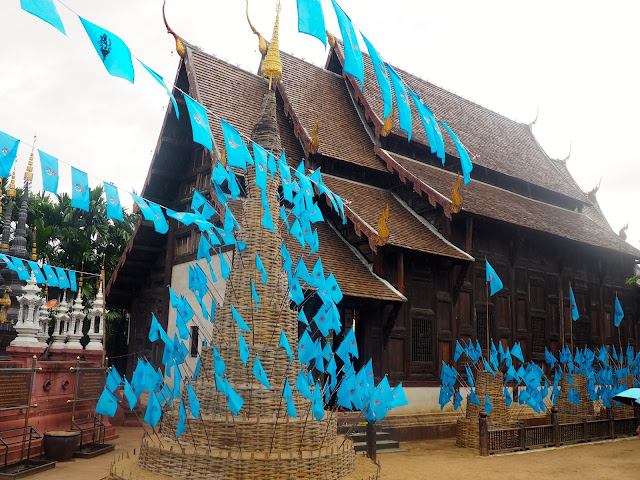 Chiang Mai | Thai Traveller
16 August 2016
Chiang Mai is the ideal base for exploring the north of Thailand, with so many activities on offer in the surrounding countryside, be it a bicycle tour, white water rafting, or meeting elephants. The town itself is pretty lively too, with the old town inside the moat boasting many more temples, quirky little shops, and many fun watering holes, to be frequented by day and night. It immediately felt smaller, cosier, and gentler than the busy, chaotic streets of Bangkok, so it was more in line with what I want during a holiday! We arrived there at around 8am, after our overnight train journey, and were able to check into the holiday straight away. After freshening up a bit, we wandered into the town, across the moat, and found ourselves some breakfast; I'm terrible for skipping breakfast when I'm travelling, but after being up for a few hours already, even I wanted some food. Our optional activities were planned for later in the day, and the following day, so we used this time to roam around the town for a while.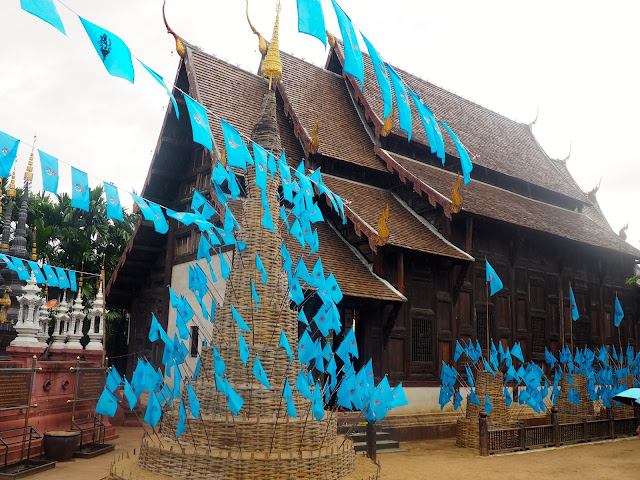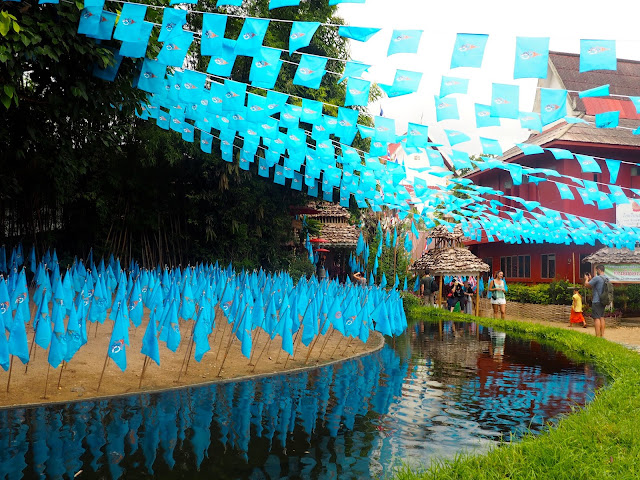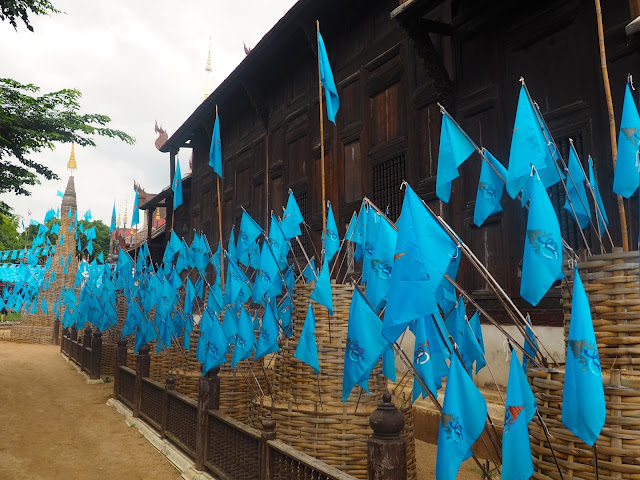 Although the town centre isn't that big, it can be a little disorientating at first, so our map skills were put to the test, as we decided to check out some of the town's temples; there are a lot, but we were looking for those our tour leader had suggested, which were some of the most important ones. Chiang Mai has been around since the 13th century, and there's a lot of history and tradition tied to the town, and the temples are a part of that. Since we were walking around as a group, I wasn't entirely paying attention to where we were going, and am not sure if we found the temples we were looking for, but we saw a couple. Many were similar to so many of the temples I've seen, such as Wat Phra Singh, and while still beautiful, they don't really stand out from each other any more. The one that did stick out for me was Wat Phan Tao, because of its wooden exterior, a welcome change from all the white and gold you normally see. It was also surrounded by dozens and dozens of blue flags, and a bamboo walkway around a small pond, which all came together to create a very pretty effect. It was smaller and less extravagant than many other temples, but this made it much more unique and memorable. There aren't heaps of other sights as such in the town, but wandering around and taking in some of the details, like lanterns hanging over the street, or pretty flower boxes, was a nice way to absorb the town's atmosphere. We stopped for a drink or two in a few places, one of which was a pirate themed pub (so naturally I was drinking rum), complete with a large parrot beside the bar.
Later in the day we took a bus ride up a winding mountain road to the city's most famous temple, Wat Phrathat Doi Suthep. Although the bus took us most of the way, we did have to climb 200 more steps at the top to get to the temple itself (and I was very glad to be doing that in the late afternoon when it was much cooler!), but it's worth it in the end. Walking around the outside of the temple offers an amazing view across Chiang Mai and the countryside beyond, and our tour leader also used this time to tell us a little more about Thailand's history and the significance of this temple; supposedly part of a relic was strapped to a white elephant, which was then released into the jungle, and this was the place where it stopped, so the temple was built. Inside the temple itself we learned about the life of the Buddha, and there are dozens of gold and emerald statues of him. The centrepiece though is the huge golden stupa in the centre of the courtyard. We also visited late in the afternoon so that we could listen to the monks chanting, a daily practice of theirs. They chant the Buddhist scripture for hours, and it's impressive to watch and listen for a while. Once we returned to the town, we walked through the night market – if I had the space to pack it all, I would have bought way too much stuff! – and had dinner outdoors somewhere in the middle of all the stalls! A few of us shared some dishes, which was a nice way to try a bit of everything.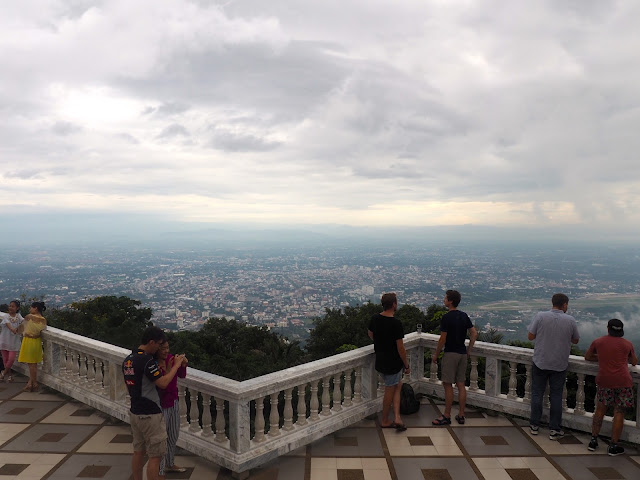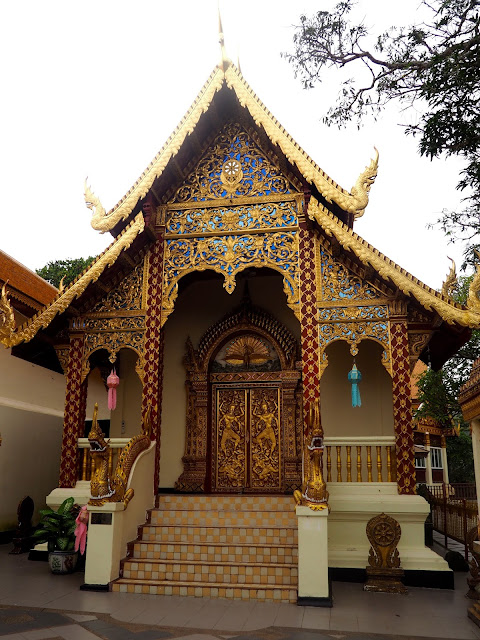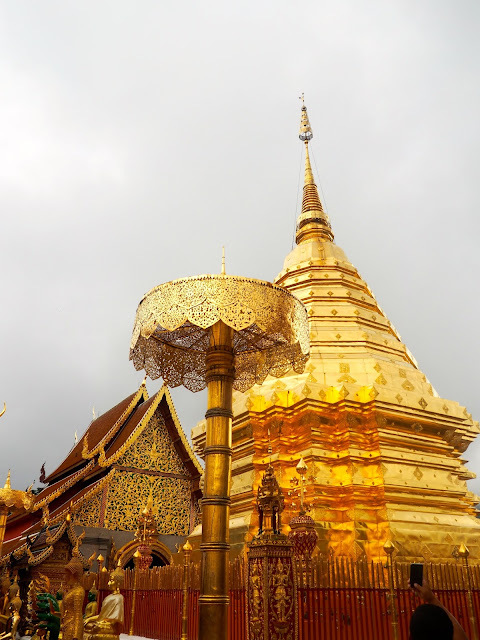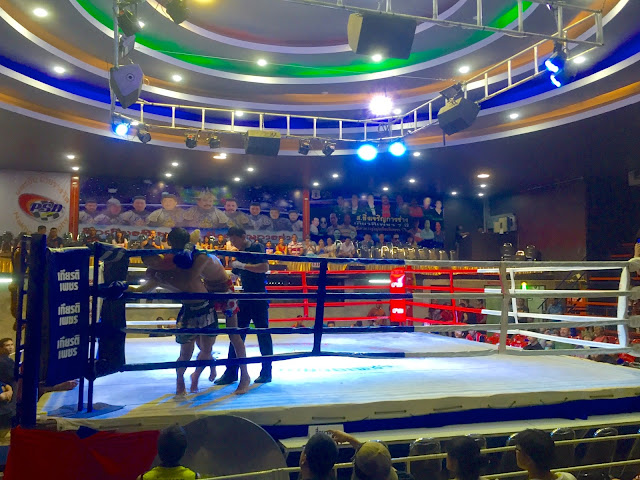 We had one more activity for the evening, which was going to watch muay thai kickboxing, something quite new to me. I've seen the odd bit of boxing in the Olympics in the past, but I don't know much about kickboxing at all, and wasn't quite sure what to expect. It took me a couple of rounds to get into it, but I quite enjoyed it in the end. I was trying to weigh up each pairing and decide who I thought would win, since I enjoy sports more when I'm rooting for one side or the other. We were sat on wooden benches around the arena, with drinks available, and a guy who kept coming round to see if anyone wanted to place bets (not that we did). Before each match too, they wore headdress sort of things, and had flowers put round their necks, and did their rituals and warm ups, which was as interesting. Funnily, as the night progressed, the competitors seemed to get younger, but they do start the training young; some of those matches were better than others. We saw a guy get completely knocked out too, which was quite something, but what I did like was that the winner would still go over and check up on the other guy, and help him out the ring. Our tickets included transfer from the hotel too, which came in the form of songthaew, the pick-up truck taxis, named for the two rows of seats in the back, and it turns out they're pretty fun to ride around in, especially since you can get at least eight people in each one, rather than just a few in a tuk tuk. Once we got back we wandered back through the night market, and found a bar to have another drink in, but since everywhere shuts at midnight in Chiang Mai (midnight? really?), we finished up back at the hotel, where the staff were kind enough to put up with us drinking more in the lobby.
Our second full day in Chiang Mai was an early start, since we had booked a half day visit to an elephant sanctuary. Elephant tourism is a problematic industry in Thailand, as elephant riding and trekking was so popular for so long, but involves cruel treatment of the elephants. They are beaten to force them to obey instructions, and although they are large, they are not built for carrying large loads. However now, more and more elephant sanctuaries are being created, to rescue and rehabilitate the animals from the trekking companies, and it was one of these that we went to, the Elephant Jungle Paradise Park. The drive there was perhaps not the easiest, as we were in a songthaew again, but this time the ride was an hour and a half through the jungle. And I mean, bumpy roads, dirt tracks, up into the mountains jungle. We were a little scared from time to time, but I was trying to have faith that our guide knew what he was doing, since he'd driven this road so many times before, but he was still going pretty fast for our liking. The landscape was beautiful though, especially as we climbed higher and higher, and we eventually made it there in one piece, albeit a little travel sick in most cases. We were given traditional shirts to wear (I'm not sure if there was a particular reason for this, or if it was just for the photos) and then clambered up the hill to meet the elephants. What I really liked was there were no fences or gates or entranceway anywhere, simply a sign to indicate we'd arrived, and then the elephants roaming around the forest. They eat around 250kg of food a day, so we had loads of sugar cane and coconuts to feed them, and it was clear they were far more interested in the food than us! Every time you handed them something, their trunks were back seconds later looking for the next one, and they would even hold several items curled in the trunks at once, so you didn't feed it to any of the others. They are such beautiful creatures, and so intelligent, and being able to interact with them in that way was pretty amazing. We met five of them, the oldest female, a large male, a younger pregnant female, and a mother and her two year old son. They have another younger male too, but they have to keep the two males apart so they don't feed.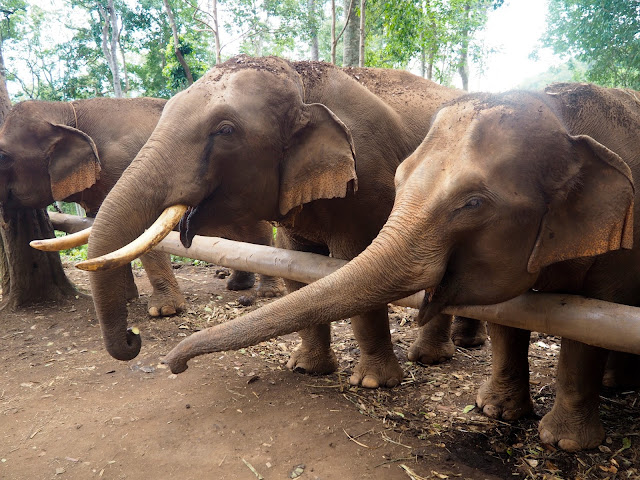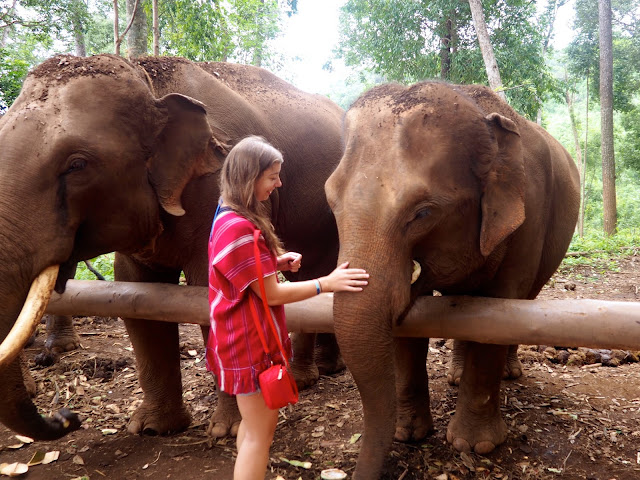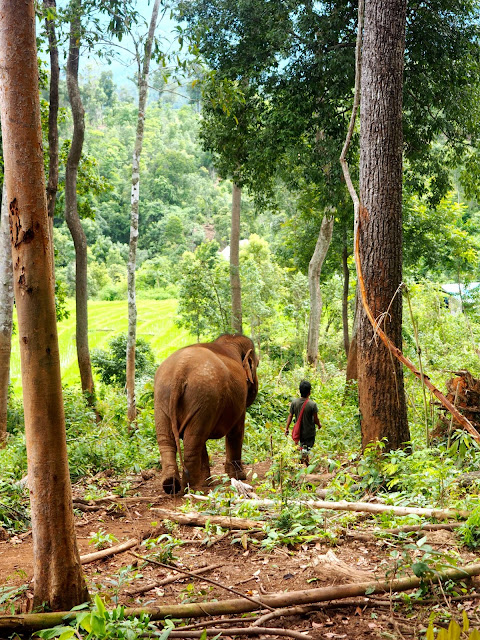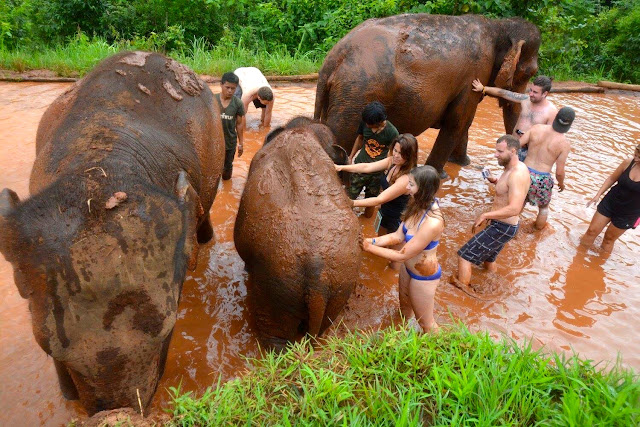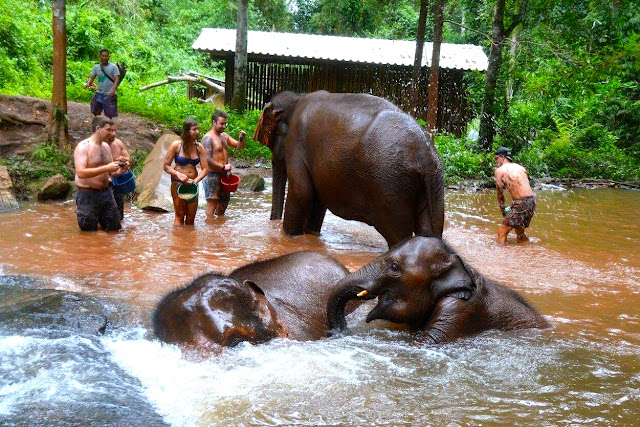 After we'd fed them for a while, they walked the elephants back down the hill, and we took them to the mud baths. And I don't mean like the mud baths I visited in Vietnam; this was literally a large puddle of mud in the middle of the jungle! We were warned that we'd get dirty though, so I figured the best plan was to just go for it, and not think about it. So naturally, I ended up covered in it. We threw the mud on to the elephants, and massaged it all over them, and they loved it; the baby was just lying down and rolling around in it. And then, of course, we began flinging the mud at each other too… Which was fine, as the next stop was the river and the waterfall, to clean it all off again. The water was a little cold but bearable, and totally worth it, as the elephants waded through the water and we threw buckets of it over them, until all the mud was washed off. Then we had to wash it off ourselves too, which turned into a big water fight – which should come as no surprise after the mud throwing earlier. Just upstream was a waterfall, where they even gave us soap and shampoo to clean ourselves up a bit. Taking a shower in an actual jungle waterfall, after bathing with elephants for a few hours? Definitely a highlight of the trip so far. The whole morning was just one of those bucket list experiences, and it was so lovely to be able to spend time with these elephants in a kind, ethical way. I would prefer them to be allowed to roam wild entirely, but because they have been domesticated and then rehabilitated, they cannot fend for themselves, and are expensive to feed and care for, so these sanctuaries have become the best option for them. The guide that took us also took loads of photos and put them online for us, at no extra charge, which was particularly good service for people like me, who don't have a waterproof camera case for the mud baths or river. We were also provided with some lunch – including pad thai, which is quickly becoming one of my favourite Thai dishes – before the drive back to Chiang Mai.
When we got back to town, I took the afternoon to rest, since we'd had an early start, and I hadn't slept much on the overnight train, or the night before after staying out drinking. It's nice to have some rest time on holiday though, and allows me to catch up on writing and photo editing. Later on, we went to explore the Sunday market, which was pretty busy, but had some nice things for sale, though I restrained myself and only bought my magnet, which features a nice hand-drawn elephant, so it seemed appropriate. We also went to check out a few bars our tour leader had recommended, and I particularly enjoyed The Rooftop Bar (very literally named), which involved climbing up three floors, and the last staircase was scarcely more than a ladder, and then sitting on cushions on a bamboo floor. The walls were painted with sort of psychedelic street art and the roof could be opened and closed depending on the weather. Later on we went to another district with a whole heap of bars, although the central one was just a bit too rave-like, and I had nowhere near enough to drink to go there! It was a fun night out though, followed by us egging on our tuk tuk drivers to race back the hotel, then a few more drinks in the lobby once more. I enjoyed Chiang Mai a lot, and definitely prefer the smaller towns to the big cities – if I want that I can go back to Hong Kong easily enough – and as I said, the elephants were a truly unforgettable experience. This was our last real stop in Thailand, since the last night was really just a stopover before the border crossing. Next, on to Laos.
If you're interested in visiting Chiang Mai, you might like to check out some of the tours and activities offered by Trazy Crew – these are their Top Things To Do in Chiang Mai. I didn't use them during my trip, but I am an affiliate of the company.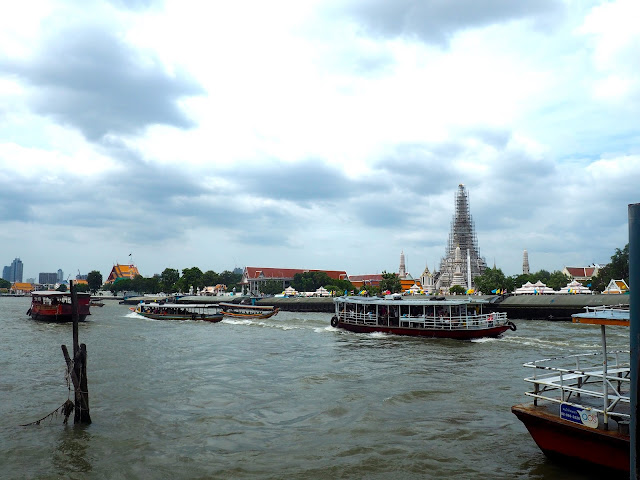 You May Also Like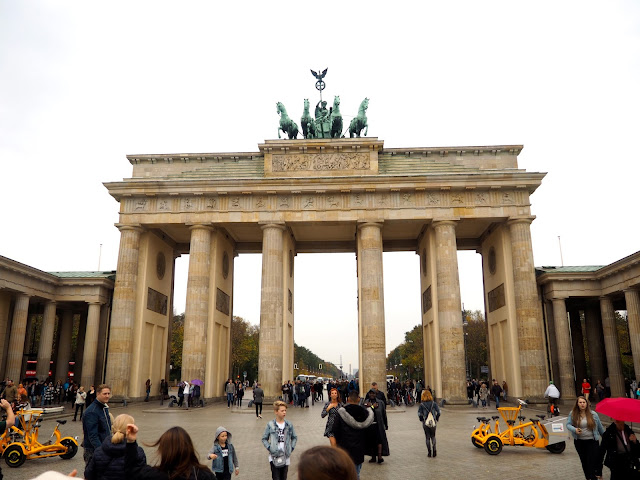 26 October 2017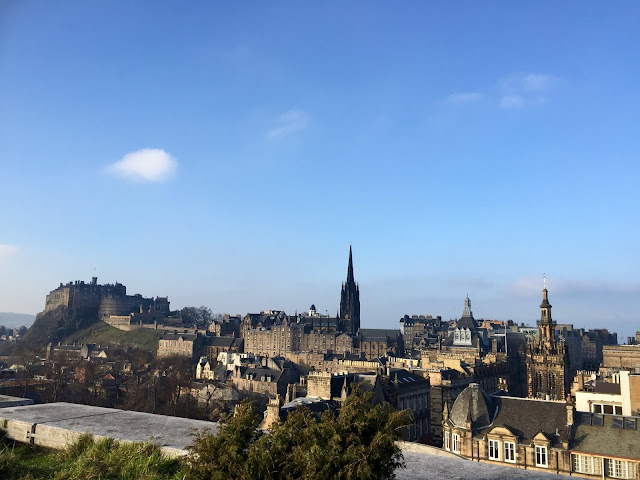 17 November 2018