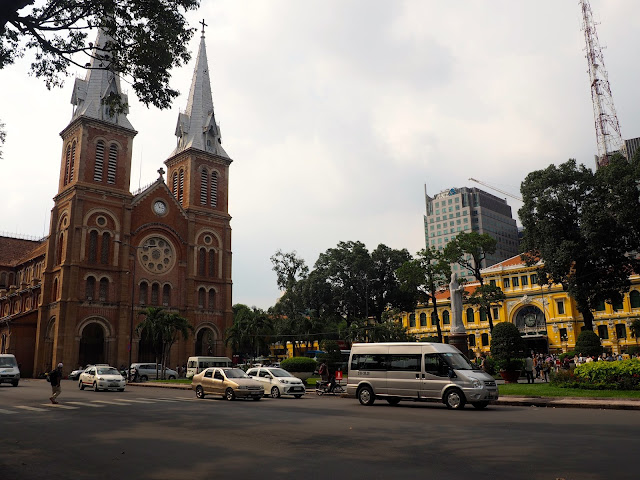 Ho Chi Minh City | Vietnam Discovery
27 July 2016
And I'm off on another adventure! As I mentioned at the end of my last Hong Kong post, before embarking on a new city and new job for the next year, I'm doing some travelling again this summer, and my first destination, as you probably guessed from the title, is Vietnam. I've opted to go on an Intrepid tour again, the same company I did Central America with last year, as I had such a great experience last time, and it takes all the hassle out of planning and organising everything myself. I will be doing a second trip with them after this one, through north Thailand and Laos. But anyway, I'm in Vietnam for 15 days (the exact amount of time I can be here without a visa, which is super handy), travelling from Ho Chi Minh north to Hanoi, and stopping in places like Nha Trang, Hoi An, and Hue along the way.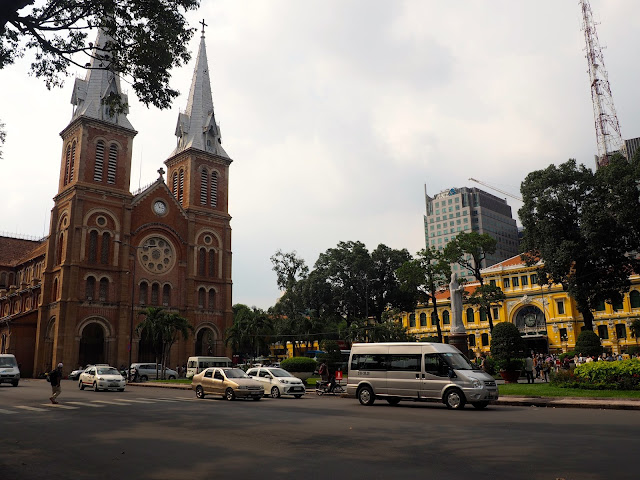 Since the time on the tour in Ho Chi Minh is limited, and I didn't exactly see much of it last time I was here, I got a flight that would land in the morning, and give me the first day to do a little more exploring, before the tour officially kicked off with the welcome meeting in the evening. However, after getting up at 5am for said flight, and barely sleeping the night before, the first thing I did on arriving at the hotel was take a nap! It was only for a couple of hours though, and I briefly met my roommate while I was resting in our room, before she headed out again, but I eventually roused myself to go do some exploring too. We have one other day here on the trip, meaning there was no rush to see absolutely everything in one day, so I didn't go into any particular attractions, but rather wandered around some of the town's main sights. Walking around also reminded me very quickly of how crazy these roads are, and how scary it can be crossing them; you literally just have to walk out into it sometimes.
So, quick disclaimer, I suck at remembering street names anyway, and it's even harder here when they're all in Vietnamese (Hong Kong writes them in Chinese and English), so this is not the blog to be reading if you want exact directions! But find a map of the city and you'll see where the sights I'm going to mention are. Anyway, I took a wander up the road alongside the big gardens in the middle of town, which seem to be attached to the Reunification Palace, as far as I can tell, since they're all fenced off. It wasn't very interesting, since I couldn't see much, and there wasn't much on the street I was walking up, but I was eventually rewarded at the end with a view of the actual Palace, and its fountain and lawns in front of it. It makes for quite an imposing building, and certainly stands out amidst the rest of the city's architecture. Unfortunately, all my pictures are taken through the fence, since you can only enter the grounds with a ticket, which isn't expensive, but I wasn't too bothered about going in. I've heard some reviews saying it's nice, others that it's not that interesting. Either way, history isn't much of my thing. Everyone has their own preference of course; I typically like seeing beautiful places and trying some activities for the most part when I travel.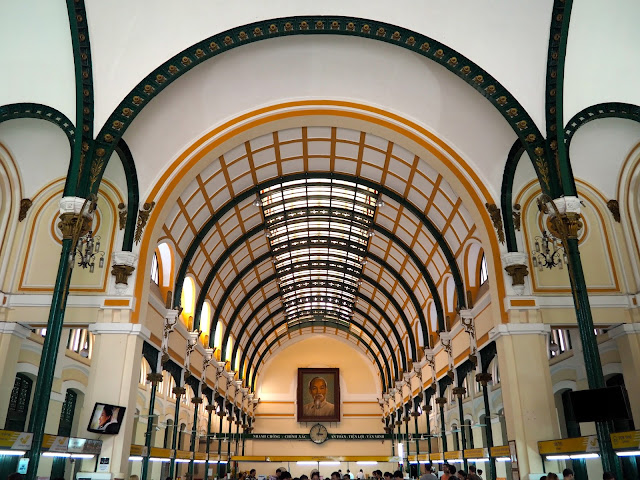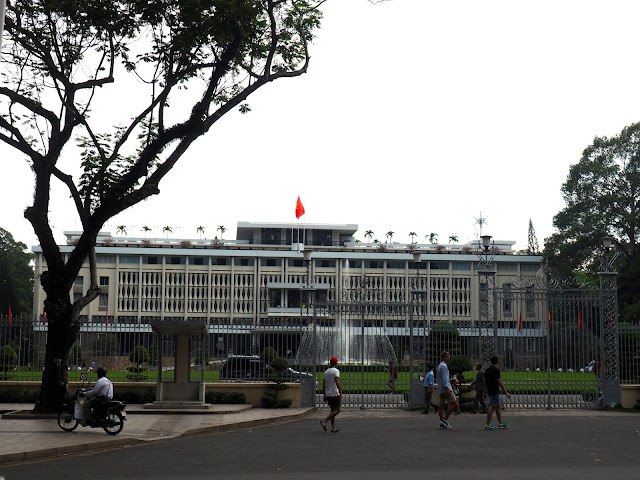 Speaking of, Ho Chi Minh's architecture is very interesting, as parts are exactly what I expect to find in Asia, and other parts look to have fallen straight out of Europe. This makes sense though, when you remember that a large portion of Indochina, including Vietnam, was once colonised by the French. I'm no history buff by any means, but somehow I retained this piece of information from my degree studies. It was fascinating to see the mix of colonial and Asian styles, and of classical next to very modern buildings, including a few skyscrapers. A few stand out buildings are the Post Office, with these stunning arches overhead, and old-fashioned style maps of Vietnam on the walls, and the cathedral, Notre Dame. While it's not a patch on Notre Dame in Paris, it's a highly impressive structure to come across in the middle of south east Asia! As it was Sunday, there looked to be Mass taking place, as the doors were shut, so I didn't get to see the interior, but I imagine it would be similar to many cathedrals I visited while I was living in France.
From there, I walked down to the river along the street Dong Khoi. One of the most interesting buildings I passed along the way was the Opera House, another example of intricate, decadent colonial architecture. The City Hall was also along a side street from here, so I took a quick detour to check it out; it's so strange to see these places that remind me of France, while on the other side of the world! This street in general was pretty interesting, with these older style buildings next door to some huge modern skyscrapers, more like what I'm used to in Hong Kong. There was also just a pretty nice atmosphere along this street, not quite as much traffic as some of the others, a mix of shops, restaurants and hotels, and it just generally felt slightly more relaxed than some of the narrower, more crowded streets. Dong Khoi took me all the way down to the Saigon River eventually, where I sat by the waterfront for a few moments. I've found that no matter where I go in Asia, there are little things here and there that remind me of home, and in this case, it was the eight massive billboards across the river from me, advertising Heineken Beer! I'm used to seeing Western brands here, but these adverts just dominated the entire view across the river. From here I could also look back and see the Bitexco Financial Tower, with its Skydeck jutting out from the top. I skipped this one, having been up many, many tall buildings back in Hong Kong, but it's still a pretty interesting building to see from below.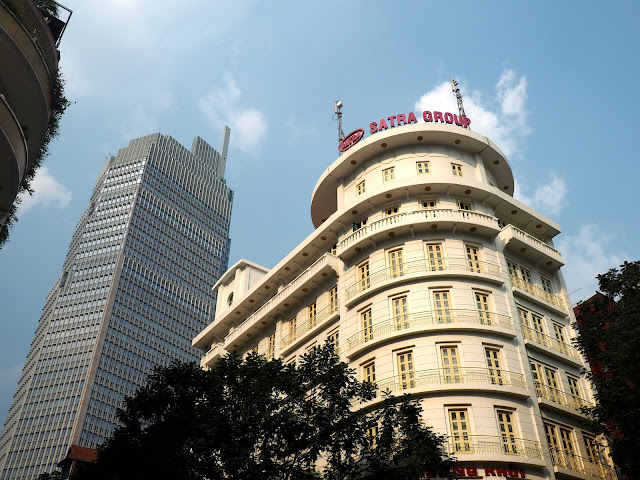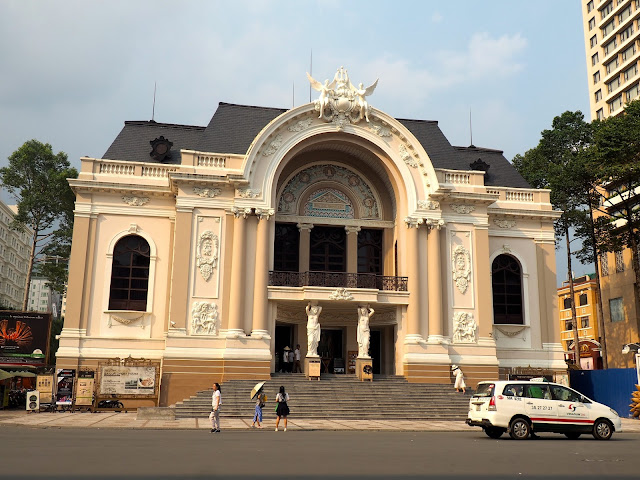 I started to loop back towards the hotel at this point, but not before stopping at Ben Thành Market on the way. This indoors market is a maze of stalls, with the narrowest of passages weaving between them, and sells everything from clothes to souvenirs to food. I didn't get anything myself at this point (I've already picked up my Vietnam magnet from a shop by the Post Office, as I get one for every country I visit), but we returned here again on our second day in Ho Chi Minh, to buy silk sleeping bags for our overnight train rides. The blankets on these trains don't get changed for every new passenger, so these are a popular choice for sleeping in on them, and certainly sounded like a good idea. We also all had to practice our haggling skills here, which is something I've grown accustomed to in Hong Kong, so although I didn't buy anything else myself, I tried to help the others out with their purchases. I've learned to be pretty ruthless at it, as if a seller really can't go that low, then they won't, so there's no need to feel bad once you've agreed on a price – never start higher than half of what their first offer is! And as with many markets, you'll find the same wares on multiple stalls, so you can always move on to the next one.
After I returned the hotel, we had the welcome meeting to officially start the tour. Half the group already knew it each other, as they were starting this as a continuation of the tour they had just finished through Cambodia (which I've already been to), but there were a few other new people besides myself, making 16 of us in total. After the meeting, our tour leader, Tham, took us out for dinner, to start our induction to Vietnamese cuisine. Some of it is similar to what I'm used to in Hong Kong, with lots of rice and noodles, teamed with meats and vegetables, but there are differences of course. I went with vermicelli for my first dish here, since it's a different sort of noodle to the ones I normally eat. We were also able to walk around the restaurant, to look at all the dishes on display and being prepared around the edges of it all, and Tham explained what some of it was.
We left Ho Chi Minh the next morning to spend the day and following night in the Mekong Delta (which will be in a separate post), but returned to Ho Chi Minh for one more afternoon, before boarding the overnight train to Nha Trang. Summer is the rainy season in the south of Vietnam, and we witnessed it in full force that afternoon, as the skies opened up and it poured down. We arrived back around midday, so we braved the rain, ponchos and jackets pulled over ourselves and our bags, and dashed to the Ben Thành Food Market, just a few minutes away from our hotel. This is a collection of street food style stalls, but it's set out like a food court, and you can tell everything is hygienic, so it's a safe bet if you want to try street food without the risk of any digestive problems. There's a variety of foods on offer, including desserts and fresh smoothies, but I stuck to the local Vietnamese stuff for my main, opting for a fried rice and beef dish, though it was something I could easily get in Hong Kong too; at least I know I like it!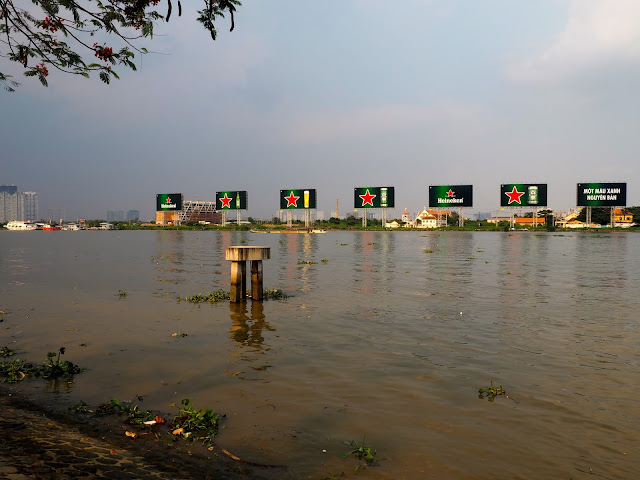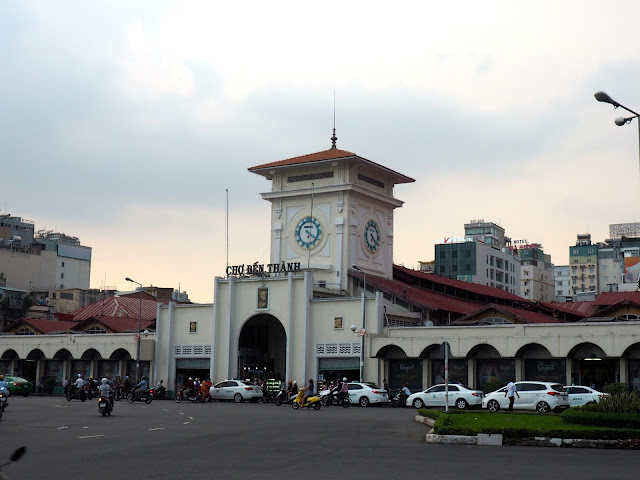 From there we went back to Ben Thành for our sleeping bags and other purchases. I had considered going somewhere like the War Remnants Museum or Reunification Palace, but as it was still raining, and I was cold and tired, and I'm really not a history buff, I opted to skip them. I asked others who'd been and they said the War Remnants Museum is interesting if you're into that sort of thing, but since I'm not, they didn't rate it as an "absolute must see". I like learning some of the history and culture of new places I visit, but too much information makes me tune out, and museums can be great, but often there are other things I prefer to do instead ( I swear I've gotten so much worse at learning and absorbing new information as I've gotten older!). For anyone interested in the history of Vietnam though, particularly the war, this is probably a good place to check out. I've also learned from my previous travels that while I want to make the most of my time in each place, it's also important to take time to rest and relax every so often, or I just burn myself out. This is also the time when I get this blog updated normally. So a couple of hours to shower, organise my luggage, and do some writing, on a rainy afternoon (and while it's not that cold still, you do feel cold when you're stuck in wet clothes!) seemed like a good idea.
Then it was some dinner, and on to the train station, to start journeying north to Nha Trang. Ho Chi Minh was certainly a good introduction to Vietnam. I'm quite glad in a way to get the biggest, busiest city done with first. I love experiencing these busy, chaotic places, but they can get pretty exhausting after a while. It's an interesting city too, with it's mix of architectural styles, it's crammed markets, and millions of motorbikes racing up and down the streets. The war is clearly a big part of the history here too, with the museum and Cù Chi tunnels both available to visit (as I say, not my cup of tea, but certainly of interest to many others). I'm not sure it's a city I'd be hurrying back to, as I didn't feel any great affinity towards it, like I have with other places, but it's worth visiting for a few days anyway. And now, onwards to the next destination!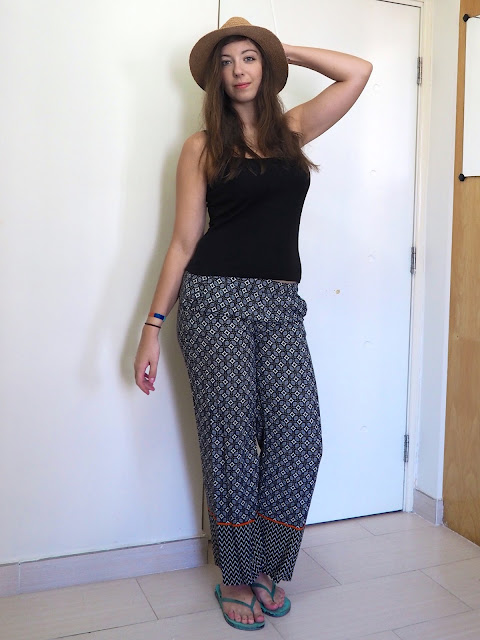 You May Also Like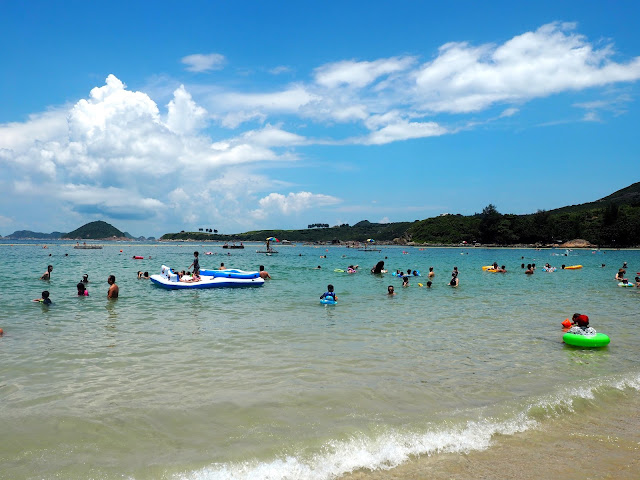 30 June 2016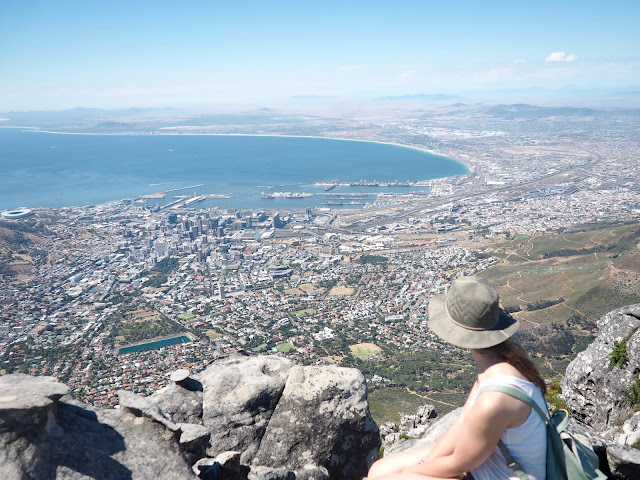 6 March 2019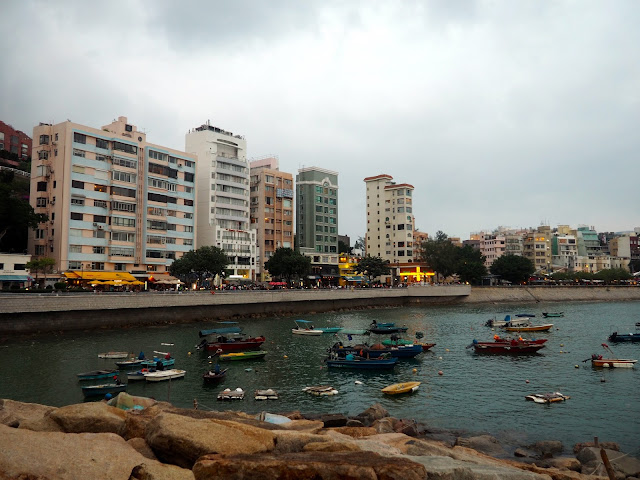 16 December 2015