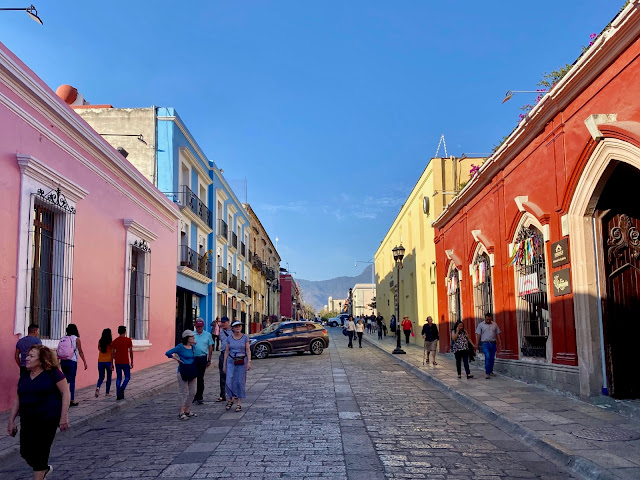 Oaxaca | Mexico
30 March 2020
I feel like I need to preface this post by stating that Oaxaca was definitely Cintia's favourite place on the whole trip, as she proceeded to tell me every single day after it! I liked it a lot as well, but perhaps just not quite so passionately as her. Oaxaca is actually a whole state in Mexico, but we were just visiting Oaxaca City, and some of the surrounding areas.
Like Mexico City and Puebla before it, the town centre is a UNESCO World Heritage site, alongside the Monte Alban ruins nearby. It's also famous as the birthplace of Benito Juárez, an indigenous Zapotec (one of the 16 Pre-Hispanic groups from this state) who became one of Mexico's most significant presidents. The town is a popular location for people coming to learn Spanish, and I did get a bit of a backpacker/hipster vibe from the town centre. Plus it's a very artistic place, with lots of local crafts, galleries, and artists hailing from the town. From Puebla, it was a half day bus journey, through dramatic mountain scenery, to where Oaxaca lies in a valley amidst it all.
---
Day One
Exploring Markets
We arrived in Oaxaca around mid-afternoon, so there was enough time for an orientation walk around the town with the group. Like Puebla, I keep calling it a 'town' in comparison to Mexico City, but it's actually a city, and still pretty huge! We started near our hotel at some local markets, which were loud and busy and bright, as Mexican markets all should be. To be honest, sometimes they did get too overwhelming for me, but I can appreciate the culture of them.
The first market was for food, starting with the smoky meat hall. There were also many stalls selling chapulines, which are crispy grasshoppers for eating – I didn't try them though! The second market was local handicrafts, and named after Benito Juárez himself. Here we also got to see Mexico's last escritorio publico (public desk), which was a service for having your documents read and written – they used to be far more numerous throughout the country in the past, at the time when most people were illiterate, but are less necessary nowadays.
Cathedral & Cultural Centre
From there, we headed up to the town's Zocalo, a tree-filled park with a bandstand in the centre, and the Cathedral to one side. We stopped here for lunch, in one of the many restaurants lining the square, and ate by a balcony overlooking the scene below. Afterwards, our walk continued with a visit to the Cathedral itself – still very large and impressive, but in all honesty, the cathedrals we saw throughout the whole trip all began to blend together after a while, so I don't remember too much specifically about this one!
Our leader also showed us some more contemporary sights, particularly to show off the strong artistic scene the town has. We went to the San Pablo Cultural Centre, a converted convent (try saying that as a tongue twister!) which is now used as gallery space for temporary exhibitions. It was an interesting mix, getting to see remnants of the old convent life, alongside the modern artworks and installations, and it was definitely something different to many of the churches and museums we'd seen on the trip thus far.
---
Templo de Santo Domingo
 We headed over to the main pedestrianised street next, the Calle Macedonio Alcalá (also sometimes called Andador Turistico), which was a welcome relief from filing along narrow, crowded pavements next to the busy traffic! It was a cobblestoned road, lined with colourful, colonial buildings housing shops and galleries – which Cintia and I were definitely taking note of to revisit later!
At the top of the hill it leads up, is the Templo de Santo Domingo, the most important church in the city, with a Baroque facade, and full of intricate, gilded reliefs. Our leader told us it's very popular for weddings, and after the ceremony, the new couple can arrange a procession down the Calle Macedonio Alcalá. The monastery next to it has now been converted into a museum, which was already closed for the day, but also on our to-do list for our time here. There was also a small garden space nearby, exhibiting sculptures by Francisco Toledo, a Zapotec artist from Oaxaca state, and regarding as one of the country's most influential contemporary artists, who passed just the year before.
La Mezcaleria
The tour ended at this point, and the group dispersed, but a few of us opted to stay with our tour leader to go to La Mezcaleria, to try mezcal (if it wasn't obvious by the name!). As I mentioned in a previous post, mezcal is a spirit made in Mexico, which is sometimes compared to tequila, as they are both distilled from agave plants, but there are notable differences between the two when you taste them. Oaxaca is a region particularly famed for its mezcal production, and one of the staff in the bar gave us an overview of the distillation process involved. Good mezcal is meant to be sipped slowly, not taken as a shot – the same is true of good tequila, just so many of us are used to drinking it cheaply as shots!
I wasn't sure that I liked the mezcal at first sip, but it grew on me after a while, and we tried a couple of different kinds there. Sometimes the mezcal has a worm in the bottom of the bottle, which is supposed to add to the flavour, and they can also add different flavours during the distillation process – we tried mezcal depechuga, which is when they hang a raw chicken breast over the still during the final distillation. It didn't taste like chicken, but there was a definitely a difference to the regular flavour! After our drinks there, we continued with a few more beers on a rooftop terrace to finish up our night.
---
Day Two
Tule Tree
Our second day in Oaxaca was jam-packed, but not in the city itself. Instead, we were heading out on a full day trip to various other notable sights in the state. I was pretty excited about this in particular, as we were going to see some natural sights this time. Up until that point, most of the trip had been about historic, man-made buildings (both Pre-Hispanic and colonial) or absorbing the atmosphere of each city we'd visited – don't get me wrong, these were all fun and interesting as well! But it was nice to have a change and go to some naturally formed locations, which have often been my favourite and most memorable places on many trips I've been on in the past. Just look at all my hiking posts here as well!
Our first destination was the Tule tree, named after the town it is located in, and this is definitely not just any tree! It is massive and magnificent, a Montezuma cypress assumed to be over 2000 years old – the only way to age trees exactly is to cut them down to count the rings, and that's never going to happen! It's also the widest tree in the world, with a trunk about 10m in diameter. The trunk is heavily buttressed, with gnarled branches spouting forth, weaving patterns and images in their shapes and knots and details – resulting in it often being nicknamed the Tree of Life. We spent a good while wandering all around it, taking in its size and beauty.
Hierve el Agua
We drove on from there, up into the mountainous scenery, along dusty dirt tracks and past simple, cobbled together houses (it's worth noting that Oaxaca is actually one of the poorest states in Mexico), to the next location, Hierve el Agua, which translates as boiling water. In the side of the mountain, sit two petrified waterfalls, frozen cascades tumbling down from the cliff tops. Now, these have never been actual flowing waterfalls – instead, they are rock formations, formed in a similar way to stalactites, from water slowly running and dripping down the cliff side for thousands of years. This is an incredibly unique formation, with only a couple of other known examples of it in the world.
There are various hiking paths to explore the cascades, and see them from all sides and angles. We started on a peak overlooking both the clifftops, from which we made our way along dusty paths, lined with dozens of species of cacti, to the top of the smaller cascade, to look back towards the other. This one was large and wide, appearing to tumbling down a broad, flat mountainside. From this smaller one, we could descend a stony staircase to its base, and look back up at it. This one was narrower, and more curved around an outcrop of the mountain. The photos from down here were pretty cool, especially with the wide lens setting!
We had to clamber back up the stairs again, to then make our way over to the top of the wider cascade. Here, there is a natural swimming hole, which almost looks like an infinity pool, as the cliff drops away behind it, revealing the magnificent mountainous scenery we were surrounded by. It was a hot day as well, so taking a dip was very refreshing!
---
Mitla
After departing from Hierve el Agua, we had to drive back down into the valley, where we stopped off for our buffet lunch, alongside several other vans on similar day trip. It was a late lunch, and I think we were all ready for it after the walking and swimming!
From there, it was a short drive on to the town of Mitla. Here, we were visiting some more Pre-Hispanic ruins, built by the Zapotec people. These were different to the large pyramid structures we'd seen so far on this trip. Instead, these were smaller, square complexes, many of them centred around open courtyards. Most were only one level high above ground, though there were tombs hidden below as well – an unusual thing, to have burial chambers, as every other Pre-Hispanic site we went to would use their pyramids for sacrificial offerings only. We were able to go down into these tombs, which were very humid and claustrophobic to be honest!
The big draw of Mitla though is the architectural details, and the intricacy of their designs. These are perfectly angled buildings, built to precision, and with no concrete to hold the stones in place – they simply line up exactly and support each other as needed. Then they are covered in geometric, repeating patterns, which flow seamlessly around the corners. Each piece of the design would have been individually crafted, as no two are identical, so the time and skill involved is astonishing. Archaeologists aren't even entirely sure by what means and tools these people accomplished it all! And when you remember that these were also once adorned with red paint between the designs, the final image would have been incredible!
Fabric Workshop
Although it was late afternoon by this point, our day still wasn't done, as we continued on to a fabric workshop. When we walked in, the first thing I saw was just an explosion of colour. There were tapestries hung all around the room, in all sorts of vibrant colours and an array of designs. The venue was both a workroom and a shop, run by the artist who lives behind it all.
He showed us the whole process, from spinning the wool on a wheel (an invention brought by the Spanish, which the local craftsmen soon adopted), to all the natural ingredients used to create different dyes. The ingredients can be mixed and activated by each other to make different colours – and not the results you would expect, forget the colour wheel! He took us over to the loom to show how he was weaving his work-in-progress, which was a highly detailed Tree of Life design. Of course, the more complex the design, the longer it takes, and the more expensive the final product is. We had a bit of time to browse his wares as well, which included clothing, bags, rugs, cushion covers, notebooks, purses… everything!
Mezcal Distillery
Our final stop of the day was the Don Agave mezcal distillery – because of course, such a busy day had to be rounded off with some drinks! It was a small venue so the tour didn't take too long, but it was very detailed. We saw the agave plants that mezcal is created from; the pit where they are smoked with burning wood and stones for days or weeks; the huge mill stone that grinds them; and the vats where it's all fermented and then distilled (at which point other flavours can be added too) in a large room filled with water channels.
Then, it was time to actual taste the liquor – our guide had three bottles on the table when we started, including one with a mezcal worm in the bottom. However, we ended up trying no less than 10 different kinds! These included the pechuga which I explained earlier; a coyote one, named because it is a sacred animal to the Zapotec, which will accompany you to the underworld after death if you are kind to dogs during your life; and even one flavoured with marijuana!
Dinner & Salsa Dancing
We returned to Oaxaca city later that evening, and headed out again for dinner. Our leader took Cintia and I to La Popular for tacos. I should say, Mexican food is so good everywhere we went and actually an intangible World Heritage item, but I haven't written about it loads in these posts, as I can't always remember the names of what we had or where we had it. I very much enjoyed it all though!
We continued with some drinks in a salsa bar afterwards, and it was rather intimidating watching how good everyone was at dancing! I liked watching it certainly, I was just terrified of being asked to dance, but I was in the corner of the booth and escaped! I was also pretty exhausted (I've been tired since November to be honest), so we crashed a bit earlier than expected.
---
Day Three
Getting to Monte Alban
We would departing Oaxaca this evening on an overnight bus journey, but we weren't departing until about 8pm, so there was still all day to explore some more! Cintia and I started off by going to visit the Monte Alban ruins, a World Heritage pyramid site just outside the city proper. We'd looked at a few options for getting there and found a tourist shuttle bus that departed from opposite the Hotel Rivera del Angel.
The schedule was a bit of a mystery when trying to search online, as it varies depending on day and time of year, so when we arrived we had to wait quite a while for the next departure, but it was easily the cheapest way of getting there. The drive took about half an hour, winding uphill through streets of coloured houses, and offering us excellent views down over Oaxaca City (proving just how big it actually is!), before dropping us off in the car park just outside the archaeological site.
Monte Alban Pyramids
One of my favourite things about Monte Alban was the surrounding scenery for sure, as it sits on a plateau up in the hills, with views down into the valley below, and mountains lining both sides. It feels both enclosed, tucked away on its own little patch of terrain, but also very much open and a part of the wider landscape. Compared to the other sites we'd seen so far, it also seemed to have the most structures visible and intact, but these were smaller pyramids than the likes of Teotihuacan and Cholula.
It's arranged around a large square formation, flanked by the north and south platforms, and with dozens of smaller temples and palaces lining the sides, and in the centre. This is a Zapotec site, which dates all the way back to 500BC, and was occupied up until the 10th century. It had already been abandoned and forgotten by the time of the Spanish conquest, so its materials weren't removed to build their towns, as happened in other cases. We climbed the south platform first, to take in the views over the whole site, and the desert-like land it sits on.
Monte Alban Carvings & Courtyards
One of the more unique features near the south end of the complex are the 'dancer' carvings. This a collection of stones carved with figures, in unusual positions, and which often seem to be deformed somehow. It's unknown exactly what they represent, but one theory is that they were prisoners of significance, who were tortured and humiliated.
We headed to the north end of the complex after that, where there is a raised area behind this platform, with yet more buildings to explore. This is assumed to have been reserved for the most important people of the city only. There's a sunken courtyard, where priests would have carried out rituals in the centre, while the stairs down doubled as seating. We were able to climb some of the buildings here too, for views looking back the other way over the site. We spent about 2 hours exploring, before going to catch the bus back to Oaxaca (which only ran every hour or so!).
---
Souvenir Shopping
We spent the rest of the afternoon in the city, checking out some of the locations we'd seen on the tour the first day and intended to revisit. We started at the Benito Juárez market again, to pick up some souvenirs from the area. I got an alebrije, which is handicraft particularly from Oaxaca state, a small wooden carved animal, painted with bright colours and patterns – I picked a coyote after hearing about their significance the day before. I also got some colourful wooden earrings – how many times will I use the word 'colourful' to describe things in Mexico? But honestly, colour is just everywhere, all the time!
We walked up to the Zocalo for some lunch, in one of the restaurants beside the square, where we could people watch and listen to the music again. We also picked up some Oaxacan chocolate on the way, which you mix with milk or water to make a drink. It's similar to hot chocolate, obviously, but the flavours here are different to what we'd get at home.
Museum of Oaxacan Culture
We then made our way slowly up the Calle Macedonia Alcalá again, browsing the various shops along the way. There were so many fun, interesting, and unusual things to potentially buy, so I had to limit myself – Cintia definitely came away with more things than I did! We took our time with it anyway, as it was fun to look even if I wasn't getting much. At the top of the hill, we reached the Templo de Santo Domingo again, to visit the adjacent museum, which was still open this time.
It's the Museum of Oaxacan Culture, located inside the old convent building. It's a rich, detailed exhibit, taking you from the earliest history of the region, through the Zapotecs, the Spanish conquest, and all the way up to the present. There are dozens of rooms to explore, and every time we thought we were nearly done, we would find another! One of the most exciting rooms is an exhibit of treasures found in one of the tombs of Monte Alban, which includes hundreds of items made from shells, gem stones, and precious metals. You can also get views out the windows to the botanical garden behind the church, which can only be visited on guided tours at certain times. We took a long time getting round the museum, taking it in thoroughly, before leaving again.
3 Days in Oaxaca
It was fairly late in the afternoon by now, though we still had enough time to stop for a drink of Oaxacan chocolate on the rooftop terrace of Praga Coffee Bar, opposite the church. Then, it was time to collect our things from the hotel to depart Oaxaca for our next destination. It's a really interesting city to visit with so many options of things to see, including history, art, nature, and plenty of shopping. It definitely has a fun atmosphere as well, with the artistic flair to everything, often drawing from that strong Zapotec heritage, and the food and nightlife we got to experience, albeit briefly. I definitely understand why it was Cintia's favourite!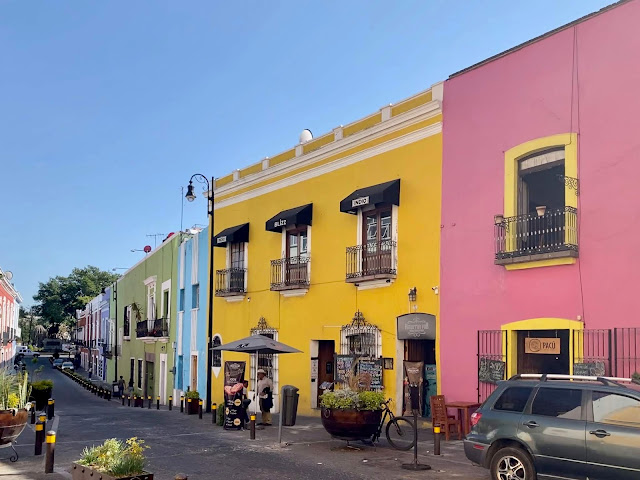 You May Also Like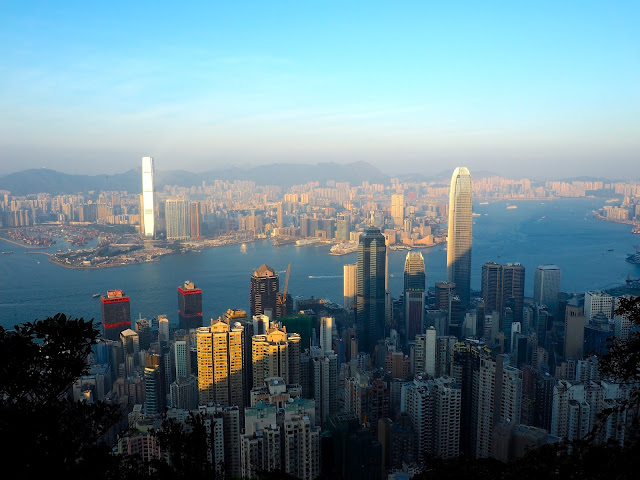 10 December 2016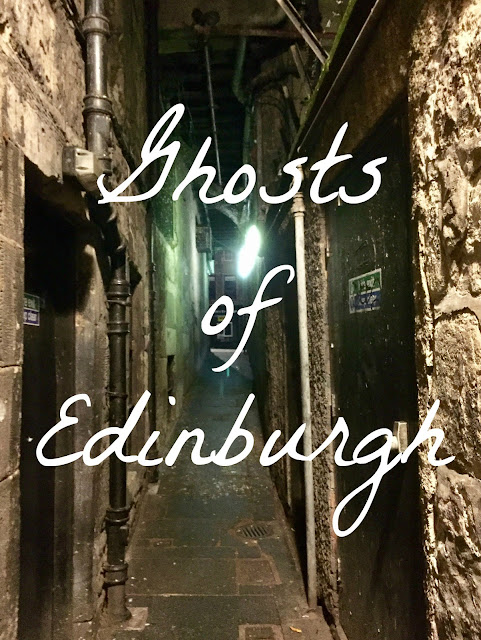 23 December 2017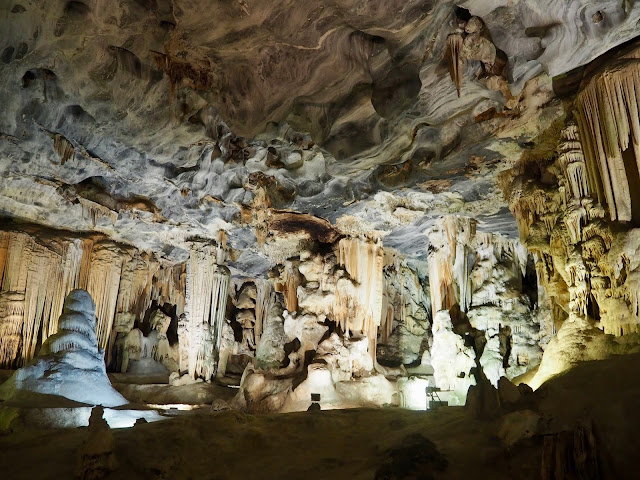 28 February 2019