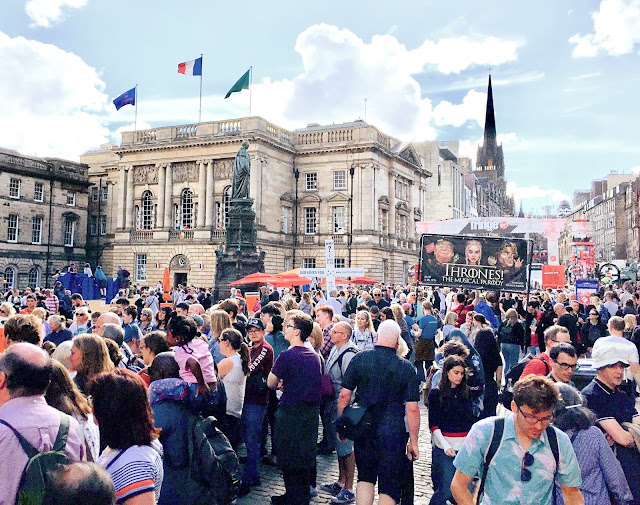 Edinburgh Fringe Survival Guide
1 August 2019
The Edinburgh Fringe is upon us again, a month where the city descends into near anarchy. It's the largest performing arts festival in the world, which means it can be a lot of fun, but also highly stressful. This is the 5th year I've had to work in the city centre during it, and every year I'm trying to strike a balance between enjoying it, but not going completely insane by the end of the month either. Most locals have a love/hate relationship with the Fringe, where we enjoy its creativity and excitement, but also get so annoyed at how busy the city is for the whole month. So, here are some tips for making the most of the Fringe, but also escaping it from time to time as well!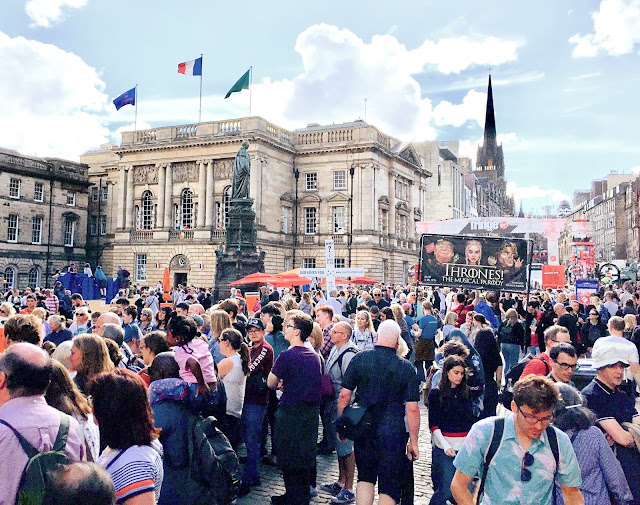 The Royal Mile
The Royal Mile is the epicentre of the madness, which makes it both really fun and somewhat stressful to be around! It is absolutely crammed with people handing out flyers, street buskers playing music, half a dozen stages where acts perform snippets of their shows, thousands of tourists milling around taking it all in, and of course, the usual locals wading through it all. The atmosphere here is abuzz, and it's a good way to gather some flyers and see previews of shows to figure out which you might want to actually get tickets for. It's definitely worth spending some time around the Mile to soak in the spirit of the Fringe.
But, if you're in a rush or you don't like big crowds then steer clear, as it takes so long to get from one end of the street to the other, and can be very overwhelming for some people. Alternatively, check out some of the beer gardens that pop up in Bristo Square, George Square, and Pleasance. These are in the middle of various venues, and are great spaces to sit down outdoors in a more relaxed setting, and still get to enjoy the Fringe atmosphere.
Flyers, Flyers, Flyers
As I just said there, you're going to get given flyers. Thousands upon thousands of flyers, plastered over every available surface, and thrust into your hands every few seconds. This is part of the fun of the Fringe though, is gathering up a handful of flyers and then seeing which ones strike your fancy. The people handing them out are often in costume or doing some impromptu street act to try to grab your attention, so let them! See what they have to offer, and you might be surprised by some weird and wonderful stuff you'd never have thought to go see otherwise.
Equally though, it can get pretty annoying and overwhelming, so it's ok to say no to flyers as well – just politely shake your head and say no thanks, and they'll move on to the next. They're doing this all day, and it can get exhausting, so don't be rude to them. I spend a lot of time on the Mile for work, so I've also become an expert at zig-zagging through the crowds at top speed, so they don't even try to give me flyers in the first place, as it's clear I'm just trying to get by, not browse!
Choosing Shows
There are literally thousands of shows to choose from, so deciding what to see is a challenge. I always suggest a mix of planning and spontaneity. Decide which shows you really, really want to see in advance, using the Fringe brochure or the mobile app, and book your tickets for those (especially big names or those with limited shows that may sell out). After the first week or so, the reviews start coming out, which can also help decide what to see, but those tickets will then start to sell out too! It's good to have a few things booked in advance, as once you arrive, you're so overwhelmed by choice that you might end up seeing nothing at all!
But also, leave yourself plenty of free time to go and see things on a whim. Maybe a flyer or poster will catch your eye, maybe you'll be passing by a free show starting immediately. You can also open the mobile app and select the option to see what is showing nearby wherever you are in the city. The unknown is all part of the fun, and while some of what you end up seeing may be terrible, you could also be pleasantly surprised by others.
Tip the Free Shows
Nothing in life is really free, so they say. Obviously, you can go to the Free Fringe shows without paying anything at all, which is a great way for anyone coming on a budget to still be able to enjoy the festival. However, these are typically the smaller, less well known performers, who are doing their show for the love of their craft and to gain some experience. They're often paying a lot of money just to be in Edinburgh and put on their show! So, if you did enjoy it, then it's a nice way to show a bit of gratitude, by leaving a bit of cash in their tip bucket on your way out. You're free to choose the amount too, to reflect how much you enjoyed the show! The same goes for the street buskers and performers – if you're stopping to watch or listen for a few minutes or more, then give them something before you move on
Picking up Tickets
Do not forget to pick up your tickets. In a world of mobile passes, it seems odd that you still need physical tickets for Fringe shows, but that's just how it is! To buy tickets, you can book online, on the app, or in person at a box office around the city. If you book far enough in advance, you can get them delivered to your address. If I'm going to see a show at the last minute, I'll usually buy at a box office to just get them instantly.
If I buy in advance, it's usually on the app and then I'll get the tickets from a collection point. These are listed online and in the app, but they can often gave long queues and there isn't always one close to every venue. So I usually pick up the tickets a day or two before the show if possible, to avoid rushing and waiting in queues. Or, I go to the venue with plenty of time to spare if I need to pick them up then!
Discounts
Fringe shows range in price from totally free to fairly expensive, and if you want to see a lot of shows then the prices will start to add up. If you can come to Edinburgh during the first week of the festival though, you can take advantage of discounts! Normally the first Monday and Tuesday of the festival there are 2for1 deals on nearly every show, meaning you'll each pay half price if you've got a friend to take along. There's also the Half Price Hut, next to the National Gallery, where different shows are offered at half price every day, which is also a good way to just pick something at random that's on offer and see what it's like! Also, note that some shows have different prices depending on the day of the week, so weekday shows are often cheaper than the weekends.
Going to Shows Alone
Just do it. Yes, of course it's nice to go with a friend, to laugh together, discuss it afterwards, or hang around with to get a drink before or after. But if you don't have anyone to go with, go anyways, otherwise you're missing out on so much fun stuff! I preach about this
all the time
on this blog, but it's true again here. Most of the time you're not going to be talking to each other during the show anyway, and you can still laugh along and enjoy it by yourself.
Getting Around
It's going to take longer. Wherever you're trying to go in the city, at whatever time of day it is, it will take longer during the Fringe. The city's population swells for the month, so the streets and public transport are just straining to deal with these larger numbers. Yes, it is frustrating at times, especially for us locals who have to deal with it in our own home city for an entire month. But it's an unavoidable fact. So allow yourself enough time to get from A to B. And, as already mentioned, avoid the extra busy areas, such as the Royal Mile, when possible to save a bit of time.
Escaping
The Fringe is fun and crazy and exciting, and you should absolutely make the most of it. But it can also be exhausting, and sometimes you need to stop and catch your breath. It takes over hundreds of venues around Edinburgh, so it can feel like there's no escape sometimes, but I promise, there is! If you want a break from the crowds, then head out of the city centre and explore some other areas of the Edinburgh. Go for a hike up Blackford Hill, visit the Botanic Gardens, or walk along the Water of Leith. Browse other neighbourhoods like Stockbridge, Bruntsfield, and Leith. Head all the way out to Portobello Beach or Cramond Island on a sunny day, or even to North Berwick or Stirling to get right out of the city. The city is madness for a month, but there is respite if you need it!
Do you have any other tips for the Edinburgh Fringe?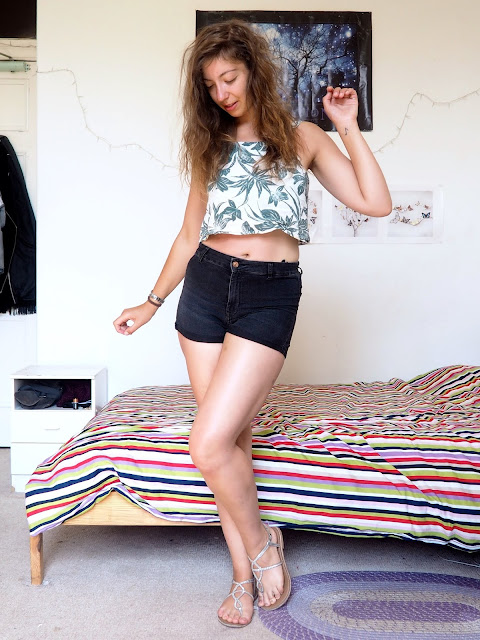 You May Also Like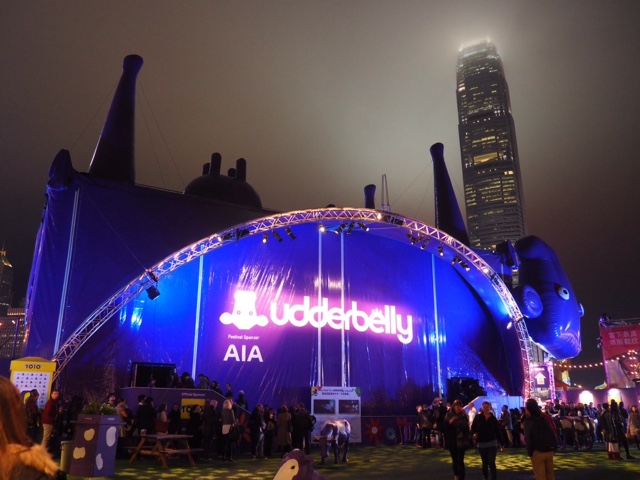 23 January 2016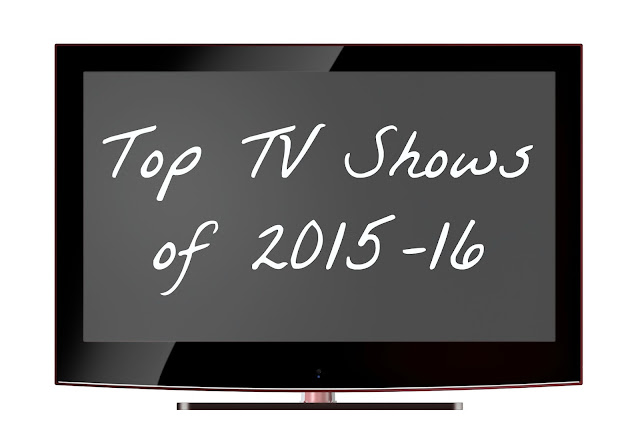 1 June 2016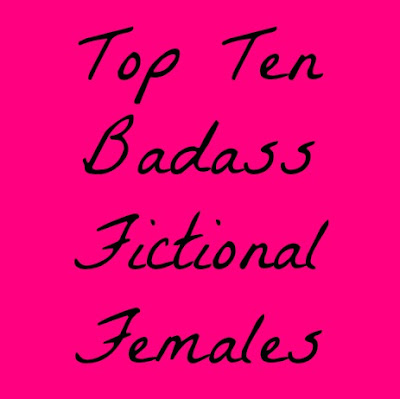 30 April 2017