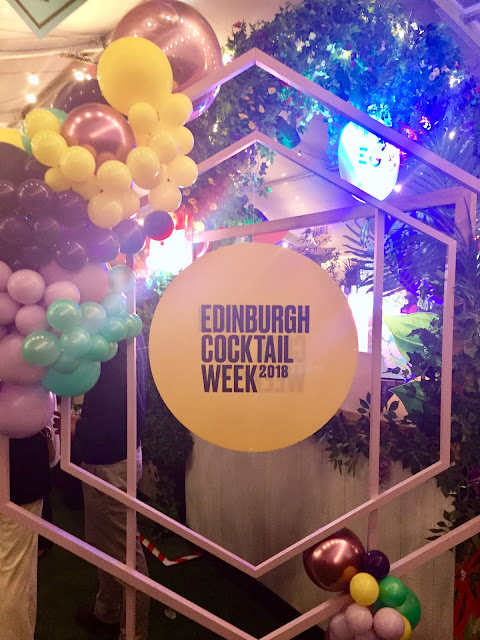 Edinburgh Cocktail Week
20 October 2018
A Friday night spent in a tent full of twinkly lights and cute decorations, with a choice of a dozen pop-up bars serving their own signature cocktails – what more could you ask for? Edinburgh Cocktail Week has been on this week, and with every drink priced at just £4 (with a wristband), how could I say no? So my flatmate and I headed out last night to see what was on offer.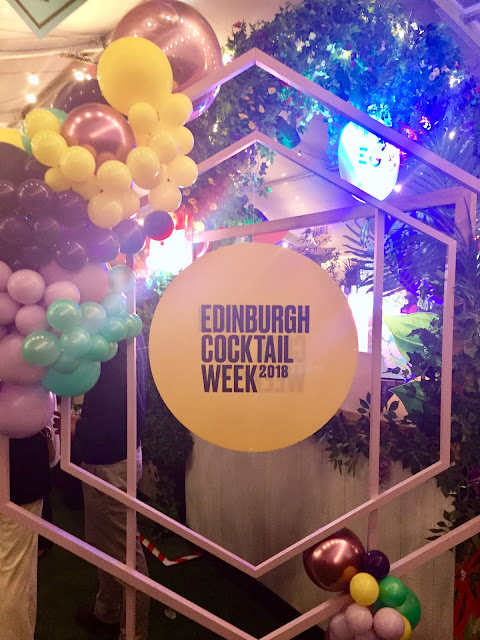 The main attraction is the Cocktail Village, on Lothian Road, a pop up tent hosting a dozen or so individual bars, each put on by a specific distillery – like Edinburgh Gin or Smokehead Whisky – or by other bars, like The Herringbone and The Pop-Up Geeks. Each bar was beautifully decked out, with individual themed decor, and of course, many of their drinks were made and presented in similarly quirky ways. The tent as a whole was a cosy place to hang out too, with astro-turf flooring, benches and tables to sit or stand at, lots of greenery and foliage, and a DJ in a corner with space left open for anyone who wanted to have a dance. It sort of had a summer party like vibe, which was remarkable, given that this is October in Scotland, and it was much colder outside the tent than inside!
We spent a little while browsing all the bars at first, deciding what we wanted to drink – with 15 bars offering around 3-4 cocktails apiece, that's a lot to choose from! I ended up going for drinks that I wouldn't normally get, ones that seemed a bit more unique and unusual, and I switched up my base alcohol every time, so I didn't end up justing having half a dozen gins or anything. We went vodka first, at the Belvedere bar, where most of their options involved coffee as well – I chose the one that involved nitrous oxide, which they added from a metal canister, so it all looked very scientific! It was a small drink, poured into a cardboard espresso type coffee cup (everything came in paper or plastic containers, no glassware). It certainly tasted of coffee and alcohol, and was pretty potent in terms of keeping me awake for the rest of the night!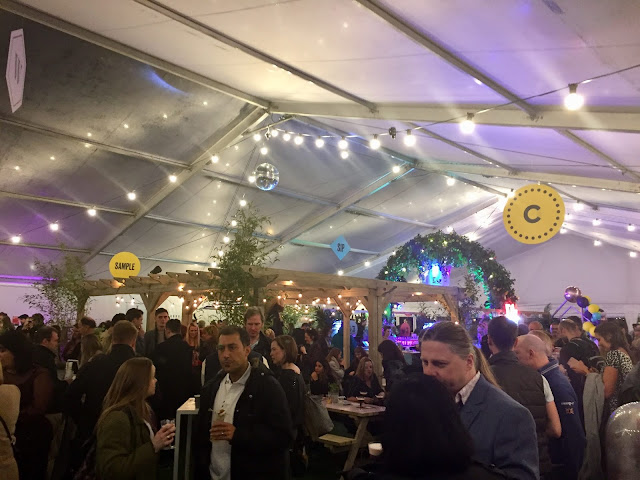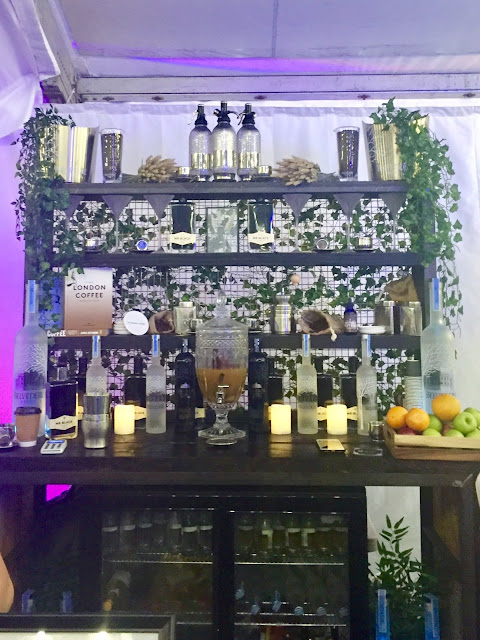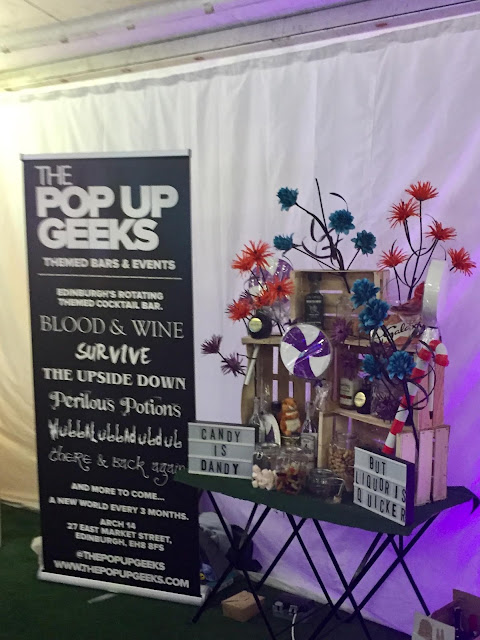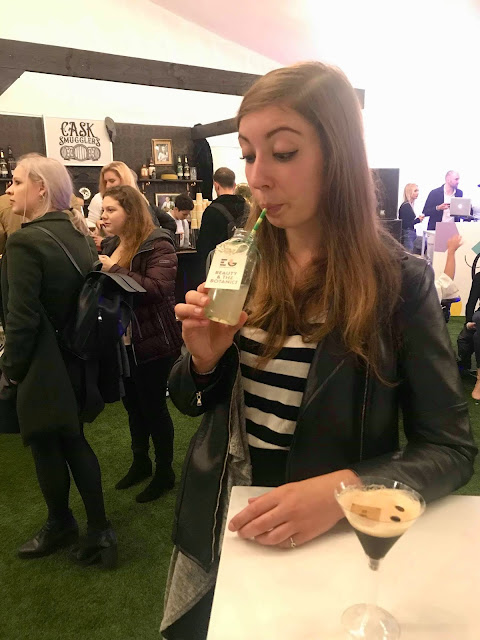 I chose gin for my second drink, from the Edinburgh Gin bar, who had some of the most interesting drink presentations of the evening – you could either get one in a milk carton, one that was blue with a rubber duck bobbing in it, or one in a little plastic bottle with a herb garnish. I chose the latter, 'Beauty and the Botanics', which had various herbal and floral sort of cordials in it. It was very light and refreshing, a good summer weather type drink, and was of course very aesthetically pleasing, but not very strong in terms of alcohol content – I could hardly taste the gin! Meanwhile my flatmate had gotten an Espresso Whisk-ini from the Cask Smugglers bar, which tasted fantastic from the sip I had – plus, coffee and whisky are two of my favourite things ever – but I didn't want to have excessive coffee drinks all night, I wanted variety. The Cask Smugglers also had one of my favourite bar themes, with lots of old-school decor including framed photos, a gramophone, an accordion, and a big squashy armchair.
I did go for whisky for my next drink though, a 'Banoffee Bomb', from Smokehead Whisky. Their bar had a big motorbike next to it for people to take photos on, and an unusual tabletop display with a glass case containing whisky bottles hooked up to a bomb with a timer! Theirs is Islay whisky, which means it has a very smoky, peaty flavour to it, that is pretty distinctive within a cocktail. The Banoffee Bomb also involved banana milk, honey, and Kahlua, so it was a very interesting combination with the smoky whisky cutting through it all. The most fun part though was the bartenders directed us to another table, where their were sets of headphones attached – each cocktail came with its own playlist of three songs! My selection was pretty incredible, with 'Spice Up Your Life', 'Pony', and 'Boombastic' to groove away to!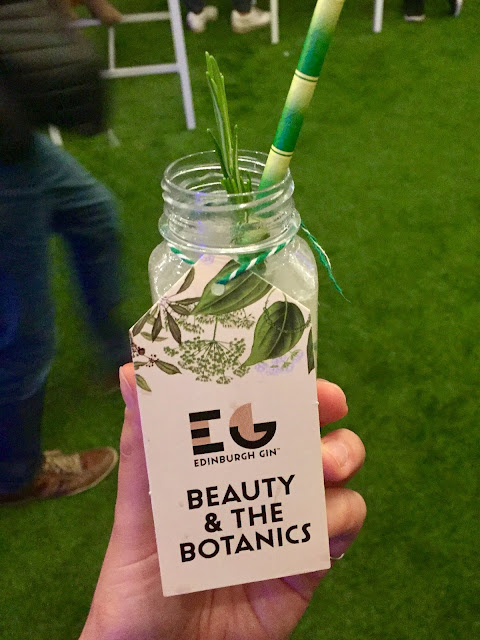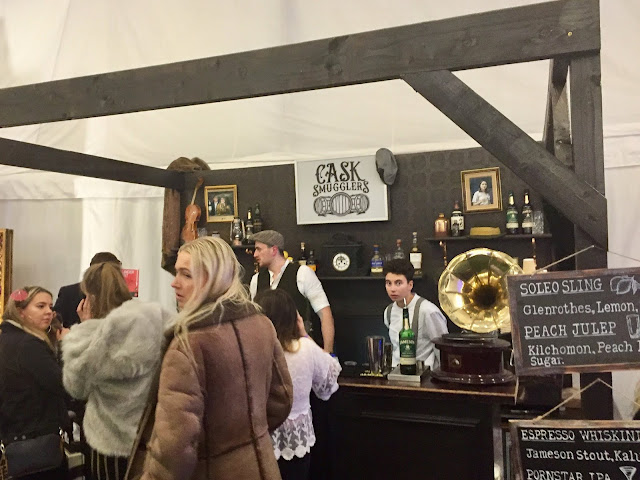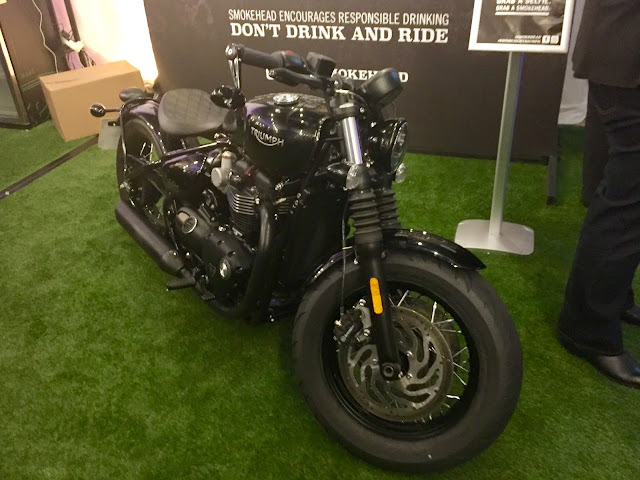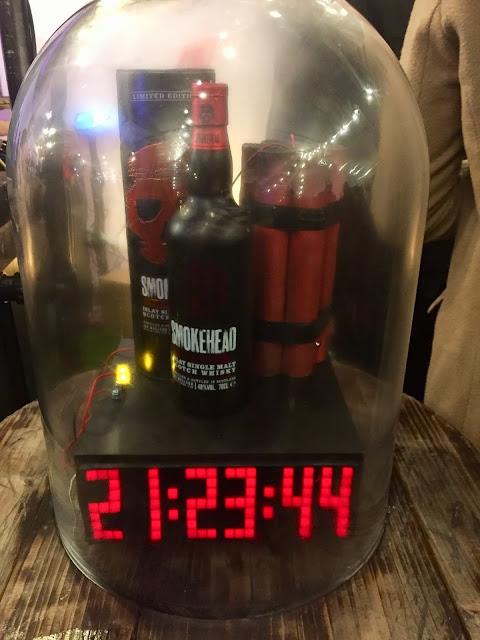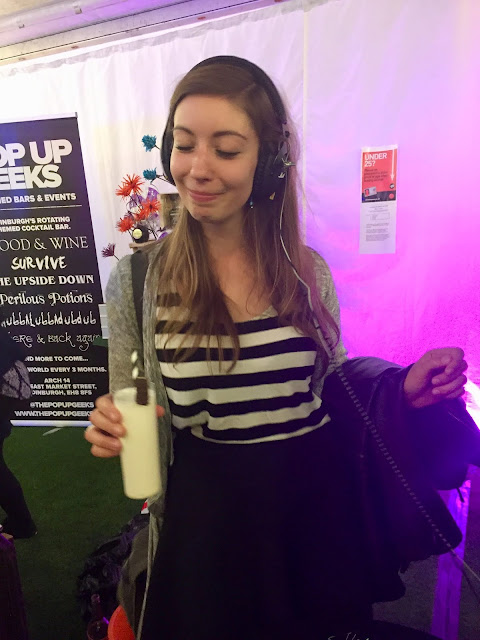 We headed to the picnic tables in the centre after that, to sit under the foliage and fairy lights, and I grabbed another drink, this time from The Herringbone Horsebox, choosing 'A Bird in the Hand', which actually featured on the programme cover for the event, so it was very aesthetically pleasing. It's a little like a margarita, with tequila, cointreau, and lime, but with heather syrup added for a twist on the traditional drink, and is garnished with this pretty edible paper butterfly on top. It sounds pretty simple, and I like a margarita anyway, but that heather syrup made quite a difference, creating something absolutely delicious! We stayed at the benches for a while, until the Village closed at about 11pm.
But, that wasn't the end of our cocktail adventure! Cocktail Week isn't just the Village, there are also 80 other bars taking part around the city, each serving one signature cocktail for the week, also priced at £4 if you have the wristband. We definitely weren't going to all of them, but we realised we'd be passing a couple of places on our route home, which would be open until 1am (the usual pub and bar closing time in Edinburgh). First, we stopped at The Beer Kitchen to try their '1565 Sour', a gin based drink with elderflower cordial, egg white, and creme de violette. The violet definitely gave it quite a distinctive taste, remind me of the 'parma violet' sweets I liked as a kid. Very tasty and very memorable! The bar itself is also not one I'd been to before – it was all wood furnishing, a little rough around edges, which seemed appropriate for a bar named after beer! There was live music on as well, always a fun addition on a weekend night.
We stayed there for an hour or so, then continued up the road, through Tollcross, to The Blackbird, on Leven Street. My flatmate has been here before for meals, but it's one that I pass all the time yet never seem to go to – most of my drinking happens more centrally in the Old Town. That's half the idea of Cocktail Week though, as it encourages you to go out and try places you may not have been before, first for the cocktail, but maybe again in future if you like the vibes! The Blackbird's signature drink was a 'Watermelon Cooler', containing vodka, watermelon liquer, apple juice and more egg white! The top was garnished with raspberry and matcha powder, to resemble a watermelon (supposedly). This was a nice fruity, refreshing drink, almost like a good palate cleanser to finish off our night, not too rich or heavy in any way.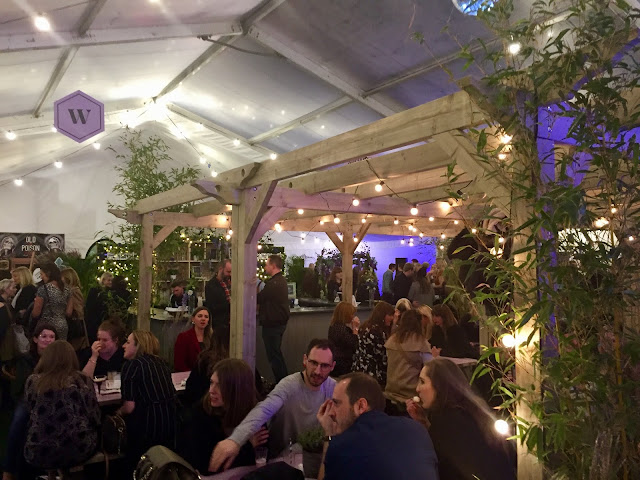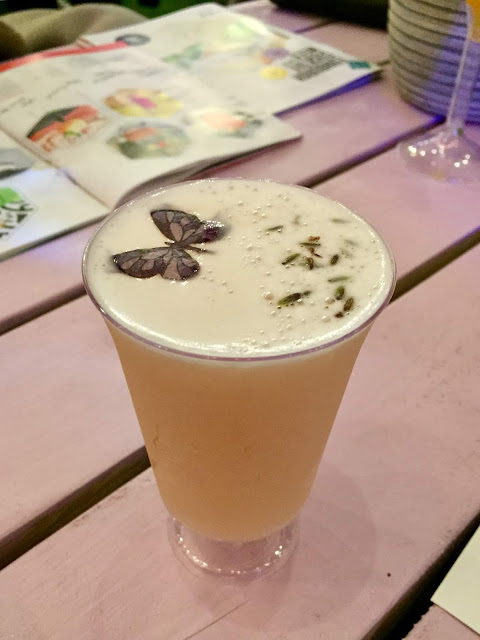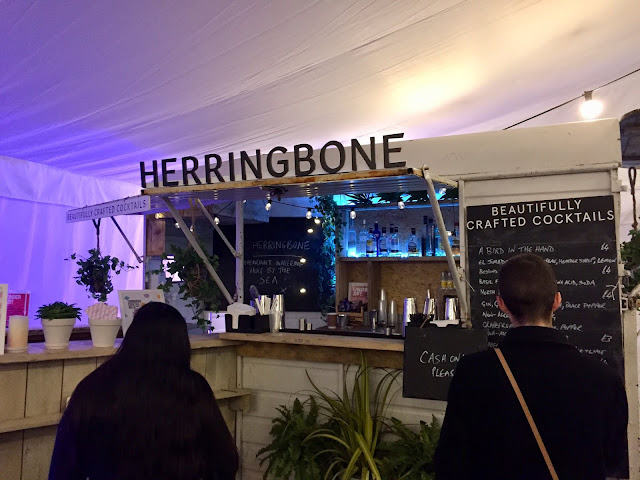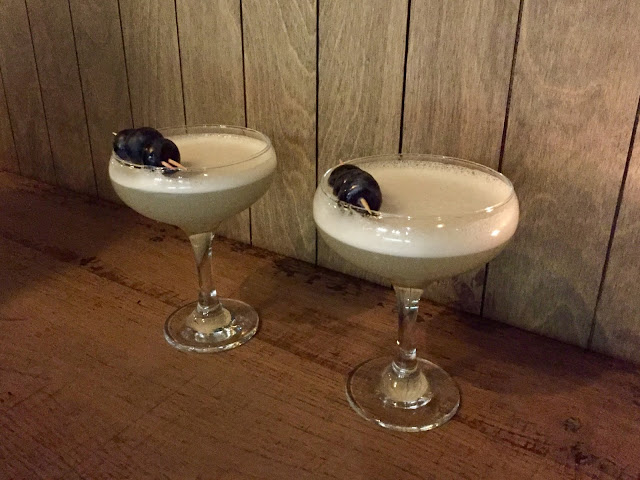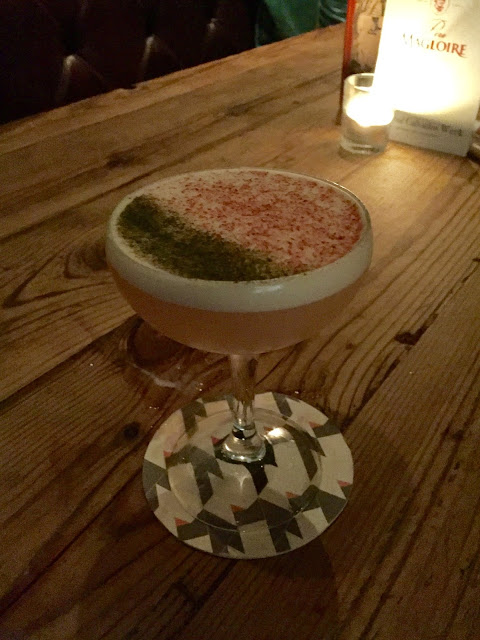 We spent an hour or so there as well, sitting in comfy seats by the (fake) fireplace, continuing with our conversation that had been rolling along all night. It was a good night for several reasons – especially the company, as the two of us chatted about a lot of stuff we don't always get the chance to discuss at home. It was also so much fun to try all those different drinks, to admire the themes and decor of the pop-up bars, and to explore a couple of other bars around the city that were new to me. Definitely a good idea, and a great event to add to Edinburgh's roster of activities and festivals. I can't wait for next year!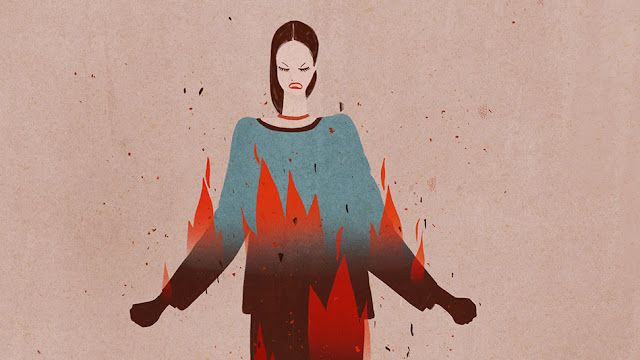 You May Also Like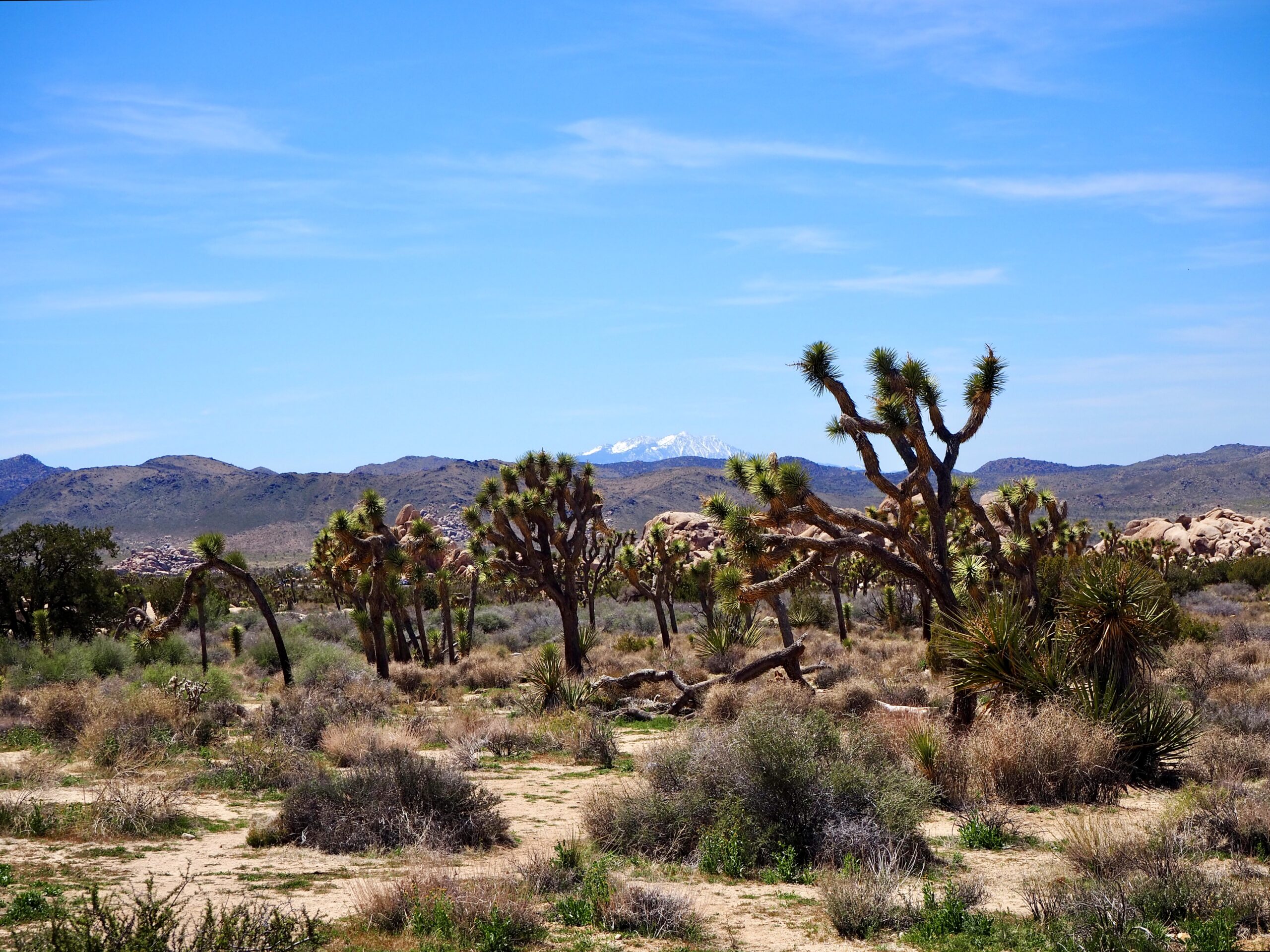 1 May 2023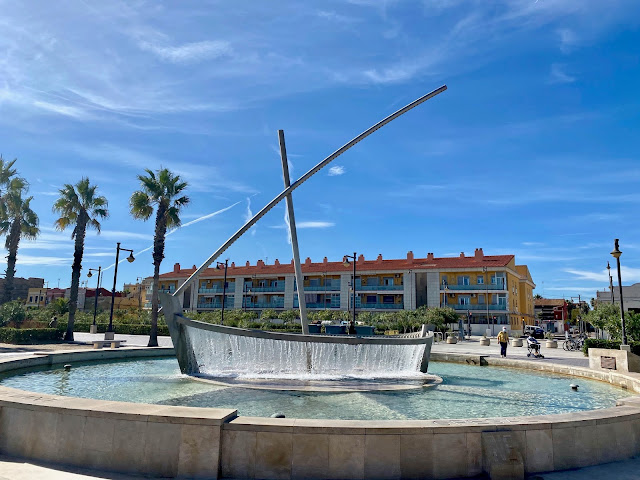 28 December 2020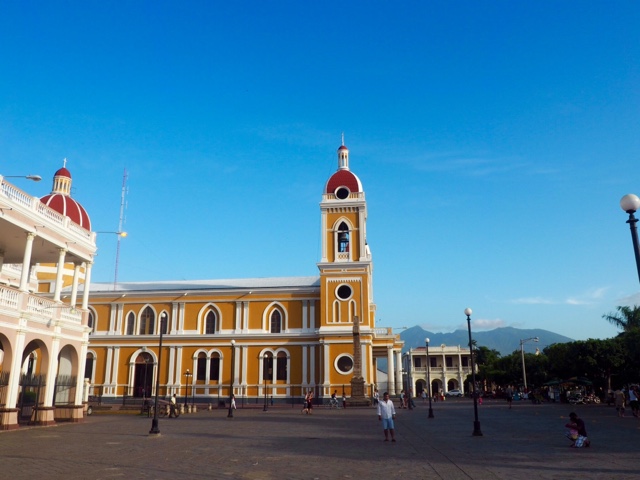 17 June 2015