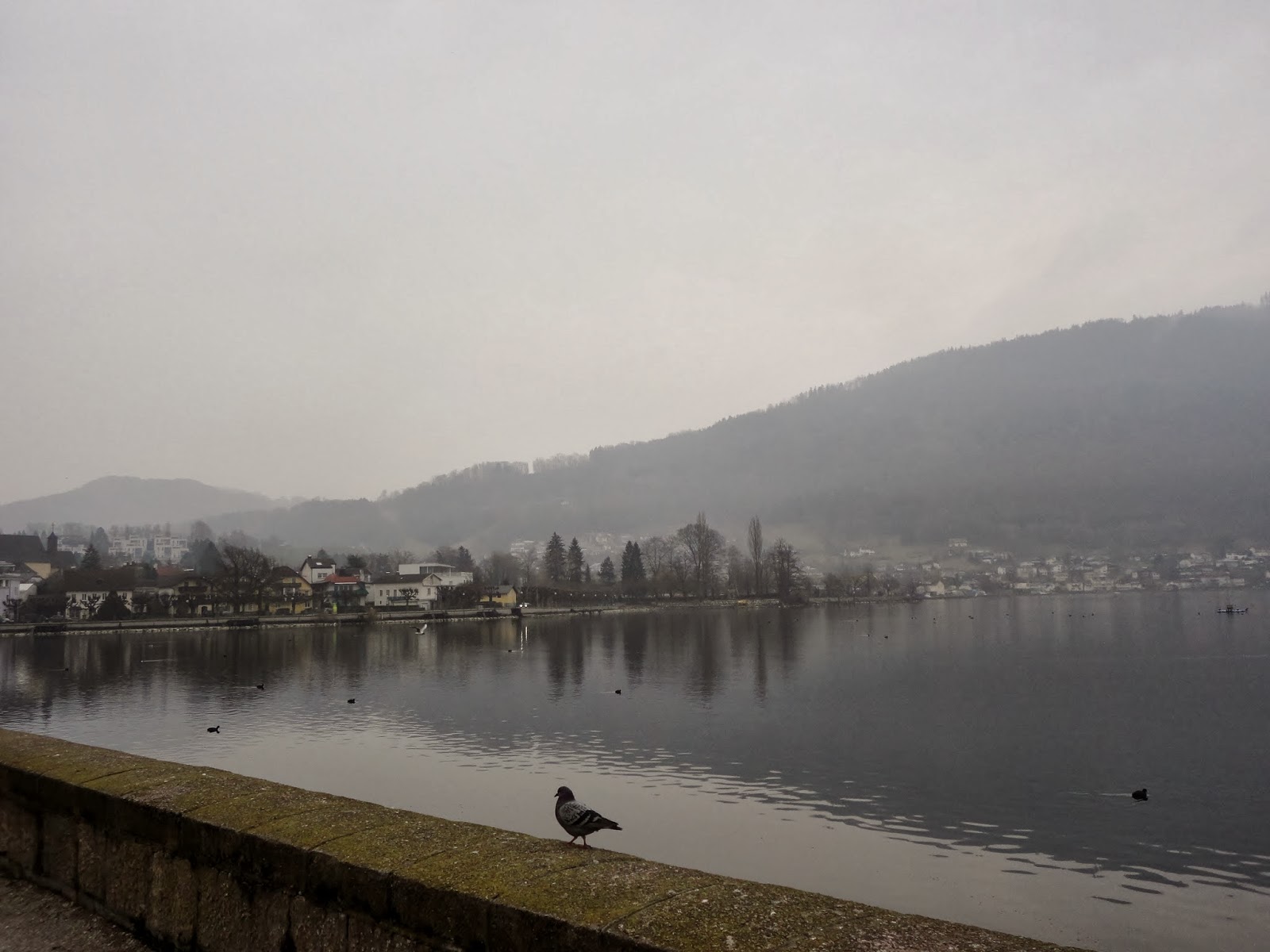 Adventures in Austria
10 March 2014
I went to Austria! If you hadn't already guessed from the
title of this post. I had a week off from classes, so I went to visit Bridget,
who is on her year abroad in Linz, for a few days. Obviously I haven't seen her
in ages, but I've also never been to Austria before, so it was all very
exciting. Also, I'm studying in France and therefore, funnily enough, I speak
French. Not a word of German. So, of course, Bridget spent the whole weekend translating
menus, ordering my food and any other similar situation that came up. It did
also make me feel slightly better about how much French I understand though, as
it's far more than I can in German.
My trip started horrendously early at 5.30 am because I took
the train from Tours, where I'm currently living to Linz, via Paris and
Frankfurt. It was a 13 hour journey in total, although actually didn't feel as
long as that. It's quite a nice way to travel if you want to see the country,
and even before getting to Linz, Austria looked like a really pretty country. It
made a nice change from France too. We didn't do much when I arrived, other
than get food, because as you can expect I was tired and hungry and it was
late.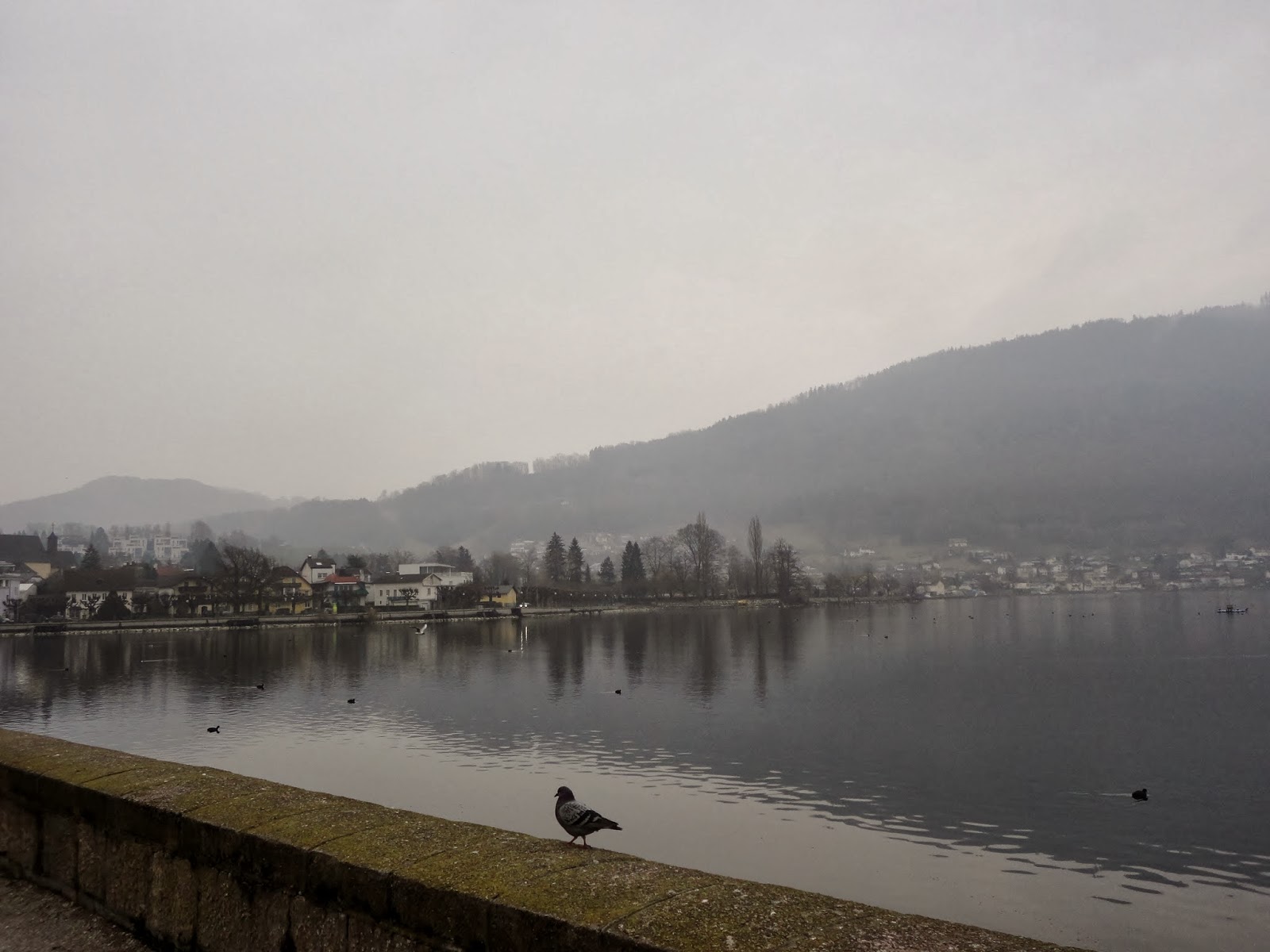 Gmunden
ANYWAY, the next day Bridget had to work in the morning –
she's a teaching assistant over there – while I slept. Then we took the train
to Gmunden (and yes, I had to Google the spellings of all the place names in
order to write this) which I'm told has some lovely mountain views, but sadly
we choose a really foggy day to go and I didn't get to see these. It's a very
pretty little place though, and I tried schnitzel for the first time, which I'll
admit is not the most exciting food, but it tasted good! Then, for that
evening, Bridget had tickets to a FREE wine tasting. When we got there, there were
basically lots of older people going around sampling wines from loads of
stalls. It all seemed very sophisticated and classy, however, when the words "alcohol"
and "free" come together in the same place, there's only going to be one
outcome for me. So yes, I got very drunk.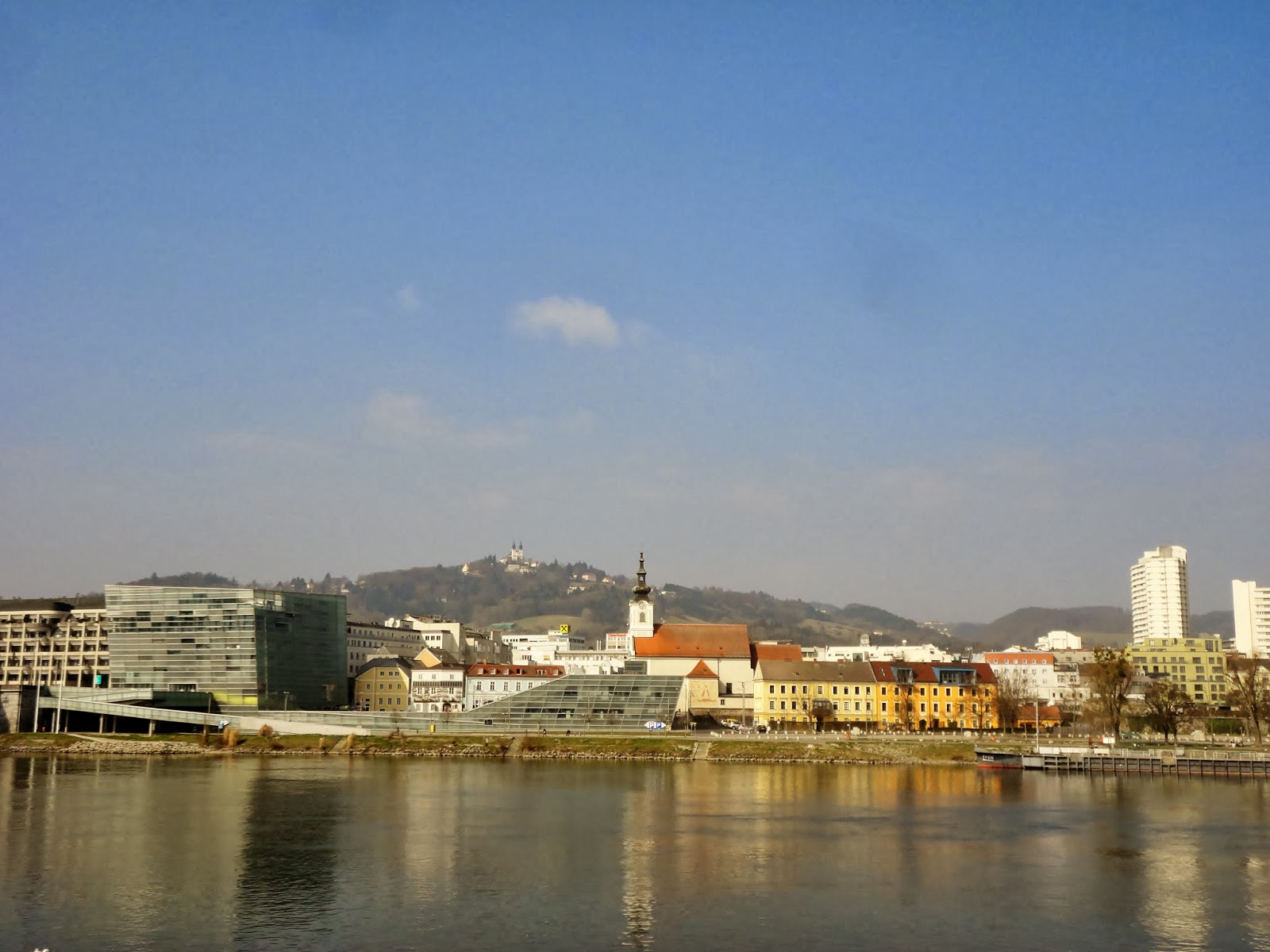 Linz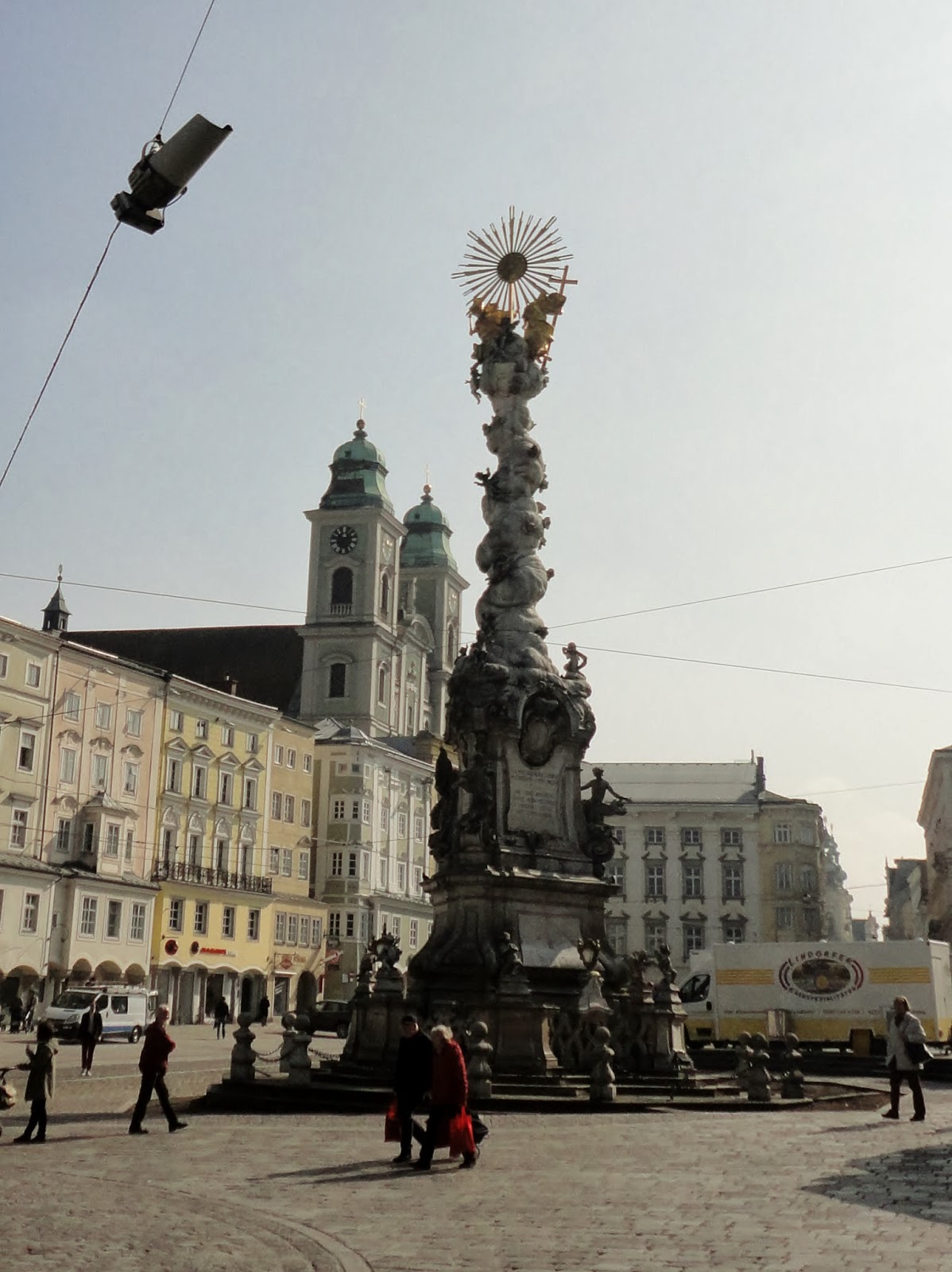 Linz main square & Trinity column
We stayed in Linz the next day, so I could see a bit more of
the town, starting with the most amazing burgers ever. There's no other story
to them, I just wanted to mention how amazing they were. First we took the tram
up this hill called the Postlingberg, and got some nice views over the city and
had a look at the little church up there. Then we went for a wander around
Linz, and saw things like the main square, the old town and the cathedral.
Bridget kept referring to them in their German names, but I'm not even going to
pretend like I can remember what she said. She also showed off some serious tour
guide skills, and told me lots of facts and history about everything, which I
found very impressive given that I know practically nothing about Tours. Her
school was going to see a play that afternoon, which was in English, so I went
along to that too. It was about "The Wave" experiment, which I knew nothing
about before, so that was really interesting, although the play itself was a
bit corny at times.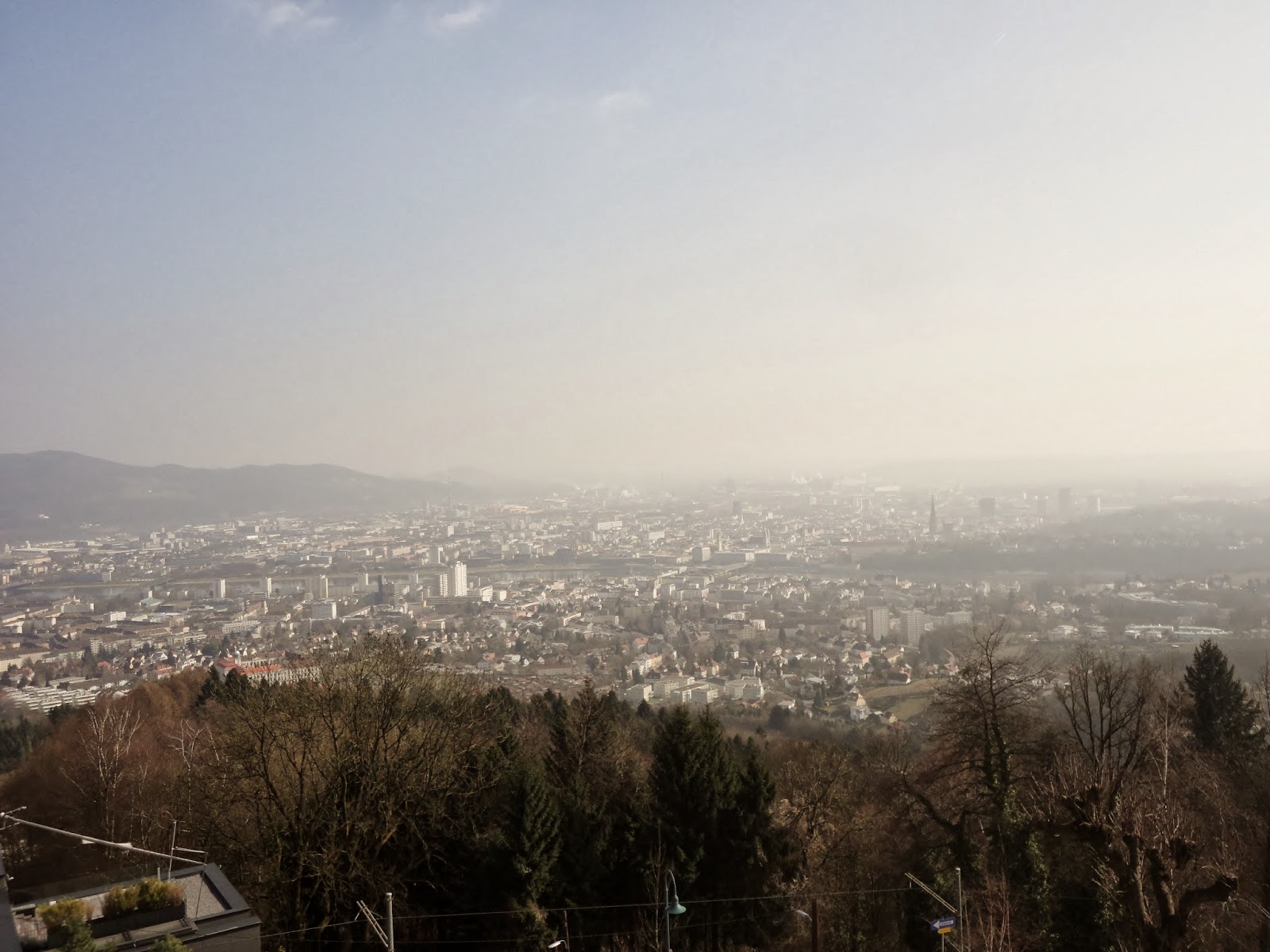 View of Linz from Postlingberg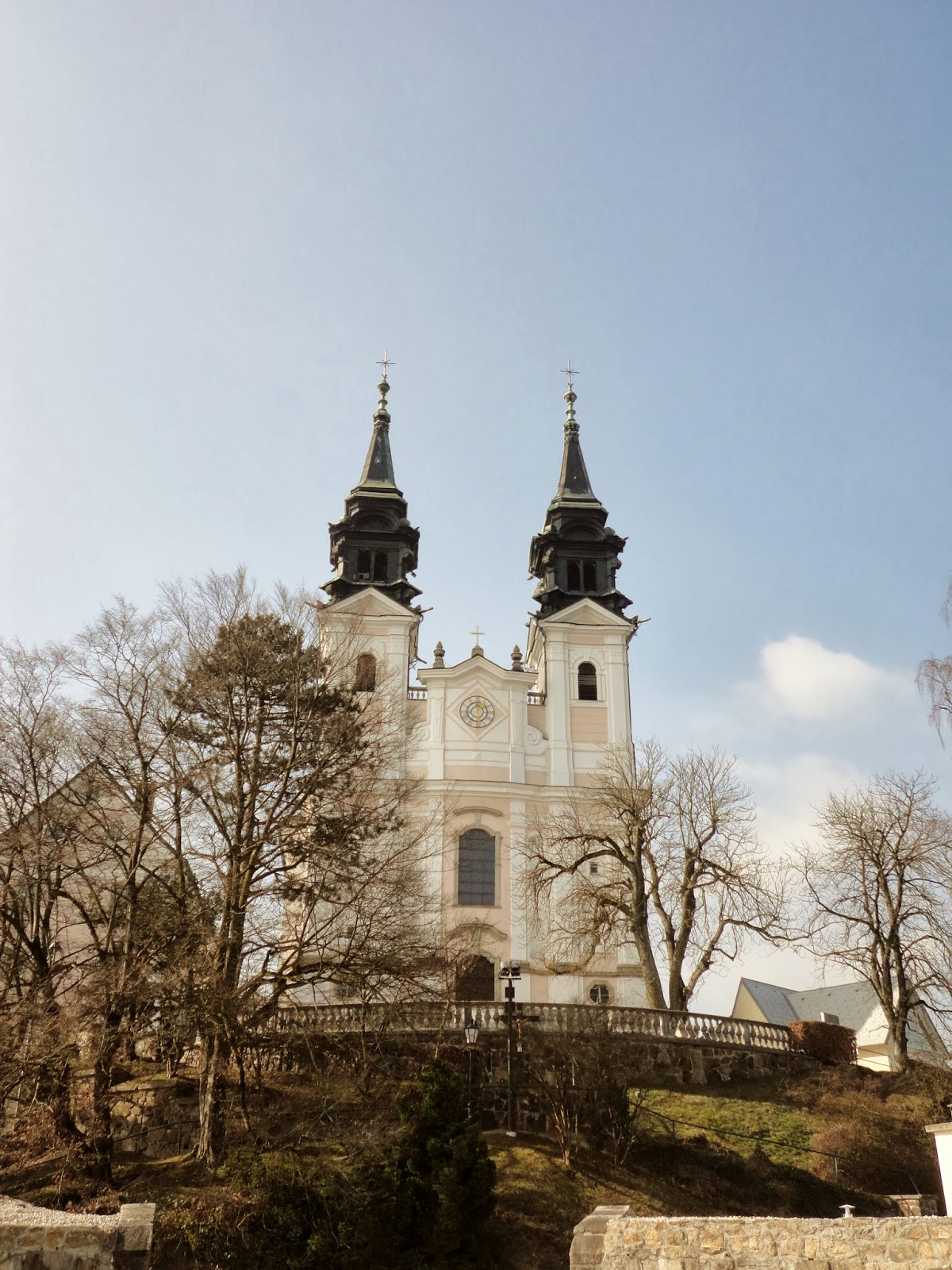 Church on Postlingberg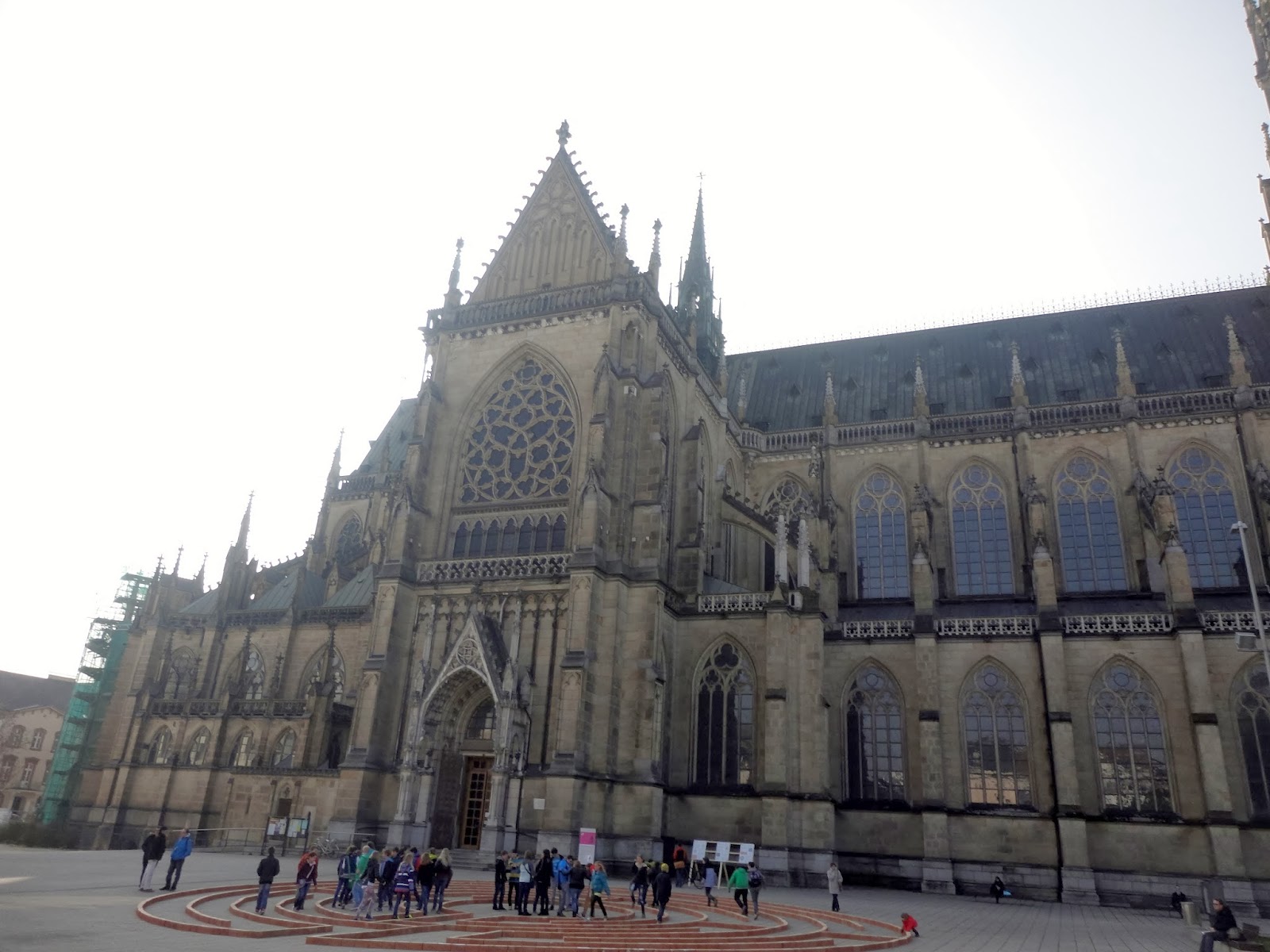 Linz cathedral
That night I met a whole bunch of Bridget's friends, mostly
other language assistants, and we went out for drinks. A lot of drinks. I didn't
meet all of them properly as there was really quite a big group there, but
those I did seemed really nice. Everyone else went home earlier than us though,
so Bridget & I were the last two standing, until 4am. Highlight of the
evening was definitely the guy who opted to change his shirt behind the bar,
right in front of us! I was told that there aren't usually that many attractive
guys going around in Austria, but they all magically emerged when I turned up
for the weekend! I certainly wasn't complaining, as France is definitely
lacking in them. Unfortunately, we did get one creep trying to chat to us, but
then one of Bridget's students turned up and somehow got him to leave, and so
will forever be a lad for doing so. I'm also not a fan of the fact that you can
smoke indoors in Austria, so everywhere was very
smoky, and all my clothes were stinking of it afterwards.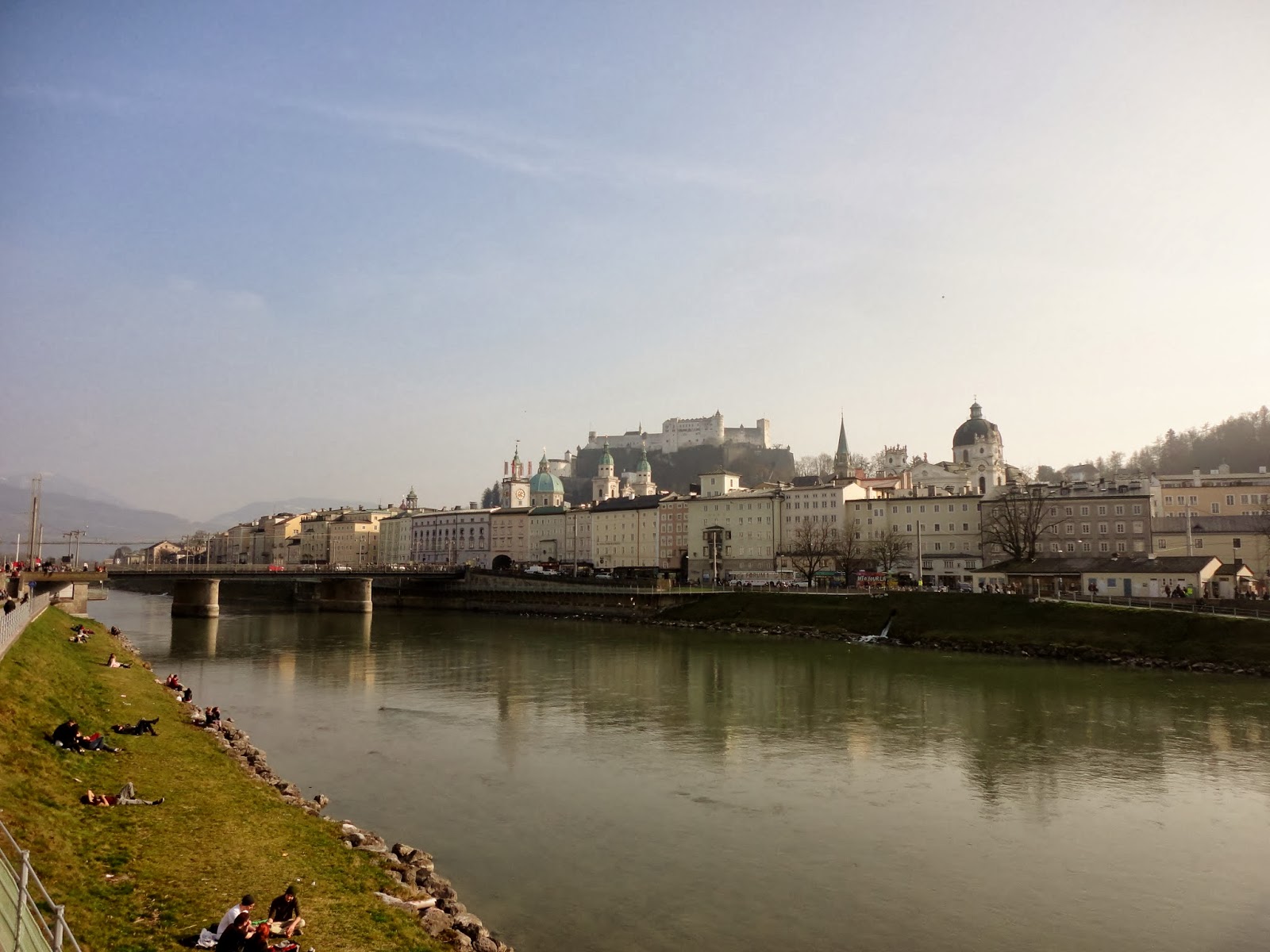 Salzburg
The next day we headed over to Salzburg, which was very
pretty. We went to the gardens where they filmed stuff for The Sound of Music,
and saw the house where Mozart was born (proof that I was listening to
everything Bridget told me!). We went to the cathedral too, which was amazing,
and I also found it really interesting how different Austrian cathedrals are to
French ones, although I don't have the architectural knowledge to explain how.
It was a lovely day too, so we got ice cream and sat by the river for a while,
where we also discovered that "yahs" exist in Austria too, much to our amusement.
That night, we went to Wels for this big party thing (no one was quite sure what
to call it, but it felt like a night out in a club) with some of Bridget's
friends. And yes, more alcohol may have been consumed. It was a lot of fun, as I
haven't been out dancing in such a long time.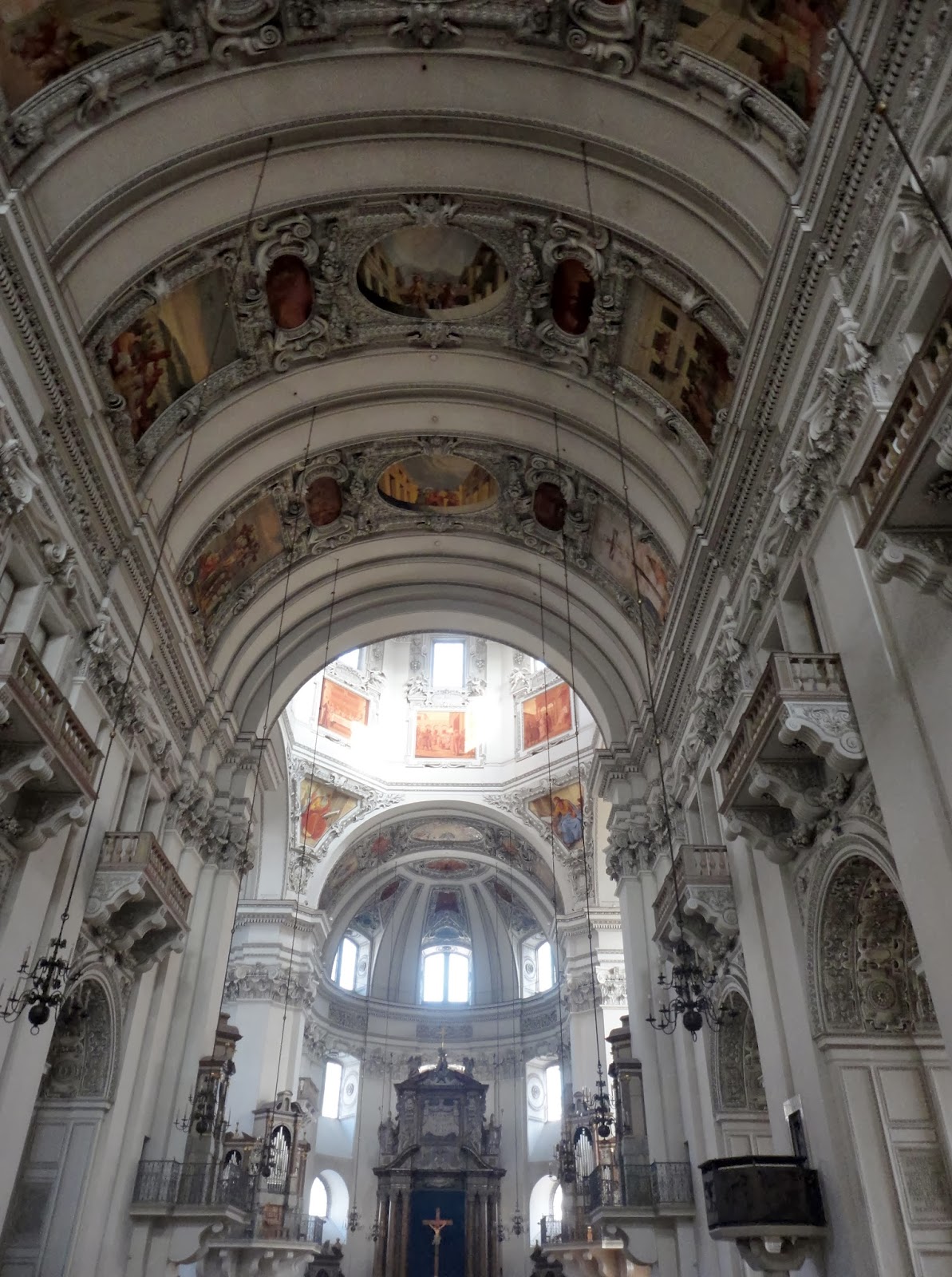 Inside Salzburg cathedral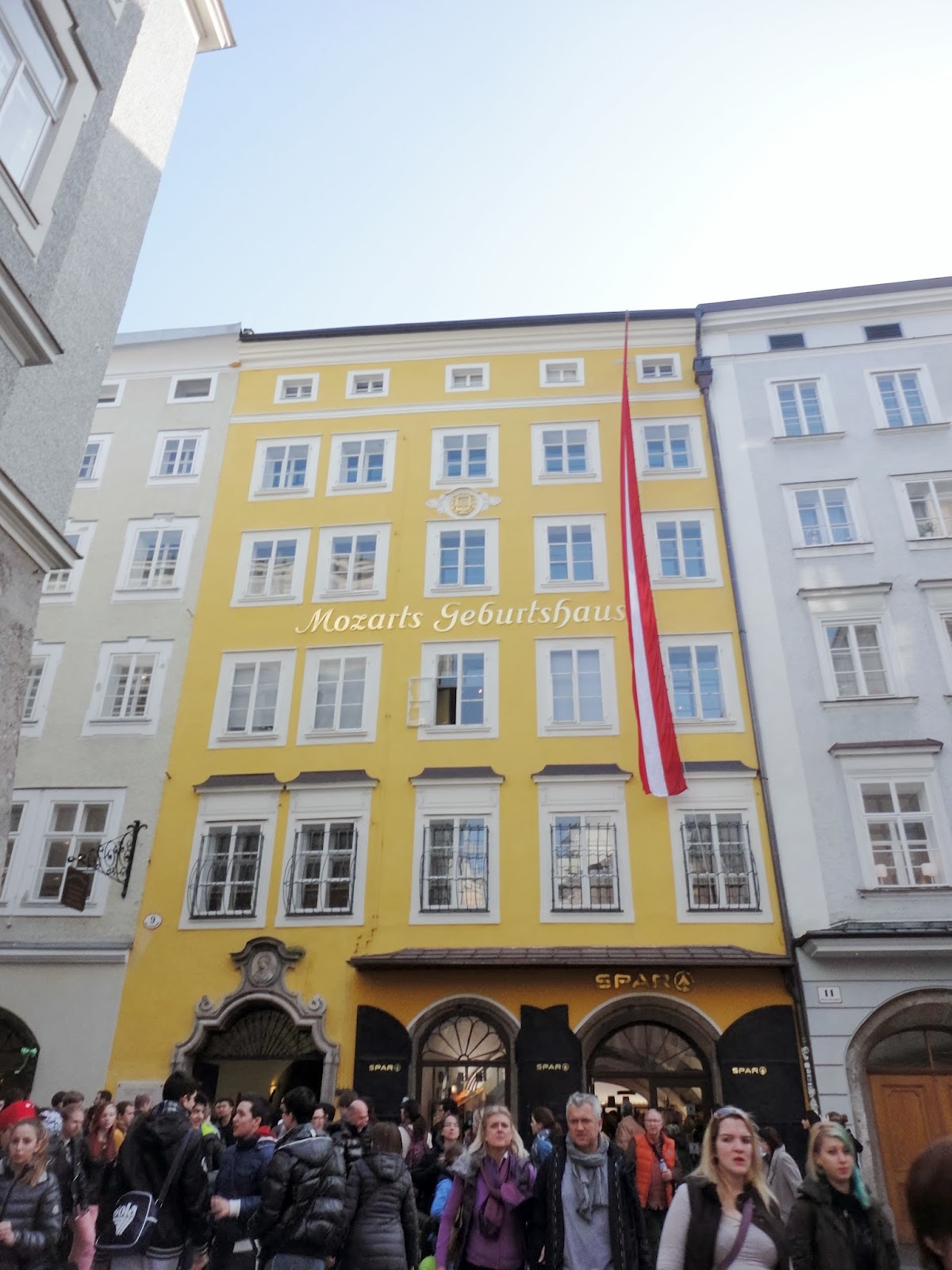 Mozart's birthplace
And then the next morning I had to get up to catch my flight
back from Vienna! It was such a fun few days and I really enjoyed all of it. I
got a great mix of everything, the sight-seeing and the partying, and of course
hanging out with Bridget. And now do I really have to go back to French classes
this week?
You May Also Like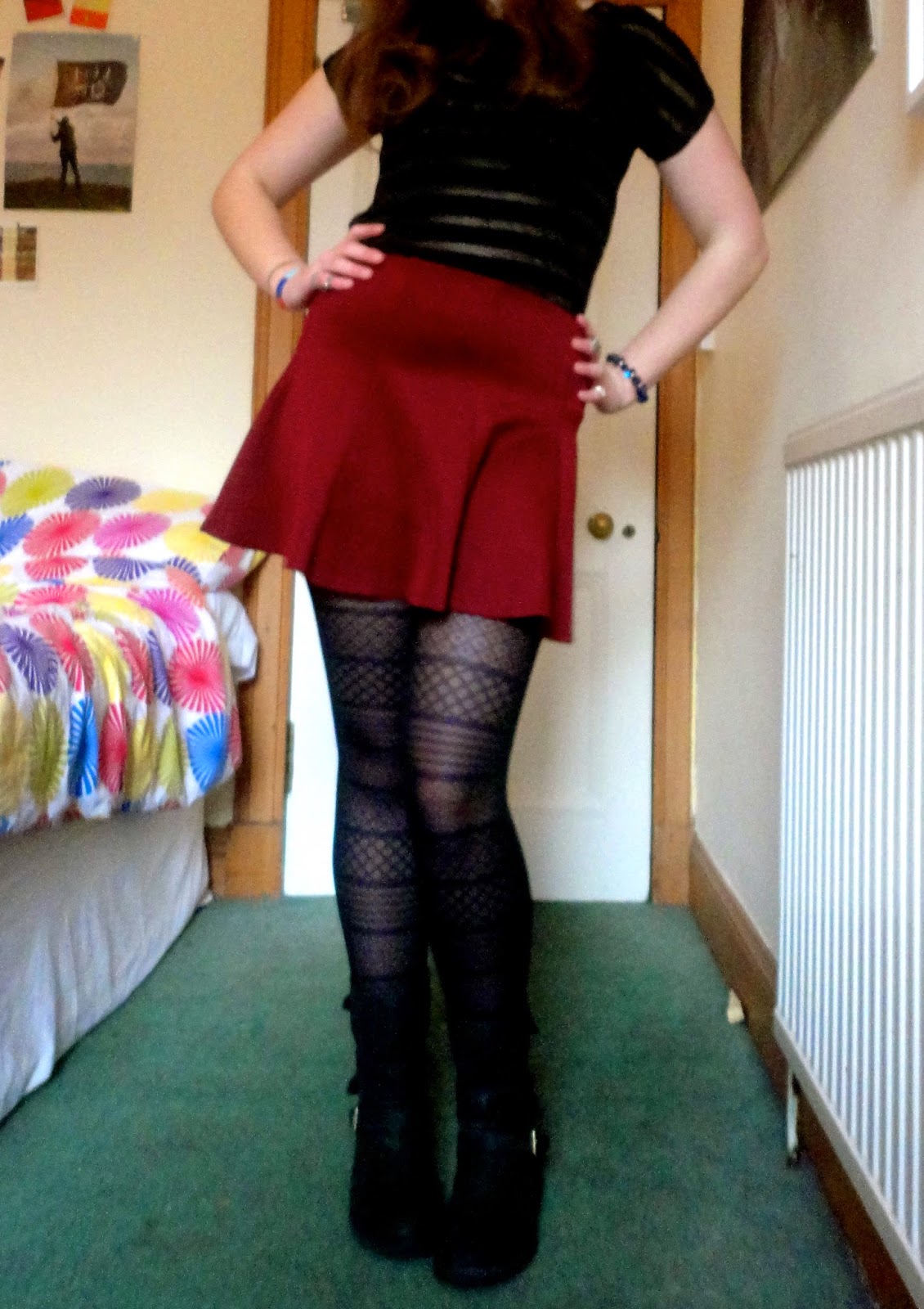 19 January 2015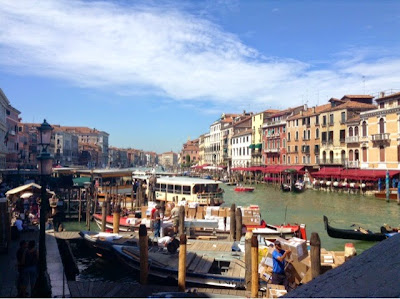 13 June 2014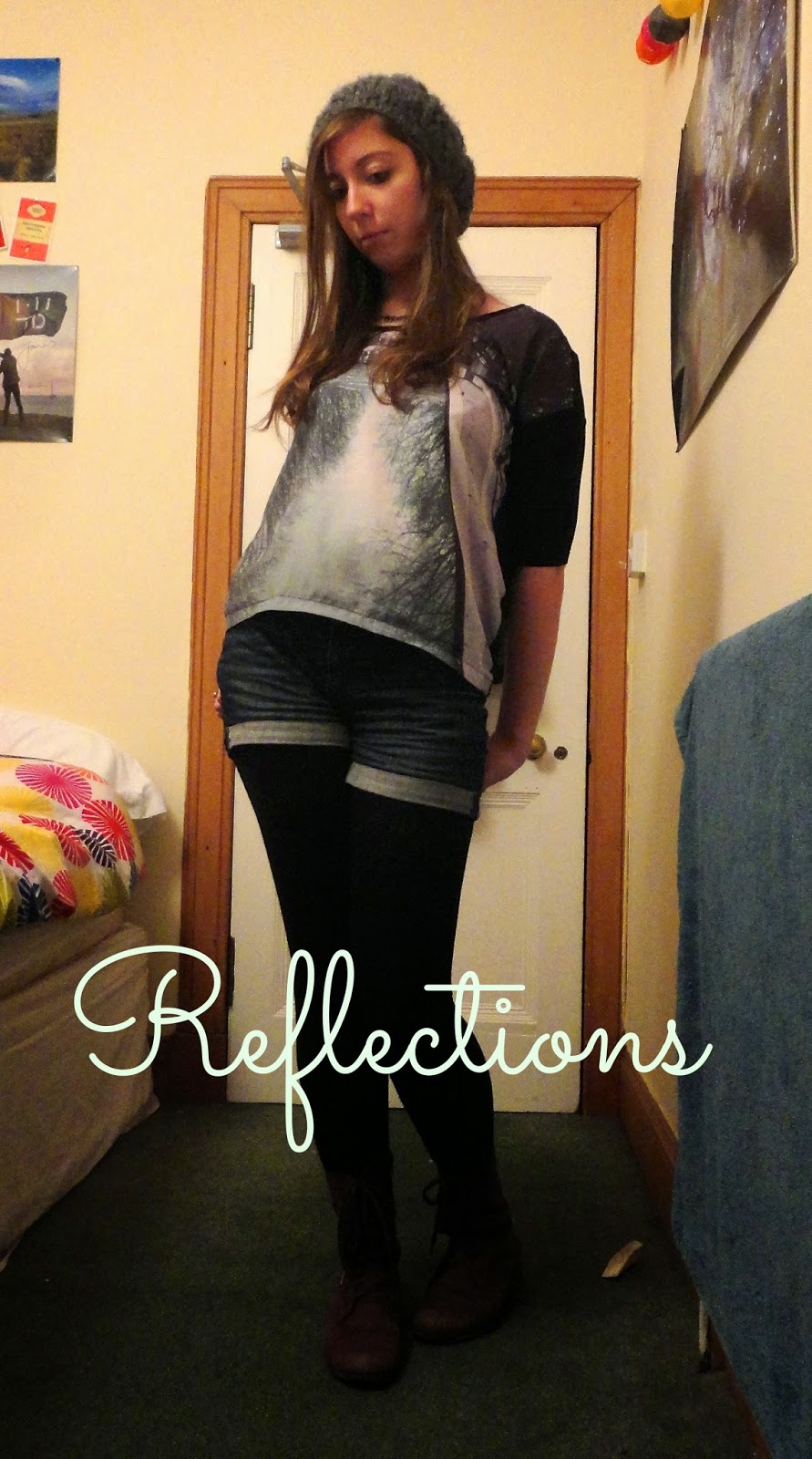 20 October 2014